Hey fashionistas, welcome to my review of the ultimate WordPress fashion blog themes.
It doesn't matter what's your style, I know you'll find the perfect solution to start your online project quickly.
And easily!
All these themes require 0 experience, perfect for beginners but equally epic for experts.
The only thing that's necessary is YOUR CREATIVITY, all the rest is a piece of cake.
Fashion blogs and magazines, build your thing effortlessly.
This post covers:
Every theme is also 100% responsive, following all the latest web trends.
You'll feel good regardless of the theme you pick.
How We Tested WP Fashion Blog Themes
Instead of just listing a bunch of good-looking themes, we go a few steps further by thoroughly analyzing each.
This allows us to create a collection with the most promising and trustworthy tools you can use for years.
The first thing on our list is to review overall ratings, read user reviews/feedback and check update frequency.
The latter is especially important because it ensures the theme works with the latest WP version, plus it stays bug-free. Not just that, but you can also expect new features with updates (so cool!).
After the initial 50 that we tested, we were down to 20 by doing the above.
Next came reading through the documentation and chatting with the support team. Hey, you need a reliable theme!
We then installed each WordPress theme on ULTIDA's demo website, where we tested and tried each solution to see how easy it is to use, how flexible the customizations are and the compatibility with WordPress page builders and plugins.
But we also didn't miss inspecting the loading speed because you don't want an overloaded theme that takes the website forever to load!
(You may also want to read our beginner-friendly guide on picking a fast WP theme.)
Enjoy.
THE ULTIMATE 4:
Best WordPress Themes For Fashion Blogs
1. Kayleen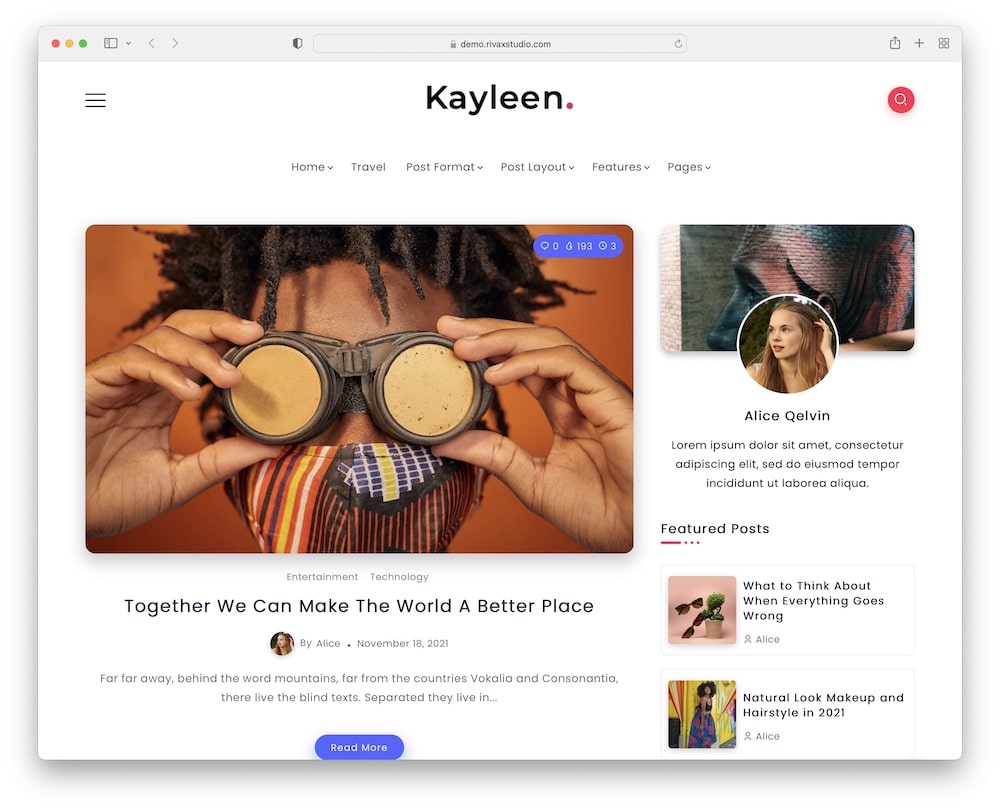 Your keen eye for style will not go unnoticed with aid of the beautiful Kayleen fashion blog theme.
Clean and minimal Kayleen is a JOY to work with!
It is fully responsive, optimized for speed (perfect for impatient web users), and SEO-friendly (a path to a better score in Google).
Personally, Elementor page builder (included!) always has all my bases covered. You just drag and drop in real-time, which requires 0 coding skills.
Hooray!
Moreover, Kayleen offers numerous layouts, pagination types, post formats, and sticky sidebar.
Choose the best outfit of the day – Kayleen.
Kayleen features:
MORE INFO / DOWNLOAD
DEMO
2. LaFeminite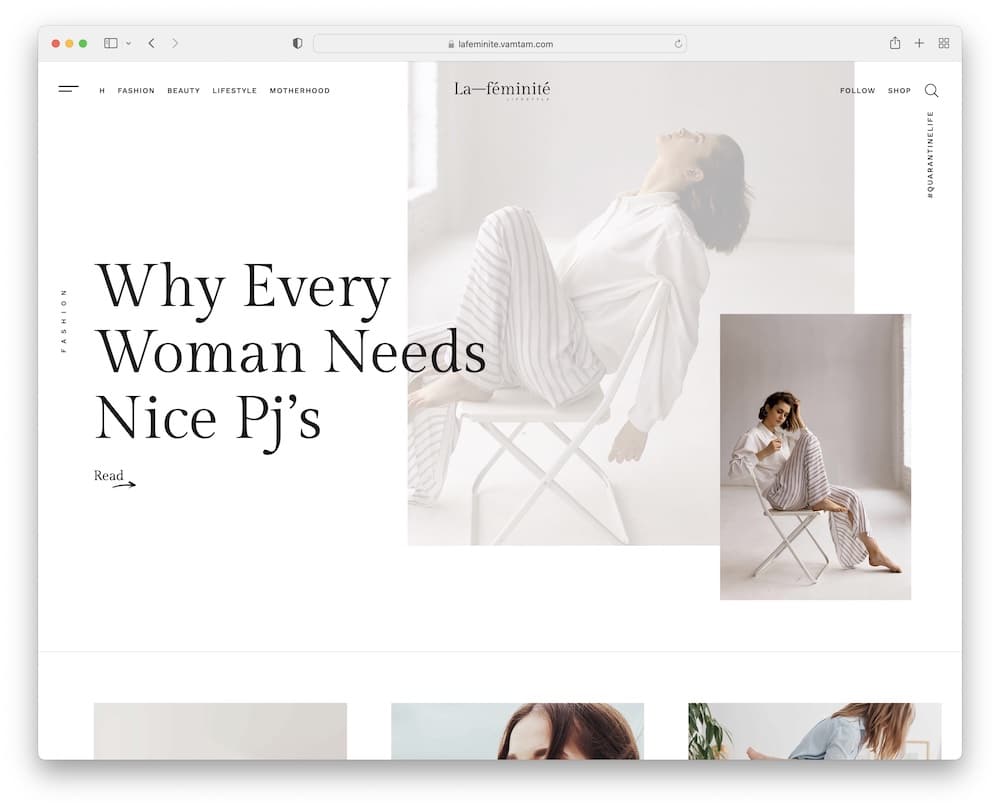 LaFeminite WordPress fashion blog theme understands that the KEY of fashion is its visuals.
Got your eye on the latest trends?
GREAT!
Create a blog and write about season trends, new arrivals, advice, and latest innovations like every serious fashionista.
Note: LaFeminite comes with 100+ help articles (crazy!).
Also, LaFeminite allows you to mix and match elements, and adjust colors or fonts. Oh, you can even fully translate this theme. Easy and quick language change!
As a bonus, you get an extensive setup guide and automatic FREE updates. All good for me!
LaFeminite features:
450+ sales
4.8+ star rating
Great video tutorials
Niche theme
Price: $89 (may vary)
MORE INFO / DOWNLOAD
DEMO
3. Sayville

Effortlessly share your love for modern style with Sayville's soft and POSH design.
Sayville is fully compatible with Elementor page builder; meaning it has never been so SIMPLE to build a site without coding & design skills.
Plus, you can sell products online due to the built-in shop.
Easy peasy.
Moreover, Sayville includes all images – for FREE!
Enjoy dozens of WP widgets, color options, layouts, Google fonts, and icons. Deck Sayville out exactly as you fancy.
IMPORTANT: don't forget to connect Sayville with your social media accounts (a great way to spread your content).
Pop over to Sayville!
Sayville features:
450+ sales
4.5+ star rating
Price: $29 (may vary)
MORE INFO / DOWNLOAD
DEMO
4. Blueprint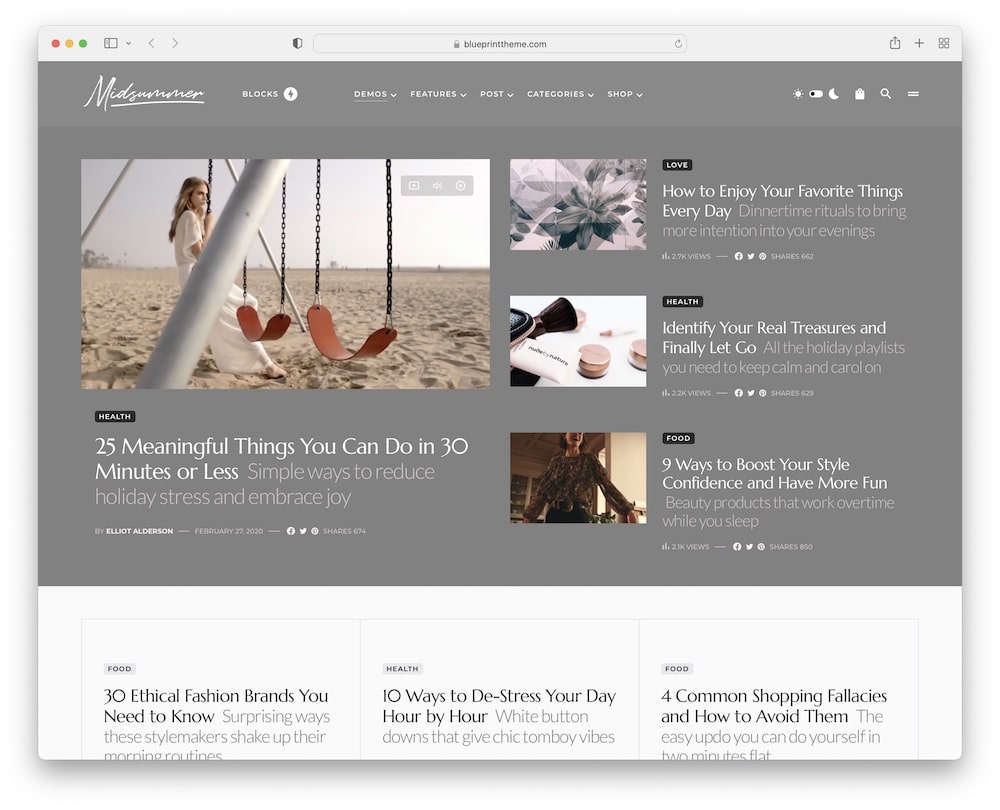 Hello, fashion! And HELLO, Blueprint WordPress fashion blog theme style icon.
You can import Blueprint with one click (choose from nine homepages) and adjust to your personal style – right away!
Pick from fonts, post blocks, review boxes, animations, and colors.
Moreover, different post layouts allow endless combinations and looks. Plus, I love it when I can turn on dark mode for an AWESOME viewing experience.
I definitely recommend it.
Also, check out advanced WP popups for a newsletter, a cookie notice, or a promotion. Put your site to good use.
The Blueprint should be on your radar!
Blueprint features:
1,000+ sales
4.5+ star rating
WooCommerce integration
Price: $69 (may vary)
MORE INFO / DOWNLOAD
DEMO
5. Chloé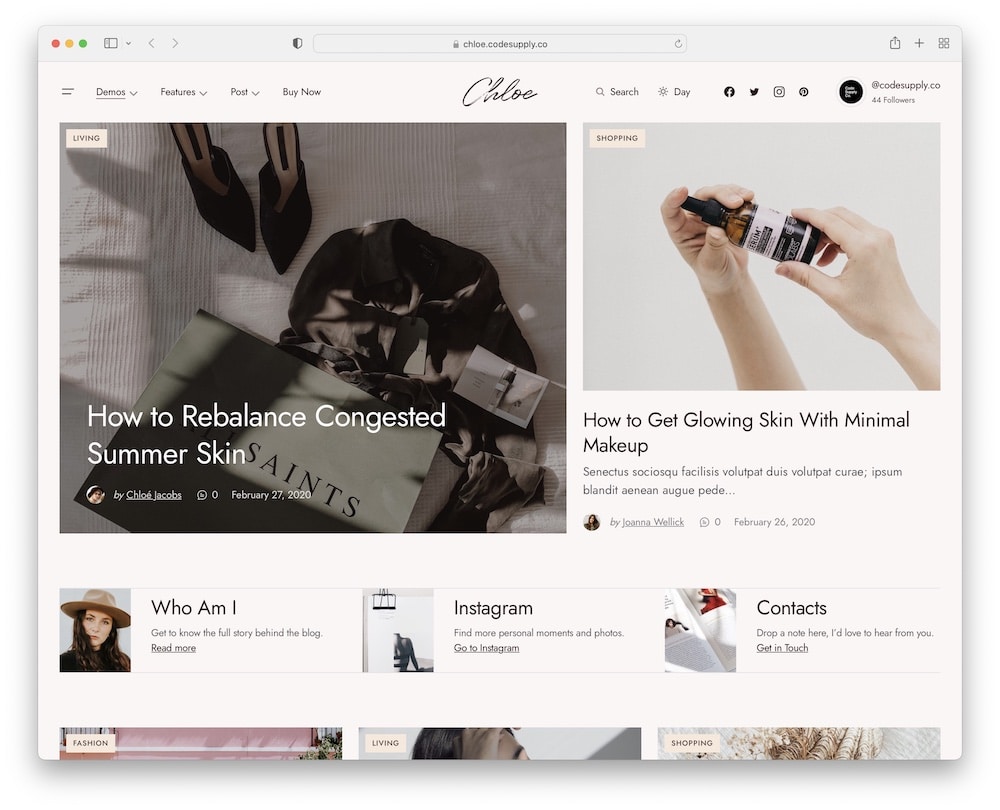 Come and meet your new BESTIE – Chloé WordPress fashion blog theme. Simplicity is key. In life, and style.
You can easily activate a chosen demo without any hidden fees. You can use Chloé exactly as it is or change it to your unique preferences.
Everything about it is user-friendly and beginner-approved.
Modern Chloé is optimized for SMOOTH performance including lazy loading, responsive design, SEO friendliness, and speed.
Furthermore, you can create subscription forms (a breeze to make) and grow your audience with Contact Form 7. I think you will also like brilliant MailChimp – one of my fav tools (hint hint).
Upgrade your look with Chloé.
Chloé features:
360+ sales
4.8+ star rating
Multi (guest) author support
Predefined advertising (or monetize your blog with these WP advertising plugins)
Price: $69 (may vary)
MORE INFO / DOWNLOAD
DEMO
6. Applique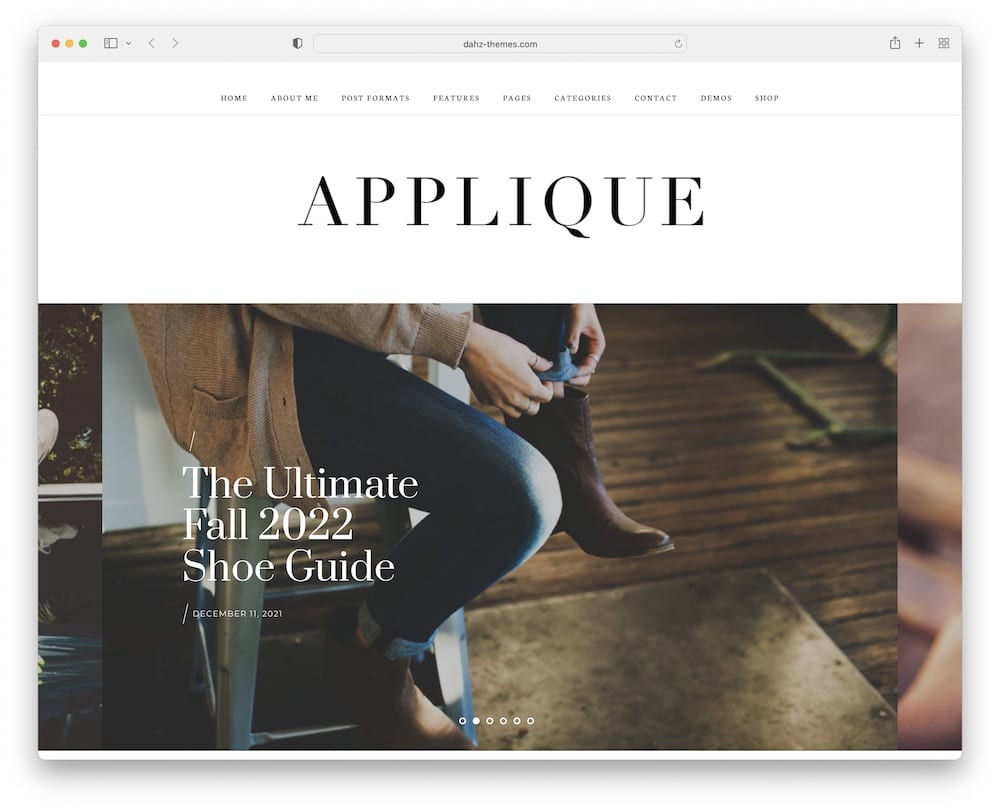 Timeless Applique WordPress fashion blog theme is essential for showcasing your chic wardrobe and something I look forward to telling you all about.
Applique comes with various post formats for your gallery, blog, audio, and video content. Super easy to assemble – usability and functionality are excellent!
You can earn money from your passion and monetize your blog with affiliate links, advertising space, or banners using Applique.
This stuff is GOLD.
Oh, and a full-wide Instagram feed in the footer is a smart way for your visitors to experience your brand (get noticed & get sales).
REPEAT after me: I need Applique!
Applique features:
MORE INFO / DOWNLOAD
DEMO
7. Kicker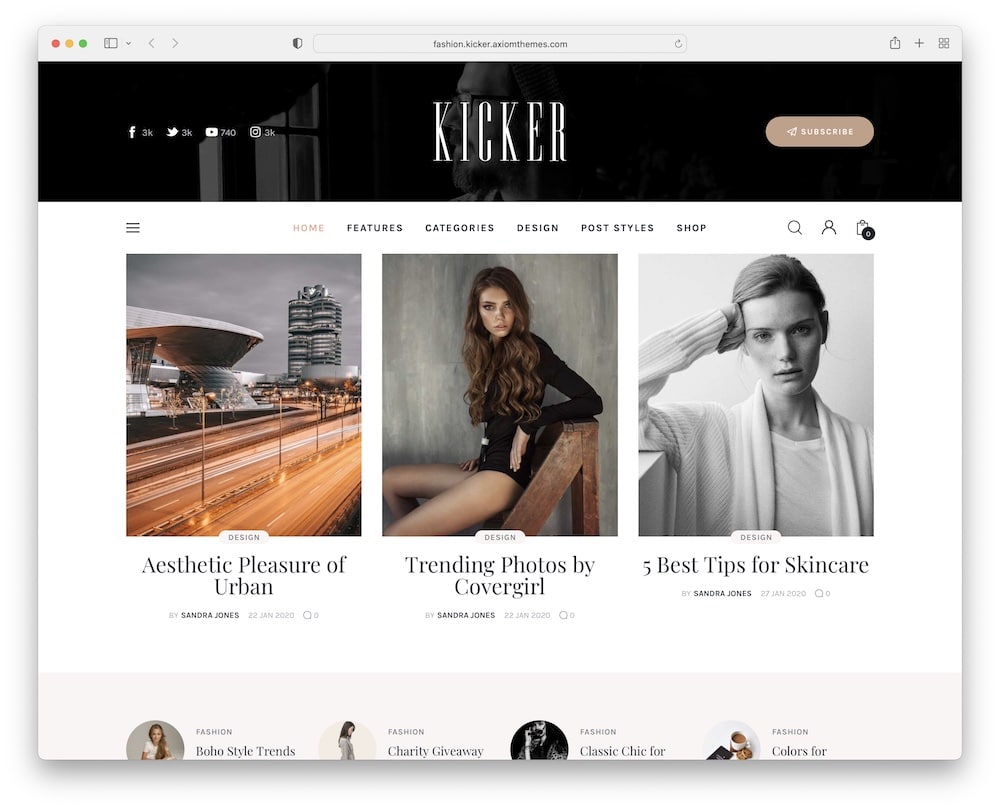 Every girl (and boy, who am I kidding) needs a modern blog that is great for posh outfits, chic ideas, and amazing style tips.
The Kicker WordPress fashion blog theme is one of the best investments you can make!
Change the game of building a site with the Gutenberg and Elementor editors (you can choose which one to use – LUCKY), both super fast and simple to use.
Yup, no need for paying professionals – you can DO IT.
Moreover, you can create a multi-column navigation with the mega menu, and even insert any content you need (links, banner ads …).
Plus, newsletter popups & MailChimp integration are a great aid to grow your email list.
Activate Kicker today!
Kicker features:
2,300+ sales
4.7+ star ratings
1,000+ layout variations (!)
Multilingual theme support
Price: $59 (may vary)
MORE INFO / DOWNLOAD
DEMO
8. Buzz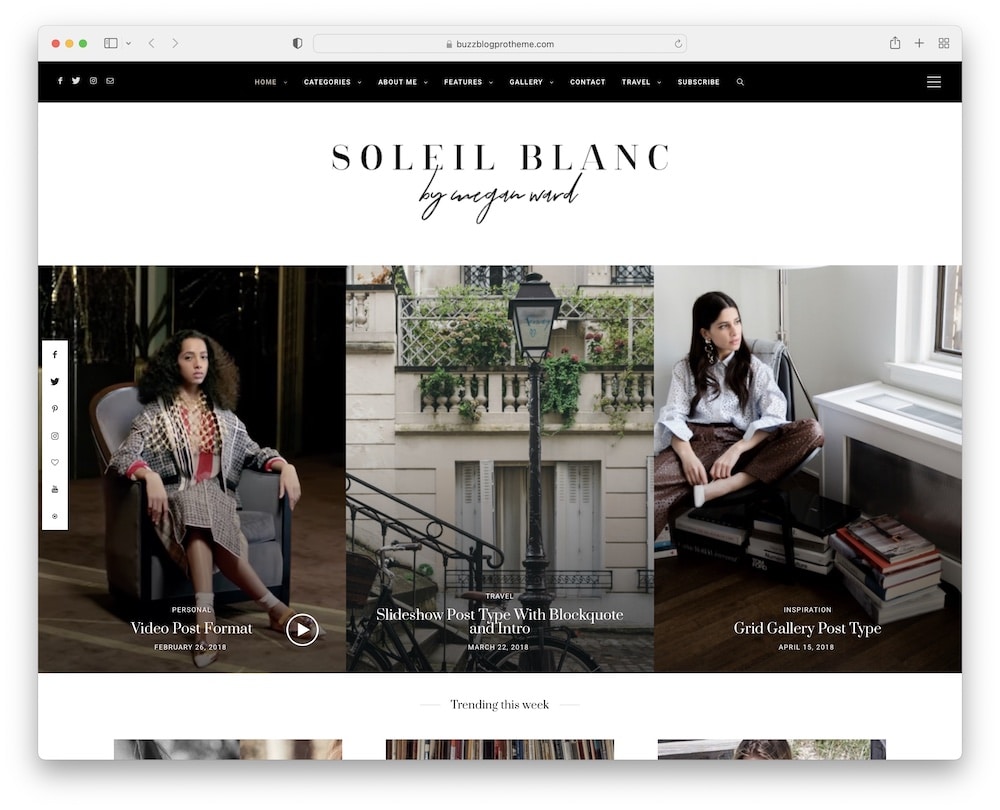 Give your online space a unique – signature look with the fresh Buzz fashion blog theme.
Buzz comes with fifteen gorgeous demos (one-click import). And if you are like me you will play with numerous post and page layouts 'till you find the winning combination.
I love my job.
Moreover, Buzz includes flexible header styles (set it as a sticky or normal header) and you can even add a STUNNING parallax theme effect for header background video or image.
Whoa!
Not enough time? You are not alone.
A built-in archive page with a useful search bar is a fix for site organization so that your visitors can find everything they need double-quick.
Let's Go!
Buzz features:
7,100+ sales
4.8+ star ratings
Built-in cookie policy
Custom header & footer builder
Price: $49 (may vary)
MORE INFO / DOWNLOAD
DEMO
9. Rima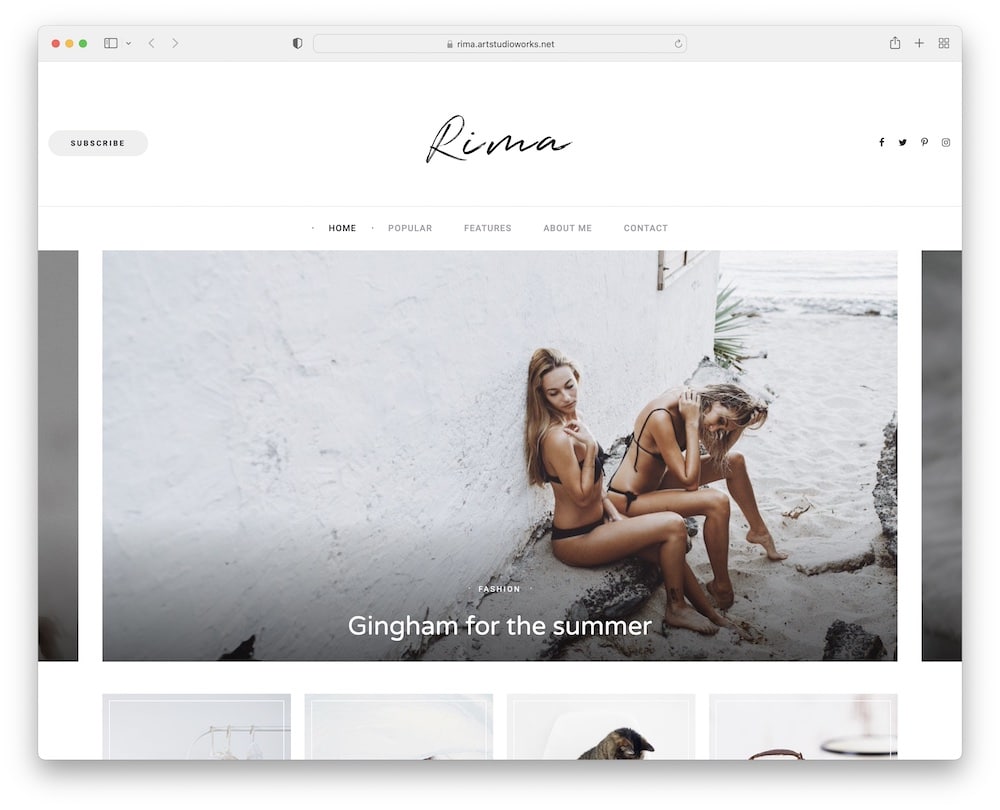 Rima includes everything you need for a successful blog. Choose from elegant typography options, unlimited colors, tons of widgets, various WP sidebars, and pre-made layouts.
Of course, it comes with social media icons, so you can show how sociable you are. Translation into different languages?
A piece of CAKE for Rima.
How COOL is that?
Plus, the interactive fullscreen WP slider plugin (Slider Revolution) is such a stunner. Instant attention-grabber!
As you can tell, I'm pretty excited about Rima – start your blog today!
Rima features:
1,400+ sales
4.8+ star ratings
Subscription form
Price: $49 (may vary)
MORE INFO / DOWNLOAD
DEMO
10. Malina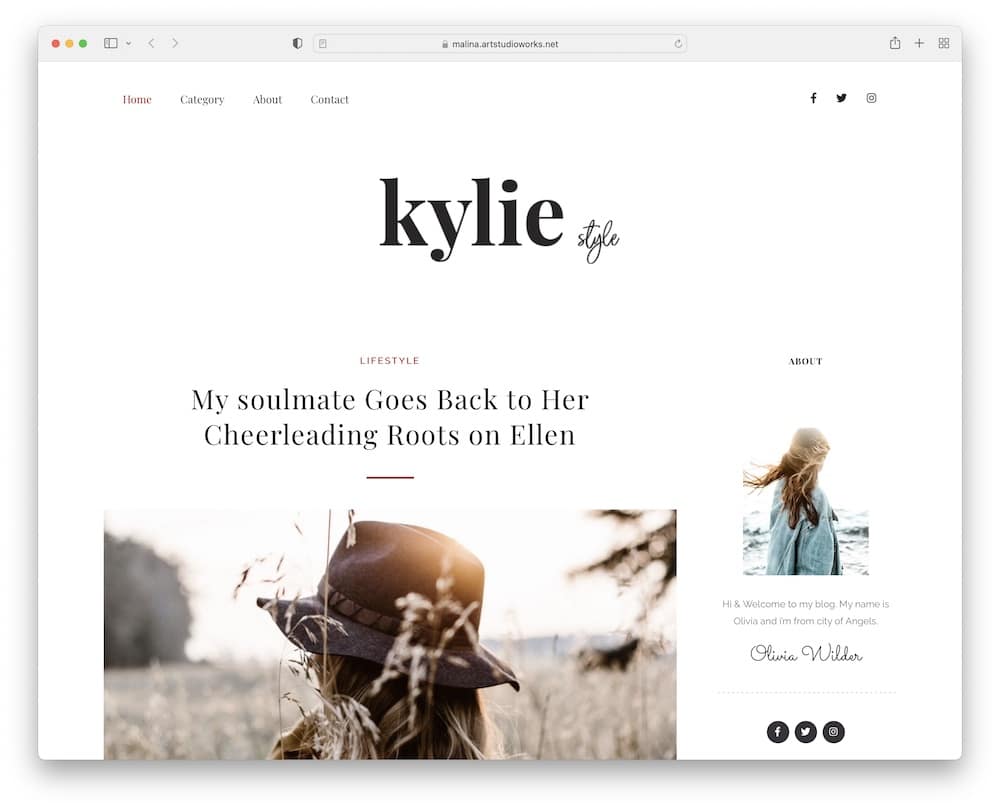 So, do you have a favorite way to style your look at the moment? Are you loving more colorful fashion?
Or you are into the traditional cuts and colors?
Share your thoughts regularly on the impressive Malina WordPress fashion blog theme!
It's worth mentioning that Malina offers total design and content freedom due to the COOL Elementor (the best tool for creative work).
Plus, in my opinion, it's a must to include custom widgets: about me, social media, and subscription. Also, be smart with header & footer info – a great benefit for your site + better engagement.
And HEY, Malina customer support has your back 24/7 (insane!).
Malina features:
4,700+ sales
4.8+ star ratings
Quick shop creation
Minimalist design
Price: $59 (may vary)
MORE INFO / DOWNLOAD
DEMO
11. Gillion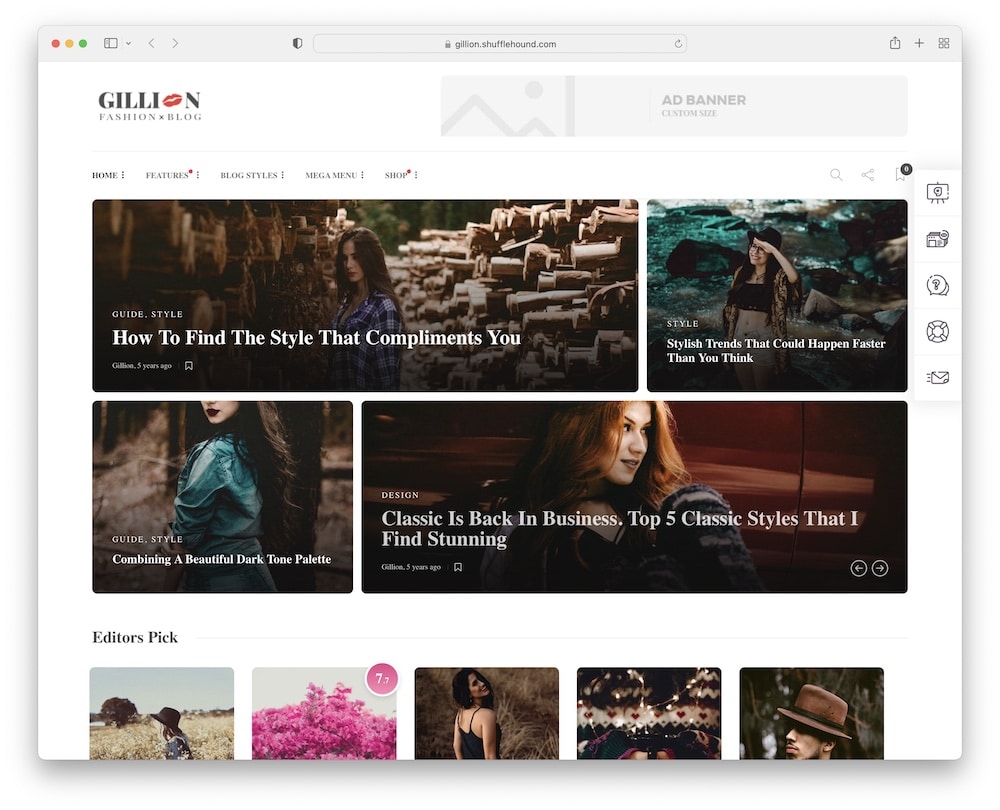 Some things are really special and worth every $ – like a Gillion WordPress fashion blog theme. I know you all are going to LOVE it!
Simply choose the pre-made demo you like and install it with one click.
PRESS the button. Done!
Gillion's pleasant treat of more than 50 blog elements is just PERFECT. Of course, everything you touch is intuitive and user-friendly (Hi beginners & Welcome advanced users).
Mobile optimized header styles come with a smart option to add a top bar to each of them.
Plus versatile (all-purpose) layouts will take your content and give it a modern style.
HI5!
BTW: Gillion is also speed and SEO optimized (GREAT basics).
Gillion features:
4,200+ sales
4.7+ star ratings
Bookmarking system
Works with Elementor & WPBakery
Price: $55 (may vary)
MORE INFO / DOWNLOAD
DEMO
12. Aden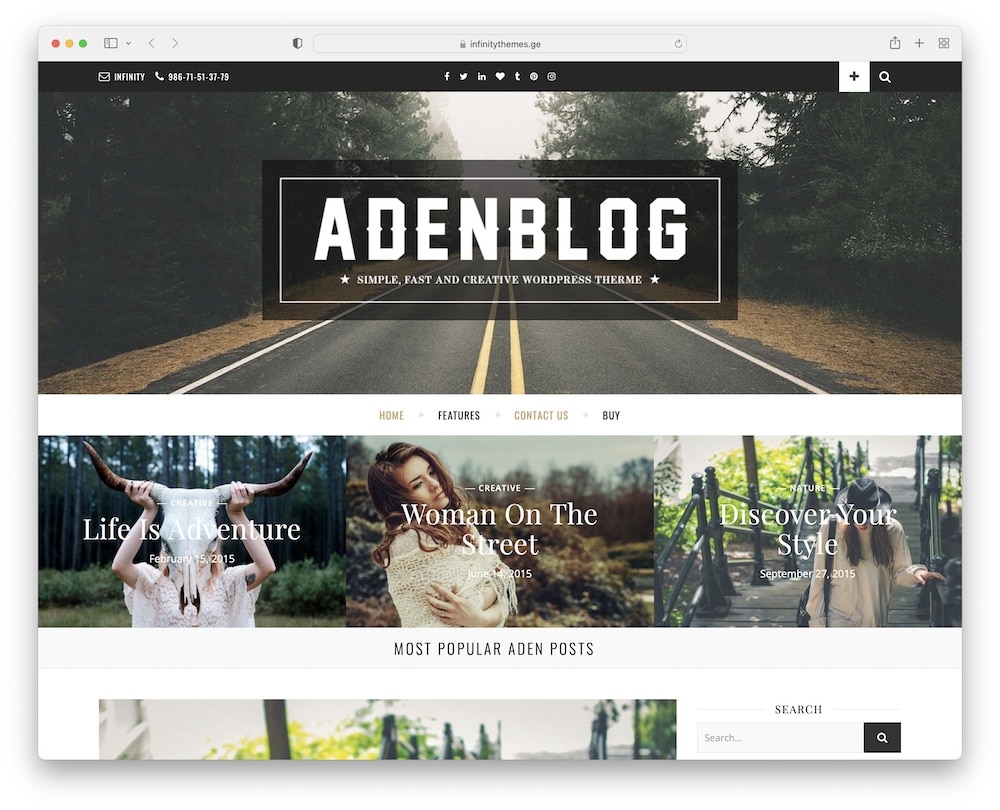 If you're unsure about using Aden WordPress fashion blog theme, here's a little secret.
YES, you need it!
This stylish and clean theme is fully responsive and supports all modern browsers. And your visitors will also enjoy an AWESOME and smooth display of your site on their devices.
The option to choose from various layouts, sidebars, and post formats comes super handy.
Oh boy, Aden also includes well-prepared documentation, professional customer support (just get in touch!) – and even a child theme is in the package.
Ready to jump in?
Aden features:
2,200+ sales
4.7+ star ratings
Social media integration
Audience overview with Google Analytics
Price: $16 (may vary)
MORE INFO / DOWNLOAD
DEMO
::
Note: This article was originally published on June 13, 2022. But our team regularly reviews it and updates it with necessary improvements for accuracy.