We tested many free and premium WordPress comments plugins to create a best-of collection to improve your website's commenting section instantly.
And IMPROVE visitor interaction!
If you think there is not much difference between these plugins, you're wrong.
A powerful comment plugin allows your visitors to hold discussions or share content.
This post covers:
Moreover, some plugins include social sharing tools and community integration options. Such functions will encourage even more visitors to participate.
Setting up (advanced) comments on WordPress is TOO easy. Enjoy.
How We Tested WordPress Comments Plugins
One of the most critical factors of this entire collection is to ensure that we add the most quality and reliable plugins for you to use.
For this reason, we put each of them through a series of tests to guarantee their performance, ease of use, great customizations and practical configuration settings.
We also instantly eliminated all the plugins with poor ratings, user feedback and infrequent updates.
Moreover, we contacted all the authors and chatted with the support team to affirm that you get treated with great care.
Later, we installed each plugin on ULTIDA's demo site to analyze whether or not the plugin slowed down the website.
Additionally, we examined the user interface so everyone easily gets the most out of the tool, even without experience.
THE ULTIMATE 5:
You may also want to read our how to install a WordPress plugin guide first before proceeding.
Best Premium WordPress Comments Plugins
1. Comment Press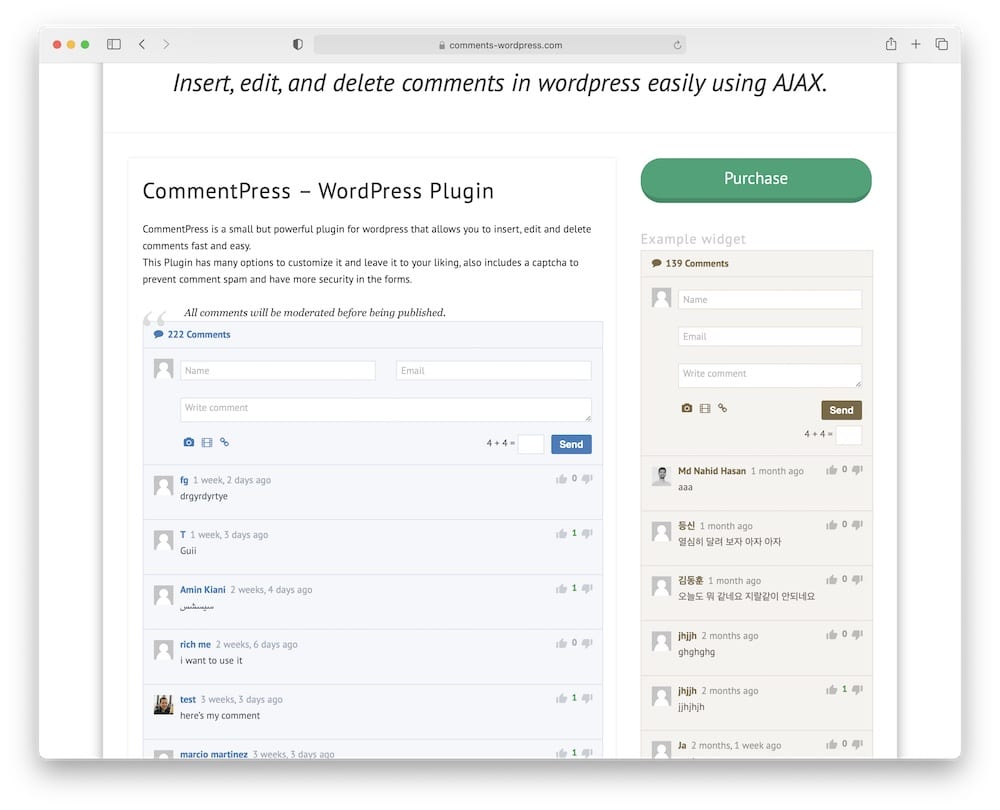 Comment Press is a lightweight (yet powerful) plugin to insert, delete and edit comments in a breeze.
You and your visitors WON'T have to reload the page to see the comments with this comments plugin for WordPress. This is possible as Comment Press uses Ajax technology, jQuery and PHP.
Besides that, it provides you with many customization options to tailor commenting to your needs.
Also, Comment Press contains form security and a captcha to prevent comment spamming.
But you can also check our guide on how to stop spam comments in WordPress for more info.
Comment Press features:
660+ sales
4.5/5 ratings
Comment pagination
Works with WP shortcodes
Price: $21 (may vary)
MORE INFO / DOWNLOAD
2. WP Comment Images and Videos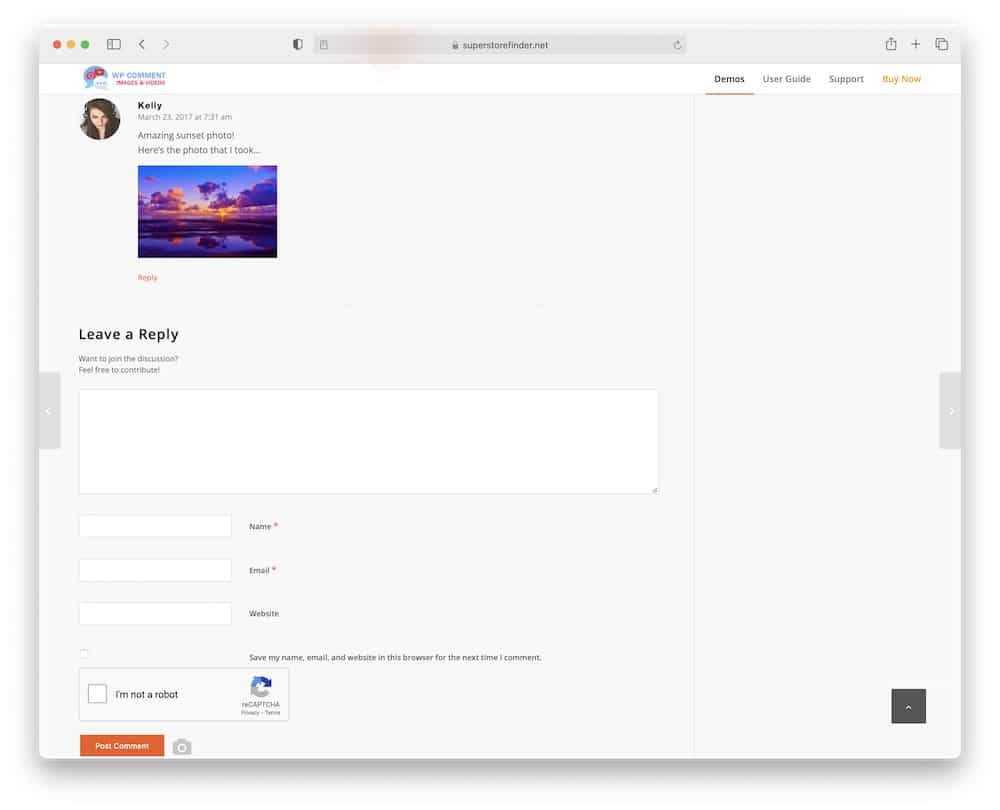 WP Comment Images and Videos allows you to create a comments section that gives your visitors the option to add images and videos to their comments.
You can build a more engaging collaboration environment for all your customers or visitors with this plugin. Besides, this plugin is FULLY compatible with all WP themes and the latest WordPress version.
Use WP Comment Images and Videos to create more engaging comments with images and videos.
WP Comment Images & Videos features:
110+ sales
5/5 ratings
Supports YouTube & Vimeo
Price: $12 (may vary)
MORE INFO / DOWNLOAD
Best Free WordPress Comments Plugins
3. wpDiscuz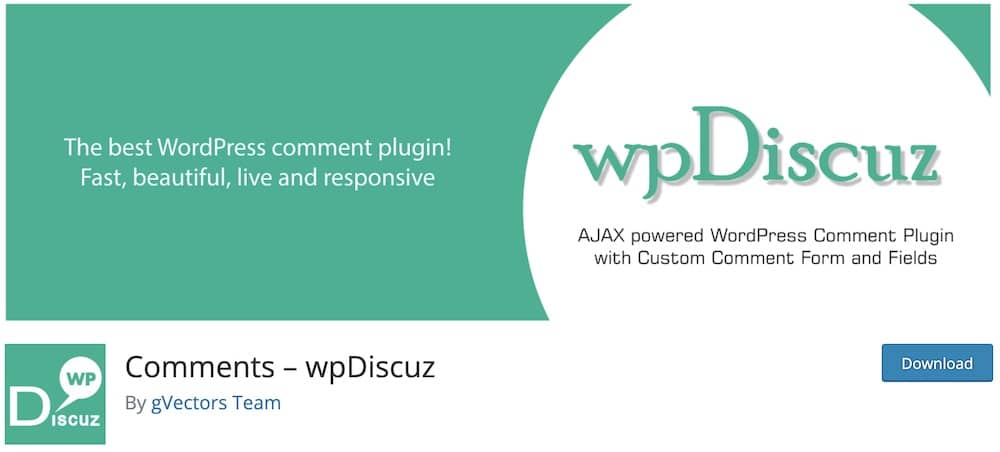 WpDiscuz is a comprehensive comments plugin as it allows you to create a real-time commenting system. When it comes to features, this plugin will amaze you with all the striking advantages.
You can give your visitors a total integration option for social media like Instagram, Twitter, etc.
Note: This plugin has one of the SIMPLEST and CLEANEST interfaces you may have seen.
Moreover, wpDiscuz allows you to keep the comments in your website database. In short, it is one of the market's most powerful free comments plugins.
wpDiscuz features:
90,000+ active installations
4.8/5 ratings
3 modern comment layouts
Anonymous comments
Integration with Postmatic
MORE INFO / DOWNLOAD
4. Social Comments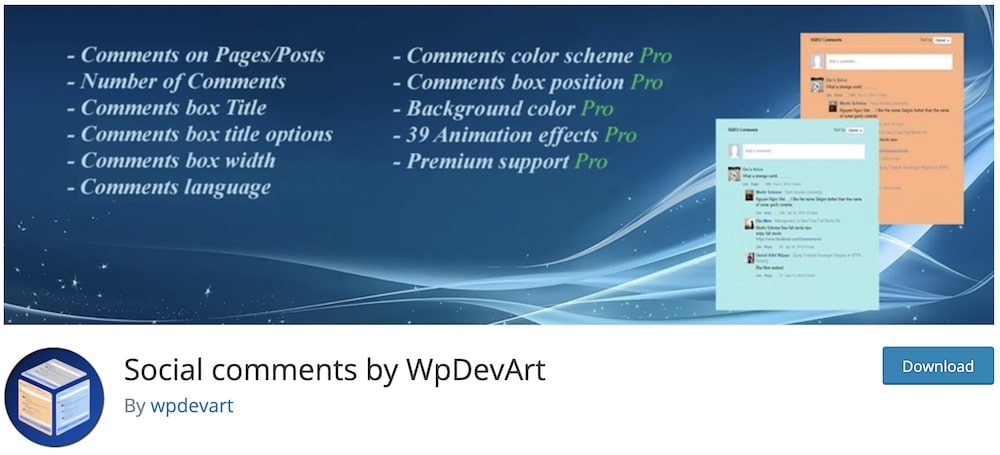 Social Comments is a GREAT choice for integrating Facebook comments. (It displays a feed of comments from Facebook users under your post.)
Your users don't have to create an account on your site to start commenting because the plugin runs via the Facebook platform.
Creates a better user experience.
Social Comments is an excellent plugin to integrate Facebook comments into websites. Build more proof!
Social Comments features:
10,000+ sales
4.4/5 ratings
Regular updates
A lot of customization options
Great support
MORE INFO / DOWNLOAD
5. GraphComment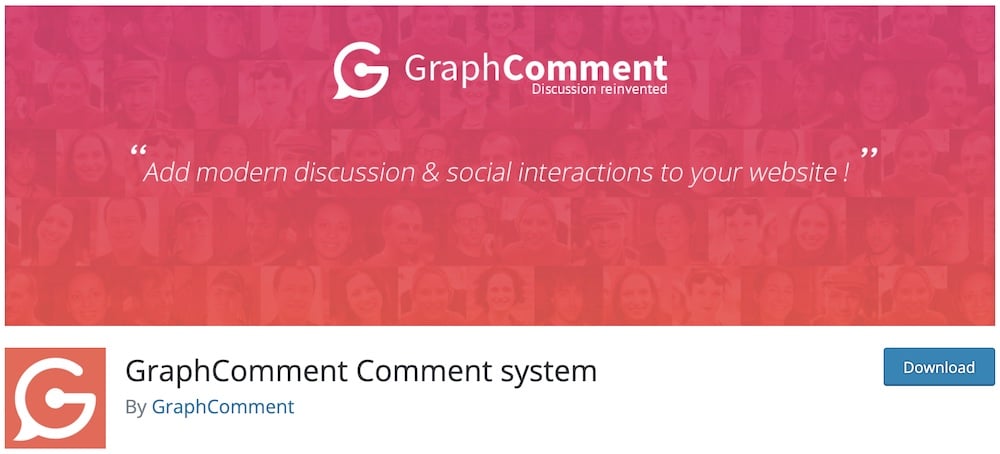 GraphComment is another commenting plugin that gives you a great solution for BETTER visitor engagement.
This free WordPress comments plugin comes with a lot of great features. One of the most important is the Bubble Flow. This clever moderation system handles user interaction and displays discussions in real-time.
Note: You also get the Bubble Rank.
The Bubble rank is actually a feature that prevents spam comments via a special algorithm. This plugin is an excellent tool if you have to deal with a large number of comments.
GraphComment features:
700+ active installations
4.7/5 ratings
Badges & awards
Sliding WP sidebar panel
MORE INFO / DOWNLOAD
6. Super Socializer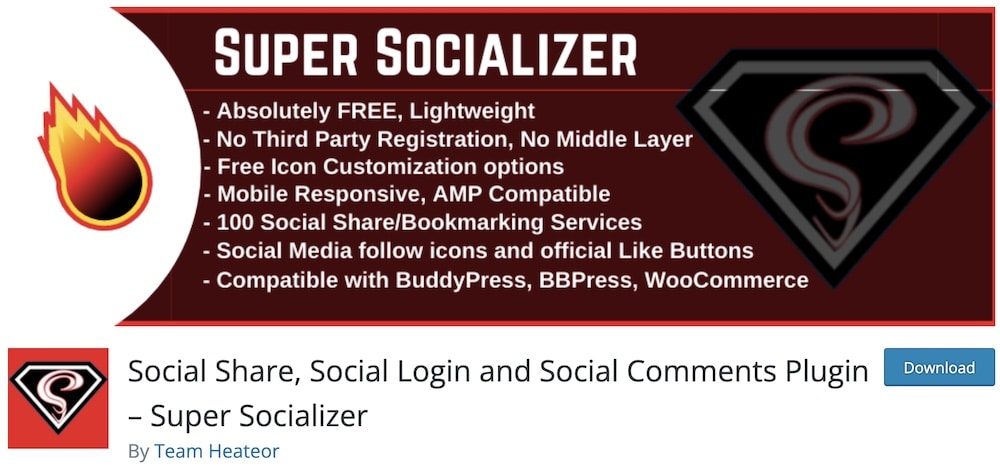 Super Socializer is a great free WordPress comments plugin that will not affect your website's speed at all. (It's a lightweight commenting system.)
You can insert social sharing buttons and following buttons under the comment section.
Super Socializer supports 100+ social networks like Pinterest and Linkedin.
This plugin is an excellent free choice to IMPROVE your comments section with social sharing buttons.
Super Socializer features:
40,000+ active installations
4.8/5 ratings
Boosts viral potential
24/7 customer support
MORE INFO / DOWNLOAD
7. Simple Comment Editing

Simple Comment Editing allows your visitors to edit their comments. Hey, we all make mistakes! (Or just want to share an update.)
This free WordPress comments plugin allows users to make edits in the first 5 minutes after posting.
Users can CORRECT any misinformation or typos they did when commenting.
To sum up, Simple Comment Editing is a lightweight plugin that doesn't need a lot of settings as everything runs automatically after the installation process.
Simple Comment Editing features:
3,000+ active installations
4.9/5 ratings
Supports anonymous users
Filters for advanced customization
Quick set up
MORE INFO / DOWNLOAD
8. ReplyBox

ReplyBox is a hosted comments platform that takes your comments live on ReplyBox's servers. This plugin is specifically focused on the privacy of your users and visitors.
Plus, very fast loading!
This free WordPress comments plugin has no lock-in as it syncs your comments with your WordPress website.
Besides that, you can also IMPORT your website's existing comments to ReplyBox.
ReplyBox is a great comments plugin as it doesn't monetize user data and doesn't need to track their data to save your website's comments.
ReplyBox features:
300+ active installations
3.5/5 ratings
Prevent spam system
Supports custom CSS
Social Login
MORE INFO / DOWNLOAD
9. Disable Comments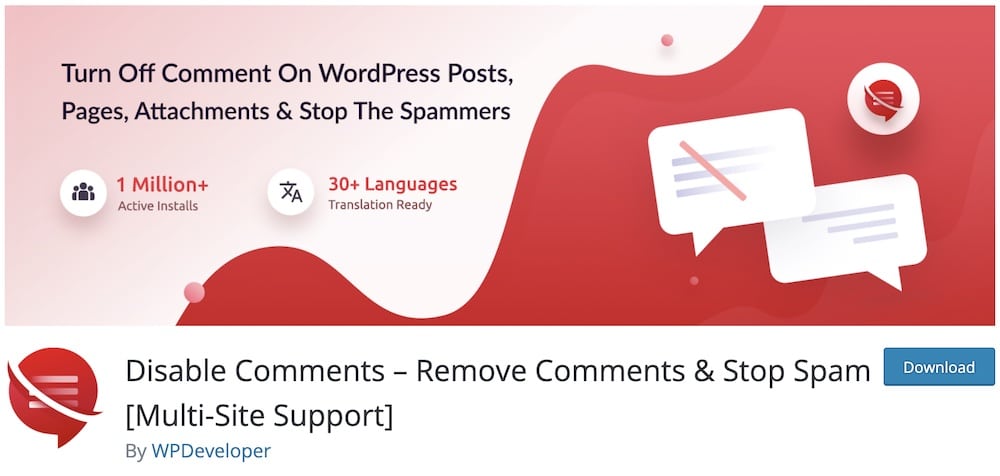 If you are looking for a free WordPress comments plugin to EASILY disable the comments on particular posts or pages (or sitewide), this one's for you.
We've used it multiple times and it works like a charm!
Besides, this plugin also fully supports multi-site networks. It has an amazing user-friendly interface that will make the comments configuration easier.
Disable Comments is a smart choice for those dealing with spammers who want to easily disable comments on individual posts or pages.
Note: We also have a full tutorial on how to disable comments in WordPress.
Disable Comments features:
1+ million active installation
4.7/5 ratings
Option to disable comments via XML-RPC & REST-API
Well documented
Stop comments with 1 click (!)
MORE INFO / DOWNLOAD
10. Lazy Load for Comments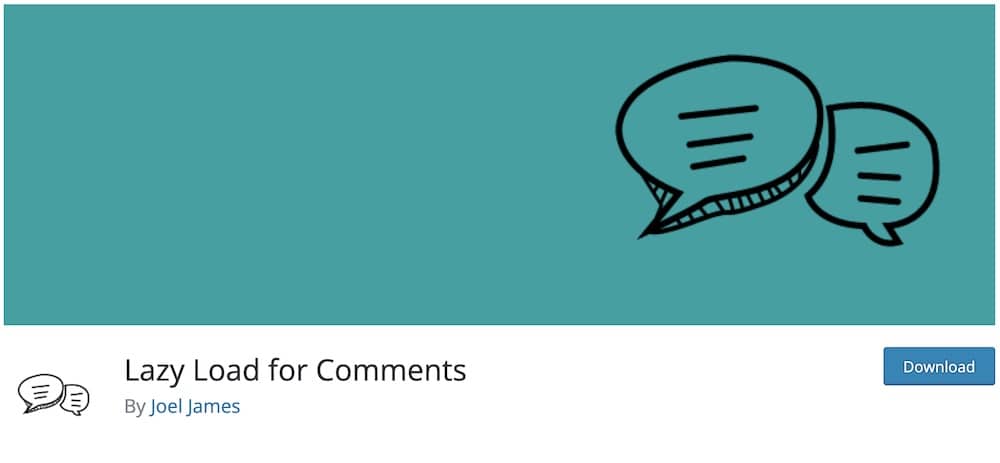 With our latest pick for this top list, we have Lazy Load for Comments. This free WordPress comments plugin does exactly what it promises.
It is explicitly designed to be lightweight and its function to DISPLAY comments only when the page loads increases your website speed.
Yup, it boosts your WordPress site's loading time.
Lazy Load for Comments features:
5,000+ active installations
4.8/5 ratings
Load comments only when required
Supports Divi & Genesis
Translation ready (feel free to use a WordPress translation plugin)
MORE INFO / DOWNLOAD
::
Note: This article was originally published on March 21, 2022. But our team regularly reviews it and updates it with necessary improvements for accuracy.