These are the top-tier free and premium WordPress lead generation plugins to sort you out with quality leads.
You want the BEST, which is why you came here.
Since choosing any type of plugin is challenging, we helped you with this task. We tested 25+ lead generation plugins to bring you the most reliable solutions.
Don't lose your visitors again.
Capture their attention and turn them into leads. And then turn those leads into sales.
With a plugin, duh.
This post covers:
BOOST your business because you deserve it!
How We Tested WordPress Lead Generation Plugins?
For the latest version of the best WP plugins for lead generation, we tested 25+ and narrowed those down to the seven best.
We first opened all the plugins in separate tabs, reviewed overall star ratings and read through users' feedback.
Yes, that's a lot of tabs! But don't we all have tons of the open at the end of the day? Okay, maybe that's just us.
Nevermind.
There were already ten that didn't meet our expectations.
The next step was to check update frequency, read through the documentation and talk to the support team. Because the free plugins don't offer support, we examined each plugin's support forum on WordPress.org.
So far, this is a relatively quick process, but it gives you a good idea of which plugins are more promising than the others.
We were left with thirteen tools that we installed and analyzed, one by one, on our demo website.
After installation and activation, we immediately tested if the plugin slowed down our website. Two did!
And then we went down to the nitty-gritty of finding the truly best.
We played with customization options, tried to add custom fields, combined the plugin with 3rd-party integrations and also worked on altering the positioning on the website.
Not all ticked all the boxes, but these seven did!
THE ULTIMATE 2:
Don't forget to check our tutorial on how to install a WordPress plugin hassle-free.
Top Free & Premium WordPress Lead Generation Plugins
1. ConvertPlus (Premium)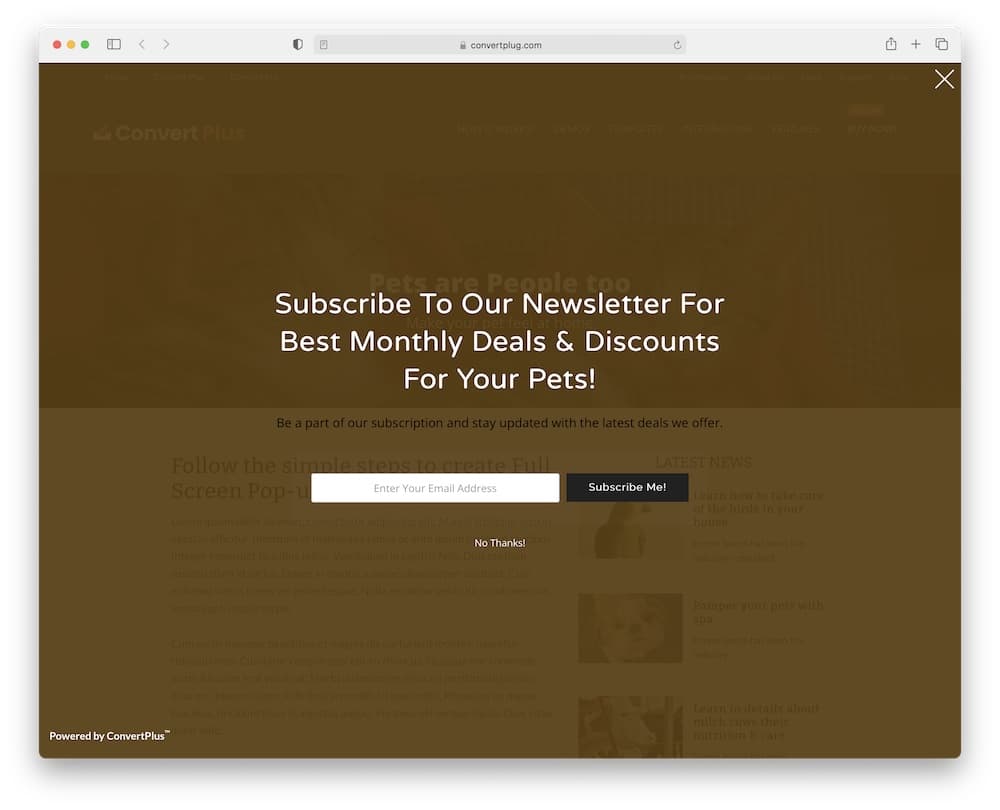 If we ask 10 website owners what they need from a lead generation plugin, at least 9 will argue that boosting sales is the ultimate goal.
For this to be possible, you need a wide range of features. And that's exactly why ConvertPlus is our first choice on this list.
You can create popups in WordPress and convert your first-time visitors into loyal followers with this lead capture plugin.
Yup, you'll grow your email list faster and bigger with ConvertPlus.
This plugin comes with 10+ popup display spots and various filters.
However, our favorite feature is the vast library of 100+ wonderful pre-made templates. BEST!
ConvertPlus features:
20,700+ sales
4.6/5 ratings
Video popups
Price: $23 (may vary)
MORE INFO / DOWNLOAD
2. OptinMonster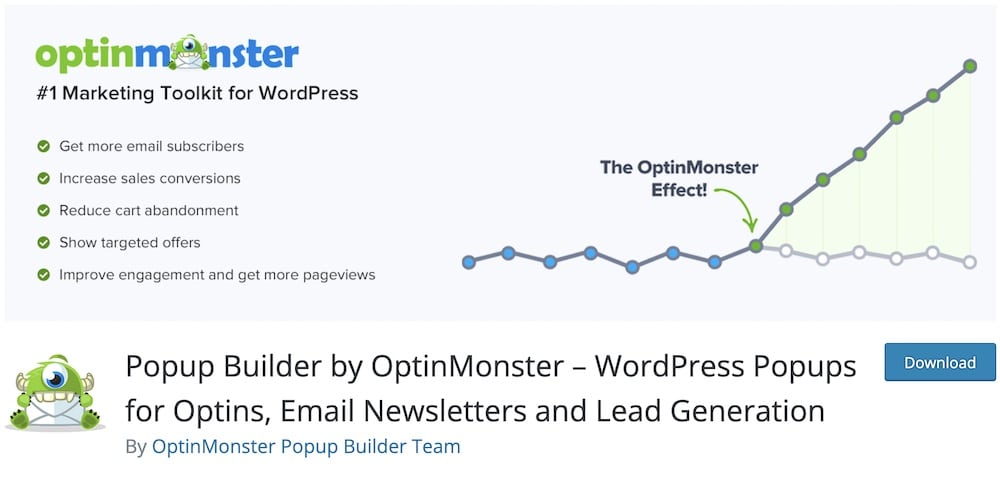 OptionMonster is one of the most popular free lead generation plugins on the market.
It offers endless features, including a popup builder and customizable email subscription forms.
We easily created CATCHY popup campaigns to target abandoning website visitors and turned them into new leads.
Besides that, OptionMonster lets you create sticky bar announcements and many other interactive solutions.
One of the best things we noticed when reviewing this plugin is how responsive and lightweight it is.
Build popups like never before for free with OptinMonster!
Note: We also have a collection of the best WordPress popup plugins if you need more options.
OptinMonster features:
1+ million active installations
4.5/5 ratings
Great support
Easy to use
Drag & drop builder
MORE INFO / DOWNLOAD
3. Brave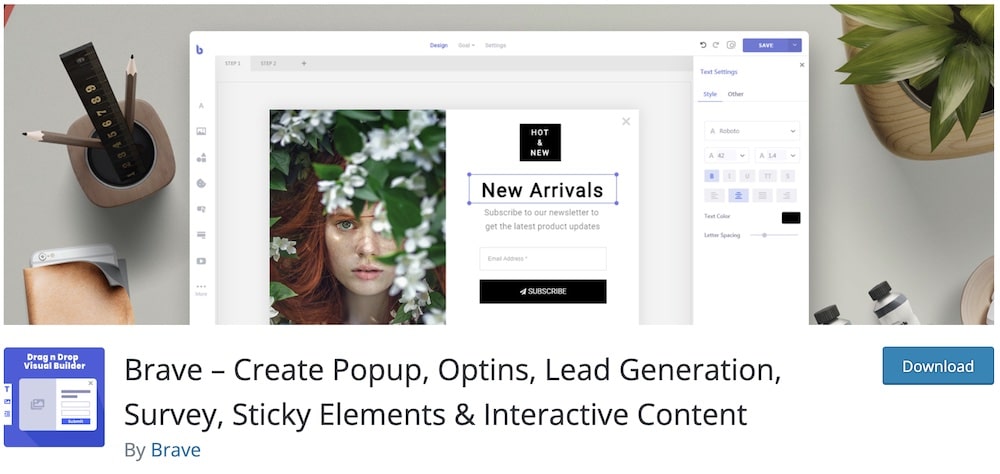 How often have you been looking for a plugin that doesn't require coding skills? I've been in this situation many time and am stoked to come across Brave.
I quickly created awesome popups, sticky bars, and more in a breeze with its drag-n-drop editor.
With this free WordPress lead generation plugin you can create numerous widgets like WP sidebars, lightboxes, contact forms, popups, sticky bars and more.
Brave offers nine elements to work with, including text, buttons, forms, images, etc.
We were also HAPPY that Brave has numerous display options and can determine how often to display the same popup.
Brave features:
20,000+ active installations
4.8/5 ratings
WooCommerce integration
Works with 20+ newsletter services
Comprehensive analytics
MORE INFO / DOWNLOAD
4. Jetpack CRM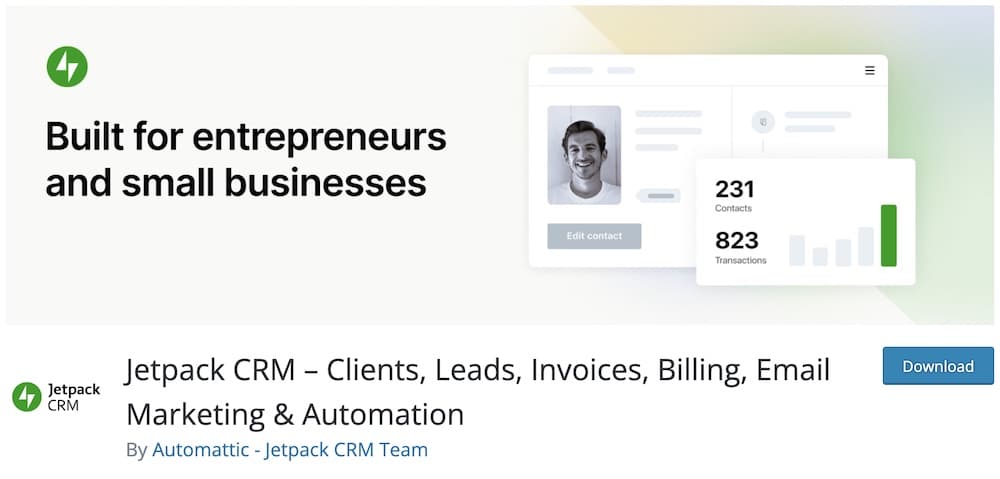 Jetpack CRM is a DIFFERENT lead generation plugin than the plugins we reviewed above.
It is an all-in-one tool with multiple features to improve your website's customer experience.
Do you want to create invoices, connect to Stripe and PayPal as payment gateways, or even create quotes for your customers? Then Jetpack CRM is just what you need.
This free WordPress lead generation plugin can do all that and much more.
Create a portal where your customers can view their invoices, files, transactions, quotes, etc.
Jetpack CRM features:
40,000+ active installations
4.4/5 ratings
Great support
Fully responsive
Front-end forms
MORE INFO / DOWNLOAD
5. MailOptin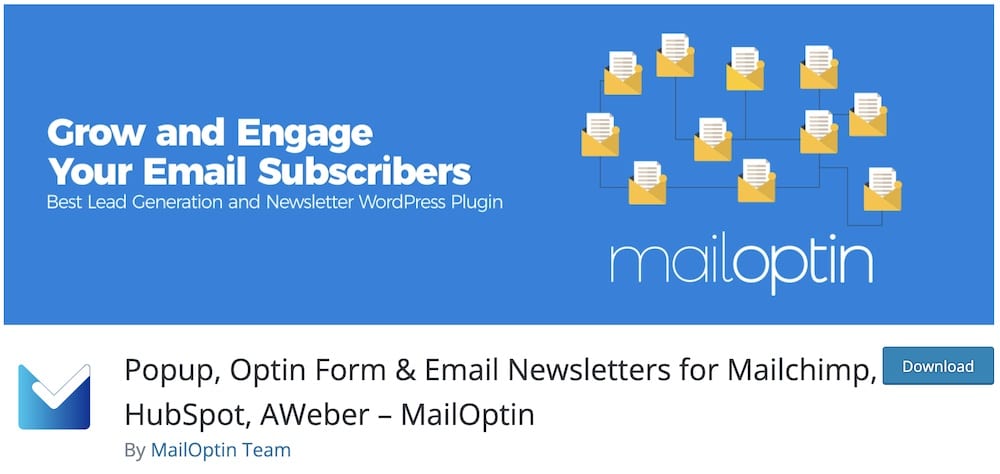 One of the first things we looked at in a lead generation plugin is the popup and form builder, and just how easy it is to use.
MailOptin came great for various of our project's needs, so we confidently include it here.
You can create numerous lead generation systems such as call-to-actions, popups, email newsletters, sign-up forms, and more.
This free WordPress lead generation plugin integrates with ALL popular email marketing services like Mailchimp, AWeber, and Sendy.
And it works with other form plugins (Elementor forms, Gravity Forms, Forminator, etc.) smoothly.
MailOptin features:
30,000+ active installations
4.8/5 ratings
A/B testing (!)
Responsive email template
Spam protection
MORE INFO / DOWNLOAD
6. Icegram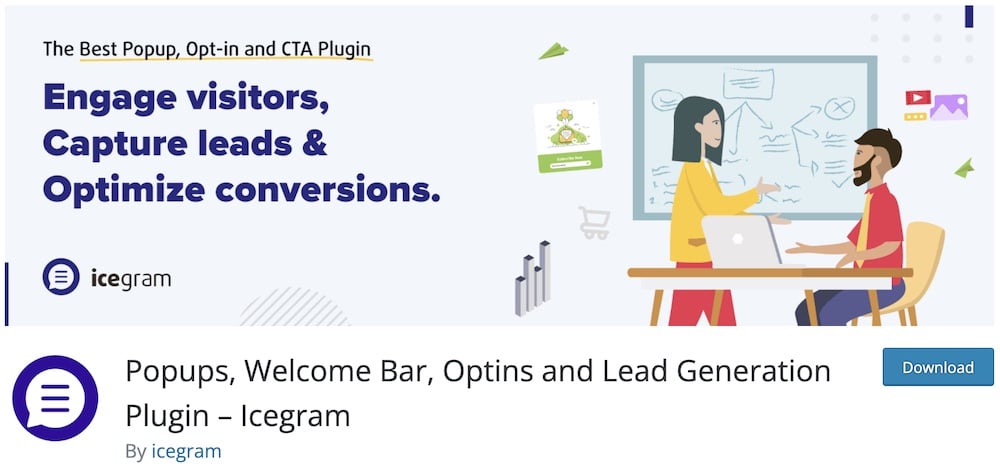 If you are looking for a free WordPress lead generation plugin with many popup templates and action bars, Icegram is just what you need.
With Icegram, you can create EXCELLENT inline opt-ins, sidebars, popup campaigns, etc.
You can also guide or greet your visitors with optional header and footer bars that this plugin offers you.
One extra feature that we particularly appreciated is the plugin's extended documentation.
Icegram provides a lot of video tutorials, making this one of the most accessible plugins to learn.
Icegram features:
30,000+ active installations
4.7/5 ratings
Custom rules & targeting
Works with any WordPress theme
Zero coding
MORE INFO / DOWNLOAD
7. Hustle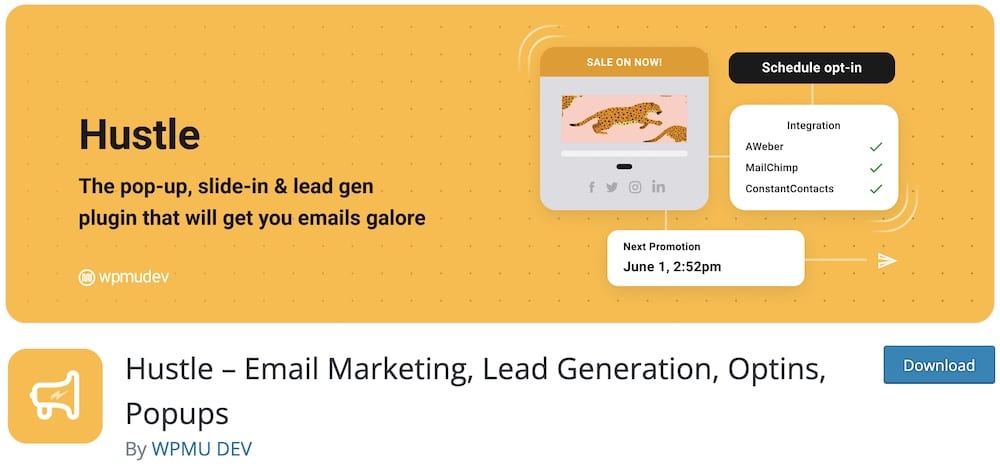 Hustle comes with highly targeted display settings and many different popup templates. We love it!
You can set up your popups to display on specific posts and pages with this free WordPress lead generation plugin.
Also, Hustle gives you the option to add social icons for BETTER visibility and engagement.
We also like how smoothly Hustle connects with popular form builders like Forminator.
You can embed your designs from any form builder and quickly display them via Hustle and attract more leads.
Hustle features:
100,000+ active installations
4.4/5 ratings
Great support
Custom CSS
Integration with popular email services
MORE INFO / DOWNLOAD
::
Note: This article was originally published on April 28, 2022. But our team regularly reviews it and updates it with necessary improvements for accuracy.