We worked for several months to find the best free and premium WordPress user registration plugins for building a login and registration portal.
You came to the right place if you plan to add a membership area to your blog or page!
These plugins give you a lot of great features and a user-friendly environment to create a login system.
EASY and QUICK solutions for everyone because you don't need the experience to make cool things happen.
This post covers:
We worked with different blog and business site owners to test each plugin properly.
Here we are now, unfolding our top selection.
How To Pick The Right WP User Registration Plugin?
With the various plugin options to choose from come various features and functions these plugins have.
In other words, we couldn't find the one-size-fits-all type of plugin you could use for everything, but our top recommendations come close.
For this reason, we want to share with you a few features you want to look into when picking the ideal one for your business:
You want the plugin to allow you to create unlimited forms, which you can easily integrate into your website or blog via a shortcode, widget or Gutenberg block.
Another beneficial function is payment gateways. While offering more options will increase user experience and conversions, having at least PayPal is almost essential.
It's also super handy if the user registration plugin offers the ability to create multiple membership levels.
Social media login is another function that can drastically enhance opt-in rates.
The plugin also needs to give you access to customizations and add custom fields to personalize the login and registration forms. Predefined form templates are also very valuable!
Depending on the goal with your new users, you may want to look for a plugin that also supports the creation of user profiles. Adding avatars, bios, social links, etc.
Lastly, the user-friendly admin interface to manage users is A MUST.
(Remember: Free plugins are more limited regarding features than premium ones. But for more basic usage, the free ones work GREAT!)
THE ULTIMATE 2:
Note: We also have a full guide on how to install a WordPress plugin.
Best Premium WordPress User Registration Plugins
1. UserPro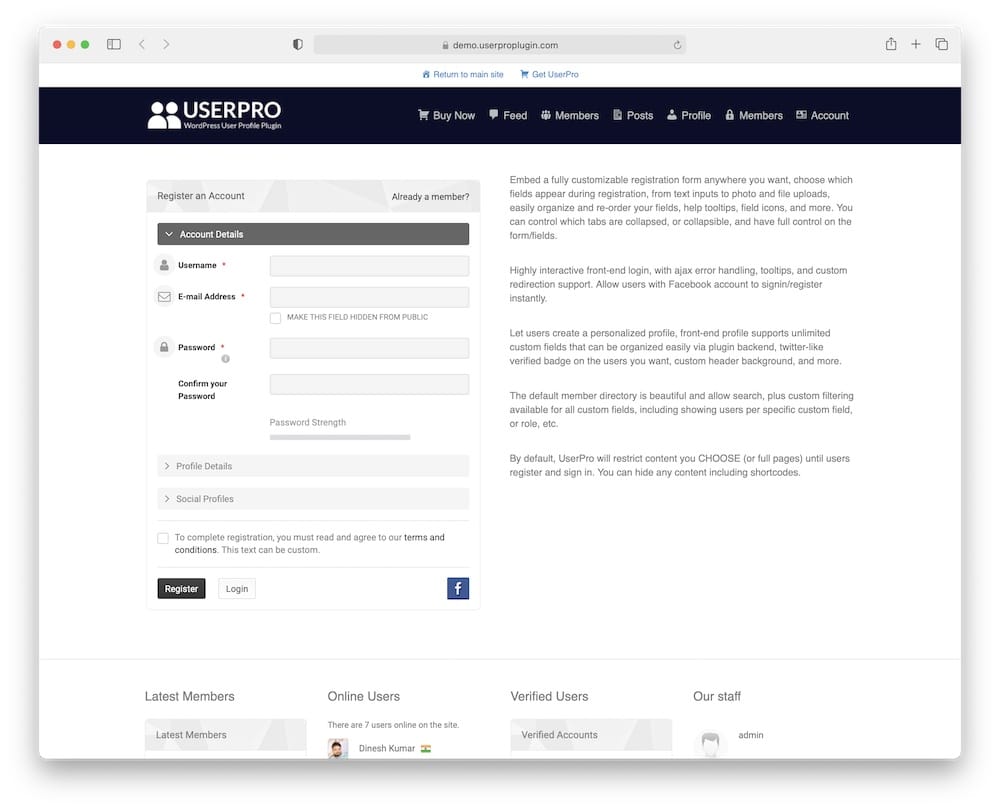 UserPro comes with A LOT of features to work with. This is an easy way to allow your users to create accounts on your blog or website.
One of the greatest features of UserPro is the option to use social profiles for account creation. (One of the quickest ways!)
You can also activate badges, lock content, etc. with UserPro.
It is a powerful and great plugin to create a user-friendly interface for managing accounts.
UserPro features:
20,600+ sales
4.3/5 ratings
Newsletter integration
WPML compatible
Price: $39 (may vary)
MORE INFO / DOWNLOAD
2. ARMember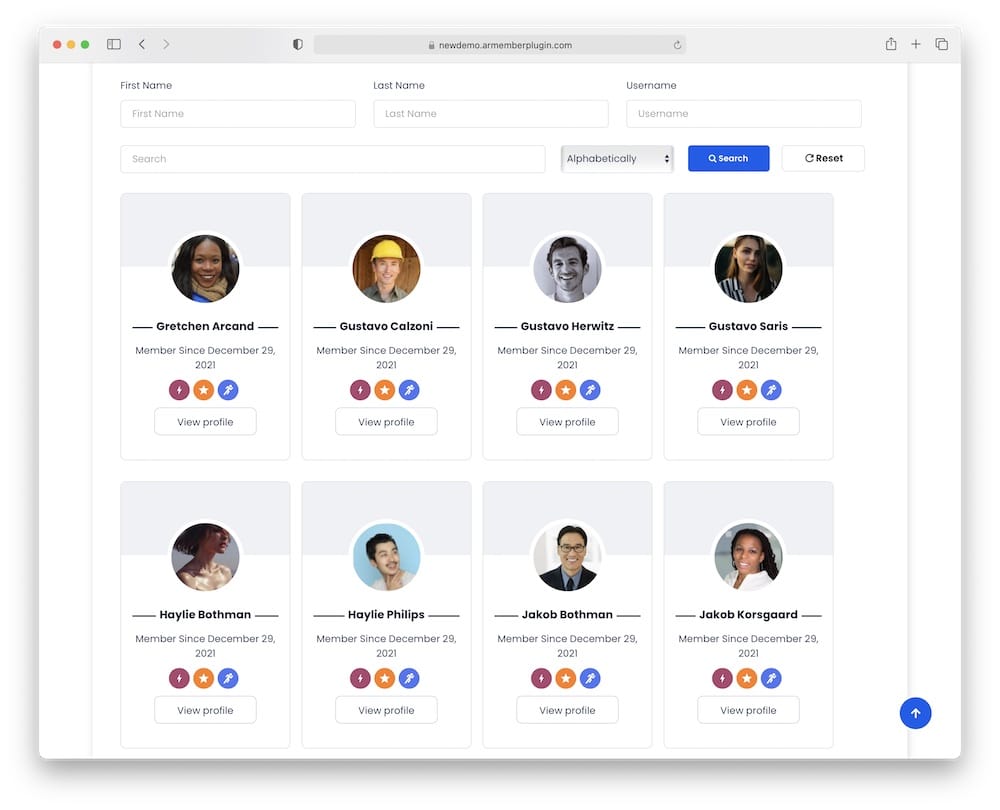 ARMember is one of the most powerful premium WordPress user registration plugins on the market. This plugin will provide you with MANY great functions like content protection.
You can create numerous membership models through WooCommerce sites. (We also have a full list of the best WordPress membership plugins.)
The plugin allows you to create modern and sleek registration and login forms with multiple element fields.
This plugin is a smart choice for websites that want to quickly create a powerful system of accounts.
ARMember features:
10,300+ sales
4.7/5 ratings
Paid membership options
Member profiles templates
Price: $59 (may vary)
MORE INFO / DOWNLOAD
Best Free WordPress User Registration Plugins
3. Ultimate Member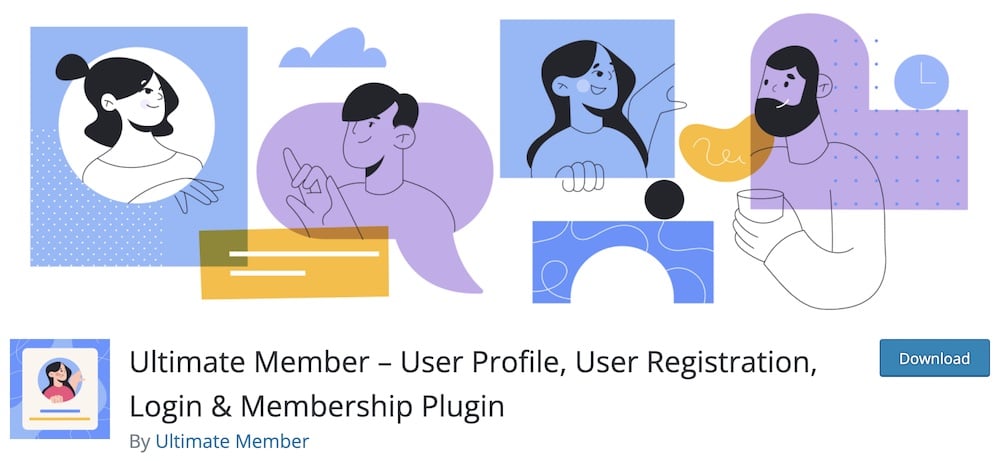 If you are looking for a free user registration plugin that will help you to create front-end user profiles for your users, this one is for you.
Ultimate Member comes with a lot of pros and you will have a lot of tools to work with.
It provides you with a DRAG and DROP builder to create custom forms.
With this feature, the plugin gives you a great way to create login and registration forms even if you are a beginner.
Creating accounts, user registrations and even membership plans is effortless with Ultimate Member.
Ultimate Member features:
200,000+ active installations
4.4/5 ratings
User account page
Content restrictions
User-friendly interface
MORE INFO / DOWNLOAD
4. User Registration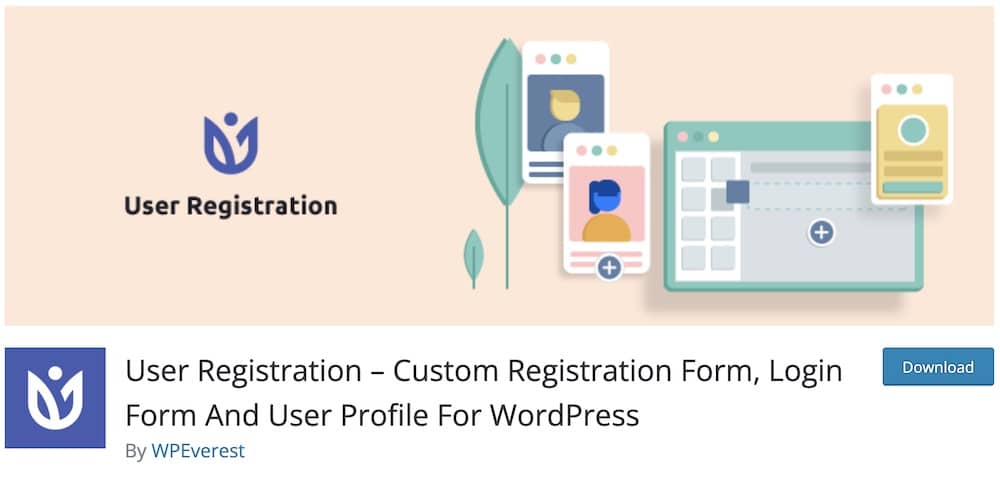 User Registration is a free plugin to get a user registration form on your website cleanly.
With this plugin, you will get a visual builder to manage what you want to present on the front-end.
It also allows you to create an unlimited number of registration forms.
Besides that, the plugin provides you with WP shortcodes to allow you to place your forms on ANY page or post.
In short, User Registration is a great way to go if you want to create registration and log-in forms and display them in many places on your website.
User Registration features:
60,000+ active installations
4.8/5 ratings
Admin & user email notifications
Assign WP user roles & capabilities
Protection with Google reCaptcha
MORE INFO / DOWNLOAD
5. Profile Builder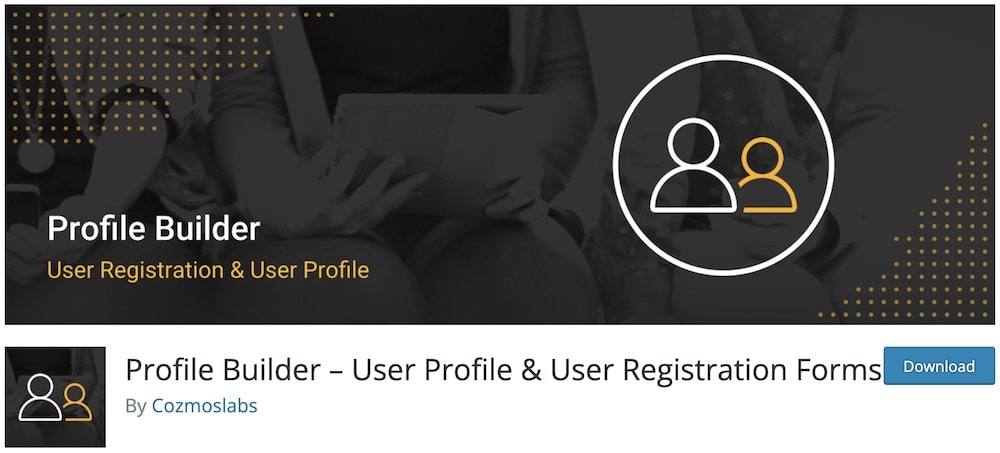 If you are looking for an all-in-one profile manager and user registration plugin, Profile Builder is for you.
You can build a great custom user login system with this free WordPress user registration plugin.
Profile Builder will also provide you with a lot of free features like a drag and drop form builder. (It only takes A FEW CLICKS!)
Besides, you can use this plugin to ad a simple custom log-in widget for a better user experience.
Profile Builder is one of the best user profile and registration form plugin we've used!
Profile Builder features:
60,000+ active installations
4.7/5 ratings
Content restriction
Register & lost password links below form
Admin bar settings
MORE INFO / DOWNLOAD
6. WP User Frontend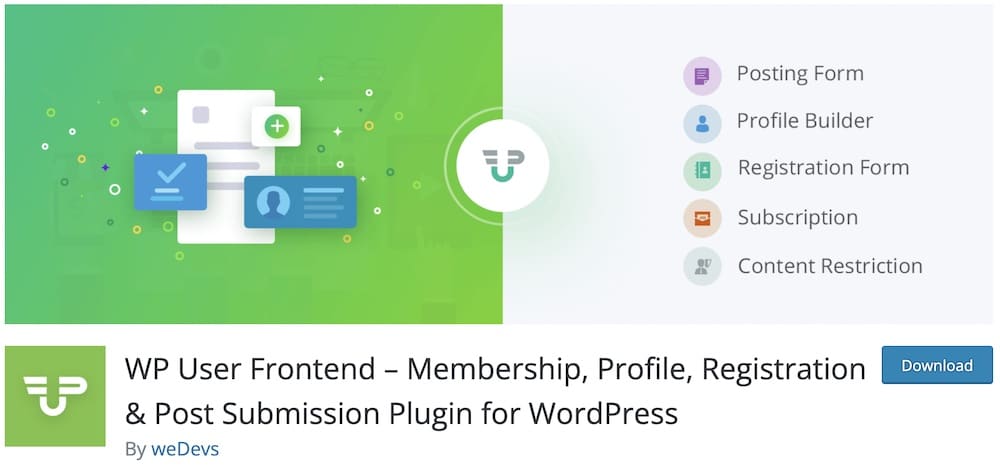 WP User Frontend is a free WordPress user registration plugin for memberships, profiles, even post submissions.
When it comes to features, WP User Frontend highlights a great drag and drop for quick building in REAL-TIME.
Plus, the plugin also works great with the Gutenberg editor.
WP User Frontend's endless features ensure you establish a login system in a breeze like a pro. (Even without experience.)
WP User Frontend features:
20,000+ active installations
4.2/5 ratings
Optional payment setup
Guest post submission
Option to set post status & post message
MORE INFO / DOWNLOAD
7. RegistrationMagic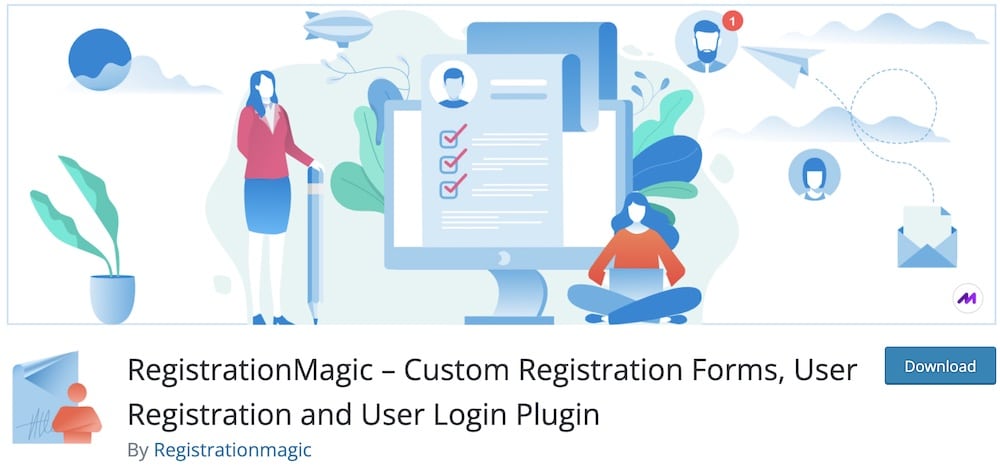 RegistrationMagic comes with endless options to create and manage your users and registrations.
You can build MANY different forms, analyze statistics and even use the plugin to assign user roles.
This free WordPress user registration plugin will also provide you with a lot of other features like the ability to charge your new users if they want to create an account.
Note: You monitor all actions from your admin dashboard.
RegistrationMagic is an excellent choice if you want to have different registration forms for different users.
RegistrationMagic features:
10,000+ active installations
4.5/5 ratings
2 form styles with 3 different layouts
Set redirections
Works with WooCommerce
MORE INFO / DOWNLOAD
8. WP User Manager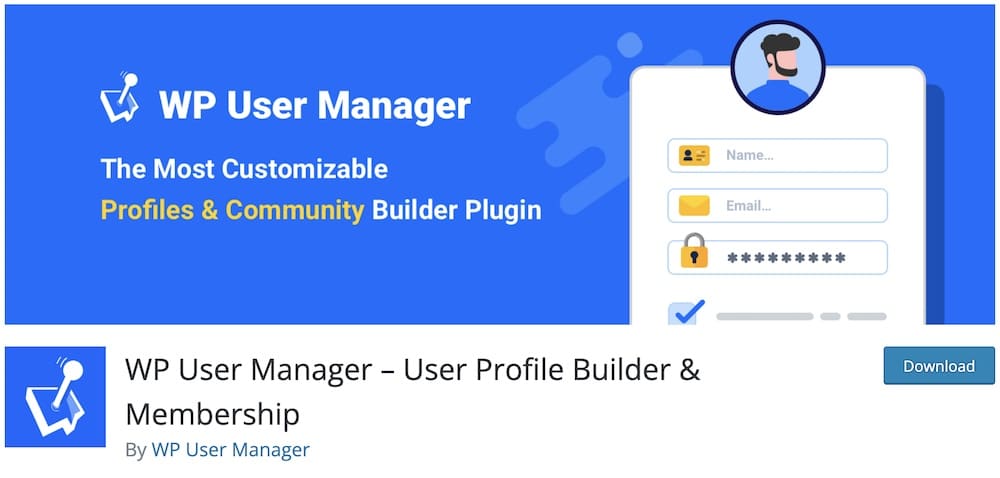 WP User Manager is another powerful free WordPress user registration plugin to create HIGHLY customizable user profiles.
Use it to let visitors create their profiles through a custom user registration.
You can also give your users the option of login, password recovery and account customization.
This plugin has a lot of customizable options and is easy to set up.
We easily created different types of membership websites with WP User Manager and we know you will, too!
WP User Manager features:
MORE INFO / DOWNLOAD
9. UsersWP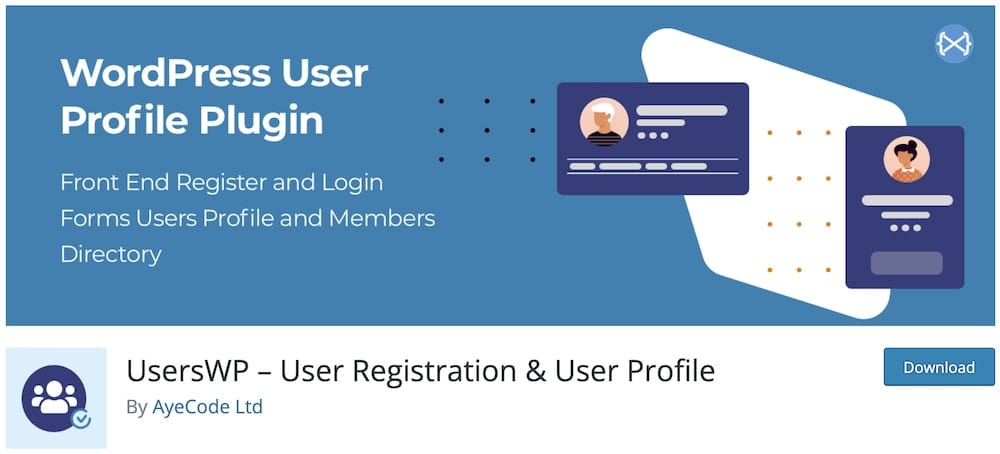 UsersWP is very quick to set up when making custom forms and starting a membership directory.
What we find really cool is how effortless UsersWP works with different page builders. Yes, you can benefit from the drag-n-drop technique.
This plugin has been developed to be as lightweight as possible. (Won't slow down your site!)
UsersWP is a smart choice for all the websites that want to create login forms and give their users a great experience at the same time.
UsersWP features:
10,000+ active installations
4.6/5 ratings
Works with Beaver Builder, Elementor, etc.
Great support
Unlimited registration forms
MORE INFO / DOWNLOAD
::
Note: This article was originally published on March 29, 2022. But our team regularly reviews it and updates it with necessary improvements for accuracy.