Are you looking for a guide to learn how to create a popup in WordPress?
It's easy and quick.
Popups can greatly increase revenue, highlight your content, and convince visitors to join your newsletter or check your services.
Attention: They can be quite annoying if not used properly.
I encourage you to do them tastefully.
This post covers:
So, let's look at how you can use a popup in WordPress most effectively without chasing your visitors away.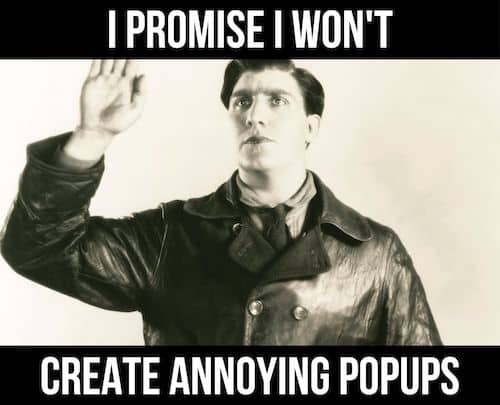 Why Use A WordPress (Modal) Popup?
So, what exactly is a popup?
A popup is a piece of highlighted content or an offer displayed on top of/over your website, designed to capture your users' attention.
They usually include a call to action (CTA) in an attempt to get your visitor to perform a certain task. (Do you need the best call to action WordPress plugin to increase potential?)
In general, you want to use a popup to emphasize the importance of something (sale, opt-in, etc.)
Unfortunately, we're all bombarded with various advertisements wherever we look, making it harder for business owners to stand out from the crowd.
That's why it's important to use well-designed popups to grab your visitors' attention.
7 Common Uses Of Modal Windows In WordPress
While use cases for modal window popups are numerous, let's take a look at the most common ones:
Gather leads from your users that expressed interest in your products or services.
Recover abandoned carts with the help of exit intent popups. (But you can also use exclusive WooCommerce abandoned cart plugins to get the lost buyers back.)
Promote new products or highlight and refurbish existing ones.
Grow your email list so you can later promote your products and services with a newsletter.
Suggest a different or related product from your website that your customer might fancy.
Promote your free trials and increase the number of sign-ups and new users that might later buy the premium subscription.
Ask users to submit a question or fill out a questionnaire in exchange for a discount or some similar offer.
How To Easily Create A Popup In WordPress
There are several different methods that you can use to create popups for your WordPress website.
We will focus on the OptinMonster SaaS platform, which is the most advanced and user-friendly approach to creating beautiful popups with a high success rate.
Note: It's also my favorite way of doing it.
The only downside of this method is that it's not free and you have to create an account on their website to use their popup builder.
On the bright side, they offer a free trial for 14 days, and if you are not completely satisfied with it, they will refund 100% of your purchase.
No questions asked.
So, let's get things popping on your site.
Step 1: Install the OptinMonster WordPress plugin
The first thing that you need to do is to install and activate the WordPress plugin on your website.
You can find it by going to Plugins in your WordPress backend and then click Add new or visit its WordPress repository page.
When you activate the plugin click on the OptinMonster button in the left sidebar and then Create to build your first campaign button.

You can choose between various types of campaigns (popup, floating bar, inline, fullscreen, slide-in, and gamified).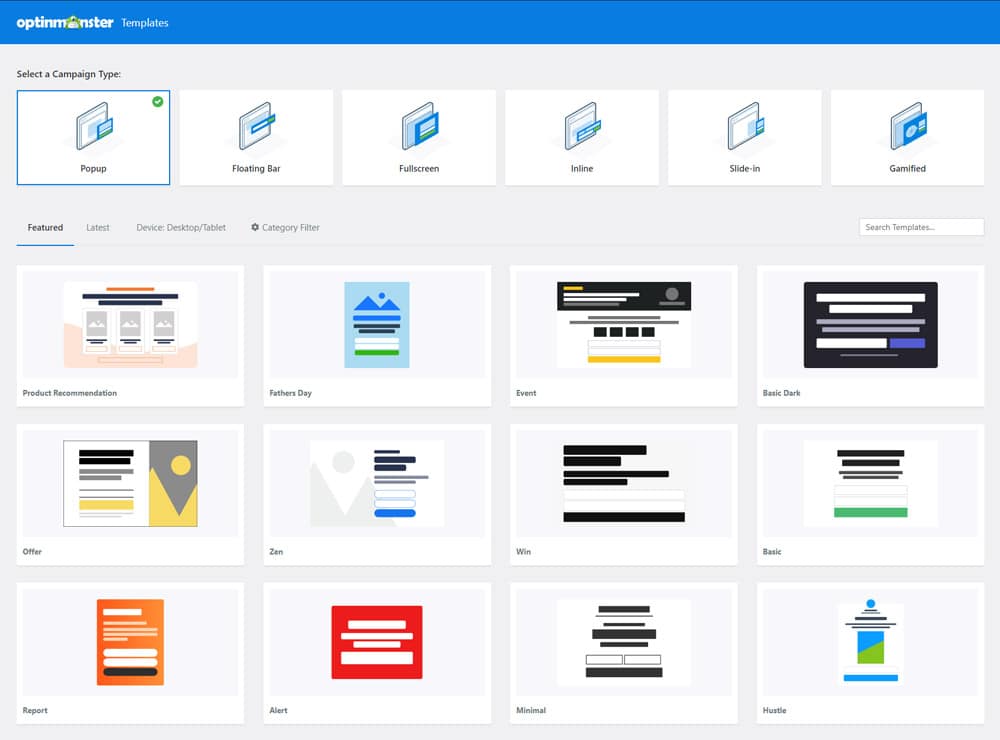 Set the campaign type and click on the template you want to use.
You will now be redirected to their campaign/popup builder which is very easy and intuitive to use.
I selected a very basic newsletter template to grow our email list.
Step 2: Design a perfect popup for your needs
All the predesigned templates come with a top-notch design based on today's standards.
So they are already a perfect fit for any modern (and responsive) website.
But, if you need to make any changes, their well-designed popup builder will help you achieve anything you want.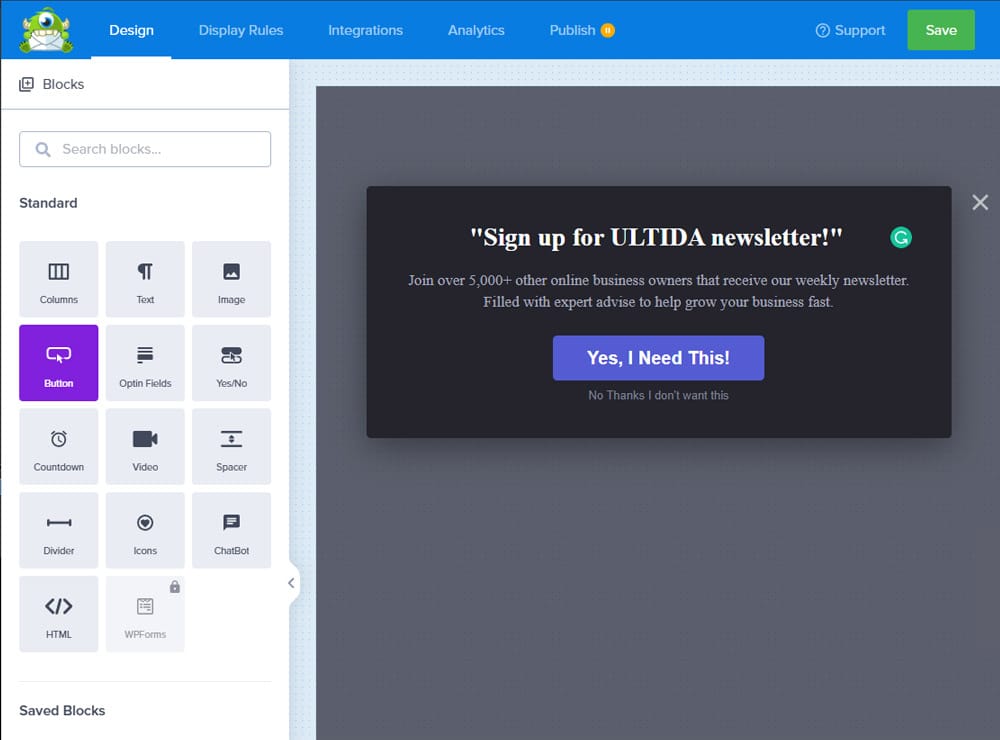 You can add extra images, buttons, videos, countdowns, and even an advanced chatbot.
You can edit all elements (like buttons, text, columns, etc.) in detail to fit your website's design perfectly.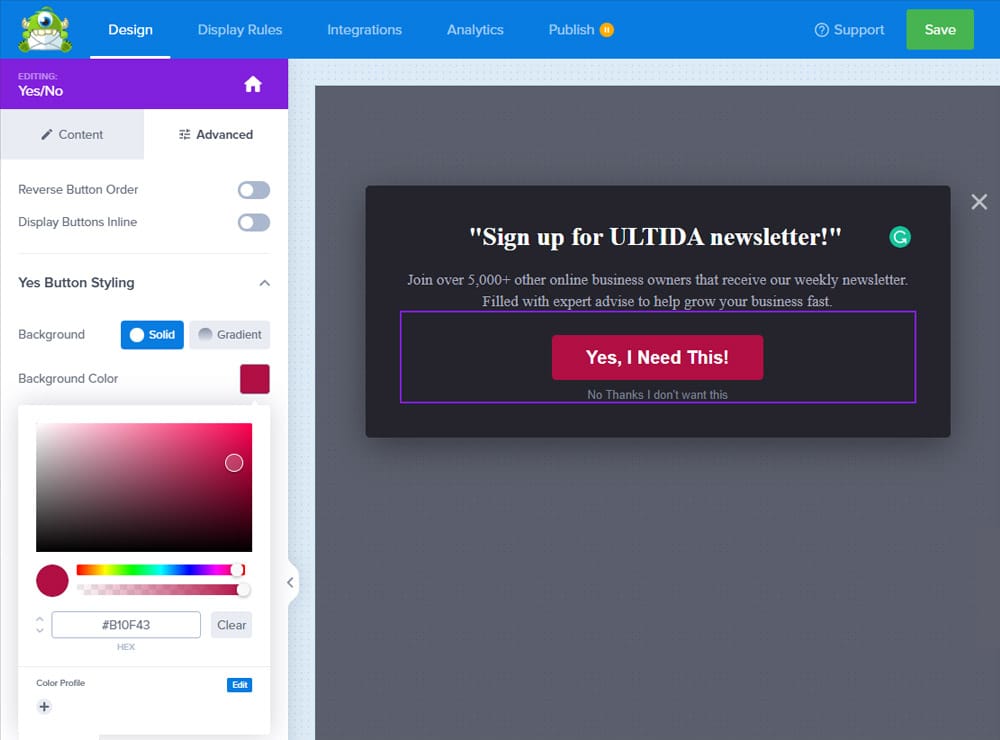 When you're satisfied with your popup's design and content, you're ready to set the display rules.
Step 3: Set display rules
This is a crucial step and should not be taken lightly.
Give it some thought and try to imagine how your visitors behave on your website.
When and where should the popup appear?
Do you want it on every page on your website or only on specific ones?
OptinMonster offers almost limitless display rule options.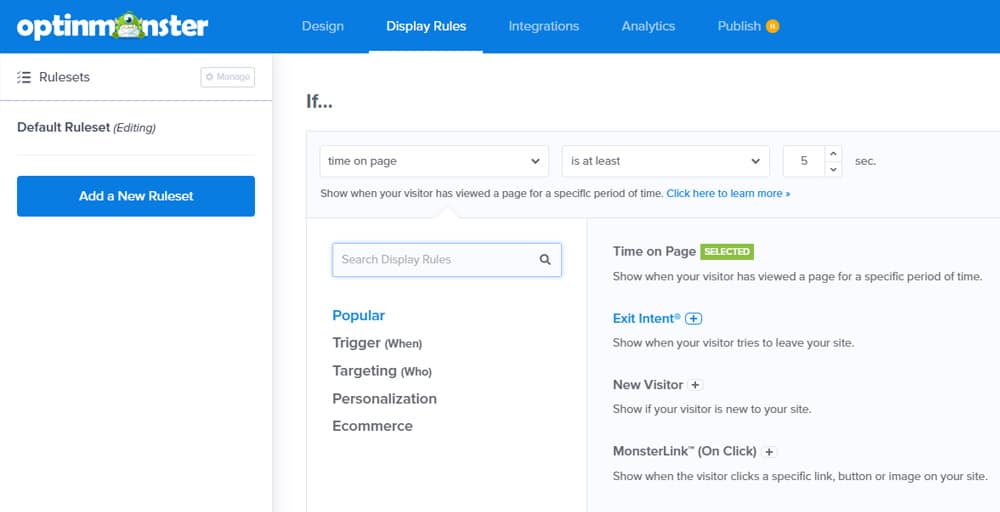 The most common display rule will show the popup after your visitor spends a certain amount of time on your website.
While that is good enough in many cases, let's dive a little deeper and check what other options are available and when you should use them.
Display rules – explained
Exit intent is one of the best triggers as the popup will show up when a visitor tries to leave your website. The modal window will appear just as the mouse cursor moves to the close tab button in the browser. This is a great way to convince your customer to buy your product instead of leaving the website. You can, for instance, offer a discount or free shipping.
Page targeting is useful when you want to display several different popups on specific pages. This allows you to market individual products with various offers and incentives.
Physical location targeting or geo targeting will ensure your popup only shows when visitors from specific locations are browsing your website. If your services are geographically dependent, this kind of targeting will be useful.
New or returning visitors usually behave differently when they're visiting a website. And with OptinMonster you can differentiate your offers for each type of user. A great way to offer a discount for returning customers or some sort of incentive for new users.
There are many more display rules available – something for everyone.
The image below shows all the options from the eCommerce section of display rules.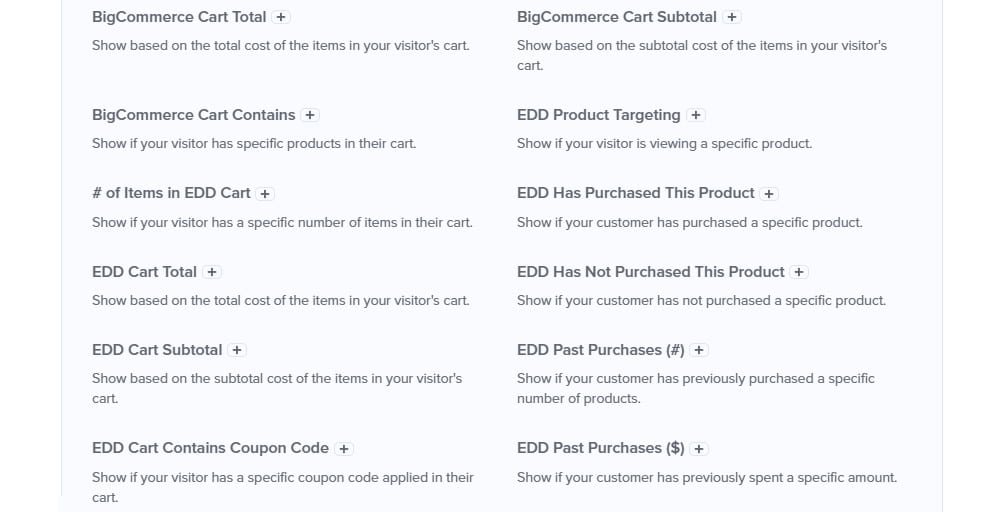 And there are many, MANY more!
And what I like the most is that you can experiment with the display rules until you find the best fit for your products.
Step 4: Integrations
The next step in the campaign creation process is the integration with email marketing software.
There are 30+ email providers available so there is a good chance that the one you are using is included.
Integration is very simple, choose your provider (Mailchimp in our example) and connect it to your account.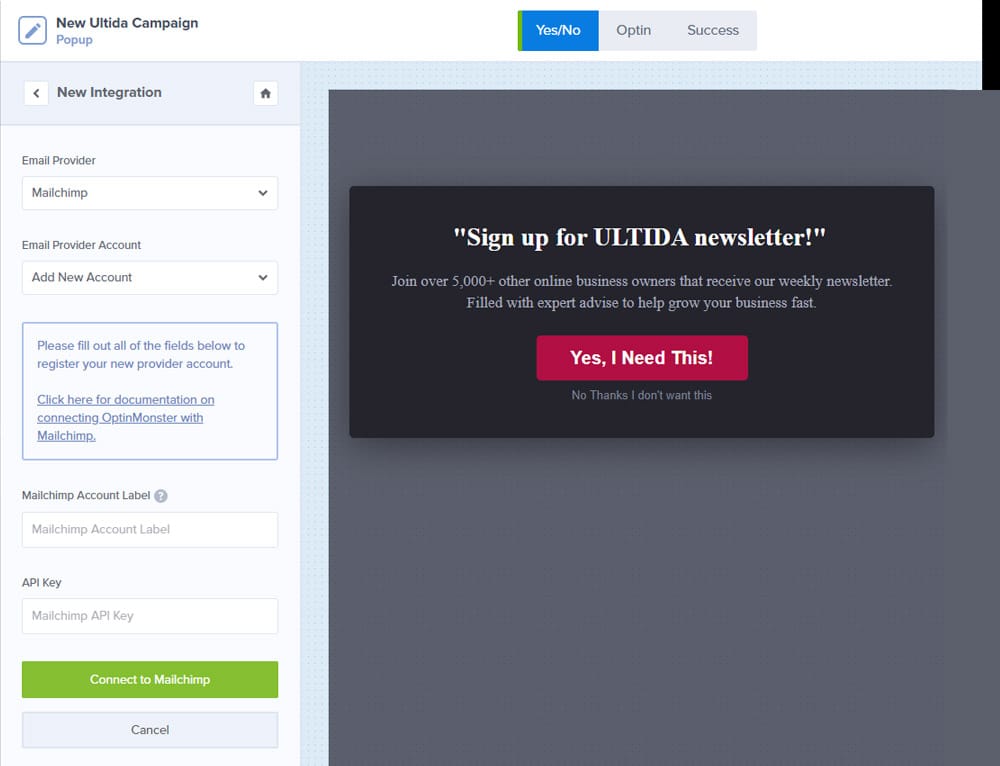 All you have to do now is to connect the campaign to your analytics account.
Step 5: Analytics
Your campaign is already connected to OptinMonster analytics by default.
But, you can also add your own Google Analytics account for a more in-depth and familiar research on how your visitors interact with OptinMonster campaigns.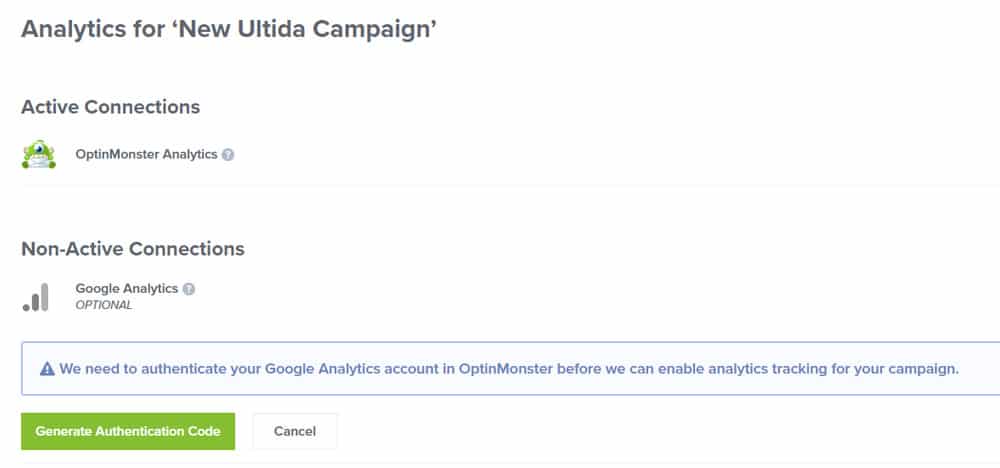 All you have to do now is to publish or schedule the campaign.
As you can see, setting up the popup campaign is very intuitive and you will learn everything you need on the fly.
No experience needed!
If, for some reason, you don't see the campaign after you publish it, go to your WordPress dashboard and head to OptinMonster > Campaigns.
Check if the campaign is published and not set to pending or draft.
Bonus: What Is A Modal Popup?
A modal or a popup is a web page element that displays relevant content in front (or "on top") of your website to catch your visitor's eyes.
It is triggered by specific display rules that we explained above to highlight the most important content on your website.
Frequently Asked Questions About WordPress Popups
In the end, let's take a look at some of the most common questions about WordPress popups.
How to create a popup in WordPress without a plugin?
There are online services like PopUpSmart that allows you to add a modal with a WordPress shortcode.
But on the other hand, that means, you will have to add their script to your header which is more complicated than using a WordPress popup plugin for most users.
From my experience, I recommend you go with a plugin because it's much easier.
How to create a Mailchimp popup in WordPress?
Instead of using OptinMonster campaigns for your popups and connecting to MailChimp as an email provider, you can also do it the other way around.
Go to your Mailchimp account and create a popup subscription form to build your audience.
A detailed and easy-to-understand tutorial is in the following video:
How to create a contact form 7 popup in WordPress?
First, install both the Contact Form 7 plugin and the WPB Popup for Contact Form 7.
After installing the plugin, activate it. Then go to Dashboard > Contact > Popup and create the campaign.
You can then display your modal popup anywhere on your website with the shortcode.
Or you can also first create a popup form in the Contact Form 7 plugin and then copy the shortcode to the OptinMonster campaign editor. More on that is in the video tutorial below:
How to create a popup in Elementor?
From your Dashboard click Templates and then choose Popups. You can then name your template by choosing your custom name and a predefined template.
Remember, you can also create a custom popup template specific to your business. Once done, Publish your poup and then click Save and Close.
The last step is do add the button widget to your page and set it as dynamic, choosing popup as the action.