Do you want to learn how to create a short link in WordPress?
You are probably wondering why you even need to create short links, right?
I feel you.
I was distancing myself from short URLs for a VERY long time before I found out how beneficial they are.
(While there is nothing wrong with normal links, short links have several advantages.)
Also, I thought creating short links is a tedious process, which was one of the main reasons for not using them.
Boy, was I wrong – until finding the two solutions I'll share with you in this tutorial.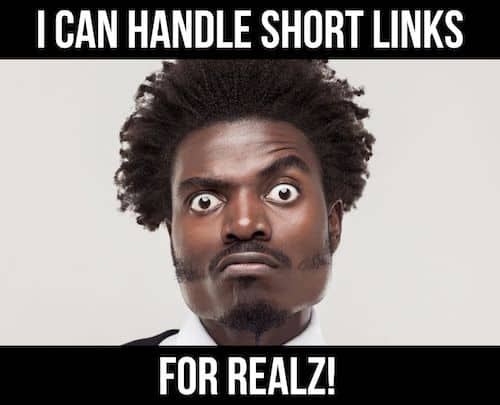 This post covers:
That's why I created a straightforward step-by-step tutorial, so you can turn your long URLs into shorter ones.
FAST!
Why Create A Short Link In WordPress?
Let's first explain where and when you should use short links in WordPress and how that can benefit your website.
After all, that has been a common practice across the internet for quite a while now.
Quick history lesson: One of the most common reasons people started using short URLs is social media.
Why?
Because some platforms have a character limit (or used to have). Plus, pasting a long URL with many characters isn't clickable.
But WordPress users quickly adopted this practice to mask affiliate links, have better control over tracking link clicks, etc.
5 Benefits Of Shortening Your Links
There are several reasons why it's important to shorten your links. But these 5 are the most important ones.
1. Simplicity (prettier links)
Links that contain a string of numbers or are very long don't only LOOK bad, but they also seem suspicious.
Many spammy websites use links like that, so users will always be cautious if your website has them too.
Taking care of your links should be a priority if you want users to take your website seriously.
To ensure your website always has links with important keywords in the URL, check how permalinks are set in WordPress.
This is VERY important as it greatly impacts your site's SEO. And the links will look pretty this way too.
2. Tracking
Monetizing your links is not possible without adding tracking parameters to them.
These parameters can be from affiliate links or even Google Adwords but can look suspicious to everyday users who are not very technical.
That's why you should always shorten those links and turn them into custom, good-looking URLs that only contain keywords that describe your post or product.
This will ENSURE your visitors will click on your affiliate links more often, resulting in more traction and sales.
You can use online tools like Bitly or install a WordPress plugin to achieve that.
I will talk more about that later; for now, let's check some more reasons why you should use short links.
3. More memorable & shareable links
Links that are short and represent your product with a name that is easy to remember will be shared more often.
For instance, URLs like yourwebsite.com/wordpress-theme are easily remembered and there are good chances your visitors will share them with their friends.
And the more shares you get, the better.
I tell you one thing: No one wants to share a link that looks like this: yourwebsite.com/wordpress-theme?ref=98475adadd-affiliate-jkajkhd1123
4. Masking affiliate links
Another valid reason is to disguise your affiliate links as non-promotional or even as internal links.
For instance, let's say I am promoting a hosting company, Kinsta.
Instead of linking directly to the company with a link: kinsta.com/plans?ref=ultida, I can change it to ultida.com/recommends/kinsta.
This way, the link is seamlessly added to the article and looks more like an integral part of a tutorial than an obvious affiliate link.
5. Better click-through rates (CTR)
This brings us to the last reason and it's closely connected to the previous one.
The click-through rate will always be higher if your links are meaningful or, in other words, pretty.
No one wants to click on weird links that look shady as people will be afraid it leads to a spammy website where your device can be infected with malware.
On the other hand, if the link looks like it will help the user with the EXTRA information they are seeking, it will have a much better click-through rate.
It's now time to put short links to use and create them because you know all the reasons why short links are good for your website.
How To Create A Short Link In WordPress With Pretty Links Plugin?
Creating and managing short links in WordPress is just as simple as everything else.
The Pretty Links plugin is a complete solution that will help you take control of all your links.
The best part is that you can use your own domain instead of the popular online service, Bitly.
This allows you to create beautiful short links that look like an integral part of your website (like in the example above – ultida.com/recommends/kinsta).
And on top of that, you get complete and detailed analytics for each link (where the hit came from, which browser was used, etc.).
Install and activate the plugin
Start by installing and activating the Pretty Links plugin from the WordPress.org website.
After the activation, you will notice a Pretty Links tab in the left column of your WordPress administration panel.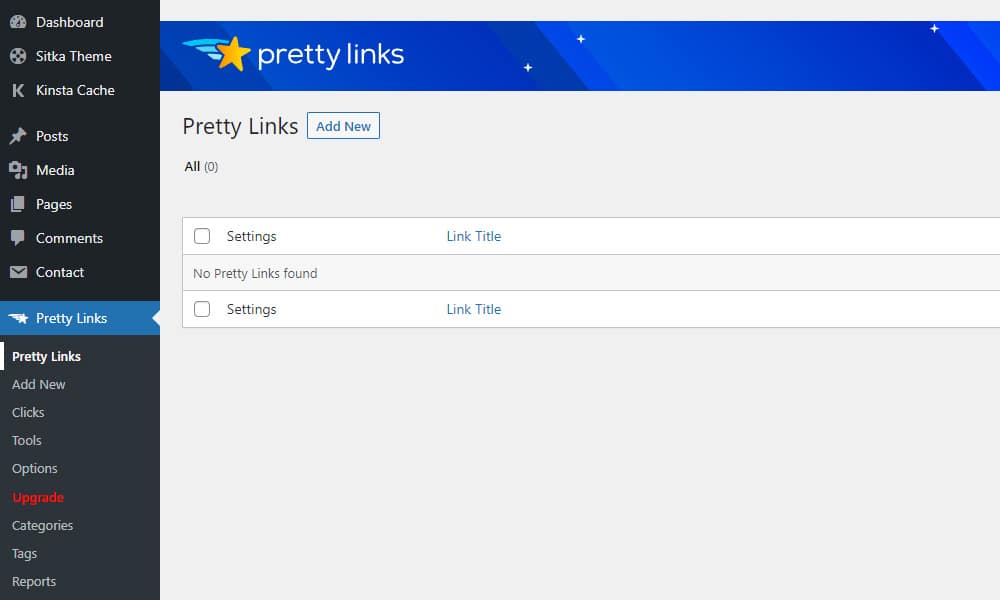 Add/create a new link
Click on Add New button to create a new short link.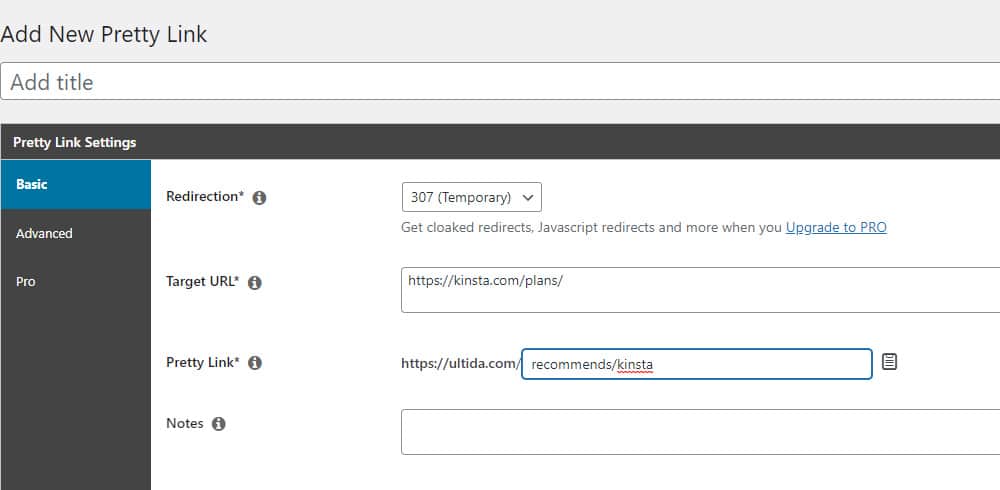 Target URL is the address of the site you are linking to (an affiliate link, for example).
Pretty Link is the URL that will replace the target link. I used the above example in both cases to be more understandable.
The advanced tab has useful extra settings where you can set whether the short link has a nofollow tag or if it is labeled as sponsored.
(We also have an exclusive beginner's guide on how to add nofollow links in WordPress.)
The latter is mandatory in some cases (it's obliged by law in certain countries).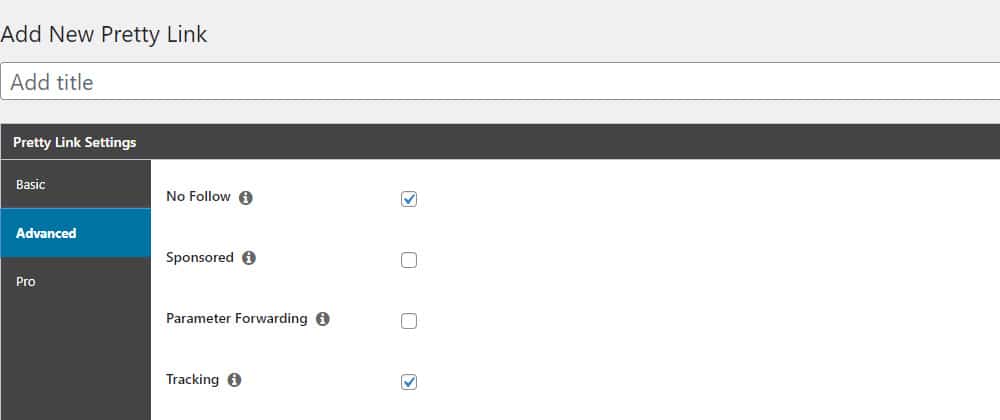 Tracking is enabled by default; unless you have some specific reason to turn it off, keep this setting on.
The PRO version has some premium features that will make your life easier if you have a lot of links. Some of the features are:
Advanced redirect types
Auto create short URLs
Auto-Link keywords in pages & posts
Support & regular updates (& improvements)
Link categories & tags (better organization)
Detailed click reporting (my favorite!)
Import & export links
Pricing is a bit steep, it starts with $99.50/year for a beginner package (one website), and the premium package will cost you $199.50/year (five websites).
The PRO version is only needed for really advanced users.
I think the free version is suitable for the majority of WordPress admins.
I really enjoy using it and I'm sure you'll, too!
Track your link clicks

The best part of the plugin is tracking and analysis. All links are listed on a separate page where you can check the number of clicks for each day.
You can even build reports and analyze the behavior of individual links through time.
How To Create A Short Link In WordPress Without A Plugin?
Instead of using a WordPress plugin, you can also use an online service like Bitly.
The procedure is very simple, you just enter your link to a URL shortener and click Shorten.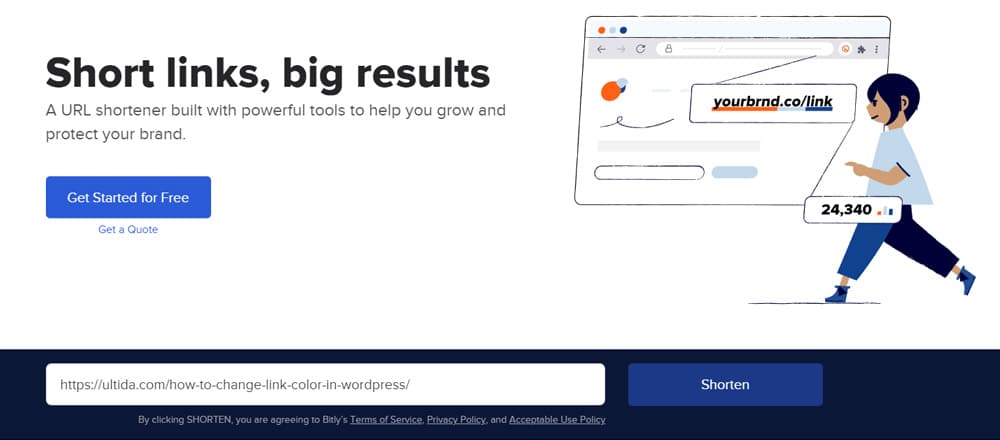 After making the new link, simply copy and paste it to your post.

As you can see, the link is not as pretty as in our example above and the domain used is Bitly and not yours.
Another downside is the fact that you can only create 50 links per month for free.
Beyond that, you need to purchase a subscription that starts at $8 a month. While that is not very expensive, you still only get up to 200 links per month for this price.
The package that is comparable to the Pretty Links plugin services will cost you $29 per month.
This package also includes a custom domain, so you can properly brand your links.
Conclusion
In my experience, services like Bitly are only viable if you need to quickly make a few short links and don't want to install a plugin.
Otherwise, it makes no sense to purchase a service for $29 per month to get the exact same options that you get for free with a Pretty Links WordPress plugin.
I also prefer having full control over the links from within my WordPress administration panel.
My recommendation? Go with the free Pretty Links plugins.