Do you want to learn how to add nofollow links in WordPress?
Most people have no idea what nofollow links are and why they are important when they start with their brand new website.
No one should NEGLECT them, though, as they're a very important part of your content writing.
And links, internal and external, follow and nofollow, are a big part of a successful SEO strategy.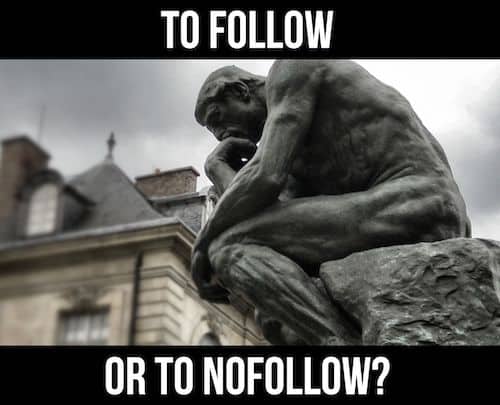 This post covers:
What Is A Nofollow Link?
It's a rel="nofollow" attribute within the HTML tag that tells Google to ignore the link when crawling the page (it doesn't follow it to the destination URL).
This is used for links with LITTLE to no value (comment sections, forums, sponsored links, etc.) to reduce the spam value of your content.
It can massively affect your position in Google search, so you need to pay great attention to your links.
How To Add Nofollow Links To Your WordPress Site (2 ways)
As always, there is more than one way to add the nofollow attribute to your links.
We will first examine how to add it manually without a plugin.
1. Add the nofollow attribute manually (through code)
Don't worry; adding a nofollow tag is easier than you think.
Note: We recommend this method if you don't plan to add (A TON OF) nofollow links.
Why? Because you don't have to use a plugin (which means a lighter website).
First, select the text you want to add a link to.
Click the Insert/Edit link button in the toolbar.

Now click on the Edit HTML or Text button in the upper right corner of your post to get to HTML editing.
Add the rel="nofollow" attribute to your link and you're done.

Now, that wasn't too hard, right?
But, what if you have thousands of links on your existing website?
Changing them manually would take an enormous amount of time.
WordPress plugins will come to our rescue once more.
2. Use a WordPress plugin to add nofollow links
You can use many plugins, but since adding a nofollow link is a simple task, we will only focus on two.
Ultimate Nofollow plugin
Ultimate Nofollow plugin is/was one of the most popular plugins for adding nofollow attributes to links once.
Update #1: Unfortunately, the plugin isn't available on the WordPress repository. However, many still use it today, so we'll leave it in this guide for now. (I will remove it later.)
Update #2: Ultimate Nofollow is a (very) simple and basic plugin, so even if you plan on continuing using it, there's little chance it'll harm your website.
After you install and activate the WordPress plugin, head to Settings > Nofollow.
Click the checkbox and activate the Nofollow all links in the comments option.

This is probably the most crucial section of your WordPress website that should have the nofollow tag on all the links.
Most of the spammers target comments; if you are not careful, you can end up with many spammy links.
This will seriously hurt your SEO rankings and it can take a long time to recover.
This is a must, so do it when you install WordPress and start building your website. (Other plugins offer this function, too.)
The plugin offers more options and features:
Nofollow checkbox for hyperlinks in posts
Shortcodes for nofollow links
Add/remove the nofollow tag for all backlinks in comments
Nofollow External Links (SEO)
The Nofollow External Links plugin works a bit differently.
Upon installation and activation, it will AUTOMATICALLY add the nofollow tag to all the links on your website.
But since having all the links on your page with no extra juice is bad for SEO, you can add the domains that will ignore the nofollow rule.
Advice: Don't nofollow all links!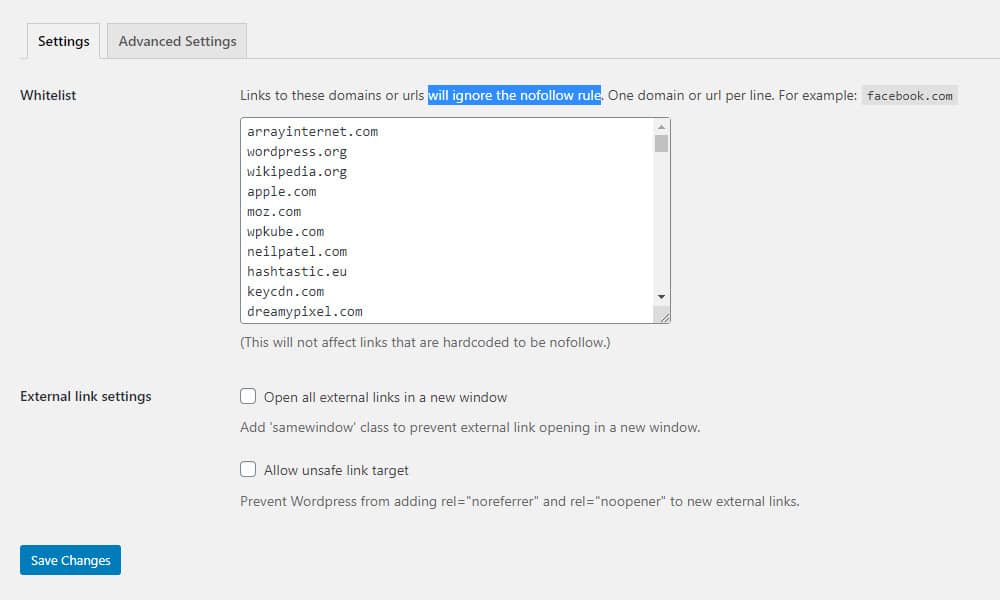 This setting allows you to easily control which domains are important for your website.
There is also an option to open ALL external links in a new window which is a nice addition to the plugin's options.
(No need to do it manually every time you add a link.)
Both plugins are straightforward, and your links will be set quickly.
It's important to note that all the advanced SEO plugins like Yoast SEO, All in One SEO, also have the option to set nofollow tags.
This is our preferred way of doing it because you don't need to use another plugin.
(The fewer plugins, the better.)
How To Add Nofollow Links In Gutenberg
We use the Yoast SEO plugin (which we highly recommend), so here's how adding a noffollow link in Gutenberg happens.
Note: This would be a great built-in feature for the Block Editor (hint, hint).
1. Select the text and click the link symbol

2. Add the destination URL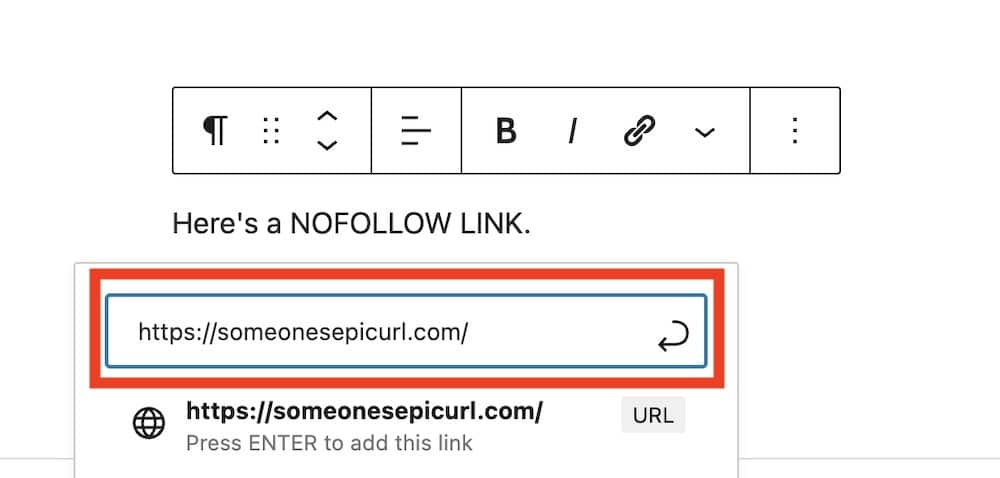 3. Then choose (mark as nofollow)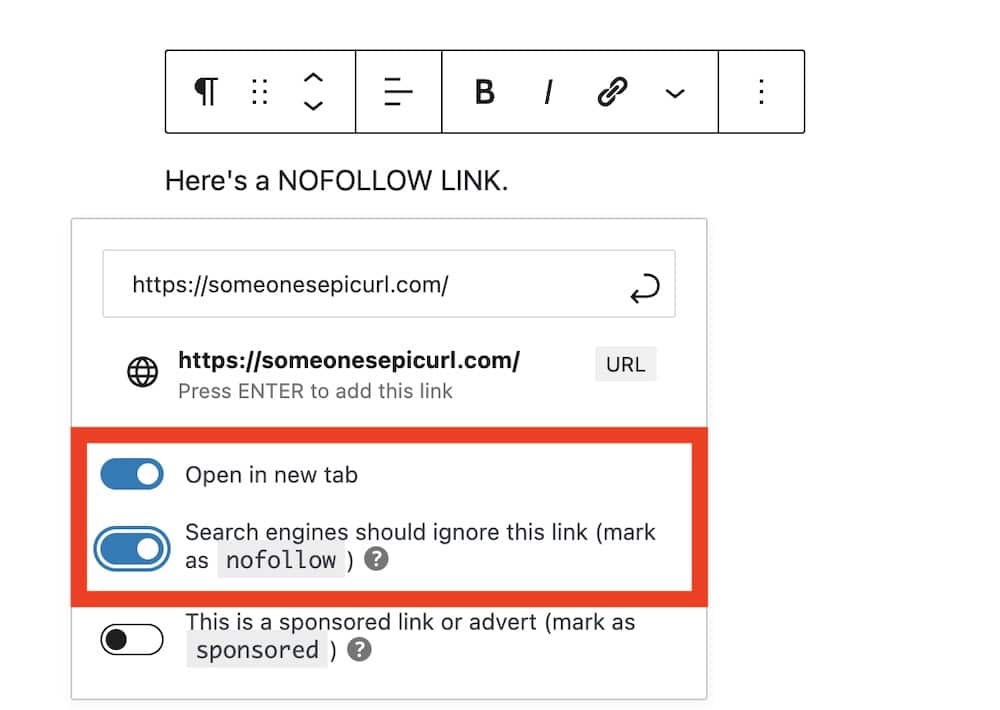 4. And you're done!
Why Use Nofollow Links?
When you link to another website, you give it value or the so-called "juice."
It boosts the PageRank of that website, which slightly IMPROVES that domain and URL's SEO.
Having a lot of valuable links from high-authority domains pointing to your website is very valuable.
On the other hand, having a lot of spammy links pointing from your website to domains that are blacklisted or have a bad reputation with Google can seriously damage your website's good standing.
It will LOWER your position on the search engine results page.
That is why every wise website owner will use the nofollow tag.
The tag will remove the juice from that specific external link and it will not count in the page's favor and boost its PageRank.
This is how you can protect your website from being classified as "spammy" in the Google's eyes.
Which links should be marked as nofollow?
You need to pay attention and give value only to the links related to your article when you write your content.
If you monetize your content, it's important to mark affiliate and sponsored links as nofollow (or sponsored) unless they are embedded naturally within your content.
The same goes for links in the comments, links to untrusted sources, and links in users' profiles (if you have a website where users can sign up to your page).
How to check if a link is nofollow?
You can check whether the link is nofollow with the Inspect button in your browser.
Start by right-clicking on the link and clicking inspect.
I usually use Google Chrome, which has the most options and is the most user-friendly.

After you click the inspect button, a popup window will open.
Now click the Elements button to see if the link contains the nofollow tag.
We hope this guide on adding nofollow links in WordPress teaches you how to organize your links.
You may also be interested in reading how to rank new WordPress content faster so you don't want for organic traffic for too long.