Are you interested in the best free and premium WooCommerce abandoned cart plugins to improve your conversions?
These help you minimize abandonment rates of your eCommerce website.
We know how common it is for visitors to add a whole bunch of products to their cart, only to abandon your e-store a few minutes later.
I know what you're thinking: It SUCKS!
But it's time to change that.
That's why we have researched and tested numerous abandoned cart plugins for you.
This post covers:
We have selected the best 10 free and premium plugins that will help you improve the user experience and thus increase the sales of your WooCommerce store.
Solve the abandoned cart problem once and for all!
THE ULTIMATE 2:
Best Premium WooCommerce Abandoned Cart Plugins
1. Recover Abandoned Cart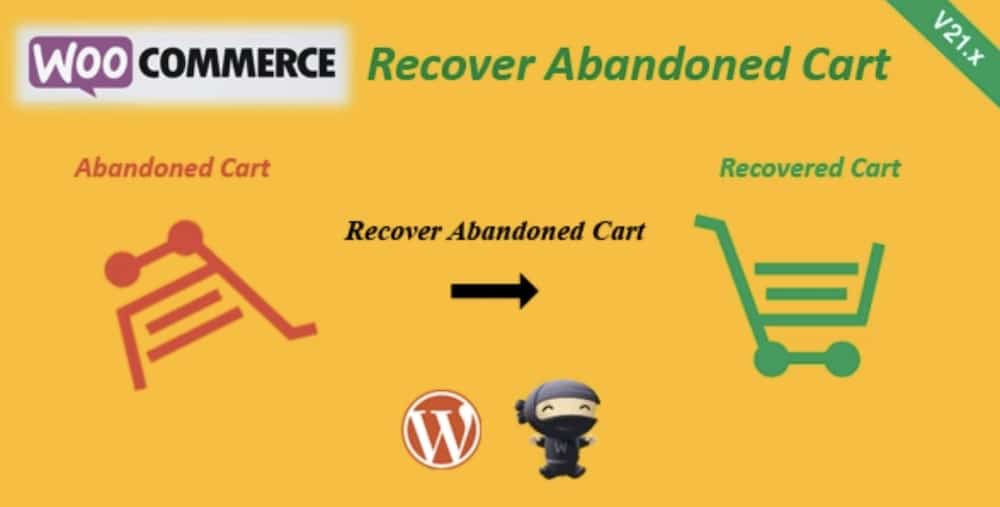 As one of the most popular abandoned cart plugins out there, Recover Abandoned Cart EASILY made it to the top of our list. Honestly, it was tough to find any disadvantages when reviewing this tool.
First of all, this plugin helps you find all your customers' abandoned carts and notifies them automatically.
It is fully customizable and allows you to add the URL to the abandoned cart for your customer.
Unlike other plugins, you do not need registered members for this tool. The plugin works with guests as well!
Recover Abandoned Cart has everything a beginner or a professional store owner needs.
Recover Abandoned Cart features:
4,800+ sales
4.7/5 ratings
Works with any WooCommerce theme
Supports automated & manual emails
Price: $49 (may vary)
MORE INFO / DOWNLOAD
2. Abandoned Cart Recovery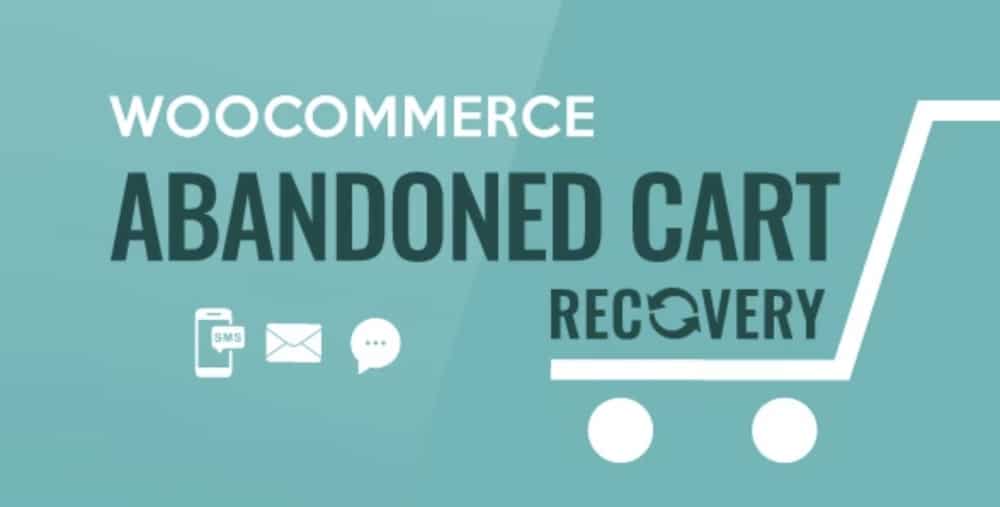 Like our first pick, this WooCommerce abandoned cart plugin is a TOP-NOTCH choice that will help you retrieve sales from potential customers. During our testing, this plugin proved to be both beginner-friendly and powerful.
Abandoned Cart Recovery is a WooCommerce extension to recover unfinished orders.
The process is simple.
After a customer leaves your site, the plugin automatically sends a recovery email or Facebook message.
What's unique about this plugin is the email collection process. When a customer adds a product to their cart, the plugin asks for their email address to receive a (customizable) discount.
Abandoned Cart Recovery features:
1,100+ sales
4.9/5 ratings
Supports SMS messages & WP shortcodes
Tracks guests
Price: $40 (may vary)
MORE INFO / DOWNLOAD
3. Metorik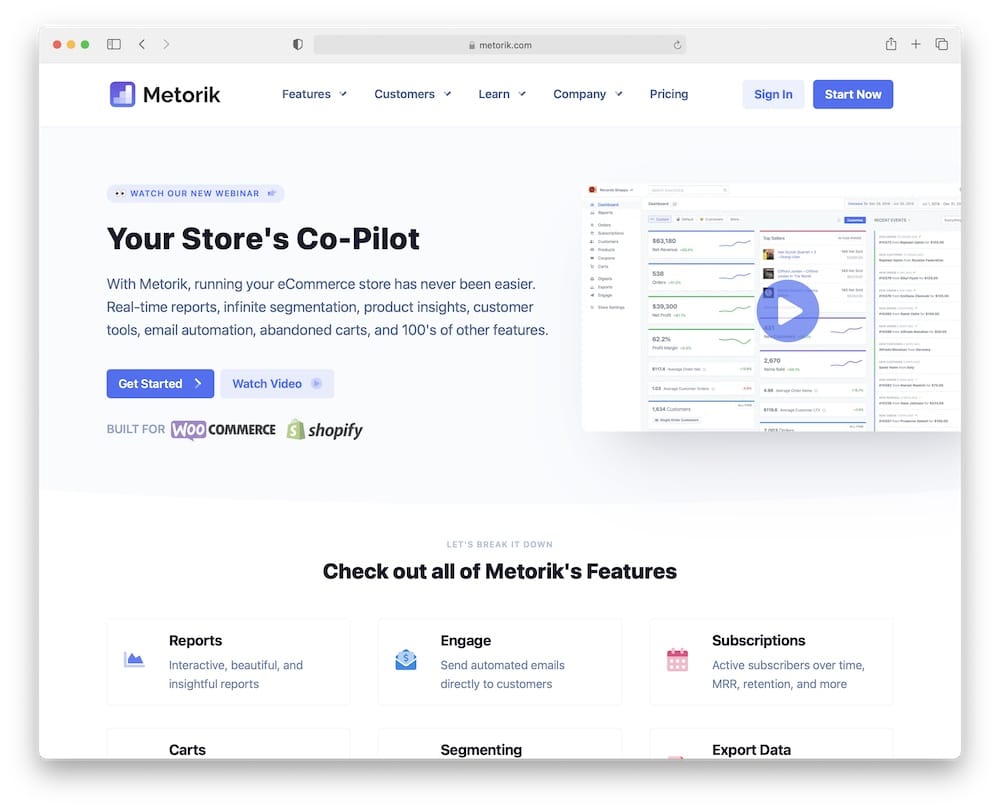 Metorik is a powerful WooCommerce cart plugin that will help you recover abandoned carts with just a few clicks. We did not have any issues with the plugin during our testing.
As far as the features are concerned, Metorik can be proud of itself. First, this plugin lets you track every cart in real-time.
Also, Metorik AUTOMATICALLY sends an email when a customer abandons the cart without completing the purchase, trying to bring the customer back. (Saves you time!)
In short, this plugin is the perfect choice for any WooCommerce store, helping you minimize abandoned cart scenarios.
Metorik features:
1,000+ sales
4.7/5 ratings
Integrates with Google Analytics
Offers extensive reports
Price: $10+
MORE INFO / DOWNLOAD
4. Retainful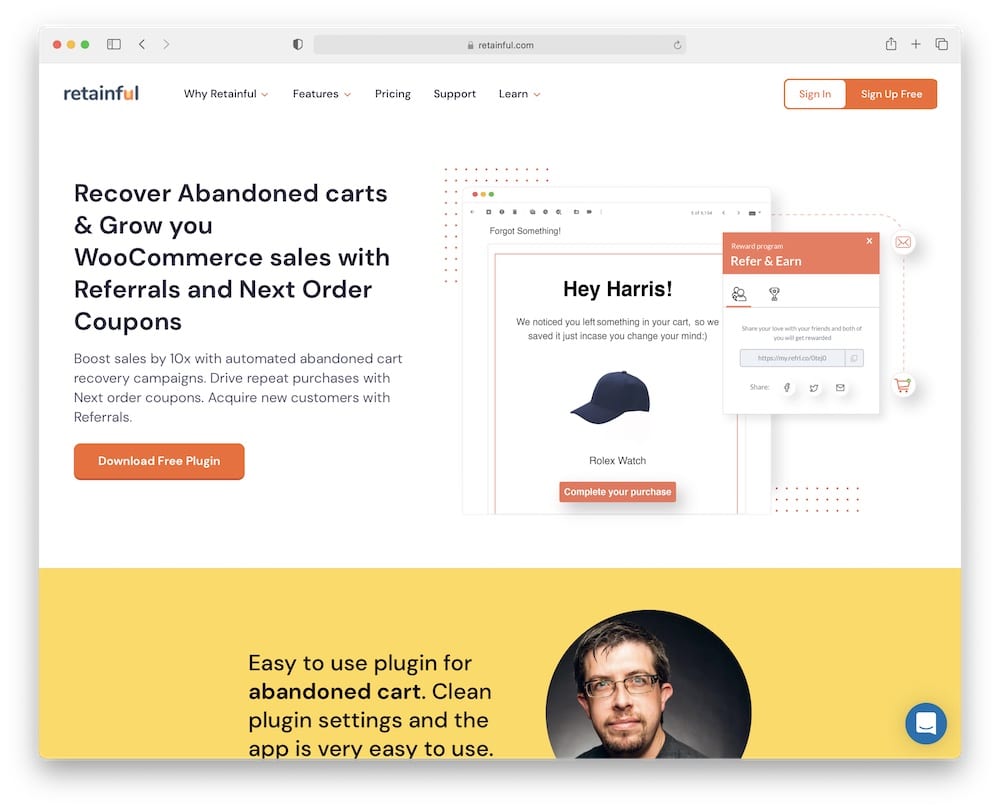 If you are looking for a flexible yet affordable WooCommerce abandoned cart plugin, Retainful is just what you need.
The automated email option is SO GOOD.
This plugin lets you send welcome emails, thank you emails, and order follow emails. There is no situation where you will not email your customers.
Highly adaptable!
Retainful is a great option for WooCommerce stores that want to fully automate interaction with their customers.
Retainful features:
4,000+ sales
4.8/5 ratings
Automatic templates for the emails
1-click cart recovery
Price: $19+ (or Free)
MORE INFO / DOWNLOAD
5. Mail Mint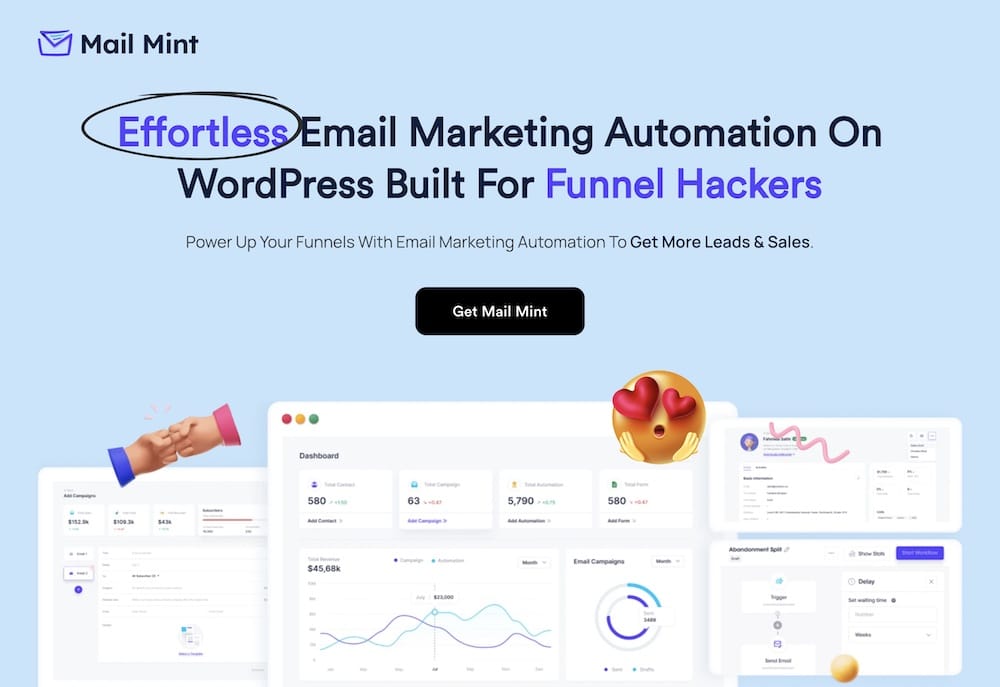 Even though Mail Mint is a full-fledged email marketing tool, the Abandoned Cart Feature is one of its significant features.
You can track every abandoned, recovered, and lost cart. And the best part is that you will have a comprehensive view of this data.
Then you may craft email automation flows based on abandoned status. Mail Mint offers three triggers for different customer order statuses.
If your customers purchase from the emails, they will automatically move from Recoverable to the Recovered tab. And you get real-time analytics for every customer and see which stage of the Automation they are in.
Mail Mint features:
3,000+ sales
4.6/5 ratings
Pre-built templates for the emails
Advanced analytics for potential & recovered revenue
Price: $149.99/year
MORE INFO / DOWNLOAD
6. YITH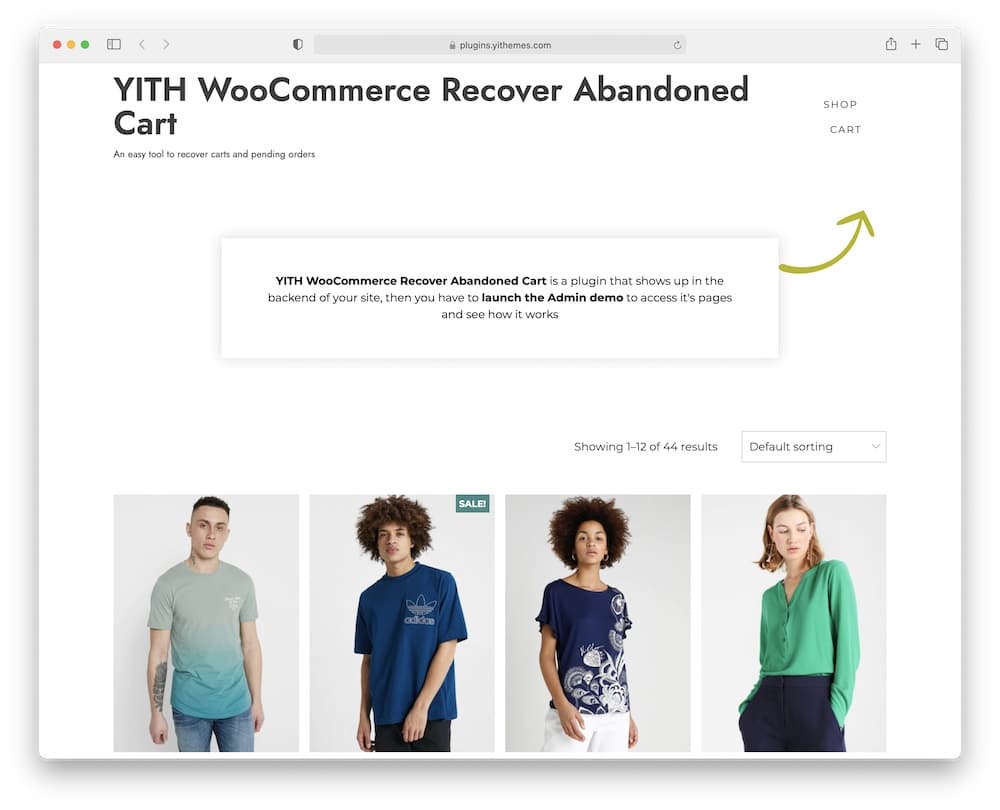 YITH is one of the most popular WooCommerce abandoned cart plugins on the market. It helps you retrieve many abandoned carts and convert them into purchases.
This plugin has a lot of great features. One of the most important is recovering orders for specific abandoned products. You can also recover orders from guest users.
This plugin also lets you set the time period after which the shopping cart is considered abandoned.
In short, YITH is an excellent choice for anyone looking for a powerful plugin to retrieve lost carts.
YITH features:
MORE INFO / DOWNLOAD
Best Free WooCommerce Abandoned Cart Plugins
7. ShopMagic Abandoned Carts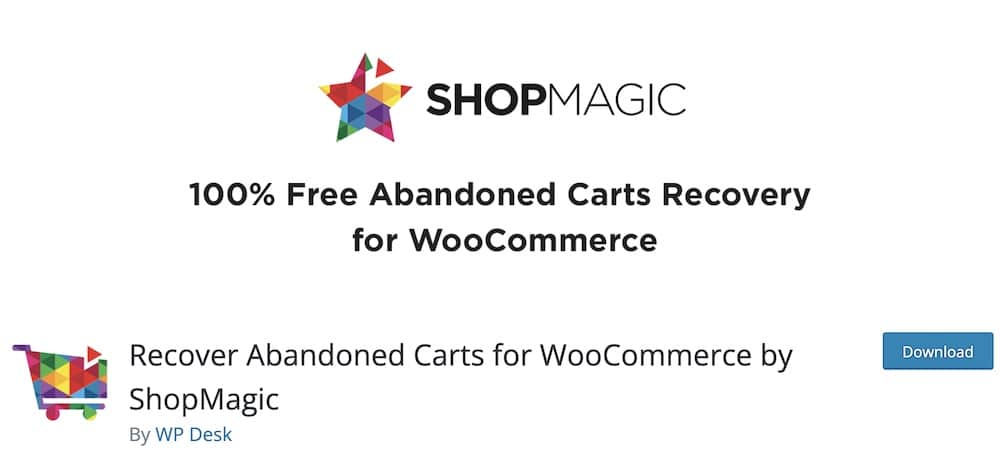 Unlike other suggestions on our list, ShopMagic is a completely free plugin. In fact, it is more of an add-on than a plugin.
Note: You need to download and install the ShopMagic plugin first. (Fortunately, that's also free!)
You can easily integrate the Recover Abandoned Carts add-on once you install ShopMagic. The process is straightforward, and you'll have everything ready in minutes.
In our opinion, this is by far the best free WooCommerce plugin for abandoned carts. (Once connected to ShopMagic.)
After a pre-set time frame, the plugin automatically sends an email to any customer who has abandoned their cart.
Finally, ShopMagic is one of the few plugins that FULLY supports Mailchimp and other email management systems.
ShopMagic features:
2,000+ active installations
5/5 ratings
Create personalized messages
Perfect for email list management (newsletters, offers, etc.)
Extended documentation
MORE INFO / DOWNLOAD
8. CartBounty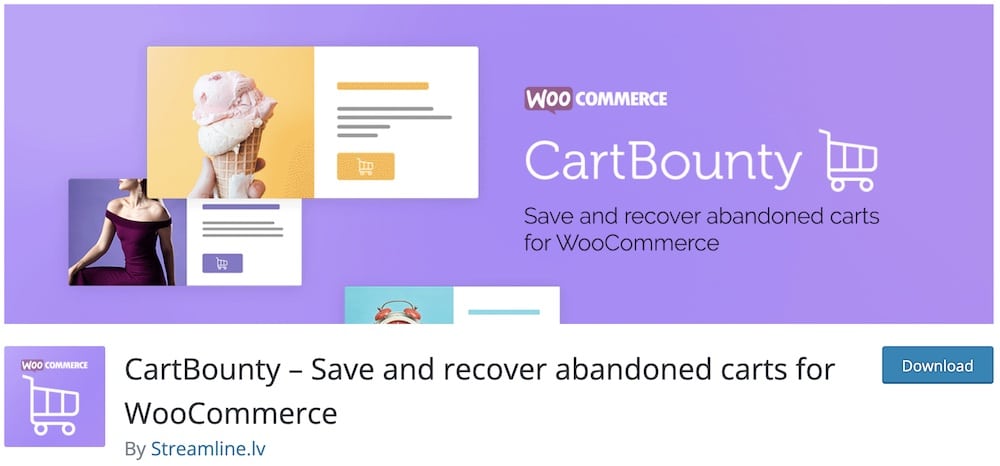 CartBounty is one of the market's most popular freemium abandoned cart plugins. The plugin automatically SAVES a customer's cart activity and contacts those who abandoned their order.
The plugin offers a free forever plan covering most of your needs.
If you already use WordPress's default email server, you'll probably never upgrade to the Pro version. (The best!)
Regarding features, the free version automatically sends reminder emails through the WordPress platform.
If you need a free and reliable plugin for your website, CartBounty is the best choice.
CartBounty features:
10,000+ active installations
5/5 ratings
Live notifications on abandoned carts
GDPR compliant
Great support for multilingual WP themes
MORE INFO / DOWNLOAD
9. Abandoned Cart Lite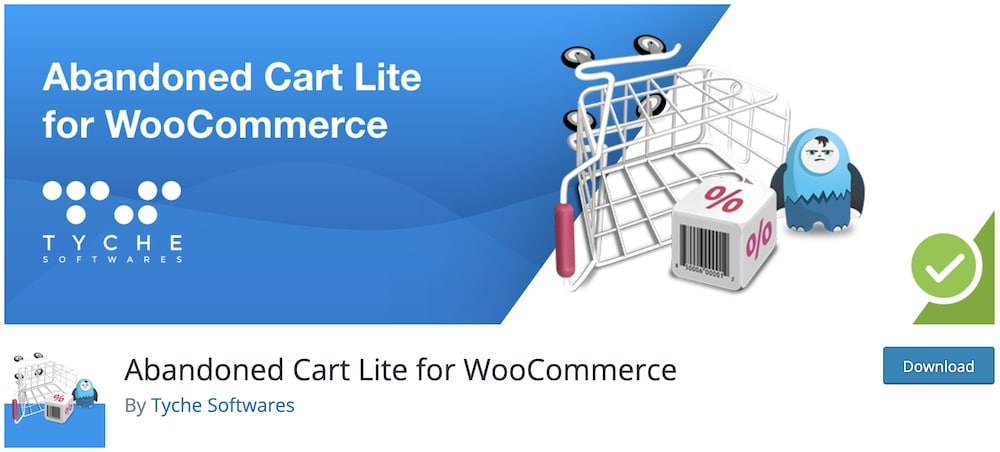 Abandoned Cart Lite is a BEGINNER-FRIENDLY WordPress tool that actively works in the background of your website. Set it and forget it kinda thing.
This plugin is a reliable choice if you want to minimize your abandonment rates but have no coding experience.
The WooCommerce abandoned orders plugin has various features that you can use.
This plugin has everything, from email notifications to your customers (guests or logged-in clients) and collecting valuable information
Abandoned Cart Lite is an indispensable tool if you value ease of use.
We highly recommend it.
Abandoned Cart Lite features:
30,000+ active installations
4.1/5 ratings
Eye-catching email template
Fully-customizable recovery process
Available in 38 languages
MORE INFO / DOWNLOAD
10. MWB HubSpot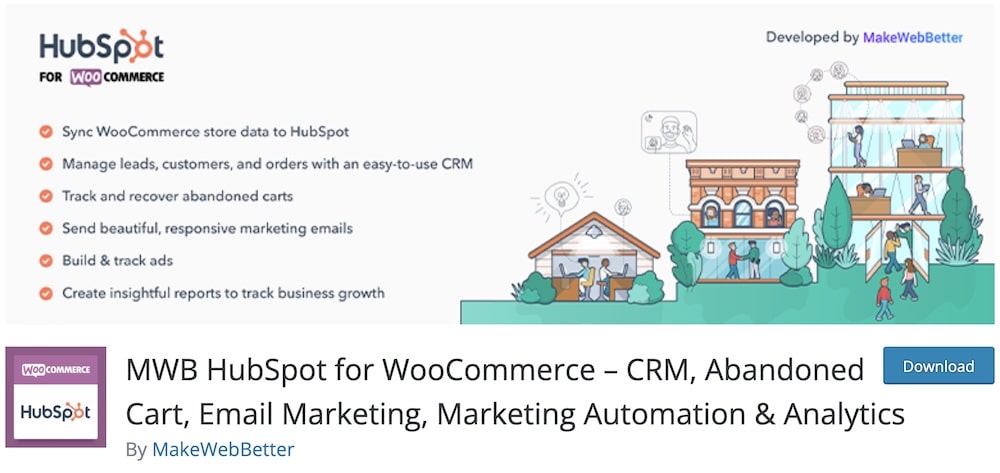 If you need ultimate control over your store's abandoned carts, MWB HubSpot is the best solution for you. When we first tested this plugin, we could not believe it's free.
First of all, this is more than just an abandoned cart plugin. Instead, it's a powerful tool that you can use to organize and optimize your email marketing strategy.
Of course, MWB HubSpot helps you track and retrieve abandoned carts with automated emails.
That's not all. The plugin also sends responsive marketing emails, creates and tracks ads, has an advanced analytics section, and much more.
MWB HubSpot features:
10,000+ active installations
4.5/5 ratings
20+ templates
Top-notch support
Ideal for email marketing automation
MORE INFO / DOWNLOAD
11. Retainful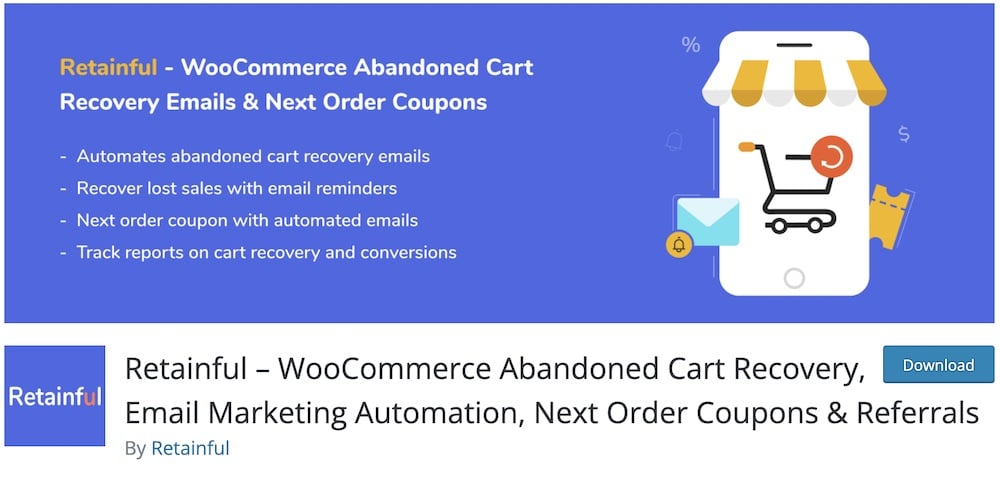 Our final choice is none other than the free version of Retainful. Although the Pro version of this WooCommerce abandoned cart plugin has plenty of advanced features, the free version has EVERYTHING you need to get started.
For starters, Retainful lets you fully automate the recovery process. We did not encounter any issues while setting up and using the plugin.
We had a lot of fun working with it!
The main difference between the free and pro version is that the free version allows up to 300 contacts instead of 2000+.
Finally, the free version does not include a referral program and live chat support. Nevertheless, Retainful Free is a smart solution for smaller WooCommerce stores.
Retainful features:
3,000+ active installations
4.8/5 ratings
Offers next order coupons
500 emails per month
Comprehensive tutorials
MORE INFO / DOWNLOAD
Why Do Customers Abandon Their Carts?
Unfortunately, when you operate an eCommerce website, you'll need to deal with abandoned carts – which sucks, I know!
But many business owners question, "Why do they abandon their carts in the first place?"
Here are the six most common reasons:
The checkout process is too complicated, so they lose patience. Our advice: Keep your checkout as simple as possible.
Extra fees or (unexpectedly) high shipping costs. That's why you need to be as transparent as possible upfront. And don't add extra costs without notifying the potential customer first (you'll likely lose them).
There's no b they prefer. (Or their payment gets declined, so they never return to complete it again.)
A b on someone else's website. Hint: Having competitive prices is advisable.
Slow website loading. That's why you MUST pick a fast WordPress theme!
They simply change their mind (or something/someone interrupts them).
FAQs About WooCommerce Abandoned Carts
What is WooCommerce abandoned cart
It's when a customer leaves your website without making a purchase. That's something that happens to everyone, but luckily, you can do a lot about it to recover at least one-third of them.
How do I create an abandoned cart in WooCommerce?
The best way to create an abandoned cart in WooCommerce is by installing a free or premium plugin.
How do I view abandoned carts in WooCommerce?
You can view all the abandoned carts in WooCommerce by visiting the right section in your WordPress admin panel, which is under the Woo tab in the left sidebar menu.
Does WooCommerce have abandoned cart recovery?
No, WooCommerce doesn't come with abandoned cart recovery functionality by default. You need to install a plugin that takes care of this for your convenience. (No coding is necessary to set it up!)
How do I reduce abandoned carts in WooCommerce?
You can reduce your abandoned WooCommerce carts by offering multiple payment gateways, sending reminders, free shipping, a simple return policy, a "buy as a guest" option (not everyone likes to create an account – including myself) and a minimalist checkout process, to name a few.
We also advise sending out a simple questionnaire asking users why they abandoned their cart. You can gain A LOT of useful information!
Finally: you may want to ready our guide on how to install a WordPress plugin for a smooth sail.
::
Note: This article was originally published on December 19, 2021. But our team regularly reviews it and updates it with necessary improvements for accuracy.