If you are looking for the best WordPress age verification plugins to restrict your content, this is the review for you!
We know how important this feature is after working with many clients.
Thus, we tested 25+ age verifications for this ULTIMATE list!
Such plugins are necessary for companies with "banned" products for specific age groups (alcohol, gambling, tobacco, etc.).
Even though a few countries do not have strict age restriction laws, we recommend adding one of the plugins listed below to stay safe.
Even if it's not the most pleasant task, restricting your website (slightly) is easy!
THE ULTIMATE 2:
Top WordPress Age Verification Plugins
1. Age Checker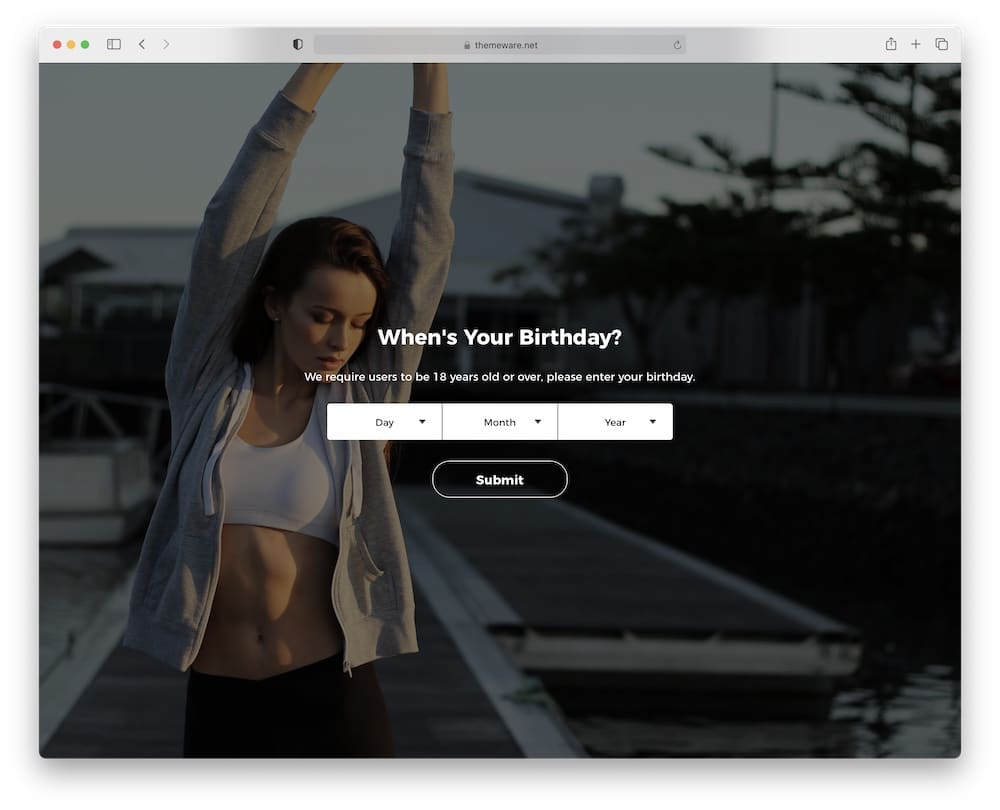 A while ago, we had a PROBLEM finding a fully customizable WordPress plugin for age verification.
That changed when we tested Age Checker for the first time.
With this plugin you get three different background options: a background video, a background image, a solid color.
We had no issues using the three verification options with Age Checker: birthday check, enter verification method, and the app's checkbox.
In addition, this plugin gives you the option to restrict pages and posts for underage users.
As far as straightforward age verification goes, this is our favorite plugin to sort it out.
Age Checker features:
1,300+ sales
4.6/5 ratings
Fully responsive
Brand logo on the verification form
Price: $18 (may vary)
MORE INFO / DOWNLOAD
2. Elegant Age Verification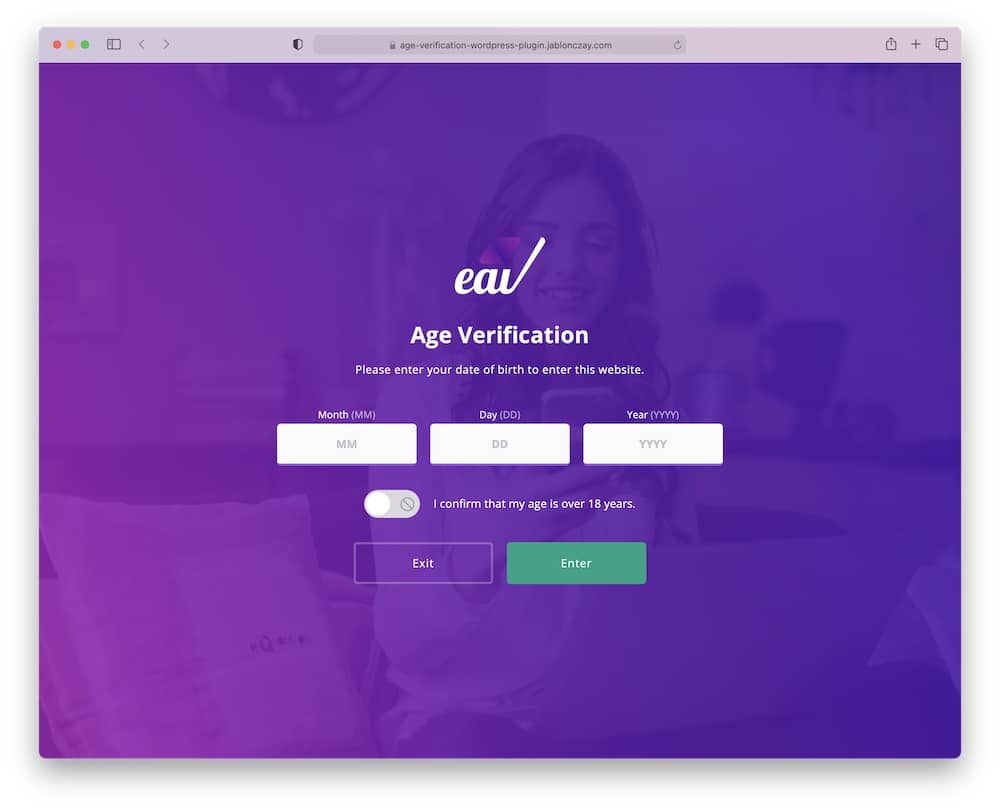 Elegant Age Verification is one of our top suggestions to import a well-designed age verification to your website.
The customization options are SO GOOD.
We loved the ten different style layouts and have already used most of them for our clients.
As you would expect nowadays, Elegant Age Verification is a fully responsive plugin with an excellent, user-friendly interface.
Finally, this plugin gives you the option to choose to redirect underage users.
Elegant Age Verification features:
140+ sales
5/5 ratings
Google fonts integration
Custom CSS
Price: $20 (may vary)
MORE INFO / DOWNLOAD
3. Age Verification System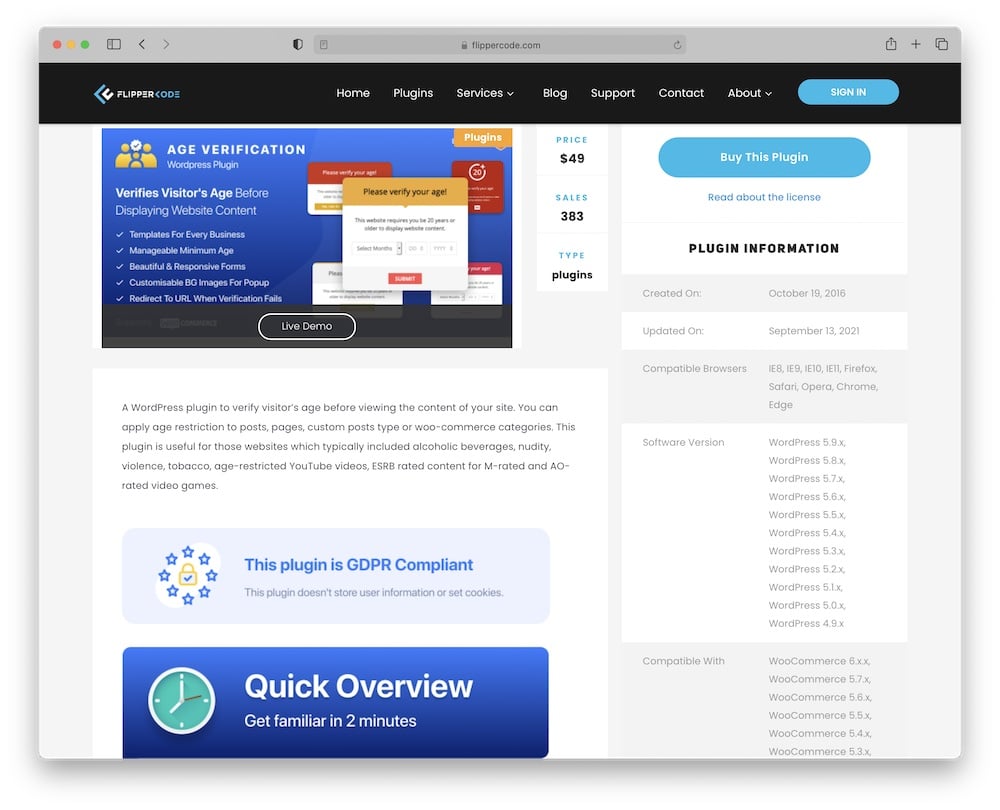 Age Verification System is one of our favorite WordPress plugins for visitors' age control.
One cool feature that we really like is the option to apply age verification to SPECIFIC pages and posts.
This is very useful if you need to restrict certain website sections. (We used it for some of the client's sensitive content.)
The plugin has an extensive library of 12 fully responsive templates for quick integration.
We also really enjoyed choosing and customizing the background image.
Age Verification System offers a lot of settings, which makes it a smart choice for professionals.
Age Verification System features:
380+ sales
4.2/5 ratings
WPML compatible (translateable)
Age restriction for logged in users
Price: $49 (may vary)
MORE INFO / DOWNLOAD
4. Age Verification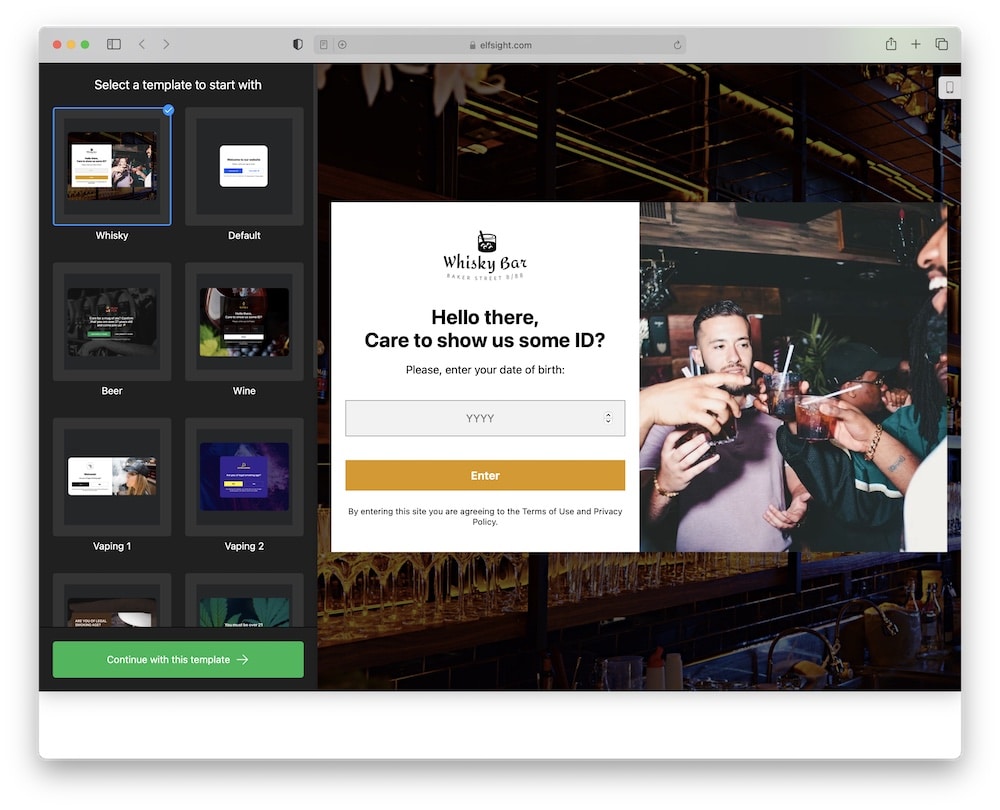 This is another great premium WordPress age verification plugin with all the necessary and more.
One of the first things you should check with a plugin is its WordPress theme compatibility.
Age Verification works SMOOTHLY!
This is more of a widget that helps you display age verification on any page via simple shortcodes.
When it comes to verification methods, Age Verification offers you three different options: date of birth, Yes/No checkboxes, and year of birth. (You can set it as a popup.)
Finally, its user-friendly editor does not require any programming skills. Quick. Work.
Age Verification features:
280+ sales
5/5 ratings
Great styling options
Remembers users for custom times
Price: $20 (may vary)
MORE INFO / DOWNLOAD
Best Free WordPress Age Verification Plugins
5. Age Gate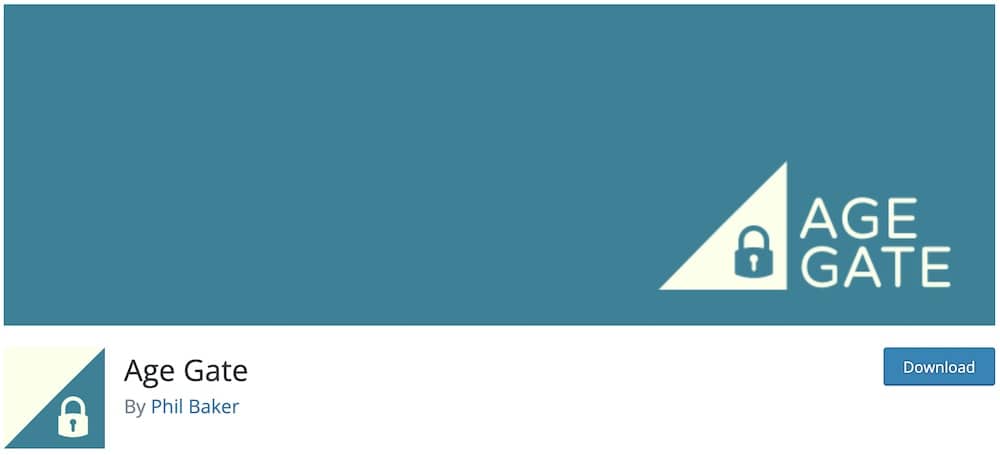 If you need an all-round free WordPress age verification, Age Gate is simply the best one we found and tested.
This plugin offers you a WIDE range of features, such as creating shortcodes and restricting certain content, three different verification options, and many customizations.
One of our favorite features was the ability to place a "Remember Me" button on the bottom of the verification form.
Don't forget that it is not desirable for users to repeat this process again and again.
Age Gate features:
30,000+ active installations
4.6/5 ratings
WPML & Polylang multilingual compatible
Fully customizable background
SEO friendly
MORE INFO / DOWNLOAD
6. AgeVerify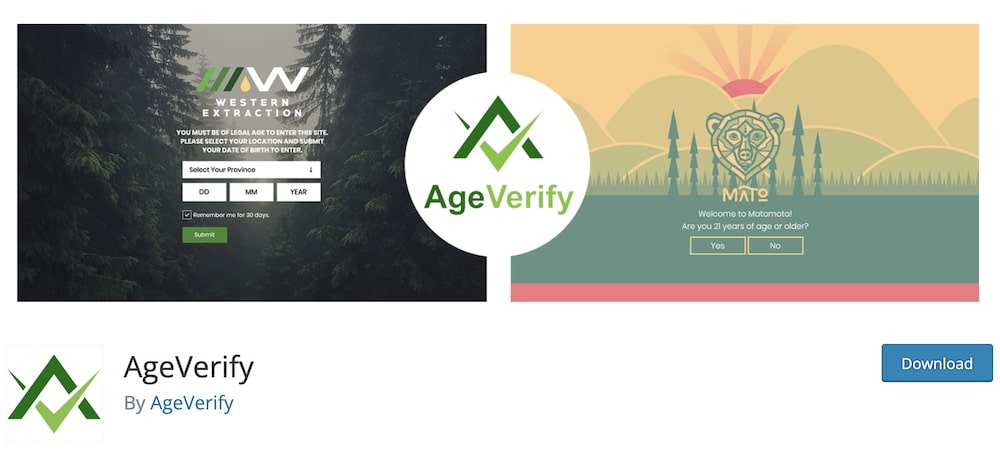 It is very common for businesses to look for a free and easy-to-use plugin that solves a certain issue.
If you simply need an age verification page FUSS-FREE, go with AgeVerify.
This free WordPress age verification plugin comes with many layouts based on the industry.
LIKE.
Nothing is left out – from businesses like wineries, tobacco supplies and marijuana to gambling and vaping.
AgeVerify gives you two verification methods, a button prompt and DOB.
It's a tool for everyone who looks for simplicity in a plugin while still getting the necessary features. Beginners love it!
AgeVerify features:
1,000+ active installations
4.1/5 ratings
Easy to use
Custom cookie expiration
Fully responsive
MORE INFO / DOWNLOAD
7. Responsive Age Verification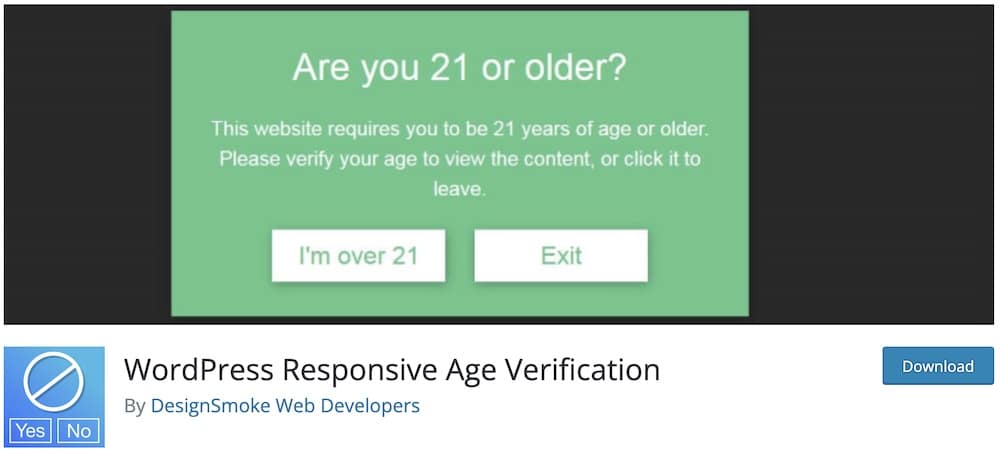 Responsive Age Verification is a plugin specially designed to be SEO-friendly.
You can change and customize pretty much every detail of your verification form, from text and color to background images with this free WordPress age verification plugin.
Also, this plugin supports custom CSS, which can be very useful for developers who want to create UNIQUE verification forms for their clients.
Responsive Age Verification features:
3,000+ active installations
4.8/5 ratings
GPL licensed
Email support
Brand logo on the form
MORE INFO / DOWNLOAD
8. Easy Age Verify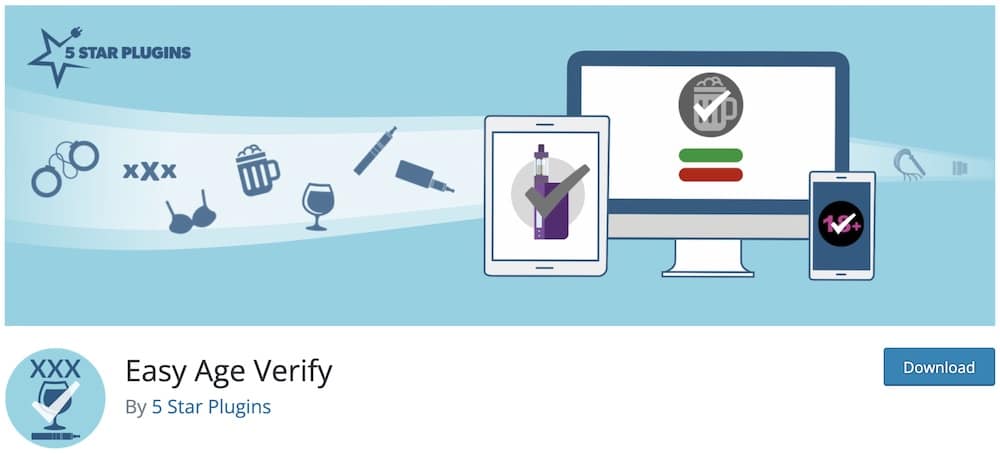 Just because this is our last suggestion does not mean it's any worse than our previous listings!
On the contrary, Easy Age Verify is a powerful free plugin to create an age-gate for many websites, such as vape stores, wineries, sex stores, etc.
So. Flexible.
The great thing about this plugin is that it provides many demos to understand the process easily.
Note: We have not encountered any reliability issues during our tests.
You also DON'T NEED any programming skills to create modern, responsive verification forms.
What more could we ask for, right?
Easy Age Verify features:
600+ active installations
4.5/5 ratings
Great support
Easy to use
Restricts for specific pages & posts
MORE INFO / DOWNLOAD