Are you searching for the best free and premium WordPress autoblogging plugins?
NO MORE manual posting!
Fresh content all day.
You can effortlessly scale your niche website with these plugins' many great features.
This post covers:
But there are numerous great autoblogging plugins on the market, so it may be challenging to find the best one.
That's why we have tested 25+ plugins and created this top list for you.
READY to automate the content you showcase on your website?
Let's begin!
How We Tested WordPress Autoblogging Plugins
We always first review the overall ratings, read through user reviews and check updates of dozens of plugins.
Why?
Because this allows us to eliminate the terrible ones we don't want you to touch. Not even with a stick.
After the first part, we install each plugin and test whether or not it bloats and slows down ULTIDA's demo site.
The one that passed the test went into further research and study settings and configurations.
In this case, we wanted to ensure that a beginner has an easy and fast way of setting up the necessary auto blogging configurations for their needs.
Moreover, we looked into how to set features like featured images, excerpts, text length, quantity, RSS feeds, etc.
Remember, QUALITY over quantity is way better in terms of long-term SEO.
You shouldn't exclusively rely on auto blogging and republishing other websites' content – create unique articles yourself, too!
THE ULTIMATE 5:
Before you continue, feel free to check our how to install a WordPress plugin tutorial. It' so easy to do!
Best WordPress Autoblogging Plugins
1. Youtubomatic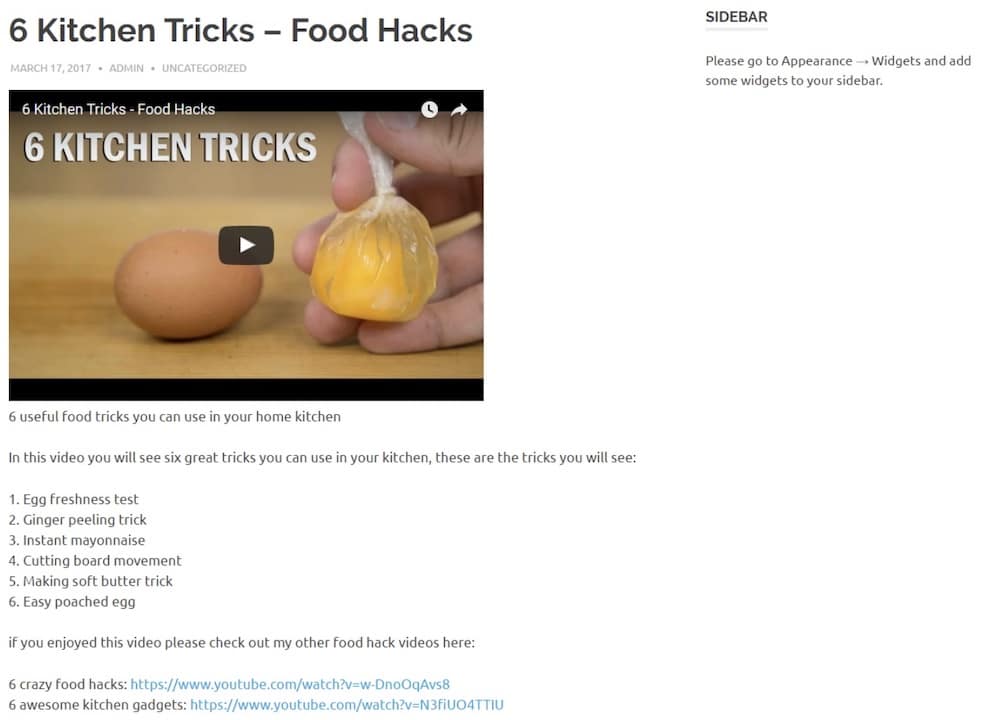 Youtubomatic is a plugin that lets you add videos from other sources to your website (Not YT specific!).
Even if you are not a vlogger and your website does not have a video background theme, this plugin will help you keep your visitors on your website.
With this WordPress autoblogging plugin, you can embed videos from popular platforms like YouTube, Vimeo, DailyMotion, Twitch, etc.
You just need to upload the link and the video will be AUTOMATICALLY uploaded to your channel.
So. Simple.
Youtubomatic is the perfect plugin for vloggers or anyone who'd like to add videos to posts quickly.
Youtubomatic features:
600+ sales
4.7/5 ratings
YouTube video player customizations
Ability to save videos locally (your server)
Price: $49 (may vary)
MORE INFO / DOWNLOAD
2. Wikiomatic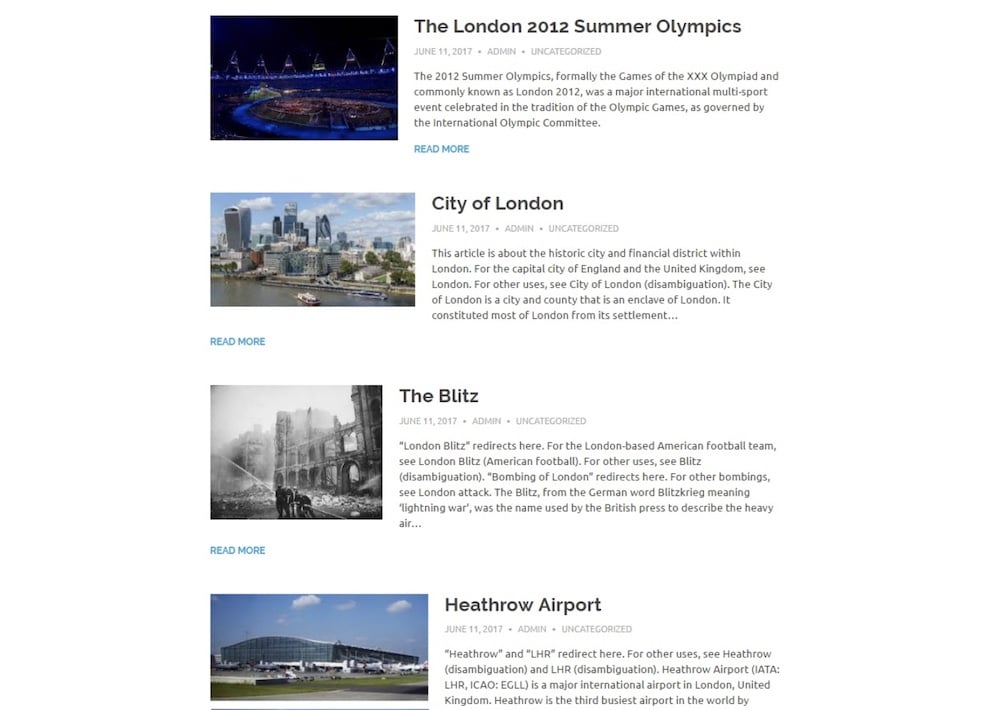 If you are looking for a WordPress autoblogging plugin that generates posts based on Wikipedia, this is the plugin for you.
It has some interesting features that will allow you to create new content for your website EFFORTLESSLY.
Wikiomatic also supports the Google Translate system to select multiple languages easily. (But you can also use a WordPress translation plugin.)
Apart from that, this plugin includes a test spinner that lets you modify the generated text – for example by replacing words with synonyms.
Wikiomatic is a great tool to create fresh content based on Wikipedia articles.
Wikiomatic features:
60+ sales
5/5 ratings
Enable or disable comments
Customizable generated post status
Price: $29 (may vary)
MORE INFO / DOWNLOAD
3. F-omatic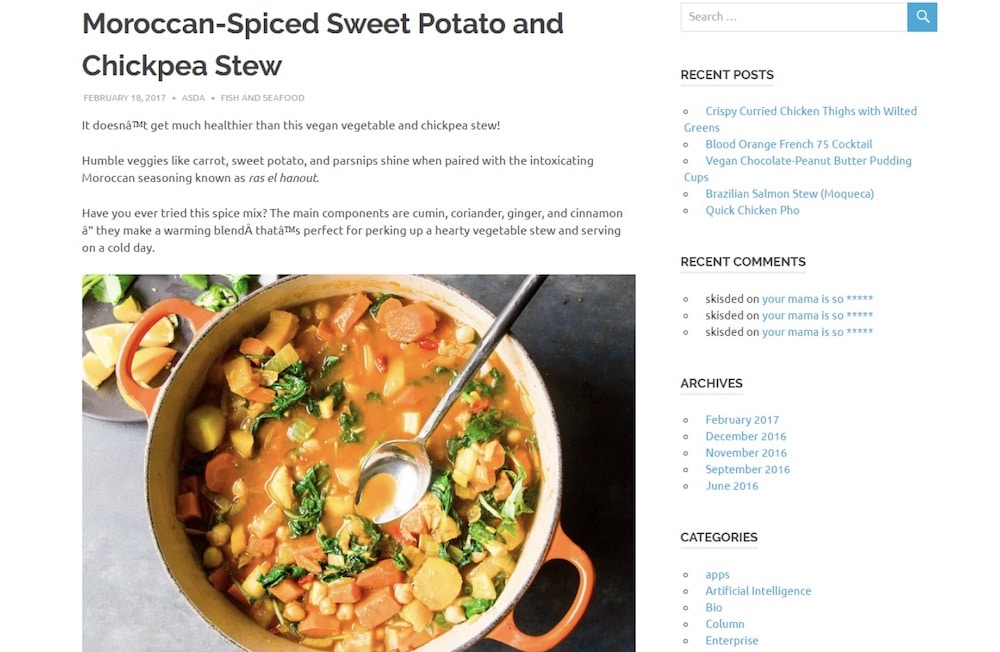 F-omatic is a WordPress autoblogging plugin to import content directly from Facebook to your website.
This plugin uses Facebook's Graph API to transform your website into an auto-blogging page.
Note: Search engines do not index content on Facebook pages and groups.
This means that the content you create will be considered unique regarding search engine optimization.
Considering this, we can say that this plugin is an EXCELLENT option for creating fresh content on Facebook.
F-omatic features:
620+ sales
4.8/5 ratings
Facebook image & video post upload
Supports Google Translate
Price: $39 (may vary)
MORE INFO / DOWNLOAD
Best Free WordPress Autoblogging Plugins
4. Blog2Social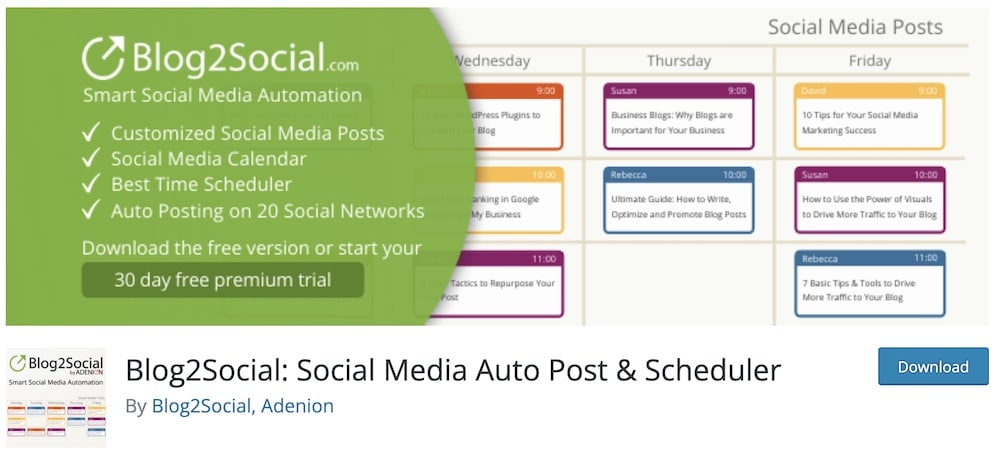 Blog2Social is a well-known plugin to you share your latest blog posts on your social media in no time.
If you publish new blog posts every day, it can be difficult to share them on social.
That's why this free WordPress autoblogging plugin is a must. With Blog2Social, you can post to all the popular platforms like Facebook, Instagram, Twitter, Linkedin, and others.
Blog2Social is a GREAT solution for those who struggle to catch up with updating their social media profiles.
Blog2Social features:
70,000+ active installations
4.6/5 ratings
Compatible with WooCommerce
Draft option for social media posts
Repost old blog posts
MORE INFO / DOWNLOAD
5. WP RSS Aggregator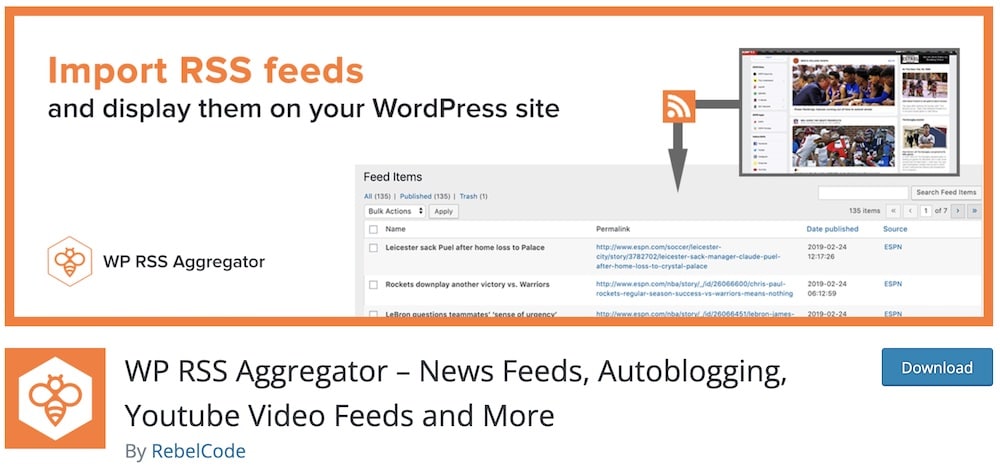 If you are looking for a WordPress autoblogging plugin to add RSS feeds to your website, including YouTube videos, this is the one for you.
WP RSS Aggregator comes with a variety of stuff you can work with, such as the awesome block element.
You can drag and drop the content you want without programming knowledge with this block module.
Moreover, this plugin has MANY great advanced features like categories and templates, but they are only available in the premium version of the plugin.
WP RSS Aggregator features:
60,000+ active installations
4.5/5 ratings
Dashboard to manage all RSS feeds
Shortcodes available
Customizable display templates
MORE INFO / DOWNLOAD
6. Simple Link Directory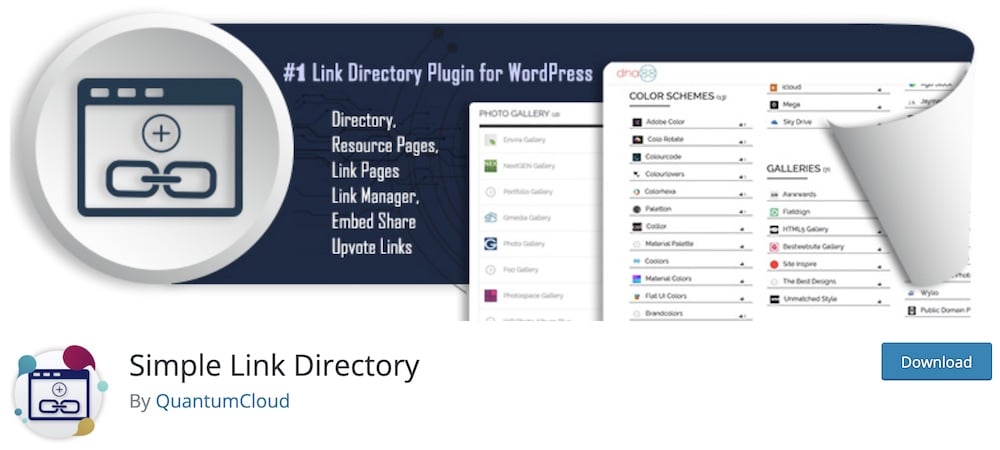 Simple Link Directory was NOT specifically designed as an autoblogging plugin, but it can function as such without a problem.
This plugin includes 18 different page templates and video gallery modules.
Simple Link Directory allows you to link your visitors to multiple blogs associated with your website.
You do not have to worry about other devices either, as it has a fully responsive design.
Another great feature of this plugin is that you get three sidebar WP widgets to work with: Recent Links, Random Links and Most Popular Links.
Simple Link Directory features:
3,000+ active installations
4.8/5 ratings
Great support
Enable payment options
Well documented
MORE INFO / DOWNLOAD
7. WPeMatico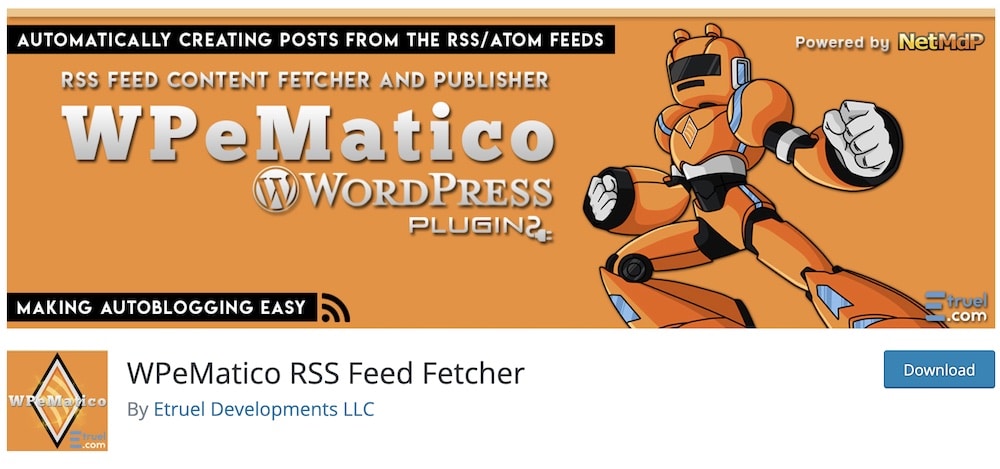 WPeMatico is one of the MOST powerful autoblogging plugins on the market.
You can insert RSS feeds with content from different websites and manage them simultaneously like marketing campaigns.
You can enter categories for each campaign to make tracking related content more manageable.
Besides, WPeMatico uses an API to find and extract the content directly from your website, which is very useful if you do not have your blog's RSS feed.
WPeMatico will help you use RSS feeds to create marketing campaigns to increase your visitors' engagement.
WPeMatico features:
20,000+ active installations
4.8/5 ratings
Integrated with WordPress Media Library
Dashboard with all campaigns summary
Publishing from YouTube playlists, channels & profile feeds
MORE INFO / DOWNLOAD
8. Feedzy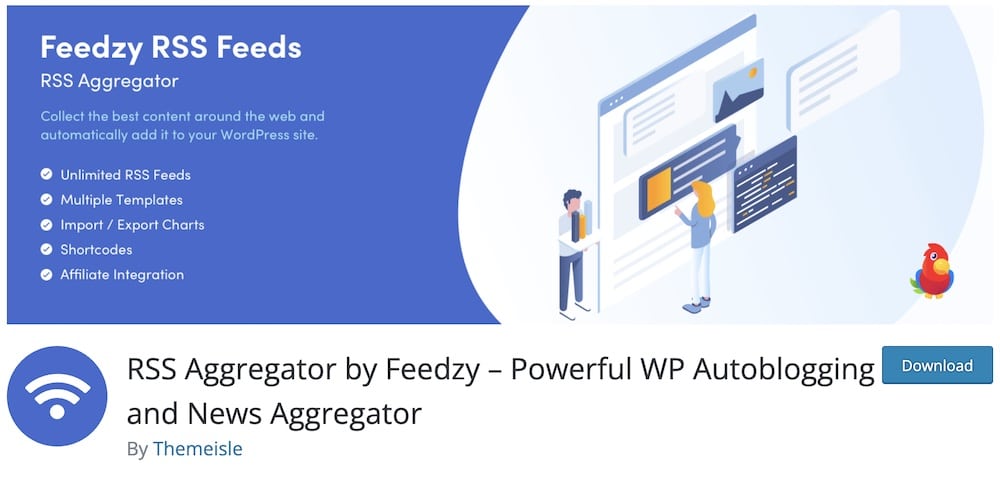 If you are looking for a simple WordPress autoblogging plugin, Feedzy's for you.
One of Feedzy's most popular features is the "Feed to Post." You can use it to convert RSS feed items into WordPress pages and posts.
In this way, your visitors will not be redirected to external websites when they click on your content.
Besides, Feedzy lets you CHOOSE the number of articles you want to display in your autoblog module.
Feedzy features:
50,000+ active installations
4.7/5 ratings
Shortcodes are available for RSS feeds display
Affiliate integration
WordPress sidebar widget for your imported feed items
MORE INFO / DOWNLOAD
9. Category Specific RSS feed Subscription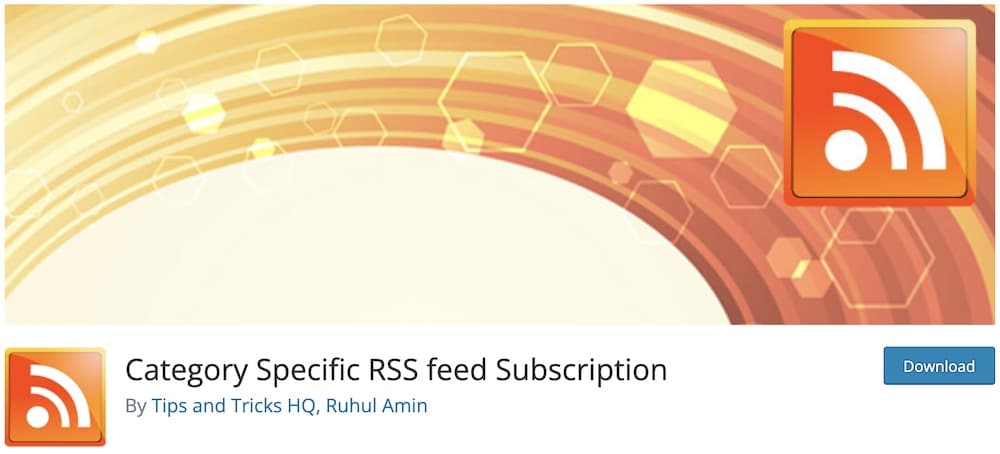 If you are looking for a plugin that will help you to give your readers the possibility to subscribe to different RSS feeds, then this is the right one.
You can quickly create different subscriptions for each category.
If you have a website with many content and topics, this plugin will help you get subscriptions for each. You can choose up to eight CUSTOM categories.
Give your readers an option to subscribe to the category that THEY want.
Category Specific RSS feed Subscription features:
5,000+ active installations
4.5/5 ratings
Tag specific RSS feed menu
Shortcode available
Widget to insert RSS feed to your sidebar
MORE INFO / DOWNLOAD
::
Note: This article was originally published on March 13, 2022. But our team regularly reviews it and updates it with necessary improvements for accuracy.