We received many requests to create a list of the best free WordPress dental themes.
It's finally complete (after many months of testing and trying!).
These are the ultimate eight for EVERY dentist or dental clinic.
We also made sure to include WordPress themes that are translatable, so you can easily localize your website. (Due to high demand.)
Plus, all themes are easy to use with quick integration so that you can start instantly.
This post covers:
Life is short.
Smile and make a dental website today! (Because you can.)
How ULTIDA Tested The Best Free WP Dental Themes?
We initially started curating this collection with twenty applicable themes. (There are more, but all the rest had really poor design, so we didn't even bother looking further into them.)
The first thing was to install each WP theme and check the loading speed time. You may also be interested in our guide on how to choose a fast WordPress theme.
We then examined the user-friendliness of the theme by checking its admin panel and how easy it was to work with. (Changing colors, adjusting fonts, performing customization tweaks, etc.)
Additionally, we also installed free WordPress page builders to confirm compatibility. Plus, we also activated the essential plugins to see how effortless it is to expand the theme with new functionalities.
As mentioned above, we also installed a WP translation plugin and ensured to add only those themes that are easy to translate.
Note: Also, check our collection of the best dentist website templates if you like to work with HTML.
Best Free WordPress Dental Themes For Dentists & Clinics
1. Medical Circle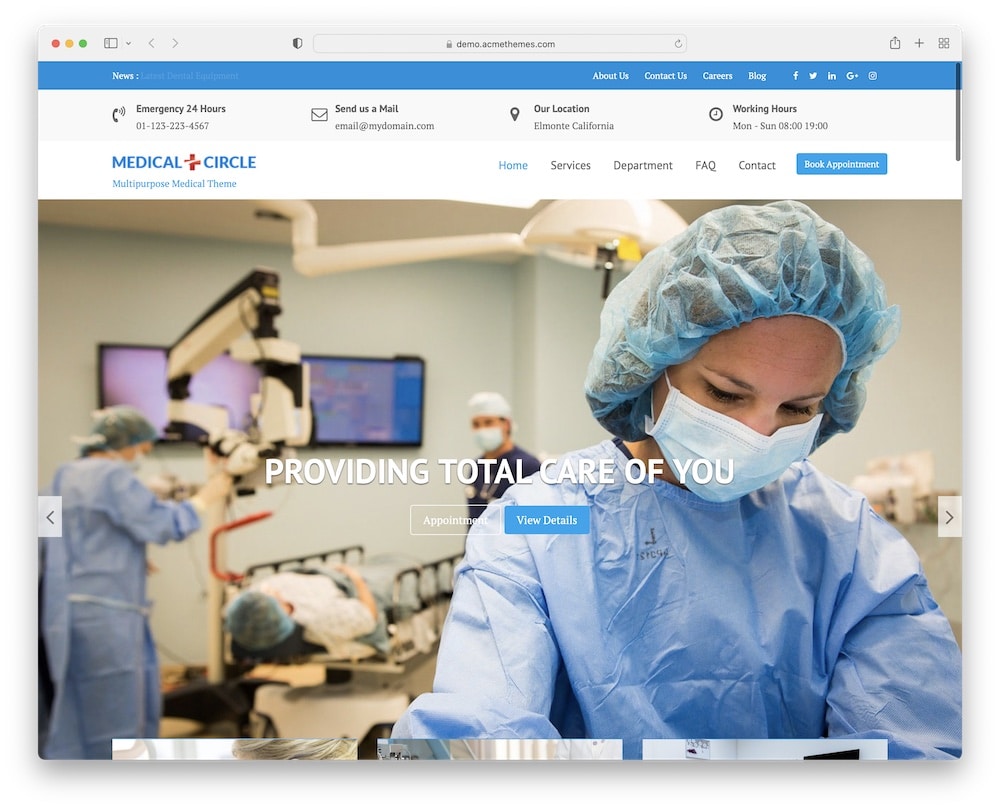 Get your clients ready to say, "Ahhhhhhh!" with a modern and professional Medical Circle dental theme.
Medical Circle comes with a pre-made homepage layout, WP sidebar options, flexible menu, wp widgets, slider, and blog page options.
I was blown away by how easy it is to work with it. And YES, you don't need any developer's skills.
Just GO into building mode and turn Medical Circle into your website (be proud)!
Did I mention that you can even create your store? Yup, due to the fantastic WooCommerce plugin. Sell products directly from your site.
HI5!
Protect teeth with Medical Circle.
Medical Circle features:
MORE INFO / DOWNLOAD
2. VW Dentist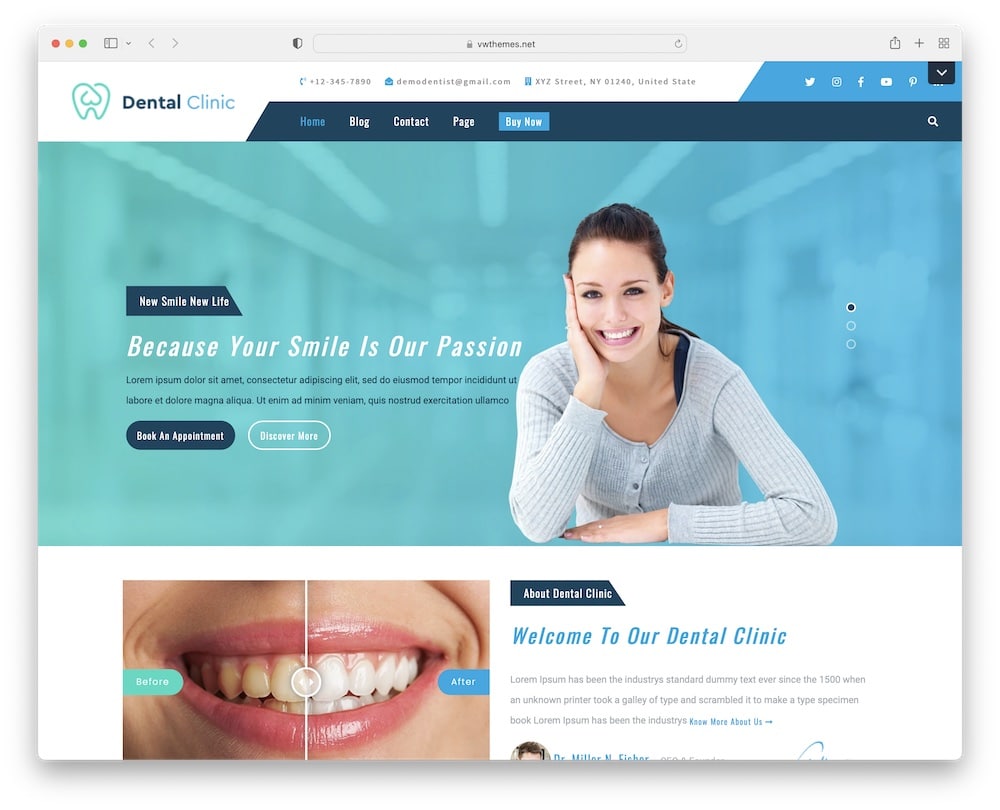 Be the first line of defense against oral health concerns with comprehensive & complete checkups.
Clients can NOW easily find you online with the aid of VW Dentist free WordPress dental theme.
Few things that you should know.
VW Dentist includes COOL options such as unlimited colors, numerous widgets, custom background, flexible header & footer, stylish menu, different sidebar layouts, and wide blocks.
You can do it all with just a few simple clicks (minimal effort).
Plus, VW Dentist supports complete translation – localize your website in minutes.
High performance guaranteed.
One smile at a time makes this world a better place!
VW Dentist features:
500+ active installs
100% responsive
Quick setup
Great documentation
MORE INFO / DOWNLOAD
3. Dentisti Clinic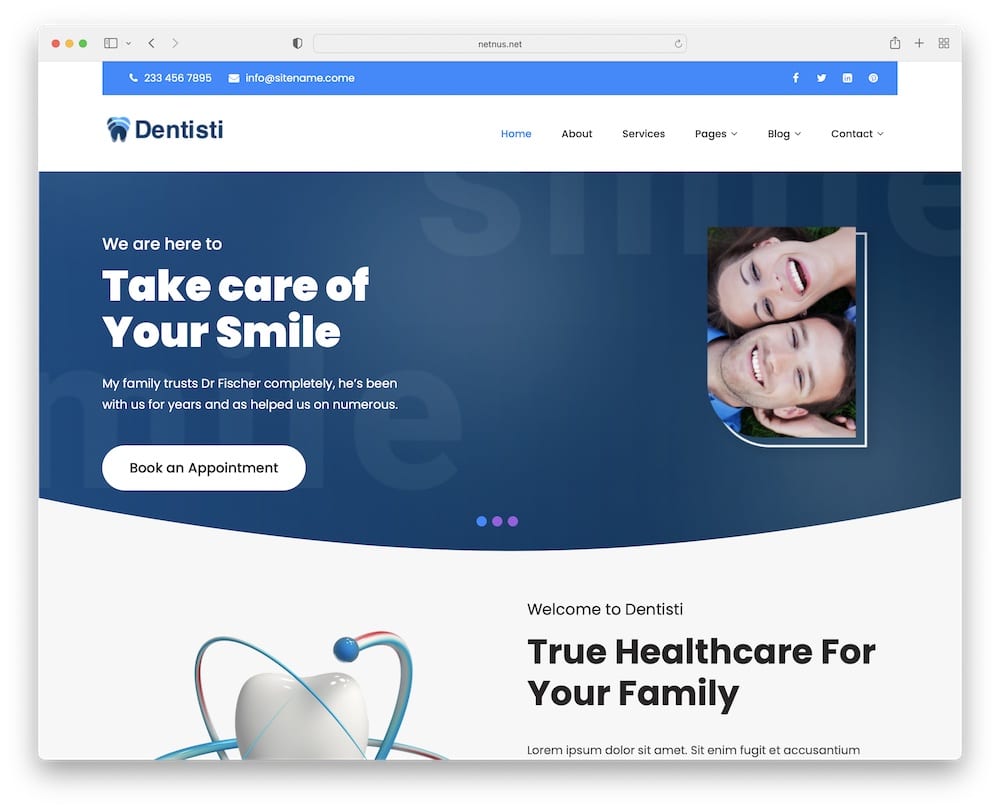 Dentist in you will say immediately: "Yes, please!" to Dentisti Clinic free WordPress dental theme.
IRRESISTIBLE!
This effortless to work theme comes with a ready-to-use demo, powerful admin interface, and responsive design (eye candy).
It's also compatible with the best tools such as Elementor page builder, WooCommerce, and Contact Form 7.
I also set up social media buttons to connect with potential clients. Be smart and make sure to spread the word about your new site! (Or let your visitors do it for you.)
Dentisti Clinic is SEO-friendly, optimized for loading speed, and work on all popular browsers.
Plus, Dentisti Clinic includes friendly support that takes care of all your questions.
Action!
Dentisti Clinic features:
100+ active installs
1-click import
Multilingual theme support
Drag-n-drop builder
Video tutorials
MORE INFO / DOWNLOAD
4. Medical Clinic Lite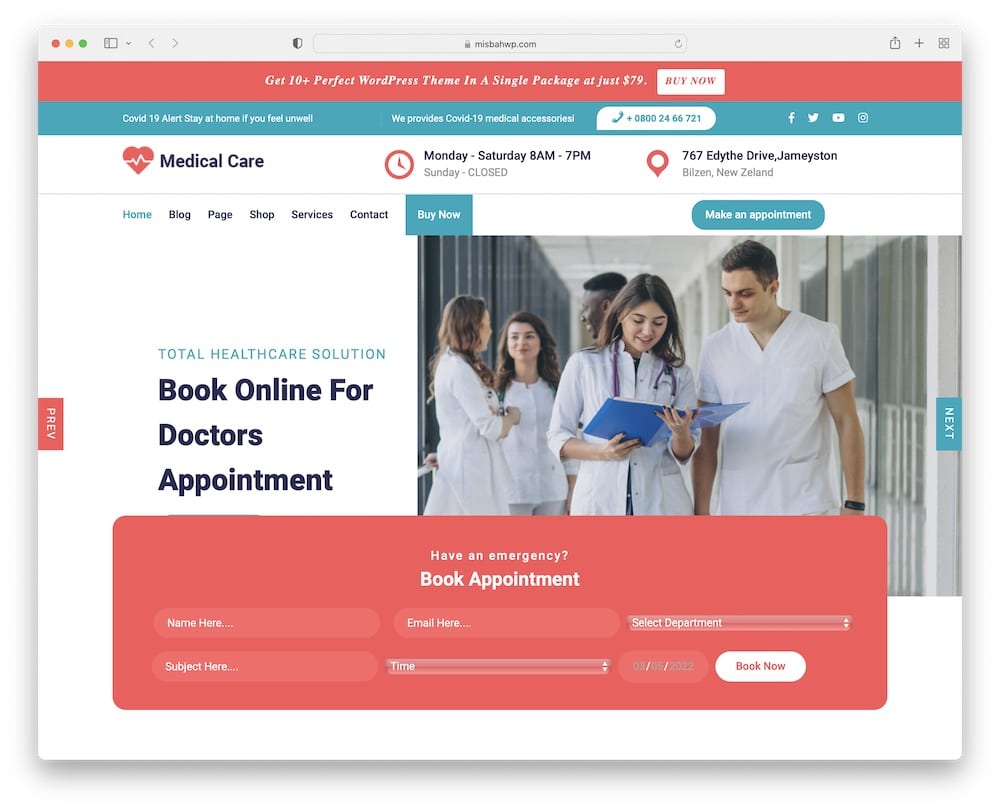 Create a great new look, BUT hold on to the same great care for your patients with gorgeous Medical Clinic Lite free WordPress dental theme!
Medical Clinic Lite offers a user-friendly layout, smart tools, numerous WP shortcodes, and unique icons. Your clients can also easily book appointments directly on your website.
Keep smiling!
I love it when I can import pre-made demos and start immediately!
Keep in mind that anyone (even total beginners) can use it.
Plus, you can choose from a collection of highly-customizable inner pages, layouts, and playful colors.
Oh, and don't panic Medical Clinic Lite is fully translation-ready and supports RTL (right-to-left) direction.
Yup, produce a website in any language you fancy.
Happy brushing!
Medical Clinic Lite features:
MORE INFO / DOWNLOAD
5. Dental Insight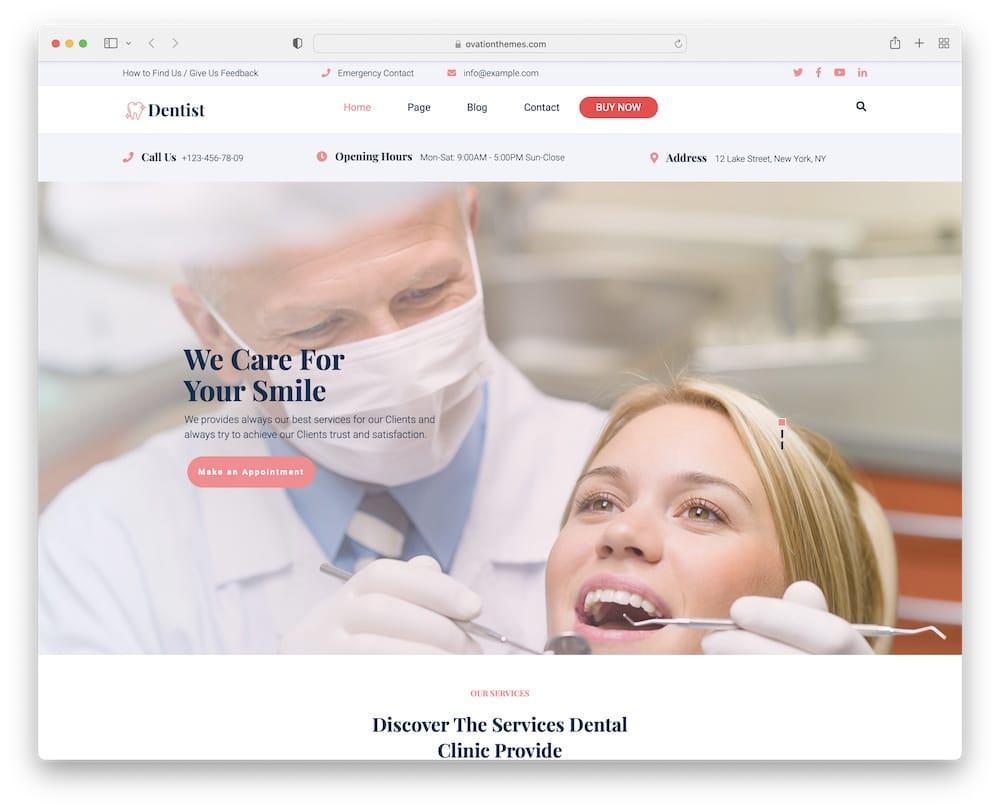 Help your clients understand the importance of dental care with the beautiful Dental Insight free dental theme. I love regular check-ups!
Dental insight design is elegant & professional-looking, packed with useful customization options.
Rearrange it to your brand style, upload your logo, create a WP business blog, set up a menu, and connect your site with social media.
You can't go wrong!
And don't worry; add shortcodes, widgets, and plugins to increase the functionality of your site. Smart idea, I know 🙂
On top of that, Dental Insight includes best SEO practices, is mobile-friendly, and frequently updated.
BIG. YES.
Dental Insight features:
200+ active installs
Modern & elegant design
Fast page loading
Slideshow
MORE INFO / DOWNLOAD
6. Dentaris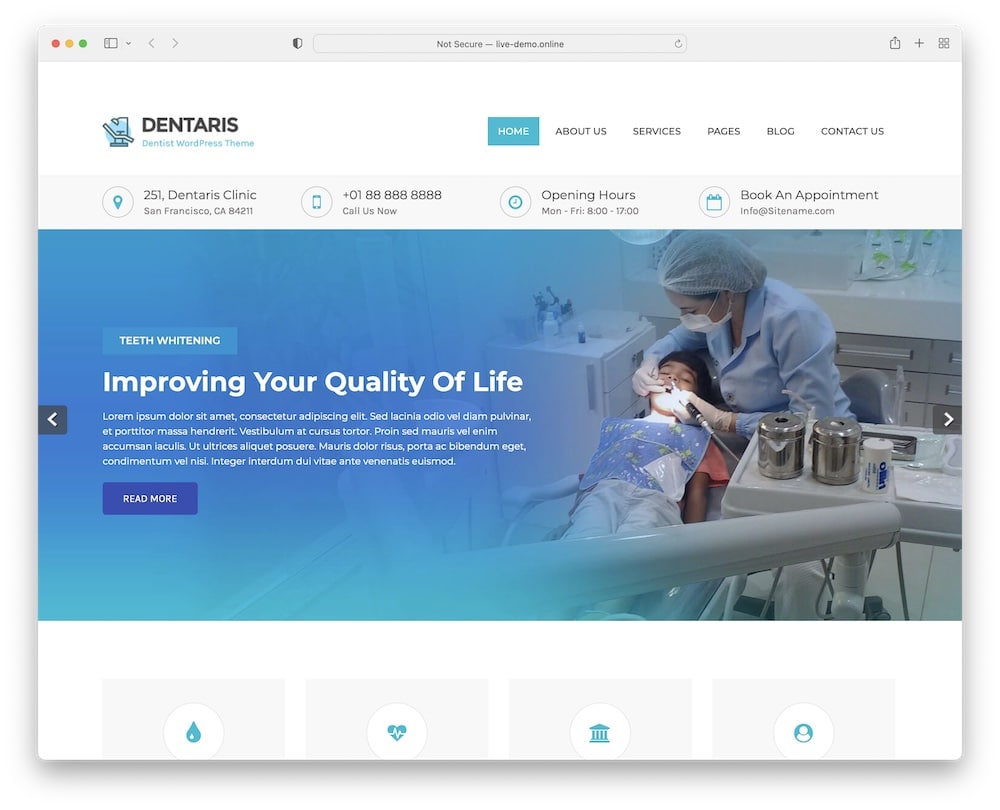 You can quickly become the PERFECT dentist with the professional oral website due to the amazing Dentaris free WordPress dental theme. Try it!
I am all about simple solutions, and Dentaris is simple! You can install a demo in a matter of seconds. Voilà!
Moreover, slick Dentaris is fully responsive, cross-browser compatible, and SEO friendly. Aha, you can expect a GREAT visitor experience while scrolling through your site.
Hooray!
It is a breeze to make EYE-CATCHY sections of valuable info on your site, such as: services listing, team members, testimonials, latest news, and online appointments.
Create smiles (every day) with the neat Dentaris.
Dentaris features:
100+ active installs
Works with WooCommerce
Contact Form 7
Beginner-friendly building
Custom logo
MORE INFO / DOWNLOAD
7. Dentist Lite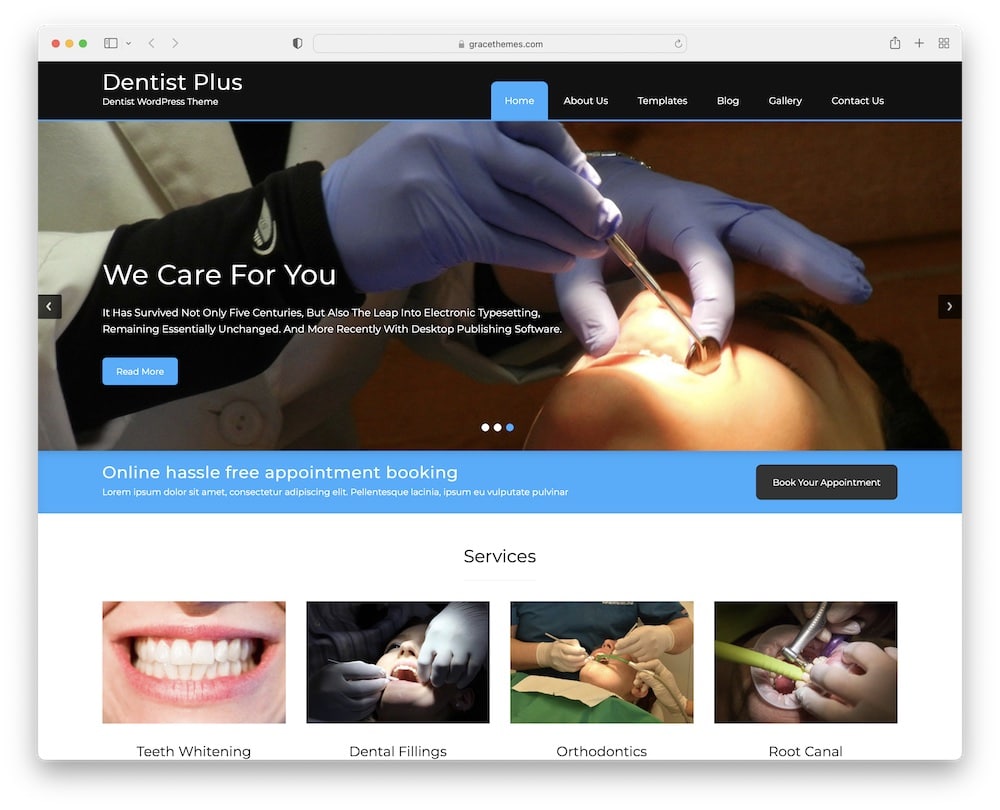 Modish Dentist Lite free WP theme is a whole new way for your clients to experience the traditional dentist.
Ask yourself: "What would I like to create?"
Start rearranging (this includes website layout, typography (this is how to change fonts in WP easily), menu, sidebars, and color schemes) Dentist Lite to your needs and your clinic style.
I know, it's comforting and inspiring all at once!
You can also work with the popular tools (WooCommerce, Contact Form 7, Nextgen Gallery, etc.) due to Dentist Lite's compatibility.
Hint: Don't forget about the blog. Rich & valuable content is always an advantage. Give me five!
Dentist Lite features:
100+ active installs
Custom widgets
Animations & transitions effects
Wide & boxed layouts
Free theme updates
MORE INFO / DOWNLOAD
8. SKT Toothy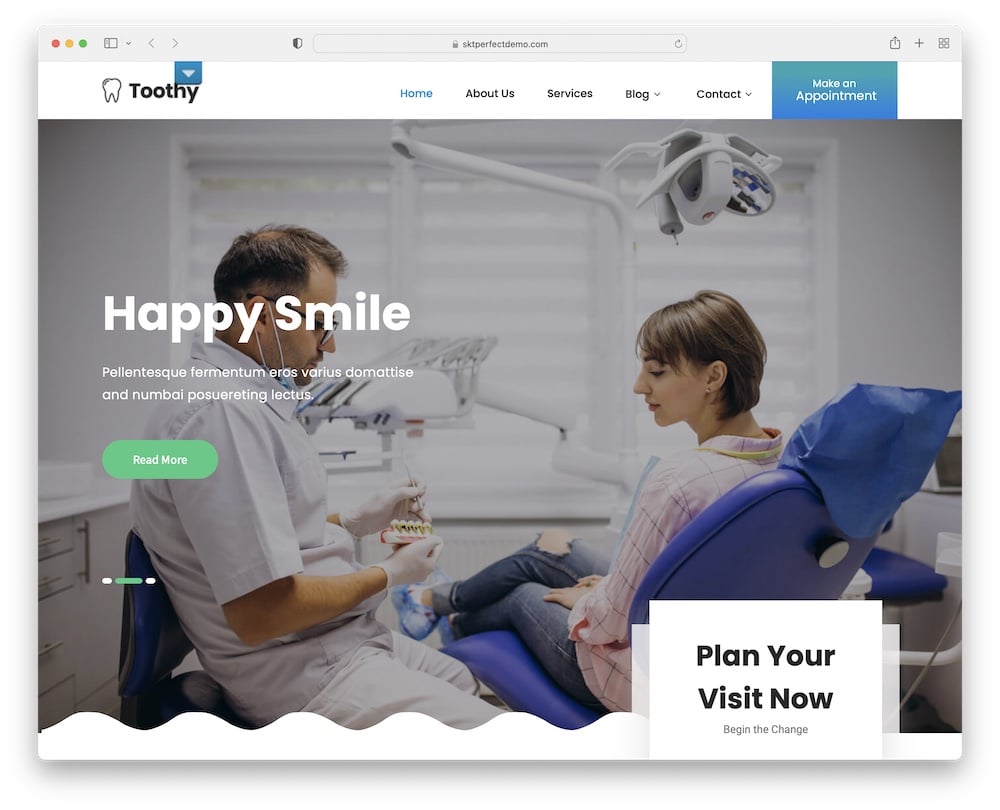 Check out the functional SKT Toothy free WordPress dental theme to build your dream website for the best smiles in life.
We all want a happy, healthy, kissable smile!
SKT Toothy includes a slider (ability to have 3-4 slides), call-to-action buttons, different widgets, social icons, and more.
It is simple to use and adjust; of course, it is even better if you go through organized (step-by-step) documentation.
And HEY, you can translate SKT Toothy (a pretty simple task).
Moreover, you don't need to worry about good search rankings due to SEO-friendly optimization with flexible SKT Toothy. Stand out from your competitors.
Flossing is fun with SKT Toothy!
SKT Toothy features:
MORE INFO / DOWNLOAD
::
Note: This article was originally published on May 15, 2022. But our team regularly reviews it and updates it with necessary improvements for accuracy.