You'll be part of the hype even more seriously than you are so far with these best NFT WordPress themes.
I absolutely needed to curate this collection after receiving so many requests from users globally.
Here we are now!
I'm excited to share the best themes that work for NFT marketplaces, landing pages, blogs, and even crypto.
Remember, there aren't that many available on the web yet, but I promise these are creme de la creme.
Yes, they're the ULTIMATE.
You can launch a new NFT project quickly (without coding!) with everything these themes have available.
Take action, pick the theme, and all the rest will unfold smoothly.
THE ULTIMATE 3:
Best Overall NFT Theme: Crypterio
Best NFT Marketplace Theme: Enefti
Best NFT Landing Page Theme: Toka
Best NFT WordPress Themes
1. Crypterio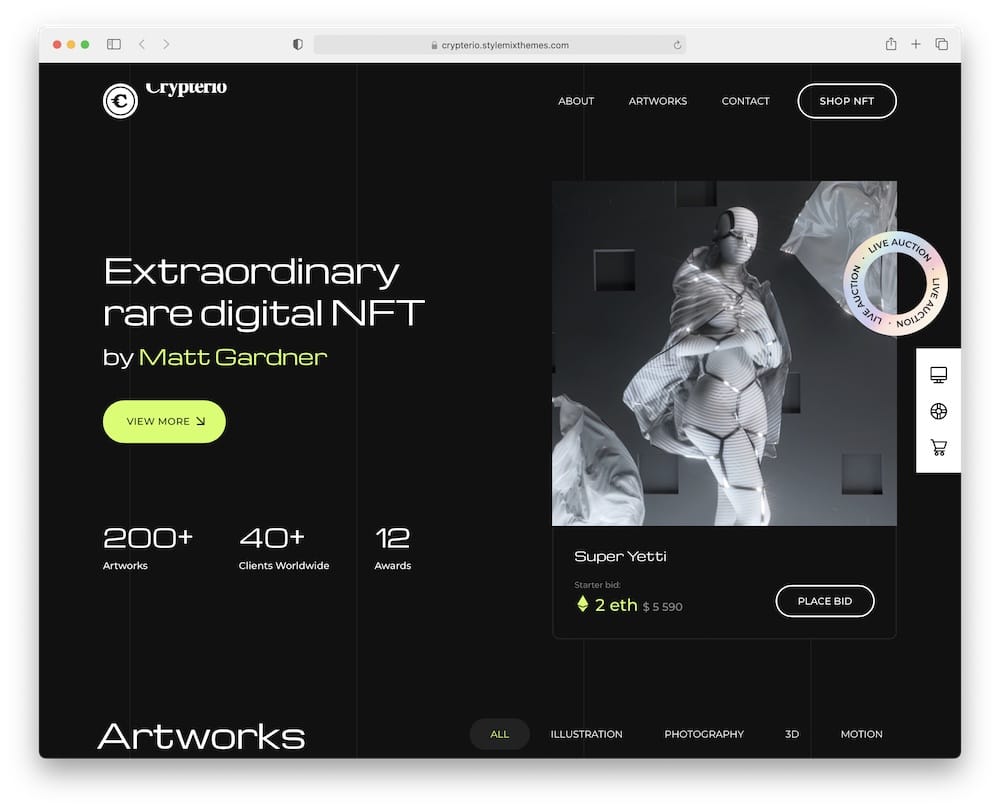 Crypterio is an EXTREMELY versatile WordPress theme that I used with my friend Jeff on several crypto and NTF marketplace projects for our clients.
The multiple demos allowed us to save a ton of time when creating first drafts. But even once we decided to customize it further – it took us very little time!
Endless content blocks for instant inclusion, case studies, NFT widgets and countdowns, Crypterio has it all.
Of course, it's also optimized for amazing performance on all devices and platforms (SEO-friendly, too!).
Note: We only wished there'd be some more NTF-related demos available.
Crypterio features:
3,900+ sales
4.7/5 star rating
Regular updates
Built on industry research
Price: $59 (may vary)
MORE INFO / DOWNLOAD
DEMO
2. Hoverex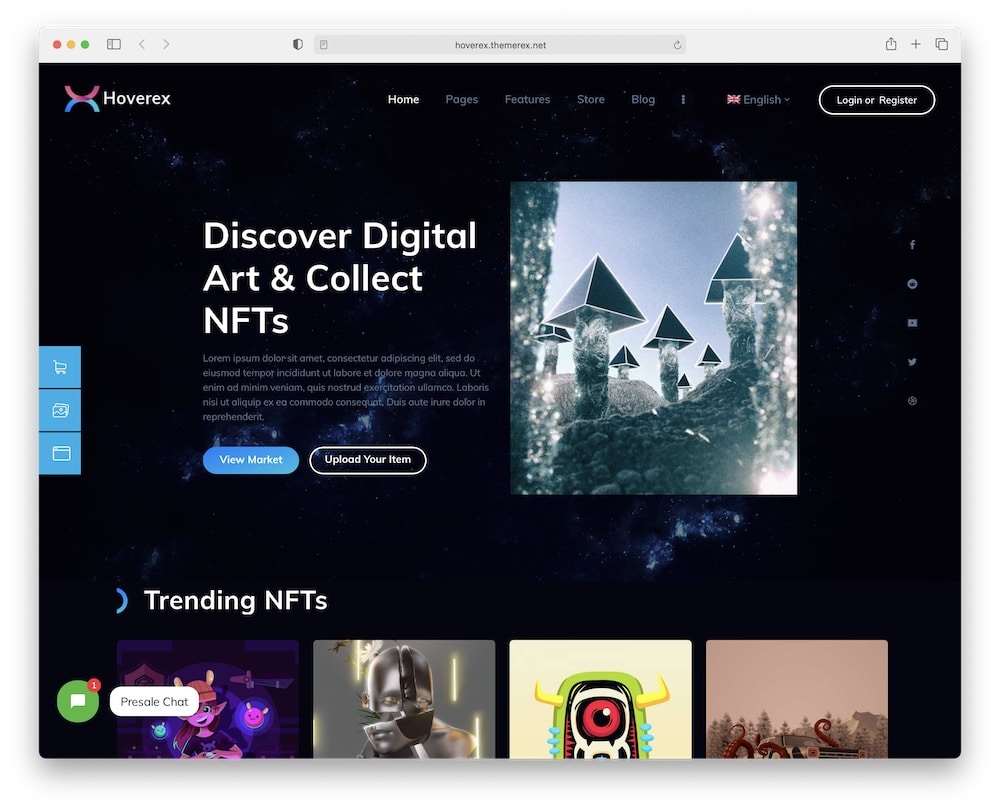 Hoverex is another exceptional NTF WordPress theme that ensures an instant start of something new.
We all like taking shortcuts and building epic stuff fast, right? That's when you opt for Hoverex.
This tool covers video background, translation, child theme, one-click import and the best support. Yes, Hoverex really is something extra.
Just like you deserve it!
Your new NTF website will work the best on mobile and desktop, delivering the greatest user experience for ultimate success.
I've tested it vigorously on two live projects, guaranteeing it deserves a spot so high on this list.
YOU. WIN.
Hoverex features:
1,000+ sales
5/5 star rating
100% customizable base & sidebar
Many practical shortcodes
Price: $59 (may vary)
MORE INFO / DOWNLOAD
DEMO
3. Enefti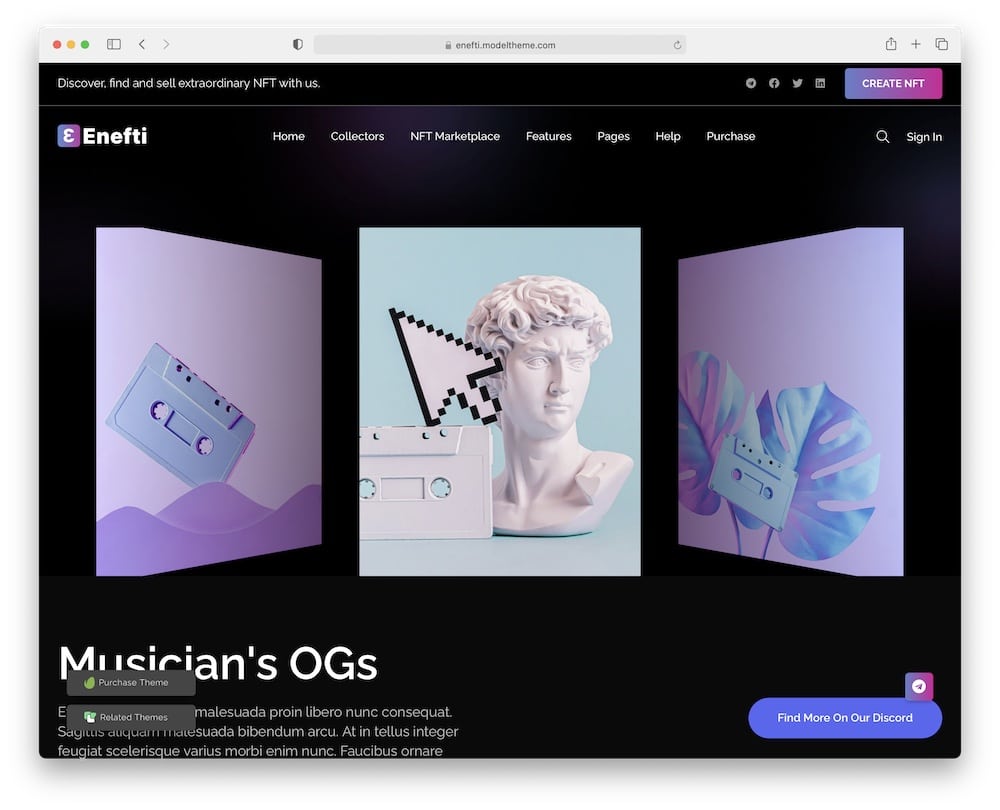 Enefti is an exclusive NFT marketplace WordPress theme that I was so HAPPY to stumble across, test and actually use.
It saved me so much time, but what's even better, my semi-beginner client had it easy managing and maintaining it (still to this day, though!).
Enefti offers you to speed things up with ready-made demo material that's too effortless to modify to your needs and requirements.
I also like the integrated Ajax search and popups because they make the workflow even simpler (and UX better).
And there are several NFT-specific shortcodes that you copy-n-paste to apply to your website.
Thumbs. Up.
Enefti features:
220+ sales
4.7/5 star rating
Quick NFTs creation
Login with MetaMask
Price: $59 (may vary)
MORE INFO / DOWNLOAD
DEMO
4. Toka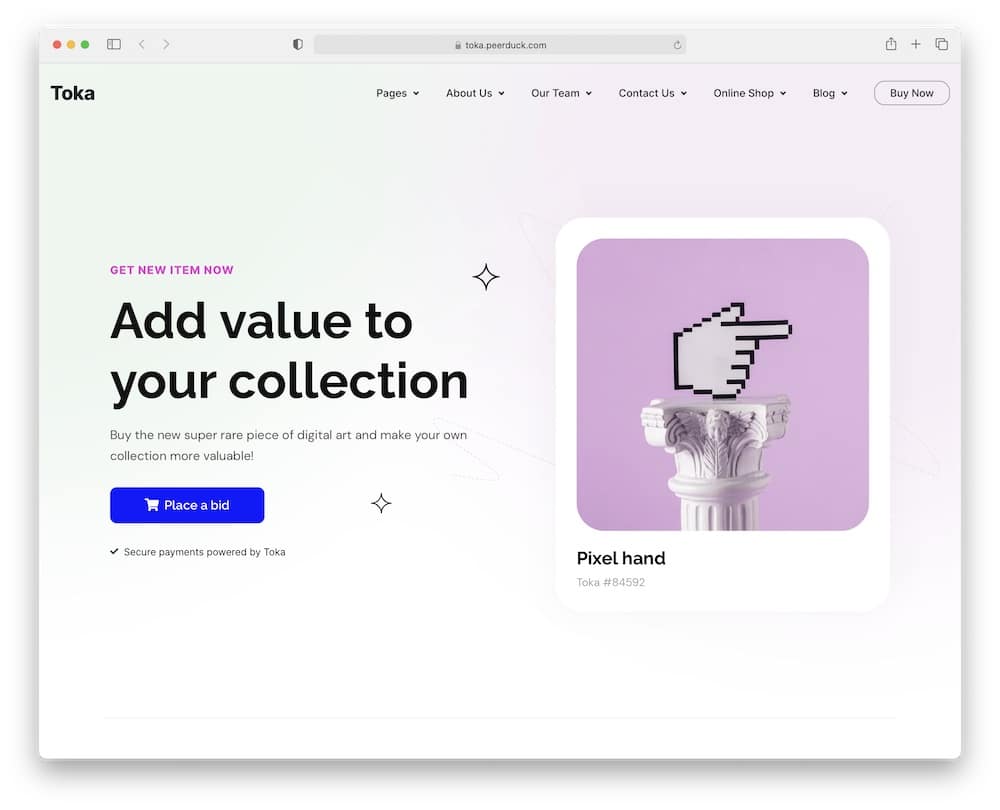 Toka is our team's favorite NFT WordPress template for building landing pages fast while still achieving the BEST quality.
Trendy layouts, limitless configuration options, yup, you get the gist of it – Toka is NFT!
Also, anyone can make big things happen even if without experience, thanks to the Elementor drag and drop page builder.
Plus, we tested Toka's step-by-step installation guide with our beginner friend Ollie, and he easily mastered everything on the fly.
(What a legend! But all thanks to Toka.)
Follow the latest trends of the NFT world with Toka now.
Toka features:
MORE INFO / DOWNLOAD
DEMO
5. Quirky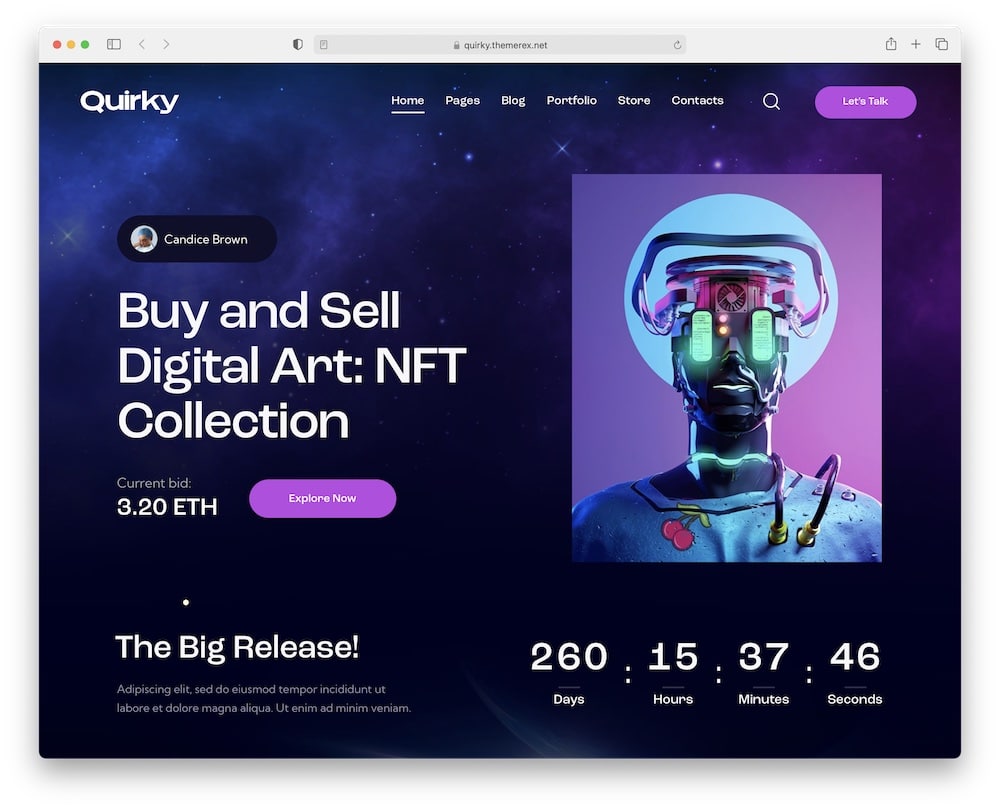 Quirky is fresh in every sense of the word. And this is what makes it hot and a must-have if you haven't decided on the perfect theme for your tech project.
The theme's predefined templates ensure you an IMMEDIATE start.
And it will take you very little time to additionally modify it and enrich with your creative stuff, business details, NFTs, and more.
Hurray, drag-n-drop!
You can promote downloads with ease, include social sharing, customize fonts and colors (or more like, everything!), start a blog, you name it, Quirky takes care of it.
Bring your idea to the masses with Quirky fast!
Quirky features:
10+ sales
4.6/5 star rating
Editable header & footer
Extensive documentation
Price: $19 (may vary)
MORE INFO / DOWNLOAD
DEMO
6. Netstorm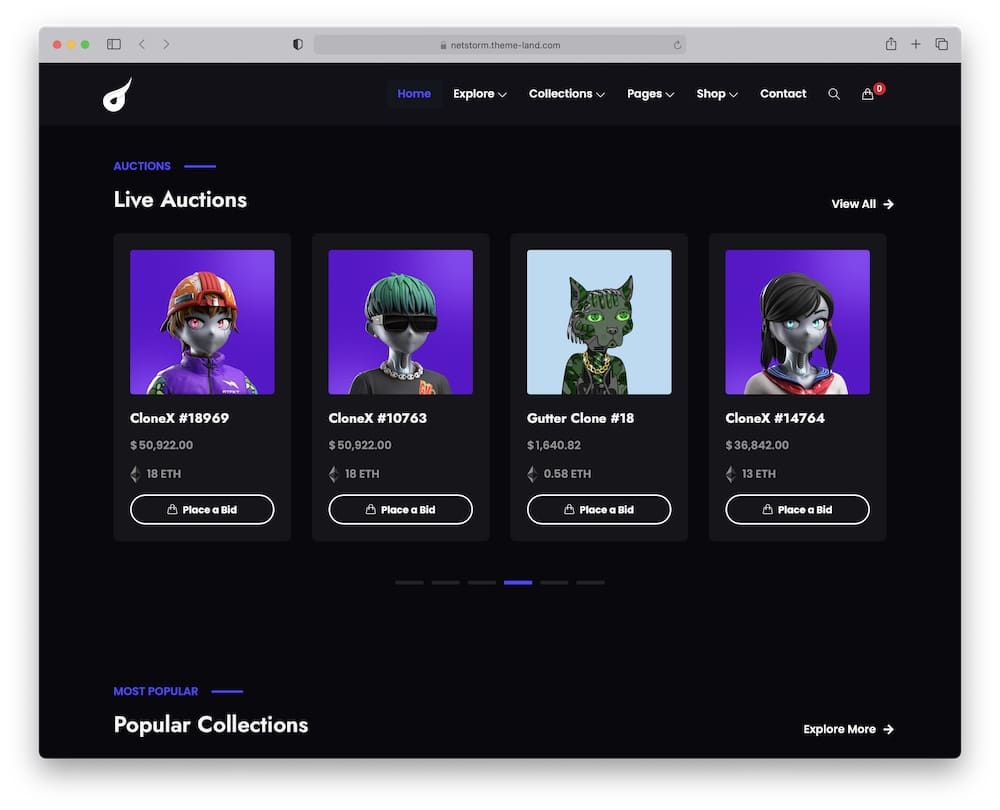 Netstorm was our go-to theme when we were building a modern and dark NFT and crypto collectibles marketplace.
It. Just. Rocks.
And that's because it includes so many features that not only quicken the workflow, but also make the outcome top-notch.
(You can make great things even as a beginner.)
SO. VALUABLE.
We also really dig the live auctions and excellent filtering, which is so crucial when having 10s or 100s of NFTs in the marketplace.
We're ready to start one more project with Netstorm, are you?
Netstorm features:
MORE INFO / DOWNLOAD
DEMO
7. Cryptro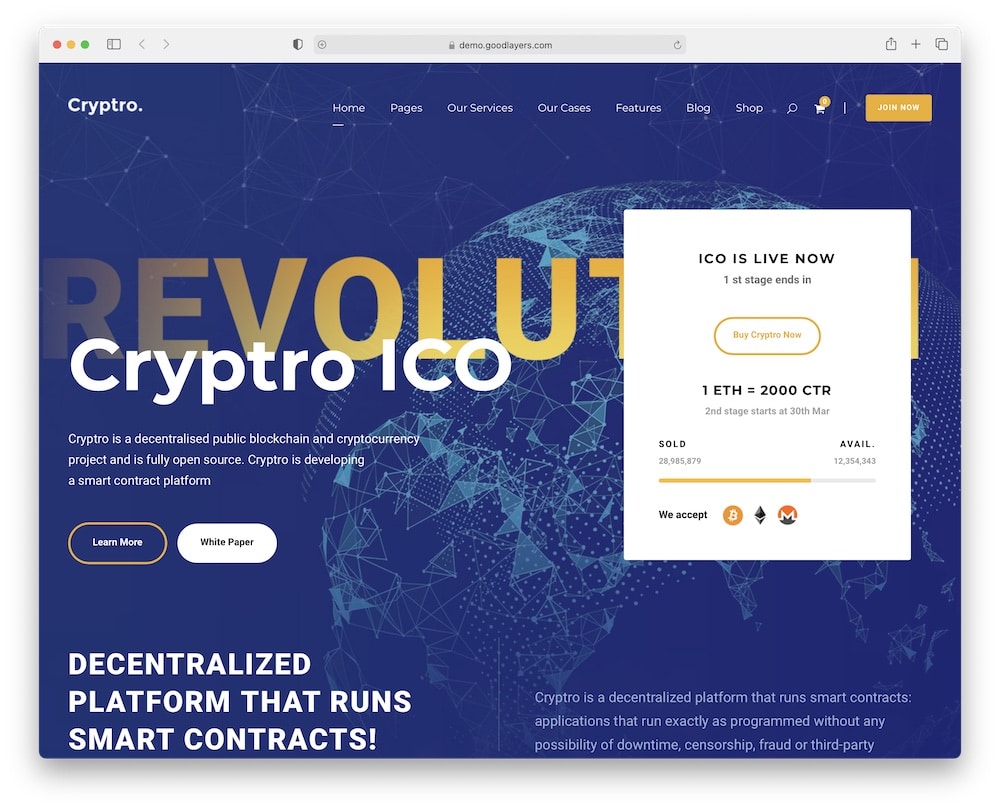 Okay, here's the thing. I also added two cryptocurrency-oriented WordPress themes because the market is lacking NFT themes.
BUT!
Cryptro and Crypterium are extremely advanced, easily configurable and adaptable, fitting the NFT industry perfectly.
They fit so many different businesses, so you can easily use one theme for MULTIPLE clients!
Cryptro delivers a lot of goodies and continually comes out with new ones with new updates.
Everything is packed, including a page builder, premium plugins and many ready-to-go templates.
Prepare yourself for a workflow boost while keeping your professional level at the ultimate high.
Cryptro features:
850+ sales
4.5/5 star rating
Live customizer
Price: $57 (may vary)
MORE INFO / DOWNLOAD
DEMO
8. Crypterium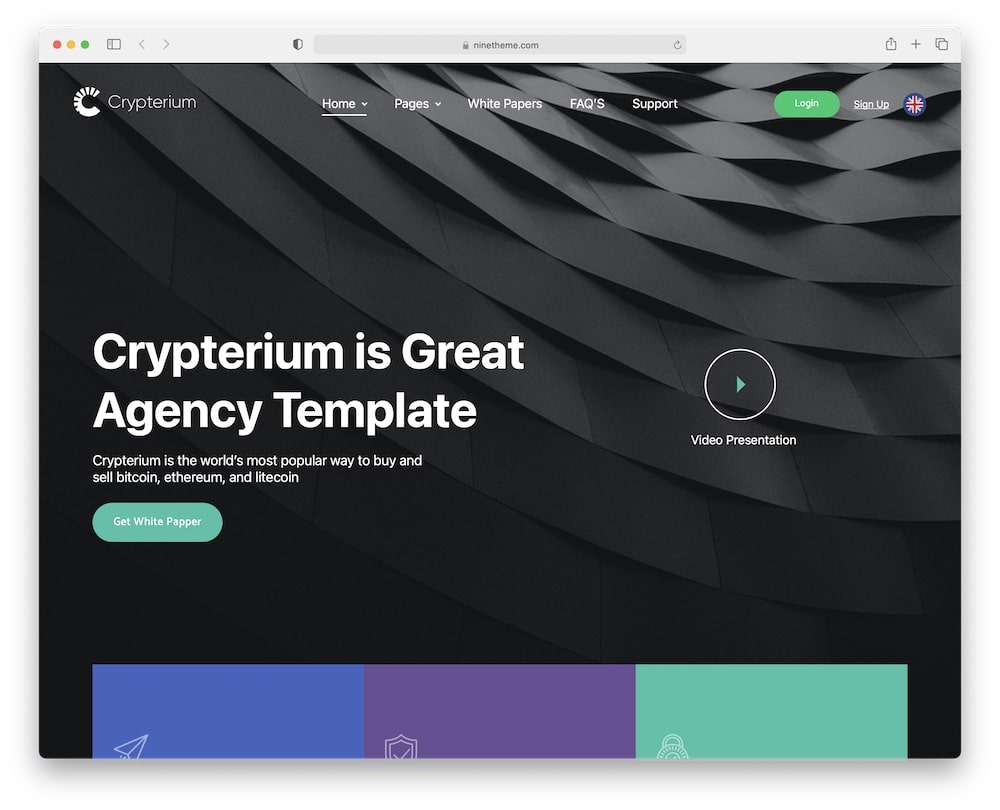 If Cryptro doesn't cover it, then Crypterium WILL. These are the only two WordPress themes if you'd also like to use them outside NFTs successfully.
Crypterium treats you to an instant start with the one click demo content import. If you like it, you can use it as is.
But you can also style the default configurations to your liking precisely.
Everything is ready for you to mix and match, without the need to seek elsewhere for additional features. Crypterium has it ALL!
A few of the specialties are video background, parallax effect, drop-down menu, a business blog and Slider Revolution.
Know: This doesn't come even close to all the Crypterium specialties you get.
Enjoy.
Crypterium features:
430+ sales
5/5 star rating
Price convertors, calculator
Price: $59 (may vary)
MORE INFO / DOWNLOAD
DEMO