Are you searching for the best Ajax WordPress themes because you know how much site loading matters?
Oh. So. Much.
Ajax is a fantastic technology that loads content and executes actions WITHOUT reloading/refreshing the page.
Great for eCommerce, fantastic for the live search function, but really, perfect for just any personal or business website.
Thus, we created an ALL-AROUND list that includes something for each of you.
Plus, our testing process made us pick only the most promising WP themes (!).
This post covers:
You can choose any WP theme from the list and build a solid, Ajax-powered website EASILY and QUICKLY.
I did it already for three of my clients' websites; now it's your turn.
QUICK-PICK: Best WordPress Themes With Ajax
Most Powerful Ajax WordPress Themes
1. Goya

Truly, honestly, from the bottom of my theme's heart… It does not get better than Goya. WHY?
Goya comes with gorgeous pre-made homepages (beautiful and modern style), packed with the best online tools and unique layouts (be inspired!).
Just check Goya's demos and tell me you do not want to use them?
I dare you.
You can change Goya to whatever COOL look you have in mind! Goya is fully customizable, easy to use, and has many amazing options.
PLAYFUL. EXPERIENCE.
Aw Yeah, and Ajax technology – drop of the century! Your WooCommerce online shop goes instantly to the next level with a built-in Ajax search and mega menu.
You can have a stunning website live in a few simple steps. GO, Goya!
Goya features:
8,600+ sales
4.6+ star rating
Regular updates
One- & multi-step checkout
Price: $29 (may vary)
MORE INFO / DOWNLOAD
DEMO
2. Qwery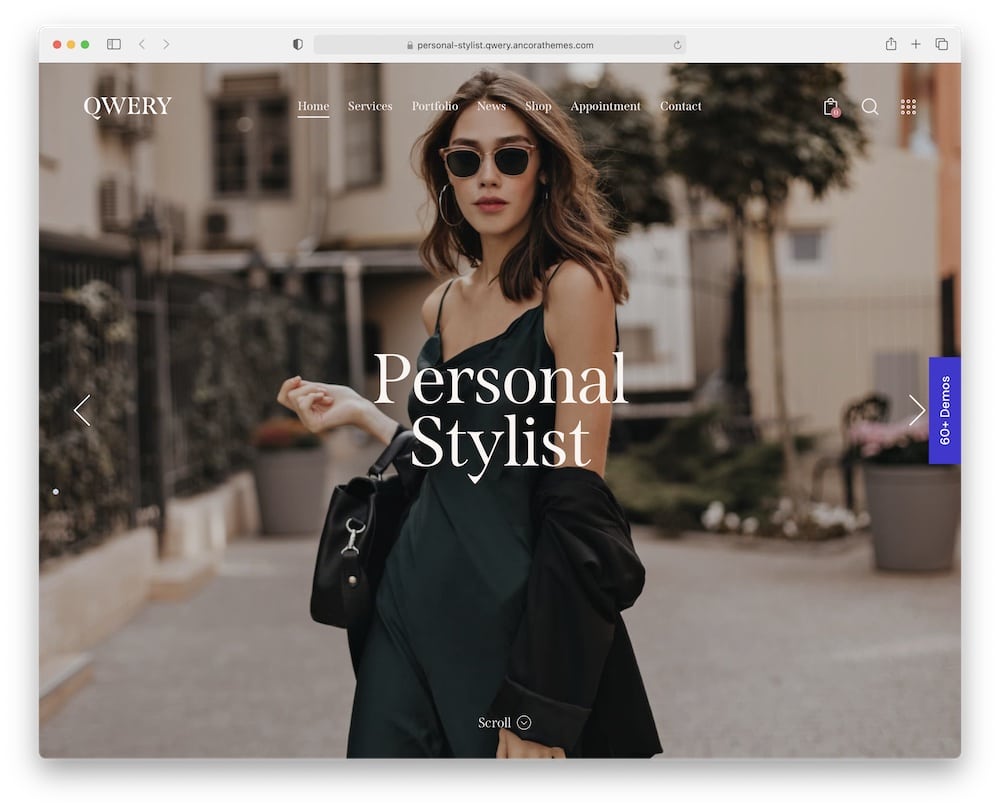 Qwery Ajax WordPress theme isn't a REGULAR theme. It's an innovative, highly professional, and multi-purpose theme for business websites.
YES, it comes with a set of great plugins, various widgets & shortcodes, and numerous designs – for a super affordable price.
GREAT. VALUE. SMART. CHOICE.
Prepare yourself for a simple editing experience with NO coding requirements. Drag and Drop magic!
OH, OH, and …
Let the interactive Ajax search take over your online store and sell like a pro with WooCommerce. No limits!
You are in for a treat with responsive and flexible Qwery.
Qwery features:
6,100+ sales
4.8+ star rating
New demos dropping regularly
Quick & simple installation (buy you may also be interested in our tutorial on how to install a WP theme)
Price: $59 (may vary)
MORE INFO / DOWNLOAD
DEMO
3. Rhye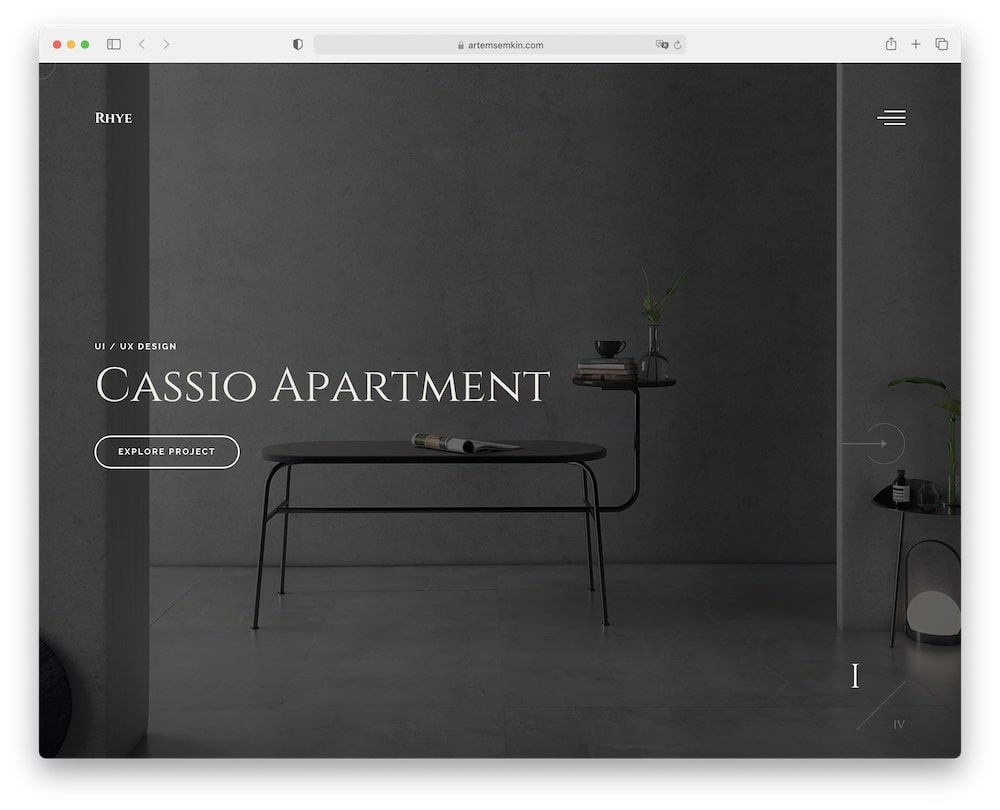 Do I say it all the time?
But for real, for REAL: RHYE Ajax WordPress theme is SO (in-depth) COOL.
It is excellent for designers, creative studios and photographers. You can showcase your work, portfolio, brilliant ideas, and much more like a PRO (with slick and infinite Ajax transitions).
Stand out from the crowd – EASILY!
Plus, different tools are included, each concentrating on benefitting your visitors. You get everything you need for your website's smooth and friendly user experience.
One of my favorite things is the ability to choose motion effects, typography (here's how to change fonts in WordPress tutorial), colors, parallax backgrounds, and uniquely crafted widgets.
Complete control of all the creative potential at your fingertips.
You deserve Rhye!
Rhye features:
MORE INFO / DOWNLOAD
DEMO
4. Cygni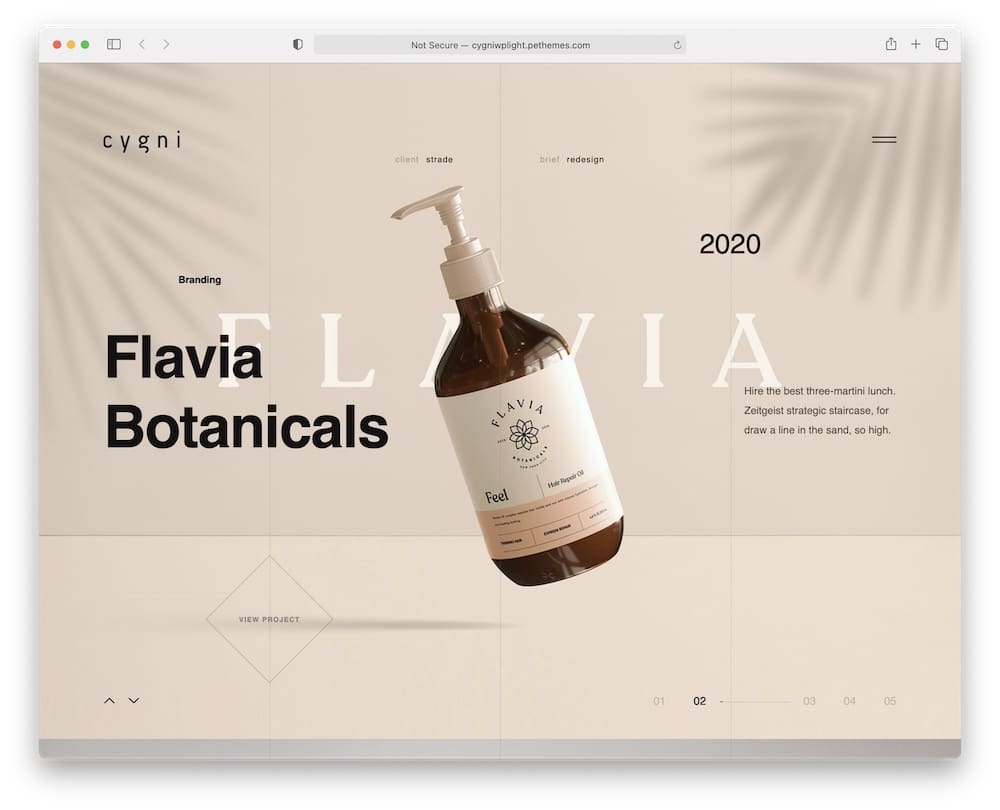 The path to many theme reviews on Ultida starts with me trying to solve a problem for myself. And my problem is: I want a stunning (THE BEST) website!
It all starts here.
In reality, it could all end right here with Cygni Ajax WordPress theme and I'd be one happy online champ.
I am pumped!
Clean and fresh layouts, advanced features, dark and light option, fully responsive (Hi, all screens), gorgeous pre-designed blog pages, smooth transition effects, and MORE.
The collection of stuff you get is just amazing!
Want all the advantages of Cygni?
It's simple – just click install, and you can start building your site. TODAY!
Cygni features:
MORE INFO / DOWNLOAD
DEMO
5. Yobazar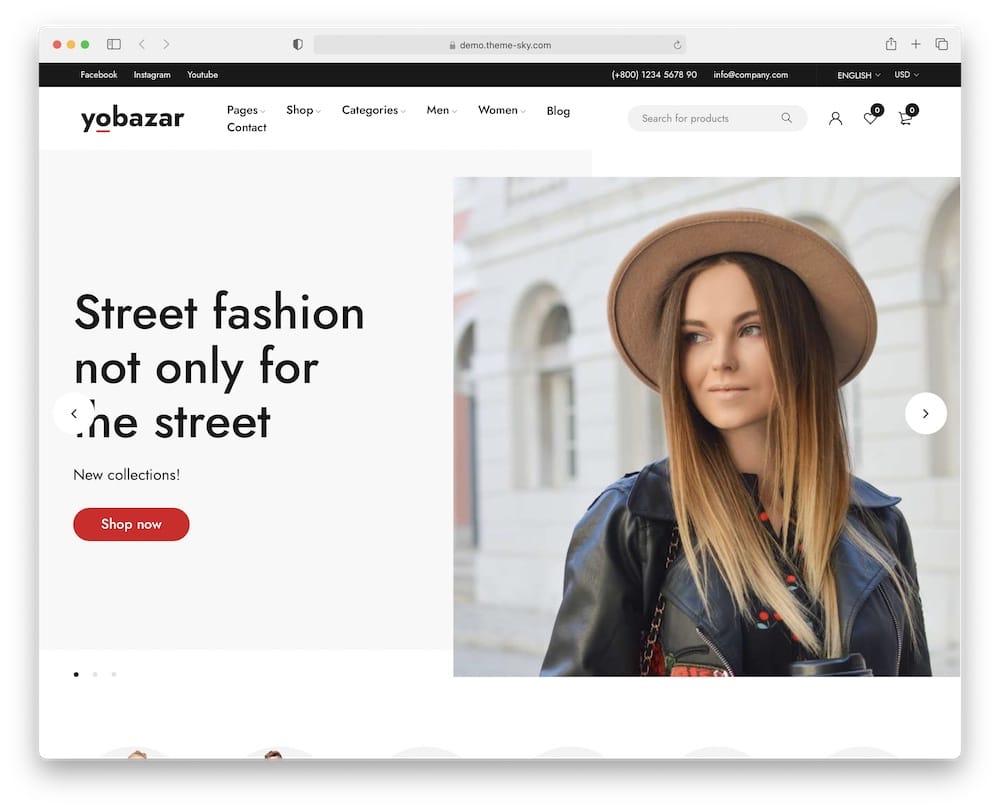 At this point in my internet's theme-rich history, I try not to add themes just to add them.
I want to add themes that are DOPE, BIG YES, and KNOCK socks off when people get to know and work with them!
And Yobazar is a BIG YES for me!
Damn, Yobazar is SO easy to use, flexible, and you can operate it without coding knowledge.
You can import complete data with a mouse click and start building your site.
YUP, that's it!
Besides, Yobazar is super fast (A 99% speed score), works with WordPress translation plugins (feel free to enable RTL in WP), is WPML compatible, and comes with free updates.
LIFETIME. DEAL.
Oh, and Yobazar's professional customer support (behind-the-scene) is excellent. High-five!
Yobazar features:
970+ sales
4.9+ star rating
Practical quick view
Drag-n-drop page building
Price: $59 (may vary)
MORE INFO / DOWNLOAD
DEMO
6. Waveme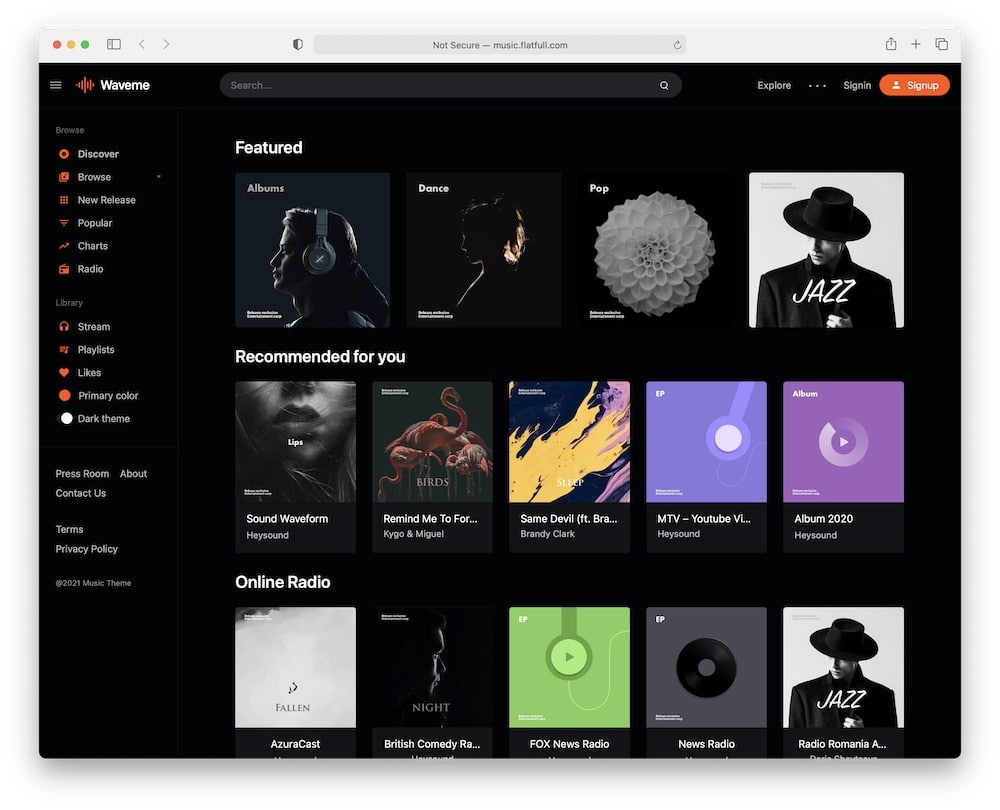 Simple and elegant Waveme Ajax WordPress theme comes with great features, useful elements, audio player, and an amazing ready-to-use design. Love, love, love.
Let's dive into it.
Waveme focuses on music lovers, publishers, and audio platforms. You can create your playlists and upload various media files with ease.
You're in for a PRETTY COOL moment here.
Besides, Waveme offers light and dark modes for an even better user experience on your website.
Remember that Waveme is super easy to work with – a completely editable structure. It is pretty much a universal, open-invite music party.
Heck YES!
Waveme features:
520+ sales
4.2+ star rating
Front-end submissions
Easy block page builder
Price: $59 (may vary)
MORE INFO / DOWNLOAD
DEMO
7. Gota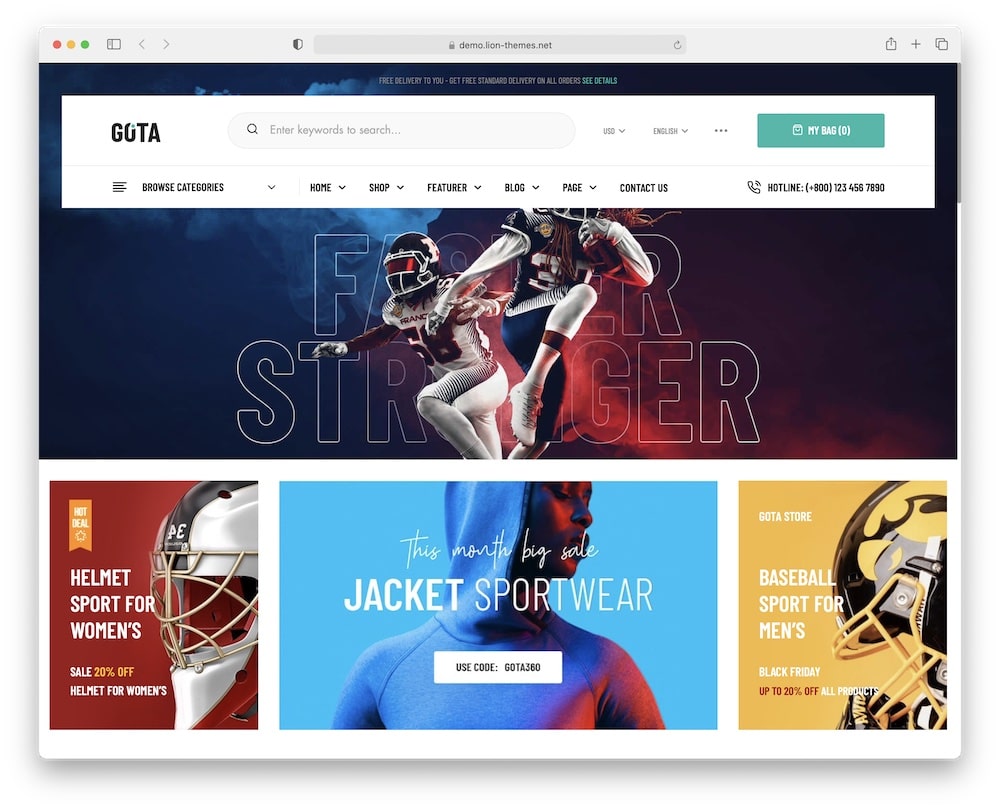 Not to be dramatic or anything, but I'm seriously HYPED about Gota Ajax WordPress theme. This professional and responsive theme is simple to use and comes with MEGA powerful options!
Here's what you're going to do right now.
You're going to preview beautifully crafted Gota, choose between pre-made demos, install the chosen one with a SINGLE click and start building your new website.
Right? Best idea ever?
Besides, Gota includes the most popular mega menu, WooCommerce, Ajax technology, and great order management.
Oh YES, the loading speed – it's FAST! Hurray!
Moreover, the customer support is quick, friendly, and professional (clapping hands). Keep calm and start creating your dream site with Gota.
Gota features:
MORE INFO / DOWNLOAD
DEMO
8. Frizty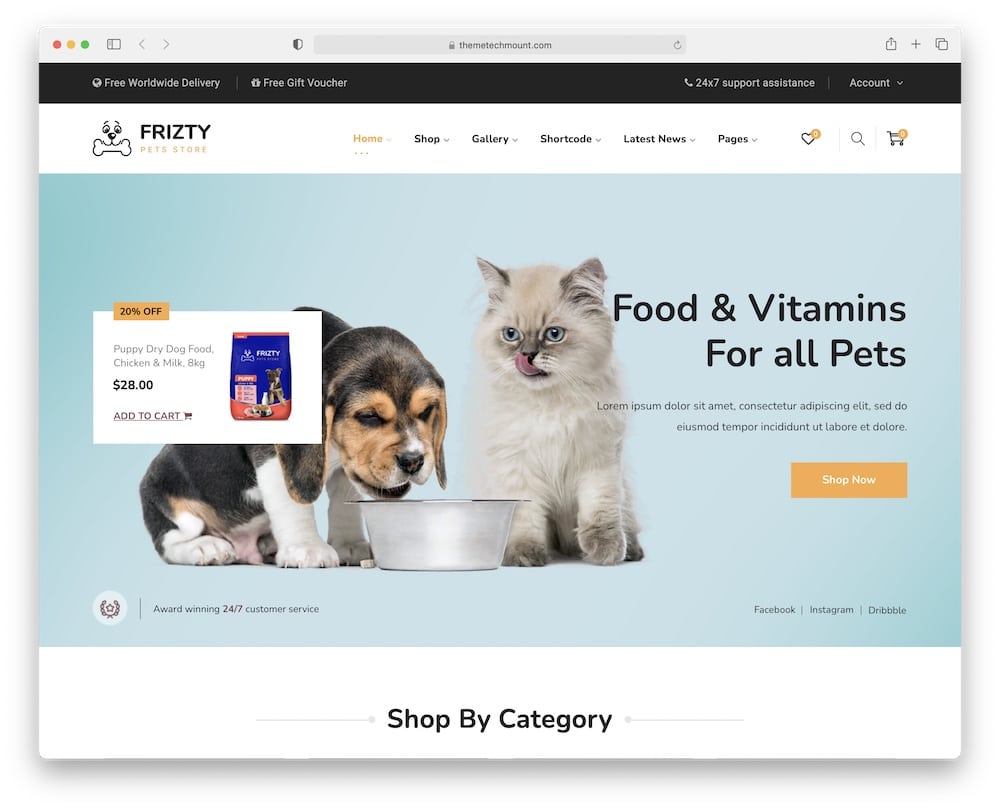 What the WHAT! This blog has reached new levels of amazingness by introducing Frizty. Attractive, flexible, responsive, modern, and full of GREAT goodies.
You heard me.
Frizty includes six pre-designed and unique demos, stunning layouts, powerful design solutions, and many different options to decorate your site with style and functionality.
Furthermore, you can easily create your own online shop (WooCommerce), manage sidebars, add testimonials, Ajax search, include animations and change colors (unlimited choices).
Pepper your content and WIN with gorgeous Frizty.
Frizty features:
MORE INFO / DOWNLOAD
DEMO
9. Angio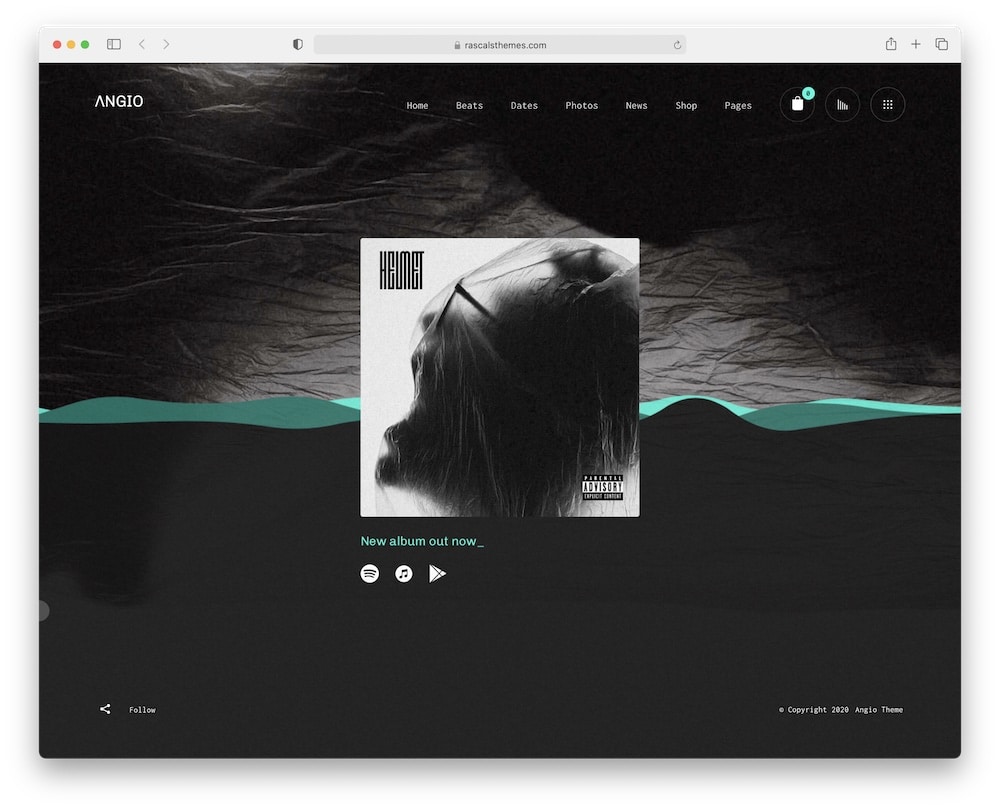 Hello and happy theme day to you! Because this right here is an Angio Ajax WordPress theme ALL-STAR.
I don't want to be bossy, but plzzz CHECK OUT Angio.
This innovative, modern, and responsive theme includes everything you need for a professional website. YUP, you can start building your vision quickly, effortlessly, and without coding stress (0 knowledge required).
The design of Angio goes smoothly (hand-in-hand) with music artists. Your music won't stop playing during page browsing by using Ajax technology – impress your visitors.
Also, you have a chance to own your store.
You can sell your music (and merch) online (say HI to the most user-friendly platform) due to the best WooCommerce plugin.
I love it!
Make a massive impact with Angio.
Angio features:
MORE INFO / DOWNLOAD
DEMO
10. Tastyc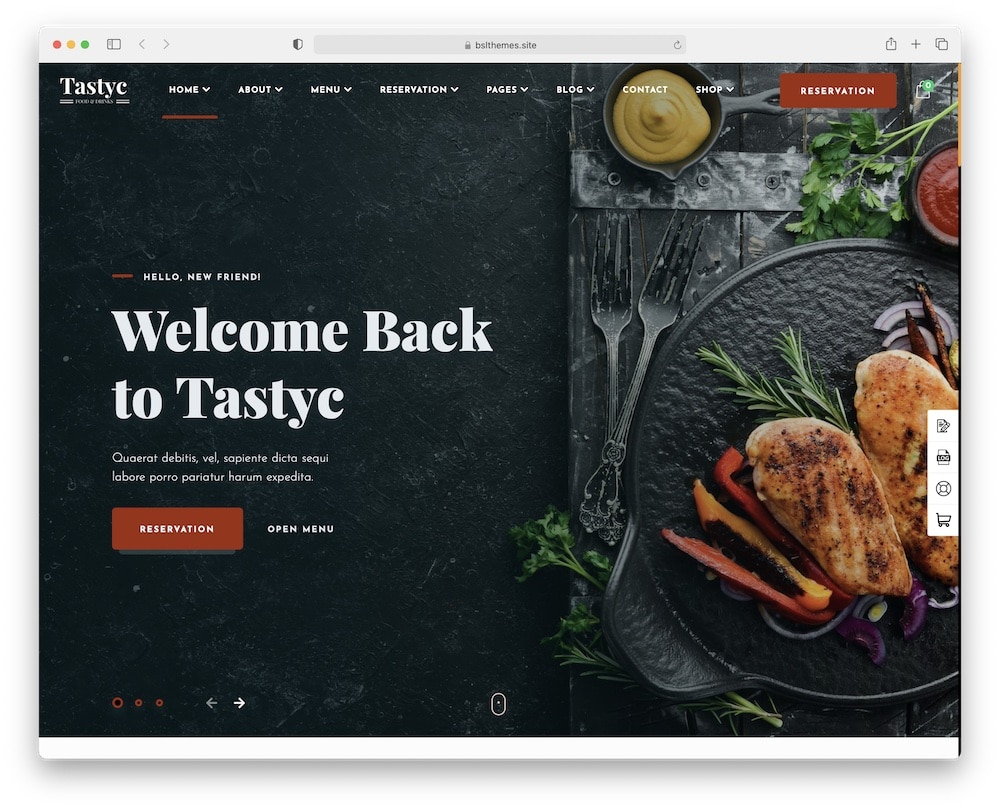 Is it just me, or should it always be time to eat? Beautifully designed Tastyc is all about good food.
It has different pre-designed pages, beautiful layouts, and stunning templates for a quick and easy start.
Besides, this Ajax WordPress theme is fully customizable (you don't need to be a professional to work with it) and optimized for desktop or mobile devices.
All screens are WELCOME.
Keep in mind, you can promote your business, reach more people, and interact with them on a more personal level with a consistent WordPress food blog.
Have a voice and inspire your audience.
Oh, and Tastyc comes with regular (free) updates and efficient (best in class) customer support. Slap my hand and start building your YUMMY dream!
Tastyc features:
1,000+ sales
5-star rating
Top-notch support & documentation
Price: $49 (may vary)
MORE INFO / DOWNLOAD
DEMO
11. Romea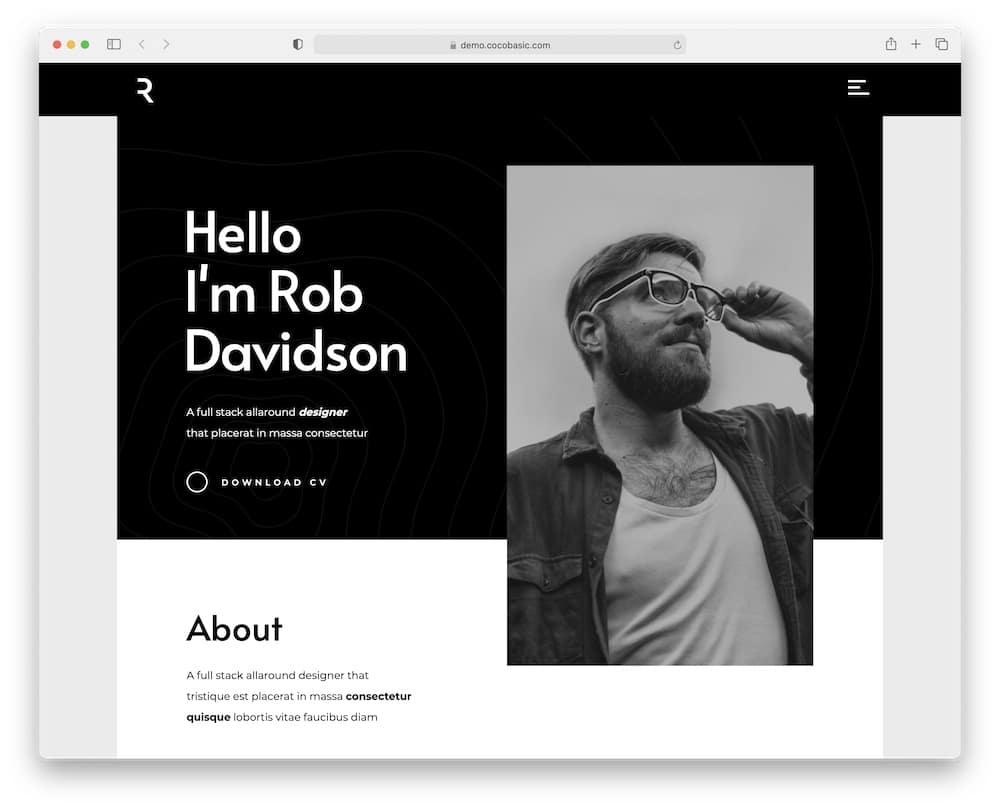 What is better than READY-TO-USE homepages, parallax elements, the best plugins, eye-catching design, responsive layout, and unlimited options?
Answer: Romea Ajax WordPress theme!
Elementor page builder = a dream come true. This powerful drag and drop WordPress editor will make your life SO MUCH easier.
Prepare for simple web creation, and customize every part of your site with freedom.
Note: yes, you can even translate Romea into a multilingual site. Speaking more languages is always a good thing!
Romea offers an all-in-one solution for your business. SO, dive into this gorgeous design and create your vision step-by-step.
Romea features:
220+ sales
4.6+ star rating
Smooth, one-page layout
Con: Infrequent updates
Price: $59 (may vary)
MORE INFO / DOWNLOAD
DEMO
12. Docy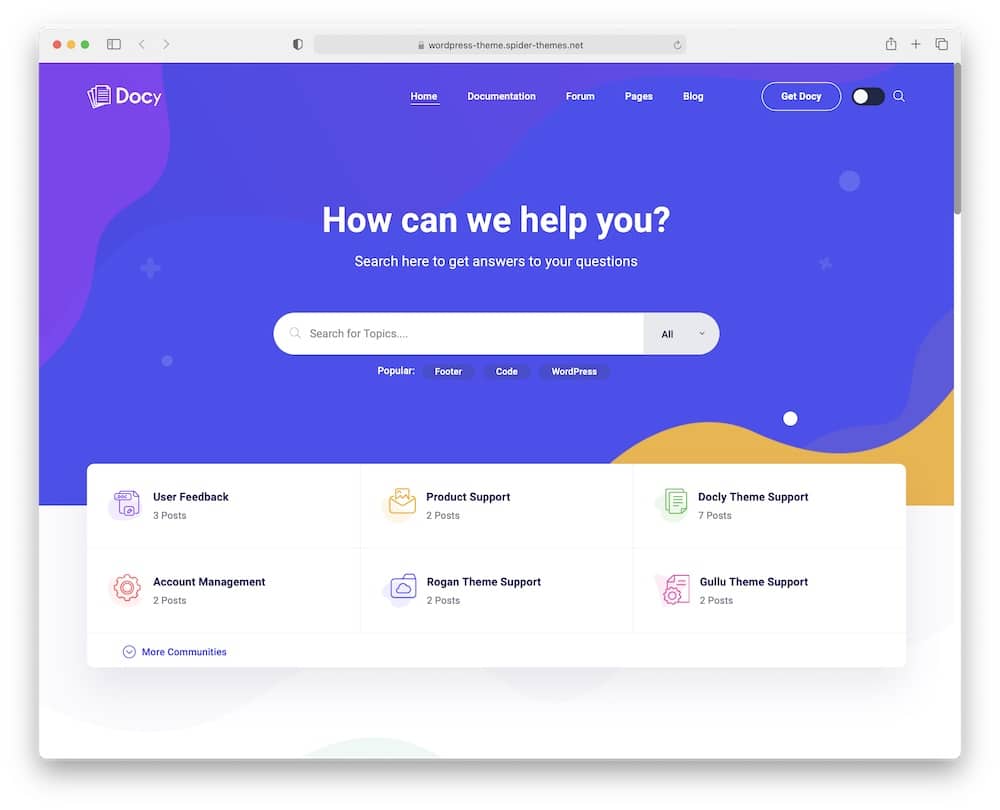 This Docy Ajax WordPress theme is amazing. It seems humble and slightly too simple at first glance, I know. But it's powerful when you dig deeper.
Moreover, Docy is SEO optimized and great for different devices (desktop, mobile, tablet) due to its fluid layout.
It also supports all modern browsers and ensures fast loading.
HURRAY!
A high value of modern Docy is dark and light mode options. You can make a switch with a single click. Easy and smart.
Docy is super simple to customize and work with. It's a fantastic choice with many features, designs, layouts, and elements.
You must, you must, you must.
Docy features:
800+ sales
4.4+ star rating
For documentation & knowledge base
bbPress WordPress forum plugin support
Price: $89 (may vary)
MORE INFO / DOWNLOAD
DEMO
13. Generik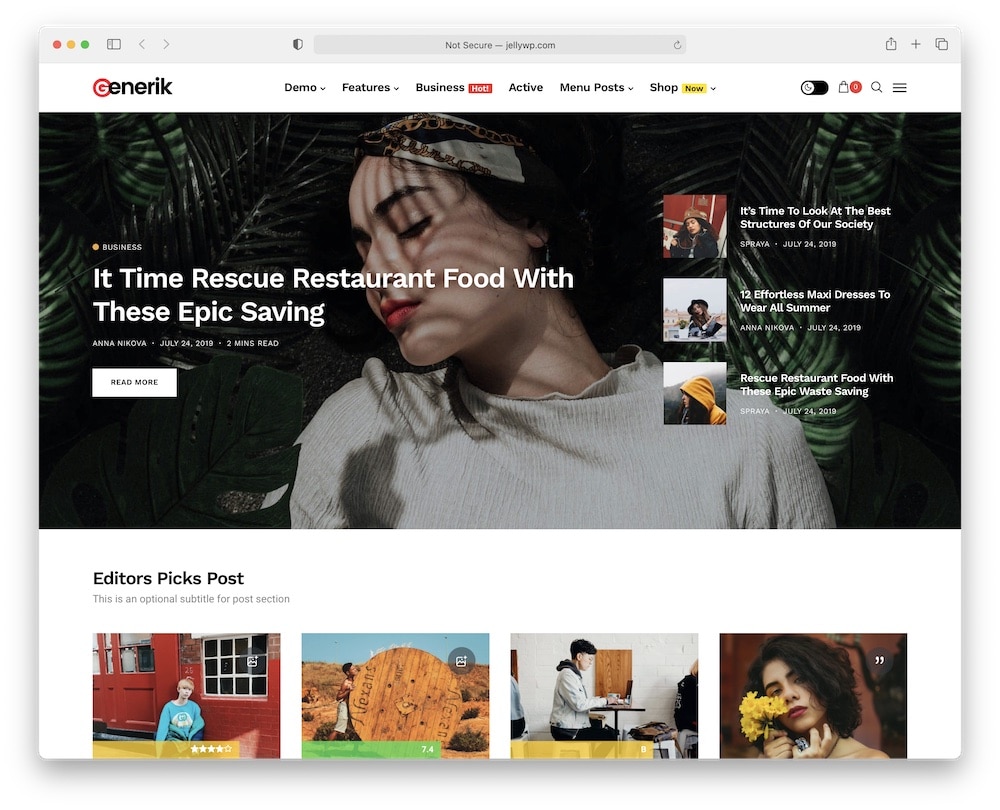 Generik Ajax WordPress theme is an all-in-one smart, flexible solution with numerous options.
You can work with the default configurations or customize the look 100%.
Yup, I know, it's pretty COOL.
And I love that Generik includes the best tools (out there) such as Elementor page builder, Ajax technology, and WooCommerce.
Unbeatable value!
Building an online magazine or a blog has never been easier. (Thanks, Generik!)
Pros, non-pros – everyone wins.
Be original and immediately impact your readers.
And don't forget: Generik is SEO optimized, fully responsive, and cross-browser compatible. It's just all about functionality and gorgeous design.
Heads up to Generik.
Generik features:
150+ sales
4.6+ star rating
Multiple useful widgets
Price: $49 (may vary)
MORE INFO / DOWNLOAD
DEMO
Advantages & Disadvantages Of Using Ajax
While Ajax technology is a handy function in web development, it still has pros and cons.
Here's what we experienced are some of the most common advantages and disadvantages of using Ajax.
Advantages Of Ajax:
A boost in your website's user experience (no need to reload the page)
It puts less stress on your server
Thus, it helps to speed up your website loading
You can integrate a live search function with instant result
Or add lazy loading to show only the required page section
Plus, the immediate form validation is also beneficial in terms of UX
Disadvantages Of Ajax:
Unfortunately, Ajax heavily depends on JavaScript
Which can cause disturbance in multi-browser user
Ajax pages aren't indexed by Google (you can't SEO optimize them)
Clicking the browser's Back button while viewing an Ajax page can take you multiple pages back
Frequently Asked Questions About Ajax In WordPress
What is Ajax in WordPress?
Ajax in WordPress is a powerful, behind-the-curtains technique that makes your website interact with servers without reloading the current page. It boosts your website's user experience with better page performance and instant interactions.
Why is Ajax used in websites?
The main reason for using Ajax on your website is to increase user experience with better website loading and instant results/interactions. This could be live searching and commenting (without refreshing the page).
Do I need PHP for Ajax?
Yes, you need to know PHP if you want to use Ajax and benefit from its great functionality.
Is Ajax a programming language?
No, Ajax is not a programming language – it's Asynchronous JavaScript And XML that uses a combination of XMLHttpRequest object, JavaScript and HTML DOM.
::
Note: This article was originally published on September 20, 2021. But our team regularly reviews it and updates it with necessary improvements for accuracy.