You know how much fun I had reviewing the best free dark WordPress themes as a passionate fan of black.
I always take testing and studying free themes with EXTRA care.
I learned it the hard way. And I don't want you to experience any inconvenience when using a free tool.
You are on the safe side with all the dark themes that you find below. (I already cut the bad ones.)
They work for:
Blogs & online magazines
Agencies & freelancers
Businesses
eCommerce (via WooCommerce)
Artists
No need to be a tech or a design wizard.
Every theme saves your time and energy but keeps the PRO-level extremely high.
Positively impact everyone with a BOLD and BLACK theme design.
Best Dark WordPress Themes In 2022 (Tested)
1. Artistic Blog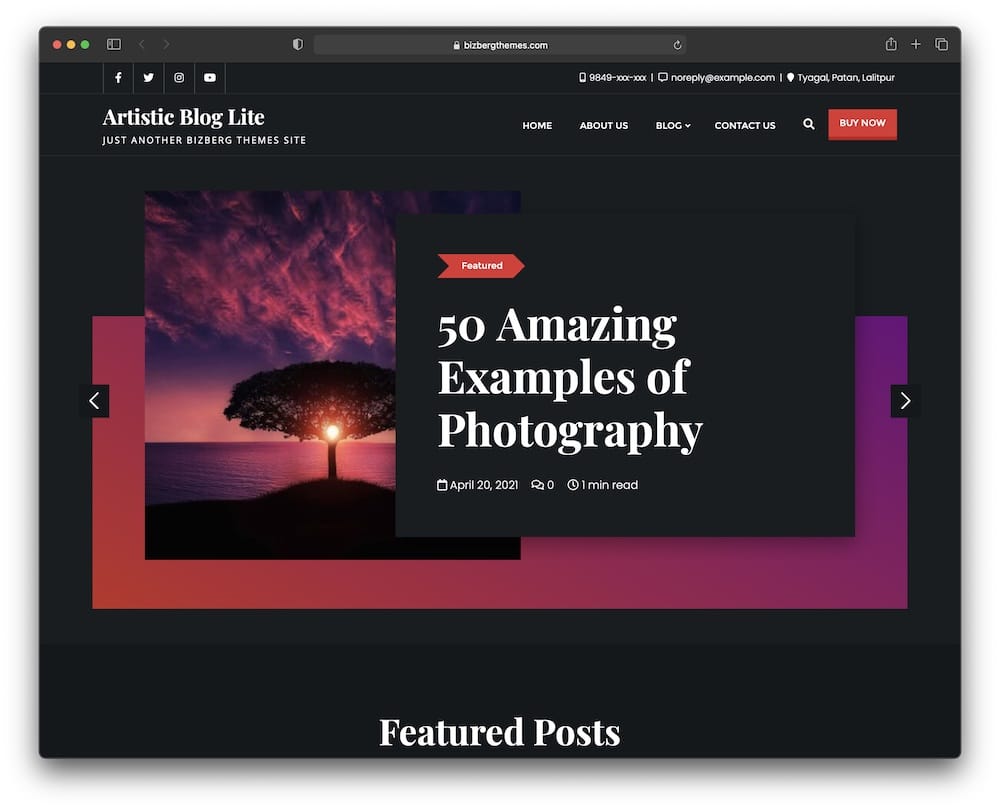 Guys, I am normally not big into minimalistic blog themes but WOW. This Artistic Blog dark theme looks stunning!
Simple, clean, responsive, and user-friendly, what more do you need?
Besides, Artistic Blog is super easy and fast to set up, even for someone who doesn't have any experience with coding or design.
I know, the music of excitement is playing in your head – La, La, La, La.
Artistic Blog is buzzing with beautiful typography and playful colors (unlimited options) to emphasize the importance of your inspirational WORDS.
OH, and one last thing, website speed and cross-browser compatibility are spot on.
Upgrade (IT'S TIME) with Artistic Blog.
Artistic Blog features:
1,000+ active installs
Strong focus on content
Instant setup
MORE INFO / DOWNLOAD
2. Havan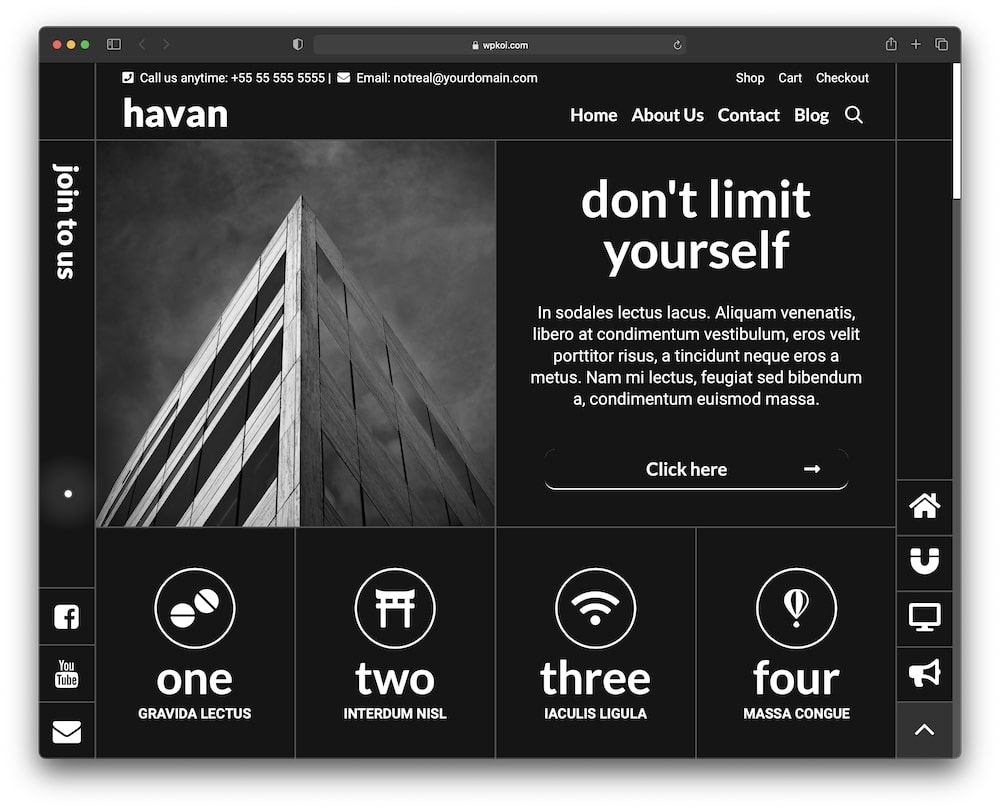 Responsive Havan free dark WordPress theme offers multipurpose usability and you can adjust it to different projects, businesses, and ideas.
Oh yes, Havan is DANGEROUSLY awesome in the best possible way!
Its design works perfectly with Elementor page builder – say Hellooooo to tons of customization options (0 coding experiences required).
Meaning: you can setup header styles, different layouts, and gorgeous styles. Your. Way.
In fact, you can even start selling your own products online with the WooCommerce plugin (included for free!).
Extra. Next Level. That kind of thing.
Try an incredible Havan and install a ready-to-use demo with just one click. Game ON.
Havan features:
200+ active installs
Distinct & minimal look
Convenient navigation
Documentation & tutorial
MORE INFO / DOWNLOAD
3. eCommerceFocus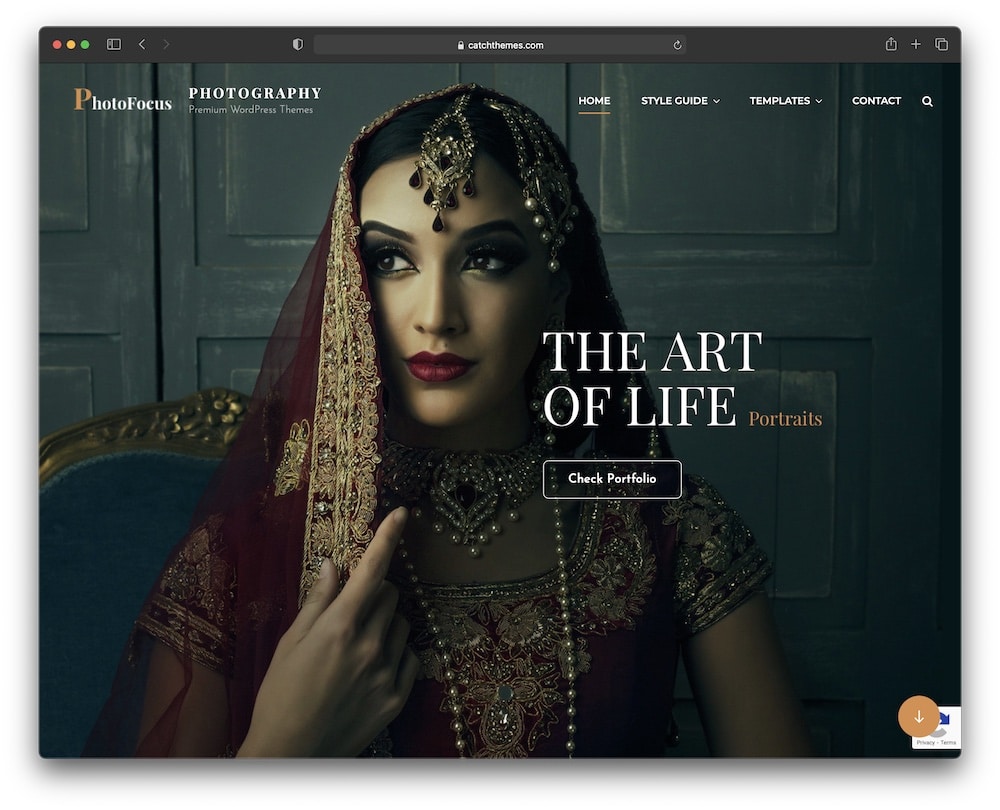 Bless you, elegant, modern, and dim eCommerceFocus dark theme – SOS for those who are searching for stunning themes for online stores.
Oh man, and a wide collection of goodies such as adjustable layouts, unlimited colors and fonts, custom backgrounds, different buttons, and a drop-down menu are included.
Pretty COOL.
Besides, responsive eCommerceFocus easily adapts to popular screen sizes (um yes, especially mobile devices!). MAGIC.
And, the simplest way to bring all your inspirations, experiences, and skills in one place is through a powerful portfolio. Display your portfolio on the front page and grab the attention of potential clients.
SO, come on meet the eCommerceFocus and sell online like a PRO.
eCommerceFocus features:
400+ active installs
Hero content
Featured slider
Services section
MORE INFO / DOWNLOAD
4. Music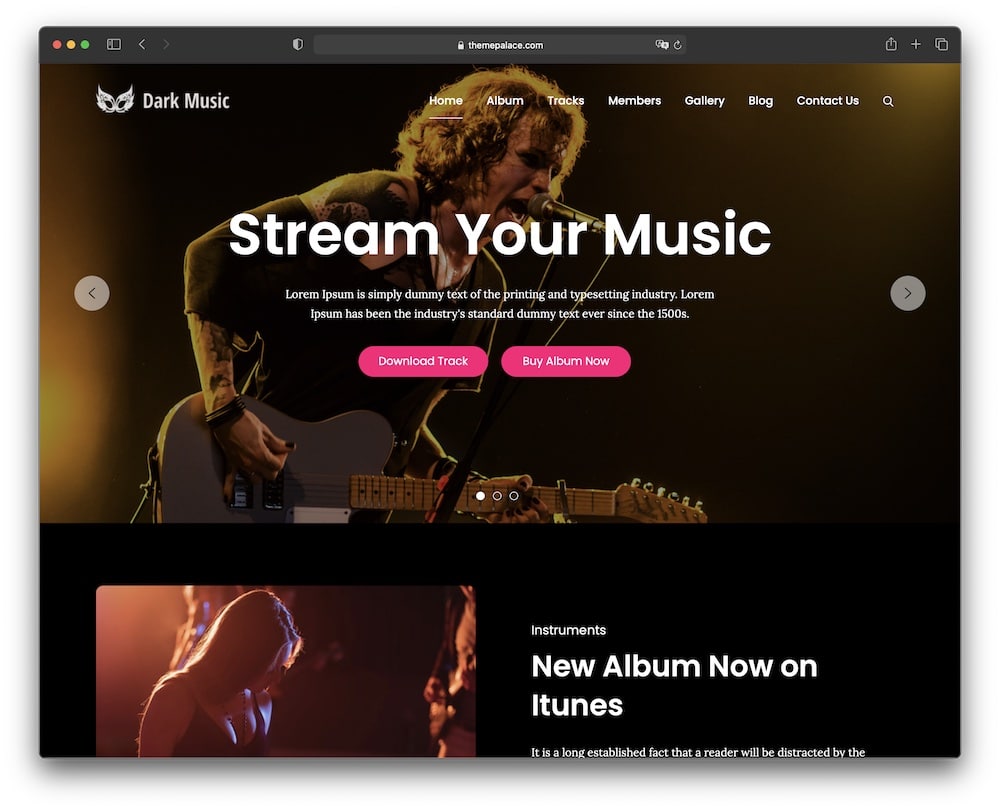 You can create an amazing website with your own online music store (PRETTY COOL) with little work and time.
Top-notch Music free dark WordPress theme offers everything you need for an easy and quick start.
The design of Music is modern, unique, and responsive. SO, don't worry (!) your content will be presented in the best way possible.
Plus music blogs are a great option to get more exposure with minimal financial input (templates included).
Win-win!
You can add and manage your playlist collection on your new site, too, with Music. Just click some buttons and enjoy your playlist online.
Amazingly convenient and fast realization.
This one is a keeper!
Music features:
200+ active installs
Share albums and tracks
Start a music blog
Optional online store
MORE INFO / DOWNLOAD
5. Mik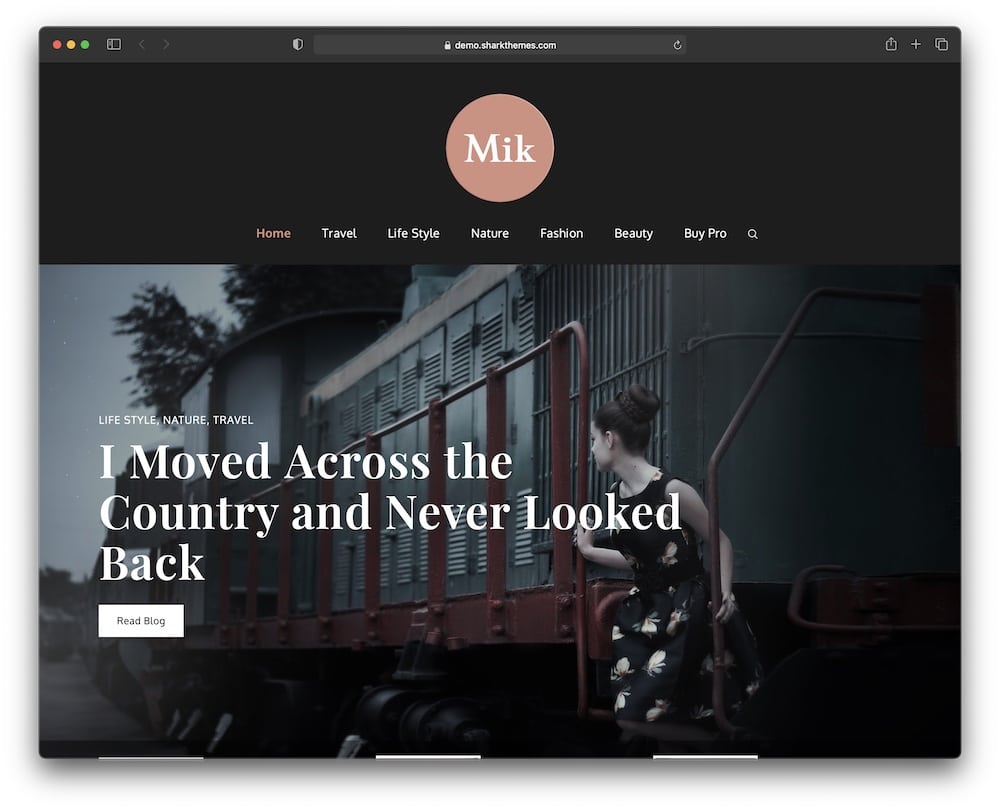 Bring all your inspiration into one place with Mik free dark WordPress theme. Mik is super easy to use and fully customizable – it can look exactly as you fancy.
Your stories, bits, and pieces of ideas, on-point tips … will have an awesome presentation on the uniquely designed Mik blog.
This is a BIG deal.
Keep your visitor's eyes peeled on your amazing content!
Oh, and you can choose (unlimited) colors to change the feel of your new site or just pick predefined color skin with one simple click. BLACK.
Besides, you can also change the look of the website with different layouts, adjustable sidebars, and numerous other gleaming options.
Let the fun start with Mik.
Mik features:
200+ active installs
Slider with thumbnails
Back to top button
Mobile menu
MORE INFO / DOWNLOAD
6. Darkbiz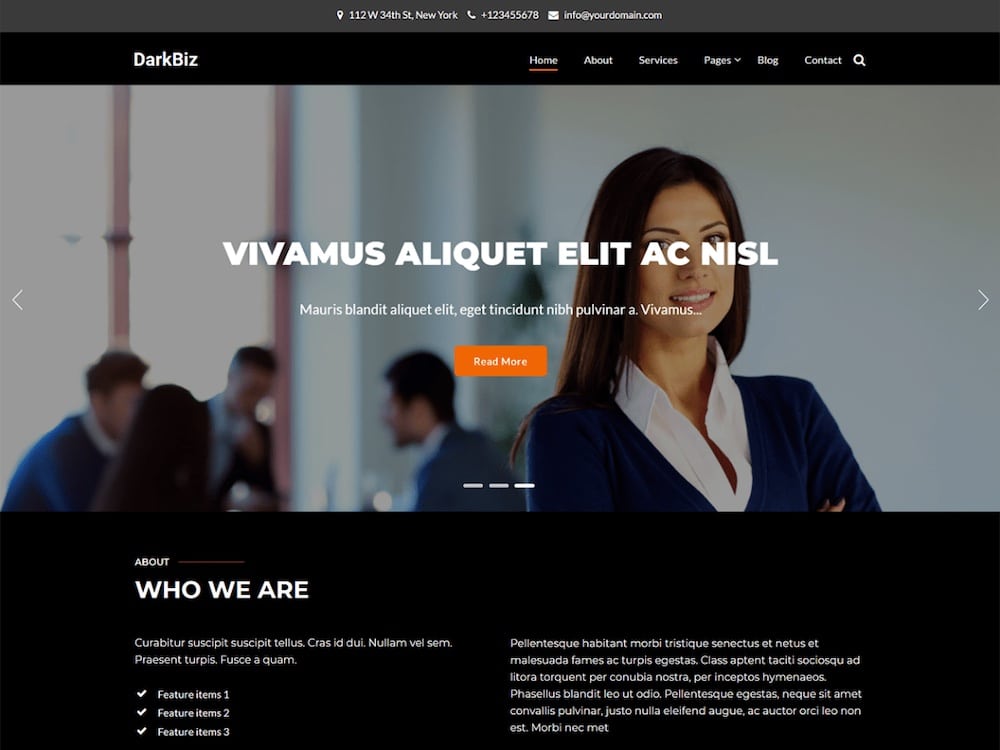 When I'm stocked with great features, I can make stunning websites. And now you can make those dazzling and popular sites, too.
You get a collection of elements, different layouts, useful widgets, and gorgeous templates with the elegant Darkbiz free dark WordPress theme.
What can I say more?
Darkbiz is also compatible with most SEO plugins and can be translated into any language you wish. GREAT ADVANTAGE!
Needless to say, this theme is really well organized, built with clean code, and easy to understand (three cheers to the newcomers).
AND the cherry on top is that they have friendly, quick customer support (solve any issue ASAP) as well. Go big with Darkbiz.
Darkbiz features:
200+ active installs
Makes your business appear even more PRO
Sticky & transparent menu
Hover effects
Widget-rich footer
MORE INFO / DOWNLOAD
7. Mag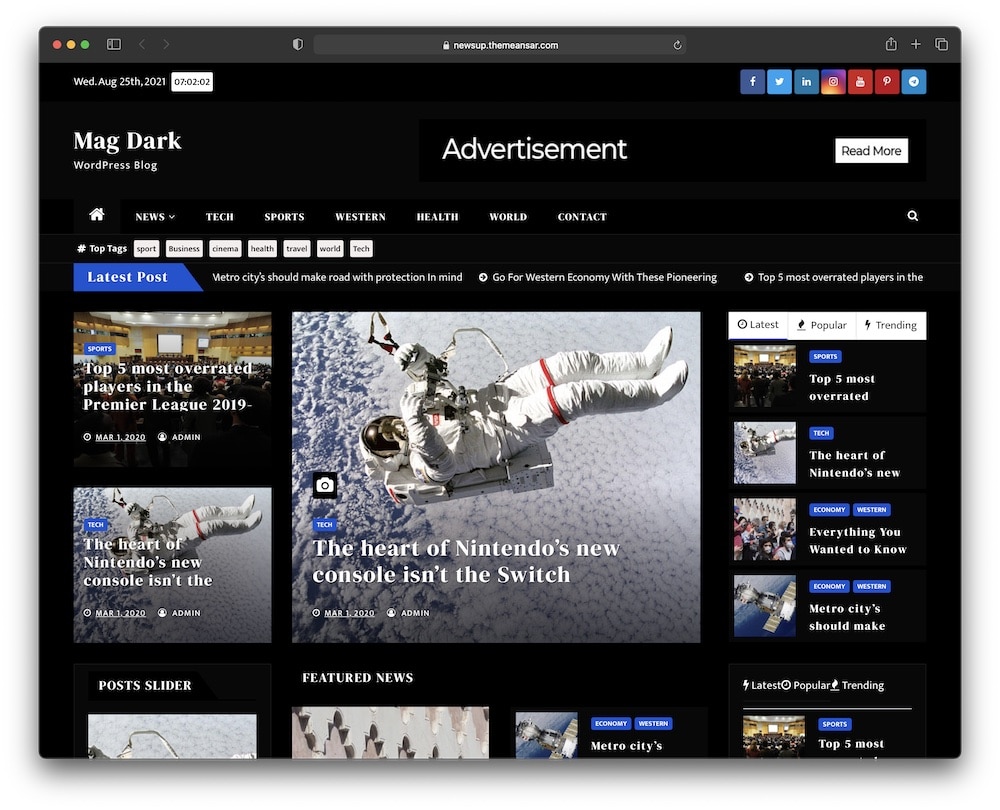 You have the opportunity to create the best news – magazine website with a clean and fast Mag free dark WordPress theme.
It is fully suitable for dynamic publishers, A-game blogs, and professional editors.
You can choose between multiple widgets to add popular features or new functions to your site. Of course, 0 coding is necessary, yet you remain your full control of the website structure.
In fact, with no special knowledge needed you can even make a beautiful online store due to the WooCommerce compatibility.
Sell anything WORLDWIDE with Mag.
YOU! Go and make your dream site with Mag. Next send me a link, SO that we will secretly like it together!
Mag features:
400+ active installs
Compatible with WPML plugin
Ready for RTL languges
News ticker
Practical widgets
MORE INFO / DOWNLOAD
8. Bosa Blog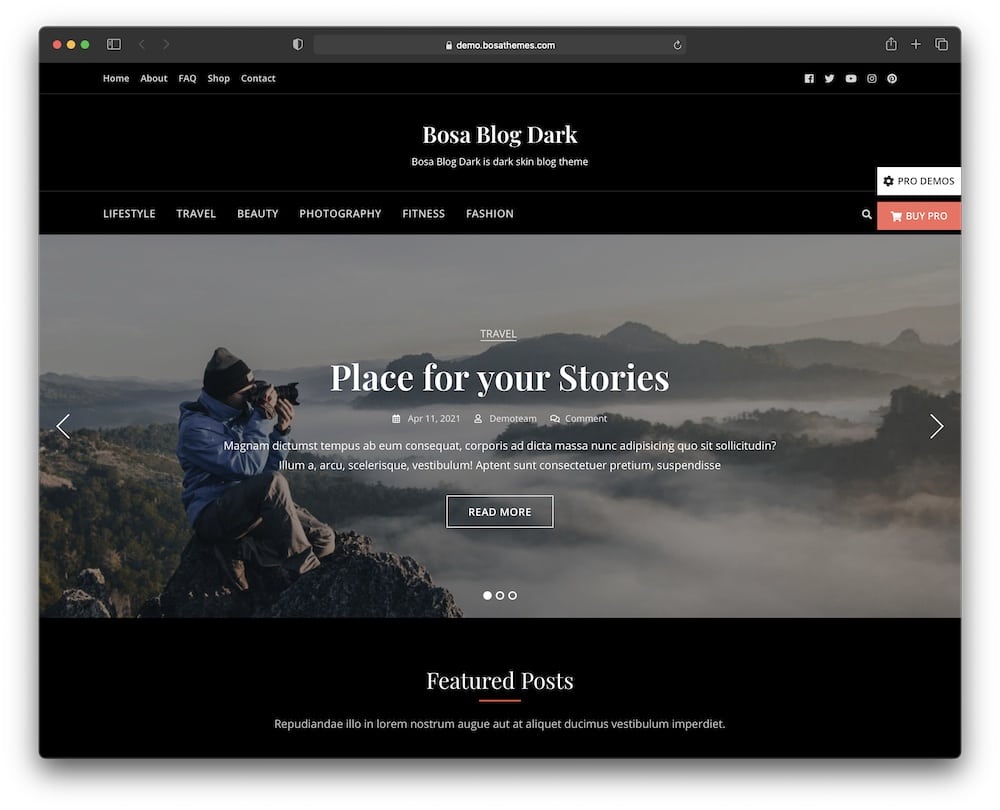 Start like a charm with Bosa Blog – fast, responsive, minimal, and pretty – free dark WordPress theme.
Bosa Blog is extremely customizable and you can easily use it for various blogs and journals.
It works smoothly with Gutenberg block editor (revolution). YES even more effortless for you to publish posts, create pages, add products … In a matter of minutes!
Bosa Blog also handles many plugins such as MailChimp, WooCommerce, Contact Form 7, and Elementor page builder.
HELL YES, the theme can load lightning FAST (great speed test results), too.
Exciting!
With jaw-dropping Bosa Blog and your touch of creativity, you can embrace the power of your business (WARNING).
Bosa Blog features:
600+ active installs
Full-width slider
Simple shop section
Great for any blog (niche & general)
Sticky sidebar
MORE INFO / DOWNLOAD
9. DarkMag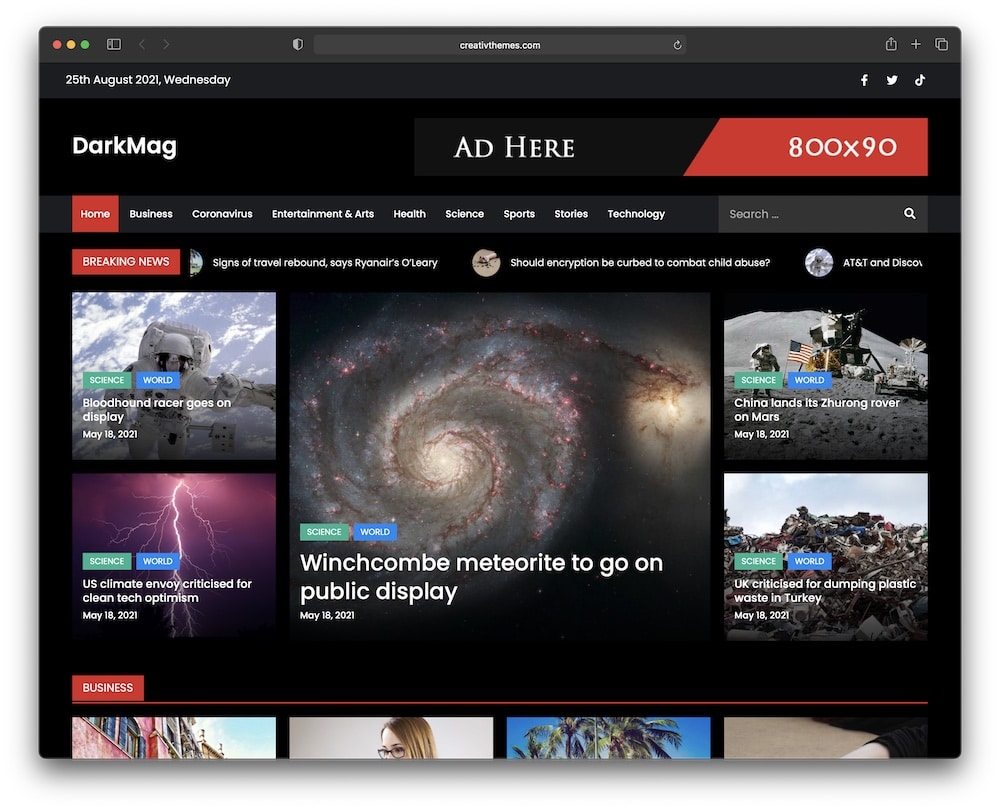 DarkMag free dark WordPress theme makes your business prettier and your life easier!
Fresh DarkMag is a super versatile and adaptive magazine theme for various content publishing sites.
Endless. Options.
Among the pros of the DarkMag is also its responsiveness – basically fits great on all kinds of devices. But the fun doesn't end here.
Thanks to pre-made post sections, you can divide your content into attention-grabbing categories (breaking news, highlights, advertisement, popular, trending …).
Grab the popcorn and enjoy visitor's clicks!
In addition, you can easily change header text colors (purely for fun!).
Show up next to the world's biggest websites with Darkmag.
DarkMag features:
200+ active installs
Breaking news
Predefined ad placements
Current date
MORE INFO / DOWNLOAD
10. HoneyPress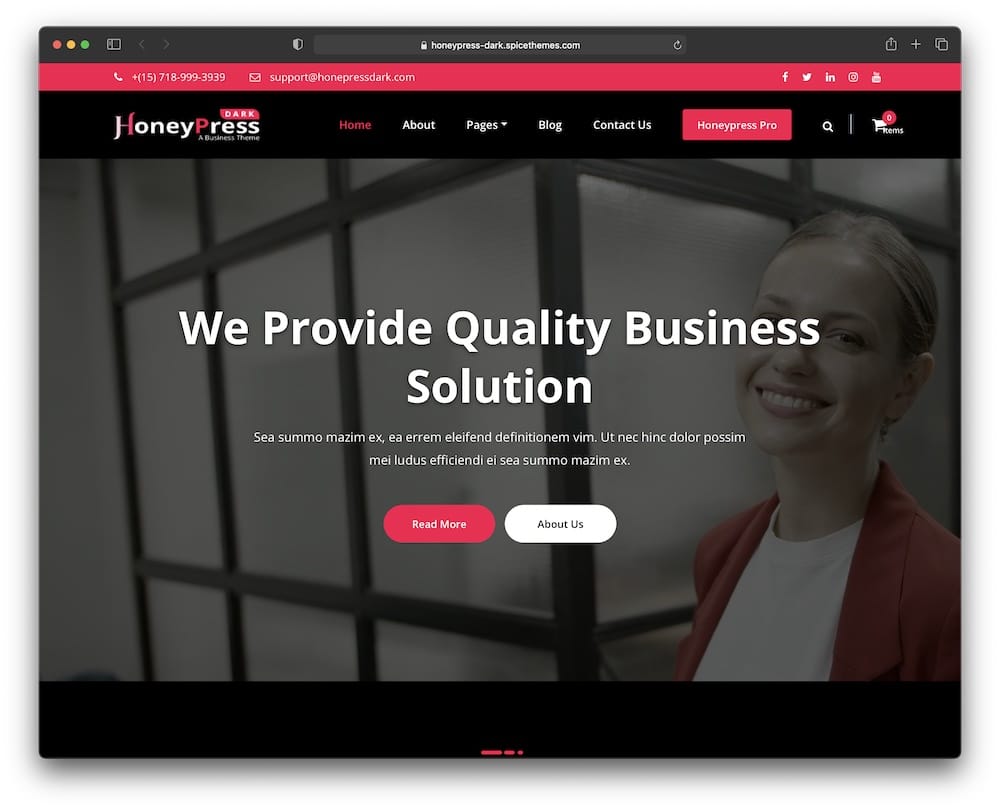 If you want to demonstrate big ideas, create stunning blogs, and focus on your business growth then you are in the right place (at the right time).
HoneyPress free dark WordPress theme comes with a ready-to-use homepage, amazing design, and the most popular plugins.
There is no telling what you can do when you get inspired by HoneyPress. With that in mind, this theme is totally customizable and you can easily change it to your desires.
I am also pleased to say that HoneyPress is SEO optimized, loads fast, and is fully translatable.
PRETTY. COOL.
Overall, with HoneyPress (you rock!) you get everything you need for a quick and stress-free start.
HoneyPress features:
2,000+ active installs
Create a custom menu
For websites with blog
Works with WPML & Polylang
Support eCommerce
MORE INFO / DOWNLOAD
11. Bizberg Consulting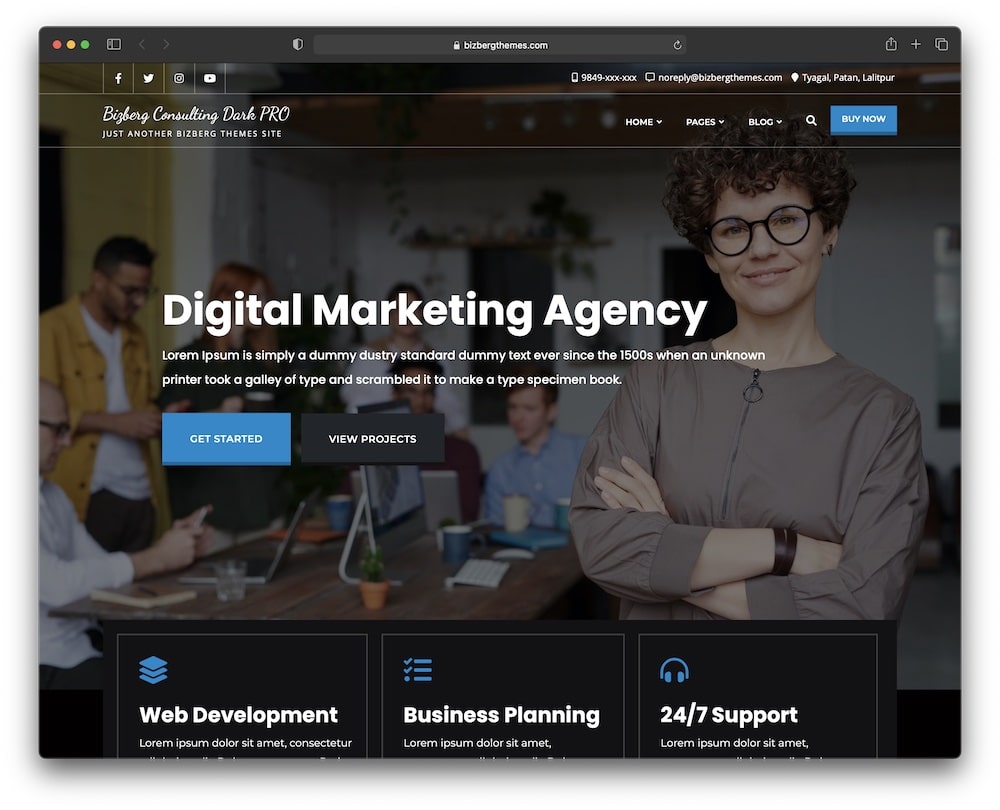 What is the main benefit of owning your own site? EVERYTHING!
Bizberg Consulting is a free dark WordPress theme designed for businesses, firms, and consulting corporations (plus a ton more).
Design whiz craftsmanship of Bizberg Consulting reflects quality, modern style, and reliability.
Hats off!
In fact, this theme is super easy to use, compatible with the most popular plugins, and comes with extensive documentation (a powerful weapon if you have problems using the theme).
The features you get with Bizberg Consulting will keep you smiling.
YES, Bizberg Consulting is SEO friendly, fully responsive, cross-browser compatible, and translation-ready.
GODSENT.
Bizberg Consulting features:
1,000+ active installs
Filterable portfolio
Transparent header
MORE INFO / DOWNLOAD
12. Coral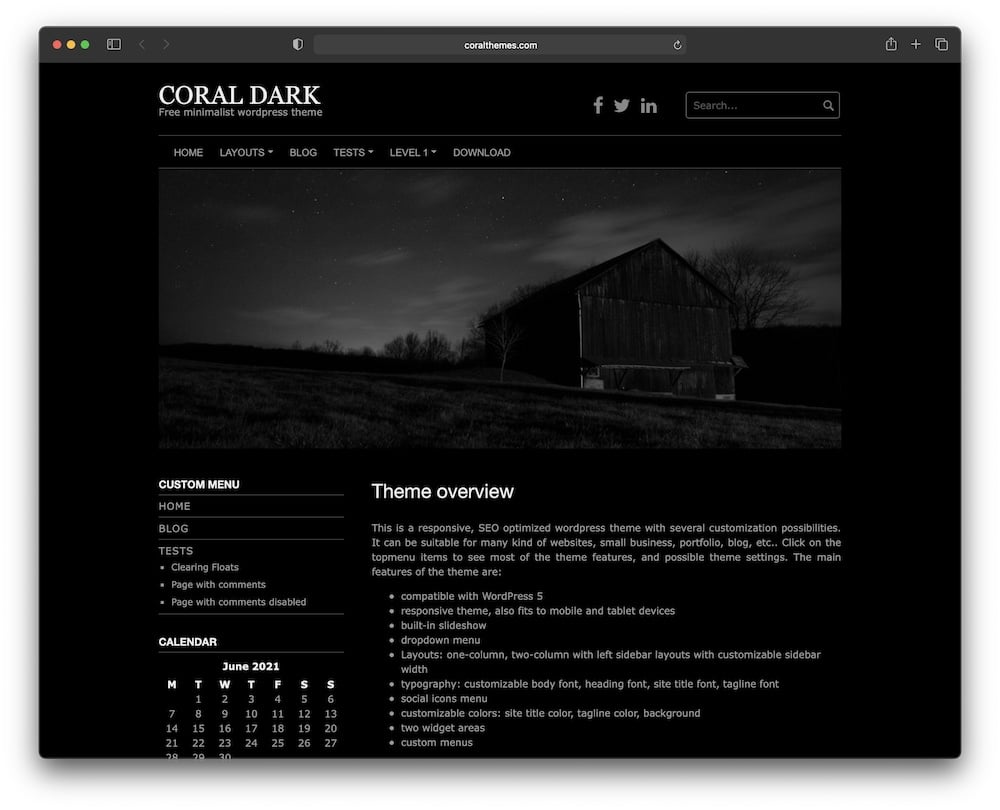 You can use Coral free dark WordPress theme to cast a powerful spell on your business.
Attract your new customers through the theme's magical design, awesome multi-column layouts, and built-in slideshow.
Abracadabra!
Simply put, Coral is great for portfolios, galleries, and photo blogs. It makes them look spectacular with its dark, mysterious (make people wonder who you are) background.
Thus, your content pops up beautifully!
Besides, you can configure the look of Coral just like you imagine in your fantastic mind.
Now, tell a story, provide value, use your time wisely and master your craft with responsive Coral.
Coral features:
3,000+ active installs
Basic design (0 complications)
1- or 2-column layout
Sidebar & footer with widgets
Social media buttons
MORE INFO / DOWNLOAD
Note: This great dos and don'ts guide will help you make the right decision if you're unsure about whether to opt for a dark theme or not.
Hint: That's why opting for a free theme works so great. You can test things out first and go from there.