Are you working on a sweet project and need to check the best candy store WordPress themes?
I spent a GOOD portion of the past two months researching the candy and sweets industry while at the same time testing and reviewing themes.
I was also lucky enough to talk to four candy shop owners who gave me some insights into what works best for their audiences.
This is how this collection of the best themes came about!
Welcome to the eight of the best-performing and most reliable solutions that anyone can use.
This post covers:
These WordPress themes also work great for other sweet stuff, like chocolate, pastry, baked goods, cotton candy, etc.
THE ULTIMATE CANDY STORE THEMES:
Note: You may also like my collection of the best ice cream WordPress themes.
How I Tested Candy Store WordPress Themes
Okay, I didn't tell my team this, but I will tell you.
I started this long testing journey of the best candy stores with a bowl of – you guessed it! – candy.
(And I'm trying to diet. Well, no luck for now, lol.)
The next (first) thing I did was test every theme's responsiveness (Google's Mobile-Friendly Test) and lightweight (Pingdom Tools) structure that contributes to fast loading.
But I also manually tested each theme for performance and readability on my smartphone and laptop.
Remember, it's important that you choose a fast-loading WordPress theme because it'll improve user experience, which can enhance conversions.
I also checked how well each theme worked with different color combinations and typography, so you can freely choose light, dark and colorful designs, regardless of your chosen theme!
The eCommerce capabilities were also super important to me. Luckily, each theme works seamlessly with WooCommerce for effortless online shop creation.
And finally, I quality-checked the sweet factor: All these themes ticked the box!
Best Candy Store WordPress Themes
1. Sweet Dessert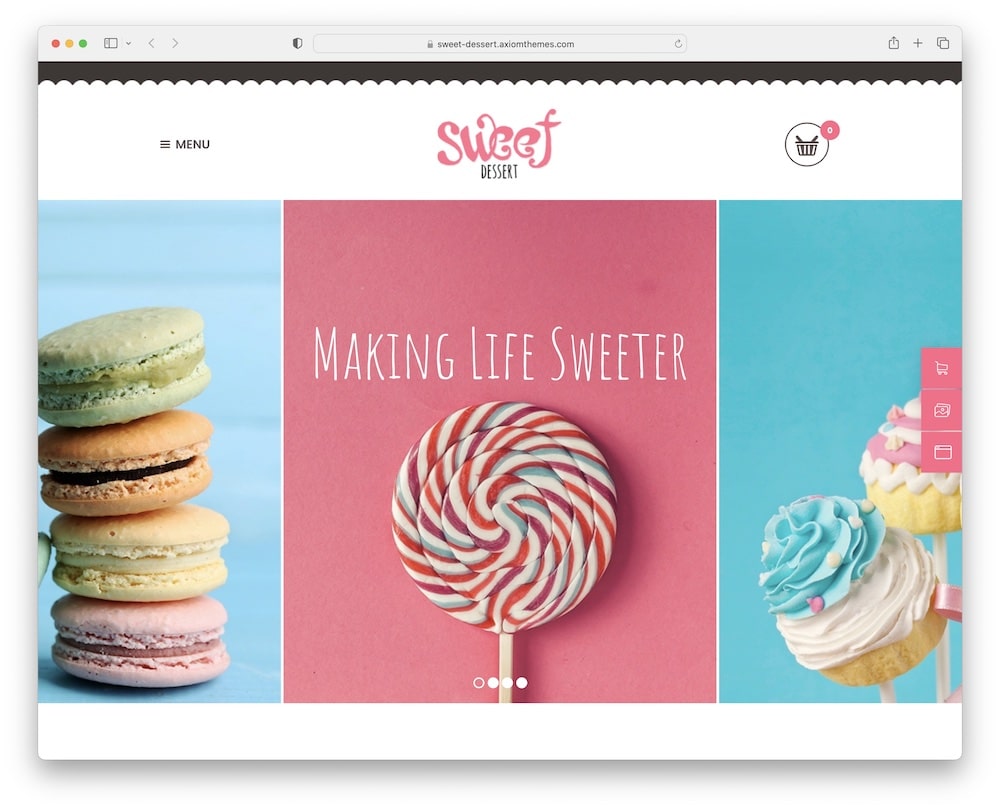 Playful Sweet Dessert theme is all about the LOVE for the sweet stuff!
Modern and functional design, pre-made pages, and amazing plugins will make your life so much easier.
Listen to me!
You don't need to know anything about coding or design; you can still build your site.
Pretty COOL, right?
Besides, Sweet Dessert is optimized for smooth performance offering regular updates and a responsive layout with cross-browser compatibility.
Keep in mind, you can sell and promote flavorful sweeties in just minutes with brilliant WooCommerce.
YES, I agree that candy makes life just a bit more fun!
Are you in?
Sweet Dessert features:
MORE INFO / DOWNLOAD
DEMO
2. Crems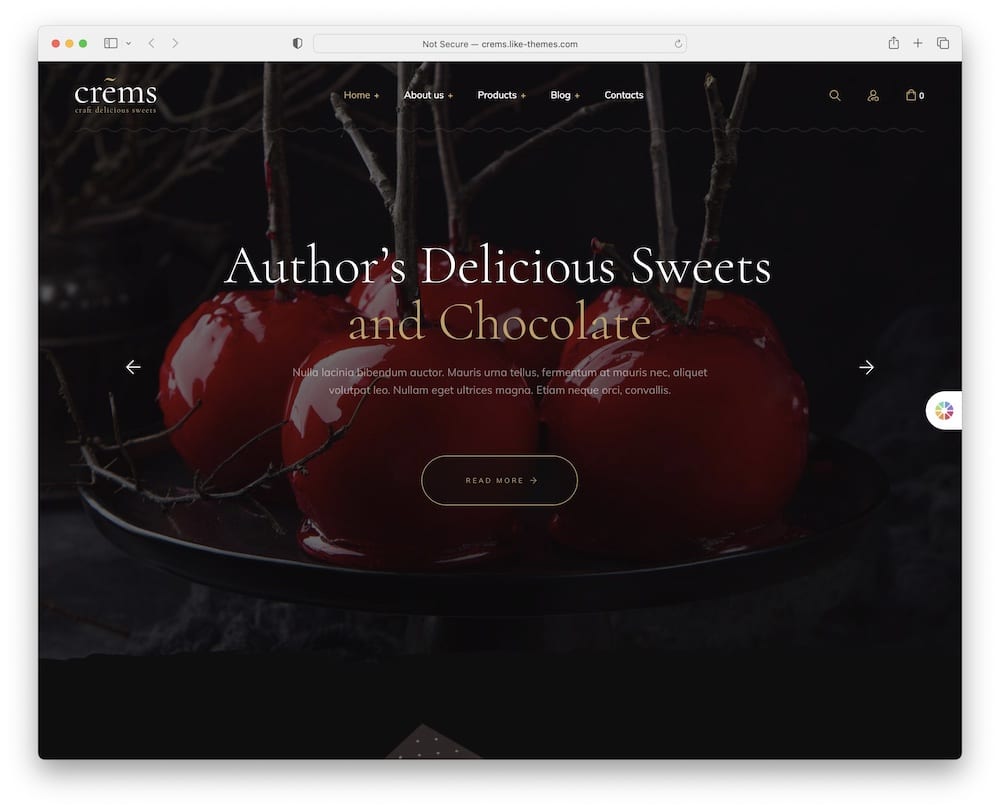 Hit the sweet spot with the delicious Crems candy store WordPress theme!
This dark and elegant WP theme was created for luxury sweets, chocolates, and candy. Of course, you can adjust the ready-to-use design exactly as you wish (Hi, BOSS!).
You can build fast and easily with the stunning Elementor page builder (real-time changes). Also, choose & set up the right header, colors, fonts, sidebars, and animations.
And if you don't know about my obsession with the parallax theme effect by now, well, now you know. It's a must.
Moreover, Crems comes with well-prepared documentation, automatic updates, and professional customer support.
Would I buy it? Yes.
Crems features:
400+ sales
4.8+ star ratings
WordPress slider plugin (Slider Revolution)
Catchy scrolling animations
Price: $69 (may vary)
MORE INFO / DOWNLOAD
DEMO
3. ChocoRocco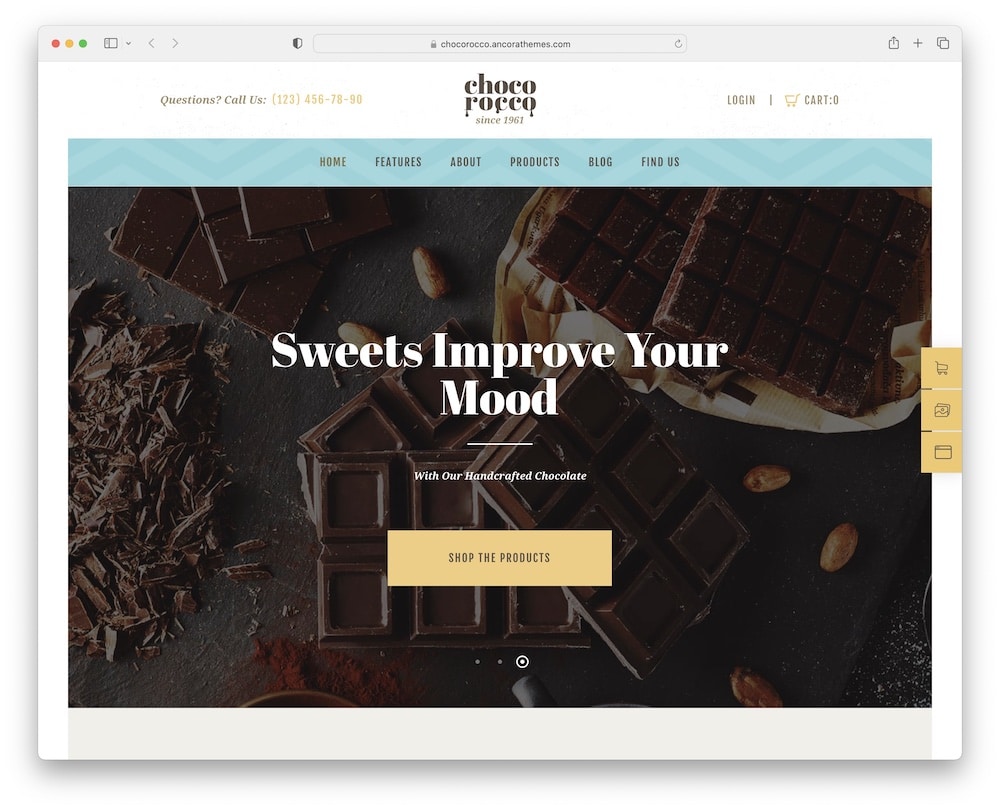 Are you hungry? Me too – always!
Present your delicious products that both kids and adults will LOVE with the modern ChoccoRocco candy store WordPress theme.
ChocoRocco offers pre-made designs, a mega menu, unique icons, and animations. Plus, you get various shortcodes and WP widgets for extra functionality.
Moreover, ChocoRocco is compatible with the most popular plugins, such as WPBakery page builder, Slider Revolution, MailChimp, WooCommerce, and Contact Form 7.
Woohoo!
Oh, and I think you should start your blog! You know, you can share useful articles, tricks, how-to guides, reviews, and handy tips.
Need I say anything more? Go. Get.
ChocoRocco features:
240+ sales
4.5+ star ratings
Price: $69 (may vary)
MORE INFO / DOWNLOAD
DEMO
4. Sweet Tooth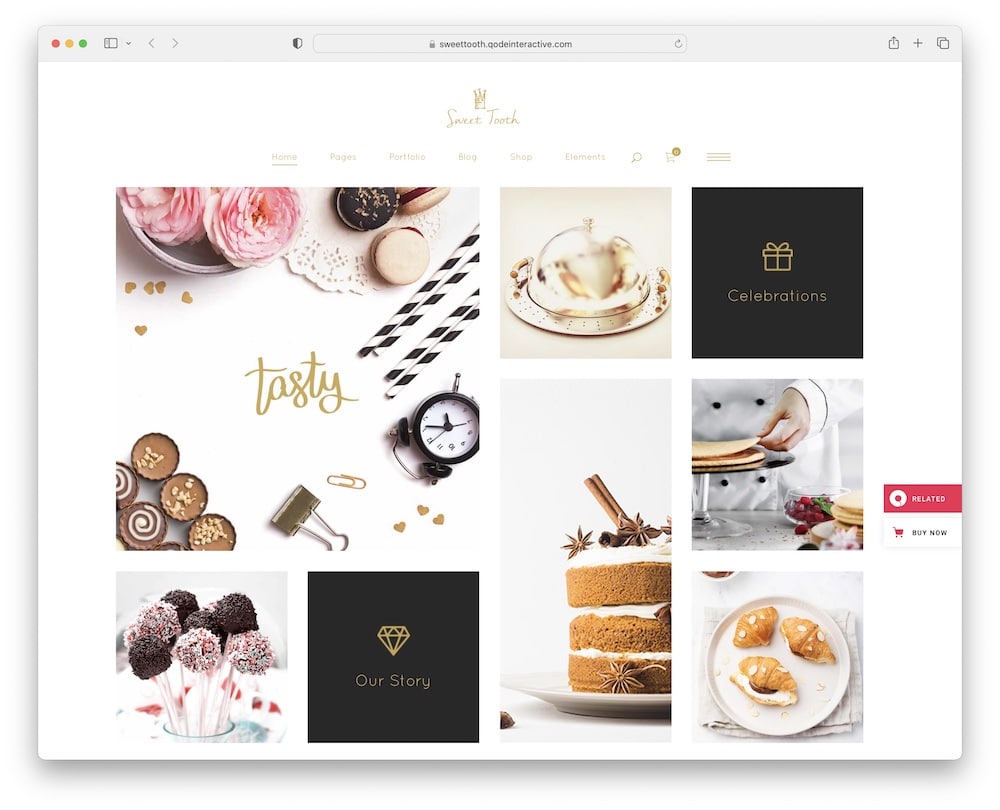 Soooo elegant!
Sweet Tooth candy store WordPress theme … is stunning. Dare I say breathtaking?
To get started: pick the ready-to-use demo you like the most (one-click import) and just set it up.
Yup, it really is so simple.
Besides, you get pretty inner pages, useful blog & portfolio layouts, a mega menu, and a parallax effect. Plus, a BIG bundle of the best plugins!
Sweet Tooth can also be translated and used worldwide. Pretty COOL, right?
And if you are a part of the "social media team," then, of course, you're going to love Sweet Tooth's social share functionality & icons.
AHA, you deserve this candy!
Sweet Tooth features:
1,300+ sales
4.5+ star ratings
Elegant design
Instagram & Twitter feeds
Price: $79 (may vary)
MORE INFO / DOWNLOAD
DEMO
5. Ohlala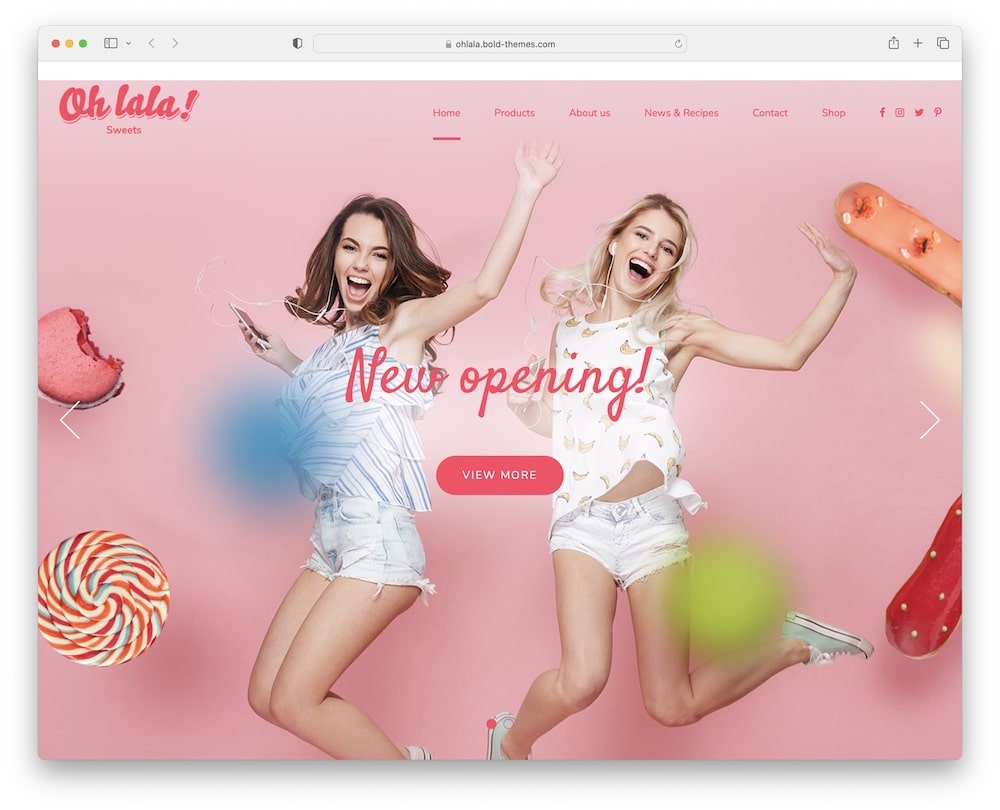 Set up an eye-catching website with the colorful Ohlala WordPress theme.
It was designed with sweet, chewy, and delicious desserts in mind. So customize it to your project needs and create one of the most popular stores (Hi, WooCommerce!) for sugar devotees.
Ever had strawberries and cream candy? Find it. Trust me.
Besides, Ohlala is fully responsive and retina ready for an AWSOME user experience. It is a win. A big one!
And check out custom-crafted icons. OMG. What's not to love? Candy, ice cream, and pretty cakes (so cute!).
Plus, flexible colors & typography options are always a GOOD thing.
I know; I get a sweet & happy feeling about Ohlala as well!
Ohlala features:
700+ sales
4.4+ star ratings
One- & multi-page website support
Built-in cost calculator
Price: $69 (may vary)
MORE INFO / DOWNLOAD
DEMO
6. Le Truffe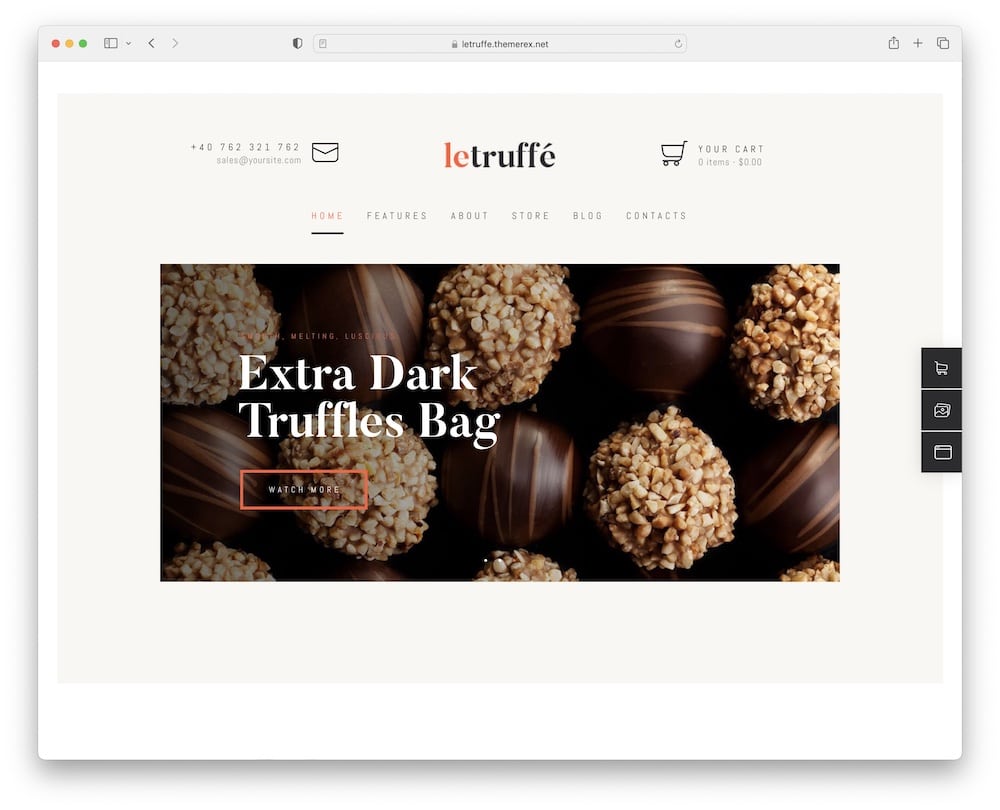 Do you have a passion for sweet treats? Well, you came to the right place!
Go over the modern and stylish Le Truffe sweet store WordPress theme. Worth every bite!
You can display your sweet story and present your team of pastry chefs, create a beautiful store, and even promote online orders with the unique and easy-to-use form with Le Truffe.
Yes, you can offer luxury presents, delicious gifts, and anniversary sweets for timeless memories.
Keep in mind, Le Truffe is simple to work with and includes ALL important tools. Just rearrange, mix, set up, and pick out your favorite design elements, and you are good to go!
Life is like a bag full of candy, isn't it?
Le Truffe features:
130+ sales
4.6+ star ratings
1-click installation
Easy header & footer builder
Price: $69 (may vary)
Remember to check how to install a WordPress theme if you've never done it before. It's super simple!
MORE INFO / DOWNLOAD
DEMO
7. Glacé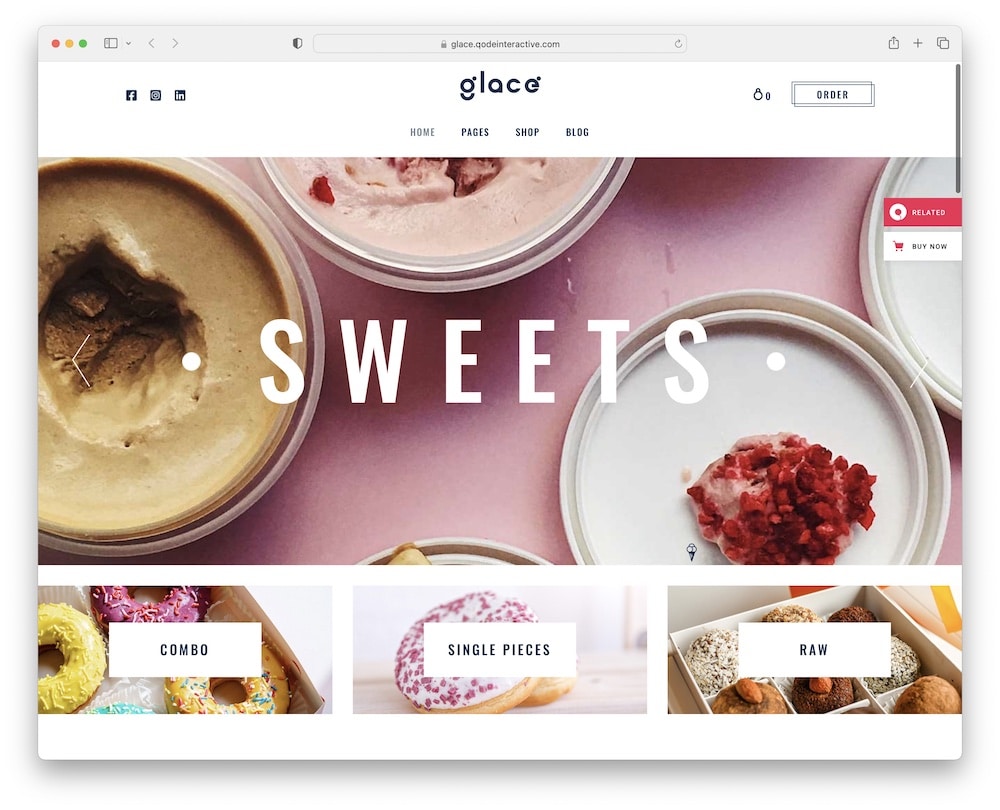 Celebrate sugary sweets with the bubbly Glacé candy store WordPress theme.
Working with the drag-n-drop WordPress page builder (Elementor) is EPIC!
No need for coding skills; just drag & drop desired elements to the right position. Of course, you can choose colors, header, Google fonts, and much more.
You can fully transform Glacé according to your idea.
I love to start with the setting up of a menu, slideshow (wink to Slider Revolution), and footer. Plus, I think it is super smart to add a blog.
Moreover, make sure to position a pricing table, working hours, and contact form visible.
Taste the Glacé!
Glacé features:
MORE INFO / DOWNLOAD
DEMO
8. Hanio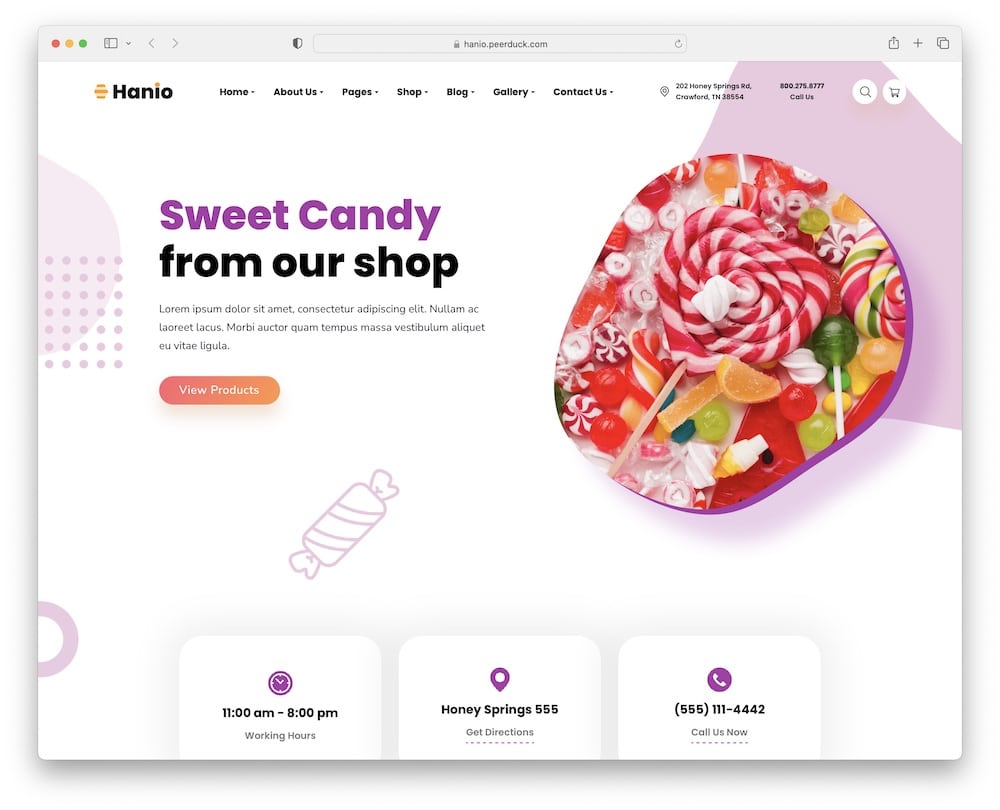 Whether you prefer fancy chocolates, fruit jellies, caramels, or hard candies, make the best online experience with the pretty Hanio candy shop WordPress theme.
This easy-to-customize theme has everything you need for a quick and professional start!
Hanio is well documented, regularly updated, and offers friendly customer support if you encounter any dilemma in creating your dream site.
Open your mouth and say "YES!"
Moreover, Hanio's attractive design is fully responsive, meaning all shapes, sizes, and favorites are welcome!
BTW: MailChimp is a really COOL all-in-one email marketing tool that works with Hanio in perfect harmony for business growth.
Enjoy!
Hanio features:
140+ sales
4.5+ star ratings
Included images & graphics
Step-by-step setup guide
Price: $59 (may vary)
MORE INFO / DOWNLOAD
DEMO
7 Key Features Of A Great Candy Store Website
It's essential that you have these must-have features in mind when building your dream candy store websites.
If you do it right from the get-go, you'll SAVE yourself plenty of time in the long run.
What's best, you can achieve all these effort-free when you use any of the WP themes from the above collection.
You, more or less, just fill out the information, and that's it!
And regarding the technical aspect, that's NOT something you need to think of. The themes sorts mobile readiness and great loading capabilities by default.
Candy store site's essentials:
Performance optimization: Your website must offer the best performance to create the ultimate user experience across all devices and screen sizes. A better performance means a happier customer, ending in a conversion raise.
High-quality images: It's important that you use the best candy images you can (shoot your own!) – and never use stock images, even if you're selling more traditional candy. Let the tasty images of candy calm your visitors' souls.
Testimonials & reviews: Including testimonials and reviews is a great way of building trust and social proof. You can use testimonials on the home page and reviews on product pages (feel free to check our WordPress review plugins with extended functionality).
Location: Showcase your candy store's location on a map, so potential customers can find you easier. You can use the theme's built-in feature or install a WordPress Google Maps plugin.
Contact info: Another must-have is the contact information that comes in the form of a contact form, (clickable) phone number and address.
Newsletter: You shouldn't forget about email marketing to grow your business. Thus, collect leads on your website through a newsletter subscription form.
Blog (optional): Lastly, start a candy blog, which you can use as a content marketing strategy to drive more organic traffic to your website and potentially increase sales.
You now have everything you need to start online with a successful candy store website!
Make it fun and tasty, but don't forget the business part of it.
A sprinkle of sugar, and you're done.
::
Note: This article was originally published on December 17, 2022. But our team regularly reviews it and updates it with necessary improvements for accuracy.