Are you looking for the best WordPress themes with Google Maps integration to enhance your website's functionality and engage your audience?
These WP themes offer a POWERFUL mapping tool from within your WordPress website to display location-based information, create interactive maps and provide directions to your visitors.
And you can do all this easily, thanks to the seamless integration – yes, you won't need to code.
It doesn't matter if you're a travel blogger looking to showcase your adventures and destinations, a business highlighting your office or store locations or an even organizer guiding attendees to the venue – I collected a theme for you.
Each theme offers a visually appealing and user-friendly experience to make your site stand out, with VARIOUS fantastic customization options and features.
Discover the endless possibilities now!
How I Tested WP Themes W/ Google Maps
MANY themes come with Google Maps, but I chose to test 30 based on ratings, update frequency and user feedback.
I then installed each theme on our staging websites to properly test its Google Maps functionality.
I looked for any specific settings related to Google Maps like the options to enter my Google Maps API key, adjust the styling, choose markers and customize map settings.
Moreover, I created TEST pages and posts for Google Maps display via blocks and shortcodes.
This allowed me to see if the map functions and appears correctly (does it allow zooming in and out, dragging and clicking markers?). Plus, I ensured that every theme's maps adapt to different screen sizes for smooth performance.
What about placing Google Maps into WordPress widget areas? I tested that, TOO!
Of course, I also tested each theme for performance (loading speed & responsiveness) and beginner-friendliness to guarantee everyone gets the most out of it.
Friendly tip: You can also check this tutorial on how to add Google Maps in WordPress if you already run a website and don't want to switch themes. (Feel free to use any of these WordPress Google Maps plugins.)
QUICK-PICK: Ultimate WordPress Toy Store Themes
If you are new to WordPress themes, you may first want to learn how to install a WP theme for a smooth sail.
Best WordPress Themes With Google Maps
1. Betheme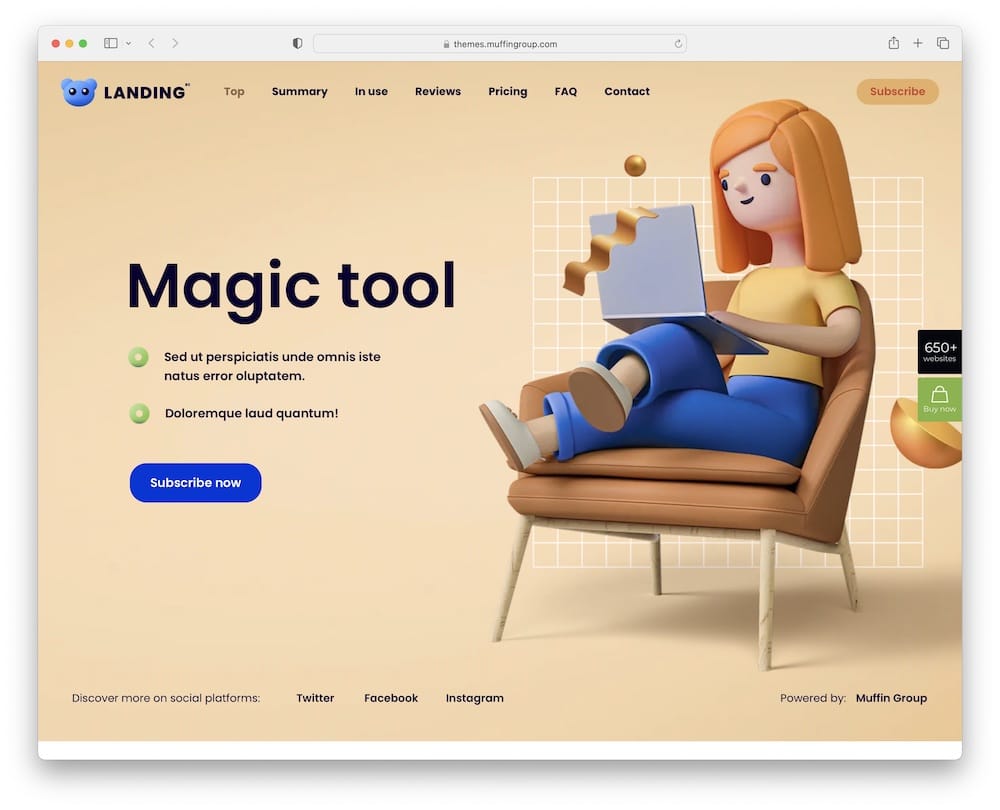 Modern Betheme engages visitors from the first second they open the website!
A responsive, blazing-fast, transparent, and fully mobile-friendly user experience is guaranteed (and we all WANT usable sites).
Plus, beautiful typography options, eye-grabbing animations, smartly designed icons, and inviting subscription forms are, hmm – YES, like the frosting on the cake!
All of the above will work for your absolute benefit.
Besides, Betheme comes with a huge collection of pre-made demos, attractive headers, THE BEST plugins, and a mega menu (my fav).
Drop a pin of your business location in Google Maps and direct customers to your location!
You can display it in the Betheme contact section accompanied by images of your office, store, or salon.
Happy win!
Betheme features:
279,000+ sales
4.8+ star ratings
Amazing page loading speed
Perfect for any type of website
Price: $60 (may vary)
MORE INFO / DOWNLOAD
DEMO
2. Enfold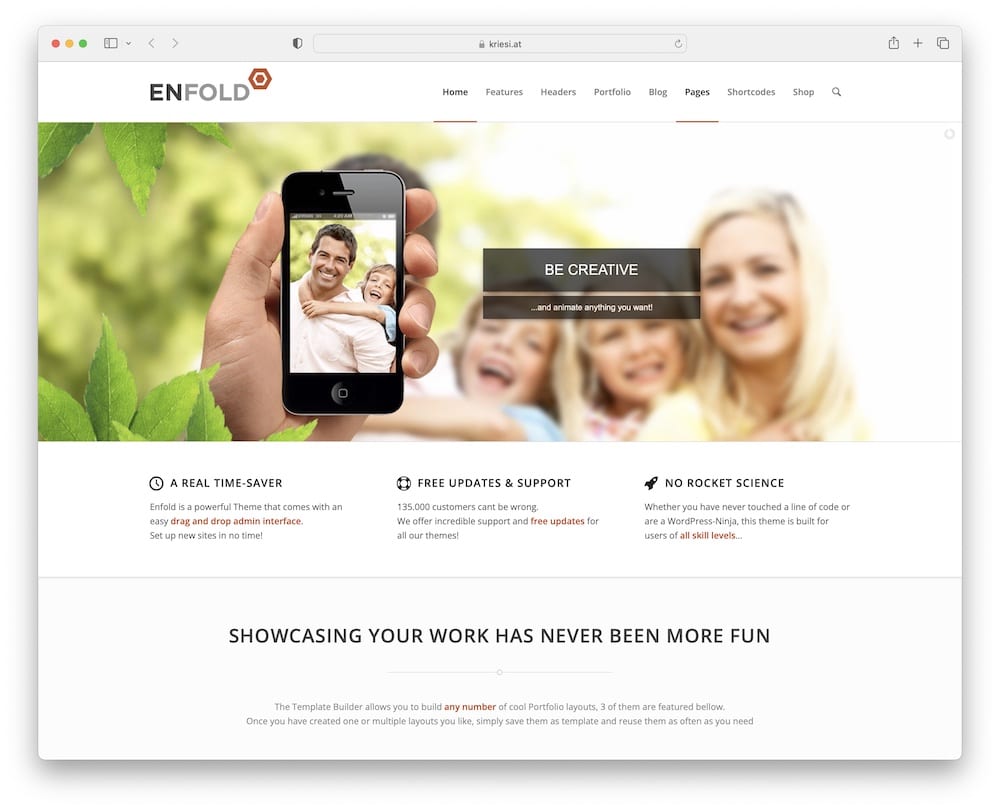 Pick up Enfold's ready-to-use demo (many to choose from) and start a FUN process of adjusting, adding, mixing, and matching.
Playtime!
BTW: Fantastic parallax theme effects, eye-grabbing animations, and video slideshows are just some of the cool stuff you get to work with.
You can even build your own store via WooCoomerce and sell various products, services, courses, and much more online. I know that's what you always secretly wanted!
Moreover, Enfold comes with detailed documentation and FREE lifetime updates. C-R-A-Z-Y.
Oh, and did you know that Google Maps provides location data for 99% of the world? So, yup, you will navigate your visitors with the best tool.
Remember, Enfold is ready for anything!
Enfold features:
250,000+ sales
4.8+ star ratings
Included 20+ language files
Price: $59 (may vary)
MORE INFO / DOWNLOAD
DEMO
3. X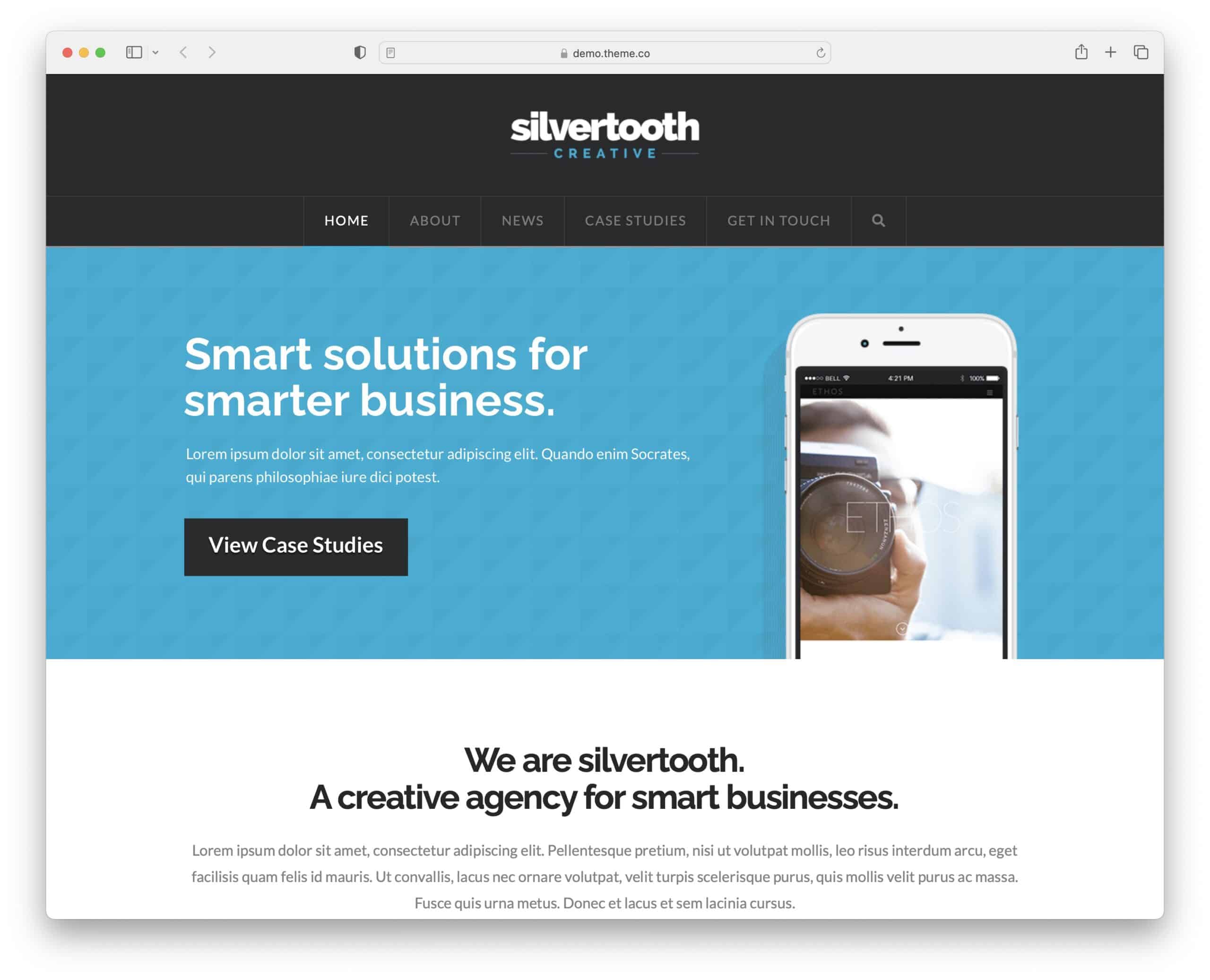 Stylish X WordPress theme with Google Maps makes the perfect canvas to create your website.
You can move, delete, add, set up, or duplicate elements precisely as you wish with flexible X! Also, you can choose from unlimited fonts and colors to offer an excellent visual experience for your visitors.
Brand and personalize it.
If you happen to get stuck, keep calm (!), X has professional customer support to help you with theme layout.
Oh, and all the updates are free.
Moreover, X includes a BIG collection of premium plugins which will immediately set you apart from the competition.
No extra cost, meaning more money stays in your pocket.
X also lets you experiment with pre-made portfolios and blogs. BIG. VALUE.
X features:
223,000+ sales
4.7+ star ratings
Clone copy or build from scratch (total creative freedom!)
Compatible with one- & multi-page websites
Price: $79 (may vary)
MORE INFO / DOWNLOAD
DEMO
4. Flatsome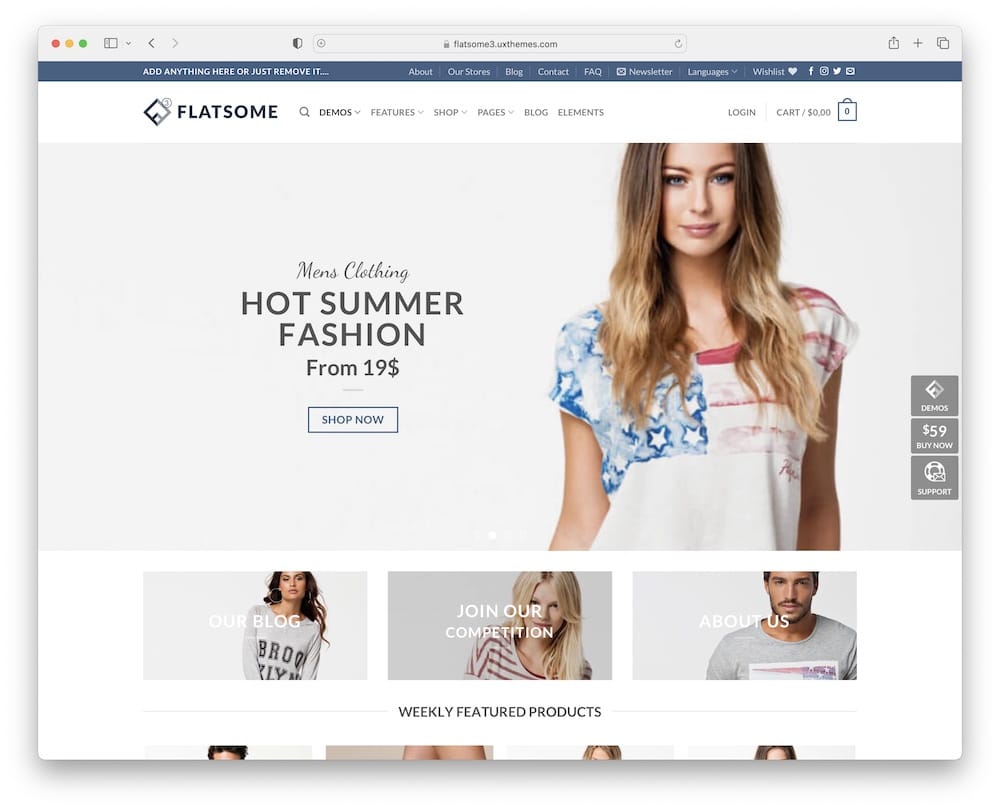 Undoubtedly, the Flatsome WordPress theme with Google Maps is AWSOME – designed with high-quality details and indispensable tools.
It requires a single click to import a pre-made demo. Plus, the setup process offers endless possibilities without any coding involved (drag & drop, baby!).
Remember, Flatsome includes numerous options for an attractive and modern online store. The goal is to make your visitors smiling customers with a great browsing experience.
But wait. There's more!
Flatsome is also optimized for speed, works great on mobiles, and is SEO-friendly. All you need for a successful start!
Oh, and you can easily connect your current accounts via social media icons. Be present.
Flatsome features:
218,000+ sales
4.8+ star ratings
Optimized designs for online selling
Easy to translate with your favorite WordPress translation plugin, but it's already available in 12+ languages
Price: $59 (may vary)
MORE INFO / DOWNLOAD
DEMO
5. Jupiter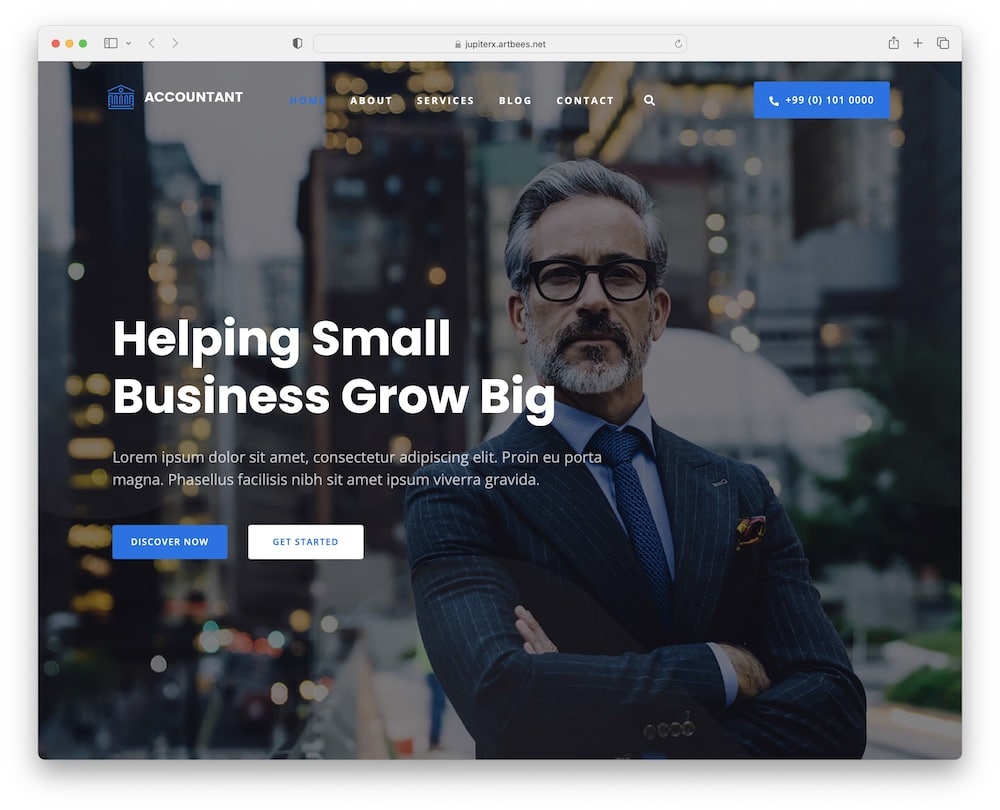 Fresh Jupiter is a multi-purpose WordPress theme with Google Maps and a banging collection of 450+ ready-to-use demos.
Yup, you heard it RIGHT!
Due to its user-friendly editor, you can build and manage your website in real-time (0 coding knowledge required). Choose from pre-made layouts, headers, product catalogs, and handy pages.
I really like all the small design details and dynamic tools!
Moreover, Jupiter includes a bundle of widgets and shortcodes, allowing you to add any feature you wish.
Simple and fast.
You can also implement your signature style form thanks to the advanced form builder. Keep in mind, MailChimp is an all-in-one email marketing tool; get the most out of it!
Jupiter features:
MORE INFO / DOWNLOAD
DEMO
6. Uncode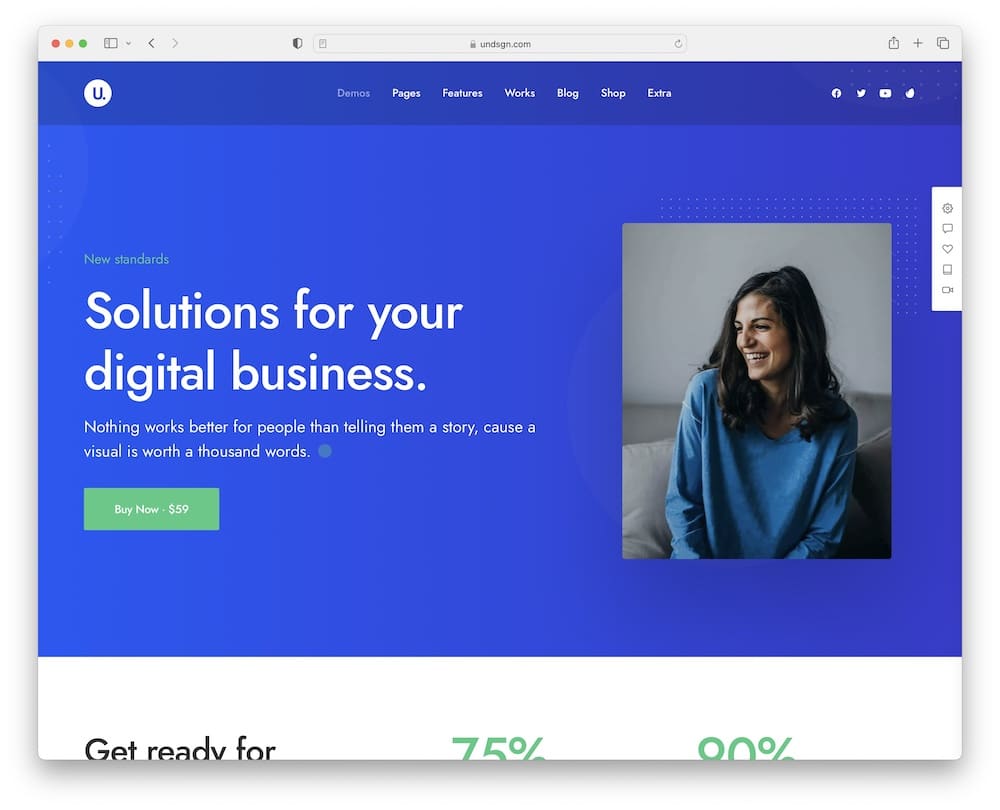 You can immediately start building your beautiful new website via the pixel-perfect Uncode theme.
Grab your coffee and create!
With professional WooCommerce, you can set up your online store in just minutes.
Upload products, descriptions, reviews, payment options, and shipping details. Plus, check out reliable and handy Ajax technology (product filters, swatches, add-to-cart buttons, and much more).
Tip: Speak to your customers through a valuable portfolio, blog, or online magazine. Aha, GOOD content is your best online friend!
Furthermore, Uncode also includes light and dark skins (see how to add dark mode in WP) for automatic background coloration, animated headings and slide scrolling. Thumps up!
Oh, and with Google Maps, your visitors will find your business location lightning fast.
Uncode features:
108,000+ sales
4.8+ star ratings
Effortless live page building
550+ elements & sections
Price: $59 (may vary)
MORE INFO / DOWNLOAD
DEMO
7. Porto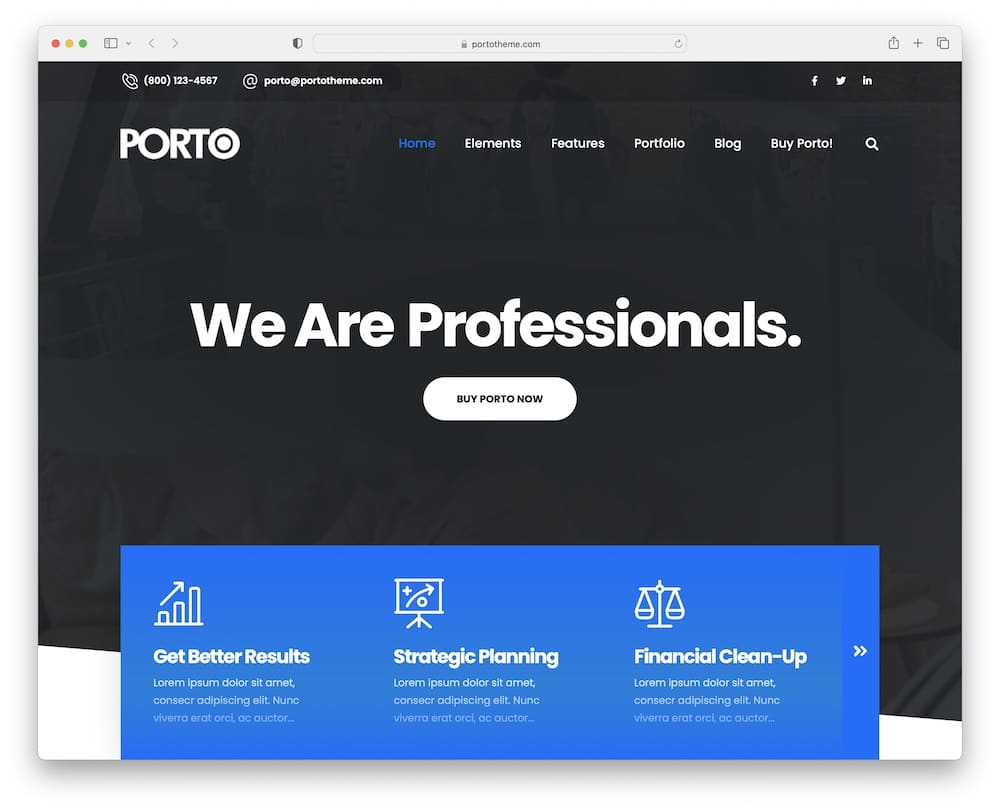 The elegant Porto WordPress theme with Google Maps has something for everyone!
You can effortlessly customize Porto's pre-designed demos by using drag-and-drop editors.
Actually, my friend, you can choose between stunning Elementor, WPBakery, and Gutenberg (you lucky human)!
Obviously, they are designed to make your life easier.
Various layouts, sidebars, sliders, and shop category pages offer unlimited possibilities to your imagination.
If you are super awesome (I know you are!), you can swiftly create an attractive header and footer, including every detail you wish.
Also, I am a big fan of interactive popups (email marketing is still hugely important). Plus, customer testimonials, social media icons, and Google Maps are a MUST.
Now: start!
Porto features:
83,100+ sales
4.9+ star ratings
44+ niche demos (find your favorite quickly)
Price: $59 (may vary)
MORE INFO / DOWNLOAD
DEMO
8. TheGem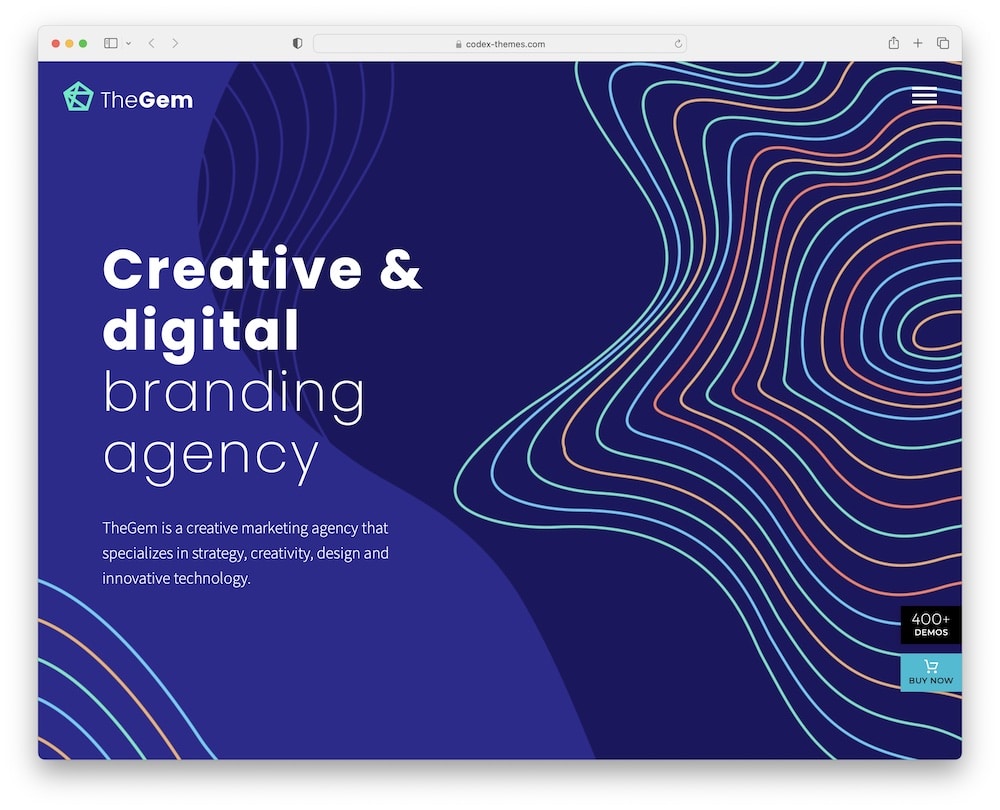 TheGem is a feature-rich multipurpose WordPress theme with Google Maps that works great for professional (eCommerce) businesses with BIG goals.
It offers numerous elements, skins, and the most popular plugins. Simply edit, insert, combine, or re-use a pre-made design.
Moreover, TheGem is ready for SEO optimization, is fully responsive, and easily translatable into any language you want. High performance is guaranteed!
I recommend you to use portfolio, blog, and gallery layouts for the best presentation of your brand, products and services. Remember, engaging content is KING and can increase your position on Google and build your online audiences.
Did I mention the coolest thing ever? Unique ICONS!
TheGem features:
72,600+ sales
4.8+ star ratings
400+ reusable, customizable templates for any project
Adjustable header & footer
Price: $59 (may vary)
MORE INFO / DOWNLOAD
DEMO
9. Massive Dynamic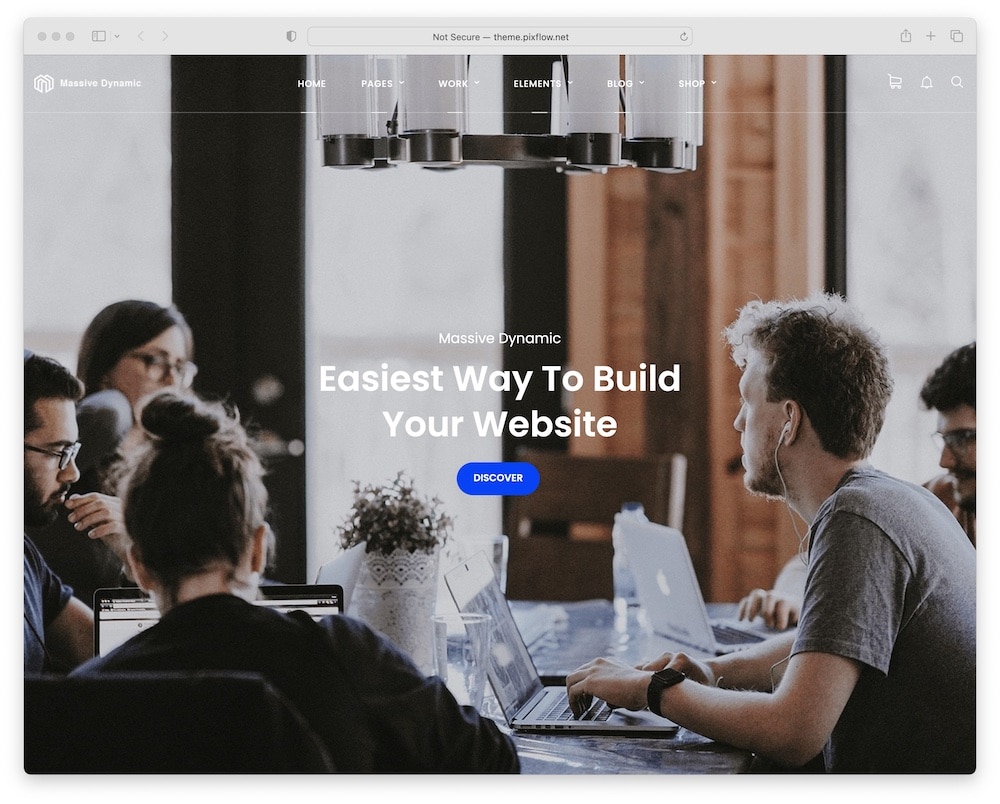 Massive Dynamic WordPress theme gives you total freedom to realize whatever business idea you dream about! And display it on Google Maps.
You get a HUGE collection of pre-made demos, unlimited layouts, flexible grids, animations and perfect header & footer styles.
The best part of Massive Dynamic: You can build, change, or add anything through the powerful visual editor!
Furthermore, you enter the online selling world in just minutes due to the stunning WooCommerce plugin.
All monetary & shipping transactions, invoices, stock management, and much more are done with this tool. Hallelujah.
I also love to work with Slider Revolution. Sleek, WOW slideshow sections will save the day anytime. (But you can also choose Master Slider or Pixflow Slider.)
The end result: An enviable site!
Massive Dynamic features:
20,600+ sales
4.5+ star ratings
Epic visual website builder (I couldn't stop playing with it)
70 handy, unique shortcodes
Price: $39 (may vary)
MORE INFO / DOWNLOAD
DEMO
10. SEOWP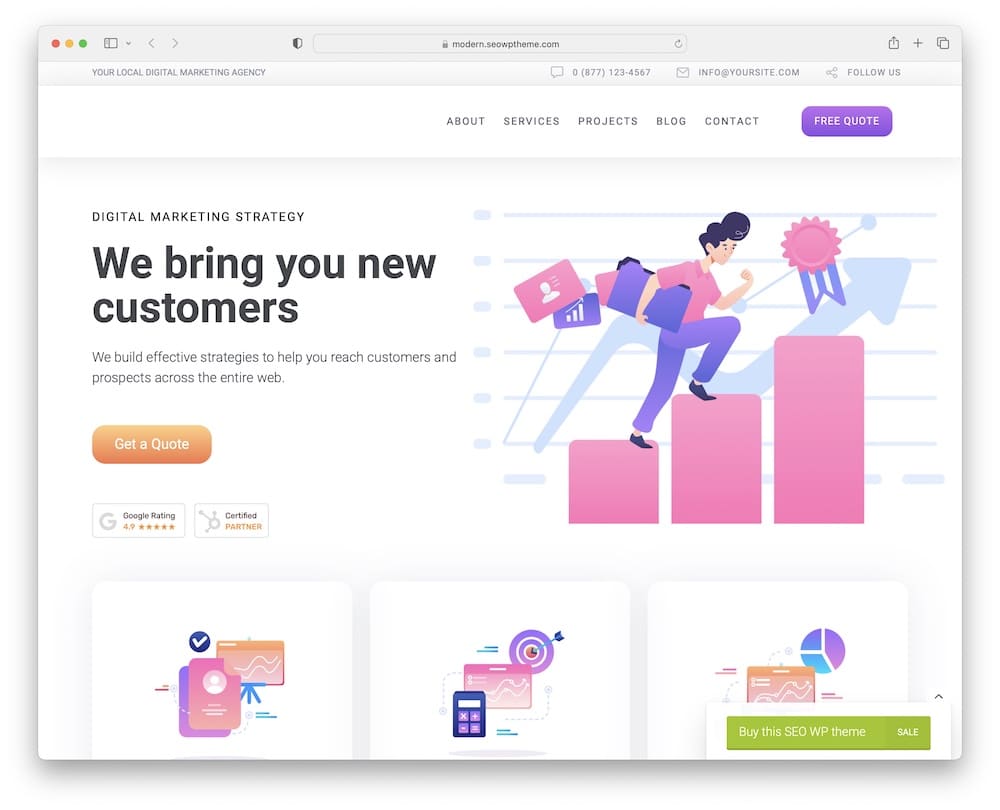 Navigate your business faster and easier with the SEOWP WordPress theme for digital marketing agencies.
This pre-designed discovery is fresh, attractive, and applies beautiful illustrations (90 illustrations included for FREE!).
SEOWP offers popular social sharing, a WP booking system (with calendar), pre-made discount coupons, a portfolio layout and subscription forms. Everything to make your life easier!
I also like SEOWP's extensive documentation and professional team of experts that offer FAST support.
Moreover, a bundle of THE BEST plugins is more than welcome!
BTW, to display business locations, handy maps and driving directions, use Google Maps. Do you feel me, or do you feel me?
It's time for success!
SEOWP features:
15,600+ sales
4.6+ star ratings
Estimation & payment forms (Stripe + Paypal)
Included marketing tools
Price: $69 (may vary)
MORE INFO / DOWNLOAD
DEMO
11. Essentials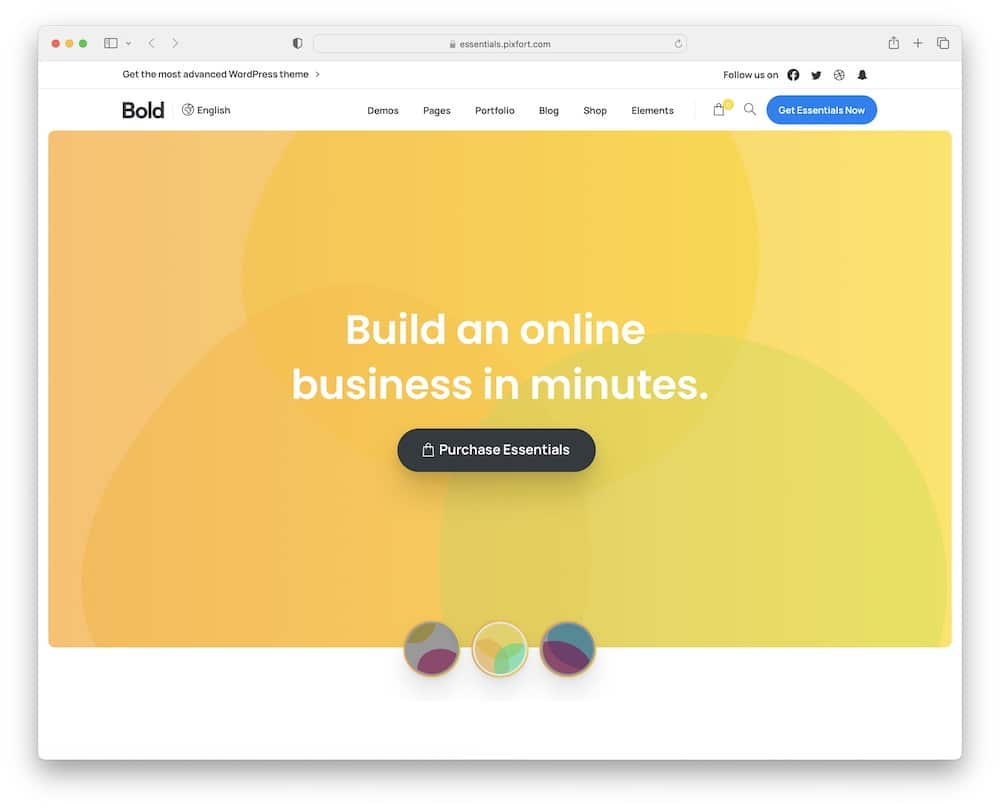 There's a good reason why the Essentials WordPress theme with Google Maps is so popular!
Satisfied clients love Essentials chat support, video tutorials, fantastic user experience, and their attention to design detail. Plus, you can finally open your own online store with WooCommerce.
But this is just a small segment of all the goodness that make Essentials so SUPERB.
You can start by choosing from various templates, eye-catching layouts, playful animations, smart popups and engaging banners (my favorite is the countdown banner!).
Keep calm; 0 coding knowledge is required due to the drag and drop editor.
Listen to me: You can do AMAZING things with the Essentials bundle. Extra cost? Nope, you get everything you need for a smooth start.
And YES, you can brag about your new site on Facebook, Twitter, or other social media platforms. In fact, add social share buttons to your WP site and let your visitors do the promotion.
Essentials features:
13,700+ sales
4.9+ star ratings
770+ templates (yes, really!)
Elementor & WPBakery compatible
Price: $69 (may vary)
MORE INFO / DOWNLOAD
DEMO
12. Unicon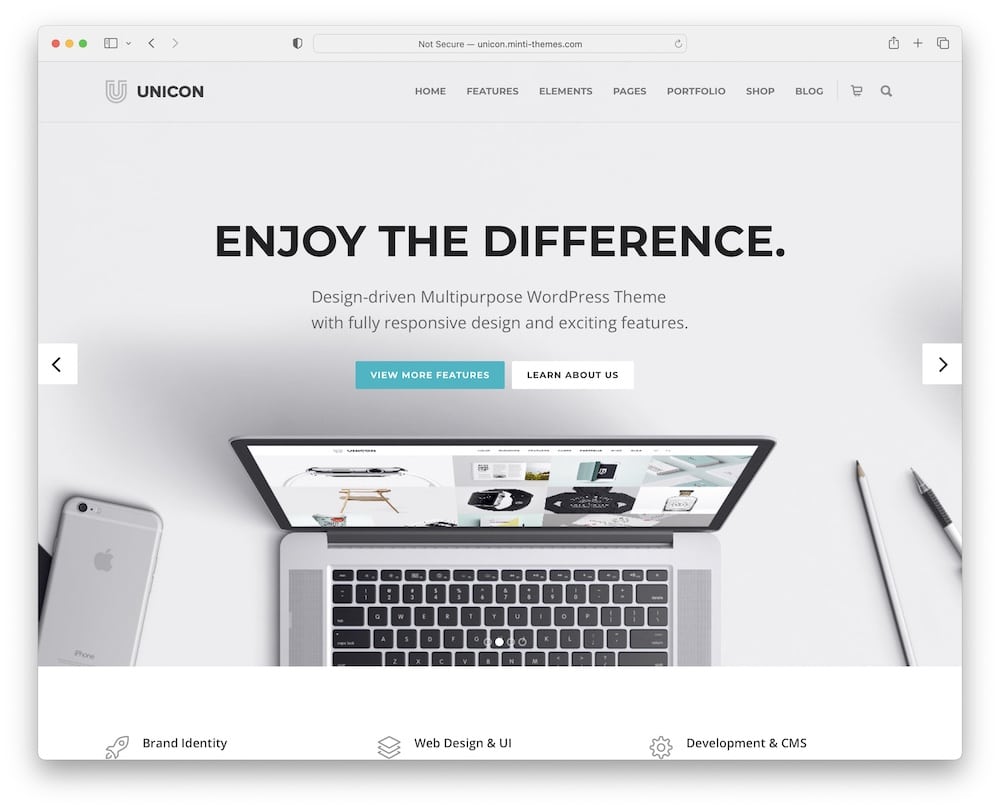 HELLO!
Meet your one true match. The Unicon WordPress theme with Google Maps is for you!
Beautifully crafted Unicon includes one-click homepages with a brilliant mega menu, a sticky header and numerous pre-made pages. Hurray!
But that's not all; you can expand its possibilities using the WPBakery builder. I think you will also (like me) find great entertainment in matching gorgeous Google Fonts with unlimited color options. Personalization for the win!
Moreover, Unicon is responsive and retina ready to perform perfectly on different screen sizes.
Overall, enjoy THE BEST plugins, such as Slider Revolution, WooCommerce, and Contact Form 7, without limitations.
Get your business "on the map" today!
Unicon features:
13,200+ sales
4.7+ star ratings
Extremely lightweight & fast performing
Boxed & full-width layouts
Price: $59 (may vary)
MORE INFO / DOWNLOAD
DEMO
::
Note: This article was originally published on June 9, 2023. But our team regularly reviews it and updates it with necessary improvements for accuracy.