Do you want to improve your website's user experience with the best WordPress themes with a video header?
That's fantastic.
Why?
First, because it works!
And second, because I created a collection of the best and most reliable solutions with help from the rest of our team.
Ales analyzed the code (with speed and responsiveness in mind), Rok checked the design, Nick went through documentation and support and I studied each theme's user-friendliness and customizations.
By the end of this list, you'll have a perfect theme to create a STUNNING site with a video header, which will grab everyone's attention immediately.
How ULTIDA Team Tested WP Themes W/ Video Header
Ales's part:
Reviewed every theme's code for lightweightedness (is there any potential bloat that may slow down the website loading?)
Used Pingdom and Google's Mobile-Friendly tools to test speed and responsiveness (besides performing the manual tests).
Checked if the theme utilizes the latest SEO practices so it's easy to optimize it for search engines.
Rok's part:
Does the theme offer a modern, sophisticated and clean (without too many distractions) design?
Is the theme easy to navigate, so visitors can quickly find what they want?
Are elements, sections and functions structured logically, so they maintain the user's attention and not bore them?
Nick's part:
Read through the theme documentation (and watched video tutorials) to A-test it so it's not complicated, yet it still provides all the necessary information.
Contacted each theme's support team to see how quick their response is. Is it quality? Are they friendly?
Nick also checked the current theme's user feedback and star rating.
My part:
My job was to review each theme's customizations and compare them with the ones mentioned in the official theme description.
I also investigate the theme's admin interface to ensure everything is easy to reach and requires no experience to make it happen.
I also tested compatibility with 3rd-party plugins, extensions and WP page builders.
We did it!
We collected the most epic themes for brewery websites, so you can have yours up and running speedily.
CHEERS!
QUICK-PICK: Ultimate WP Themes With Video Header
Best WordPress Themes With Video Header
1. Essentials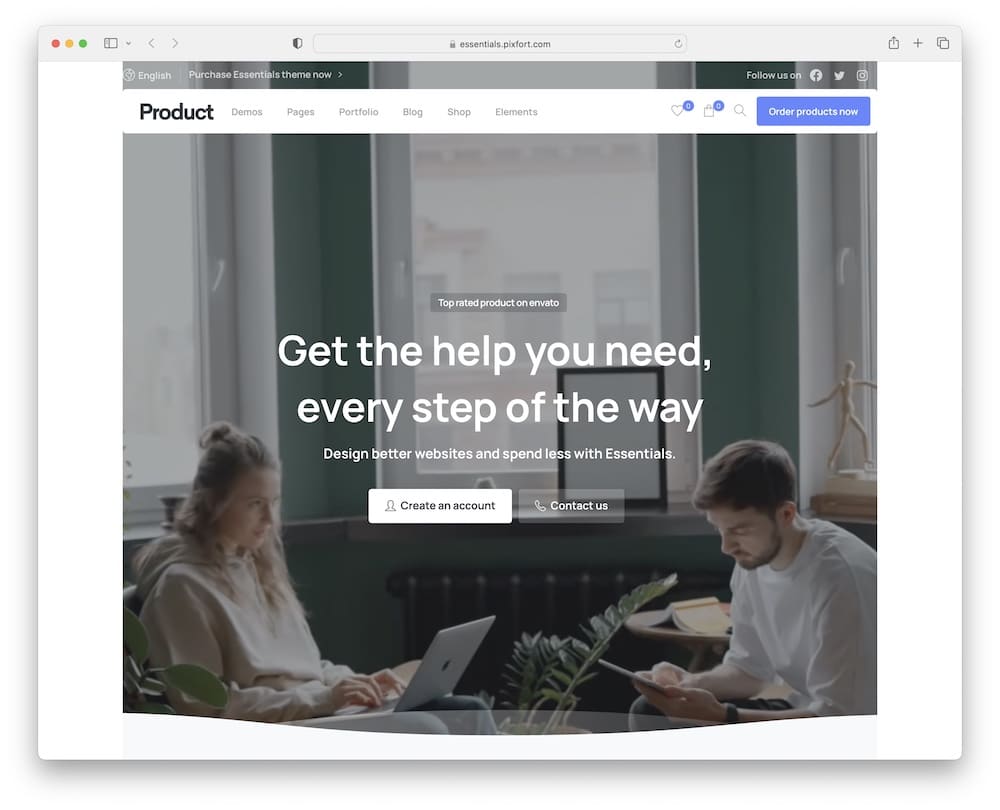 Yup, I also believe in awesome video content; therefore, I recommend Essentials WordPress theme. This one has EVERYTHING you need for every website you want to build.
Responsive Essentials comes with one-click install demos and can be fully customized with a drag and drop page builder. Pro-level designing even with zero experience.
Not to mention, it is optimized for fast loading (see how to choose a fast WordPress theme) and is SEO optimized.
I also love all the attention-grabbing animations and visual styling options, such as video headers and banners in a mega menu.
Remember, Slider Revolution will take your website to the next level!
Moreover, various section dividers included in Essentials create beautiful transitions between content. You can even use live (animated) ones. 🥳
I know you want Essentials!
Essentials features:
13,800+ sales
4.9+ star ratings
Elementor & WPBakery compatible
40+ demos, 800+ templates
Price: $69 (may vary)
MORE INFO / DOWNLOAD
DEMO
2. Incubator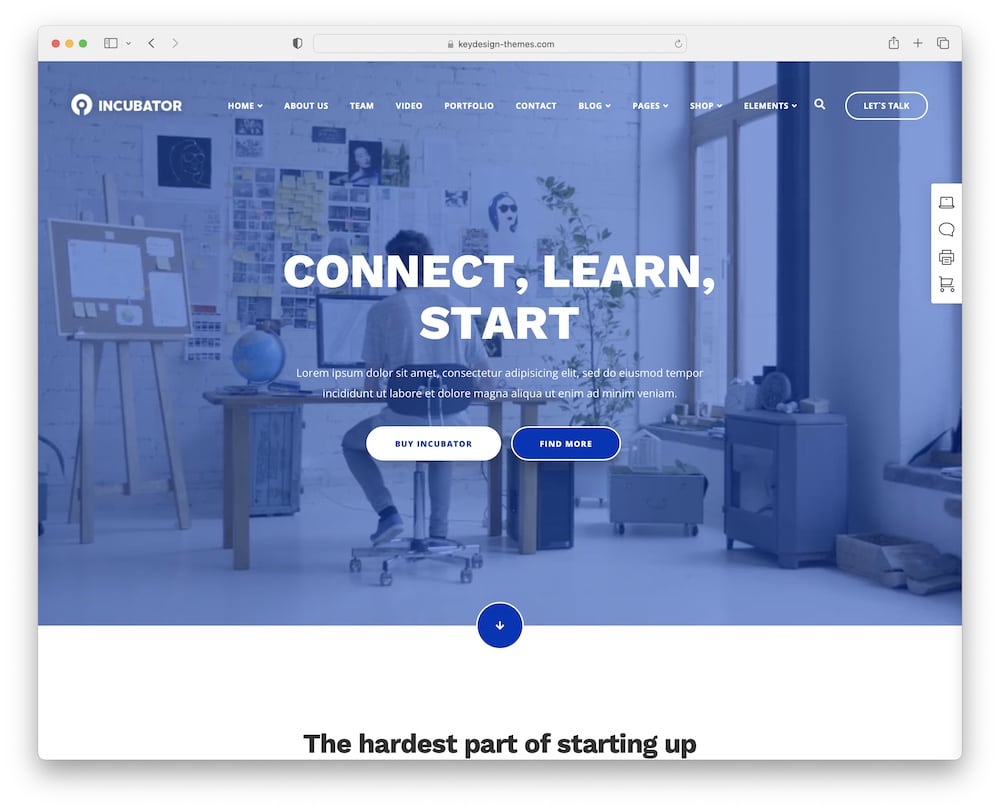 Make your creativity shine with the modern Incubator WordPress theme with video header.
Don't worry; even if you don't have any coding knowledge, you can be creative with the Incubator.
Arrange elements in a quick and fast way via the WPBakery page builder. Hurray!
Besides, it includes the most popular plugins such as Slider Revolution, WooCommerce, and Contact Form 7.
You can probably guess I just love Incubator's smooth scrolling while navigating across a site?!
BTW: The incubator is fully translatable (use any WP translation plugin), offering you multilingual translations within minutes.
Furthermore, Incubator comes with detailed documentation for a painless start and offers FREE updates.
What a dream!
Incubator features:
MORE INFO / DOWNLOAD
DEMO
3. Aqui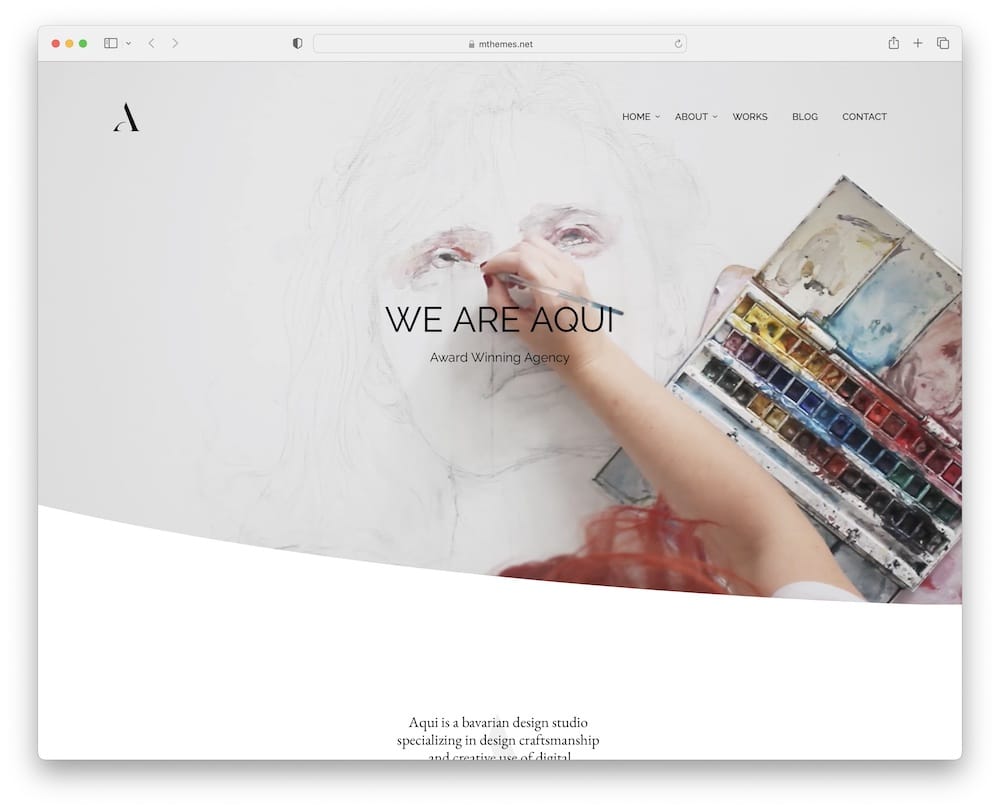 You better get your message out with the stunning Aqui WordPress theme with video header.
Due to its beautiful design, Aqui allows you to showcase your business in an engaging way. No matter what you work on – Aqui has your back (built for any kind of project).
AND you get numerous shortcodes, tons of icons, brilliant widgets, and unlimited colors to choose from. Of course, you can also pick from the huge collection of Google fonts.
Moreover, I recommend you create the coolest portfolio with hundreds of given options. Plus, I am a BIG fan of blogging – you MUST take advantage of the pre-made layout!
It's all about social media today (!) therefore, Aqui includes a social share option, too. (But it's easy to add social share buttons in WP anyway!)
ENJOY.
Aqui features:
20+ sales
4.5+ star ratings
Modern, minimalist look
Price: $49 (may vary)
MORE INFO / DOWNLOAD
DEMO
4. Hellen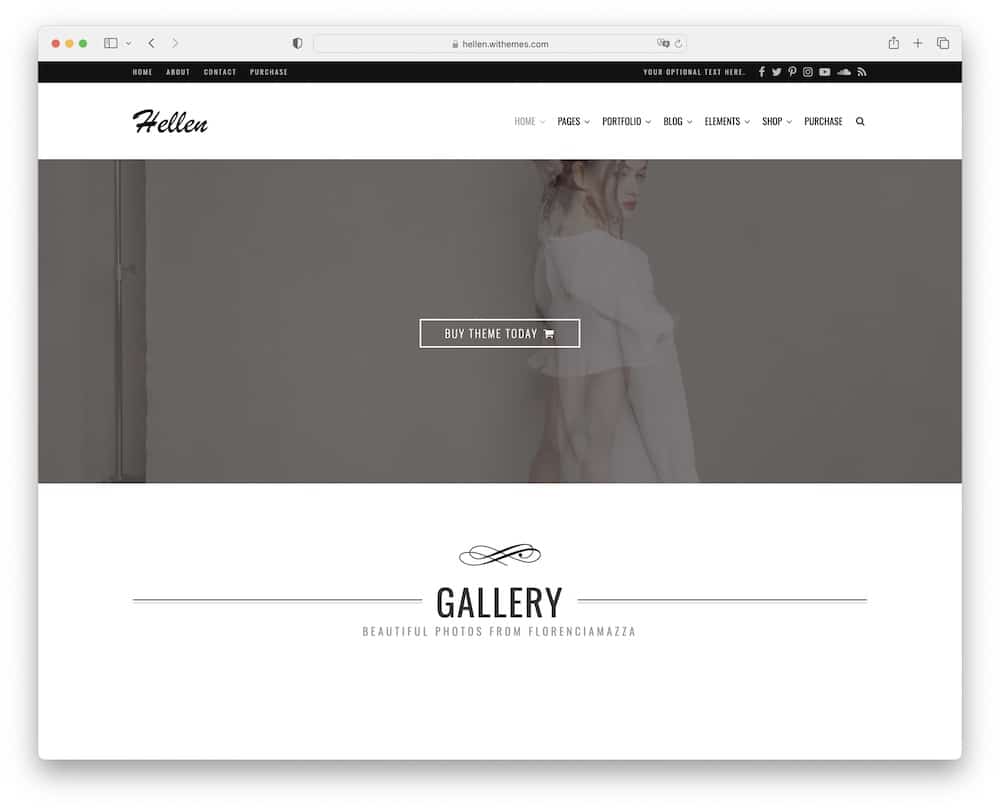 Have a break. Hellen WordPress theme will do all the work!
Gorgeous Hellen is a clean and minimalistic theme offering the best tools for your success. Trust me; you will enjoy using WPBakery, WooCommerce, Slider Revolution, Contact Form 7, and much more!
Besides, you should check out MailChimp (an all-in-one email marketing tool) to send better emails from day one.
Furthermore, Hellen includes lifetime FREE updates and dedicated customer support to give you a hand if needed.
High-five yourself!
And let's talk for a sec about the stunning video header. Hellen combines all the magic in it – just look at it.
Hellen features:
360+ sales
4.8+ star ratings
GDPR compliant
Off-canvas mobile menu
Price: $58 (may vary)
MORE INFO / DOWNLOAD
DEMO
5. AppMe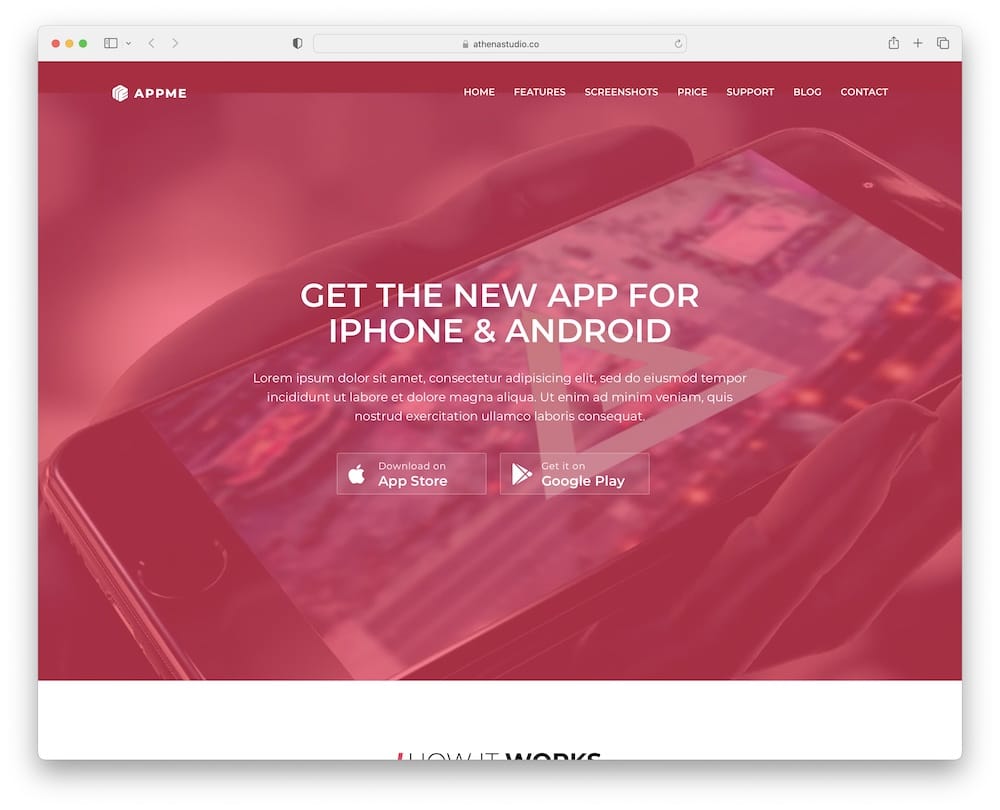 The elegant AppMe WordPress theme with video header will take care of your business!
You can choose from numerous pre-made layouts, header styles, animations, and color skins. Keep in mind, you can do magic even if you don't have any coding knowledge with WPBakery!
AppMe is also fully responsive and retina-ready for the best user experience on all screen sizes. Believe me; visitors will love your new site.
Oh, and you can fully translate AppMe in any language you need. Yes, friends. That's exactly what I mean.
Besides, if you are passionate about your products, services, or field of work, you must start writing a blog. Spark imagination and ideas through content!
AppMe features:
230+ sales
4.4+ star ratings
Catchy CSS3 animations
Many WP shortcodes for adding/removing functionality
Price: $32 (may vary)
MORE INFO / DOWNLOAD
DEMO
6. Novos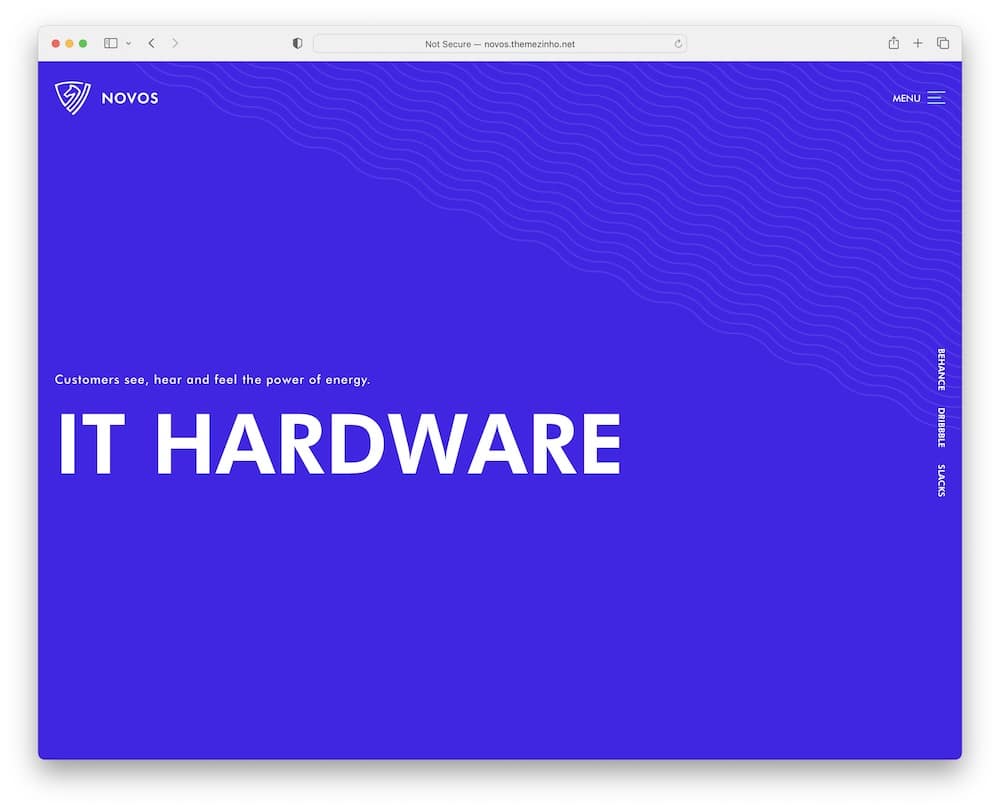 Jaw-dropping video header? YES, please!
The stunning Novos theme is very easy to use. Mix, match, add, remove, or adjust elements with a simple drag-and-drop function.
Excellent!
And I really like the animated hamburger menu that can be displayed as a full-screen menu.
Moreover, you can also customize Novos by changing its colors, typography, video backgrounds (have you seen our exclusive video background WP themes?), and WP sidebars. Just let creativity into your life right now, okay?
A BIG plus is also Novos' animated preloader section that will keep your visitors entertained while waiting. Because nobody wants to hang around where nothing is happening.
You are in good hands with Novos!
Novos features:
40+ sales
4.5+ star ratings
Home & inner page headers
Header fade effect
Price: $59 (may vary)
MORE INFO / DOWNLOAD
DEMO
7. Claue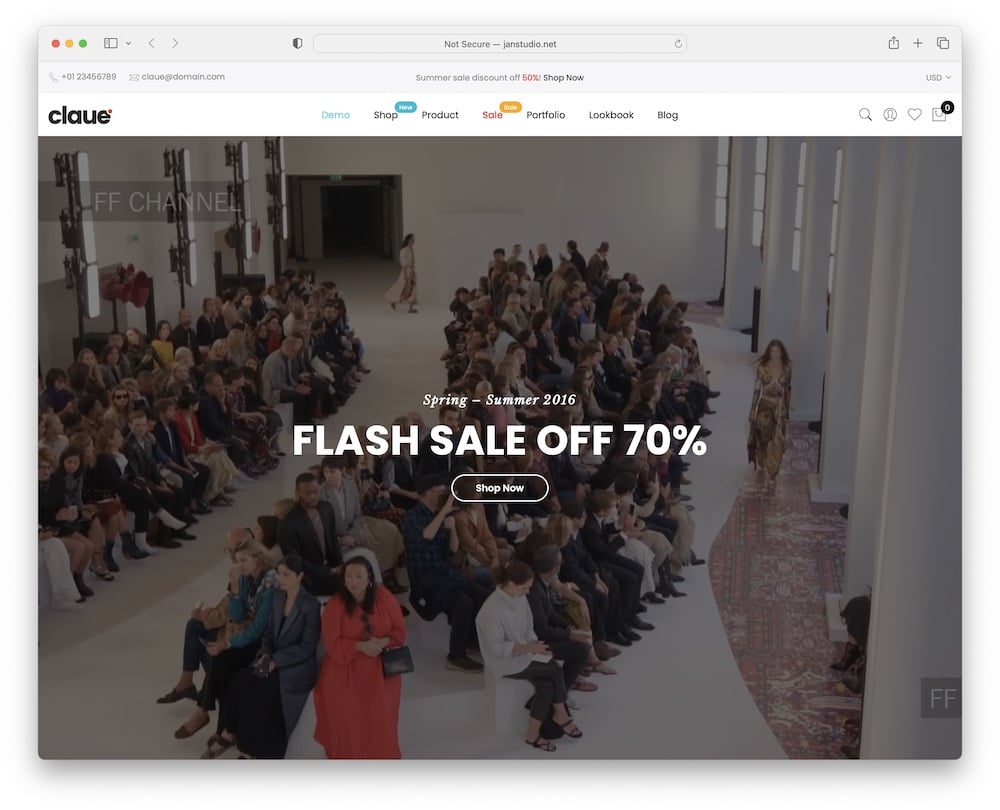 Make your content extra special with the Claue WordPress theme with video header!
Responsive Claue is packed with attractive design options, powerful plugins, and pre-made layouts.
Save time. Save money.
Besides, header & footer customization has never been easier due to brilliant ready-to-use options.
Plus, create an attention-grabbing portfolio in no time.
Furthermore, you can even start selling your products or services online via the AMAZING WooCommerce plugin. I think you will love Ajax WordPress technology add-ons for shops and simple-to-use product lists (like me!).
Of course, you can also connect Claue to your Instagram shop and let people explore your offer. Tip: Take extra time to take photos and videos – they should be GORGEOUS.
Claue features:
MORE INFO / DOWNLOAD
DEMO
8. Corpus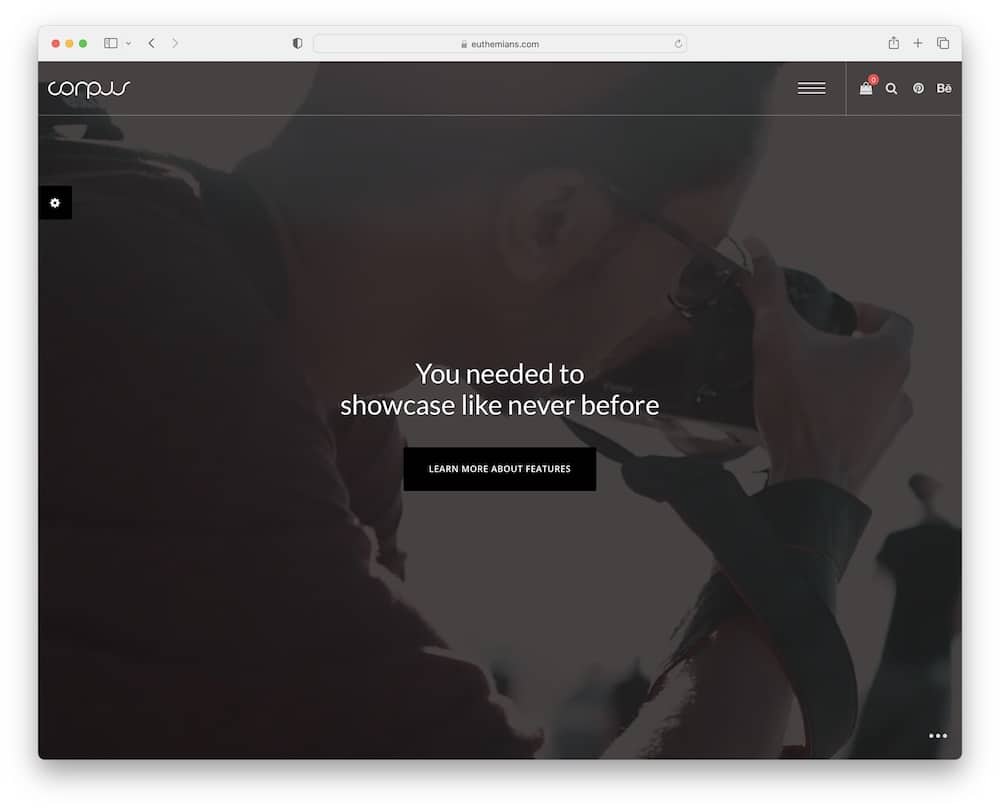 Believe me: All you need is the Corpus WordPress theme with video header for your corporate website!
This business theme is great for various projects, services, and product lay out. Import a ready-to-use demo with a single mouse click and start!
The best thing, Corpus gives you complete control over your site (Hi, BOSS!).
Moreover, Slider Revolution is a brilliant tool for cool sliders with animations, buttons, videos, images, and everything in between. If you want to get more eyes on your website, this is the proper way to do it.
Oh, and Corpus is also SEO optimized to give you a hand ranking higher in search engines. Mission: Make Google your buddy.
Embrace Corpus today!
Corpus features:
1,700+ sales
4.9+ star ratings
Boxed & full-width layouts
One- & multi-page website compatible
Price: $55 (may vary)
MORE INFO / DOWNLOAD
DEMO
9. Designo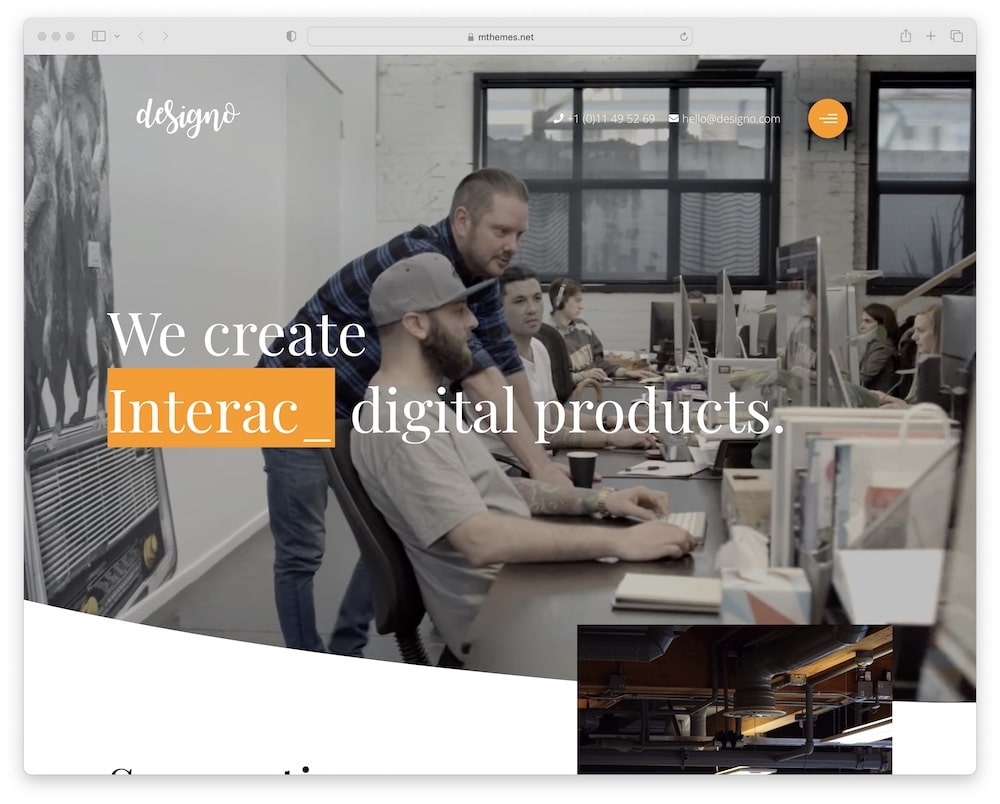 Discover the modern and bold Designo WordPress theme with video header.
When it comes to the Designo header, you are limitless in creating exactly what you want! Pre-defined options are attractive and inviting.
The same goes for the stylish footer.
Designo includes tons of shortcodes, elements, and widgets (ready-to-use). Of course, all of the above can be combined together to build an AWESOME site.
That said, you can as well check out parallax theme effects (my FAV) for an engaging scrolling experience.
Oh, and unlimited Google Maps styles are GOLD. Yup, we all need reliable & user-friendly directions!
Your success is Designo's business.
Designo features:
30+ sales
5-star rating
50+ practical elements
Blog & portfolio layouts
Price: $49 (may vary)
MORE INFO / DOWNLOAD
DEMO
10. Volos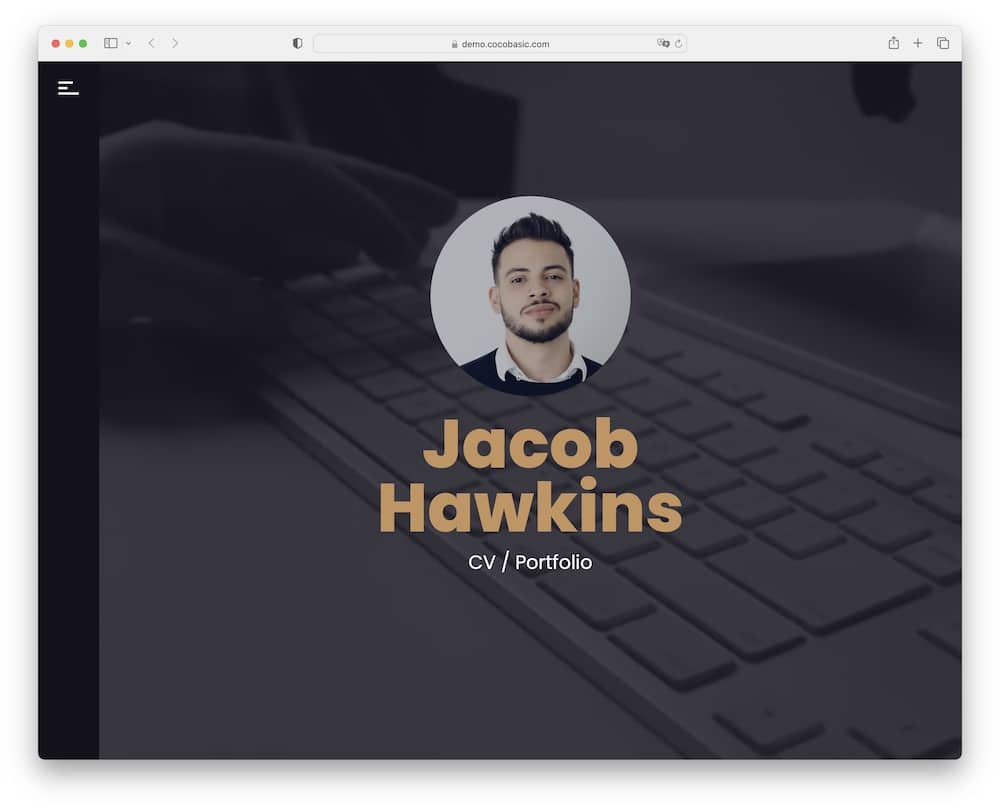 You can build your new resume site, element by element, via the most popular drag & drop motion. Check out Volos WordPress theme with video header and make your dreams come true!
Trust me, just by clicking, you can change colors, fonts, images, video backgrounds, and much more.
Moreover, Volos is fully responsive, providing a satisfying user experience on all devices. Naturally, you want to nail the first impression!
Beautiful style options are perfect for creating your own unique portfolio. For me, it's a fantastic way to highlight someone's work, skills, and ability to deliver.
Plus, Volos customer support providing additional help with theme setup is more than WELCOME.
Volos features:
MORE INFO / DOWNLOAD
DEMO
11. Medicate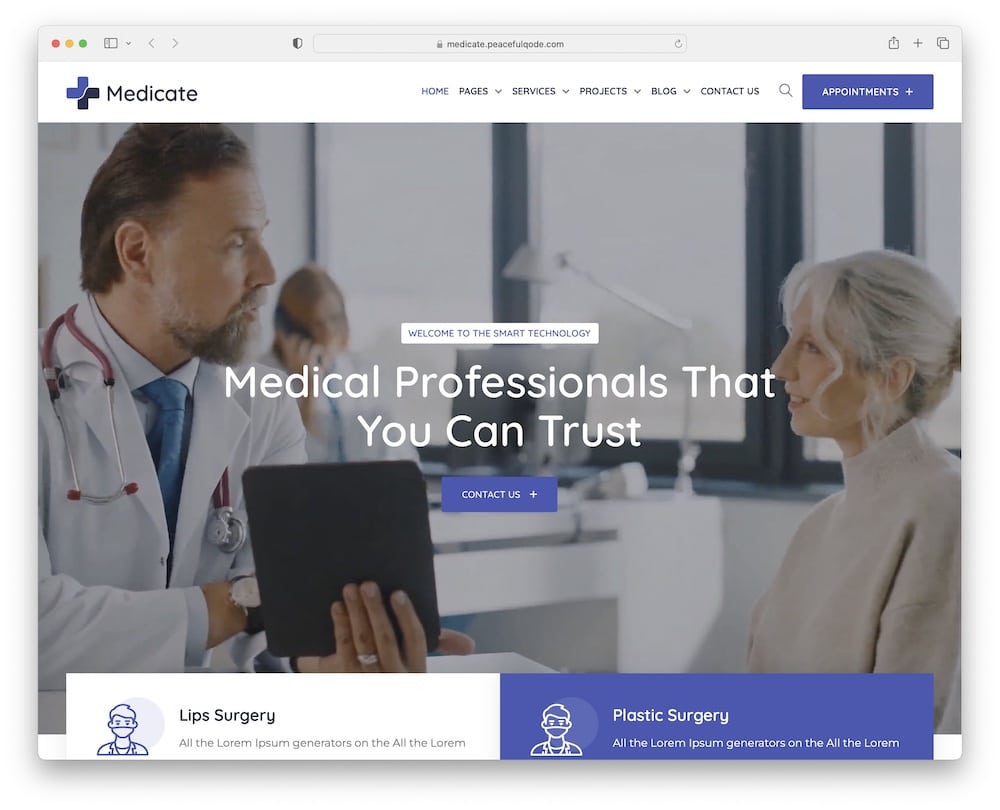 Own your tomorrow with the unique Medicate WordPress theme with video header!
Professional-looking Medicate comes with a handy bundle of pre-designed homepages, layouts, and sections.
And I want to highlight the fantastic Elementor page builder. I know you will love it, too!
You also get a space to showcase and sell your medical services and products in style with clean product pages, fun animations, and before-after galleries.
BTW: A countdown timer is a clever plugin!
Of course, you should also promote your work through a stunning portfolio and share your knowledge, tips, or news via a valuable blog. It will help you grow your health and medical business and your following.
Furthermore, Medicate includes well-prepared documentation with step-by-step setup video guides.
Remember, 0 coding is needed to customize Medicate – you just have to learn some tricks!
Medicate features:
1,500+ sales
4.9+ star ratings
Before/after images
Many advanced header functions
Price: $19 (may vary)
MORE INFO / DOWNLOAD
DEMO
12. PatioTime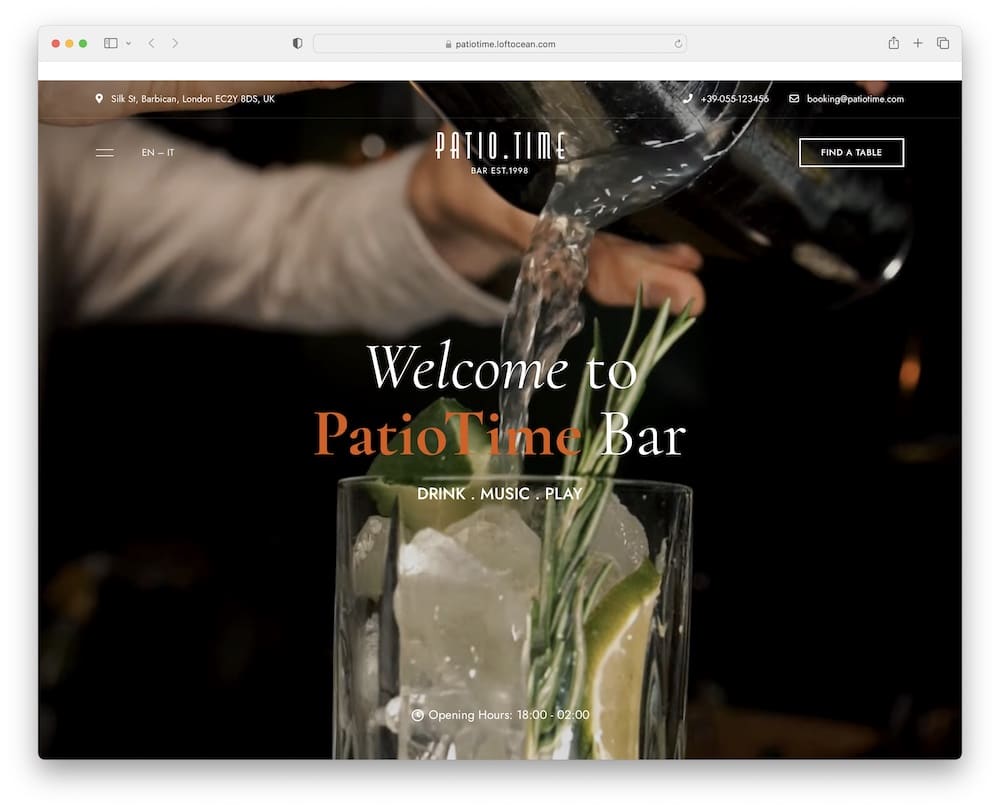 Think outside the box with the bold PatioTime WordPress theme with video header.
This is a classic case of: "It doesn't have to be fancy to be amazing." But PatioTime actually is kinda fancy. A fantastic theme for restaurants!
Simply choose your favorite demo, pick custom elements, and pre-made blocks for a quick start.
You can import the template and add what you need from the library to the page with just some clicks – NO coding knowledge required!
Besides, I recommend you use the integrated OpenTable online reservation system aside from booking customers via phone and email. The more opens, the more occupied your tables.
Thumps up!
OMG, and the pre-designed food menu layouts are soooo pretty to look at.
Hey, how do you feel about light and dark color schemes? Because PatioTime looks outstanding in dark mode! (It's so simple to add dark mode in WordPress.)
PatioTime features:
1,100+ sales
4.9+ star ratings
10 demos, 90+ practical templates
Online reservations/bookings
Price: $64 (may vary)
MORE INFO / DOWNLOAD
DEMO
::
Note: This article was originally published on June 15, 2023. But our team regularly reviews it and updates it with necessary improvements for accuracy.