Are you seeking the best virtual assistant WordPress themes to create the ultimate online presence?
Fun fact: I spent two years working as a VA, offering my freelancing services, for which I created a website using the Miller theme (see below).
And you can now, too!
Besides Miller, I added nine more epic solutions, so you can find the one that resonates with you more easily.
This post covers:
Remember, every VA theme works out of the box, but you can brand and personalize it however you want – WITHOUT coding.
And because of doing extensive research for my needs, I also want to share how I tested the WP themes to guarantee 100% reliability.
How I Tested Best VA WordPress Themes
It was important for me that every theme I include ticks all the boxes of greatness, so you can enjoy a smooth flow and create your VA page fast and comfortable.
I started this list by picking 25 quote-on-quote virtual assistant themes.
First, I checked their ratings and reviews to learn about user satisfaction. I then noted how frequently the theme updates and its compatibility with the latest WP version and major plugins.
Believe it or not, ten failed at this first step.
Later, I peeked at the online documentation, skimmed through the support forum and contacted the support team. This allowed me to answer one simple question, "How well do they take care of their customers?"
With the final ten, I then installed each theme on our demo website, where I first tested them for speed and responsiveness.
I used Pingdom Tools for the former and Google's Mobile-Friendly tool for the latter. I also manually tested each theme for screen adaptability – just to double-check!
(You may also be interested in how to choose a fast WordPress theme because speed is SO important.)
Next, I asked myself the following questions: Is the demo material easy to install, is the theme's interface beginner-friendly and can I find all the customization functions quickly?
I also compared the actual features and customization capabilities with the ones in the description (a description sometimes creates a little too much hype).
That's it – you're NOW READY to rock-n-roll your VA site!
QUICK PICK: The Ultimate 5 VA WP Themes
If you need help installing a WordPress theme, check Ales's simple and newbie-friendly guide.
Best VA WordPress Themes To Promote Your Services
1. Revirta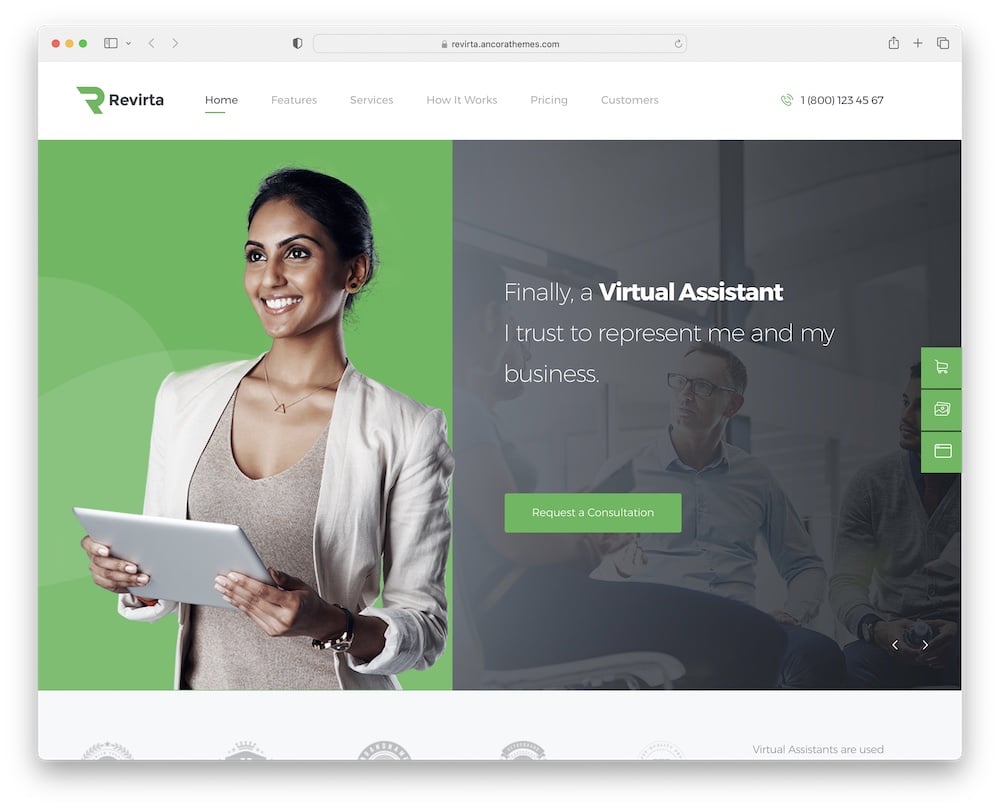 Run a successful personal assistance business via the advanced Revirta.
This stylish VA theme comes with six ready-to-use demos that are fully functional out of the box.
Yup, simply click on the import button, and you are in the game!
Besides, Revirta offers FREE lifetime updates and professional customer support for the first six months (guaranteeing you to start your website on the right foot).
Moreover, drag and drop WordPress builder is the coolest tool to change, adjust, remove, add, or swap pre-made elements.
Happiness.
And you will fall in LOVE with pre-designed forms that allow your visitors to contact you quickly for more info or agreement for cooperation.
Deliver it with Revirta!
Revirta features:
MORE INFO / DOWNLOAD
DEMO
2. Vework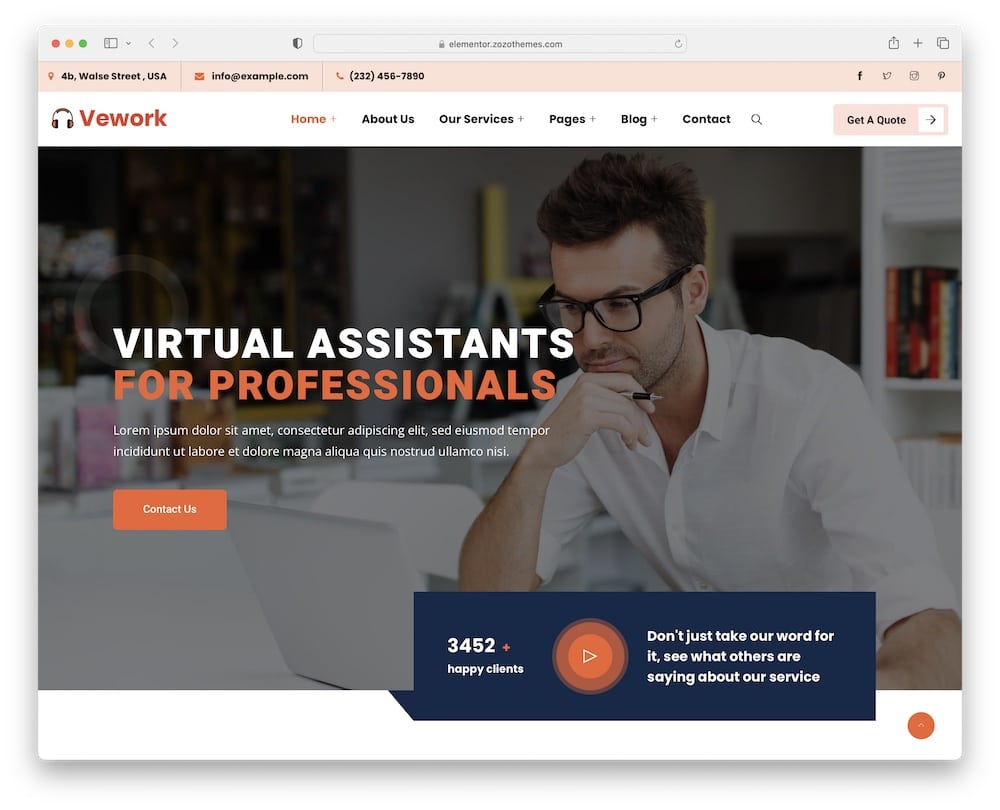 Promote your skills in organizing emails, scheduling appointments, making phone calls, arranging travel, or other administrative assistance for busy entrepreneurs.
Vework virtual assistant theme is just a click away!
Beautifully designed demos are fully responsive and retina ready for a great user experience.
Plus, you get killer plugins such as Elementor page builder, Slider Revolution, WooCommerce, and Contact Form 7 at no extra cost.
Keep in mind, with Vework you are the BOSS of your website; design it as you wish!
In my opinion, multiple header, footer, and sidebar variations are badass. I could go on, but the last reason to choose Vework:
Has to be a pre-made blog layout. Your blog is your home on the internet, so use it wisely (hint, share tips)!
Vework features:
100+ sales
5-star ratings
Enable RTL in WP easily
Multiple custom elements with quick integration
Price: $69 (may vary)
MORE INFO / DOWNLOAD
DEMO
3. Miller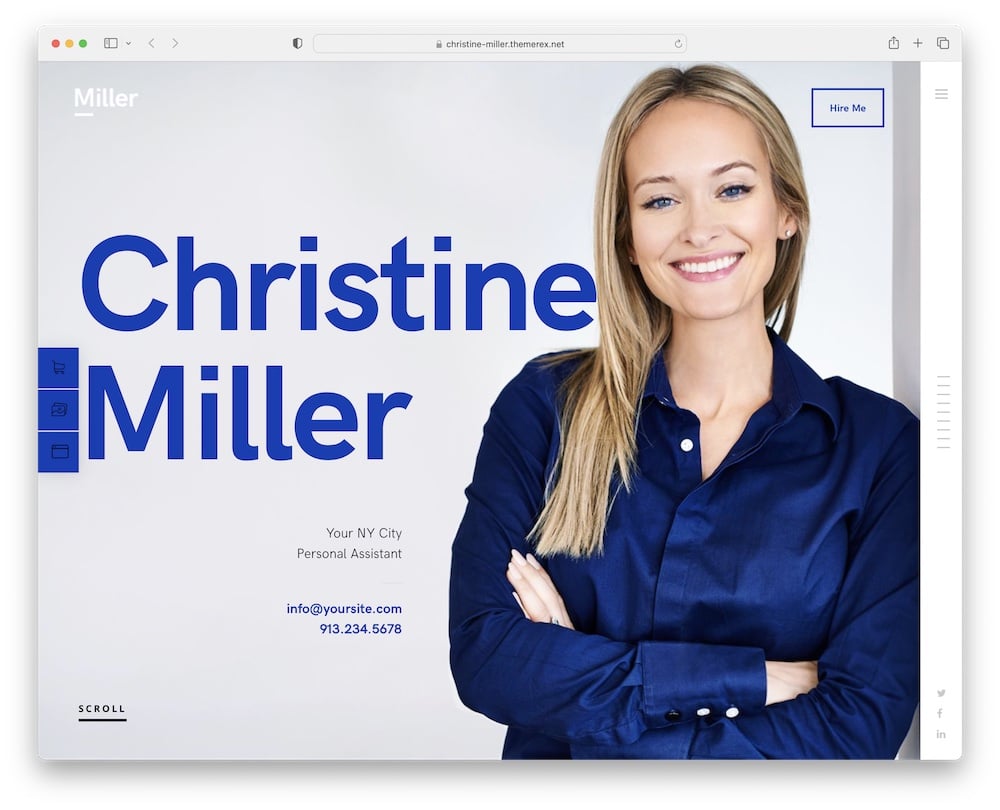 Gorgeously designed Miller virtual assistant WordPress theme is perfect for growing your career!
The best part is that you don't need any experience in coding or design, yet you can customize Miller to all your needs. Yup, take a bow for the user-friendly WPBakery page builder (No.1 premium builder tool).
Also, I love to work with the mega menu, which allows you to create any type of menu, not just the regular drop-down navigation. Plus, set up eye-catching colors & fonts, add images, links, you name it.
Furthermore, Miller includes a parallax effect! If you like animation and don't want a fixed website background, you will go crazy for it (like Apple does!).
There's plenty of money to be made in the virtual assistant industry, SO start today!
Miller features:
MORE INFO / DOWNLOAD
DEMO
4. A.Williams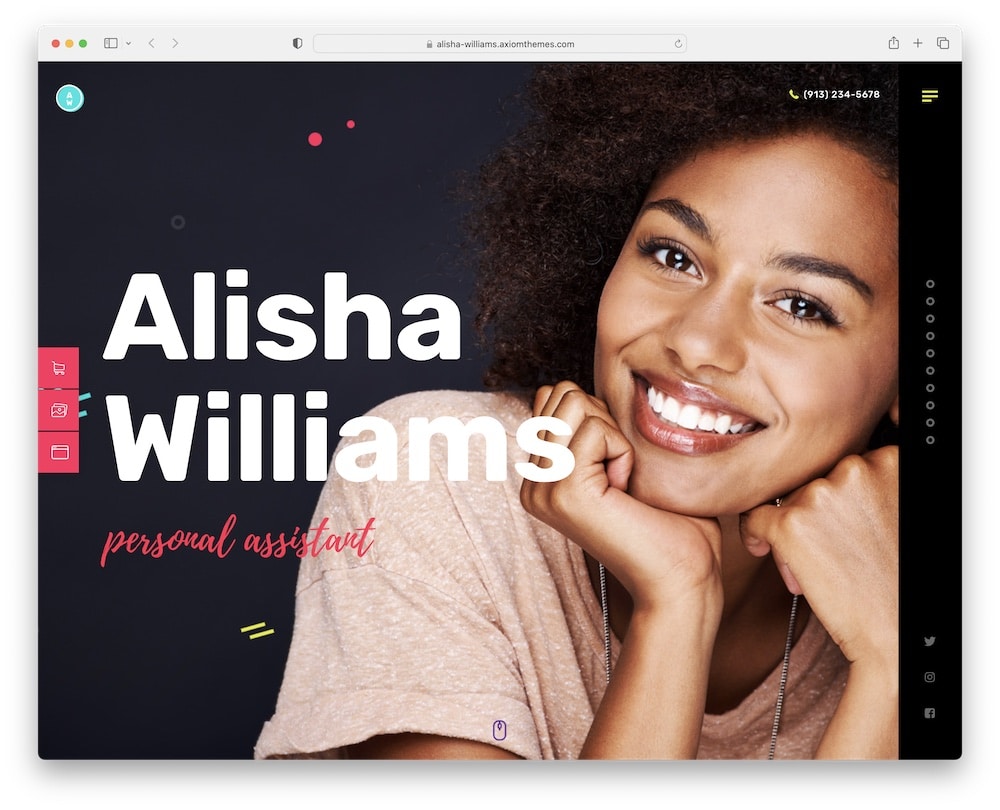 Increase your clients' productivity, and bring joy by offering your exceptional services with A. Williams virtual assistant WordPress theme.
You can transparently display your services, plans + pricing, and valuable testimonials.
In fact, you can even start your own blog about your experiences, tips, tricks, or daily life of a personal assistant.
Of course, you can easily connect A.Williams to your social media accounts to keep in touch with your fans and potential customers. (But you can also learn how to add social share buttons in WP.)
Isn't that awesome?
Moreover, A.Williams comes with lots of WP shortcodes, unique icons, brilliant plugins, and custom widgets. Everything you need to start, run, and grow your business.
Turn your potential into GOLD with A.Williams!
A.Williams features:
MORE INFO / DOWNLOAD
DEMO
5. LifeGuide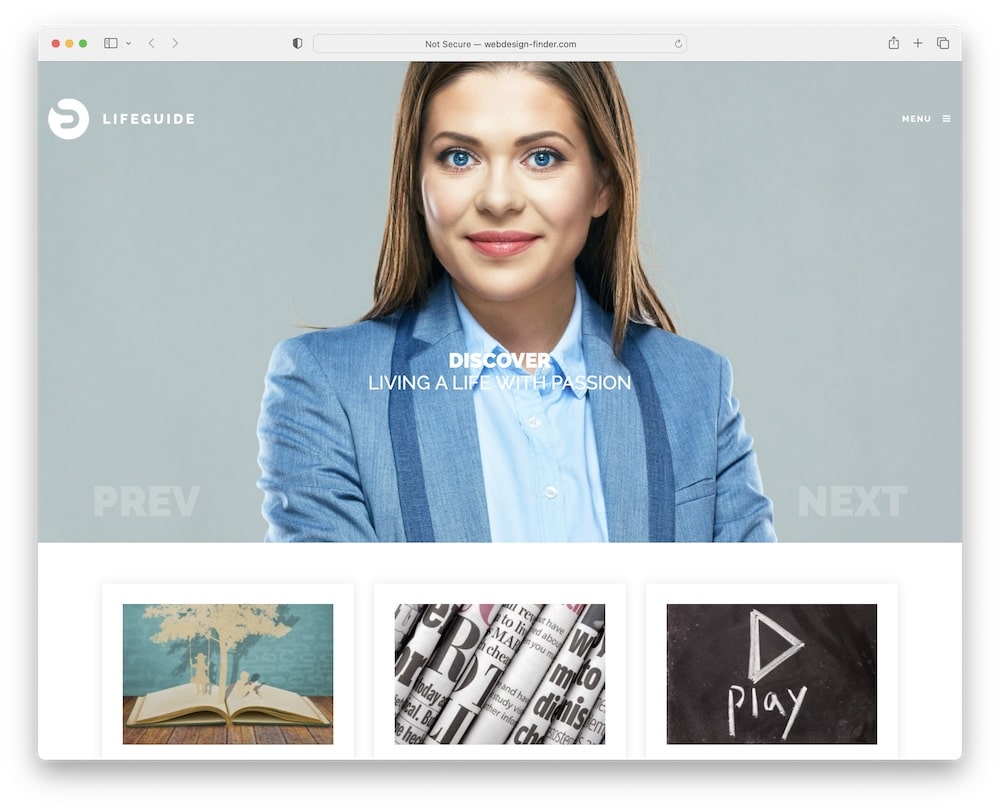 Be more than just a virtual assistant with the modern and flexible LifeGuide.
You are correct (!) if you think you can build a website without experience in coding or design. Simply import a pre-made demo and customize its look to your business strategy.
THAT'S. IT.
Remember, via drag-n-drop motion (get more done in less time); you can change, remove, add, and adjust elements. Also, pick your favorite colors, fonts (changing fonts in WP is quick), icons, and slides.
Furthermore, with Contact Form 7, you can create useful online forms for easy communication. And I LOVE a good WordPress booking plugin (Booked) for simple few-click online appointments.
I mean, wasn't LifeGuide just MADE for successful assistants?!
LifeGuide features:
MORE INFO / DOWNLOAD
DEMO
6. Mentor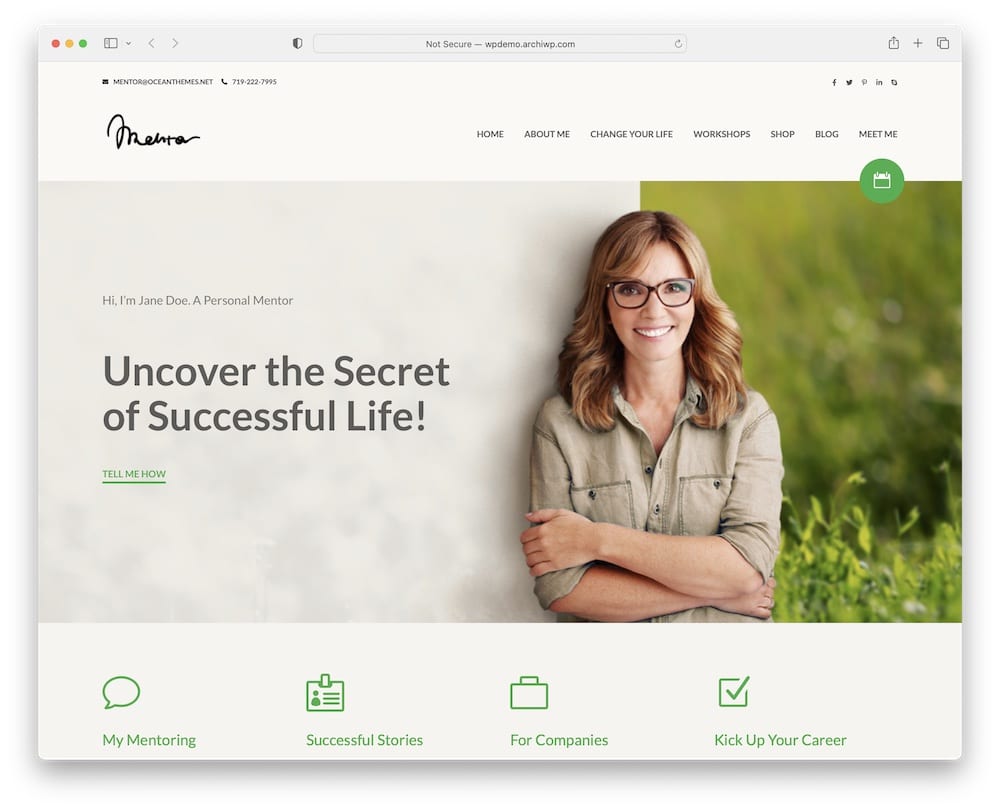 You can achieve what you want with the pretty & stylish Mentor virtual assistant WordPress theme.
Mentor can be easily used for various professionals (coaches, speakers, personal assistants, etc.) who need a top-notch website.
I know you will enjoy the customization experience!
You can display your services, about you section (reflect on your certificates, experiences, and skills), successful cooperations, packages or pricing, and your favorite quotes.
Because who doesn't like a good quote?
Moreover, with smart online forms, you can invite your visitors to subscribe to your newsletter or contact you for more information. It's fantastically, wonderfully simple.
BTW: Mentor is fully translation ready (use your fav WordPress translation plugin)!
It's clear now: choose Mentor.
Mentor features:
1,600+ sales
4+ star ratings
Multiple home, header & footer layouts
Predefined pricing tables (or use a WP pricing table plugin if you need more options)
Price: $59 (may vary)
MORE INFO / DOWNLOAD
DEMO
7. Sway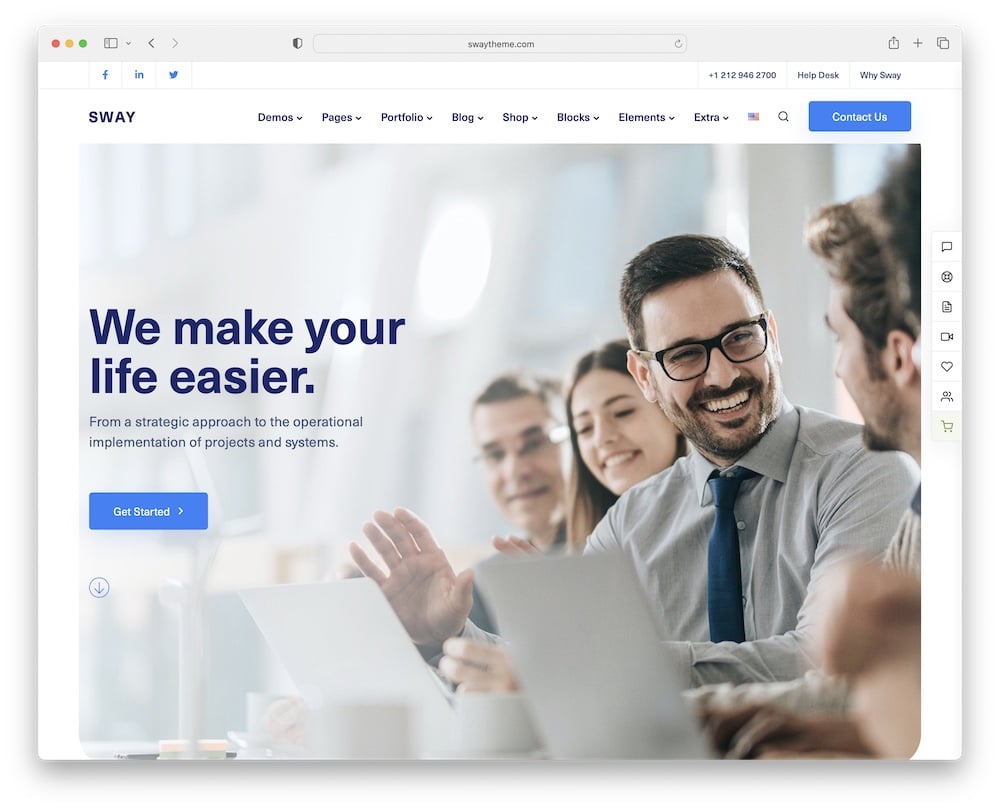 Build your online empire via the AWSOME Sway VA WordPress theme.
Think about the features and functionality you need and add handy components to your pre-designed demo. Sway also comes with tons of ready-to-use blocks for quick and beautiful customization.
Options are endless (Hi, WPBakery and Elementor – work with the one you like more!).
Besides, Sway is optimized for THE BEST performance due to its high loading speed and responsive design (yup, it looks great on mobile!).
Location, location, location … make sure to add Google Maps.
BTW: Create a portfolio for all your wonderful work skills, task delegation expertise, and remote assistance reliability.
Because that's called a memorable first impression!
Sway features:
2,900+ sales
4.8+ star ratings
300+ template blocks
One- & multi-page website support
Price: $59 (may vary)
MORE INFO / DOWNLOAD
DEMO
8. LeadEngine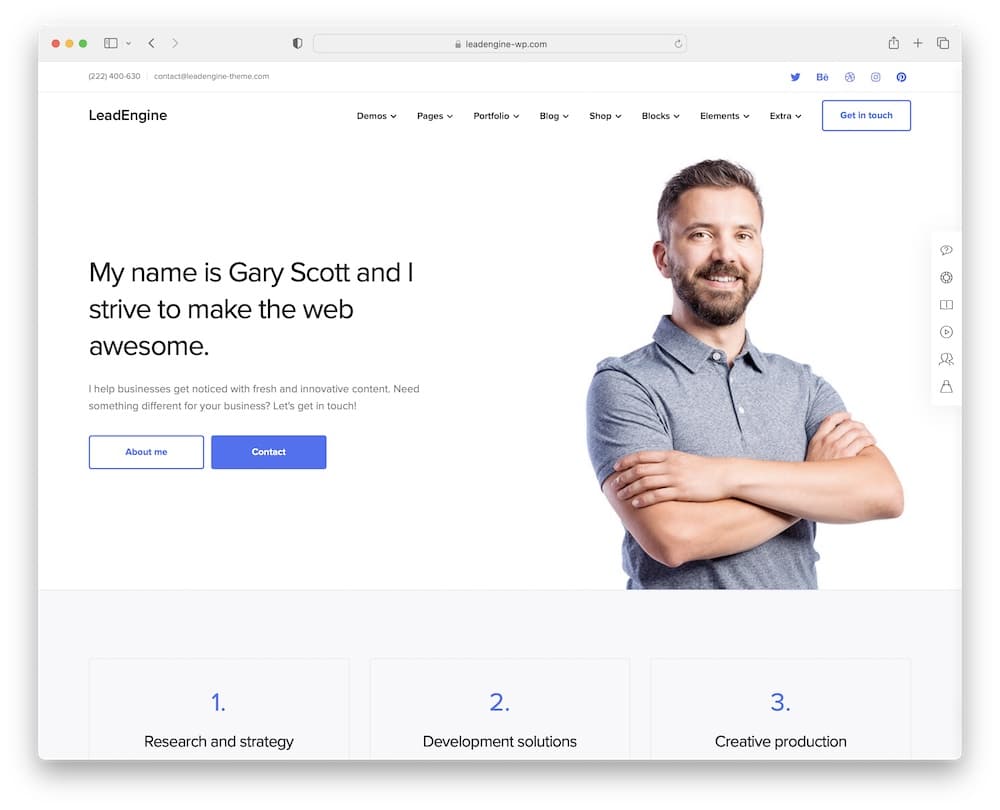 Better your skills, better your career! Virtual assistant for life!
Showcase your services, experiences, and happy testimonials on the LeadEngine virtual assistant theme.
LeadEngine is packed with gorgeous designs, various pages, useful layouts, and the most popular plugins so you can jump-start your project.
Oh, and you can even create an online store for virtual assistant gift cards, online courses (share your knowledge), or create planners for daily planning.
Find inspiration in your work!
Furthermore, I'm crazy about LeadEngine extensive documentation (+ video tutorials), top-notch customer support, and lifetime FREE updates (OMG, so handy).
Just do it already!
LeadEngine features:
5,100+ sales
4.8+ star ratings
2,000+ icons
Clean & lightweight code
Price: $59 (may vary)
MORE INFO / DOWNLOAD
DEMO
9. Ekko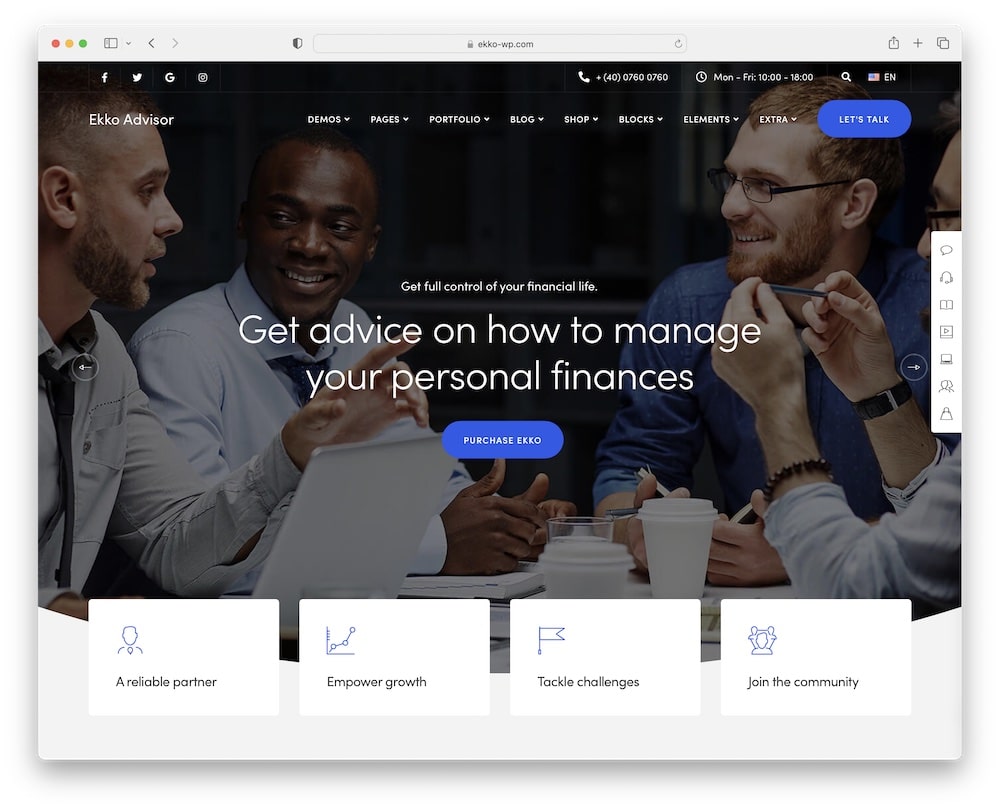 Focus on the BIG picture with Ekko!
This multi-purpose theme can be easily transformed into your dream virtual assistant site. Choose your favorite demo and import it with a single click.
YES, you can create your online world fast. Like. A. BAD. ASS.
And, if you ask me, everyone will enjoy flipping through your responsive and fast site. Plus, Ekko is cross-browser compatible (Welcome Chrome, Safari, Firefox … fans!).
Bear in mind every successful blog begins with good content – Ekko rocks it all to create a solid foundation.
Also, you can set smooth parallax scrolling for added depth in just seconds. You will not regret it.
Be empowered by Ekko.
Ekko features:
6,200+ sales
4.7+ star ratings
Advenced but beginner-friendly options panel
Enable/disable social sharing
Price: $59 (may vary)
MORE INFO / DOWNLOAD
DEMO
10. Viva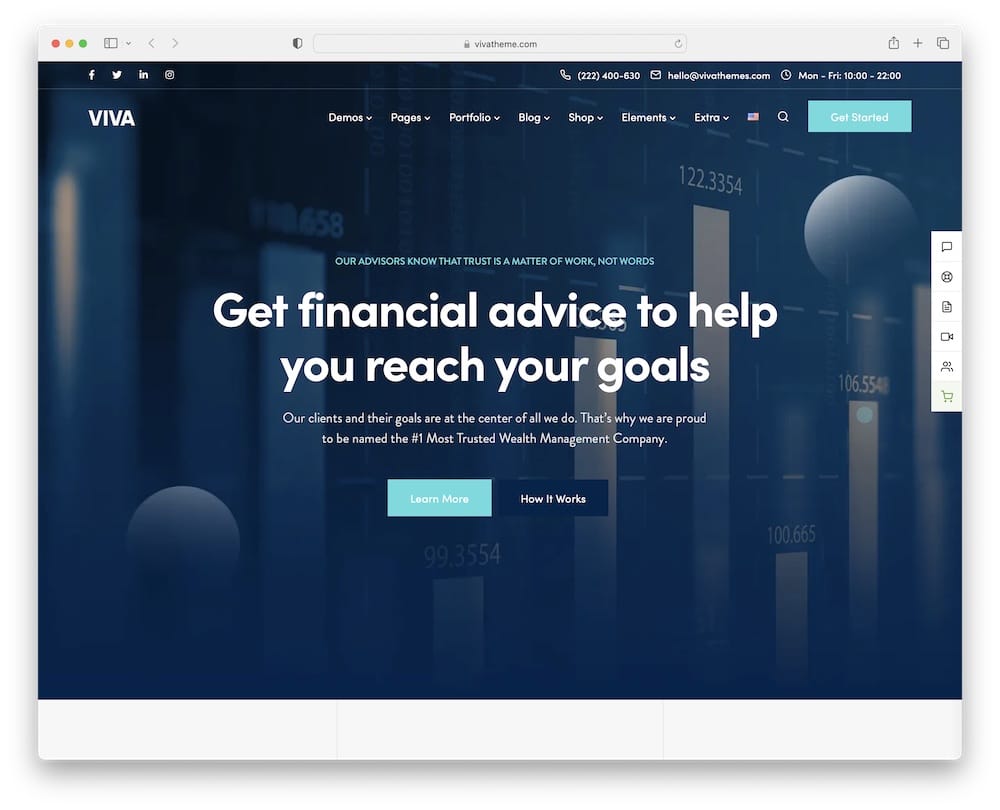 Take control of your business with the stylish Viva virtual assistant WordPress theme.
You can use the ready-to-use demos (huge collection) as-is, which ensures the fastest website launch.
Still, Feel free to change any home or internal page layout to fit you perfectly.
Yes, you can pick the elements, fonts, blocks, and icons. Plus, change the header &footer, color schemes, and play around with layouts and pages.
Also, add stunning functionality by using popular plugins such as Slider Revolution, WooCommerce, and Contact Form 7. I'm calling this "Extra Good."
Moreover, gorgeous portfolio styles are dying to showcase your works and offerings.
Proudly present your profession with Viva.
Viva features:
400+ sales
5-star rating
Spice UX with animations
Custom popup modal
Price: $59 (may vary)
MORE INFO / DOWNLOAD
DEMO
::
Note: This article was originally published on April 23, 2023. But our team regularly reviews it and updates it with necessary improvements for accuracy.