I spent the last seven months testing WordPress art gallery themes to conduct a list of the best.
I finally made it and I couldn't be more excited to share it with you.
Thanks to my friends, Joseph and Marry, for helping me with this one, including working on four art gallery website projects.
I tell you one thing: All these themes WORK wonders!
Create online art portfolios, blogs, eCommerce, sell tickets, promote events and exhibitions, whatever's on your mind, you can accomplish quickly.
Note: You can even create a museum website.
But!
THESE ARE MY ULTIMATE 4:
Enjoy.
Best WordPress Art Gallery Themes
1. Arte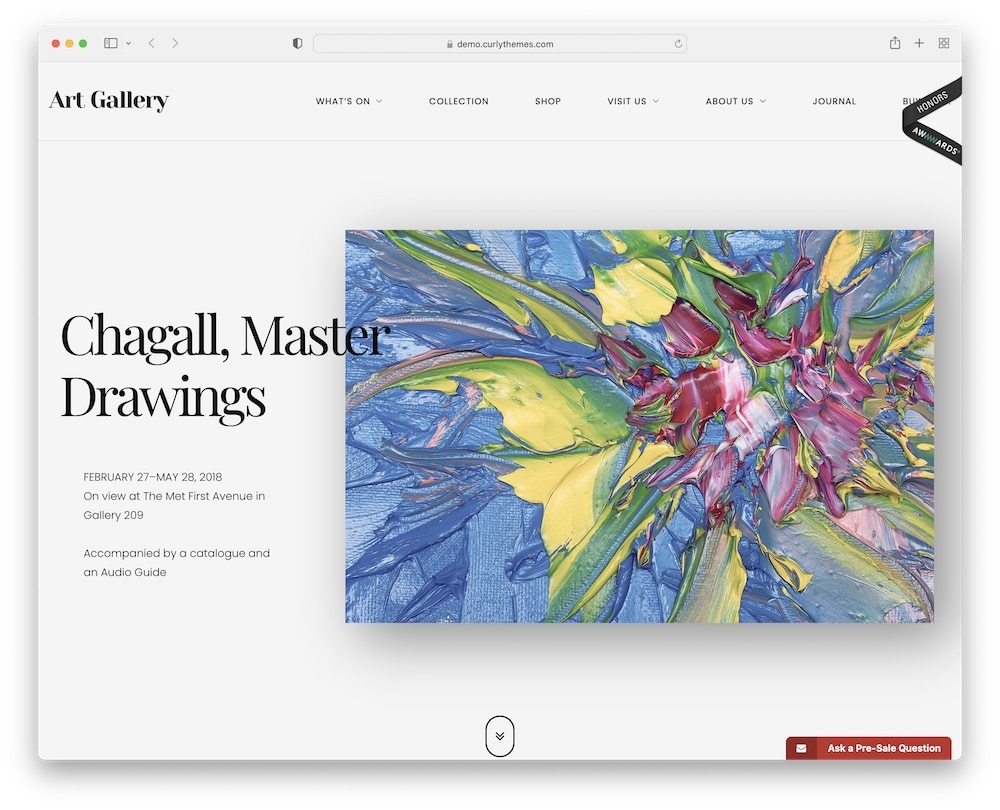 Introduce your art collections, most popular works, interesting details behind significant creations, and much more with the Arte theme.
Arte is a unique theme that easily fits with ANY art gallery. Plus, it is fully customizable and regularly updated.
BTW: You save $88 with three amazing plugins (included for free) – Slider Revolution, WPBakery page builder, and Events Schedule.
Great DEAL.
Of course, you can choose from unlimited colors, tons of icons, and Google fonts. Also, check out the parallax effect and CSS3 animations (my fav).
Ready to STOP dreaming and start building?
Arte features:
1,580+ sales
4.4+ star ratings
Speed, SEO, mobile optimized
Price: $69 (may vary)
MORE INFO / DOWNLOAD
DEMO
2. Musea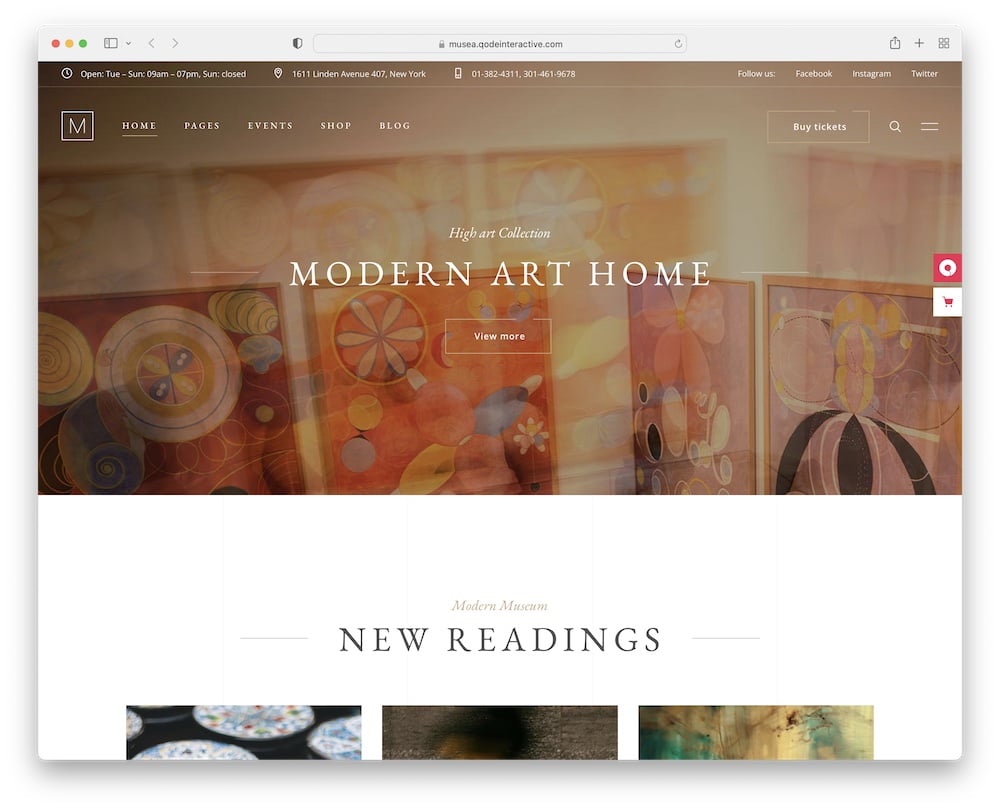 Elegant Musea WordPress art gallery theme is THE PLACE for art news, collection highlights, exciting programs, and fresh exhibitions.
Excited for the future yet?
My favorite part are ready-to-use homages (not one but 9!), beautiful inner pages, and smart blog layouts. Easy to set up and adjust to all your needs.
You can also create an online store in just minutes (Hi, WooCommerce) with Musea. And it is ready for event ticketing with pricing plans.
HUGE!
Moreover, you can connect Musea to your social platforms for better engagement with your audience.
Musea is a quick WIN!
Musea features:
890+ sales
4.4+ star ratings
Easy portfolio creation
Price: $75 (may vary)
MORE INFO / DOWNLOAD
DEMO
3. Ozeum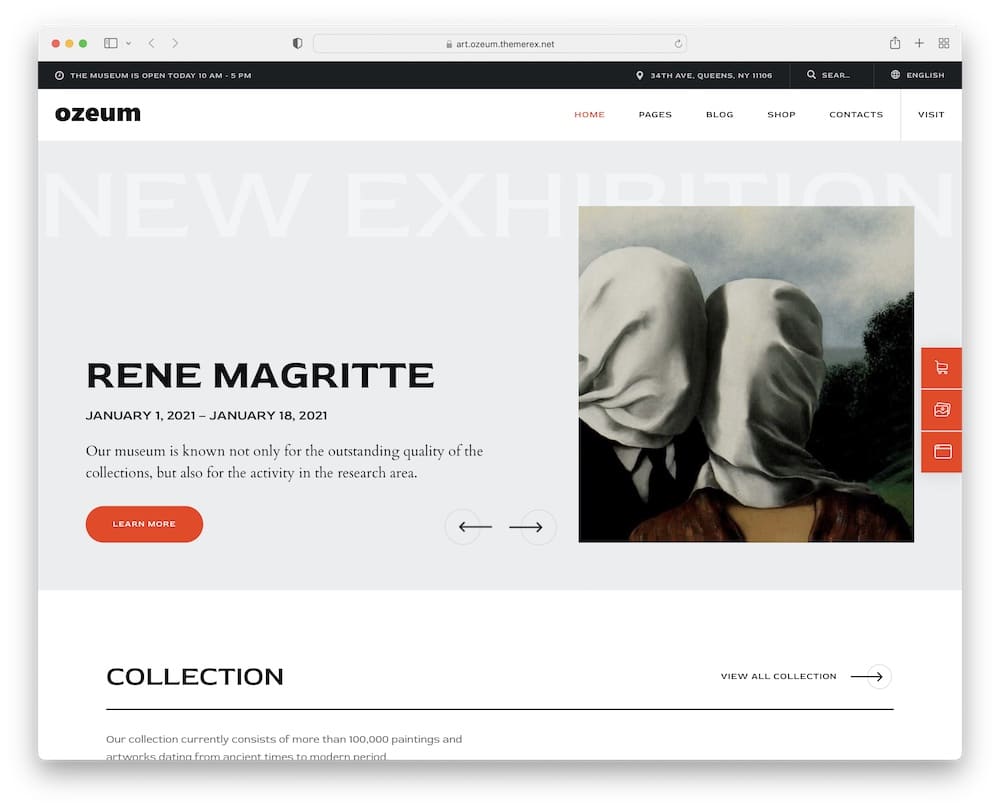 Create a center of visual art & culture with the Ozeum WordPress art gallery theme.
It has a clean and functional design for BIG exposure and promotion of your gallery.
Ozeum includes six BOLD demos (single click import), a remarkable set of pre-made layouts, and header styles.
Choose what you like the most and quickly change details to your preferences.
You don't need coding or design knowledge for working with Ozeum. (Avoid paying for experts and extra software)!
Oh, and Ozeum is SEO optimized to elevate your content and rank you better on Google.
Do GREAT things with Ozeum!
Ozeum features:
750+ sales
5 star rating
Price: $59 (may vary)
MORE INFO / DOWNLOAD
DEMO
4. Galleria Metropolia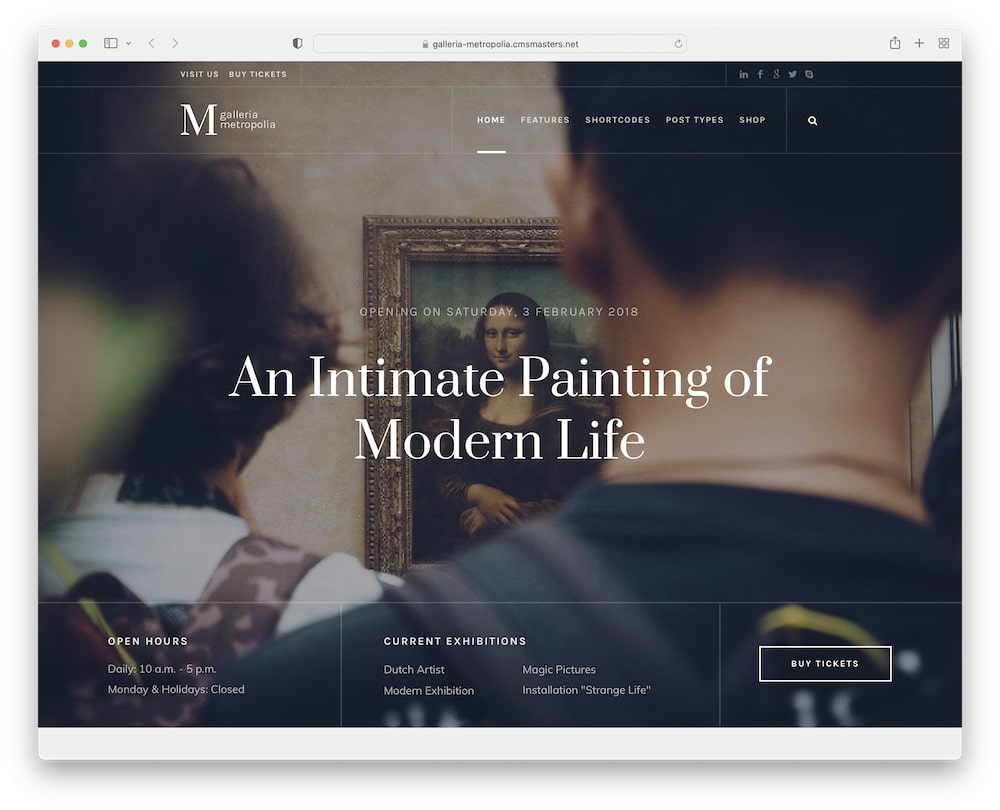 Showcase the triumphs of human creativity with the special Galleria Metropolia WordPress art theme.
Remember, ART is a feeling.
You can edit anything you want due to the drag-and-drop page builder. Nah, no coding or complicated CSS commands.
SIMPLICITY.
Galleria Metropolia also allows you to create an online store section where you easily sell art, books, and custom prints. JOY.
And don't forget to start a blog (pre-made layouts included). Share thoughts about art, programs, education and introduce artists you love and respect.
SO. COOL. Right?
Galleria Metropolia features:
900+ sales
4.6+ star ratings
Built-in mega menu
Minimalist design
Price: $59 (may vary)
MORE INFO / DOWNLOAD
DEMO
5. Muzze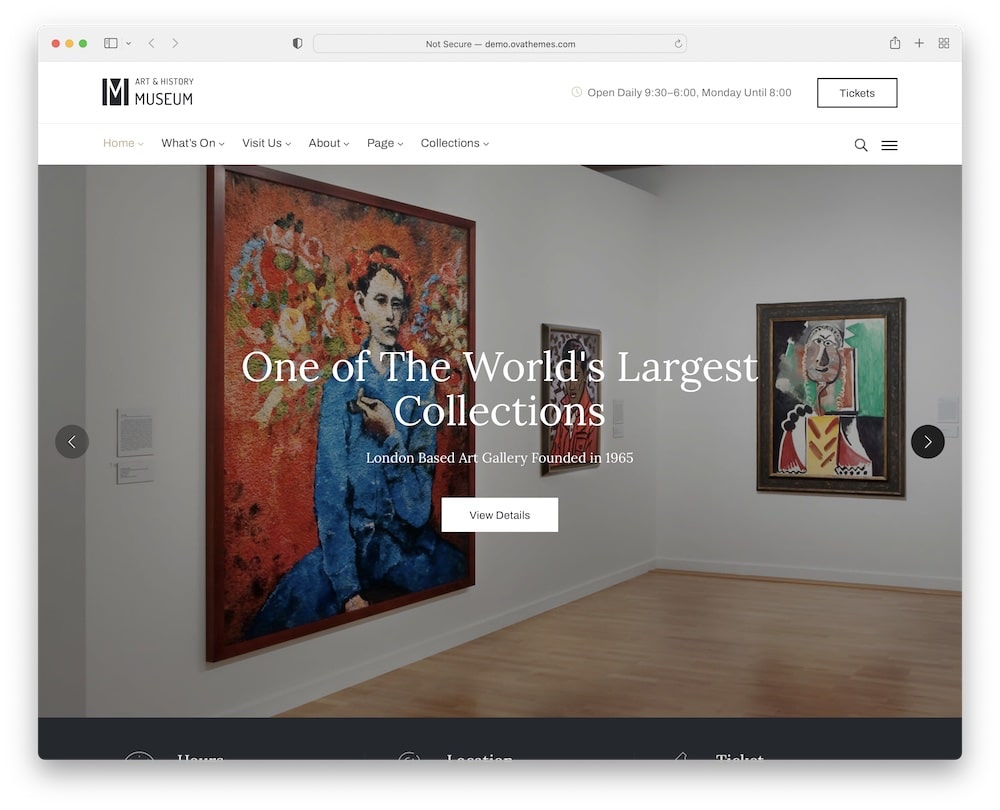 Encourage everyone to enjoy the artwork with Muzze WordPress art gallery theme.
Uncover your Muse!
Ready-to-use demos (work straight out of the box) are perfect for museums, galleries, exhibitions, etc.
Moreover, allow your visitors to plan visits, book events in an online ticket booking system, or shop on your online store with functional tools.
HI5!
And let's not forget, Muzze is optimized for speed, browsers, and mobile devices. We all LOVE functional and fast websites, don't we?
Step-by-step documentation, automatic updates, and AWESOME customer support – I know, it couldn't get any better!
Muzze features:
640+ sales
4.9+ star ratings
Impressive artwork showcase
Multiple footer options
Price: $59 (may vary)
MORE INFO / DOWNLOAD
DEMO
6. Visual Art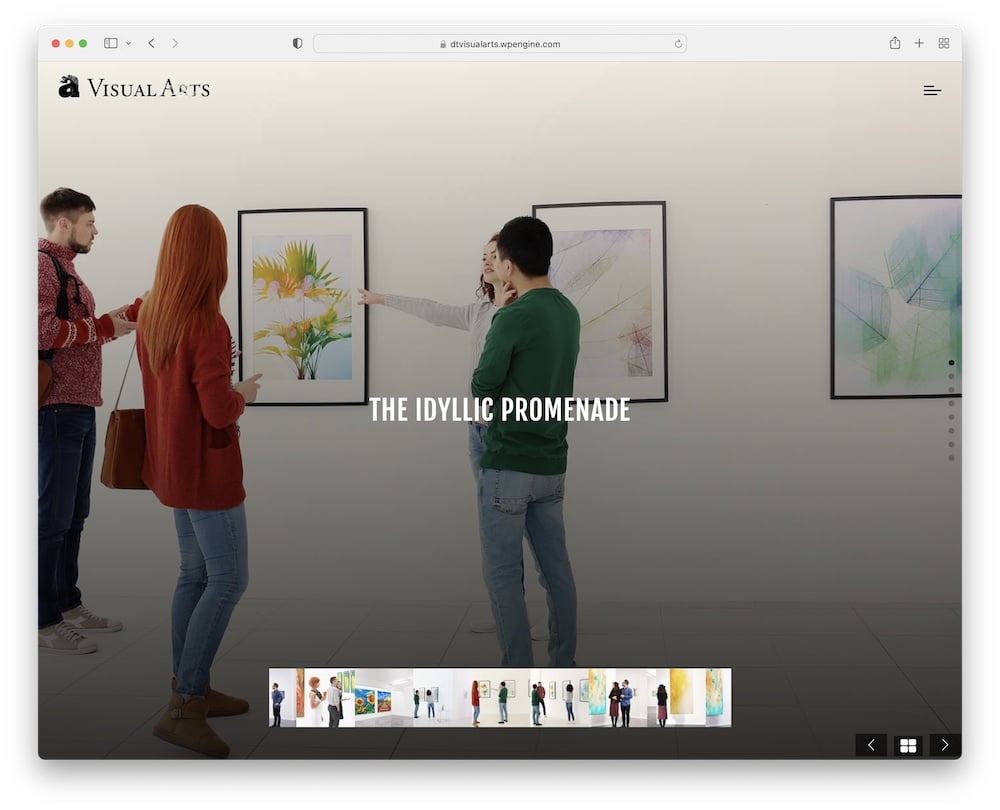 Dive into creative masterpieces with the posh Visual Art WordPress art gallery theme.
Visual Art is 100% responsive, ready to look sharp on various screen sizes.
Also, it comes with social media integration, so you can spread the word out to the masses (or your users do it for you if they're legends, which they are!).
Moreover, you get to choose from various hover styles + colors.
TIP: select hover in a way that will grab attention when a user goes over an element with the cursor.
And designing is a piece of cake with WPBakery page builder (real-time building). For me, all plugins (included in Visual Art for FREE) are a ROYAL advantage.
Grateful.
Bring Visual Art to life!
Visual Art features:
120+ sales
4.8+ star ratings
Price: $59 (may vary)
MORE INFO / DOWNLOAD
DEMO
7. Mooseoom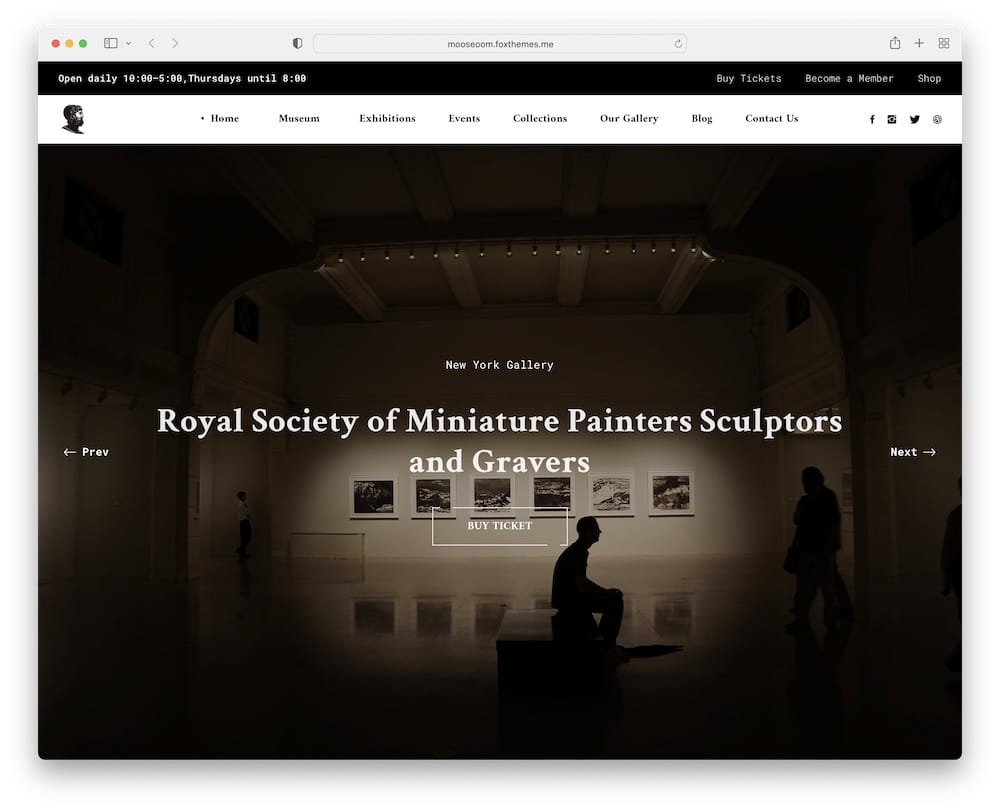 Vibrant Mooseoom WordPress art gallery theme follows the highest design standards and offers an unforgettable experience.
Make your website with a pre-made demo, special inner pages, and blog layouts.
SO pretty!
You can adjust, mix and match elements fast (0 effort) with Gutenberg blocks. Mooseoom also includes pricing tables, online bookings, and Contact Form 7. (Visitors can send direct messages.)
I think one of the powerful weapons of Mooseoom is definitely its SEO optimization. Because who doesn't want to have a search engine-friendly website? And more free traffic?
Also, never again worry about high-speed performance! EPIC.
Mooseoom features:
250+ sales
5 star rating
Regular updates
Cool awards section
Price: $29 (may vary)
MORE INFO / DOWNLOAD
DEMO
8. Caleo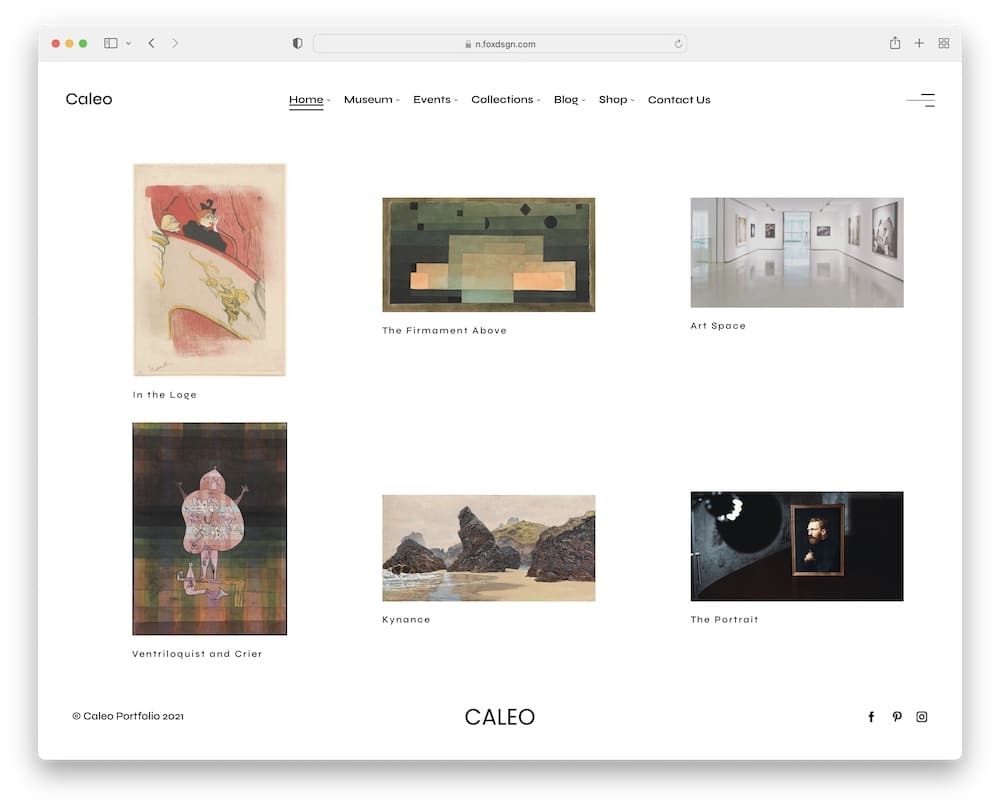 Commit to your artists, curators, and supporters with Caleo art gallery theme.
The unique design of Caleo comes with gorgeous details, dynamic tools, and eye-grabbing effects. Plus, the HUGE collection of elements gives endless options and possibilities.
NO. CREATIVE. LIMITS.
Caleo performs great on all kinds of screens and devices (fully responsive). SO important in today's smartphone era!
My advice? Build an online shop (WooCommerce included) and display selected artworks.
We all know that art improves the quality of your life. I CRAVE for magnetic masterpieces.
Dare to be different with AMAZING Caleo.
Caleo features:
70+ sales
0+ star ratings
Testimonials
Price: $49 (may vary)
MORE INFO / DOWNLOAD
DEMO
9. Agatha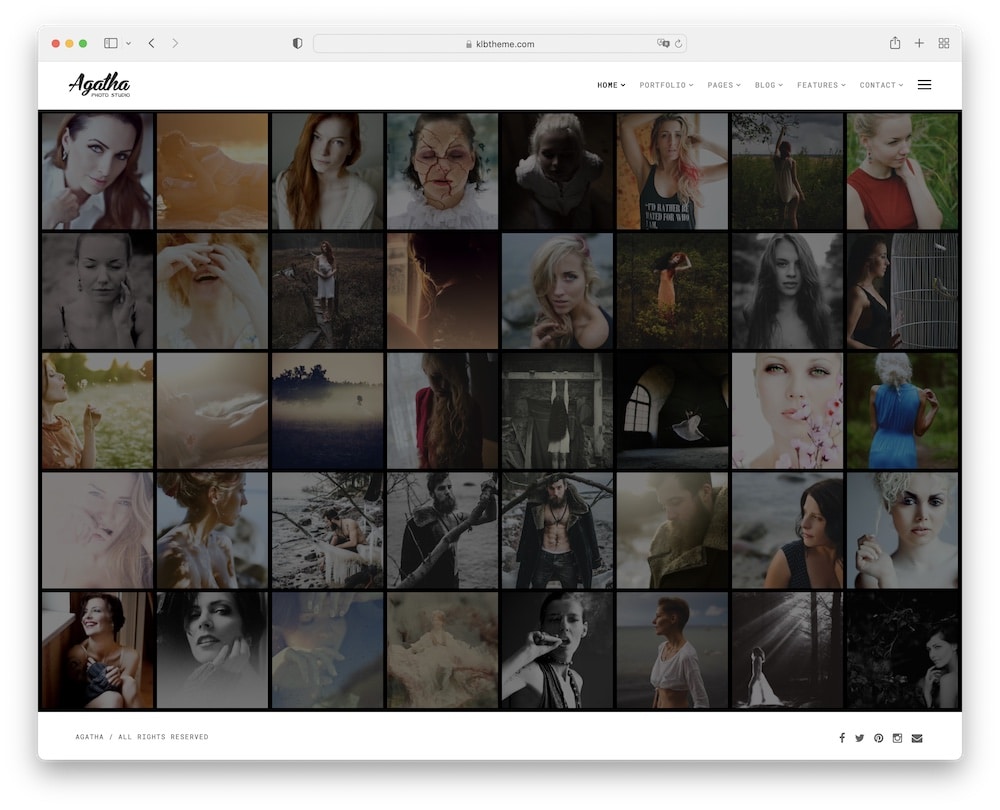 Art is all around us. Capture your moment with the wonderful Agatha WordPress art gallery theme.
Agatha comes with two of the most popular and advantageous plugins: WPBakery and Slider Revolution.
The drag-n-drop builder saves time and allows anyone to be the BOSS of his creation.
Moreover, this theme supports parallax background (images + videos).
Wowie.
Agatha includes social media icons for quick linking to your social platforms. I like to add icons in the footer or on the right side of a page.
BE. SOCIAL.
The key benefit of Agatha is great documentation (every piece of info is neatly packed inside).
Agatha features:
160+ sales
4.6+ star ratings
Great for photographers
1-click install
Price: $49 (may vary)
MORE INFO / DOWNLOAD
DEMO
10. Loquet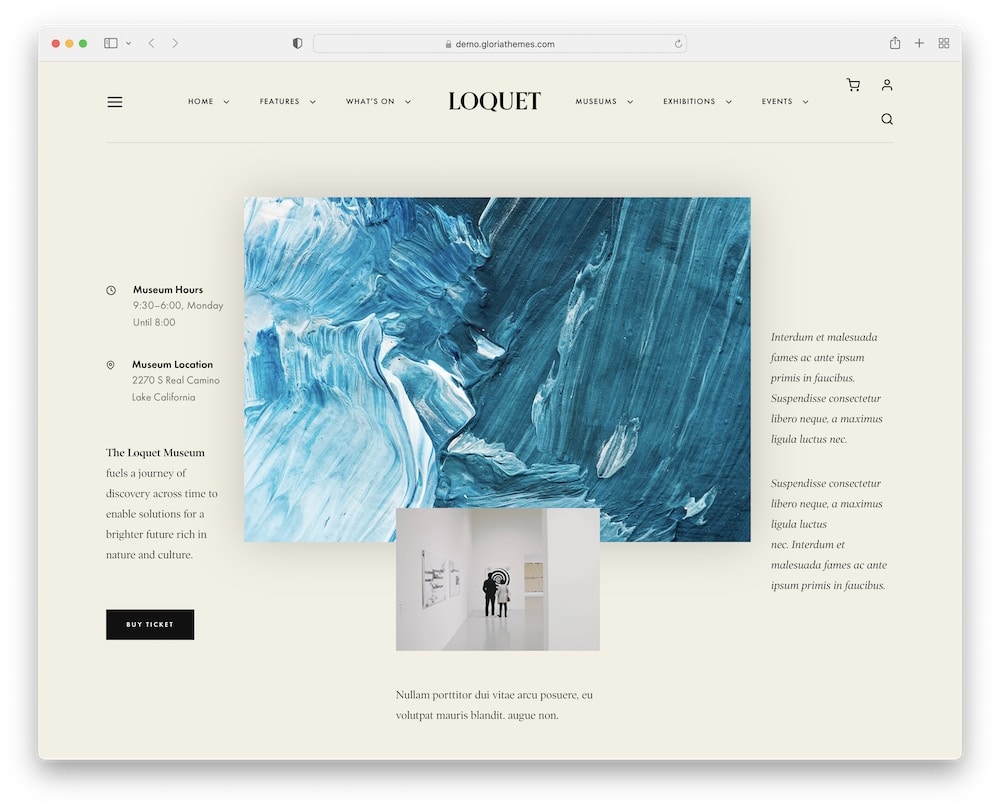 Soak up the art scene with the Loquet WordPress art and museum theme.
Loquet offers 20+ homepages and 100+ inner layouts.
You can start adjusting the pre-made design to your personal style and needs immediately after import.
YES, it's so simple!
Plus, you get a ready-to-use blog layout (gorgeous look) for publishing your events, collections, news, exhibitions, and guest artists.
You can tell your gallery history with a special timeline element (worth checking out).
I. LIKE!
Oh, and you can easily translate the fantastic Loquet into any language.
Welcome, people, experience art with HEART. Loquet is the real deal!
Loquet features:
130+ sales
5 star rating
Visual setup wizard (!)
Price: $59 (may vary)
MORE INFO / DOWNLOAD
DEMO
11. Gesso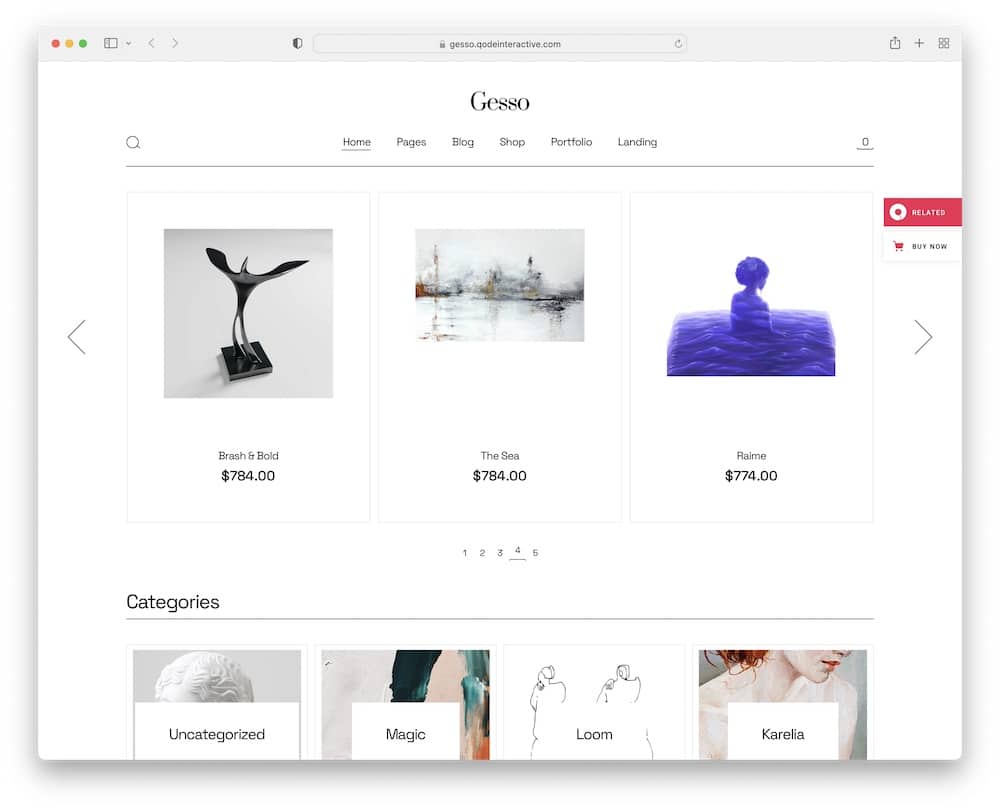 Gesso WordPress art gallery theme is a great solution for an online place to introduce original works of fine art, and sell prints + merchandise.
Pretty COOL, right?
Your audience can easily subscribe to your blog and get announcements of gorgeous exhibitions with the newsletter pop-up. (Guaranteed FREE promotion!)
Moreover, you can change Gesso by choosing & mixing colors, fonts, or icons.
Included shortcodes and widgets help anyone add complex features and functionality (without coding).
Gesso has the power to change your life! BE. ART.
Gesso features:
100+ sales
4.5+ star ratings
Price: $75 (may vary)
MORE INFO / DOWNLOAD
DEMO
12. Muzex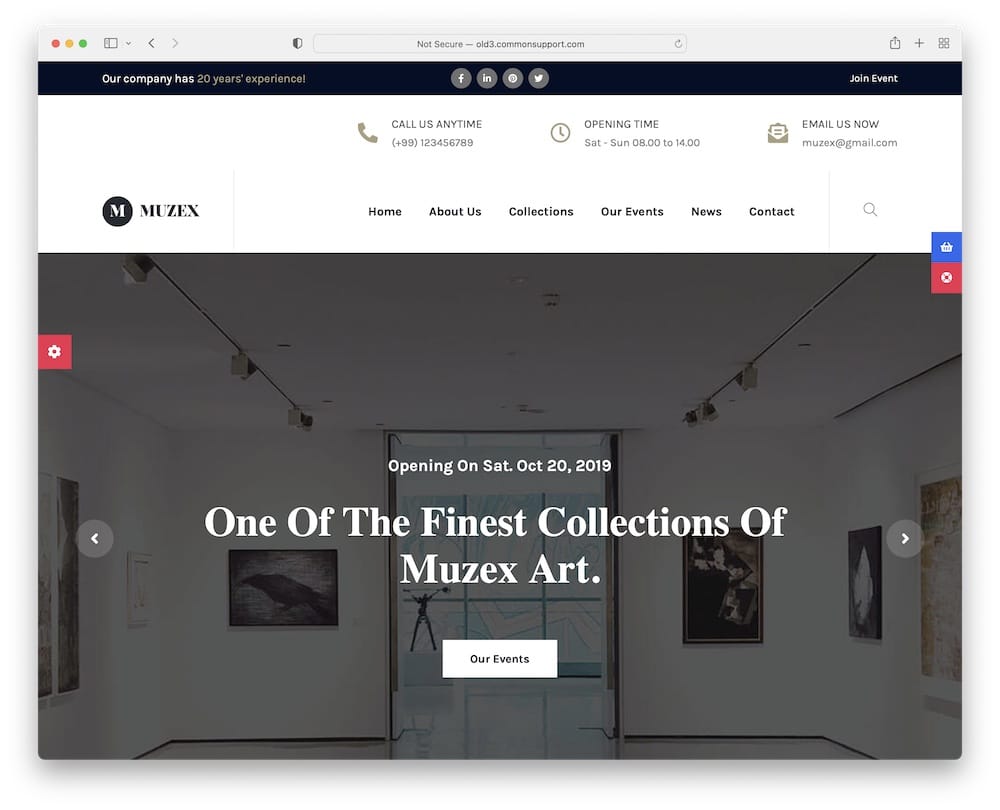 If owning an art website is your lifelong dream then you have to look into Muzex theme.
It includes AWESOME homes (ready to use!), creative sidebar options, and numerous pre-made pages.
Flexible and fast building – I am thrilled!
Easy to work with Elementor page builder provides you with handy drag & drop mode. (You can do whatever you want!)
I LOVE to make it more personal (get closer to brands' colors, fonts, and style) & more functional (adding plugins, widgets, shortcodes, and playing with formats).
Furthermore, Muzex is cross-browser compatible and fully responsive. It's great when users can freely interact with your site on their terms!
Muzex features:
20+ sales
4.4+ star ratings
Great support (!)
Price: $59 (may vary)
MORE INFO / DOWNLOAD
DEMO
13. Egypt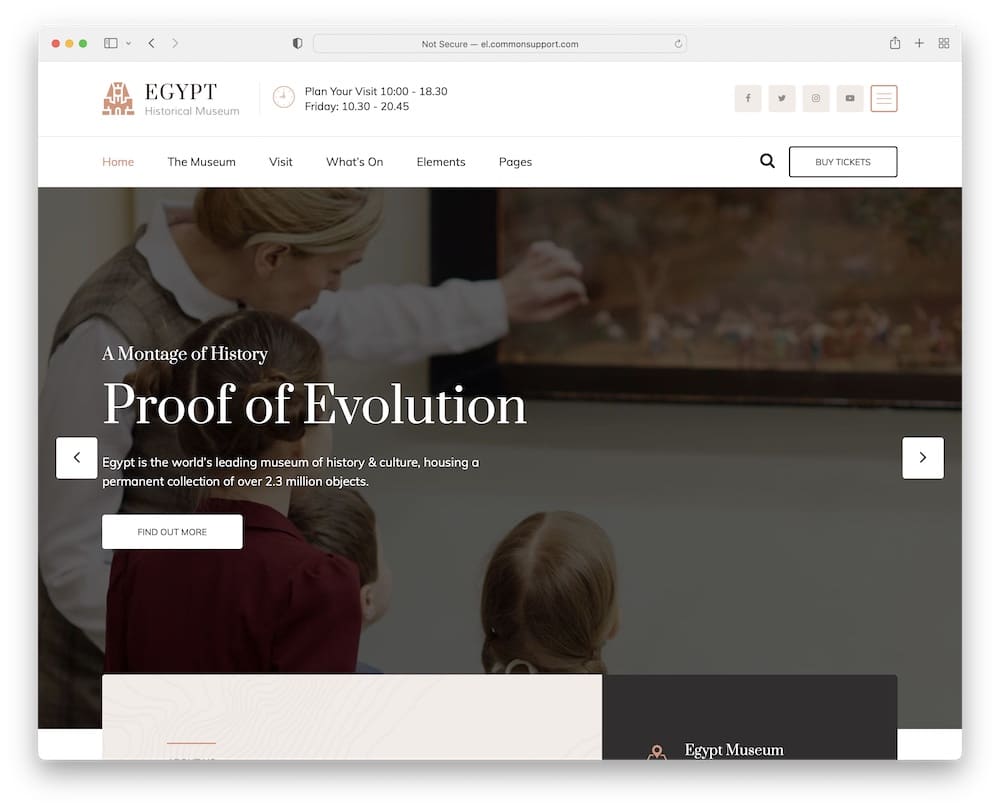 Observe the exciting art world around you and reflect it on Egypt WordPress art gallery theme.
Egypt's KEY part is the one-click installation method.
You are ready to start shaping your website by choosing layouts, adjusting the header, rearranging the menu, adding your location via Google Maps, etc. just like that!
Egypt also offers smart tools to help your visitors plan their visits and buy tickets online.
BIG. DEAL.
And why not put AMAZING testimonials on display for the curious audience? YES, you should!
And professional customer support always finds quick solutions to your questions.
Keep calm and art-focused with reliable Egypt!
Egypt features:
110+ sales
5-star rating
Background slider
Quick start
Price: $59 (may vary)
MORE INFO / DOWNLOAD
DEMO