I'm happy to reveal the ultimate free WordPress portfolio themes after working with 10+ freelancers and 5+ agencies.
We extensively tested and reviewed these, guaranteeing you the best outcome.
In the shortest and easiest way possible!
You now have everything you need for an INSTANT start.
This post covers:
Impress your clientele with a portfolio website that will WOW everyone.
You're ready for success. Go!
Best Free WordPress Portfolio Themes
1. Astra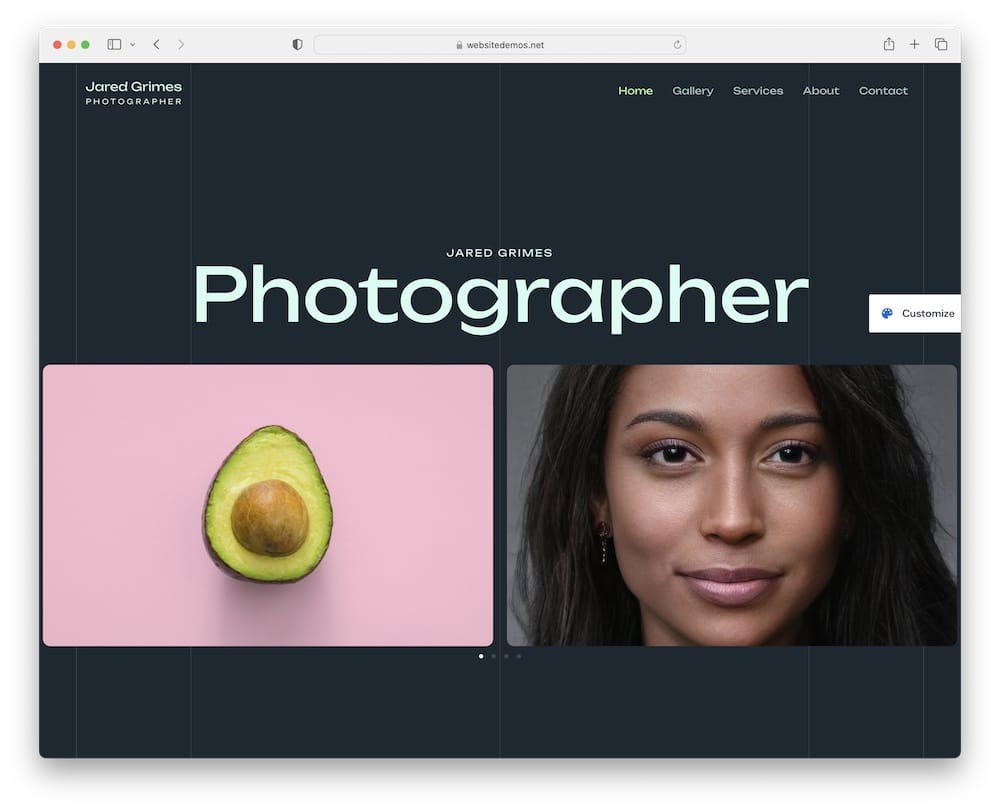 Astra is the MOST popular free WordPress theme you can use to build a top-notch online portfolio website.
The theme will never ask you for coding and design skills but rather turn you into a pro even if you're not.
What's cool about Astra is that you can use it with and without a WordPress page builder. We do recommend installing Elementor for the ultimate result. Besides, Astra is also in harmony with Gutenberg.
Another notable Astra specialty is how lightweight it is.
After testing it on multiple servers, the FAST page loading speed didn't deviate much – what a surprise because that usually doesn't happen with other free themes.
Astra features:
1+ million sales
4.9/5 star rating
Easy to translate & use with RTL languages
Built with speed, mobile & SEO in mind
Price: Free or subscription ($47+)
MORE INFO / DOWNLOAD
DEMO
2. Shapely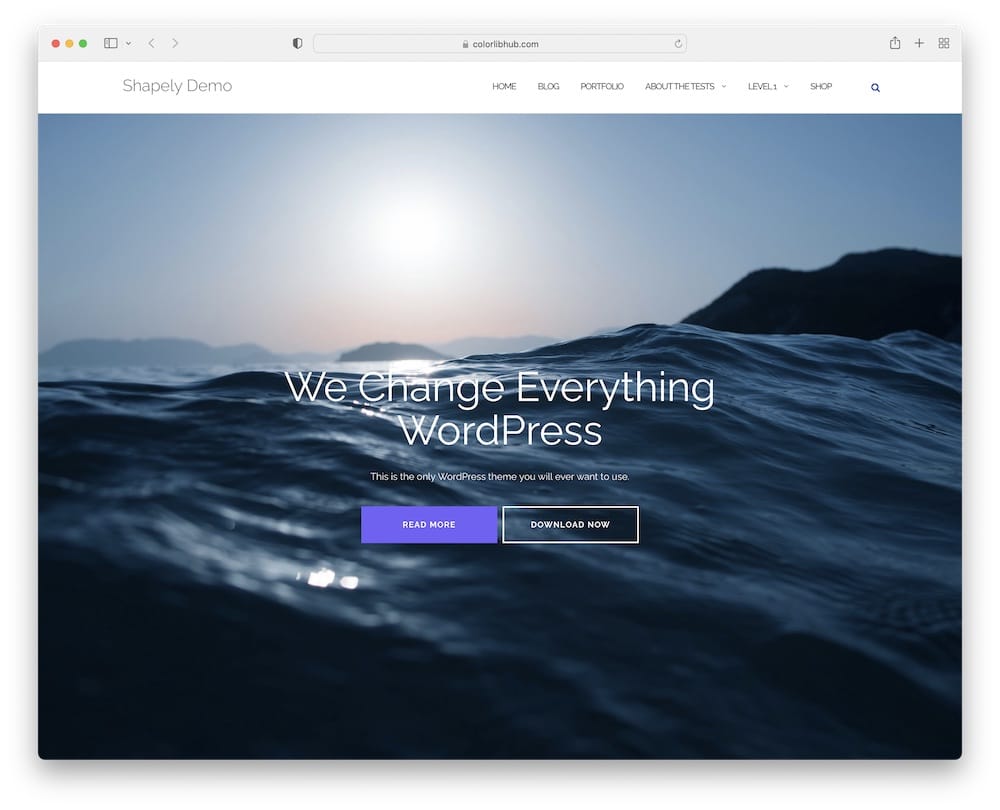 Every person can benefit from having a creative portfolio (YES, you too!).
Choose from Shapely's selection of easy-to-use WP widgets, unique icons, lively colors, and enjoy its responsive design (super mobile-friendly).
And let me introduce you to the best friends of Shapely – say Hi to Woocommerce, Contact Form 7, and Jetpack.
Shapely also over-delivers (in my opinion) with awesome FREE of charge support – leave a message on the support forum and get back technical info. DOPE!
Remember, you can easily make people wonder how they can work with you due to your brilliant site.
It's game time with Shapely!
Shapely features:
70,000+ active installs
4.5/5 ratings
One page layout
Supports WP shortcodes
Easy customizations
MORE INFO / DOWNLOAD
3. Illdy

Make a strong impression and showcase your value with the brilliant Illdy free WordPress portfolio theme.
I promise it's a worthwhile investment of your time! (Not money :))
Illdy is ideally suited for copywriters, consultants, artists, and other professionals (regardless of the field). You will be noticeable for sure!
Plus, Illdy can be 100% customized, so keep smiling.
Ready and set SEO optimization of Illdy can help you rank higher on Google. Yup, you are right -the goal is to attract potential customers and prospects (organically!).
Oh man, and Illdy is as well translation ready (check our collection of the best WordPress translation plugins).
Limitless possibilities at your fingertips!
Illdy has all the elements of a winner.
Illdy features:
10,000+ active installs
4.5/5 ratings
Great support
Extensive documentation
Testimonials (or use a WP testimonial plugin with extra functionality)
MORE INFO / DOWNLOAD
4. Pixova Lite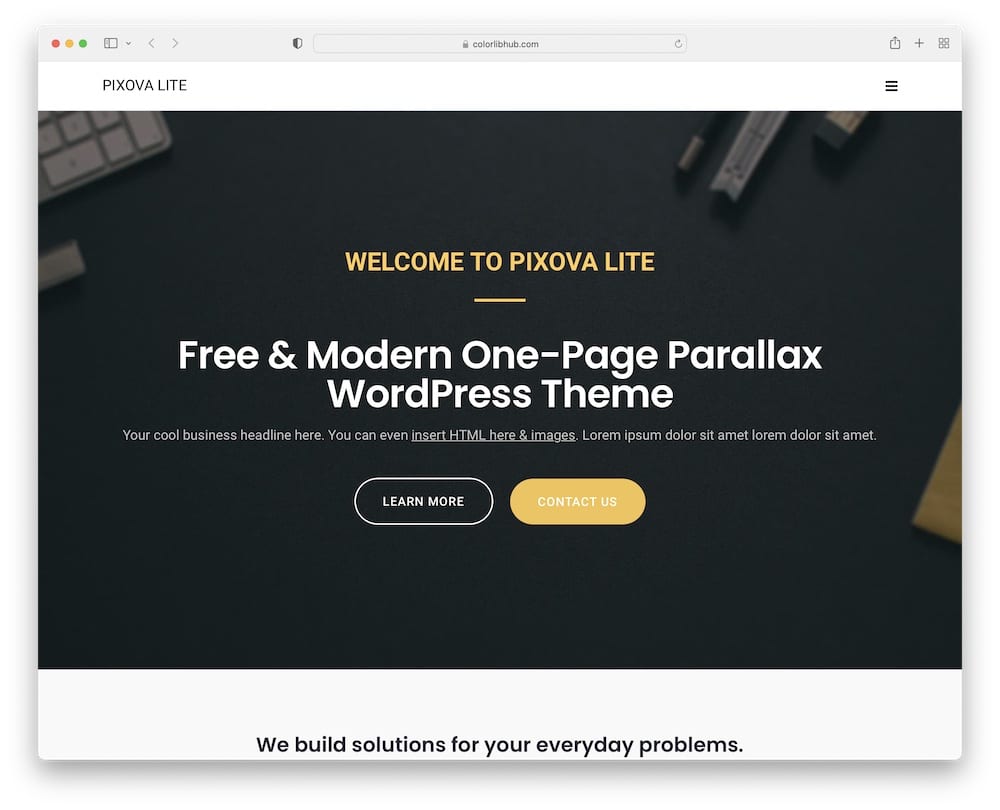 You just found your best option to showcase your professional experiences – Pixova Lite. Friends for life, y'all.
Pixova Lite is a one-page parallax theme with a modern and stylish design. It includes unique WP animations with a custom pre-loader for a more engaging user experience.
Holy Moly!
Moreover, Pixova Lite is optimized for speed and is highly customizable (Hello, BOSS!). You can easily change the header & footer, add columns, and set up the menu (feel free to pick a free WP menu plugin if you'd like to add extra features).
Do yourself a favor and download Pixova Lite for an excellent start!
Pixova Lite features:
MORE INFO / DOWNLOAD
5. Elegant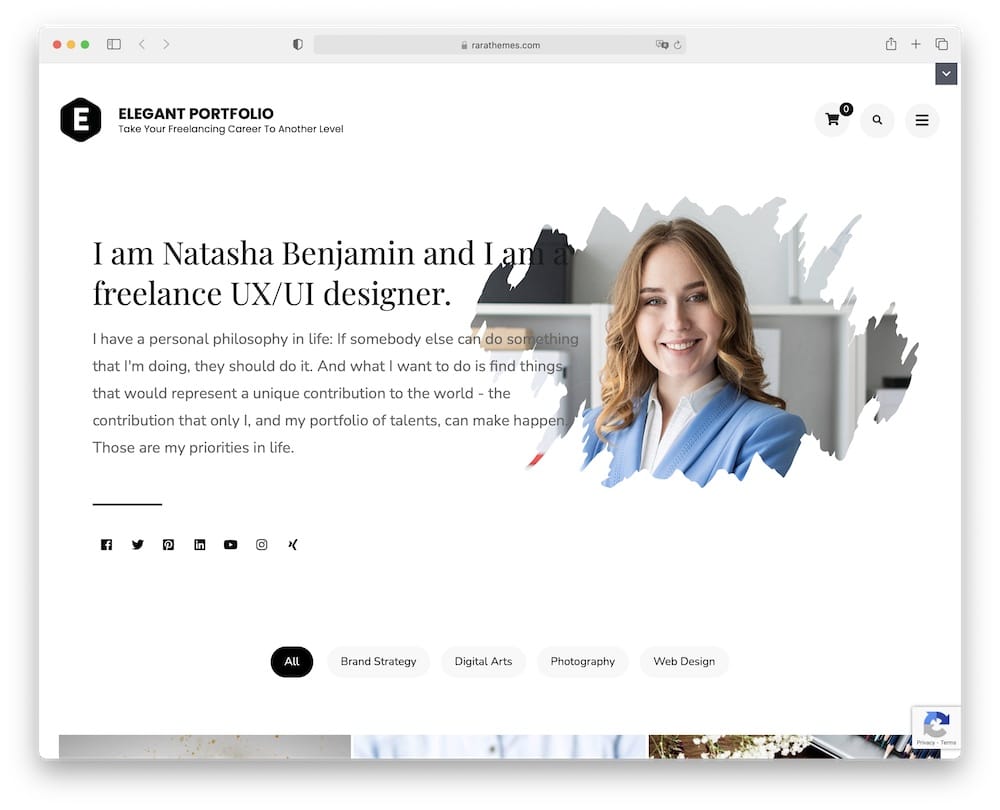 Think of your portfolio in this way: You are your career's biggest project!
And get used to that idea.
Ready? Elegant is a free WordPress portfolio theme with a custom menu, different widgets, copyright text, responsive design, and even includes a unique blog layout.
SIDE NOTE: Elegant is made to be customized by each individual, SO feel free to have fun and create your dream site quickly. I know, you are a winner!
Moreover, soft and gorgeous Elegant is SEO optimized, social media integrated, and cross-browser compatible.
Plus, friendly customer support has you back if needed.
BOOM, and all is well.
Elegant features:
2,000+ active installs
5/5 ratings
1-click import
MORE INFO / DOWNLOAD
6. ePortfolio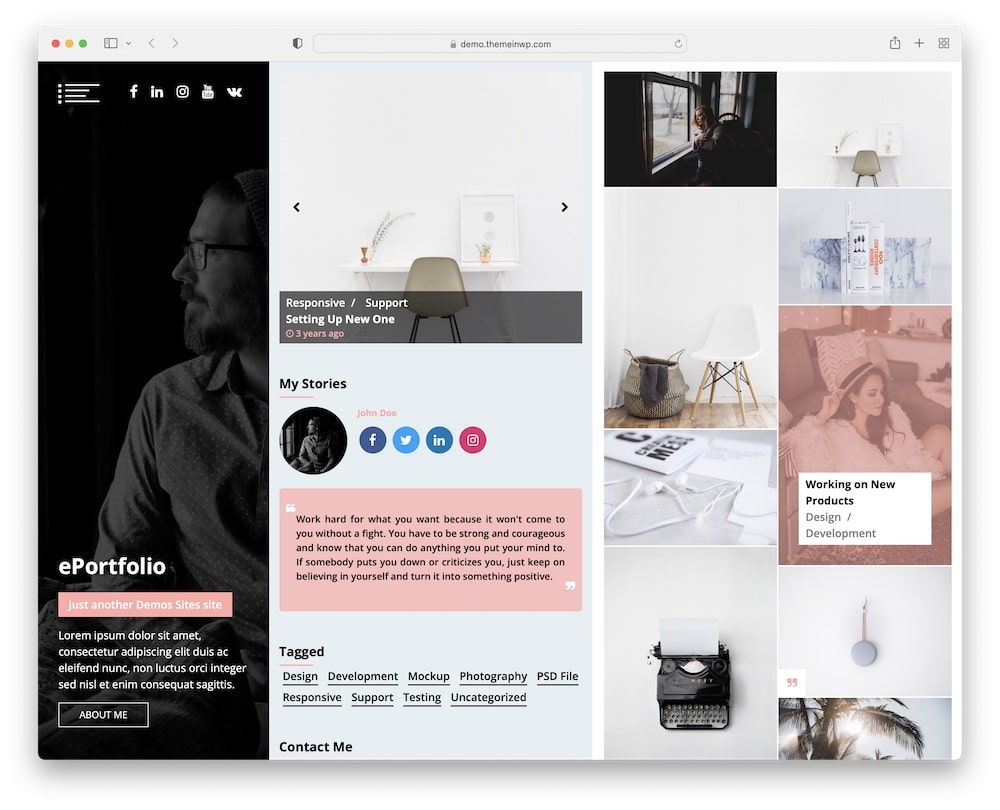 Exceeding expectations is only the start of choosing ePortfolio free WordPress portfolio theme.
This minimalistic theme is ideal for photographers, graphic designers, freelancers, video producers, web & software developers, and bloggers.
Meet your one true match. This one is for you.
Also, ePortfolio is compatible with the two biggest page bulders: Gutenberg and Elementor (it must be your lucky day).
It guarantees simple, Fast, and SMOOTH editing. LUV!
Besides, social media is the world's best way to promote your work, projects, and art. ePortfolio is set to connect to different channels for better engagement and visibility.
SPARK.
Where do you start? With a download button 😉
ePortfolio features:
1,000+ active installs
5/5 ratings
Unique design (!)
Sticky sidebar
MORE INFO / DOWNLOAD
7. CleanPortfolio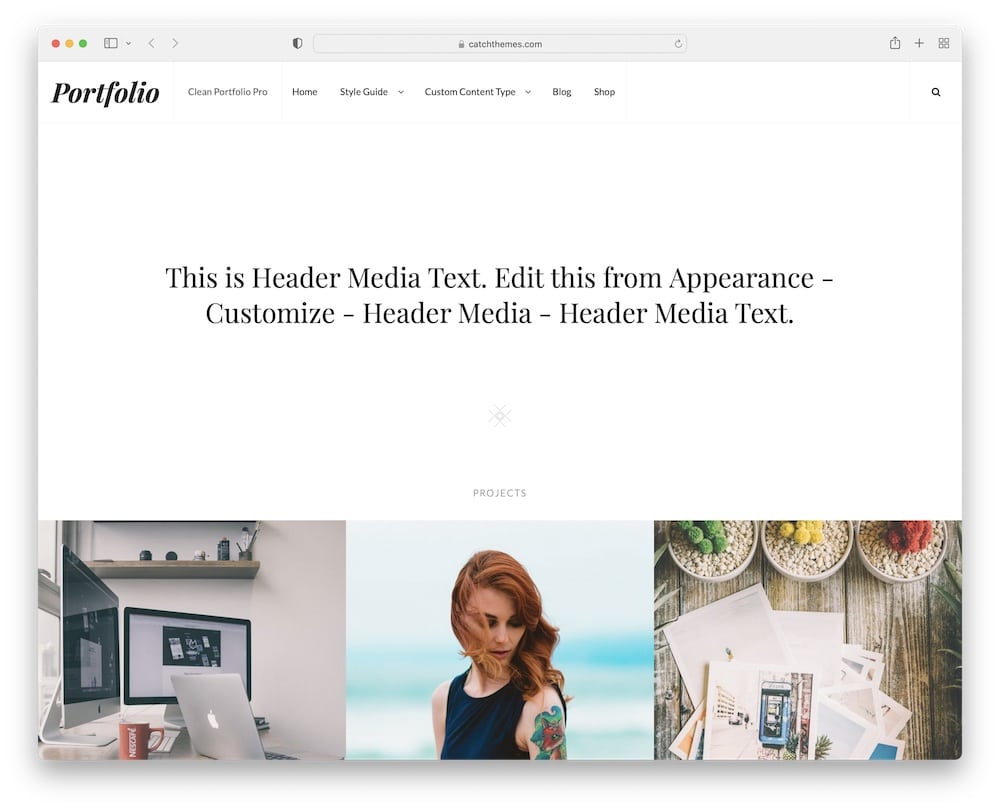 I know, you need to make your stellar results visible to others. QUICKLY.
SO, get them out fast and promote yourself with a stunning CleanPortfolio portfolio theme.
CleanPortfolio represents simplicity and clarity. It has the most popular features, blog layout, custom widgets, and a flexible menu.
TOP. DEAL.
And you can easily connect with new customers, future clients, and amazing supporters with social media integration (IT'S VERY EASY).
Remember, responsive CleanPortfolio can help you with simple building, smart setup, and most importantly – it works like magic!
The point is: It will fit perfectly with your style (and much more).
CleanPortfolio features:
1,000+ active installs
5/5 ratings
Breadcrumbs
MORE INFO / DOWNLOAD
8. Portfolio Lite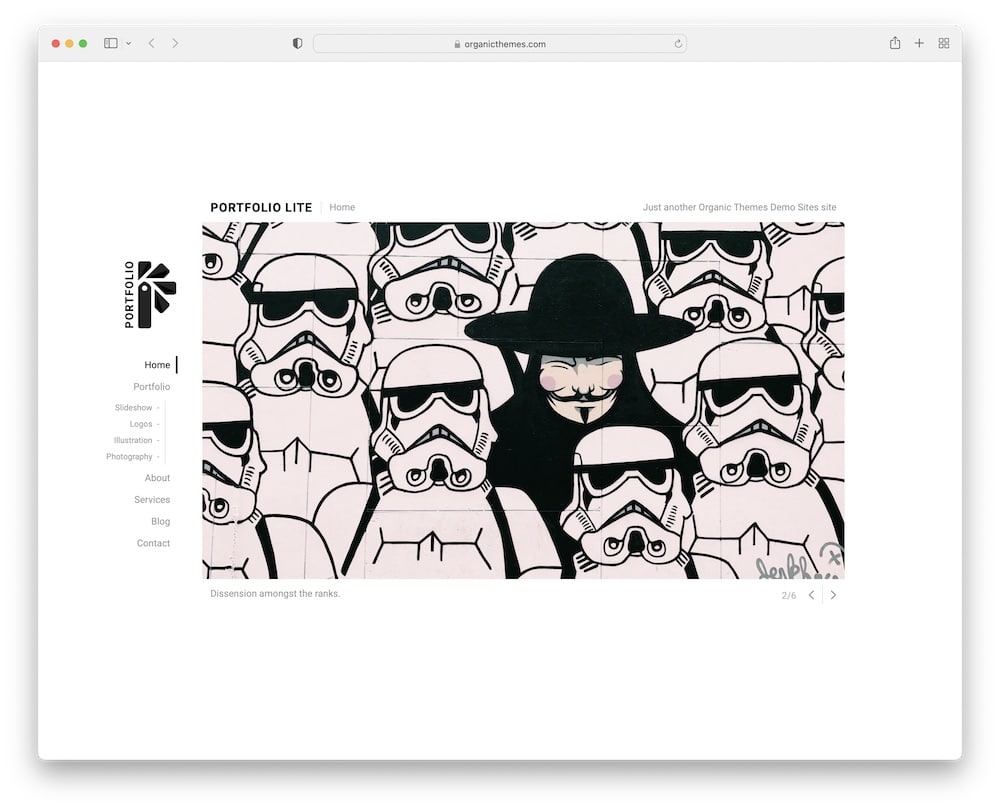 Be strategic with the powerful Portfolio Lite free WordPress portfolio theme. This professional, modern, and stylish theme look incredible!
Portfolio Lite comes with a wide slider for beautiful slideshows – YES (!), now you have your own space to showcase your projects, fresh style, and diversity of your work.
Besides, Gutenberg offers great productivity for everyone for fast and straightforward editing – even if you don't have coding knowledge.
The result: 100% customized website (by you). Best feeling ever, right?
I know, I know – you would like to start already.
Scroll down and click download Portfolio Lite!
Portfolio Lite features:
2,000+ active installs
5/5 ratings
Awesome galleries (create custom ones with these free WP gallery plugins)
Vertical navigation
Sell your work (WooCommerce)
MORE INFO / DOWNLOAD
9. Portfolio Web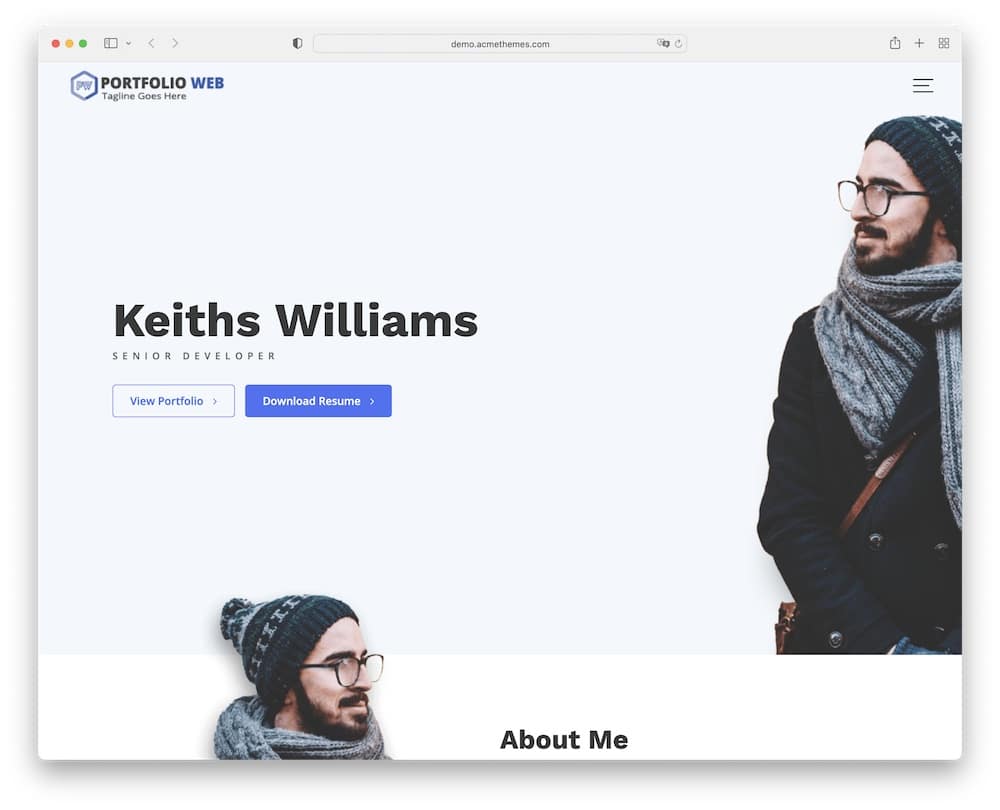 In an ideal world, you would have an ideal portfolio.
BUT wait – you can have it with Portfolio Web!
This WordPress portfolio theme is sleek, modern, and designed particularly for personal or corporate WP websites.
You can proudly showcase your work, skills, attributes, and experiences professionally.
Furthermore, Portfolio Web is responsive, cross-browser compatible, social-friendly and translation ready. (Which is kinda AMAZING!)
Newsflash: You get first-class goods for a stunning website and your wallet is safe with Portfolio Web! 🙂
Portfolio Web features:
1,000+ active installs
4.5/5 ratings
CTA for resume
Works with page builders
One- or multi-page
MORE INFO / DOWNLOAD
10. Vertex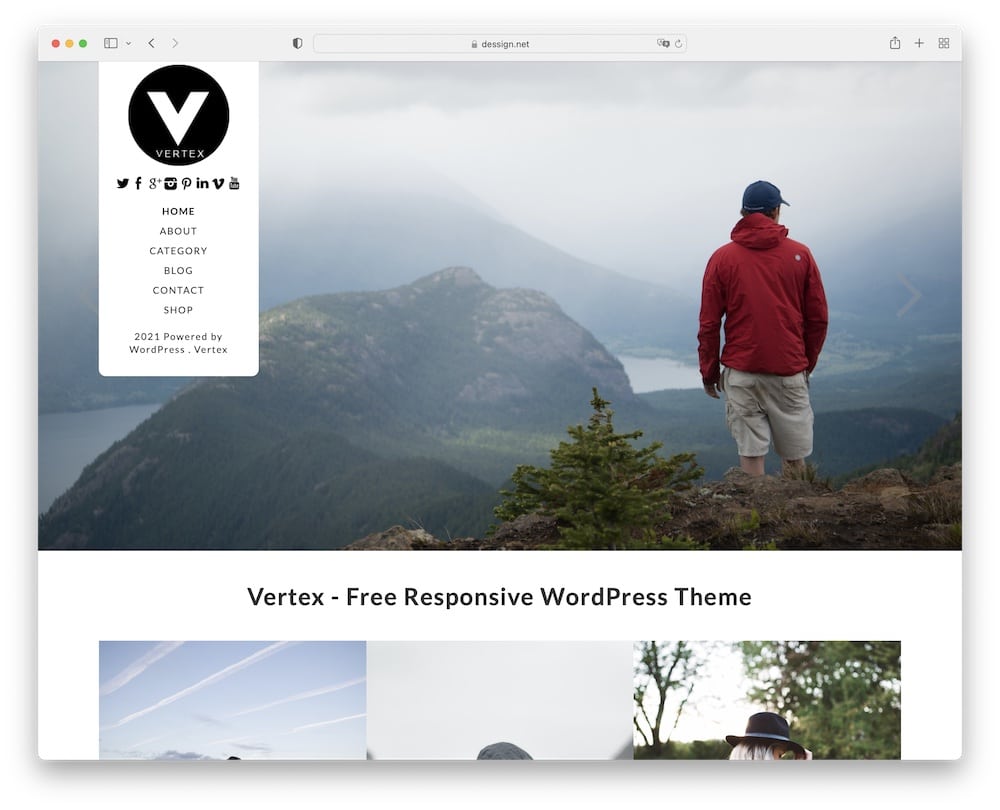 Have experience, tricks, ideas, and new projects up your sleeve? Put them all out with aid of a gorgeous Vertex free WordPress portfolio theme.
Vertex comes with a clean and minimalistic layout, aesthetic feel, and timeless style.
WOWIE.
A strategic pre-made design makes sure your content stands out and showcases your portfolio like a PRO.
Also, you can start writing an inspirational personal WP blog. You have free hands to control your new website (aaaaamazing!).
Moreover, the elegant details of Vertex, beautiful lines, and fully responsive slider – are like works of art.
Trust me, keep it simple with Vertex! (Because it works.)
Vertex features:
3,000+ active installs
5/5 ratings
Video support
Unique slider
Video tutorial
MORE INFO / DOWNLOAD
11. Perfect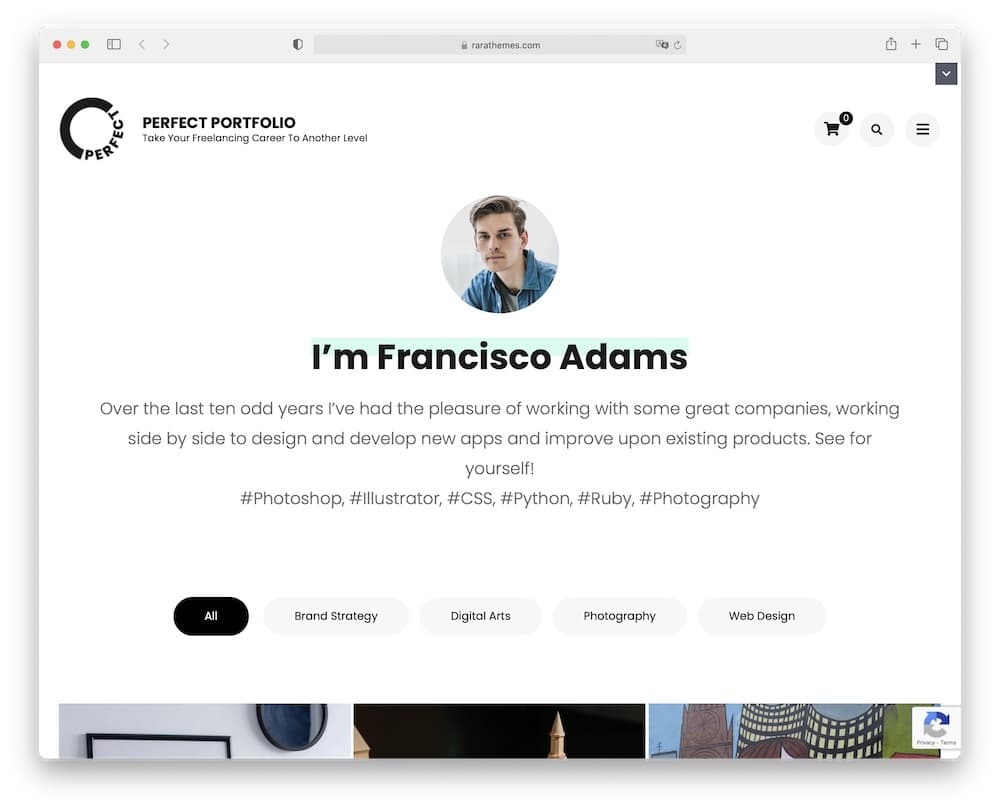 Put your creativity into action with the brilliant Perfect portfolio theme.
You can import it with a simple click, it is open to customization and you can even create your online store due to WooCommerce. Pretty COOL!
Now for the good news:
You will create a website that Google will give a high five with intelligent speed optimization, responsive design, and SEO boost. So take advantage of included (fancy) features!
And let's not forget about social media integration (!). You can easily connect Perfect with your favorite platforms to reach even more fans, new customers, and clients.
You deserve it!
Perfect features:
3,000+ active installs
5/5 ratings
Custom CSS
Schema integration
Site logo
MORE INFO / DOWNLOAD
12. Arrival Me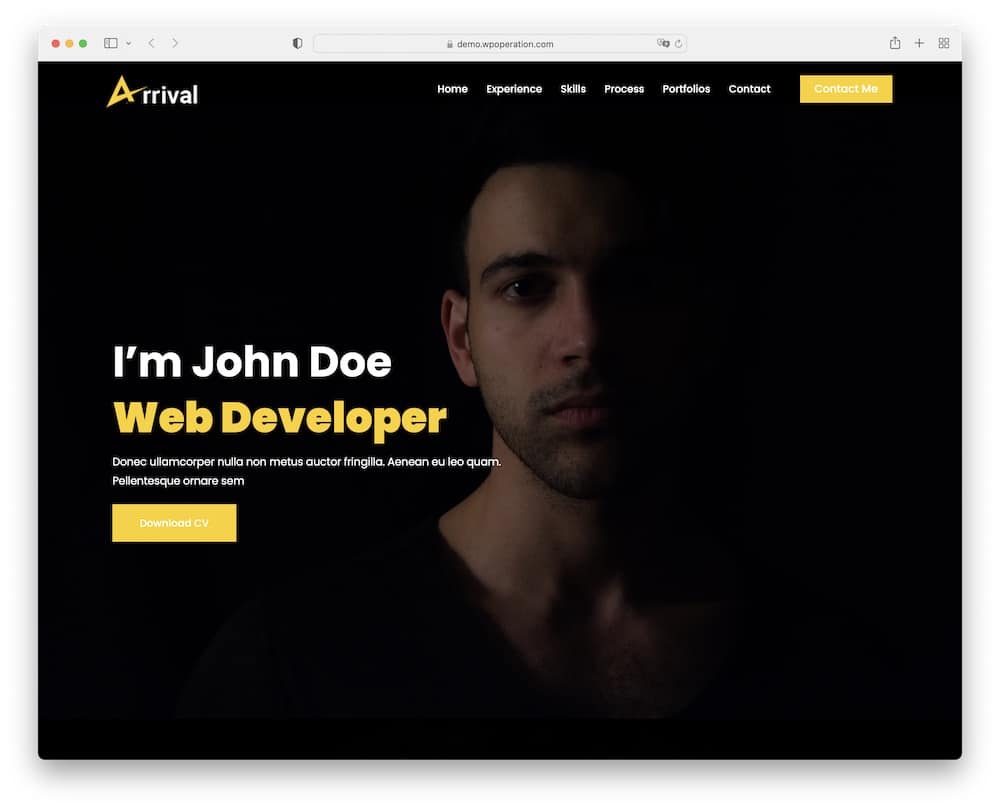 Arrival Me will help your career – in a BIG way.
Mix, match, and set up elements as you wish. Bonus: You can choose Elementor and start editing Arrival Me in your rhythm (powerful & easy to use).
In addition, Arrival Me is translation-ready, simply waiting to be published in any language needed. Enjoy a full range of possibilities.
And I'm begging you to use unlimited colors responsibly.
Keep in mind, you have GOLD (aka free updates & amazing customer support) in your hands with Arrival Me!
Arrival Me features:
3,000+ active installs
5/5 ratings
Parallax effect
Works for one-page sites
MORE INFO / DOWNLOAD
13. RT Portfolio

Ready to get started? Check out the stylish RT Portfolio.
This responsive and retina-ready free WordPress portfolio theme looks great on all screen sizes and devices. Plus, you can quickly redesign it to your favorite style with tons of personalization options.
Amazing fonts, fun colors, useful icons, background images, and banner layouts are just some of RT Portfolio's features for your success! Need more motivation?
What was the Nike commercial? Ahhh – Just Do It!
RT Portfolio features:
400+ active installs
5/5 ratings
One-of-a-kind look
Blog section
Testimonials
MORE INFO / DOWNLOAD
14. Advance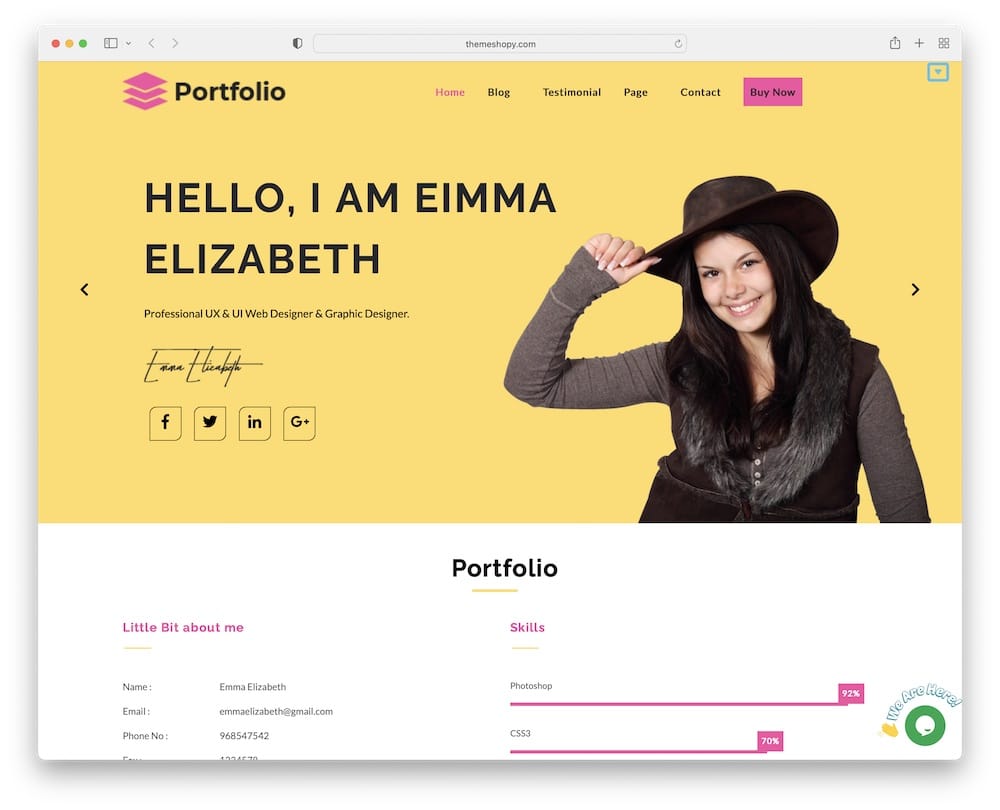 If you want to kick your career into overdrive it's a MUST to create a website.
Sleek Advance free WordPress portfolio theme is just – Really. Good!
I am talking serious eye candy here, folks.
Moreover, Advance comes with various post formats, elements, sliders & banners, and a flexible menu.
Does it look complicated? NO, you can redesign Advance by yourself – without any professional help.
YaaaY!
Plus, Advance offers responsive design with SEO-friendly and cross-browser benefits. And is also optimized for speed (nobody likes a slow-loading website, especially Google).
Pull up a chair and WELCOME into your life: Advance!
Advance features:
300+ active installs
5/5 ratings
Supports 3rd-party plugins
WooCommerce-ready
Easy customizations
MORE INFO / DOWNLOAD
5 Key Features Of A Free WordPress Portfolio Theme
I'm happy to share with you the five must-haves of a free portfolio theme that we also thoroughly tested when putting together this collection.
Even though you plan to use a free theme, your online presence will still be professional!
Responsive layout: This is obvious – I know! – but not all free themes are 100% reliable. So it's essential for us to double-check that each theme is mobile-friendly. We used Google's Mobile-Friendly Test.
Lightweight structure: Another key characteristic of a top-notch theme is a lightweight core, so it ensures great performance across all devices. For this, we used Pingdom Tools. However, you also need to know that the web hosting choice contributes to the loading speed. We also have a full guide on how to pick a fast WordPress theme.
Portfolio: It's important to have the option to create a beautiful portfolio, and that's what the theme needs to guarantee. (And all the above ones DO!)
Regular updates: We usually avoid themes with infrequent updates because compatibility with WordPress and plugins can become an issue, and you don't want that.
About page: As someone running an online portfolio website, you must have a compelling about page.
Extensive documentation (+ support): Lastly, in-depth documentation always comes in handy when building your website and/or expanding it with new features. Also, any type of support (even a support forum) is always welcome!
Take your online presence to the next level with an EPIC portfolio website.