As a result of reviewing 100+ minimal website templates over the course of two years, these are our ultimate go-to solutions.
From our experience working with clients, we used simple templates the most.
QUICK work for POWERFUL prototypes. (Everyone enjoys that!)
Tested. Proven. And Packed With Goodies.
What We Based Our Top Minimalist Website Templates On?
White space
Detail
Color palette
Consistency
0 clutter
Mobile performance
Focus
We guarantee everyone will enjoy a pleasant experience with little to no distractions.
KEEP. IT. SIMPLE.
Best Minimal HTML5 Website Templates
Note: Every template uses only modern technologies, like Bootstrap, HTML and CSS.
Also, you can customize them. Like, EVERYTHING!
The code is beginner-friendly, so you get the most out of the template that sparks your interest the most. Easily.
Enjoy!
1. Space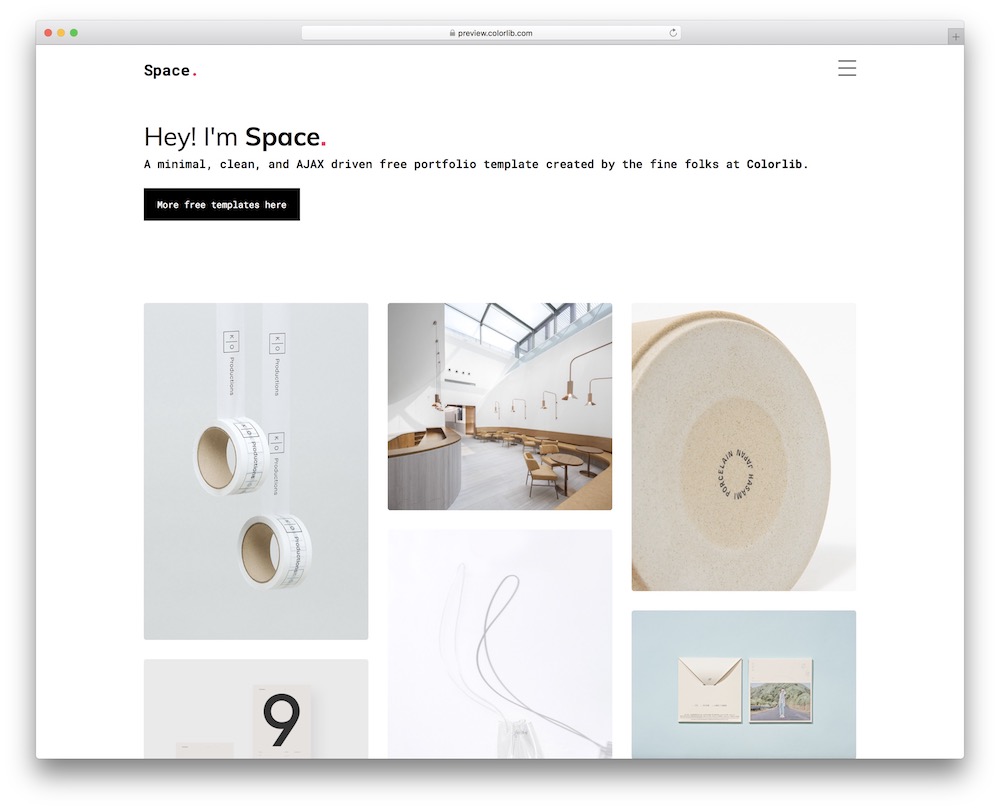 Space calls for a stunning and striking online portfolio and personal website creation.
It will compellingly display all your content, wowing all your guests and potential clients.
Also, with Space, you will tastefully showcase all the additional information, details, experiences and bio.
Due to its simplicity, there is a HIGH chance of you using Space exactly as it comes out of the box.
Keep in mind, you can also execute adjustments at free will, thanks to Space's great code structure.
Space features:
MORE INFO / DOWNLOAD
DEMO
2. Imagine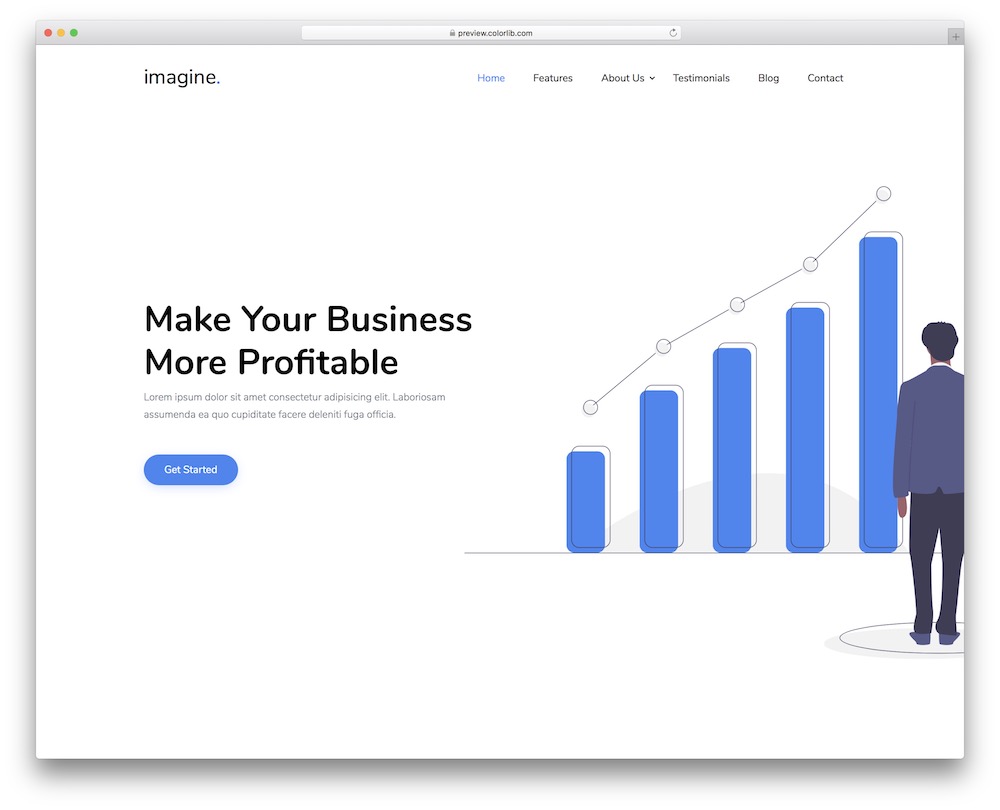 Imagine is a minimal website template that works ideally for building business websites.
What's special about this site canvas is the one-page layout that it sports.
With this, you can display all the information you would like to share with the world in a few scrolls apart.
This INSTANTLY improves user experience, which is especially important in our modern mobile-first era.
Whatever you plan to accomplish with Imagine, you will make it happen like a champ, as all the predefined material is first-class by default.
Imagine features:
Floating navigation
Multi-level drop-down menu
On scroll content loading
Team section
MORE INFO / DOWNLOAD
DEMO
3. Kraft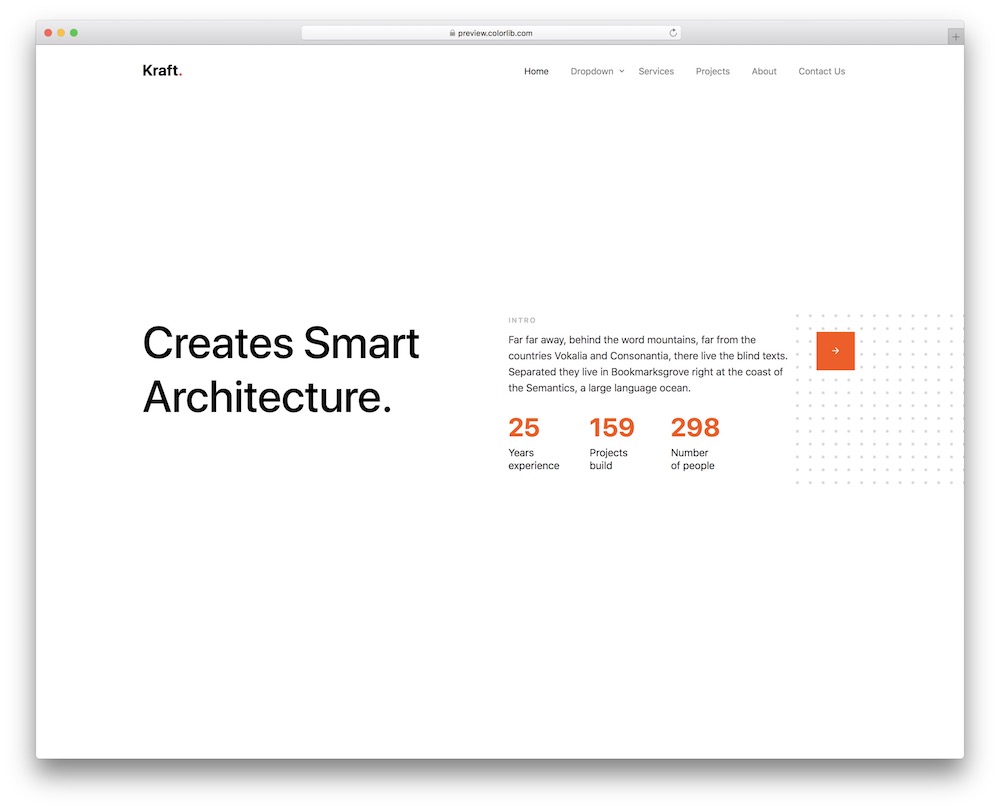 Architects and architectural firms, when you decide to build a website for your business, make sure it is such that will raise your potential to level eleven.
You can sort things out quite quickly with the use of a minimalist website template, like Kraft.
Of course, this is an HTML template for architecture, which does require coding knowledge on your end to turn it into an operative website.
But the overall composition is organized and well structured, so you will have a LITTLE BREEZE employing it and taking it to your total advantage.
Kraft features:
Animated statistics
Super clean & simple appearance
Testimonials/references
Internal page layouts
Ready-to-use contact form
MORE INFO / DOWNLOAD
DEMO
4. Photon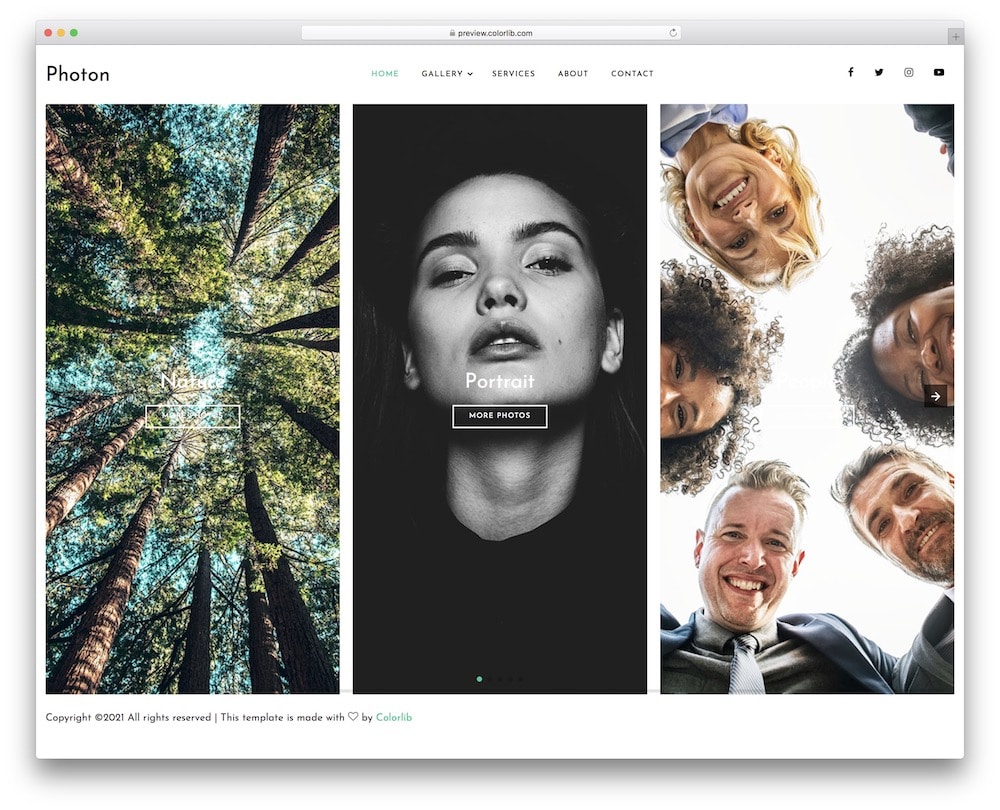 All the photographers out there here is Photon. This clean and minimal web design is full of amazing material to KICK-START your project.
With the look and many great features, you now do not need to get the ball rolling from the ground up.
However, this is an HTML template, so you do need coding knowledge to activate Photon and make it follow your branding and personal regulations.
From home to internal pages, multi-level drop-down menu, social icons, it's all at your fingertips.
Photon features:
Beautiful gallery layout
About page
Working contact form
Bootstrap Framework
MORE INFO / DOWNLOAD
DEMO
5. Fashion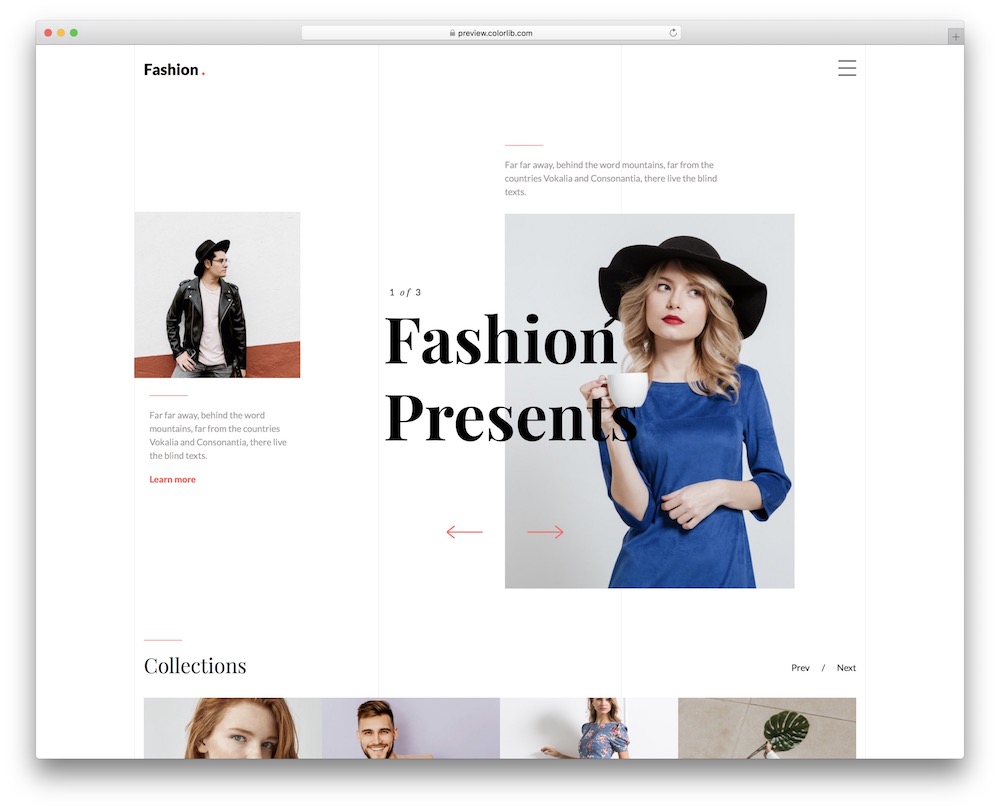 As the name hints, you know already that Fashion is an ideal tool for building an eCommerce website for a fashion/apparel brand.
This is the amazing website template the will do you well if you would like to sell clothing items and accessories online.
Whether you offer designer pieces or kid's clothes, whatever the case, Fashion is comfortable with presenting both in the best possible light.
There are heaps of features that will assist you in making an outcome that will stand out a mile.
However, you need to roll your sleeves and go behind the code to make a functional website out of Fashion.
Fashion features:
Carousels
Sidebar navigation reveal
Multi-level drop-down menu support
Feedback/reviews
Social media buttons
MORE INFO / DOWNLOAD
DEMO
6. Alpha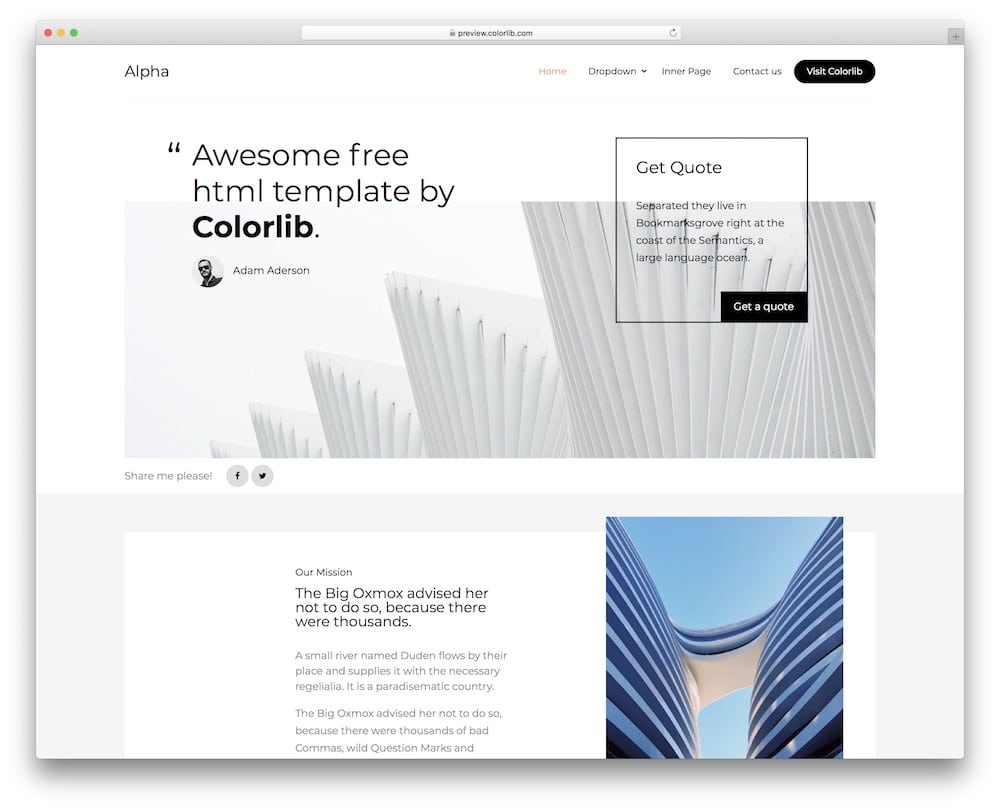 Forging a website from the ground up is not necessary in this day and age.
After all, with oh so many outstanding web designs available, you can save yourself time and effort.
One such tool is Alpha, a minimal website template to set you apart from the competition easily.
It is a modern and CREATIVE site skin that will display all your material strikingly.
Present your projects, your services and any other useful information you would like to share with potential clients compellingly.
It is just a click on the download button away.
Alpha features:
Animated statistics
Accordions & slider
Hover effects
Contact form & gallery
MORE INFO / DOWNLOAD
DEMO
7. PersonalPortfolio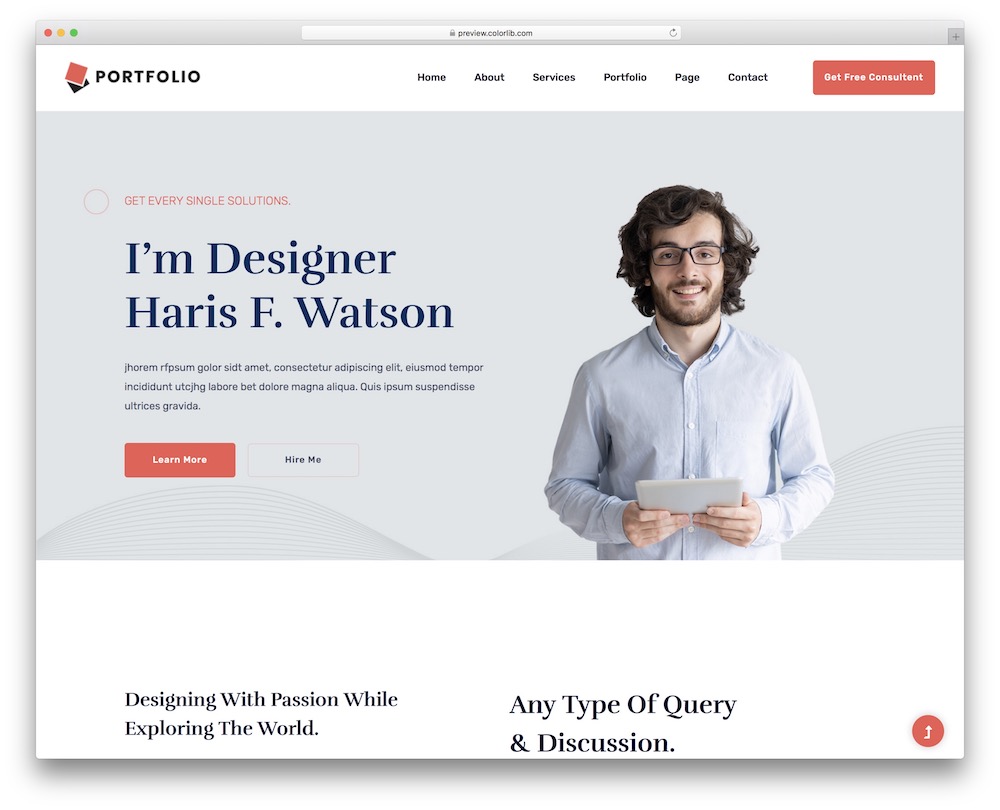 PersonalPortfolio – hence the name – is the website template with a minimal design to create a strong first impression.
If you are searching for the best way to present your professional venture on the internet, consider PersonalPortfolio.
With a well-thought-out website, you can raise your potential to the next level, whether you are a freelancer or searching for a new employer.
Wow everyone who gets a chance to come across your website and WIN THEM OVER much simpler.
You do not really need to think of the design part of your website anymore – let PersonalPortfolio take care of it for you instead.
PersonalPortfolio features:
Back to top button
Sticky header
Filterable portfolio section
Feedback/references
Brand logo slider
MORE INFO / DOWNLOAD
DEMO
8. WebApp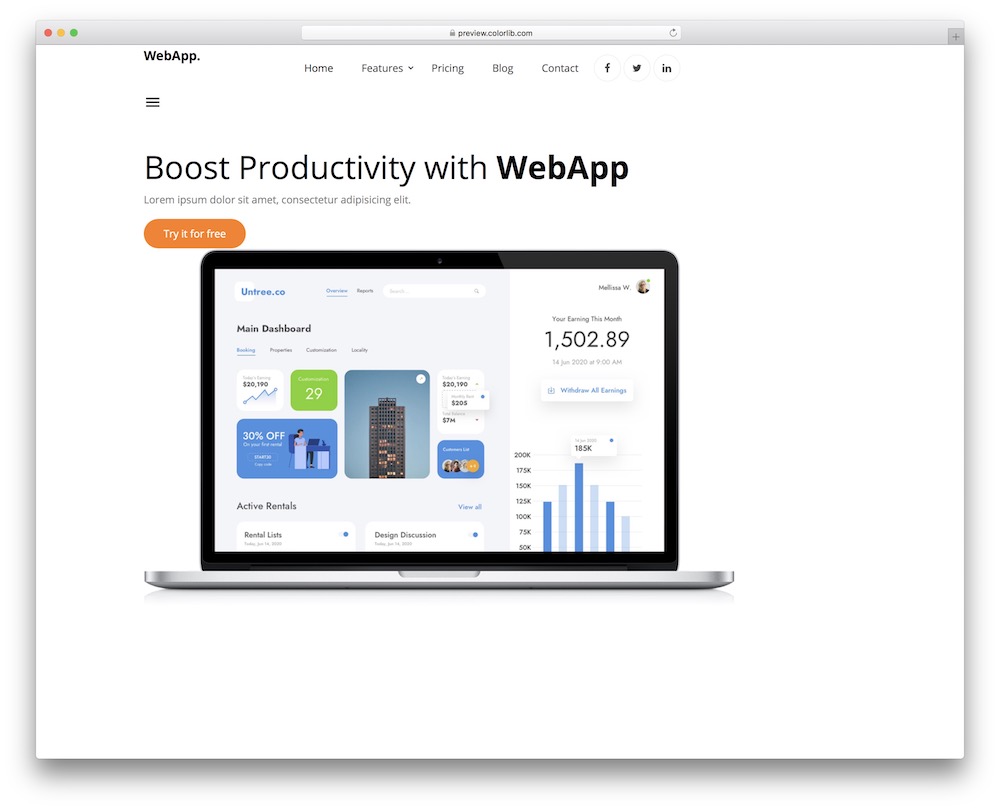 Create a must-see landing page for an application or another project with the help of WebApp.
You get a full-blown minimal website template that rocks many great amenities to make an online presence that will turn heads.
WebApp is here for your convenience; you having all the rights to take it to your total advantage. Of course, make sure you keep the footer copyright intact.
Other than that, you are free to FINE-TUNE it according to your needs and regulations.
Despite the "web" part in the name of WebApp, you can also easily utilize this template for desktop and mobile apps.
WebApp features:
Scrolling animations
Clean pricing plans
Floating navigation
One-page layout
Integrated blog module
MORE INFO / DOWNLOAD
DEMO
9. Podcast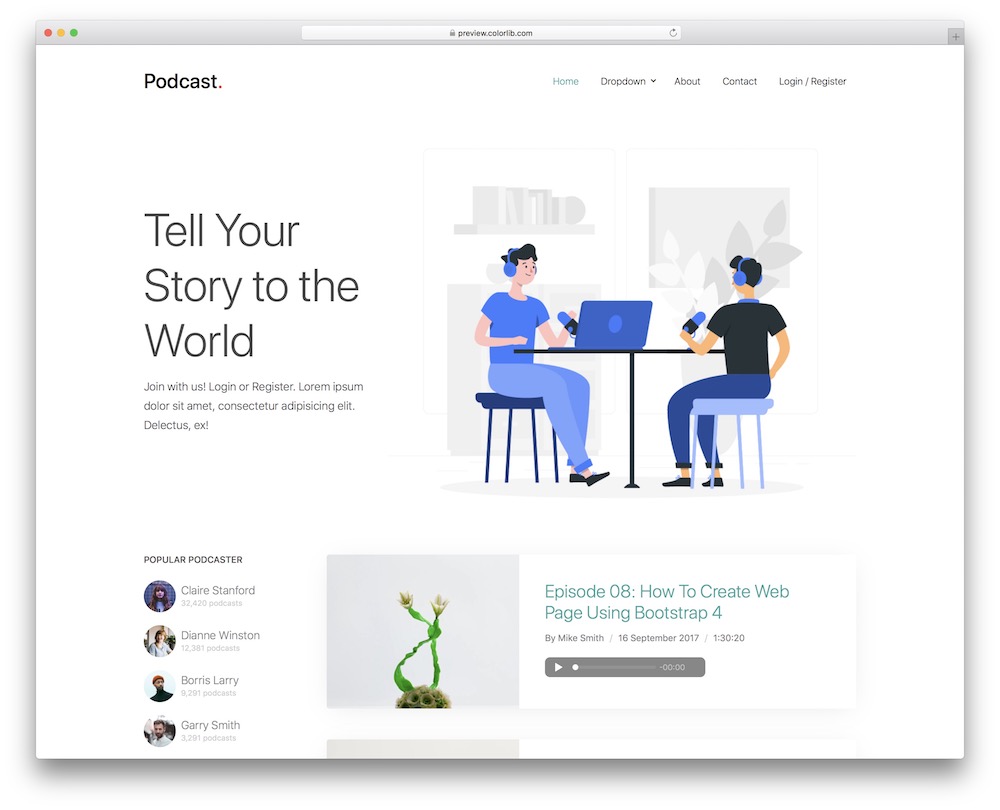 Podcasts, being as popular as they are, there is a great chance you might also be interested in diving into the industry.
But if you are already operating a solid fanbase, but LACK a proper online presence, make an official website with Podcast.
Sure, all these 3rd-party platforms may work exceptionally rewarding for you, still, you can take things to the extremes with a page.
There, you can have all your episodes available in one location and share all the other information with your audience.
You can even introduce a blog section.
Podcast features:
On scroll content loading
Beautiful parallax effect
Guests carousel
Contact form
MORE INFO / DOWNLOAD
DEMO
10. Satner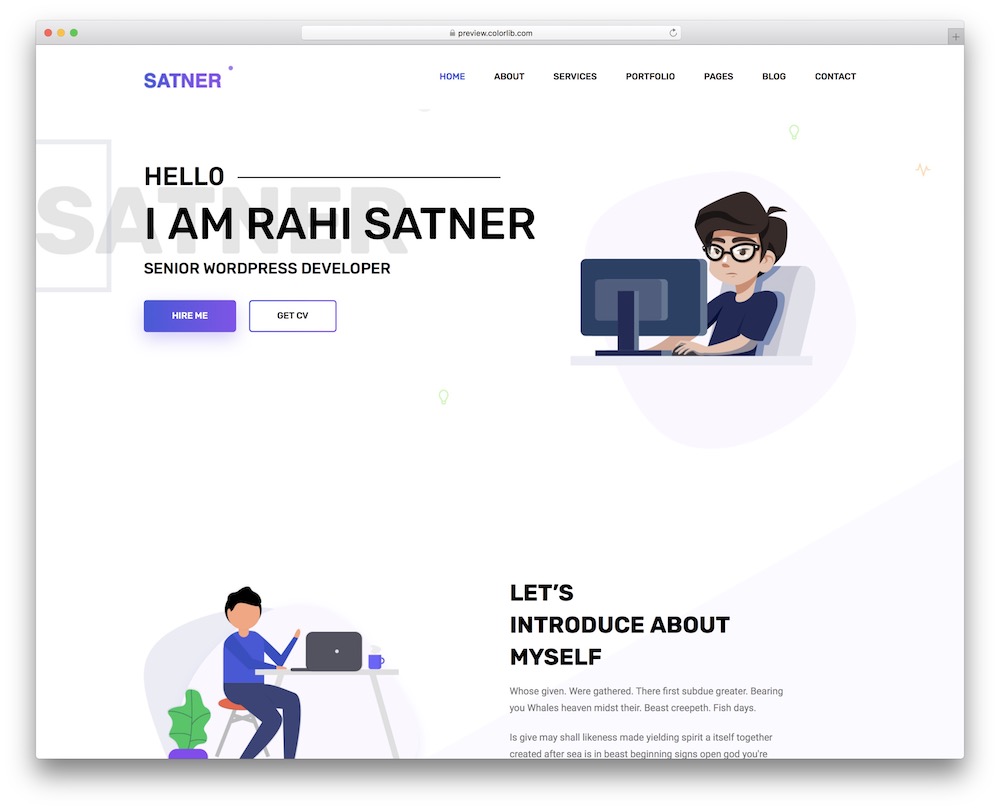 If you need to sort out a resume or personal website for your business, you better not miss taking a peek at Satner.
It is a tool full of excellent specialties that will get you rolling sooner rather than later.
In short, if you need a minimalist website template with a distinct touch to it, you will love Satner.
This tool uses only the LATEST TECHNOLOGIES, so you know it will automatically be mobile-ready and cross-browser compatible.
BOOM.
Satner features:
Integrated call-to-action (CTA) buttons
Floating navigation for great navigability
Services section
Categorized portfolio
Many additional elements to mix & match
MORE INFO / DOWNLOAD
DEMO
11. Started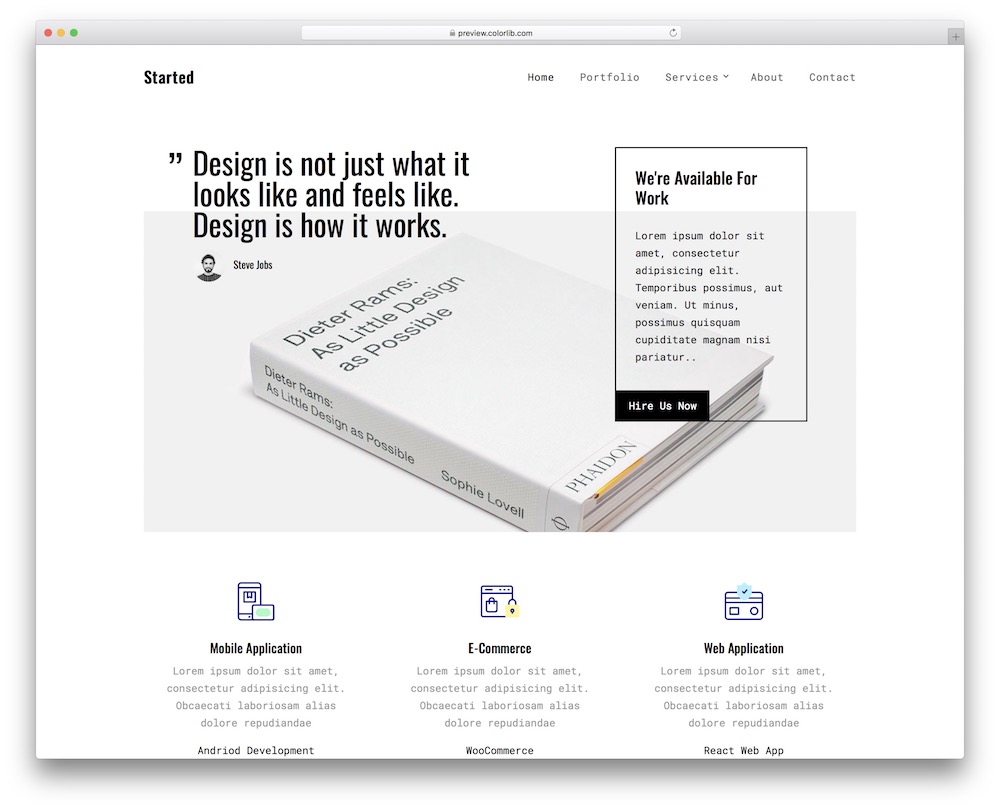 App, eCommerce, product and many other startups are welcome to utilize the power of Started.
Due to the minimal web design, you know everyone will enjoy flipping through your content.
Whether they come from a mobile or a desktop device, the performance of your website will always be first-class.
Without a shadow of a doubt, Started is PACKED with all the necessary materials to ensure you experience a kick-start to something exceptional.
Also, do not hold back and enjoy customizing the default settings if you think that's necessary.
But using Started as is, well, that works for many, too.
Started features:
Bootstrap Framework
Simplicity at its finest
Convenient multi-level drop-down menu
About page
Contact form (it works!)
MORE INFO / DOWNLOAD
DEMO
12. Meal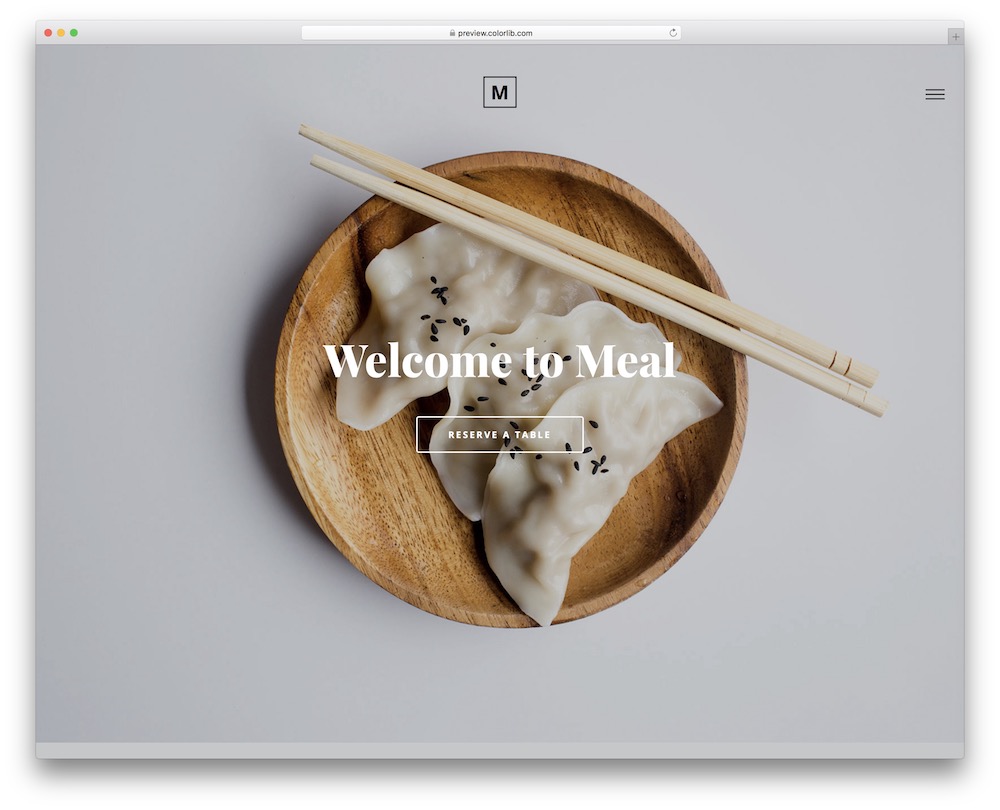 With Meal, you will water everyone's mouth, and that is a fact. You are in for a real treat of a minimal website template.
Particularly, if you are interested in building a one-page website, this solution is one fine alternative that will do you well.
Meal knows how to grab the attention and take the visitor on an epic adventure through your dishes, food menu and other juicy stuff.
Also, do not forget to introduce your winning chefs, share services and even offer online table reservations, Meal is here to MAKE a DIFFERENCE.
You can showcase your exact restaurant location via the integrated map.
Meal features:
Floating header with menu reveal
Fully operating contact form
Reviews/testimonials slider
Categorized food menu
Full-screen banner with parallax effect
MORE INFO / DOWNLOAD
DEMO
13. Seos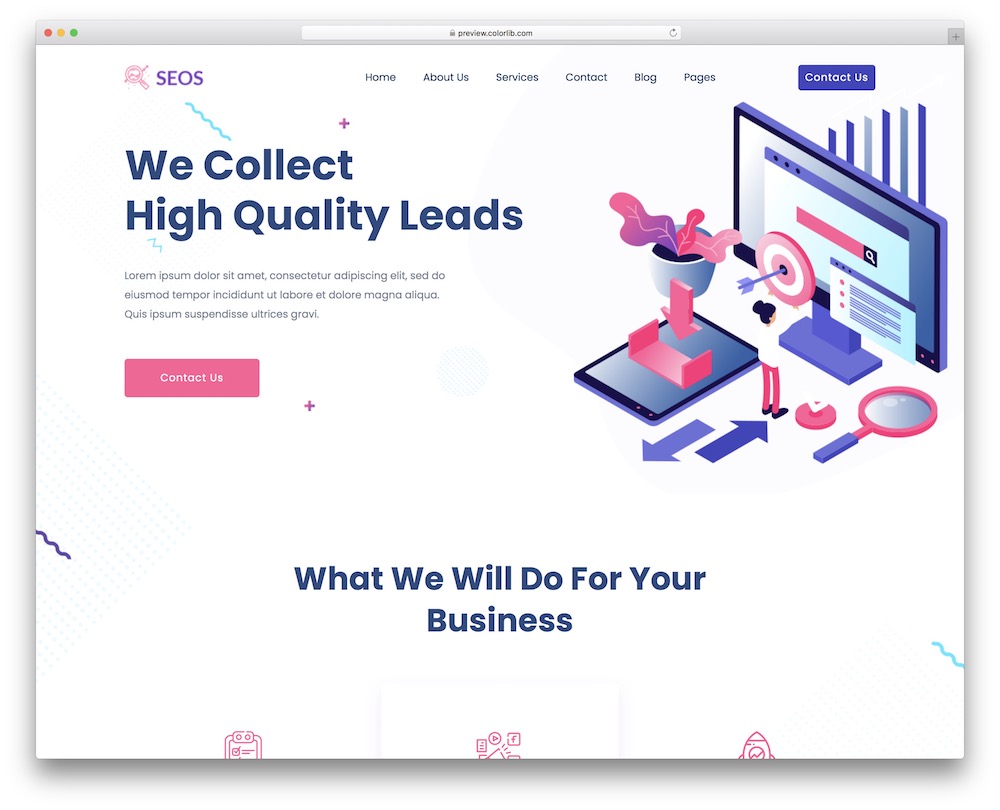 Even though Seos is by default a website template for SEO marketing agencies, you can also use it for other businesses.
With the minimalist look that it sports and a nice creative touch, Seos ensures the outcome engages everyone to stay around for longer.
If this is a design style that you fancy, you will want to go with Seos out of the box.
In this case, you can speed things up further by establishing a business website MUCH FASTER.
But you can also beautify Seos to your needs if necessary, or you can just do it later.
Seos features:
Well-organized code structure
Cool special effects
Beautiful pricing plans
Build customer trust with testimonials
Blog for content marketing
MORE INFO / DOWNLOAD
DEMO
14. Appco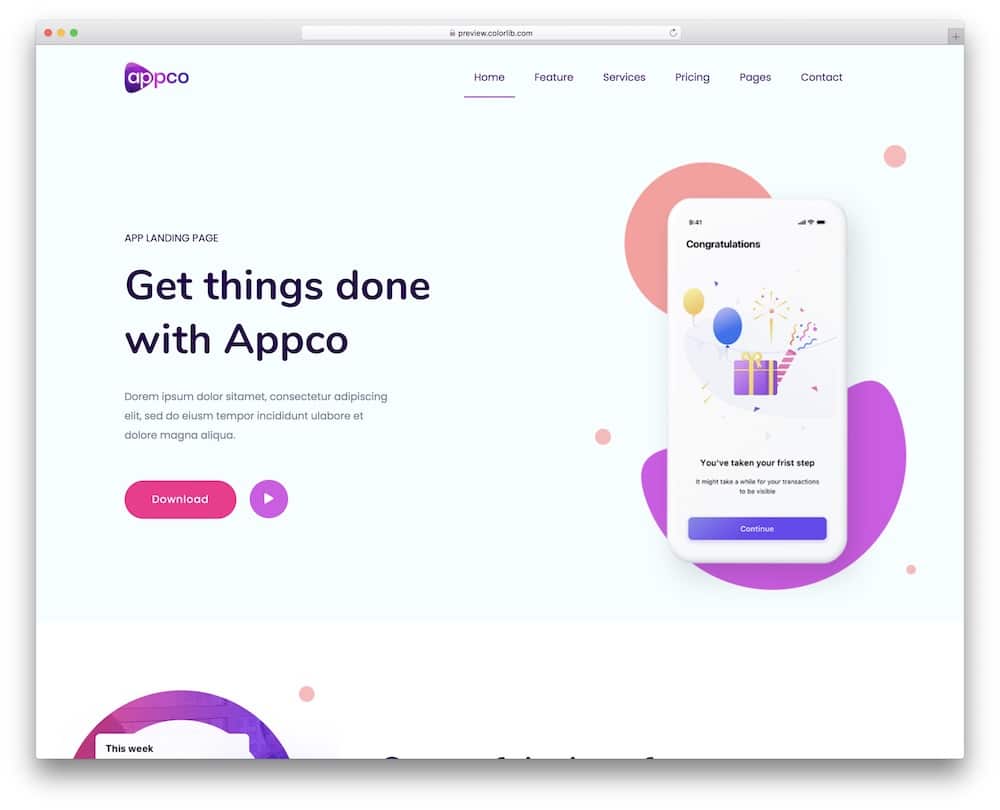 When launching an application, you should not miss creating a PROPER online showcase with an up-to-the-minute website. For this, you choose Appco.
It is a dedicated website template that you can download immediately and use for your project.
With that in mind, you can start working on your downloads-driven website in the snap of a finger.
Indeed, Appco also sports many of the great features and functions you deserve when creating an app showcase website.
If you are ready for a change, you are ready to get your hands on the flexible Appco.
Appco features:
Responsive & moble-ready structure
Floating menu/header
Screenshot carousels
Pricing tables
Preloader
MORE INFO / DOWNLOAD
DEMO
15. Uza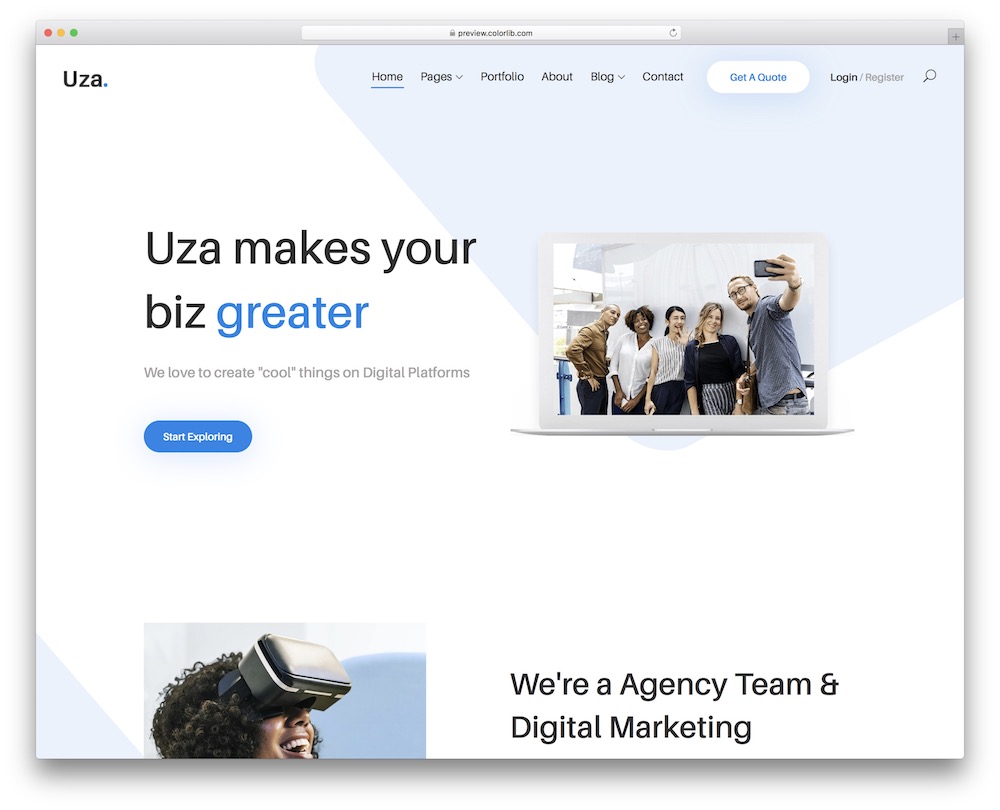 Uza gets the ball rolling as a minimal website template for agencies and businesses.
Avoid the idea of building the entire online presence from the ground up when you can employ the resourceful Uza.
Not only is the design fully sorted out, but Uza treats you to MANY goodies, too.
With this, you know you can save the effort, which you can rather invest in marketing your services and taking your business to new pitches.
Also, since Uza uses only modern technologies, you also do not have to think of the technical aspects of your top-notch website.
Uza features:
Unique slideshow above the fold
Pricing & testimonials
Contact form & Google Maps
Portfolio page layout
Many more inner page
MORE INFO / DOWNLOAD
DEMO
16. Grunt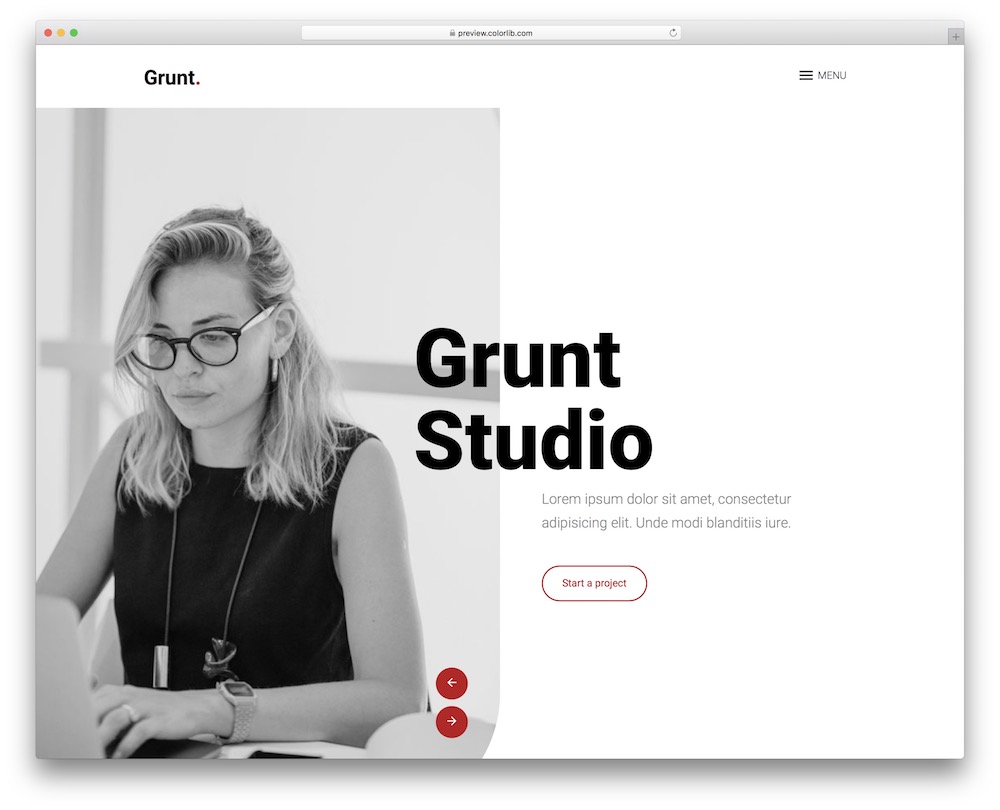 Grunt is very VERSATILE when it comes to usability. That said, you can employ it for freelancers and agencies, even small businesses can work with it successfully.
The appearance is very clean and minimal, so all the content you plan to present gets placed right in front of the user.
Because of the neatness, you will also not want to change the default settings much.
Grunt works great as is with all the very many features and functions that you can work with.
This minimal website template is ideal if you are after making a single-page website.
Grunt features:
Split-screen slider
Hover effects
Floating header
Hamburger menu
Sticky elements
MORE INFO / DOWNLOAD
DEMO
17. Arcwork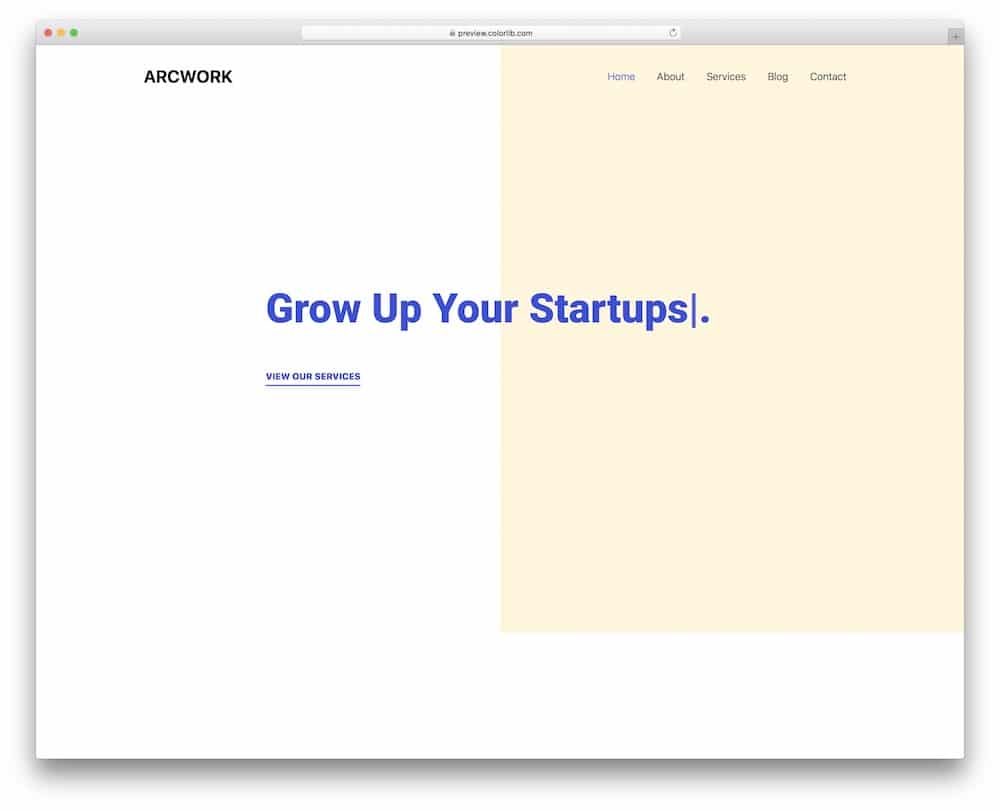 For everyone who likes simplicity but at the same time digs creativity and uniqueness, that's when Arcwork comes into play.
This template is a kit of great traits that secures you to quick-start your project website.
For your information, knowing how to code is necessary, as this is an HTML template and does not work with any of the popular content management systems by default.
Still, the code formation is very user-friendly, so you know that performing any tweaks and changes will be quick and comfortable.
But first, take a peek at the live demo preview before fully committing.
Arcwork features:
Catchy typewriter effect
Carousels
Ready-to-use internal page layouts
Hover effect
Basic contact form
MORE INFO / DOWNLOAD
DEMO
18. TheLook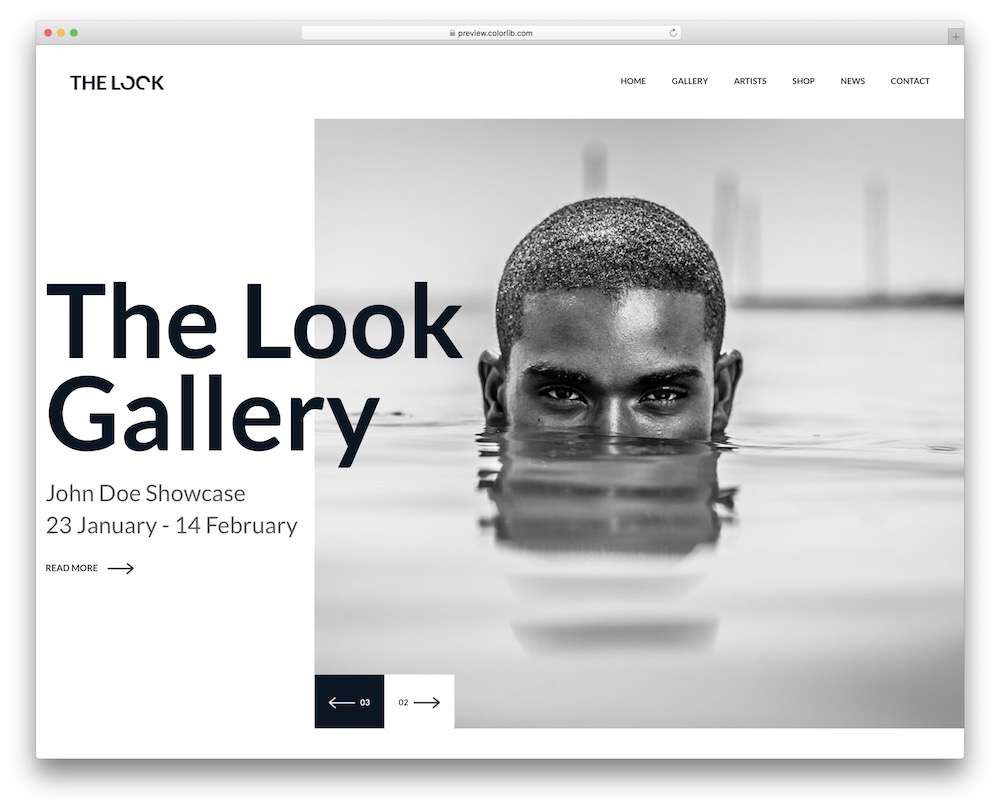 TheLook is a free minimal website template that is an ideal web design for amateur and professional photographers.
But if you fancy this look, feel free to utilize TheLook for something entirely different.
Go against the norm if you will.
You can even customize it and make it follow your unique style.
TheLook will present your photographs in a way that will capture everyone's attention.
Create a portfolio, share your story, even start a blog and go on a more personal level with your audience, all this and more with TheLook.
TheLook features:
Creative slider above the fold
Carousels
In harmony with modern devices
Google Maps integration
Contact info & form
MORE INFO / DOWNLOAD
DEMO
19. Jackson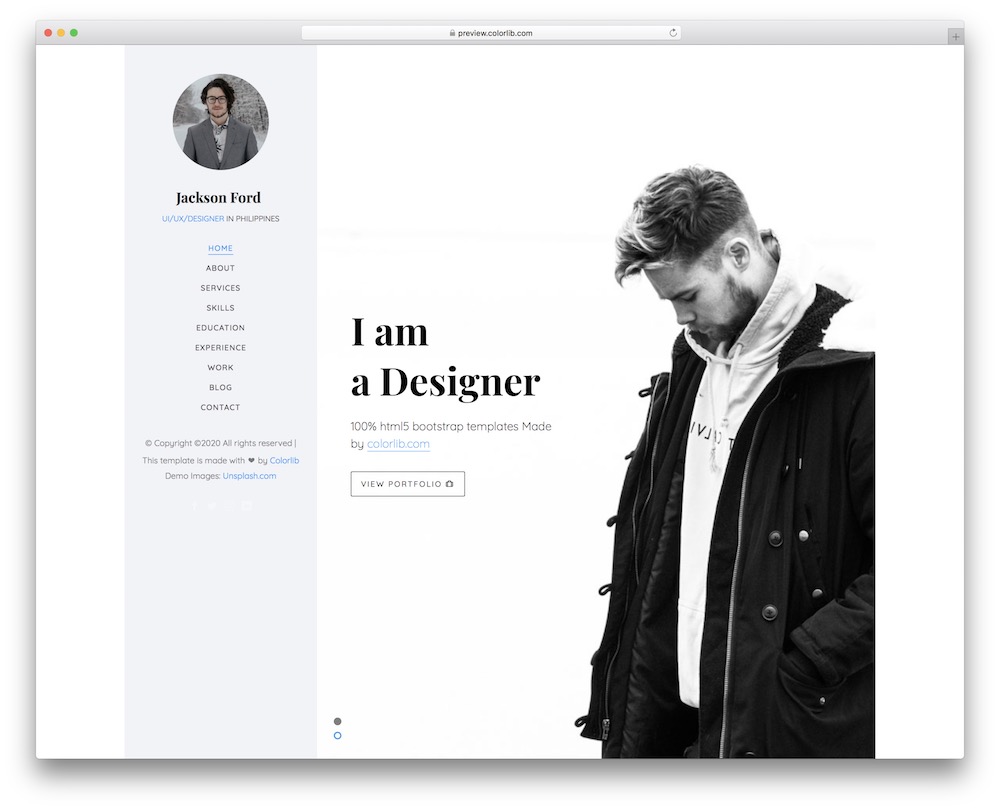 Whenever in doubt, when choosing the design for your personal website, always aim for simplicity.
It is an assured way of presenting all the content you want to share in a professional and sophisticated atmosphere.
To achieve a splendid result, all you need is Jackson. This alternative may cost you little, but it promises an A-grade outcome.
Jackson has many great and practical features to help you STEP UP your online game once and for all.
Additionally, you can always introduce your creative touch and spice things up. There you have it; now it's up to you to make a difference.
Jackson features:
Sticky sidebar menu
Slideshow with text & CTA
Animated statistics & skillbars
Accordions
Work experience timeline
MORE INFO / DOWNLOAD
DEMO
20. Medico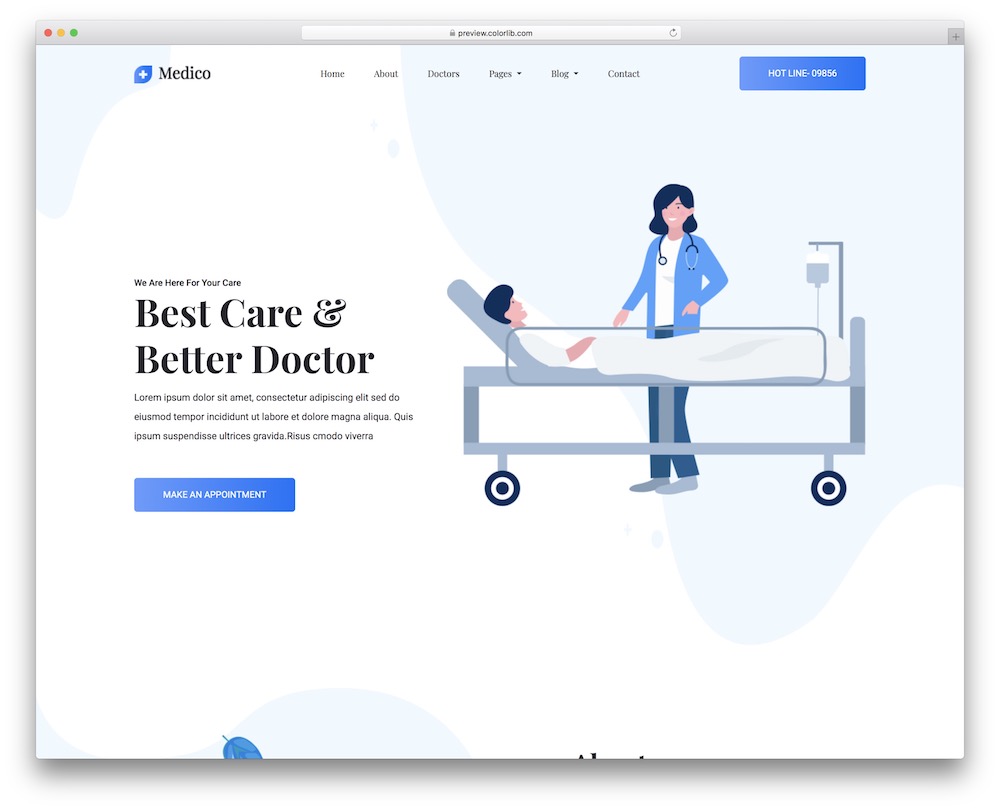 It is clever to keep your website clean and patient-friendly even as a medical institution, a hospital or a doctor.
With Medico, you will easily achieve that, as it provides you with a minimal design. This website template gets you going right away.
It is just a click on the button away.
What's more, you can further expand the possibilities of Medico by configuring default settings and making modification tweaks.
But if the out-of-the-box style already appeals to you, well, you can FEEL LUCKY, as you save yourself additional time.
Medico features:
Sticky navbar & drop-down menu
Doctors' section
Appointment form
Blog for sharing tips & other useful info
Creativity & minimalism
MORE INFO / DOWNLOAD
DEMO
::
Note: This article was originally published on November 3, 2020. But our team regularly reviews it and updates it with necessary improvements for accuracy.