I studied multiple online store website templates because I didn't want to start another eCommerce site from scratch a few months back.
(I ended up with a strong collection I always keep at hand.)
Lazy? I wouldn't necessarily say so.
With heaps of projects going on simultaneously, it seemed the right decision to make.
And. It. Was.
Why?
First, it BOOSTED my WORKFLOW (through the roof). Second, my level of professionalism stayed the same as well.
WIN-WIN.
Since it was just last week when I (again) worked with a client, I (again) reviewed my list of online store HTML templates.
I am now – revealing it to you because I know how much good they will do for you. (No need to thank me.)
Enjoy!
Best eCommerce & Online Store Website Templates
1. eStore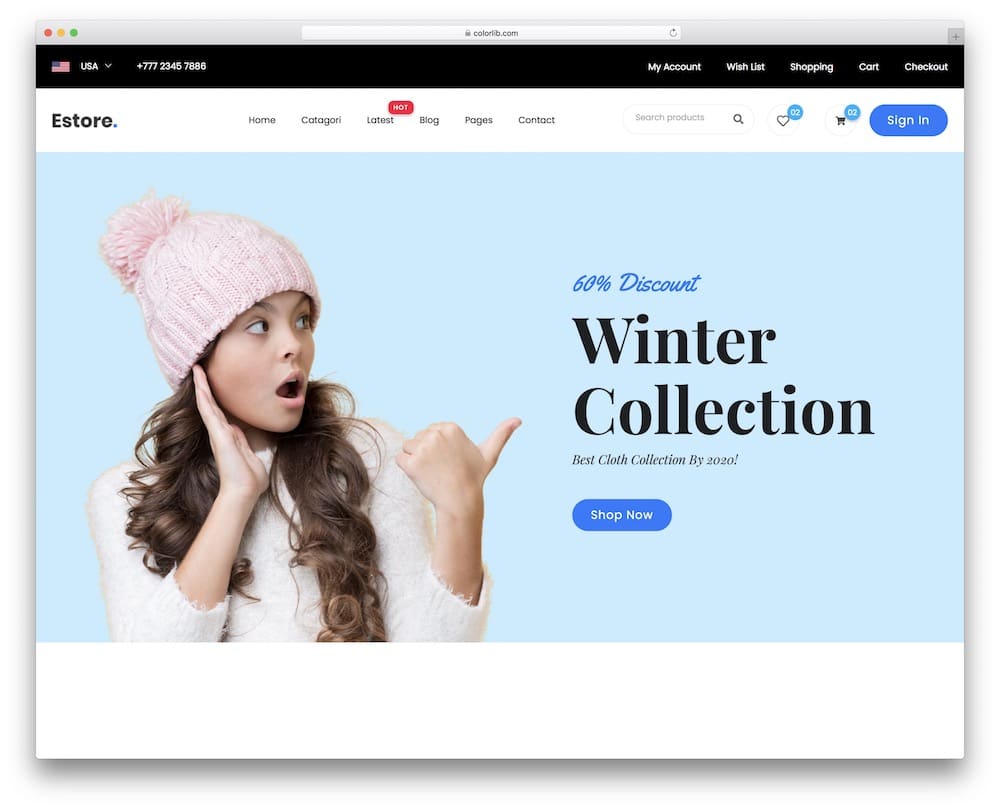 When building a website for your eCommerce business, you should not miss taking a peek at eStore.
This clean and modern website template has many great amenities that will do you well.
Of course, the layout is 100% fluid, seamlessly adapting to all modern devices and screen sizes.
Moreover, the design is minimal, ensuring a beautiful product display.
You can use eStore out-of-the-box. But you can fine-tune and brand it accordingly, too. (The excellent template organization ensures quick work.)
Get the ball rolling with a ready-made solution instead of doing all the heavy lifting from the ground up.
eStore features:
Sticky navigation
Back to top button
MORE INFO / DOWNLOAD
DEMO
2. Aroma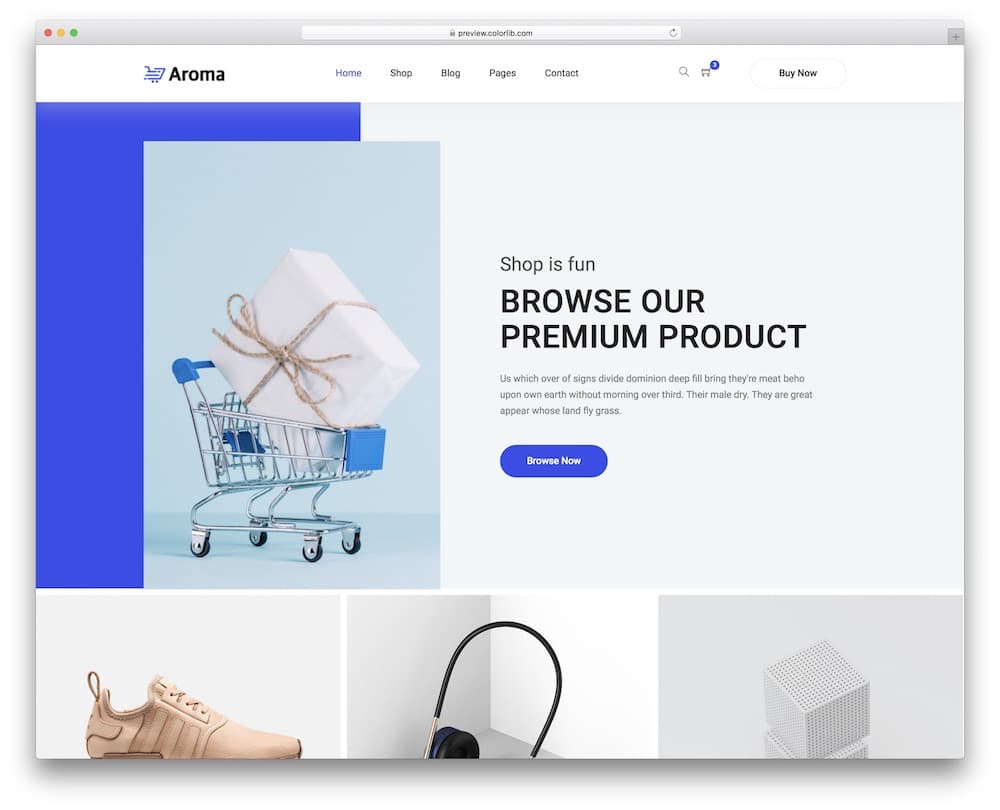 Consider Aroma if you are on the hunt for a simple, modern and impactful template for eCommerce websites.
You will experience a fast process of building your online store with this excellent solution. (Say bye to starting from scratch.)
Also, the tool uses only the latest technologies, guaranteeing smooth page performance. Your webshop will work flawlessly on all modern devices and web browsers.
Along with pushing products, you can also use the available blog pages and expand your reach over and beyond (which always works great for me).
Aroma features:
Floating header
Login & registration pages
Bootstrap Framework
MORE INFO / DOWNLOAD
DEMO
3. MaleFashion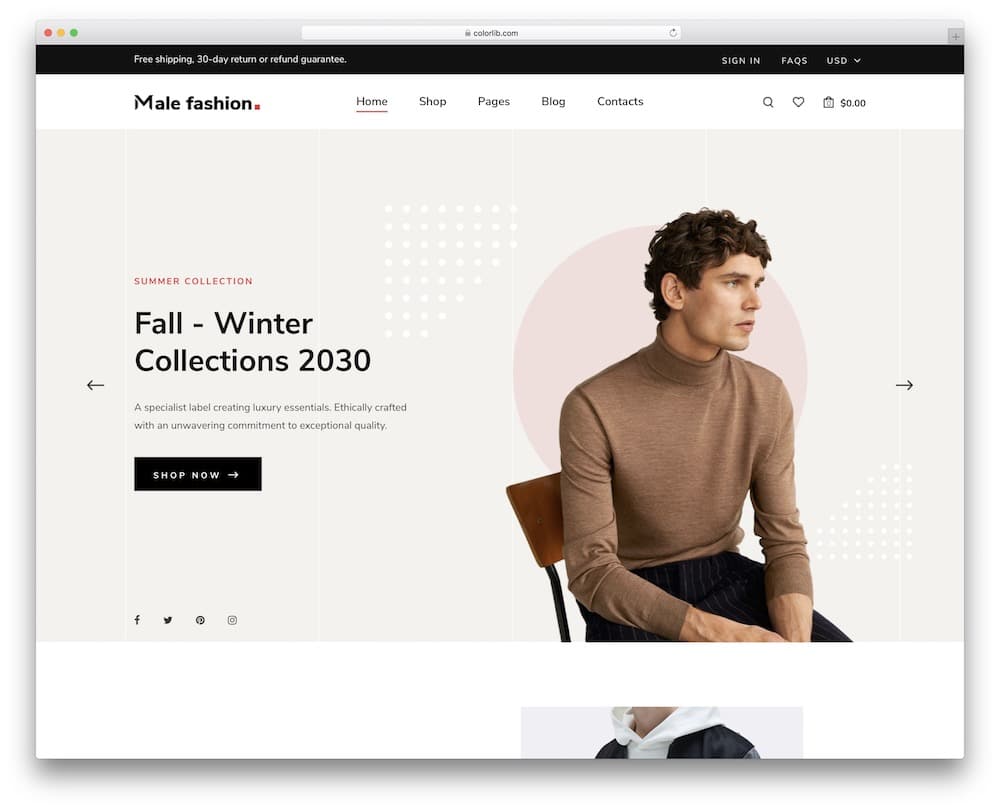 While all of the online store website templates work for multiple intentions, some are niche-specific by default. Indeed, MaleFashion is a site skin that ideally fits male fashion and apparel brands.
Still, alter the content, and you can employ MaleFashion for something else. (It's TOO easy to do.)
You have plenty of options and possibilities to establish the outcome that fits the way you like it.
The code of MaleFashion is also well-organized, so everyone gets the most out of it.
Whether a beginner or a professional web developer, you will win the game with MaleFashion.
MaleFashion features:
Social media icons
Various inner shop pages
Countdown timer for special deals & sales
MORE INFO / DOWNLOAD
DEMO
4. Shionhouse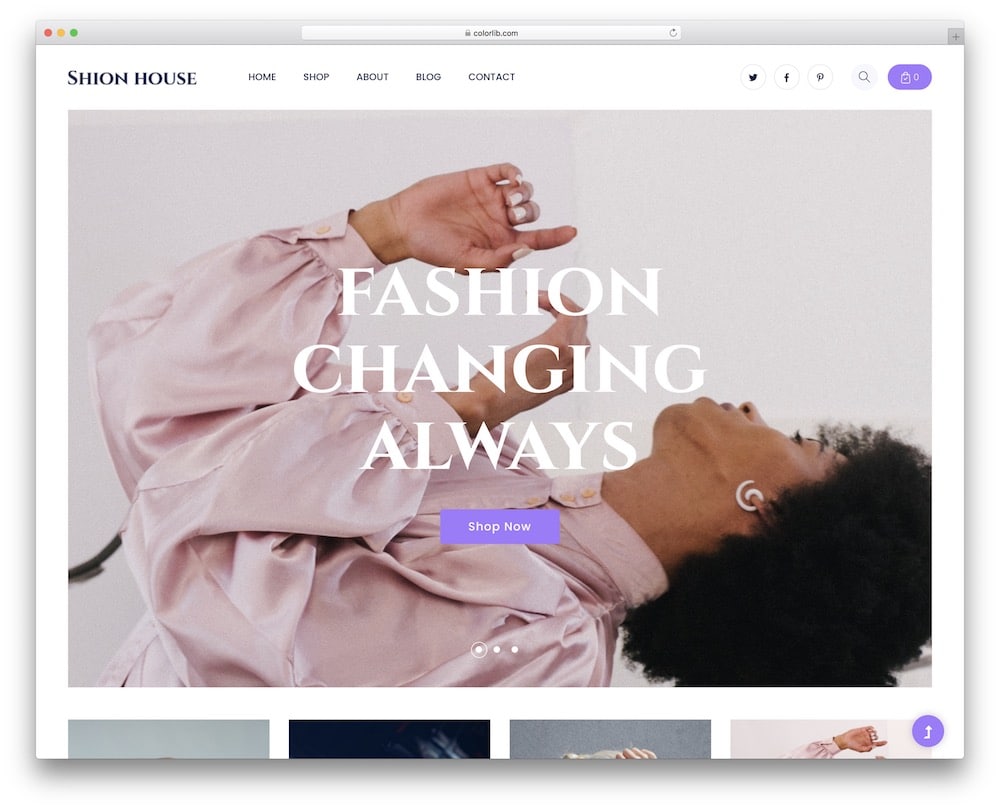 Shionhouse is a highly versatile and adaptive website template for online shops, fitting fashion, accessories, glasses, bags, shoes, etc. – EVERYTHING.
There'S no need to feel limitations due to the amazing functionality and improvement of the default appearance.
The outcome will feel very pro-level with the great features and stunning web design, and that is my guarantee.
Just take action if you dig it – it's that simple.
Make an eCommerce website that will turn heads and raise your potential.
Shionhouse features:
Big slideshow with CTAs
Hover effects
Scrolling effects
Functional contact form
Front & internal page layouts
MORE INFO / DOWNLOAD
DEMO
5. Ogani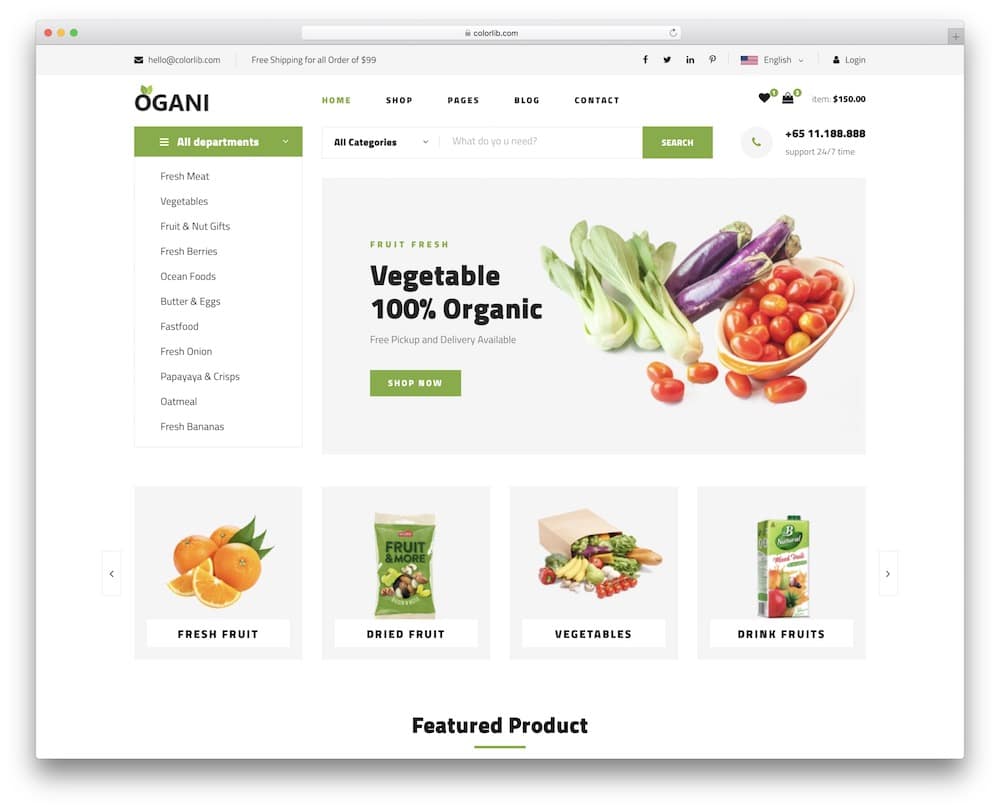 Ogani is the ideal online shop website template for you if you specialize in pushing food products.
Why complicate and do all the work from the ground up if you do not have to?
That said, head over to the live demo page of Ogani, see it in effect, and put it into play right away.
The entire appearance of the tool is very appealing to the eye, placing your product front and center.
But this is just the beginning of all the amazingness you can create with Ogani.
Ogani features:
Filterable featured products
Carousels
Cart & checkout pages
Full blog section
Google Maps & working contact form
MORE INFO / DOWNLOAD
DEMO
6. Ashion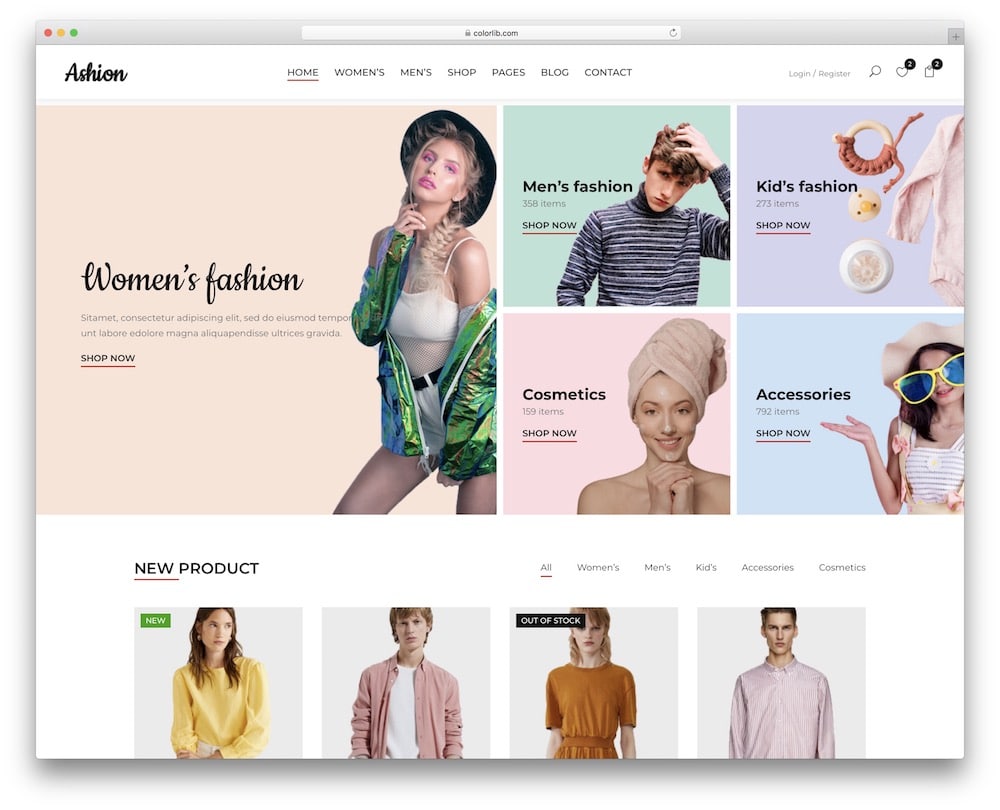 Ashion may be short of fashion, but the capabilities of this template go beyond that.
An up-to-the-minute site skin will get you moving in the right direction quickly.
When establishing your online business, enjoy using predefined content and save yourself time and energy.
You can adjust to the out-of-the-box look at free will, so Ashion practices your style to a tee.
You also do not need to worry about browser and device compatibility; Ashion uses only the latest technologies.
Ashion features:
Categorized products portfolio
Nifty boxes for categories
Countdown timer for urgency
Hover effects
Instagram feed (but you need to connect it to back-end)
MORE INFO / DOWNLOAD
DEMO
7. Divisima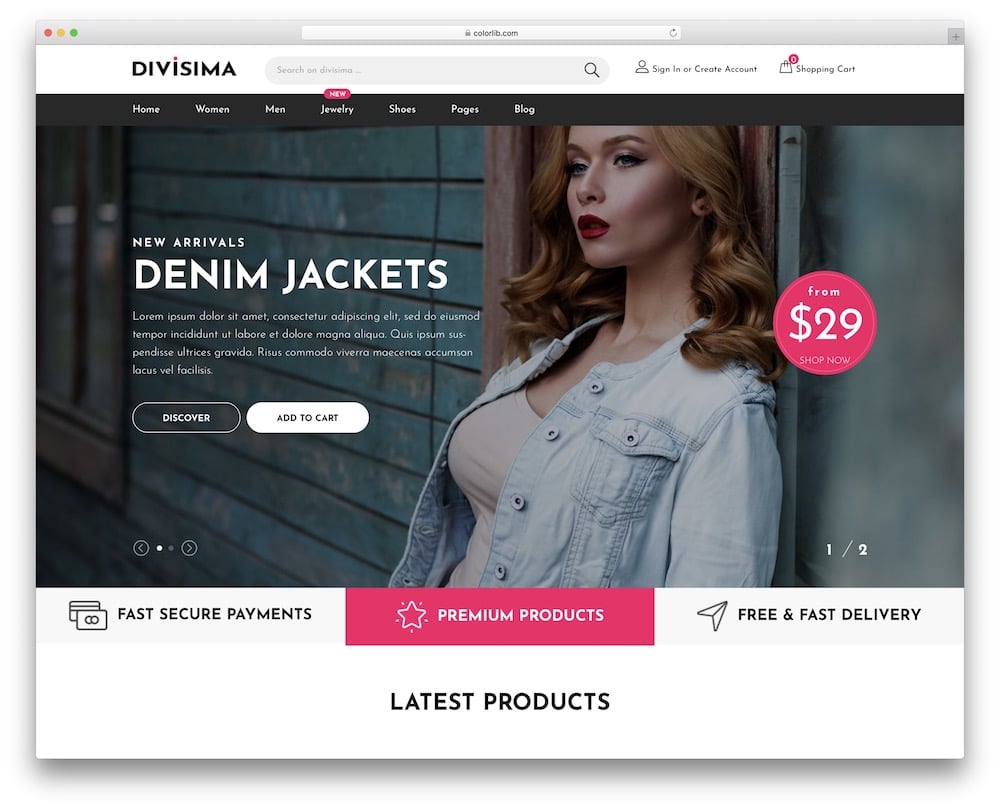 Divisima has all you would want in an online store website template. It is a resourceful solution with many perks that will do you well.
In other words, even though Divisima has no hidden fees, your final creation will still be A-grade.
And if you do not believe what you read, by all means, head over to the live demo page now and see the magic happen.
While you can create the exact online shop with the demo, you can also introduce your creative touch and make Divisima exclusively yours.
Divisima features:
Slider with smooth transitions and CTAs
Categories
Footer social media buttons
Ready-to-use front & internal page layouts
Full-blown contact page
MORE INFO / DOWNLOAD
DEMO
8. TimeZone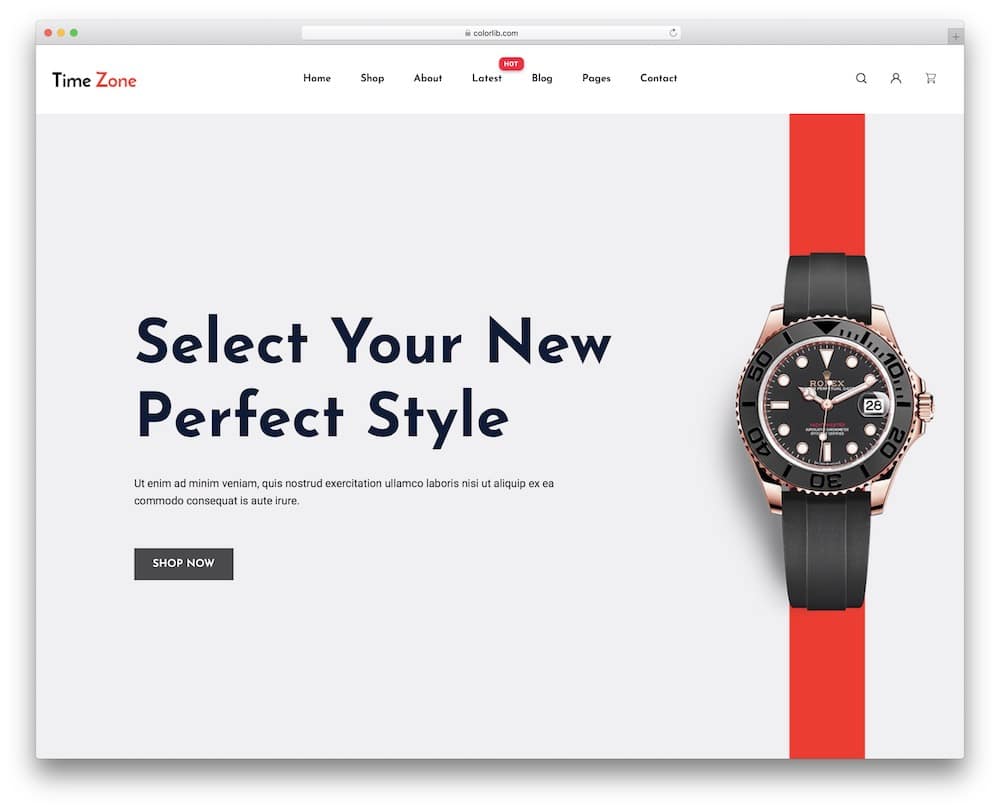 From general to more niche-oriented online store website templates. Whether you want to start an online watch store or build a page for a watch brand, make it happen with TimeZone.
It is an impressive and eye-catchy design with many features. But first, let's talk about the look.
TimeZone has a clean and minimal design that will appeal to everyone.
Not just that, but your visitors and potential buyers will enjoy it, too, as it promises a distraction-free shopping experience.
Make an immediate difference with TimeZone now.
TimeZone features:
Bold slideshow with hover effect
Floating navbar
Video support
Many useful UI elements
MORE INFO / DOWNLOAD
DEMO
9. Vegefoods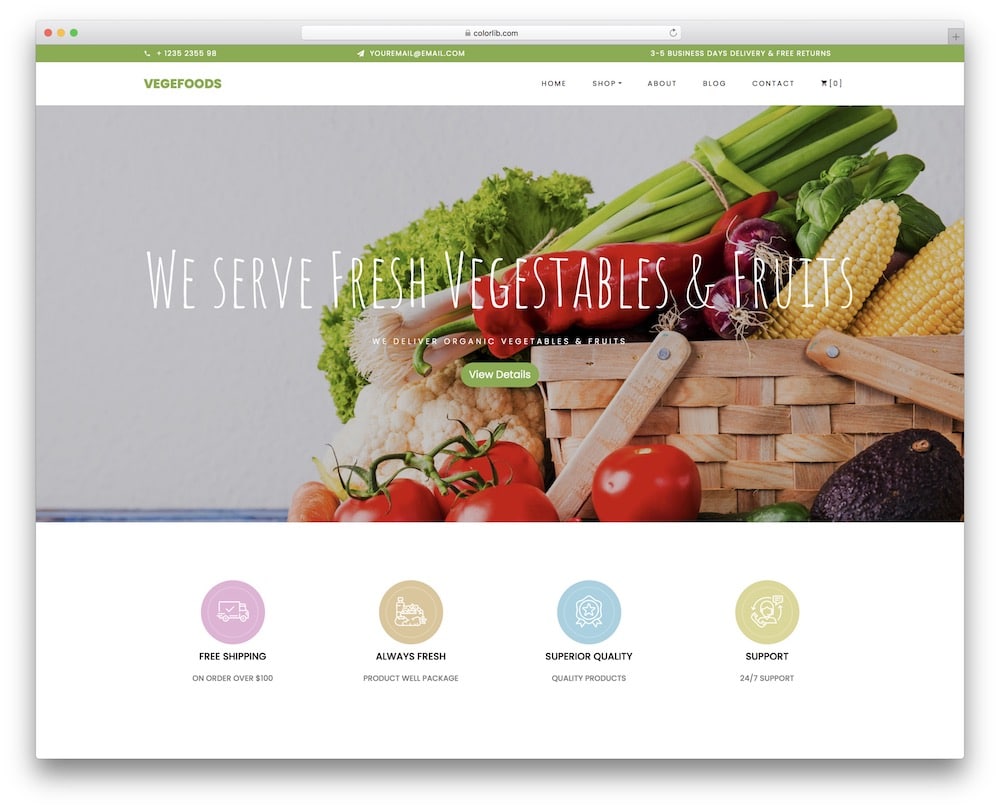 Farm markets, vegan stores, heck, anyone who would like to sell food and produce, Vegefoods is the alternative template for you.
Due to its neat appearance, everyone will have a blast skimming through what's available.
Couple Vegefoods with your professional food photographs and other compelling content, and you instantly raise your potential to level eleven.
But this is just the beginning. You can also introduce strategic content marketing via the integrated blog pages and connect your site with your active social media accounts.
Tons of possibilities to make sure you win the game.
Vegefoods features:
Practical back to top button
On scroll content loading
Deal of the day with countdown timer
Customer testimonials/reviews
Company logos section
MORE INFO / DOWNLOAD
DEMO
10. Fashi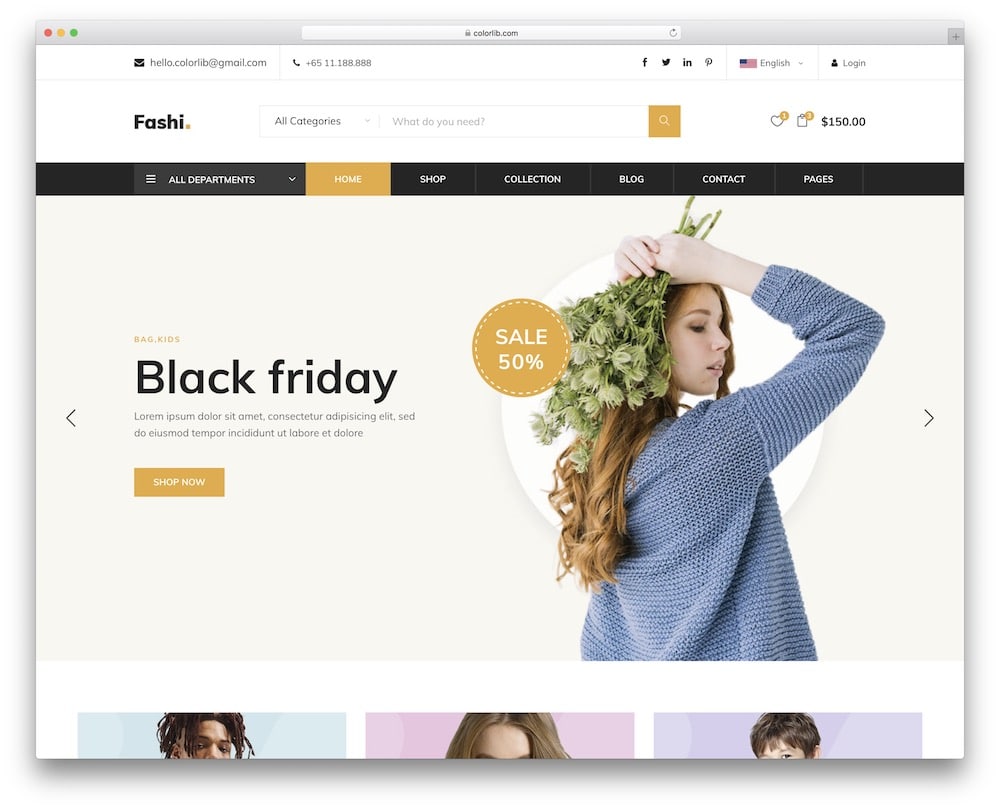 Fashi might be perfect for a fashion business, but this impressive page canvas works for numerous objectives.
Sure, promoting apparel products will be ideal. Still, there are no boundaries when it comes to Fashi.
Note: Do yourself a favor and peek at all the alternatives in this collection before making any significant changes to Fashi.
You never know, you may find the perfect template that works out-of-the-box just a few scrolls below. (Saves extra time.)
Fashi is an excellent example of a top-notch creation that offers you a kick-start to something stunning and striking.
Fashi features:
Cool boxes for categories
Categorized products portfolio
Countdown timer for urgency
Social media buttons
Cool product details page
MORE INFO / DOWNLOAD
DEMO
11. Aranoz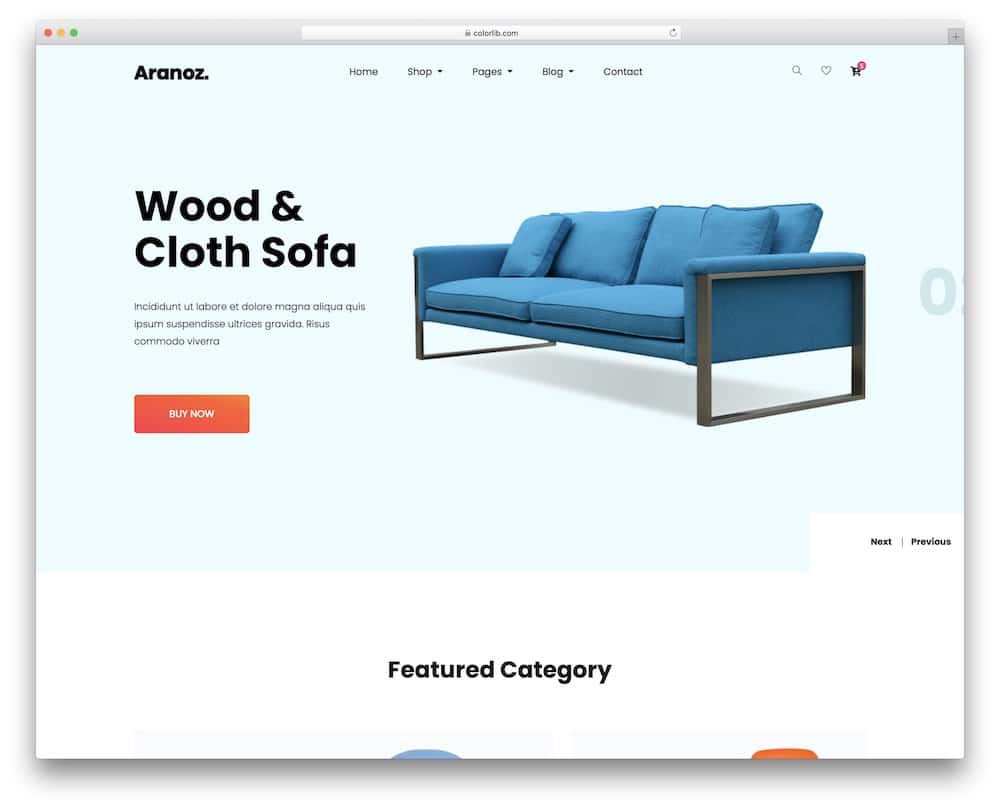 Regarding pushing furniture online, Aranoz is the best option to go with. This online store website template has many practical traits to help you out.
Thanks to its neat appearance, you will showcase all your items beautifully. Aranoz also promises a great experience, thanks to its Bootstrap Framework base.
Yup, your online store will adapt to smartphones, tablets and desktops flawlessly. And Aranoz also works great on retina screens and all well-liked web browsers.
Now is your turn to activate this HTML template and make it a functional website.
Aranoz features:
Slider for triggering everyone's curiosity
Featured products carousels
Section for brand logos you carry
Social icons
Showcase your physical location with Google Maps
MORE INFO / DOWNLOAD
DEMO
12. LiquorStore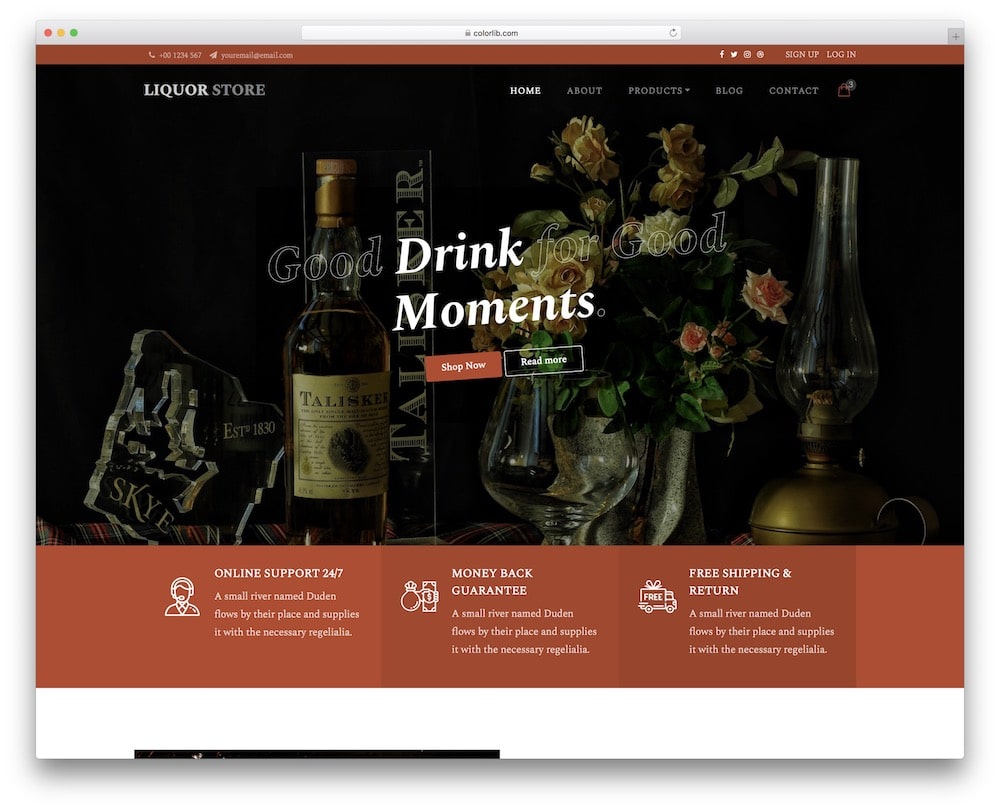 If you think you will not find it, you are wrong. I am talking about an online store website template for drinks.
LiquorStore – hence the name – is a great alternative that will get you to start a new chapter in your life fast.
Whether this means selling and reselling alcoholic drinks or any drinks, you can make it happen with LiquorStore.
You will have no trouble altering the default settings due to its amazing code structuring.
LiquorStore also has many practical features and functions to save you additional time.
LiquorStore features:
Call-to-action buttons
Scrolling animations for content loading
Testimonials slider
Blog for sharing tips & tricks
MORE INFO / DOWNLOAD
DEMO
13. Shopmax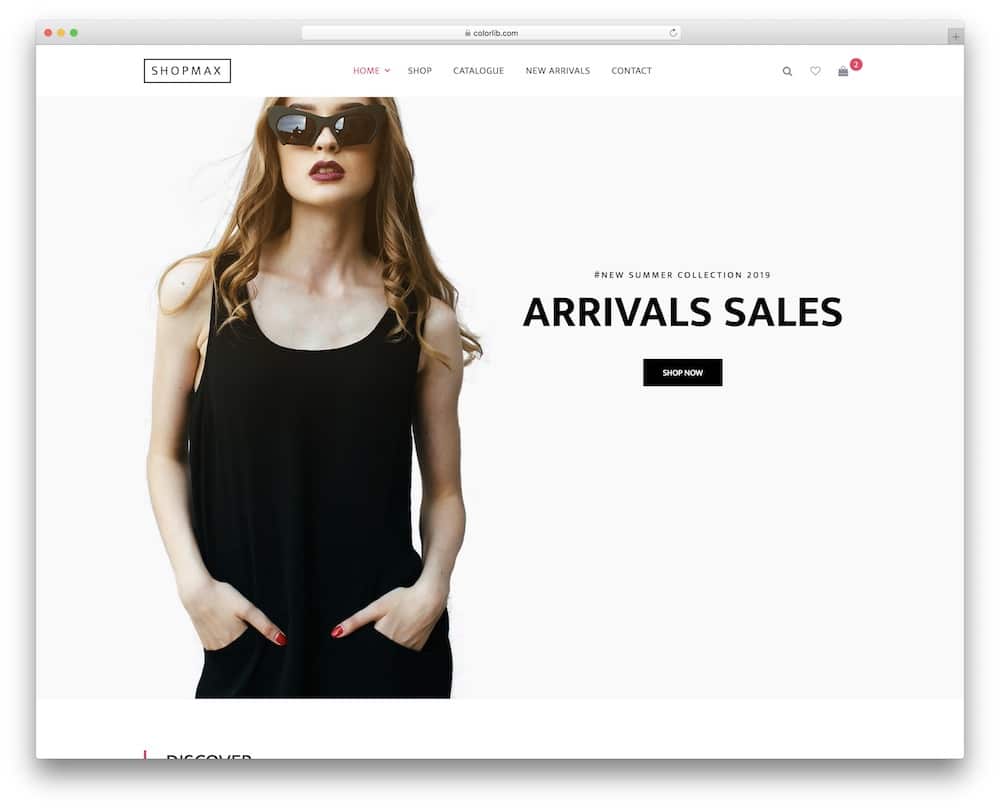 Shopmax knows no limits since you can employ it for all sorts of intentions. Whether building a general apparel store or a product-specific one, it is all possible with Shopmax.
In most cases, you will not even want to change the design; rather, use it as is. (My advice: Keep it simple and minimal if you're unsure – it works for me!)
You ensure a great experience with little to no distractions that may make your users leave early.
With Shopmax, you can expect only great things to happen, so put it into action now.
Shopmax features:
Big banner above the fold with text & CTA
Multi-level drop-down menu
Popular products carousel
Working contact form
100% responsive
MORE INFO / DOWNLOAD
DEMO
14. Modist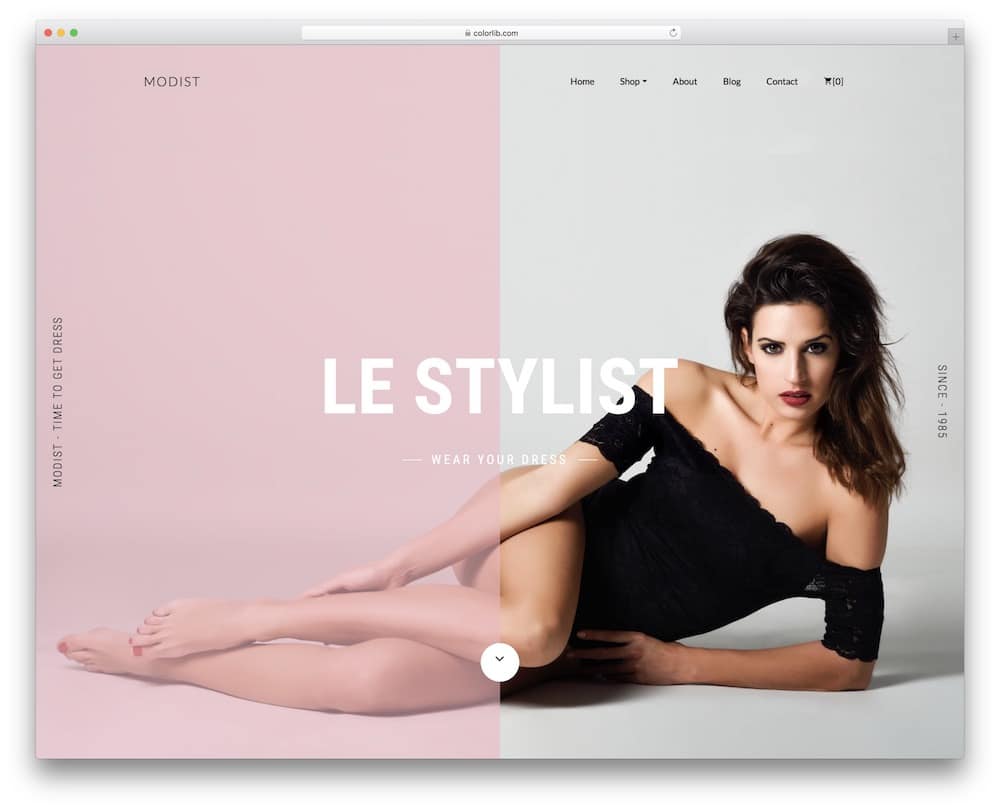 Modist will capture everyone's interest right from the get-go. It is a modern online store website template that anyone can put into play.
Why even wait?
It costs you nothing, and the outcome can be professional and sophisticated. With Modist, you can make remarkable things happen.
Moreover, you can use it to sell all clothing products, but you can even touch other industries.
Modist adapts to different intentions quickly. In many cases, it only requires a change in content, and that's it.
Also, do not hold back when introducing your creative touch to it, as you can style it freely.
Modist features:
Animated statistics
Full-screen banner with scroll down button
Reviews slider
Shop, product, cart & checkout pages
Compelling about section
MORE INFO / DOWNLOAD
DEMO
15. Dealers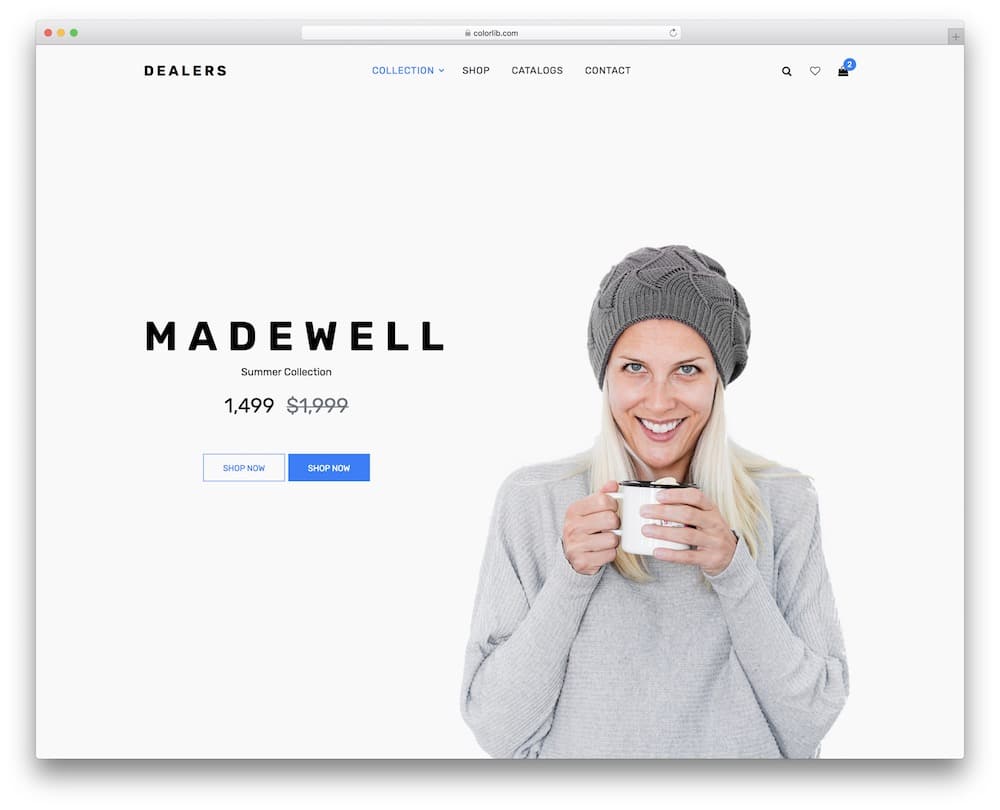 For all the minimalists out there, you better not miss the exceptional Dealers.
When searching for online store website templates that emphasize items first and foremost, you better go with Dealers.
This page canvas equips you with many highlights that will benefit you greatly. On top of that, you will not even want to edit the out-of-the-box web design.
Yes, it's that pretty.
But you're in total control, so do you!
Of course, you can at least brand Dealers with your custom color options, but way more is possible. Enjoy.
Dealers features:
Wide layout
Bootstrap Framework
Well-organized code for easy work
Carousels
Ready-to-use multi-level drop-down menu
MORE INFO / DOWNLOAD
DEMO
16. Shoppers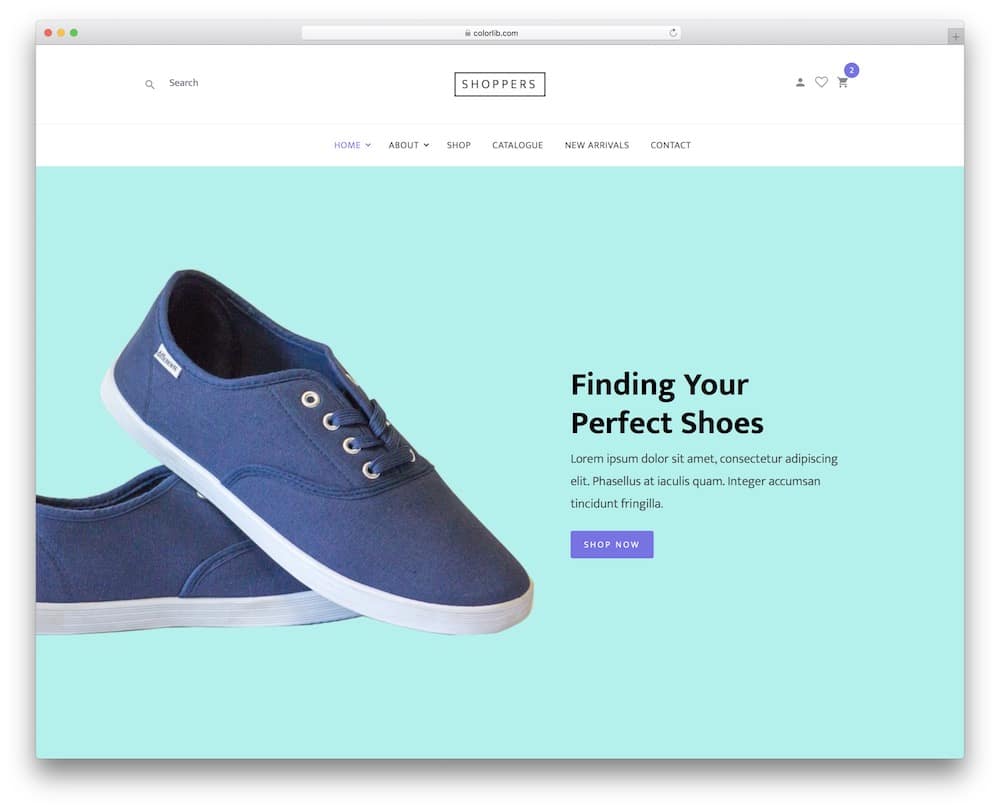 Shoppers comes as a great alternative to make things happen for a general or a niche eCommerce website.
You can even use Shoppers for different projects if you like the look.
Furthermore, Shoppers comes with a minimalist style, ensuring that the content appears front and center, especially items.
Online stores also need to ensure a great experience on mobile and desktop, which Shoppers does.
Hurray!
Shoppers features:
Functional contact form
Somewhat basic web design with a creative touch
Great navigability
Full-width banner with text & CTA
Mobile-ready & cross-browser compatible
MORE INFO / DOWNLOAD
DEMO
17. Selling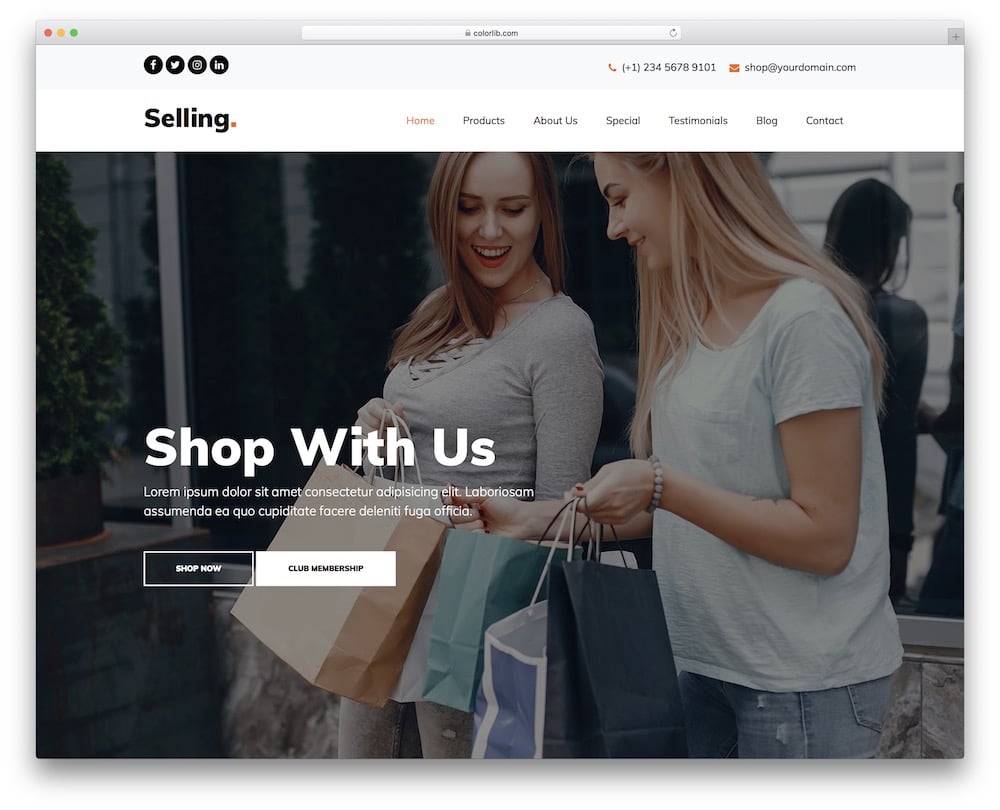 What's special about Selling is its one-page layout. This allows everyone to learn all about your store in just a few scrolls.
Even though this approach is not that popular in the eCommerce space, many still prefer it.
It comes as a great option for smaller online stores or clothing brands with just a few items.
In this case, you can display all your items and let potential buyers avoid jumping from page to page to find what you have to offer.
You can also use Selling to build a landing page website with a few tweaks.
Selling features:
One-page structure for great UX
Parallax effect for spicing things up
Floating navigation
Team section
Countdown timer for sales & promotions
MORE INFO / DOWNLOAD
DEMO
::
Note: This article was originally published on September 24, 2020. But our team regularly reviews it and updates it with necessary improvements for accuracy.