We bring you a (tested) collection of impactful actor website templates based on careful investigation with 7 of our clients.
The demand for these templates may not be as huge as for others. (Still, some actors want to take their name out there via a STRIKING online presence.)
Thus, we decided to include WordPress themes as well.
Since we worked with different clients and different tastes, we are including different designs:
What's best, all are EDITABLE and ADJUSTABLE to your heart's content.
Unlock. Creative. Freedom.
Quick post navigation
You are now all set to expand your potential.
Take your actor career to new heights.
Best Actor WordPress Themes
1. Bard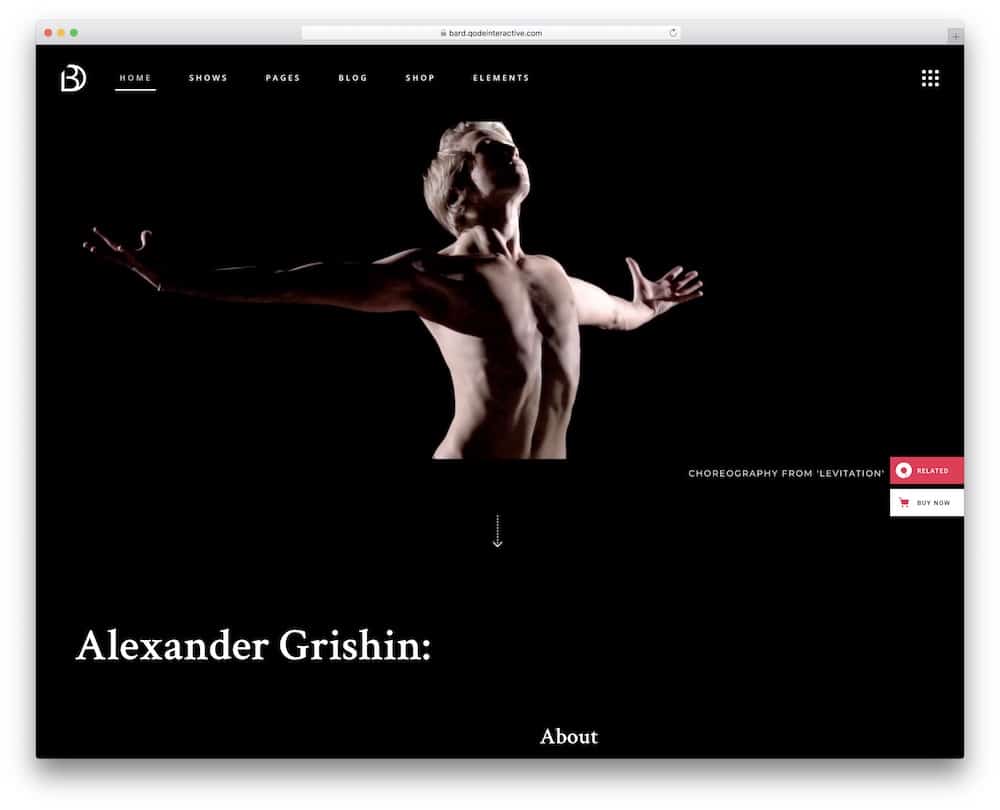 As an actor, everyone wants to get fame and name. If you want to showcase your acting skills and recent works, you may need a professional website to display your amazing skill sets.
In fact, it is a ninja technique to enrich followers and critics. Bard is one of the best actor website templates with easy-to-customize features to showcase your acting career.
WHY choose Bard over any other tool? As Bard comes with six ready samples, you can customize your site without any second person's help.
We know that an actor or a stage performer is always busy with their tasks.
Sometimes, it is hard to instruct other people to design a website that will please them.
In that case, Bard's easy-to-use features will help actors to create and manage the site by themselves.
Bard features:
Tons of ready-made shortcodes
Catchy visual effects
4.6+ star ratings
Price: $79 (may vary)
MORE INFO / DOWNLOAD
DEMO
2. Dozir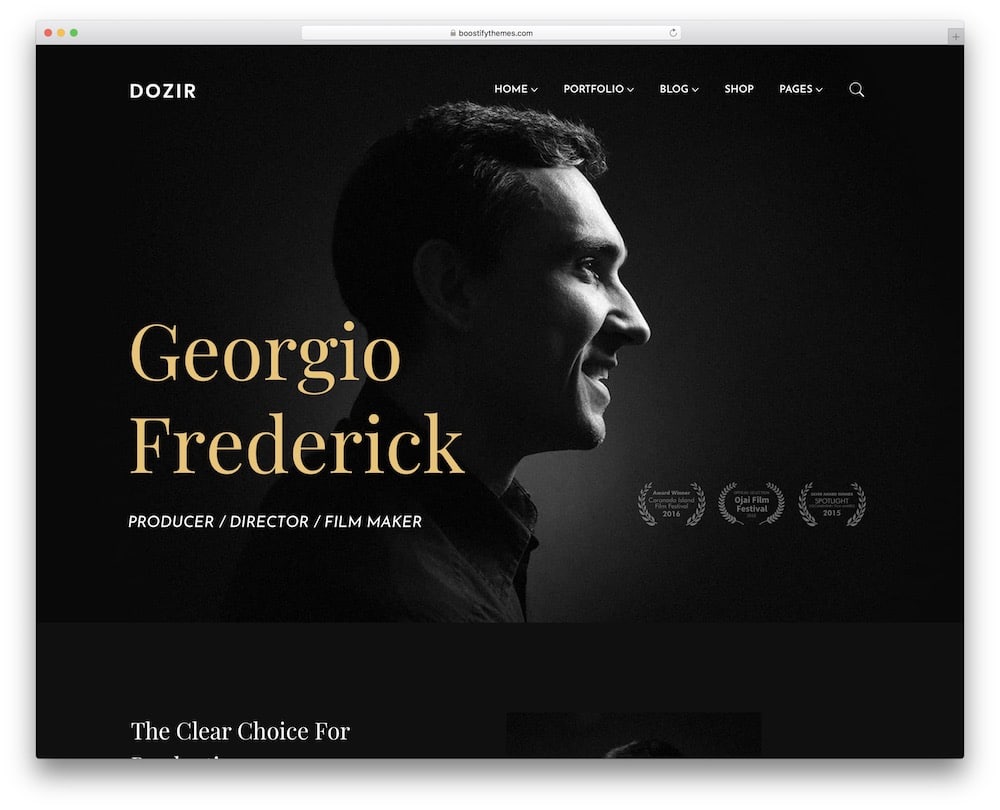 Dozir is one of the best actor website templates specially designed for filmmakers and movie studio owners.
Anyone can build and develop their film studio or filmmaker center or any film websites using Dozir.
It's easy to develop a THRIVING film career with the help of Dozir.
Dozir is a platform like YouTube or any other web video magazine in which artists can easily upload their works to promote or showcase them.
Like other premium WordPress themes, it also supports language translation to reach more regions with different languages.
It provides 100% free premium support for the clients.
Dozir features:
Drag and drop page builder
One click installation
Child theme compatible
4.5+ star ratings
Price: $59 (may vary)
MORE INFO / DOWNLOAD
DEMO
3. Noxe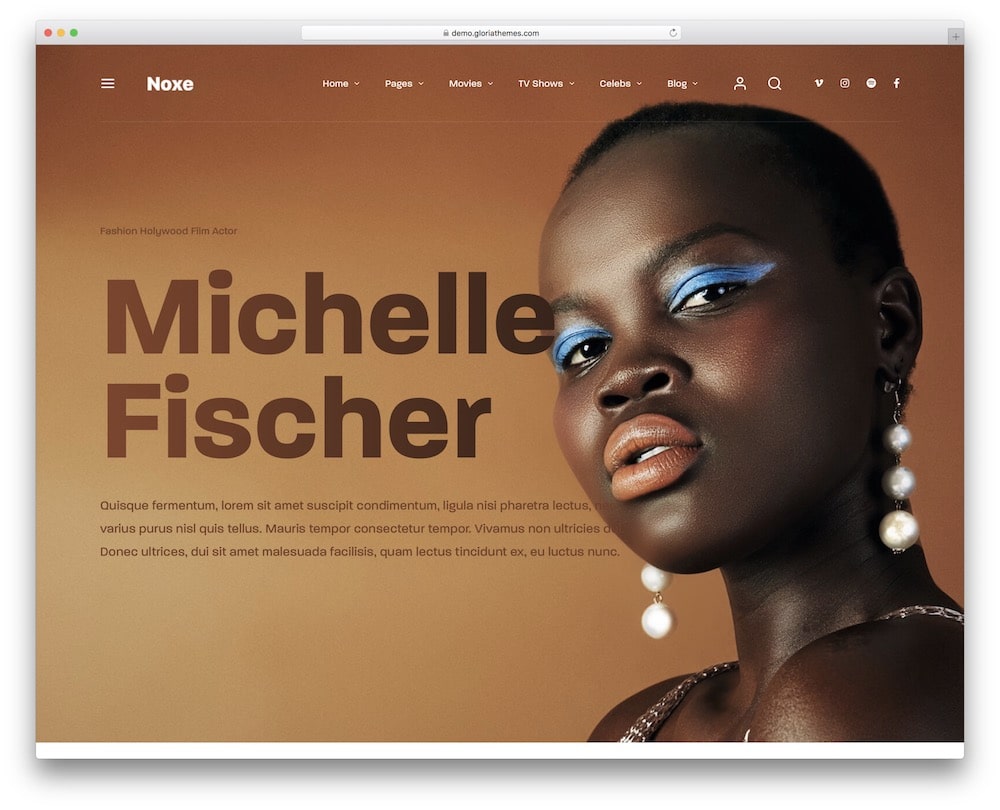 Noxe is one of the most popular actor website templates. In Noxe, anybody can create their website with an advanced movie and TV shows listing system that unique to this theme.
Its unique features like player profiles, movie and TV show search tool, create the perfect theme for one's film career.
Anyone using Noxe, has a broad opportunity of listing their works with many more features from similar websites.
One can quickly build their CREATIVE pages with the drag & drop page builder feature, which does not require any coding knowledge.
Therefore, Noxe is one of the best choices for an artist for building their career.
Noxe features:
Episode management
IMDB integration
Comments and reviews
4.5+ star ratings
Price: $59 (may vary)
MORE INFO / DOWNLOAD
DEMO
4. Devon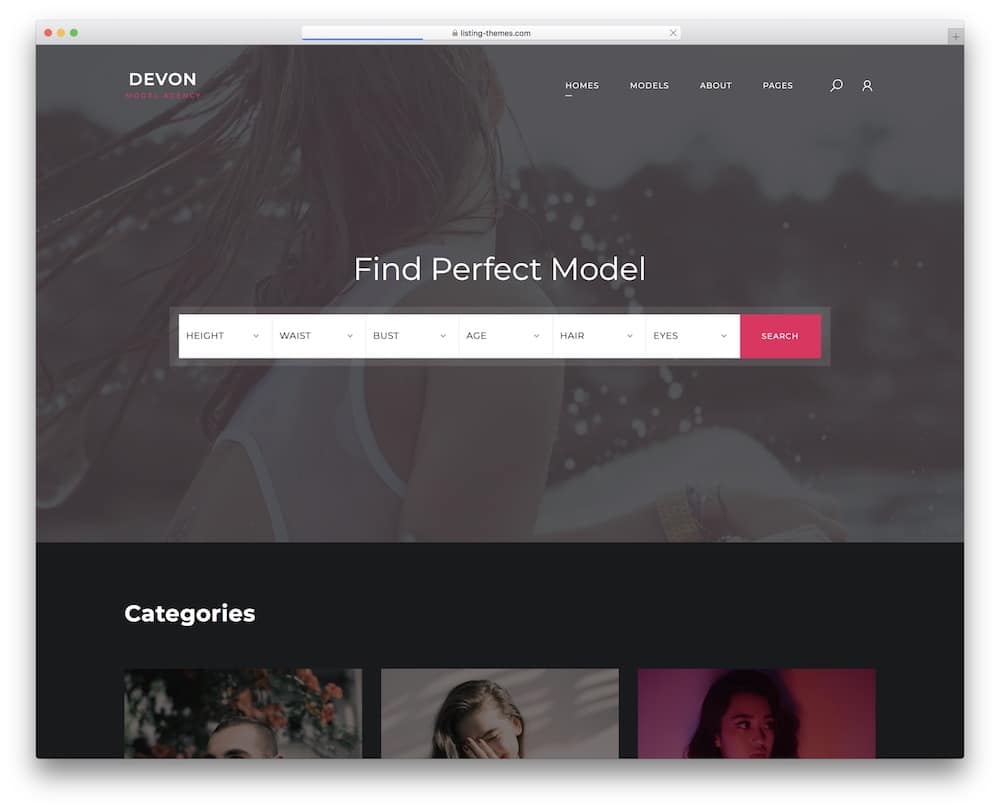 Devon has a wide range of modern features for actors and models. Needless to say, it is one of the more popular tools out there for artistic people.
Easy customization via Elementor visual page builder makes it more useful for the clients. The features it provides are much helpful for the artist.
Devon is enriched with 1170px Grid System, timeless design, beautiful home pages, eye-catchy typography, and so on. Anybody can have an AMAZING experience using it.
An actor or model can create his/her creative page using this stunning site canvas.
Thus it is one of the best actor website template choices for you.
Devon features:
Login and sign-up forms
Agency page and agent portfolio
4.6+ star ratings
Price: $98 (may vary)
MORE INFO / DOWNLOAD
DEMO
5. Vome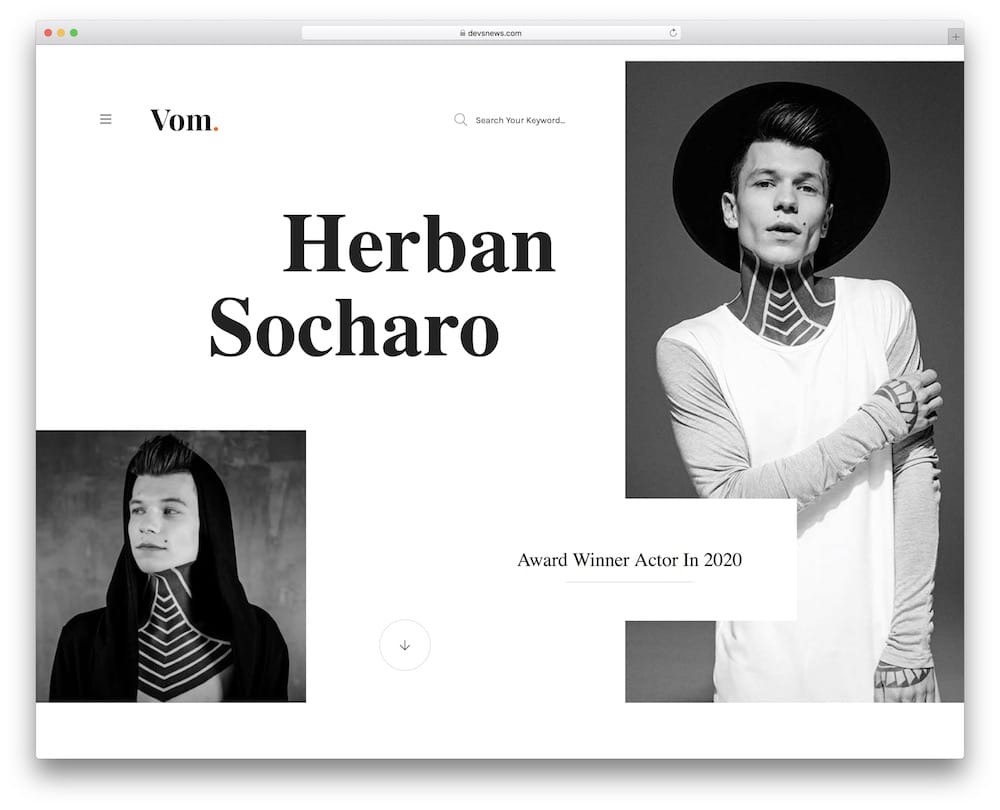 As a professional artist, everyone needs to make his/her artworks visual to the world. For that, you need a professional website to show your talents.
Well, the Vome does the work for you with some great designs and features. These will help you showcase your talents as an artist, model or actor.
With the pre-installed Elementor plugin, you do NOT NEED any technical knowledge to create your desired website because of its easy-to-customize features.
Unlike other actor templates, Vome provides unique features that will simplify your task of creating a fantastic portfolio site.
Vome features:
Optimized for SEO
PSD files
Support and documentation
4.5+ star ratings
Price: $39 (may vary)
MORE INFO / DOWNLOAD
DEMO
6. Burbank

Burbank is a well-liked actor website template that has an easy-to-use page builder option. It includes many modern features that will surely help an actor to showcase his/her talents.
An actor can customize his page background through eye-catchy images to make it look more attractive for the viewers by using Burbank.
Burbank is a personal website template with various modern features for creative professionals.
With the drag and drop page builder option, you will have a breeze setting up your desired website. Besides, you can customize it afterward at any time, keeping it fresh.
Burbank features:
WooCoomerce compatibility
Blog module
Drag and drop customization
4.5+ star ratings
Price: $49 (may vary)
MORE INFO / DOWNLOAD
DEMO
7. Actors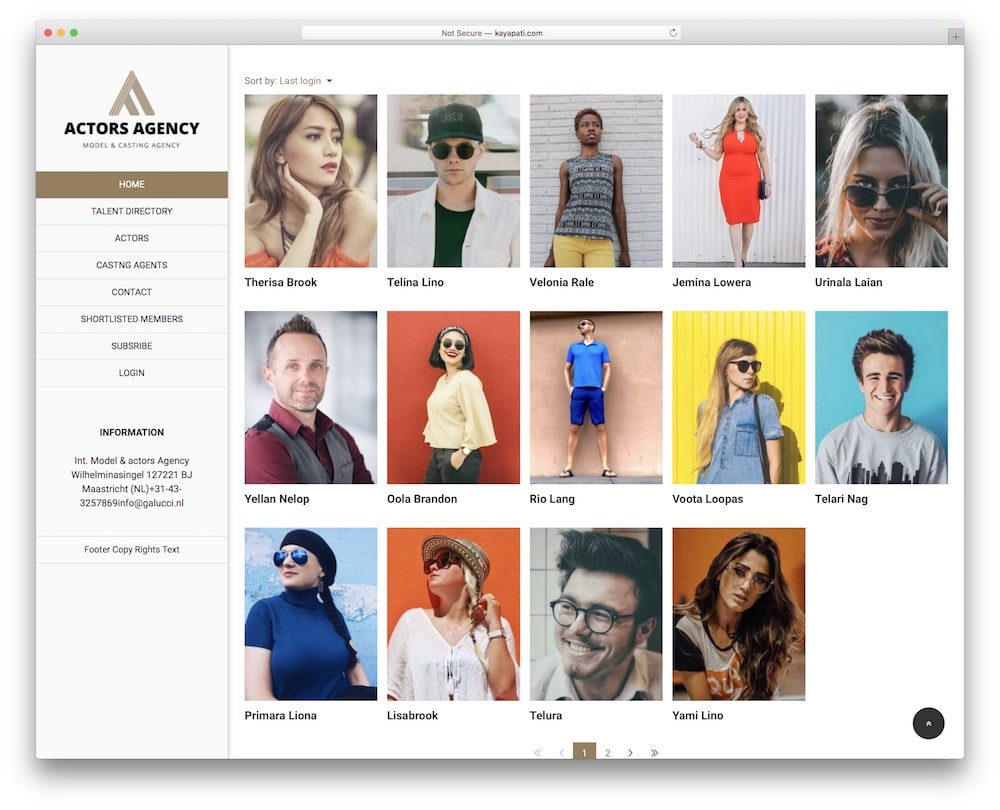 An actor can uphold his artwork by a website of his own to the world that will make his career more fruitful.
For this purpose, Actors is one of the best choices among the actor website templates category.
It is enriched with loads of eye-catchy features that are sure to seek the audience's attention.
Actors offers you to create multiple forms for different fields such as models, photographers, cinematographers, etc.
Catchy color details can make your website look unique from others. It also offers RICH TEXT fields that will help you customize your details.
Actors features:
Restricted content
4+ star ratings
Price: $59 (may vary)
MORE INFO / DOWNLOAD
DEMO
8. Billey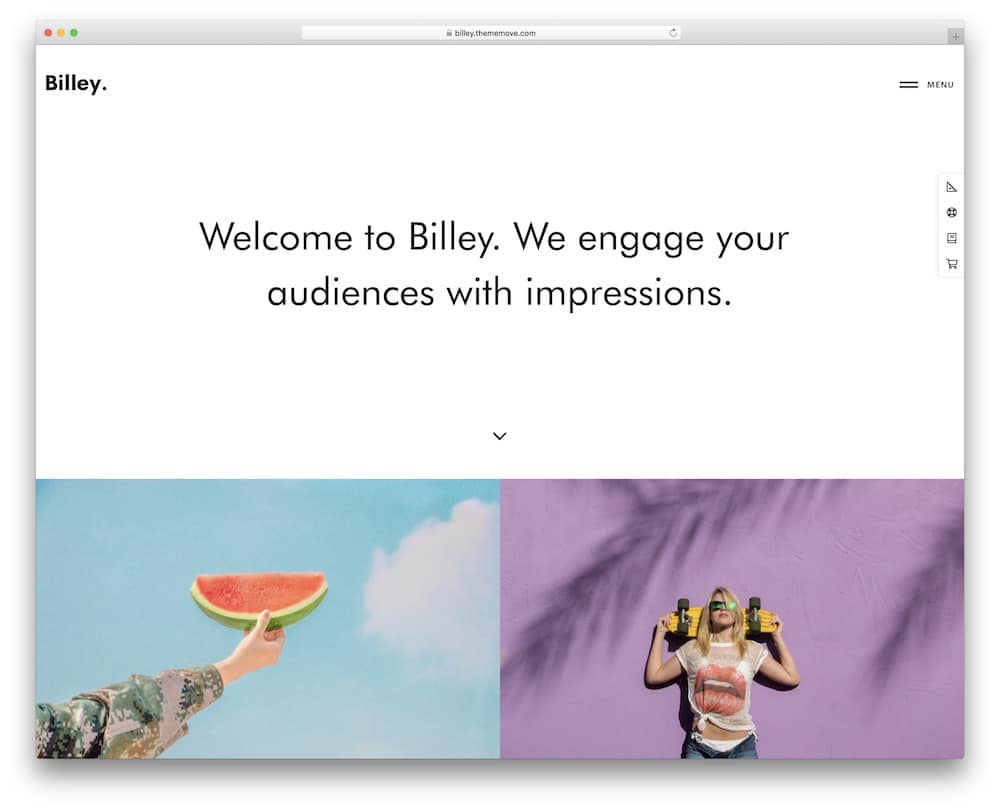 Billey is a highly versatile and all-around solution for all the creative minds out there. And if you are on the hunt to create a top-class website for actors, that's what you can bring to fruition with Billey, too.
There are multiple samples at your disposal, all 100% editable without the need to write code.
Billey follows all the latest trends and regulations of the modern web. The performance of your actor website will be top-notch across all devices and web browsers.
Stand out from the masses now with the convenient and impactful Billey.
Billey features:
GDPR compliant
Stunning portfolio layouts
Quick blog creation
4.9+ star ratings
Price: $69 (may vary)
MORE INFO / DOWNLOAD
DEMO
9. Formota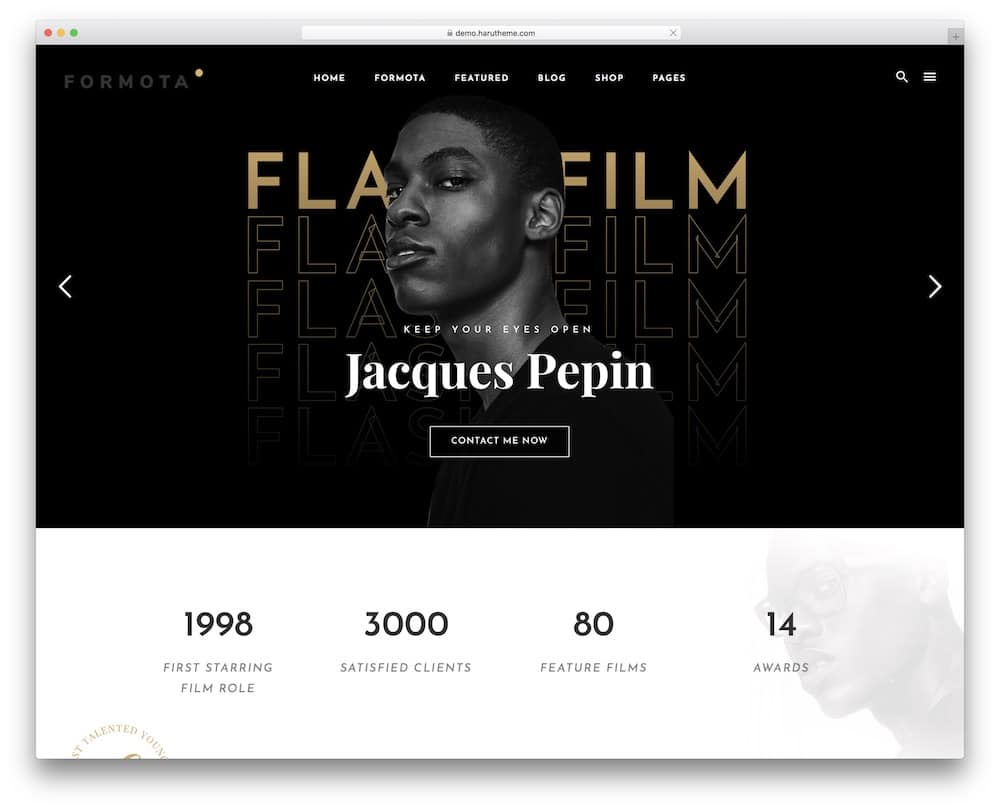 If you are a professional movie maker, then Formota is one of the best actor website templates for you.
Formota offers its users a WIDE RANGE of websites developing features that are a must for a professional movie maker.
The whole theme is designed using HTML5 and CSS3 scripts, making it easier to customize. A separate page for video showreel makes it more user-friendly for an artist.
You can also do core customizations, tailoring the default setting to your needs precisely.
Formota features:
Newsletter pop-up
6 headers and 4 footers
Sticky header
4.9+ star ratings
Price: $41 (may vary)
MORE INFO / DOWNLOAD
DEMO
Best Actor Website Templates
10. Bako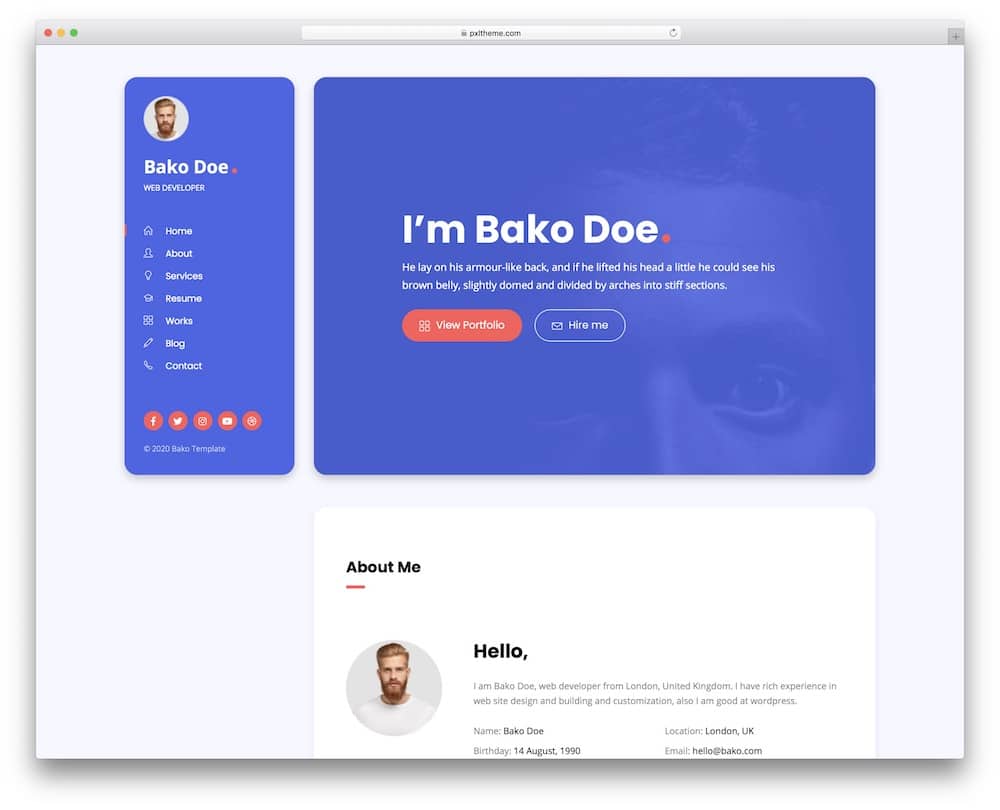 Bako is one of the best templates for actors as it offers an artist many up-to-date features like Bootstrap 4, infinite scroll, free web fonts, and many more.
An artist can easily build his webpage with Bako.
Bako is pretty much easy-to-customize for having HTML5/CSS3 script. Having SASS helps you to use any available CSS libraries seamlessly.
Thus, Bako helps you REACH MORE potential clients with your artworks very easily and makes your career more productive.
Bako features:
Sticky sidebar
Back to top button
Modern and creative look
4.6+ star ratings
Price: $14 (may vary)
MORE INFO / DOWNLOAD
DEMO
11. Ones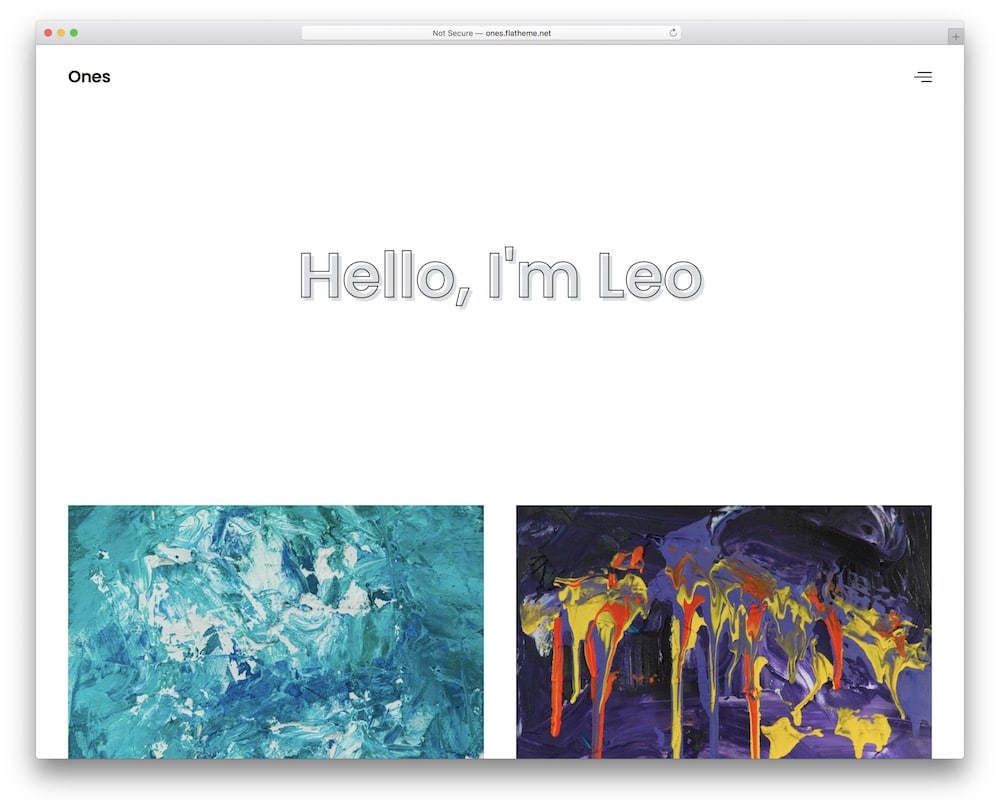 Ones is one of the best options for all kinds of media purposes. Any artist can build his page using this tool.
It has so many unique features to showcase your career in multimedia artworks.
It is a tool that you will find a little breeze to use.
Ones is fully responsive and retina ready, which helps it view on any screen, whether it is a computer or mobile. It is built with Bootstrap 4 for total responsiveness.
If you are ready to MAKE a DIFFERENCE, start the process with Ones.
Ones features:
Scrolling animations
4.4+ star ratings
Price: $24 (may vary)
MORE INFO / DOWNLOAD
DEMO
12. Maslin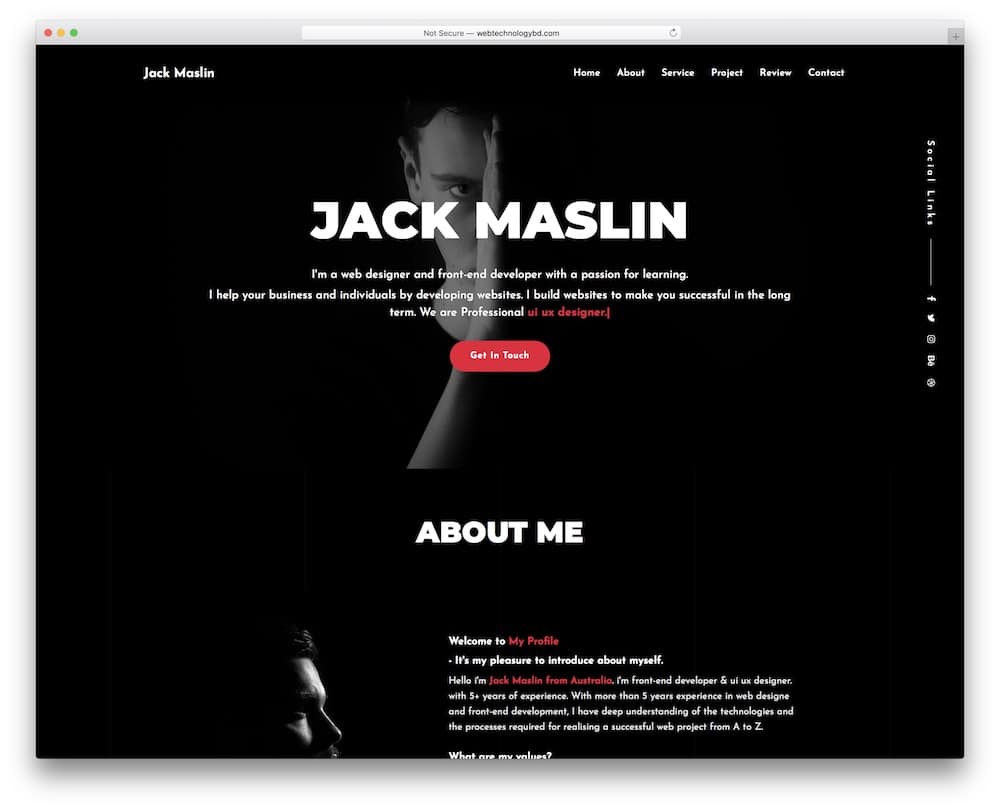 Maslin is one of the most mobile-friendly personal portfolio HTML actor website templates in the industry.
Artists wanting their portfolio to be MORE modern and straightforward can try Maslin. Having more original features, Maslin helps an artist to be more creative.
As Maslin is SEO friendly, it helps an artist's website be more reachable. Which eventually helps an artist to grow faster.
Besides, its good documentation makes it easy to get the gist of it for a comfortable site-building process.
Therefore it helps an artist to make his website look distinct from others.
Maslin features:
Dark and light mode
Animated skillbars and stats
4.5+ star ratings
Price: $9 (may vary)
MORE INFO / DOWNLOAD
DEMO
13. Arty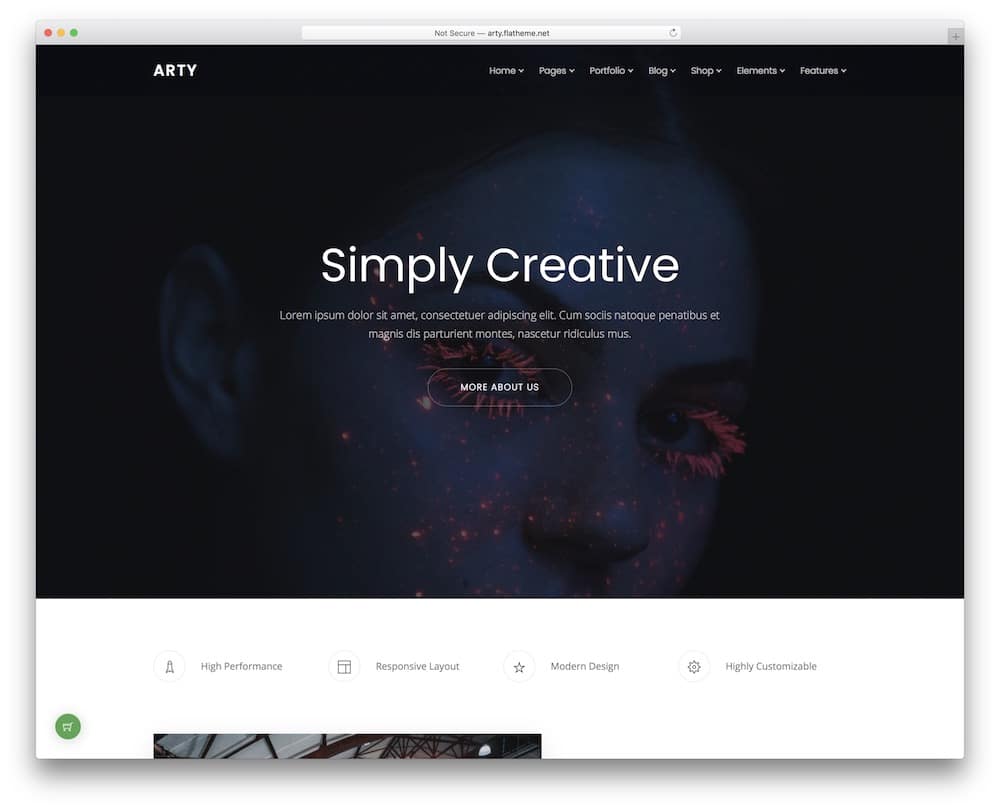 Arty is one of the most creative and easy-to-customize multi-purpose HTML actor website templates with a huge number of features for the users.
It is fully responsive on laptops, tablets, or smartphones, making it more accessible for the audience.
An artist can easily locate all kinds of features to make a quality home page for his website.
Arty includes UNLIMITED portfolio layouts, animations, various icons, countdown timer, Google Maps, etc.
For an artist, it's full of modern features to showcase his talents to the world.
Arty features:
Online shop
Full-screen menu
Countdown timer
5-star ratings
Price: $17 (may vary)
MORE INFO / DOWNLOAD
DEMO
14. Ronaldo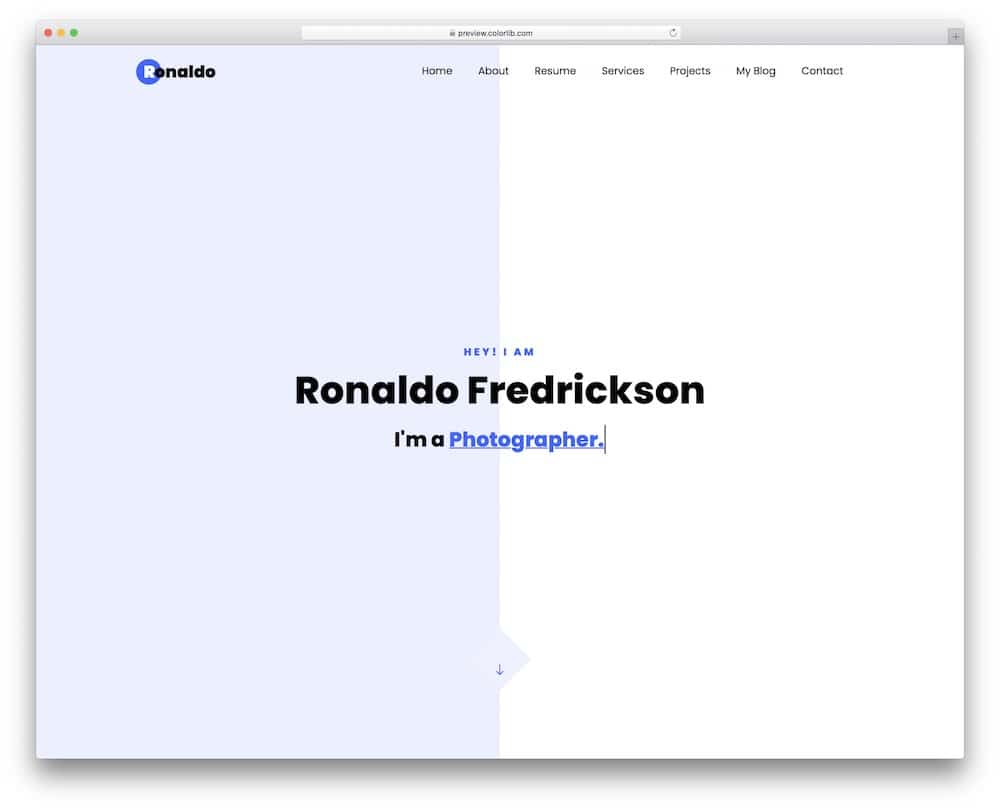 If any individual with a creative mind or a job seeker wants to build his portfolio, Ronaldo is one of the best options for creating an actor website.
Its unique design catches the attention of any viewer in a moment. It is super easy to customize and more reliable for anyone's career.
Ronaldo is 100% responsive and compatible with any screen and web browser. It ensures that the PERFORMANCE is all up to the mark.
So, a creative artist can easily showcase his work of art by using Ronaldo.
Ronaldo features:
Typewriter effect
One-page layout
4.7+ star ratings
Price: $19 (may vary)
MORE INFO / DOWNLOAD
DEMO
15. Jonson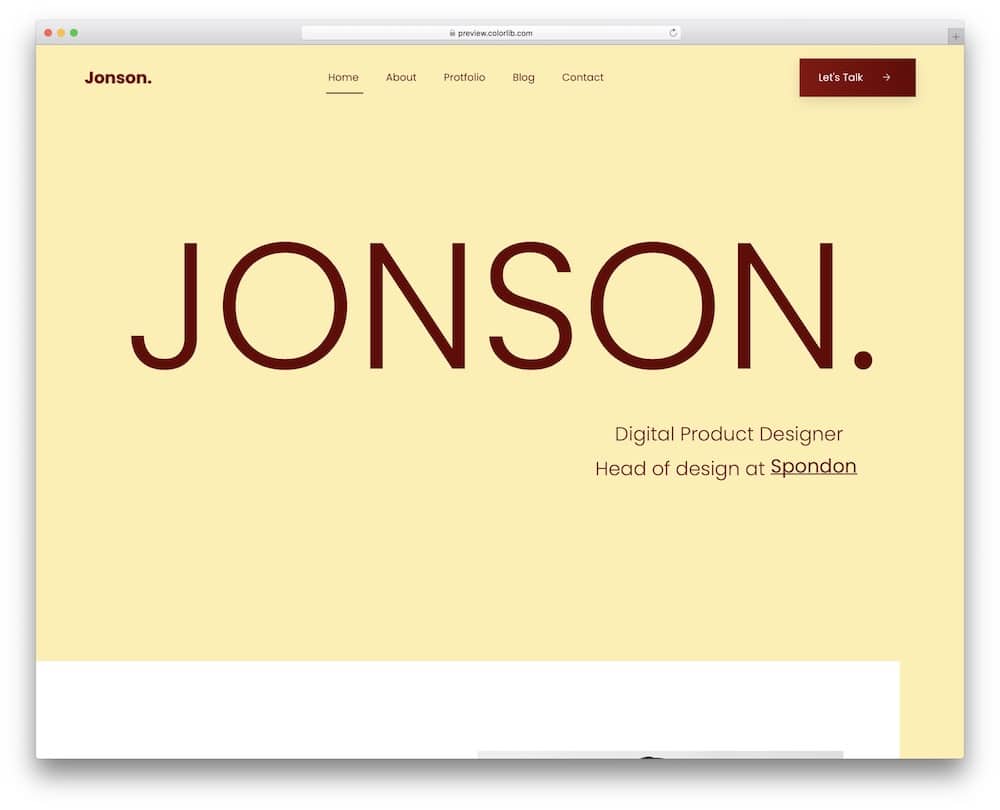 Building a solid online portfolio is much easier with Jonson's help, one unique HTML personal profile actor website template.
Having novel designs and powerful features help you make an outcome that will take your career to NEW HEIGHTS.
In short, if you want to take your work to a whole new level, Jonson is the perfect solution for you.
Jonson will provide you with some extraordinary features like text animation, sticky navigation, social media icons, etc.
Feel free to introduce your creative touch and make Jonson your way.
Jonson features:
Social media buttons
Back to top button
CTAs
4.8+ star ratings
Price: $19 (may vary)
MORE INFO / DOWNLOAD
DEMO
16. Jony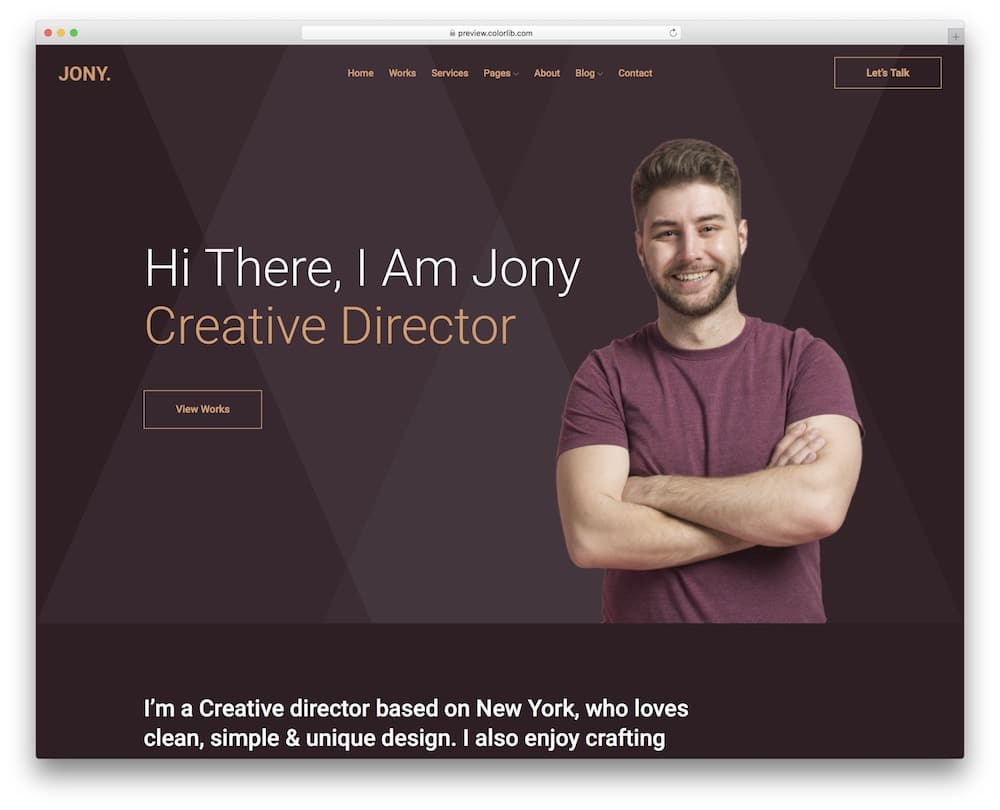 Jony is a fresh, beautiful, up-to-date free dark HTML web design that is pretty popular among the actor website templates.
You can use it out of the box, making a user profile easier with some EXTRAORDINARY features that will surely catch the audience's attention.
An artist can build his portfolio in such a way that it will surely blow everyone's mind with the help of Jony. You can personalize it in different ways.
You can boost your work and complete the page-building process much quicker.
As Jony runs smoothly on every screen, there is nothing to worry about how it works on different devices.
Jony features:
Client references
Google Maps
4.5+ star ratings
Price: $19 (may vary)
MORE INFO / DOWNLOAD
DEMO
17. Clark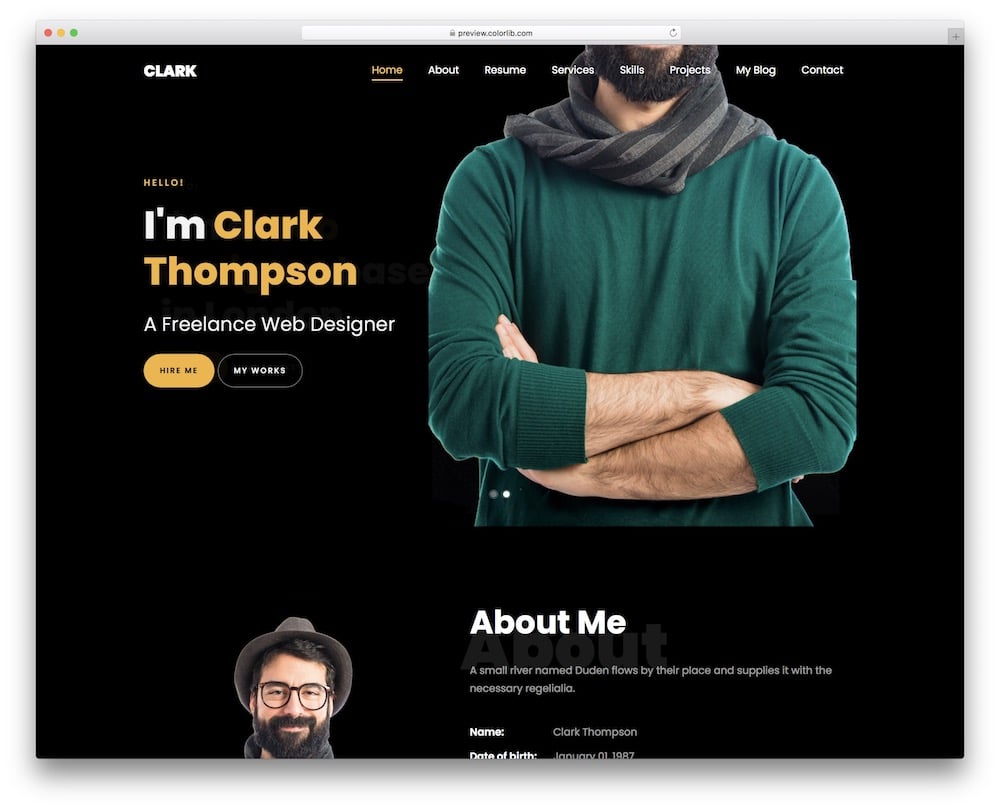 Clark is one of the coolest dark-mode-supported free HTML personal actor website templates. People will be AMAZED by just the look of it.
So, there's a huge opportunity within working with Jony. Any artist can easily personalize his/her website with its help.
Everyone can learn about you with the single-page layout system. One can jump from section to section with ease.
Other features include scrolling effects, project sections, skill bars, and a functional contact form.
With all these modern elements, it is sure that an artist can build up their portfolio with a lot of attention-seeking stuff.
Clark features:
Dark look
Services section
Working contact form
4.7+ star ratings
Price: $19 (may vary)
MORE INFO / DOWNLOAD
DEMO