Are you trying to find the best accounting WordPress themes to create an epic business website?
I prepared for your a list of the ultimate solution after thoroughly testing 29 themes and studying the accounting industry.
This allowed me to find what's NECESSARY and what's not to ensure the themes I added have all the must-have features and functionalities for your convenience.
You need a solid online presence to promote your accounting and bookkeeping services.
Luckily, you don't need coding and design skills to make it happen.
Regardless of the theme you pick from the collection below, you'll have a BLAST building your website (hurray for the codeless process!) – an exclusive one for your business.
This post covers:
QUICK-PICK: Best WP Themes For Accountants
Best Accounting WordPress Themes For Bookkeeping
1. Finance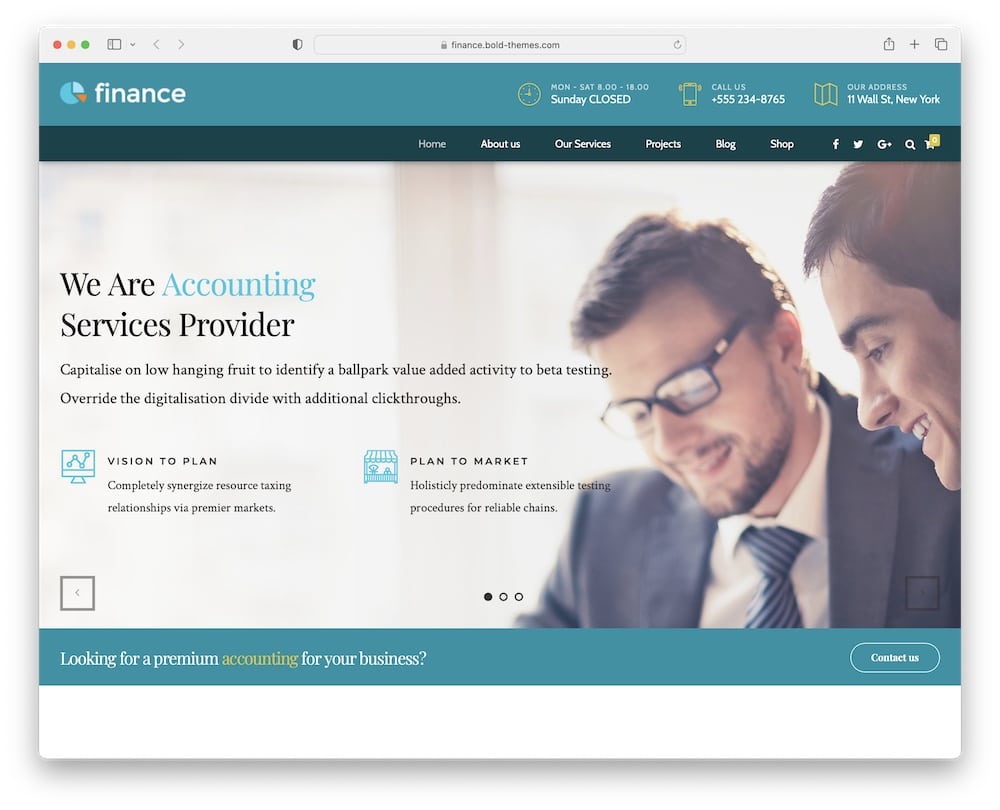 Run and grow your business with the modern Finance accounting and consulting WordPress theme.
You can build your website fast and easily by using one of the pre-made homepages (NO coding knowledge required).
Choose your header, typography, and colors.
YES, you can also start a blog and write about trends, bookkeeping, tax tips, and even inspirational stories of your clients. This stuff is just THE BEST.
Moreover, Finance offers a responsive and retina-ready design for a great user experience on all kinds of devices. Plus, you can translate Finance into any language you need or have the vision to try a broader market.
Let me just say this – I REALLY ADORE professional and friendly customer support! HI5 Finance team!
Finance features:
MORE INFO / DOWNLOAD
DEMO
2. Investex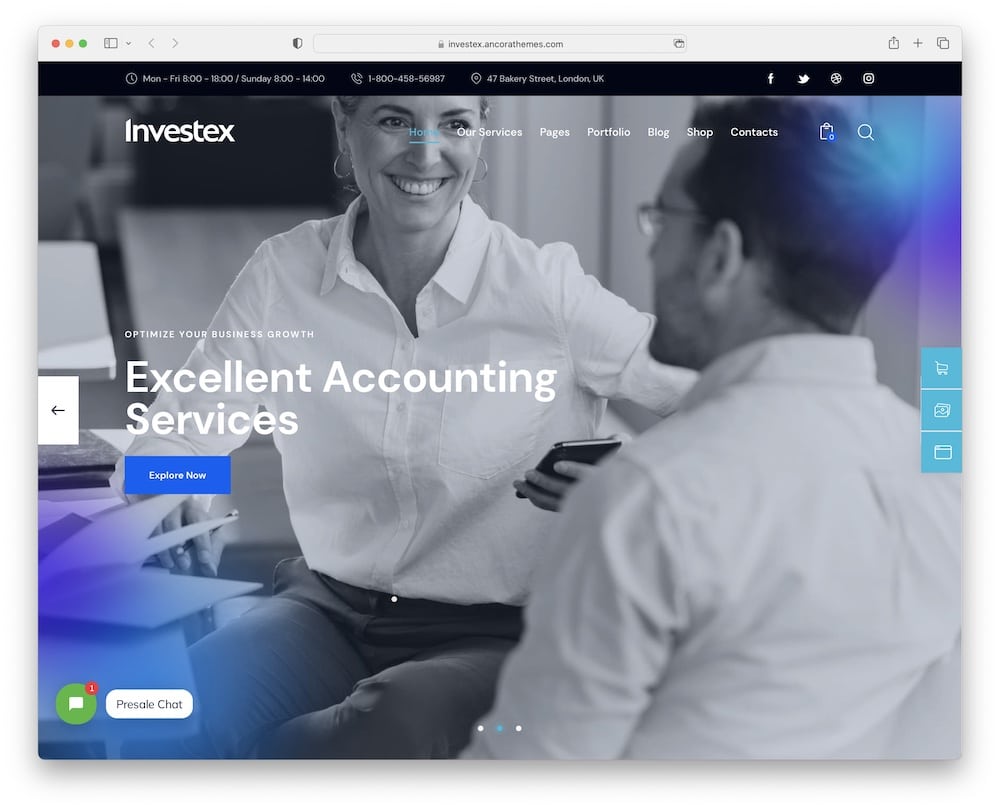 The elegant and stylish Investex theme will impress you immediately!
It has ready-to-use demos, a gorgeous gallery, unique blog layouts, and the most popular plugins.
Accountants approved!
Also, Investex offers six months of professional customer support and FREE lifetime updates. Extra. Next Level.
Upload practical content, create pricing tables (use these WordPress pricing table plugins for more options), display services, and of course, tell your story along with beautiful images.
Oh, and you should use contact forms (Hi, Contact Form 7 plugin!) and social media icons for quick connection with your potential clients.
Plus, the online booking system and the events calendar are my FAV tools! So simple to use and so helpful.
Tune into Investex!
Investex features:
MORE INFO / DOWNLOAD
DEMO
3. Auditing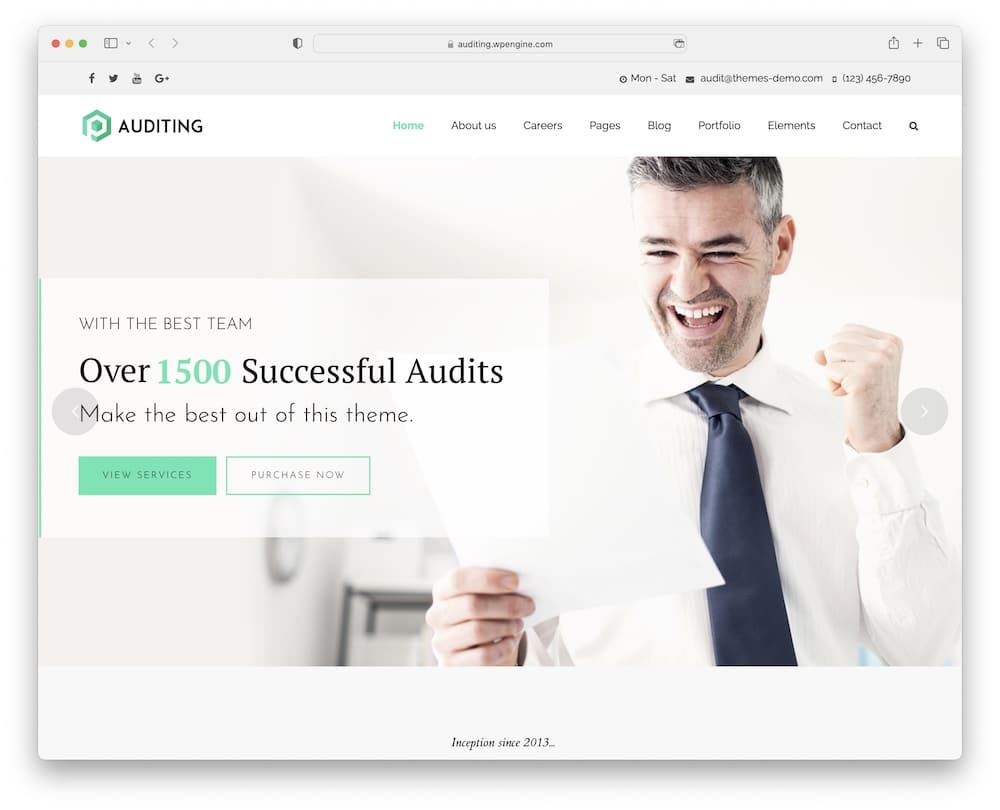 Create an ultimate resource for business people with the Auditing accounting WordPress theme by providing daily updates, professional tips, and breaking news from the industry.
Responsive Auditing has a unique design and a HUGE collection of handcrafted elements. Of course, you can also choose from various handy layout possibilities and awesome plugins.
Besides, you can build your own online store (!) with stunning WooCommerce to sell practical online courses, financial programs, or tax consultations.
There's always a unique angle or knowledge to offer.
Moreover, I think is really COOL to have a fantastic portfolio on the website. And don't be modest. Expose your amazing skills, qualifications, education, and much more.
You deserve Auditing!
Auditing features:
420+ sales
4.8+ star ratings
Various vacancy form layouts
Handy video tutorials & extensive documentation
Price: $59 (may vary)
MORE INFO / DOWNLOAD
DEMO
4. Consulting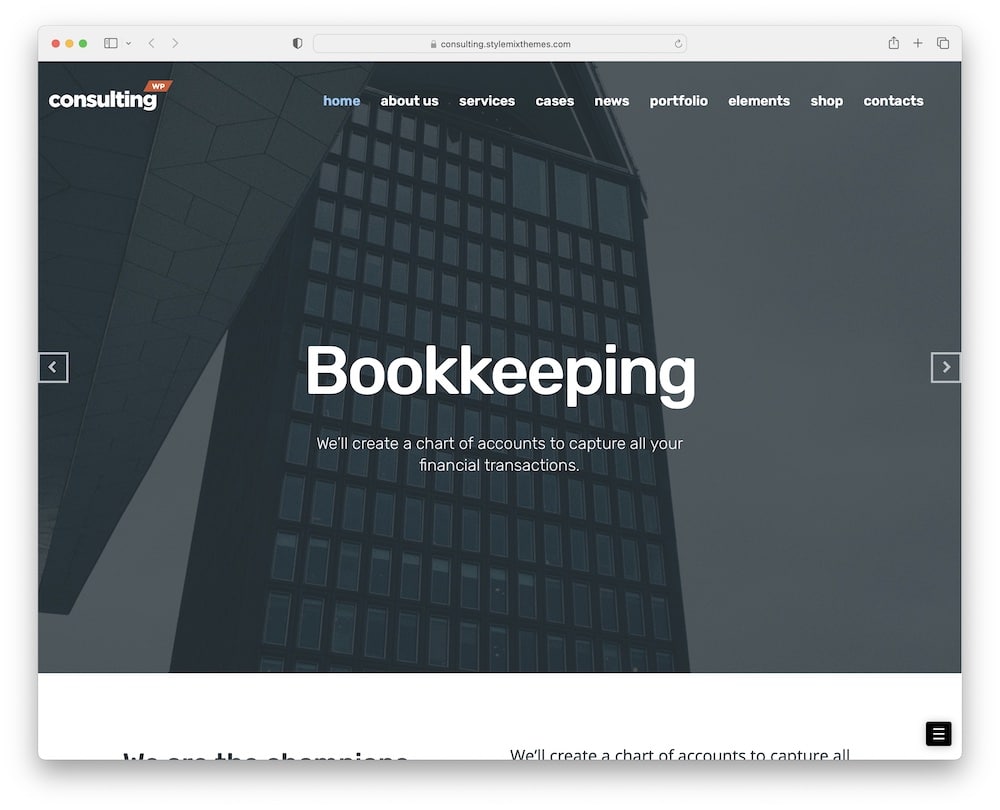 The perfect website with the perfect partner: Consulting WordPress theme.
You can easily customize Consulting with Elementor or WPBakery page builder (yup, you lucky human, you can choose between them!). Meaning you will save lots of money by not hiring professional programmers and designers.
Pretty COOL, right?
An example of a good start is to update colors, layouts, fonts, mega menu, and header first.
Moreover, I love parallax and video background options!
Plus, Slider Revolution helps WOW visitors with eye-grabbing visuals. Straight to the top!
Besides, making a website couldn't be easier without well-prepared documentation and professional customer support.
Remember, Consulting has your back. ALWAYS!
Consulting features:
25,700+ sales
4.7+ star ratings
50+ demos (one-click import)
300+ WordPress shortcodes for effortless feature integration
Price: $59 (may vary)
MORE INFO / DOWNLOAD
DEMO
5. Nifty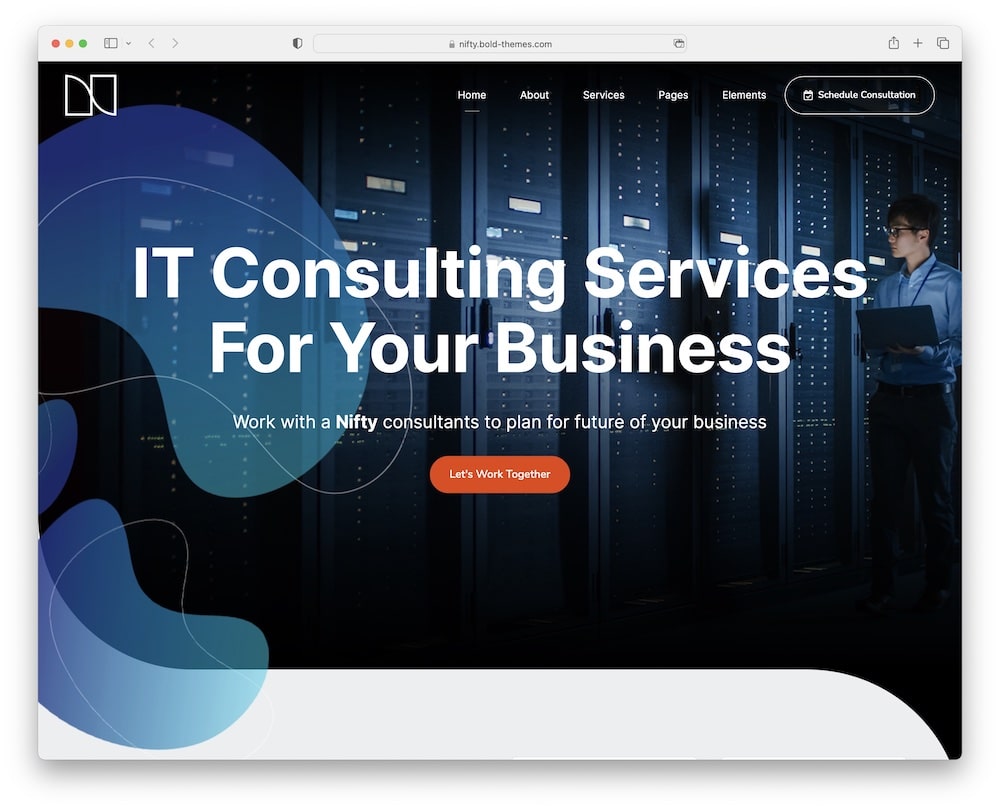 Let's IMPRESS your clients with the modern Nifty business accounting WordPress theme!
Stylish Nifty was created with various business services in mind to offer the best solution for your growing company.
Choose one of eight pre-made homepages (import with a single click) and start building your site in minutes!
KEY: Nifty offers smartly designed header & footer styles to make your website super usable.
Furthermore, you can easily connect your website with your social media accounts via links and icons.
I also love to use the Google Maps element to show the exact location of the company office. (If you need assistance, check this guide on how to add Google Maps in WP.)
Confusion? NO, thanks.
And don't forget to boast your services with beautifully displayed testimonials (you can also use a WordPress testimonial plugin to add extra features). GOLD.
Nifty features:
2,400+ sales
4.4+ star ratings
One- & multi-page website support
Optimized for speed (this is how to choose a fast WP theme)
Price: $69 (may vary)
MORE INFO / DOWNLOAD
DEMO
6. Tax Help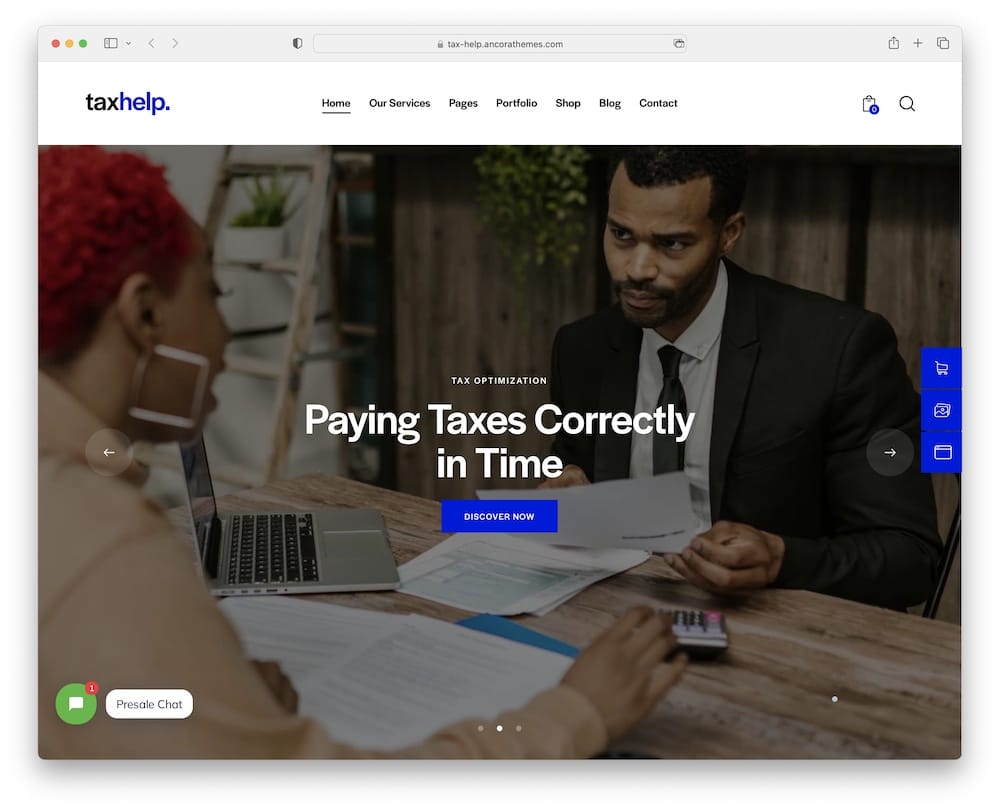 Your dream website could be closer (with the Tax Help theme) than you think!
Brilliant Tax Help has great tools to help you take online appointments, create pricing tables, an online store, and email sign-up forms.
Oh, and with MailChimp, you gain an all-in-one email marketing buddy. I also like to use newsletter popups because they WORK.
(You can learn how to create a popup in WordPress withing minutes.)
You will as well discover fast performance, responsive design, and SEO-friendly optimization. Of course, Tax Help also offers regular updates!
TIP: Blog can be a great source of returning customers and visitors.
Create valuable content about real-world examples, business topics, bookkeeping, ideas for growth, tax tips, and much more.
Tax Help features:
710+ sales
4.6+ star ratings
Full control over typography, colors & design
Integrated online booking WP tool
Price: $69 (may vary)
MORE INFO / DOWNLOAD
DEMO
7. Finance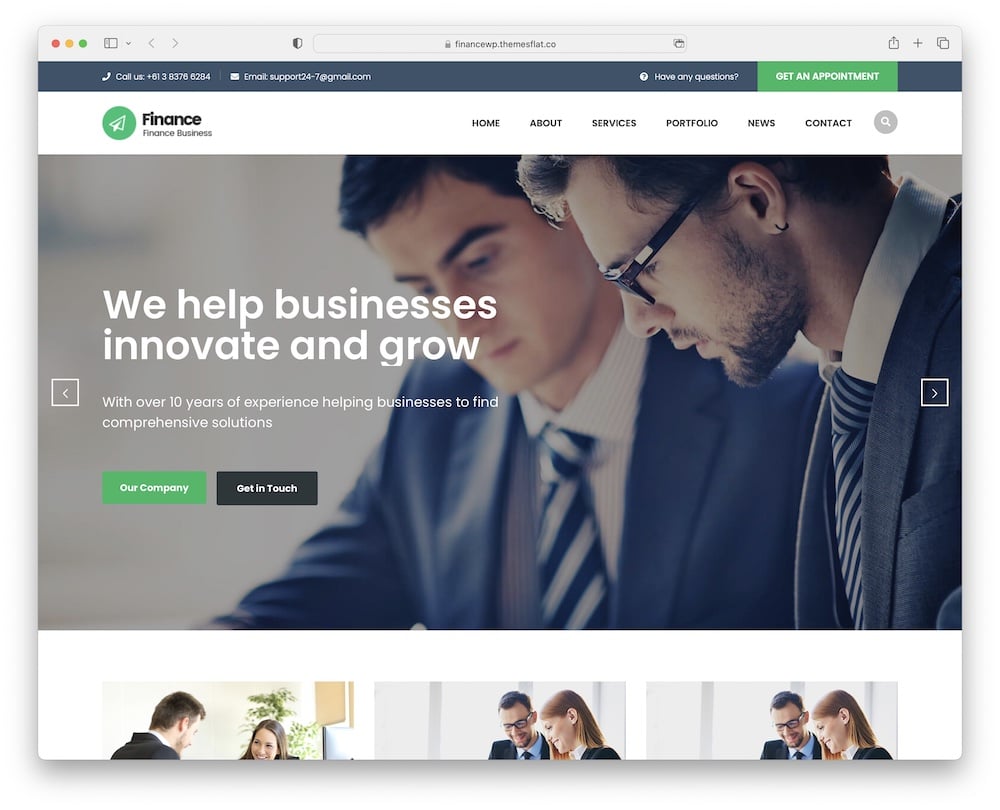 A fresh look is a good direction toward a better future. Check out the Finance accounting WordPress theme.
You can build and edit your website via Elementor page builder with Finance (join 5+ million people who love to work with it). Simple drag-n-drop motion doesn't require any coding knowledge!
Moreover, you can choose from five pre-made headers and set up a really COOL footer design in no time. (And these best WordPess footer plugins will help adding new functionality within clicks.)
Responsive Finance also offers elegant practical pages that will serve you with a modern display of your team members, services, projects, portfolio, gallery, and news layout.
This whole website comes together brilliantly with "get an appointment" and "get a call back" forms.
Transform your business with Finance.
Finance features:
730+ sales
4.3+ star ratings
Sticky navigation bar with a drop-down
Portoflio layout with filters
Price: $59 (may vary)
MORE INFO / DOWNLOAD
DEMO
8. Invess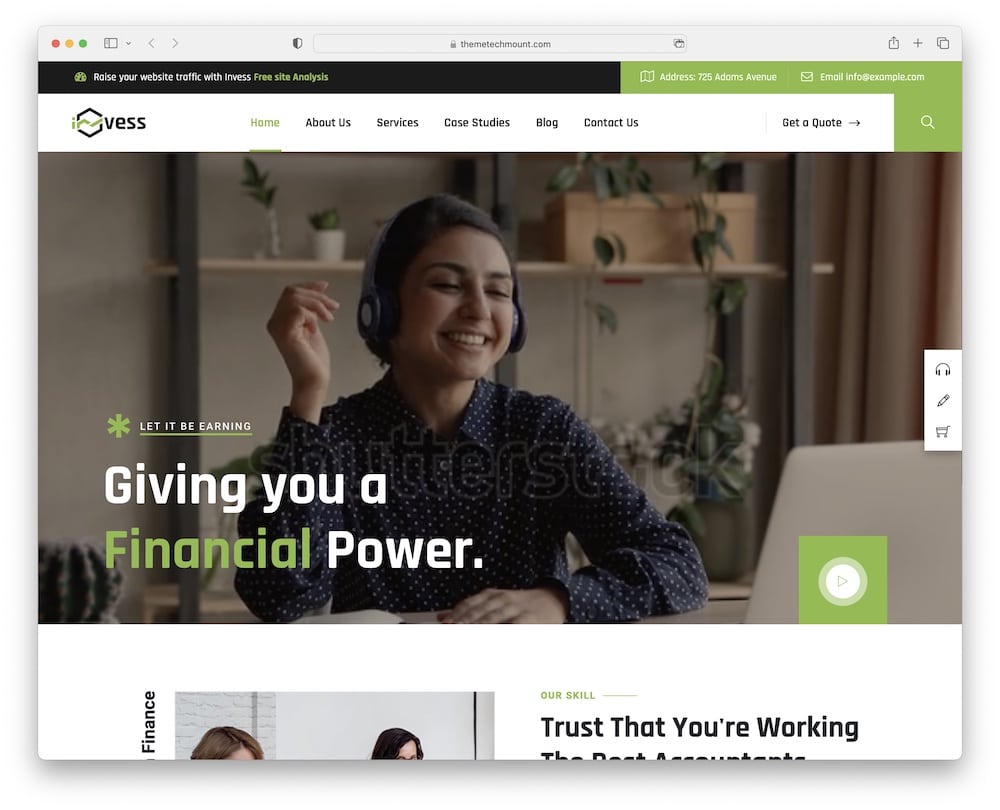 Bring joy to company and business people with Invess accounting WordPress theme.
Invess is perfect for accounting, consulting, and financial services.
You can run a successful website by offering valuable blog (news, tips, and tricks) and professional assistance (online appointments) simultaneously.
I think is super COOL to display real case studies, cooperation plans, and testimonials of happy clients. Plus, you can create a gorgeous portfolio of your skills and specializations.
Conversion BOOSTERS.
Furthermore, pick from unlimited color backgrounds, Google fonts, animations, and WP sidebars. What a dream.
You can even host beneficial events, webinars, and more with Invess. When you set dates, showcase them on your homepage via The Events Calendar plugin.
Put your feet up, relax for a minute – and then – start building!
Invess features:
130+ sales
5-star rating
Bonus PSDs included
Supports enabling RTL in WP
Price: $59 (may vary)
MORE INFO / DOWNLOAD
DEMO
9. Finbiz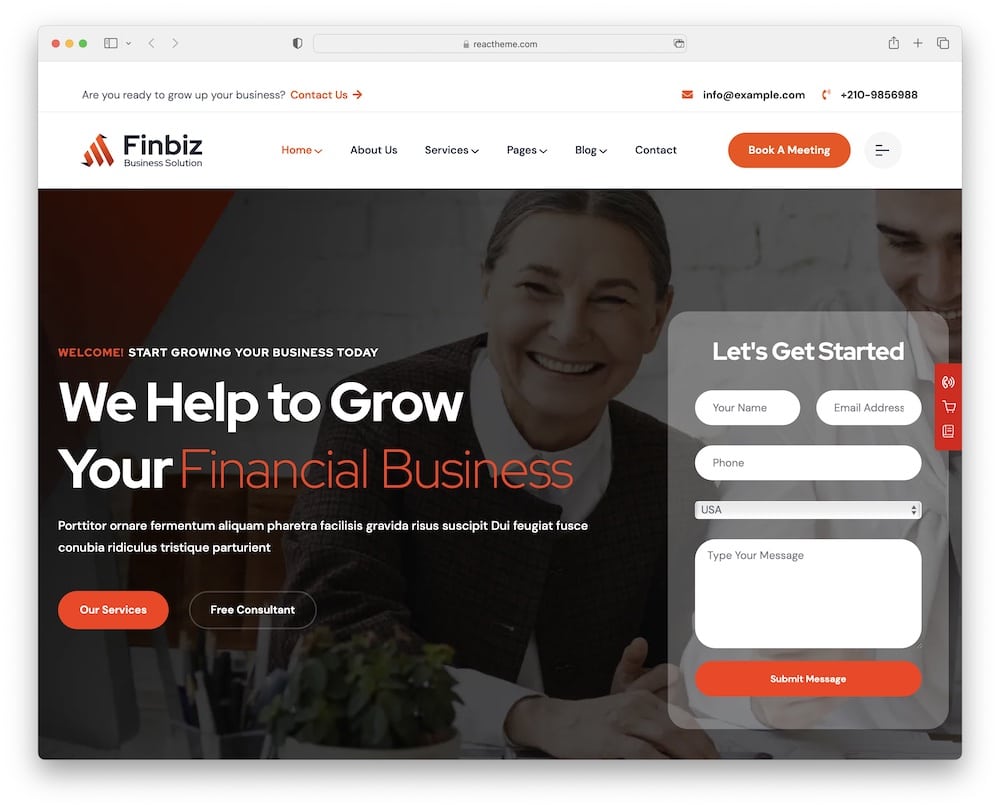 If you have a big dream, it's time to work with Finbiz accounting WordPress theme.
This flexible theme comes with pre-designed and handy pages such as about us, services, news, and contacts. Of course, you also get a stylish mega menu for superb site navigation.
Moreover, Finbiz is optimized for speed, works on any device flawlessly, and is SEO-friendly. Yes, friends!
I always love to work with Slider Revolution because the final results are so eye-grabbing. From transitions and effects to animations, you can create stunning sliders.
BTW: Documentation, free regular updates, and professional customer support ease your way to getting your business online – working wonderfully!
Put customers first with Finbiz.
Finbiz features:
310+ sales
4.9+ star ratings
8 header & 7 footer designs
8 one- & 8 multi-page demos
Price: $29 (may vary)
MORE INFO / DOWNLOAD
DEMO
10. Envolve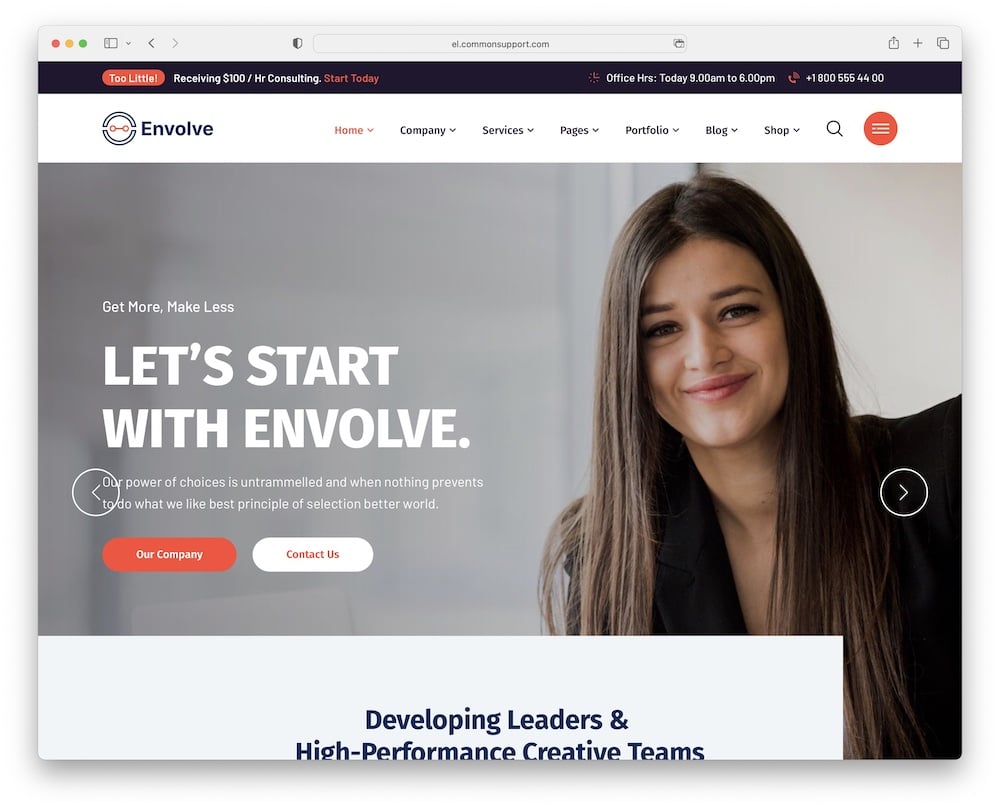 Brilliant Envolve accounting and consulting theme is packed with good design, the best tools, and dedicated customer support.
That's exactly what you need!
You can start modifying your chosen homepage in no time with a one-click installation.
Keep in mind, if you like the demo from the start, you can use it as it is – it works out of the box.
However, you can mix, match, adjust, or remove elements by yourself (without coding or design knowledge). Elementor is an amazing tool that allows you to see the actual changes in the design as you build them (10/10 recommend).
Oh, and you can translate Envolve into any language for localization or globalization! Do it.
Envolve features:
1,100+ sales
4.3+ star ratings
Back to top button
Handy accountant team carousel
Price: $59 (may vary)
MORE INFO / DOWNLOAD
DEMO
11. Ippsum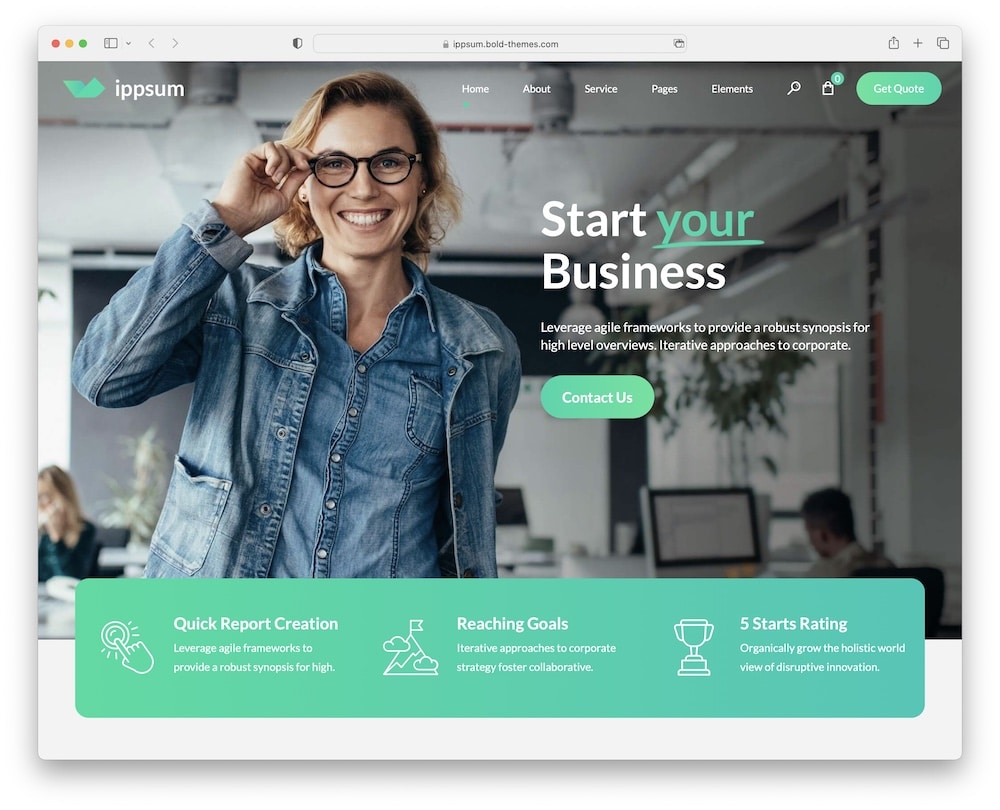 Commit to Ippsum accounting WordPress theme and build a lifetime business.
This future-rich theme blows me away.
It comes with this beautiful and modern design that allows you to easily change colors or fonts, and set up the coolest header style for your company.
You can use versatile inner pages for all the important information you want to emphasize and display to perfection. I also love to use of Google maps element to add exact business location on the website (I know, I said that already).
You're like: "Petra, but I am not sure about using the parallax theme effect." I PROMISE, you will love it! Plus, the smooth transition effect is just amazing.
Oh, and you even get a child theme in the Ippsum package.
Ippsum features:
540+ sales
5-star rating
Hide & show elements
Free cost calculator plugin included
Price: $69 (may vary)
MORE INFO / DOWNLOAD
DEMO
What To Include In The Best Accounting Website
If you want to succeed in business, you need an accounting website.
It will help you appear a lot more professional, bring in more business, boost your authority and keep your branding at an all time high.
When I was testing accounting WordPress themes and studying the industry, I found all great websites have these six features.
The 6 Features Your Accounting Site Needs To Have
It must be optimized for the ultimate performance across all devices (read fast loading and responsive). I used Pingdom Tools and Google's Mogile-Friendly Tool to test each theme on our demo site to analyze the performance.
It must have clear and compelling call to actions (in form of text and CTA buttons). The website also needs a strong copy with customer in mind that creates sales. Focus on the benefits and how your services can help the end user.
One of the best ways to build trust and creditibilty is through social proof. How you achieve that? By integrating real reviews (Google Reviews can work wonders) and testimonials into your accounting site.
Contact details and location: Add an email, clickable telephone number and a contact form, even a live chat – make yourself easily reachable. Also, I found all the best accounting websites using Google Maps, showcasing their business location for simpler access.
Pricing, pricing, pricing (!): Don't forget to include pricing or even create pricing packages. Be as transparent as you can, so the customer knows exactly what he, she is getting when booking your services.
Strategic popups with lead generation magnets (free PDF, free consultation, etc.) in exchange for their email can help you start growing a list, building relationships and promoting your offers via email marketing.
Other great elements are video sales leters, a frequently updated blog (use it for content marketing and SEO!) and retargeting and remarketing campaigns.
::
Note: This article was originally published on May 10, 2023. But our team regularly reviews it and updates it with necessary improvements for accuracy.