Are you trying to find the best WordPress recipe themes to start your own online food project?
You can now share your passion for delicious food online quickly and easily – without any experience.
With many options available, these themes offer stunning aesthetics and provide SEAMLESS recipe organization, handy recipe card functionality and a range of customization features.
Whether you're a professional chef or an aspiring home cook, here's a WordPress theme for you.
Use them to share your recipes or take things to the next level and give your readers a chance to submit their own, too.
Start a loyal recipe-sharing community now!
How We Tested WordPress Recipe Themes
User experience is especially crucial when it comes to recipe blogs. Thus, we thoroughly tested each theme to ensure it ticks all the boxes and is worthy of inclusion.
We started by installing each theme (check how to install a WordPress theme if it's your first time) to evaluate its responsiveness and speed. (For this, we used Google Mobile-Friendly and Pingdom tools.)
Later, we navigated through the recipe pages to ensure everything worked and appeared seamlessly.
Moreover, we tested the recipe card functionality to ensure it displays ingredients, instructions and other relevant details clearly and intuitively.
We also reviewed all the predefined demo content, customizations and the user-friendliness of the theme admin.
All this testing gave each theme a guarantee, so you can confidently select the one that resonates with you and your culinary vision best.
QUICK-PICK: Ultimate WP Recipe Themes
Note: Check these best food blog WordPress themes if you are more into blogging than sharing recipes.
Best WordPress Themes For Recipe & Food Blogs
1. TinySalt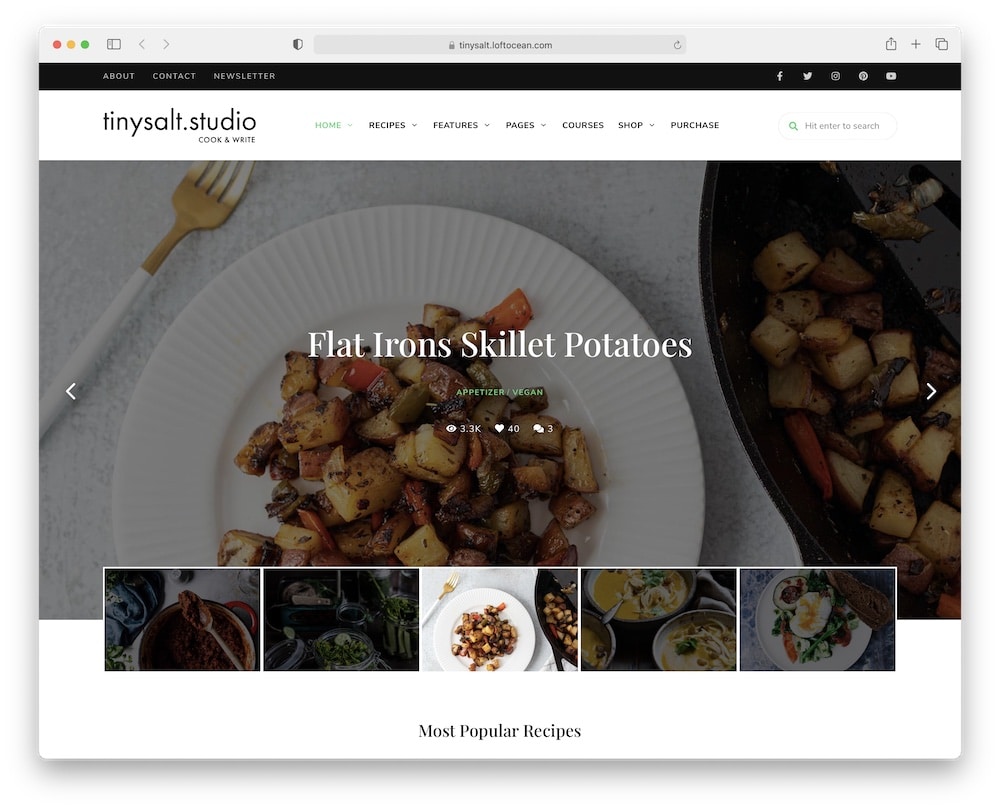 If you take pleasure in food, cooking, and eating, then the TinySalt theme is SPOT ON for you!
TinySalt includes twelve modern homepages, numerous post styles and layouts, the most popular plugins, and unlimited color options. Thumbs up!
The best part of TinySalt is the powerful recipe plugin that displays cooking steps, recipe videos, and review, rating, or print options. I also love recipe roundups to go right away on a desserts category.
Oh my gosh, I love food too!
Tip: With the rise of social media sharing visually appealing images of dishes become even more trendy and attractive for an audience.
So make sure you have high-quality photos of gorgeous dishes to help you drive traffic to your blog.
Bon Appetit!
TinySalt features:
2,000+ sales
4.9+ star ratings
300+ theme options
Recipe index page with instant search & filter
Price: $64 (may vary)
MORE INFO / DOWNLOAD
DEMO
2. Neptune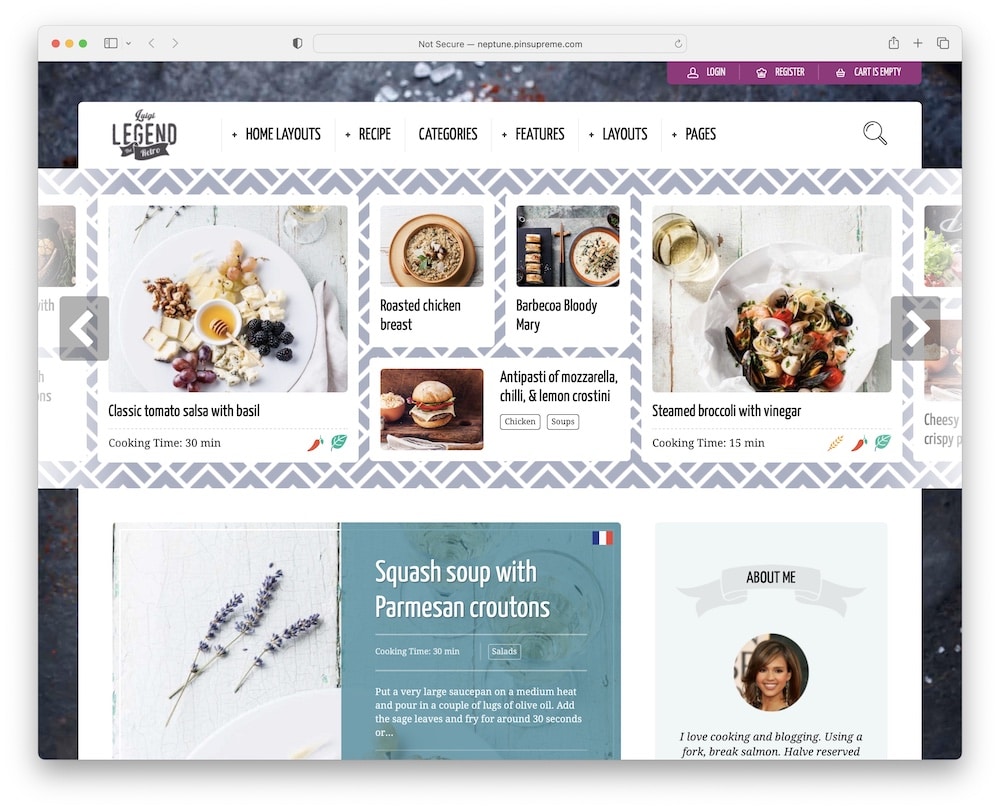 Beautiful Neptune WordPress recipe theme will help you celebrate the joy of food!
The header includes a logo, a top bar with login, register, & cart, and a multi-level drop-down menu. Plus a slider that takes a large part of the website – Yup a yummy display is a MUST.
You can easily organize your content by categories, popular cuisines, or the most searched recipes.
The sidebar setup containing social media icons, newsletter form, and ads is also a smart choice. But you can customize it however you want.
On the bottom of the homepage, you can as well include Instagram or Facebook feed.
BTW: Ingredient list with nutritional information and check-off option is a really COOL Neptune feature.
Neptune features:
2,800+ sales
4.8+ star ratings
Nutritional information
Bookmarking recipes
Price: $69 (may vary)
MORE INFO / DOWNLOAD
DEMO
3. Food & Cook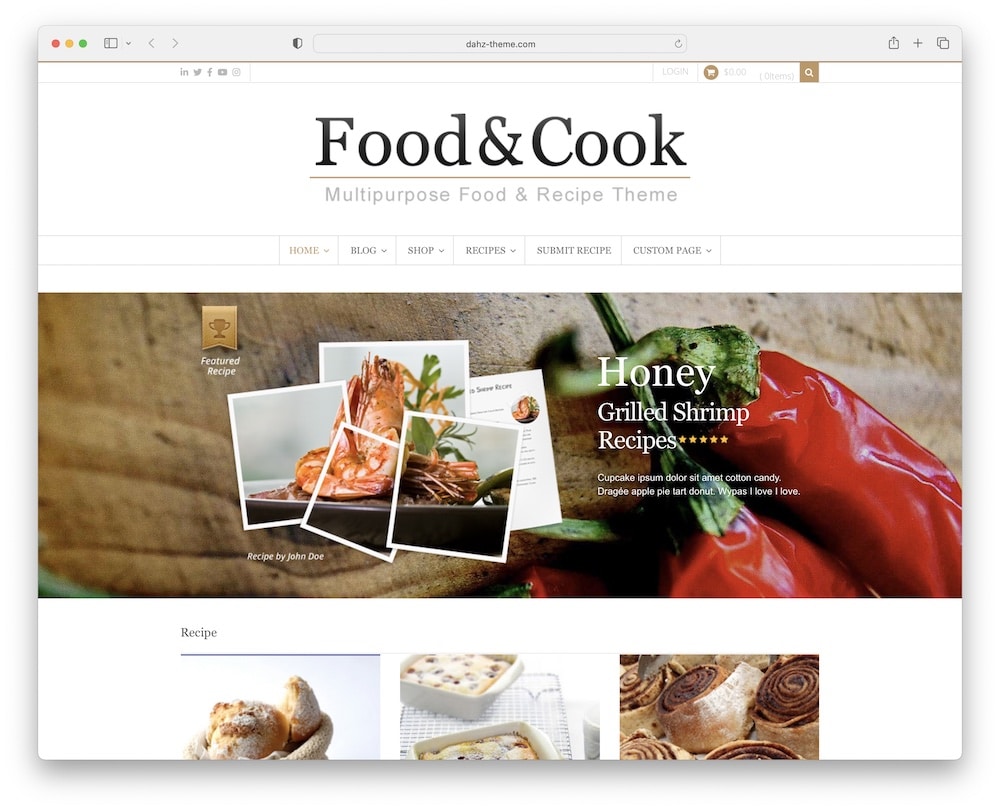 Food & Cook WordPress theme is all about good recipes, quality food, and simple cooking that everyone loves!
This theme has a modern and overall functional design with a parallax theme effect and Slider Revolution for an attention-grabbing result.
Moreover, Food & Cook offers an online store option where you can sell THE BEST kitchen cookware, utensils, tools, and supplies. My kitchen must-have is a sharp (Japanese) knife!
You can also promote your social media profiles through icon placement in the header and footer of the site. I also recommend a newsletter subscription form next to your recipes in the sidebar.
Remember with a valuable blog you can share delicious ideas, tested recipes, cooking shortcuts, and various techniques that will drive traffic to your website.
Do it right with Food & Cook!
Food & Cook features:
2,600+ sales
4.3+ star ratings
Boxed & wide layouts
50+ shortcodes
Price: $49 (may vary)
MORE INFO / DOWNLOAD
DEMO
4. Food Recipes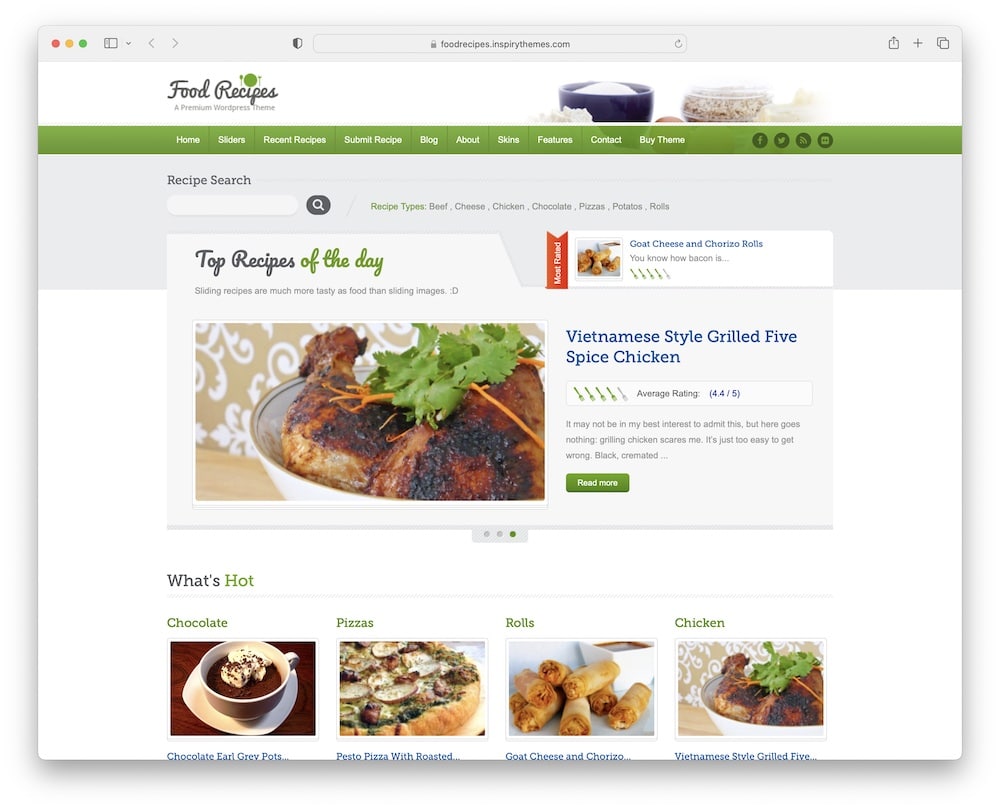 Showcase all your recipes in one brilliant place: Food Recipes.
This WordPress recipe theme has a simple appearance that ensures your tasty content pops up more.
Your visitor can always use the search bar to quickly find the desired recipe just below the menu.
Food Recipes also uses various slider options to enhance the visual appeal and engagement with your audience. My FAV are sliders with clickable elements or calls to action!
Furthermore, you can pick and add custom widgets for additional (handy) functionality of your sidebar, footer, or other area of the site. I like to display social media feeds, show popular content, insert ad banners, and showcase testimonials.
Create a mouth-watering experience for your fans!
Food Recipes features:
2,700+ sales
4.3+ star ratings
Pre-translated into 3 languages (Spanish, French & Italian)
Includes a WP child theme
Price: $39 (may vary)
MORE INFO / DOWNLOAD
DEMO
5. Recipes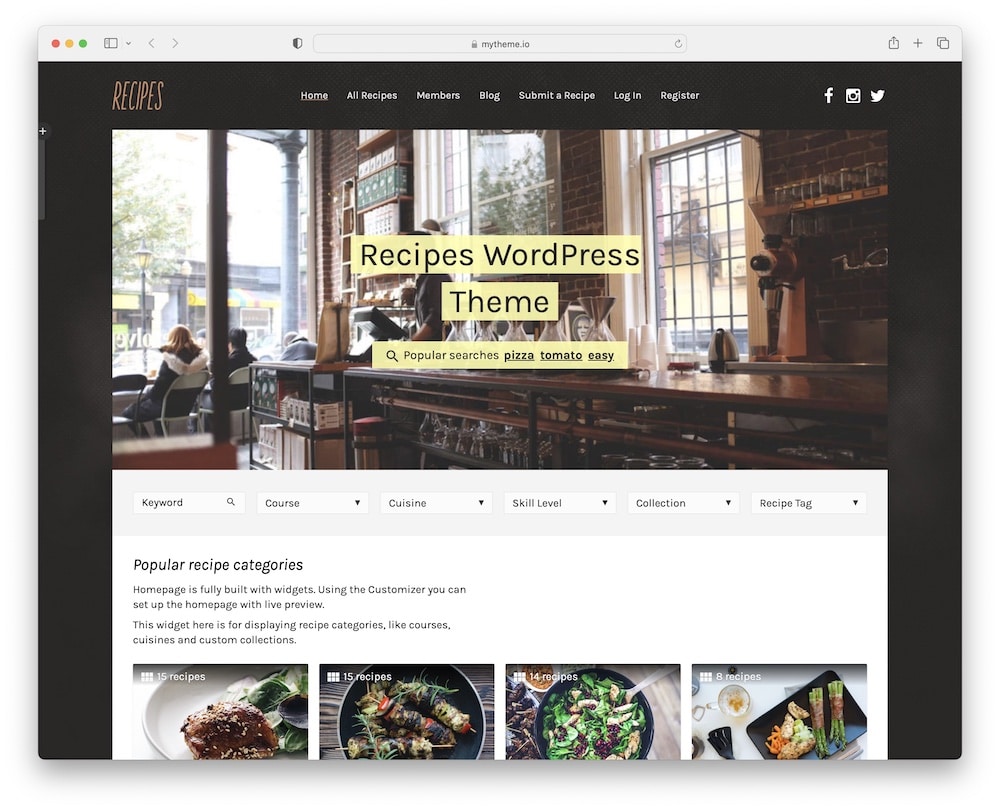 Create a food blog with responsive Recipes and share 100s of quick and easy lunch, dinner, or dietary meals. Oh, and sweets, too!
I especially LOVE tried-and-true recipes!
This WordPress recipe theme takes care of various engaging ways to ensure your visitors find what they are looking for – effortlessly.
You can also use Recipes's dark or light background version and choose from unlimited color choices. Hurray!
Moreover, Recipes includes a built-in rating system, clickable ingredient lists, and social media share options. Plus, users can as well submit their mouthwatering (the best food YOU'VE ever had) recipes.
Keep in mind, Recipes has plenty of monetizing alternatives for banner ads placements (use widgets). Long live extra income.
Say YES!
Recipes features:
790+ sales
4.8+ star ratings
Includes taxonomies
Member directory
Price: $59 (may vary)
MORE INFO / DOWNLOAD
DEMO
6. Ranna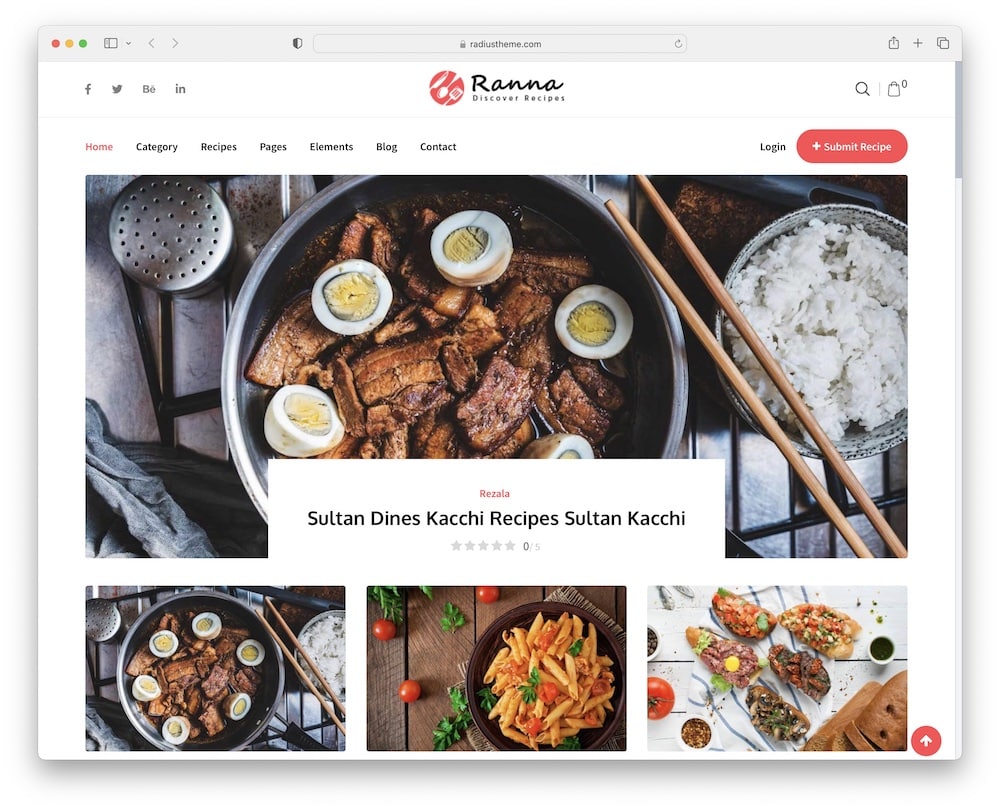 If you are hungry for something good, check out the contemporary Ranna WordPress recipe theme!
Ranna includes four ready-to-use homepages, various layouts, a stylish header, and recipe-focused pages (choose to your liking!). And I adore the huge Google fonts collection.
Okay, hear me out: Make it personal.
I am also fond of Ranna's organization of multiple sections that display trending recipes, editors' choice, popular recipes, featured articles, and popular tags.
You can as well promote newsletter subscriptions and social media platforms in a sidebar.
Oh, and Ranna assures you FREE lifetime updates and FRIENDLY customer support with quick answers and helpful tips. Works for me – it will work for you!
Ranna features:
650+ sales
4.5+ star ratings
Multiple ingredient support
Various recipe page layouts
Price: $49 (may vary)
MORE INFO / DOWNLOAD
DEMO
7. Foodsy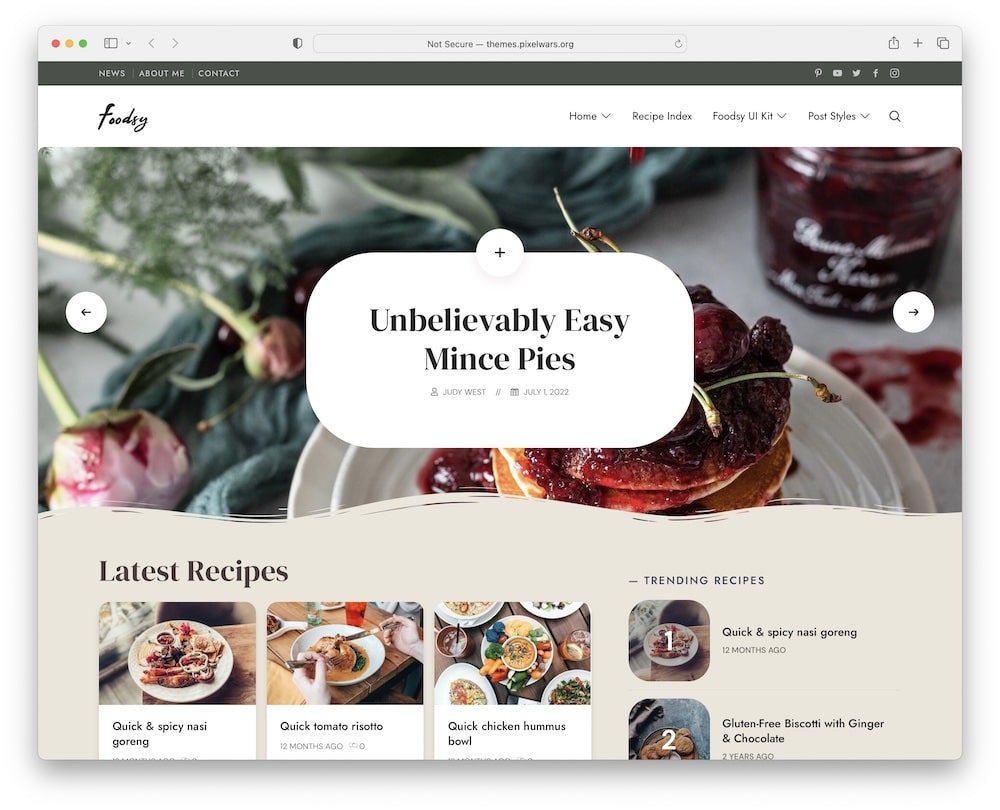 No fuss, no complication, no mess – Foodsy recipe theme is perfect for a beginner as for a professional (NO coding required).
As you can see, Foodsy's header includes an essential (multi-level drop-down) menu with a search bar for a quick recipe adventure.
However, this blog can display all your trending recipes, categories, and healthy choices in an elegant and appetizing way (scroll between gorgeous dishes and be inspired).
YUMMMMS.
Moreover, Foodsy is optimized for fast loading and is SEO-friendly to help you boost search engine results. Remember, Google and your visitors are both looking for an AWSOME user experience!
Of course, you can also personalize your recipe blog with cool icons, videos, sliders, and original typography and colorway. And even have your own online store.
Please welcome into your life: Foodsy!
Foodsy features:
30+ sales
4.5+ star ratings
Handy recipe building tools
10+ header styles
Price: $69 (may vary)
MORE INFO / DOWNLOAD
DEMO
8. Foodhub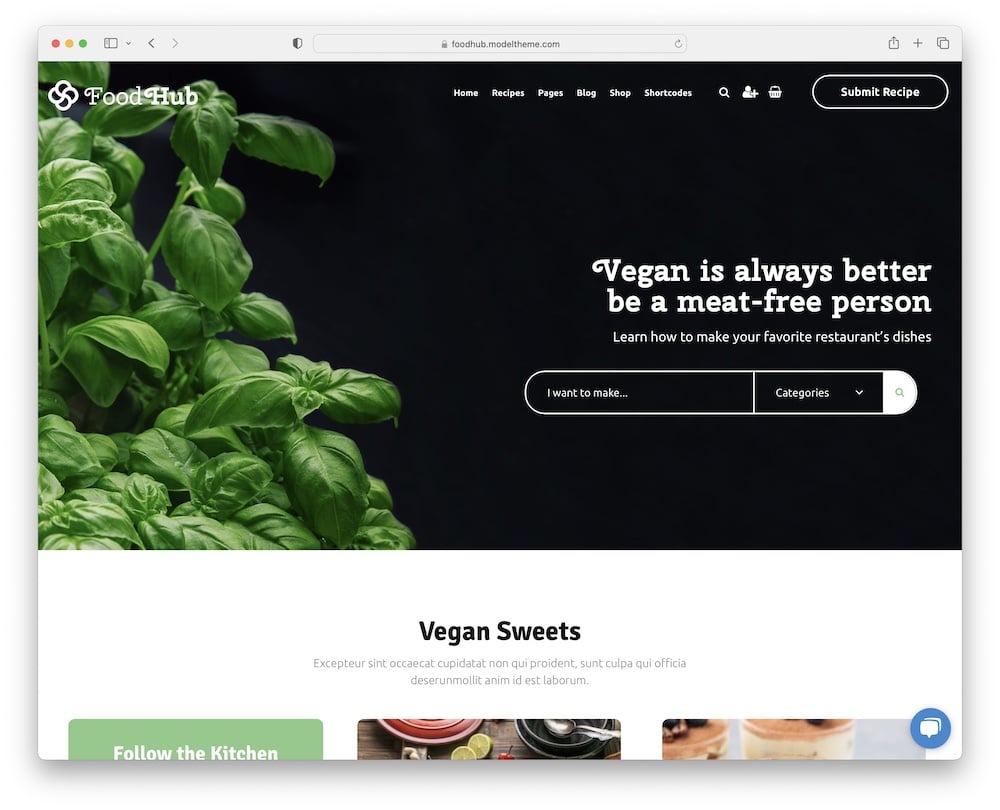 Publish 1,000s of tested recipes, family menus, cooking shortcuts, dinner ideas, and much more via the Foodhub recipe theme.
Colorful Foodhub comes with multiple demos, pre-made headers, brilliant recipe features, and custom widgets. Everything you need for a quick start!
Below the menu area is a handy search form to quickly find the necessary recipe(s) – with a category selector for a more refined search.
Trust me: Advanced search functionality makes a more enjoyable experience.
Oh, and by adding a subscription form (preferably on a dark background to make it pop more) you can simply collect leads and grow your brand with email marketing.
Also, guys, check out CSS animations for playful and dynamic effects!
Foodhub features:
140+ sales
4+ star ratings
Recipe instructions & directions
Chef profile
Price: $75 (may vary)
MORE INFO / DOWNLOAD
DEMO
9. Cuisine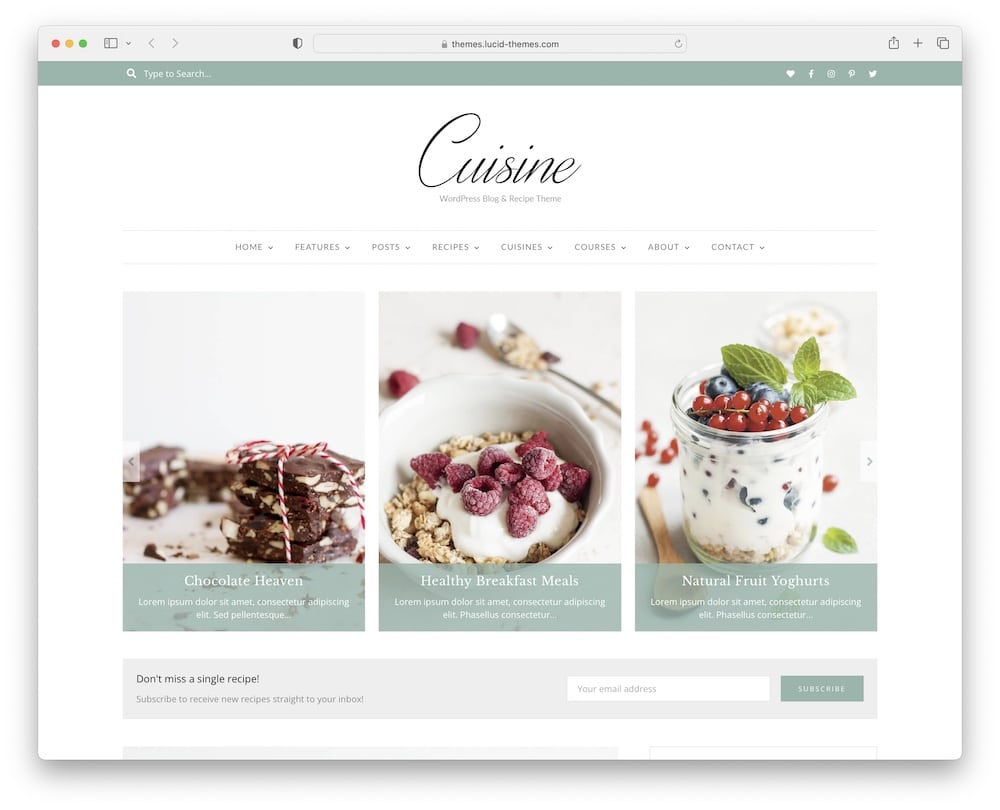 You can be the coolest FOOD NERD with the gorgeous Cuisine WordPress recipe theme!
Simply pick the demo you like the best and start adjusting your site with the powerful Gutenberg editor. Gutenberg makes it user-friendly to organize and rearrange the pre-made layouts with real-time previews.
I really like that Cuisine makes a top bar a priority instead of the header. For me, a top bar is a great feature that contains a search form and social media icons for a quick link.
Major YUM! (But I still recommend both for the ultimate UX.)
Remember, you can also offer your online or live courses to enhance people's culinary knowledge, indulge their passion for cooking and help them prepare more meals at home from the start.
Tip: Fill your stomach first, then start building!
Cuisine features:
MORE INFO / DOWNLOAD
DEMO
10. Talisa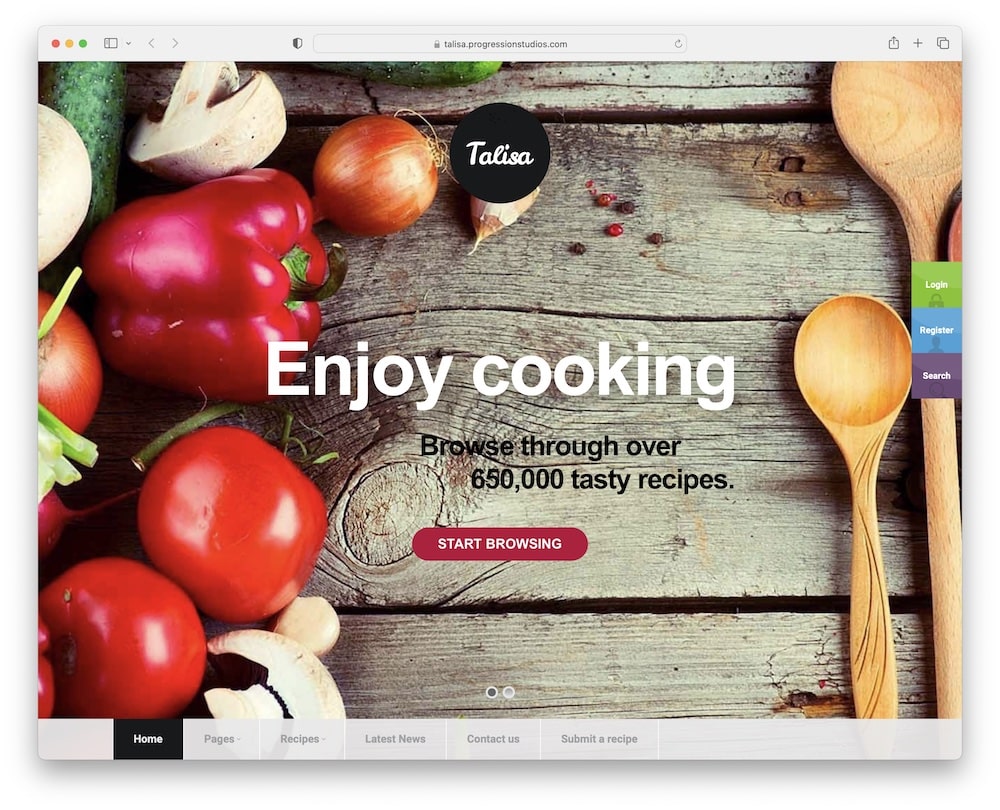 I love food – a lot. If you do, too, you'll relate to the Talisa WordPress recipe theme!
Responsive and retina-ready Talisa will properly display your content across various devices and screen sizes. Bear in mind, the majority use mobile devices for browsing the internet, so consistent user experience is crucial.
What's pretty cool is that visitors can bookmark recipes, post grandma's treasured recipes, and rate them with a five-star review system. You can make a super popular ONLINE GEM out of Talisa.
Similar to other themes from this list you can use the footer to display social media icons, privacy policy, terms of service, and copyright notice. Tip: Avoid clutter in the footer.
You're welcome!
Talisa features:
540+ sales
4.2+ star ratings
Recipe favorites
Includes Photoshop files
Price: $59 (may vary)
MORE INFO / DOWNLOAD
DEMO
11. Good Food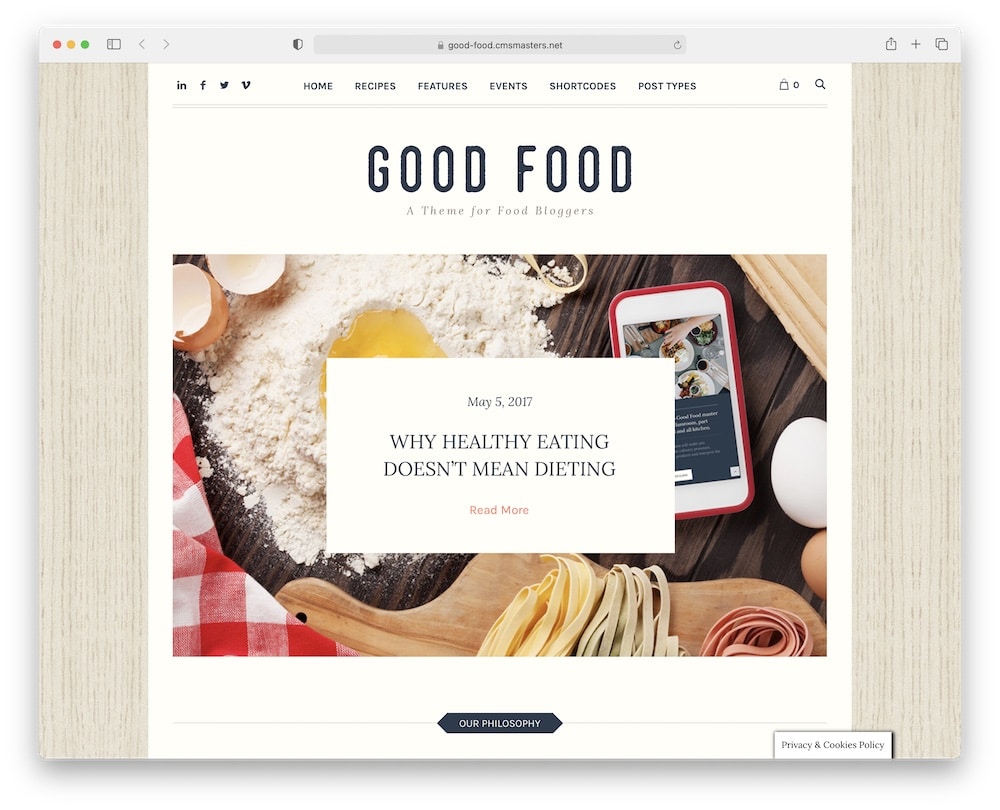 Hey Everyone! Today's YES I WANT THIS ONE is: the Good Food WordPress recipe theme.
This theme is perfect for a magazine-style food and recipe site with a playful design and unique recipe post type that includes a brilliant range of functionality.
Also, guys, you can create a beautiful online store (Hi, WooCoomerce!) and sell gift cards, courses, tickets for cooking events, kitchen goods, and much more.
Pretty COOL, right?
Luckily, Good Food includes a mega menu with several advantages for the navigation structure of your site. You can even use images, icons, promotion banners, or call-to-action buttons within it!
The best part: Custom colors for every part of your site!
Go. Get. It. Now.
Good Food features:
380+ sales
4.6+ star ratings
Comes with the Events Calendar plugin
One- & multi-page website support
Price: $59 (may vary)
MORE INFO / DOWNLOAD
DEMO
12. Becipe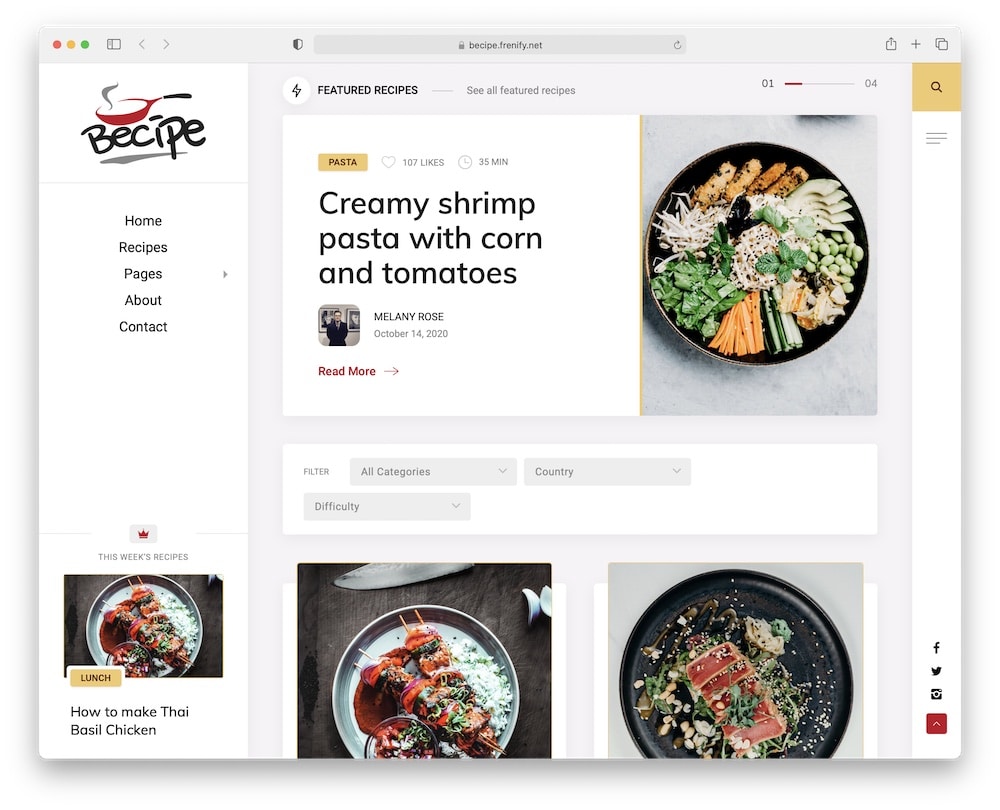 Stylish Becipe WordPress recipe theme is designed for every budget and any (even 0) level of coding knowledge.
So grab your coffee and click the import button!
You can use this theme out of the box or change it with the easy-to-use Elementor WP page builder. Plus, FREE lifetime updates and excellent documentation are an amazing BONUS.
What differentiates Becipe from the upper themes is the sticky left sidebar containing a header, menu, and a slider with weeks' recipes. It's kinda like a surprise!
Furthermore, a translation-ready option can bring your whole site to totally new audiences in just minutes. Don't believe me? Try it. (Use your favorite WP translation plugin.)
Foodie friends have FUN arranging recipes with Becipe!
Becipe features:
30+ sales
4.6+ star ratings
Supports podcasts (& audio player)
Built-in comments
Price: $59 (may vary)
MORE INFO / DOWNLOAD
DEMO
::
Note: This article was originally published on July 16, 2023. But our team regularly reviews it and updates it with necessary improvements for accuracy.