Hi foodaholics, (I'm one, too!), welcome to my best food blog WordPress themes review.
Want to share recipes? Check.
Or review restaurants? Check.
Give away healthy eating tips? Check.
Create meal preps? Check.
Just want to share your delish food experiences? Check.
But you struggle with where to start on your journey to creating an impactful food blog?
That's why I want to share the ultimate WordPress food blog design examples with you.
This post covers:
Every WordPress theme is: 1) easy to use, 2) 100% customizable, 3) responsive & translatable, and 4) ready for you to shine!
Food fans, ENJOY!
QUICK-PICK: Best WP Themes For Food Blogs
Enjoy this list if you're in a hurry:
Best WordPress Themes For Recipe & Food Blogs
1. Yaffo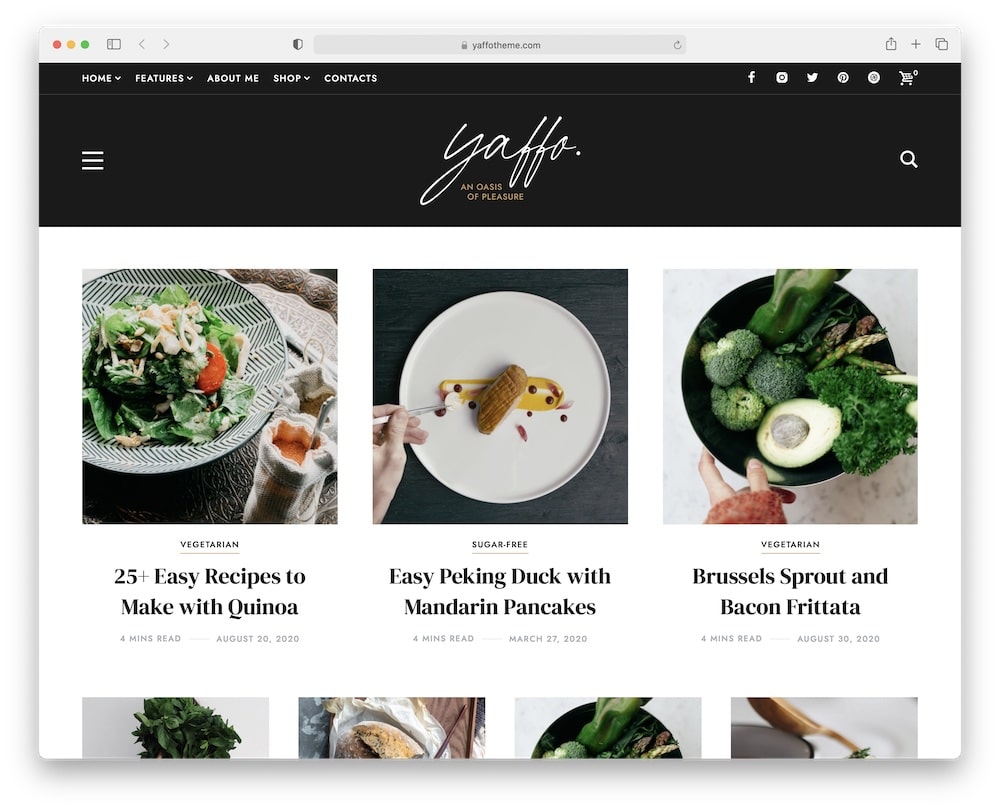 Let's talk about this MEGA Yaffo personal blog theme. Check, check, and check.
Yaffo is super easy to customize, so you can use it exactly as you wish. (Have tons of ideas? No problem!)
YES, you can configure post layouts, typography, menus, colors, widgets, sliders, and other elements. Besides, Yaffo is Gutenberg-ready (but you can use it with other WP page builders, too).
HURRAY!
OH, and with Yaffo, you get various modern layout styles – classic, grid, or list. All unique and beautiful.
You can even create your online store with the best WooCommerce plugin. Buddy, this is going to be EPIC!
Yaffo features:
MORE INFO / DOWNLOAD
DEMO
2. TinySalt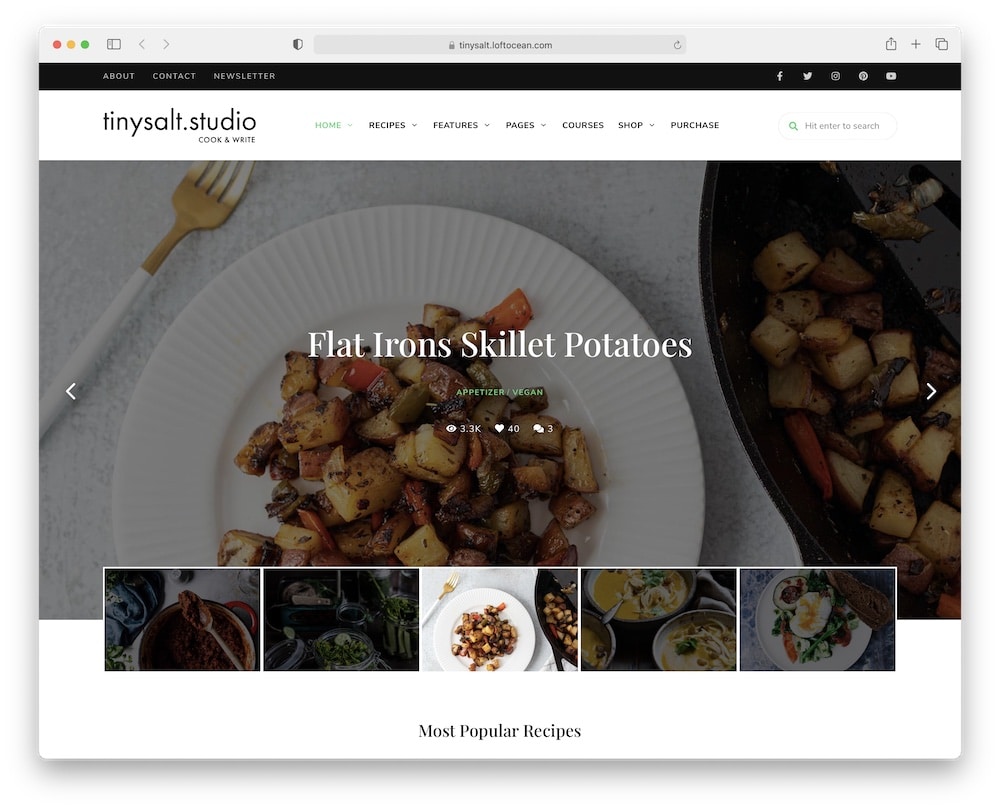 "Over-the-top, super-responsive, fresh style, must-write a blog, all in one!" AHA, I'm talking about the "gold medal" TinySalt food blog WordPress theme.
Grab a coffee (black, strong) and start creating your content (today!).
This feature-rich (the best plugins included for free), carefully designed theme is perfect for food bloggers, cooking lovers, or blogs with tons of recipes and useful cooking tips for everyone.
Keep in mind – We all need to eat 🙂
In fact, more-is-more with Tinysalt. SO, prepare for numerous pre-made demos, different blog variations, pretty templates, and amazing inner pages. Choose what you LOVE.
Let the cooking fun start with TinySalt.
TinySalt features:
MORE INFO / DOWNLOAD
DEMO
3. Qoxag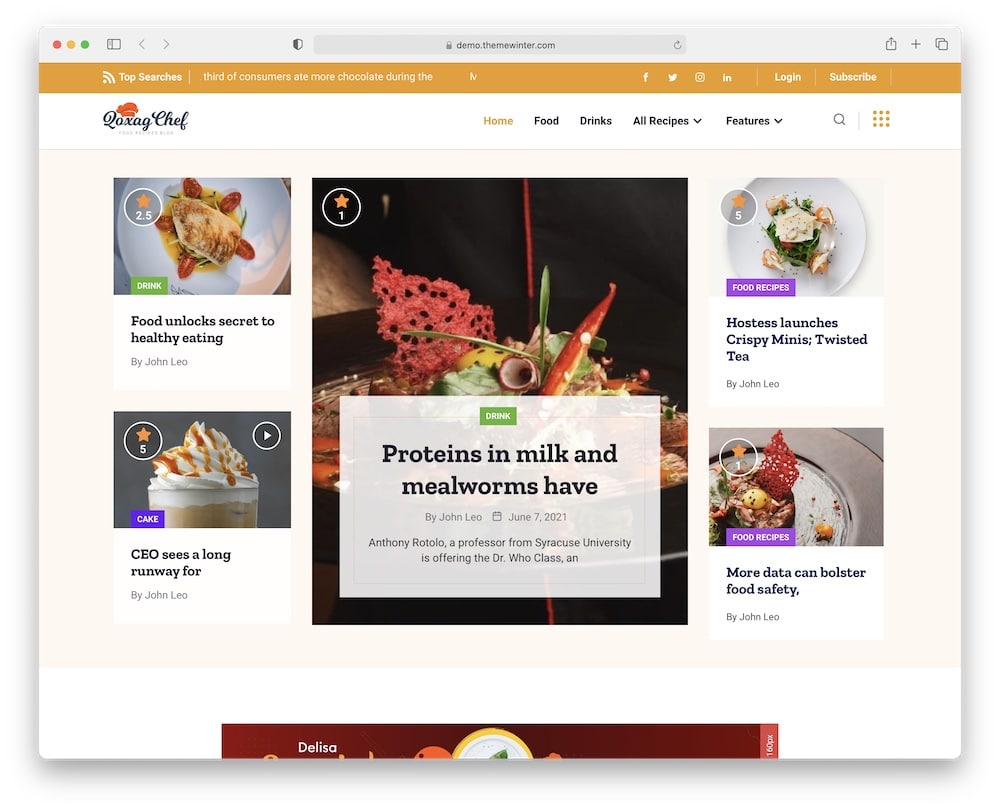 There are many (SIMPLE) ways you can use Qoxag food blog WordPress theme to make yourself feel as though you've cooked something really wonderful totally by yourself!
You can use ready-to-use demos, pre-made templates, unique layouts, and other stunning elements with just some simple mouse clicks.
Great advantage!
Besides, Qoxag is fully responsive (CIAO, to all kinds of screens), and integrated with Elementor page builder – the most wanted drag and drop visual editor.
SWEET.
As a bonus, Qoxag is translation-ready and supports RTL languages. Full potential to be present globally.
Make it happen with the yummiest Qoxag.
Qoxag features:
MORE INFO / DOWNLOAD
DEMO
4. EasyMeals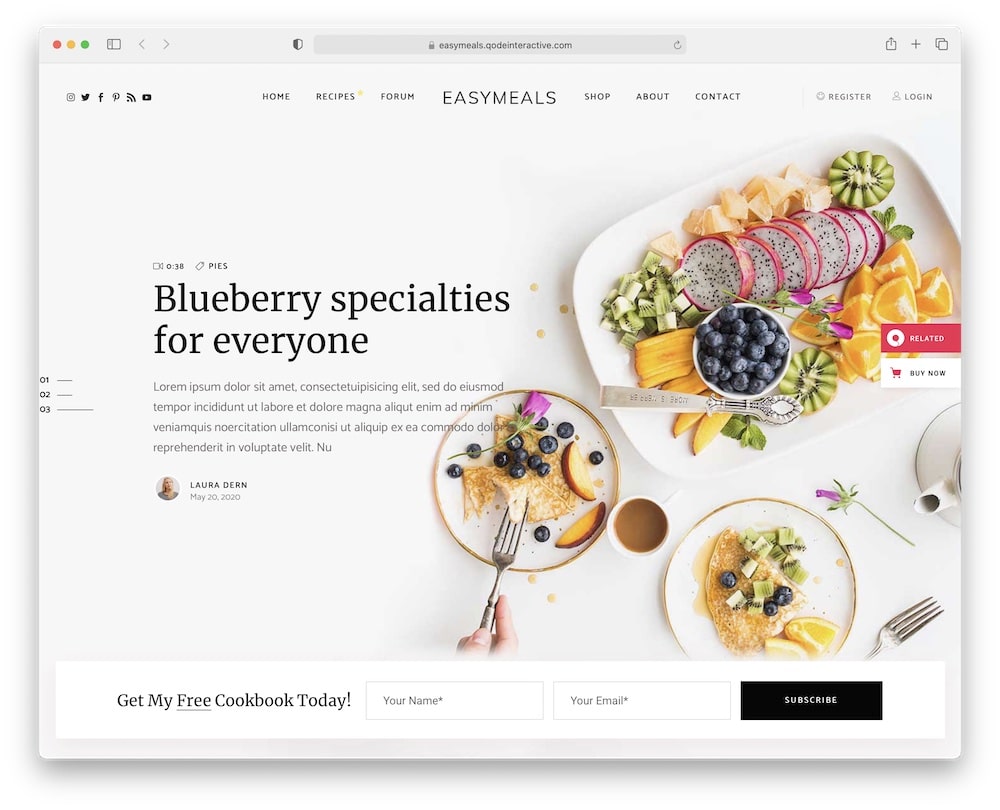 Here's my pitch: I really think you should go for the Easymeals food blog WordPress theme.
WHY?
Well, Easymeals comes with stunning pre-made demos, uniquely crafted blog layouts, the best features, tons of shortcodes, and various useful widgets.
Everything you need for a smooth and fast start!
Besides, it is highly customizable, compatible with all the COOL online treasures, and of course, you don't need to know how to code or design. Pretty sweet.
Want to change colors, fonts, icons, formats, etc.? No problem, you get unlimited options to customize your site.
High five!
Create your signature look with stunning Easymeals.
EasyMeals features:
MORE INFO / DOWNLOAD
DEMO
5. Lahanna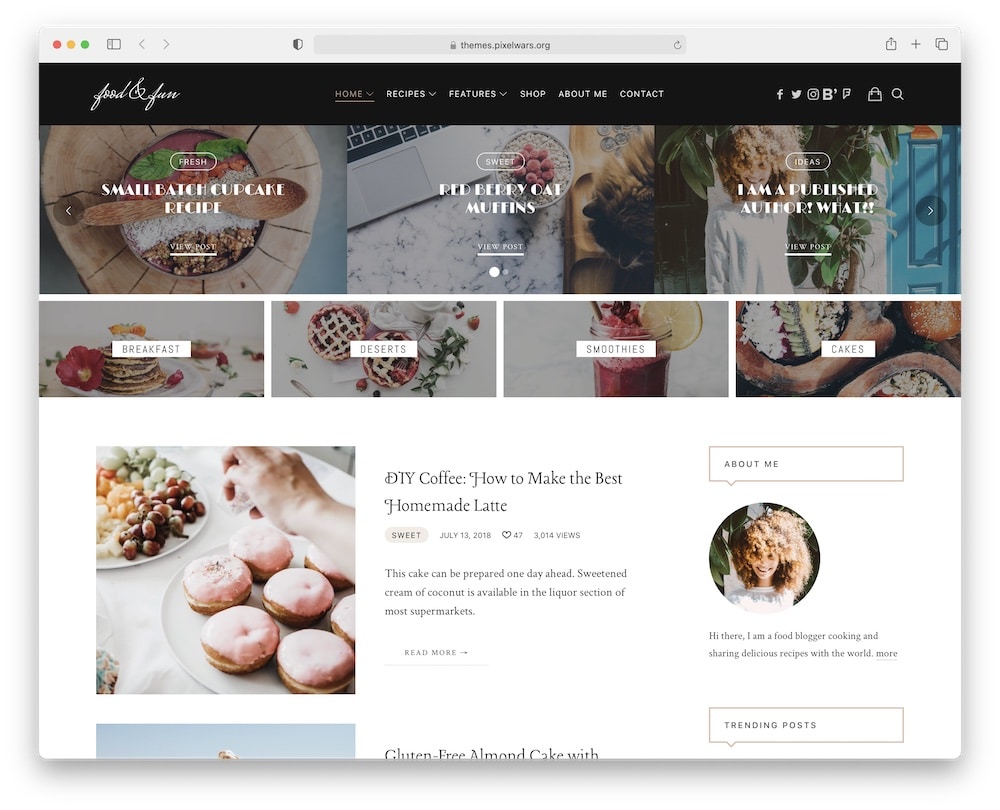 Listen, I had some MEGA requirements to talk about Lahanna food blog WordPress theme before I started.
SO, this is Lahanna (Hi!), and I did include my thoughts, essential points, and the best tools embraced in this WordPress food blog example.
Lahanna is a modern and pretty culinary theme (trusted by users from all around the world) – great job Pixelwars!
Packed with exclusive cooking features such as an interactive ingredients list (super useful – I love it!), timer links, full-screen recipe layout & recipe creation, support for video and gallery collages, and more, and more.
Use it. Use it all.
Lahanna is pretty much a universal, open-invite online party for food lovers!
In addition, Lahanna is fully customizable to whatever idea (a lifestyle, some might say) you have.
YES, you can install, control, select, create, change, transform it … and ADMIRE!
Note: You may also want to see our how to install a WordPress theme tutorial first.
Lahanna features:
790+ sales
4+ star rating
Create an online store
Price: $69 (may vary)
MORE INFO / DOWNLOAD
DEMO
6. Cook&Meal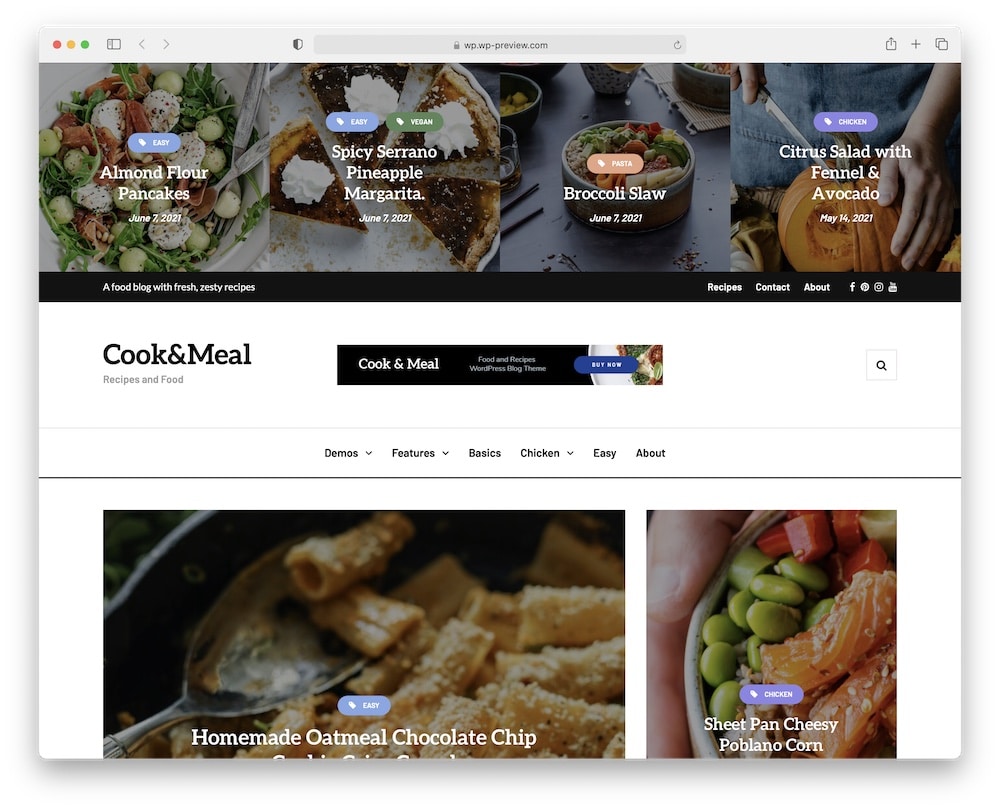 I raise this Cook&Meal food blog WordPress theme to you, friends!
This feature-rich and modern theme comes with unique details, interactive plugins, innovative blog listing layouts, unique widgets, and helpful shortcodes.
Sounds tasty, right?
Above all else, you can build your new site fast, simple and you don't need any extra money to start as a pro. (Except for the small investment to purchase the theme.)
You get all that you need to make it possible!
You can quickly build your loyal follower base with delicious content, consistent recipe posts, tempting photos, and step-by-step cooking tips.
Even start with advertisements and affiliate links (convert clicks into revenue).
YEY!
It's never been easier to start your own business – SO no more wasting time – get ready with Cook&Meal.
Cook&Meal features:
40+ sales
4.3+ star rating
Supports Ajax technology
Great speed, SEO & mobile optimization
Price: $59 (may vary)
MORE INFO / DOWNLOAD
DEMO
7. Good Food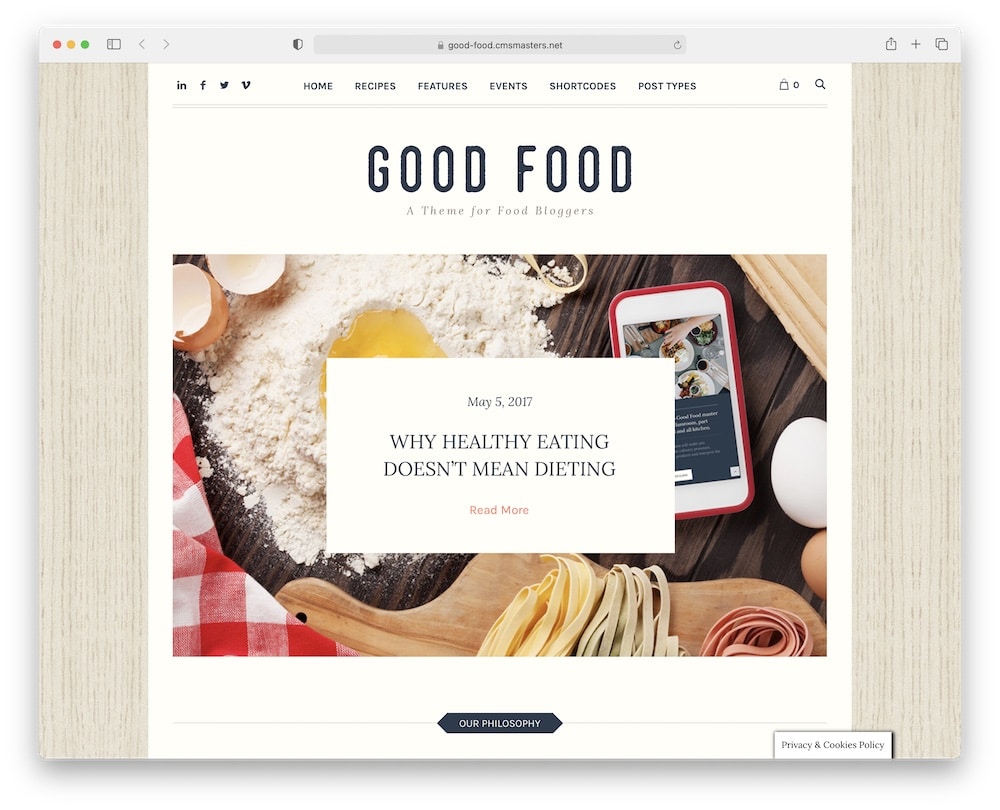 Well well, what have we here today?
Let me introduce you to fresh and stylish Good Food. This food blog theme is a BIG DEAL, because a) supports a great list of popular plugins and b) is fully customizable, so you can rearrange it as you desire fast.
All the powerful options at your fingertips.
Moreover, the best WooCommerce plugin (included for FREE) lets you create a beautiful online shop – YES your shop!
You can start selling recipes books, kitchen goods or other culinary supplies.
This is a WINNER!
Share your food story with reliable and high-performing Good Food.
Good Food features:
370+ sales
4.6+ star rating
Works with event plugins, workshops & more
Price: $59 (may vary)
MORE INFO / DOWNLOAD
DEMO
8. CheerUp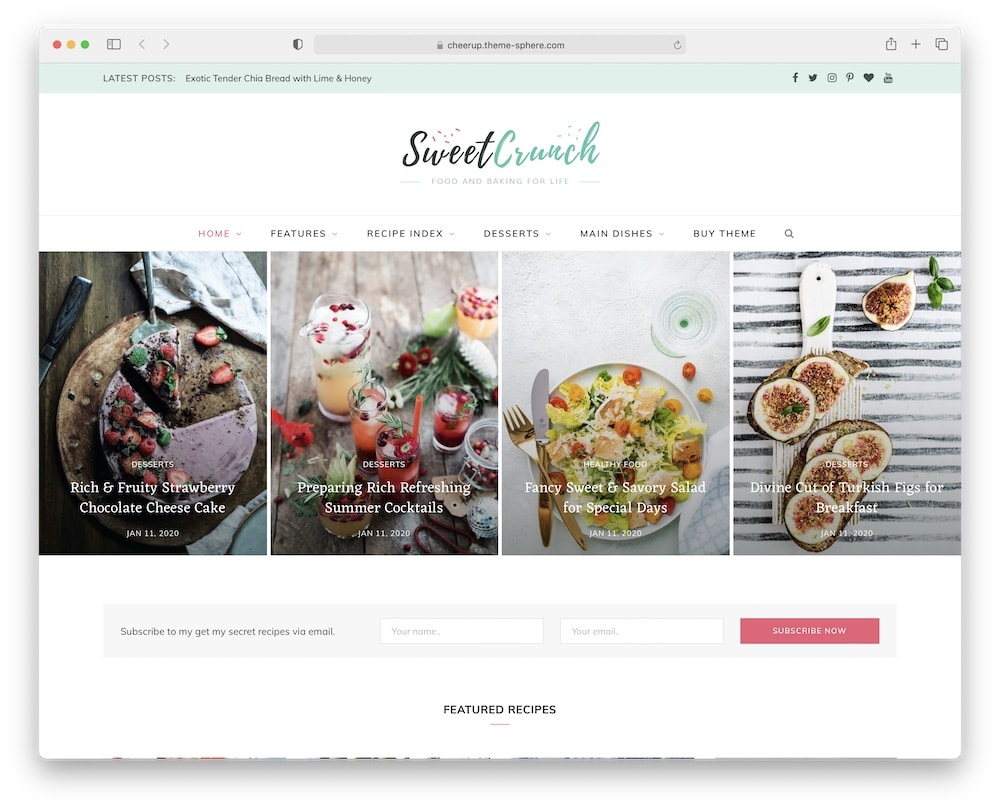 Now, if you are thinking to yourself "creating website sounds too hard" – STOP!
It only sounds hard, but actually, it's easy. SO check out the Cheerup food blog WordPress theme and be immediately inspired.
Cheerup is packed with over 1,000+ layout combinations for beautiful blogs.
So. Many.
Of course, developers optimized Cheerup for fast loading speed (nobody likes slow websites!) and yup it is fully responsive (computer – mobile – tablet friendly).
Your visitors are in for a delicious treat.
Bonus: Cheerup integrates social media (Instagram, Facebook, Twitter, Pinterest). Just link your website with your social media profile and increase your popularity.
Not bad, right?
You got the right sauce with Cheerup!
CheerUp features:
9,000+ sales
4.8+ star rating
Boost mobile experience with AMP
Integrated MailChimp subscription
Price: $69 (may vary)
MORE INFO / DOWNLOAD
DEMO
9. Becipe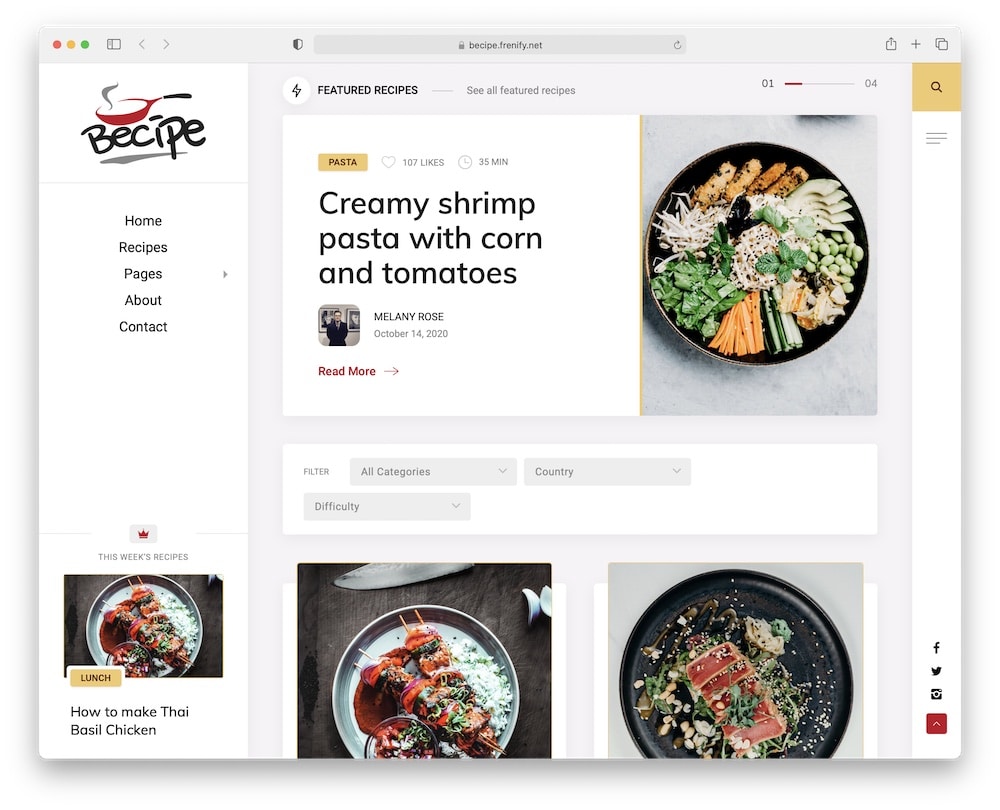 Go into the world and make Becipe food blog WordPress theme your own. And everyone said AMEN!
Becipe is the multipurpose culinary theme with all the right tools and elements. Its creative, stylish, modern, and fully functional.
Plus, you get (free) lifetime updates. (& 6 months worth of free support.)
Flex it the way you want.
MAKE SOME NOISE with the included Elementor page builder – the best way to design and build your site (also beginners approved).
Your experience with sites should be playful and easy – 0 complications is the motto of Becipe.
SO, choose Becipe and share your yummy recipes, capture outstanding photos of your dishes and catapult your food blog into the world.
GAME ON.
Becipe features:
30+ sales (it deserves more!)
4.6+ star rating
Sticky sidebar & menu
Google Maps plugin integration
Price: $59 (may vary)
MORE INFO / DOWNLOAD
DEMO
10. Anymag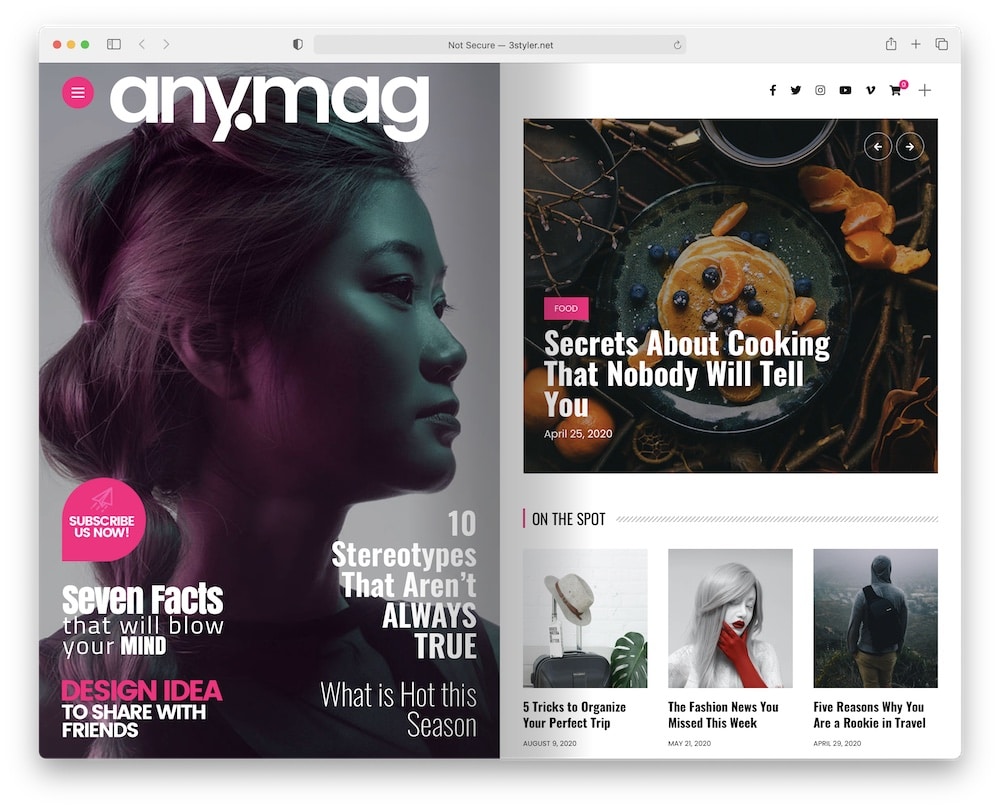 Let me tell you a secret – you haven't seen a food blog/magazine like Anymag before.
NO, you haven't!
This one is for everyone who likes to take the flipping-through-magazine experience online. But you need to check the live demo preview to understand it fully.
So. Good.
I didn't use it on a live project yet, but I tested it for myself and couldn't stop "flipping the pages."
The performance is excellent on mobile and desktop, keeping the unique style intact.
Whether you plan to start a publication or focus on the online food magazine exclusively – Anymag is IT!
Anymag features:
1,300+ sales
4.7+ star rating
You will stand out (for sure!)
Image lazy loading
Price: $39 (may vary)
MORE INFO / DOWNLOAD
DEMO
6 Key Features Of A Fantastic Food Blog
It's also worth keeping these in the back of your mind when choosing a WordPress theme for your food blog.
I did when reviewing them!
1. Recipes (with index)
If you plan to start a food blog, you first need to sort out how you want to present recipes.
While many food blog WordPress themes have this function built-in, you can still use a (free) plugin.
Also, having a recipe index is an excellent addition, so your visitors can browse for more tasty stuff that you have in store for them.
2. Beautiful photography
Immediately after recipes comes beautiful photography. Sure, it may take some time to get used to it, but even amateur-ish food photos can work well.
You're good to go for as long as they're yours and not all blurry.
But you'll be in an even better position when you start to take more pro-level pics.
Yup, "A picture is worth a thousand words."
3. Search bar (& navigation)
Another key feature of a food blog is a great search bar. You want your users to find the recipes they need quickly, so you can even consider Ajax search with live results.
Note: You may also be interested in checking our best WordPress search plugins list for easy integration without coding.
Additionally, if you have a lot of recipe categories (and other blog sections), you may also go with a mega menu.
4. Mobile-friendly layout
Okay, there's a good chance that most of your food blog visitors will come from mobile devices.
In fact, I talked to ten food bloggers, and eight of them reported a whopping 80%+ traffic from mobile.
YES! A responsive layout is a must.
Luckily, that's not something you need to take care of when using a WordPress theme. Responsiveness comes by default.
5. Social media integration
People like to share recipes with their friends via social, and especially on Pinterest.
You don't have to be present on all social platforms, but it's worth testing a few, seeing which do better for you and then sticking to those.
Still, you will need to work with more than one to enjoy the food blogging success you deserve.
You can also read our tutorial on how to add social share buttons in WordPress. Or pick a social media WordPress plugin right away.
6. About page
While having a quick "About me" section in the sidebar is handy, you should also go more in-depth on your about page.
Introduce yourself, share your story, tell what made you start a food blog, etc., so people can get to know you better.
I recommend going personal so the users treat you like a friend. (Social media is proven to work great for this, too!)
Bonus: I am no food blogger but I found this awesome list of the best food blogging tips that'll surely help you if you're just starting.
Frequently Asked Questions About Food Blogs
What is the best WordPress theme for a food blog?
TinySalt is the best food blog WordPress theme after testing and reviewing it extensively and talking to 50+ users.
How do I make a food blog on WordPress?
The simplest process of making a food blog on WordPress is:
Get hosting and domain name
Install WordPress
Chose the ideal theme (I recommend a premium theme for extensive functionality)
Customize the theme
Add content (recipes, images, videos, etc.)
Publish your food blog
What is the best platform for a food blog?
I tested 5+ platforms and WordPress is still the best one for starting a food blog. It's very beginner-friendly, so you don't need skills to turn your passion into a (potential) business.
How do I monetize my food blog?
These are four of my favorite ways to monetize a food blog:
Insert banner ads and work with ad networks (Check out best WordPress advertising plugins)
Affiliate commissions (promote other people's products and services)
Sponsored content (reviews, exclusive product use in a recipe, etc.)
Create a product or a course (you have 100% control over it)