Are you looking for the best Shopify furniture themes to create a beautiful online store?
We reviewed and tested 30+ options, but these twelve are the absolute best.
You'll have everything necessary by the end of this list, ready to create your (first) furniture website.
Each theme is 100% responsive and optimized for fast loading and SEO.
We also ensured each theme has high-quality documentation and support, so you get fast and friendly assistance anytime.
And by reviewing each theme individually, with analyzed user- and beginner-friendliness (installation-, setup & customization-wise).
Great online furniture shopping experience GUARANTEED.
This post covers:
Pick your best Shopify theme for furniture and start your online business – TODAY!
IN A HURRY? OUR ULTIMATE 5:
Best Shopify Interior & Furniture Store Themes
1. Gecko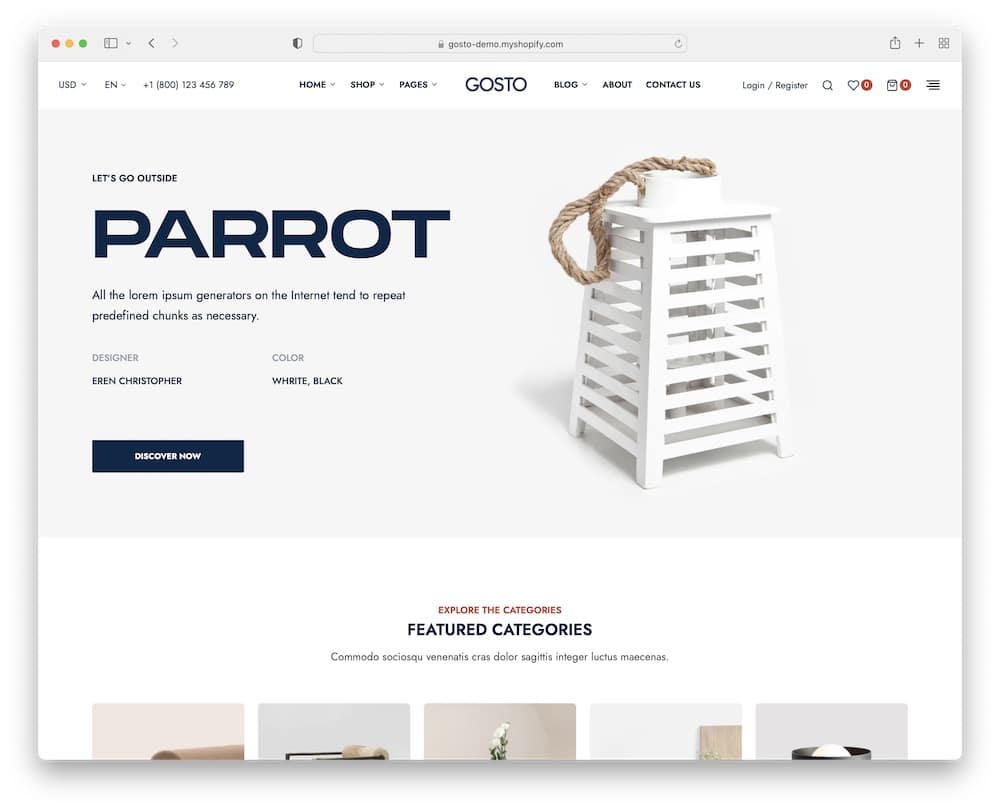 Offer the best furniture pieces at the best price with the Gecko theme.
You don't need to have a coding background to get started and build a BEAUTIFUL online store. You barely have to think about it with fifteen stunning demos!
Simply import a pre-made demo and change fonts, colors, and style – with a few clicks (my favorite part).
Gecko also includes additional features such as product variation swatches, lookbook, instant search, and Ajax filters.
Important: Gecko supports various payment gateways.
Furthermore, you can add shoppable links (tags) and sell products directly on your Instagram posts (direct checkout). Remember, IG has two billion active users worldwide.
Craaazy!
Discover just how COOL it is to have a store with the brilliant Gecko.
Gecko features:
8,200+ sales
4.9+ star ratings
Free shipping bar
Built-in mega menu
Price: $99 (may vary)
MORE INFO / DOWNLOAD
DEMO
2. Avone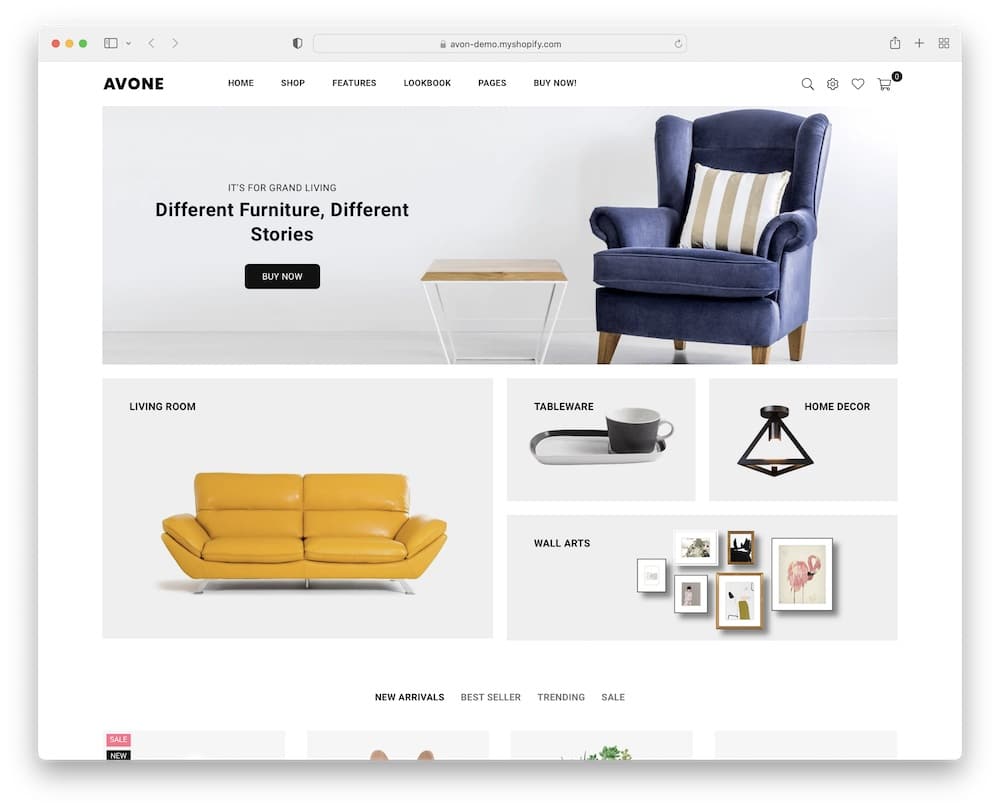 Isn't life too short for boring furniture?!
Be creative, inspire and sell with the thrilling Avone Shopify furniture store theme.
It doesn't matter if your online store is a hobby, side-hustle, or full-time job; Avone makes it easy to use and offers the BEST design & functionality.
Creation is as simple as setting up a Facebook or Instagram profile with ready-to-use homepages, header styles, shop & product layouts.
Add, upload, remove or move sections to define your style.
Oh, and I love to organize (drag-n-drop functionality) content for transparent and fast navigation with a mega menu.
You can even include images, maps, and icons. FUN.
Ready, set, go!
Avone features:
MORE INFO / DOWNLOAD
DEMO
3. Basel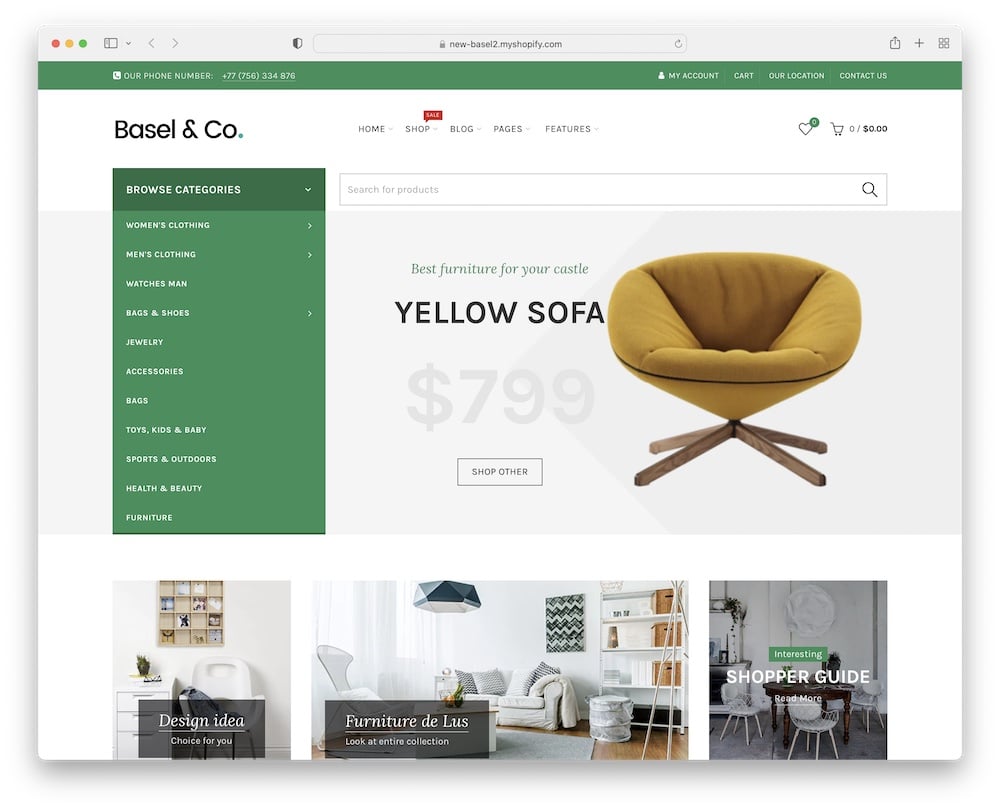 Introduce a variety of luxury furniture styles with the gorgeous Basel Shopify theme.
Basel is suitable for any screen resolution or device due to its responsive design. User-friendly & fast loading speed environment guaranteed!
Don't forget to use Ajax technology for intelligent search, price, and color filters.
Plus, you get a built-in quick view, 360-degree 3D showcase, and time-saving quick shop feature.
Need some inspiration for marketing? Install Growave (30-day free trial).
It offers powerful tools for your customers: automated emails, registration with social login, reviews, loyalty programs, gift cards, rewards for sharing wishlists, etc.
So much still to tell you about Basel – MUST check it out!
Basel features:
3,700+ sales
4.6+ star ratings
Beautiful product pages
Supports RTL languages
Price: $49 (may vary)
MORE INFO / DOWNLOAD
DEMO
4. Lezada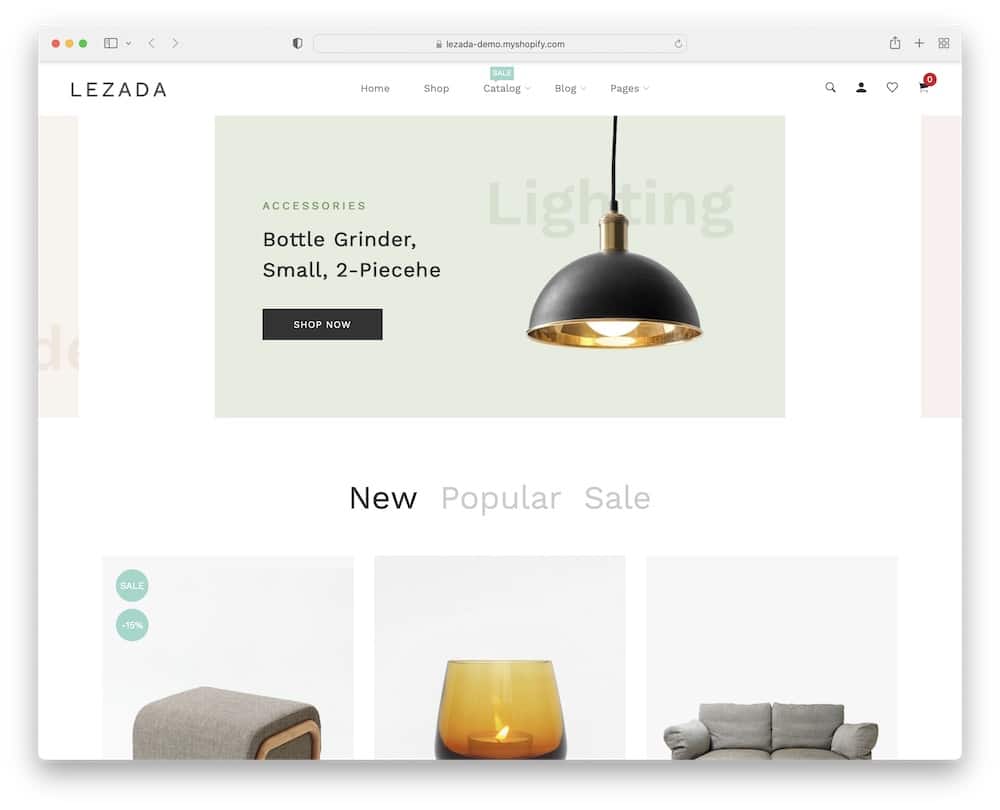 Lezada Shopify furniture theme is easily affordable (quality is not always expensive) and comes with endless design possibilities.
Hurray!
Present furniture that fits and hits every home in a creative & unique way!
Choose a ready-to-use demo (tons of options) and start rearranging icons, shortcodes, sidebars, plugins, and banners.
Lezada also includes fully responsive Slider Revolution for EXCITING visual slides that won't slow down your website.
I highly recommend it if you want an extra bit of fancy!
In addition, Lezada supports dropshipping, affiliate earning, and Instagram shop.
Y-E-S.
BTW: You can try Lezada out for FREE (30 days trial). Freak out!
Lezada features:
2,600+ sales
4.9+ star ratings
Use it as a luxury furniture boutique Shopify theme
Optimized for speed & performance
Price: $79 (may vary)
MORE INFO / DOWNLOAD
DEMO
5. Barberry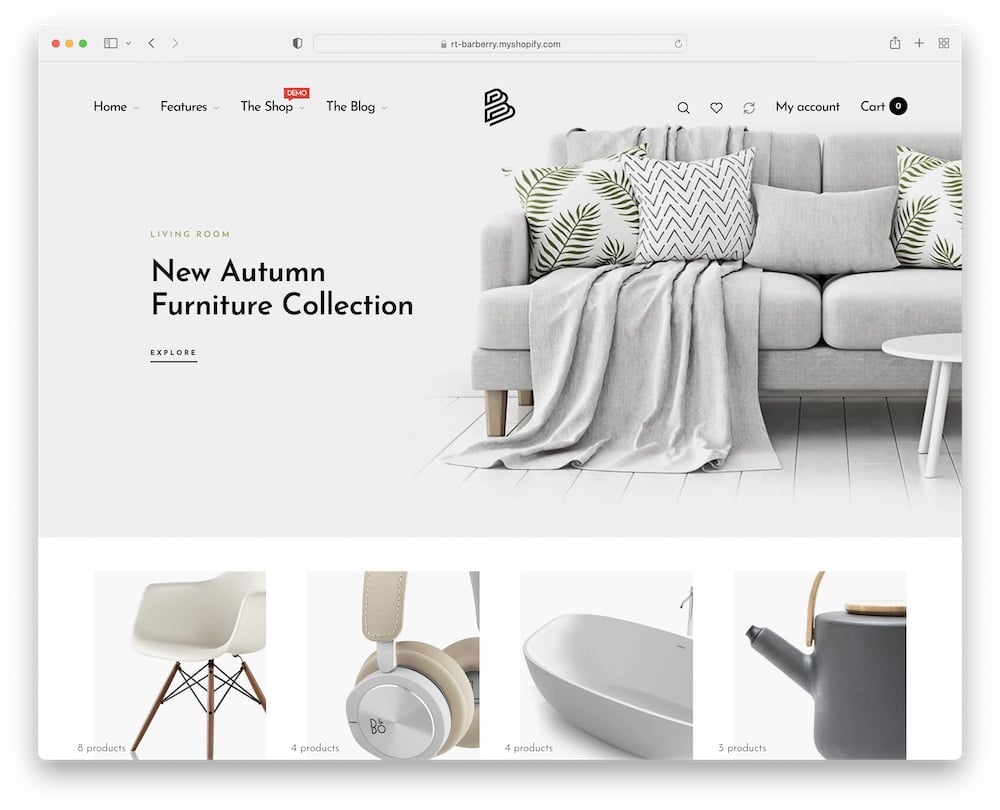 Choose differently; choose the Barberry Shopify furniture theme.
This minimal Shopify theme includes complex and powerful technology. "Out with it, already!" OK, let's check what you get:
1. Real property product filters (color, price, size) are great for upselling & fast search.
2. A fantastic option for multiple languages & currencies is super convenient – a simple click and your customer can localize your shop.
3. I am also a BIG FAN of sticky header!
It is a perfect navigation tool that stays (reappears at the top of the page) with your visitor from the moment they start scrolling down your page.
4. Of course, take advantage of the newsletter subscriptions form and BE SOCIAL (add social media buttons and share options).
You want, you GET Barberry!
Barberry features:
2,300+ sales
4.6+ star ratings
Practical product filtering
Free shipping message
Price: $59 (may vary)
MORE INFO / DOWNLOAD
DEMO
6. Belle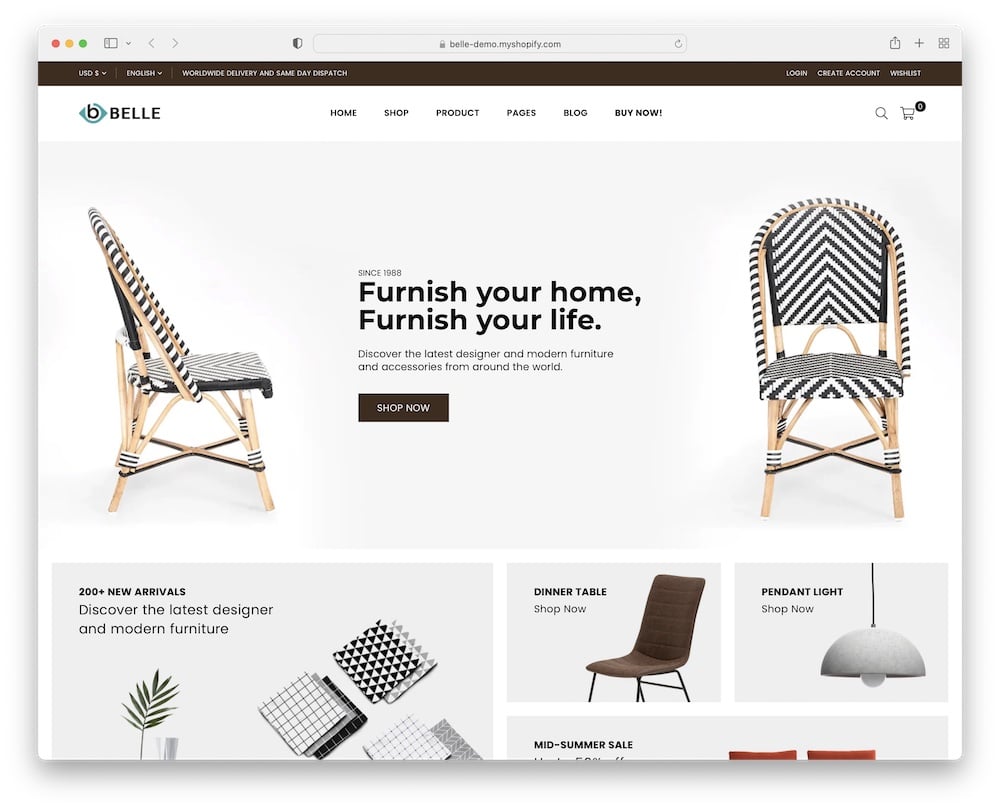 100% quality, 100% satisfaction = Belle theme.
Launch your online store without long setting hours, coding skills, and complicated documentation with gorgeous Belle. (You install a pre-made demo with a simple click.)
Change, rearrange, or set sections, header, banners, fonts, product display, and information blocks.
You can also add an Instagram photo gallery, video content, newsletter popup, Google Maps, and testimonials (build trust).
Click preview and admire your creation before going live.
Pretty COOL, right?
In addition, integrated Ajax search technology includes all-in-one shopping solutions!
Plus, you can display fake counters, a.k.a "real-time" statistics ("sold out," "one left," "30 persons checking out," "11 sold in last 14 hours") to boost your sales.
Trust me, you'll like Belle!
Belle features:
2,300+ sales
4.9+ star ratings
Pre-orders
Product countdown (for urgency)
Price: $79 (may vary)
MORE INFO / DOWNLOAD
DEMO
7. Outstock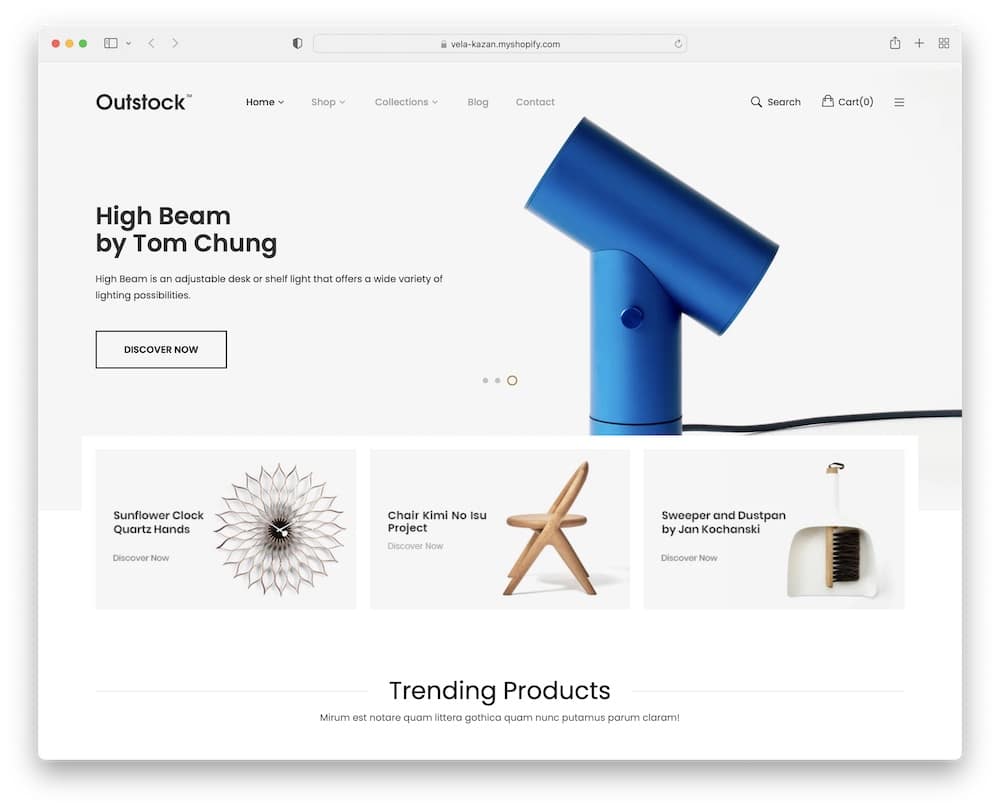 Just make something extraordinary with the minimalistic and clean Outstock Shopify theme.
Okay! Here are a few lil' tipsters for you:
Check out pretty header styles, unique layouts, product slider display, elegant icons, and unlimited color options.
If you've never built a website, listen up.
You're in for a fun & triumph adventure because Outstock is user-friendly (easy to customize) and includes a simple-to-use admin control panel.
Your job is to pick out pre-made designs and replace desired details.
Want to add customer reviews or start a blog? Do it!
Oh man, and Outstock is also SEO optimized and cross-browser compatible. What more do you need?
Outstock features:
1,900+ sales
4.7+ star ratings
Integrated Ajax search
Multi-language & currency
Price: $79 (may vary)
MORE INFO / DOWNLOAD
DEMO
8. Unero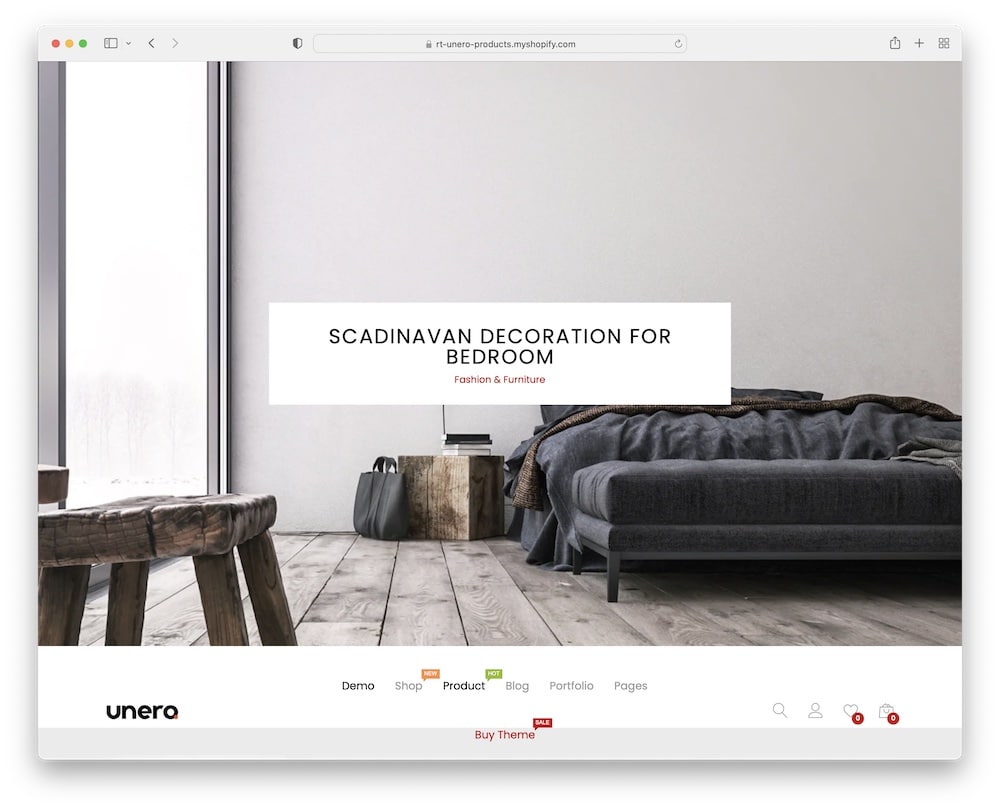 Make your customers' homes a HAPPY place with the aid of the unique and stylish Unero theme.
Don't think twice and take a delighted look at all its features.
I really like the header notice option for noticeable announcements (promotions, discounts, or updates).
Moreover, you can easily create a great customer experience with extended product characteristics.
Unero offers image swatches, product zoom, multi-video content, countdowns, product compare, 360-degree view, video banners, and more.
This parallax Shopify theme offers a sea of opportunities.
I highly recommend YouTube or Vimeo video content for product introduction. Shout out for awesome videos!
BTW: Unero comes with a translation-ready option SO that you can even have a multi-language website.
Unero features:
MORE INFO / DOWNLOAD
DEMO
9. Venedor

Venedor Shopify furniture theme is where smart design meets powerful creativity.
Elegant Venedor comes with beautifully crafted product pages, a lookbook, wishlist, plus it allows your customers to compare products side by side (my obsession!).
It also offers an option to organize and filter your products by collections.
COOL!
A convenient dropdown shopping cart (you can even choose sidebar popup) reminds users about the selected furniture in their cart.
And yes, Venedor also supports multi-currency checkout.
Furthermore, if you have tons of items to upload in your store (heavy images), use (a must) lazy load to reduce site load time and improve overall performance. Neat!
Trust me: Everything you love about your furniture gets even better when you sell it with Venedor.
Venedor features:
1,500+ sales
5-star rating
Google Maps + contact form
GDPR compliance compatibility
Price: $59 (may vary)
MORE INFO / DOWNLOAD
DEMO
10. Rubix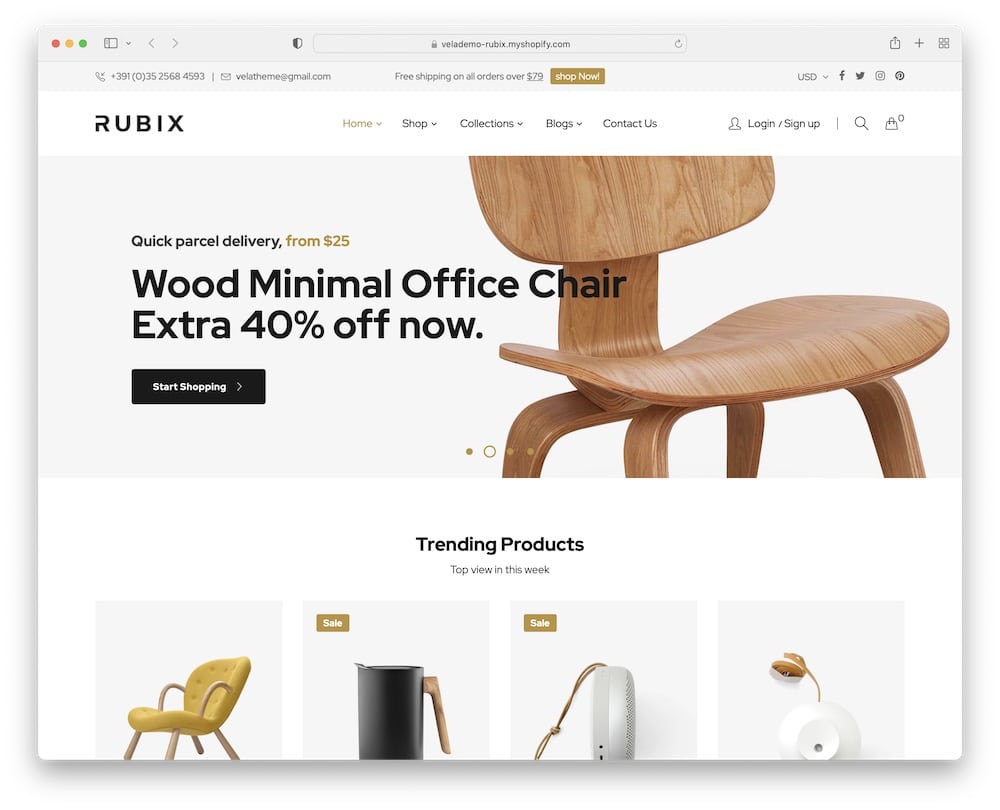 Activate Rubix Shopify furniture theme TODAY because every home deserves to be noticed!
Rubix is fully responsive and retina ready for trouble-free excess from various devices.
As a bonus, it is also SEO optimized – better search engine ranking promised.
I'm nodding!
Plus, your site will work seamlessly in Chrome, Firefox, Safari, and Internet Explorer due to cross-browser blessing. DOPE.
Ready-to-use homepages offer everyone a quick start (0 coding knowledge!).
Besides, you get tons of shop pages, valuable tools, product filters, and a carousel display (with sale badges, buttons, and quick view options).
Have you ever looked closely at an effectively made Shopify mega menu? It * is * the * very * best!
Say HELLO to Rubix.
Rubix features:
980+ sales
4.9+ star ratings
Multiple shop & product page layouts
Best sellers & trending items
Price: $69 (may vary)
MORE INFO / DOWNLOAD
DEMO
11. Riode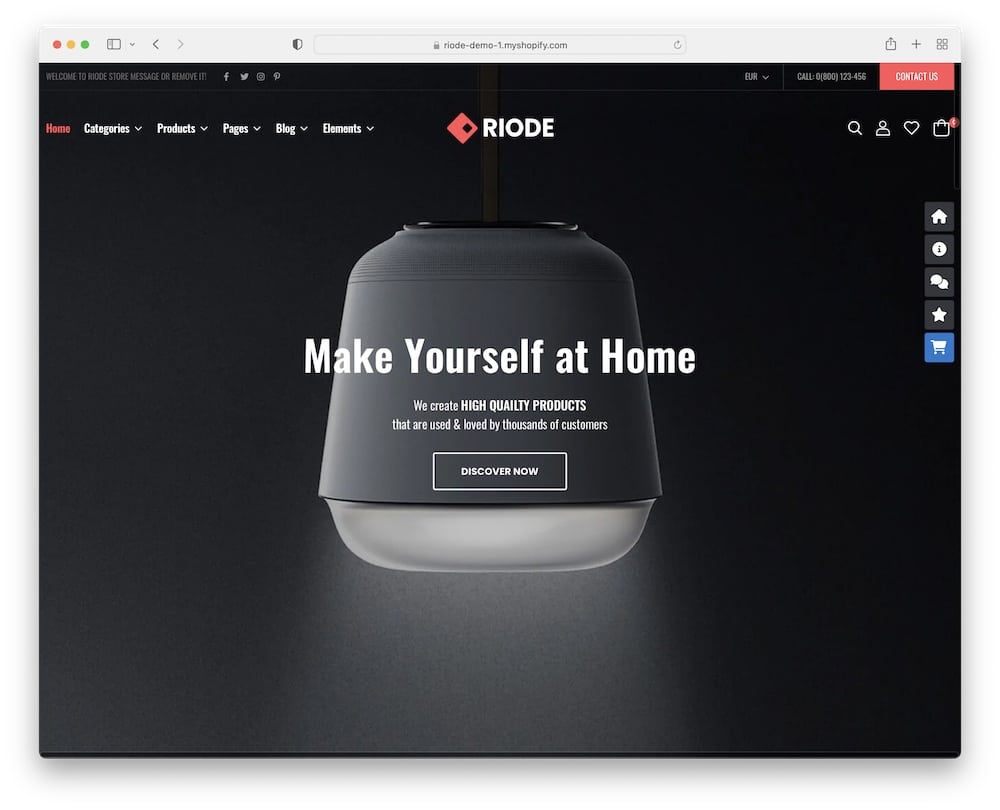 Home sweet home!
Riode Shopify furniture and home decor theme can help you create an online store that will fulfill all your client's dreams for high-quality furniture!
Be original with a memorable header and footer style – it provides various pre-designed options. Remember, they are road maps for your customers!
Super helpful are also gorgeously designed newsletter popup templates.
Bring on your A-GAME with a subscription form, free discount coupons, or promo codes.
It's a win-win situation!
Oh my, and let's not forget about Instagram – include your Instagram feed on your website because it's epic. Who wants more social shares, views, and likes?
Me, me, ME!
Now go and knock my socks off with Riode! (I'd love to see your creation, so feel free to share it.)
Riode features:
460+ sales
4.6+ star ratings
250+ templates for everything
CSS3 animations (to spice up the experience)
Price: $89 (may vary)
MORE INFO / DOWNLOAD
DEMO
12. Dukamarket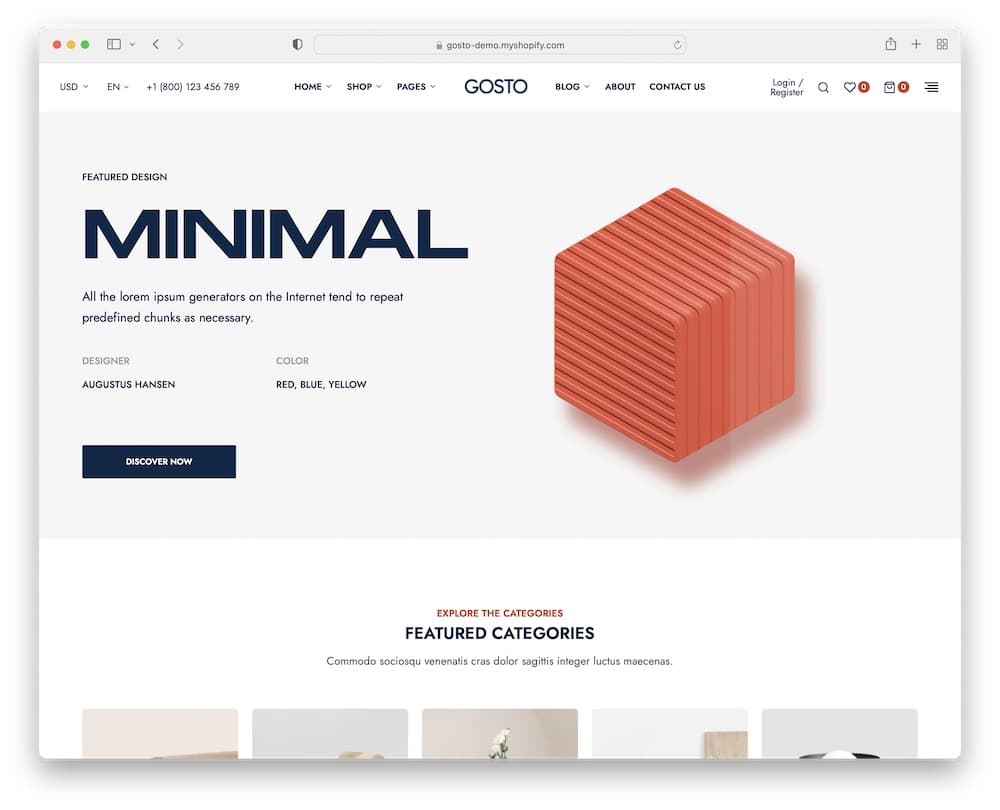 Fill your Dukamarket online store with irresistible furniture and newly designed decorations. It's all about furnishing your clients' lives!
No matter your pre-designed homepage choice, it has many features and functional shop solutions.
All-in-one.
OH, how I love advanced Ajax technology!
You really can't go wrong with Ajax cart popup, wishlist, search bar, login, and layered navigation.
This is so GOOOD!
Moreover, you also gain access to a blog template. Activate your fans with interesting furniture presentations, reviews, new collections, and decor tips.
Key takeaway: Dukamarket offers lifetime FREE updates, extended documentation, and professional customer support.
I mean, seriously? What's not to love?
Dukamarket features:
510+ sales
4.7+ star ratings
Regular updates (new features, new demos, improvements, etc.)
Upsells
Price: $59 (may vary)
MORE INFO / DOWNLOAD
DEMO
5 Key Features Of A Great Furniture Website
1. Simple design
You must use a simple and minimalist design for an online furniture store. The less clutter and distraction, the better your user experience will be.
And do you know what this means? Yup, you're right – MORE sales.
While every Shopify furniture theme has excellent designs, I'd recommend going even more straightforward in some cases.
The customizations are easy and take just a few clicks to make happen.
2. Great filtering & navigation
Every furniture website needs to have excellent filtering and navigation. This is especially important if you have an online furniture store with MANY items.
You don't want your potential customers to wander around, not knowing how to find the product they need.
That's when fantastic (sidebar) filtering and (mega) menu come into play.
Luckily, you don't have to set them up yourself because they're usually built-in functions in Shopify themes.
3. Images (actual interior pictures)
The absolute best would be to shoot product images yourself and not use stock and catalog pictures.
This will make you appear more professional and increase the chance of scoring more deals.
It's also vital that furniture images are high-quality and that you include as many as needed (multiple angles).
Extra: Place the item in an actual interior.
4. Testimonials
If word of mouth doesn't work, online testimonials and client feedback will.
That's why I highly recommend you include at least a few testimonials on your home page (even individual product pages) to build customer trust.
Adding reviews will also be a nice addition, which you can use to expand each product page with quality info.
5. Notifications
Not every visitor will make a purchase on their first visit.
But you can increase the likelihood of a new sale with various notifications.
These could be a free shipping bar, a countdown timer that boosts urgency, limited availability, etc.
You can also add a newsletter popup to capture new leads for future email marketing campaigns.
::
Note: This article was originally published on August 16, 2022. But our team regularly reviews it and updates it with necessary improvements for accuracy.