Hey minimalists, welcome to our carefully tested review of the best clean and minimal Shopify themes.
These are so powerful and versatile that you can use them for any eCommerce website you want (small, large, niche, you name it!).
And you need 0 experience to achieve excellent results.
Building an online store with a unique design happens quickly and effortlessly. (Just how you deserve it.)
Plus, you can customize all these minimalist themes however you want to create the exact eCommerce page you want.
This post covers:
Minimalism and simplicity are power.
You can now take them to your advantage!
THE ULTIMATE 5:
Best Clean & Minimal Shopify Themes
1. Shella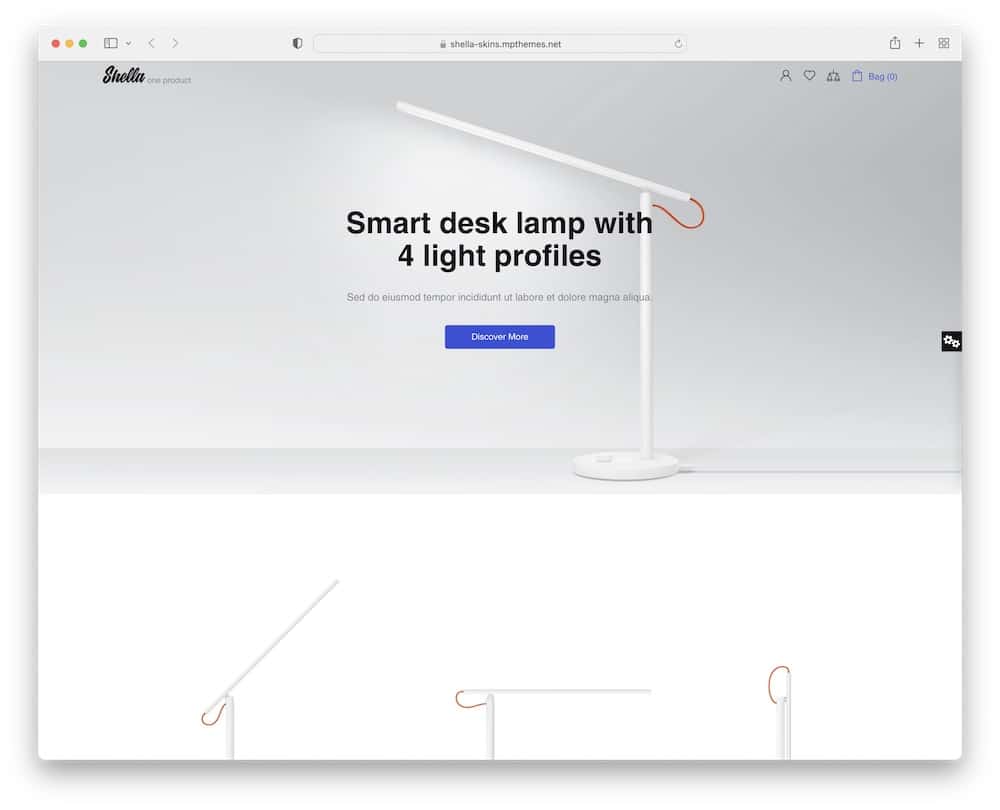 Do it to grow your business. For more sales. For a great head start. Because you want action in your life.
Do it with Shella minimal Shopify theme!
Choose from a range of pre-design homepages, various skins, tons of colors, useful elements, and amazing plugins. And newsflash: you don't need to be a developer to partake (NO coding knowledge required)!
Besides, take advantage of the mega menu, multiple header styles, social icons, and configurable sidebar. Oh and hey, writing a blog is not optional.
You must, you must, YOU must.
But, that's not all. Shella is also SEO optimized – making sure you make a good connection with Google (HI, friend!).
Shella features:
MORE INFO / DOWNLOAD
DEMO
2. Barberry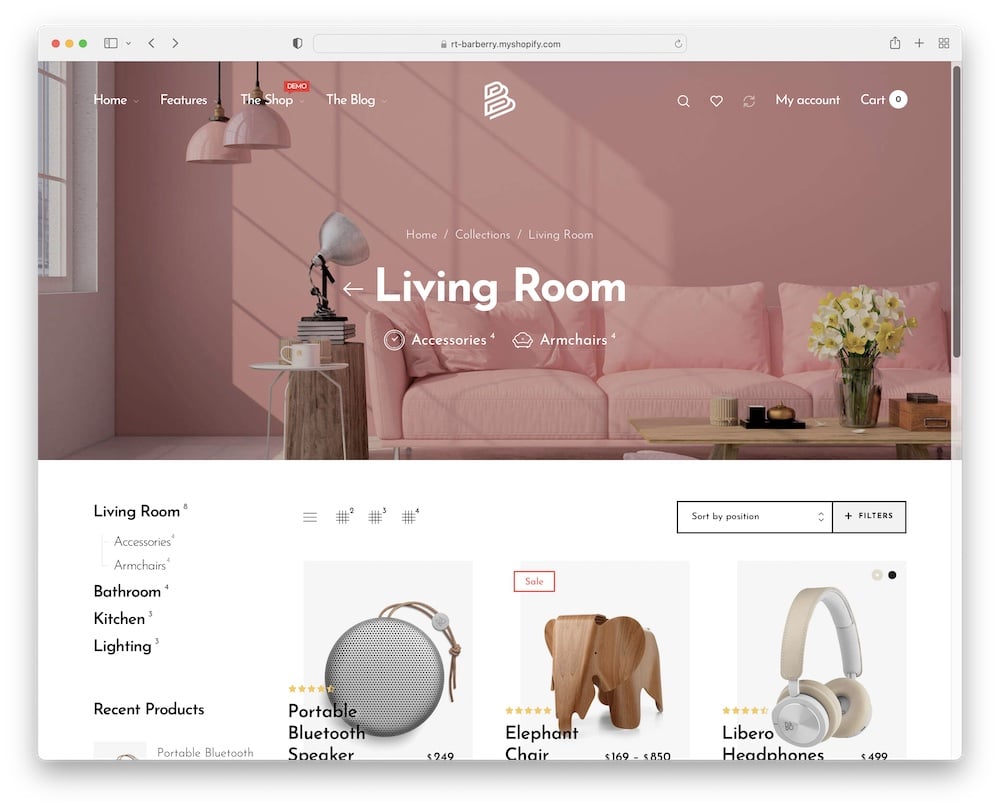 Barberry modern Shopify theme unlocks a range of new opportunities for your business. In fact, you can easily customize every aspect of your new store (0 coding or design skills).
HURRAY!
The latest update of Barberry offers you new filtering based on the real properties of the products, price range, color, size, and much more. Effective upselling guaranteed!
Also, you can include multiple languages, currencies, and product comparisons.
BRILLIANT.
What about social media?
Keep calm, Barberry loves social sharing and will engage nicely with your customers. AHA, your customers can now brag about awesome products effortlessly.
Barberry – That's the way to do it, pals.
Barberry features:
2,300+ sales
4.7+ star ratings
3D support
Versatile product pages
Price: $59 (may vary)
MORE INFO / DOWNLOAD
DEMO
3. Zeexo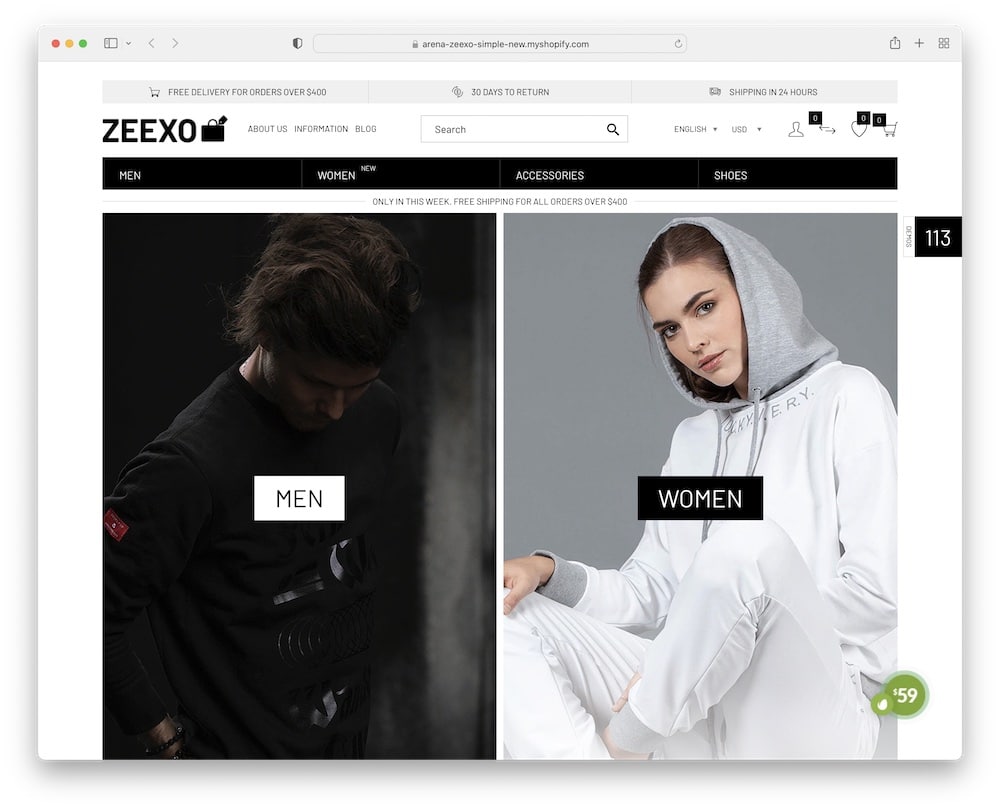 If you are trying to simplify your life, you come to the right place! Zeexo minimal Shopify theme was declared as one of the best multipurpose themes in 2021.
Pretty COOL.
Straight to the point: Zeexo offers TONS OF pre-built demos (imported with one click), beautiful layouts, useful icons, unique header designs, advanced typography, the best plugins, and much more.
You get everything you need for a smooth and fast store build.
I am thrilled!
We all know how important is the performance of the site (!), so Zeexo is 100% responsive, browsers compatible, and SEO optimized for impactful first and last impressions.
Put a smile on customers' faces while doing business with your brand!
Zeexo features:
2,100+ sales
4.8+ star ratings
110+ demos
Full RTL support
Price: $59 (may vary)
MORE INFO / DOWNLOAD
DEMO
4. Outstock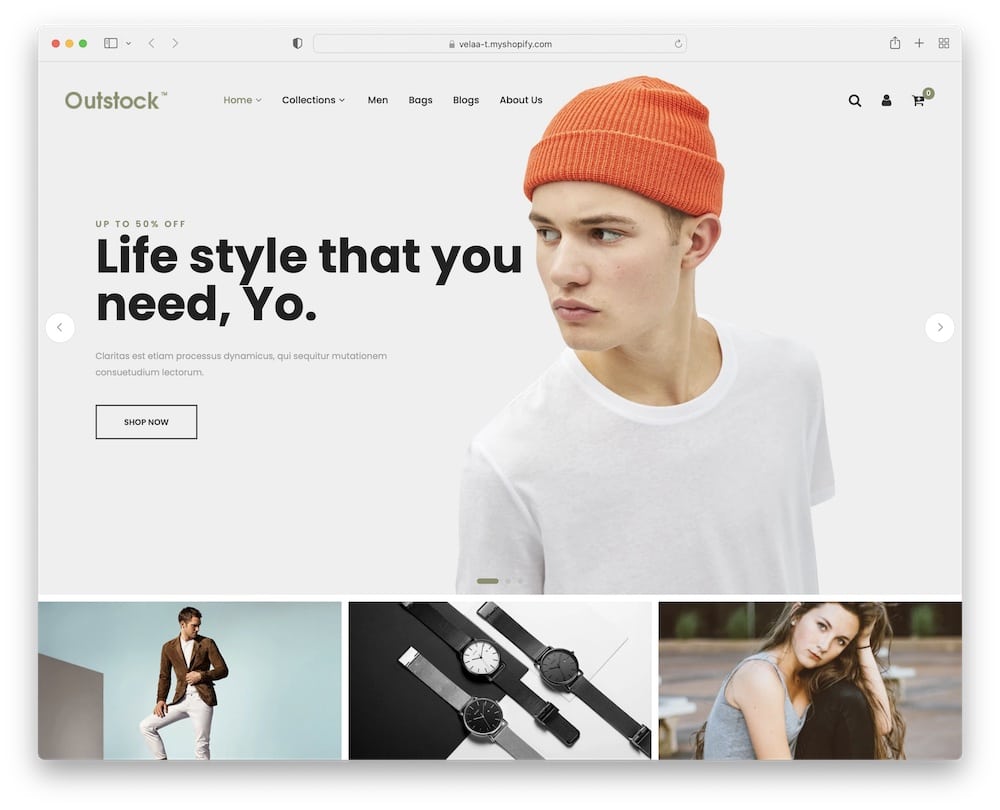 With all of the focus around minimalism, simplicity, and a clean look, it's easy to believe that Outstock Shopify theme is the right choice for one who searches for reduced online saturation.
Remember, less is more through the eyes of great design.
Outstock comes with ready-to-use homepages (15+), unique layouts for different niches (super convenient), and the best shopping options (Ajax technology).
You can make stunning product pages with tools and media such as 3D models, YouTube videos, product slider modules (new, best-selling, most viewed, quickview, etc.), and much more.
Prepare for easy customization, responsive design, and powerful features. Outstock is also well documented for an even greater start.
Like a champion, baby!
Not to be cocky, but Outstock customer support is just fantastic!
Outstock features:
1,800+ sales
4.7+ star ratings
Product slider
Multi-concept layouts
Price: $79 (may vary)
MORE INFO / DOWNLOAD
DEMO
5. November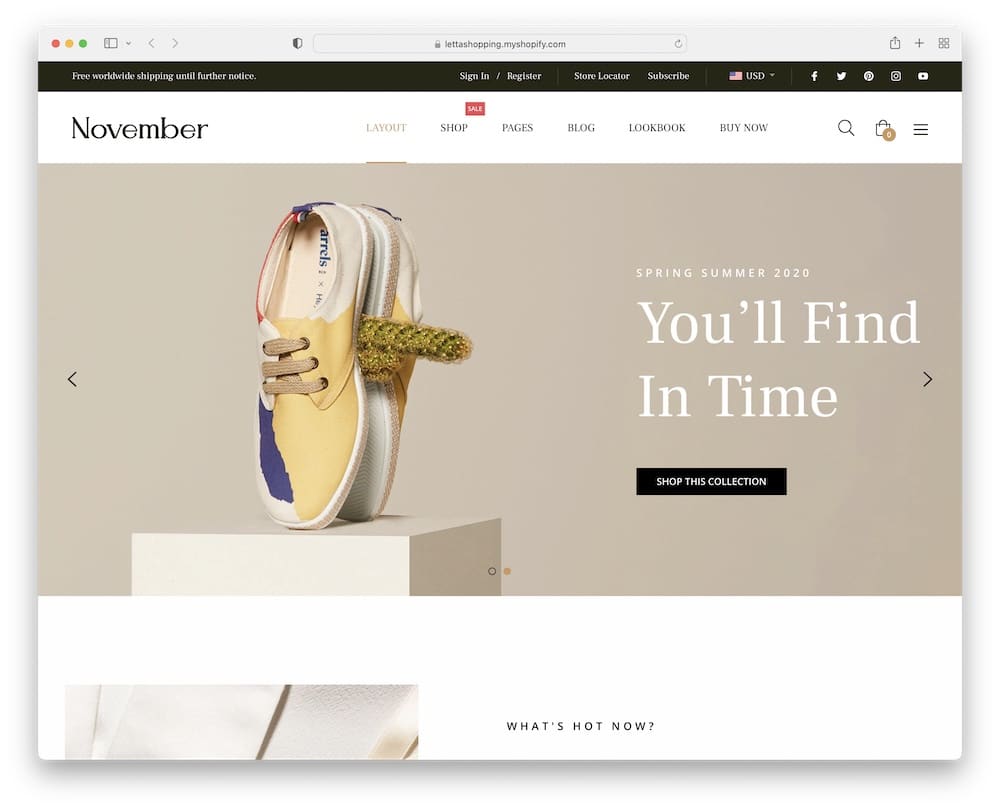 One word that comes to my mind when thinking about November – TRENDY!
November offers a bundle of homepages suitable for diverse stores such as art, beauty, furniture, fashion, pets, decor, and more.
Freely pick the one that fits your business best (simple to change and edit).
L-L-Like it!
Besides, you can customize product pages to your heart's content. Super flexible layouts!
I also recommend you start your own blog with useful articles and engaging content. Yup, November provides splendid blog space – HURRAY!
Oh, and November also has multi-language support, meaning you can be globally present.
Give me high five, low five, slap my hand!
November features:
1,100+ sales
4.9+ star ratings
Header & footer styles
Wishlist & compare
Price: $56 (may vary)
MORE INFO / DOWNLOAD
DEMO
6. Roxxe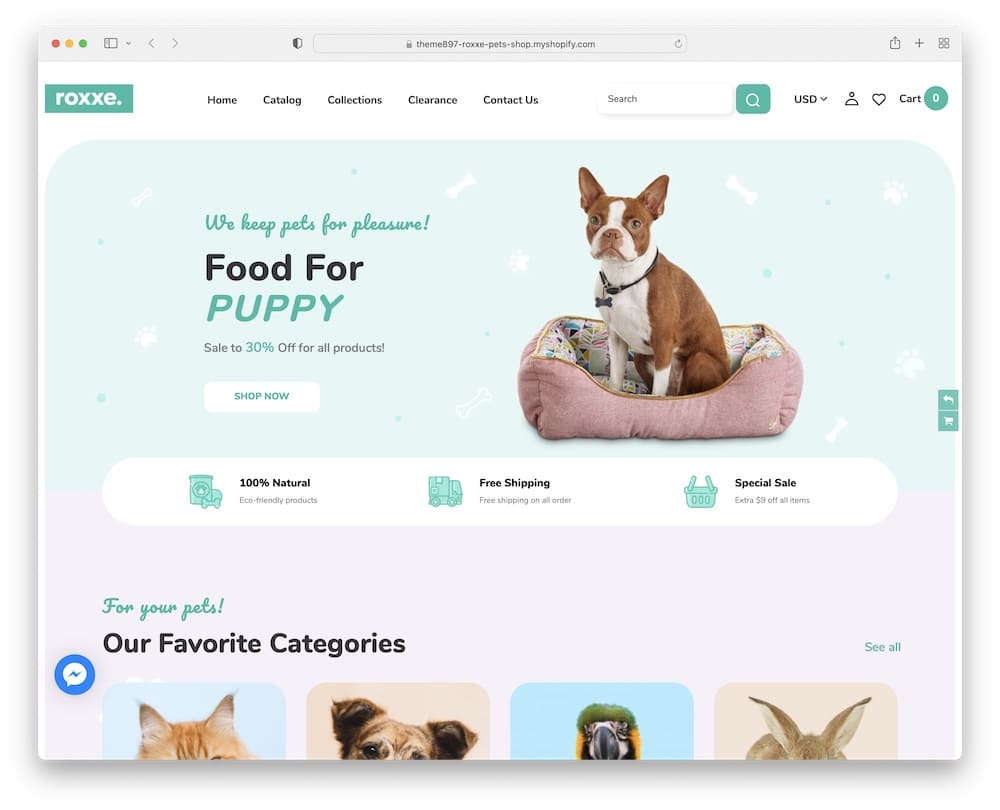 Use Roxxe minimal Shopify theme to make a gorgeous online store (quickly & easily). 75+ ready-made templates (WOW) are the perfect start.
Best part? You can import them with a single click!
Roxxe is for food, fashion, book, jewelry, anything! Even single products and landing pages!
NO, that's not a typo!
You can find a massive opportunity in smart and powerful features (included for FREE).
Plus, you can add a newsletter subscription, social media icons, business info, testimonials section, and colorful banners.
The shopping cart is at the top of the page, next to login and registration forms – a convenient position. You will also like the multi-currency option for your expanding clients base.
Of course, with Roxxe you can use any language you want (supports LTR & RTL).
You know what to do.
Roxxe features:
1,000+ sales
4.9+ star ratings
Sale boosters
Practical filtering
Price: $69 (may vary)
MORE INFO / DOWNLOAD
DEMO
7. Rubix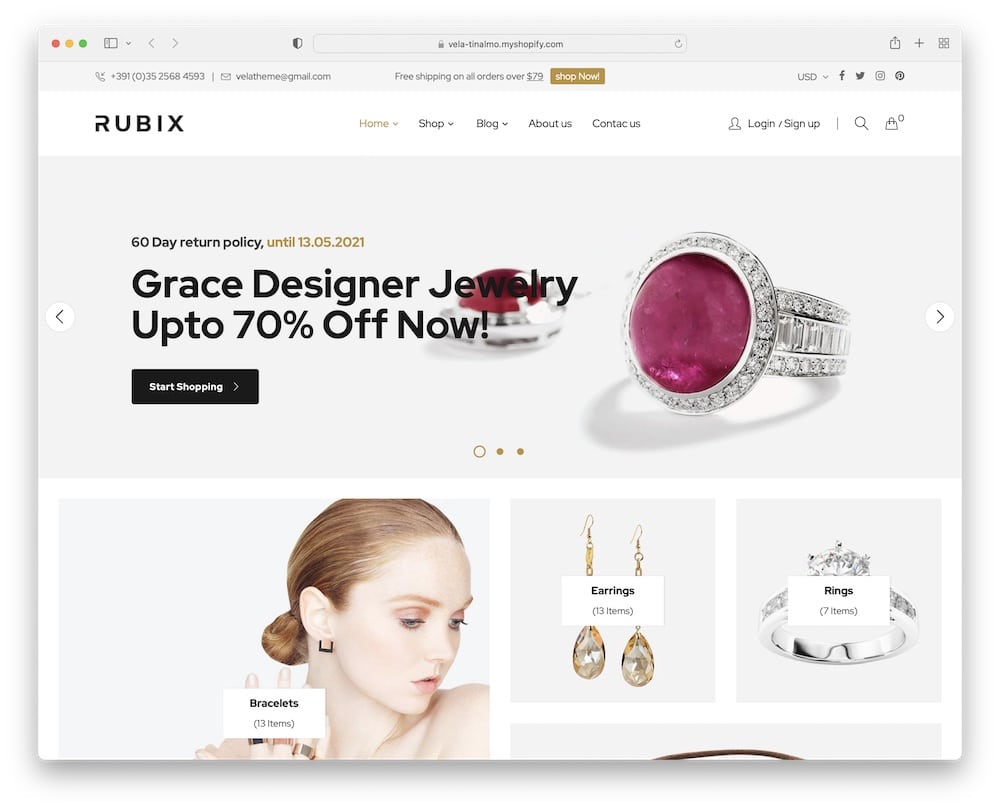 If you want to enjoy your favorite online store, create one! And Rubix minimal Shopify theme is the most unique choice.
Such a STUNNER!
Be inspired by Rubix responsive & retina ready design, modern homepage demos, advanced Shopify mega menu, and amazing product filters.
On top of that, Rubix offers unlimited color options, useful icons, advanced typography, and Google font integration.
MAGIC!
Everyone deserves a professional and well-functioning website and that's when Rubix comes into play. It is optimized for browsers, speed and SEO.
And customer service? Super fast and helpful!
Stand out with well worth Rubix!
Rubix features:
950+ sales
4.9+ star ratings
Product quick view
Drag & drop method
Price: $69 (may vary)
MORE INFO / DOWNLOAD
DEMO
8. Vodoma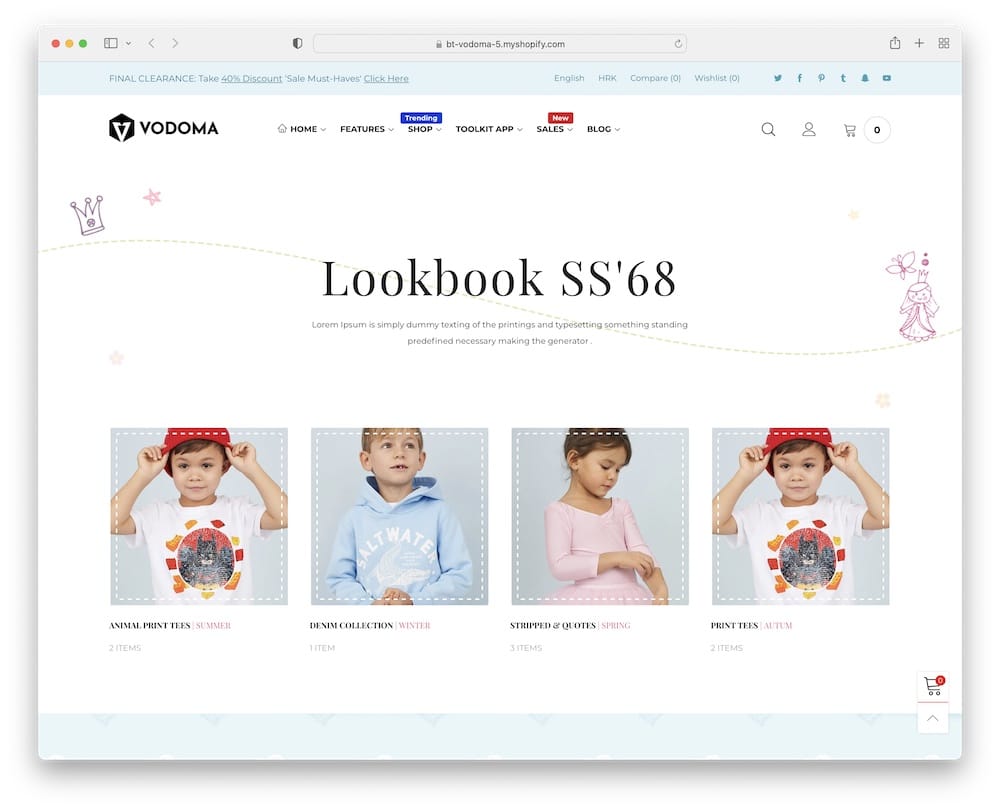 Make online space for what matters to you and offer your customers the No. 1 products with stylish Vodoma minimal Shopify theme. Remember, Vodoma provides everything an eCommerce website needs.
Today is your day!
Vodoma offers FREE TRIAL (!?) meaning you can try amazing features before purchasing Vodoma and pay it only if you like what is offered! *SING CHOIRS OF ANGELS*
Make sure you take advantage of smart upsell, cross-sell, search suggestion, advanced filter, and 3D model product options.
What matters the most in sales? Do that because you can.
Vodoma also goes hand in hand with the most popular plugins such as Loox, Klaviyo, MailChimp, Oberlo, and Dropshipping. Simply install the goods you wish to have.
Turn Vodoma into GOLD today!
Vodoma features:
800+ sales
4.9+ star ratings
Great SEO performance
Google Rich Snippet
Price: $69 (may vary)
MORE INFO / DOWNLOAD
DEMO
9. Triss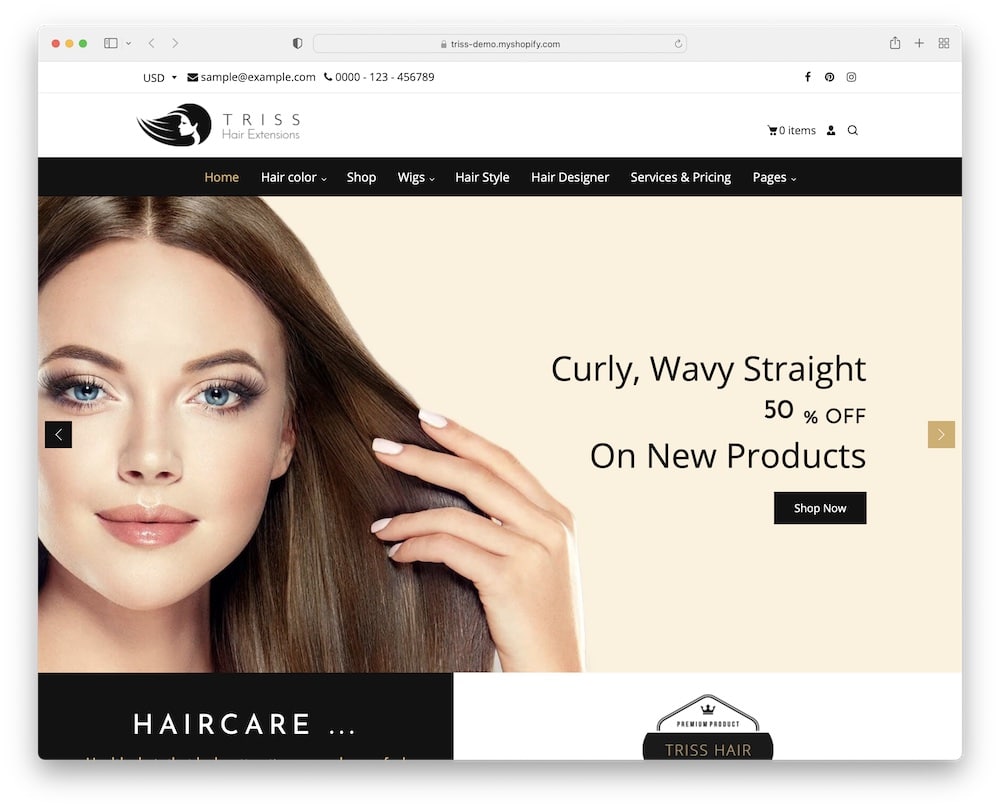 With the right approach, Triss minimal Shopify theme can become an essential website for hair shops, beauty salons, wig stores, makeup artists, fashion studios, and more!
Triss is super flexible, easy to customize, and 100% responsive.
Drag and drop sections is one of my favorite things: no matter what your previous experiences are – you can build – create – do it – by yourself.
Not bad, right?
We all know how important the functional shopping cart of any e-commerce site is! Due to it, Triss is based on Ajax add-to-cart technology (always best in class).
YUP, the whole buying process will be smooth and effortless for your customer.
Step up your game with unique sliders – choose colors, fonts, and attractive photography to skyrocket your sales. You got the sauce!
Triss features:
620+ sales
4.5+ star ratings
Pop-up newsletter
Image zoom
Price: $59 (may vary)
MORE INFO / DOWNLOAD
DEMO
10. Woodstock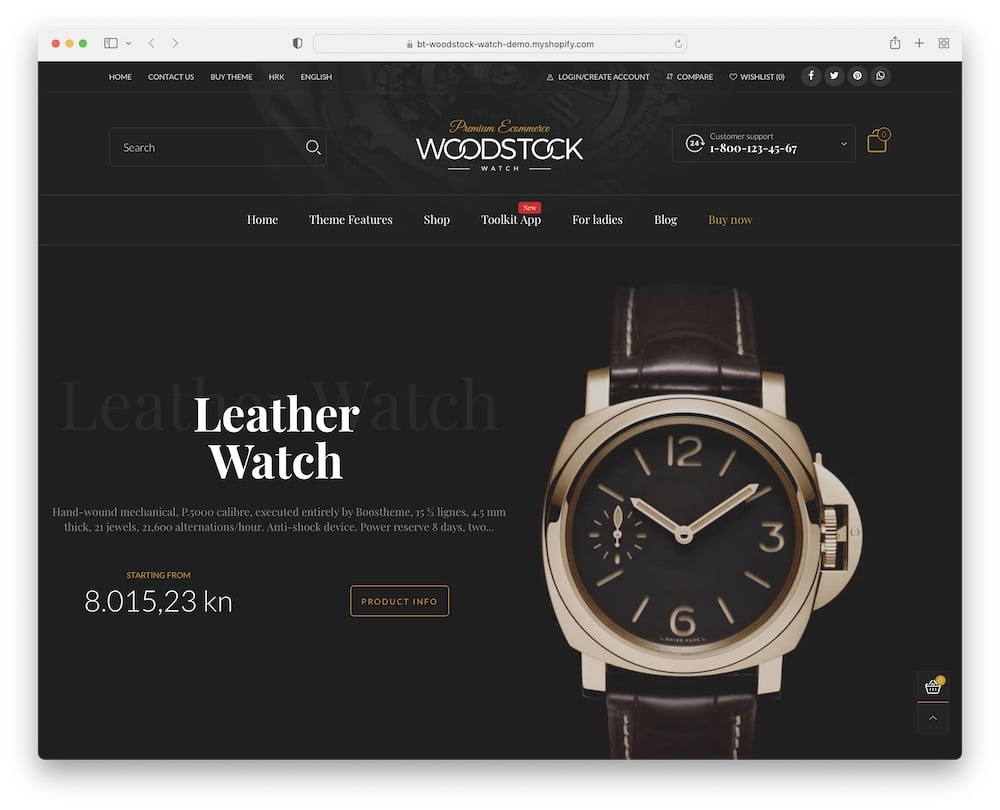 It's time for a full impact with the modern Woodstock minimalist Shopify theme. Start with your new store right away and make the most of your creative ideas.
Note: You will never need to write a single line of code!
Woodstock is easy to set up, offers rich tools for your online store, and has various ready-to-use designs. Drag-n-drop editor is the simplest way to customize the look (I love working with it!).
And let's not forget about the effortless performance of Woodstock! It works smoothly on all devices, loads fast, and is cross-browser compatible.
BIG. DEAL.
Besides, it is entirely translatable and supports multiple currencies (win-win situation).
Make your customers do OOH and AHH every time they shop on your stunning new store!
Woodstock features:
620+ sales
5-star ratings
Free trial (!)
Optimized for conversions
Price: $59 (may vary)
MORE INFO / DOWNLOAD
DEMO
11. Vendy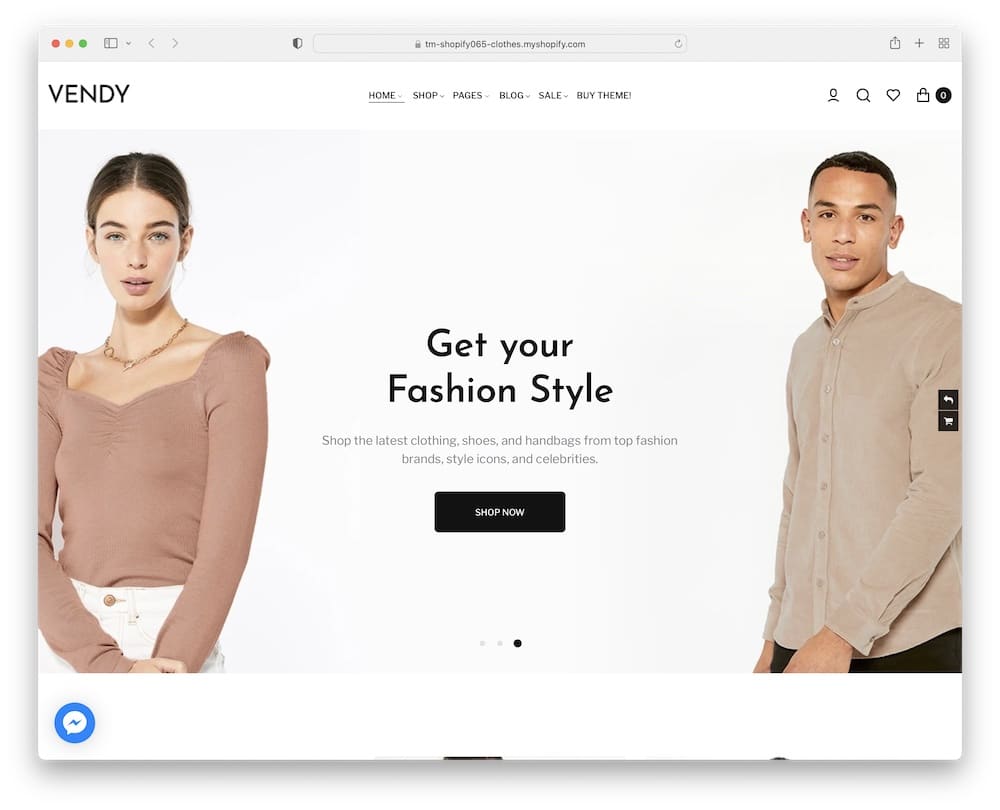 I'm still amazed (and pumped) that something so simple as Vendy minimal Shopify theme ​is so powerful.
You can highlight your products in the best possible way with Vendy. The included benefits are a dynamic filtering system, floating buttons, custom pages, newsletter popups, quick view, shopping cart, etc.
I know it's fantastic!
In addition, Vendy integrates the most popular payment systems, social media, and SEO. Plus a rich bundle of pre-made demos is waiting for you!
Best of all, Vendy is very affordable (hip, hip, hooray!), well documented and regularly updated (NO extra cost). Customer support? Premium!
There are no limits when it comes to Vendy.
Vendy features:
870+ sales
4.9+ star ratings
Call-to-action buttons
Advanced media product pages
Price: $58 (may vary)
MORE INFO / DOWNLOAD
DEMO
12. Beaux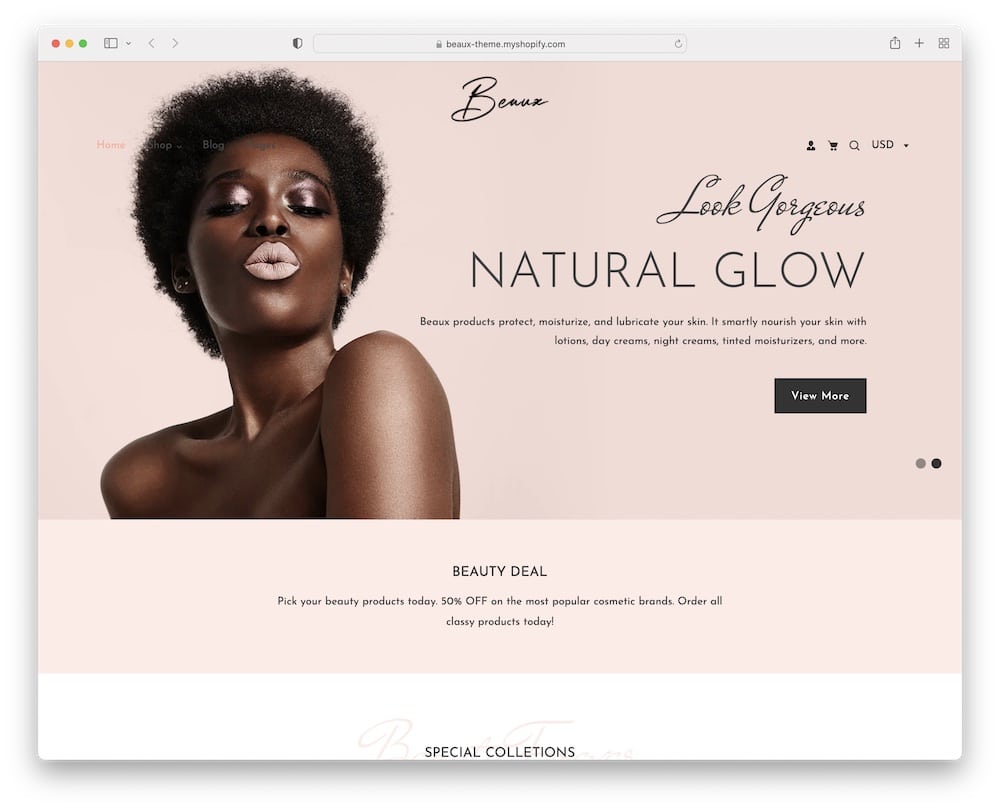 Move into the future with Beaux clean and minimal Shopify theme.
This multi-purpose theme is for beauty care, cosmetic salons, makeup shops, spa centers, fragrance stores, and organic products. Feel free to customize and change demos as you desire (simple and quick).
Ready to jump in?
You can create custom sliders (choose from fonts, colors, and layouts), pop-up newsletters (subscription forms work!), and valuable blog (engage with your visitors on a more personal note).
But that's not all!
Beaux comes with Ajax technology for cart drawers, product filters, wishlist, sidebar tag filter, add to cart, and more. The customer is treated like a king with Beaux!
Make a success story.
Beaux features:
480+ sales
4.9+ star ratings
Unique search function
Countdown timer
Price: $69 (may vary)
MORE INFO / DOWNLOAD
DEMO
13. Uray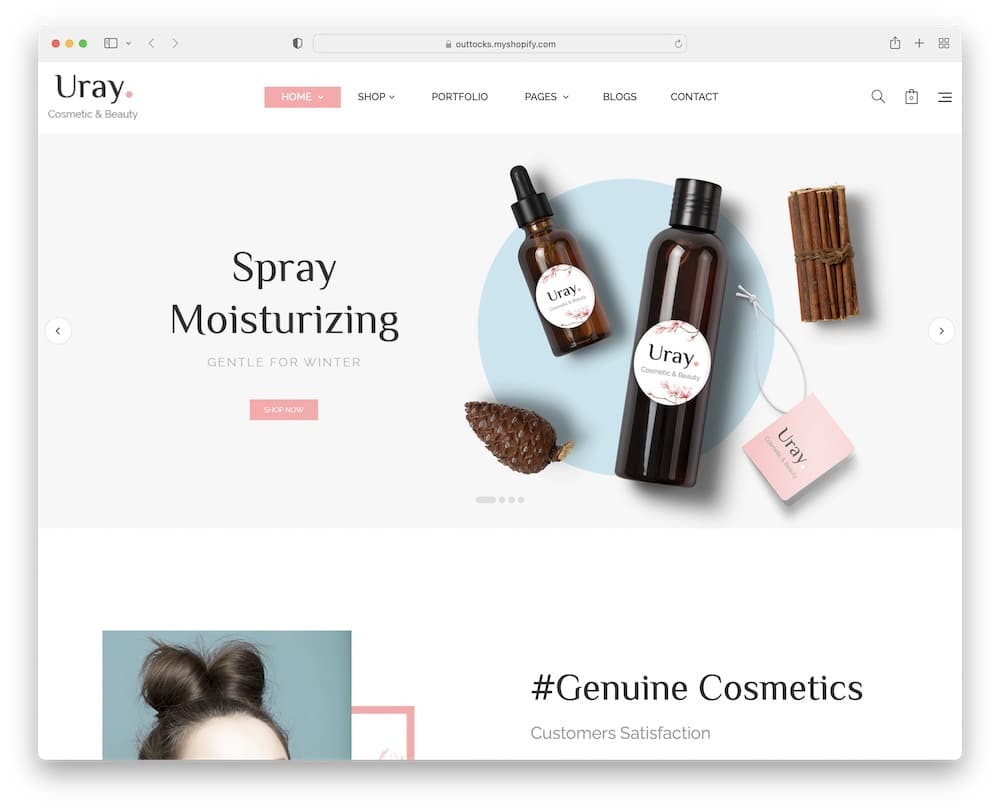 Scroll through Uray minimalist Shopify theme, find what you like the most and start there. Without a doubt, Uray displays products impressively and attractively.
SMART. CHOICE.
Uray is 100% responsive and adjusts automatically to any screen size (yes, mobiles too)!
Uray also includes a whopping collection of homepages, header styles, product and shop pages. Everything you need for your stores is here. You know it's added a little extra – just in case.
Plus, with a stunning mega menu, you now have the option to approach categories, products, banners in a new (transparent) way.
Make it easy for users to scan your site.
If you want to find the real joy of online business start today with Uray.
Uray features:
530+ sales
5-star ratings
Great products showcase
Built-in slideshow
Price: $69 (may vary)
MORE INFO / DOWNLOAD
DEMO
14. Uneox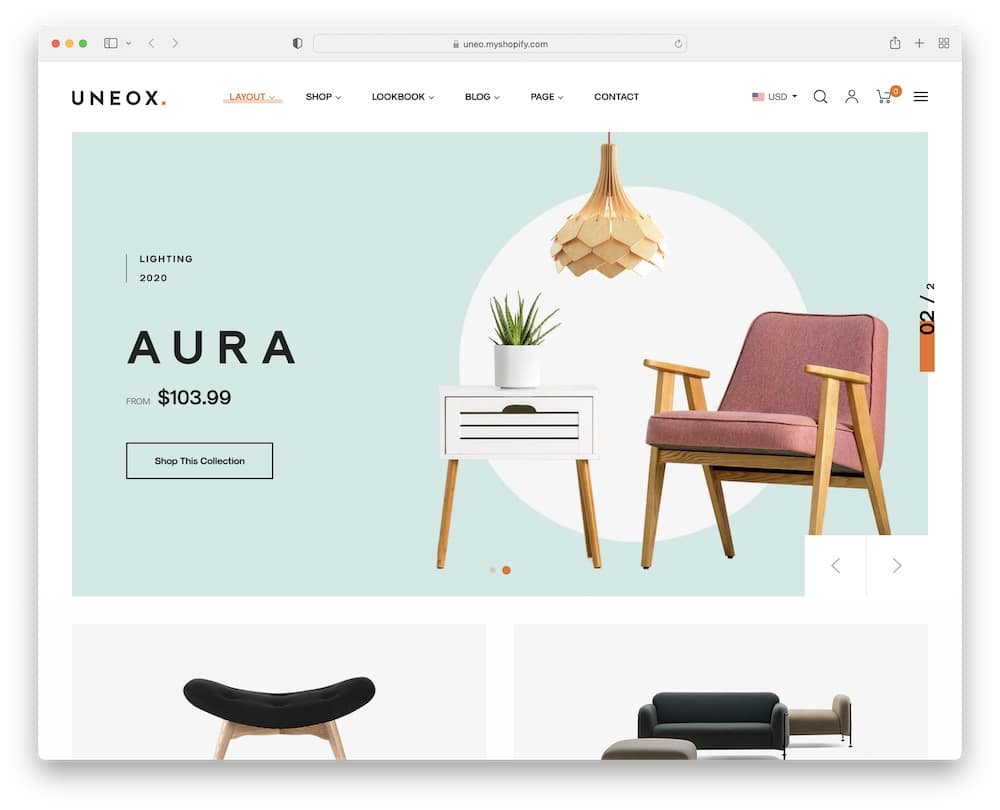 Life is complicated, but your website doesn't have to be. Check out Uneox Shopify theme and fall in love with its minimalistic and clean look.
Uneox offers extensive eCommerce functionalities, sales-boosting tools, and fourteen ready-to-use homepages. Say HELLO to an effective online store (in no time!).
Besides, modern Uneox includes appealing shop page styles – making sure, your products are showcased to your customer with freshness and honor.
Guaranteed SMOOTH customer experience!
What if you could do every change, correction, and set up by yourself? Well, with Uneox you can!
Be your own BOSS.
Pro-tip: Uneox is integrated with social media, SO add value to your site and business by engaging on all social media channels.
Stand out with stunning Uneox!
Uneox features:
430+ sales
5-star ratings
Great for blogging
Testimonials (build trust!)
Price: $59 (may vary)
MORE INFO / DOWNLOAD
DEMO
What To Look For In A Minimalist Online Shop?
Okay, I'm not here to give you advice for minimalist shopping, but on how to run a clean and simple eCommerce website.
A minimalist site doesn't mean you need to have a light design – in fact; it has NOTHING to do with the choice of colors but the number of colors.
However, light and dark designs are known to work best for a minimalist webshop.
But this is just one feature; here are some more:
Use of content: A minimalist site isn't stuffed with a ton of content. It also won't have animations and other special effects. The general rule to follow is this: Keep it simple!
Visuals over text: I recommend you use more (larger) images and as little text as possible. You can also add videos, but I still find beautiful images work best for a minimalist look.
Simple fonts: It's important that you lean toward basic fonts with sharp edges that will contribute to the overall cleaner look.
White space: Using (a lot of) white space will do you extremely well if you want to achieve a minimalistic atmosphere. This will also greatly improve readability and put more shine on your products.
Great performance: It doesn't matter what type of website you'd like to build, it must be mobile-friendly and fast loading.
Make your minimalist eCommerce website stand out with these key features and any of the above Shopify themes.
You got this!
::
Note: This article was originally published on March 9, 2022. But our team regularly reviews it and updates it with necessary improvements for accuracy.