You can quickly create a user-friendly website with any of these best Shopify food themes.
We tested these themes on multiple food projects; they work incredibly WELL.
Take your restaurant, fast food, grocery store, organic products, drinks, you name it, to the next level!
Great designs, must-have layouts, handy elements and practical apps – you get it ALL.
(Enjoy premium extensions for free.)
Plus, every Shopify theme is also optimized for mobile devices, fast loading, SEO and browsers.
(Amazing experience guaranteed!)
This post covers:
Everything is possible with a food theme and your customization tweaks.
THE ULTIMATE 8:
Best Shopify Food Themes for Restaurants, Groceries & Bakeries
1. Yummi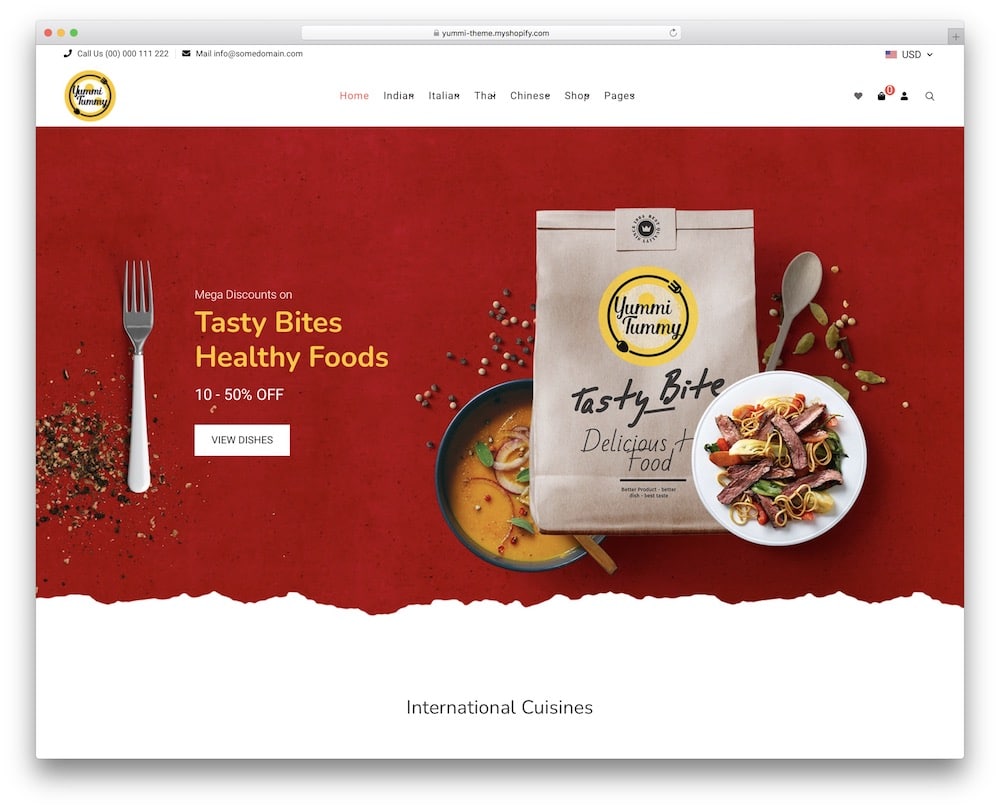 Probably one of the top Shopify food themes for big and small stores, you all will enjoy working with Yummi.
You can choose different colors, fonts, and effects for the most beautiful online presentation and create slideshows with Slick Slider.
Yummi is a mobile-friendly theme with a responsive design that looks great on all screens.
It includes tools like Ajax, product filters, wishlist, and a shopping cart, to name a few.
Also, Yummi offers SEO optimization, multi-currency, customer reviews, and a mega menu. You are just a click away.
Yummi features:
140+ sales
5-star rating
Newsletter subscription pop-up
Order tracking
Price: $69 (may vary)
MORE INFO / DOWNLOAD
DEMO
2. Safira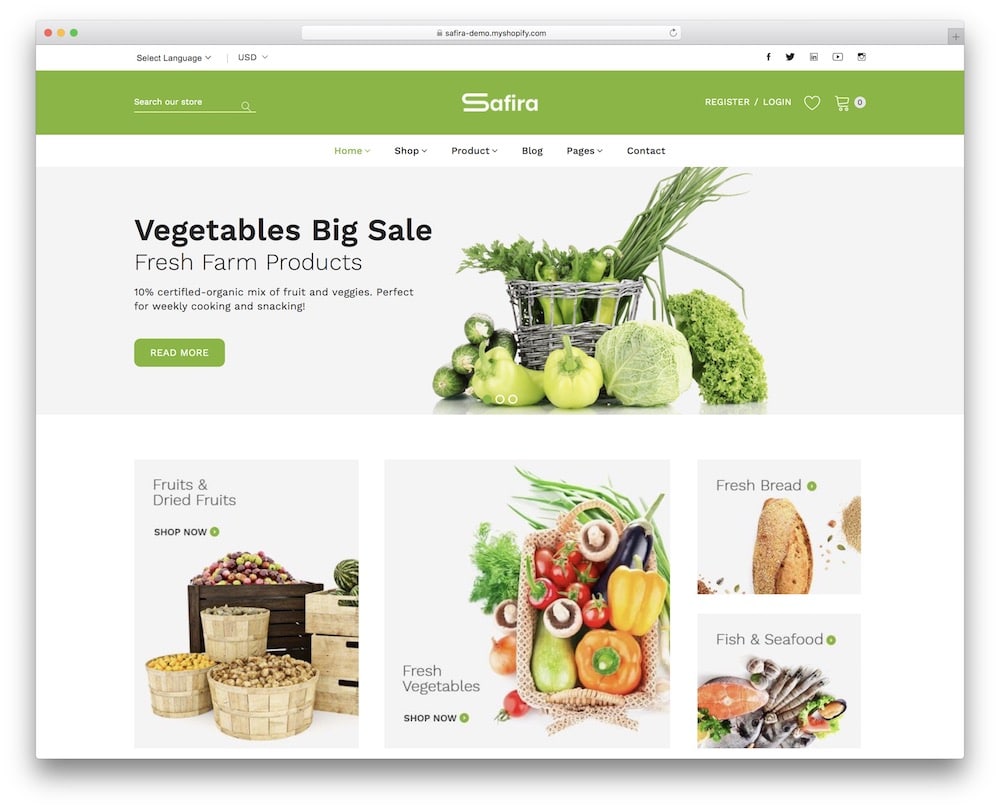 Safira works especially well with organic products, but you can as well be general with it. It comes with four beautiful pre-made homepages and multiple header options to choose from.
Furthermore, Safira has a custom drag and drop visual page builder that will empower you to build everything you can imagine for your business.
Safira has RTL included, so you can easily use and translate it into different languages.
Moreover, it contains excellent features such as a mega menu, multiple shortcodes, various layouts, banners, unlimited colors, and font options.
With Safira, you can take advantage and create an affiliate or drop shipping store to promote your products worldwide.
Safira features:
80+ sales
5-star rating
4 home samples (+RTL)
Daily deals
Price: $48 (may vary)
MORE INFO / DOWNLOAD
DEMO
3. Burgs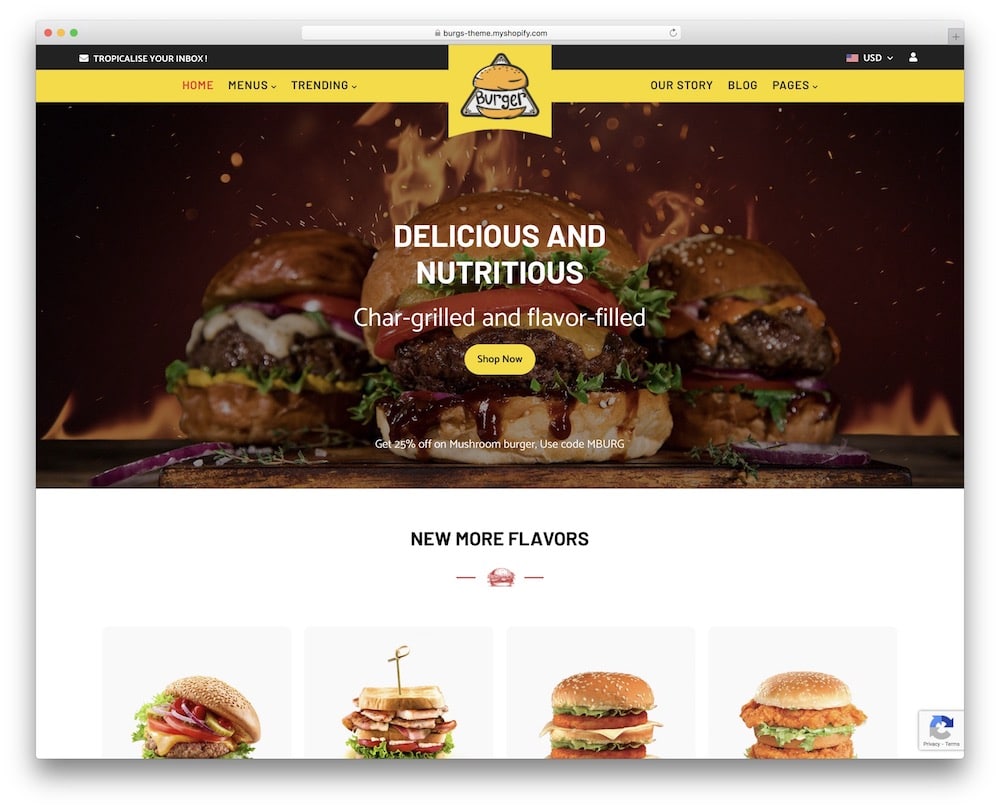 Burgs is a versatile and clean Shopify food theme, that will help you expand your business strategically. The theme comes with loads of options and awesome features.
With an integrated Ajax technology, you will get a wow effect from your customers due to the amazing possibilities this tool offers for the shopping experience.
Burgs is easy to customize, coded with SEO in mind, and ready for social media sharing ideas. You can also modify the sliders, typography, icons, carousels, and special effects.
Keep in mind Burgs is optimized for fast loading, ensuring your speed score is high. It's burger o'clock.
Burgs features:
20+ sales
4.5+ star rating
Quick setup
Currency switcher
Price: $58 (may vary)
MORE INFO / DOWNLOAD
DEMO
4. Orgafe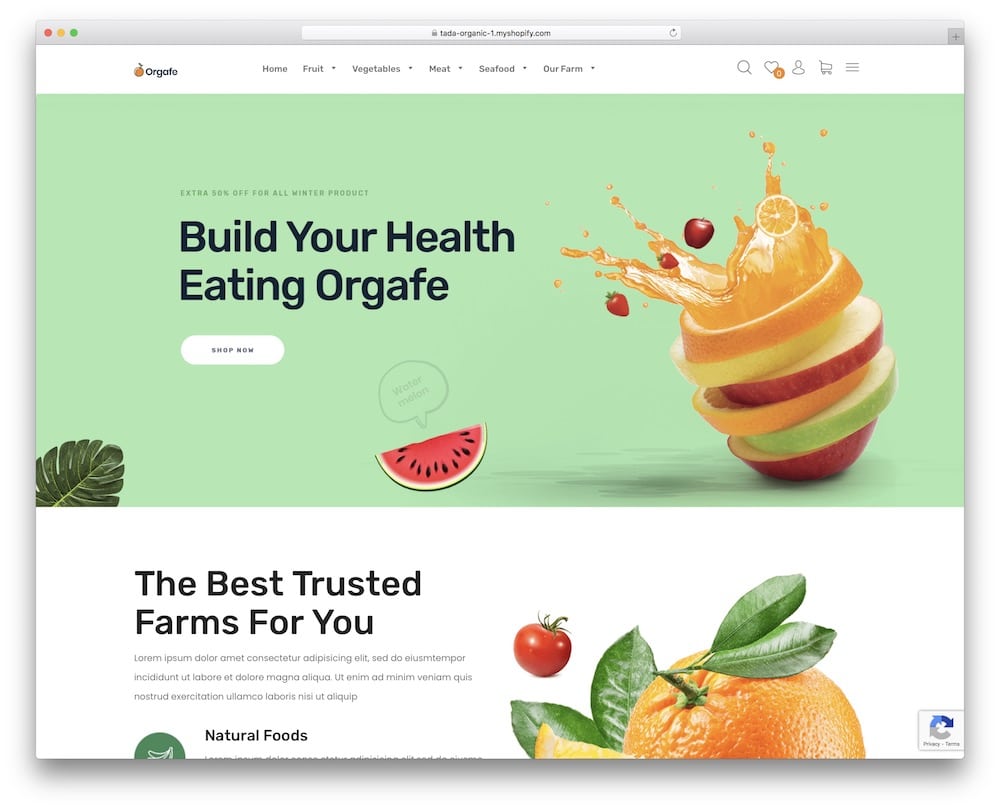 Orgafe is mainly designed for natural, organic, and healthy food shops. But don't worry, this Shopify food theme fits many other business intentions, too.
As for the features, you will get stunning pre-designed home pages, layouts, and inner pages.
Moreover, you will receive excellent tools like Slider Revolution, mega menu, and Ajax functions.
Orgafe is very user-friendly and will never enquire from you coding knowledge. The tool will ensure that you display your products online attractively and professionally.
Yeah, you will love it.
Orgafe features:
60+ sales
5-star rating
20+ sections
Customer reviews
Price: $39 (may vary)
MORE INFO / DOWNLOAD
DEMO
5. Vegist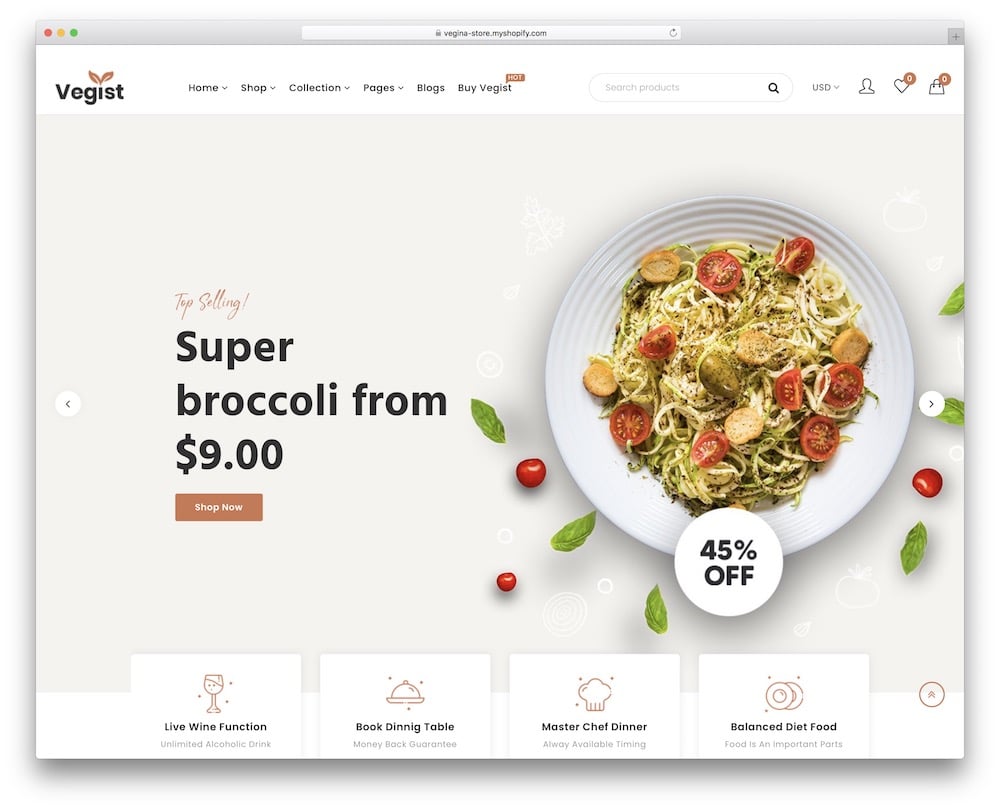 Every person would like to see his food business would appear even more tempting than it already is.
Vegist Shopify food theme will perfectly showcase all your products and your fantastic store.
This tool has different pre-built homepages to choose from and install with a single click.
Vegist is fully compatible with all major browsers, tested on multiple devices, and SEO optimized to satisfy your customers. Remember that you will get five-star support that will be happy to help you anytime.
Also, Vegist comes fully documented for those who like to review design and theme options.
Vegist features:
630+ sales
5-star rating
Premium apps at no cost
Instagram feed
Price: $59 (may vary)
MORE INFO / DOWNLOAD
DEMO
6. Flavoro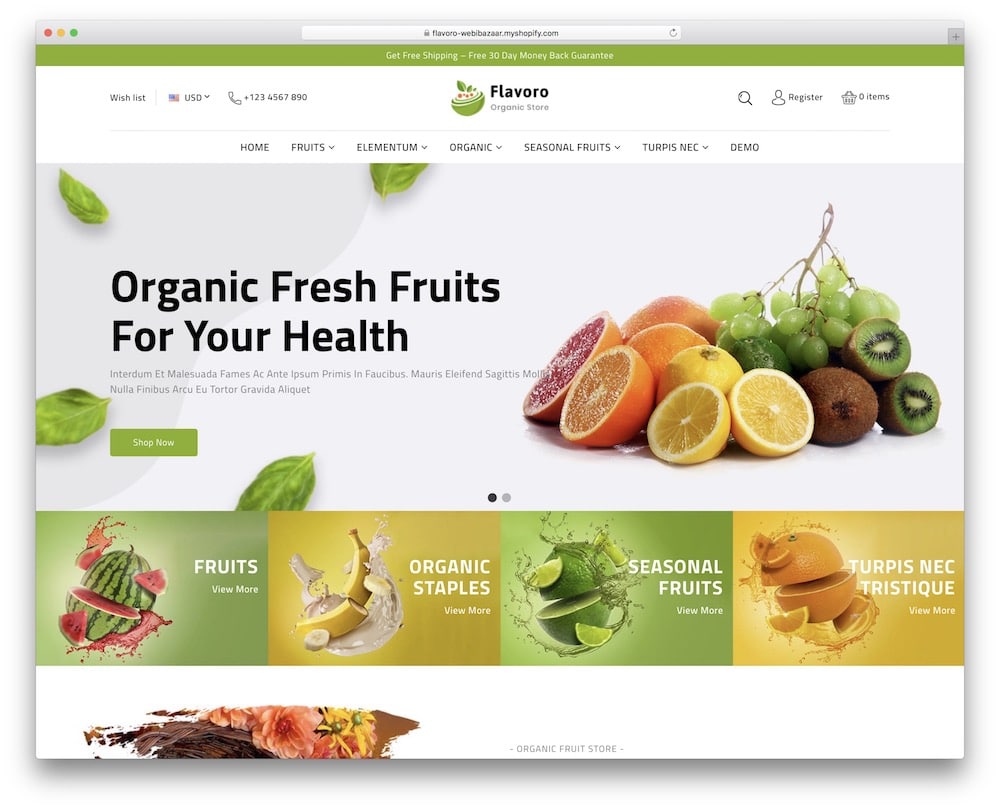 This Shopify food theme is packed with great features and a catchy design. Flavoro is dedicated to organic stores, dairy farms, and healthy foods.
With the drag and drop builder, you can effortlessly create, design, and customize your perfect look.
Besides, you can also produce your blog with healthy recipes and food tips.
Moreover, Flavoro supports quick buy, Ajax add to cart technology, product hover, and products quick view for a better user experience.
You can turn Flavoro into an active online food shop with little work and time.
Flavoro features:
80+ sales
4.3+ star rating
Advanced search
Translatable
Price: $39 (may vary)
MORE INFO / DOWNLOAD
DEMO
7. Obrien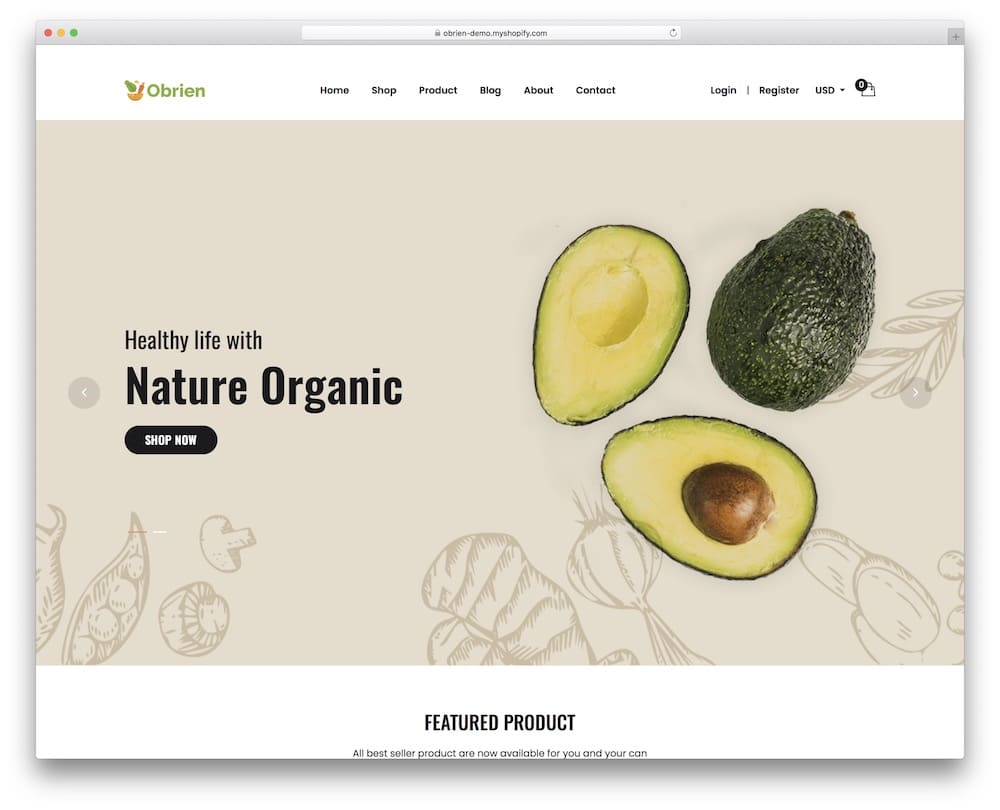 Obrien is a modern, unique, and eye-catching Shopify theme that guarantees you to start with it on the right path to accelerate your food business.
You will get numerous layouts, unlimited colors, shortcodes, many icons, and multiple fonts to choose from.
Obrien's code is structured really good, likewise, the support team is top-notch, willing to help you step-by-step to fix all your issues.
Newsletter pop-up, blog pages, filter system, and countdown product tool are a few different and useful features that come with Obrien.
Along with all of the written above Obrien provides features to operate drop shipping business, affiliate marketing and single product stores. Life is too short to miss out on great opportunities like Obrien.
Obrien features:
60+ sales
4.5+ star rating
Countdown for deals
Practical filtering
Price: $29 (may vary)
MORE INFO / DOWNLOAD
DEMO
8. SeedMart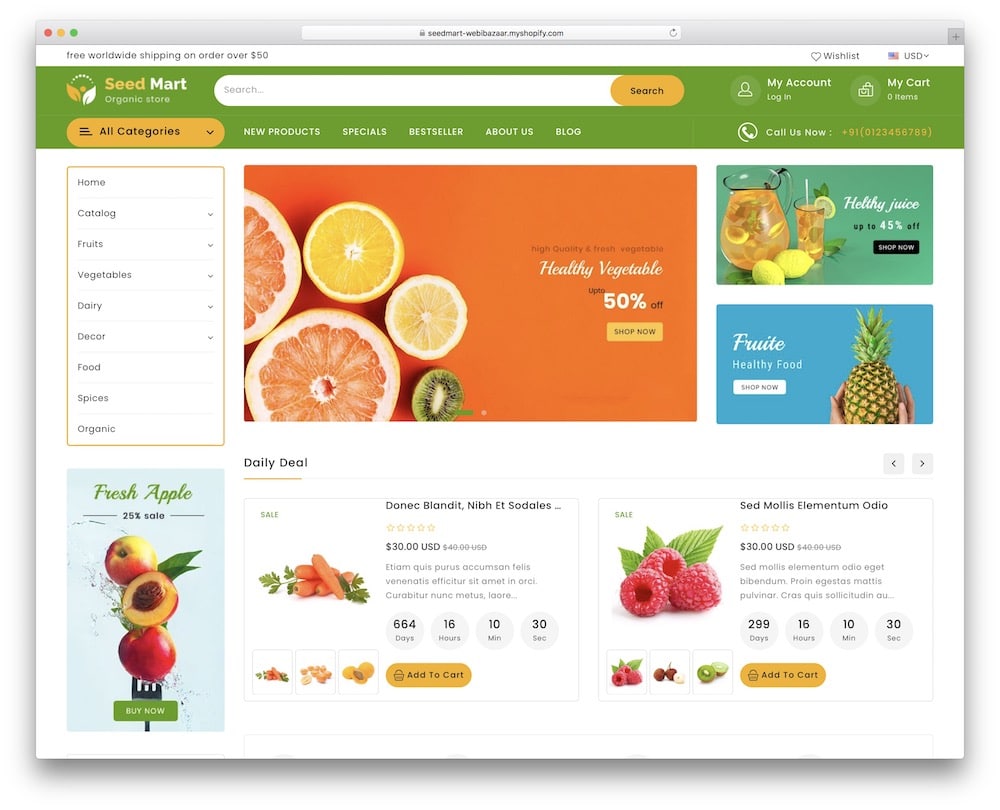 This multi-purpose Shopify food theme comes with advanced features, elegant design, and it is easy to use without any coding knowledge. SeedMart looks great on all devices due to its responsive and retina-ready functionality.
Of course, all features are editable and adjustable to your total advantage.
Moreover, you get a robust structure supporting video and audio content presentation.
Along with the mega menu, you also get various icons, multiple banners, and unlimited colors.
You can create informative and exciting content for unique newsletters to build and start a community with loyal customers.
SeedMart features:
30+ sales
4.6+ star rating
Best selling products
Guest checkout
Price: $39 (may vary)
MORE INFO / DOWNLOAD
DEMO
9. Theyni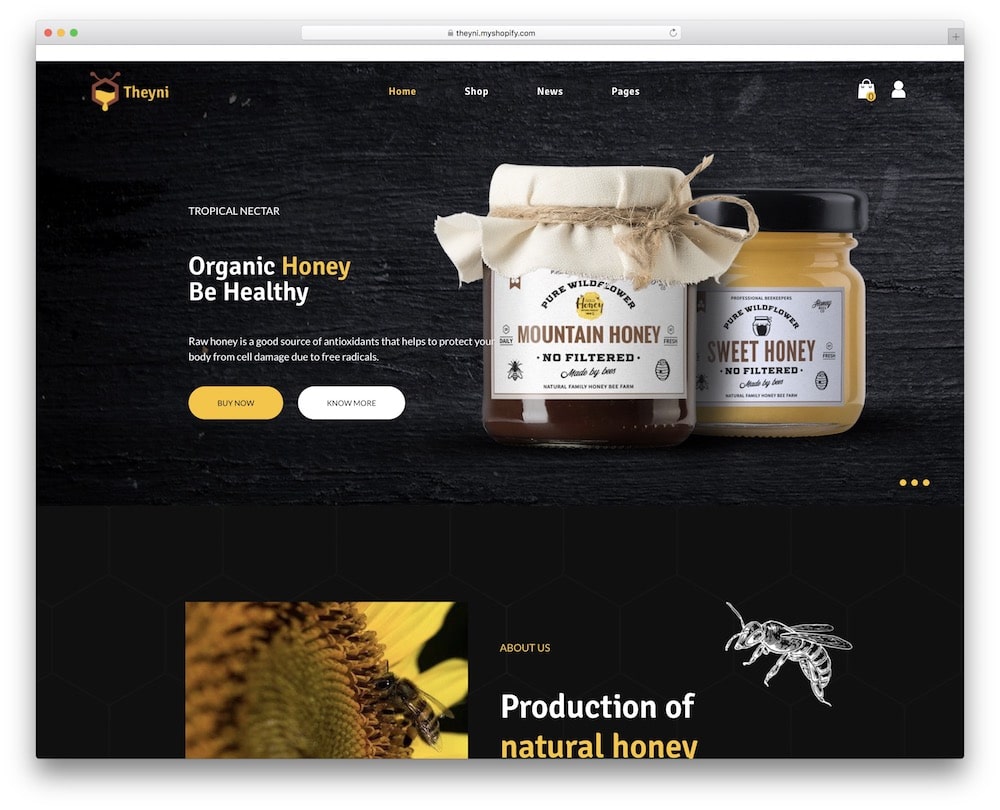 This modern, clean and responsive Shopify organic food theme has a powerful admin panel and is easy to customize.
With Theyni, you can win over new customers and present your business with advanced features.
Theyni is coded with HTML5 and CSS3 to make sure the design on the website, including your content, layout, and visual effects will look amazing.
To design the site and display your products online, you don't need to hire a professional coder anymore. (You can do it yourself, as it suits users of all skill levels.)
Theyni is integrated with all social media elements so that you can share and connect with customers worldwide.
Theyni features:
30+ sales
4.5+ star rating
Owl carousel
Easy currency switcher
Price: $58 (may vary)
MORE INFO / DOWNLOAD
DEMO
10. Petiza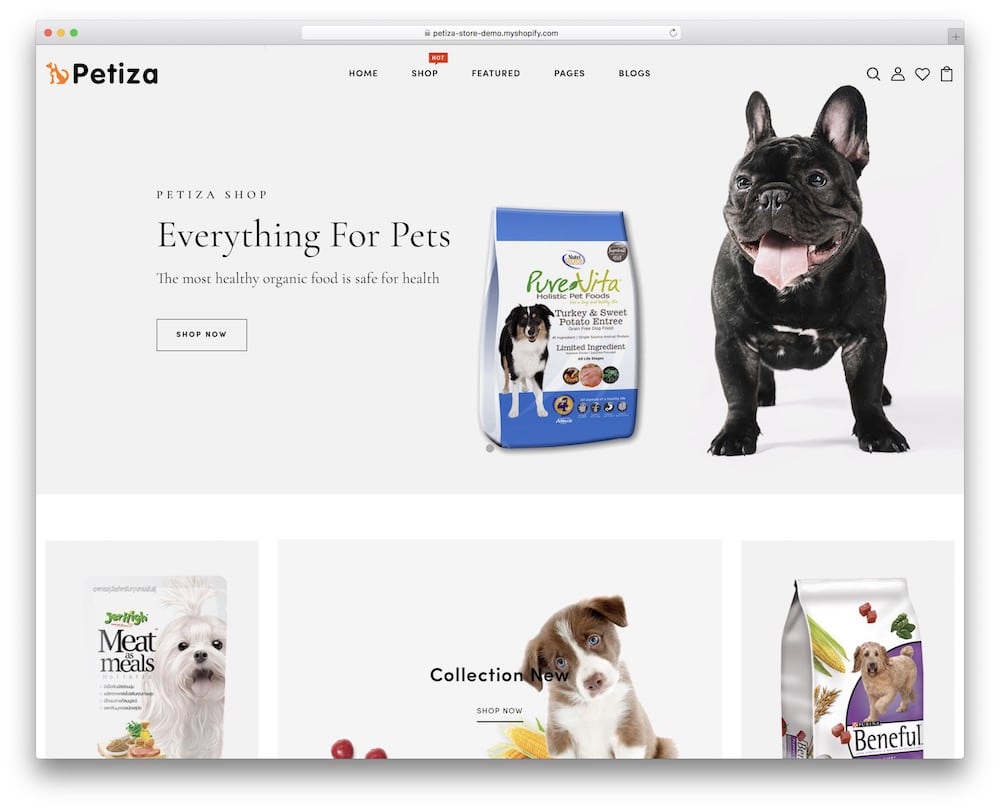 Petiza is a gorgeous theme for animals so that you can showcase pet food products, pet recipes, and pet snacks in an attractive manner.
This tool might be something different compared to other tools on this list. However, animals like humans need charming websites for great food products.
Petiza is packed with powerful features like horizontal and vertical mega menu, Ajax cart and wishlist, parallax background effect, and Bootstrap.
Your demanding expectations will be pleased with friendly and helpful customer support.
Petiza will work out perfectly because it loves animals as much as you do.
Petiza features:
80+ sales
4.5+ star rating
Instagram feed
Newsletter subscription pop-up
Price: $56 (may vary)
MORE INFO / DOWNLOAD
DEMO
11. Foodry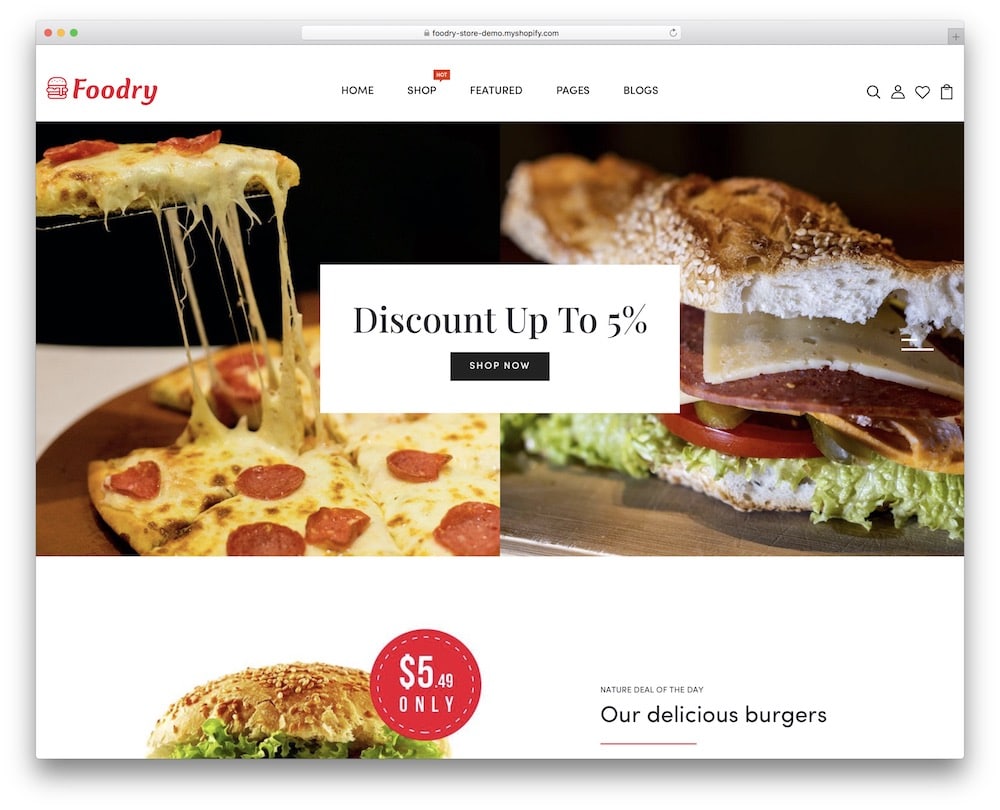 Foodry is an outstanding Shopify restaurant theme suitable for multi-type food businesses.
If you want to expand your reach to the online space, you better look at Foodry.
In short, this theme comes with outstanding features such as pre-designed header and footer styles, different homepages, numerous labels, icons, and social sharing options.
Moreover, Foodry also has a friendly mobile menu, parallax effect, Ajax tools, and smart live search.
The performance of the Foodry will be startling due to its responsive and retina ready design. When life throws you a challenge, execute it with style.
Foodry features:
90+ sales
4.6+ star rating
Instagram feed
Contact form + Google Maps
Price: $56 (may vary)
MORE INFO / DOWNLOAD
DEMO
12. BBque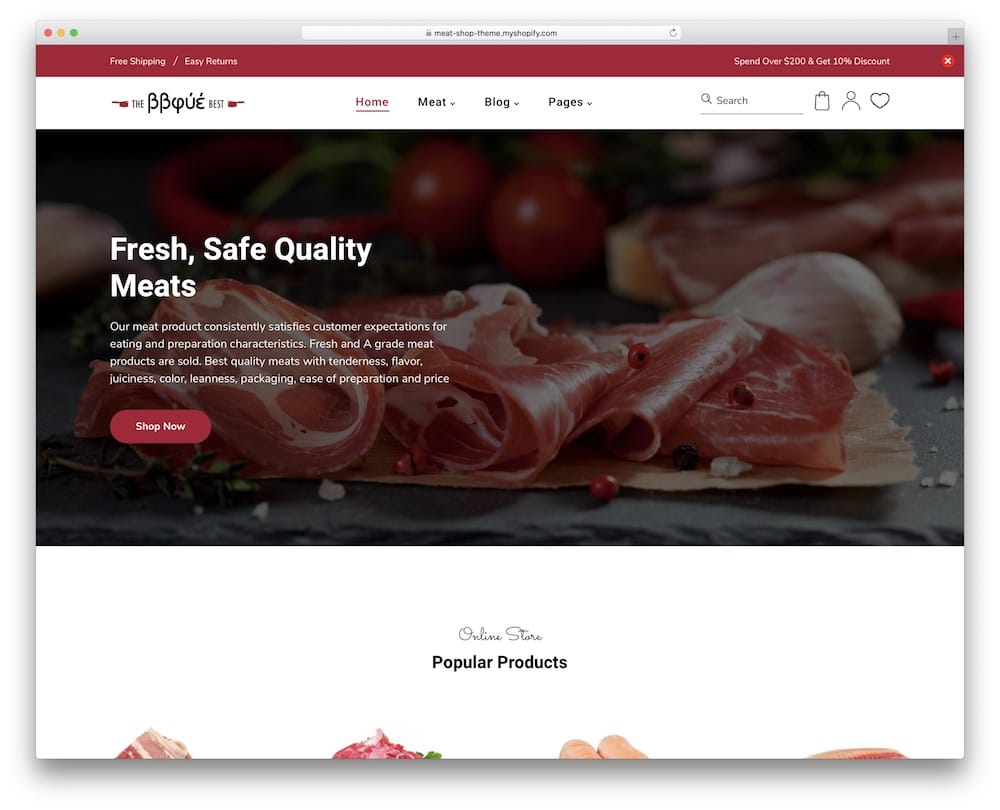 BBque is a Shopify meat and butcher theme with a broad collection of ready-to-use layouts and features.
With the one-click demo import, you can easily and quickly create the perfect site for your business.
You don't have to worry about outstanding performance and flexibility. Your customers will enjoy a user-friendly shopping experience. Also, you can provide different payment options for trouble-free checkout.
With a mega menu, you can effortlessly customize navigation, pick different presentation styles and organize a larger amount of information. Remember, every day is a perfect day for a new site.
And you can even create a landing page with BBque.
BBque features:
40+ sales
4.6+ star rating
Configurable top bar
Customer feedback slider
Price: $58 (may vary)
MORE INFO / DOWNLOAD
DEMO
13. Gsore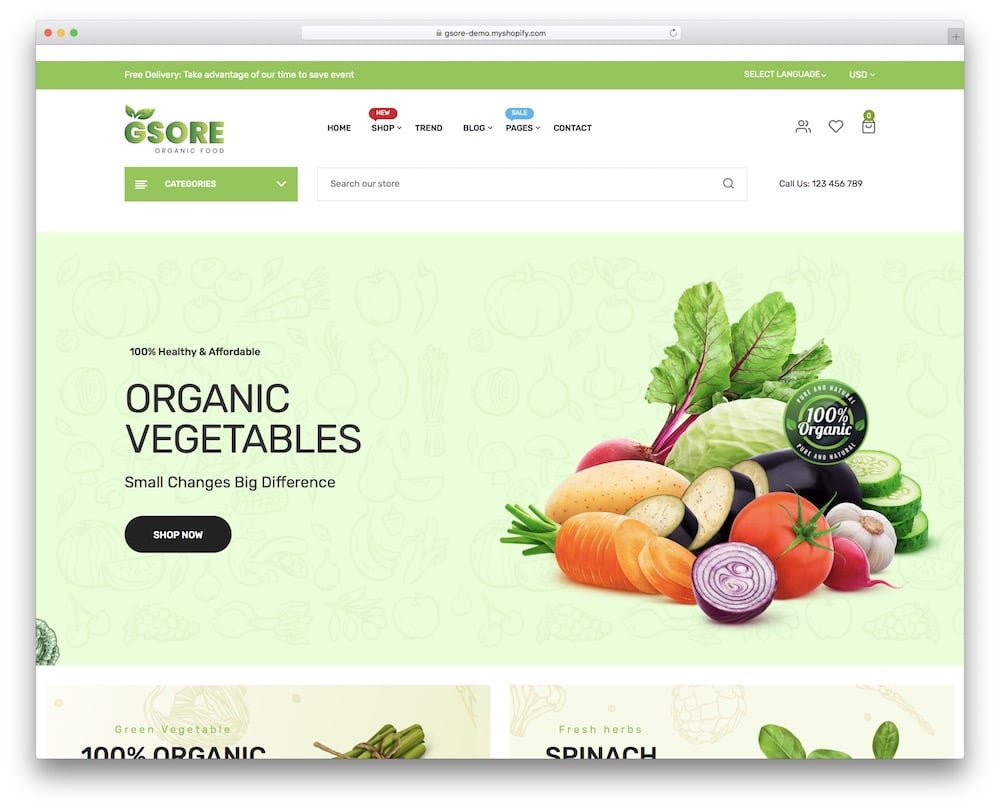 Gsore design is perfect for food retail, organic and healthy food products, or organic juices and fruits shops.
Regardless of what type of shop you want to create or what products you want to sell, Gsore theme can be a suitable option.
To start, Gsore has a clean and smooth design and you can quickly install and customize the templates to your needs and branding regulations.
Furthermore, Gsore includes awesome features, like a mega menu, RTL support, and many eCommerce-related tools. Keep in mind, Gsore comes as well with social media integration.
Breathtaking food websites make the world go 'round.
Gsore features:
10+ sales
4.4+ star rating
Practical shortcodes
Notification bar
Price: $48 (may vary)
MORE INFO / DOWNLOAD
DEMO
14. JoyFood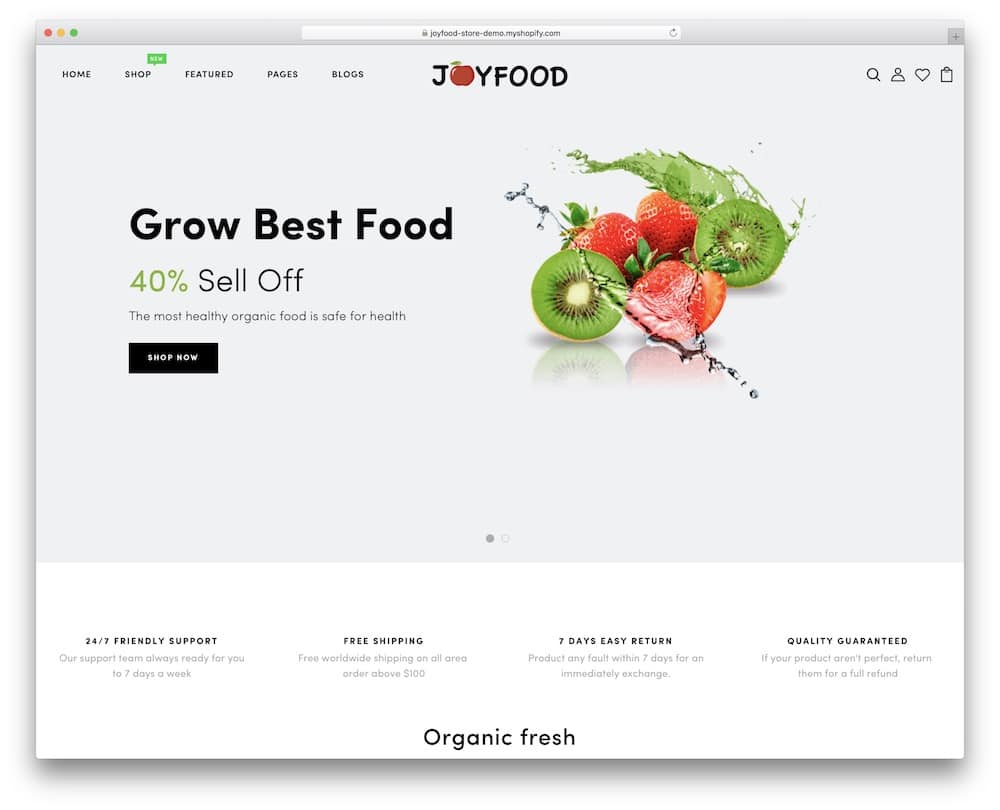 This popular Shopify food theme is perfect for promoting your products and shop offers. Joyfood is an elegant and fully responsive theme, that will work amazingly on smartphones and other devices.
Your customers will love shopping on your site.
Joyfood includes various eCommerce features that will help you easily sell your products. You can create an interactive blog on pre-designed templates to better connect with your audience.
With this theme, you will display your food items online with an attractive, high-quality look.
Joyfood is a well-rounded package for your new future projects.
JoyFood features:
30+ sales
4.5+ star rating
Superb navigability
Special deal labels
Price: $56 (may vary)
MORE INFO / DOWNLOAD
DEMO
5 Key Factors Of A Great Shopify Food Theme
Remember to keep these five essentials in mind when searching for the best Shopify theme for your food business.
Oh, WAIT!
We did that for you, so you can enjoy picking the perfect theme from the list above, wasting no time.
How We Picked The Best Shopify Food Themes
We carefully reviewed and tested each theme to ensure it ticks all the boxes (and then some).
The core factors that we paid special to attention to are:
Responsive layout: A mobile-ready website is a must whether you want to build an online food store or a restaurant website.
Fast loading: It's also essential that the theme you pick is lightweight, ensuring fast loading and the best user experience across all devices.
Food menu: Shopify restaurant themes must come with a built-in food menu, which you can tailor to your specific gourmet needs.
Shop: More often than not, you'll want to sell stuff online, especially if you're building a grocery store or a bakery site. Shopify is excellent at selling with optimized product pages, carts and checkouts.
Blog: An active blog section instantly puts you ahead of the competition, especially if you play the long-term game. You can expect a lot of extra organic traffic with great SEO optimization.