Are you searching for the best Shopify parallax themes?
You can immediately start your online business with these!
Whether you want to go niche or general, there's a site canvas for you.
You can create online fashion, books, furniture, food, jewelry, boutique, electronics and sports stores QUICKLY.
This post covers:
You can take things to the NEXT LEVEL with Sections and drag and drop eCommerce page building techniques.
Just plug and play.
A parallax-enhanced eCommerce website awaits you!
THE ULTIMATE 8:
Best Shopify Parallax Themes
1. Venedor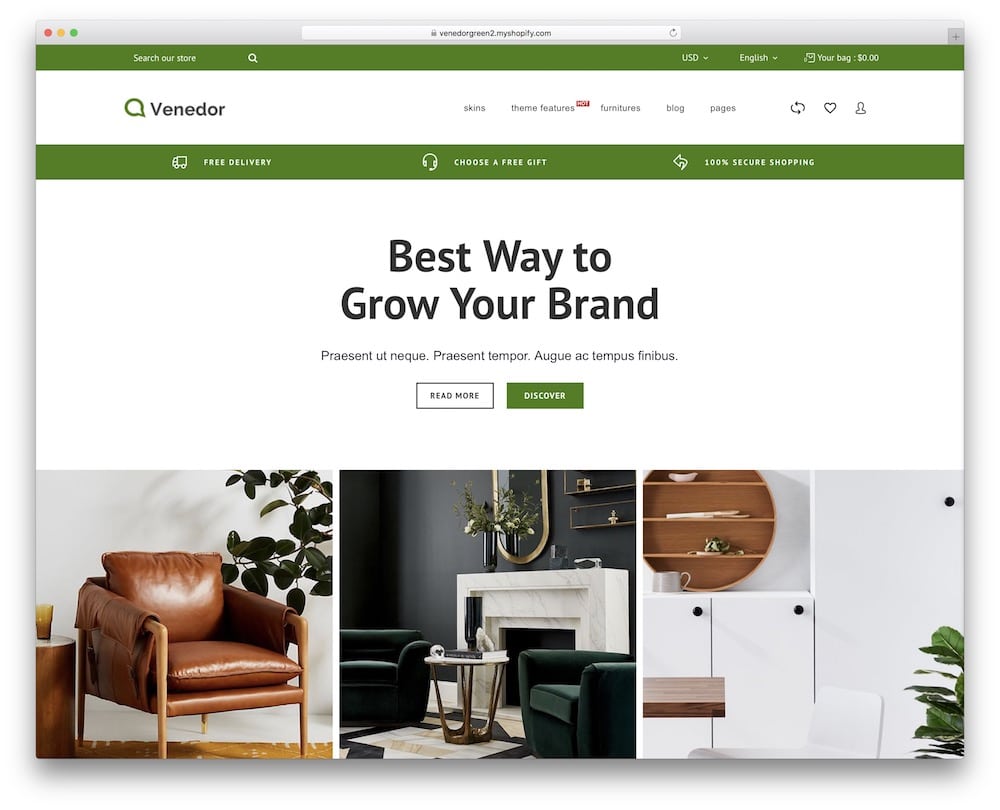 Venedor is a multi-purpose Shopify theme that offers a simple creation of shops for pharmacy, outdoor equipment, fashion, or electronics.
The theme is an ideal and easy-to-use theme with eleven unique and different demos that you can install with just one click.
Furthermore, Venedor will run SMOOTHLY on all devices due to its optimization for high speed and performance.
The page layouts, header and footer styles, and amazing shop designs are also fully customizable and simple to use.
You will have a fun experience building your new eCommerce page and showcasing your products.
Venedor features:
1,500+ sales
5/5 star rating
11 homes
Price: $59 (may vary)
MORE INFO / DOWNLOAD
DEMO
2. Beaux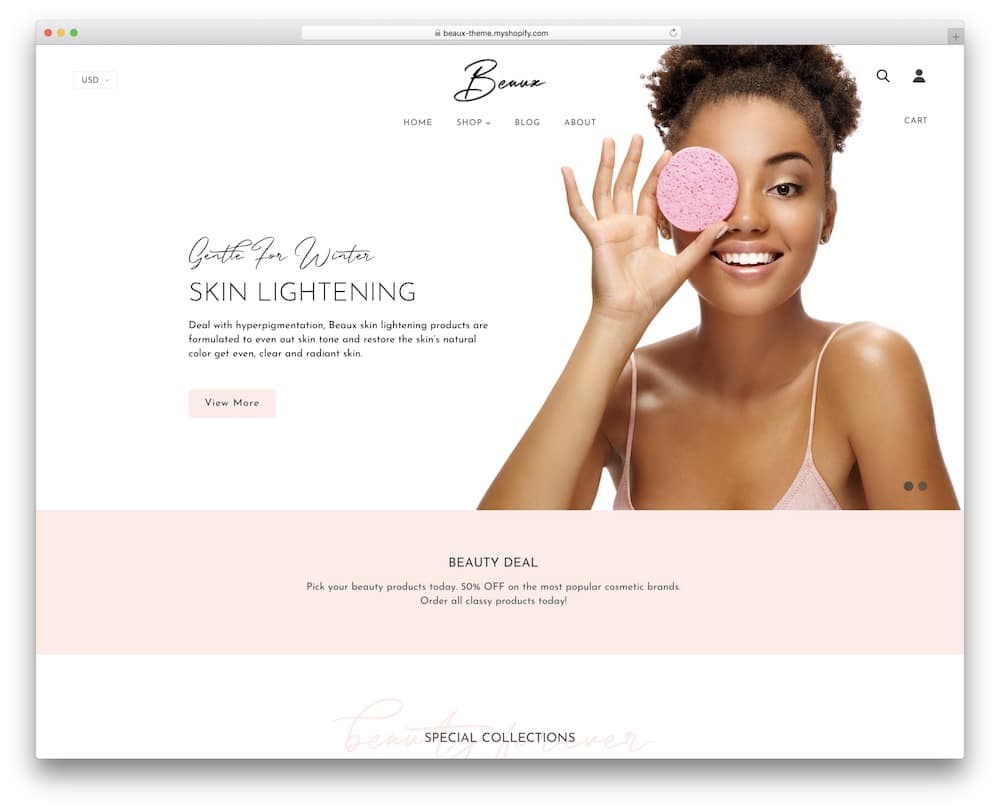 Beaux is a beautifully made, versatile Shopify parallax theme for various beauty businesses. It has a pop-up newsletter, flexible sliders, quick search function, mega menu, and amazing Ajax technology.
You can also EASILY start your blog with valuable content for your new clients. In other words, good content is what makes a bridge between you and your visitors.
Furthermore, you will get extensive documentation as a user guide and quickly learn all the important info about the theme with Beaux.
Above all, user-friendly experts will help you solve all your problems and dilemmas ASAP.
Beaux features:
480+ sales
4.9/5 star rating
Ajax cart pop-up
Currency switcher
Price: $69 (may vary)
MORE INFO / DOWNLOAD
DEMO
3. Vodoma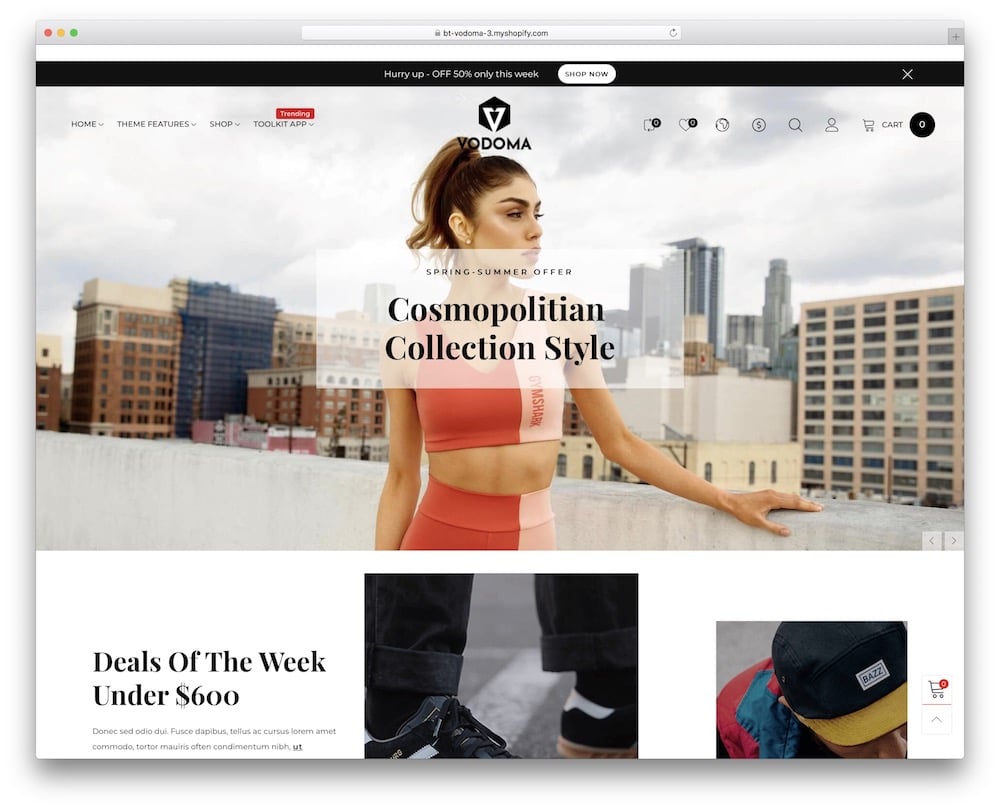 Vodoma is beyond gorgeous and flexible Shopify parallax theme that will help you create any eCommerce site you desire.
Besides, you can translate this theme into multiple languages to easily reach all the customers worldwide.
Vodoma has 40+ professionally-made skins with IMPRESSIVE features for simple use and creation. Of course, without any coding or design knowledge.
Moreover, you can make a memorable impact on your visitors with tons of banner and promotion options.
You can create these yourself with drag and drop building. Besides, Vodoma integrates social media to encourage people to share your excellent products and help you generate brand awareness.
Vodoma will help you create room at the top.
Vodoma features:
800+ sales
4.9/5 star rating
Cross-selling
Over 40 demos
Price: $69 (may vary)
MORE INFO / DOWNLOAD
DEMO
4. Beloria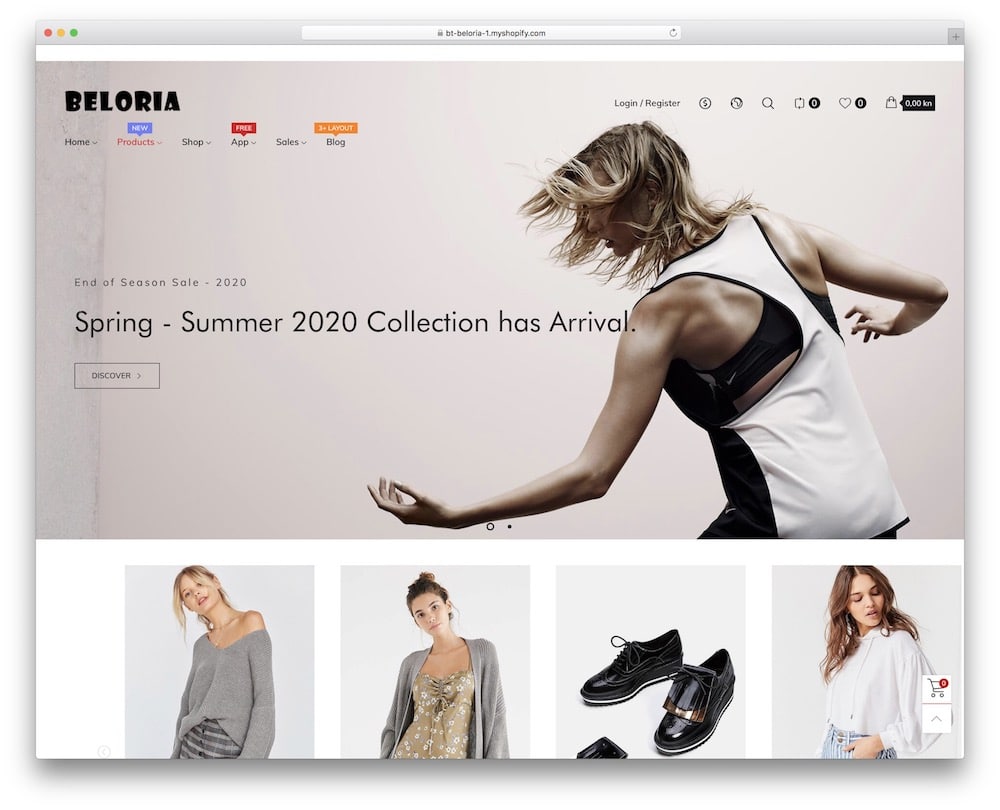 This simple and highly functional Shopify parallax theme will help you flourish your eCommerce business.
Beloria includes twenty pre-made templates, eleven shop pages, and ten header styles. You can use it all and install it with just one click.
Moreover, you can EASILY translate this theme into a language you want in just three steps with the Boostheme Toolkit app.
Also, Beloria has unlimited possibilities for managing your products and customizing your online shop.
You can personalize siders, tabs, mega menu, size charts, columns, shop layouts, and product types.
Boost your business with Beloria now.
Beloria features:
350+ sales
4.9/5 star rating
Mega menu on mobile
RTL support
Price: $69 (may vary)
MORE INFO / DOWNLOAD
DEMO
5. Mitea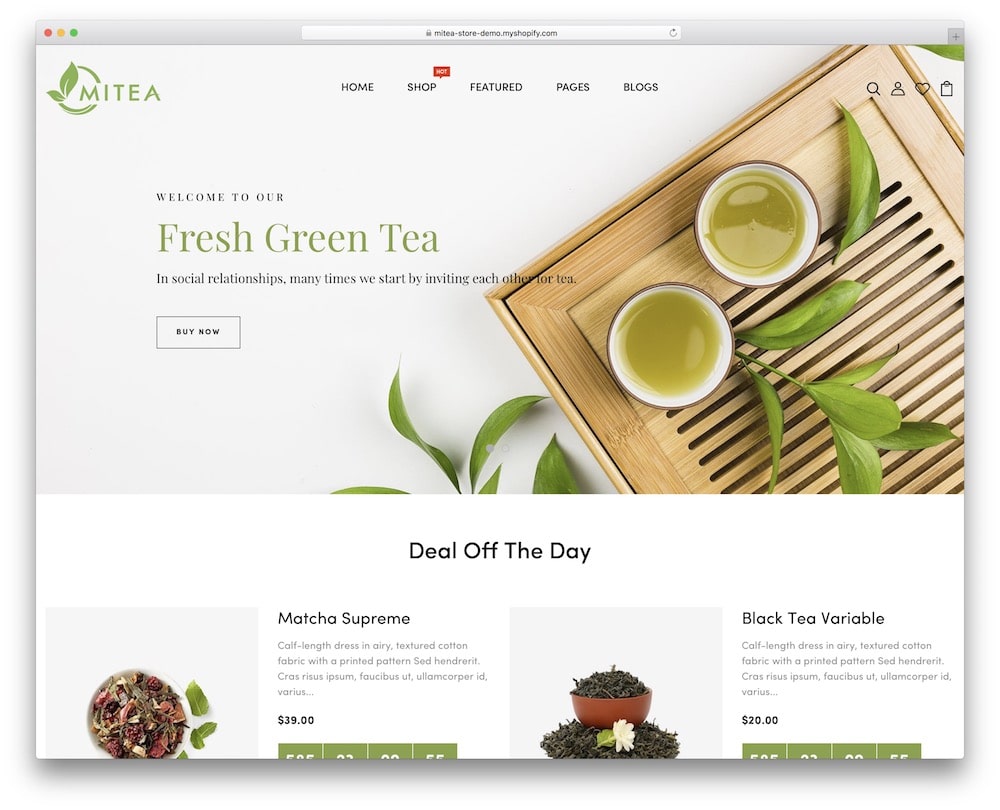 Mitea is an elegant and clean Shopify theme with parallax effect for multiple online businesses.
If you offer products related to drinks and food then Mitea will be a GREAT match for your products.
It has five index pages, six header styles, and hundreds of Google fonts.
Mitea will give you lots of customization options to work with. Furthermore, this theme is compatible with the Oberlo app, which allows you to import thousands of products directly from AliExpress.
Also, all the amazing eCommerce features of this theme, such as the product carousel, multi-currency, Ajax add-to-cart and wishlist, mega menu, and sales labels are included.
A great website will take you to great places.
Mitea features:
30+ sales
4.6/5 star rating
Instagram slider/feed
360-degree product presentation
Price: $56 (may vary)
MORE INFO / DOWNLOAD
DEMO
6. Campee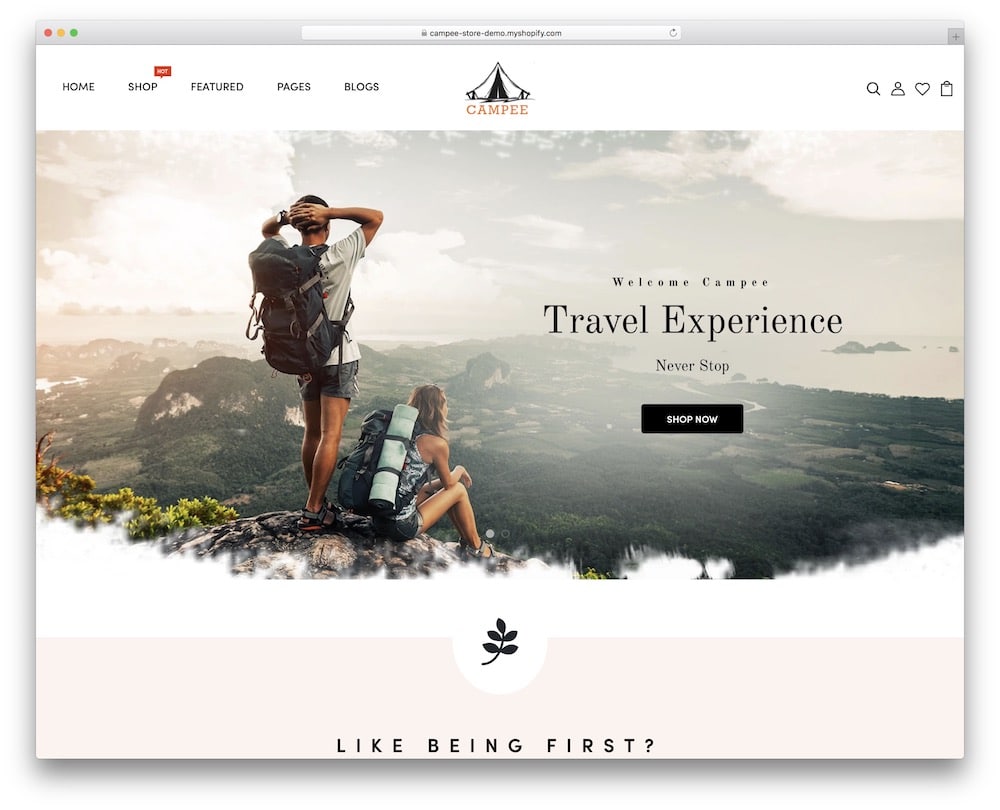 Campee is an attractive and minimal Shopify parallax theme for online stores carrying outdoor products and equipment.
The theme offers five beautiful demos you can import with just one click.
With an exciting and instructive blog, you can increase traffic to your site and provide the information your clients need and search for.
Advanced selling features such as Ajax add-to-cart and wishlist, best-selling products, tabs, list views, affiliate programs, and promotional banners will provide you with better rates and marketing.
Building your new business will be EVEN MORE straightforward with professional and friendly customer 24/7 service support.
Campee features:
10+ sales
4.7/5 star rating
Optional affiliate program
Multiple internal pages
Price: $56 (may vary)
MORE INFO / DOWNLOAD
DEMO
7. Gibson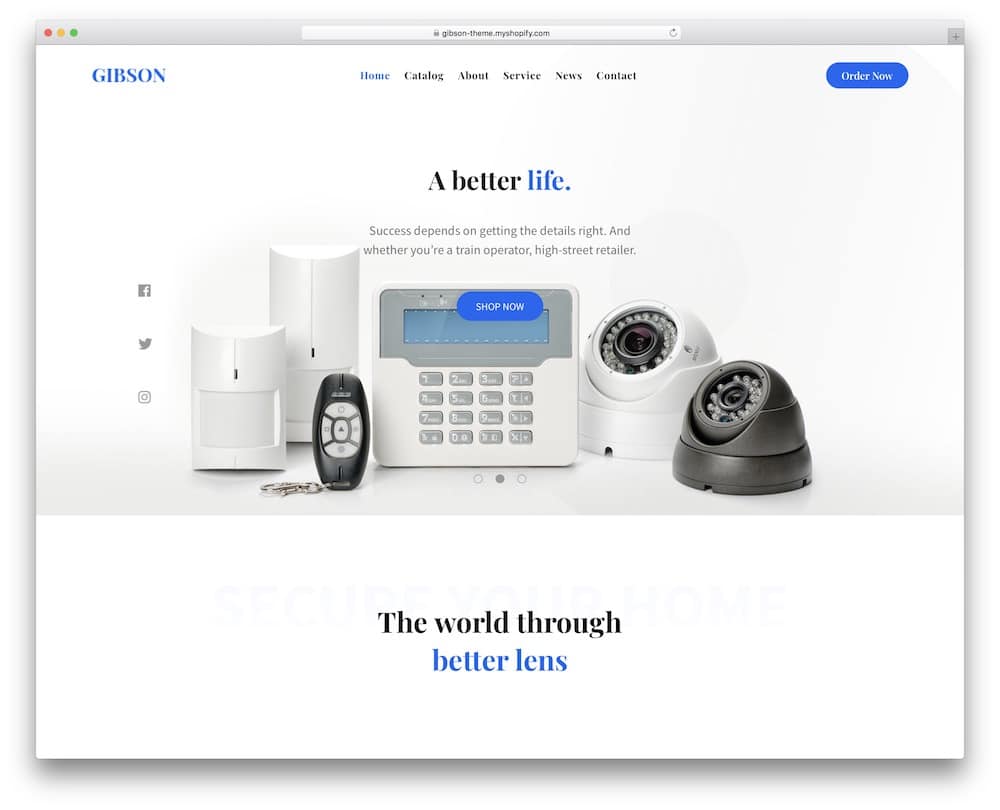 This impactful multipurpose theme is perfect for single-product Shopify stores, regardless of the niche and industry.
With Gibson's robust admin panel, it will be easy for you to customize and rearrange the site exactly as you wish.
Gibson includes great retailing tools such as Ajax wishlist, newsletter pop-up, product carousel, currency switcher, and order tracking.
The craftsmanship of this theme is SUPERB and integrated with social elements to share your products and ideas with the world fast and simple.
Retain your high standards with Gibson.
Gibson features:
50+ sales
5/5 star rating
Configurable slider
Product filtering (Ajax)
Price: $59 (may vary)
MORE INFO / DOWNLOAD
DEMO
8. Moocha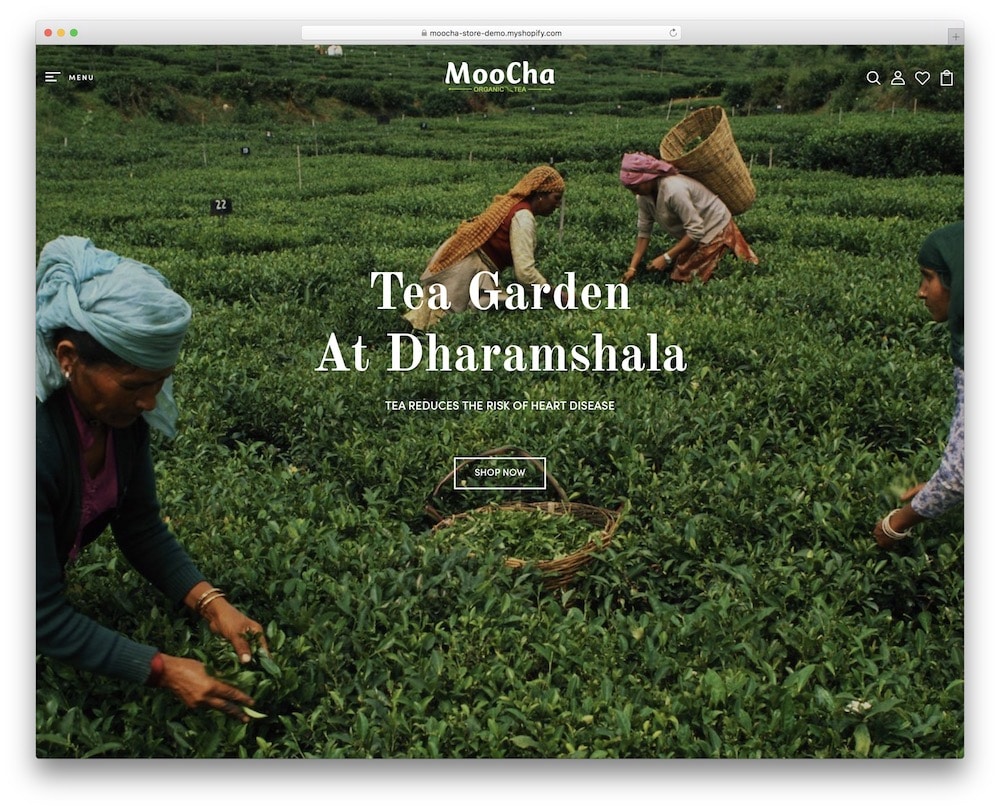 Moocha Shopify parallax background theme is great for organic shops and health stores. It comes with five homepages, six header styles, and an advanced mega menu.
Of course, you also get heaps of Google fonts and numerous options of colors.
Some other features of Moocha are multi-currency, product carousel, Ajax grid, and automatic price change. You can easily adjust Moocha and customize it according to your needs.
The entire process of building your new site will be even SIMPLER with friendly and professional customer support.
Chase your dreams with Moocha.
Moocha features:
70+ sales
5/5 star rating
Facebook chat
Live search
Price: $56 (may vary)
MORE INFO / DOWNLOAD
DEMO
9. Packza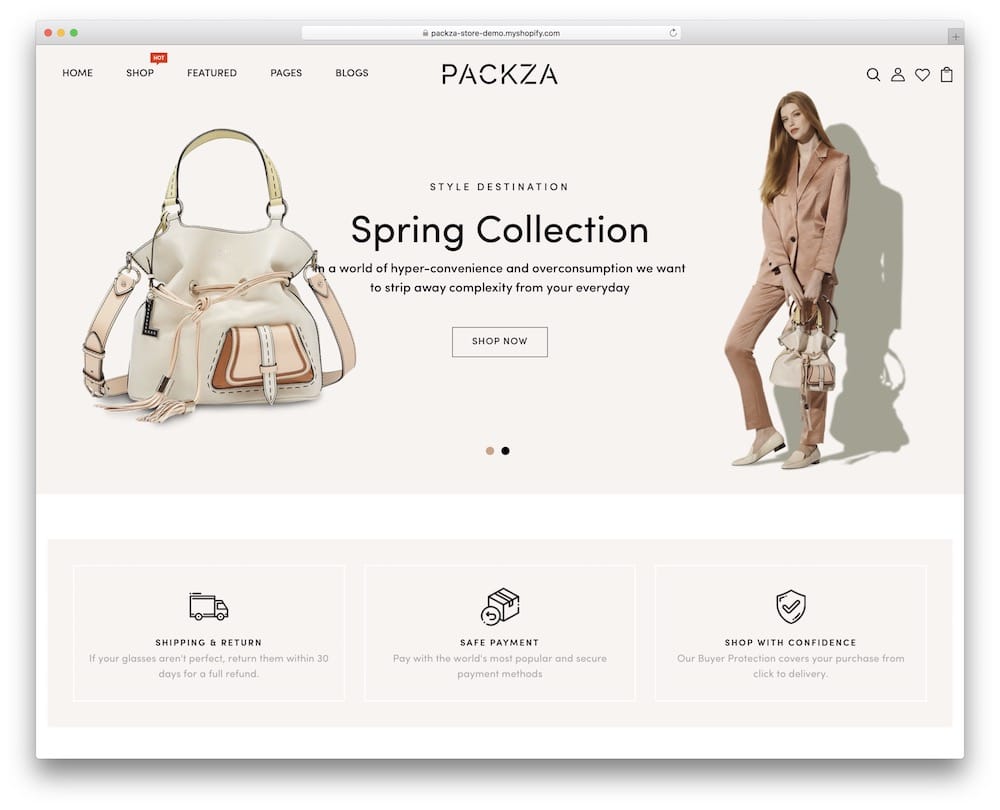 Packza is an elegant, powerful, multifunctional Shopify parallax theme for online shops.
It is responsive and retina-ready to ensure your site will be stunning on all screens.
Packza lets you choose from five index pages and various pre-made header styles. The design of this theme is fully responsive and unique for a successful page launch.
Some other cool features of Packza are the mega menu, Ajax add-to-cart, pre-designed blog post layouts, and numerous tabs.
On top of that, you can include customer reviews, newsletters, and social networking.
Selling is an art and YOU CAN be an artist with Packza.
Packza features:
10+ sales
4.5/5 star rating
Multiple internal eCommerce pages
SEO-friendly
Price: $56 (may vary)
MORE INFO / DOWNLOAD
DEMO
10. Lavitta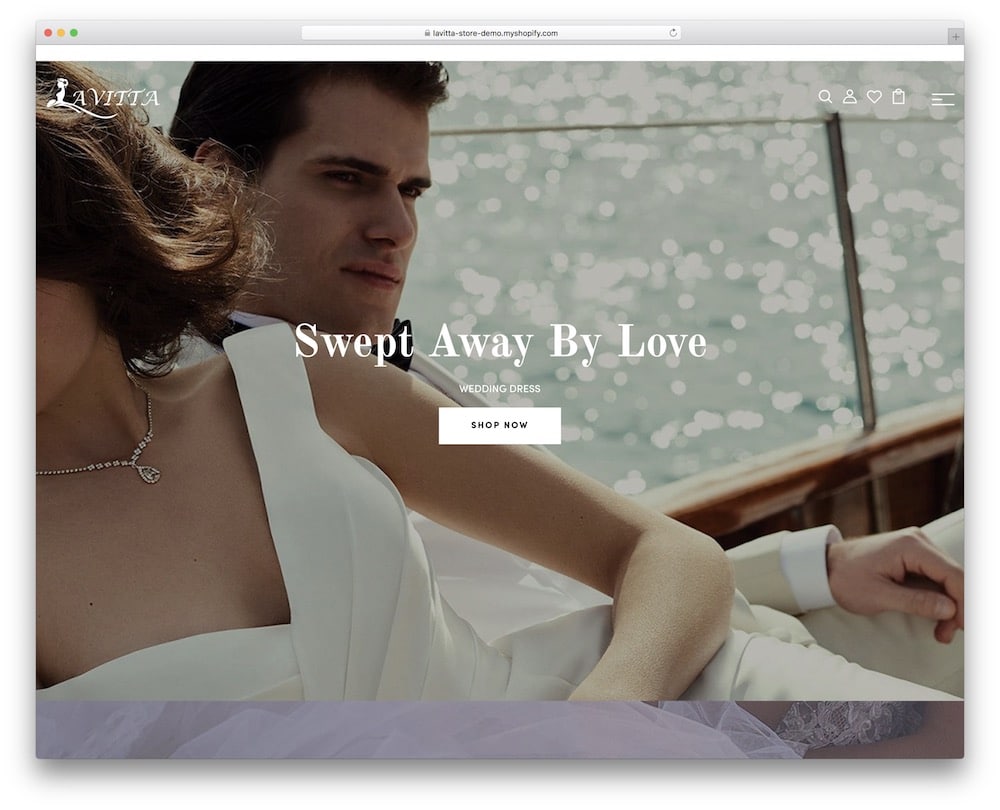 Lavitta is a soft and elegant Shopify parallax theme designed for wedding dresses, marriage ceremony accessories, and bridal gowns.
This theme comes rich with beautiful layouts, and pre-made styles for an easy start.
With Lavitta you will get everything you need for a stunning online shop and a great user experience.
Furthermore, Lavitta is SEO optimized and built with HTM5, CSS3, and Sass. Of course, a pre-designed blog layout ensures you can create and publish your compelling content regularly.
Note: Customers love to read about valuable tips and information that enriches their lives.
Always DO YOUR BEST with Lavitta.
Lavitta features:
10+ sales
4.4/5 star rating
Special labels (hot, sale, etc.)
Wishlist
Price: $56 (may vary)
MORE INFO / DOWNLOAD
DEMO
11. Ap Sharon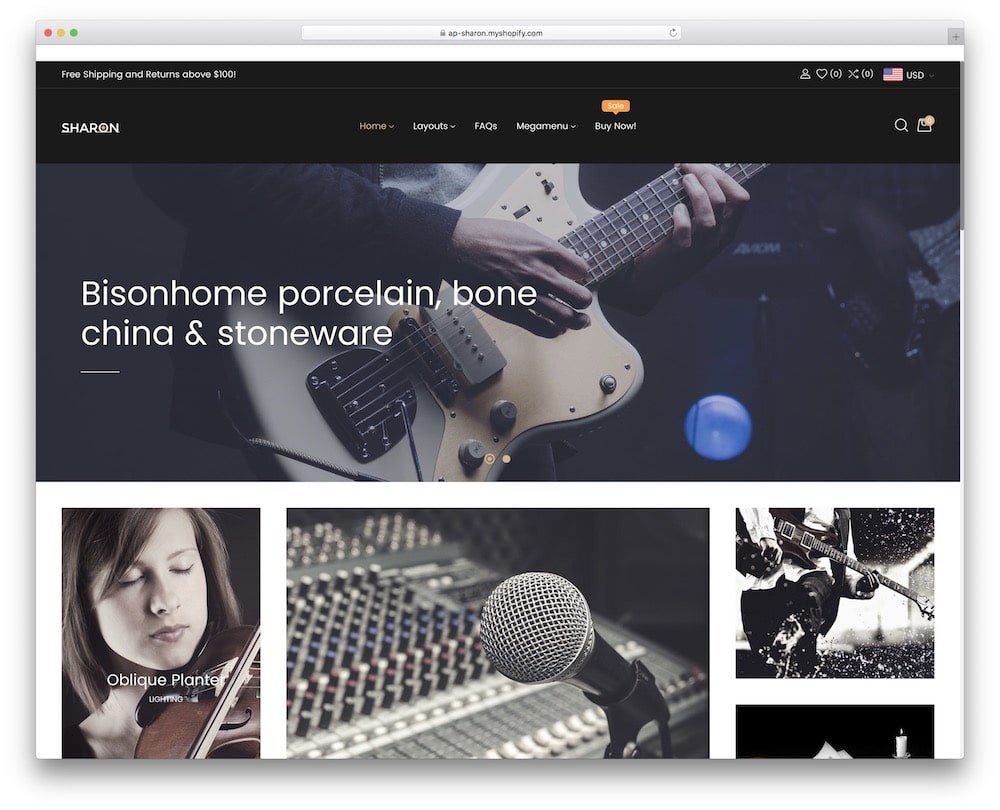 Nothing is impossible with Ap Sharon. This Shopify parallax theme fits in any business niche due to its versatile design and customization options.
Ap Sharon comes with twenty gorgeous front pages, and various header and footer layouts.
Expertly-built product pages will help you highlight your products and guide your customers through your collection of amazing items smoothly.
Due to the brilliant mega menu, you can create transparent menus that are simple to use and search.
We all know the power of GOOD content and Ad Sharon includes pretty blogging templates for all your trends, news, and valuable ideas.
Ap Sharon features:
90+ sales
5/5 star rating
Product quick view
Announcement/promotional bar
Price: $56 (may vary)
MORE INFO / DOWNLOAD
DEMO
12. Bakeryshop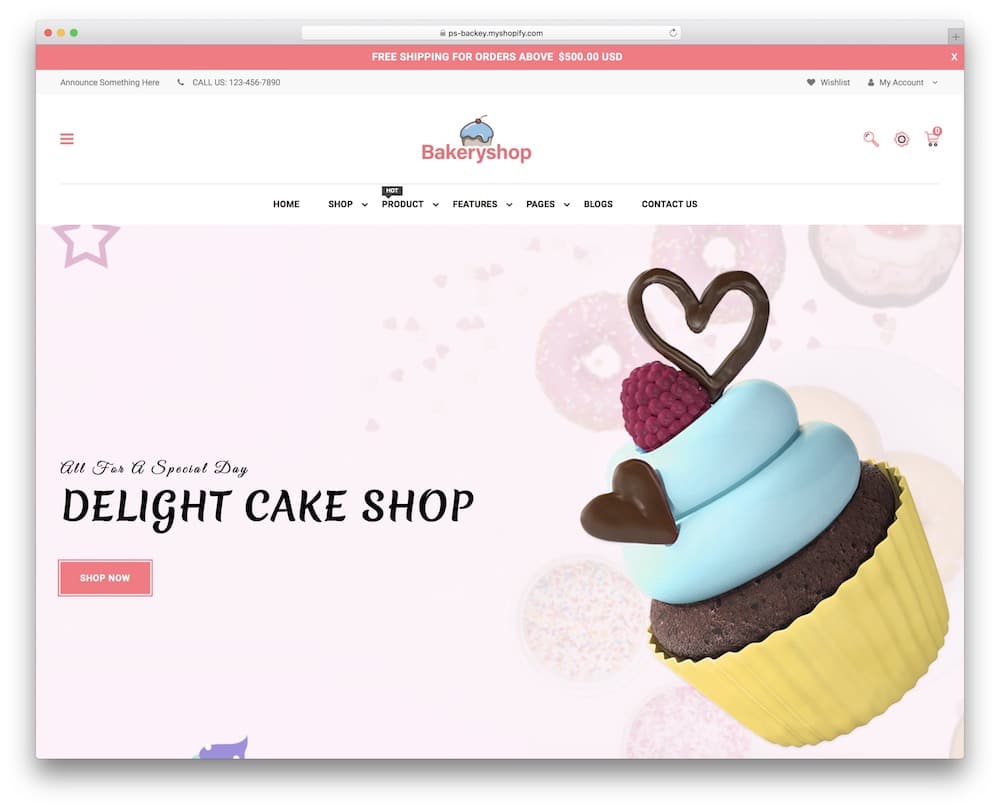 A great website is created by a series of small things done together. Bakeryshop is a MULTI-USE Shopify parallax theme full of small features that will boost your business to a new level.
Perfect for bakeries and cake shops.
With Bakeryshop you will never need to write code due to pre-designed layouts, custom pages, and amazing tools. It is also Sections ready (drag and drop).
The options of Bakeryshop are endless and all at your disposal to create what you always dreamt about. Bakeryshop is also mobile optimized and GDPR compliant.
Moreover, it includes a currency switcher, different pop-ups, a lookbook, and catalog mode. Of course, you can choose to incorporate dropshipping or affiliate marketing, too.
Bakeryshop features:
20+ sales
4.6/5 star rating
Handy live search
Instagram shop
Price: $79 (may vary)
MORE INFO / DOWNLOAD
DEMO
Fun fact: You can also manually create a parallax scrolling effect, which you can apply to almost any theme you want.
However, you will need to work with code, but the guide will help you get the gist of it quickly. (If you already have a Shopify theme, you don't necessarily need to switch to a new one just for the parallax effect.)
I still prefer picking up a theme because I can use it for multiple projects.
4 Features Of A Great Parallax eCommerce Website
Your website needs to follow, at minimum, these four features to enjoy the great result you'd like to achieve with it.
However, I'm excited to tell you that I double-checked to ensure all the themes I included have these by default.
How awesome does that sound?
How I chose the best Shopify parallax themes:
Responsiveness: You must create an online store that's 100% compatible with smartphones, tablets and desktops. More users shop online using their mobile device than a desktop, so you know what's up. (Mobile-Friendly Test by Google came in handy to analyze each theme.)
Fast loading: And because mobile users are more impatient, it's necessary that your website is optimized for fast loading. I tested each theme with Pingdom Tools to ensure they are lightweight. Remember, the quality of your hosting also contributes to your website's loading speed.
Clean design: A clean design is necessary in web design, especially when it comes to parallax websites. The parallax effect is also pretty heavy, so you must keep the other elements as minimal as possible. This will give a user the best experience.
Parallax sections: Of course, you need to have elements or full-screen sections of your website equipped with the parallax effect. But here's my greatest tip: Don't overdo it!
You now have all the must-haves to create a fantastic eCommerce website with the catchy parallax effect.
Enjoy.
::
Note: This article was originally published on March 15, 2021. But our team regularly reviews it and updates it with necessary improvements for accuracy.