Are you searching for the best ice cream WordPress themes to create a tasty website?
I'm so stoked to share this collection with you because I had a lot of fun reviewing and testing each theme.
It definitely made me want to grab some ice cream, but I'm currently on a diet. 🙂
ANYWAY, all these WordPress themes equip you with all the must-haves and heaps more to bring your idea to life.
This post covers:
You don't need any experience to start your project.
Just do it!
THE ULTIMATE THEMES:
How I Tested Ice Cream WordPress Themes
I first studied each theme's design in great detail to see how well it could work with different branding (both light and dark tones).
Next, I used Google's Mobile-Friendly Test and Pingdom Tools to ensure the theme is responsive and lightweight.
We also have a full tutorial on successfully picking a fast WordPress theme.
Moreover, I checked for plugins and eCommerce compatibility, so the users can expand their website with any feature they want.
Finally, I reached out to a few clients to demo-test each theme to ensure the final product works well with live audiences.
Best Ice Cream WordPress Themes
Remember, Ales also prepared a simple guide on installing a WordPress theme in case you need assistance.
1. Ohlala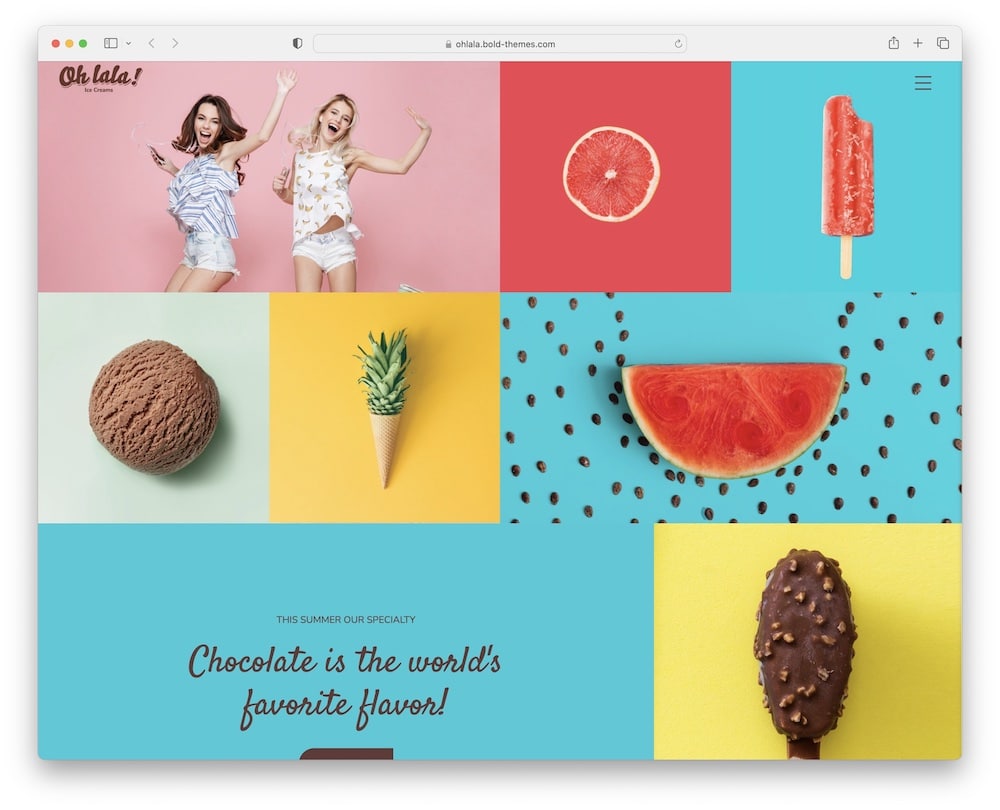 Make sure to offer, present, and invite people to taste your yummy flavors with the playful Ohlala theme.
Classic chocolate, vanilla, strawberry, and much more will be served up by your beautiful store this year.
This colorful theme includes ready-to-use demos with the SUPER quick import. Keep calm; you don't need any coding knowledge to work with Ohlala.
HI5!
Choose your favorite fonts, colors, pretty icons, and useful WP shortcodes. Besides, you can create an online portfolio or blog in a snap.
I know there are many interesting things to write about ice cream. But I am sure you didn't know that the average number of licks to finish a scoop is 50 (yup, it's a fact).
Taste success with Ohlala!
Ohlala features:
700+ sales
4.4+ star ratings
One- & multi-page website compatibility
Integrated cost calculator
Price: $69 (may vary)
MORE INFO / DOWNLOAD
DEMO
2. Glacé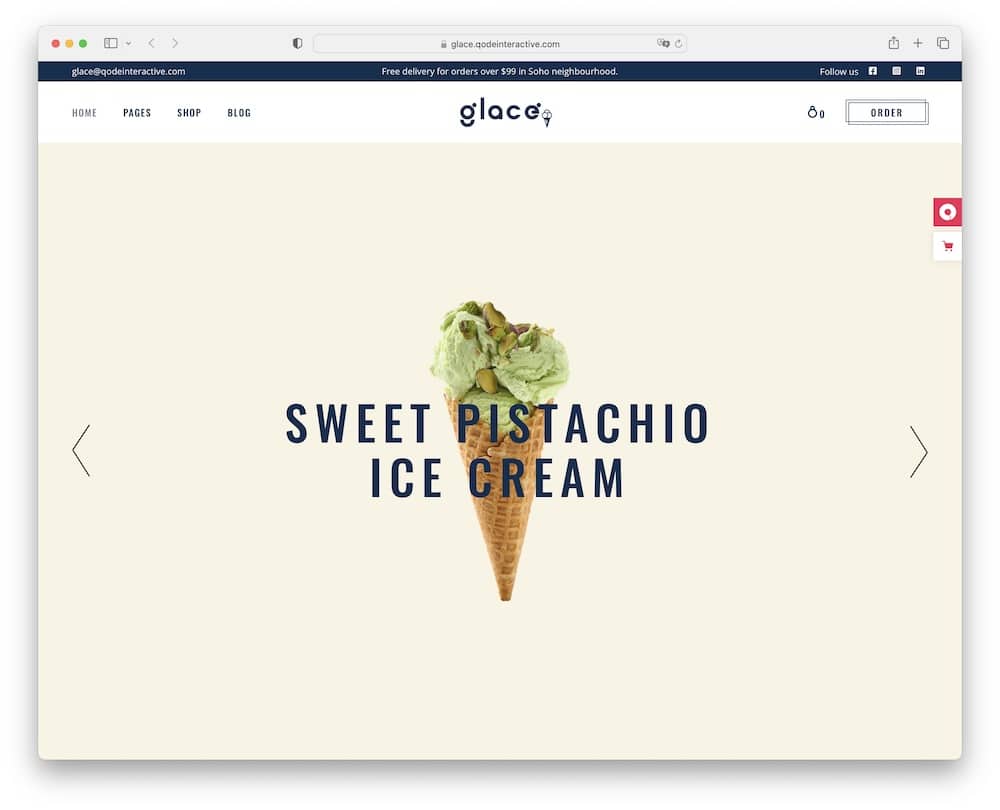 Sweet-toothed people will meet their match with the modern Glacé ice cream parlor WordPress theme.
Beautifully designed demos are easy to use, and you can customize them to all your wishes.
Plus, you can start your online store (Ciao, WooCommerce!) with tasty sorbets, limited summer pop-ups, experimental varieties, and "LOVED by everyone" classic ice cream flavors.
Moreover, Glacé is fully responsive and retina-ready for an excellent user experience!
Of course, you can also set up a Google Map location for your store. And don't forget to connect your site with social media accounts (social share functionality & icons included).
BIG. DEAL.
You probably already know that I love to start with a pleasant header fix, and with Glacé, you can choose from five brilliant types.
Enjoy!
Glacé features:
MORE INFO / DOWNLOAD
DEMO
3. Sweet Tooth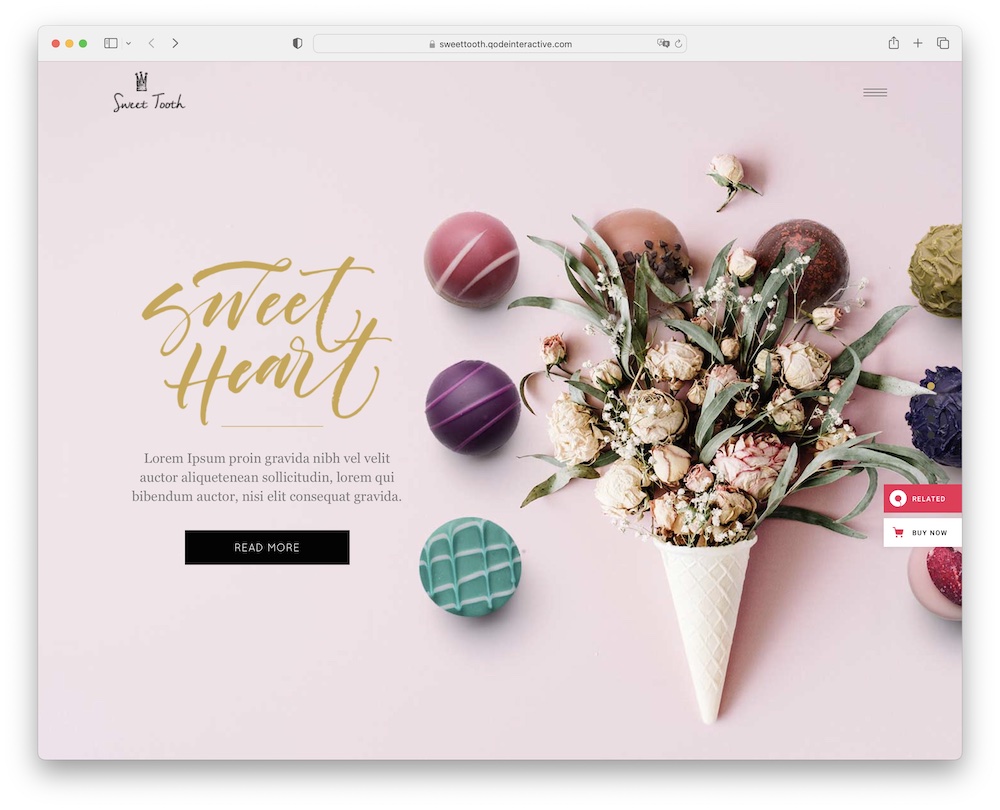 Start today (!) with the simple 1-click import of the pre-made Sweet Tooth demo.
This pretty ice cream theme includes everything you need for a successful and delicious brand presentation.
Cute and effortlessly cool!
Be creative with Sweet Tooth by adjusting its design layouts, choosing PERFECT colors and fonts, setting up header & footer types, arrange the mega menu and WordPress sidebar.
Plus, eye-grabbing parallax theme background is one of my dearest things to put in place while building a website.
Of course, Sweet Tooth is as well bundled with the most popular plugins, such as Slider Revolution, WooCommerce, Contact Form 7, and WPBakery page builder.
Treat yourself!
I mean, because seriously. This one is a TREAT.
Sweet Tooth features:
1,300+ sales
4.5+ star ratings
Price: $79 (may vary)
MORE INFO / DOWNLOAD
DEMO
4. Bagery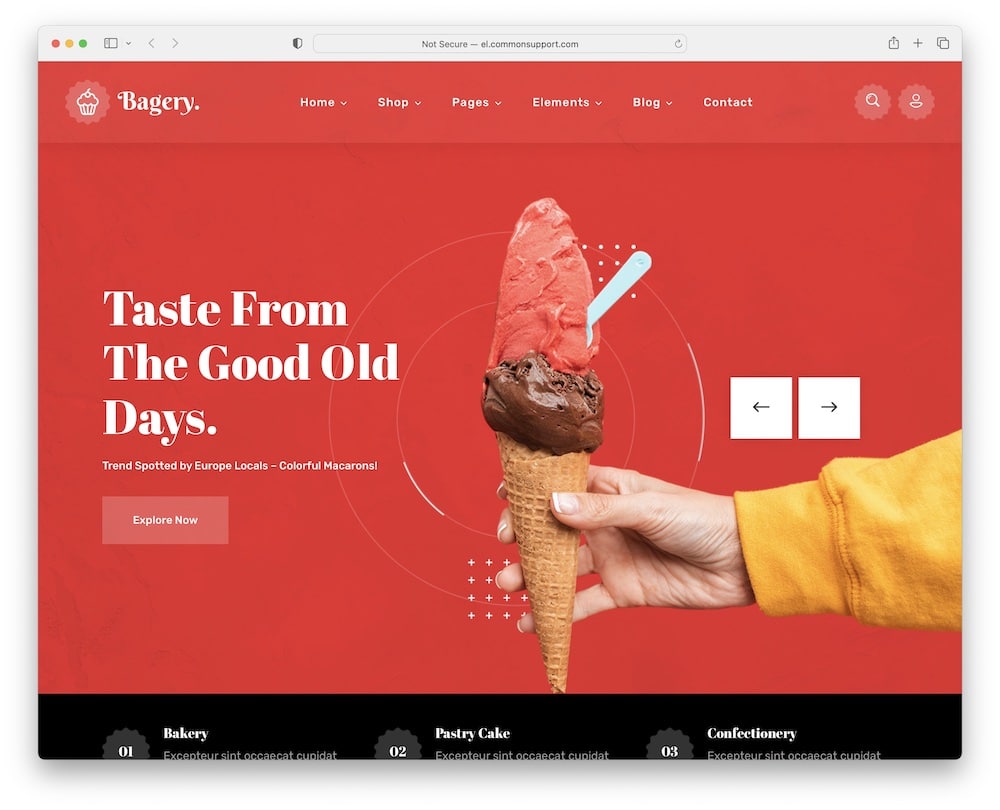 Show off your frozen deliciousness with the wonderful Bagery ice cream shop WordPress theme!
Remember, you don't need any coding skills to work with Bagery due to the AMAZING Elementor page builder. Drag & drop elements to the desired position.
Good stuff.
Moreover, Bagery is fully responsive, cross-browser compatible, and SEO friendly for the best performance and results.
I LIKE it!
Plus, the Contact Form 7 plugin allows you to create or publish a contact form on your WordPress website in no time.
Aha, email marketing is still a HUGE thing, so wisely collect your visitor's emails through the newsletter subscription form.
What's more?
Bagery includes social media links and icons to connect the site with your accounts.
Happy scooping. 🙂
Bagery features:
MORE INFO / DOWNLOAD
DEMO
5. Sweet Jane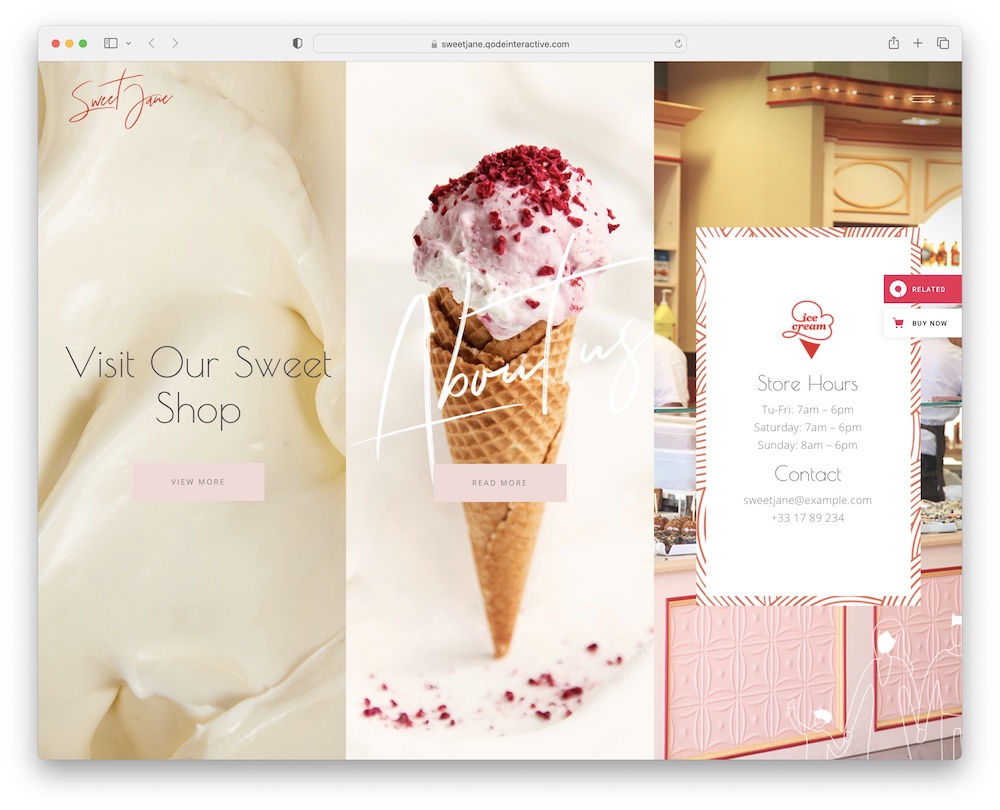 Visually wise, this ice cream and sweet shop WordPress theme is a homerun. For a good reason.
Sweet Jane comes with an elegant & clean design, various inner pages, a lovely online store, blog layouts, a video background, and a smooth scroll.
And the best part? A bundle of the most popular plugins!
Besides, Sweet Janes is fully translation ready. YUP (!), the internet is bringing the whole world together.
My tip: It's smart to consider adding more than one language to your site (if you have visitors from different locations).
Moreover, you can even set up a reservation and table booking form. Indispensable tools if you want to organize special events or promotional days.
Embrace the sweetness with Sweet Jane!
Sweet Jane features:
MORE INFO / DOWNLOAD
DEMO
6. Eis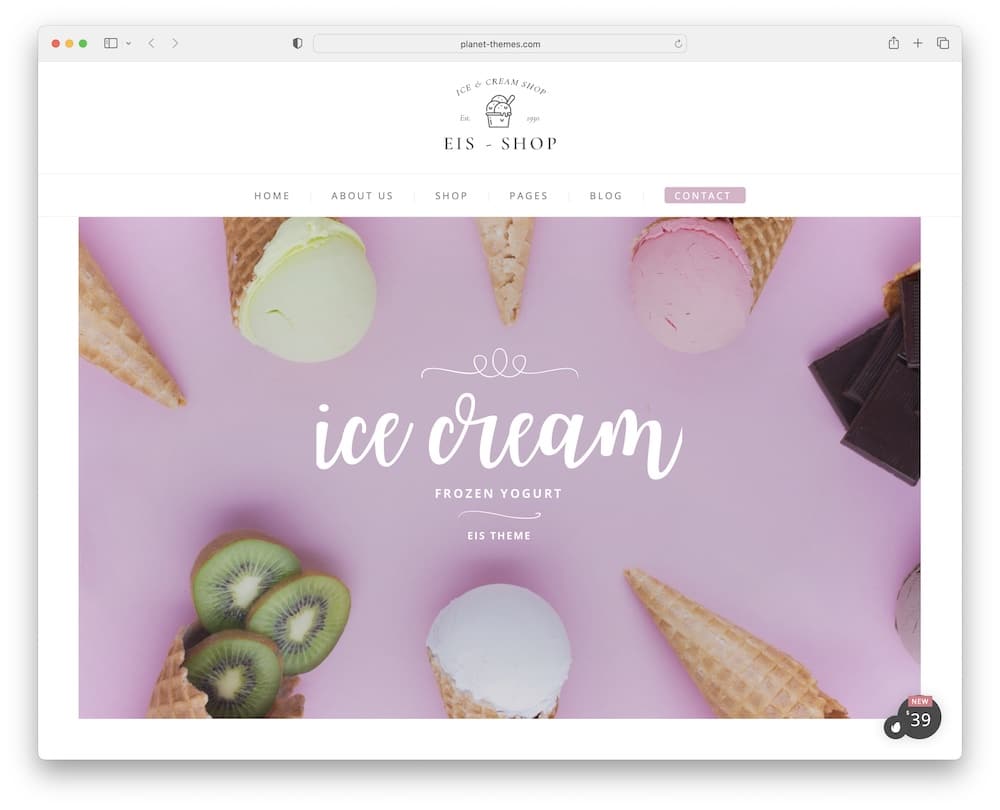 A world without ice cream? I just… I can't even imagine.
Check out the Eis ice cream WordPress theme and present your flavors playfully and colorfully.
Long live ice cream!
With Eis, you can easily create your portfolio gallery and a tasteful store, offering home delivery or an online booking for ice cream supplies at parties, weddings, fairs, and popular events.
Life is full of opportunities, isn't it?
Oh, and if you LOVE to create, eat and talk about ice cream, plus you can take beautiful photos, you should definitely start a blog.
Because who doesn't want to know more about these yummy gelatos?!
Take a bite of Eis.
Eis features:
210+ sales
4.5+ star ratings
Multi-level drop-down menu
Online food menu
Price: $39 (may vary)
MORE INFO / DOWNLOAD
DEMO
7. Xocora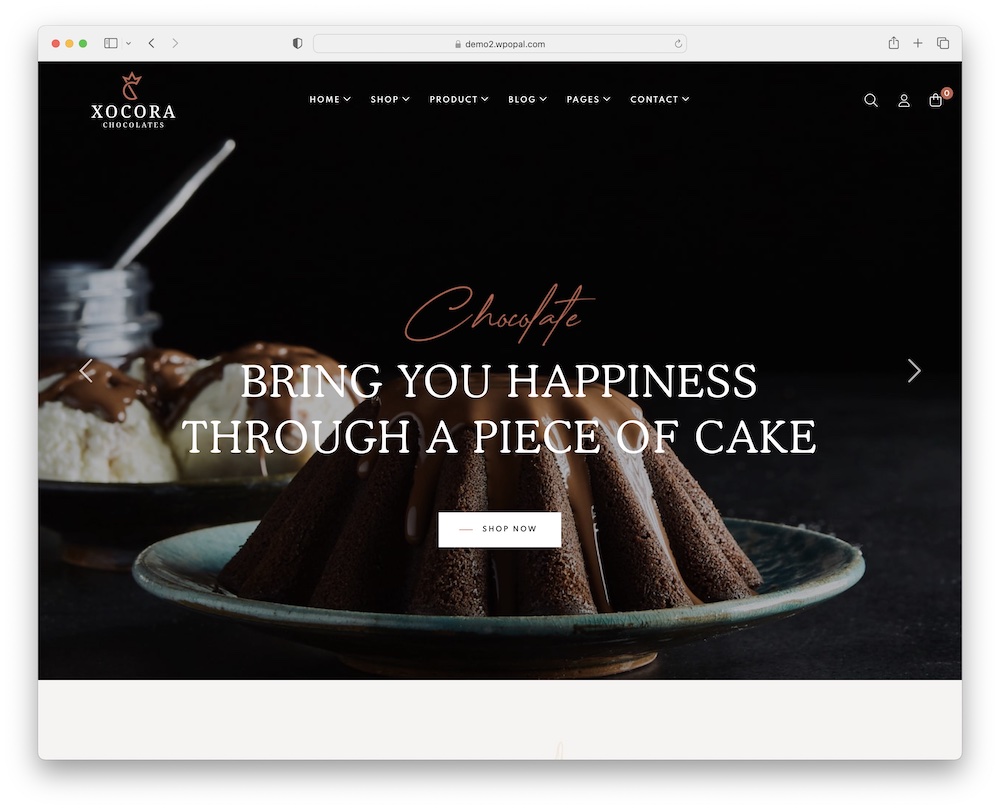 I hope ice cream makes you as happy as it makes the Xocora ice cream WordPress theme.
You can easily adjust Xocora for your ice cream store and customize its elements exactly as you want.
Everyone can build with beautiful Xocora without needing expensive web designers or special coding skills!
Simple drag and drop (real-time changes, baby!) is everything you will need.
Moreover, Xocora is made with excellent performance in mind, offering responsive design, high-speed page loading, and SEO-friendly coding.
NEVER. WORRY. ABOUT. IT. AGAIN.
Advanced mega menu, search bar, popups, dynamic slides, and professional customer support are one of MY FAVORITE features.
You can tell Xocora loves the sweet side of life!
Xocora features:
MORE INFO / DOWNLOAD
DEMO
9 Key Features Of A Great Ice Cream Website
There's a whole bunch of stuff that will make your ice cream business page top-notch.
For this reason, I gathered nine of the must-haves that I found you shouldn't skip after working with various clients in the industry and studying others' pages.
Luckily, most of the stuff is predefined and ready to use when you choose a WordPress theme:
Responsive & fast loading layout: It's essential that you build a website that offers the best performance on mobile and desktop devices. For this reason, I only collected themes with a mobile-ready and lightweight layout.
SSL certificate: An SSL certificate is something that you sort out with your web hosting (some even offer it for free!). Note: The quality of your web hosting will also define how fast your site loads, so choose wisely.
Ice cream/food menu: Ramp up your website's user experience by including an ice cream menu with pricing. You can highlight your most popular tastes and help customers decide what to choose.
Gallery with tasty images: A great ice cream website NEEDS an awesome and delicious gallery. Don't use stock images!
Newsletter subscription form: Start a relationship with collecting leads through a newsletter subscription form. Email marketing still works when you do it strategically! Simple rule: Don't be too salesy.
Testimonials/reviews: Include testimonials and reviews if you want to build trust and social proof.
Delivery options: If you offer local delivery or in-store pickups, ensure you put the information on display on your website.
Blog: One of the best ways to make your website succeed is to start an ice cream blog and use it for content marketing. Hint: You can enjoy a lot more Google traffic.
Contact details: Lastly, make your contact details clearly visible on your website. Create a contact page, but you can also add business details, opening hours and Google Maps with a location in the footer area.
There you have it!
You now have everything you need to create the ultimate ice cream shop website that will WOW every visitor – and water their mouth.
Enjoy.
::
Note: This article was originally published on December 14, 2022. But our team regularly reviews it and updates it with necessary improvements for accuracy.