Do you need the best language school WordPress themes to create an epic educational website?
This is why I created this collection I carefully tested and reviewed over the past four months.
It includes everything you need, whether you operate an actual physical language school or you would like to create online courses.
What's best – you don't need the experience to build your educational website.
This post covers:
This gives you everything you need to start immediately with complete confidence.
Note: Expect to have a full-blown page ready TODAY!
Quick Pick: My Favorite Language School WP Theme
Best Language School WordPress Themes
1. Eduma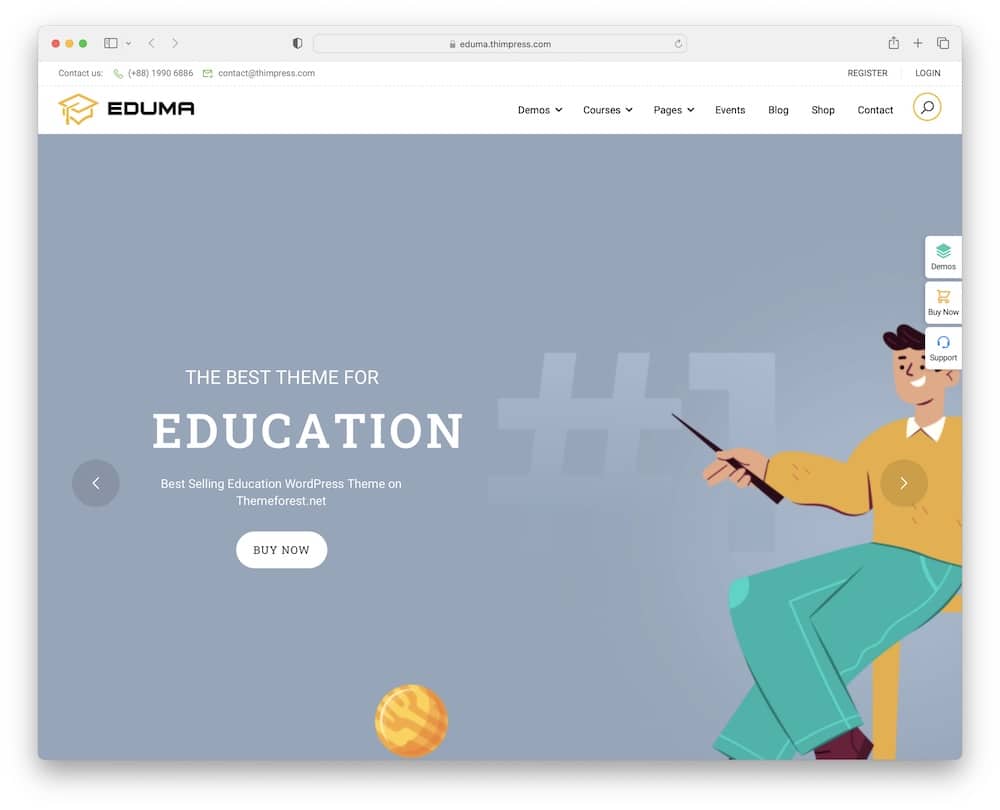 You can make people confident at speaking any language you LOVE via your online school. Check out the best-selling Eduma education WordPress theme – today!
Eduma offers a variety of ready-to-use demos (crazy one-click install) that you can easily customize via drag & drop WordPress page builder (HI5, Elementor!). Isn't that the coolest?
Remember, you can also check Ales's tutorial to learn how to install a WordPress theme.
I love to start by changing colors, fonts, menu, and header. And it doesn't stop here.
You can also promote events, sell course subscriptions, and organize video conferences. Great way to create a learning community.
Moreover, Eduma guarantees high performance and FREE updates.
Plus, your site isn't intimidating anymore with professional and friendly customer support building, right?!
Eduma features:
38,600+ sales
4.8+ star ratings
Works with any WordPress translation plugin
Complete online language learning experience
Price: $69 (may vary)
MORE INFO / DOWNLOAD
DEMO
2. Tabula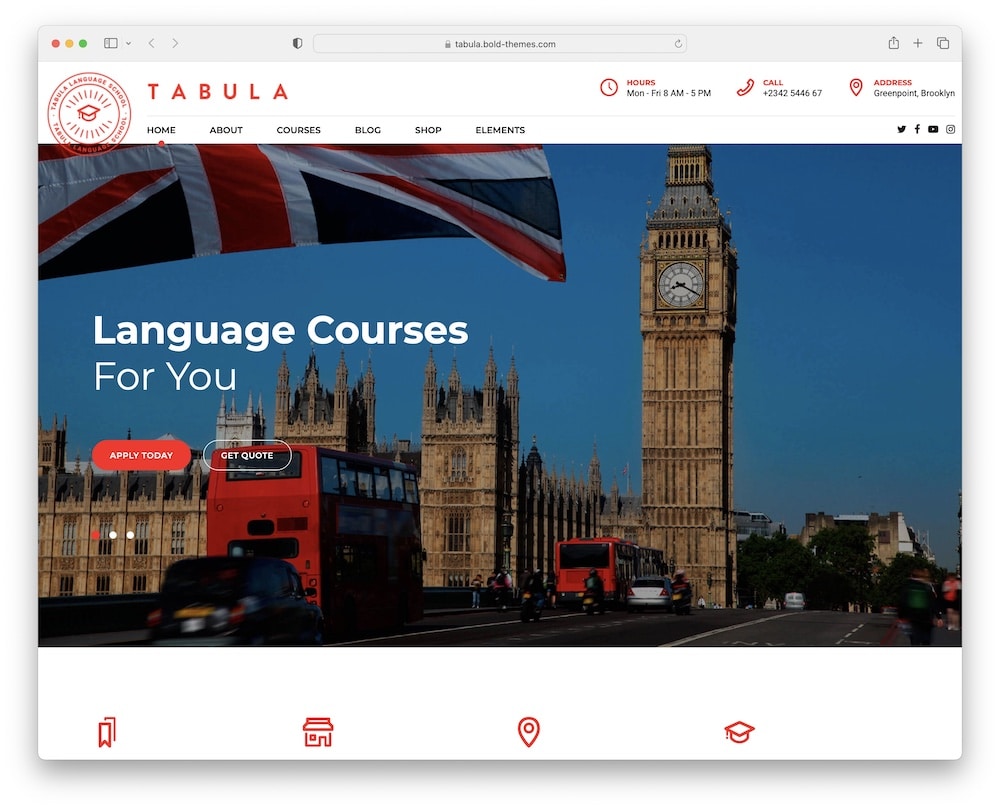 Use the modern Tabula language school WordPress theme to share your valuable knowledge with the world.
Tabula includes beautifully designed demos, unique inner pages, and the most popular plugins. Keep in mind, you don't need to have any coding or developing experiences due to the drag-n-drop editor.
Yay!
Just mix, match, and set up the header, sidebars, colors, icons, menu, animations, and fonts. Be creative and make your site dynamic & interesting.
Furthermore, you can easily enrich it with the parallax theme effect, social media icons, and Google Maps. Do you feel me, or do you feel me?
Explore all the benefits of Tabula and start brushing up on your website NOW!
Tabula features:
MORE INFO / DOWNLOAD
DEMO
3. Masterstudy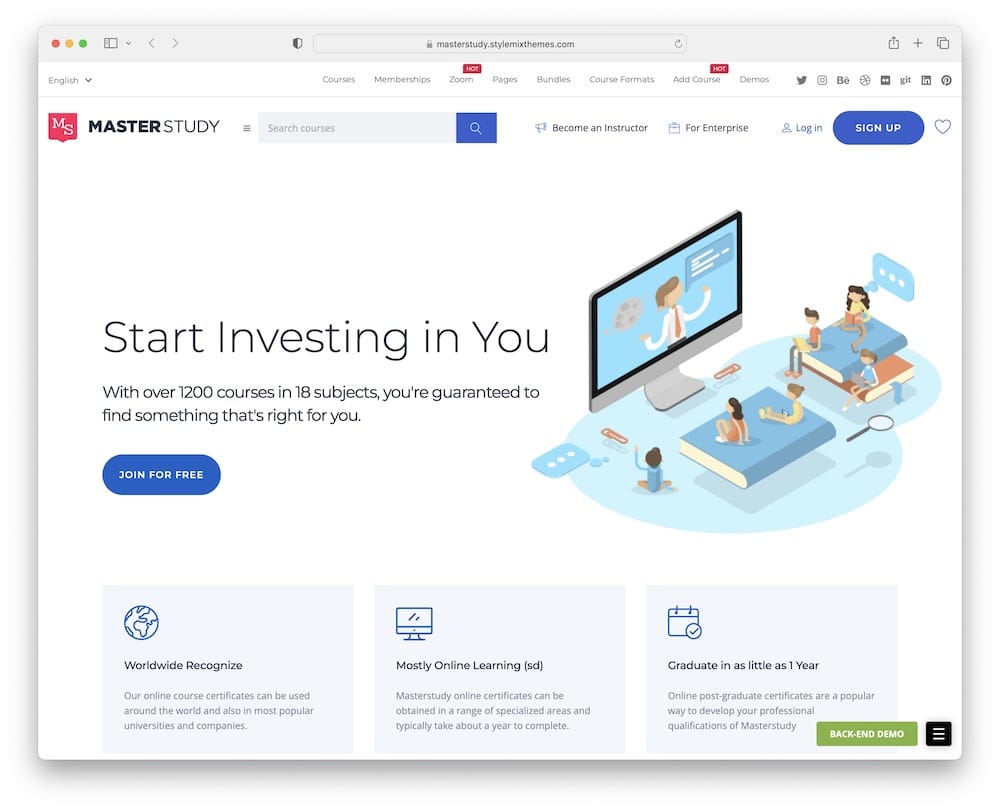 There are so many languages on this planet to learn, so don't waste more time and start offering your multilingual wisdom ASAP.
Why not explore the Masterstudy language school WordPress theme?
Masterstudy comes with a complete WordPress learning management system to help you promote your online courses, podcasts, quizzes, student assignments, Zoom conferences, and much more.
Effective and efficient!
Besides, you can choose from numerous pre-made designs, light & dark mode, unique elements, and layouts.
Furthermore, with Masterstudy, you can offer a student forum and social network connection via membership subscriptions.
I think it's also SMART to incorporate textbooks and other learning tools via affiliate links (Cha-Ching). It seems ideal, doesn't it?
Being multilingual with Masterstudy rocks!
Masterstudy features:
MORE INFO / DOWNLOAD
DEMO
4. LMS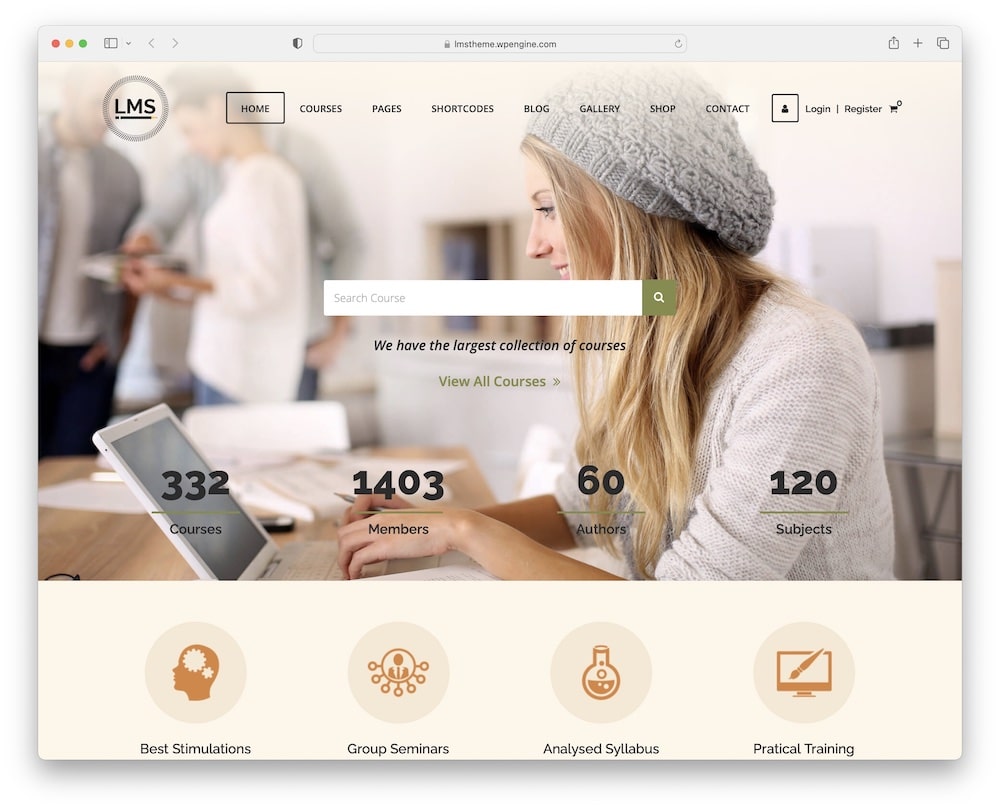 Create a website for a FUN and effective way to learn a new language with the LMS language school WordPress theme.
You can easily edit this feature-packed theme with the Elementor page builder. Enjoy infinite possibilities and support for the most popular plugins.
Moreover, LMS includes a built-in register and login functionality, a WordPress events calendar, and transparent class listings with a timetable.
Besides, LMS offers a simple payment gateway via the brilliant WooCommerce.
Oh, and I really like the flexible mega menu (Hey, you cool cat!) with additional WP widgets like an image banner.
BTW: tons of unique & useful WP shortcodes (tabs, buttons, typography, columns, etc.) are a great addition to the LMS offer.
Serve and enjoy!
LMS features:
6,000+ sales
4.7+ star ratings
Class with timetable
Add a social networking component with BuddyPress
Price: $69 (may vary)
MORE INFO / DOWNLOAD
DEMO
5. Scuola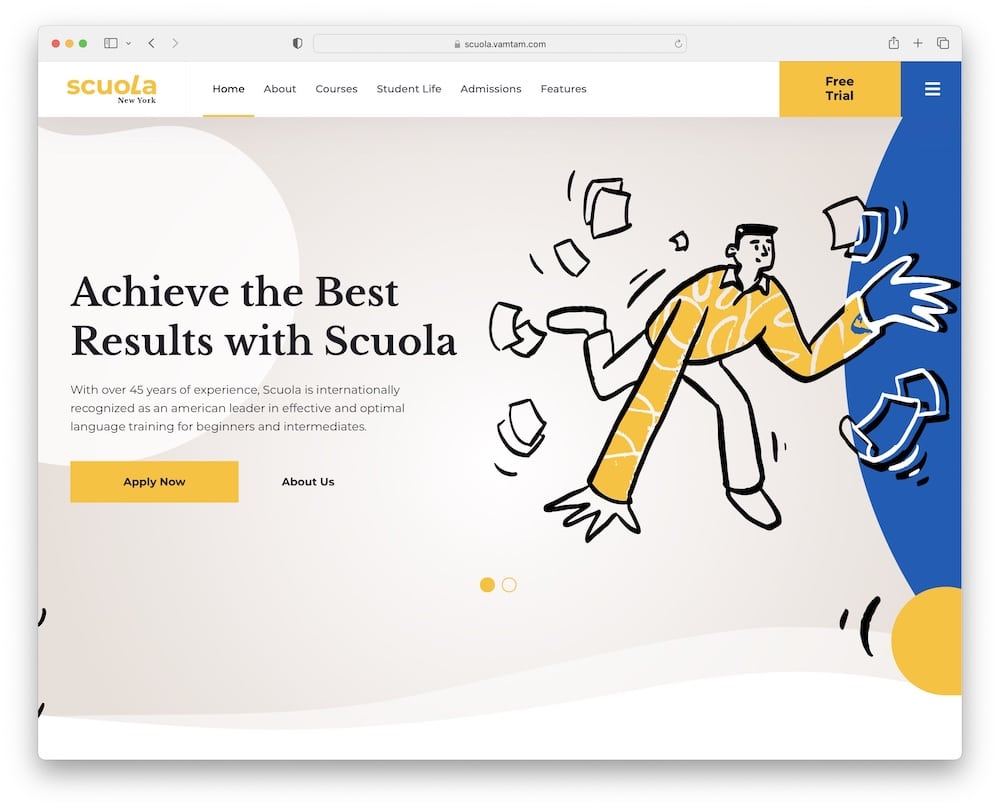 Language channels ideas, stories, concepts, and everything in between.
In fact, it plays a significant role in everyday life so embrace it with the Scuola language school WordPress theme.
Engaging Scuola is built with AWSOME features such as premium stock images, the best plugins, online course booking with dates and prices, a subscription form, and uniquely designed icons.
That's the dream, right?
Furthermore, you can easily publish video presentations from your YouTube channel. Plus, COOL animations are my favorite.
And don't forget to link your social media accounts in your header or footer – make it easy for people to follow you!
Unwrap the Scuola package and make me proud.
Scuola features:
240+ sales
5-star rating
Easy setup guide
Cool & clean design
Price: $89 (may vary)
MORE INFO / DOWNLOAD
DEMO
6. Language School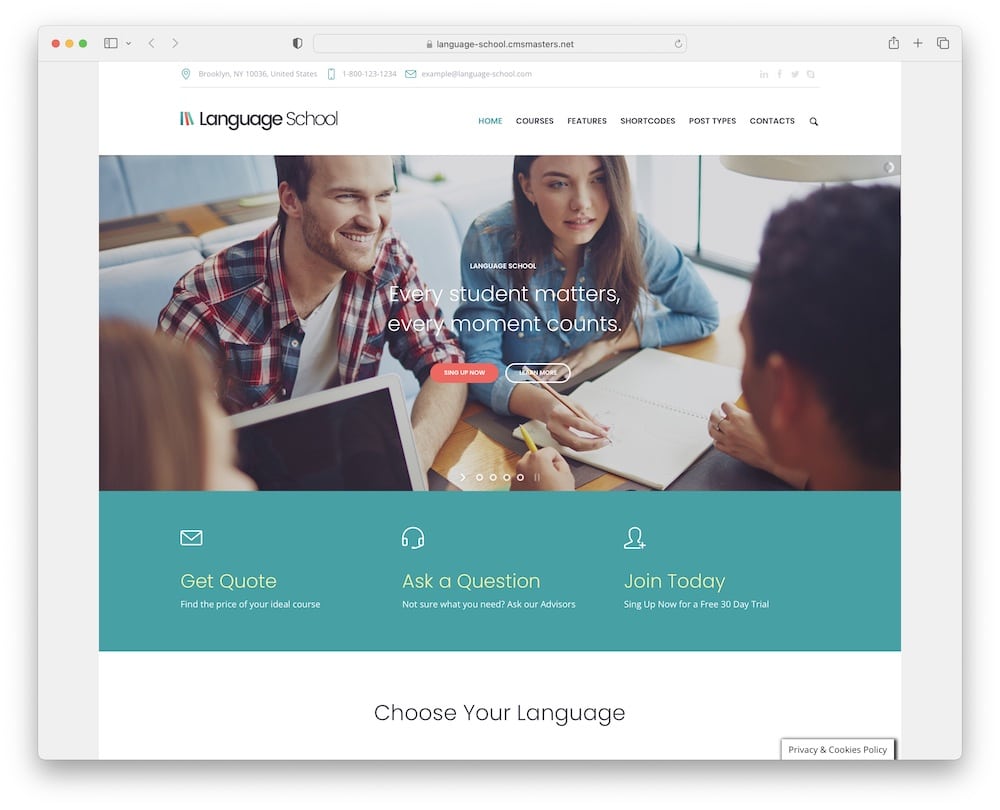 Modern Language School can take you & your students on a magical journey of different cultures by teaching or learning a new language.
Remember, learning is something we all share!
Language School is fully responsive & retina ready to ensure a GREAT user experience, even on mobiles. Plus, it's SEO optimized for a close relationship with Mr. Google.
The best way to get started is by configuring a pre-made homepage to all your needs. Simply set up a header, mega menu, colors, fonts, and layouts.
Oh, and Language School includes an attractive timetable and event calendar for displaying your courses, free lectures, conferences, and more.
A quick tip: You should also start a blog!
Language School features:
1,400+ sales
4.1+ star ratings
One- & multi-page support
Price: $49 (may vary)
MORE INFO / DOWNLOAD
DEMO
7. Language Center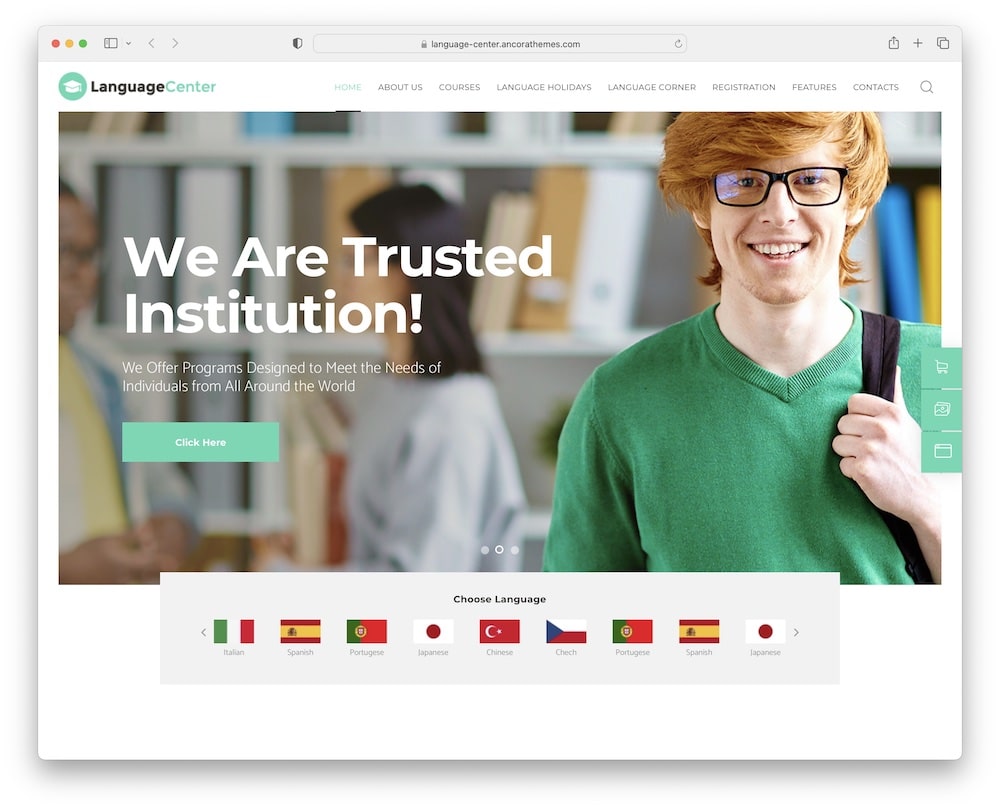 Help improve your client's language skills with the elegant Language Center.
This stylish WordPress theme is the perfect choice for language centers, online courses, tutoring services and other learning intentions.
It offers AWSOME features such as online appointment booking, advanced contact forms, pretty galleries, multiple blog styles, and eye-grabbing post animations.
Note: You get FREE lifetime updates!
Moreover, Language Center is optimized for the best performance and is cross-browser and mobile compatible. These are essential factors that'll boost your language school's conversions.
Meet your one true match. This one is for you.
Language Center features:
MORE INFO / DOWNLOAD
DEMO
8. Turitor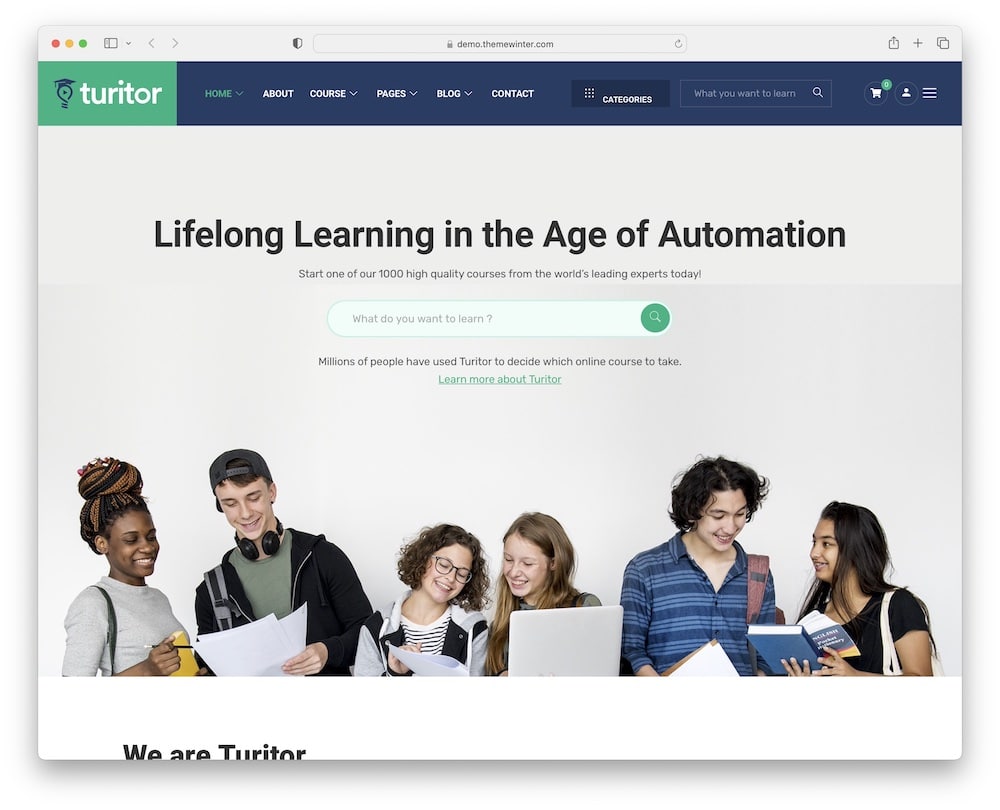 Colorful Turitor language school WordPress theme is made for online courses, training centers, and various educational institutions.
Mamma mia, I like it a lot!
Turitor offers numerous stylish inner pages, header styles, icons, blog layouts, and many Google Web fonts.
Oh, and included widgets can provide a quick view of important information (like calendars).
I also like the one-click demo data import because it speeds up and simplifies website-building.
The best part: Turitor is bundled with AMAZING plugins such as WooCoomerce, Elementor, LearnPress, LearnDash and Zoom! YES!
Ohhh, and friendly customer support is a top-notch add-on. Trust me; you can't help but love them.
Turitor features:
1,400+ sales
4.8+ star ratings
Creates courses, lessons & quizzes
Awesome page for promoting your learning events
Price: $35 (may vary)
MORE INFO / DOWNLOAD
DEMO
9. eCademy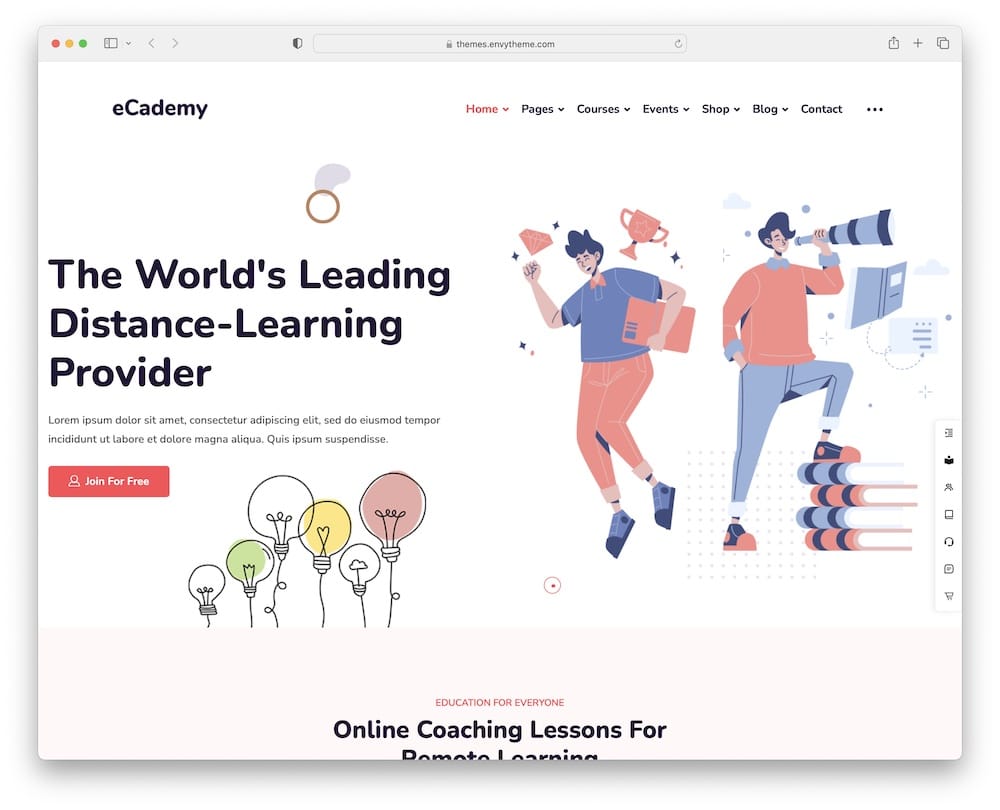 And what better way to promote language learning than with eCademy language school WordPress theme's amazing online classes, live streaming, private messaging, and Zoom webinars?!
You can choose from fourteen attractive homepages, import the right one and adjust the look of your business image.
I love to start with uploading logo, set up a header, footer, menu, sidebars, and typography.
Also, it is smart to have a subscription popup when someone enters your site. Plus, the newsletter form at the bottom of the page is always a GOOD thing.
Oh, and you can fully translate and localize eCademy for international audiences.
Start kicking some serious ass with eCademy!
eCademy features:
1,600+ sales
4.9+ star ratings
Course certificates & grading system
Private messaging
Price: $65 (may vary)
MORE INFO / DOWNLOAD
DEMO
10. Lingvico

With the modern Lingvico language school WordPress theme, you can promote: practice, improvement, and learning of languages.
Yup, mastering English, Italian, German, etc., with your teaching is only a tap away.
Pre-built pages, layouts, and design elements are easy to edit and set up. Keep calm; you don't need coding knowledge!
REMEMBER, Elementor is a flexible and user-friendly builder with numerous opportunities and functions.
Besides, Lingvico is bundled with other brilliant plugins such as Slider Revolution, Contact Form 7, and MailChimp. It's also integrates social media.
I know, everything you need!
A quick tip: Let your wrinkles disappear due to the trouble-free online class booking system.
Pretty easy, right? Now, let's get that website up!
Lingvico features:
140+ sales
5-star rating
Ready-made online booking (or use a WordPress booking plugin for more options)
Simple visual theme customization
Price: $69 (may vary)
MORE INFO / DOWNLOAD
DEMO
11. Omexo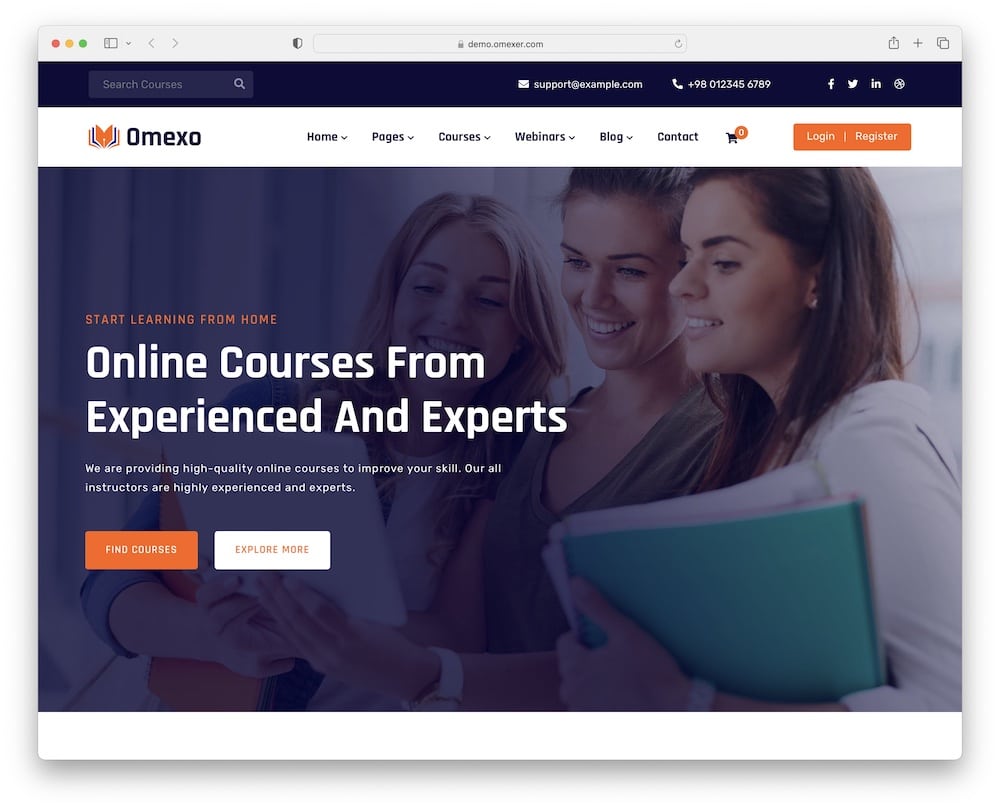 Join the inspirational Omexo language school WordPress theme to start your teaching journey.
Two or more languages open every door along the way of life, SO make sure to offer as much as possible to your new students.
You can create (simple drag & drop function) lessons, quizzes, course assignments, award your students with certificates, and sell online courses with responsive Omexo.
Of course, you can also announce new learning programs, video conferences (Zoom), and events. Feast your eyes on this list!
Moreover, Omexo allows you to design transparent instructor and student dashboards.
BIG. DEAL.
Plus, various payment methods are just the cherry on top!
Omexo features:
450+ sales
4.9+ star ratings
Course assignments
Effortless monetization
Price: $29 (may vary)
MORE INFO / DOWNLOAD
DEMO
What To Look In An (Online) Language School Website?
Understanding some key characteristics a good language school needs to have is important.
This will allow you to enjoy a lot more success by welcoming on board tons of students.
This is why I also keept these seven features of a top-class website in mind when reviewing these themes.
Remember, each WordPress theme comes with a set of unique features, but the collection above covers everything for your convenience.
How I Picked The Best Language School WordPress themes:
Responsive design: I first do an extensive responsive test manually and with tools like Google's Mobile-Friendly Test. You need to offer a 100% mobile-optimized website to let students study even when they're on the go.
Fast loading: And because mobile users like fast websites, your website needs to be lightweight to guarantee the ultimate experience. While site speed also depends on your web hosting, it's also important to pick the right theme and not stuff it with too many plugins. You can also read our tutorial on how to choose a fast WordPress theme – the right way!
Aplication/membership form: You obviously need to have an online application form available so potential students can register without calling your or sending you an email. And if you offer online courses, then a membership area is a must. You can also check the best WordPress membership plugins that unlock endless functionality.
Online courses: Some themes come with a built-in online course creator but you can also use a 3rd-party tool. Either way, create an awesome eLearning experience that's rich with content, even gamification! (You can offer grades and certificates to make it more exciting.)
Class timetable(s): Create a special section that'll have a class timetable always available, so no one can miss one of your epic language classes.
Grading & certificates: I already mentioned this, but any sort of gamification, if offering online courses, is a BIG plus. It just makes the entire learning process a lot more engaging. And because of grades and certificates, a student will more likely complete it – and complete it GOOD.
Pricing: Of course, don't forget about adding pricing. You can also offer online payments or do offline payments; that's entirely up to you.
Plus, a contact section, great support, social media and a language blog are all the extra goodies that will make your website THE BEST.
You now have everything you need to start like a pro, even without coding and design experience.
Spread the language learning HYPE!
::
Note: This article was originally published on November 22, 2022. But our team regularly reviews it and updates it with necessary improvements for accuracy.