Are you searching the web for the best and most reliable pet shop WordPress themes?
I recently helped my friend, Maria, work on her online animal shop, which she wanted to run on WordPress and WooCommerce.
Thus, I reviewed 27 themes, allowing me to find the ULTIMATE for her project (we used Pawsitive).
But I also came across ten more epic tools, which I decided to share with you.
The final selection of eleven WordPress themes offers everything you need to start an eCommerce pet website quickly and easily.
How I Tested & Reviewed The Best Pet Store WordPress Theme
Because I wanted to find the ultimate theme for Maria, I spent many hours analyzing and studying the mentioned 27 themes.
First, I reviewed every theme's user feedback (are they satisfied?), checked ratings and how frequently it's updated.
Second, I wanted to ensure the theme contains thorough documentation and a friendly support team. (Maria told me she wants access to both because it'll make her feel calmer.)
Third, I did more testing and reviewing individually by installing the final fifteen themes on ULTIDA's demo website. (Yup, the others failed to perform well just by going through the first and second steps.)
Further testing included:
Checking how easy it is to install the theme & demo content (you'll learn how to install a WordPress theme through this easy guide if you've never done it before).
Going through the theme interface (is it beginner friendly?).
Testing the theme for speed (Pingdom Tools) & responsiveness (Google Mobile-Friendly Tool). You can also check Ales's tutorial on choosing a fast WordPress theme.
I also compared the actual features & functions with the ones in the official ThemeForest description.
QUICK-PICK: Best WP Themes For Pet Shops
Best Animal & Pet Shop WordPress Themes
1. Pawsitive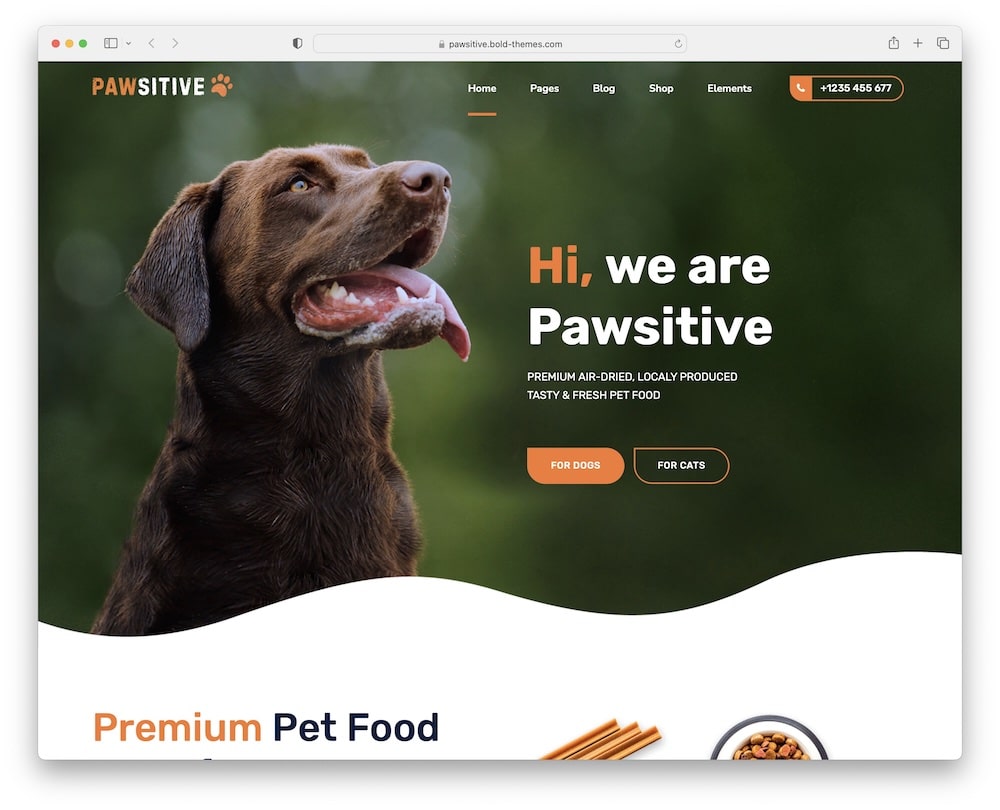 Create an animal lovers' paradise with the CUTE Pawsitive pet store WordPress theme.
You can adjust and change pre-made demos without coding knowledge with an easy-to-use drag & drop builder. Yup, be your own boss!
Pro tip: Adorable pet pictures make everything better, even a website (so add them – preferably such you create, not stock!).
Moreover, responsive Pawsitive includes handy documentation and professional customer support if you come across any dilemmas. (← A hard fact based on my opinion and perspective.)
Also, you can set up Google Maps for the exact location of your store. So helpful!
And let me just say this: I really like built-in animations – I think you will like them too.
Pawsitive features:
MORE INFO / DOWNLOAD
DEMO
2. Grooming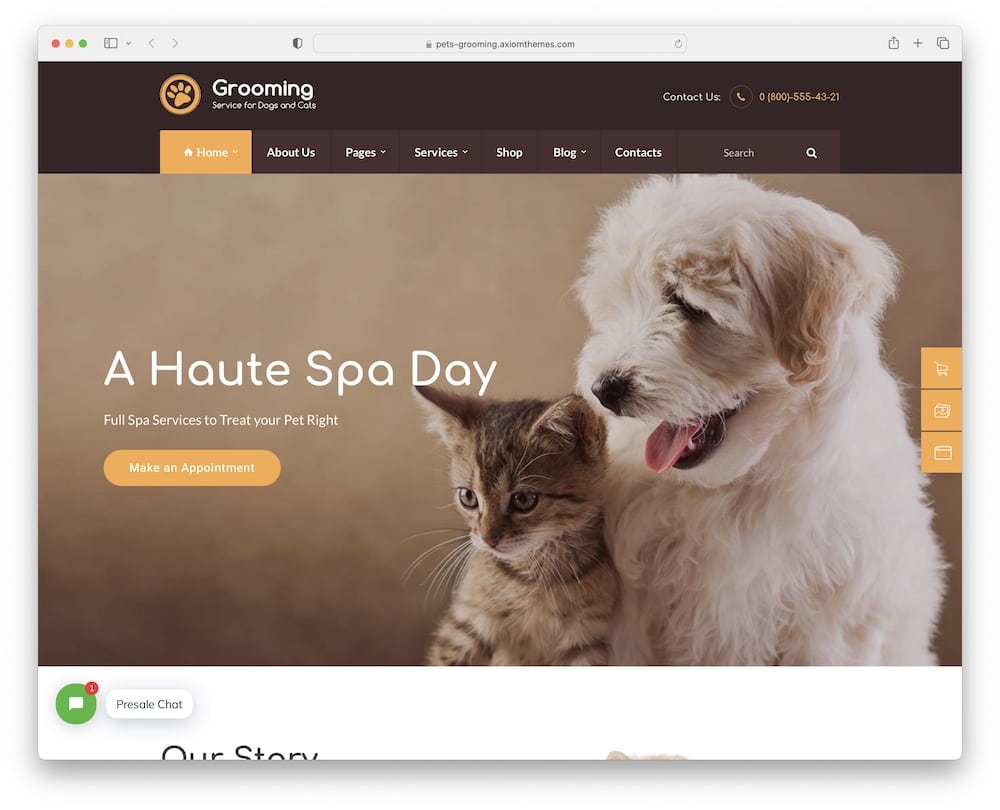 Provide your customers with top-quality products and excellent services for their fuzzy pets.
You can START customizing your Grooming pet store WordPress theme with a one-click demo installation.
Choose from unlimited colors and fonts; plus, a bundle of widgets and shortcodes to add features easily.
Thumps up!
Besides, brilliant Slider Revolution offers eye-grabbing sliders to stand out and WOW your customers. Because who doesn't enjoy watching cute and fluffy animals?!
Grooming is also SEO optimized to help you increase organic traffic by improving your ranking on the most popular search engines. You will reap "yummy" rewards.
Life is better with Grooming!
Grooming features:
MORE INFO / DOWNLOAD
DEMO
3. Pet World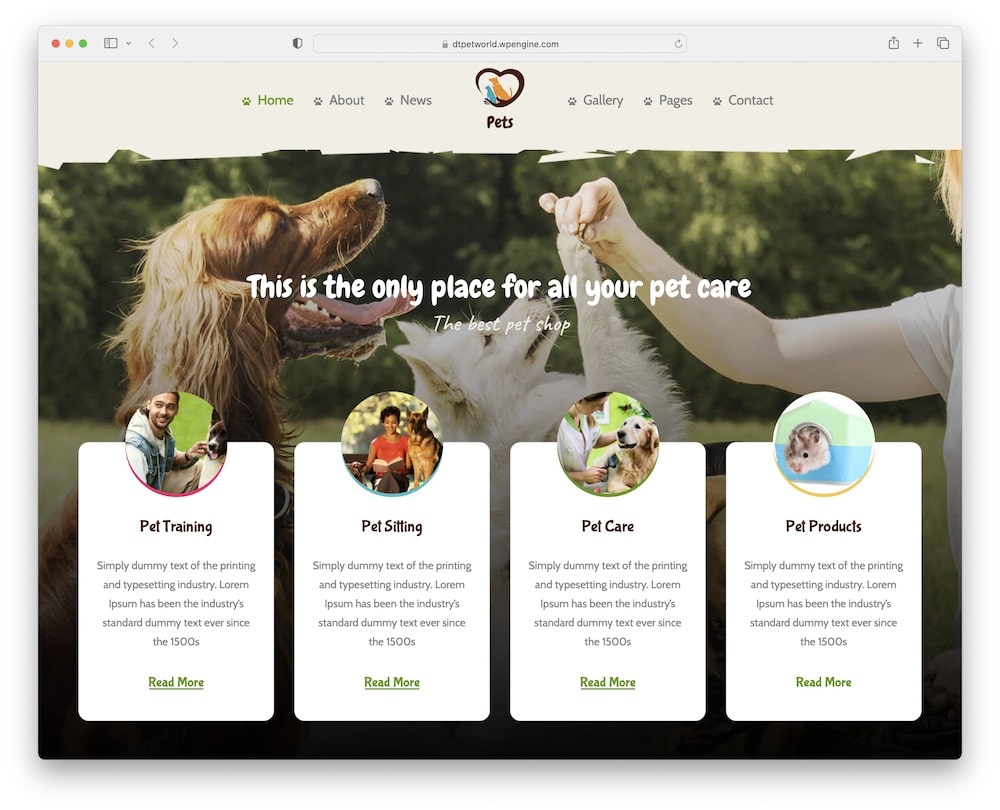 Enter a new dimension in animal care with the Pet World pet store WordPress theme. SO pretty to look at!
Choose one of four ready-to-use homepages and start your new online store today. Pet World is built with beautiful details, the most popular plugins and optimized for a fantastic user experience.
You can create an online store with COOL products, unique accessories, and quality food via WooCommerce. Upload your content and pictures and go live immediately.
YES, it's so simple!
You can even start your blog by sharing advice, tricks, and how-tos. Valuable writing can be promoted on social media, reaching a wider audience and getting more loyal customers. (You can easily add social share buttons in WordPress if you want.)
I love it, too.
Pet better with Pet World!
Pet World features:
630+ sales
4.9+ star ratings
Multiple practical inner pages
Boost navigability with mega menu
Price: $59 (may vary)
MORE INFO / DOWNLOAD
DEMO
4. Pets Club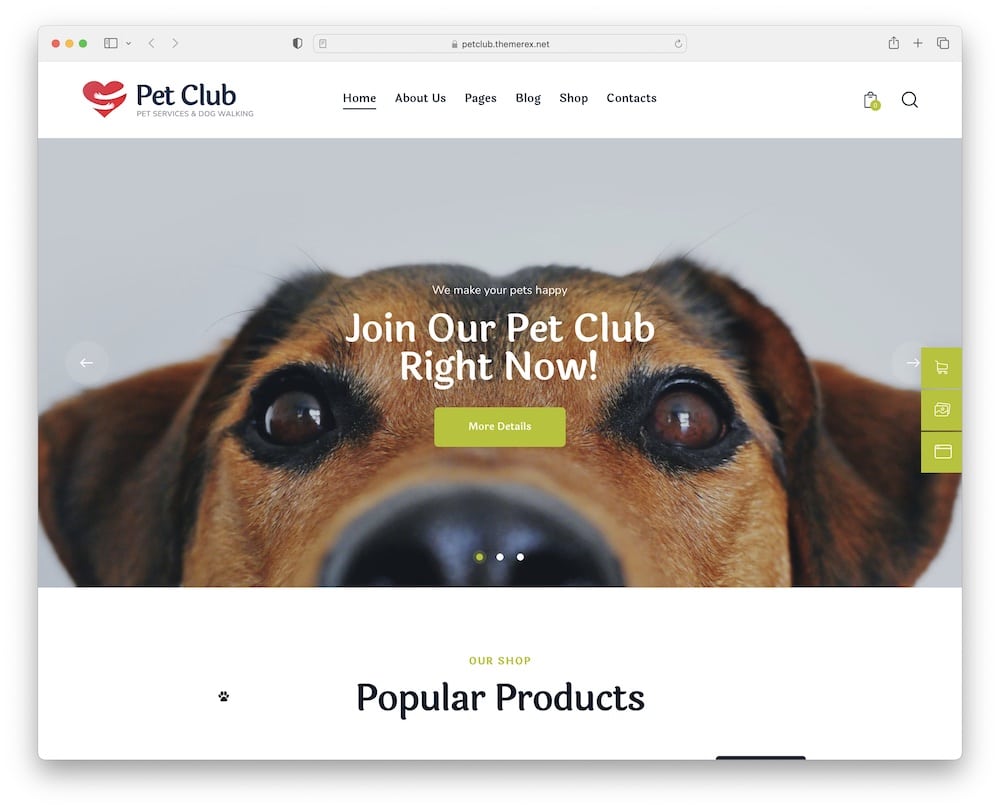 Build the number ONE pet store in your town or even go global with (your choice) stylish Pets Club.
This powerful pet shop theme is flexible and fully customizable. Simply choose your favorite colors, typography, icons, animations, and more.
You can do it all with Elementor page builder!
From adjusting the pre-made header and footer to match the menu and layouts. My favorite way to roll.
What more could you even want? OH, OH, I KNOW!
Pets Club offers professional and kind customer support with fast service. And you get FREE lifetime updates!
Grab Pets Club, and YOU ARE IN BUSINESS.
Pets Club features:
620+ sales
4.5+ star ratings
Built-in Ajax live search
Integrated cookie plugin
Price: $69 (may vary)
MORE INFO / DOWNLOAD
DEMO
5. PawFriends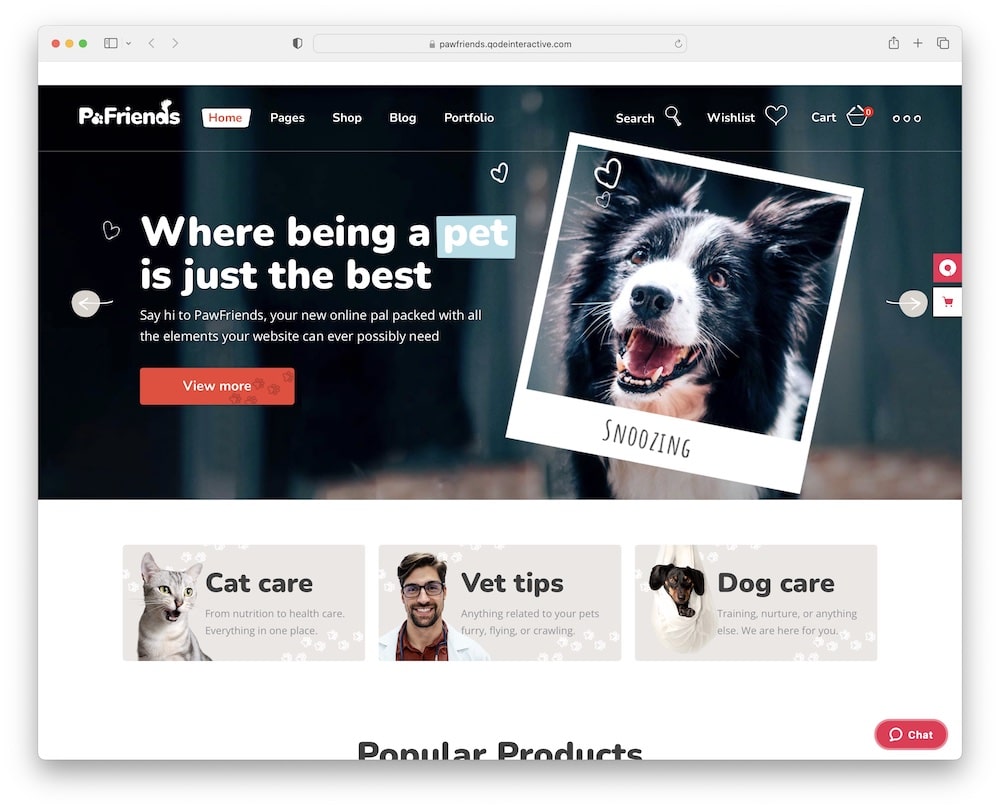 If you love pets, you'll love PawFriends pet store WordPress theme!
PawFriends is a modern and stylish theme with six beautifully designed homepages (ready to use out of the box).
Pet approved. (My dog, Stela, loves it!)
Moreover, AWSOME tools such as WPBakery page builder, Slider Revolution and WooCommerce are great creative benefits. You can also make a professional portfolio and start a convenient blog.
And I can personally confirm: Smooth scroll is super satisfying for visitors!
Of course, you can also fully adjust the pre-made header, background images, mega menu, and the WP sidebar. Keep calm; design or coding skills aren't required.
Grab your cozy clothes, and let's get into customizing PawFriends!
PawFriends features:
450+ sales
5-star rating
Parallax theme effect
Instagram & Twitter widgets
Price: $79 (may vary)
MORE INFO / DOWNLOAD
DEMO
6. Petio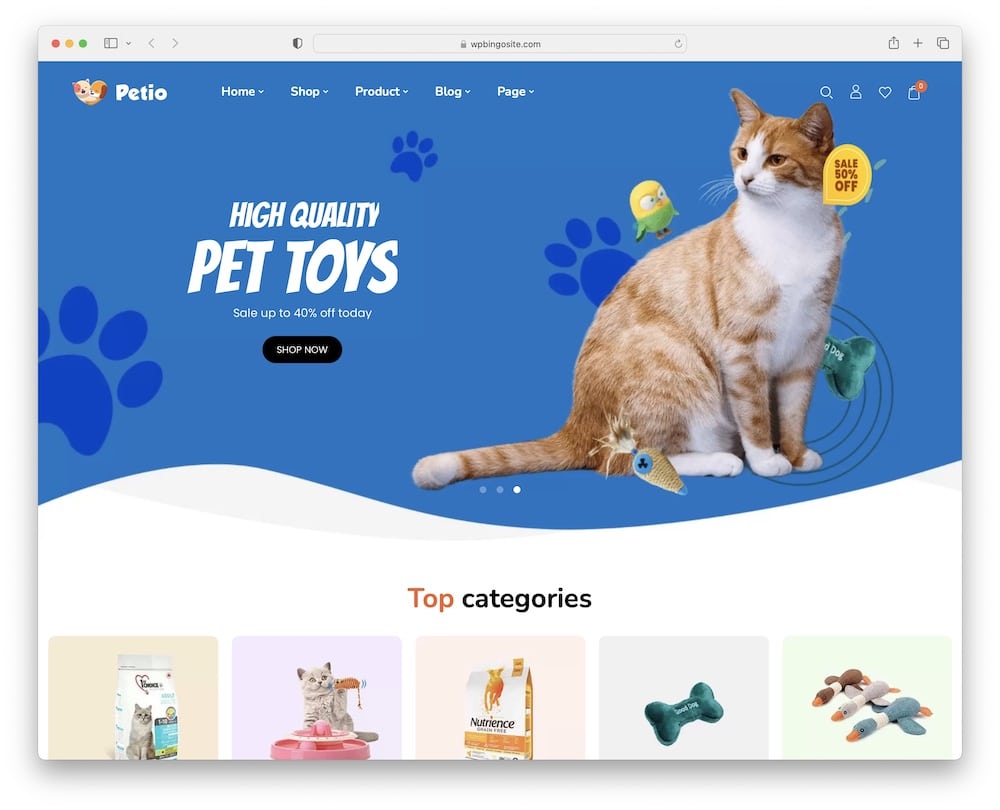 You, Petio, and the animals.
This furry pet store WordPress theme includes gorgeous demos (one-click install), product page layouts, fun animations, and a bundle of shortcodes.
Oh, I also have to mention: Really smart header and footer choices are available in the Petio bundle.
Making a website just couldn't be easier with Elementor. Aha, say HELLO to your new best friend!
Besides, with Ajax technology, you can present your products in the best way possible. You can use quick view, unlimited filters (color, size, price), 360-degree product view, lazy load, and much more.
BTW: Create exciting content and share the most adorable pictures via social media accounts to promote your dynamic business.
Remember, if animals could talk, they'd talk about Petio!
Petio features:
630+ sales
4.9+ star ratings
Multi-currency support
Product boosting to BOOST sales
Price: $59 (may vary)
MORE INFO / DOWNLOAD
DEMO
7. PetMania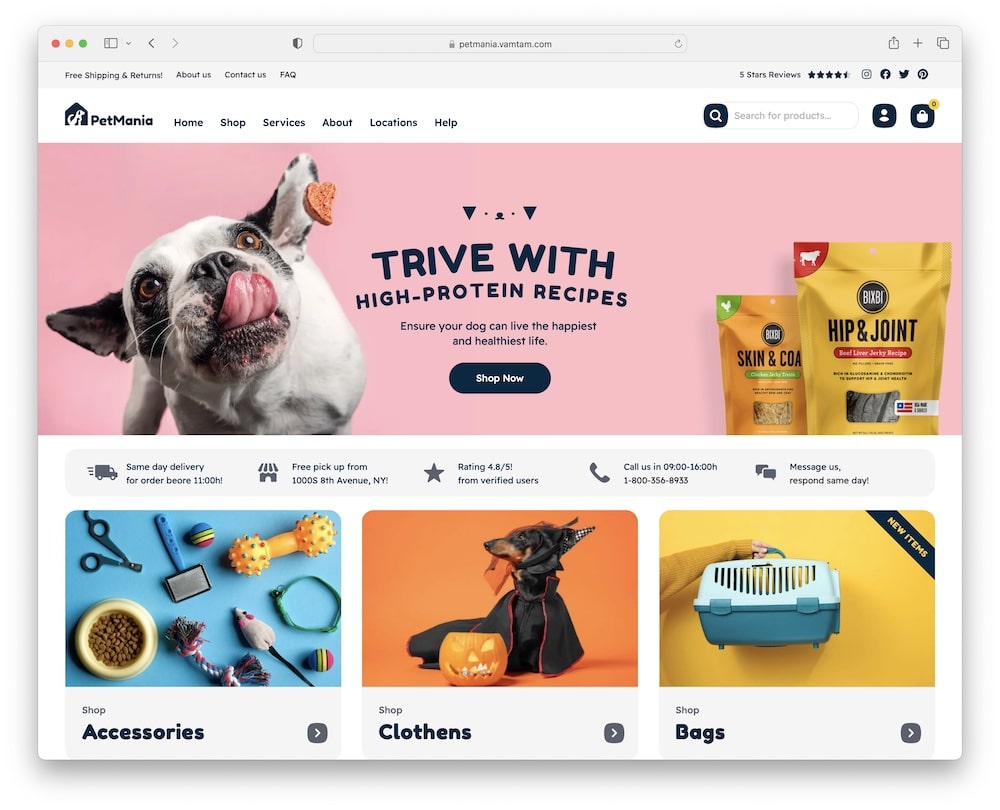 I mean, PetMania WooCommerce pet shop theme, I give you capital G to the gorgeous!
Next-level inner pages come in a HUGE bundle to perfectly tell the story of your brand and products. Plus, crafted icons (bones, paws, leash, bowl, etc.) are stunning.
Oh, and you get $290 stock images included for FREE. Pup, pup, hooray!
Moreover, everything you see can be customized by drag-n-drop motion. So don't worry; you can change the header and footer, adjust the mega menu, arrange slides, and set up popups on your WP site.
Also, WooCommerce is amazing to work with (beginners dream). Adding and editing products, updating stock, tracking orders, and carrying out transactions is trouble-free.
Have complete PetMania freedom and total control over your store!
PetMania features:
200+ sales
5-star rating
It's easy to enable RTL in WordPress with PetMania
20+ video tutorials (so everyone can build a page easily & quickly)
Price: $89 (may vary)
MORE INFO / DOWNLOAD
DEMO
8. Ziggy

Got treats? Ziggy pet store WordPress theme does!
This cute theme was created for pet shops, animal food stores, and pet accessory boutiques. You just cannot stop yourself from loving it.
Good news: You don't get only one ready-to-use demo but can choose from seven beautifully designed homepages. Extra.
Plus, you get to showcase your products with multiple stylish layouts. I also love the best-selling product exposure so that you can immediately point out THE BEST products to your visitors.
OH, and testimonials! Remember, comments and feedback from your loyal customers are GOLD.
Furthermore, Ziggy is optimized for the coolest online experience. Speed, SEO, responsive design, and mobile-friendly optimization. No further discussion necessary.
Ziggy features:
220+ sales
5-star ratings
Discounts & hot deals
Display best-selling products
Price: $49 (may vary)
MORE INFO / DOWNLOAD
DEMO
9. Valkuta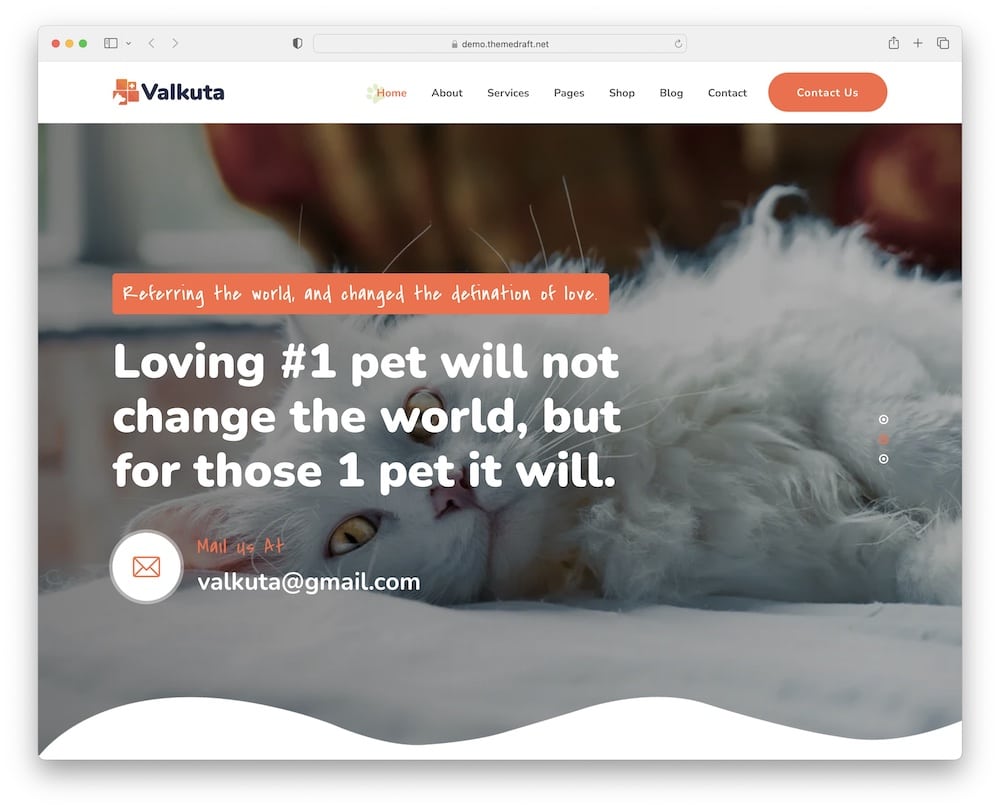 Purr-fect Valkuta pet store theme will pamper you with a one-click demo installation, numerous inner pages, the most popular plugins, and handy widgets.
Valkuta comes with a clean design, responsive layouts and is cross-browser compatible (Edge, Firefox, Safari, Chrome – all modern browsers are WELCOME).
Moreover, you get (!) step-by-step documentation, professional customer support, and even a child theme.
I mean, come on!
Oh, and check out brilliant MailChimp. This all-in-one marketing tool is easy to work with and helps you to send better emails from the start. (It will also save you money.)
Pull this all together, and you've got an A+ website!
Valkuta features:
240+ sales
4.9+ star ratings
25+ custom Elementor widgets
Integrated Codestar Option Framework (for free)
Price: $59 (may vary)
MORE INFO / DOWNLOAD
DEMO
10. Ricky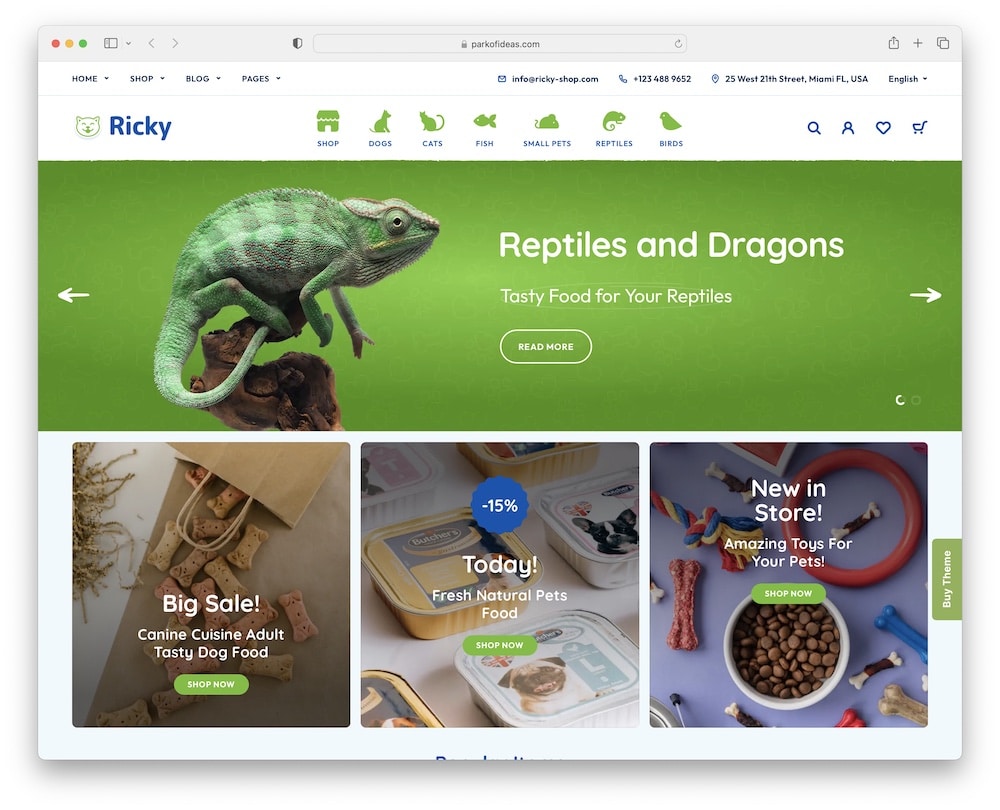 Animals come first with the modern Ricky pet store WordPress theme!
Some of the treats you will get are trendy design, handy plugins, high-converting shop pages, and regular updates.
Ricky doesn't require any experience, yet it can be easily customized even by a beginner.
Remember, you can drag and drop elements into the right place (live editing) with the Elementor builder.
I know. See it and weep with joy!
Furthermore, Ajax technology includes various features for the AWSOME user experience. From live search, video gallery, quick view, wishlist, and more. Life changing.
Plus, Ricky is translation ready, meaning you don't have any limitations. Just choose the desired language, and voilà. You can also use it as a multilingual WordPress theme.
Ricky features:
MORE INFO / DOWNLOAD
DEMO
11. Peto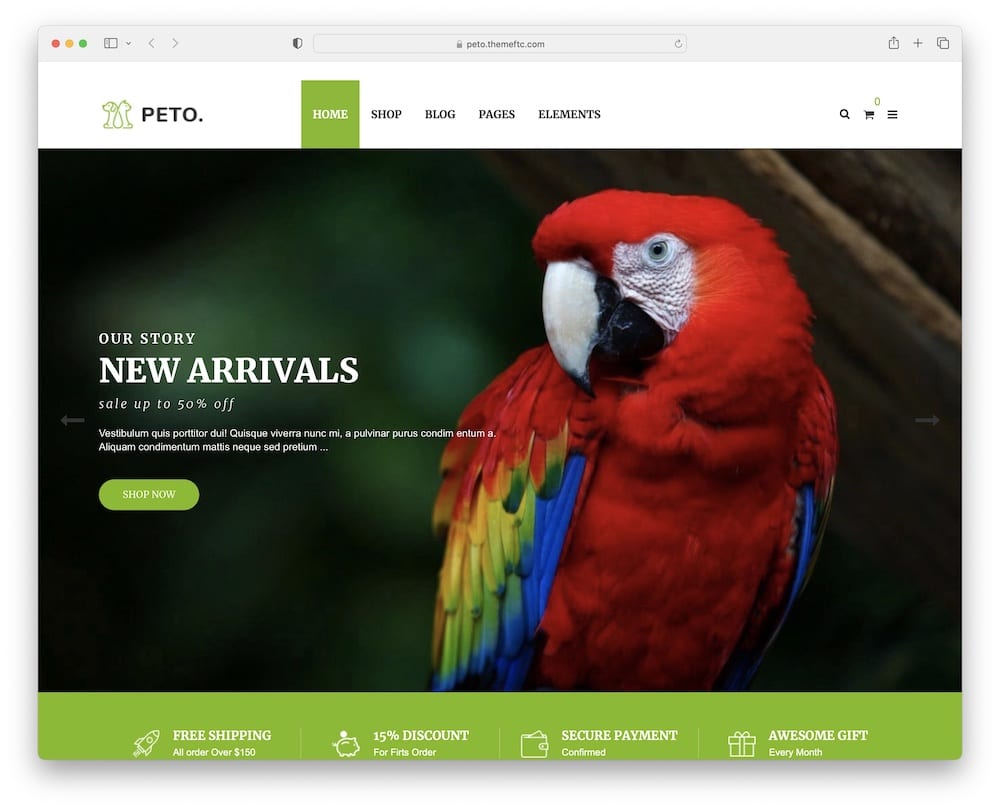 Bigger. Better. Cuter. Peto animal and pet shop WordPress theme.
Become a proud owner of a beautiful website and start building your business today.
Check out the bundle of ready-to-use demos and decide which suits your brand best. In my opinion, they are all stunning, and THE BEST part is that you can customize them to your needs.
You can build an eye-grabbing look for your site with Gutenberg or WPBakery page builder (yes, you lucky human, you can work with both).
Plus, Slider Revolution is an awesome addition to the homepage design with its brilliant effects, animations, and carousels.
BTW: Newsletter popup is a great way to get new subscriptions to your daily or monthly newsletters, advertising, and discount promotions. Happy bark!
Peto features:
MORE INFO / DOWNLOAD
DEMO
::
Note: This article was originally published on May 7, 2023. But our team regularly reviews it and updates it with necessary improvements for accuracy.