Are you searching the web for the best elderly care WordPress themes?
I recently worked on a few senior-related projects for local communities, where I tested multiple WordPress themes.
And today, I'm EXCITED to share with you my ultimate collection.
These versatile designs work for nursing homes, assisted living facilities or even private home care agencies.
This post covers:
Note: Creating and running a professional website is essential to attract new clients and establishing credibility in the caregiving industry.
Luckily, you can easily create the ideal website that meets your specific needs by using any theme from the list below. But I like Senior the most.
QUICK-PICK: Best WP Themes For Elderly Care
Starting with a theme is simple, but here's how to install a WordPress theme if you're a first-timer.
Best Elderly Care WordPress Themes
1. Senior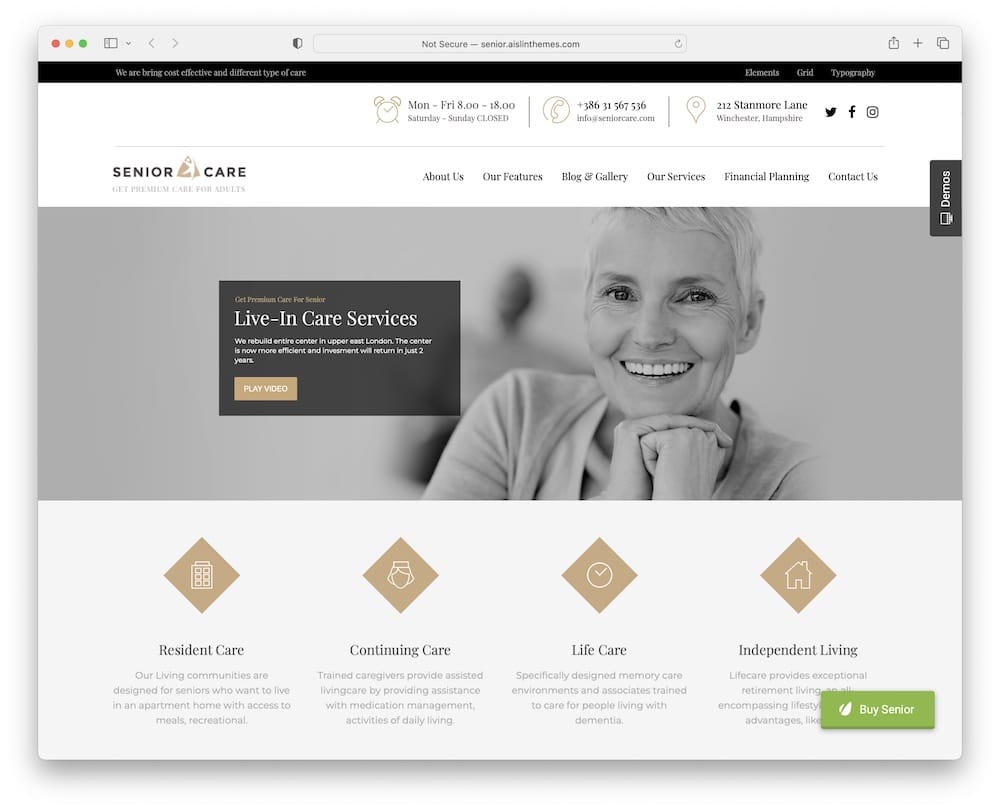 The modernly designed Senior WordPress theme is perfect for showcasing personalized care plans, assisting programs, or convenient amenities in nursing homes.
Due to the AMAZING WPBakery page builder, you can create, rearrange, and style your website (as you wish!).
Yup, Senior is packed with eeeeeeverything you need!
Moreover, Senior is fully responsive and retina ready for a great user experience. Plus, pre-made demos include FREE updates and (of course) friendly customer support.
Plus, the smart icons designed especially for medical and health purposes are awesome!
And the best part? You can use the blog to publish connective and educational content and share news, stories, and healthy lifestlye.
Senior features:
1,690+ sales
4.6+ star ratings
Ultimate Addons for WPBakery
Custom shortcodes & widgets
Price: $59 (may vary)
MORE INFO / DOWNLOAD
DEMO
2. KindlyCare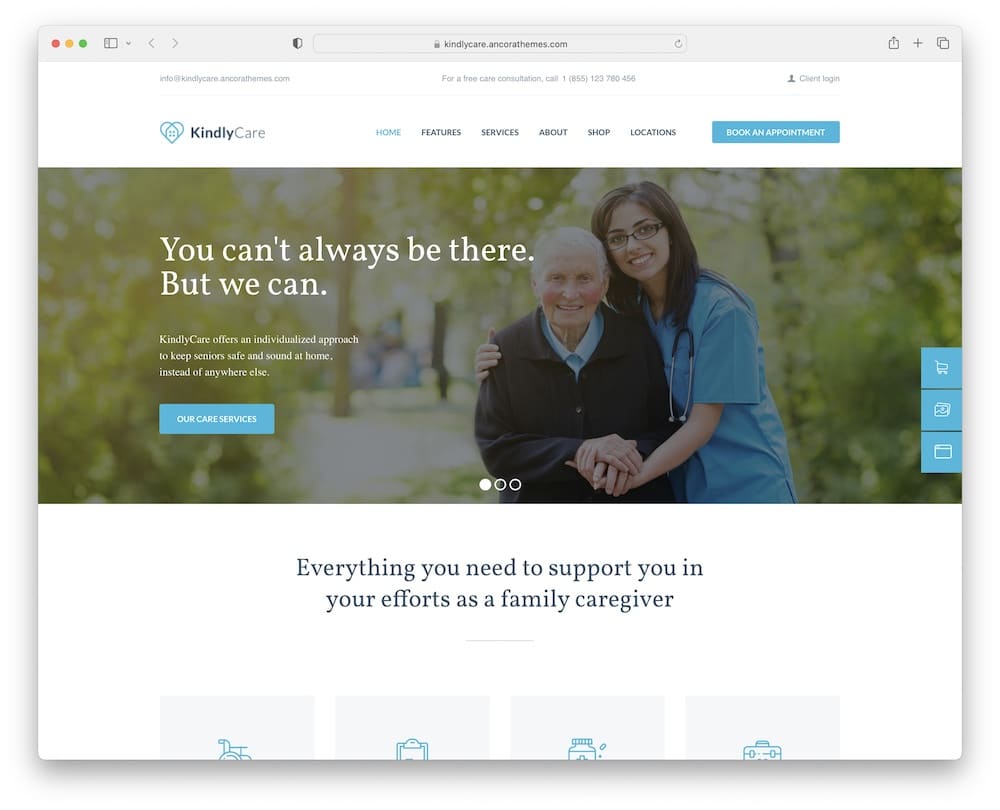 Enrich the lives of seniors with the professional KindlyCare caregiving WordPress theme!
KindlyCare comes with the most popular solutions, such as fast online appointment booking, calendar, contact forms, beautiful gallery layouts, and Google Maps (location display is super important!).
You can even build an online store via WooCommerce featuring medical and care products for seniors. KindlyCare is also compatible with Slider Revolution for attractive slideshows – aha, WOW visuals guaranteed!
Moreover, KindlyCare offers detailed documentation for easier customization and understanding of what theme does and does not support. BIG. DEAL.
And trust me, social media is something every business needs. Connect your accounts to handy "follow us" icons on the bottom of your site (footer section). (Check out this tutorial to learn how to add social share buttons in WordPress.
Thumbs up!
KindlyCare features:
MORE INFO / DOWNLOAD
DEMO
3. Etalon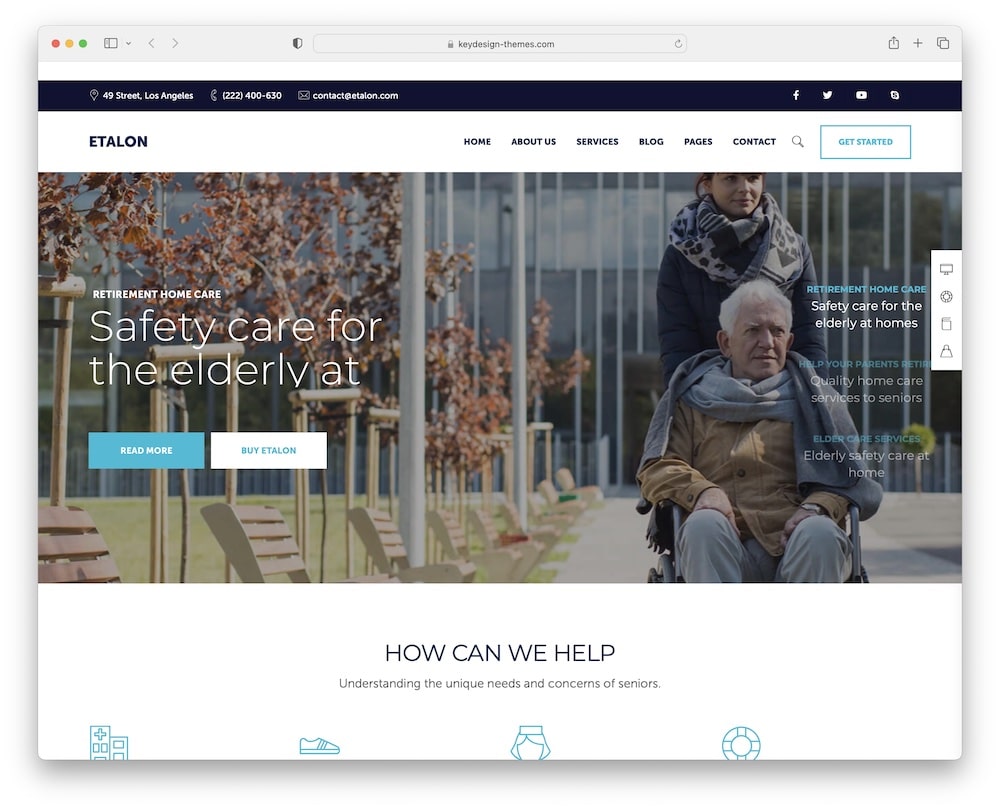 If seniors are your priority, you have come to the right place. Check out the stylish Etalon elderly care WordPress theme.
Etalon's ready-to-use demo material is easy to customize to all your needs. It includes fantastic attributes such as portfolio layouts, a beautiful photo gallery, a transparent opening hours design, and a brilliant popup contact form.
I also LOVE flexible color & rich typography options.
Of course, you can add a testimonial carousel and showcase your client's recommendations. Because who doesn't want to know how real customers experience your services? I for sure do!
Moreover, Etalon is optimized for fast speed and responsive web design. Yup, your site will be viewed on every screen as pretty as a picture!
Etalon features:
2,700+ sales
4.6+ star ratings
Business opening hours & service tabs
Integrated pricing tables (or use a WP pricing table plugin if you need more features)
Price: $59 (may vary)
MORE INFO / DOWNLOAD
DEMO
4. Saveo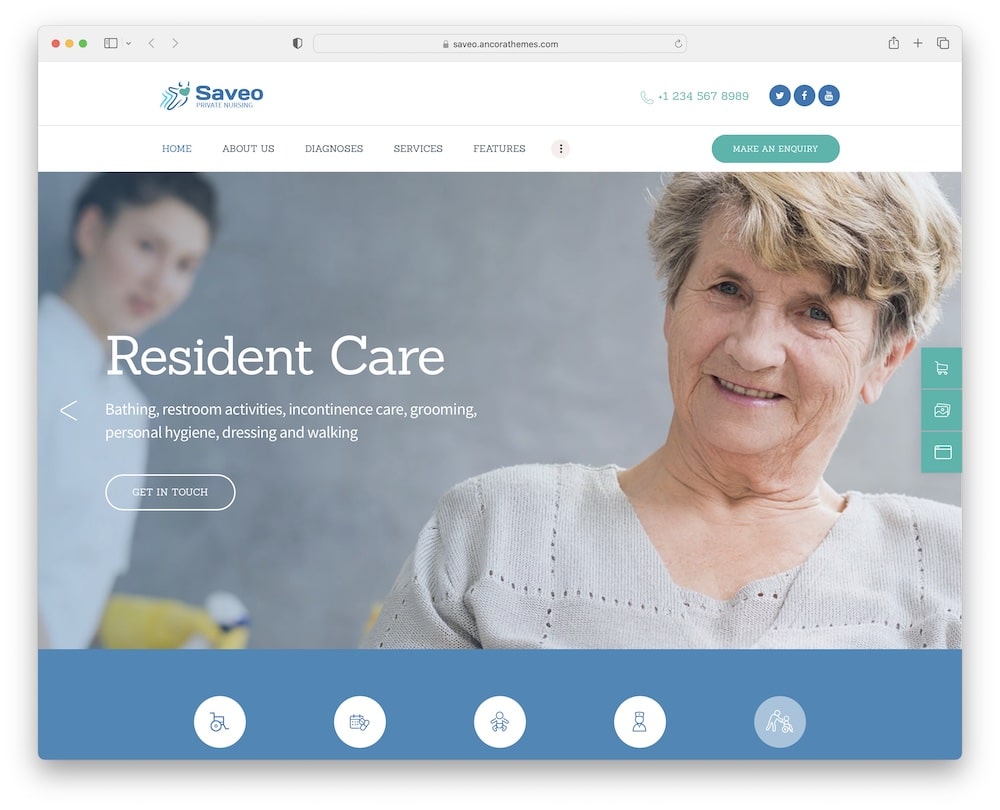 As with wine, life gets better with age and the stunning Saveo elderly care WordPress theme.
Saveo is an elegant and professionally looking tool that goes hand in hand with health and care centers. Besides, it is simple to import and customize.
Feeling brave?
You can change, add, adjust, or delete pre-made elements and build your website as you always dreamed due to the drag & drop page builder (NO coding knowledge needed).
Yay, you are brave!
Furthermore, Saveo includes FREE lifetime updates and top-notch customer service to help you if you encounter any dilemmas. I know you are going to LOVE it.
Make the most of Saveo!
Saveo features:
700+ sales
4.8+ star ratings
Single-click demo data import
Allows you to create a mega menu
Price: $69 (may vary)
MORE INFO / DOWNLOAD
DEMO
5. Old Haven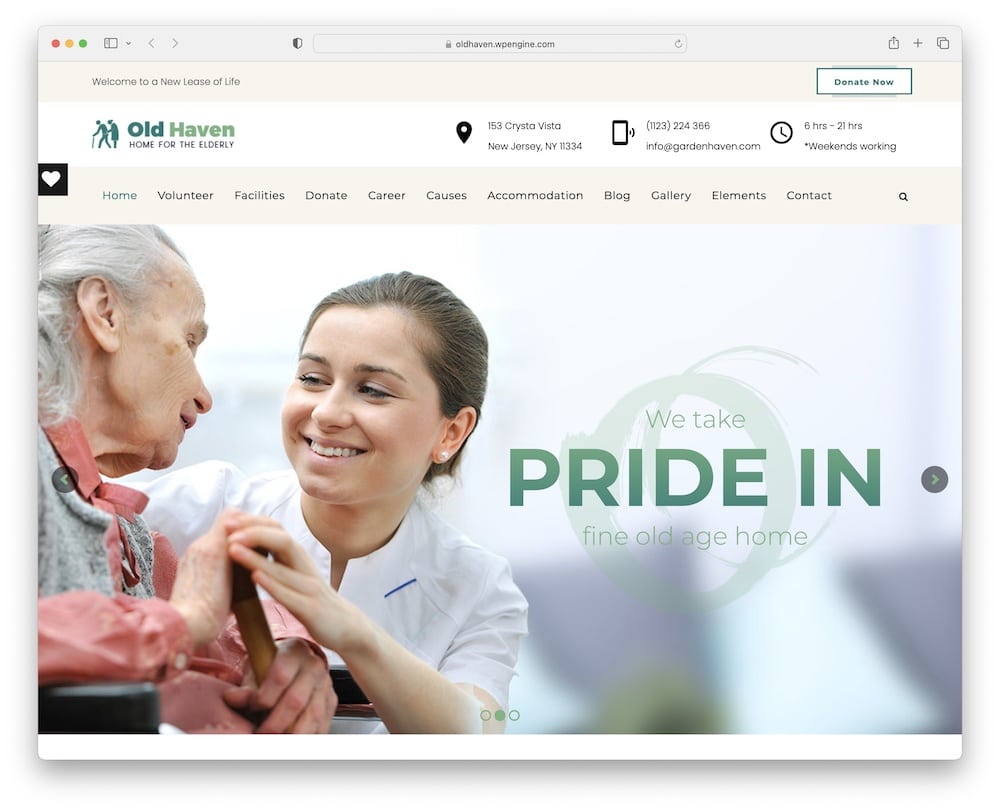 Growing old is inevitable, and senior caregiving services like yours are as if sent by God.
Passionately manage, organize and present your calling with Old Haven WordPress theme. It's beautiful.
And best of all, you can get started immediately!
The pre-made demo includes unique inner pages, handcrafted elements, blog layouts, and portfolio styles. Aha, just pick the right look and kick it off.
Moreover, with WooCommerce, you can build your online store and sell popular products for seniors. Or coordinate events for charity, display causes and raise funds with the included donation plugin.
The options are endless.
And you can even change the overall view of the site with an eye-catching header. Authenticity guaranteed!
Old Haven features:
610+ sales
5-star rating
Custom niche-specific elements
Stunning WP lightbox functionality for videos
Price: $69 (may vary)
MORE INFO / DOWNLOAD
DEMO
6. Lovecare

With the brilliant Lovecara elderly caregiving WordPress theme, age will be a work of art.
Make a success of your handy services with Lovecare's stunning design and user-friendly solutions. Yes, you get everything you need for quick and simple construction.
Remember, you can adjust, mix, match or add everything you imagined to have on your site with Elementor page builder.
In fact, you can share personal stories, organize and display events, accept donations, and focus on providing valuable content via blog.
Additionally, you can improve visitors' navigation experience with a brilliant menu (easy to work with), plus make sure you can be contacted effortlessly (Hi, Contact Form 7)!
Ready?
Lovecare features:
MORE INFO / DOWNLOAD
DEMO
7. PathWell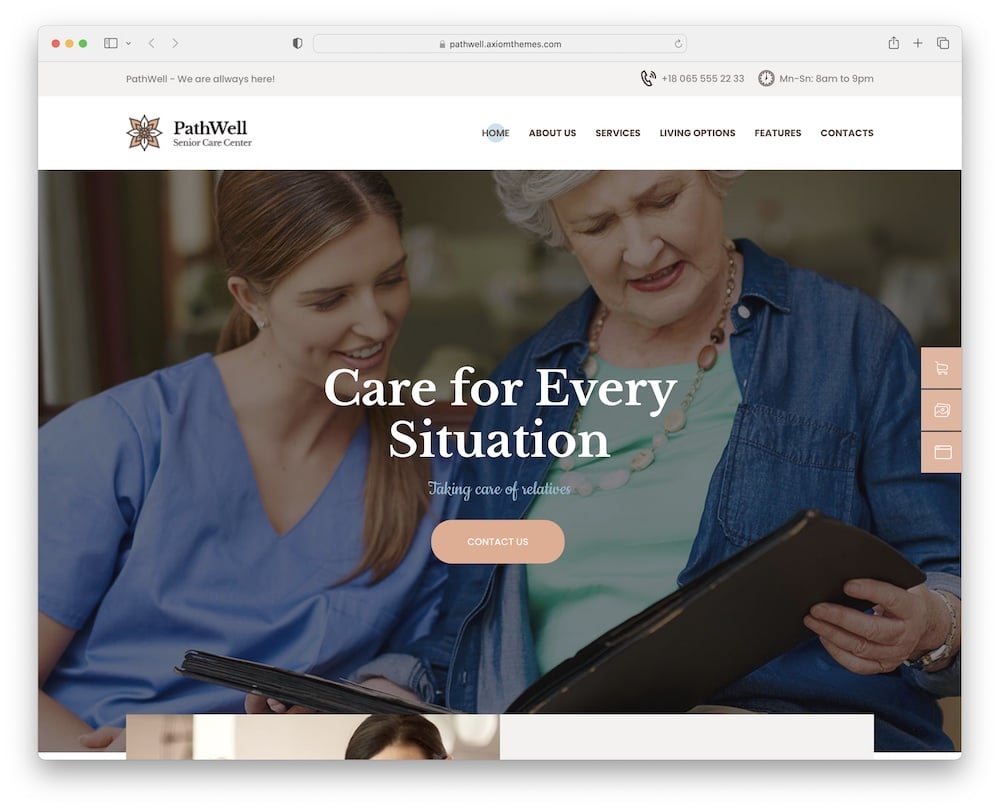 Old age is way more pleasant when you have a reliable caregiver.
Establish a fulfilling aging lifestyle by promoting graceful senior care with the modern PathWell elderly care WordPress theme. SO tastefully and carefully thought out.
All it takes to start is a one-click installation of a pre-made demo!
Of course, you don't begin from scratch but from a pre-existing (fully functional) structure. It's like a game of adding and taking.
Besides, you don't have to know anything about coding due to the brilliant drag-and-drop motion.
Pretty COOL, right?
Furthermore, PathWell comes SEO optimized and cross-browser compatible (Firefox, Safari, Chrome … all different, all equal). I'm also a big fan of the parallax theme effect!
PathWell features:
370+ sales
4.8+ star ratings
Extensive admin interface
Practical Ajax search
Price: $69 (may vary)
MORE INFO / DOWNLOAD
DEMO
8. OakTrix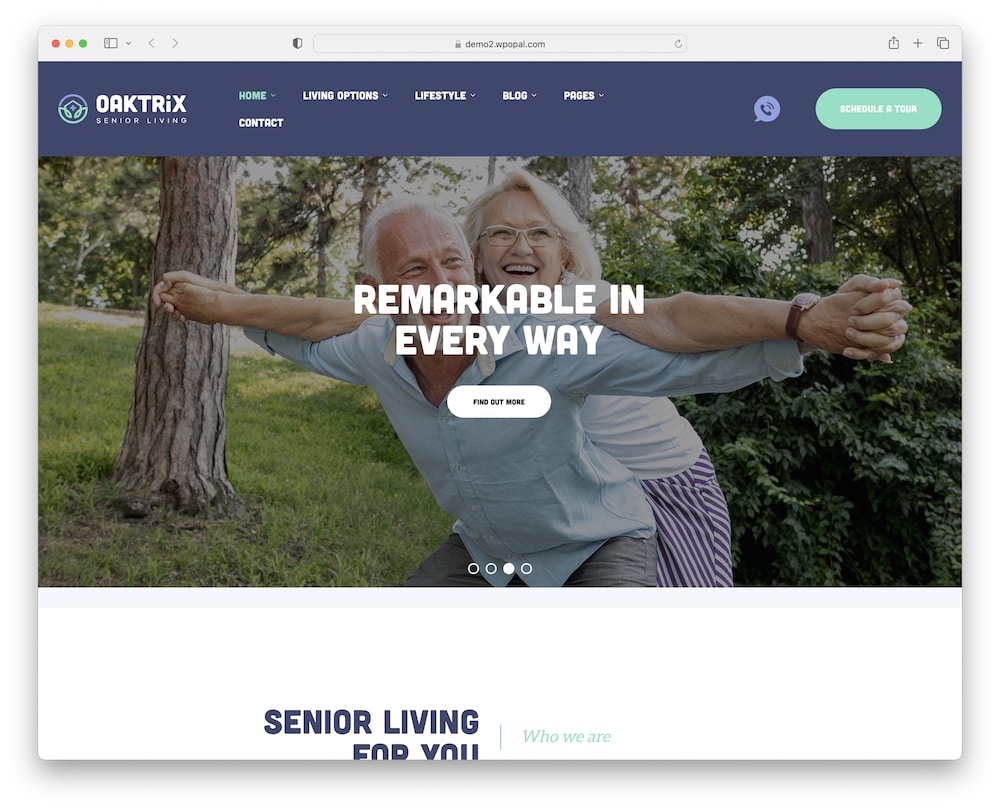 Bring happiness and an assured future with attractive OakTrix senior care theme.
OakTrix was created for assisted living, nursing homes, elderly care, and health programs. It includes four modern demos and a bundle of the most popular plugins.
OH, and you can always count on responsive and retina-ready OakTrix to bring the best user experience to your visitors! Plus, it's optimized for fast page load (I love it!).
Moreover, you can start a blog by sharing stories, tips, and tricks about caregiving.
I also recommend using MailChimp for brilliantly designed emails – it's the best all-in-one marketing tool in my opinion!
Care about others with OakTrix.
OakTrix features:
170+ sales
5-star rating
Various layouts for senior living lifestyles
Career & events sections
Price: $49 (may vary)
MORE INFO / DOWNLOAD
DEMO
9. WellPress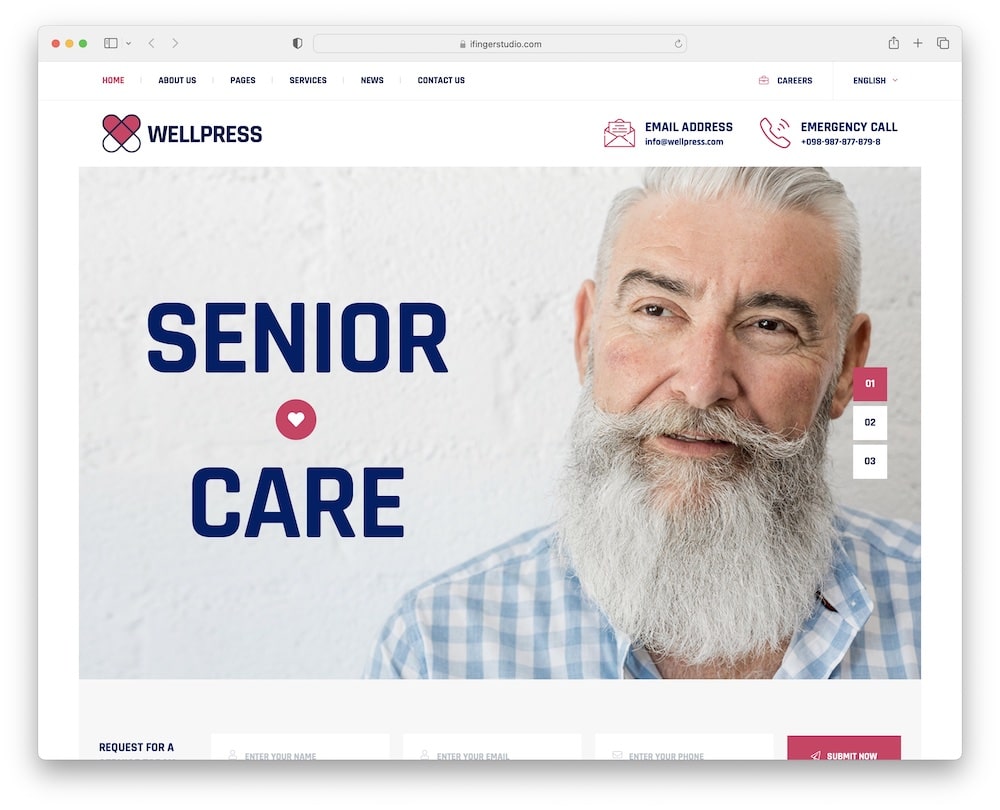 Discover a HUGE collection of designs, elements, and tools included in the stunning WellPress elderly care WordPress theme.
You can use pre-made blocks and handy pages such as about us, services, news, and quick contact info. Also, you can connect WellPress with your social media accounts and let your visitors know where you are present.
I like it!
Moreover, you can modify the header and footer as you wish. Plus, adjust the menu to serve as a PRACTICAL navigation through your website (a user experience booster).
I have to say (!) extensive documentation and professional customer support are SUPER welcomed additions!
Remember, it is never too late to discover something like WellPress. High-five!
WellPress features:
80+ sales
5-star rating
3 homes, 3 headers & 2 footers
Enable/disable preloader
Price: $59 (may vary)
MORE INFO / DOWNLOAD
DEMO
10. Onilife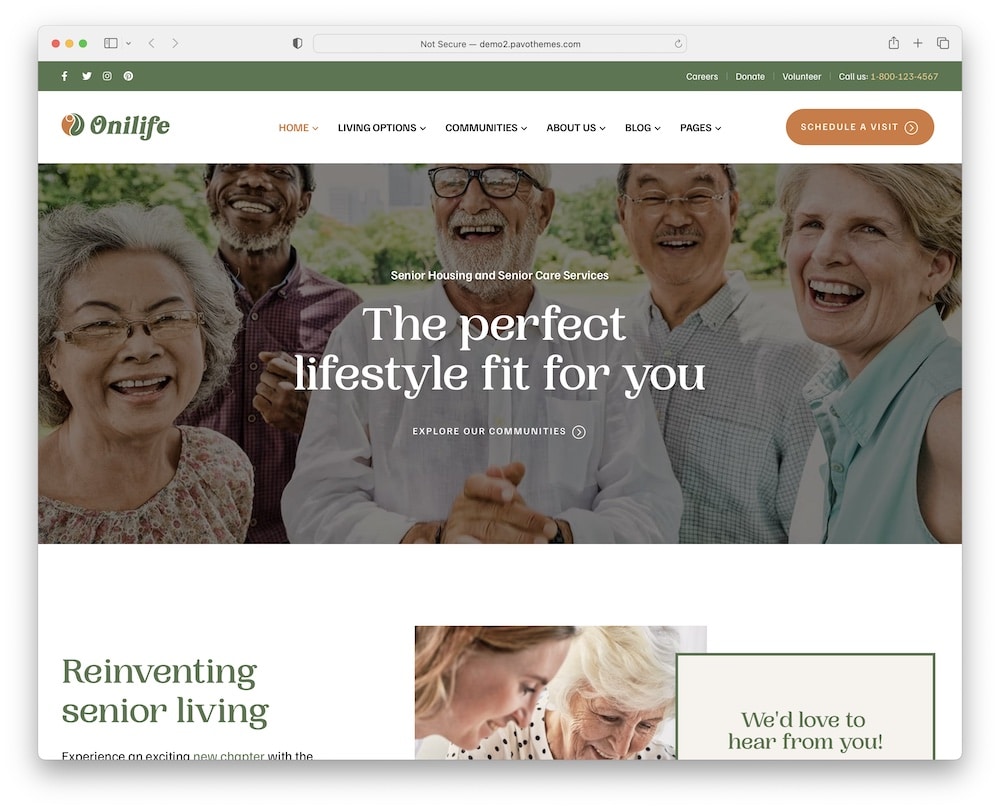 The best is yet to come with efficient Onilife elderly care WordPress theme.
Onilife was created for senior services and can be easily customized even by those without coding or design skills.
Pretty COOL, right?
First of all, choose one of the ready-to-use demos and insert your content, pictures, and important information. Via schedule a visit form (a great tool for relatives), you will surely catch attention!
Besides, you can present your services beautifully (pre-made blocks) and display wonderful testimonials of your clients directly on your homepage.
Without further ado, let's step right in.
Onilife features:
60+ sales
4.5+ star ratings
Multiple ready-to-use functional pages
Translate & enable RTL mode in WP effortlessly
Price: $48 (may vary)
MORE INFO / DOWNLOAD
DEMO
11. Odhomz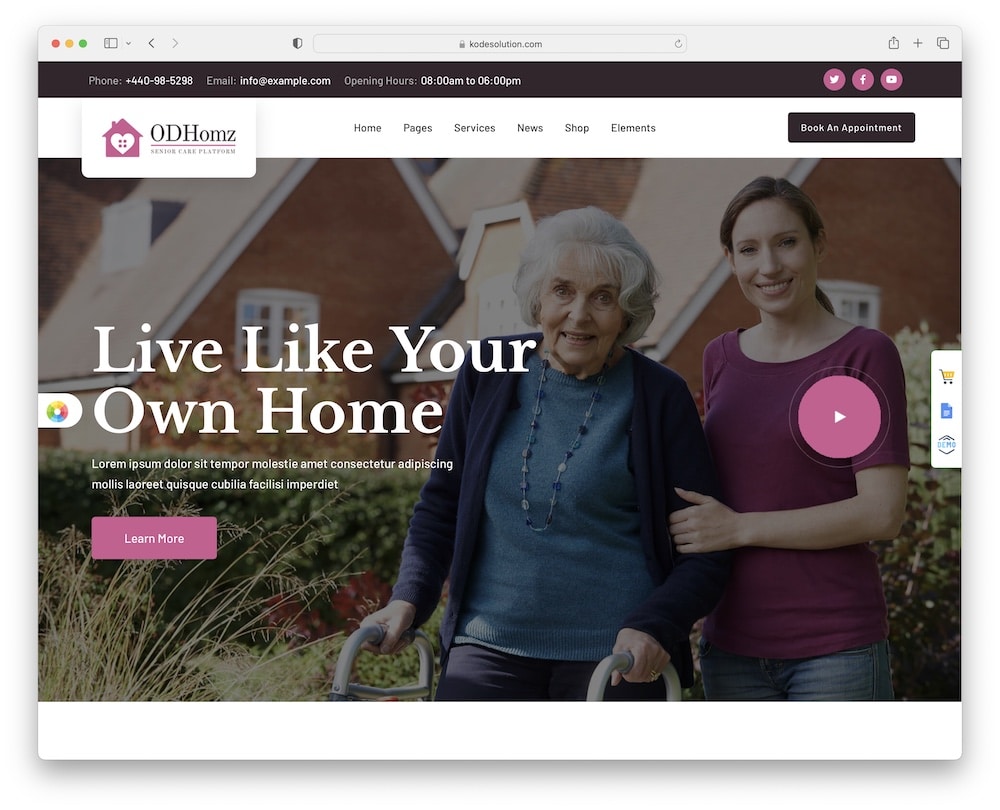 Reject negative stereotypes about aging by creating a positively oriented website. Odhomz elderly care WordPress theme will beautifully project your values!
Rich demos are optimized for user-friendly performance. Plus, everyone has a soft spot in their hearts for Elementor page builder, including myself.
Of course, you can't go wrong with smooth parallax sections and eye-catching animations.
Just imagine!
Moreover, you can add extra functionality to your site by using the most popular plugins, such as WooCommerce, Contact Form 7, The Events Calendar, Slider Revolution, and MailChimp.
The best part? You get them for FREE!
Become your own boss with Odhomz and start building your future site today!
Odhomz features:
110+ sales
4.5+ star ratings
Start a blog & an online store
25+ demos (!)
Price: $59 (may vary)
MORE INFO / DOWNLOAD
DEMO
What To Look For In An Elderly Care Website?
While the themes I shared with you offer you to quickly create the website with the features you want, here are some best practices of great elderly care sites.
I took multiple notes when researching the industry, so here's what I came up with. Learn from the best, get inspired and then improve.
7 Essential features of the best elderly care websites:
Responsive & fast loading: The website you build must have the ultimate performance across all devices for easy access. I ensured to test each theme for mobile-friendliness and speed, using Pingdom Tools and Google's Mobile-Friendly Test. (You may also be interested in Ales's guide on how to choose a fast WordPress theme.)
Simple & practical navigation: It's a must to create sitewide navigation that's easy to use, clear and logical. Whether creating a simple drop-down menu or a mega menu, both can do the trick.
Services (+ pricing) pages: Besides listing your services on the home page, I encourage you to create individual pages for your offerings. Be as transparent as possible with a detailed presentation, and don't forget to add pricing.
Testimonials: Build trust and establish credibility by including testimonials of satisfied clients and families.
About & contact: Another way of building trust is by creating a compelling about section – introduce your team (with images and biographies). In addition to that, you need to be easily reachable through contact forms, clickable telephone numbers and social media. (Check how to add a contact form in WordPress – although all themes already have it built-in.)
Accessibility: Not everyone will have this feature, so your website can have an edge by making it accessible, so even those with disabilities can enjoy your content more comfortably.
Blog: Share valuable content, tips, tricks and other useful information – become the authority in your field, so potential clients and caregivers can learn from you.
An effective elderly care website should also not miss displaying their location on Google Maps (this is how to add Google Maps in WP), creating image and video galleries and guaranteeing privacy and security (SSL, secure payments, clear privacy policy).
::
Note: This article was originally published on May 3, 2023. But our team regularly reviews it and updates it with necessary improvements for accuracy.