Do you need the best boutique Shopify themes to build the ultimate online store?
We spent several months reviewing 40+ themes to create the best-of collection.
Note: We worked on three projects for our clients using the 1st, 3rd, and 7th theme during the testing phase.
What's up with the rest?
They are extras that we would 100% use. (Reliable & robust!)
All these Shopify themes are multi-functional and compatible with Sections.
This post covers:
FIRST, you can use them to sell any items you want.
And SECOND, you can customize them without coding. (So easy & so quick!)
Apparel, shoes, accessories, glasses, furniture, jewelry, cosmetics – sell anything.
You'll have a boutique Shopify store ready fast. (Guarantee!)
The Best Shopify Themes for Boutique Stores
Enjoy my QUICK-PICK list if you're in a hurry:
Best Boutique Shopify Themes
Advice: We recommend taking a peek at the live demo preview first, see the theme in action, and go from there.
1. Kalles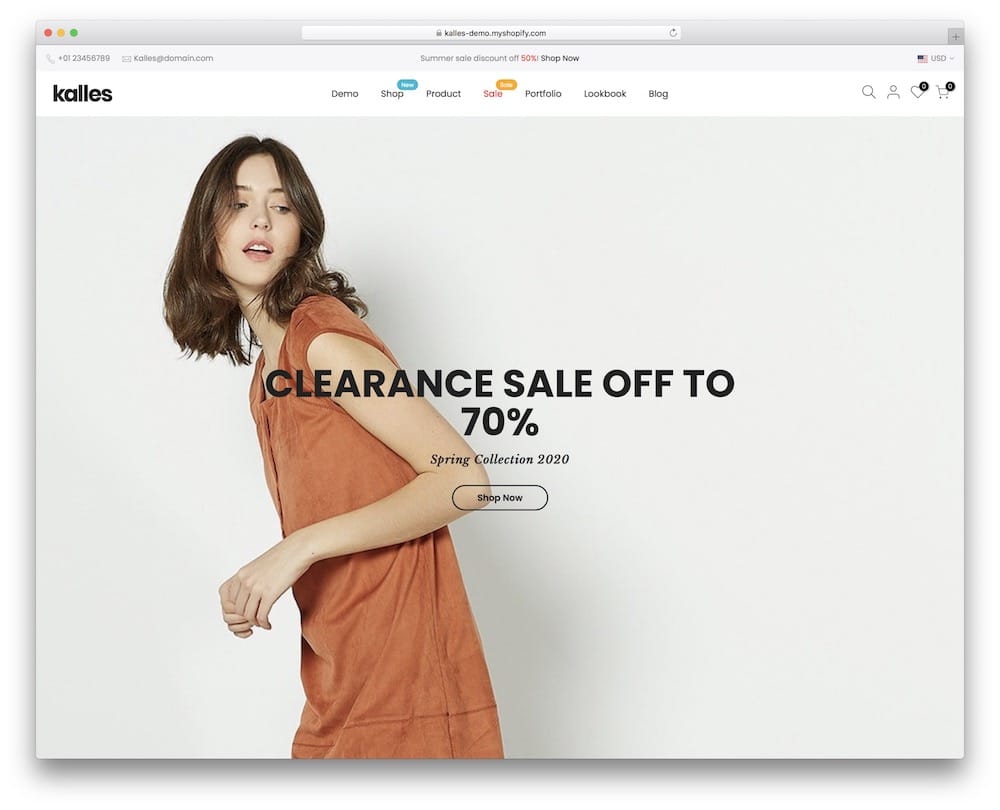 No matter what you sell, Kalles is the only boutique Shopify theme you'll want to build an online store that will provide your customers with a seamless shopping experience.
Kalles has a retina-ready design and is mobile-optimized, indicating that it works great on all kinds of devices and screen sizes.
Its new version lets you filter product attributes in place of tags while maintaining the fast-loading speed.
Some other features include multiple homepage demos, frequently bought together, single product layouts, header layouts, shop designs, and product variation swatches.
Kalles features:
9,900+ sales
4.9+ star rating
Amazing filtering
3D & video product presentation
Price: $89 (may vary)
MORE INFO / DOWNLOAD
DEMO
2. Zeexo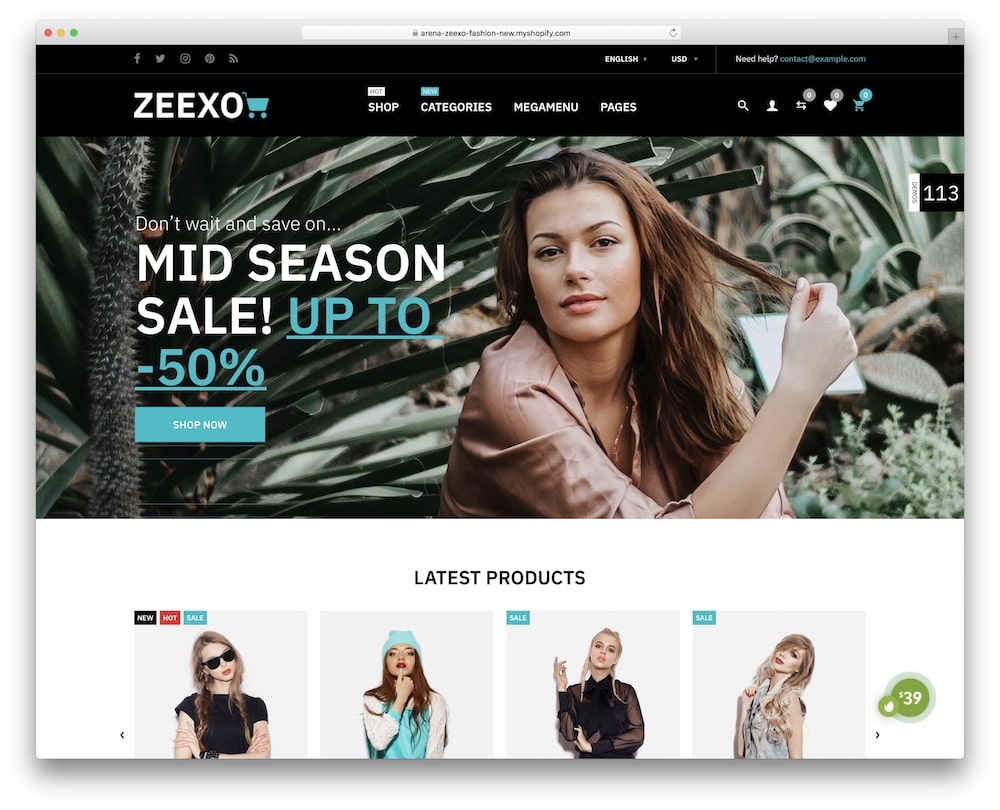 Zeexo is one of the multipurpose (RTL compatible) Shopify themes that can work with almost anything, including boutiques.
Whether beauty, furniture, or clothing, Zeexo can handle it pretty easily.
The theme features over one hundred skins that are ready to use. The best part is that designers release a new variation almost every week.
As it is a Shopify 2.0 theme, it supports every latest feature that Shopify has to offer.
It covers every main shopping website category and offers friendly customization options to help you make Shopify landing pages quickly as you like.
Zeexo features:
2,000+ sales
4.8+ star rating
One-click installation
Video tutorial, documentation, support
Price: $59 (may vary)
MORE INFO / DOWNLOAD
DEMO
3. Ella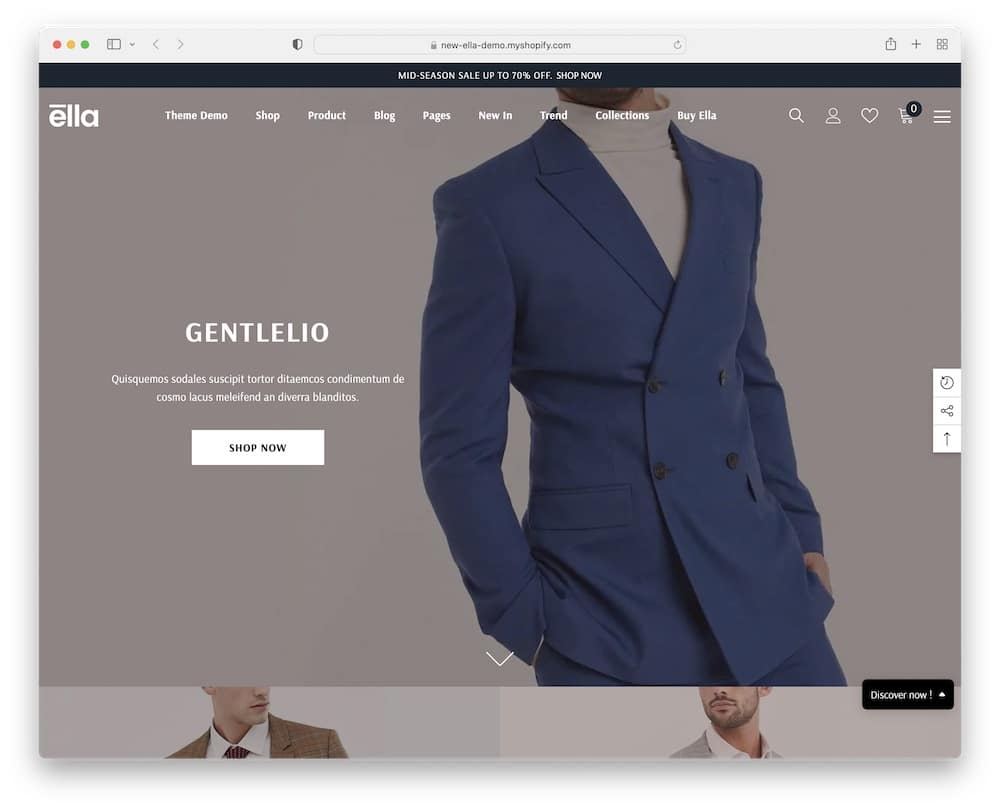 Ella is an enormous Shopify theme that we thoroughly tested with three boutique shops, and it worked really well. Actually, we tried to break it but were unsuccessful.
It equips you with endless demo content, so you can quickly find the right look for your business and start with the online store creation right away.
I also really DIG that the author regularly updates the theme, so you know it'll be fresh forever. (And consequently your website.)
What's even better, you can EXPECT new features and functions to drop, which will help you expand your online presence further.
Ella has a great product display with nice attention to detail that's necessary for high-priced, designer pieces.
Ella features:
27,200+ sales
4.8+ star rating
Multiple built-in elements for free
Outstanding mobile experience
Price: $89 (may vary)
MORE INFO / DOWNLOAD
DEMO
4. Belle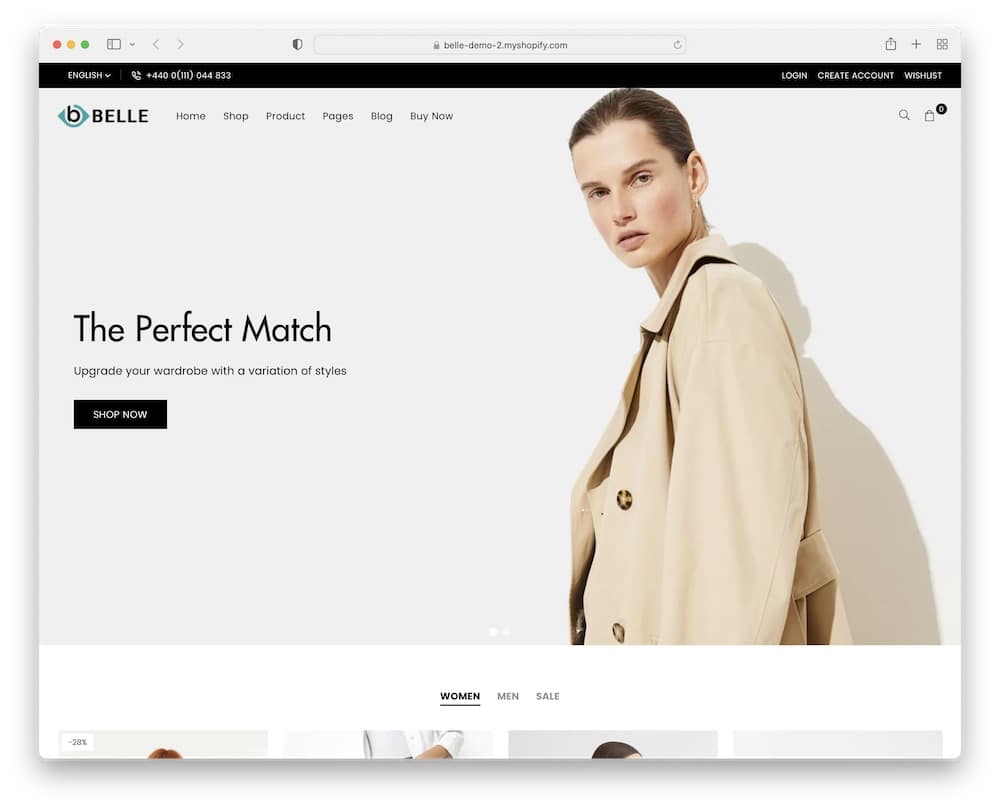 Belle is an exclusive Shopify theme for fashion boutiques that are after a minimalist and elegant look.
Note: Don't miss our collection of the best minimal Shopify themes.
But you get multiple appearances to choose from with an option to configure each to meet your branding regulations.
Thanks, drag and drop method!
Two really cool functions that I love are product pre-orders and age verification pop-ups.
You can ACHIEVE urgency with the product countdown timer and ensure easy product finds with the mega menu, Ajax search and unlimited filters.
And because video content works so well, you can include it in product pages along with your superior images.
Belle features:
2,100+ sales
4.9+ star rating
Extreme customization capabilities
Unlimited product page styles
Price: $79 (may vary)
MORE INFO / DOWNLOAD
DEMO
5. Rubix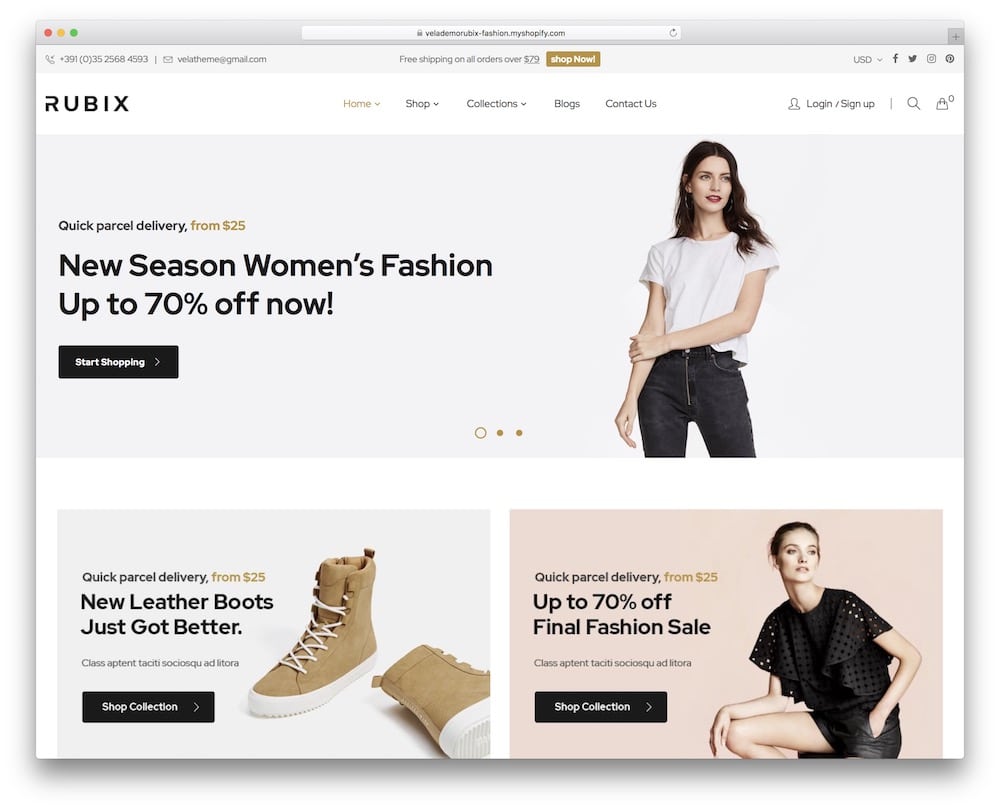 With a clean and modern design, Rubix is a versatile theme that you can use for anything within the eCommerce industry.
It is a great choice for those looking for a minimal design, especially in apparel and furniture stores.
Over nine homepage layouts help the sellers elegantly showcase their latest products.
With Rubix, you can add media like 3D models, embedded videos, and YouTube videos to the product page. Rubix is fully responsive, retina-ready, and in tune with every popular web browser.
As it is a well-equipped Shopify theme, you can even use it to grow your business to the extremes.
Rubix features:
870+ sales
4.9+ star rating
Trending products
Product quick view
Price: $69 (may vary)
MORE INFO / DOWNLOAD
DEMO
6. Roxxe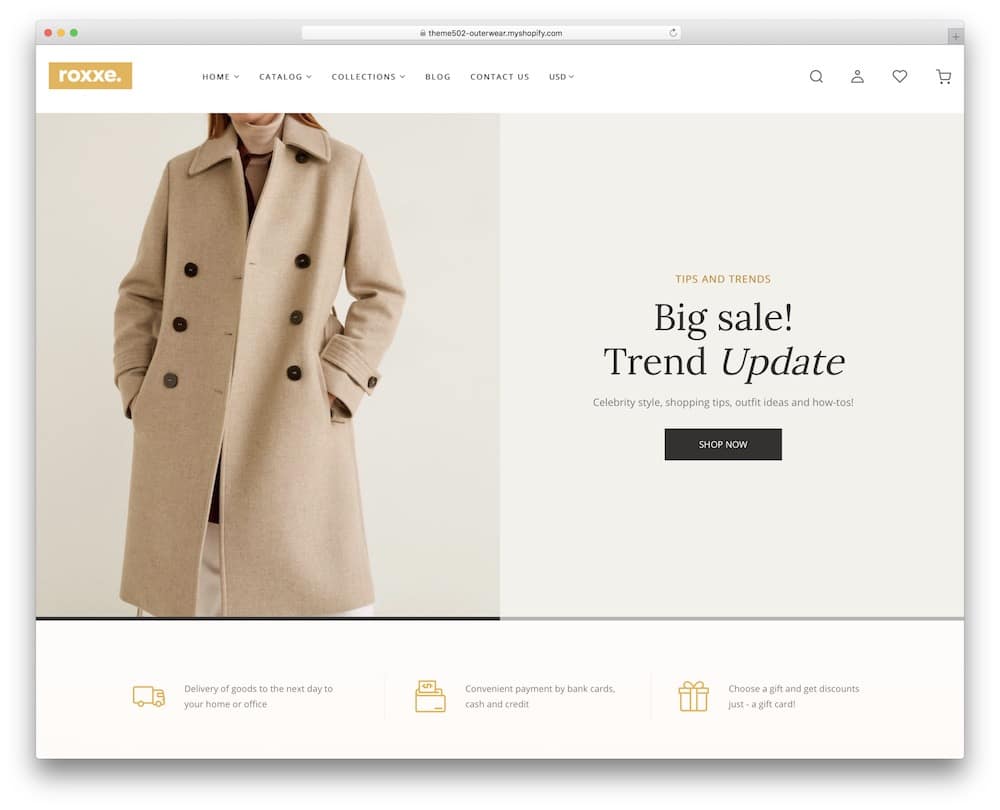 Roxxe is a multipurpose theme serving as a great web solution for every eCommerce business. It is an all-around solution to build an online store suited for various kinds of niches.
This theme has a retina-ready and responsive design that makes your website flexible for all kinds of screen resolutions.
There are 50 pre-designed layouts included in this boutique Shopify theme with ready-made sections.
Also, Roxxe supports both RTL & LTR languages; you are free to use any language you want, including Spanish, Urdu, Arabic, Hebrew, etc.
Roxxe features:
900+ sales
4.9+ star rating
Announcement bar
Sales booster
Price: $59 (may vary)
MORE INFO / DOWNLOAD
DEMO
7. November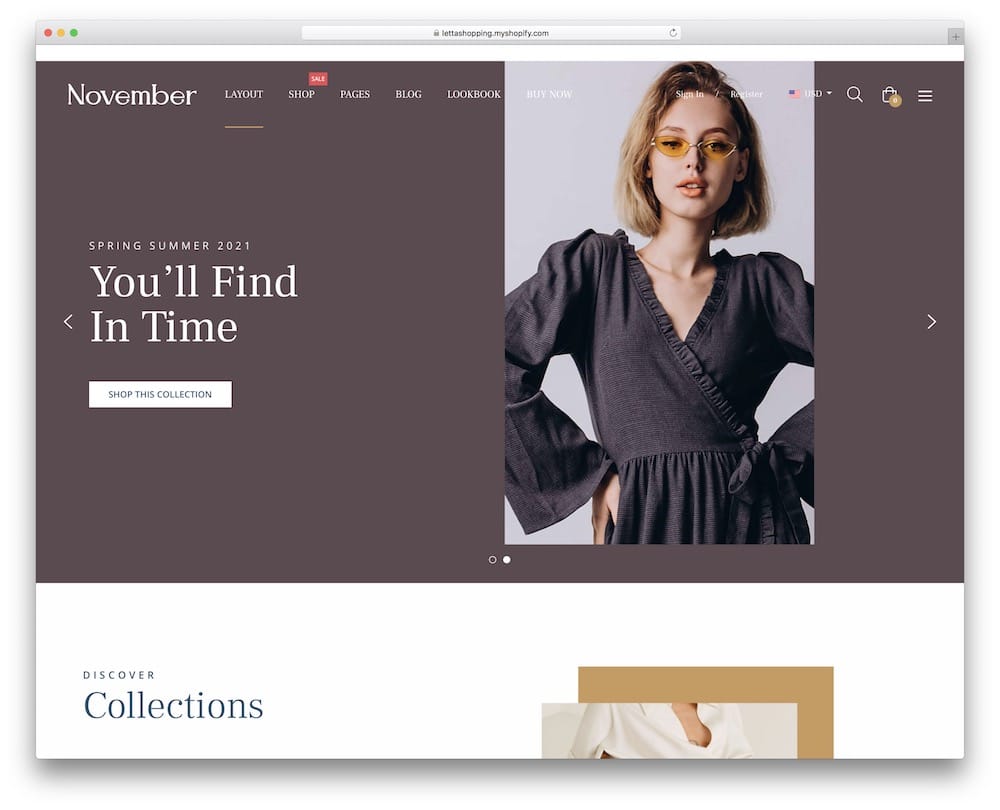 November is a responsive, multipurpose boutique Shopify theme designed on the latest version of Shopify and Bootstrap. This theme has several unique features and a trendy design to meet an eCommerce site's requirements.
With this tool, you can build premium websites without spending much money.
November has over ten index page layouts, multiple headers and footers, multi-style product variants, product listing style, and more.
Its SEO optimization and well-structured code base make your website search engine friendly.
November features:
1,100+ sales
5-star rating
Multi-currency & multi-language
Newsletter & testimonials
Price: $69 (may vary)
MORE INFO / DOWNLOAD
DEMO
8. Infinite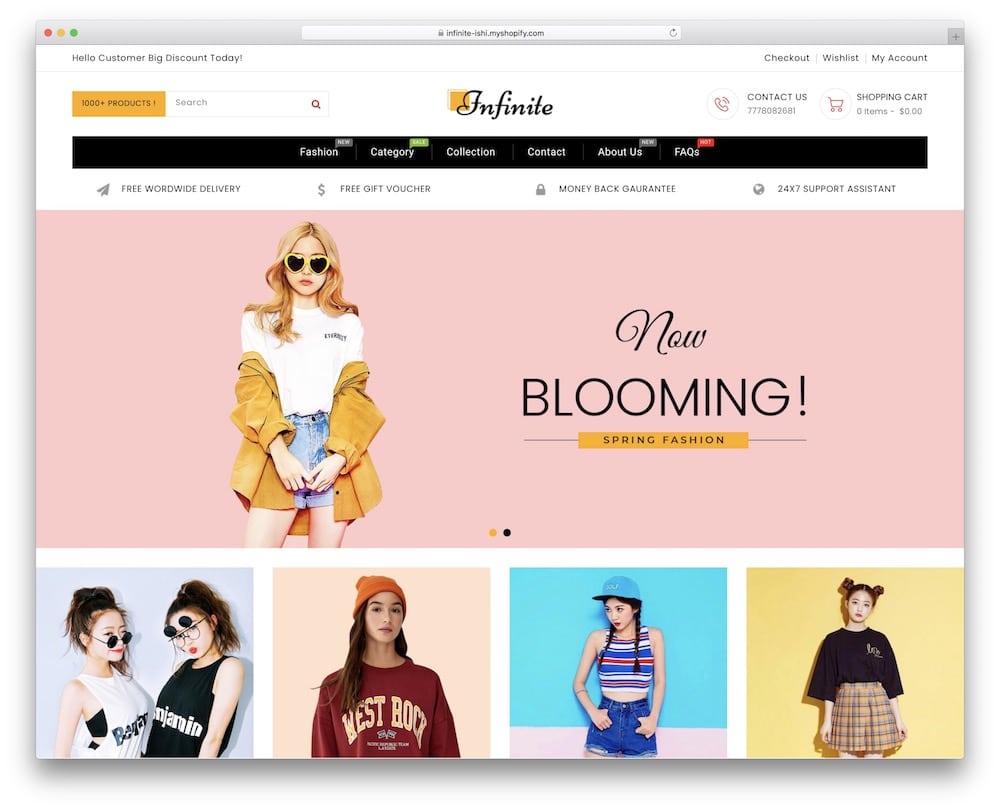 Infinite is an attractive Shopify theme that comes with powerful sections and different designs well-suited for new or existing stores.
It includes cross-browser compatibility and mobile device responsiveness. Also, it doesn't require any coding or technical expertise to start working on your business.
It's also a Shopify parallax scrolling theme that you can use to make your website more engaging to the audience.
With its visual builder, you can make as many different layouts as you want by simply adding, reordering, and removing the sections.
Infinite features:
270+ sales
5-star rating
Price: $34 (may vary)
MORE INFO / DOWNLOAD
DEMO
9. Anon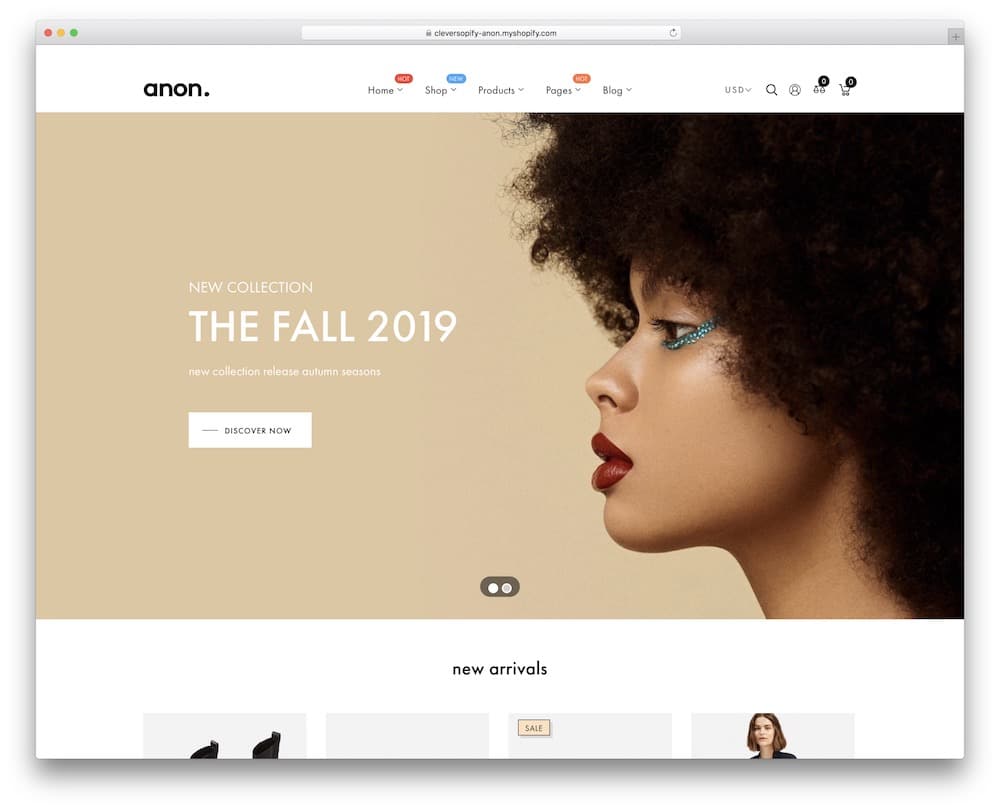 Anon is a user-friendly Shopify theme for boutiques whose layout is based on Bootstrap 4. It is specially designed for men's and women's stores, furniture stores, and cosmetics shops.
Anon has three pagination types to select from: infinite scroll, load more button, and normal pagination.
With Anon, you get the choice to design your desired header and footer using its drag and drop feature.
Also, you can verify the age of the visitors who browse your website using this theme. If you need any help, you can access documentation or contact the support team.
Anon features:
60+ sales
4.5+ star rating
Free shipping threshold calculator
Fake sales notifications
Price: $56 (may vary)
MORE INFO / DOWNLOAD
DEMO
10. Floril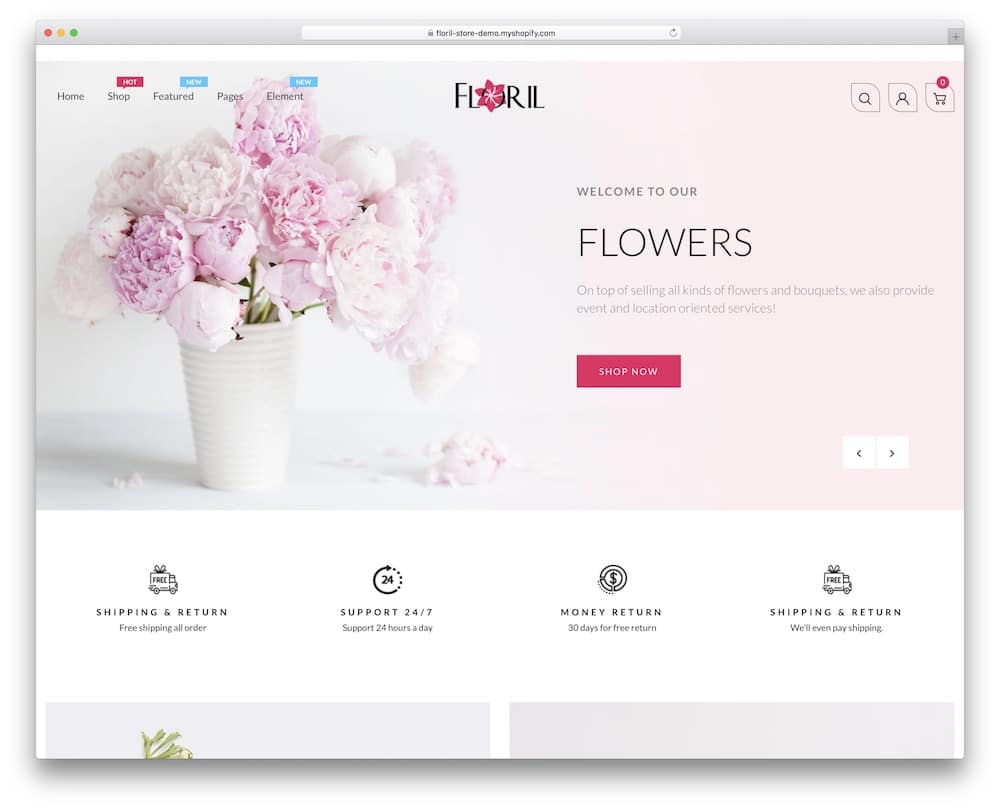 Floril is a unique theme specially for selling your floral items with some great features and dynamic settings.
Its design is full of beautiful colors and neat elements, making it ideal for decoration stores and flower boutiques.
Creating an online store efficiently and quickly can make your life easier with this Shopify theme for boutiques.
Floril lets you create floral collections, discuss different items, and discuss your venture within the rows.
The drag and drop builder is the most powerful feature of this theme, making establishing your online store a little breeze.
Floril features:
50+ sales
4.4+ star rating
Best selling products
Facebook chat integration
Price: $56 (may vary)
MORE INFO / DOWNLOAD
DEMO
11. Binim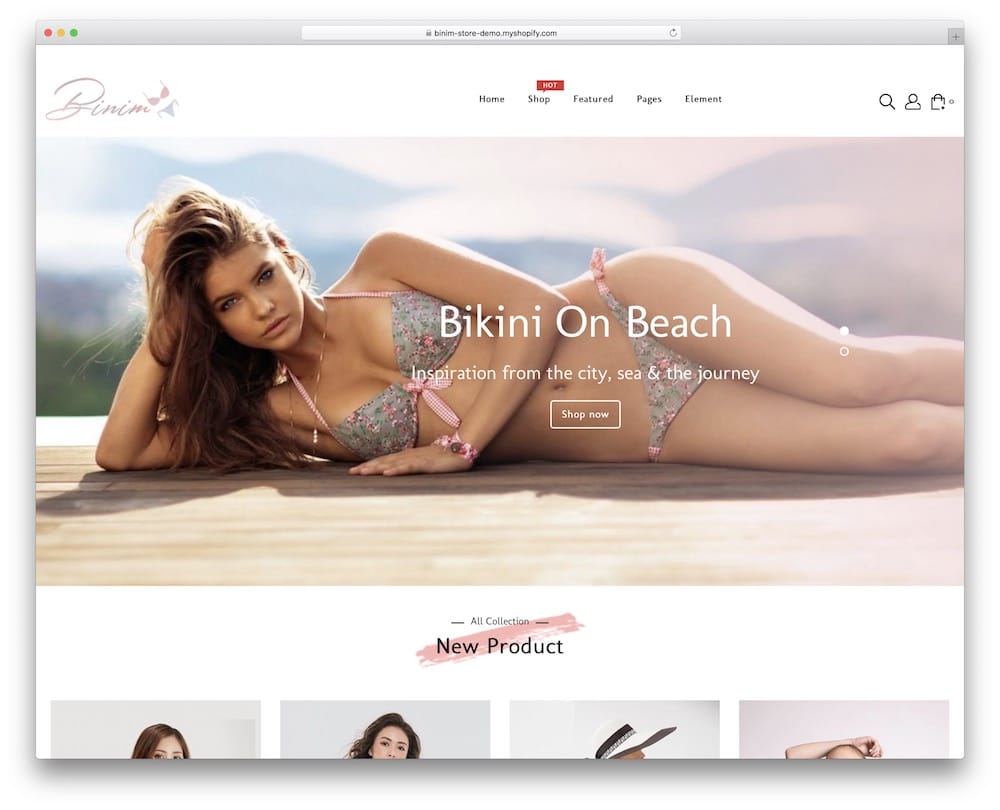 Binim is a boutique Shopify theme that you can use to sell anything from swimwear and bikini to toys and furniture.
With the instant product search system, Binim finds products at the speed of light. Also, it supports the complete Ajax shop with smart filtering and fast loading.
Binim is search engine optimized and meets the latest web standards. This theme also boasts the fastest page load speed, making loading multiple products or sections easier.
Binim is an easy-to-use theme that requires no special coding skills.
Binim features:
40+ sales
4.5+ star rating
Special product labels
Customer reviews
Price: $56 (may vary)
MORE INFO / DOWNLOAD
DEMO
12. Payna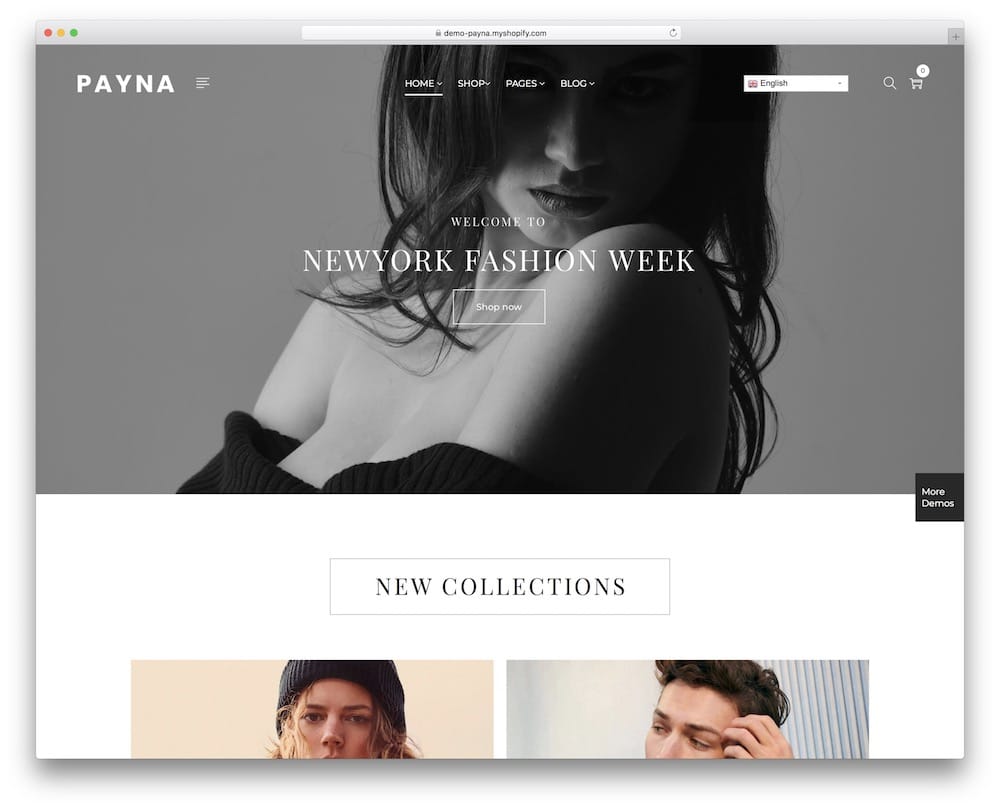 Payna is a minimal Shopify theme that works for multiple styles of eCommerce websites and boutique stores.
You can use this Shopify theme to sell furniture, cosmetic products, fashion items, accessories, and all kinds of retail products.
Payna comes with tons of home designs, drag and drop sections, countdown timer and many other goodies in between.
Also, it is developed with Bootstrap 4, HTML5, CSS3, and W3C validated markup. This theme is fully responsive and has cross-browser compatibility, too.
Payna features:
30+ sales
4.6+ star rating
Available for dropshipping
Price: $48 (may vary)
MORE INFO / DOWNLOAD
DEMO
7 Key Features Of An Online Boutique Store
1. Responsive layout
Your beautiful boutique should look gorgeous on all devices – desktops, tablets and smartphones. It's a must because more and more people shop online using their mobile devices.
Actually, more and more people aren't even using desktops anymore!
Thus, your online boutique NEEDS a mobile-friendly layout. But that's sorted by default if you use a Shopify theme.
2. Great navigation & search
Another absolutely essential function of a boutique website is great navigation and built-in search.
You need to ensure that your visitors have the option to find the perfect item(s) as quickly as possible.
The less work they need to do, the higher the chance they'll make a purchase.
You can even add a mega menu with images and links, add filters and live (Ajax) search.
Great experience means more sales.
3. High-quality images (important!)
How to convince your potential customers to buy if they don't visit your brick-and-mortar or in case you don't even have a physical location?
The first thing everyone wants is images. Not just any, make them of the best quality possible.
And not just one; add as many as possible, possibly with a male or female model.
When using model images, ensure you add their height and the size they wear.
I really hate it when there's no model height and item size – because it's so hard to pick the perfect sizing these days!
Bonus: Product videos also work really well!
4. In-depth product descriptions
And the second thing besides high-quality images is an in-depth product description.
Share as much information as you possibly can. And don't be boring (!); adding fun elements here and there can make the description appear more personal.
This, in turn, will make the customer more comfortable adding the item to the shopping cart.
Which leads us to:
6. Easy checkout
An item(s) in a shopping cart doesn't necessarily mean a sale.
BUT!
The chance instantly increases if you offer them an easy checkout (one-page checkout is our recommendation).
Note: You can also use an abandoned cart Shopify app if a user leaves early and "forgets" to purchase.
5. Customer reviews
You may not have any purchases and few visitors once you start but as soon as you do, you can ask them to share their experience purchasing from your online boutique store and review the items.
You can then share customer reviews on your home page or individual product pages to build customer trust.
A simple but VERY effective technique that you shouldn't leave out.
7. Support
If you run a boutique store, you'll sell expensive products.
And if you're a new brand on the block, people will have questions. That's why you need to offer the ultimate support.
You can even include a live chat function to help potential buyers on the spot.
A live chat is also a great way to chat with your visitors and show them that real people stand behind the brand. Plus, learn what they want.