Are you searching for the best academic WordPress themes to create a top-class education website?
It took us 6 months to test and review dozens of WordPress themes for this list.
Whether you would like to create a simple school or academy page or create a full-blown online WP learning management system, it's all possible with these tools.
Plus, feel free to customize EVERY THEME without coding, thanks to the included WordPress page builder.
This post covers:
You can create online courses, quizzes & surveys, share events, start fundraisers (WordPress donation plugins), promote teachers, sell products and even start a blog.
These themes unlock unlimited options!
Kick-start your educational project with a single click and go from there.
THE ULTIMATE 6:
Best Academic & Education WordPress Themes
1. Academie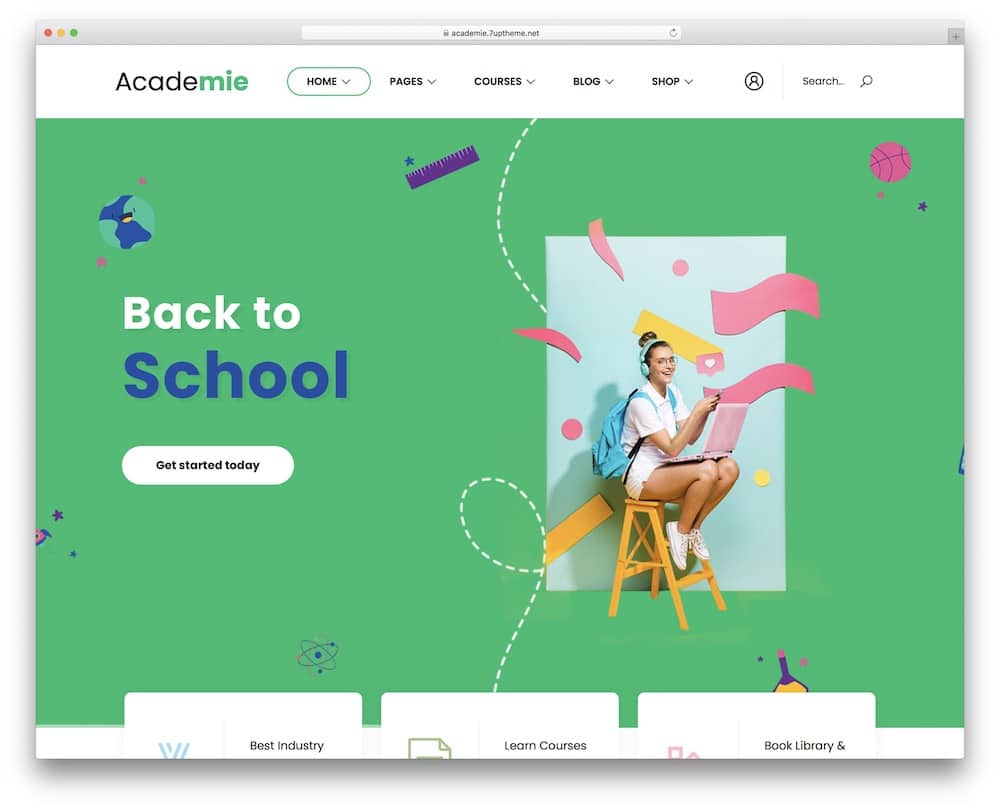 If you want to create a playful and interesting site, Academie will be your greatest ally.
Academie includes amazing plugins perfectly suited for your school, university, or other educational institutions, such as WPBaktery page builder, Woocommerce, Slider Revolution, and Contact Form 7, to name a few.
Moreover, Academie aims at social engagement and will help you connect users and students, by creating communication and open space between learners.
This academic theme is responsive and retina-ready, promising to look great on all screens.
Everyone can create a high-end website with Academie, regardless of their level of skills.
Academie features:
60+ sales
4.5+ star rating
Geolocation
Price: $110 (may vary)
MORE INFO / DOWNLOAD
DEMO
2. eCademy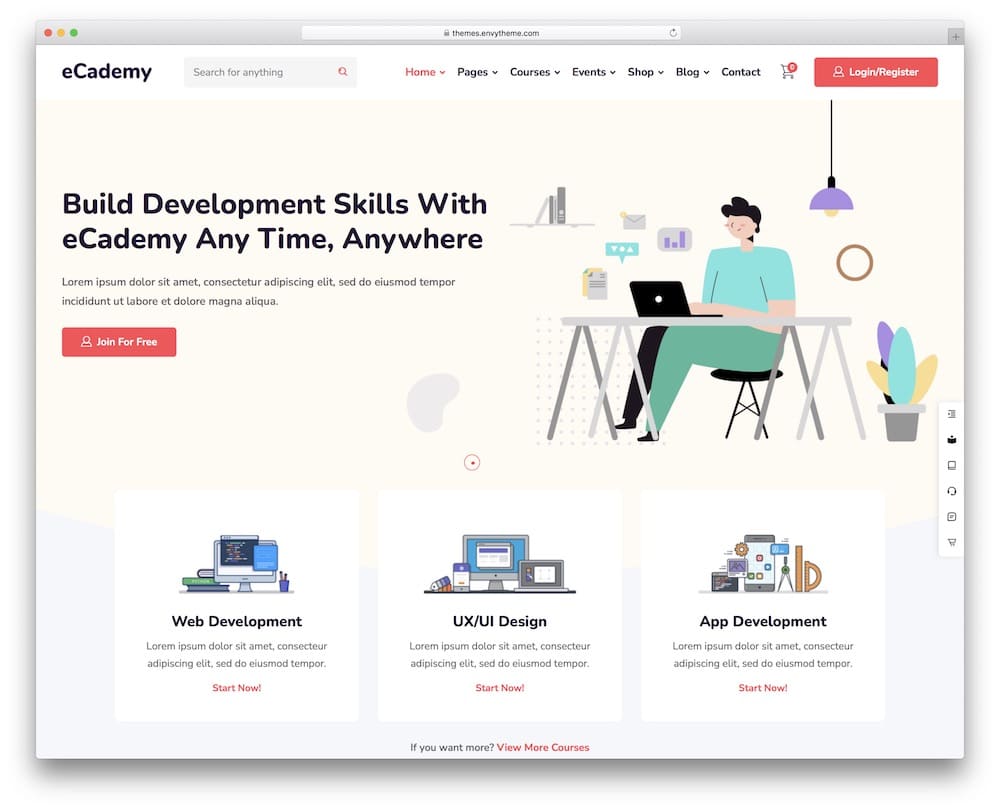 eCademy is a beautiful and modern academic WordPress theme built especially for schools, universities, online courses, language schools, and even kindergartens.
A collection of demos will allow you to choose the design and look that mostly goes with your business with just one import click.
eCademy is compatible with the most amazing and popular plugins that will work like magic.
eCademy includes tons of headers and footers, different layouts, WP widgets, banners, fonts, and colors for you to mix and match.
To sum up, eCademy will provide unlimited solutions to make a fantastic new educational site from scratch.
eCademy features:
1,600+ sales
4.9+ star rating
LearnPress
Google Classroom support
Price: $65 (may vary)
MORE INFO / DOWNLOAD
DEMO
3. EduSphere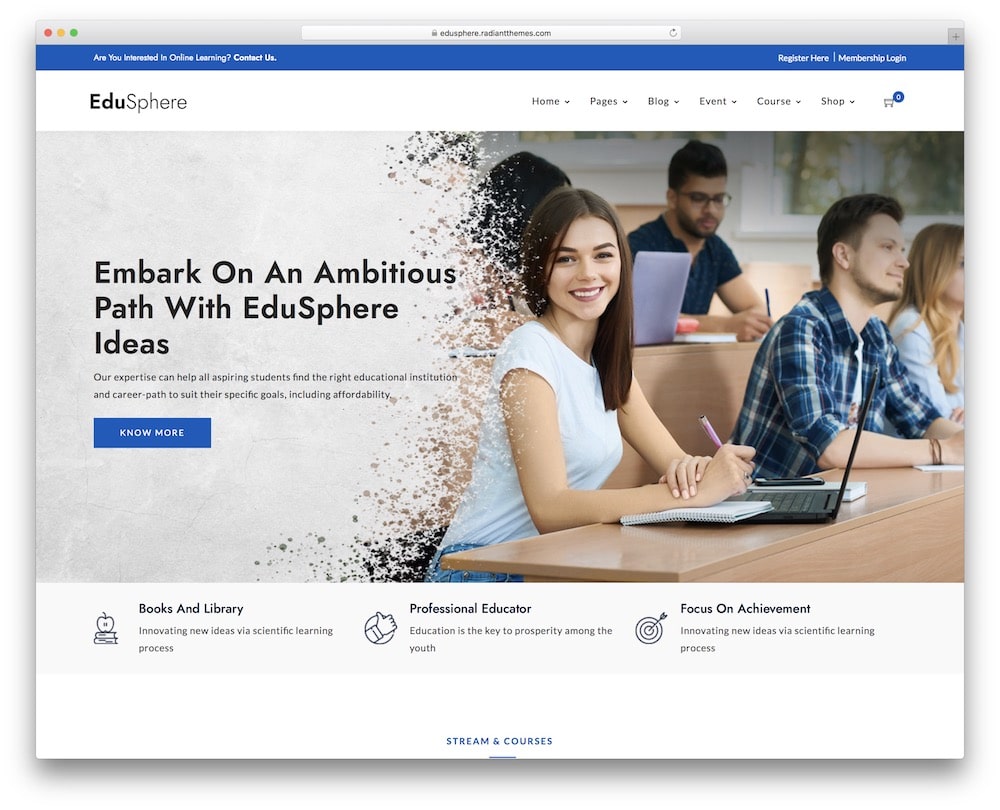 EduSphere is a clean and sleek academic WordPress theme that comes with tons of goodies, which you can easily customize and change to your needs.
To be precise, this theme is perfect for just about any educational institution you can think of. This shows how versatile EduSphere is.
With EduSphere you can create a dynamic and fun scholastic site, without a professional web designer or developer. Every single element is tailored to the niche's requirements.
You can use different visual effects such as the sticky menu, inner page banners, pre-made layouts, and Slider Revolution.
Your site will be ready to achieve a high rank on search engines with the SEO aspect in mind. Education is the passport to the future.
EduSphere features:
MORE INFO / DOWNLOAD
DEMO
4. Pallikoodam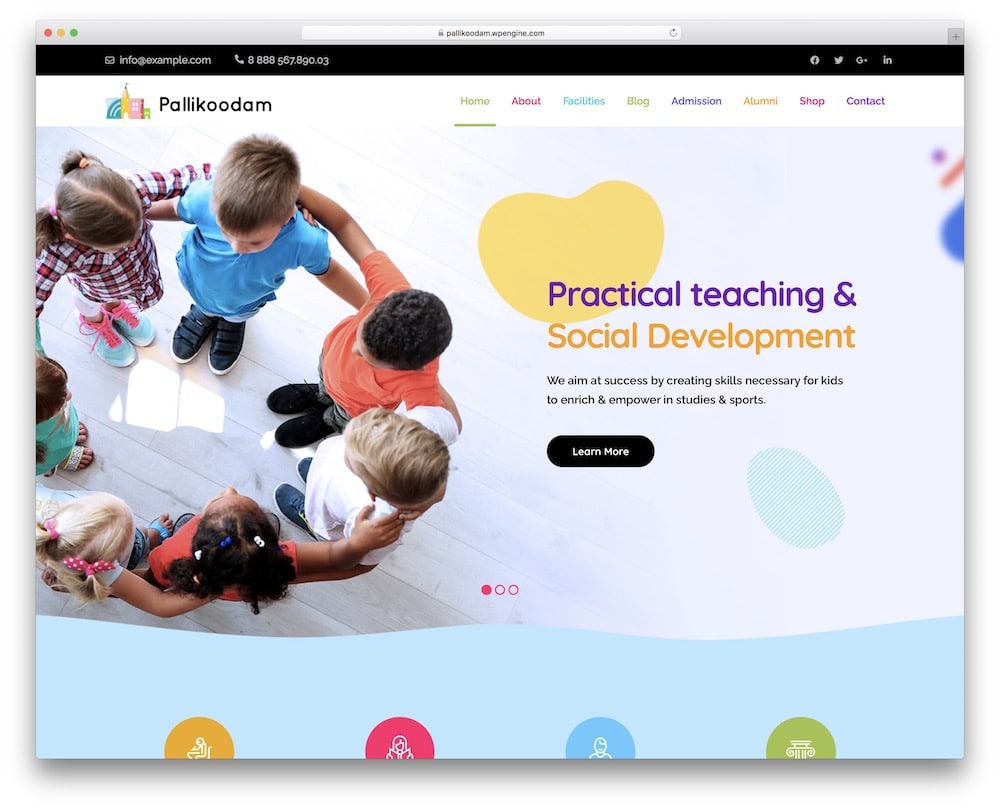 Pallikoodam is a great and smart academic WordPress theme with amazing features and a modern look. It's perfect for schools, training centers, universities, and online learning.
Pallikoodam theme can be edited without any coding knowledge and comes with many modification options.
Pallikoodam integrates powerful plugins such as Elementor, Unyson, Event Calendar, and WooCommerce.
Also, you will get plenty of layouts, inner pages, WP shortcodes, elements, and color typography options.
Pallikoodam is the solution you are looking for, so stop searching and start building.
Pallikoodam features:
230+ sales
5-star rating
Multiple ready-made elements
MailChimp
Price: $69 (may vary)
MORE INFO / DOWNLOAD
DEMO
5. Ecole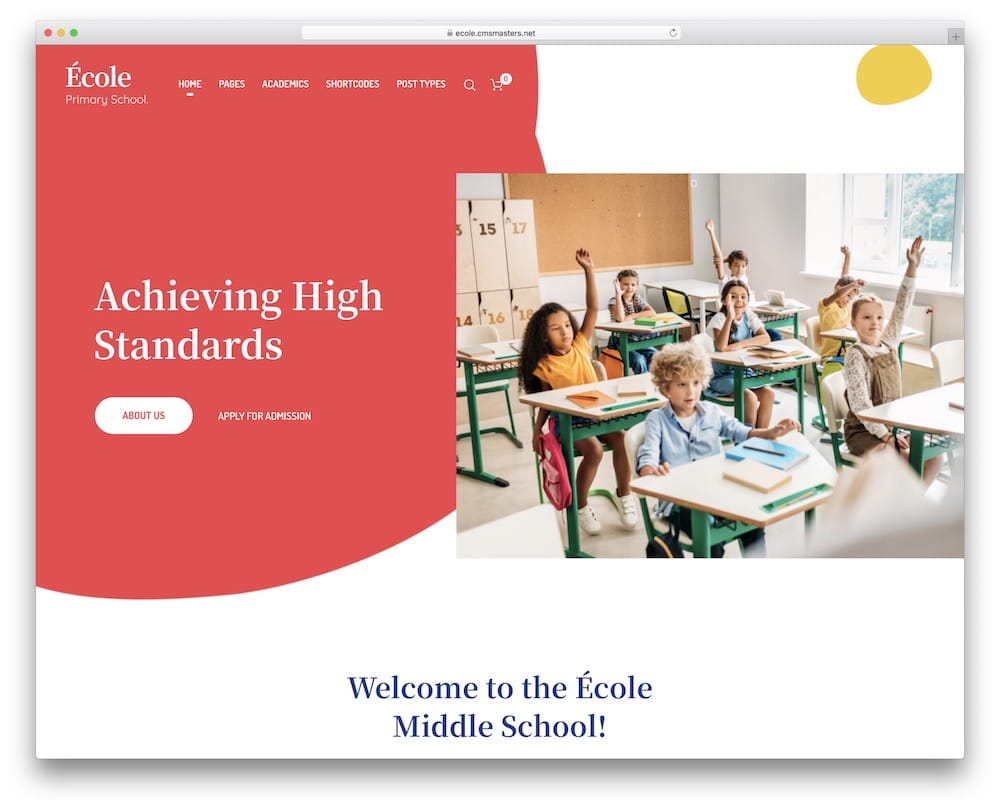 Ecole is an innovative academic WordPress theme that is rich with popular premium plugins. You will get amazing features, pre-made demos, different layouts, and unlimited color possibilities.
Without a problem, you can change elements and create your own website style.
Ecole is a great tool that will represent your school, university, or online classes professionally and with style.
Due to the WooCommerce plugin, you can quickly sell your upcoming courses, events, guest tutors, and seminars online.
Also, you can choose from various blog post layouts to ensure you will display your content in the best way possible. Ecole is well worth your consideration!
Ecole features:
MORE INFO / DOWNLOAD
DEMO
6. Educavo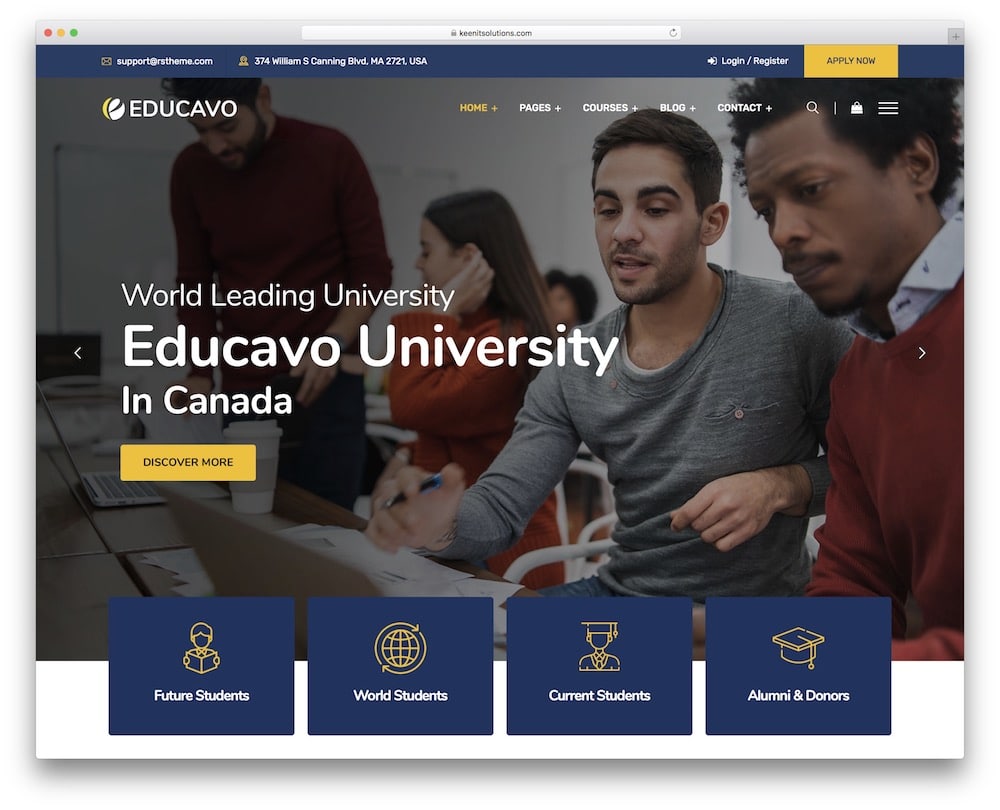 Educavo is best selling educational WordPress theme that works well and also rocks many great features.
Whether you have been in the online education business for a while or you are just getting started, you don't need any coding knowledge to design your new page.
Educavo is compatible with the impressive Elementor page builder, Zoom, Gutenberg, Slider Revolution, and Redux framework.
Keep in mind, you get fourteen professional pre-made demo homepages to choose from with just one installation click for an easy kick-off. (Or check how to install a WordPress theme for a step-by-step guide.)
Waste no more time and start now perceiving your educational goals.
Educavo features:
1,700+ sales
4.7+ star rating
Off-canvas menu
Price: $49 (may vary)
MORE INFO / DOWNLOAD
DEMO
7. Turitor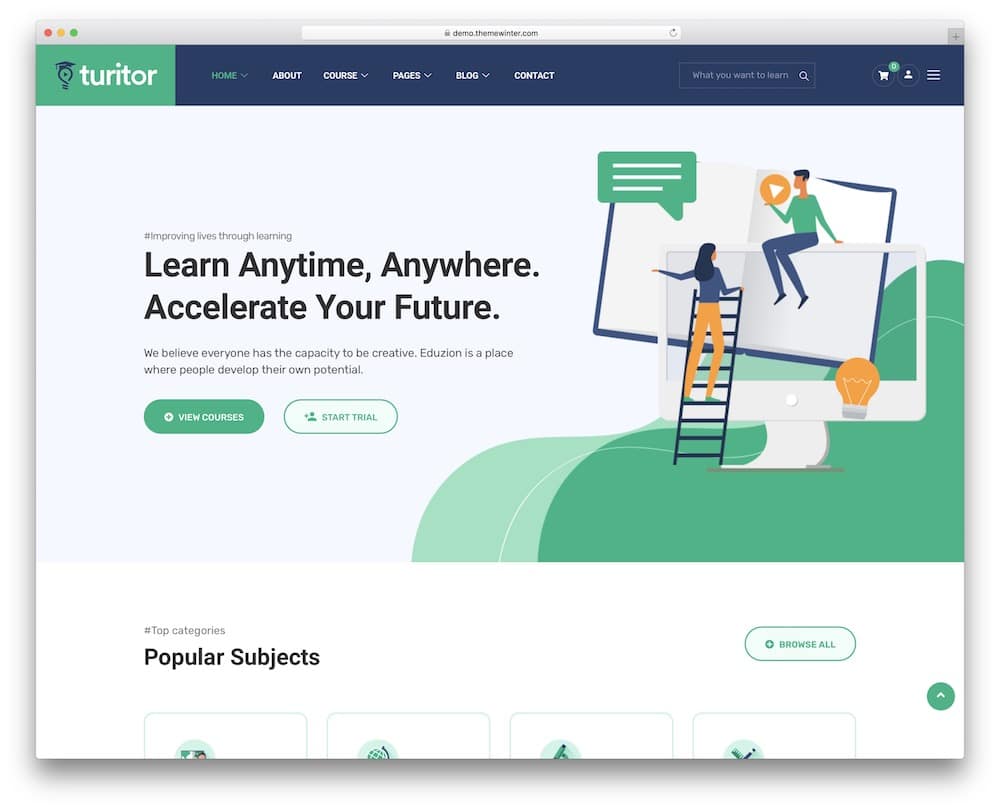 Turitor is designed to represent schools, education centers, online courses, educational programs, and more.
This simple academic WordPress theme has nine stunning samples to help you create your visionary site.
Turitor is integrated with a LearnPress, LearnDash, and Tutor LMS demo, to help you easily create and sell courses online. Try and see how quick and easy it is.
Also, you may like to read theme documentation that comes well organized with Turitor. To sum up, your visitors will be amazed by your new responsive and fast site. (And this is how to choose a fast WP theme to offer the ultimate experience.)
Turitor features:
1,300+ sales
4.7+ star rating
Custom lessons/courses
Event page
Price: $35 (may vary)
MORE INFO / DOWNLOAD
DEMO
8. MaxCoach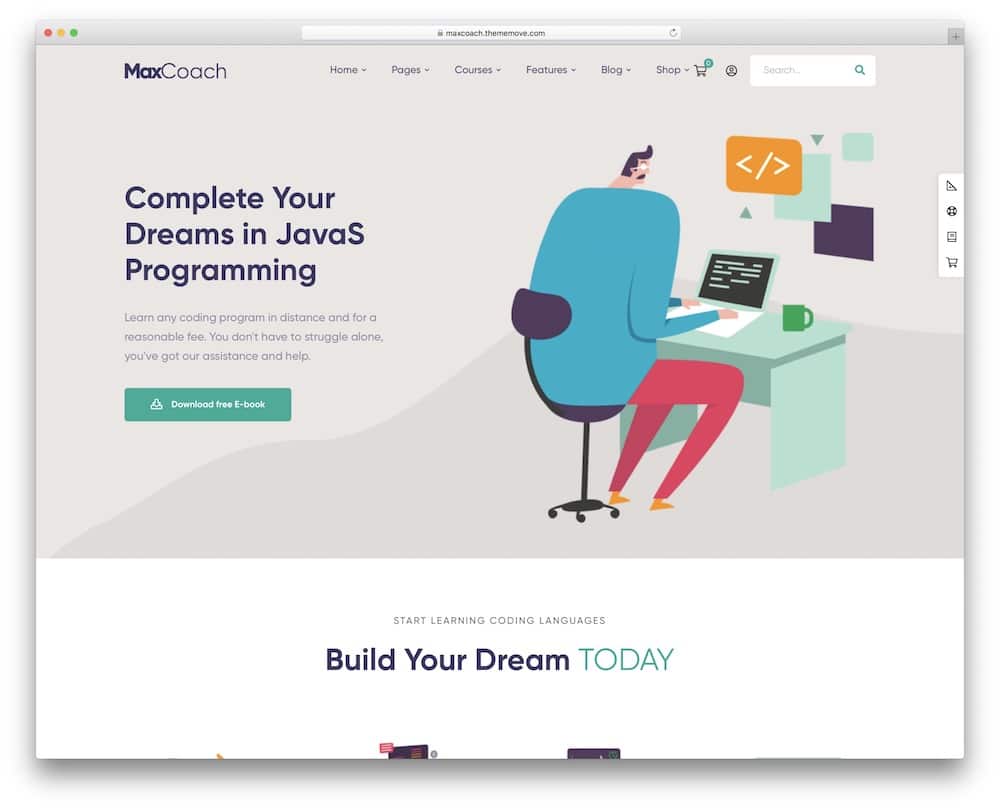 MaxCoach is an amazing, five-star-rating education center WordPress theme. This beautifully designed theme will assist you greatly in building your new knowledge-rich website.
MaxCoach is optimized for speed and will perform at the top level on all devices.
MaxCoach included the most popular features, widgets, and tools.
Also, you can divide and elaborate courses, lessons, and quizzes for a more transparent and easier learning approach for your users.
Moreover, you can inspire and encourage your clients with blog course introductions and study tips. Everything that you need is in the palm of your hands, thanks to MaxCoach.
MaxCoach features:
2,900+ sales
4.8+ star rating
Public & private courses
Multiple payment gateways
Price: $69 (may vary)
MORE INFO / DOWNLOAD
DEMO
9. Vocee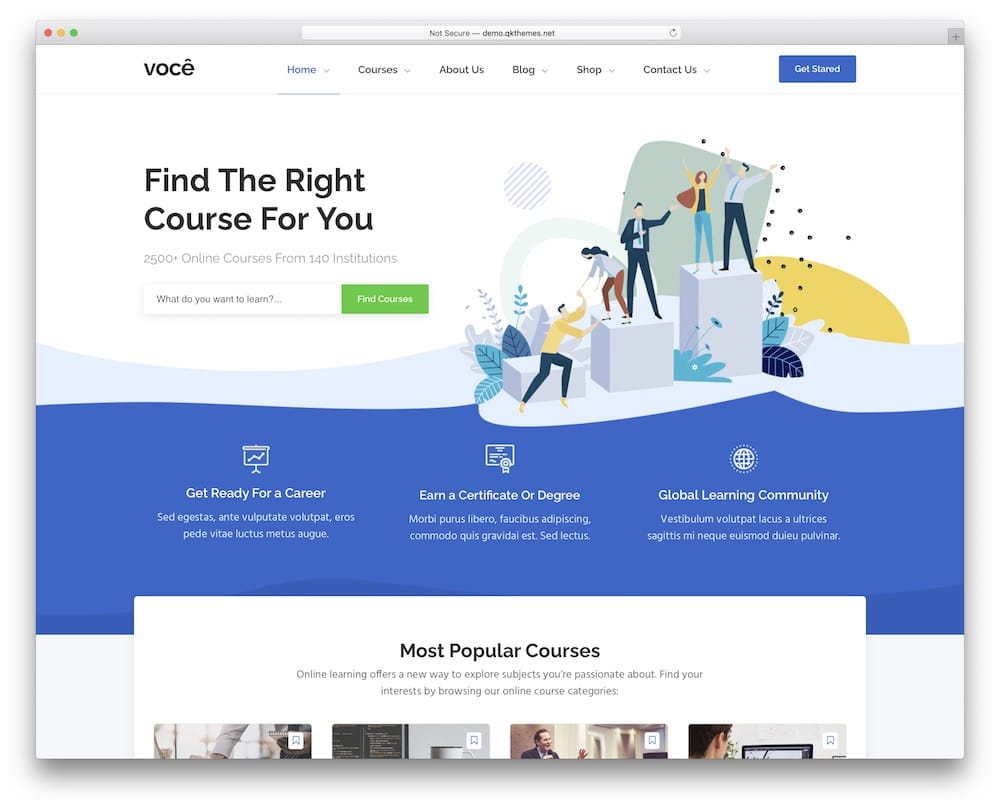 If you are looking for an engaging site for your students, the academic WordPress theme, Vocee, is the way to go.
Vocee is a multipurpose theme, related to university, school, academy, or online course sites.
It offers plenty of customization potential, so you can create a website that reflects all your wishes and desires.
In addition, you get pre-built samples that you can import with just one click, a fast and easy customizable start.
Vocee is equipped with the most popular solutions like Elementor page builder, parallax effect, Slider Revolution, and Contact form 7.
Start like a champ with Vocee.
Vocee features:
20+ sales
4.6+ star rating
Smooth animations
24/7 professional support
Price: $49 (may vary)
MORE INFO / DOWNLOAD
DEMO
10. Ed School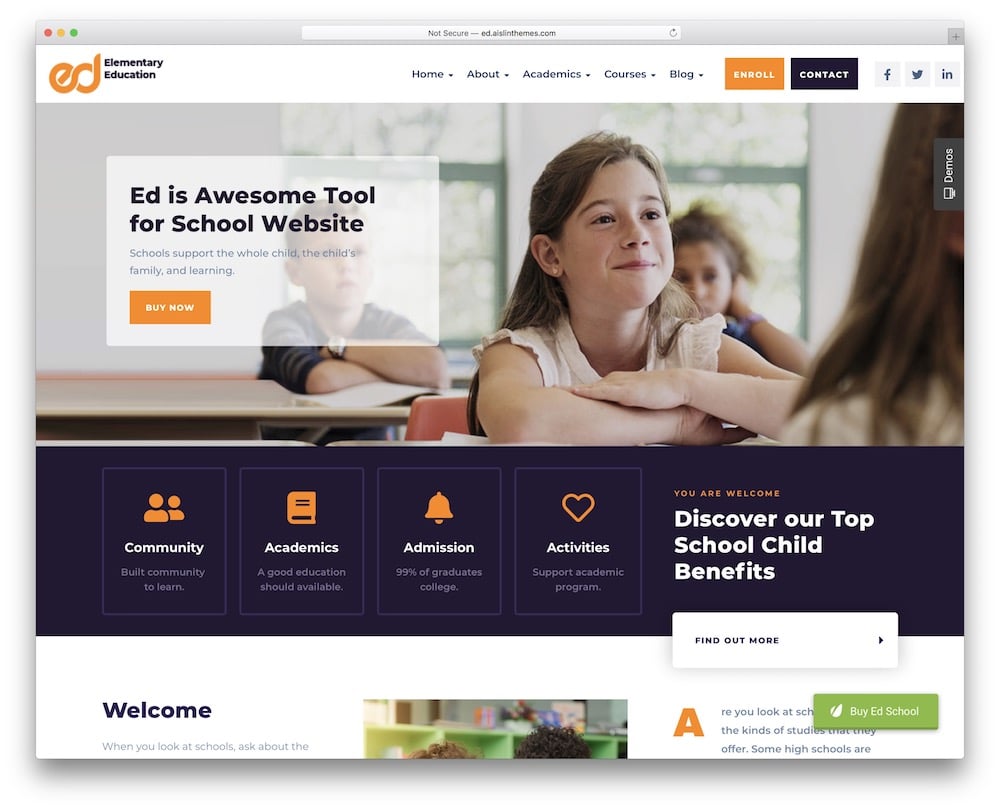 With Ed School academic WordPress theme, you can achieve A+ results with your learning institution.
Ed School is bundled with stunning WPBakery page builder, Slider Revolution, mega menu, and Contact form 7. Also, you will find many custom-made widgets for the education niche.
Ed School is crafted and coded with responsive design, and compatible with all devices. Due to its adaptability, your visitors will always have a great user experience.
Be bold and creative, choose from several gorgeous layouts, unique pages, fun colors, and countless typography choices.
Start building your new educative site today successfully.
Ed School features:
3,300+ sales
4.7+ star rating
3-minute setup
Testimonials
Price: $54 (may vary)
MORE INFO / DOWNLOAD
DEMO
11. IvyPrep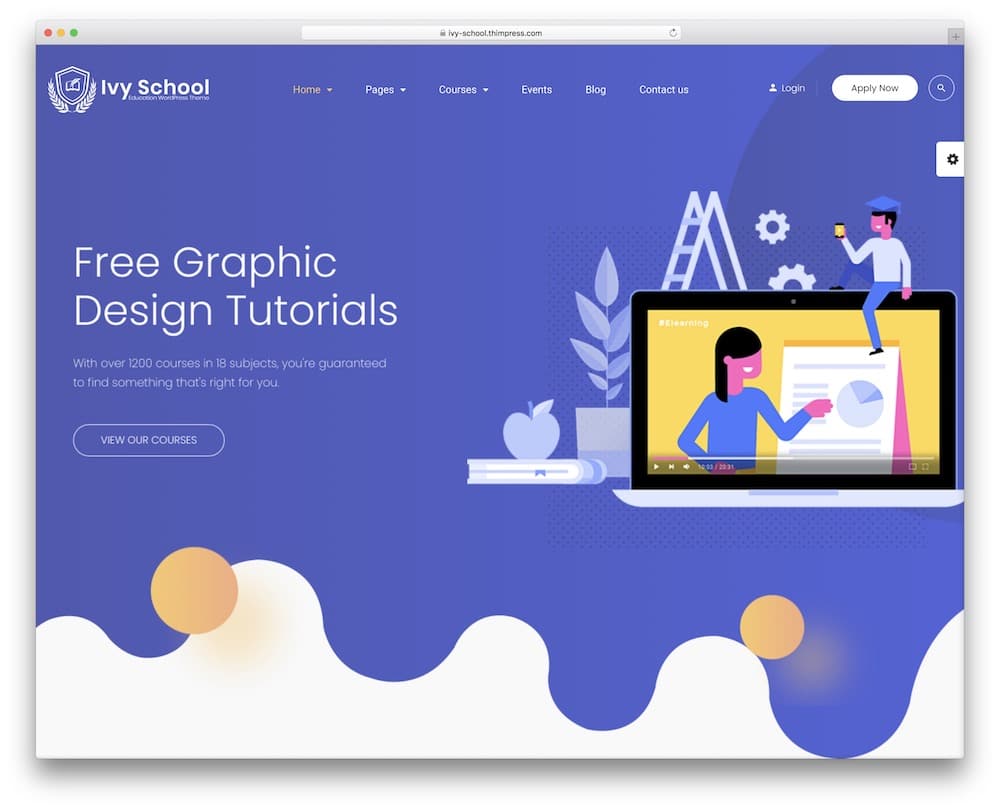 IvyPrep academic WordPress theme is ideal for schools, colleges, universities, or online courses.
It offers four homepage templates, various pre-made internal layouts, a massive color pallet, handy Google Fonts, and numerous icons.
Also, you will get an amazing parallax tool for great effect and a modern look.
IvyPrep is designed to work with the premium add-ons for LearnPress, which enable possibilities to create courses with quizzes and lessons.
You can add external links from other websites and easily sell courses on your new site.
With IvyPrep you can show off the world the incredible programs and valuable content you have created.
IvyPrep features:
MORE INFO / DOWNLOAD
DEMO
12. Kingster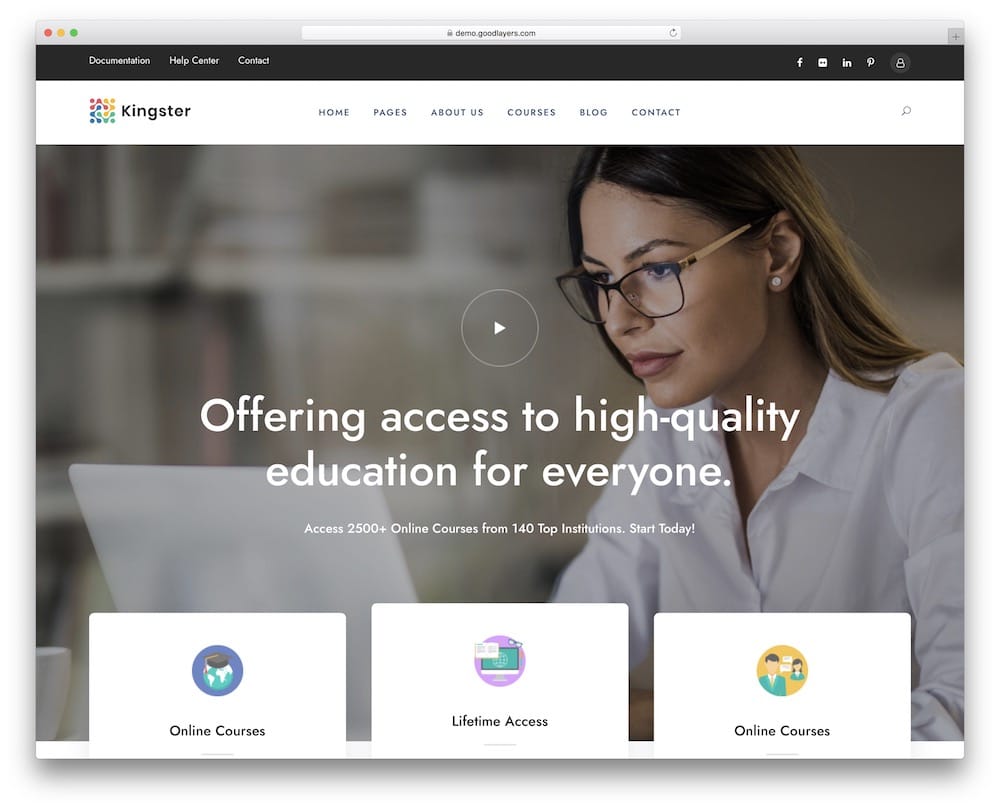 Kingster is a well-crafted and modern academic WordPress theme with many possibilities. The theme takes care of every small detail on your site, the design is customizable and well laid out, too.
It comes with the most popular tools such as Slider Revolution, WooCommerce, and LightGallery plugin, to name a few.
As well, you can customize styles, sidebars, posts, page templates, layouts, colors, and fonts.
Needless to say, Kingster is super user-friendly with its astonishing customer support, which will amaze you.
Kingster will be your secret weapon for success and a spectacular experience for your customers.
Kingster features:
3,800+ sales
4.8+ star rating
Special courses post type
Blog, portfolio, gallery
Price: $66 (may vary)
MORE INFO / DOWNLOAD
DEMO
5 Key Features Of An Excellent Academic Website
Your website may make or break your business. Yup, even in the educational and academic space!
Thus, ensuring your online presence is top-notch is a must.
And that's when these key features of any good academic website come into play.
Note: These were some factors we considered when testing academic WordPress themes for this best-of collection.
You're in safe hands with any theme you pick here, ready to bring your project to the online space quickly and effortlessly. But you can also read our tutorial on choosing a WordPress theme to do it the right way.
Courses
The first thing you do (at least that's what I do!) when you land on an educational site is check its courses. Why else would you want to visit such a site anyway?
And having a clean page with all the course and in-depth course pages is what you should pay close attention to.
But that's not necessary if you use a WordPress theme because it comes with pre-built layouts.
You can then make adjustments, add your content and publish your courses.
It's that simple.
BUT!
Search
Suppose the visitor doesn't immediately find what they need when your site loads, they will go to the search bar. And if it's hard to find it, well, you just lost a new student.
Yes, a search bar is a must or at least a clearly visible icon.
In fact, I'll even go one step further and say that adding a live search to your academic website is necessary. (It creates a lot better user experience!)
Events
If you're in for the long run, then you'll probably host various events in your niche – regularly.
For this reason, having events on your website and an option to register can be extremely handy.
Blog
Another long-term success strategy is running a blog. But don't just post about random news, new course drops and updates/upgrades.
Go to the next level and use your blog section as a medium for sharing additional (free) knowledge, tips and tricks.
And if you know what you're doing, SEO-wise, you can expect a lot of organic traffic that may turn into customers.
Contact
Finally, not everyone will want to enroll in your classes or pick up a course you offer right away.
Thus, keep your contact page with the form and possible location (add Google Maps) clearly visible. You can also add a clickable phone number for all mobile users.