Are you searching for the best video portfolio WordPress themes to share beautiful visual content?
It worked for our clients, and we are 100% sure it'll work for you, too!
We reviewed 37 WordPress themes, of which these 13 were the most KILLER.
No coding necessary
High performing
Stunning design
What else do you need?
Whoever needs to put their videos out there build a video portfolio website.
(Don't exclusively rely on 3rd-party platforms – create YOUR thing!)
This post covers:
Videographers, freelance designers, video galleries, video sharing websites – it's all possible.
You'll AMAZE and INSPIRE everyone with these themes.
So what are you waiting for? Get involved!
How ULTIDA Tested Best Video Portfolio WP Themes
As mentioned above, we started curating this collection with 37 themes. These were the themes that seem promising based on user reviews and ratings.
The next thing we did was check each theme for update frequency. Hey, you don't want an outdated theme that might not even be compatible with the latest WordPress version.
Remember, a regularly updated theme ensures you run your website for years to come with complete confidence.
We also investigated documentation and the quality of support teams/forums to ensure all users get their queries handled the right way – and fast!
Moreover, when we installed each theme on our demo website, we paid close attention to how simple the setup was, including choosing and importing the demo content. (If you need help with installation, read how to install a WordPress theme first.)
This also allowed us to analyze the loading speed and how well the theme performs on different devices.
But this is where the fun began.
We went step-by-step testing the customization functions of each theme, not only to see how much control it gives you but if there is any deviation from the official description. (Does the description say too much? Or is everything as it should be?)
QUICK-PICK: Best Video Portfolio WP Themes
Best Video Portfolio WordPress Themes For Videographers
1. Sixten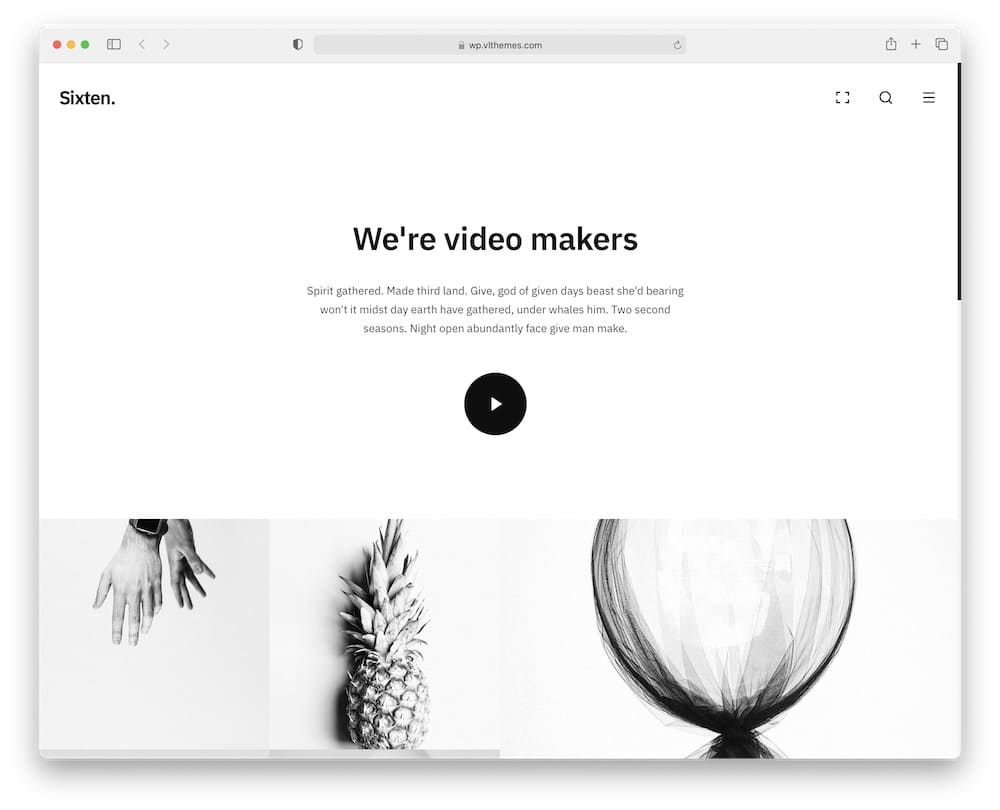 Turn your vision into reality with a creative and modern Sixten WordPress theme.
Sixten comes with twenty-one (bold style) ready-to-use homepages. YUP, a lot to choose from!
But don't worry, when you find the one you are happy with, click install and start shaping it to its full ability.
Working with Sixten is simple, efficient, and functional.
DO. EPIC. SH*T.
Whether you want to change colors, icon positioning, text sizes, fonts, or add WP animations. You can (!) and have total control over it due to the Elementor page builder.
Apart from that, pre-designed pages showcase your professional portfolio, video gallery, blog, and much more.
Don't hold back and achieve your full potential (outrageously) with Sixten.
Sixten features:
MORE INFO / DOWNLOAD
DEMO
2. Remake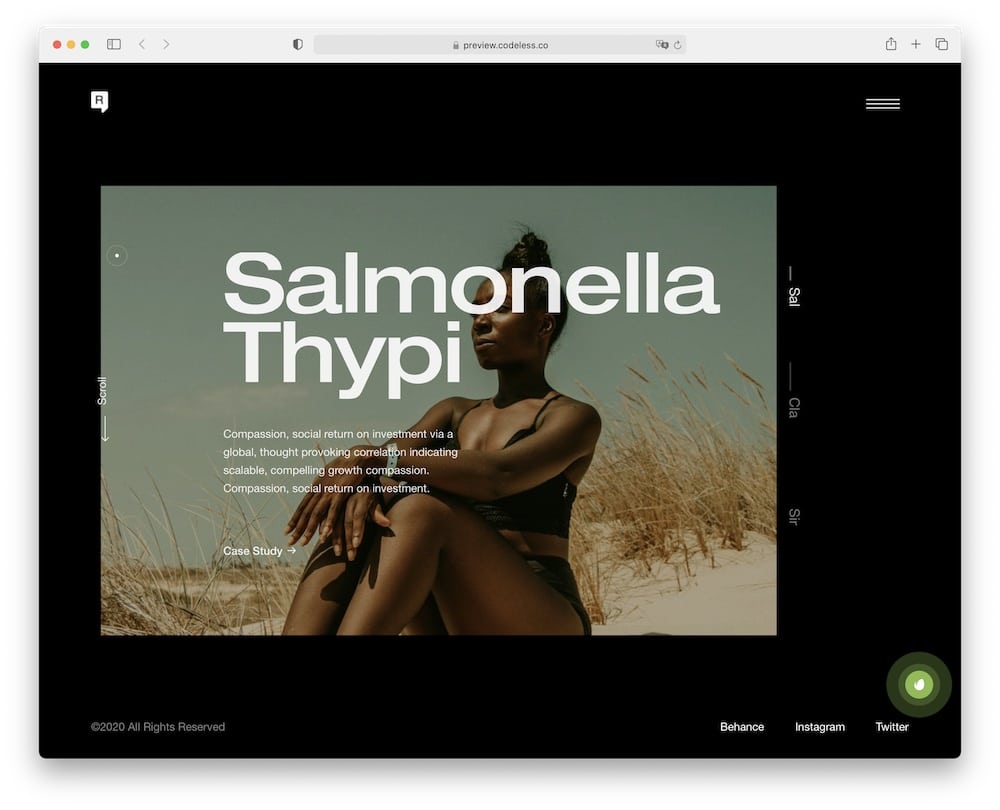 We'll learn how to create your new website with an amazing Remake video portfolio WordPress theme and discuss some important features you get included in the bundle.
You can choose one of the pre-design templates to build your site (um, YES, it's easy-breezy).
First step: one-click installation. Second step: you can start choosing through all the possibilities.
TAADAAAHHH!
Besides, you get to use different layouts, playful animations, the video gallery, and the most popular plugins ($160 worth of plugins for FREE).
OH – Remake is retina ready and fully responsive, ensuring your visitors get a great user experience on all devices.
Plus, the loading performance is smooth and fast – at the right time and place.
Be best-in-class with Remake.
Remake features:
1,100+ sales
4.2+ star rating
Regular updates
Price: $59 (may vary)
MORE INFO / DOWNLOAD
DEMO
3. Cygni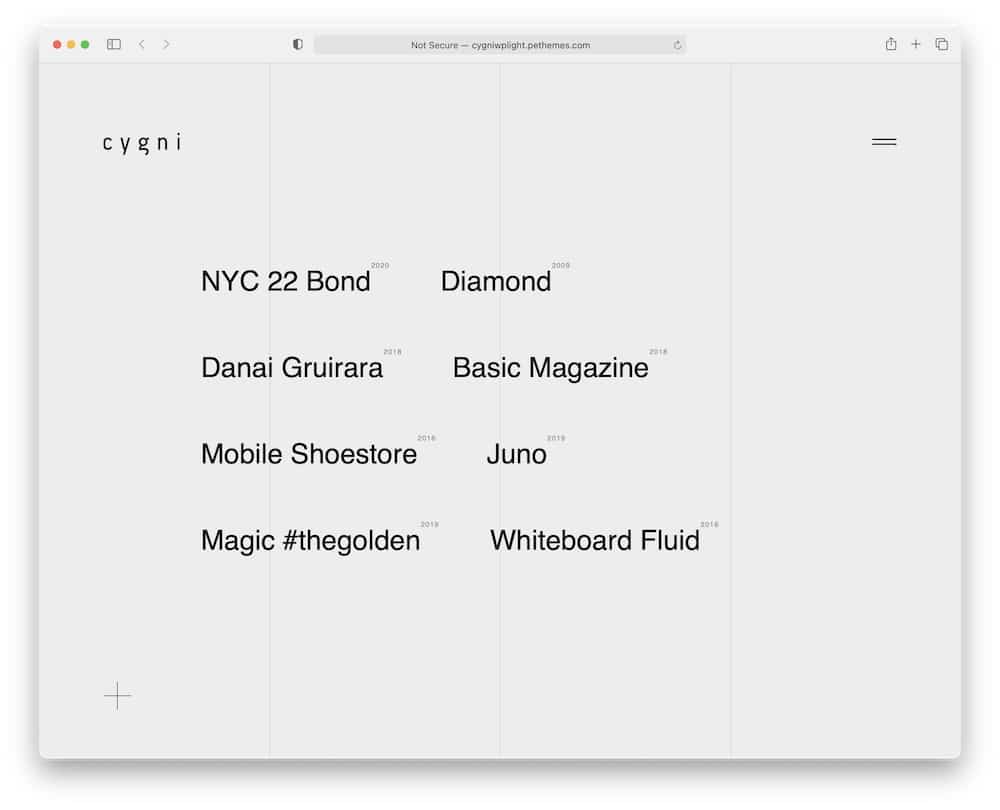 Creating an amazing website (AHA MOMENT) is easier than you think. People do it every day worldwide – so you can also do it!
Confidence level = 11 out of 10.
Now let's talk about the interactive Cygni video portfolio WordPress theme. LIFETIME. DEAL.
Cygni is a simple and gorgeously designed (such an eye-pleaser) solution for smart projects and business ideas. Of course, it's fully responsive and ready to use on different devices.
You can top your site with interesting video galleries, custom animations, valuable blog pages, or unique store sliders.
Browsing through Cygni is super impactful and engaging for your visitors.
GIVE Cygni a shot!
Cygni features:
850+ sales
4.5+ star rating
Awesome Ajax functions
Dark & light mode
Price: $59 (may vary)
MORE INFO / DOWNLOAD
DEMO
4. Rhye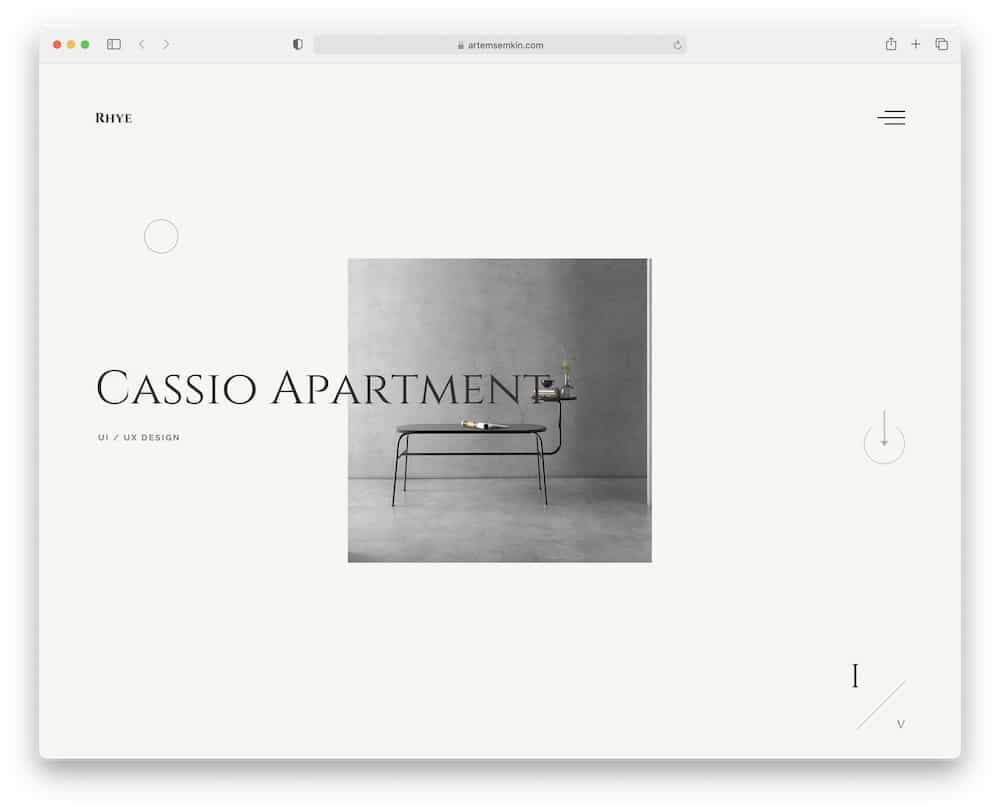 One that I completely look forward to presenting is the unique Rhye video portfolio WordPress theme. Rhye is easy to use (coding-free) and comes with tons of useful tools.
Don't limit your imagination BUT nail your new site.
The Elementor page builder is a super powerful tool that allows you to build an unlimited number of page layouts, swap colors, customize typography, add widgets, create popups, sliders, and much more!
COMPLETE. CONTROL.
Note: You can create a video gallery with external video support like YouTube or Vimeo.
Moreover, if you need customer support, Rhye's HANDY 24h customer support will help you out.
Go flex with Rhye.
Rhye features:
MORE INFO / DOWNLOAD
DEMO
5. Palette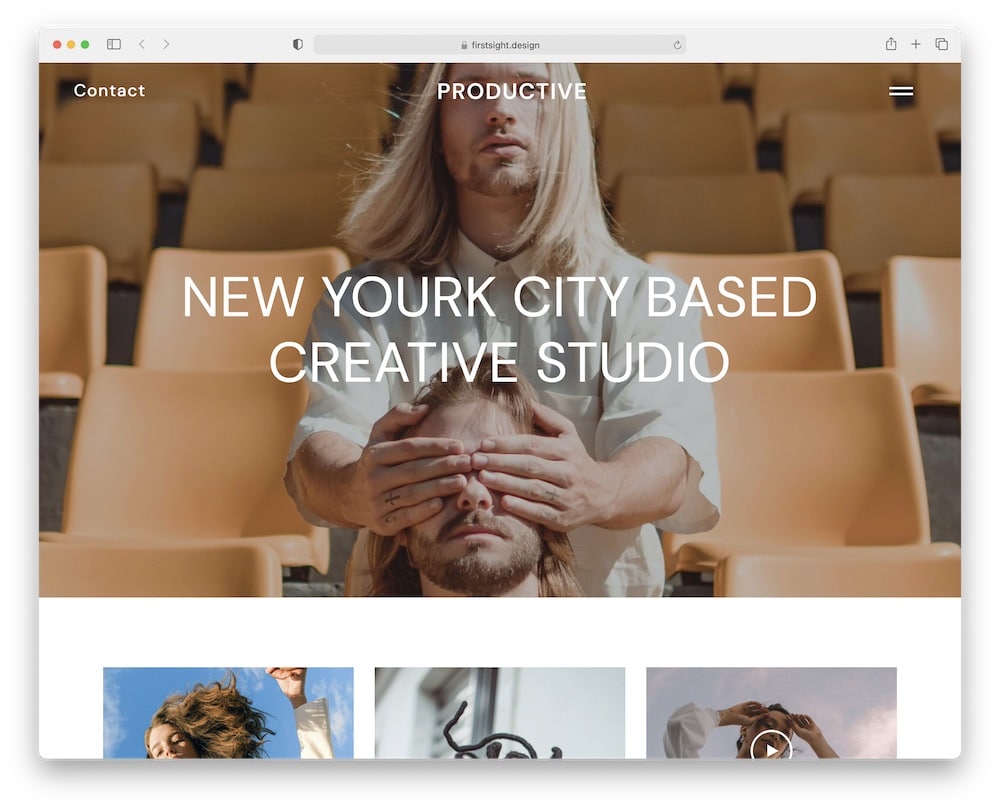 You can create an exciting website in just a few minutes with Palette video gallery WordPress theme. Thanks, ready-to-use demos (immediate start, more time for creating content)!
This way, all you need is to pick the template that fits you the most and tailor it to your brand. YES, you read that right – no design or coding knowledge is requested.
Heck YEA!
Besides, Palette includes super valuable tools, powerful widgets, customizable popups, multiple design styles, and open license images. Setting video sharing on your website will be quick.
Moreover, Palette is optimized for speed, translation ready, and comes extra sharp on retina screens (nobody likes low-quality sites).
Grab a double-black coffee and start building your future with Palette.
Palette features:
MORE INFO / DOWNLOAD
DEMO
6. Pelicula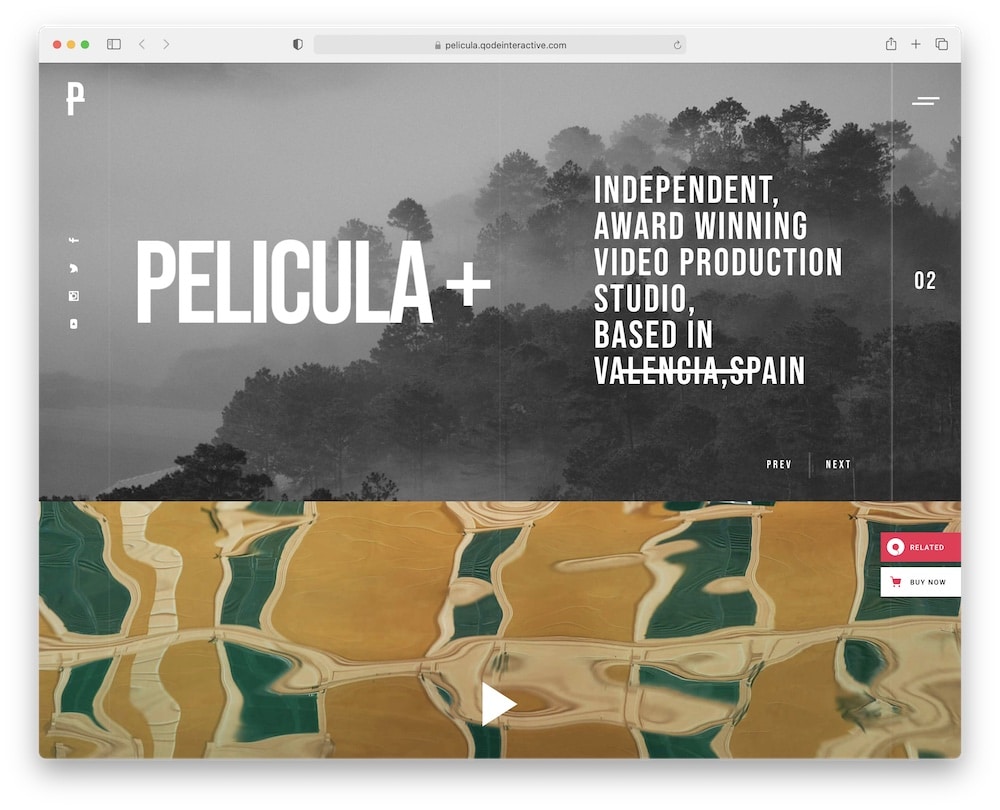 Direct your video content with an amazing Pelicula video portfolio WordPress theme.
Pelicula is simple to use, compatible with all the most popular plugins and has many indispensable features.
Everything you need is ready for a quick start.
You can save your precious time by choosing one of the thirteen pre-designed homepages (drop death gorgeous designs). Start building your new site in just minutes.
SMART and FAST.
On top of COOL plugins, you also get a collection of shortcodes, various layouts, widgets, and useful icons. Even the parallax effect blends wonderfully into Pelicula.
And on, and on, and on – possibilities of Pelicula are infinite.
Pelicula features:
1,800+ sales
4.1+ star rating
Perfect for the movie industry
Compatible with blog & online store
Price: $75 (may vary)
MORE INFO / DOWNLOAD
DEMO
7. Vlog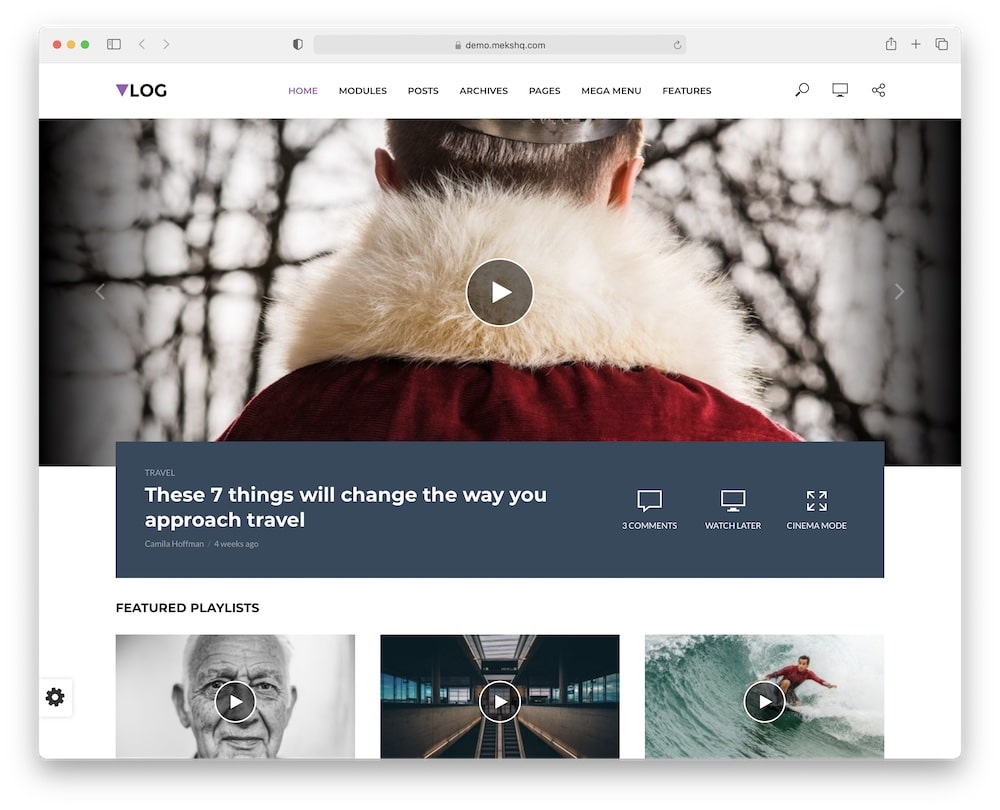 Bring your ideas to life by learning how to use Vlog WordPress theme in your favor.
Vlog is a beautifully designed vlogger theme focused on YouTubers. It is fully compatible with the most popular video channels.
YouTube, Vimeo – BESTIES.
Besides, plugins (awesome products) such as Series, Video Thumbnails, are what you need for multi-part content.
Vlog even lets your visitors save videos and access them later when they have time. GOODNESS … What a moment!
You can simply build and create everything you imagined with Vlog since it is super customizable and user-friendly.
Responsive design, fast load, one-click updates, GDPR compatible – What more can I say?
Keep all the good coming with Vlog.
Vlog features:
6,000+ sales
4.9+ star rating
Auto-detects video thumbnails
Price: $59 (may vary)
MORE INFO / DOWNLOAD
DEMO
8. Plexx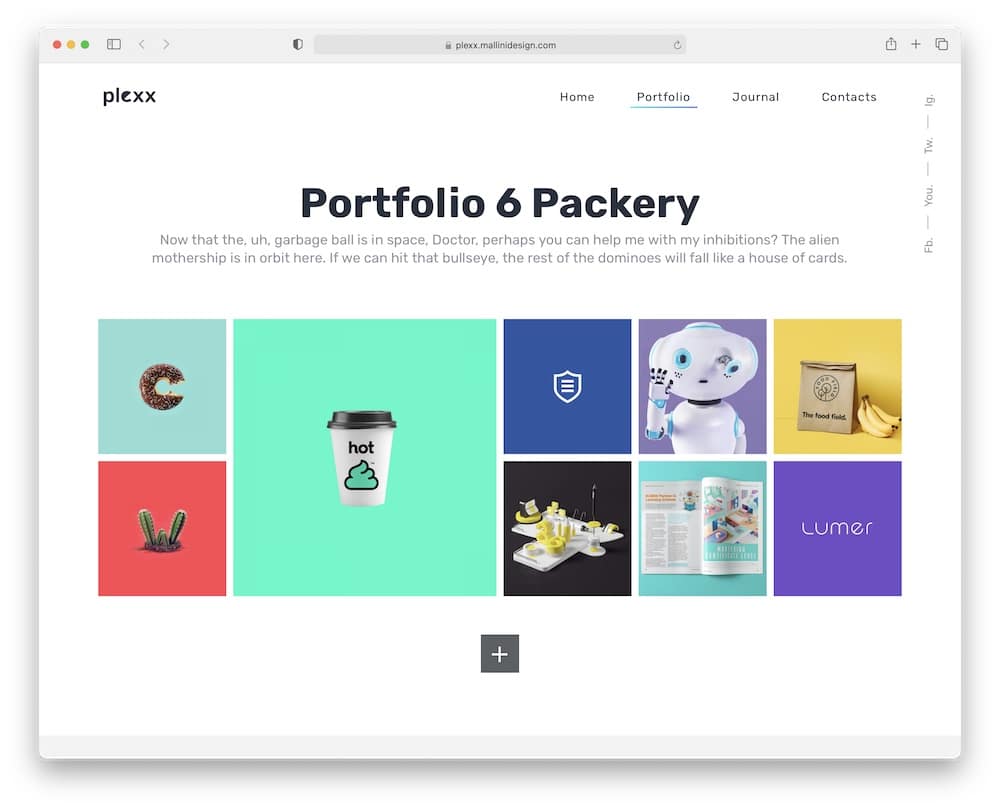 My favorite thing is seeing new projects rise from ashes to life with the help of the amazing online world.
With a responsive Plexx video portfolio WordPress theme, you can create stunning photo and video galleries, showcase your work with a professional portfolio and introduce your creative studio to the public.
Even if you don't know about coding and building websites, DON'T WORRY (!).
Plexx is super simple to use and comes with numerous pre-designed templates, ready-to-use pages, multipurpose layouts, and tons of widgets.
Everything is available for you to take to your total advantage.
In fact, with just some mouse-clicking, fresh goals, and a spark of imagination, you can KICK OFF a new chapter in your business.
YUP, Plexx is SO amazingly practical.
Plexx features:
1,200+ sales
4.9+ star rating
Works great with Gutenberg
Drag & drop experience
Price: $39 (may vary)
MORE INFO / DOWNLOAD
DEMO
9. Werkstatt (The biggest!)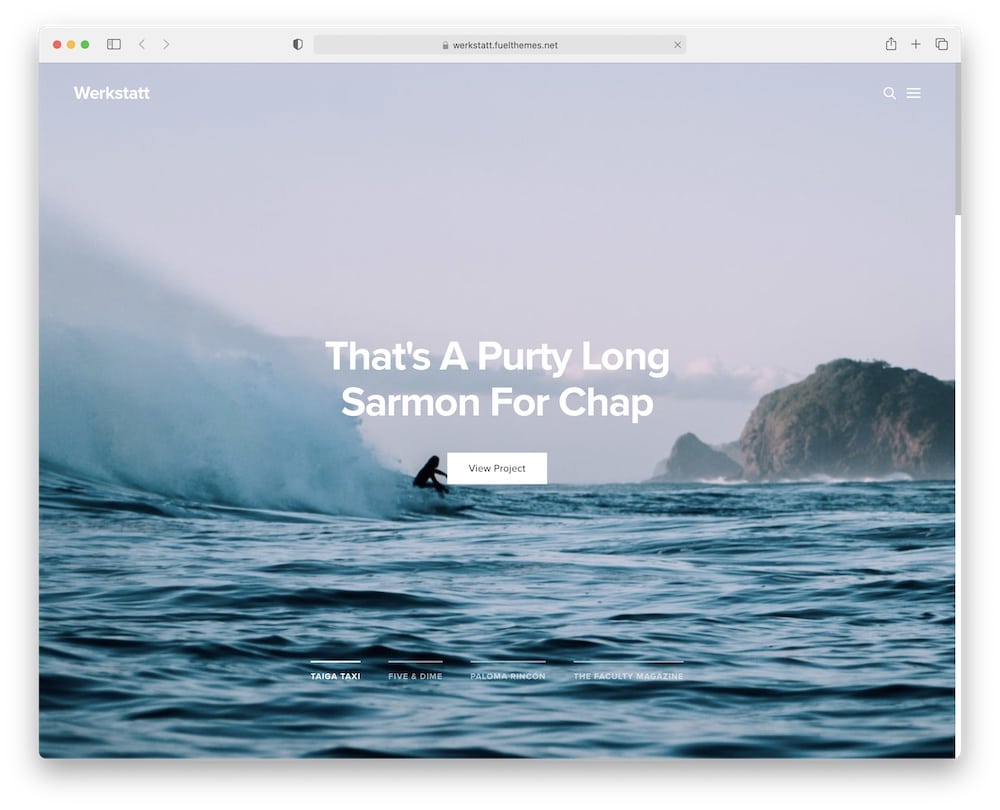 So come on – I'd be honored to have you look at Werkstatt video portfolio WordPress theme with me.
Werkstatt is a colorful theme, full of different elements, animations, portfolio styles, hidden details, column options, and countless effects.
HELL YES!
Let the creative fun begin.
OH, and there are seven demos and tons of unique options to choose from. Full compatibility with the best plugins is also present.
BRILLIANT.
Besides, Werkstatt includes Elementor page builder – a breeze to use and so flexible to work with toward your design goals.
Simply MOVE elements (countless times) around and ultimately decide how to use them – just because YOU CAN.
Pure creative happiness.
Get business flowing with Werkstatt.
Werkstatt features:
9,400+ sales
4.6+ star rating
Cool sound effects
24/7 elite support
Price: $89 (may vary)
MORE INFO / DOWNLOAD
DEMO
10. Notio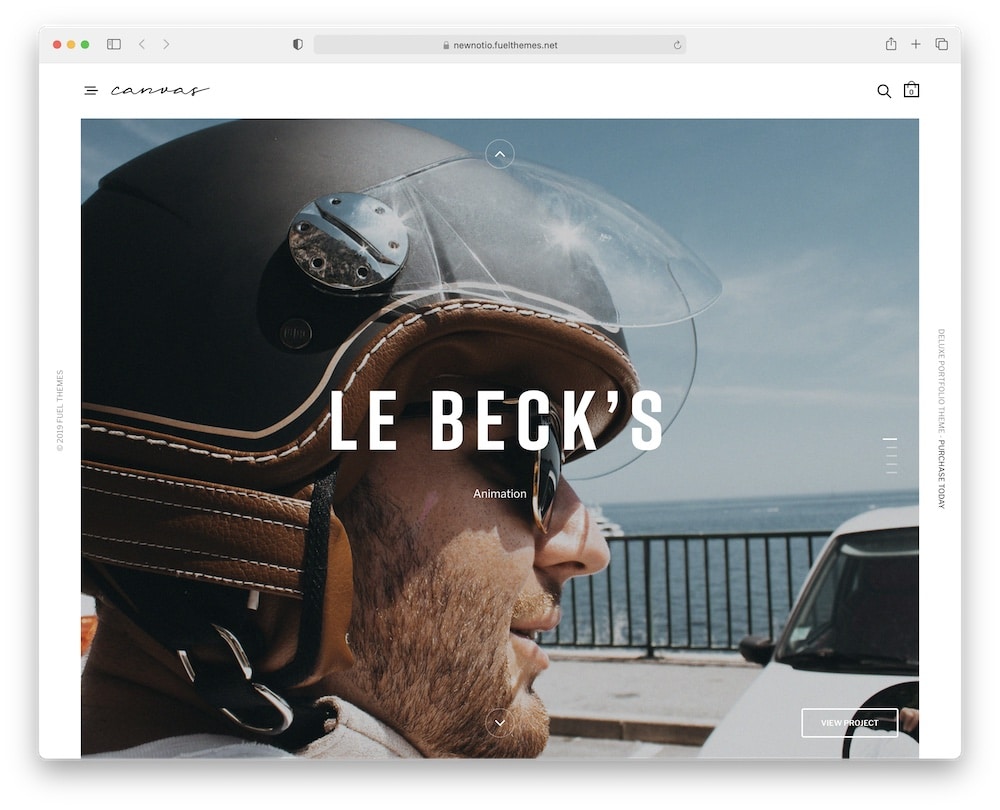 Meet the Notio video portfolio WordPress theme!
It's a visually STUNNING tool, full of great elements with beautiful scrolling outcomes (animations, parallax effect, video backgrounds) perfectly created for different video projects.
Of course, Notio is pixel-focused and looks great on all (size) screens and devices. It also guarantees smooth touch screen sensitivity and fast page loading. (This is a big deal nowadays.)
Add a personal touch with simple, beautiful, clean-looking fonts … Oh, how much I love unlimited typography options!
Note: We also have a full guide on how to change fonts in WordPress.
Make sure to check out pre-made blog layouts and start blogging, video sharing, even selling your stuff (WooCommerce) with Notio.
Notio features:
6,700+ sales
4.5+ star rating
100% editable header
Trendy Slider Revolution
Price: $89 (may vary)
MORE INFO / DOWNLOAD
DEMO
11. Vlogger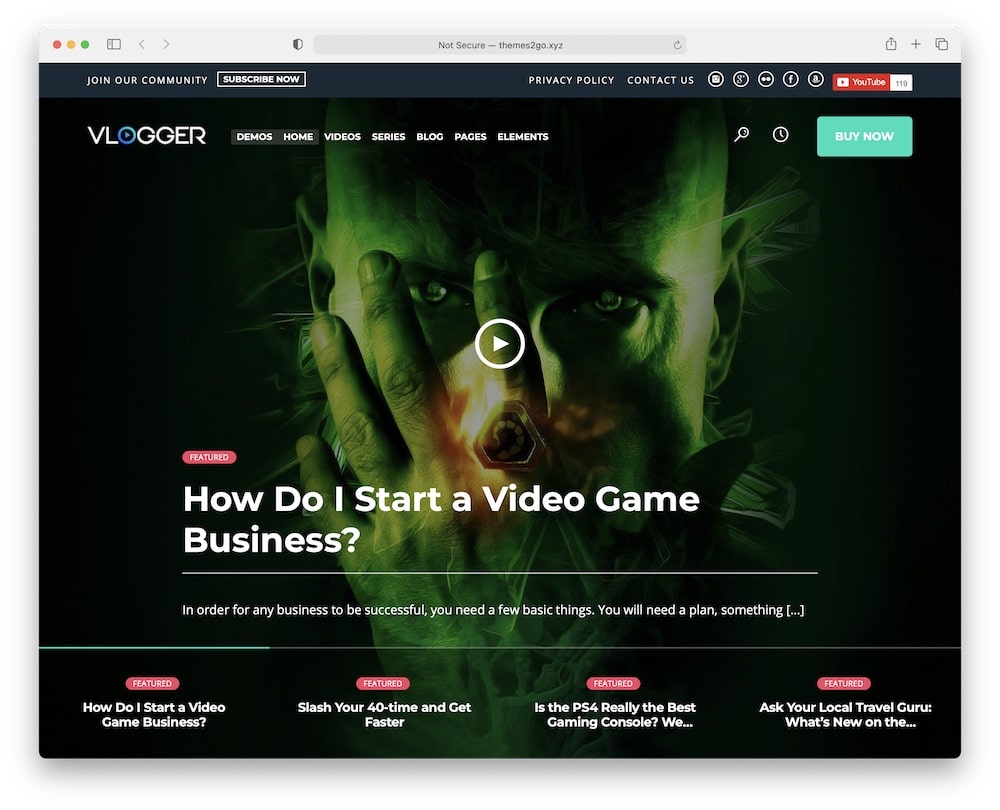 You don't need a ton of bells and whistles to get started, just a simple and modern video portfolio WordPress theme.
Phase one: Stop over-thinking and start.
White. Grey. Blue. Red. Change and customize Vlogger colors exactly as you wish, intending to build the most amazing video portfolio website out there!
Let the RIGHT colors make your new site pop up to your best advantage.
Vlogger is customizable with a few clicks. You can also add parallax backgrounds, carousels, ads, custom widgets, and plugins.
Thankfully with Vlogger you also get powerful customer support with FAST response and a quick-fix-my-problem process.
Vlogger features:
800+ sales
5-star rating
Multi-concept demos
Supports every video format
Price: $49 (may vary)
MORE INFO / DOWNLOAD
DEMO
12. Spool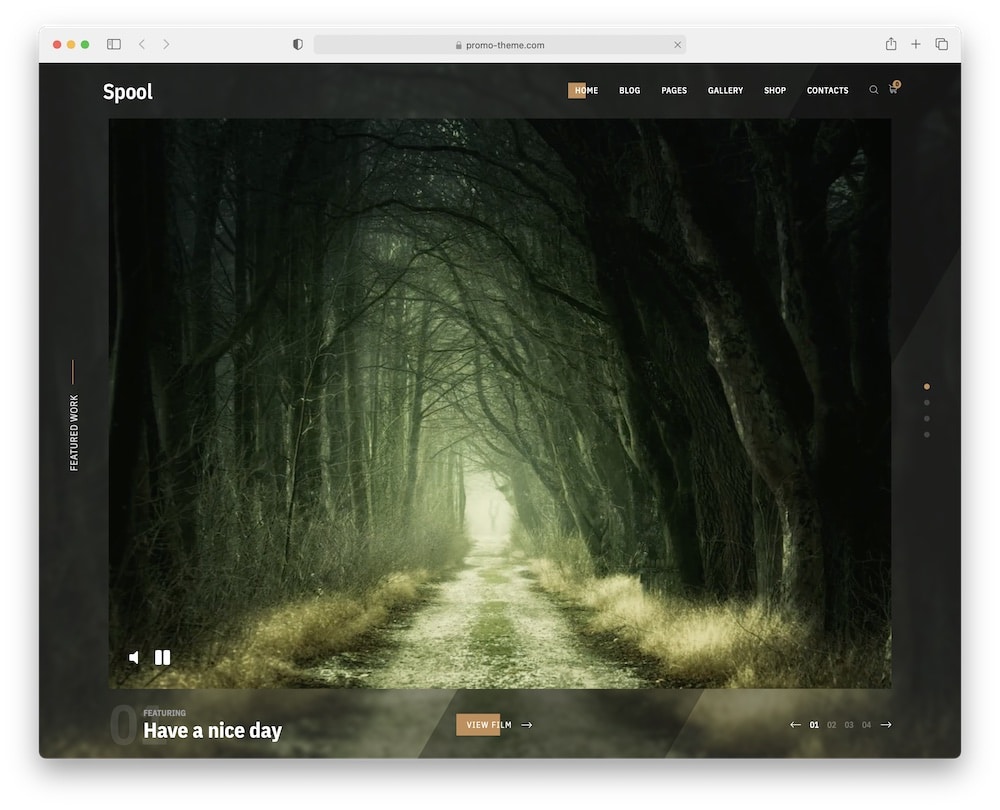 I must confess that Spool is one of my favorite video portfolio WordPress themes.
Spool comes with six attractive homepages (easy one-click install), and OH MY GOSH: design is just clean-looking, magically appealing (why does it make my eyes so happy?).
In simple words, Spool is BOMB.
Another powerful point is the plugins Spool uses (included for free). You get WPBakery page builder, WooCommerce, and Contact Form 7. BLESS.
FORGET coding (!!). You don't need any coding knowledge to personalize your site with Spool.
The built-ins with high speed, SEO, clean code, and responsiveness in mind (plus everything in-between) will make your website even more productive and fresh.
Spool features:
650+ sales
4.7+ star rating
Start hype with the coming soon layout
Interactive links
Price: $59 (may vary)
MORE INFO / DOWNLOAD
DEMO
13. Redfolio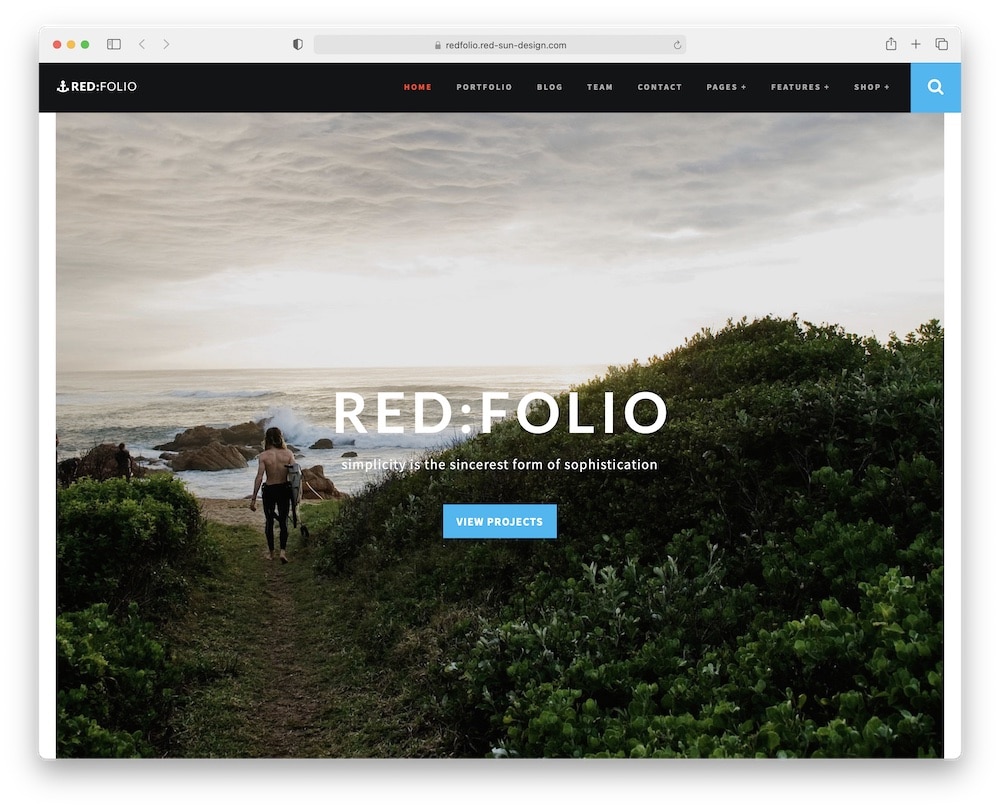 So the decision was made: YOU NEED A NEW WEBSITE. Let me tell you how much and why I LOVE Redfolio video portfolio WordPress theme.
You can use Redfolio as a one-or multi-page design.
SO, you can start simple with a single-page website design and widen your site's potential to a multi-page layout later.
You can even have a blog and approach your visitors more personally.
In the same way, you can also create unlimited portfolio sections (multiple categories), display your videos and interesting projects.
Pretty sweet!
The best part?
You can translate Redfolio into any language you desire and focus on entering new markets, reaching global customers, increasing web traffic, and growing revenue.
Dreams really do come true with Redfolio.
Redfolio features:
1,200+ sales
4.8+ star rating
Easy Google Analytics integration
Pleasing image Lightbox
Price: $59 (may vary)
MORE INFO / DOWNLOAD
DEMO
::
Note: This article was originally published on August 20, 2021. But our team regularly reviews it and updates it with necessary improvements for accuracy.