Are you searching around the web to find the best political WordPress themes?
With the ULTIDA team's help, I am excited to share with you a collection of fantastic solutions for political parties, campaigns, candidates, elections, activism, and anything else in between.
As the demand for visually captivating and functionally robust websites continues to soar, websites have become ESSENTIAL tools for shaping compelling narratives, fostering community engagement and amplifying political agendas.
And there's no better way to build a solid online presence than WP themes.
Let's explore their transformative potential, key features and how they empower individuals and groups to make their voices heard in the ever-evolving political landscape.
How We Tested Political WordPress Themes
We didn't focus only on themes with eye-catching designs and engaging content.
Instead, we went one step further and carefully investigated the functionality, usability and performance (responsiveness & speed) of each theme.
Through testing, we ensured a SEAMLESS user experience, effective communication of the message and the ability to rally supporters around a specific cause.
Each theme is easy to install, has a very beginner-friendly interface and heaps of predefined demos, templates and elements for you to mix and match.
Plus, the endless customization capabilities allow you to tailor the look and functionality exclusively to your political needs.
Maximize the impact of your online political presence now.
QUICK-PICK: Ultimate Political WP Themes
By the way, is it your first time working with a WP theme? Then you may also be interested in learning how to install a WordPress theme easily and quickly.
Best Political WordPress Themes
1. Vox Populi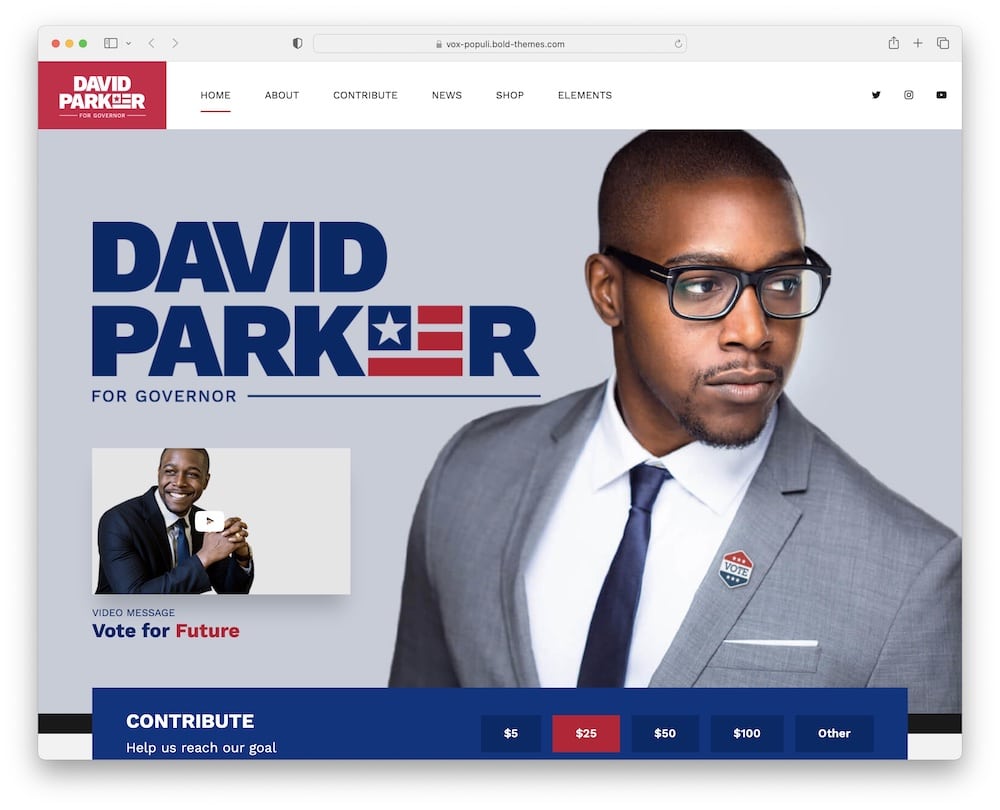 A new voice, a new vision, a fresh start with Vox Populi WordPress theme!
Vox Populi is designed perfectly for political campaigns, parties, candidates, and movements – to shine online.
You can immediately choose from six sophisticated homepages with a beautiful pre-made design!
After (one-click) import simply start mixing and matching available elements, widgets, and plugins.
I especially like transparent displays for campaign events, fundraising, or recruiting volunteers. Plus engaging subscription forms are always a great advantage.
Vox Populi is also translation ready (no more language barriers) regardless of your location and native language.
Grab an AMAZING opportunity with Vox Populi.
Vox Populi features:
MORE INFO / DOWNLOAD
DEMO
2. PoliticalWP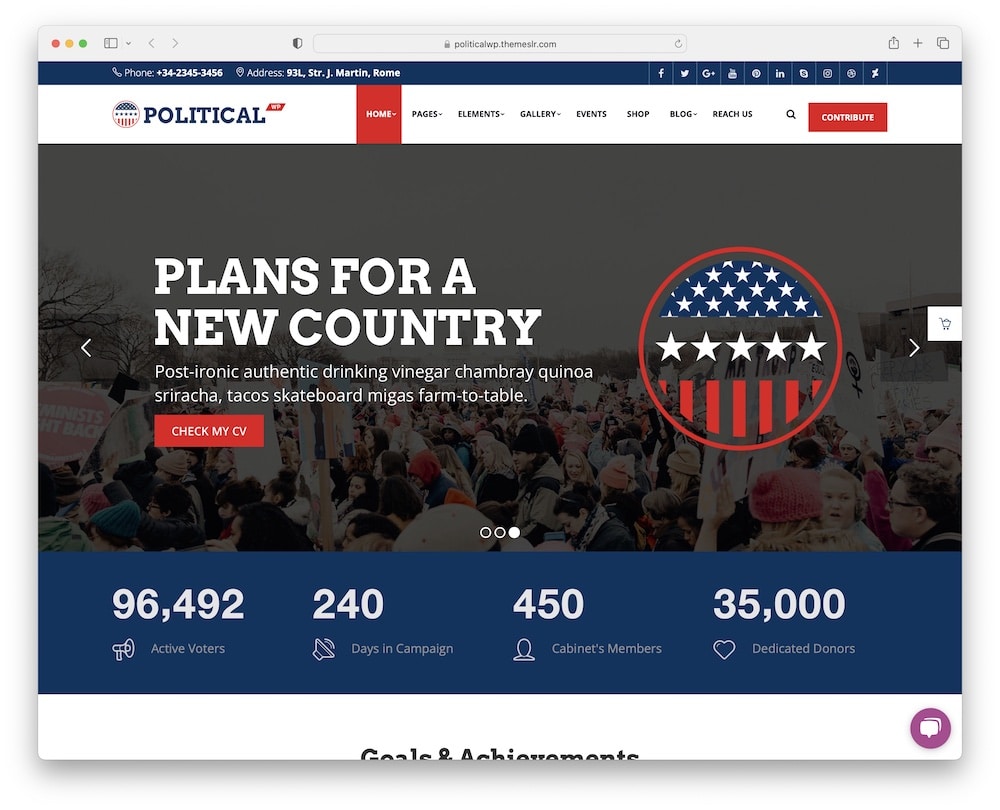 Take action and get results with the stunning PoliticalWP WordPress theme.
Trust me: You will enjoy infinite design possibilities, brilliant plugins, and top-notch customer support.
You can dynamically display main goals, achievements, sponsors, team members, and even push donations, or events with PoliticalWP. Plus, you can create an online store with branded merchandise.
Want to make the world a better place? Talk about your ideas and dreams through a blog!
Moreover, PoliticalWP is also social media integrated to help you with fast engagement and inspiring fans to share your articles and events. The good news: Anybody can go viral.
GO for it!
PoliticalWP features:
860+ sales
4.4+ star ratings
30+ custom shortcodes
Offline & online donations
Price: $59 (may vary)
MORE INFO / DOWNLOAD
DEMO
3. inForward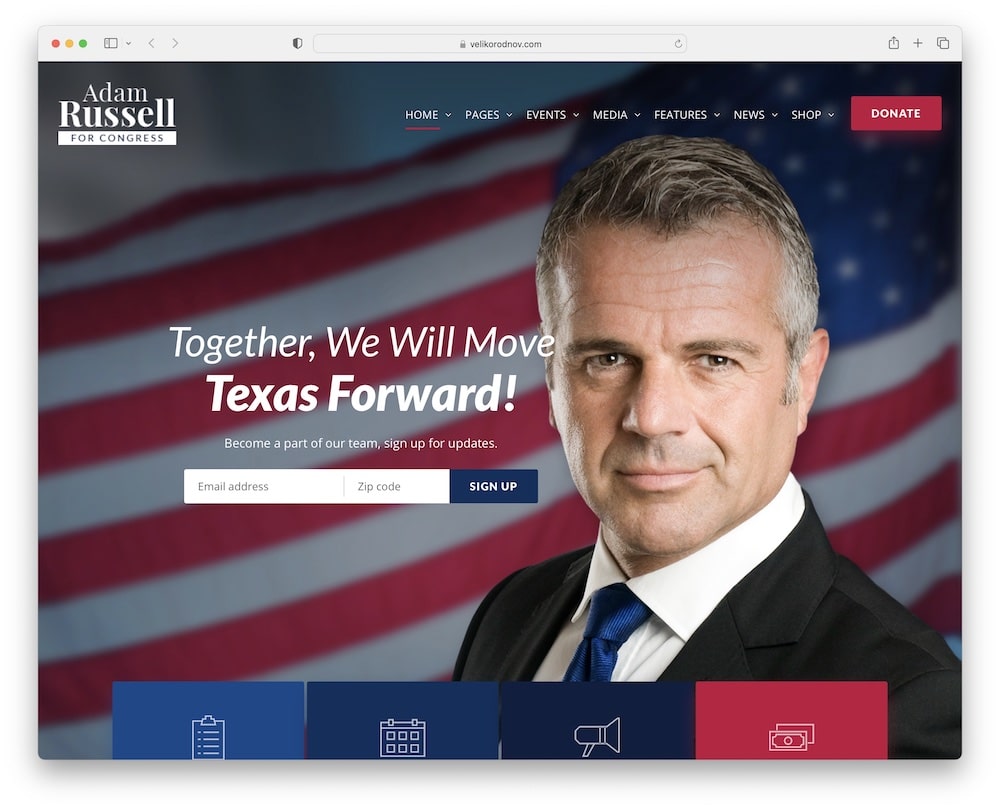 Break barriers and build a new future with the amazing inForward political campaign WordPress theme.
Ready-to-use homepages can be fully customized via the brilliant WPBakery page builder. Just drag and drop elements into your dream site – visually.
Keep in mind: 0 coding knowledge.
I like to start by changing colors, fonts, sidebars, images, and buttons.
Besides, inForward is responsive, SEO-friendly, and ensures excellent loading speed.
Offering sweet performance.
In addition, you can create various forms (Hi, Contact Form 7) and use the all-in-one MailChimp for AWSOME email marketing. Tip: Go personal with your followers.
Make a difference with inForward!
inForward features:
MORE INFO / DOWNLOAD
DEMO
4. Politic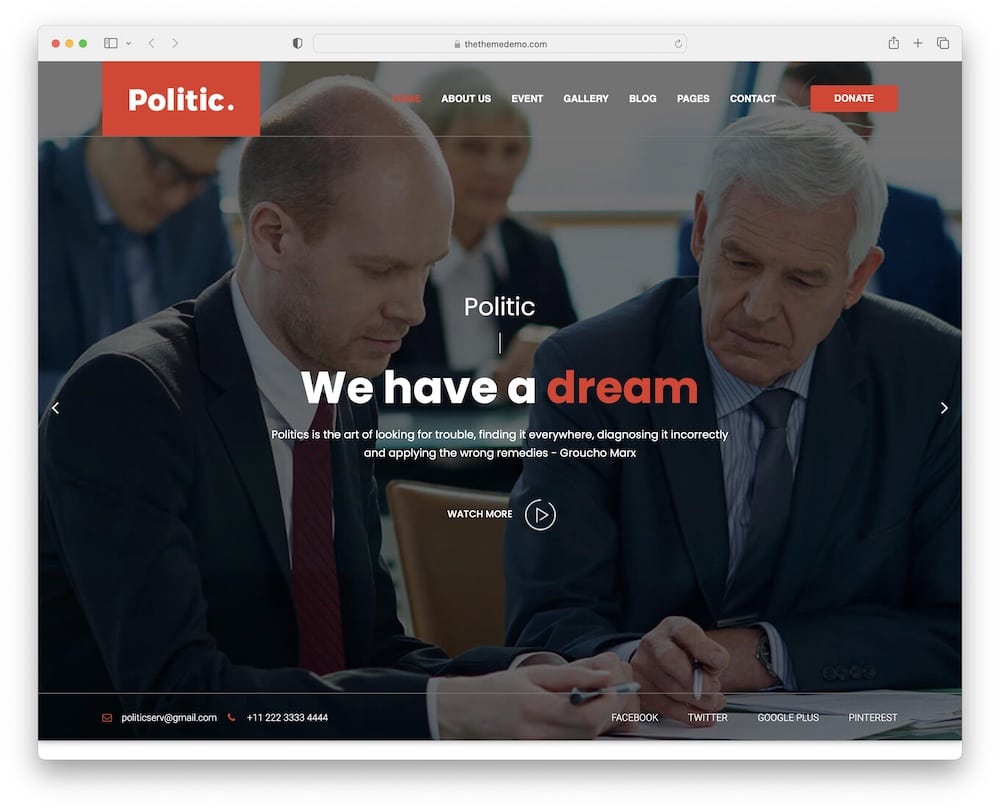 Modern Politic is the choice for change and results!
This political WordPress theme was made for politicians, political parties, government movements, crowd-funding campaigns, and NGOs. Politic works out of the box (as it is), saving you time and money!
Ready-to-use homepages look professional and include unique inner pages, multiple color variations, sticky header & menu, smart top bar, and Google fonts.
You can also showcase your visual content in an appealing gallery. Remember, images can evoke emotions, leave an impression and capture the attention of your visitors.
Oh, and I am a BIG fan of a user-friendly scroll to the top button. Fact: Nobody likes manually scrolling back up on long pages of content (+ it can boost your UX).
Expand your reach with Politic.
Politic features:
910+ sales
4.0+ star ratings
Exclusive HT politic plugin
Extensive header & footer settings
Price: $69 (may vary)
MORE INFO / DOWNLOAD
DEMO
5. Partiso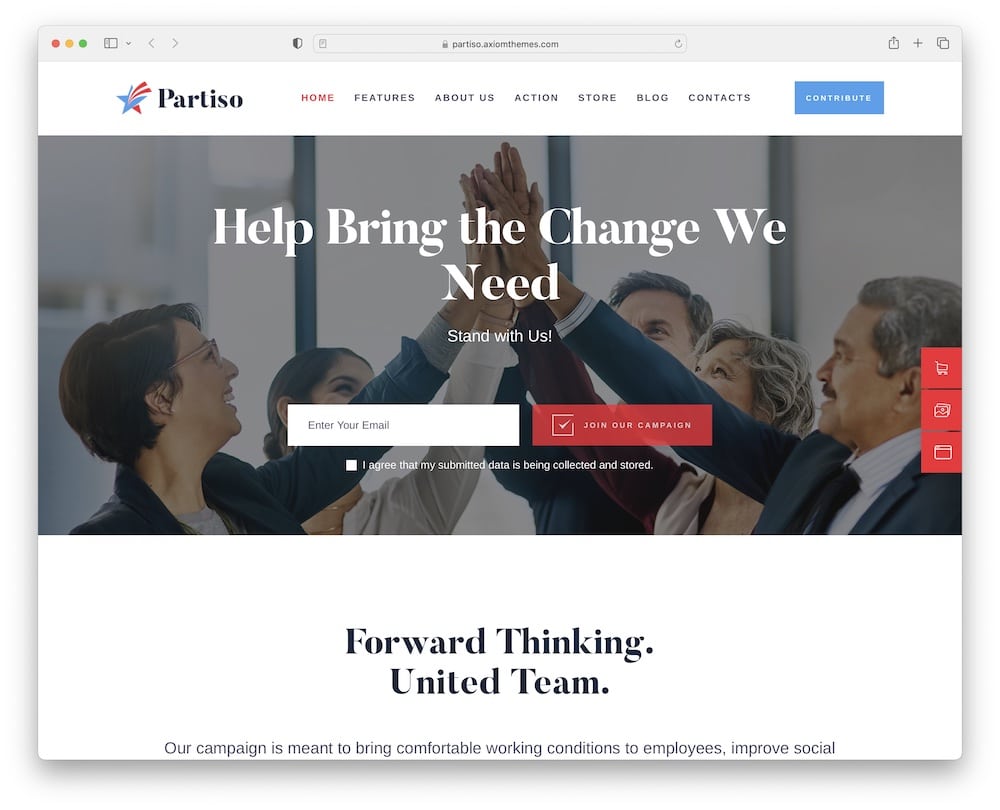 Create success with the stunning Partiso political WordPress theme.
Partiso is an (all-in-one) government, elections, candidates, and politicians-inspired theme that you can shape to your needs and advantages.
It includes three gorgeous homepages, various layouts, plugins, shortcodes, and widgets. Simply mix, match, add, adjust, or remove elements. HURRAY!
But don't forget to include your creative twist.
Moreover, I recommend you start a blog with valuable content about election campaigns, justice, statistical analysis, and the effects of your strategies.
Got a big shiny idea? Let us know about it!
Besides, you can raise money online and demonstrate the influence and support people give to you with a donation plugin.
I also like beautiful event form and social media integration.
Partiso features:
260+ sales
5-star rating
80+ shortcodes & widgets
Practical live Ajax search
Price: $69 (may vary)
MORE INFO / DOWNLOAD
DEMO
6. Activism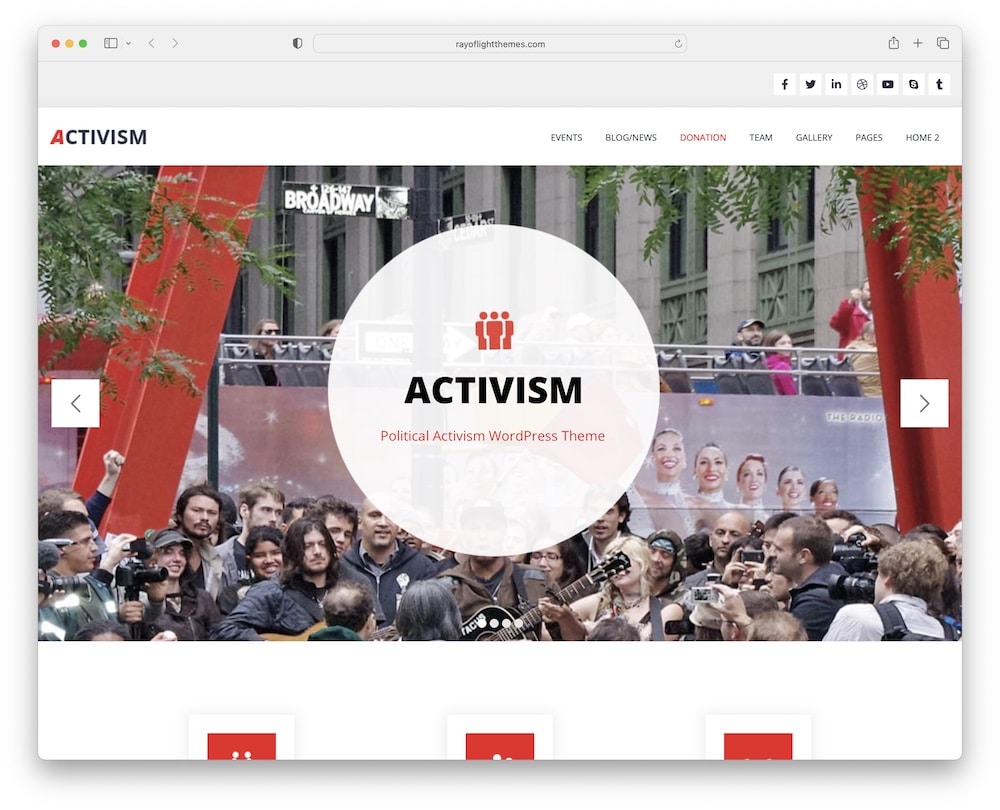 I am voting for stylish Activism political WordPress theme!
This clean and modern theme is optimized for the Gutenberg seamless editing experience. Plus, you get the opportunity to work together with Slider Revolution, WooCommerce, Contact Form 7, and Events Calendar.
Pretty, COOL right?
Activism is also fully responsive and retina ready for amazing user experience on all screen sizes.
Of course, professional customer support will help you through the process of setting up and customizing your website if needed. But remember, you get complete control over Activism.
Furthermore, Activism is translation ready for you to localize or globalize your website. SWEET.
Improve and grow with Activism!
Activism features:
680+ sales
4.4+ star ratings
One- & multi-page layouts
Ready-to-use slider
Price: $35 (may vary)
MORE INFO / DOWNLOAD
DEMO
7. Election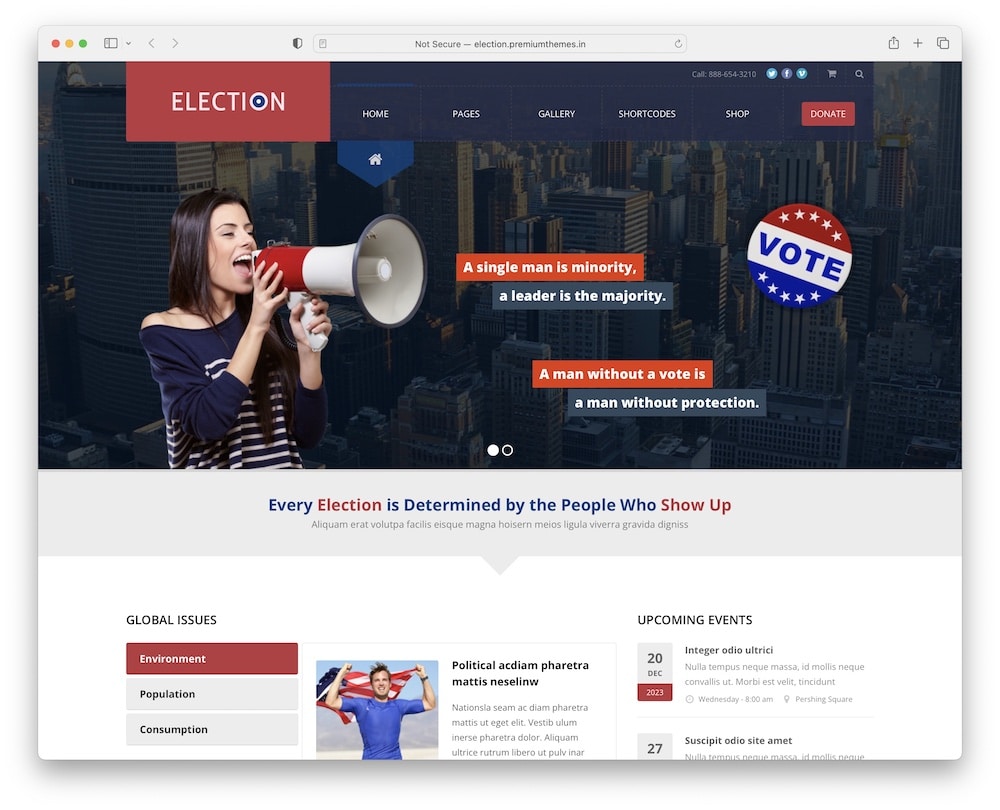 It's time to progress so commit to Election political WordPress theme.
Versatile Election comes with a handy bundle of pages, layouts, sidebars, galleries, skins, and widgets.
You can beautifully display your story, portfolio, testimonials, blog posts, special events, and even advertisements.
Plus, with Contact Form 7, you can offer visitors to reach out easily via forms, but you can also create subscription forms for your newsletters. You can place forms in various locations (sidebar, footer, pages, blog posts).
I also LOVE to use call-to-action forms & popups (see how to create a popup in WordPress).
And have fun choosing the right colors, Google fonts, icons, and buttons.
Finally, by adding social media functionality you enable the audience to share, like, comment, or follow your profiles. WIN – WIN.
Election features:
810+ sales
4.3+ star ratings
Wide & boxed layouts
Pricing tables
Price: $43 (may vary)
MORE INFO / DOWNLOAD
DEMO
8. Jack Well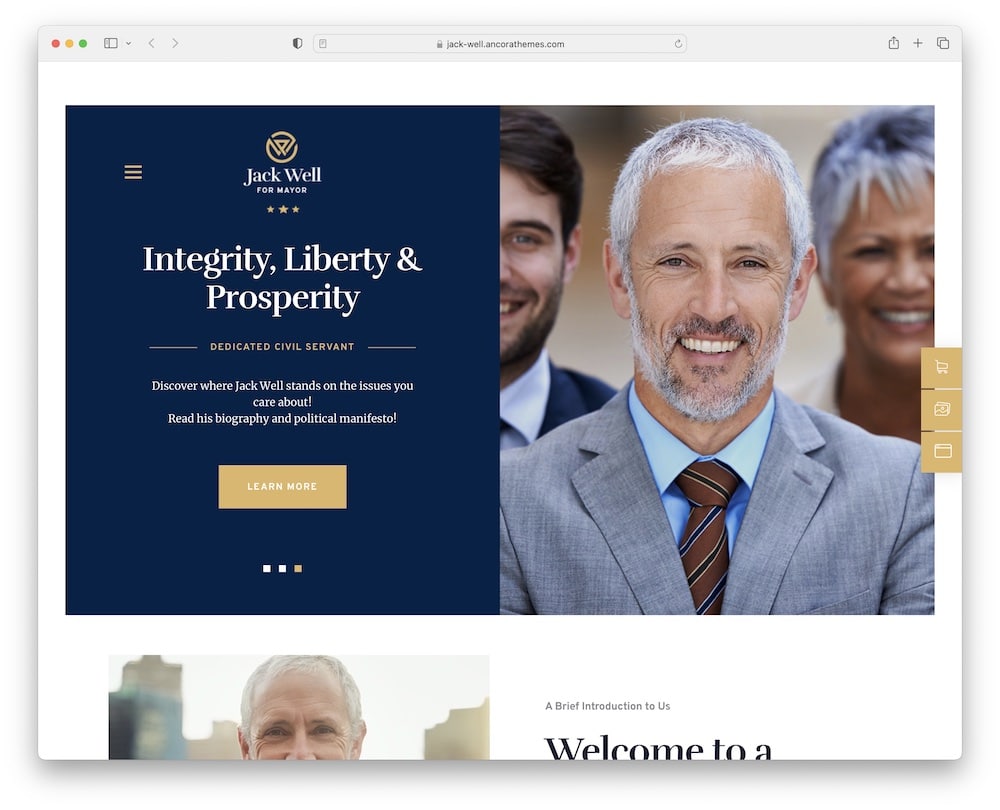 YES, you can win with the election with the bold Jack Well political WordPress theme!
You can easily adjust Jack Well to all your personal needs due to the brilliant WordPress page builder, WPBakery (0 coding required).
Plus, with a handy bundle of shortcodes and widgets, you can increase the functionality of your website in no time.
Professional Jack Well also includes FREE lifetime updates and six months of friendly customer support.
BIG. DEAL.
Moreover, integrated SEO can boost your organic traffic by helping your site to perform better in search engine results. Yup, we all want to reach the right people so don't miss out on posting high-quality content.
Oh, and check out the parallax theme effect!
Jack Well features:
530+ sales
4.7+ star ratings
One-click demo data import
Customizable Google Maps
Price: $69 (may vary)
MORE INFO / DOWNLOAD
DEMO
9. Candidate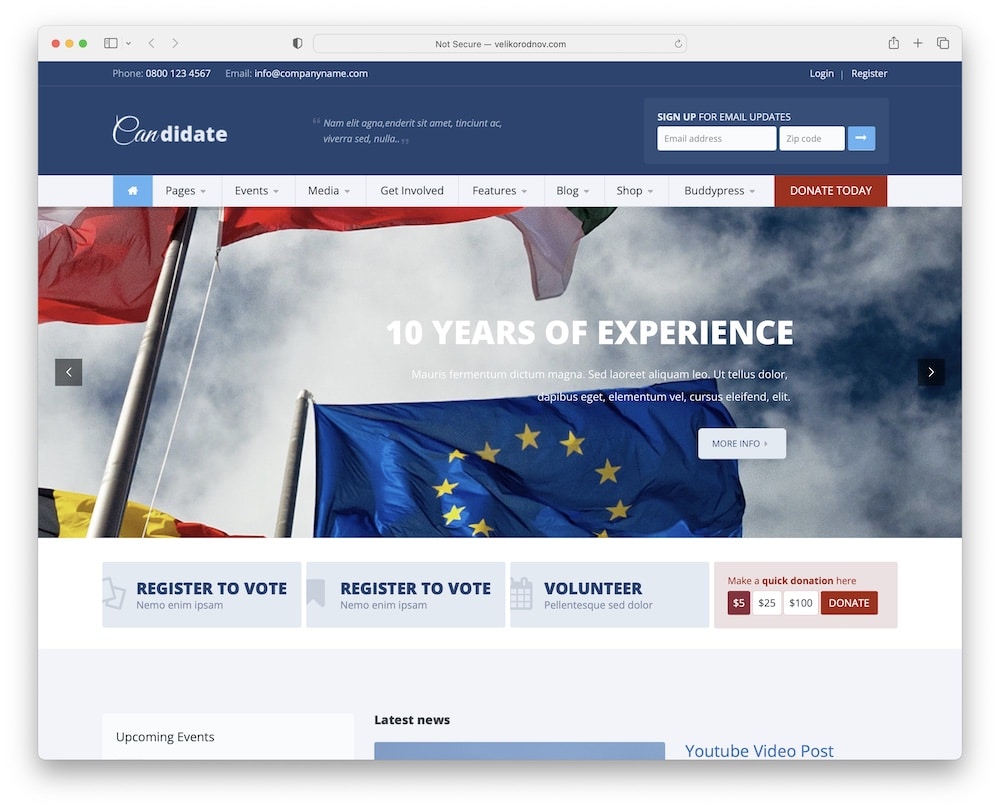 Efficient Candidate WordPress theme is the right "man" for the job!
It comes with a beautiful design, unique elements, and the most popular plugins such as WPBakery, Slider Revolution, WooCommerce, and Events Calendar.
Of course, you can also use the donation widget to receive vital donations via the Paypal payment system.
Easily display sign-up forms, volunteering positions, the latest news, campaign dates, and social media icons to encourage people to join you.
I recommend you use the all-in-one email marketing tool MailChimp to better manage collected contacts, create professional emails, and track results.
HIGH FIVE!
One goal, one passion, one Candidate.
Candidate features:
2,500+ sales
4.5+ star ratings
Integrated crowdfunding system
Includes 35+ PSD files
Price: $69 (may vary)
MORE INFO / DOWNLOAD
DEMO
10. Candidates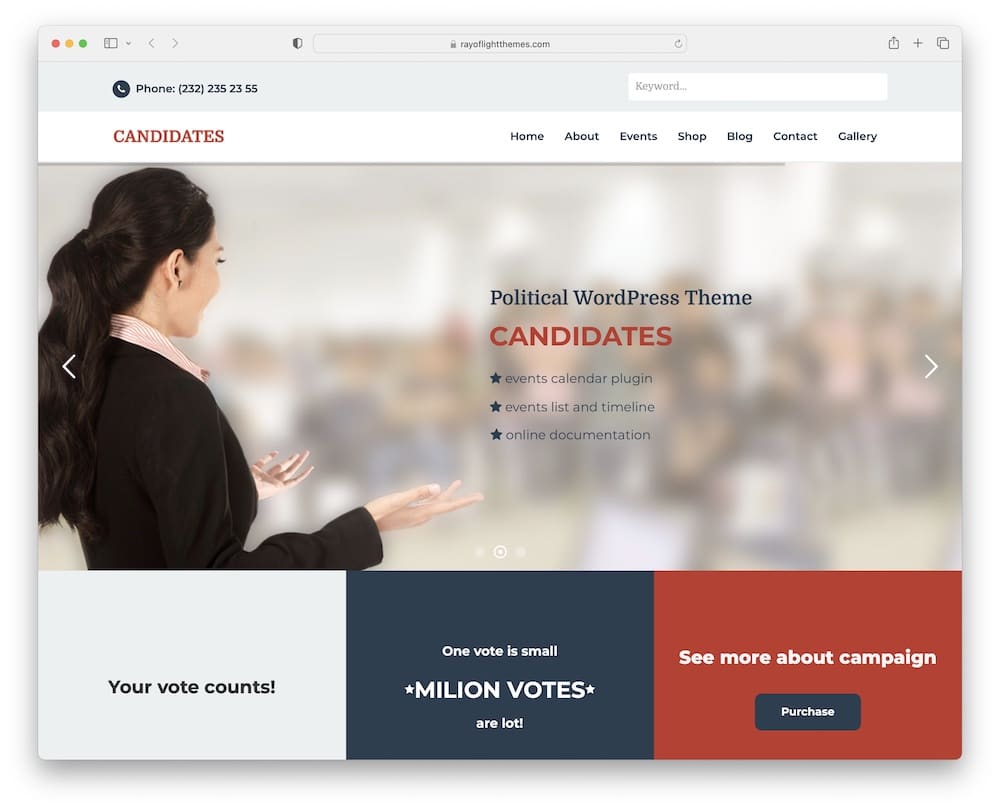 Now is the time to start building a new future with the polished Candidates political WordPress theme!
Pre-made design of Candidates can be easily styled and adjusted to your vision by the Gutenberg block editor and theme settings. And you can see how your content will look as you create it (real-time previews).
Keep in mind, you can also add paragraphs, headings, lists, images, videos, and much more to pages or posts.
And with handy shortcodes, effortlessly create complex layouts and custom elements (no need for coding).
Besides, Candidates include step-by-step documentation for you to check everything about this theme out. Yup, geeks are the new COOL!
Candidates features:
190+ sales
5-star rating
Floating header/navigation bar
Countdown timer (for elections)
Price: $44 (may vary)
MORE INFO / DOWNLOAD
DEMO
11. Political Press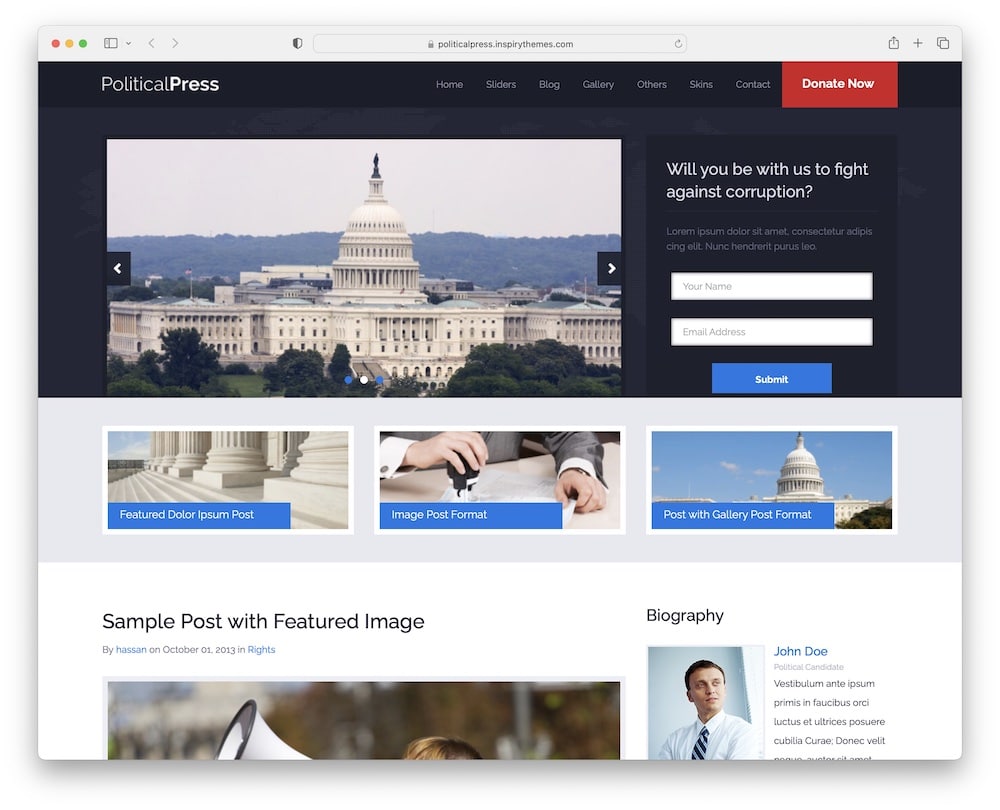 Unite your fans and gain new followers via the flexible Political Press WordPress theme.
Political Press is fully responsive, SEO optimized, and translation ready for an amazing user experience.
A big plus of the Political Press is a well-organized menu, logical page structures, handy plugins, and attractive design. Also, I love to use a simple header, clear call to actions, content suggestions, testimonials, and contact forms.
OMG: And it comes with four gorgeous color skins to choose from! (But you can create a custom color scheme, too!)
Moreover, a badass gallery with professional images or videos can contribute to a trustworthy impression.
Keep in mind, you can present campaigns, recruit volunteers, raise funds, organize donation events, and push advertising, all from the comfort of the Political Press.
Political Press features:
1,000+ sales
4.3+ star ratings
3 slider styles
Special landing page template
Price: $39 (may vary)
MORE INFO / DOWNLOAD
DEMO
12. Right Way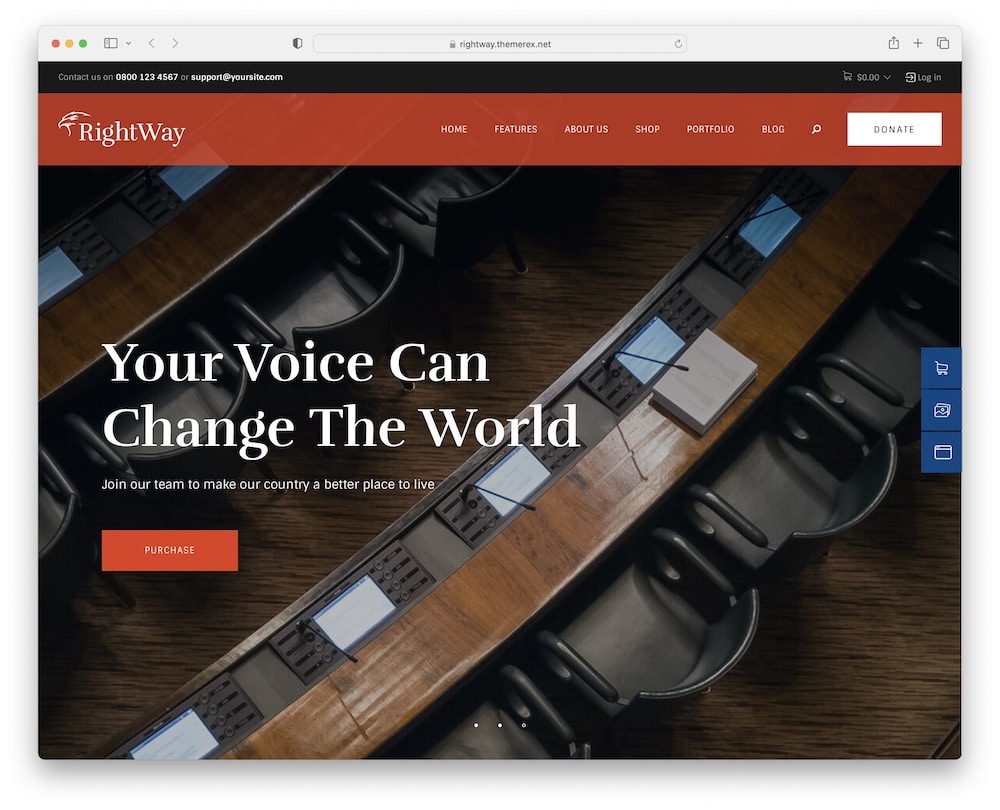 Use the Right Way political WordPress theme at the right time for the right reason.
This multipurpose theme includes numerous homepages (one-click install), high-quality layouts, tons of shortcodes and widgets, plus unlimited colors & fonts to choose from.
With advanced blog settings, you can create THE BEST online content about politics, candidates' missions, fundraising, voters, human rights, charity, election campaigns, and much more.
Plus, I recommend you build a professional portfolio of individual candidates of your political party.
Furthermore, Right Way includes FREE lifetime updates and dedicated customer support that has your back if you encounter any dilemma during customization.
Do your thing Right Way!
Right Way features:
1,200+ sales
4.8+ star ratings
10+ demos
Header & footer builder
Price: $69 (may vary)
MORE INFO / DOWNLOAD
DEMO
13. Baklon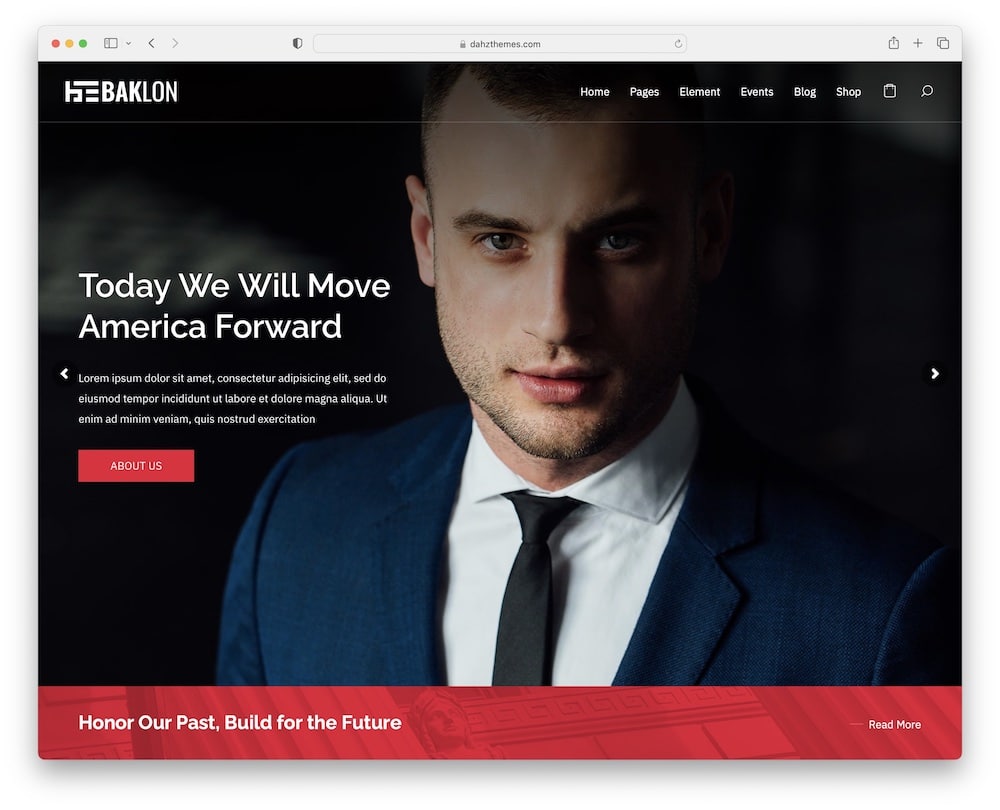 If you have a BIG dream, Baklon political WordPress theme will serve you with excellence!
Immediately after import, you get a ready-to-use homepage with AWSOME plugins, impeccable layouts, and creative elements.
Choose from various headers, custom post types, blocks, and more. I really enjoy working with mega menu navigation in order to ensure users find (without confusion) the information they need easily.
Baklon is also social media integrated for quick social sharing, following, online discussion, or news liking.
Additionally, Baklon is optimized for fast-speed performance because nobody likes slow-loading sites that can frustrate you in less than a few seconds.
Tailor Baklon to AWSOME user experience for you and your users!
Baklon features:
590+ sales
4.4+ star ratings
Easy setup wizard for quick installation
Live customizer
Price: $59 (may vary)
MORE INFO / DOWNLOAD
DEMO
::
Note: This article was originally published on July 14, 2023. But our team regularly reviews it and updates it with necessary improvements for accuracy.