Yo, to all the car transfer service businesses needing the best taxi WordPress themes. I have some fine treats for you.
Yes, I wanted to add both free and premium options for you.
However, only two free ones are worthy of inclusion. Still, the premium WordPress themes are a bargain compared to the cost of hiring a professional.
You can do it YOURSELF! (Yes, do it.)
This post covers:
Our team worked with four local cab booking businesses to create stand-out websites.
We used TaxiPark and Grab Taxi themes but thoroughly tested all the rest just for you. (Safe & reliable!)
You can now create a taxi website quickly and easily with or without experience.
Go, Go, GO!
THE ULTIMATE 8:
Remember to see how to install a WordPress theme before picking one if you're a first-timer.
Top Premium Taxi WordPress Themes
You may also be interested in checking how to choose a WordPress theme.
1.TaxiPark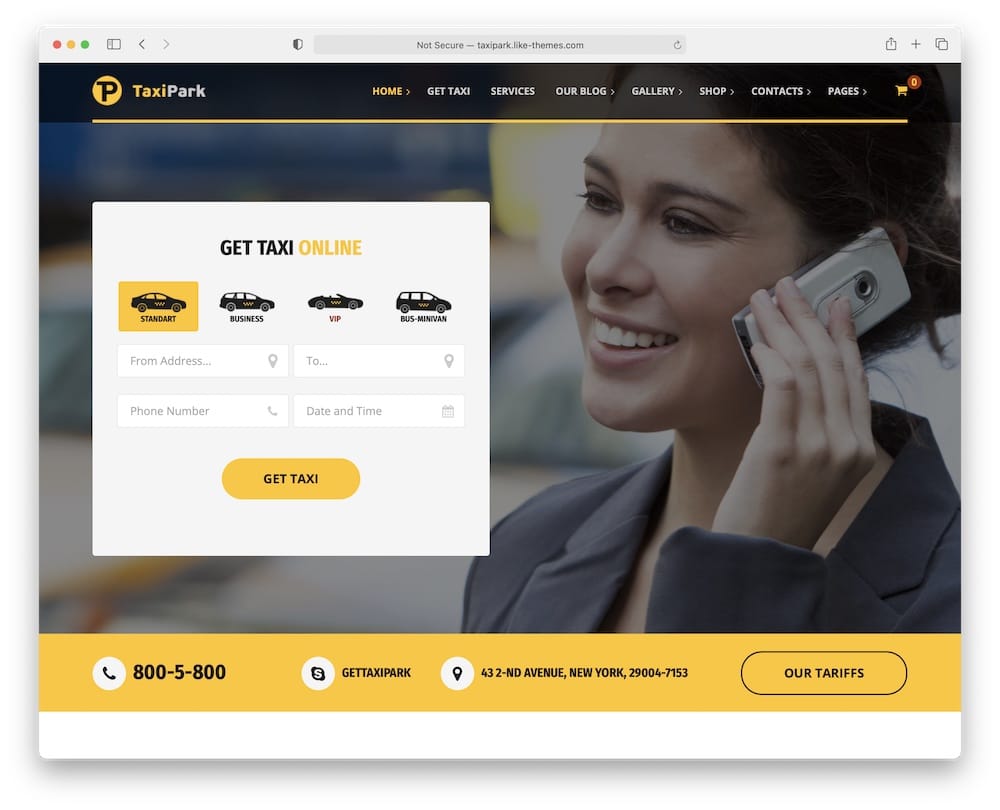 Taxi for Life? TaxiPark cab booking WordPress theme is a modern and fully responsive solution for taxi drivers and transportation companies. Such a stunner!
TaxiPark comes with three different homepages and numerous pre-made inner pages. YES, you get tons of customization options for an easy start (0 coding skills required).
Besides, TaxiPark is SEO optimized, well documented, and simply operated. Plus, no matter which browser your visitors use, they are all WELCOME on your new taxi website (Safari, Chrome, Edge, Firefox).
BLISS.
And let's imagine (close your eyes) a unique parallax effect with multiple backgrounds creating a sensation of depth on your site (I know, WOW).
Awesoooome browsing experience guaranteed!
TaxiPark creates winners every day!
TaxiPark features:
720+ sales
4.8+ star rating
Regular updates
Different gallery styles
Price: $54 (may vary)
MORE INFO / DOWNLOAD
DEMO
2. Conexi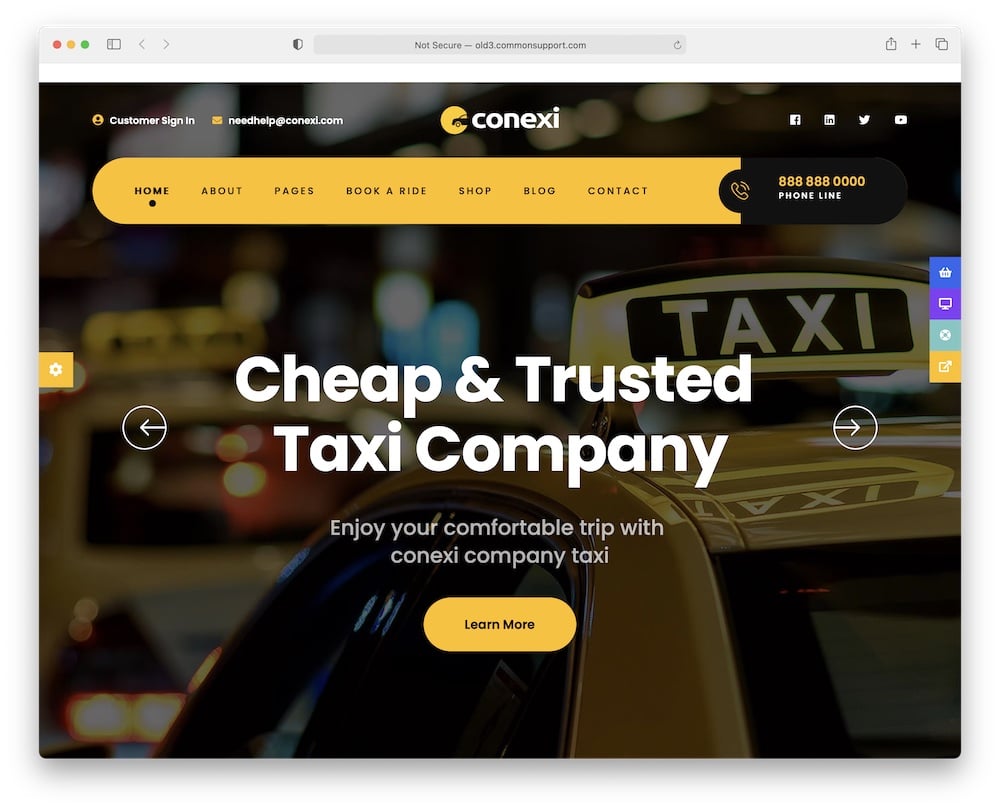 One of the coolest and most surprising taxi WordPress themes is Conexi.
Fresh and stylish design, ready-to-use templates, multiple blocks, and various layouts – everything you need for a BIG start.
Conexi includes some of the most powerful plugins, such as Elementor WordPress page builder, WooCommerce, MailChimp, and Contact Form 7. Happy-go-lucky!
Get from point A to point B with organized and detailed documentation.
Come to the NERD SIDE!
Conexi is optimized for fast load speed BECAUSE nobody likes a snail's pace on the internet. (And this is how you pick a fast WordPress theme.) SO don't worry, your visitors will stay on your site much longer due to excellent performance.
Congratulations!
Moral of the story? Click the buy button and enjoy Conexi.
Conexi features:
240+ sales
4.3+ star rating
120+ building blocks
Price: $34 (may vary)
MORE INFO / DOWNLOAD
DEMO
3. Grab Taxi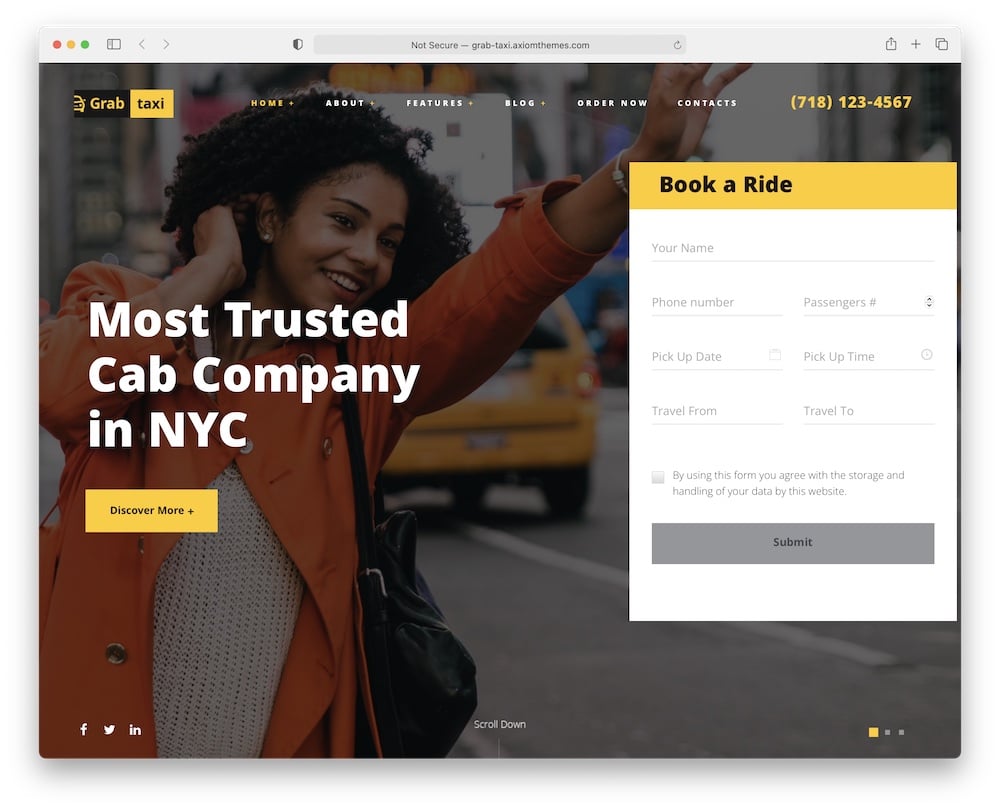 Raise your hand if you're ready to Grab (a) Taxi!
It has an adaptive design, one-click demo import, phenomenal performance, fast speed, and stunning features. Exciting!
Everyone deserves a great website, and Grab Taxi gives you an opportunity to create it totally by yourself – NO need for hiring professional designers or developers.
Just be creative, curious, BE YOU (and maybe add a little bit of caffeine in your body when building). Yeah, pretty COOL.
You can customize everything.
Trust me: Grab Taxi is the perfect theme to attract new customers.
Grab your cozy clothes and let's get into this.
Grab Taxi features:
260+ sales
5-star rating
Practical shortcodes
Integrated Ajax search
Price: $69 (may vary)
MORE INFO / DOWNLOAD
DEMO
4. Chauffeur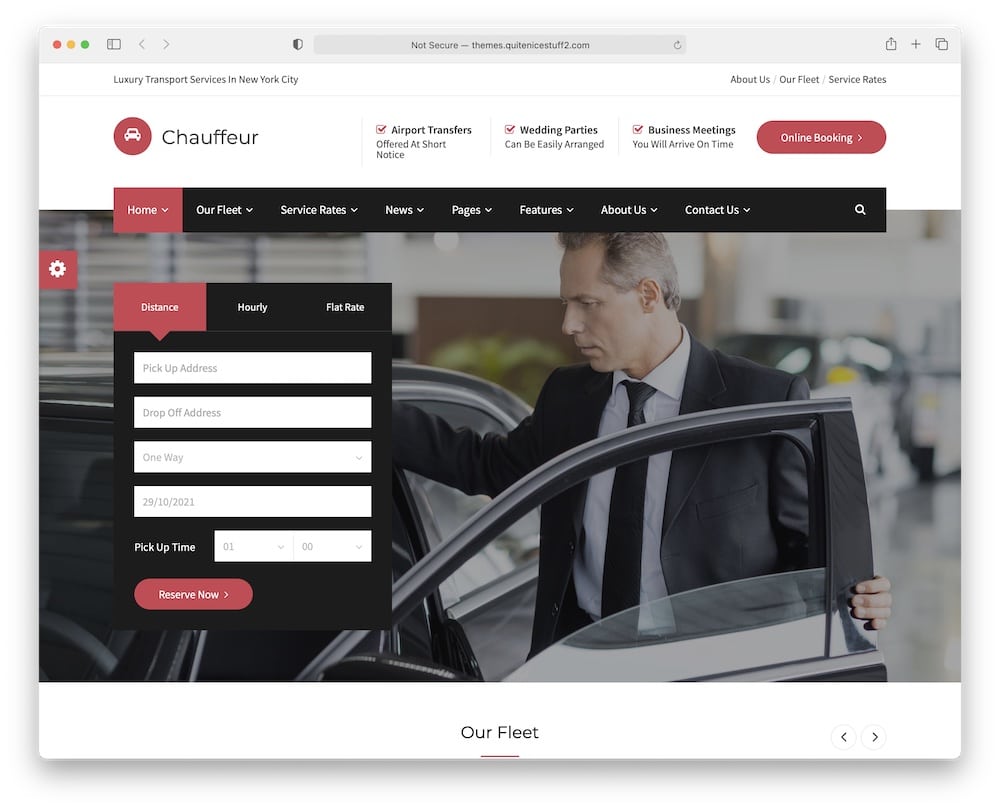 Working as a taxi driver gives you the chance to meet a wide range of people. And the same advantage you have with Chauffeur taxi WordPress theme!
Meet new people every day with your amazing NEW website.
Chauffeur comes with a complete booking system (distance, hourly and flat pricing options), online payments, easy to read info table, time calculator, and Google Maps (easy integration). WOOW.
Based on all this, your customer has a trouble-free and lightning-fast booking option.
WIN-WIN.
Of course, you also get a WordPress slider plugin for the most amazing slideshows (added for free)!
Jaw-dropping performance.
My friend, it must be your lucky day – CHECK OUT Chauffeur and push yourself to bigger business goals!
Chauffeur features:
2,400+ sales
4.3+ star rating
Multiple payment gateways
Includes layered PSDs
Price: $59 (may vary)
MORE INFO / DOWNLOAD
DEMO
5. Triada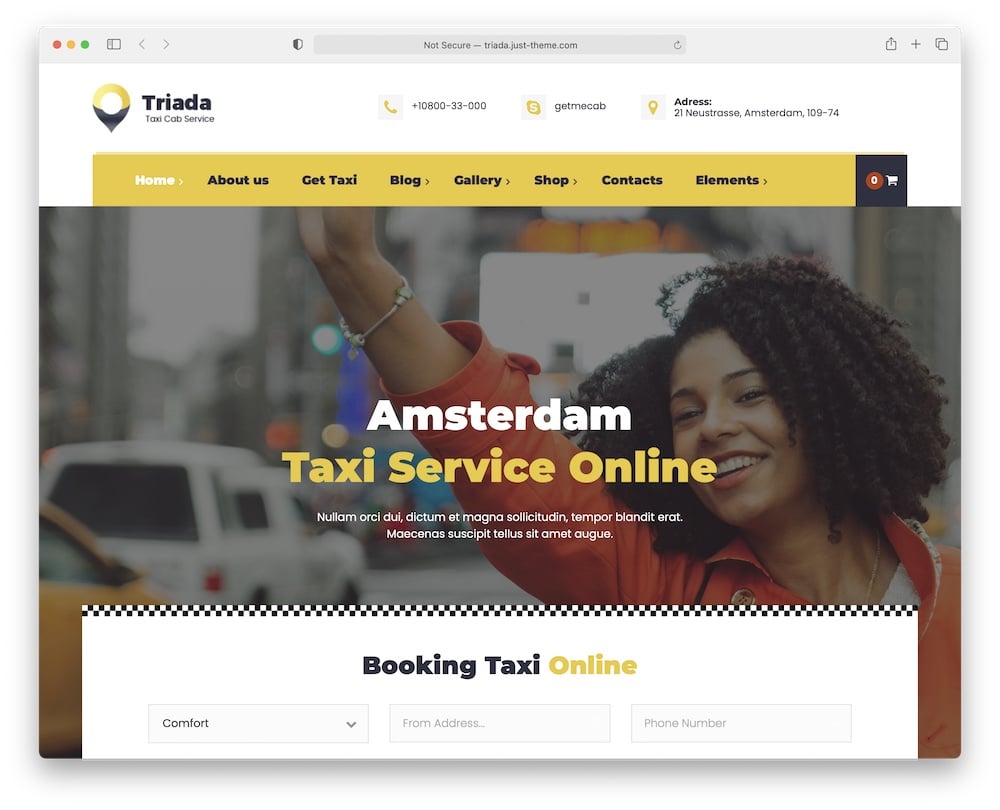 Professionals and newcomers can successfully use the unique and fresh Triada taxi WordPress theme. Included ready-to-use designs give you the power to create an efficient and spectacular website.
Undo, redo and enjoy dozens of elements and unlimited design options of Triada. Just start and see the results instantly (I know, it sounds like a fairytale).
PURE. CONTROL.
Taxi service companies, car rentals, and other transport companies – this is the theme made especially for you!
Triada also works with any WordPress translation plugin, SO YES, you don't have any language boundaries – WORLD IS YOURS!
Plus, Triada is responsive by nature and looks great even on mobile devices (such a stunner).
Map out your over-the-top futures with popular Triada.
Triada features:
MORE INFO / DOWNLOAD
DEMO
6. Genurent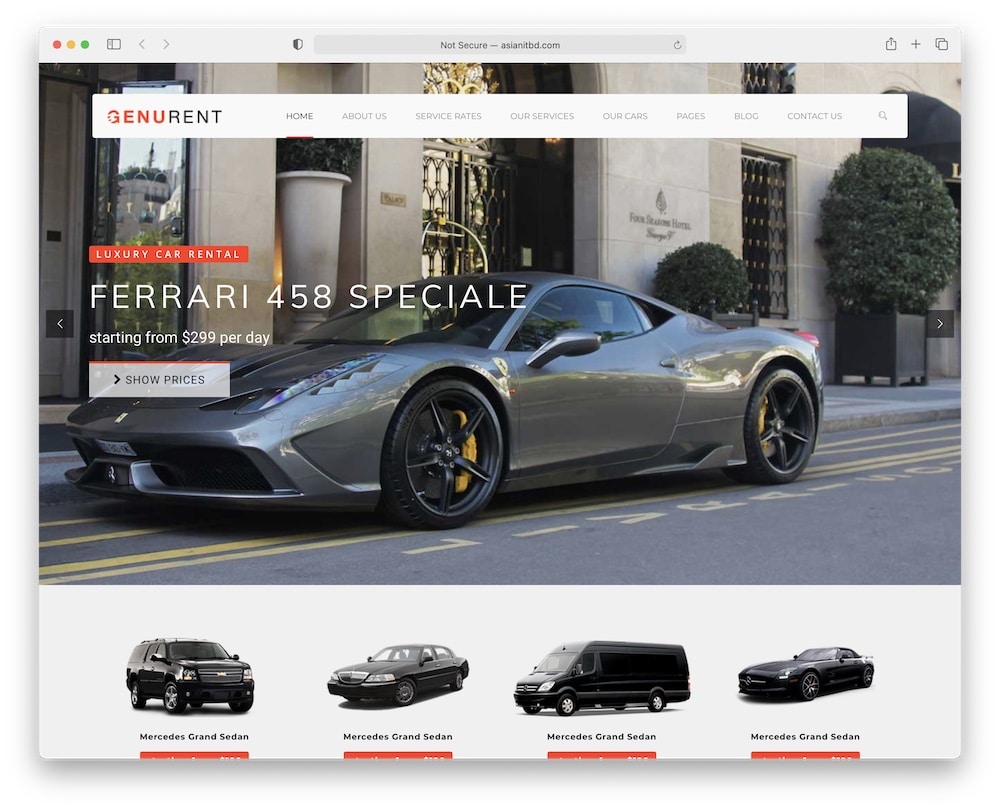 Anyone can jump into building a new website with Genurent taxi theme thanks to its visual editor and 100s of pre-made designs. Customization is super fast and easy!
Genurent is amazingly affordable and comes with the best tools, well-organized code, robust framework, and detailed documentation.
ENJOYABLE. EXPERIENCE.
Of course, you can choose between numerous typography options, color, and other finest details. You have full control over the instant results.
Yeah, it's COOL.
Keep in mind, with charming Genurent, your visitors can use all major browsers and still enjoy its amazing performance.
Unique style for your brand is assured!
Genurent features:
120+ sales
4.6+ star rating
Frequent updates
Customizable WP sidebar
Price: $39 (may vary)
MORE INFO / DOWNLOAD
DEMO
7. Grand Car Rental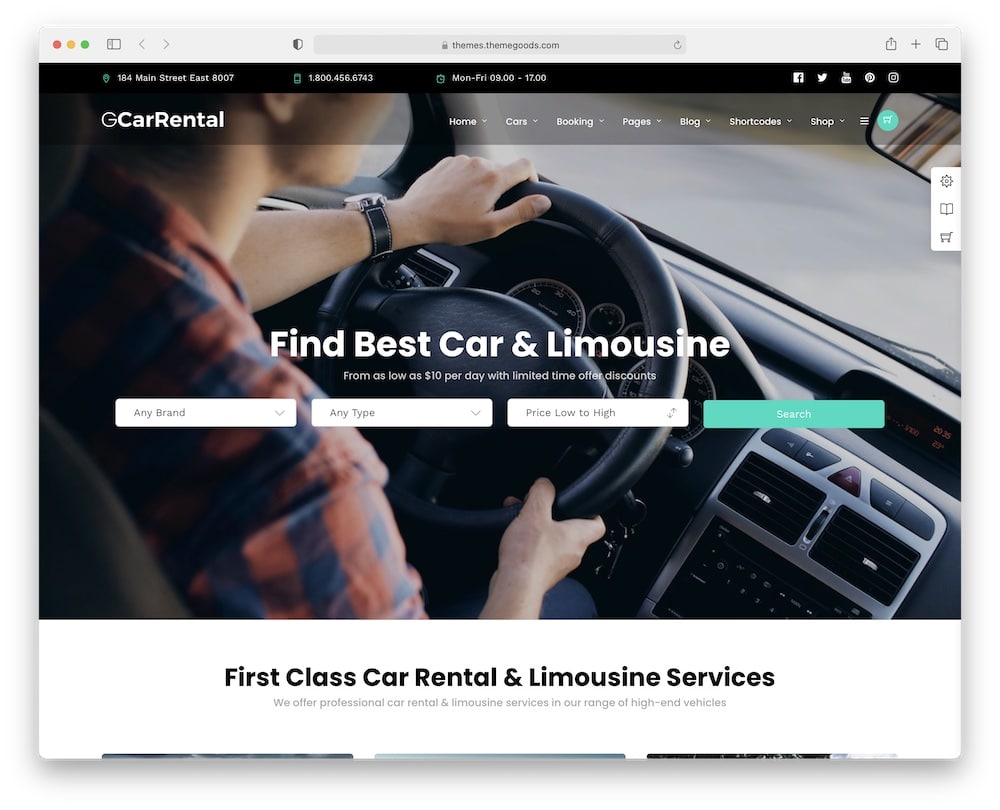 Today, website serves as a window into the way a company operates. As such, it needs to portrait credibility, modern design, rich content, and quality.
Grand Car Rental taxi WordPress theme offers you all the listed things and much more.
Grand Car Rental comes with beautiful one-click import homepages, pre-made internal layouts, posts, smooth parallax scroll, numerous shortcodes, and widgets. Everything is packed together for a quick and comfortable start!
Oh, and let's not forget about the most popular tools!
Grand Car Rental includes premium plugins (FREE) such as WooCommerce, Slider Revolution, Contact Form 7, MailChimp, and iLightbox. Hello, my new best friends!
I don't know about you, but I love Grand Car Rental.
Grand Car Rental features:
1,600+ sales
4.5+ star rating
Multiple pricing options
Price: $64 (may vary)
MORE INFO / DOWNLOAD
DEMO
8. Limo Rent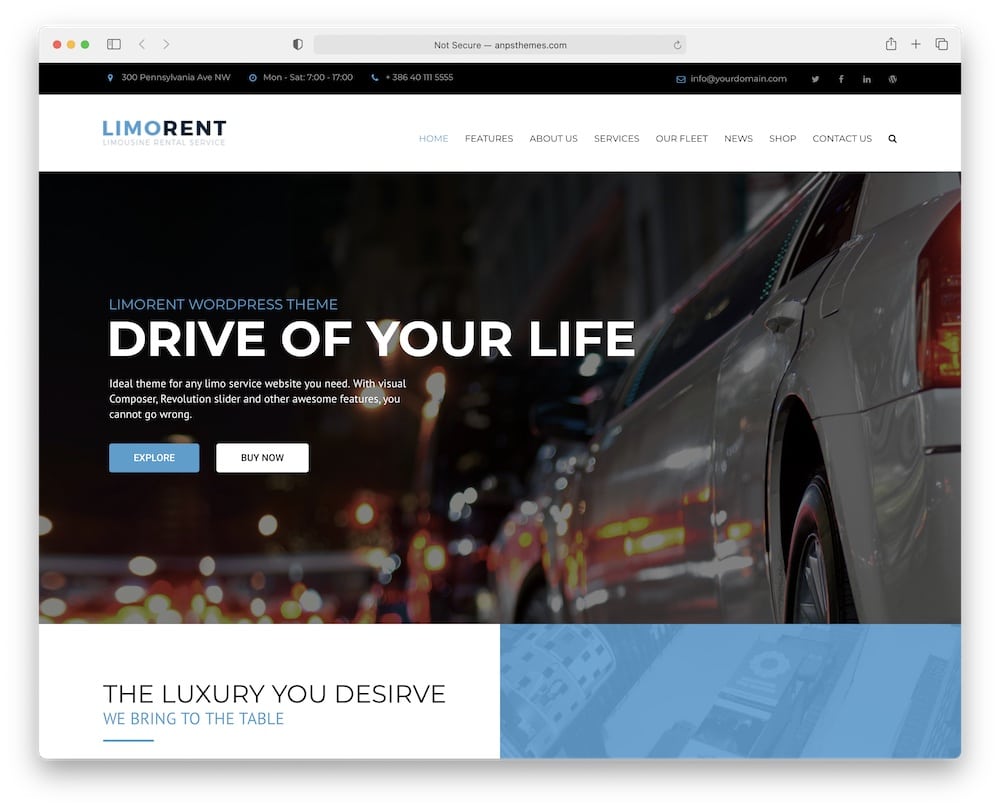 What if I told you building a new website doesn't have to be boring?! Yup, it's true – with Limo Rent taxi WordPress theme you can start fast and easy and have a lot of fun.
Sounds GOOD?
Limo Rent is focused on rental services and car companies, but you can still customize and change it as you wish.
Set unlimited colors and sidebars, choose between many typography options, and create numerous layouts and header types.
REAL. TIME. CUSTOMIZER.
Plus, Limo Rent is translation-ready – YES it fully supports WPML for simple translation. Let's be real, we all know you want to rule the whole world. CLASSIC!
And more eyes on your fantastic website means more shares and more business.
See? It's all connected!
Limo Rent features:
410+ sales
4.4+ star rating
Great documentation
Video tutorials
Price: $59 (may vary)
MORE INFO / DOWNLOAD
DEMO
9. Limme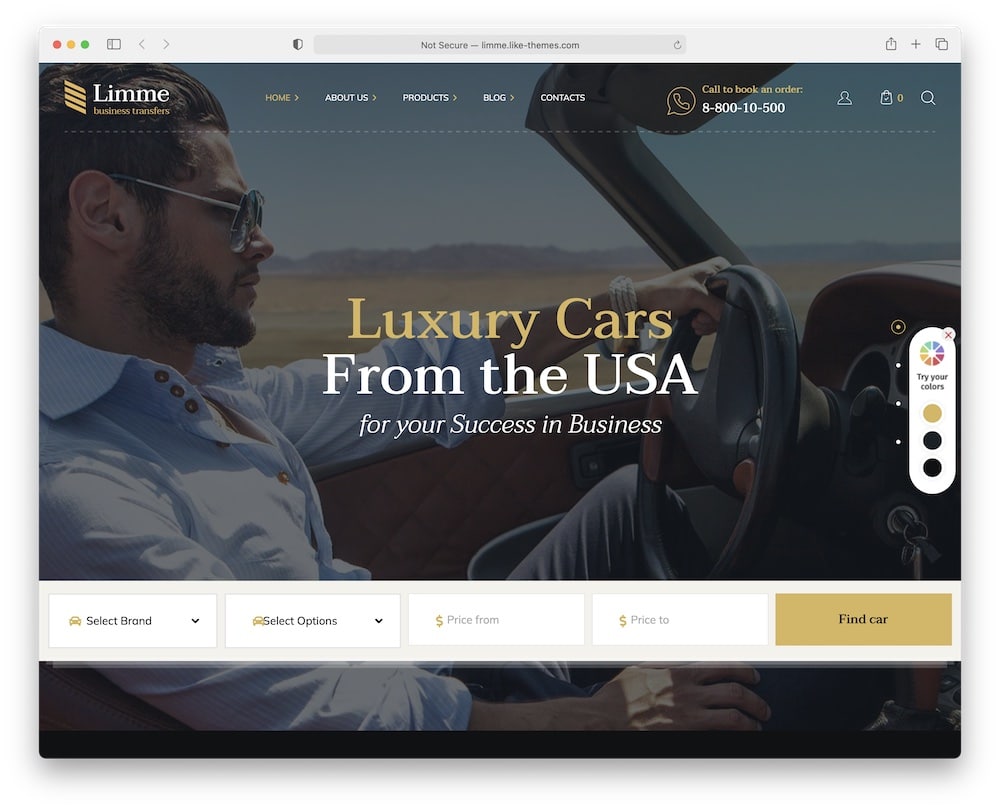 Internet users (and Google), have made it clear that they prefer modern and beautiful design (hint hint).
SO, prepare to meet Limme car transfer WordPress theme that contains unique, ready-to-use homepages crafted with luxury design and elegant look (spot-on)!
Limme has everything you need (design, tools, compatibility) for your new site. (Slap my hand!)
Besides, Limme is SEO-friendly, optimized for browsers, and is 100% responsive.
EFFICIENT. AND. FUNCTIONAL.
Plus, with valuable blog content, you can reap countless rewards in the form of user engagement, better search rankings, and brand visibility. Pretty cool.
Shall we get started? Dive into Limme now.
Limme features:
800+ sales
4.7+ star rating
0 coding necessary
Quick & friendly support
Price: $69 (may vary)
MORE INFO / DOWNLOAD
DEMO
10. Valencia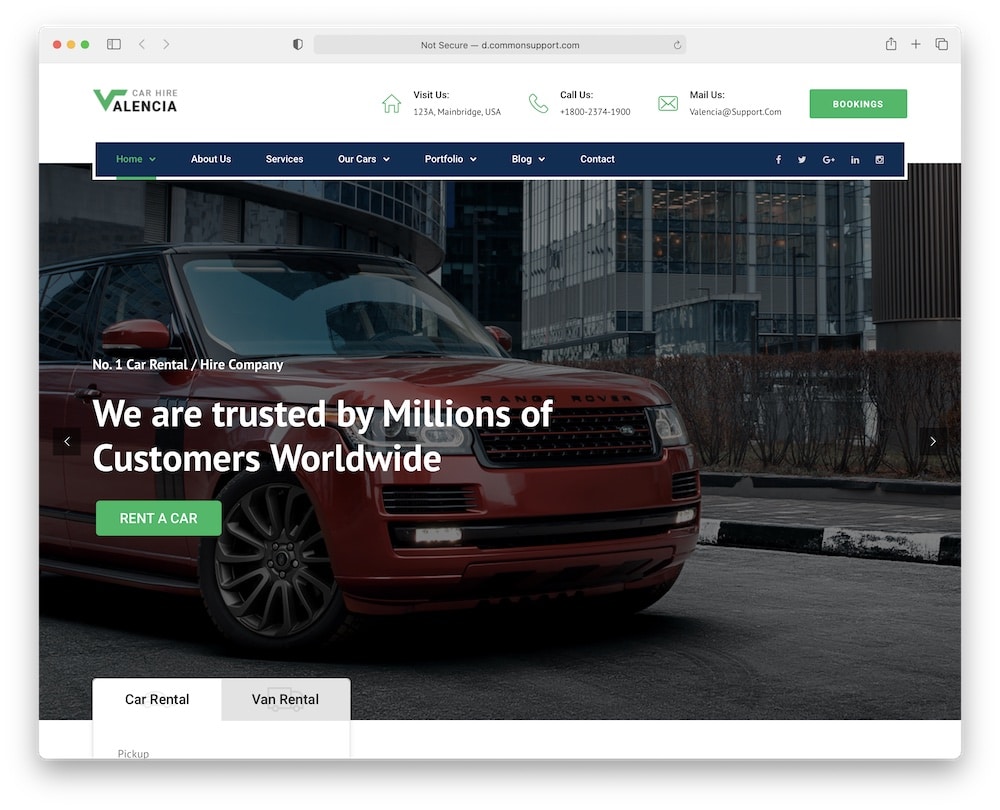 Get the most out of your business with the responsive Valencia taxi WordPress theme. You have easy building ahead due to great compatibility between pre-made designs and tools.
Oh, and included drag and drop page builder is intelligent and intuitive, offering you fast (templates are ready to use in just a click!) creation.
Add, mix and flex Valencia as you wish.
Of course, you can choose between various colors, Google Fonts, unlimited sidebars, widgets, and layouts.
How about that?! I love it too!
On top of that, Valencia comes with a child theme – YUP, you can modify an existing theme and maintain its design and code.
SPEED. UP. YOUR. DEVELOPMENT.
Valencia is the best deal of your life!
Valencia features:
MORE INFO / DOWNLOAD
DEMO
11. Limo King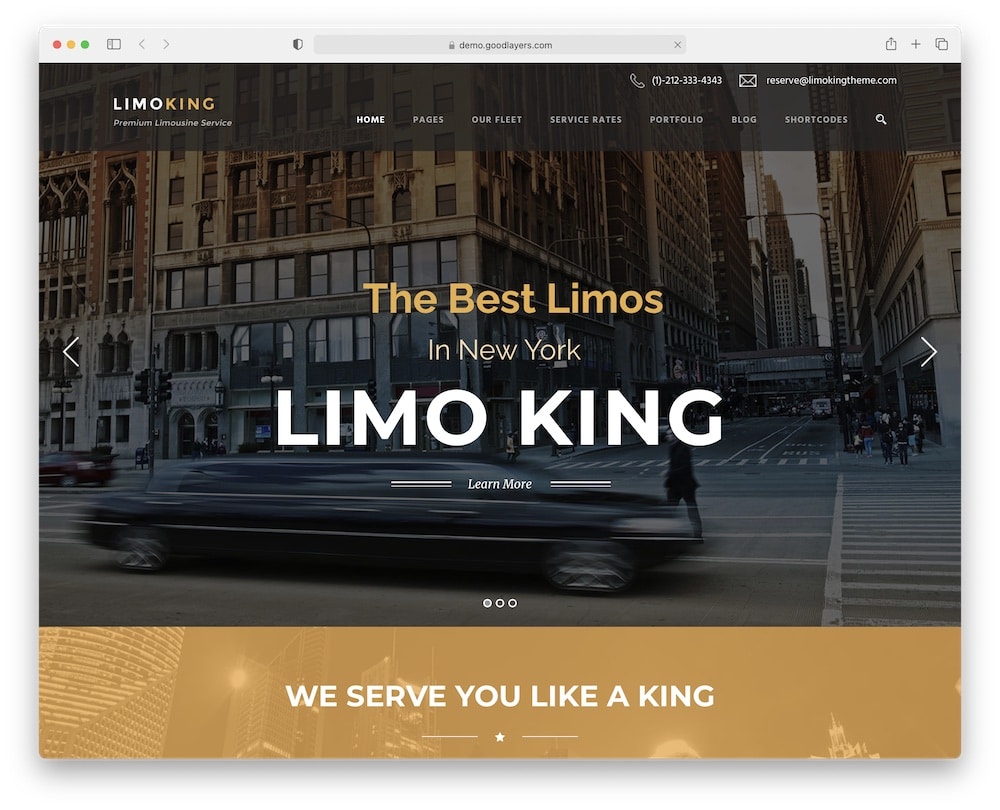 One of the major benefits of Limo King WordPress theme are beautifully designed layouts, useful rate tables, and well-made booking forms. Everything you need to serve your customer like a king!
Limo King is fully responsive and retina-ready to maintain your online image sharp and memorable.
JAW. DROPPING. EXPERIENCE.
Plus, you can create your online shop with the amazing WooCommerce plugin (included for free!). Remember, modern design and valuable content bring more visitors, more clicks, more sales (obviously).
And let's not forget, Limo King customer support is fantastic! If you have an issue, question or a problem, just contact them (happy dance).
What are you waiting for? Start building!
Limo King features:
2,800+ sales
4.4+ star rating
Testimonials to add credibility
Price: $59 (may vary)
MORE INFO / DOWNLOAD
DEMO
12. City Cruise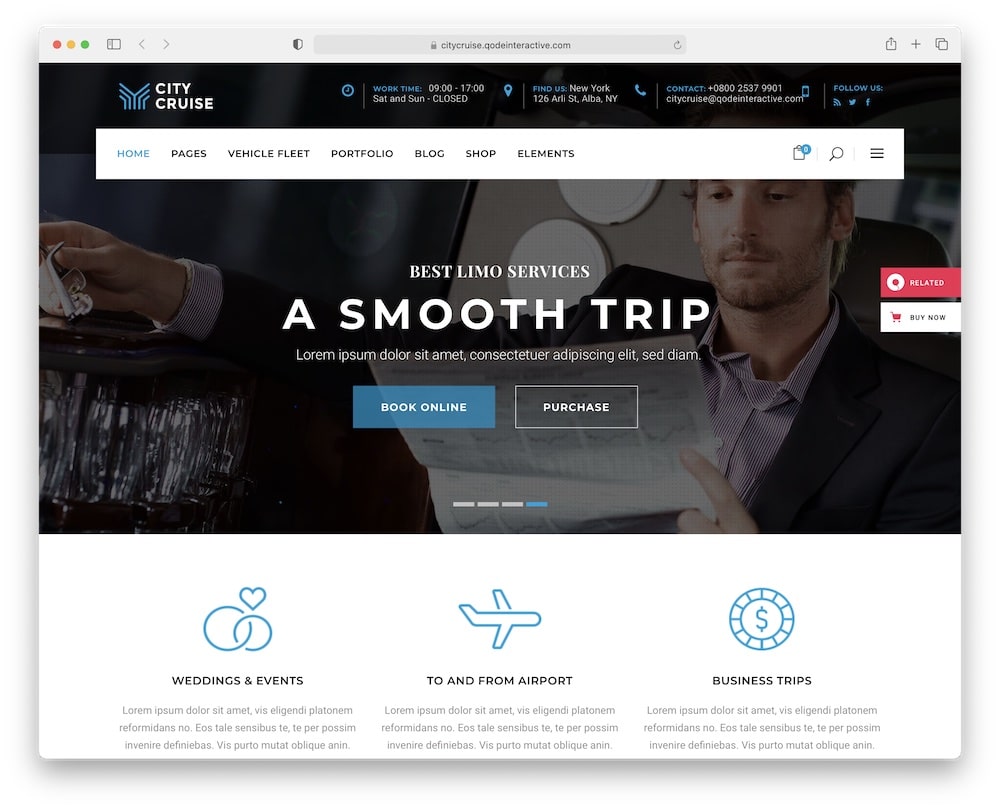 The best way to have an immediate impact on your audience is by improving your website presence and offering quality online service.
You can enable online booking, add service rates, list your vehicles, and present professional team members with the City Cruise taxi booking WordPress theme.
And don't worry, creating websites isn't rocket science.
Even if you don't have any coding or design knowledge, you can still work with City Cruise due to ready-to-use templates, the most popular tools, tons of shortcodes, and numerous pre-made layouts.
I like it!
Oh, and you also get a step-by-step manual through the theme's settings (extensive documentation is attached). I know you are an intellectual badass!
Expect a smooth ride with City Cruise.
City Cruise features:
430+ sales
4.3+ star rating
No experience necessary
Price: $79 (may vary)
MORE INFO / DOWNLOAD
DEMO
Top Free Taxi WordPress Themes
13. Kingcabs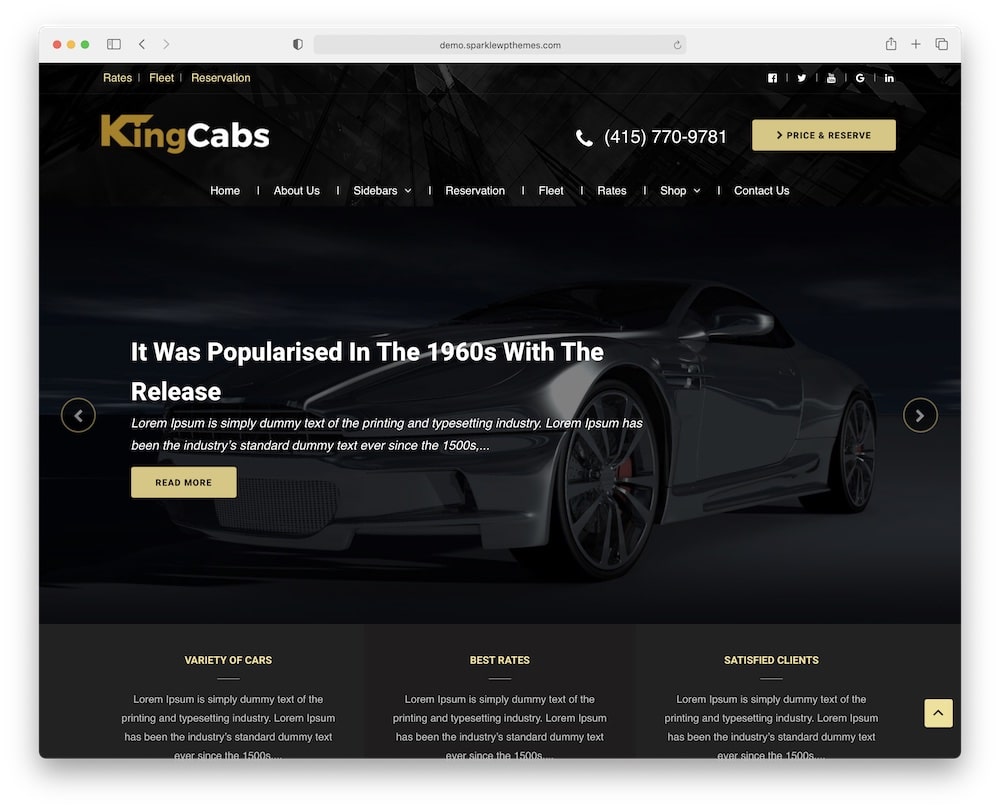 Say GOODBYE to a poor, ineffective website and start a new online chapter with a responsive Kingcabs taxi WordPress theme.
Luckily, when you decide to take a pre-made template, it's not set in stone for eternity. You can make changes (100% live preview customization).
HURRAY!
Start like a pro from the beginning.
Plus, Kingcabs includes a beautiful and useful booking form SO that your customers can book their ride online.
SMART. AND. PRACTICAL.
I'm on board with that.
In short, it's time for your business to win with Kingcabs.
Kingcabs features:
400+ installs
5-star rating
Easy online reservation
MORE INFO / DOWNLOAD
DEMO
14. VW Car Rental

Let's explore some strategies you can implement to your new website with help of versatile VW Car Rental taxi service WordPress theme.
First and foremost, VW Car Rental includes beautiful homepage sliders, stylish typography, and is fully responsive, which fits all the screen sizes. BLESS.
Next:
VW Car Rental is also translation-ready, optimized for SEO, and cross-browser compatible. It works like a charm!
This feature-full theme even comes with RTL language support in WordPress.
As complex and sophisticated as websites are, remember (!), you can build your site without coding. All you need is a good structure and design – VW Car Rental.
VW Car Rental features:
300+ installs
4.5+ star rating
Frequent updates
Optimized & reliable code
WooCommerce compatible
MORE INFO / DOWNLOAD
DEMO
5 Key Features Of The Best WordPress Taxi Website
Sure, calling taxis is still effective. But how do you get to the phone number? Word of mouth, at least that's the case in my country.
However, if you really want to take things to the next level, you need a website with at least these five key features.
This Is How We Tested Taxi WordPress Themes
We've been part of many taxi projects in the past, so these are the key features of a great taxi website:
Simple design: You shouldn't go too wild with your site's look and design. It's better to keep it simple and clean, with clear call-to-action buttons. And if you'll use an online booking form, add it above the fold. When someone needs a taxi urgently, they need an instant solution.
Responsive layout: It's 100% essential that your website is optimized for mobile devices and loading speed. It's all about delivering the ultimate user experience.
Online booking: Instead of going to your website to find the (clickable) phone number, the user can simply book the taxi at the right date and time using a form. However, this may not be the best solution for urgent taxi needs, so a clear phone number is still key.
Easy navigation & search: While you want to make your services clearly visible on the front page, preferably above the fold, easy navigation and search are still necessary.
Testimonials/reviews: Do you want to build customer trust? Ask your existing ones for reviews and testimonials and add them to your taxi website. You can also use a WordPress testimonial plugin if you need more options.
You should also work on local SEO and even create a mobile app, which will make the user experience even better.
::
Note: This article was originally published on October 30, 2021. But our team regularly reviews it and updates it with necessary improvements for accuracy.