Are you ready to take action online with the best barbershop WordPress themes?
I spent months reviewing 40+ WP themes to ensure you the ultimate selection for any barber and hairdresser.
These themes cover everything.
Plus, they are easy to use while still guaranteeing a professional online appearance.
You can accept online appointments, share tips and tricks through blogs and sell products with easy WooCommerce integration.
This post covers:
You'll have it all by the end of this list.
Barber on!
5 Ultimate WP Themes For Barbershops
The absolute best for a quick pick:
Are you using a WP theme for the first time? Then learn how to install a WordPress theme quickly and successfully.
Best Barbershop WordPress Themes
1. Wanium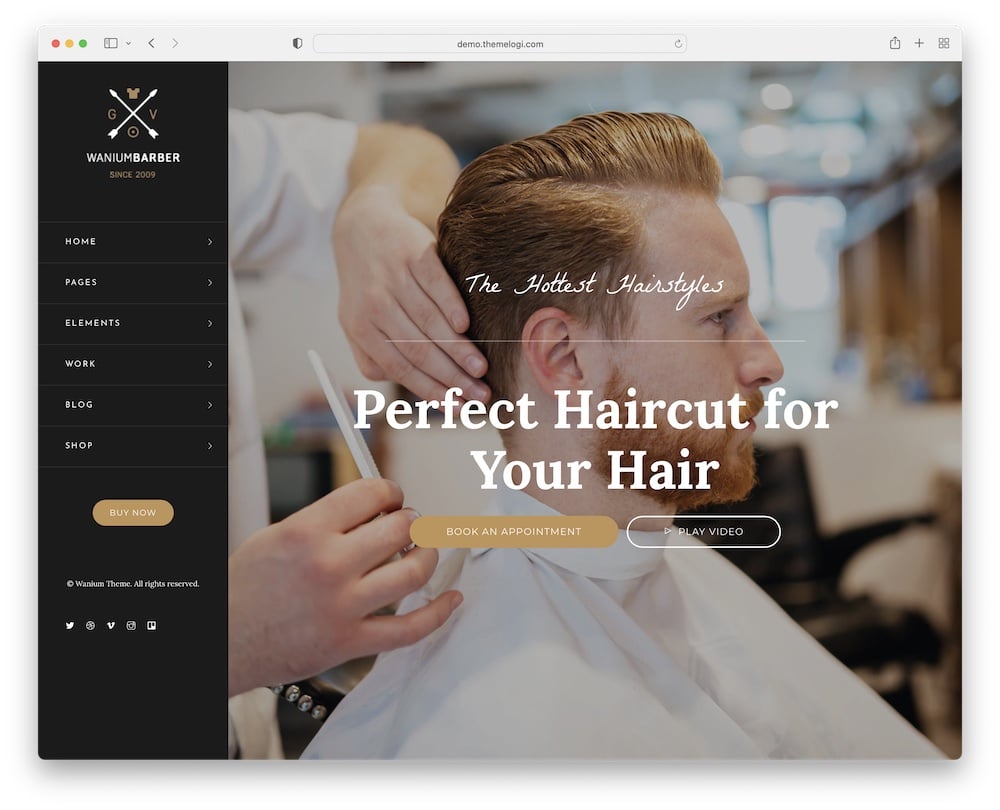 Grow your barbershop and expand your business with the high-performance Wanium theme. (But I also used this theme for other niches because of its multipurpose approach.)
Expect the best.
Wanium offers a one-click demo import that is easy to use. You can tailor it to your personal wishes with the brilliant WPBakery page builder.
And if you check out its bundle of goodies, you will find in it multiple headers, unlimited colors, beautiful portfolio layouts, tons of icons, various visual elements, etc.
In five words?
All you will ever need!
Moreover, my favorites are smooth scroll, parallax video background, and Slider Revolution!
These tools are, in my opinion, FEEL-GOOD tools that always boost my navigation experience on a website.
Oh, and Wanium guarantees lifetime FREE updates!
Seriously? AHA!
Wanium features:
3,300+ sales
4.7+ star ratings
Optimized for great speed (1.99s load time by Pingdom)
You can easily enable RTL for your website
Customization: ⭐️⭐️⭐️⭐️⭐️
Design: ⭐️⭐️⭐️⭐️
Price: $16 (may vary)
MORE INFO / DOWNLOAD
DEMO
2. Salon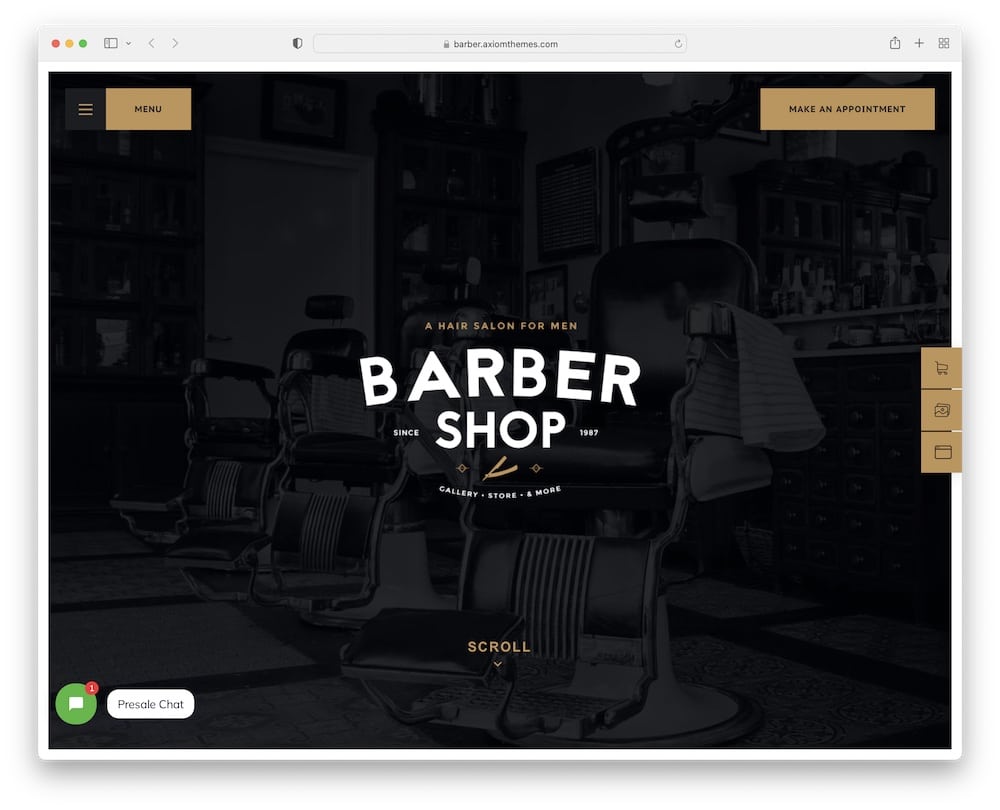 Set up a gorgeous website with Salon barbershop WordPress theme.
Salon comes with a pre-made masculine WP design that you can easily customize – 0 coding required.
Select your favorite colors, fonts (check our quick guide on how to change fonts in WordPress), effects, and much more.
Also, a really COOL tool is the built-in online WordPress booking. (It works smoothly after my tests.)
Yes, your customers can make an appointment fast and simply (directly on your site, around the clock).
Moreover, Salon offers a responsive layout & cross-browser compatibility for the perfect user experience.
But you know fans' eyeballs will be glued to your portfolio; PLEASE make it!
Besides, you must be social, so take advantage of provided social media icons. It's your time to stand out!
Salon features:
1,000+ sales
4.2+ star ratings
Enjoy the beautiful dark and light skins
Also works as a tattoo WordPress theme
Customization: ⭐️⭐️⭐️⭐️
Design: ⭐️⭐️⭐️⭐️
Price: $69 (may vary)
MORE INFO / DOWNLOAD
DEMO
3. Barber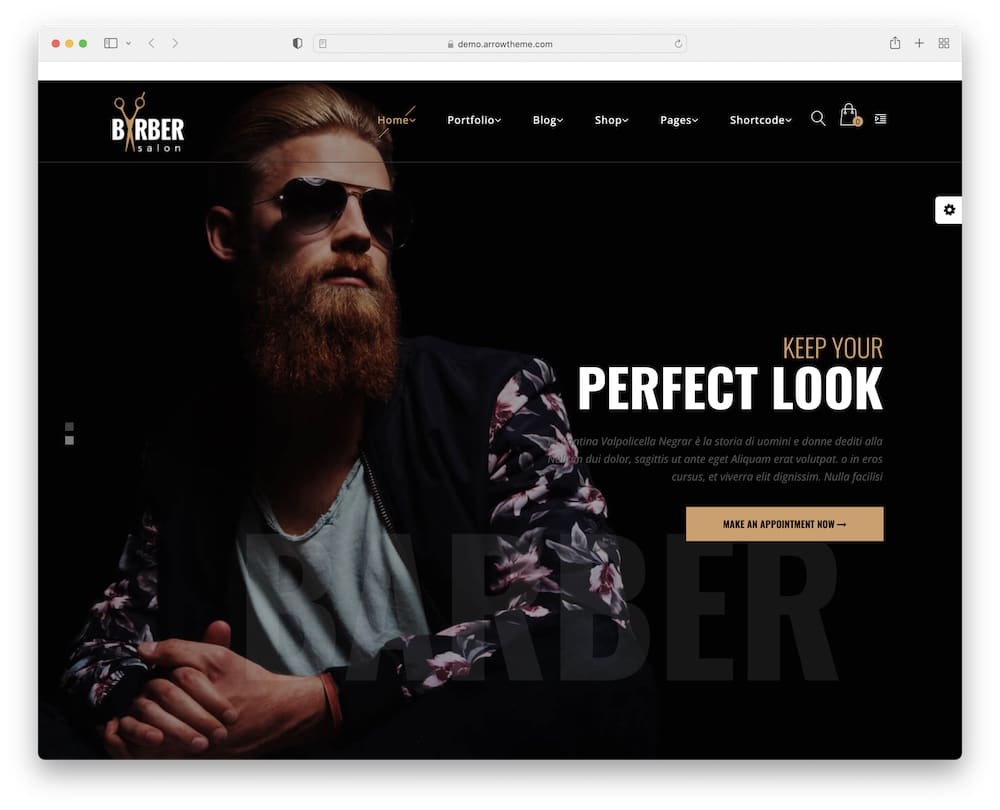 Showcase your styling capabilities, sell grooming products and share your expert tips with the Barber theme.
I love its vintage design!
Carefully styled Barber comes with various ready-to-use homepages and indispensable tools.
Among handy plugins, you get WooCoomerce, Slider Revolution, WordPress page builder (WPBakery), and Contact Form 7.
Lots of fun potential, right!?
Oh, you can create rich navigation with beautiful style, thanks to the mega menu. Your visitors will appreciate it!
The creative and smooth pre-loading effect is also essential (God bless CSS animations). (P.S. not my favorite, but I'm only mentioning it because so many users love it.)
Barber on!
Barber features:
770+ sales
4.8+ star ratings
You get WordPress slider plugin (Revolution!)
Create an impactful portfolio
Customization: ⭐️⭐️⭐️⭐️⭐️
Design: ⭐️⭐️⭐️⭐️
Price: $59 (may vary)
MORE INFO / DOWNLOAD
DEMO
4. Neo Salon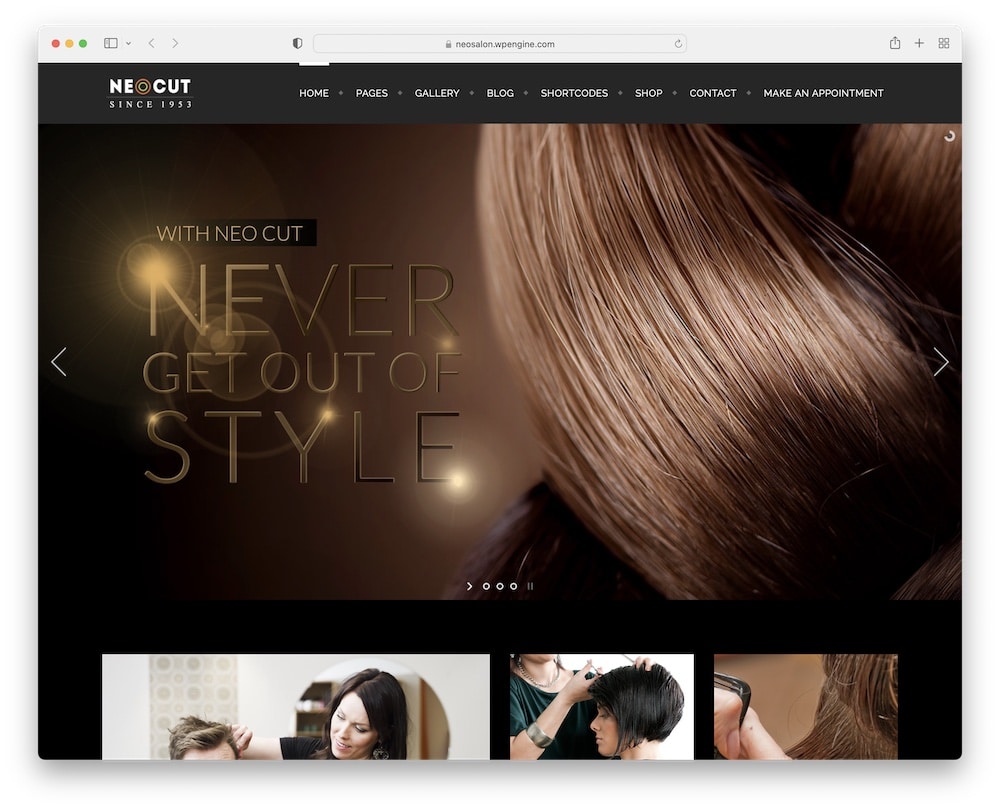 Stay sharp with the unique Neo Salon barber shop WordPress theme.
Adjust the header, implement numerous shortcodes, and choose page layouts for a simple and effective start.
Plus, you can create catchy slideshows with Slider Revolution – I'm talking serious eye candy here, folks!
Of course, you can start blogging or selling products on Neo Salon.
Moreover, Neo Salon includes conversion forms such as a scheduling calendar and two types of contact forms. Also, you can set up Google Maps on your WordPress site.
And let's not forget (!) Neo Salon's extensive documentation for a better understanding of how it works. Likewise, its top-notch customer support.
Look no further!
Neo Salon features:
210+ sales
4.9+ star ratings
Built-in WP testimonial widget
Pricing plans
Customization: ⭐️⭐️⭐️⭐️⭐️
Design: ⭐️⭐️⭐️
Price: $69 (may vary)
MORE INFO / DOWNLOAD
DEMO
5. Berger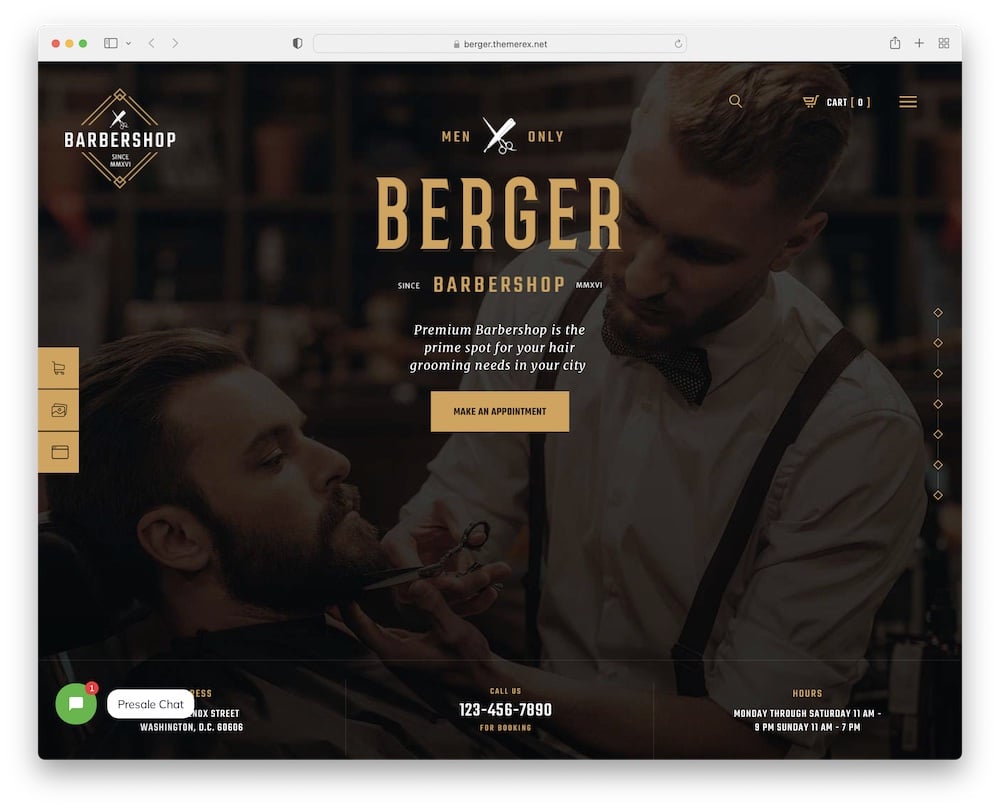 Become one of the well-known professionals with the stylish Berger barber and hairdresser WordPress theme.
You will quickly master the simple drag & drop function (Hi, beginners!) due to WPBakery's user-friendly functionality.
You can customize and arrange elements, change the header design, colors, typography, and recreate rows or boxes without code.
TIP: Set up a slick hover effect that adds a COOL and fresh vibe to your site. (Because I tested it thrice and it works so well.)
Berger also includes pre-created price lists, testimonial sections, gorgeous galleries, and blog layouts. It is fully responsive and loveees mobile phones (big advantage).
Your customers can make online reservations or buy products in your online store by pressing just a few buttons. Excellent!
Berger is truly a magic solution.
Berger features:
MORE INFO / DOWNLOAD
DEMO
6. Shang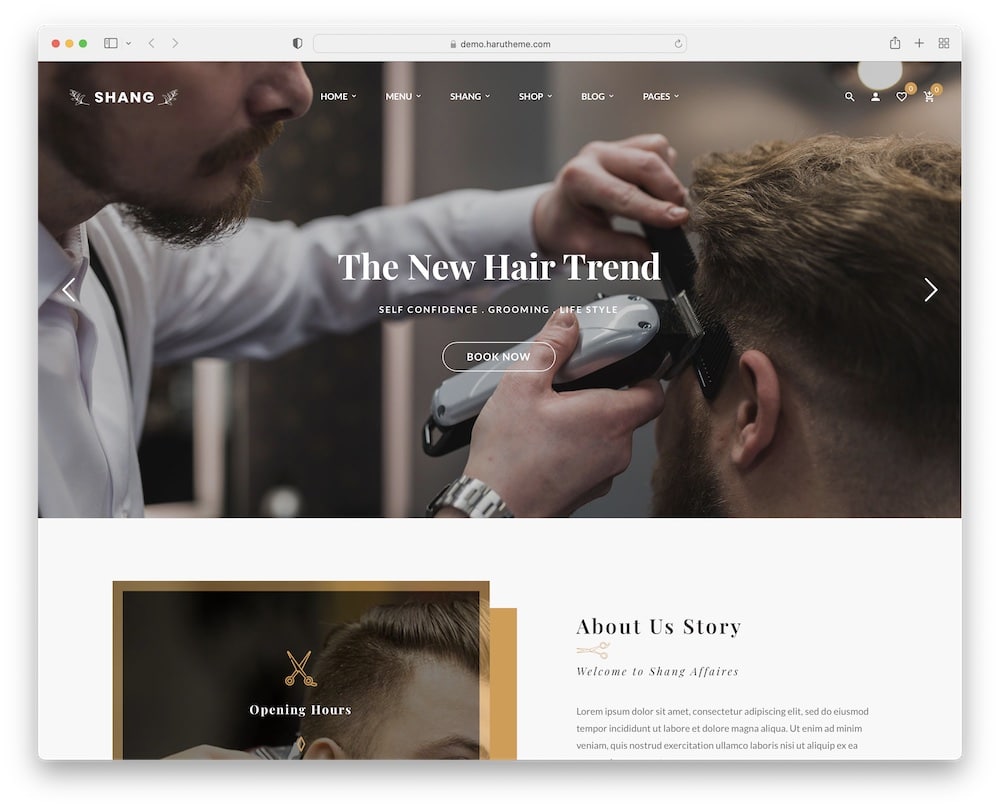 Attractive Shang is all about quality design and perfectly tailored hair/beard!
This barbershop theme includes three ready-to-use homepages, allowing you to choose from 40+ COOL elements (key components).
A simple and effective way of building your site!
Keep in mind: If you want to create a successful blog, you will probably spend most of your time in the dashboard – posts section. I definitely do! 🙂
Just click add new or edit an existing post and publish it.
BLAZING. FAST.
"Yo, what does that have to do with a barbershop website?" You can bring it MANY more customers with "free" traffic through SEO. (Share tips and tricks and boost your potential.)
But Shang also has every other necessary page layout and function to operate your business website smoothly.
Shang is here to help you do magic.
Shang features:
230+ sales
4.5+ star ratings
Spice things up with WordPress animation plugins
Ready-to-use contact form
Customization: ⭐️⭐️⭐️
Design: ⭐️⭐️⭐️⭐️⭐️
Price: $49 (may vary)
MORE INFO / DOWNLOAD
DEMO
7. Revolver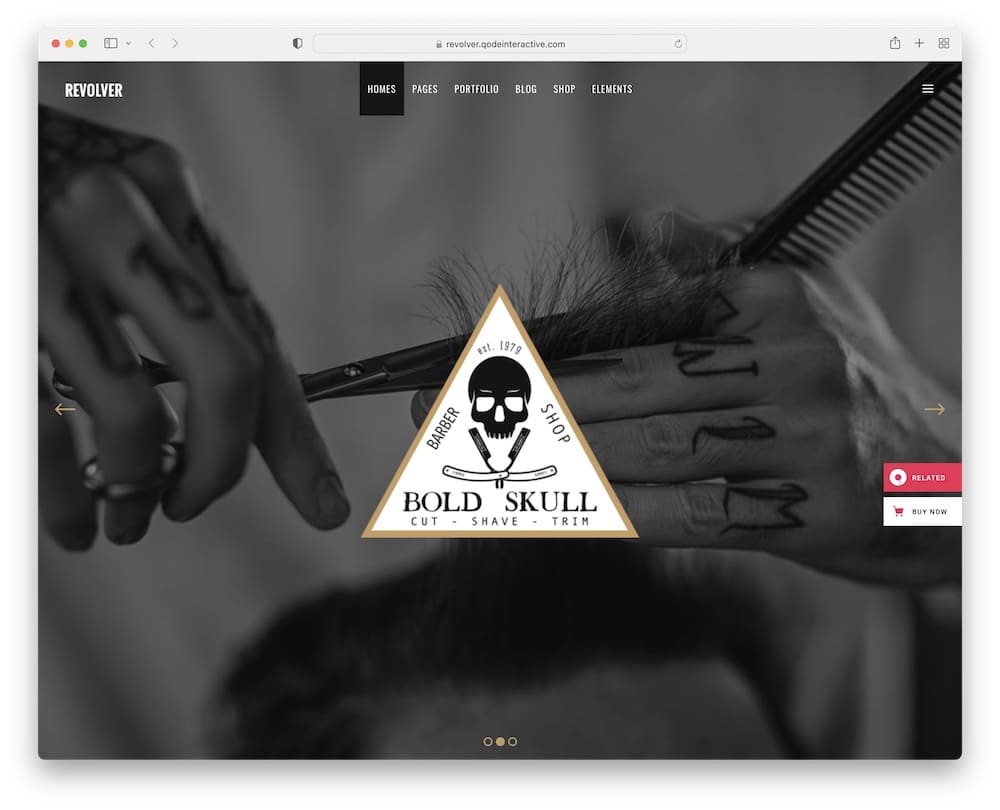 Revolver barbershop WordPress theme is what you NEED if your business is cutting, shaving, trimming, and dressing hair!
This masculine theme offers various homepages you can use out of the box. Naturally, you can rearrange the pre-made design and change the look completely.
It's not difficult. And you can start right now.
THIS. SECOND.
Moreover, Revolver portfolio layout gives you a BIG opportunity to present your work and show the public why you are different from the millions of other barbers.
BTW: Add social share functionality and icons ASAP.
Hear me out: Social media is gigantic today & can help you grow your brand!
Revolver features:
630+ sales
4.2+ star ratings
Instagram & Twitter feeds
Includes a WordPress child theme
Customization: ⭐️⭐️⭐️⭐️
Design: ⭐️⭐️⭐️⭐️
Price: $79 (may vary)
MORE INFO / DOWNLOAD
DEMO
8. Shaver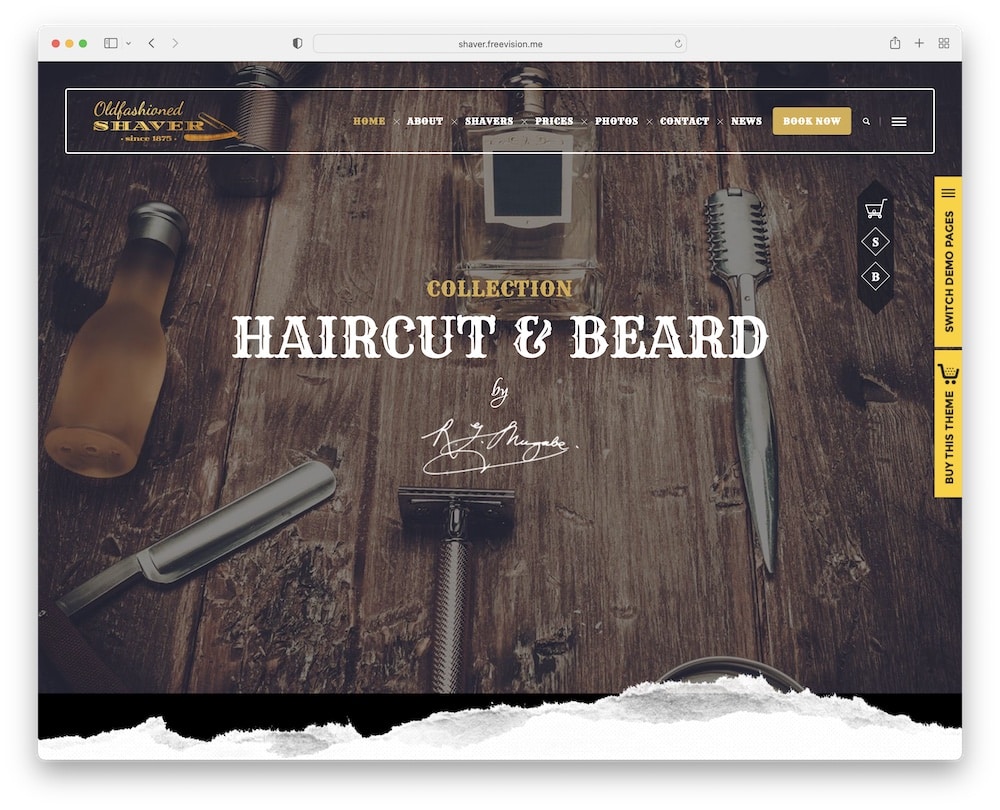 Classic grooming service with the luxury of a good straight razor shave is the main focus of the Shaver barbershop WordPress theme.
Shaver is fully responsive and retina ready for a sharp and smooth experience on different devices. No one wants to be annoyed by blurred photos or lack of proportion.
We even tested it using the Pingdom tool, reporting a pleasant 1.99s load time.
You are ready to start building your new website with one simple import click.
Hurray to Shaver!
Remember: You can preview everything you change before you go live (so satisfying and stress-free). Try different colors, fonts (do you need WordPress font plugins?), sidebars, or video backgrounds.
Plus, you can UP your game with your online store (Hi, WooCommerce!). Perfect solution for a fully functional shop – it's literally a lifesaver.
Shaver features:
240+ sales
4.9+ star ratings
Free support & updates
Custom WordPress widgets
Customization: ⭐️⭐️⭐️⭐️
Design: ⭐️⭐️⭐️⭐️
Price: $59 (may vary)
MORE INFO / DOWNLOAD
DEMO
9. CutStyle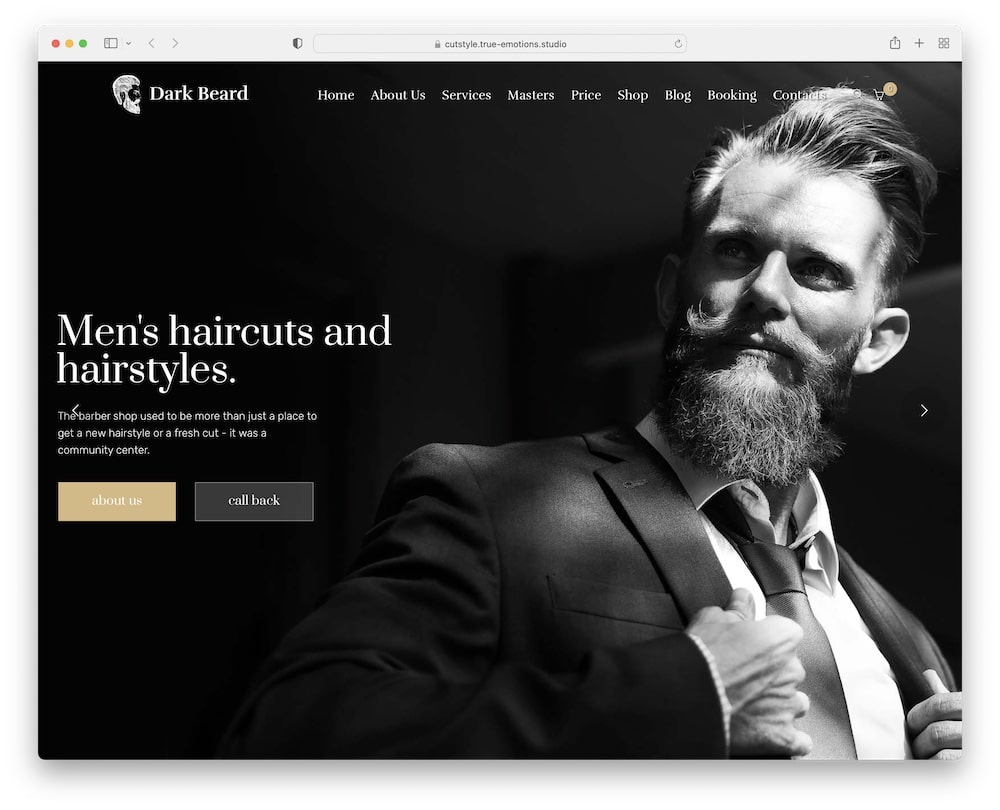 Every man needs some time for himself!
CutStyle barbershop theme looks trendy and modern – perfect for new-age men.
it offers a pre-designed demo, a flexible menu (but you can also expand it with a 3rd-party WordPress menu plugin), unique icons, and useful blog layouts.
In my opinion, CutStyle's homepage is fluid and engaging. You might also like the transparent testimonials box for memorable client experiences with your brand.
Also, I love the style of the about us section (so COOL!).
OH, and mustache preloader animation is a great concept to keep your visitors busy while your site is loading. FUN.
Keep in mind, if you make a mistake or an unsolvable dilemma occurs, CutSyle's customer support has your back. Always.
CutStyle features:
MORE INFO / DOWNLOAD
DEMO
10. Justache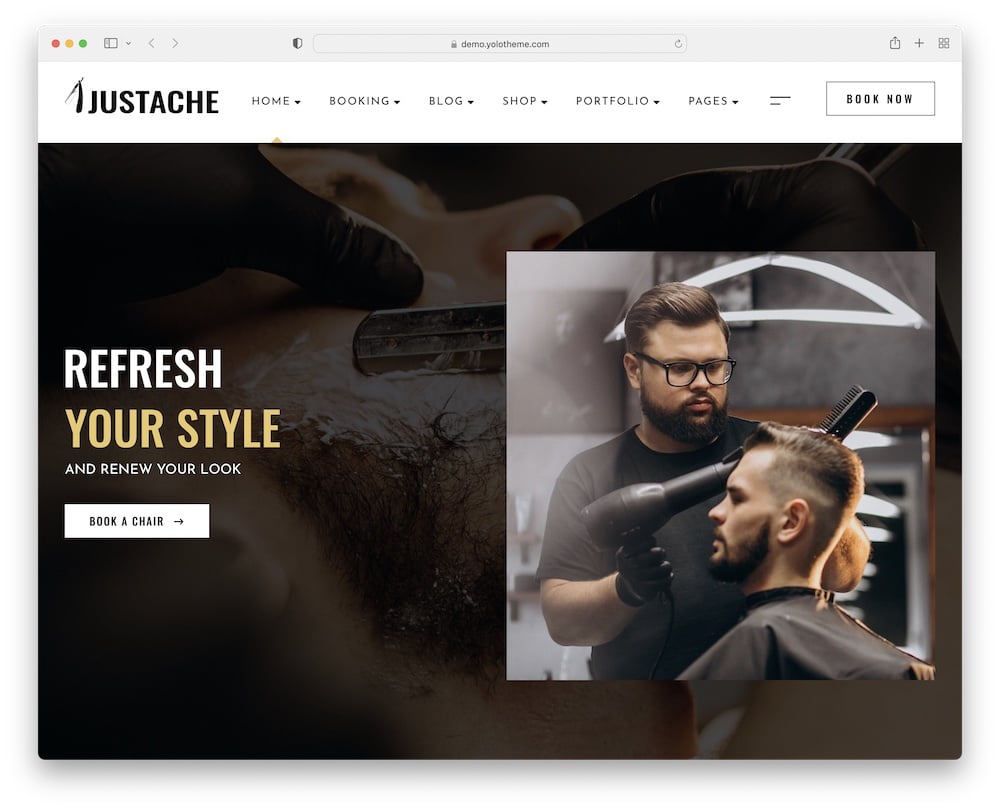 Justache barbershop WordPress theme will display your luxury grooming service at its best, be it a beard trim, a great haircut, or a wet shave.
It offers you a quick and fluid creation of your site from the built-in portfolio, ready-to-use pages, and many widgets.
Re-use, add, delete and move around elements. Like me!
BTW: Online booking is a great solution for 24/7 availability. Day or night, your clients can make a trouble-free booking (0 phone calls, 0 emails!).
Good stuff.
On top of that, Justache includes the WooCommerce plugin for an advanced online store.
It doesn't matter if you choose white or black tones, Justache is made for a real man!
Justache features:
60+ sales
4.5+ star ratings
Add-ons & widgets to expand functionality
Also works great as a hair salon WordPress theme
Customization: ⭐️⭐️⭐️⭐️⭐️
Design: ⭐️⭐️⭐️
Price: $45 (may vary)
MORE INFO / DOWNLOAD
DEMO
5 Key Features Of A Great Barbershop Website
Even when using a WP theme that takes care of most of the work, you still need to keep these five must-haves in mind to create the ultimate online presence.
1. Great design
From my experience working with barbers and hairdressers, a great website design is a MUST.
Don't make it look poor-quality and you can lose sooo many clients.
Your website needs to be as quality as your services.
A WordPress theme does most of the work out-of-the-box. (I picked such that work great by default.)
But you're also welcome to perform as many customizations as you want
Hey, you don't need to code, so get creative.
2. Portfolio
Similar to a great design, your website needs a beautiful portfolio.
If a client doesn't know much about you, let the images (and videos) do the talking.
And if you offer multiple services, you can also build a filterable portfolio, so the potential customer can focus exclusively on what they need.
A bear trim? A haircut? Show it with your portfolio.
3. Pricing
I rarely call a barber if they don't have pricing on their website. Many of my friends do the same.
Yup, you must include a pricing section (the more in-depth, the better). (It's great for user experience.)
Recommendation: I saw the best results when a pricing plan is on the home page of a barbershop website.
4. Online appointments/bookings
And when the client likes your work and pricing, they can go straight to making an appointment.
No more calls and back-and-forth emails.
A simple calendar with timing and dates.
The client can pick the free slot that suits them, click BOOK, and that's it.
Hint: It keeps your business so much more organized.
5. eCommerce section
While this is optional, I haven't seen a barber who isn't selling something.
Have you?
But don't sell just at your physical location; create an online store where you can promote any barber product you want.
It's so easy to do with WooCommerce and most of the WordPress themes here already have a pre-build section.
::
Note: This article was originally published on September 9, 2022. But our team regularly reviews it and updates it with necessary improvements for accuracy.