Nothing stops you from creating the ultimate website to share your ink with these best tattoo WordPress themes.
I've spent a good portion of this year working with many tattoo artists and studios on their online presence.
This led me to review and test 25+ themes of which the below 13 are the GREATEST in design, features and performance.
I promise you one thing: You'll create a modern tattoo website regardless of which you pick.
And you'll do it fast even if you have 0 coding skills.
Ink is permanent, just like these themes guarantee your site will be.
Bzz. Bzzz. Bzzzz. (Let's say that's the sound of the tattoo gun.)
THE ULTIMATE 4:
Best Tattoo WordPress Themes For Artists & Studios
1. TattooPress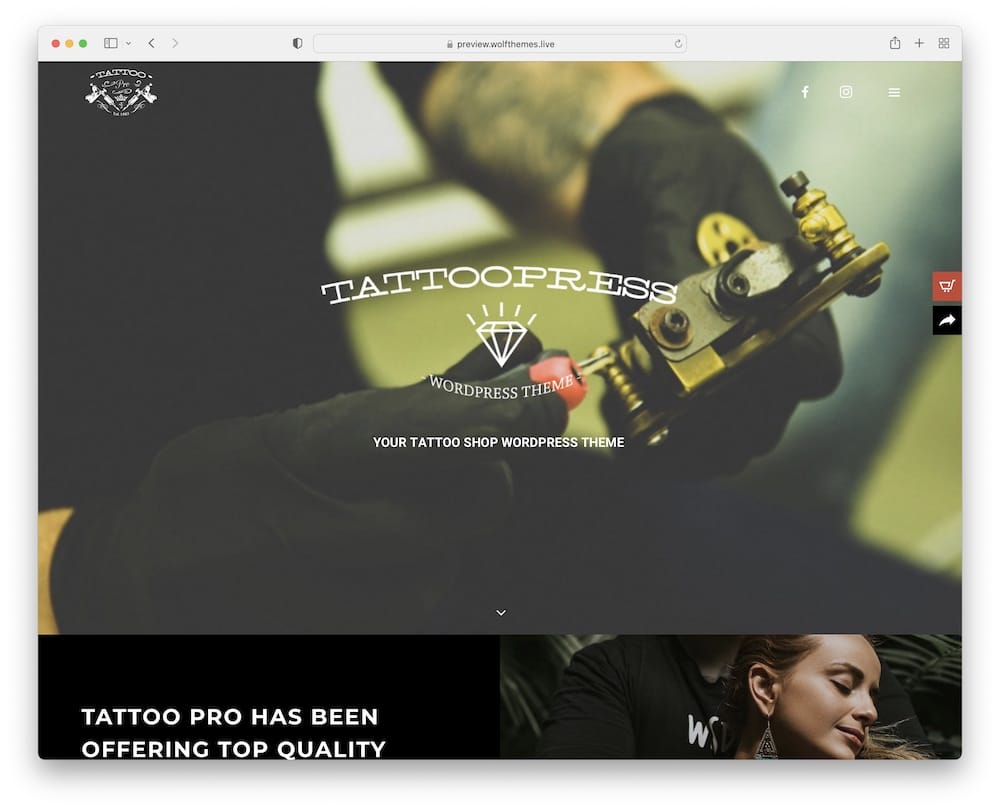 Who is ready for a new tattoo or piercing? I sure am!
TattooPress WordPress theme comes with nine unique homepages that you can keep as is or enrich with your ideas, tools, designs, and valuable content.
Of course, you can't go wrong with WPBakery page builder (life-changing editing).
Oh, and you can easily create your online store due to the WooCommerce plugin. Plus, you get tons of AWESOME features for your store to shine even brighter!
TattooPress is also in-tune with smooth page transition and polished scroll.
HIGHWAY. TO. HEAVEN.
Enjoy the amazingness of TattooPress customer support – it's a lifesaver.
TattoPress features:
1,400+ sales
4.5+ star ratings
Regular updates
1-click demo install
Price: $69 (may vary)
MORE INFO / DOWNLOAD
DEMO
2. Tattoo Studio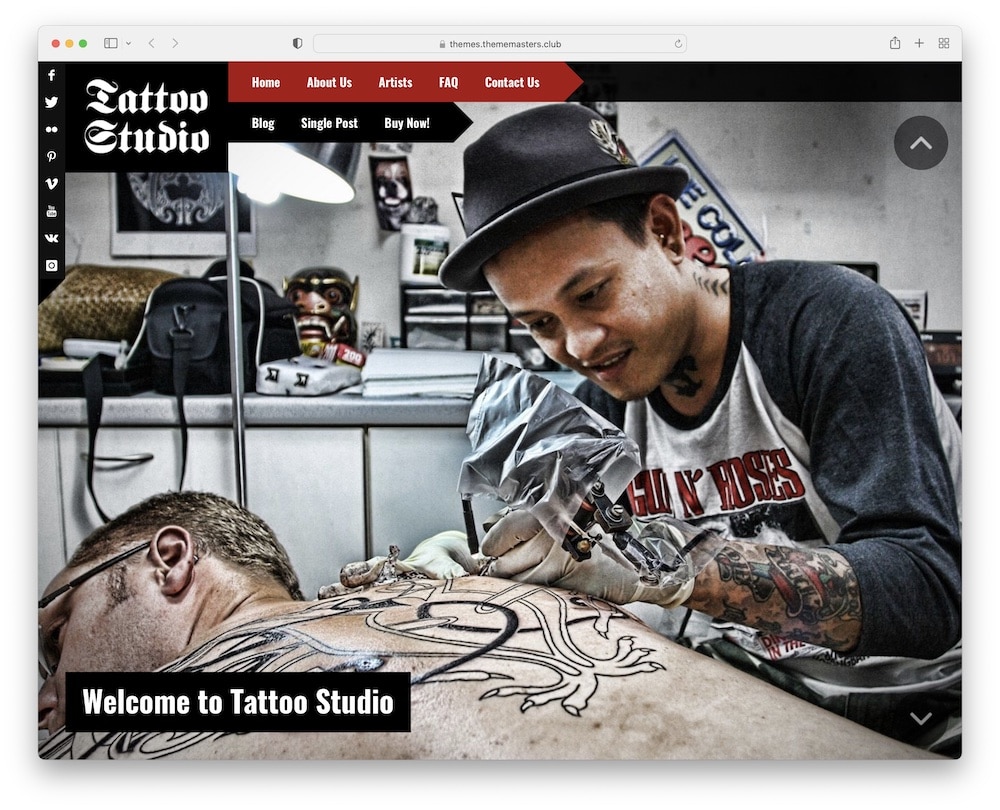 Tattoos are part of life and so will be Tattoo Studio WordPress theme. I believe you should have your unique website to capture the JOY of ink.
Modern Tattoo Studio layout is fully responsive, cross-browser compatible, and simple to navigate (without any coding knowledge).
Well done!
If you want a quick demo fix, you can make it happen due to unlimited color options, and font changes.
Moreover, you can start writing a KILLER blog about your future projects, designs, guest artists, conventions, or local studios.
Find your inspiration.
Plus the documentation is extensive! Bang Bang.
Tattoo Studio features:
900+ sales
4.6+ star ratings
Google Maps
Unique horizontal transition
Price: $39 (may vary)
MORE INFO / DOWNLOAD
DEMO
3. Revolver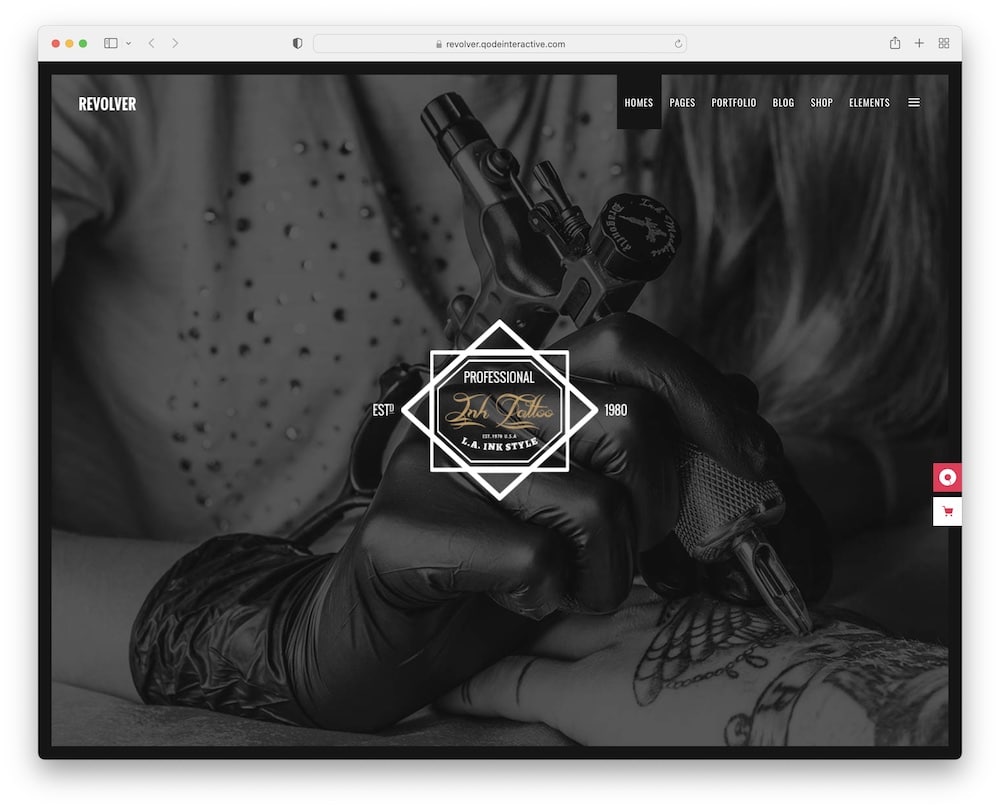 If you're all about providing great ink and showcasing iy on a dangerously COOL site – view the Revolver tattoo WordPress theme!
Revolver includes high-quality demos that you can import with a single click.
Remember, you can style it according to your needs, changing the header, mega menu, slider, Google fonts, animations, and more.
Make your site POP!
Also, you can easily connect Revolver with social media accounts (Twitter, Instagram, Facebook, etc.). Trust me, the power of social media is a quick WIN.
FACT: I am a BIG fan of tattoo portfolios. Love to browse through the artist's work 'cause it gives me a sense of the artist's style and perspective.
Be a STAR of your own story!
Revolver features:
580+ sales
4.2+ star ratings
Integrated search
Excellent support
Price: $69 (may vary)
MORE INFO / DOWNLOAD
DEMO
4. Nelson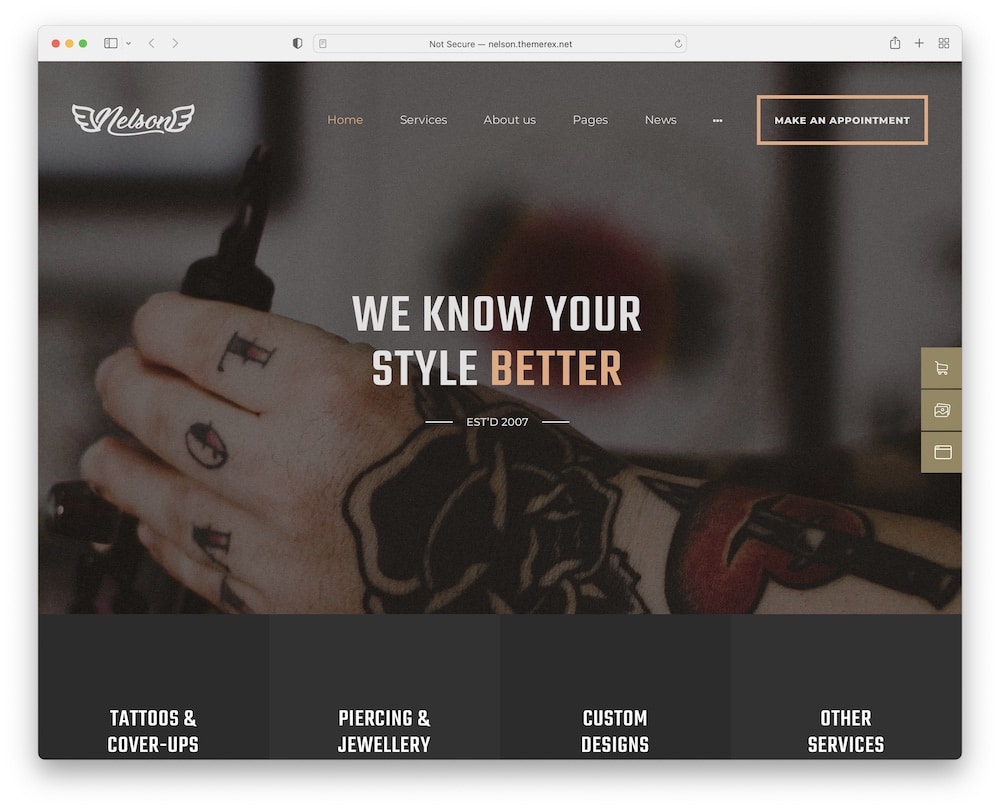 Ink-friendly Nelson is an irresistible tattoo WordPress theme.
Realism, portraiture, watercolor, black and grey, geometrical tattoos – doesn't matter your style, everyone is WELCOME to promote its work with stylish Nelson.
Create a bold online presence that will ROCK all your users!
Nelson integrates with the powerful Elementor page builder + supports Gutenberg editor. Choose the one you like the most and start rearranging layouts, header & footer, icons, and sidebars.
Or both!
Besides, you get tons of advanced features (widgets, shortcodes, plugins), so take what you need to upgrade your site.
Best feeling ever, right?
The building experience is additionally simplified, thanks to Nelson's professional customer support! (But hey, fingers crossed you never have to use it).
Nelson features:
570+ sales
5+ star ratings
Light & dark skin
Price: $59 (may vary)
MORE INFO / DOWNLOAD
DEMO
5. Berger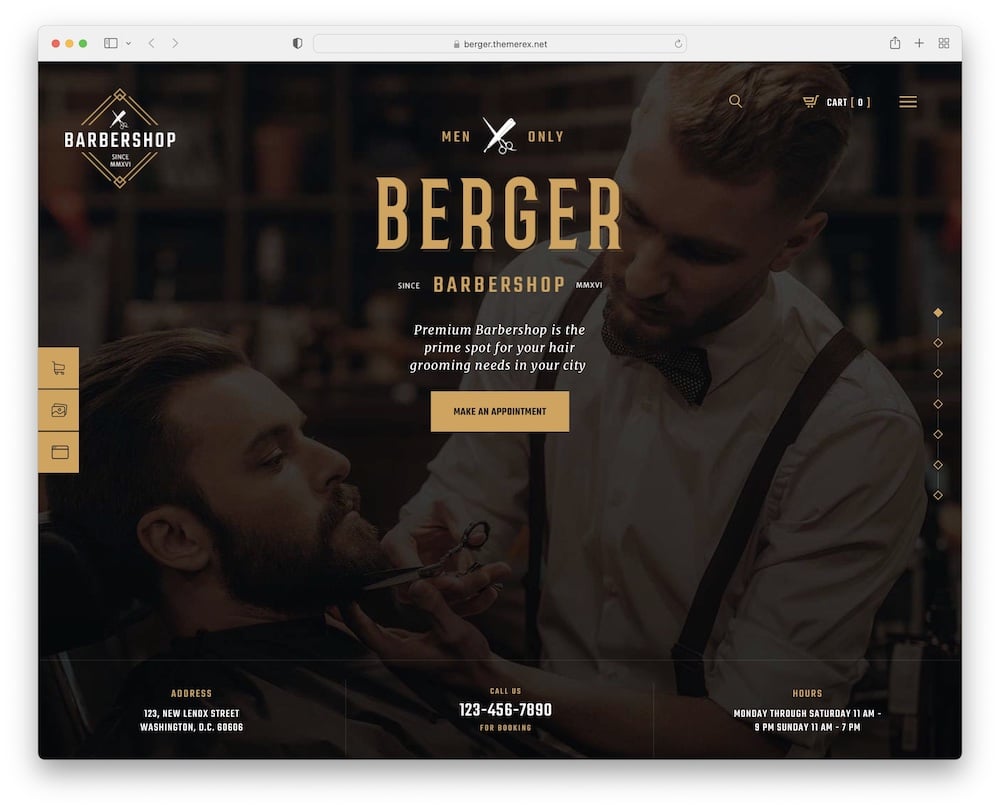 Wowing Berger tattoo WordPress theme is bringing you the widest possible choice of creativity. Engaging and modern design comes with professional support at a GREAT price.
Ready – Set – GO!
I am all into smart & fast solutions (yup, I am a millennial as well). And with Berger, you get many of them!
For instance, it includes an online booking form, client feedback, beautiful galleries, blog layouts, and WooCommerce (The no. 1 online shop tool). High Five.
Moreover, you can KNOCK visitors' socks off with the stunning Slider Revolution on your homepage. Showcase your masterpiece beyond imagined.
Berger features:
430+ sales
4.8+ star ratings
Modern & bold design
Price: $59 (may vary)
MORE INFO / DOWNLOAD
DEMO
6. Barber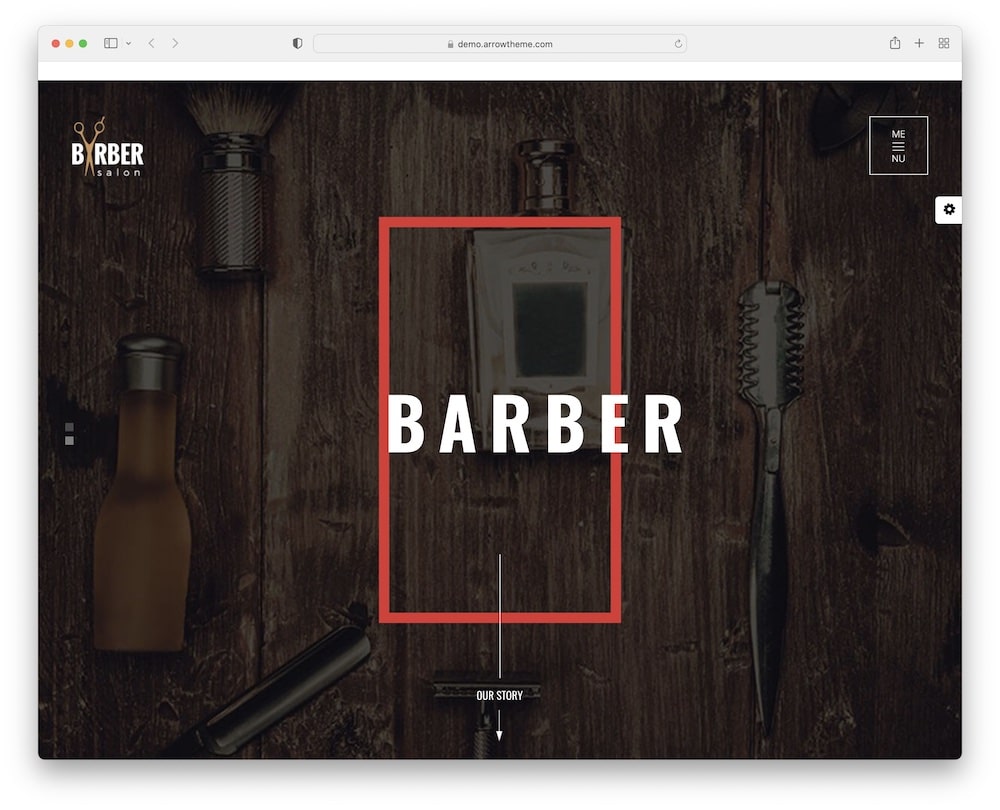 Set the HIGH standard in the tattoo industry with the Barber theme. Yup, it's just that GOOD.
You can easily build a stunning website with ready-to-use homepages, the most popular plugins, and tons of design options. You can start in minutes.
No coding knowledge. No extra cost.
Barber is a great choice for creating a blog, online store, portfolio, gallery of your ink, and any other internal page.
My favorite part is Barber's full social media integration (hurray!).
Of course, it is also SEO friendly, 100% mobile-friendly, and cross-browser compatible. Oh, and the cool pre-loading effect is just magical. Enjoy!
Barber features:
680+ sales
4.9+ star ratings
Quick work w/ shortcodes
100% WooCommerce integration
Price: $59 (may vary)
MORE INFO / DOWNLOAD
DEMO
7. Tristero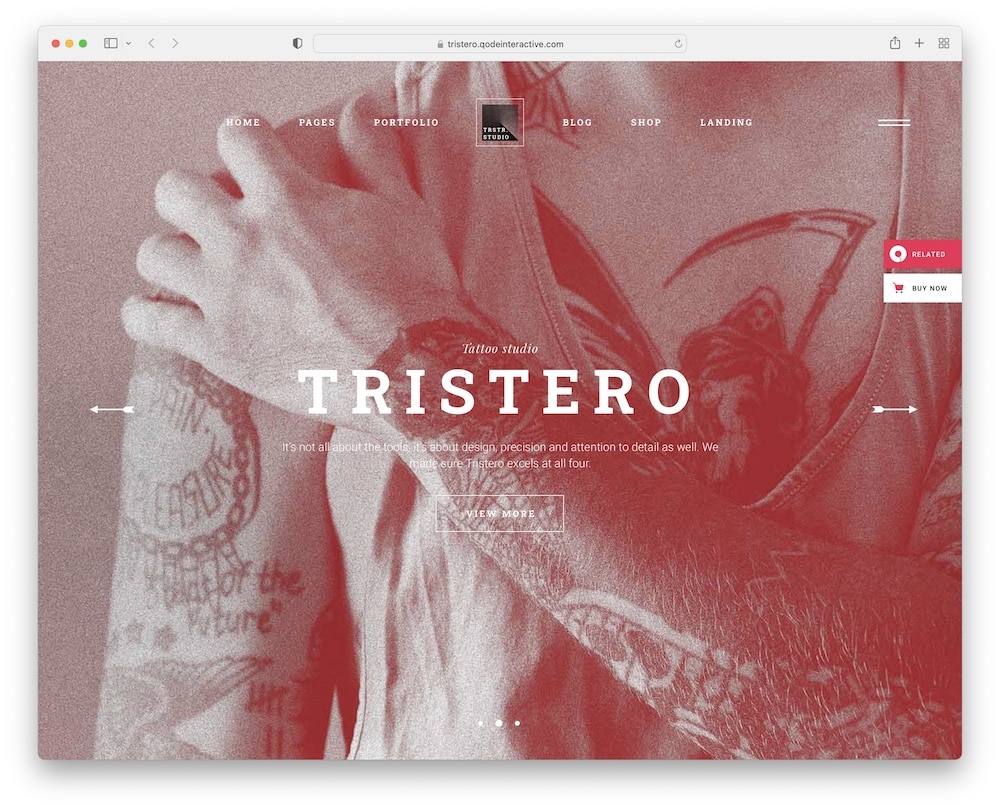 Create an online space for self-expression with the artistic Tristero tattoo WordPress theme.
Tattoo artists, you're welcome!
It comes with a collection of beautiful & practical homepages and multiple customizable (inner) layouts.
You can easily TOP them all with the best plugins, smart shortcodes, and unique widgets.
Like me.
Oh man, Tristero also offers dark and light skin variants. (I LIKE the dark version!)
Moreover, you can put on your site a basic or advanced contact form so that you receive visitors' emails directly (thanks, Contact Form 7!).
That's it, FAST and SIMPLE.
Just keep your COOL with Tristero.
Tristero features:
260+ sales
4.4+ star ratings
Price: $69 (may vary)
MORE INFO / DOWNLOAD
DEMO
8. Tattoo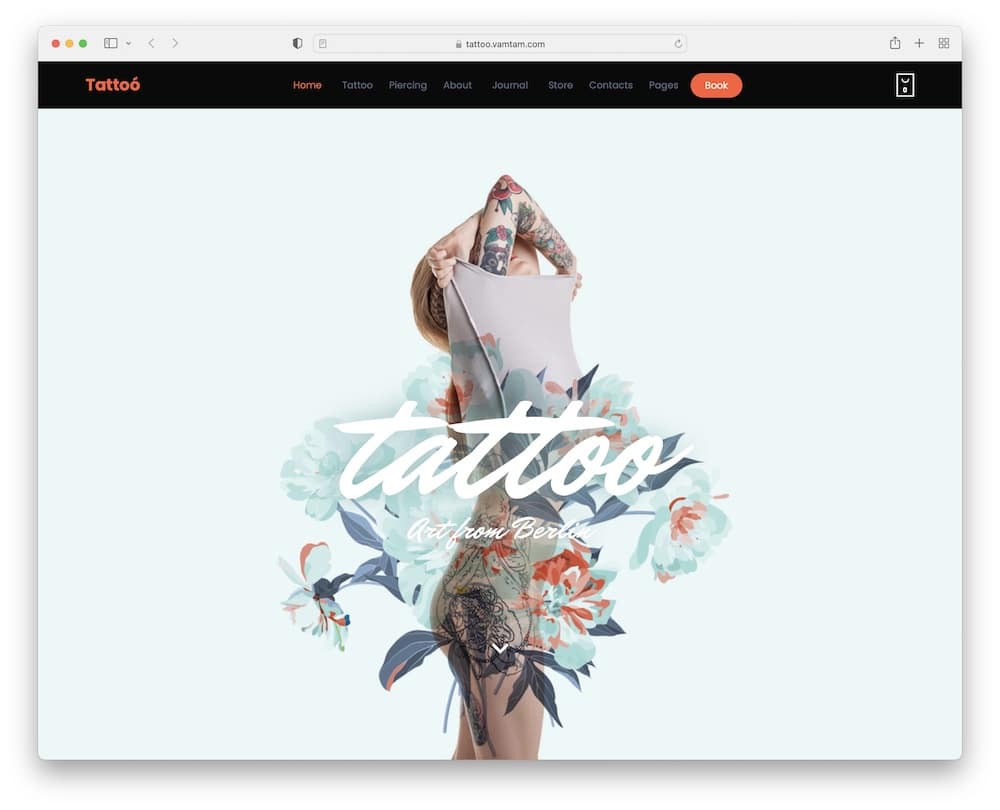 You can tell your story and introduce your tattooing style to the world with the gorgeous Tattoo WordPress theme.
Tattoo guarantees the best user experience due to fast page load, smooth transitions, and responsive – retina-ready design.
AWSOME performance!
And I love to add unique icons to jazz up the look of the site. Remember, with Tattoo you get a collection of them specifically for your INK passion.
Pretty. Sweet!
Furthermore, don't forget to use #localartists #ink #tattoos #tattooartist #tattoo on your social media. Yep, Tattoo includes social share friendliness (keep calm).
BTW, Tattoo offers regular (automatic) updates. No extra $$$!
Tattoo features:
390+ sales
4.7+ star ratings
Beaver Builder
Practical video tutorials (!)
Price: $79 (may vary)
MORE INFO / DOWNLOAD
DEMO
9. Dotwork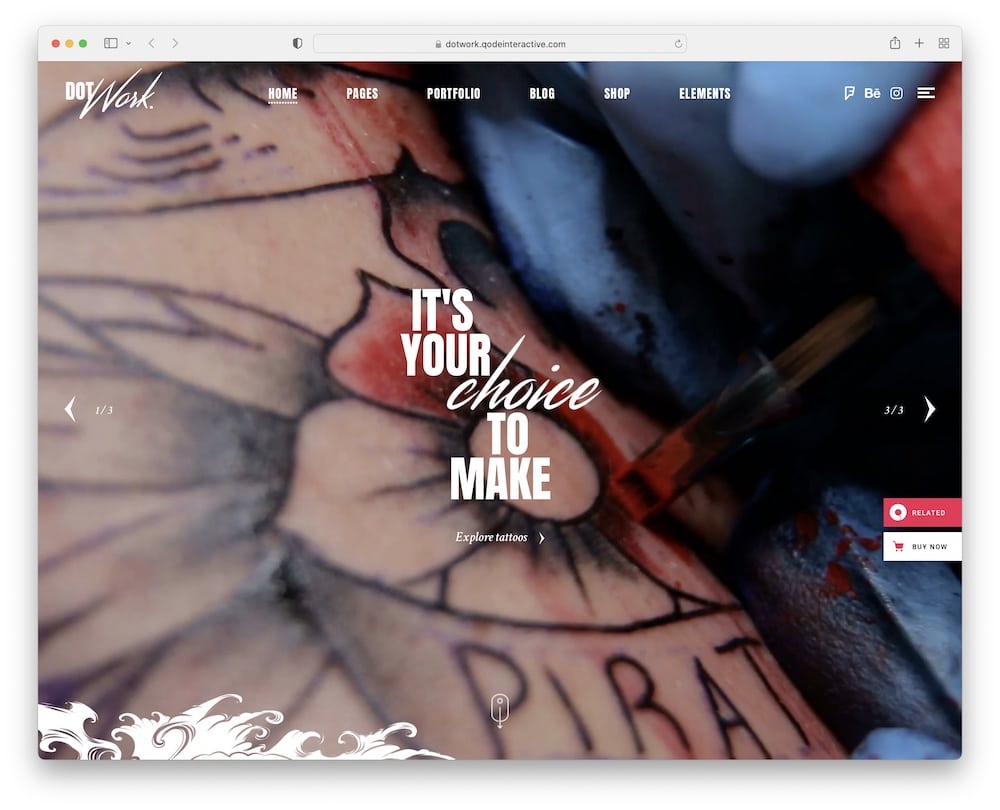 Comfortably present all styles of your work (from traditional to tribal, watercolor, black and grey to Japanese, WHATEVER) with the brilliant Dotwork tattoo WordPress theme.
The one-click import demo is highly customizable and easily manageable with the cool drag and drop function.
Dotwork comes with the most popular tools such as Slider Revolution, parallax effect, WooCommerce, and Contact Form 7. (Crucial for great user experience.)
Moreover, you can easily showcase your tattoo studio (add Google Maps location), artist, testimonials, and finished work (Instagram gallery).
Plus, if you are like me, start writing a blog – it's a win-win for everyone involved.
NOTE: Dotwork video background sections are DOPE!
Dotwork features:
190+ sales
4.5+ star ratings
Custom background images
Price: $69 (may vary)
MORE INFO / DOWNLOAD
DEMO
10. EWO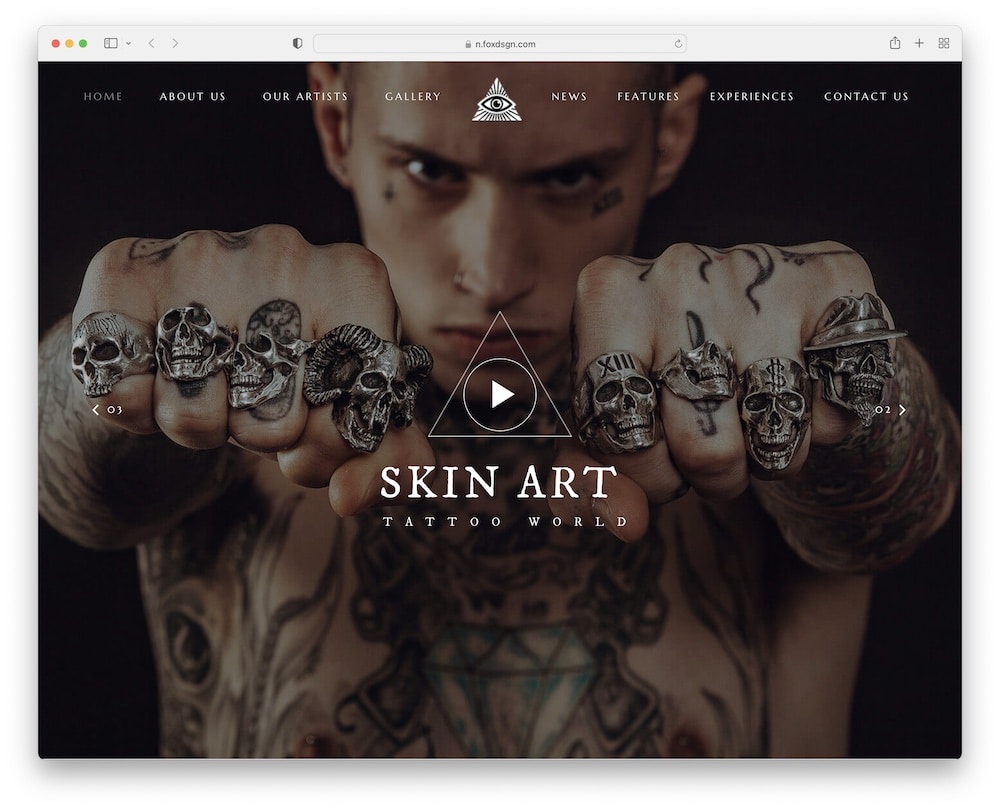 Talk to potential clients through the creative EWO tattoo WordPress theme. In fact, they can even book their next appointment directly on your new site (relaxed and welcoming!).
Who's READY for a new tattoo?
EWO automatically adapts to different screens and will look stunning on modern devices due to its fully responsive design.
Plus, it guarantees fast page load time (tested, proven)!
You'll be surprised and have a blast working with Gutenberg: ditch coding and pick up draggable blocks (I am its loyal fan!).
Just style your website according to your personal taste and let success be your NOISE.
Try eye-grabbing EWO today!
EWO features:
90+ sales
4.4+ star ratings
Pricing & appointments
Price: $44 (may vary)
MORE INFO / DOWNLOAD
DEMO
11. Tattoos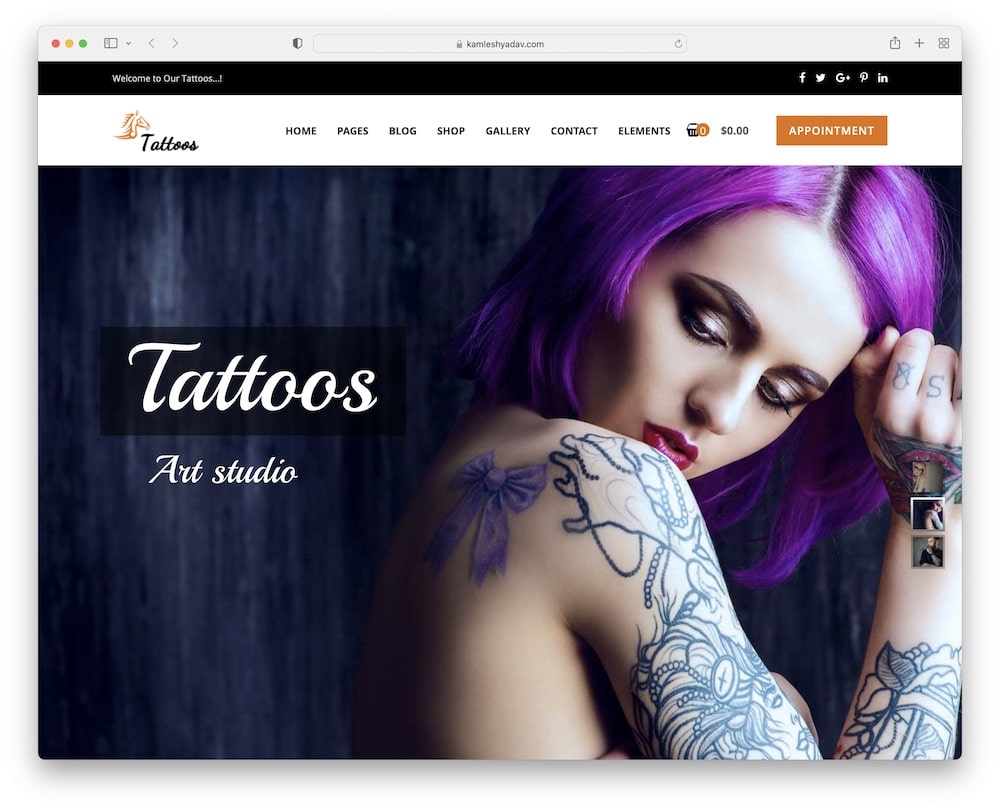 It's always a GOOD day for a new tatty!
Say Hi to the powerful Tattoos theme, which makes creating a bold online presence that will slap all your users right into their face with its awesomeness a piece of cake.
SHOWTIME.
Tattoos let your users send you an email, pop into your online store, and check out your location, work, or artists.
Also, you can easily engage with visitors through the one-of-a-kind blog.
Among other elements that you can adjust to all your needs is a drop-down menu (clean design for website navigation). Oh, and Tattoos offers well-organized and commented documentation.
Be a proud TAT-WIZARD with Tattoos.
Tattoos features:
46+ sales
5 star rating
Just drag-n-drop
Price: $29 (may vary)
MORE INFO / DOWNLOAD
DEMO
12. Maori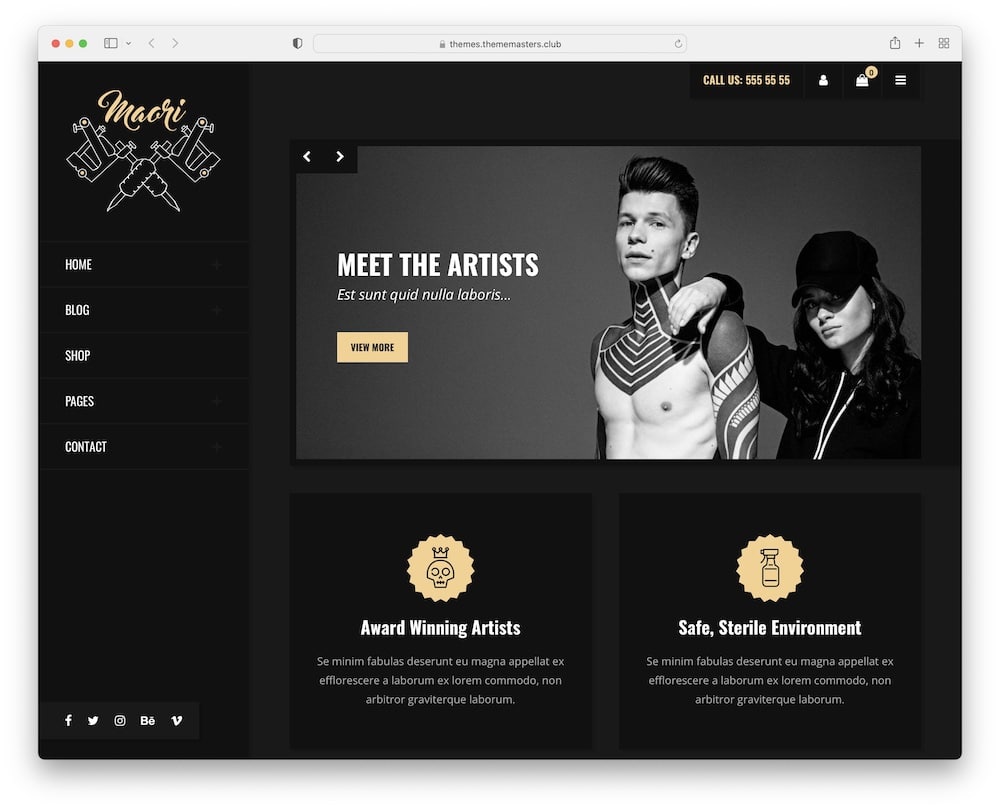 You get EVERYTHING in one package with the inky Maori tattoo WordPress theme. Fully responsive, modern, and pitch black! (But your tattooing doesn't have to be!)
I like to rotate sidebars, swap colors & fonts, and adjust flexible elements.
Of course, you can add numerous widgets, shortcodes, and even (!) translate Maori into your language.
Many tattoo masters nowadays have both hard copies of portfolios in shops and online. So check out pre-made Maori layouts and create your hot portfolio FAST!
Furthermore, Maori works seamlessly with the amazing WooCommerce plugin.
Yup, selling tattoo supplies, official merchandise, graphics, stickers, and much more online was never so handy!
Join the tattoo industry with your OMG website.
Maori features:
100+ sales
4.4+ star ratings
Easy (but powerful) theme customizer
Off-canvas sidebar (excellent!)
Price: $49 (may vary)
MORE INFO / DOWNLOAD
DEMO
13. Illuminati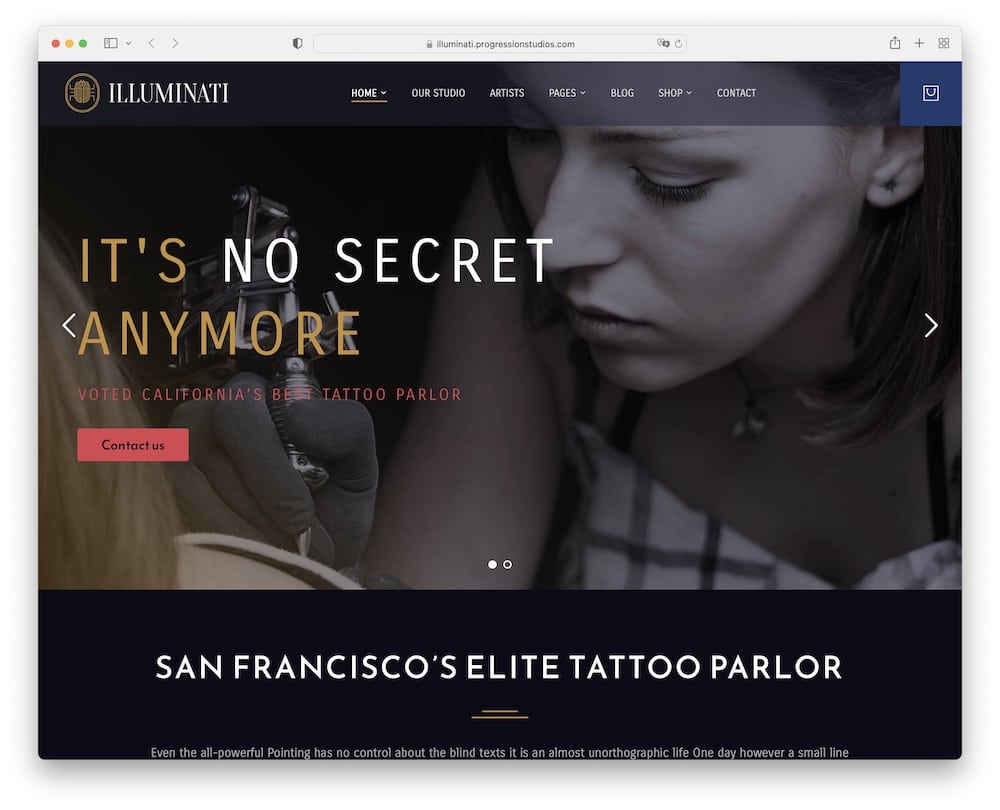 You just found the right match for your studio! (In case you actually needed to scroll all the way down here 🙂 )
Here's all the goodness that's ahead:
Illuminati tattoo WordPress theme gives you complete control over the creation of your site.
Rework, change and polish the final look of all your "EVIL" desires with the trouble-free drag & drop page builder (0 coding!).
Your visitors can also book their next tattoo directly from your site!
And hey, the contact form on site is not optional. You must, You must, You MUST.
Not to mention, your slideshows will grab everyone's attention due to Slider Revolution!
First-class Illuminati.
Illuminati features:
67+ sales
4.6+ star ratings
Fast live editing
Built-in eCommerce
Price: $59 (may vary)
MORE INFO / DOWNLOAD
DEMO