Are you looking for the best hotel booking WordPress themes to take your hospitality business to new heights?
It doesn't matter if you are a boutique inn, a luxurious resort, or a charming bed and breakfast; here's a WP theme for you.
A fantastic website can make ALL THE difference in attracting guests and maximizing bookings.
But you don't have to pay a hefty fee to achieve the best result – you can do it all yourself, quickly and easily.
These themes offer everything, from amazing predefined designs to endless features, requiring zero effort to put it all together.
And most importantly, they also streamline the reservation process, ensuring a memorable and hassle-free experience for your guests.
How We Tested Hotel Booking WordPress Themes
We first identified themes that met basic criteria (user feedback, ratings, update frequency, documentation & custom support availability), then reviewed 21 in-depth.
First, we installed (have you seen our tutorial on how to install a WordPress theme?) and activated each theme to assess its performance, loading speed and responsiveness. These have a significant impact on the user experience.
Second, we evaluated the design, user-friendliness of the interface and customization options.
Third, we tested the booking functionality thoroughly, from room selection and pricing to payment gateways and confirmation emails.
Fourth, we checked for plugin compatibility, so you can comfortably expand it with whatever feature and function you want.
Fifth, we were left with the ultimate themes that will elevate your accommodation business.
QUICK-PICK: Ultimate Hotel Booking WP Themes
Remember, if you already have a website without booking, check these best free WordPress booking plugins.
Best Hotel WordPress Themes With Online Booking
1. Bellevue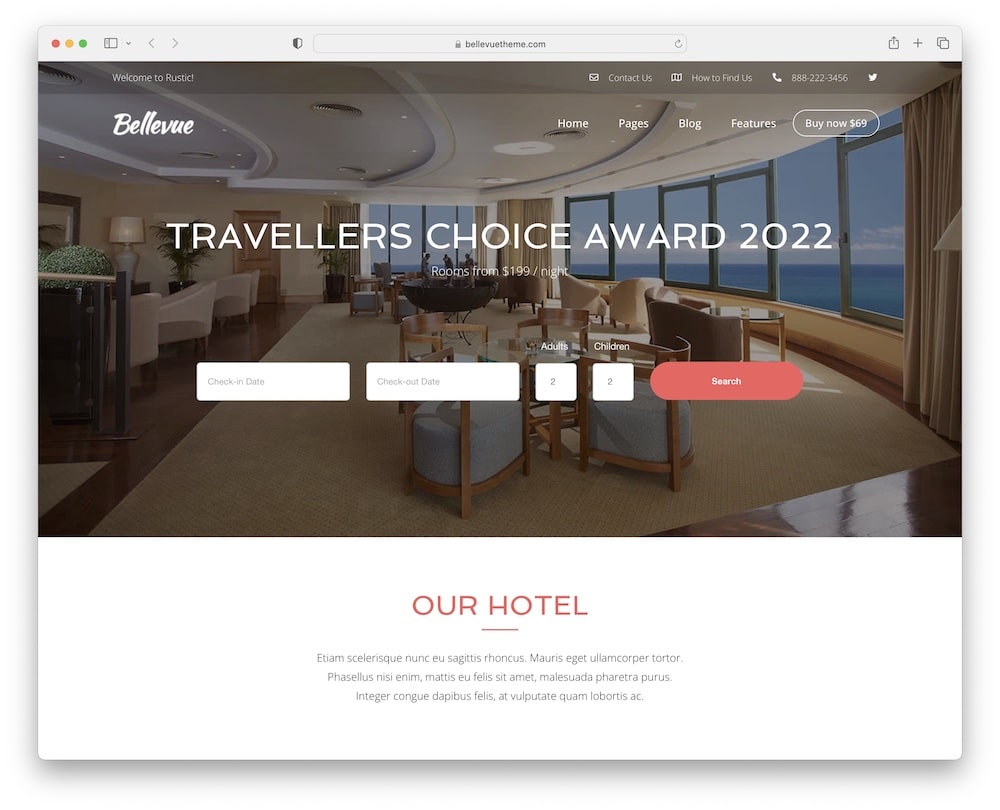 The luxury Bellevue WordPress theme will steal your heart!
Simply pick the ready-to-use homepage (seventeen beautiful demos) that you like the most, click install and start customizing it or use it as it is.
Your choice! (But I encourage you to tweak it with your creativity.)
Bellevue includes flexible layouts, pre-made listing styles, templates, widgets, and blocks.
Plus, you get an AMAZING online booking system with useful extras such as a payment system powered by WooCoomerce, an all-in-one MailChimp email marketing tool, a booking notifier, multi-currency, and much more.
Bellevue ensures step-by-step documentation and top-notch customer service to help you take your new website to the next level.
Make it happen – today!
Bellevue features:
12,700+ sales
4.8+ star ratings
Reviews, discounts, email notifications
Variable rates & pricing
Price: $60 (may vary)
MORE INFO / DOWNLOAD
DEMO
2. Soho Hotel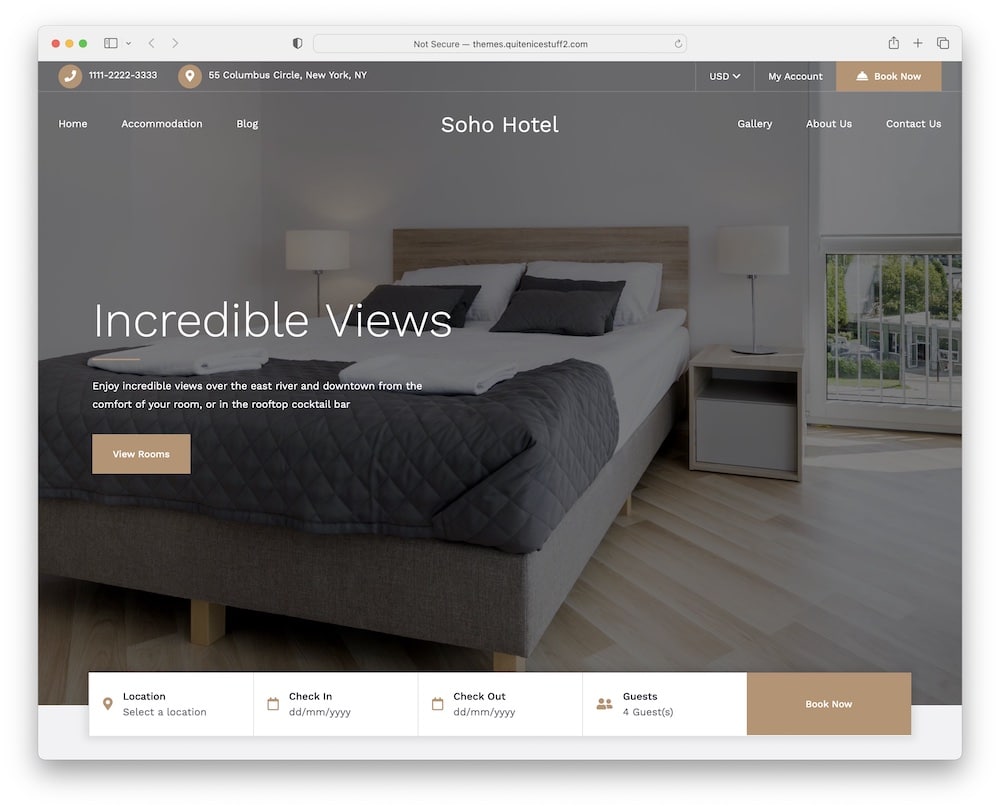 The Soho Hotel's luxury is in its gorgeous design details!
You can easily modify this hotel booking WordPress theme via the drag and drop WP page builder (Hi, WPBakery!).
Keep calm, 0 coding is required.
Showcase your amazing accommodations, unique experiences, multiple locations, pricing lists, and testimonials.
I also recommend you start a blog about your area, share the best restaurants, markets, booking tips, and hidden-away adventures.
Besides, you can translate Soho Hotel to your local language or globalize it. (Use your favorite WP translation plugin.)
Your visitors can check available dates, book rooms, and pay (multiple currency options) in just a few clicks with smart online booking system. Pretty COOL, right?
Let your visitors enjoy the mobile-friendly Soho Hotel!
Soho Hotel features:
8,600+ sales
4.5+ star ratings
Simplified online payments
Multi-currency support
Price: $59 (may vary)
MORE INFO / DOWNLOAD
DEMO
3. Hotel Booking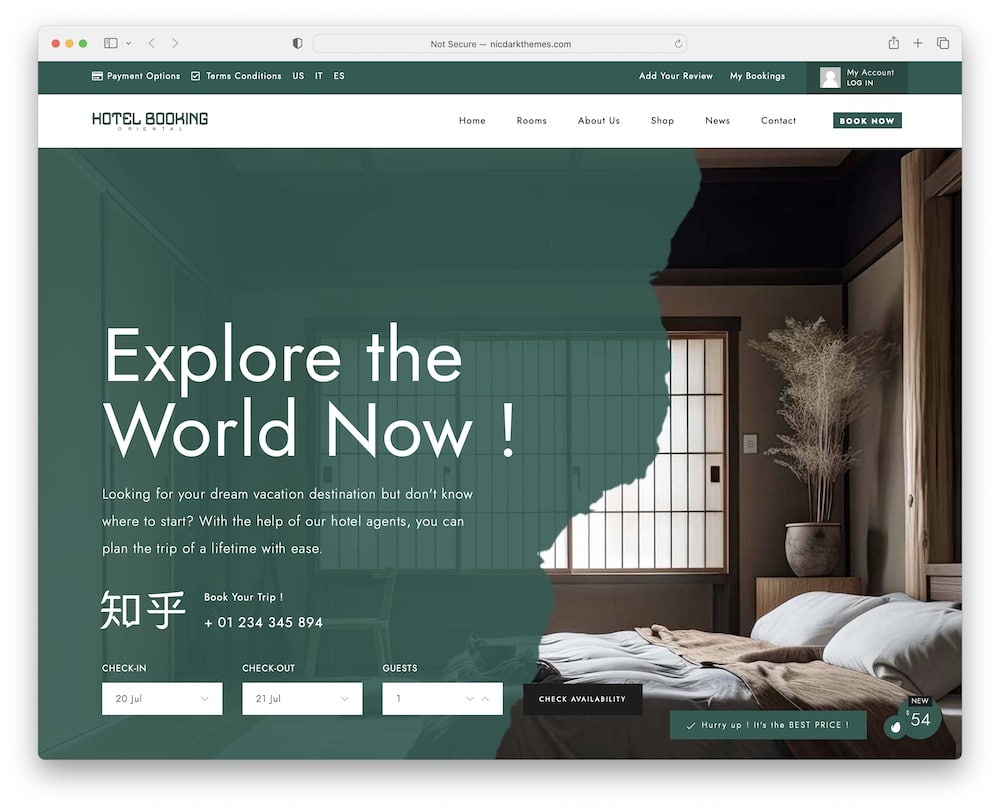 Check-in the Hotel Booking!
This stylish hotel booking theme comes with numerous demos, beautiful layouts, unlimited headers, Ajax filter search, various payment options, and a calendar view for room availability.
The best part: You can easily connect your website with the most popular booking systems like Airbnb, Trip Advisor, Booking, or Hostel World.
I also LOVE Slider Revolution (included for FREE) to create attractive sliders and carousels including animations, buttons, navigation arrows, and more.
Plus you can build inviting forms for quick connection and collection of emails with Contact Form 7.
Discover user-friendly Hotel Booking and grow your accommodation business – today!
Hotel Booking features:
5,100+ sales
4.6+ star ratings
Practical filtered search
Guest account profile page
Price: $54 (may vary)
MORE INFO / DOWNLOAD
DEMO
4. Alloggio

Modern Alloggio hotel booking WordPress theme will blow your mind!
Your visitors will receive simple online booking tools with smart filters and fast online payments (WooCoomerce integration). You can even include weather forecasts, Google Maps, ad banners, and Instagram feeds.
You also get pre-made layouts and inner pages to tell your story, present team members, launch a blog, and showcase room galleries. Don't forget to insert smart contact forms on your pages.
Sweet!
Plus, take advantage of numerous shortcodes, headers, and eye-grabbing animations. Oh, and the mega menu is my FAV tool for organized and visually appealing navigation.
Give Alloggio a try!
Alloggio features:
1,600+ sales
4.1+ star ratings
Beautiful single room layout
Pin location(s) on Google Maps
Price: $75 (may vary)
MORE INFO / DOWNLOAD
DEMO
5. Hotale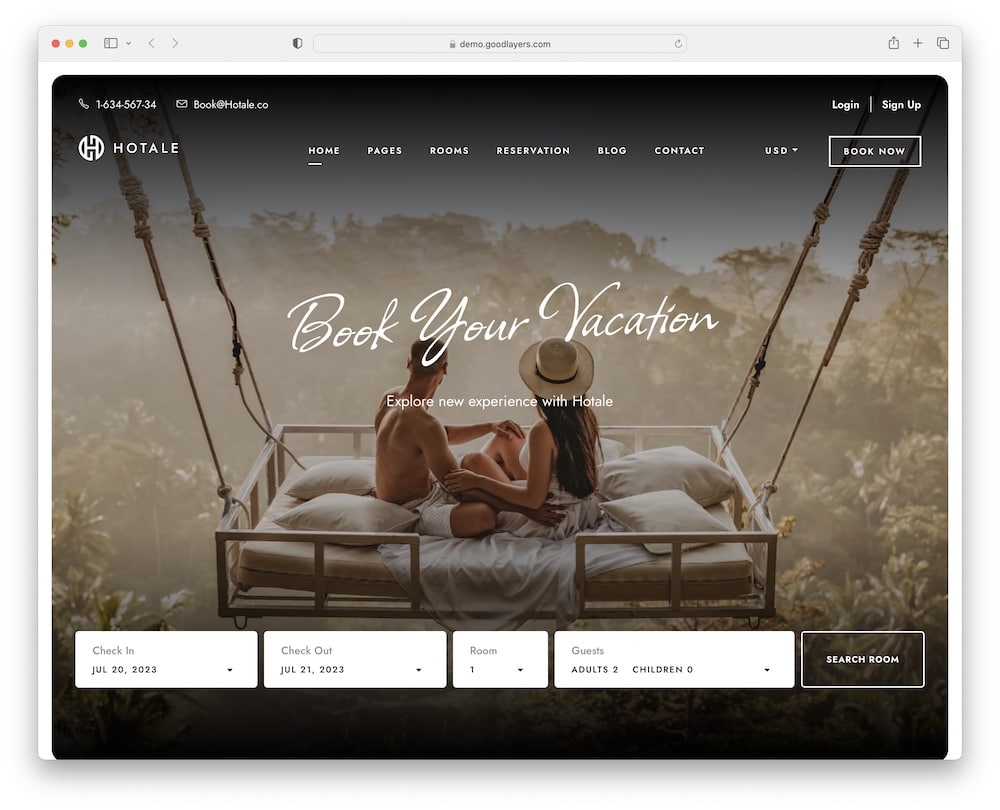 Welcome to the experienced Hotale!
This hotel booking WordPress theme embraces a clean and modern design that you can edit, adjust, and rearrange with 0 coding knowledge.
From the install on, you can do what you want with the Hotale theme.
Besides, Hotale loads fast, displays nicely on all screen sizes (fully responsive), and works great with THE BEST plugins in the market.
Moreover, you can liven up Hotale with engaging parallax theme effects or video backgrounds. Just perfect!
The coolest part: Hotale offers FREE lifetime updates and professional customer support that solves any dilemmas briskly.
Hotale features:
400+ sales
5-star rating
Online & offline payments
Supports multiple deposits
Price: $69 (may vary)
MORE INFO / DOWNLOAD
DEMO
6. Kinsley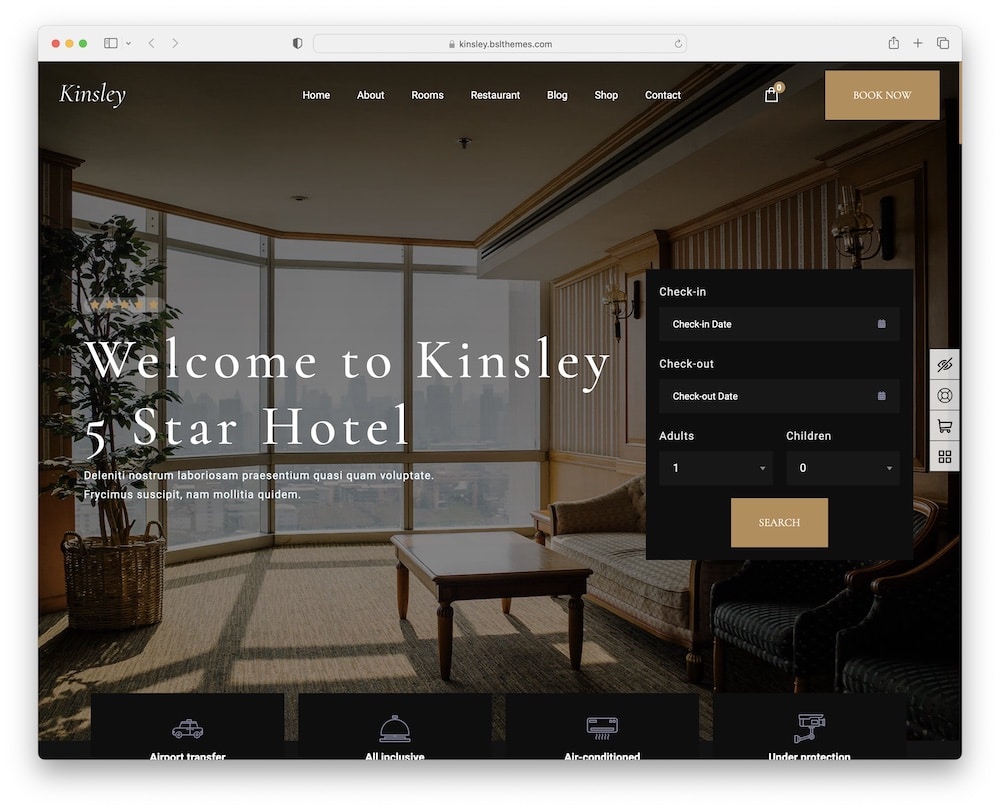 One hotel booking WordPress theme – unlimited possibilities!
Elegant Kinsley comes with a popular drag-and-drop Elementor page builder that allows you to add, rearrange or customize elements on your chosen homepage.
Remember, the majority of the building is already done for you.
BIG time & money savings.
Plus, included hotel booking management system is like a cherry on top!
Your visitors can look for desired days in an online calendar (real-time), check seasonal pricing, book additional services, use discount coupons, get email notifications, and much more.
GOLD.
Also, for me, it's always fun to pick from a huge collection of colors and numerous Google font options and brand the hotel site accordingly. Enjoy!
Kinsley features:
680+ sales
4.8+ star ratings
Flexible booking rules
Booking extras & services
Price: $43 (may vary)
MORE INFO / DOWNLOAD
DEMO
7. Nuss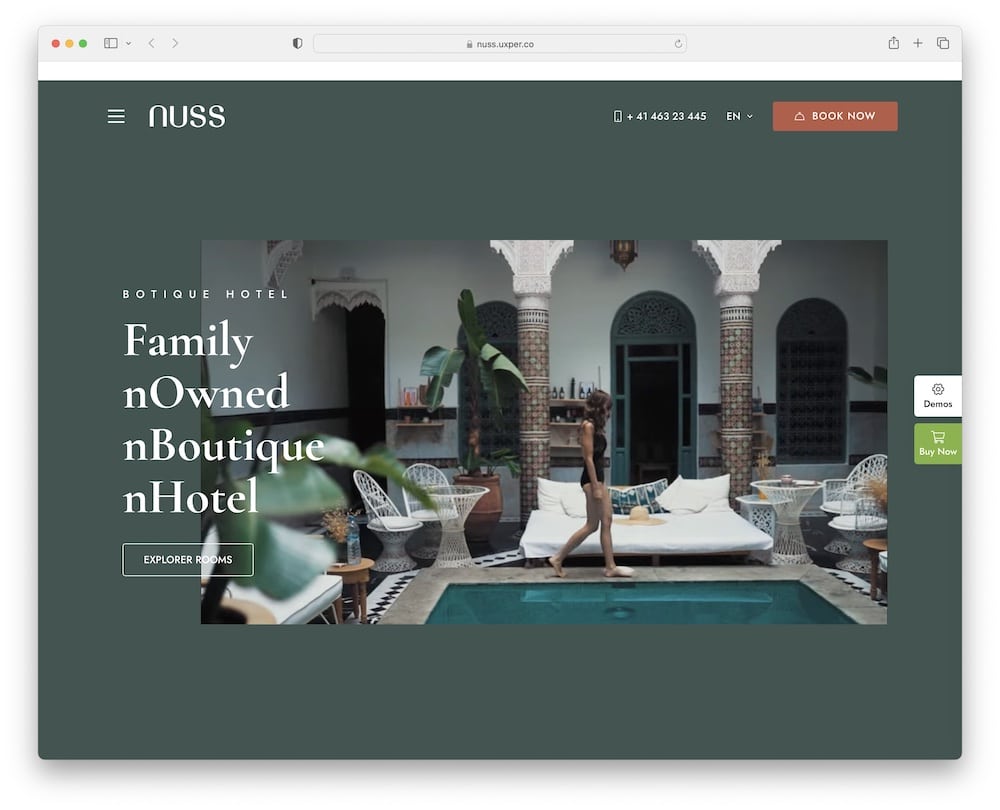 Fantastic Nuss hotel booking WordPress theme is here to serve you and your customers!
You can choose from stylish and fully functional homepages created for small or big hotels, lodges, apartments, B&B homes, beach resorts, and luxury accommodations.
Nuss includes a complete online booking system with a reservation form, calendar, email templates, discount coupon form, amenities icons, and multiple payment options.
Everything you NEED!
In my eyes, newsletter pop-ups play a big role in successful marketing. I recommend to, after you collect emails, engage with people via the MailChimp email campaigns on a regular basis.
Oh, and Nuss is also SEO optimized to help you rank higher in search engine results. Yee.
Make the most of Nuss!
Nuss features:
MORE INFO / DOWNLOAD
DEMO
8. Grandium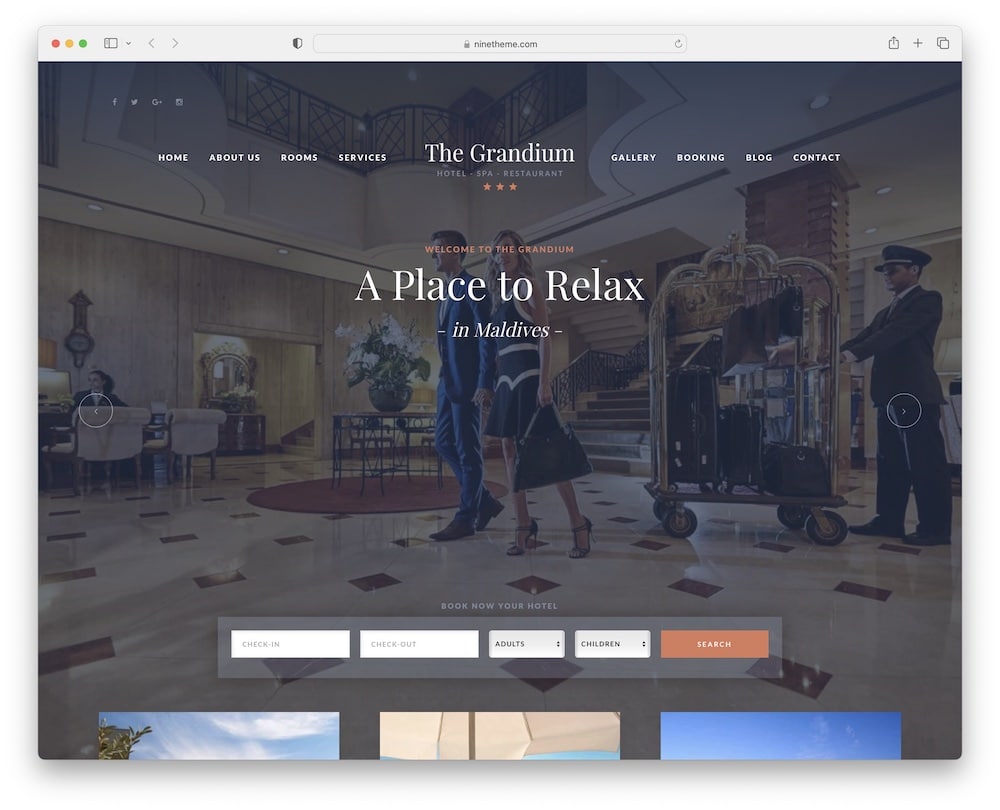 Unique Grandium hotel booking WordPress theme will become your playground (from day one!).
Elegant Grandium has the most popular plugins, responsive design, many blocks, and amazing customer support.
Yup, it's all here!
Grandium is also optimized for buzzing speed ensuring users an enjoyable (mobile) experience without frustration.
Plus, gorgeous layouts and pages with breathtaking images will encourage visitors to stay on your site longer by clicking links, filling out forms, checking the online calendar, and making reservations.
You can even upload video tours on your new website. WOW.
And don't forget to spice things up with banners or popups of special offers, discount coupons, and free gifts.
Your business deserves a loyal employee – Grandium!
Grandium features:
500+ sales
4.6+ star ratings
Simple & quick import wizard
700+ vector icons
Price: $41 (may vary)
MORE INFO / DOWNLOAD
DEMO
9. Ami Homestay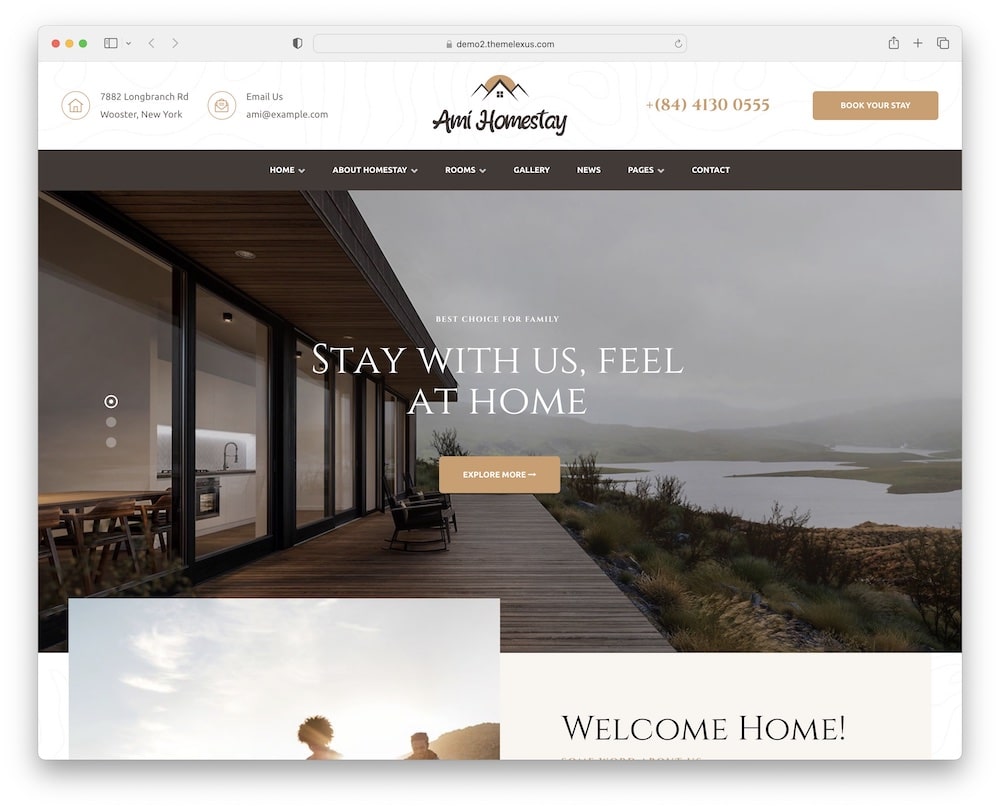 Memorable Ami Homestay hotel booking WordPress theme offers a five-star quality design.
Simply choose one of the ready-to-use homepages, import it with one mouse click, and start customizing it to all your needs (NO coding knowledge required).
Thumbs up!
In fact, drag-and-drop motion makes it super easy to arrange and rearrange elements in real-time as needed (Hi, Elementor!). I love to adjust elements by their size, styling, position, and instantly see the affected appearance.
Moreover, with a valuable blog, you can boost your hotel's reputation, attract more visitors, improve search engine rankings, and have a successful online presence.
Remember – content is KING.
A quick tip: Showcase testimonials of previous customers and build trust!
Ami Homestay features:
540+ sales
4.8+ star ratings
Special (outdoor) activities section
Rich room features
Price: $49 (may vary)
MORE INFO / DOWNLOAD
DEMO
10. Sunway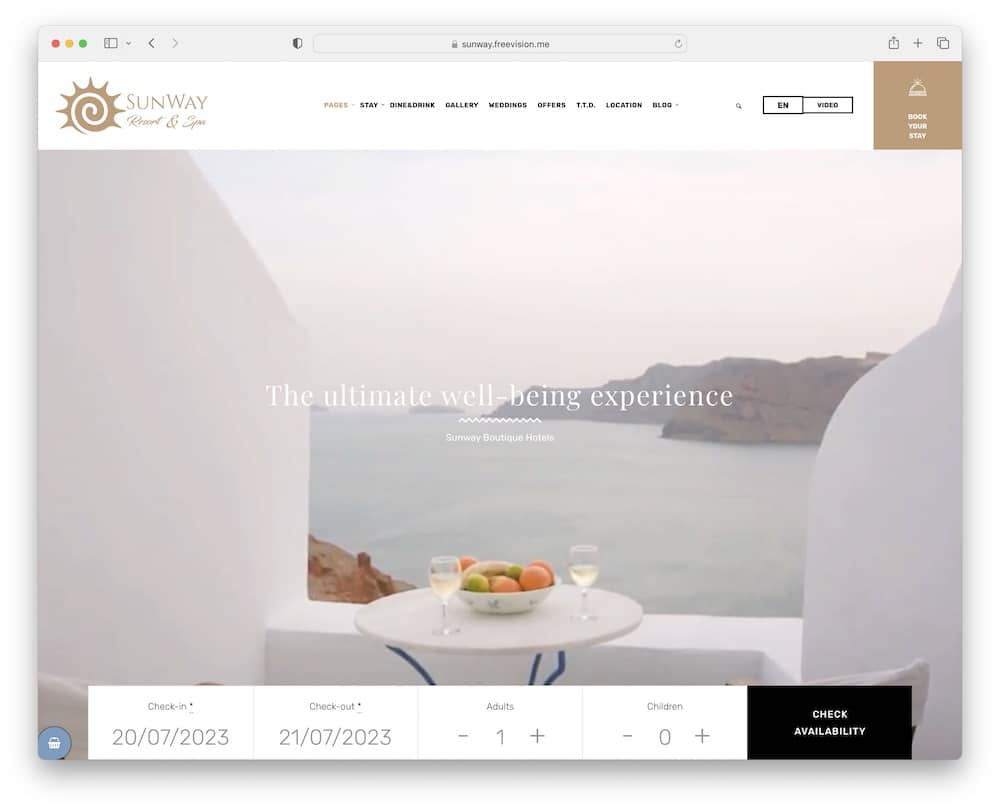 Relax, you came across the impressive Sunway hotel booking theme!
You can use Sunway for all vacation rental businesses, like hotels, resorts, hostels, bed and breakfasts, etc. Just pick a homepage you like the most and start customizing it.
Yup, MIX and MATCH.
Besides, Sunway includes a smart online booking calendar with available check-in and check-out dates, bookable extra services, advanced search filters, weekly and monthly rates. Plus customers can reserve multiple accommodations in one booking process.
High five!
Oh, and Sunway is also GDPR compliant – offering a checkbox for consent on your collection and procession of personal data.
Listen to me: Your audience will trust you even more knowing you take the protection of their personal information seriously!
Sunway features:
600+ sales
4.6+ star ratings
Real-time search availability form
iCal support to sync bookings with 3rd-party platforms
Price: $60 (may vary)
MORE INFO / DOWNLOAD
DEMO
11. Oceanica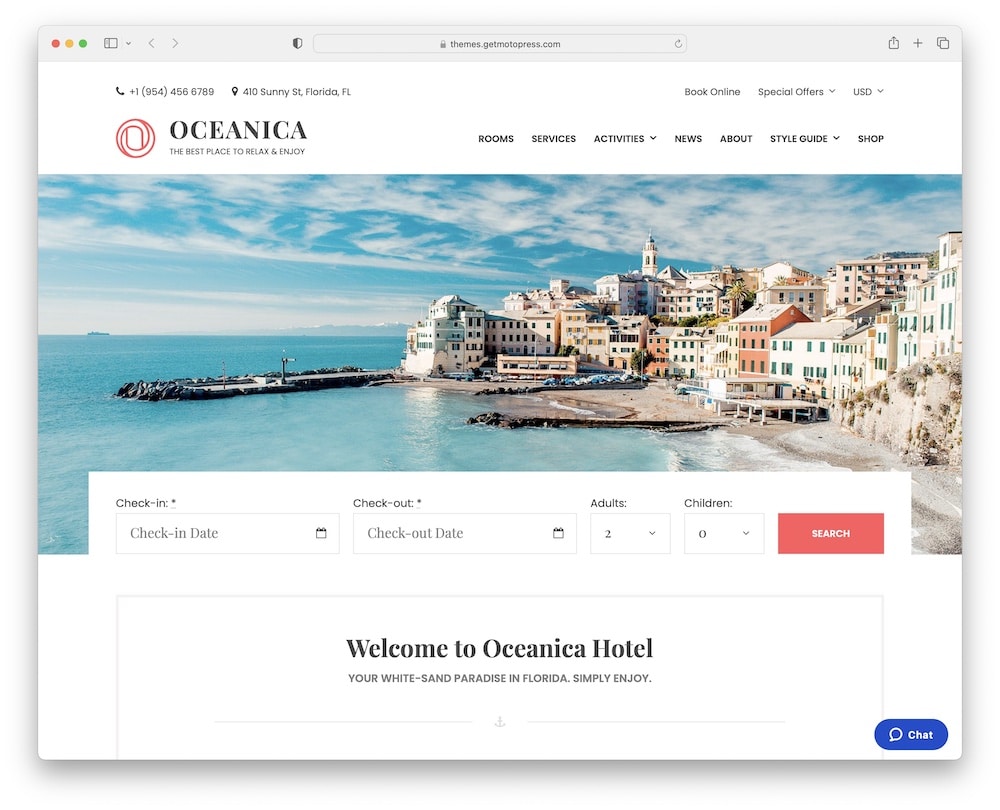 The elegant Oceanica hotel booking WordPress theme is a luxury everyone can afford!
Oceanica's engaging design, useful plugins, and eye-catching gallery will spark your visitor's curiosity by wanting to learn more about your hotel, rooms, and services.
What's more?
It also supports easy online booking & payments, discount coupons, custom email notifications, and seasonal pricing rates.
SWEET!
Moreover, if you regularly use and update your social media content implement your accounts into Oceanica by clickable social media icons, Instagram or Facebook gallery, and share buttons.
Detailed documentation and professional customer support are a must-have/just incredible.
See you at Oceanica!
Oceanica features:
310+ sales
4.8+ star ratings
Clean & lightweight design
Pricing variables per guest
Price: $79 (may vary)
MORE INFO / DOWNLOAD
DEMO
12. Starhotel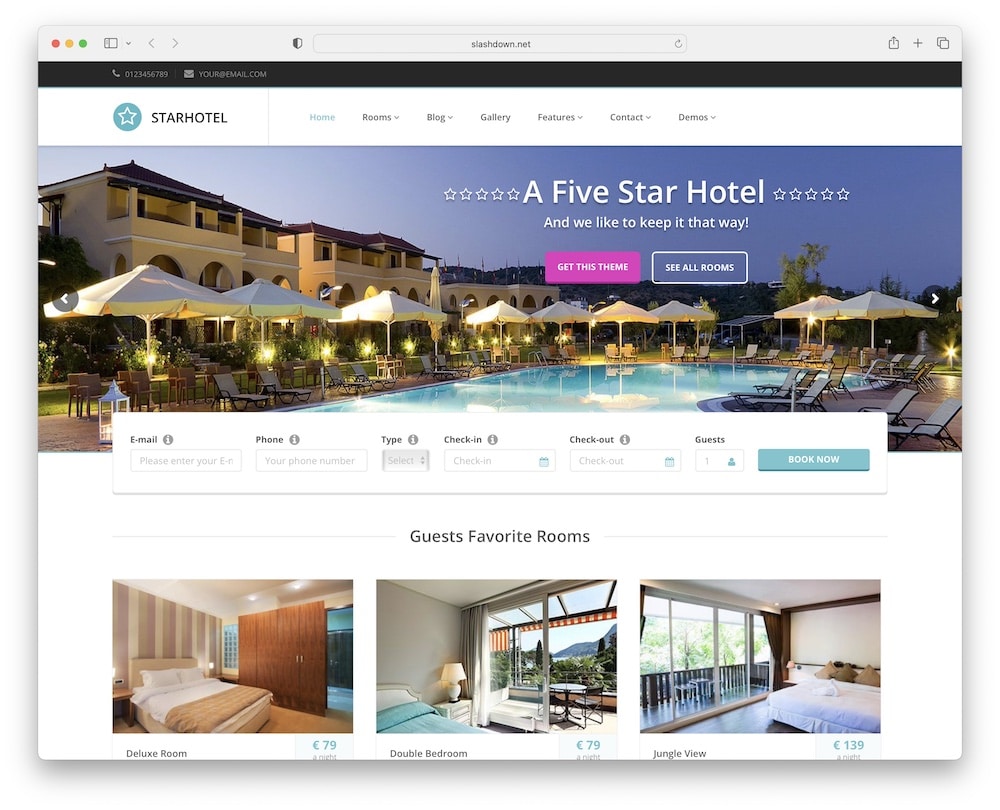 You are invited to check out the Starthotel hotel booking WordPress theme (a little slice of accommodation heaven) with me.
Responsive Starhotel offers the brilliant WPBakery drag&drop page builder (NO coding knowledge, NO problem) and amazing Slider Revoluton plugin to help you create visually rich sliders.
I love to work with both of them!
The best part: You get an advanced online booking structure that supports a real-time calendar.
You should also start a blog about destination guides, travel tips, popular events, upcoming activities, and hotel upgrades.
Besides, it's vital that you showcase the hotel's improvements and guest experiences. Boost credibility!
And you can even use the parallax effect to add depth and action to your pages and improve UX.
Starhotel features:
1,900+ sales
4.3+ star ratings
User-friendly theme options panel
Isotope rooms & gallery
Price: $29 (may vary)
MORE INFO / DOWNLOAD
DEMO
13. Brooklyn Heights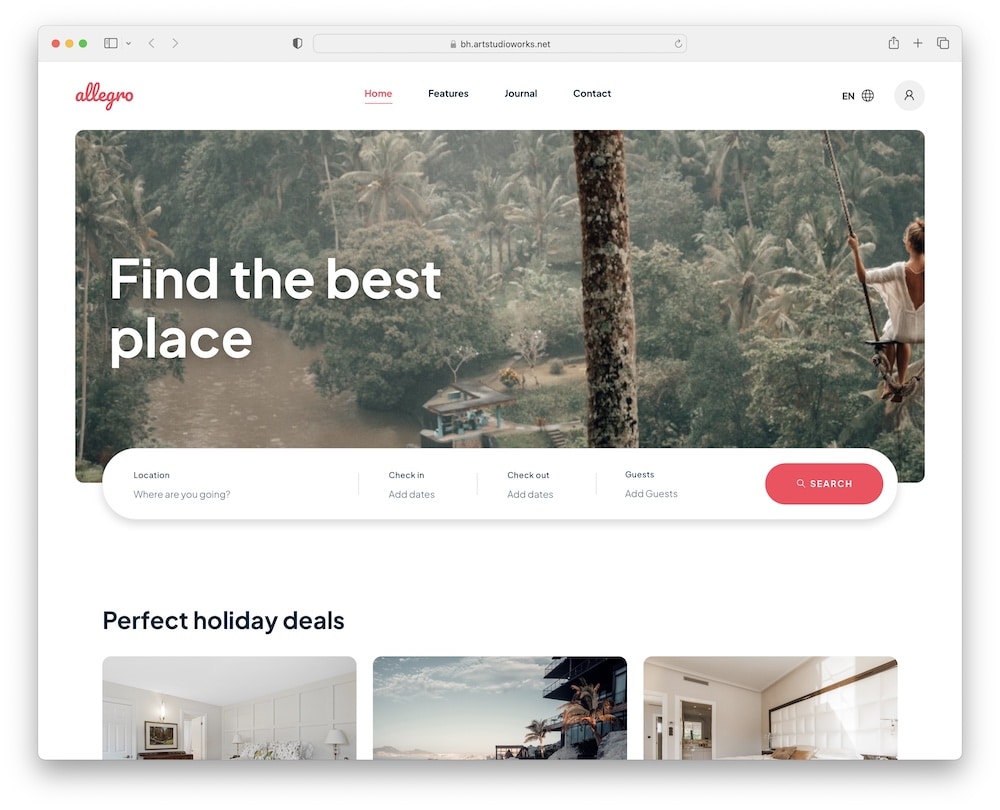 Your best business memories start with the professional Brooklyn Heights hotel booking WordPress theme!
Brooklyn Heights offers diverse design options, handy plugins, and brilliant online services to treat your potential guests right.
Of course, visitors can book a room at any time (even while you sleep!) with the help of an excellent online booking system.
Moreover, you can adjust, set up, and rearrange galleries, menu, posts, slides, and much more with Elementor.
Be creative, implement your signature style, and GO live!
Pretty COOL, right?
Brooklyn Heights is as well SEO optimized giving you aid with visibility in search engine rankings.
Brooklyn Heights features:
200+ sales
5-star rating
Fantastic room cards
Also works for hotel marketplaces & multi-vendor hotel platforms
Price: $48 (may vary)
MORE INFO / DOWNLOAD
DEMO
::
Note: This article was originally published on July 21, 2023. But our team regularly reviews it and updates it with necessary improvements for accuracy.