Are you searching for the best car wash WordPress themes to create a solid business page?
I've been lucky to work with two clients who offer car detailing, washing and cleaning services, which helped me curate this epic WP theme collection.
I've learned all the ins and outs of the industry through TRIAL and ERROR, so I can now guarantee the most reliable solutions to build your site as quickly as possible.
And you don't need coding and design experience!
This post covers:
Make people's vehicle shine, starting with a shiny website.
THE ULTIMATE CAR WASH THEMES:
How I Tested Car Wash WordPress Themes
It was important to me to test all the themes for responsiveness and fast loading first.
I used Google's Mobile-Friendly Test for the former and Pingdom Tools for the latter.
Remember, the quality of your hosting contributes to the site's load speed greatly. But you can read more about how to choose a fast WordPress theme in our guide.
I next reviewed each theme for predefined page layouts and elements, including pricing tables, Google Maps integration and booking options.
Note: If a theme doesn't come with an integrated online booking solution, it's compatible with all modern plugins.
Finally, I also contacted all theme authors to test their support quality.
Best Car Wash WordPress Themes For Auto Detailing
When you pick your favorite design, check how to install a WordPress theme for a smooth workflow.
1. Aqualine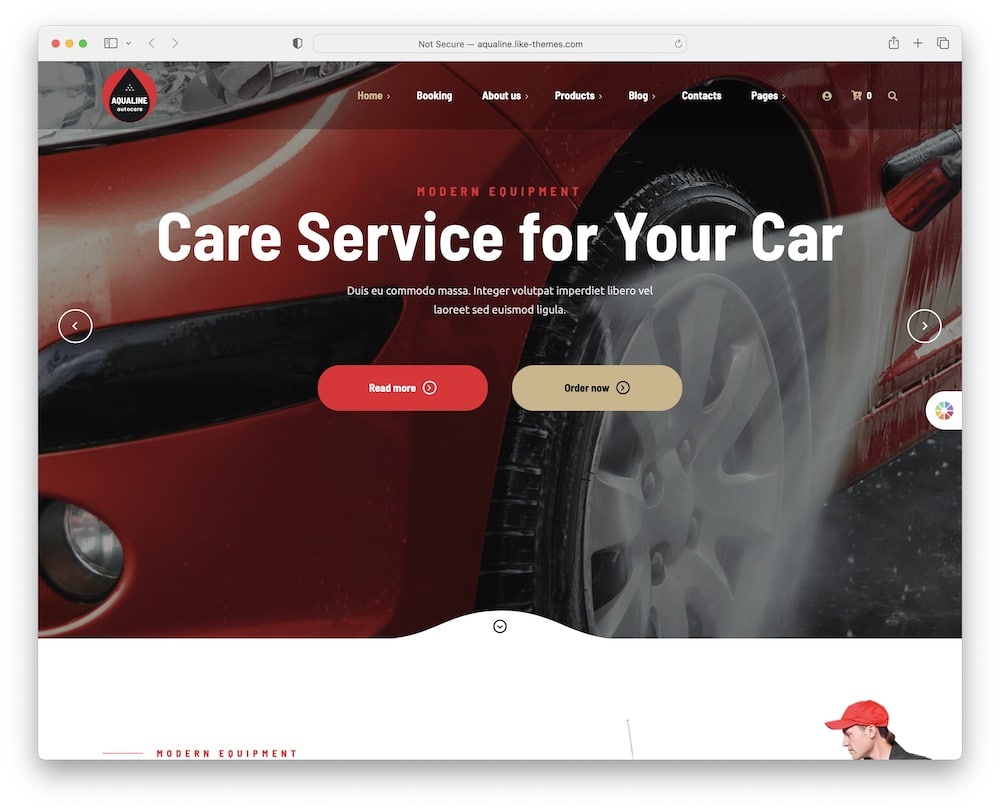 It's time to shine with the amazing Aqualine theme!
This bold and modern tool comes with the handy WordPress page builder (WPBakery) for simple drag & drop creation.
Yup, YOU can mix, adjust, remove, or add elements as you wish.
Besides, you will profit time and money from an easy-to-use online booking form for your car washing services.
Your customers can select a plan, car type, time, and location, plus pay online. The WP booking plugin even supports notifications by email (Google calendar integration).
I agree; your customers will LOVE you!
Moreover, Aqualine is fully responsive and SEO friendly because you deserve a professional and smooth start!
Clean it right, my friend, with Aqualine!
Aqualine features:
MORE INFO / DOWNLOAD
DEMO
2. Car Wash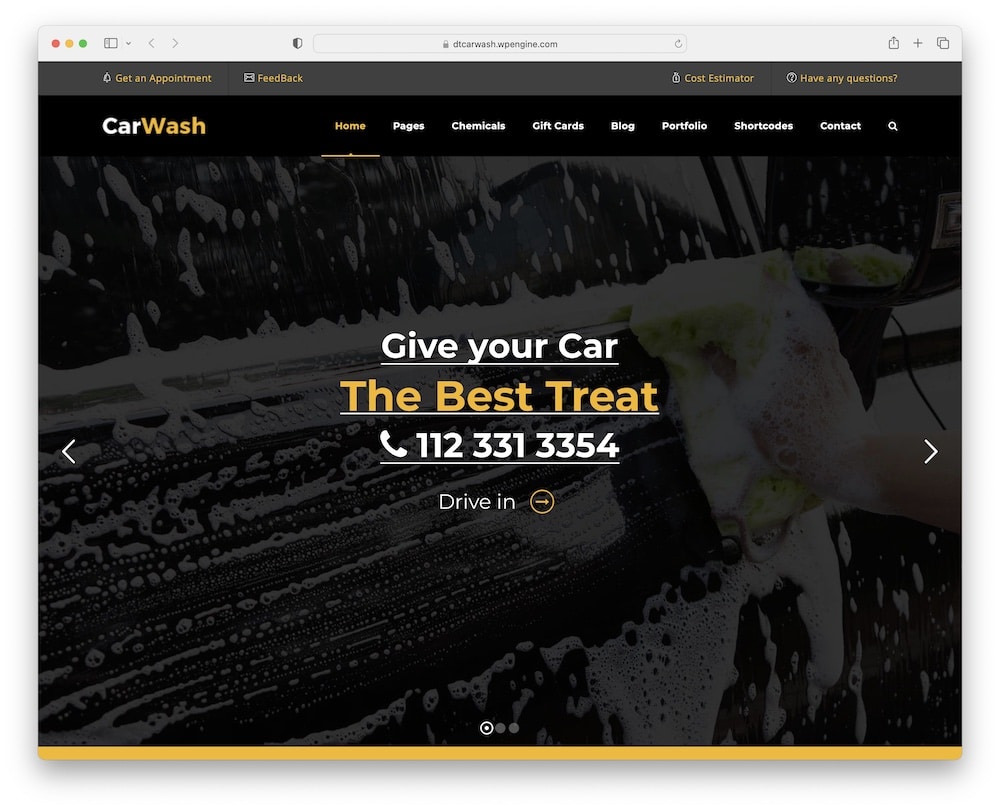 Fresh car, fresh day, fresh Car Wash.
From classic to premium wash, you can display and promote all your services with this stylish car wash WordPress theme.
You can start building your new site with simple demo import and the best plugins – today! No need for coding knowledge or design experience.
Just pick a pre-designed header, menu layout, icons, and sidebar. Plus, you get various blog and portfolio types to choose from.
Your smile is my smile!
Of course, Car Wash includes Contact Form 7, Events Calendar, and MailChimp. Everything you need for a great user experience.
BTW: Google Maps is a COOL & useful addition to your site.
Car Wash features:
MORE INFO / DOWNLOAD
DEMO
3. Autoglow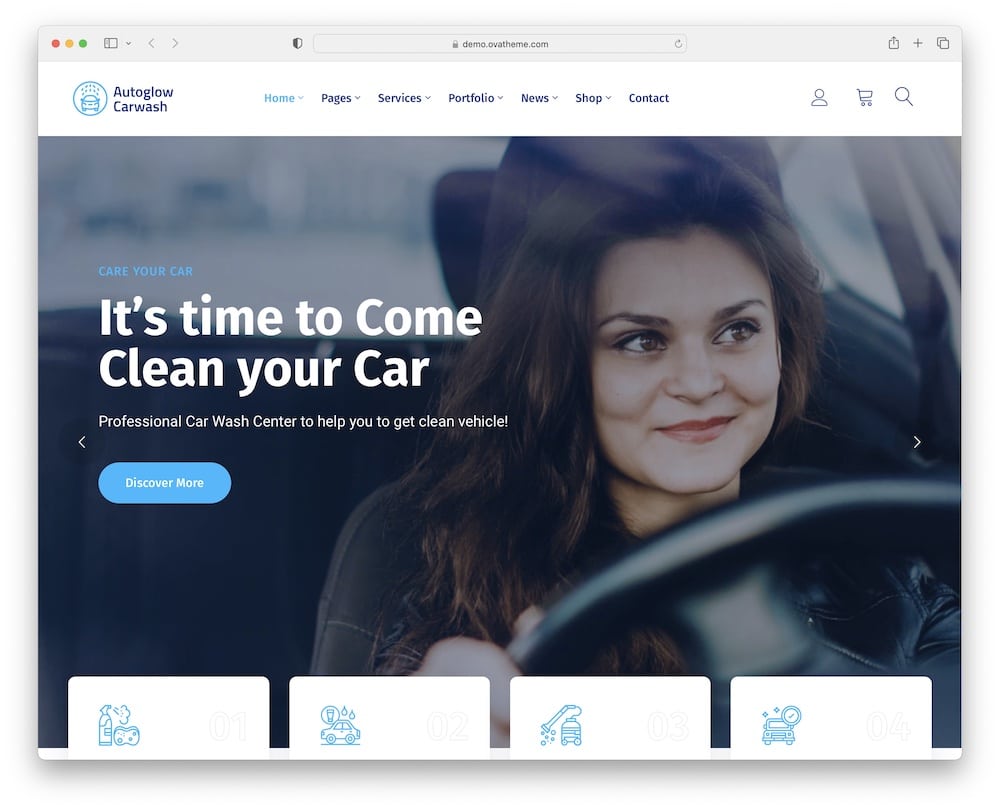 Offer your clients the convenience of the brilliant Autoglow car wash theme.
Pre-made homepages are fully functional out of the box – just add your logo, content, and contact information.
YES, you can have your new website ready in just several minutes, BUT you can also take your time and customize it to all your desires (piece by piece).
I also like Autoglow's plan designs for cleaning bundles, price tables, premium service, and loyalty programs.
Plus, your customers can make quick online appointments via the booking system.
BIG. DEAL.
Moreover, you can display frequently asked questions and testimonials at the bottom of your site. Nice!
Treat your customers like royalty with Autoglow.
Autoglow features:
180+ sales
4.5+ star ratings
Handy service management
Included WordPress child theme
Price: $59 (may vary)
MORE INFO / DOWNLOAD
DEMO
4. Crsine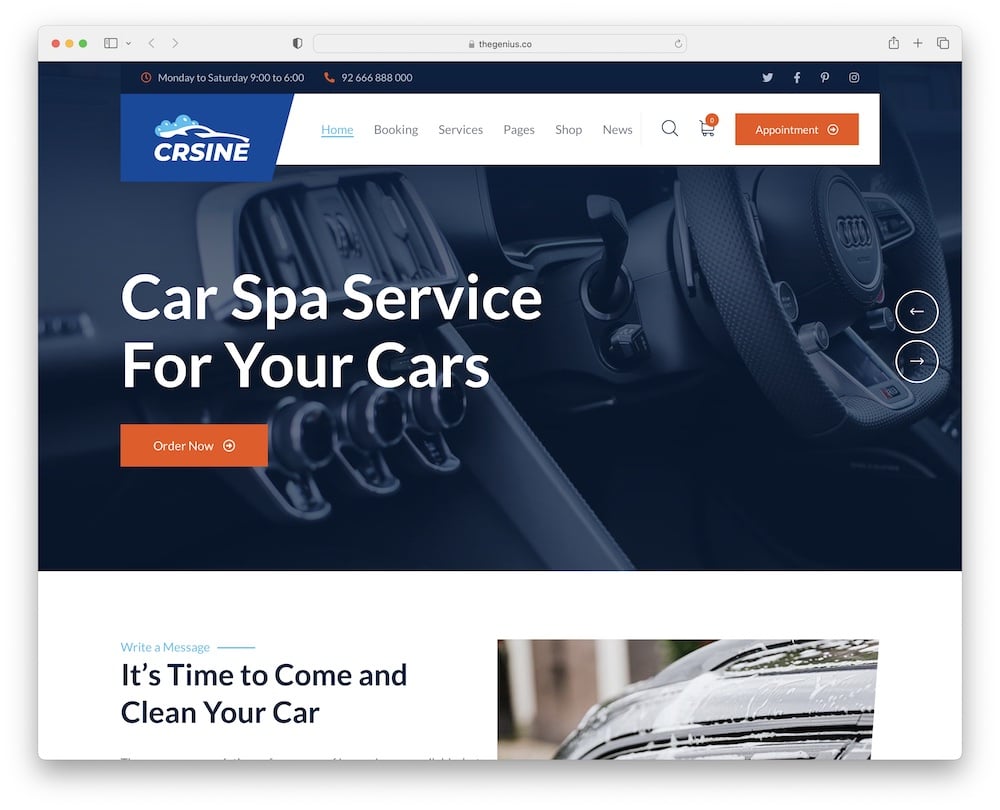 Help to maintain the beautiful look of your customer cars with the eye-catching Crsine car wash and booking WordPress theme.
Drive and shine!
Crsine was specially made for car "spa" and includes EVERYTHING you need for a smooth business.
From gorgeously designed header styles and essential elements to various inner pages and playful animations. Washing cars has never been so exciting!
Remember, working with Elementor page builder is simple and fun! Why?
Because it allows you to edit in real-time, just make a visual change and decide if you will keep it or reject it.
Oh, and you can even create an online store with car accessories, gift cards, and car fresheners.
Take your work to the next level with Crsine!
Crsine features:
40+ sales
4.5+ star ratings
1-click theme import
20+ custom Elementor elements
Price: $69 (may vary)
MORE INFO / DOWNLOAD
DEMO
5. Vosha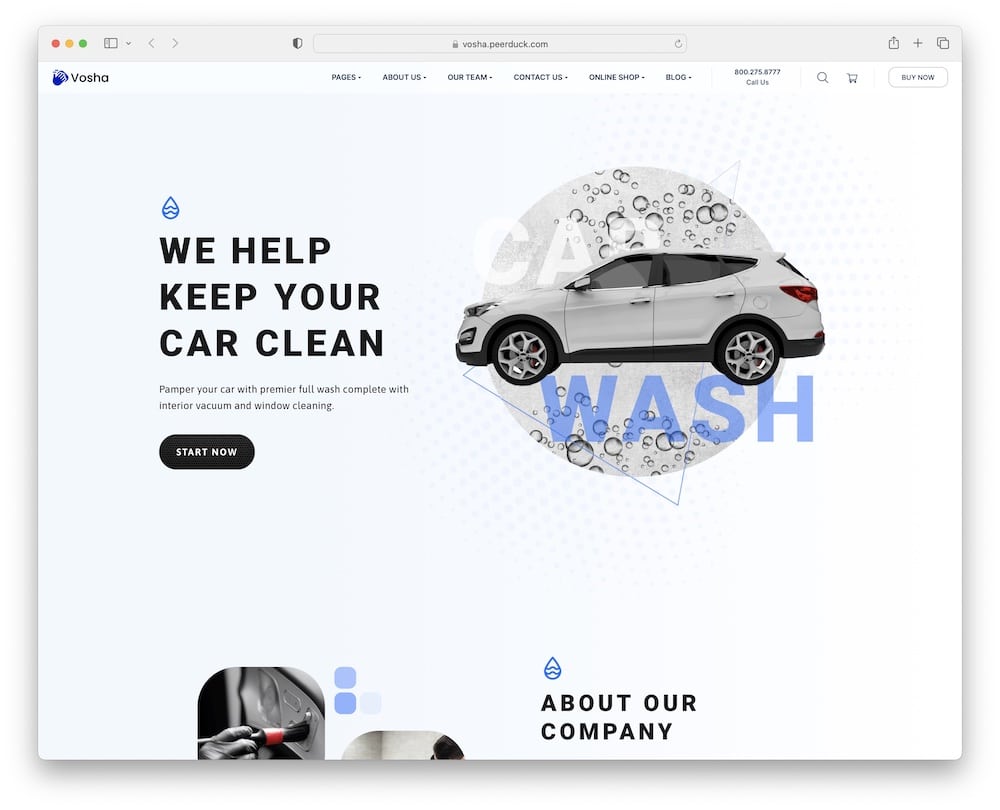 Enjoy the modern cleaning experience with Vosha WordPress theme.
The slogan of Vosha is "We love cars to shine!" and boy, I love their shiny clean design!
Besides, Vosha is easy to customize, includes automatic updates & friendly customer support (Hi, guys!).
Moreover, the responsive and retina-ready design guarantees a consistent user experience (no matter the device).
I would highly recommend you also to start a blog. Who doesn't need or want practical tips and tricks for a car wash?
Share your experiences (it's a must)!
Oh man, and due to numerous plugins (included for FREE), you save a lot of money.
Make your customers say WOW with Vosha!
Vosha features:
30+ sales
4.5+ star ratings
Practical setup guide
Price: $59 (may vary)
MORE INFO / DOWNLOAD
DEMO
6. Kørsel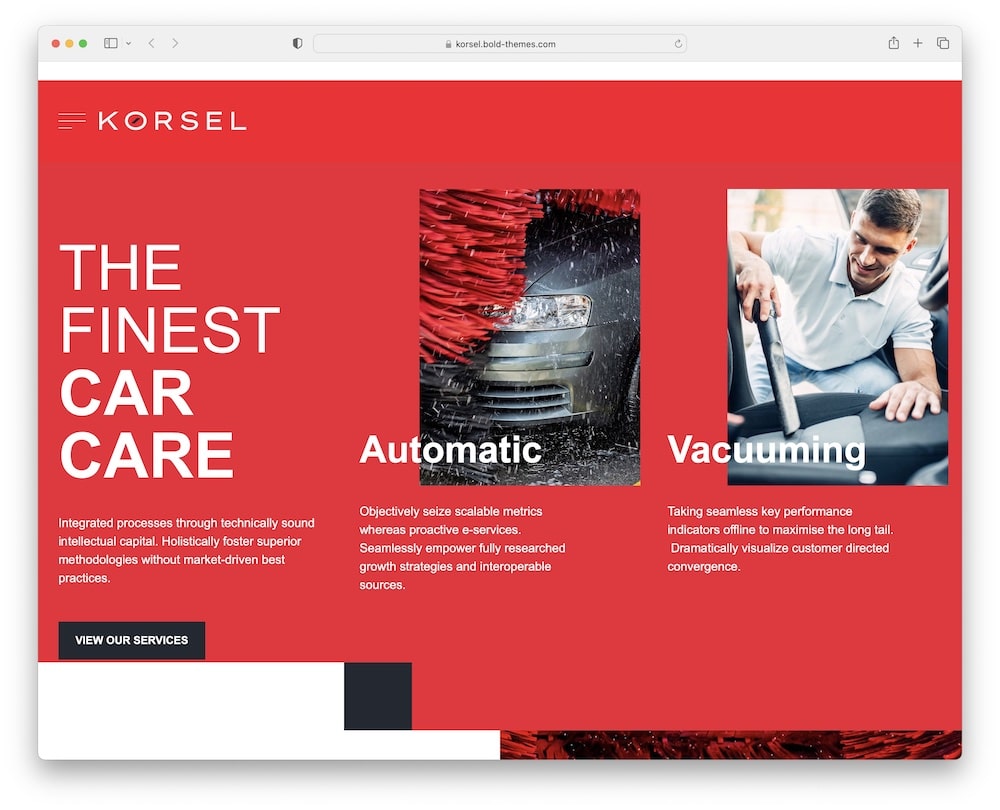 The elegant Kørsel auto wash WordPress theme will add satisfaction to your work without cleaning out your pocket!
One-click import is the best way to get started. Then simply personalize it with your content and your design ideas.
I LOVE flexible colors & typography options to choose from. (We also have a full tutorial on how to change fonts in WordPress.)
Moreover, Kørsel is translation ready for localization or to include audiences from other parts of the world in using your services.
Also, you can display your price lists, promotional offers, testimonials, and working hours. Plus, you can easily connect Kørsel with your social media accounts. HI5!
BTW: I think the parallax effect is a great way to enrich a website. Check it out!
Kørsel features:
320+ sales
5-star ratings
Multiple elements for easy business site operation
Price: $69 (may vary)
MORE INFO / DOWNLOAD
DEMO
7. Karzo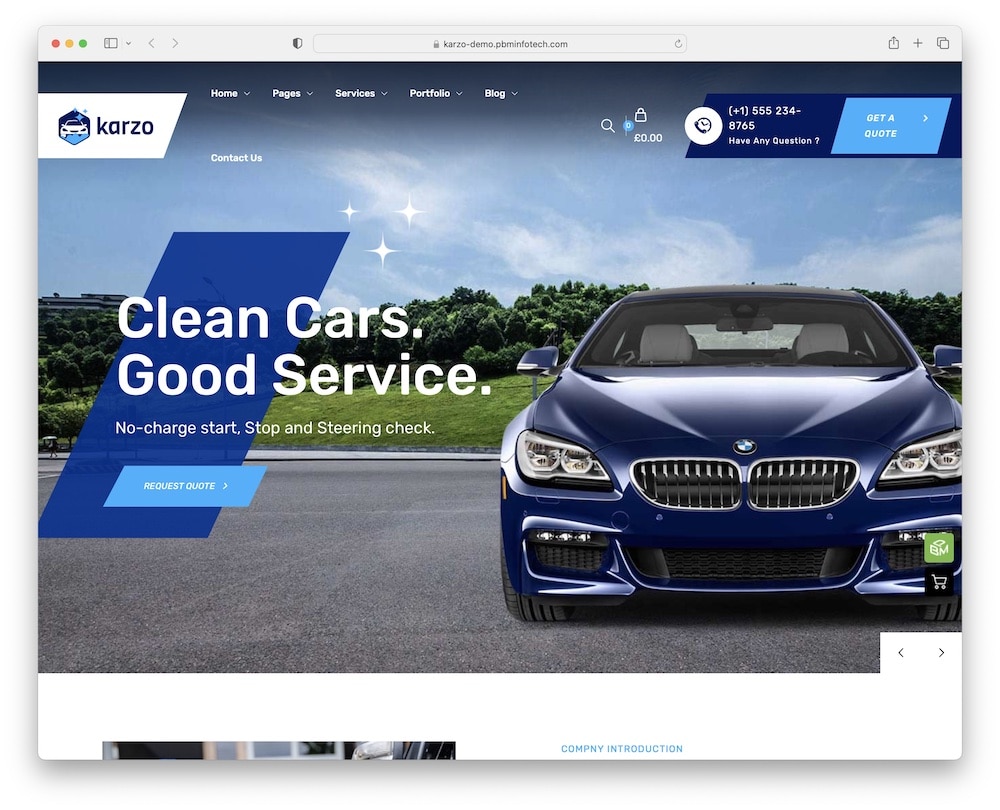 Provide excellent cleaning and auto care with the powerful Karzo theme.
Karzo comes with three unique homepages to choose from and can be easily customized to your ambitions.
You get out what you put in. SIMPLE.
I really like the demo inspired by the color red; I think it adds that extra magnetism. (But you can brand it however you want.)
A quick tip: You should set up eye-catching slides with the stunning Slider Revolution (my FAV), which works great even for showcasing promotions and special offers.
User experience is GOLD.
Plus, be always available for active contact via Contact Form 7. Also, have a look at MailChimp's all-in-one email marketing tool.
An overall impression? Reliable and user-friendly!
Karzo features:
100+ sales
5-star rating
Clean & lightweight code
Price: $59 (may vary)
MORE INFO / DOWNLOAD
DEMO
8. Carspa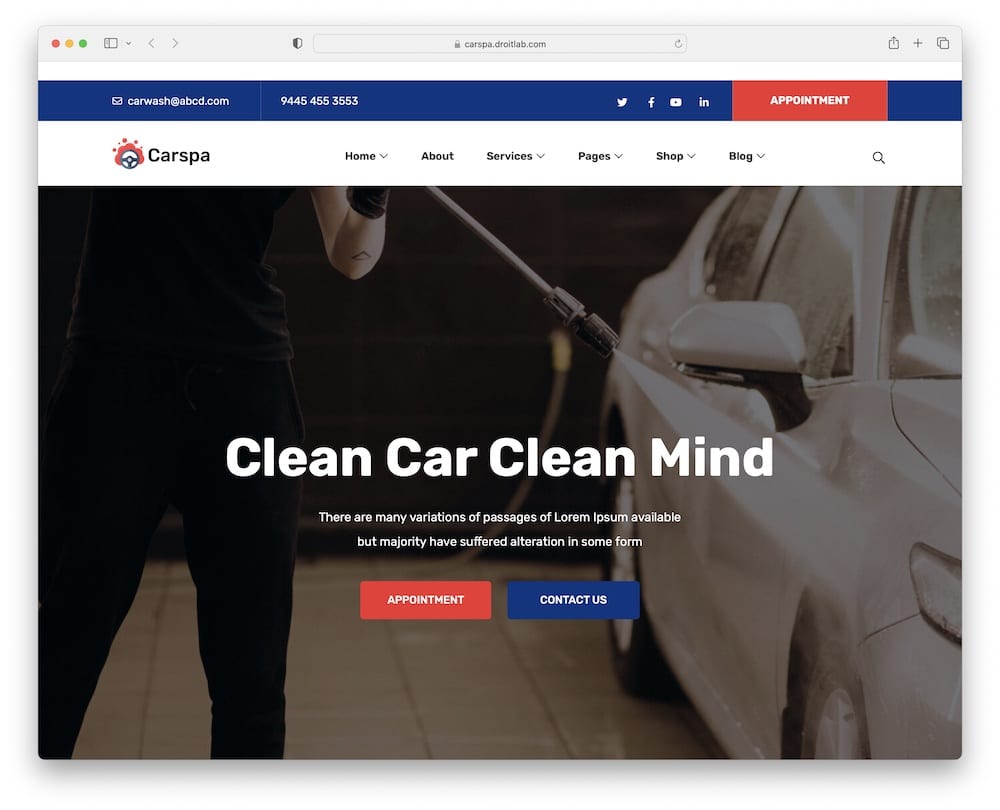 Built a modern website with the Carspa car wash WordPress theme – then sit back and relax while your client's cars get a total spa treatment.
YES, Carspa is a smooth way for painless creation, even if you are a newbie (NO coding knowledge required).
And yes, you should be excited!
Just choose from Carspa colors, fonts, blocks, and layout options. Also, set up slides, pages, and a photo gallery (before-after sliders are GOLD).
Of course, there's nothing like a simple to-fill online appointment form for a quick wash before or after your job. I know you are nodding.
Beautifully designed pricing tables? Cherry on top! PERFECT.
Lastly, Carspa's blazing-fast performance will win your heart over.
Carspa features:
70+ sales
4.5+ star ratings
Built-in pricing tables
Header & footer builder
Price: $28 (may vary)
MORE INFO / DOWNLOAD
DEMO
9. Auto Spa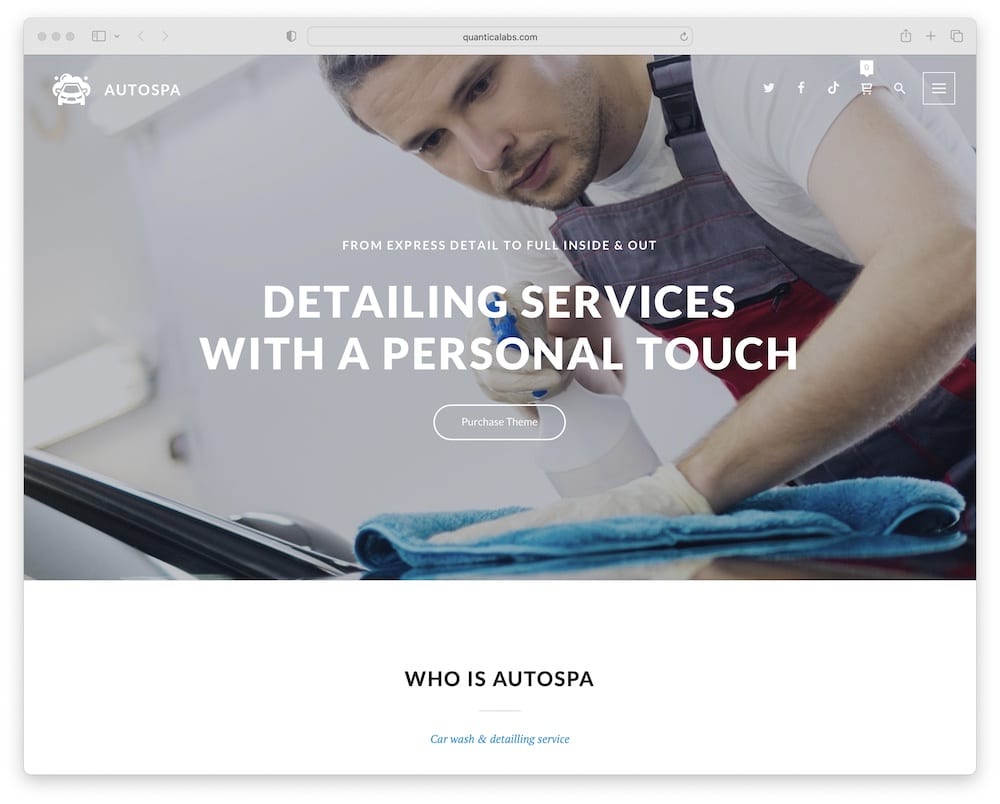 With superior rinse technology, tire shine, water beading, waxing, premium vacuums, and the Auto Spa car wash WordPress theme, you will WIN.
Highlights: online reservation system, step-by-step booking process, quick payments, email or SMS notifications, and online car accessories store.
Responsive Auto Spa includes pre-made homepages, a COOL sticky menu, and modern parallax backgrounds. Besides, you can start a blog (go-to guides for cleaning) or create a trusted portfolio.
Make people look twice!
Moreover, you can easily connect Auto Spa with your social media accounts to increase your brand's awareness. Plus, it's handy to set up a Google Map location of your self-services and car wash stations.
Get Auto Spa today!
Auto Spa features:
1,800+ sales
4.6+ star ratings
Booking packages
Free lifetime updates
Price: $69 (may vary)
MORE INFO / DOWNLOAD
DEMO
8 Key Features Of A Car Wash Store Website
Besides testing and reviewing the themes, I thoroughly researched the car wash industry.
This allowed me to come up with eight essential features that are mandatory for building a successful website.
Car wash site's essentials:
Optimized performance: Your website need to perform well on mobile and desktop devices with excellent layout adaptation and fast loading.
Pricing & services: You shouldn't forget about adding pricing tables and create a presentation of your services. Feel free to use any of these WordPress pricing table plugins or theme's integrated functionality.
Location: One of the best ways to showcase your location is via Google Maps, but you can also write the address down. Use a WordPress Google Maps plugin to simplify the work.
Contact details: Some of your potential customers will have questions, so ensure you provide them with the necessary contact information to get in touch. This could be through a contact form, a clickable phone number or even a live chat widget.
Opening hours: Keep your working hours clearly visible throughout your entire website. The best location for adding opening hours is the footer.
Testimonials: Do you want to build social proof? A WordPress testimonials plugin is the best solution to make it happen. Luckily, some themes have this feature by default.
Newsletter: A newsletter subscription form can be extremely rewarding because email marketing still works so well.
Blog: Do you want to take things to the next level? That's when you start a car washing, detailing and cleaning blog with tips, tricks, news, special offers, and more.
You're now equipped with everything you need to start online like a CHAMP.
Good luck!
::
Note: This article was originally published on December 23, 2022. But our team regularly reviews it and updates it with necessary improvements for accuracy.