Sooo, I feel very Olympic today, bringing you the best pilates WordPress themes you've been requesting.
Unfortunately, I didn't do any pilates when reviewing the themes, but I flipped them upside down during testing.
Only then was I able to pick the best 12 (out of 35 tested), promising you a fast and easy pilates website building experience.
You got this like a BOSS, even if it's your first site.
Note: While there aren't that many pilates-exclusive themes available, I also sneak in such for yoga and meditation. Don't these activities go very well hand in hand? I think so!
You now have everything you need to successfully create a business website and take your pilates thing to the next level.
Best Yoga & Pilates WordPress Themes
1. Ativo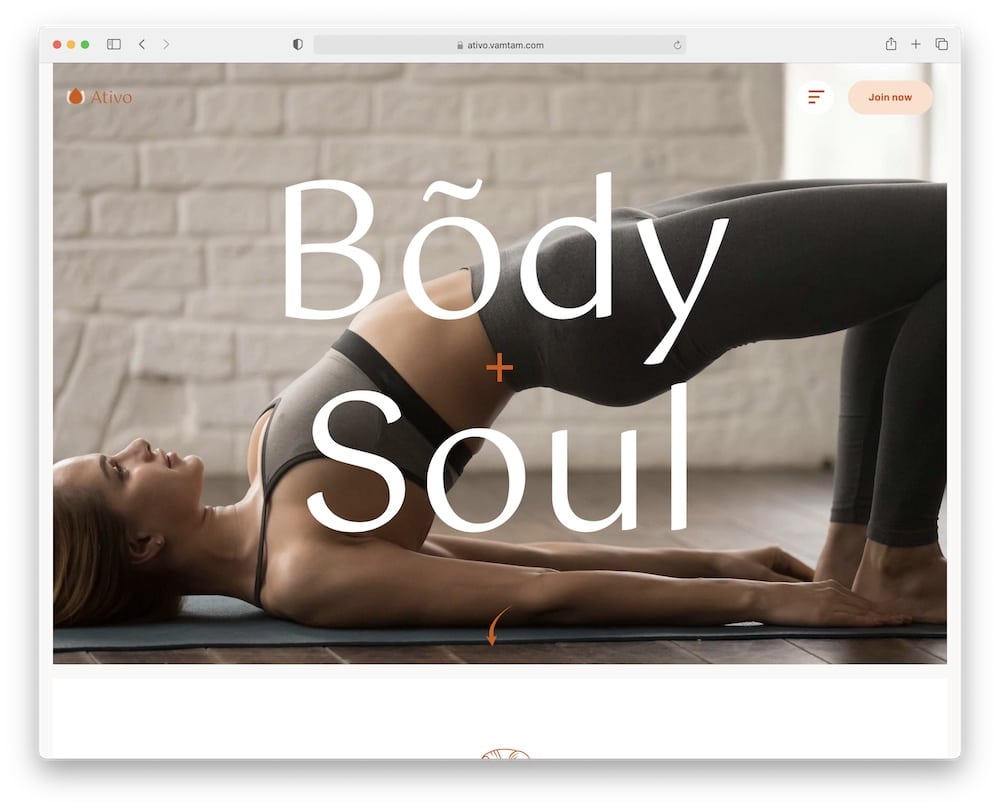 Want to jump straight to the action?! With Ativo WordPress theme, you can!
There are plenty of benefits you get with Ativo such as one-click demo content import, responsive design, SEO optimization (Google's best friend), and translation-ready files. Even a child theme is added.
Plus, can I brag about a bundle of plugins for a sec!?? Buckle up (!), outstanding Elementor page builder and WooCommerce are here for you (best-kept online tools).
Events, classes, and booking forms?
YES, it includes everything for quick and simple use.
But wait, there's more: With lifetime updates, Ativo has your back (and body) forever!
Ativo features:
150+ sales
4.5/5 star rating
Custom icon pack
Price: $79 (may vary)
MORE INFO / DOWNLOAD
DEMO
2. Gym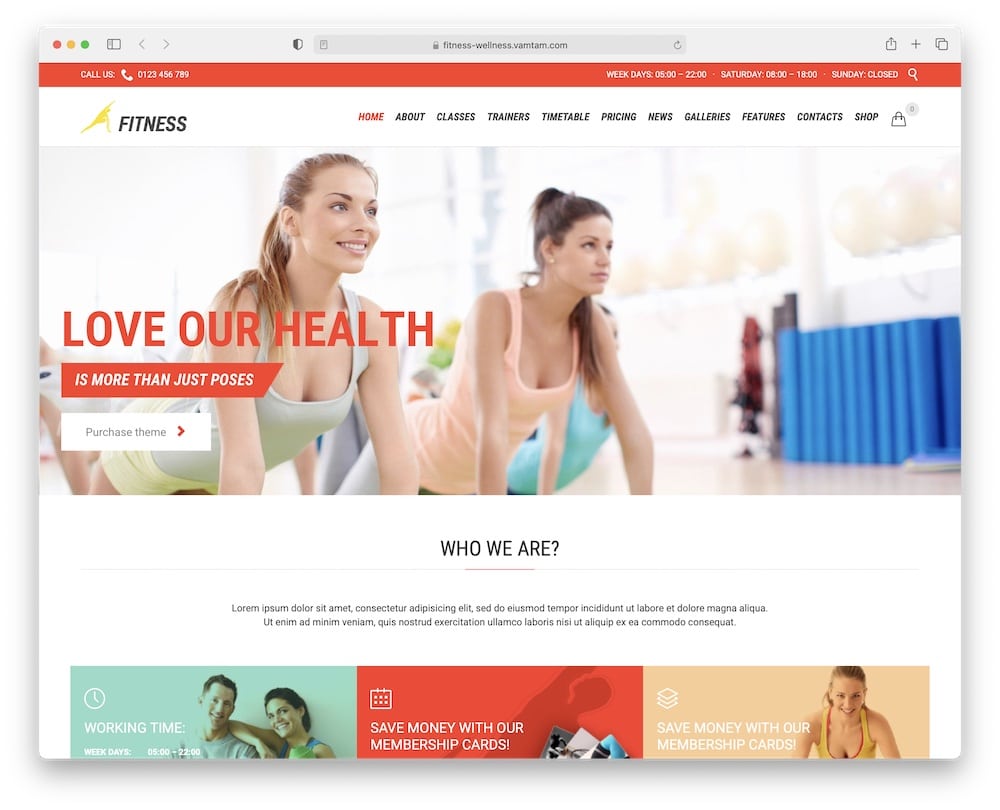 In case you need a refresher, Gym pilates WordPress theme is a great place to start. Doesn't matter if you are a beginner or advanced developer – 0 coding skills are required.
MAGIC.
Gym has 1,000s of clients who trust and love to use it (online champ). SO, prepare yourself to work with the best out there. YAY!
I know it's all about your clients and how to make everything convenient for them.
YES, Gym is packed with easy-to-use, attractive online: classes, timetables, schedules, and event calendar plugins.
Make it simple for people to move with you!
Sure, you can mix and match endless layout possibilities of modern design, unlimited shortcodes, unique icons, beautiful colors, and Google fonts.
Customize your page far and wide.
One user told me: "Gym just looks (professional), feels (success), and loads suuuper fast (smooth scroll)!"
AW YEAH, I agree!
Gym features:
2,600+ sales
4.5/5 star rating
Special parallax effect
Price: $79 (may vary)
MORE INFO / DOWNLOAD
DEMO
3. Anahata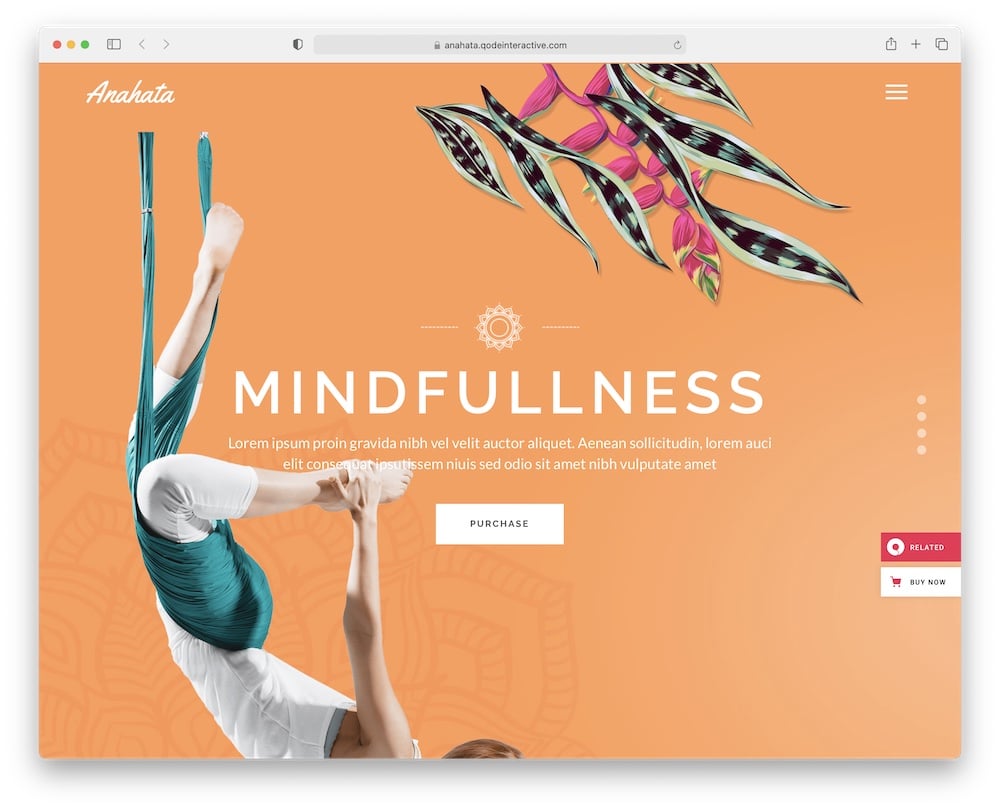 I highly recommend Anahata pilates WordPress theme for everyone who wants to build a great-looking site (high-quality). Of course, you can grow, shape, and change Anahata exactly as you wish.
Imagine having twelve ready-to-use homepages to choose from?! With Anahata you have – I know, crazy how many beautiful possibilities are waiting for you.
You can easily create timetables, events and schedule your classes with EVERYTHING ONLINE.
Just relieve yourself of unnecessary stress and think happy thoughts of movement instead.
Here's my pitch: Pilates is phenomenal!
Anahata is 100% responsive, ready for all kinds of screens and devices. Next level.
Check Anahata (your perfect solution) out.
Anahata features:
1,500+ sales
4.2/5 star rating
Different grid styles
Price: $69 (may vary)
MORE INFO / DOWNLOAD
DEMO
4. Do Yoga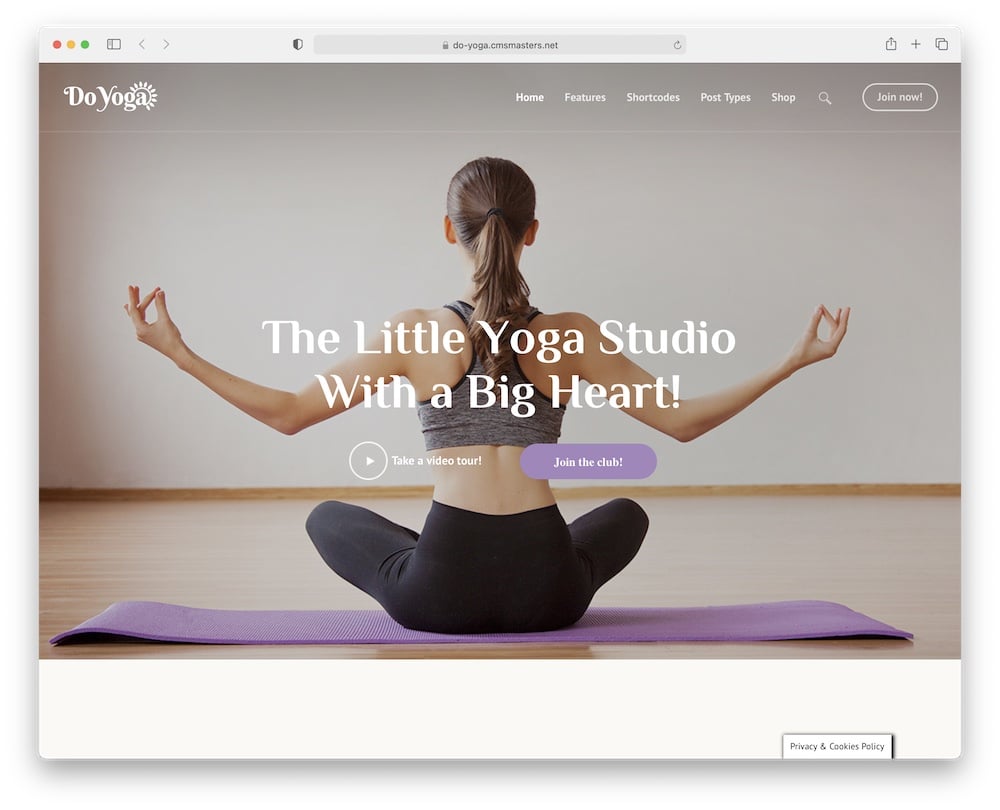 The first thing I notice whenever I go on Do Yoga preview is how gorgeous it looks!
Do Yoga pilates WordPress theme lays out everything you need in an easy-to-grasp way. It features 100s of fonts, unlimited colors, animations, fantastic building blocks, blog layouts, and portfolio styles.
You can showcase special projects, events, and even sell your products.
OMG-like!
As for drag-and-drop functionality (see changes as you make them), you can edit pages, add content, set plugins, and if you really want, you can even change code yourself (dangerous in the best possible way).
And very, very handy comes SEO optimization to help you set up your posts to be as Google-friendly as possible. Honestly a must.
Let's Do Yoga (it)!
Do Yoga features:
160+ sales
4.2/5 star rating
Regular updates
Price: $59 (may vary)
MORE INFO / DOWNLOAD
DEMO
5. Nirvana

Flex your creative muscles and create a COOL website with a modern Nirvana WordPress theme.
The best part: A TON of features and opportunities are here for you!
You can produce and showcase high-quality content (advance blog settings included) about the workout, lifestyle, and pilates with Nirvana.
BIG. YES.
Make sure to check out stunning homepages, multiple pre-made styles, flexible layouts, and custom shortcodes.
Nirvana is optimized for the best performance.
Oh, and you don't have to worry about Nirvana updates (never again!) due to permanently providing them. Clapping hands to top-notch developers!
Stretch with (Nirvana) strength and control.
Nirvana features:
530+ sales
4.9/5 star rating
Price: $59 (may vary)
MORE INFO / DOWNLOAD
DEMO
6. Yoga X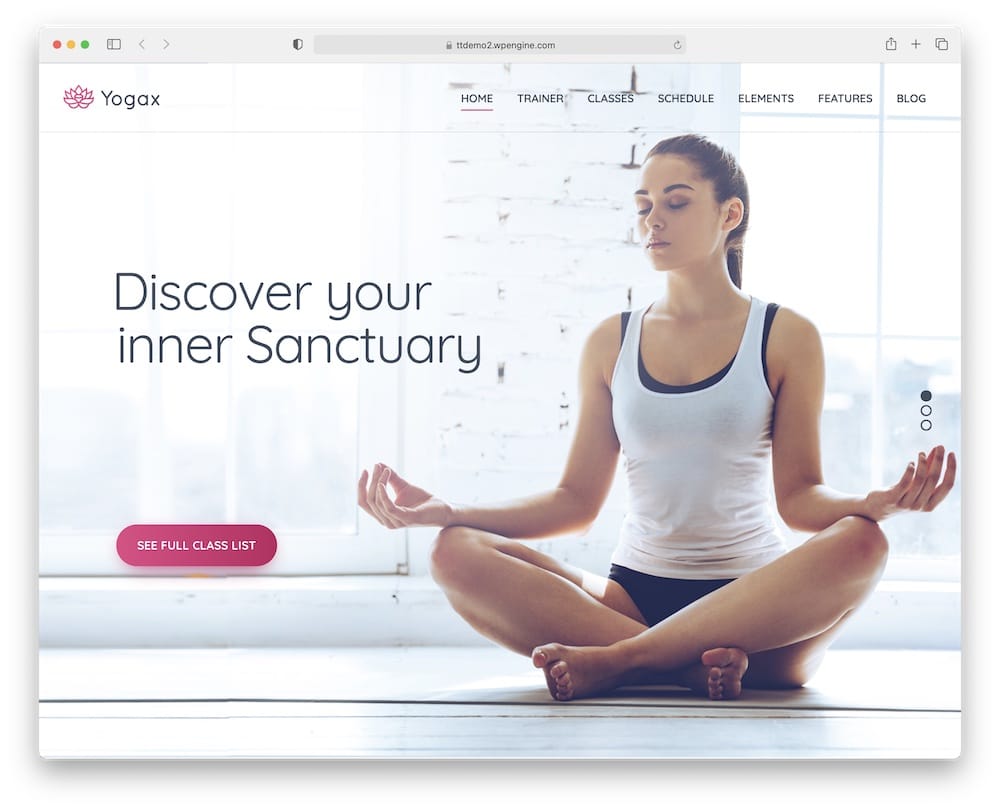 I have two things to say about the elegant Yoga X pilates WordPress theme.
Thing #1: Totally customizable! You have unlimited options to change structure, colors, typography and bend your new website to your professional business goals.
Thing #2: Use pre-designed timetables, classes, organize events, and open-door opportunities.
Import templates with just one single click!
By the way, with included Contact Form 7 you can easily add and manage advanced forms.
With 23+ million downloads (DAMN!) is one of the most popular plugins for WordPress – take full advantage!
Also, you get detailed documentation, step-by-step videos, and FAQs. Be KING of the NERDS and check it all.
Make it happen with Yoga X.
Yoga X features:
630+ sales
4.8/5 star rating
Custom slider creation
Price: $46 (may vary)
MORE INFO / DOWNLOAD
DEMO
7. Fitness Club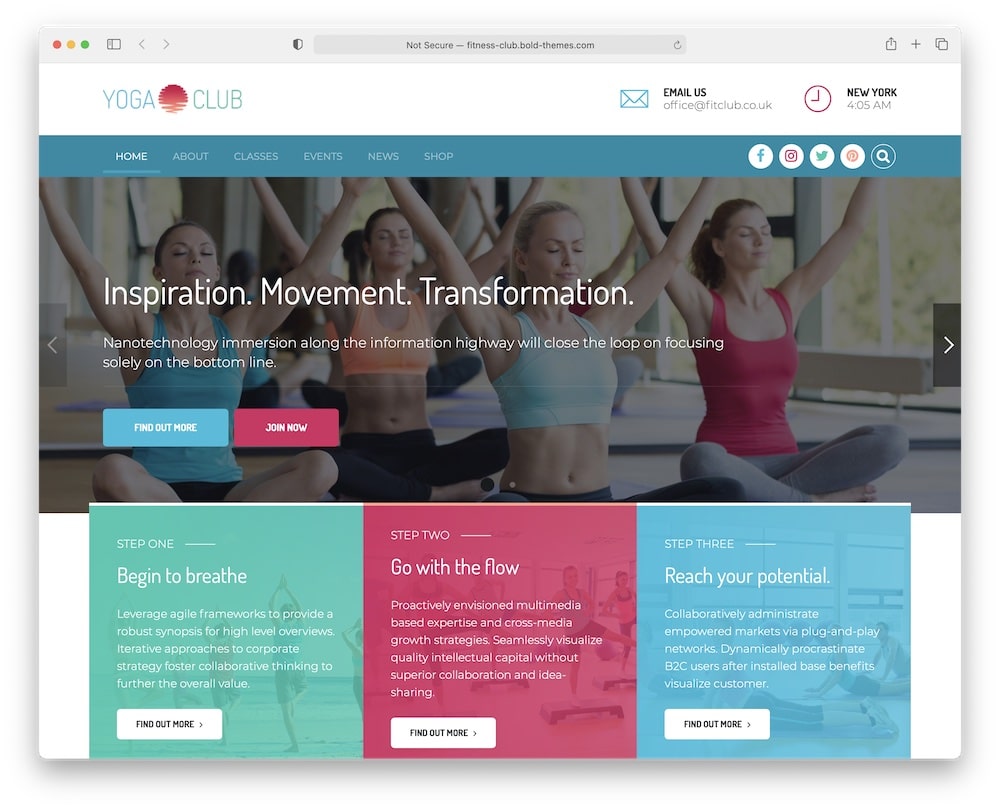 Pilates friends, do you want a beautiful and responsive website??? YOU NEED ONE!
And you know what? I know which one you need 🙂 Let me introduce you to the Fitness Club pilates WordPress theme.
Use pre-made design, gorgeous layouts, dark or light header, add widgets, and reposition the menu. Fitness Club adapts to all your desires. I am excited for you! 👌
Fitness Club also comes with a fantastic set of custom icons – crafted especially for workouts. YEAH, Pretty COOL.
Plus, you can showcase your professional portfolio or create a useful online shop (add as many products as you would like).
YUP, it is a set-it-and-enjoy-it assignment.
And great NEWS: Fitness Club is as well translation-ready (NO language limit – a big deal).
Just get ON it.
Fitness Club features:
930+ sales
4.6/5 star rating
Custom sidebar options
Cost calculator
Price: $69 (may vary)
MORE INFO / DOWNLOAD
DEMO
8. Yoku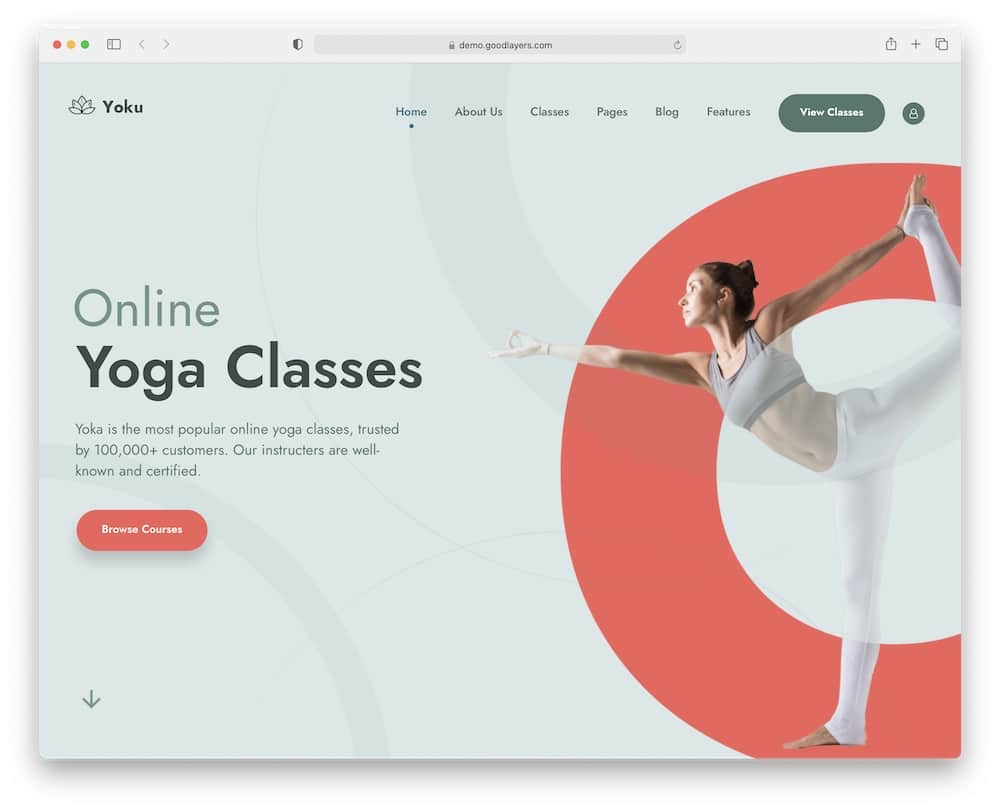 Yoku pilates WordPress theme is elegant, modern, and breathtaking.
You can turn your site into anything you wish, from fundamental to advanced theme options (600+) (all it takes are some magic clicks).
This flexible ownership is part of Yoku, and you don't need to be a coding expert to work with it. Yoku is totally beginner-friendly.
And, thanks to the shape divider, you can fully control the display of sections on your homepage.
Just add different shapes, colors, or backgrounds, and voila. You now have a well transparent homepage.
Of course, you can also live-stream your classes, create timetables, quizzes or ask questions to your audience. JOY.
Um, YES, come on in!
Yoku features:
670+ sales
4.7/5 star rating
Integrated LMS system
Price: $64 (may vary)
MORE INFO / DOWNLOAD
DEMO
9. Prana Yoga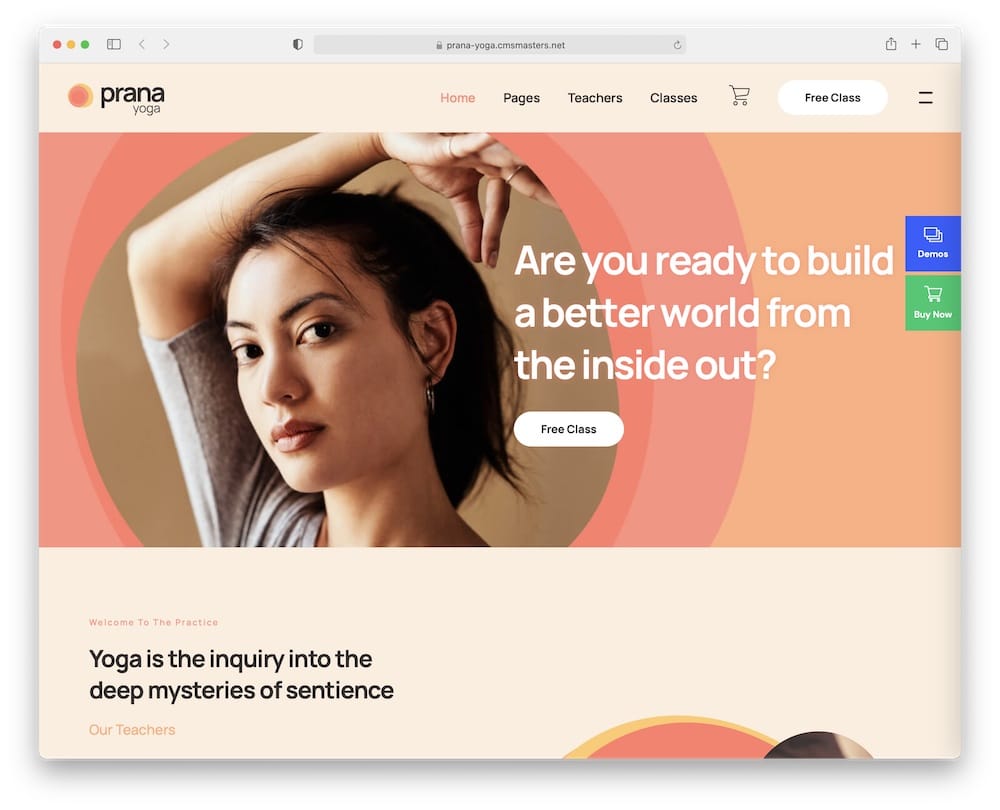 Build your website with a stunning Prana Yoga pilates theme and VA-VA-VOOM it's there (HI online world!) – for everyone, all the time.
What a COOL feeling!
SO, for example, you could create a teacher's profile, online classes, valuable blog, or your professional portfolio (pre-designed sample content included), and anyone can come on your site to learn about your business and more.
Happy brainstorming!
Let the productive fun start with amazing premium widgets (tons of them), unique icons, and numerous plugins (pure bliss).
All these ready solutions are waiting for you inside Prana Yoga.
Boom! You also get automatic updates for FREE. If not now, when?
Prana Yoga features:
20+ sales
4.4/5 star rating
Drag & drop builder
Easy installation wizard
Price: $69 (may vary)
MORE INFO / DOWNLOAD
DEMO
10. Yoga Fit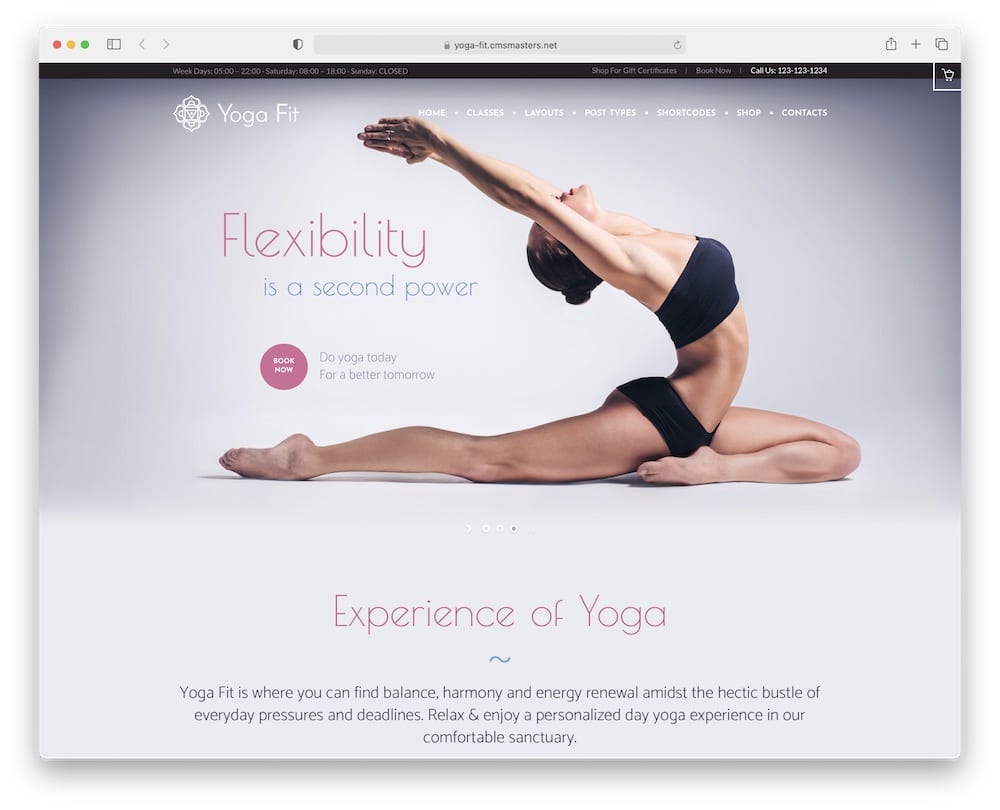 This theme is so flexible that can do pilates with you! By all means, Yoga Fit pilates WordPress theme has everything you need for a professional and pretty website.
You can simply create diverse pages, add elements, set useful plugins, and go through a massive collection of shortcodes.
Of course, you can showcase stunning sliders of workouts with amazing Slider Revolution (included 100% free).
LIVE. LOVE. PILATES.
Yoga Fit also implements a special SEO-friendly tool – it's all about getting more traffic on your website and getting only better and better with this excellent optimization. MEGA!
Plus, everyone deserves premium customer support from Yoga Fit (so PRO).
Get yourself Yoga Fit and keep going! (You'll thank yourself later.)
Yoga Fit features:
2,500+ sales
4.4/5 star rating
One-page layout support
100% customizable
Price: $49 (may vary)
MORE INFO / DOWNLOAD
DEMO
11. Somnus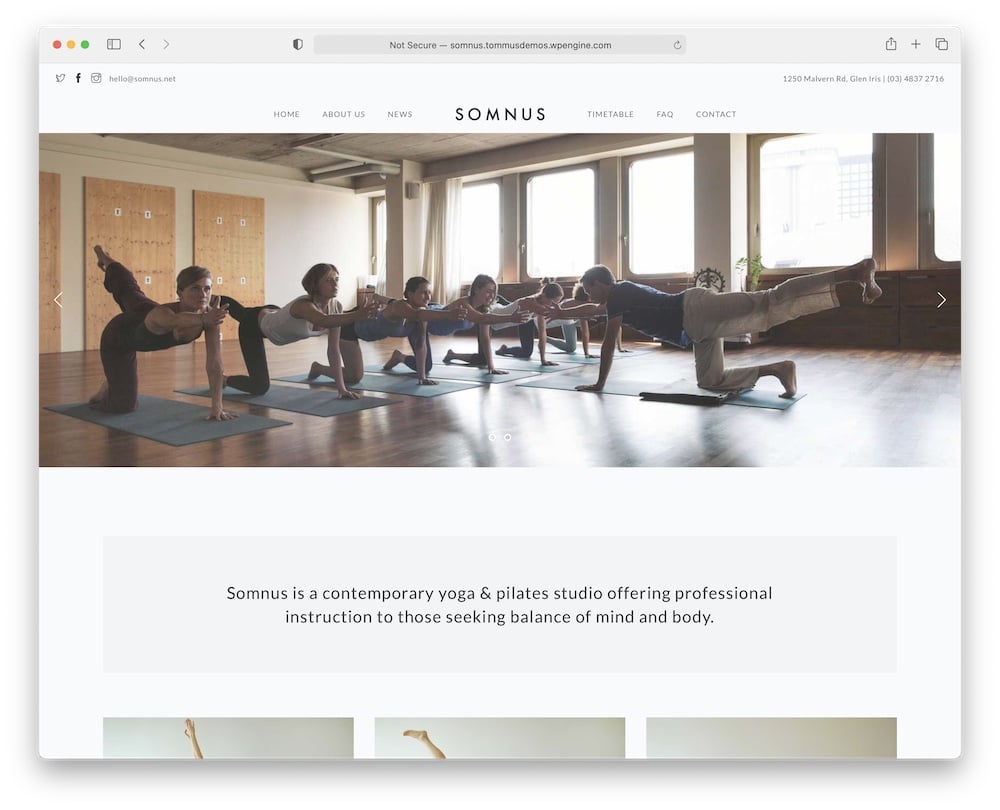 Before your eyes inspect everything about this pretty pilates WordPress theme, the reason I'm sharing Somnus with you is that is VEEERYYY elegant, minimalistic, and clean.
I really enjoyed using it for my client.
Simply Breathtaking.
Let's dive in.
With its welcoming look (well-thought design), smart tools, parallax scroll, neutral color tones, and gorgeous typography, your visitors get a well-rounded and friendly user experience.
Plus, the performance of Somnus is super fast and fully responsive.
SPOT. ON.
In my experience, you should strive for progress, not perfection, BUT Somnus comes with both. Shine a spotlight with your expertise, workouts, and pilates skills right out of the gates!
Somnus features:
920+ sales
4.8/5 star rating
Price: $49 (may vary)
MORE INFO / DOWNLOAD
DEMO
12. Jogasana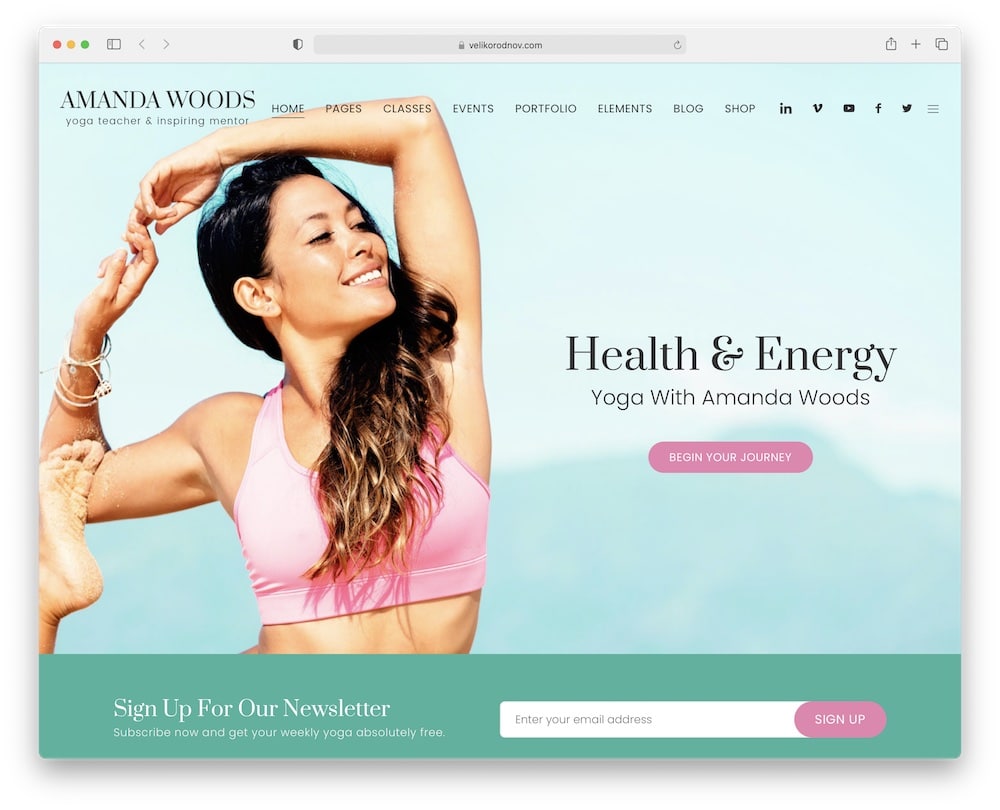 With Jogasana pilates WordPress theme (really well-designed!) you have full of eyeball-grabbing chances to present your work (content), talent (portfolio), and even organize online classes (hurray!).
Let's start by flipping through some of the basics of what Jogasana includes.
It comes with four ready-to-use homepages, numerous inner pages, three types of blogs, and useful additional pages (about, team members, FAQ, and more).
You can install demos with one simple click (I know this is GOLD), plus all pre-made designs are fully customizable.
YES, you have full design control even if you are totally new to building sites. NO coding experiences are necessary to work with Jogasana.
HI5!
Make pilates attractive for people with Jogasana.
Jogasana features:
600+ sales
4.8/5 star rating
Price: $69 (may vary)
MORE INFO / DOWNLOAD
DEMO