Are you searching for the best yoga WordPress themes?
Note: We waited a little longer to conduct this collection since we wanted to review 10 more newly released WP themes.
Here we are now.
This list gives you EVERYTHING you need to build a powerful yoga website for:
Studios
Online classes
eCommerce
Blogs
Personal coaches, teachers, etc.
All the designs are TRULY AMAZING, but we are the biggest fans of the Anahata theme.
What's best, you can freely preview every tool first before you fully commit.
OH. WOW.
This post covers:
Find your chakra(s) now!
Best Yoga WordPress Themes
1. Yoga Fit (most downloads)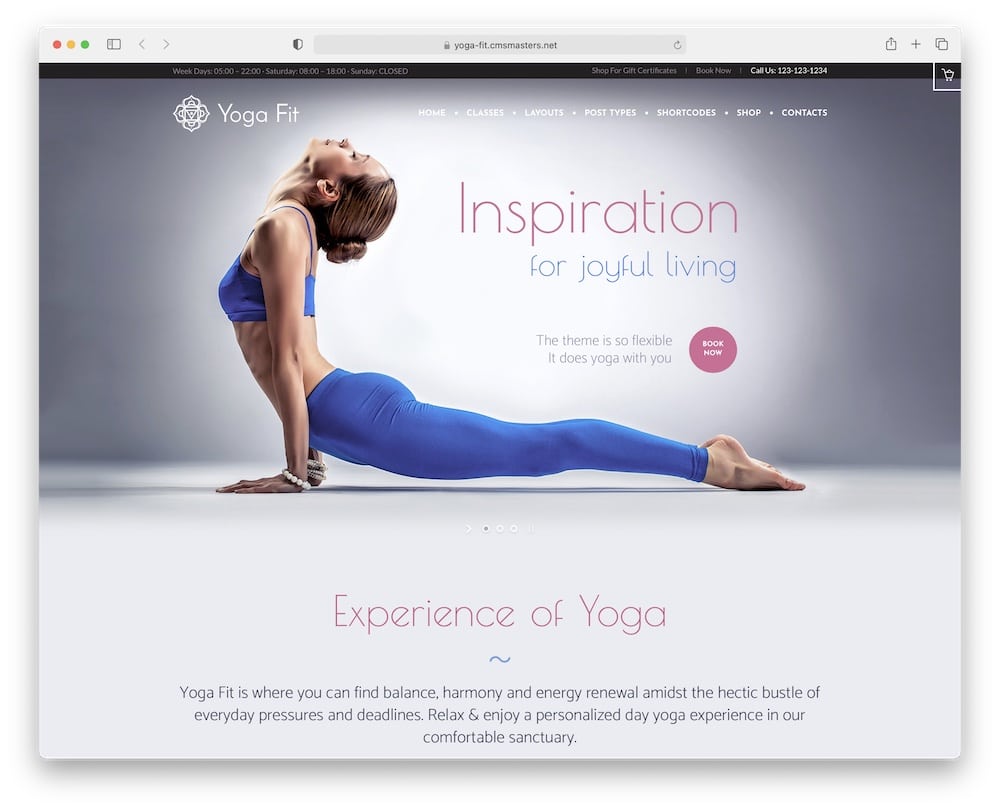 If you poke around the internet in search of the best yoga workouts, you'll find TOO many sites claiming to have them.
Don't be fooled – when it comes to yoga poses, "best" is a matter of personal taste.
So, with that in mind, you can confidently create a powerful website with a Yoga Fit WordPress theme.
You can EASILY display simple online timetables of your classes and allow your clients to choose and reserve the best program for them.
Exciting!
Besides, Yoga Fit is social media integrated and allows you to connect with your audience easily. You will love the engagement.
Yoga Fit is so flexible that will do yoga with you!
Yoga Fit features:
2,600+ sales
4.3+ star ratings
Timetable & event functions
6-months free support
Price: $49 (may vary)
MORE INFO / DOWNLOAD
DEMO
2. Anahata (Our Favorite)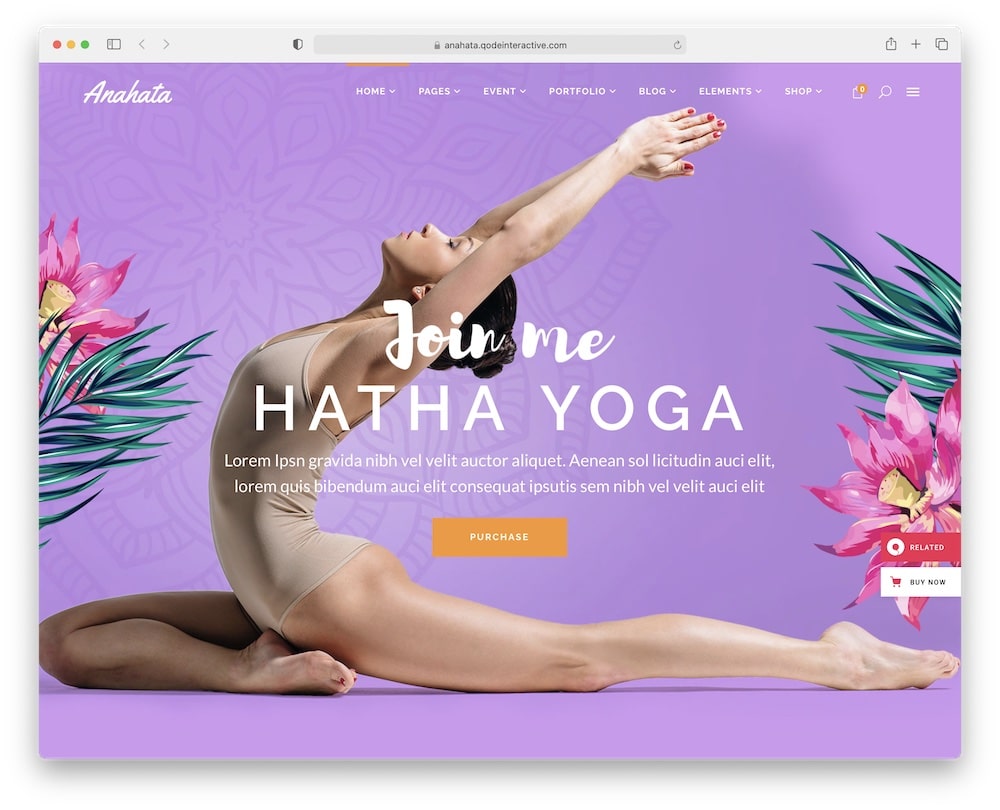 Inhale the future with a beautifully designed Anahata yoga WordPress theme.
This colorful and playful theme comes with twelve ready-to-use homepages – quick install, 0 coding knowledge needed. Don't forget to check our tutorial on how to install a WP theme first.
Just think about how much money you save on designers and developers. Dazzling.
TIP: There are two types of people in this world – those who like to complicate and those who keep it simple, like me.
I immediately notice the functional design, useful tools, pretty details, customizable sidebar and smooth transitions between pages by scrolling true Anahata.
I believe you will create a stunning site STRESS-FREE.
In addition, Anahata's customer support is always there to help you. Great value!
Anahata features:
1,700+ sales
4.2+ star ratings
Extremely engaging design
Easy mega menu creation
Price: $79 (may vary)
MORE INFO / DOWNLOAD
DEMO
3. Ativo

Yoga is one of the little luxuries of everyday life. Ativo yoga and pilates WordPress theme ties it altogether due to its modern and purposely oriented appearance.
So simple to customize and set up, with tons of possibilities. Event for RTL languages.
You will understand that you can do everything yourself when you start to work with Ativo tools – especially the Elementor WP page builder.
From idea to the realization.
FREEDOOOOM.
Not to mention, you can (and should) also make your own online shop. Included WooCommerce plugin doesn't have any limitations – just start creating.
Work your yoga bum off and become a yoga teacher with the best website.
Ativo features:
430+ sales
5-star ratings
Quick support
Minimalist design
Price: $89 (may vary)
MORE INFO / DOWNLOAD
DEMO
4. Kriya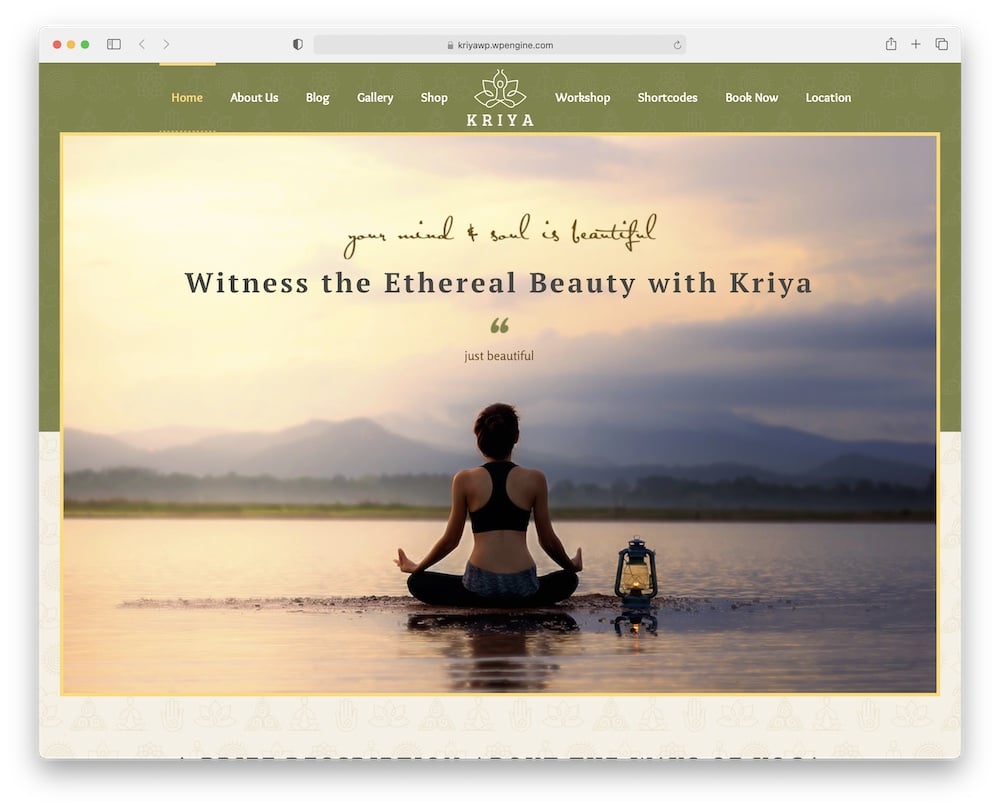 Something magical happens when you make a website with Kriya meditation and yoga WordPress theme.
The already beautiful design becomes even better with your amazing content.
If you choose Kriya, you END UP with a pretty, useful, and fully responsive site.
To be honest, I would pick Kriya every time.
It's just that good!
Also, you can easily display your thoughts, ideas, and yoga posture tips on your own blog. With ready-to-use layouts, everything gets set in minutes.
WORK. OF. ART.
Included poses modules will allow you to display various information such as price, courses timetable, yoga days, events, instructions, and ratings (smart & practical).
Be yoga-ready with GORGEOUSLY crafted Kriya.
Kriya features:
1,700+ sales
4.8+ star ratings
Built-in online courses
Easy online store creation
Price: $69 (may vary)
MORE INFO / DOWNLOAD
DEMO
5. Hatha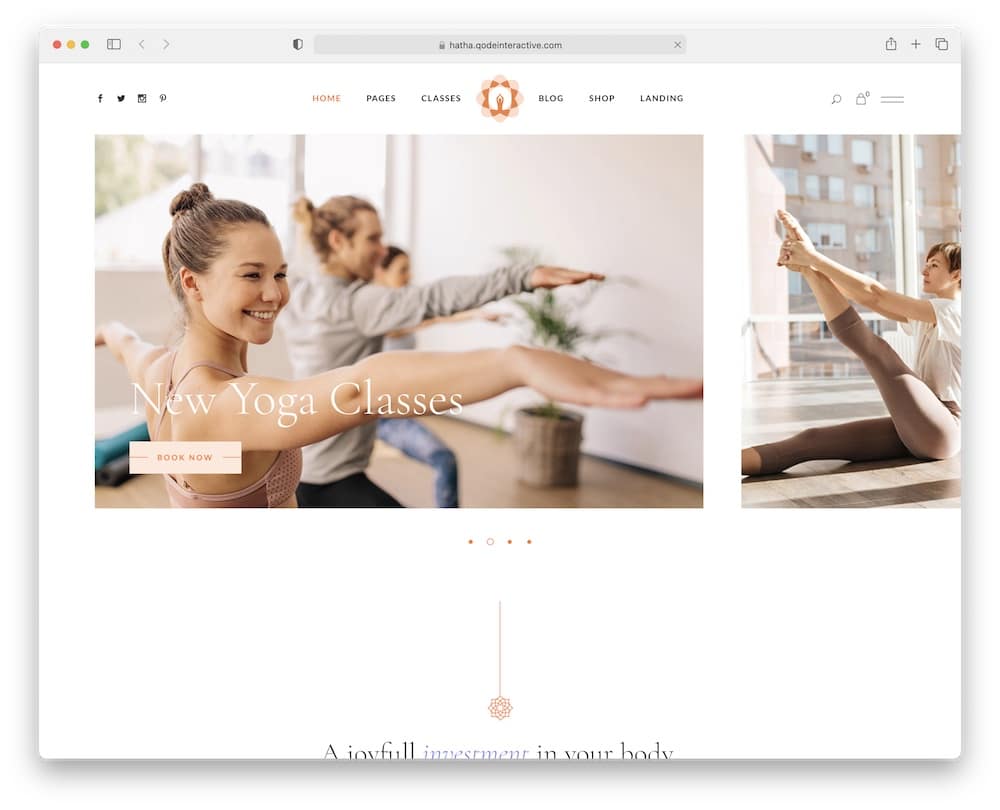 Hatha theme sums up everything about what makes modern yoga websites SO SPECIAL.
Beautiful layouts, pretty design, elegant colors – it invites your visitors into the peaceful and harmonical world of yoga.
Yes, it's true, classical yoga studios are already at their best, but you can transform a typical workout into a delectable online experience.
Hatha is also compatible with the best plugins such as WooCommerce, Timetable Schedule, Slider Revolution, and Contact Form 7.
EASY. TO. USE. AND. UPDATE.
Invest in your yoga appearance and expand your business with popular Hatha.
Hatha features:
380+ sales
4.2+ star ratings
Multi-concept demos
Price: $79 (may vary)
MORE INFO / DOWNLOAD
DEMO
6. Yoku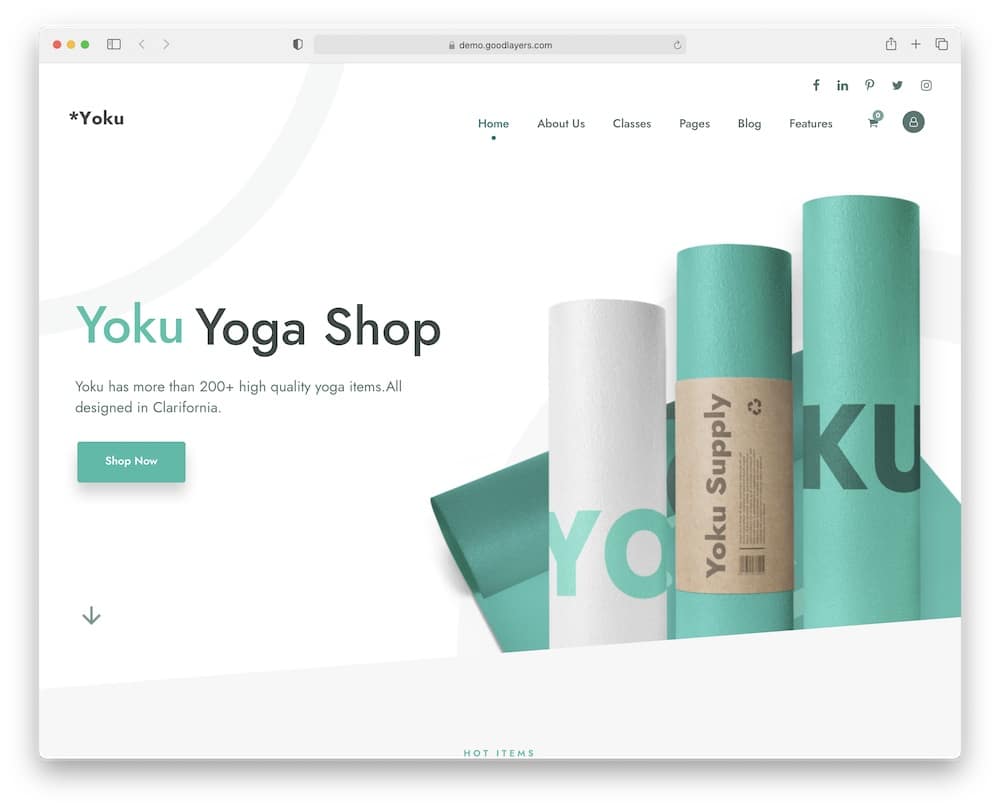 Here's the good news: You will set up this yoga WordPress theme in NO TIME!
Your site will be ready in under 10 minutes once you install the one-click demo.
No coding or design knowledge required. Hurrah!
The bad news? You do have to prepare your blog content, useful articles, courses, or video tutorials.
You could also take a shortcut and use your old creative content, but I DON'T recommend it.
Take some extra time, move with the dialogue, bend with it, be in the moment with your yoga audience.
Make your visitors thrilled with new and regular posts on different topics.
Moreover, Yoku comes with many useful plugins and tools. It includes everything you need for your amazing online vision.
Be alive, be you, be Yoku.
Yoku features:
MORE INFO / DOWNLOAD
DEMO
7. Adhi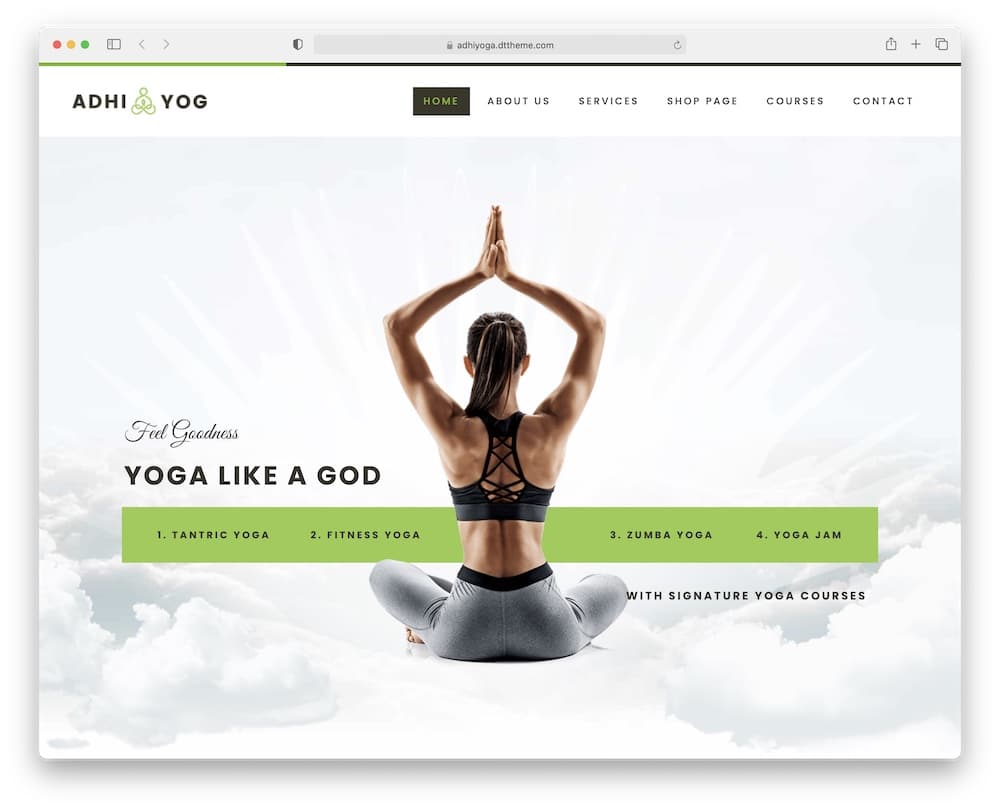 Adhi is a SIMPLE and MODERN yoga WordPress theme empowered with amazing features and design solutions.
Developers of Adhi put in their hearts and souls to bring this gorgeous theme to life.
What is more?
Adhi comes with ready-to-use inner pages, practical elements, a custom carousel, an amazing shop, unique poses page, and handpicked plugins.
You open the doors to a bucket full of possibilities and options for your new site in a few clicks.
That all sounds fancy, but the listed features are actually straightforward to use and put together.
In fact, YOU WON'T be able to stop using them, and that's ok!
Put your yoga pants on, install Adhi and start building your dream website!
Adhi features:
110+ sales
4.5+ star ratings
Attention-grabbing carousels
Special page for poses
Price: $59 (may vary)
MORE INFO / DOWNLOAD
DEMO
8. Fit Coach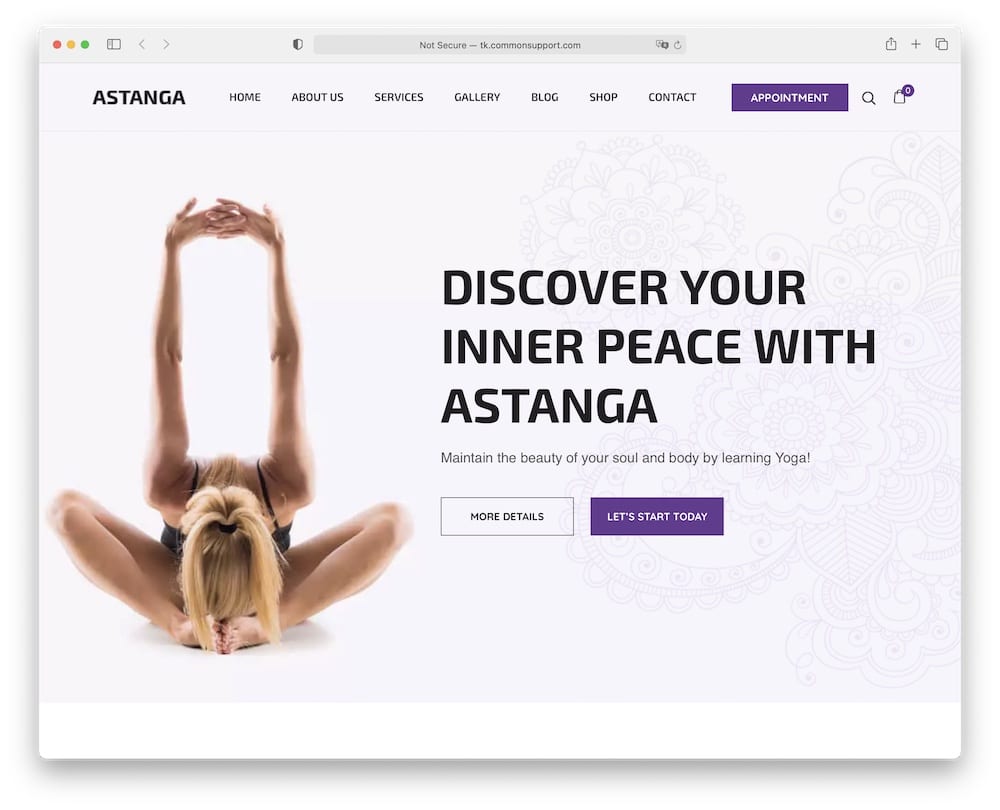 If you've never worked with pre-designed themes before, drop what you're doing and try Fit Coach out ASAP. You'll love this attractive and easy-to-use yoga WordPress theme.
Fit Coach is SEO optimized, focusing on the high rank in search engines. An elegant way to make your site noticeable for potential visitors.
STAND. OUT.
And don't worry, if you would like to translate your website – YOU CAN!
Fit Couch is multilingual and translation-ready into the language you desire.
Hip – Hip – Hooray!
Also, check out included video guides in the detailed documentation. Be aware of all the advantages and extra possibilities.
Unwind, relax, and be creative with Fit Coach.
Fit Coach features:
910+ sales
4.1+ star ratings
Catchy parallax effect
Social media integration
Price: $59 (may vary)
MORE INFO / DOWNLOAD
DEMO
9. Jogasana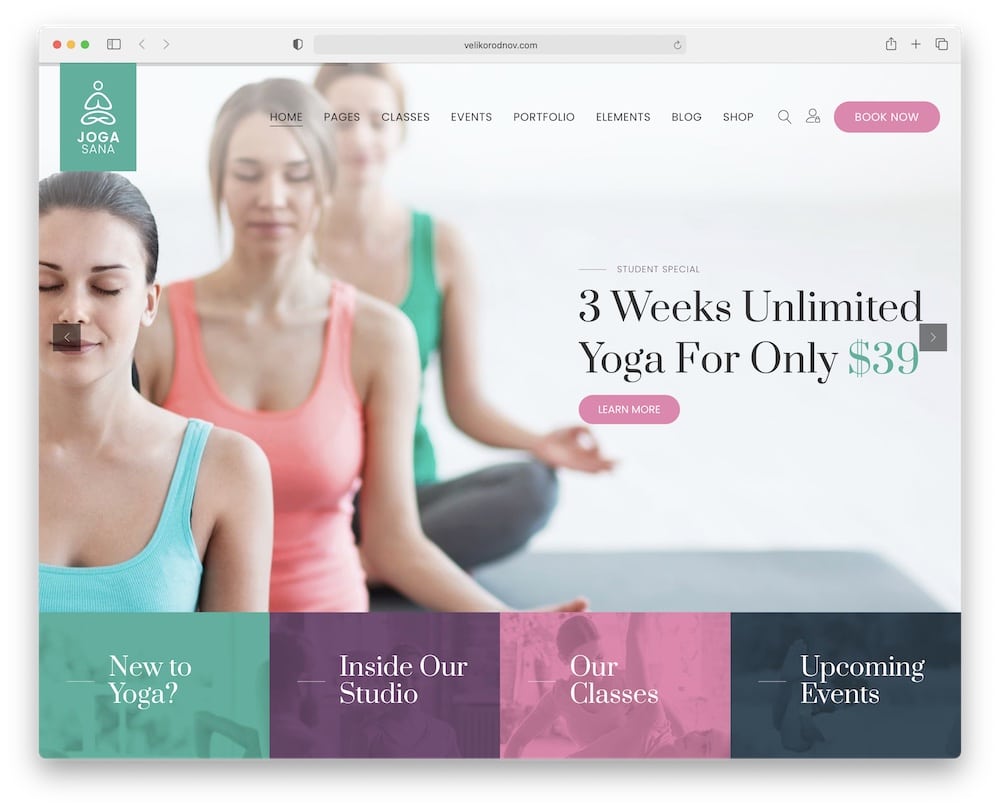 You are just one yoga decision away from the best. Jogasana WordPress theme is fully customizable and created with powerful and essential tools.
Besides, four pre-made homepages will knock your yoga pants off (your booty)!
They are all beautifully made, full of small details, and numerous stunning options.
Additionally, the most used plugins (worldwide) are included FOR FREE.
Attention: You can even catch a limited-time offer with a special discounted price!
Moreover, you can easily sell your products, courses, or yoga events (and more) with Jogasana.
Reserving the last for the best – BLOG. It is like your daily shower; make it refreshing!
You have the opportunity to create one of the best yoga blogs with Jogasana. (Hint: Rewarding content marketing.)
Jogasana features:
680+ sales
4.8+ star ratings
0 coding & design skills
Attention-graggin pop-ups
Price: $69 (may vary)
MORE INFO / DOWNLOAD
DEMO
10. Mandala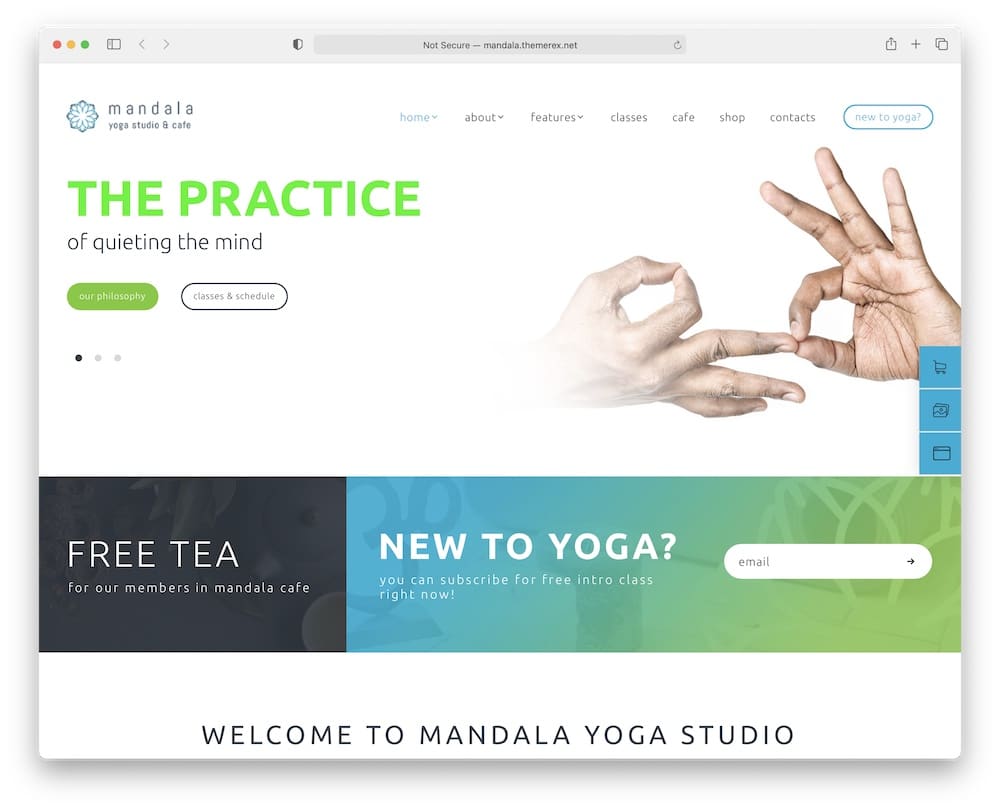 If you've never made a website before, I have to give you fair warning: these themes are SUPER addictive and dangerously easy to use!
Mandala yoga WordPress theme requires just a one-click to install the demo. And you are ready to rock-n-roll in minutes.
Mandala WINS your heart with beautiful design, fantastic solutions, swipe effect, and easy customization.
Of course, no coding or design knowledge is necessary. You need your yoga practice, tips, and position ideas to pepper your content.
SIMPLE.
Super helpful and easy to do are automatic updates – you have all the latest updates fixed with a push of a button.
Celebrate yoga with Mandala.
Mandala features:
200+ sales
4.7+ star ratings
SEO, speed & mobile optimized
Google Maps (customizable!)
Price: $69 (may vary)
MORE INFO / DOWNLOAD
DEMO
11. Yoga Club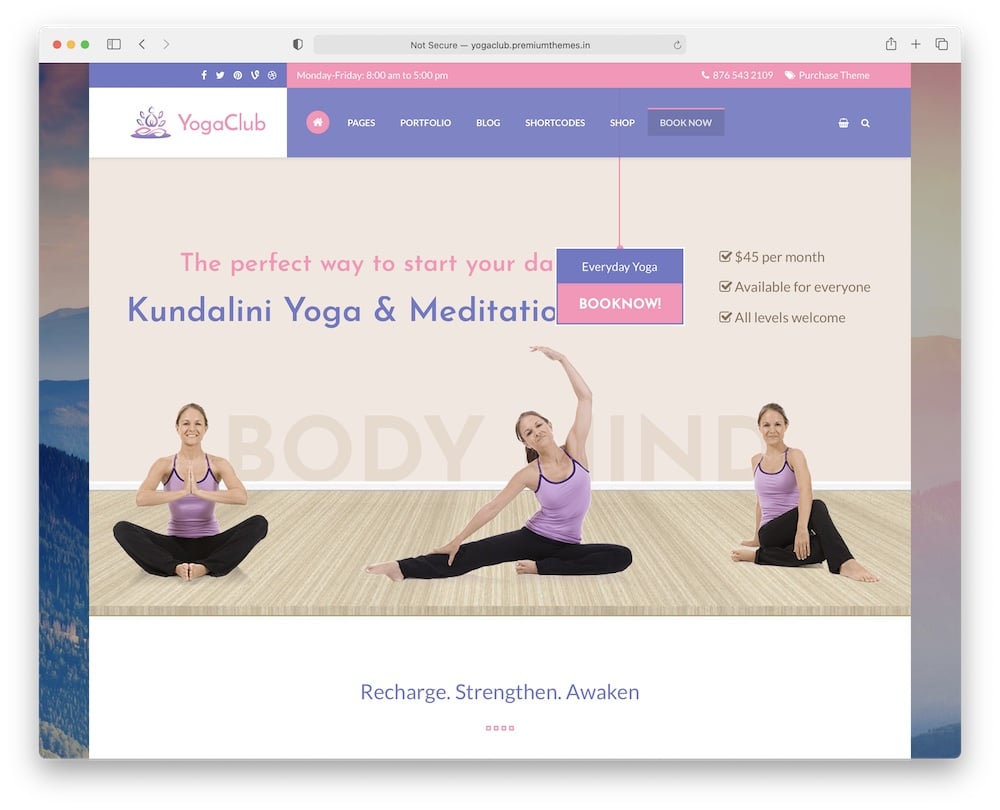 When you choose the Yoga Club WordPress theme, your creative animal takes off!
Just knowing that you have so many options, gorgeous pre-made designs, numerous tools, tons of unique icons, unlimited fonts, amazing shortcodes – makes me excited.
You will come back in the admin panel for just one additional add, change, or attempt at what it would look like with this extra feature.
FUN. GUARANTEED.
Also, Yoga Club is translation-ready, so you can use it in any language you want.
The SKY is the LIMIT.
Furthermore, you can create a beautiful portfolio with your yoga experiences, knowledge investments, and important certificates. Who are you? – this is the main question of your future followers.
Namaste.
Yoga Club features:
120+ sales
4.8+ star ratings
Easy theme customizer
Simple event management
Price: $59 (may vary)
MORE INFO / DOWNLOAD
DEMO
12. Do Yoga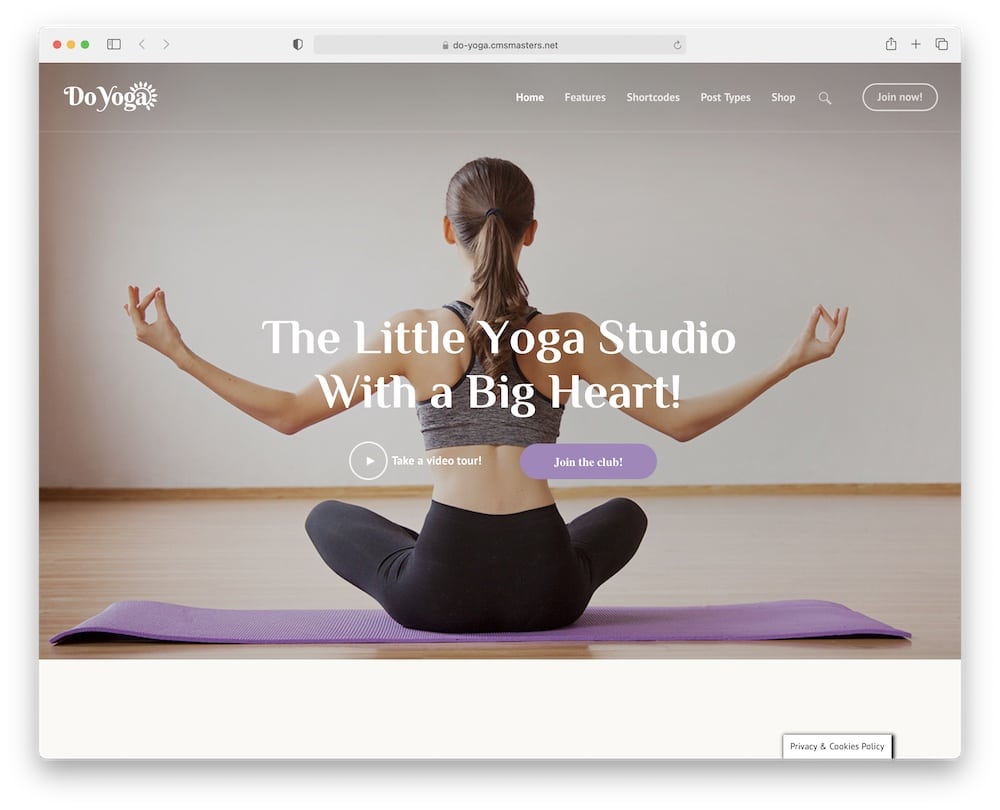 You might be wondering, what makes this yoga WordPress theme so special?
Do Yoga is a modern-looking theme, that comes with flexible design and the power of full customization to all your and needs.
Of course, you get different portfolio styles, blog layouts, tons of shortcodes, and animations.
Even the header layout is totally adjustable.
SAVE your precious time and effort due to pre-made templates.
WOW, exciting!
Sounds like magic? Stunning Do Yoga is even better than magic.
Do Yoga features:
180+ sales
4.2+ star ratings
Start a yoga blog
Price: $59 (may vary)
MORE INFO / DOWNLOAD
DEMO
What To Look For In A Yoga Website?
Even though you may already have a strong social presence, rocking a professional website is a must for the success you'd like to achieve.
For this reason, we wanted to share seven of the key features that will make your yoga website stand out from the masses.
7 Must-Have Of A Great Yoga Site:
It's essential that your website has the ultimate performance. This means it MUST load fast and operate smoothly on all screen sizes. (We tested each theme with Pingdom Tools and Google's Mobile-Friendly Test.)
Use high quality images and videos of yourself, your studio, your flows, etc.
Create a compelling bio or an about me page. Don't forget to be personal in a way that will make fans feel like they know you.
A special section for services and pricing will give you an edge.
Build social proof by integrating client testimonials.
Make yourself easily reachable through clearly visible contact information.
Three bonus features that will help you take things to the next level are an online yoga classes schedule, social media and a blog.
::
Note: This article was originally published on July 16, 2021. But our team regularly reviews it and updates it with necessary improvements for accuracy.