Are you ready to build the ultimate business website with these epic digital agency WordPress themes?
It took me multiple months of extensive study of the digital agency industry to understand what's needed.
And then, I spent some more time testing 35 WordPress themes to create the ultimate list of 13.
These are everything you need to start immediately and have a website up and running TODAY.
This post covers:
You're at least 10x readier to build a GREAT digital agency website now than you were before.
That's my guarantee.
QUICK PICK: My Favorite Digital Agency WP Themes
Best Digital Agency WordPress Themes
1. SEOWP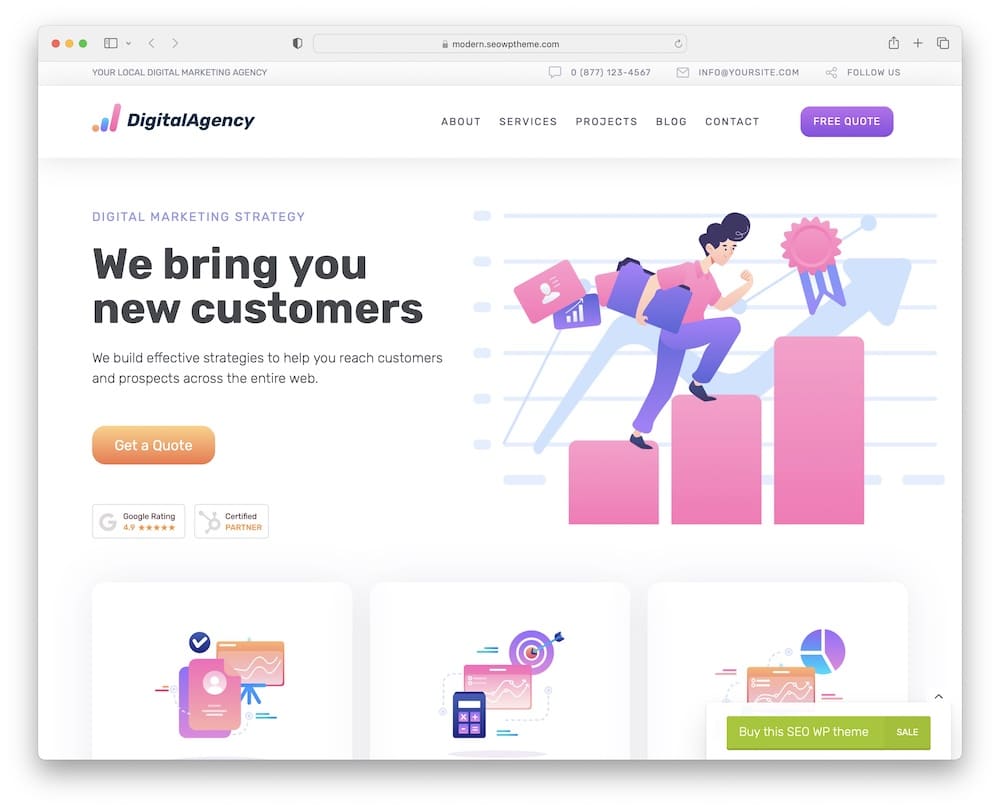 Promote your services and team members with the colorful SEOWP theme.
Building with SEOWP is awesome (!) due to its unique pre-built designs, smart plugins, and numerous illustrations (included for FREE); you can have it your way!
Aha, plus NO coding skills are required.
You also get an advanced WordPress booking calendar which helps organize meetings with clients. Oh, and remember, social media icons are a must (tip: be easy to follow).
In my opinion, you should also have a blog. Why?
Because it gives you a space to attract, engage and retain an audience with your valuable content. Pretty COOL, right?
Push the envelope with SEOWP.
SEOWP features:
MORE INFO / DOWNLOAD
DEMO
2. Cynic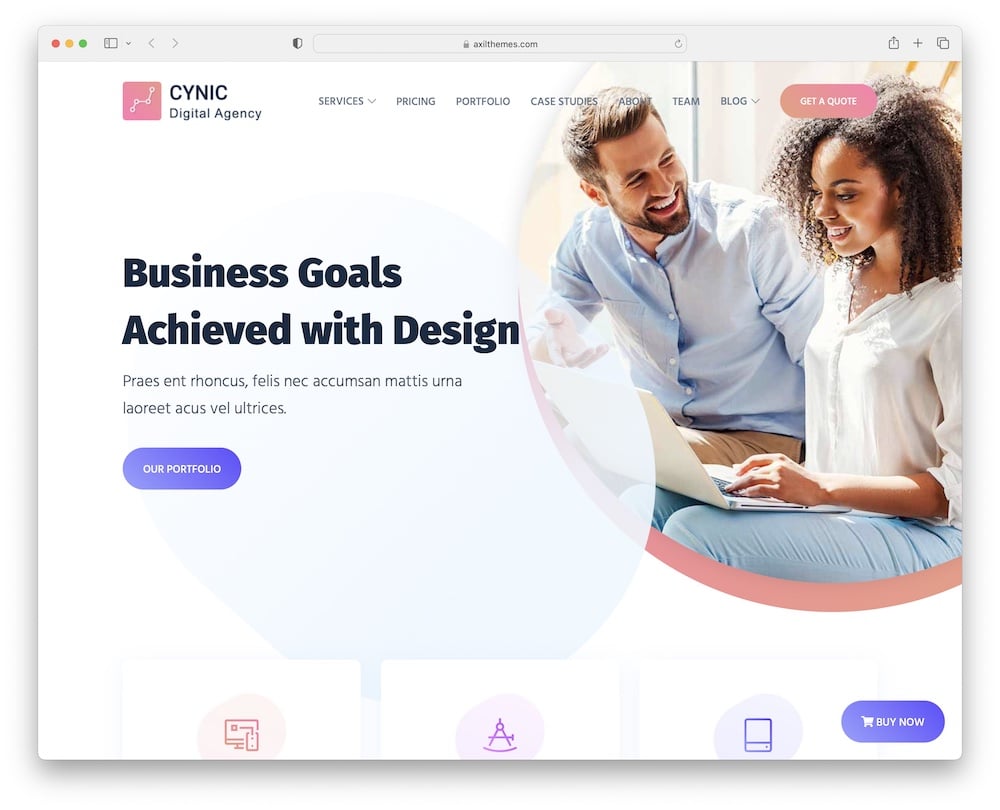 Become famous for your advertising, SEO, or digital marketing with a resourceful Cynic digital agency WordPress theme.
Step-by-step, build your dream website without worrying about coding or design knowledge; because you don't need any of it!
Isn't that the coolest?
Yup, Cynic includes ready-to-use homepages, portfolio & blog layouts, sticky header, modern carousel options, and unique animations. Plus, the parallax theme effect is an AWSOME add-on.
Moreover, you can easily engage, track and follow up with your (potential) clients via email marketing with brilliant MailChimp.
I LOVE it.
By the way, friendly customer support & regular updates are an indispensable part of Cynic. Enjoy!
Cynic features:
1,200+ sales
4.7+ star ratings
One- & multi-page versions
Grat section for case studies
Price: $39 (may vary)
MORE INFO / DOWNLOAD
DEMO
3. Affirm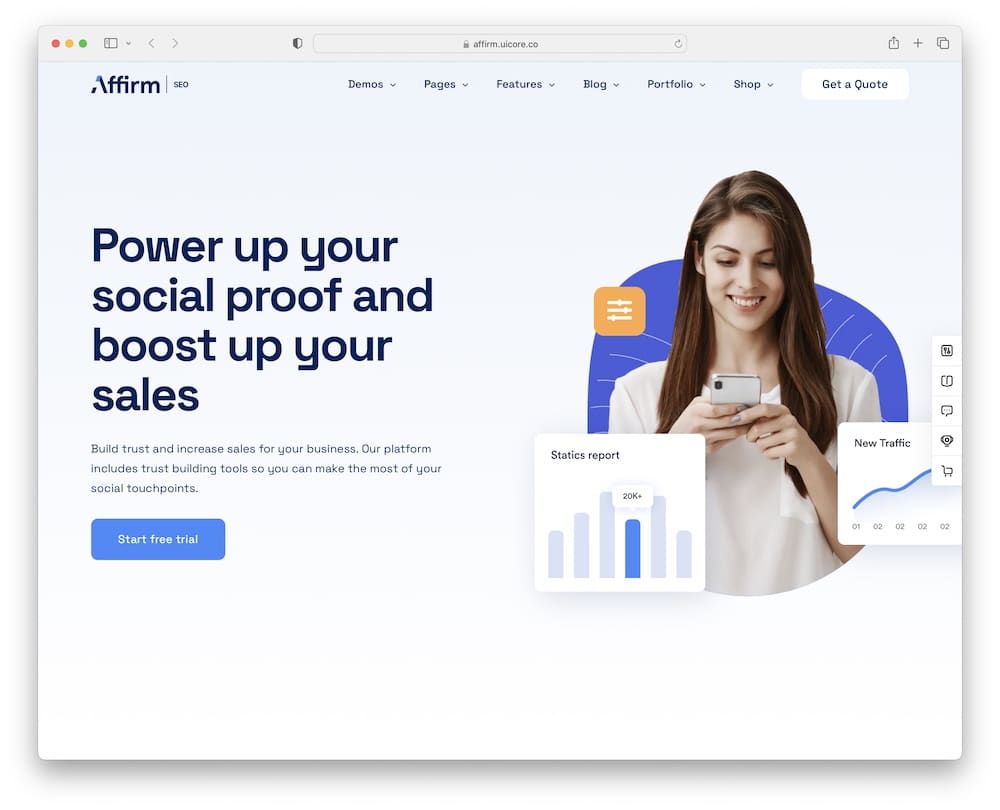 Build a successful online presence with the responsive Affirm digital agency WordPress theme.
Welcome, friend!
Install your favorite demo and mix, match, and change anything. Remember, 200+ design elements are at your disposal (I know, it's crazy good!).
Note: Check this great tutorial on installing a WordPress theme by Ales if you need further assistance.
Moreover, with offered pop-ups, banners, and subscription forms, you can gather visitors' information, promote offers, and get attention from your potential customers.
BADASS.
Plus, I really like Affirm's HUGE collection of attractive icons.
Besides, Affirm is also translation-ready so you can run your site in any language you fancy (even the right-to-left WordPress language scripts).
Affirm features:
750+ sales
4.7+ star rating
Modern & attractive design
Epic theme options
Price: $59 (may vary)
MORE INFO / DOWNLOAD
DEMO
4. Pitch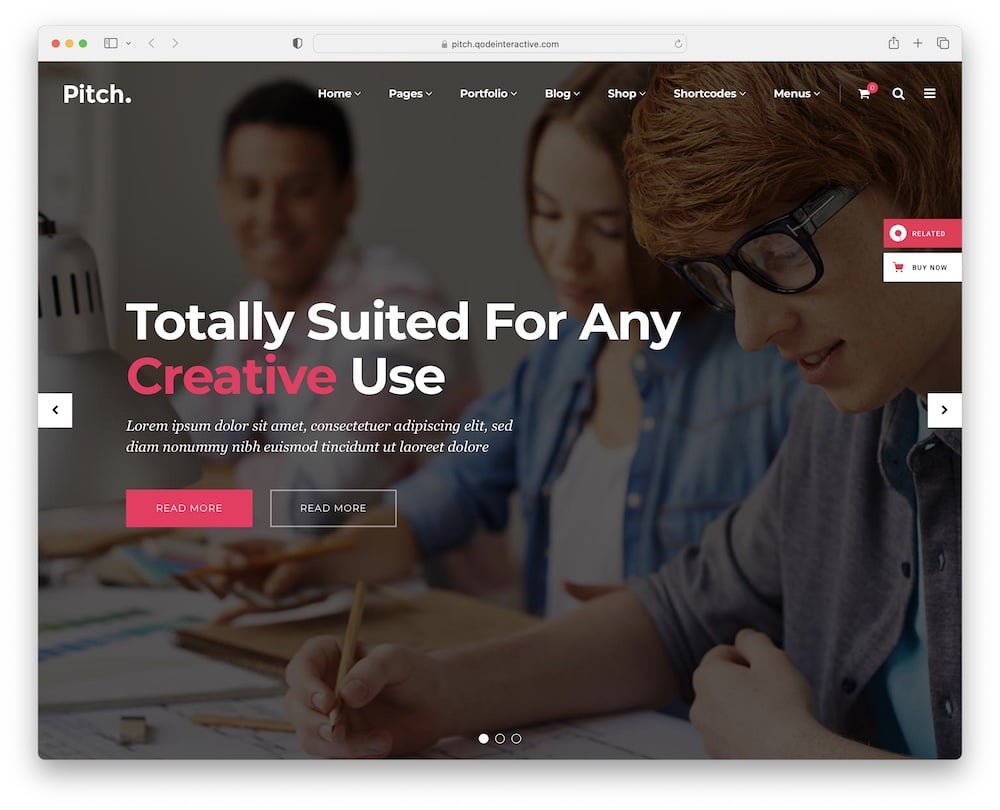 Modern Pitch theme is your go-to source for a successful digital agency website.
If you ask me, this theme was made specifically for creative people offering unlimited design possibilities.
I'm happiest when I'm being imaginative, too.
The most rewarding part of Pitch are included plugins such as WooCommerce, WPBakery page builder, and Contact Form 7. Pretty neat, huh?
And I also love to set up a mega menu, change fonts, pick colors, and check out bundled WordPress shortcodes. Plus, you get a beautifully designed portfolio and blog layout.
A quick tip: Video background is a COOL way to present your business more engagingly.
Make clients excited about your work with Pitch!
Pitch features:
MORE INFO / DOWNLOAD
DEMO
5. Ewebot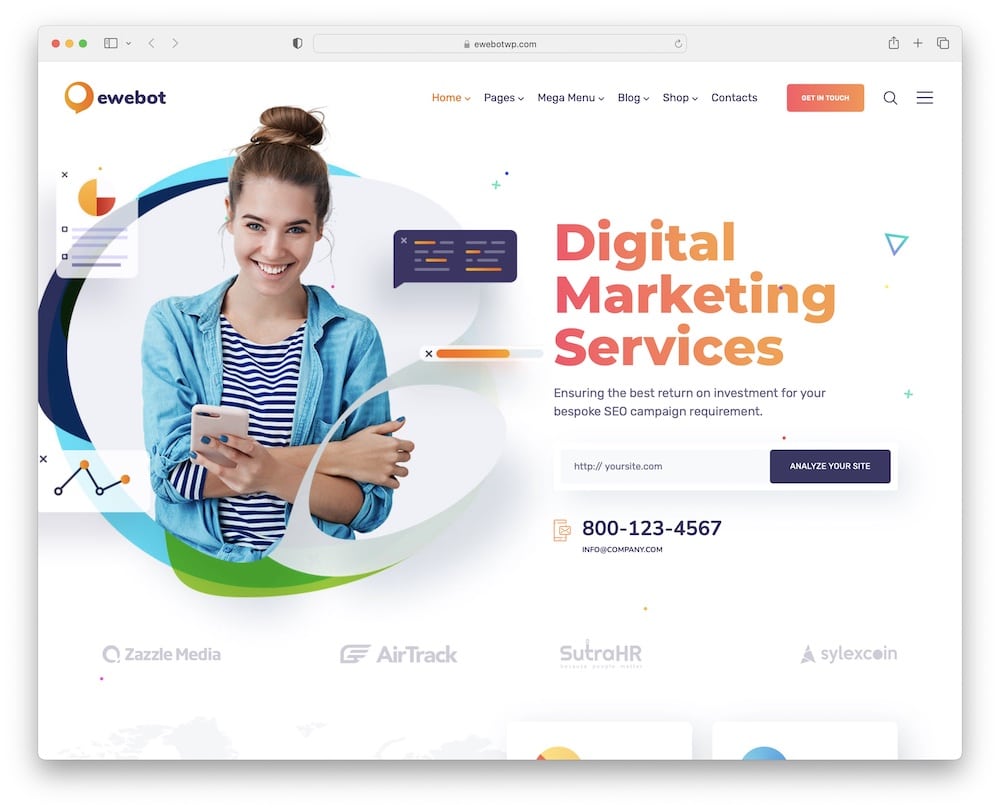 Deliver fresh ideas and keep ahead of the curve with the Ewebot digital agency WordPress theme. You can build a valuable website, whether the CEO or an intern!
Ewebot is a clean and responsive theme that you can manage through drag & drop WordPress page builder (Hi, Elementor!). Import the desired demo (twelve options) and start building.
Plus, you get lifetime customer support and updates! HURRAY!
Furthermore, you can introduce your business, price plans, employees, and client testimonials with stunning inner pages.
Oh, and Ewebot is also cross-browser-compatible so visitors can visit your site from their favorite browser.
The red carpet is rolled out for everyone!
Ewebot features:
4,800+ sales
4.6+ star ratings
Easily add Google Maps to WordPress
Always up-to-date (for smooth operation)
Price: $65 (may vary)
MORE INFO / DOWNLOAD
DEMO
6. Shoshin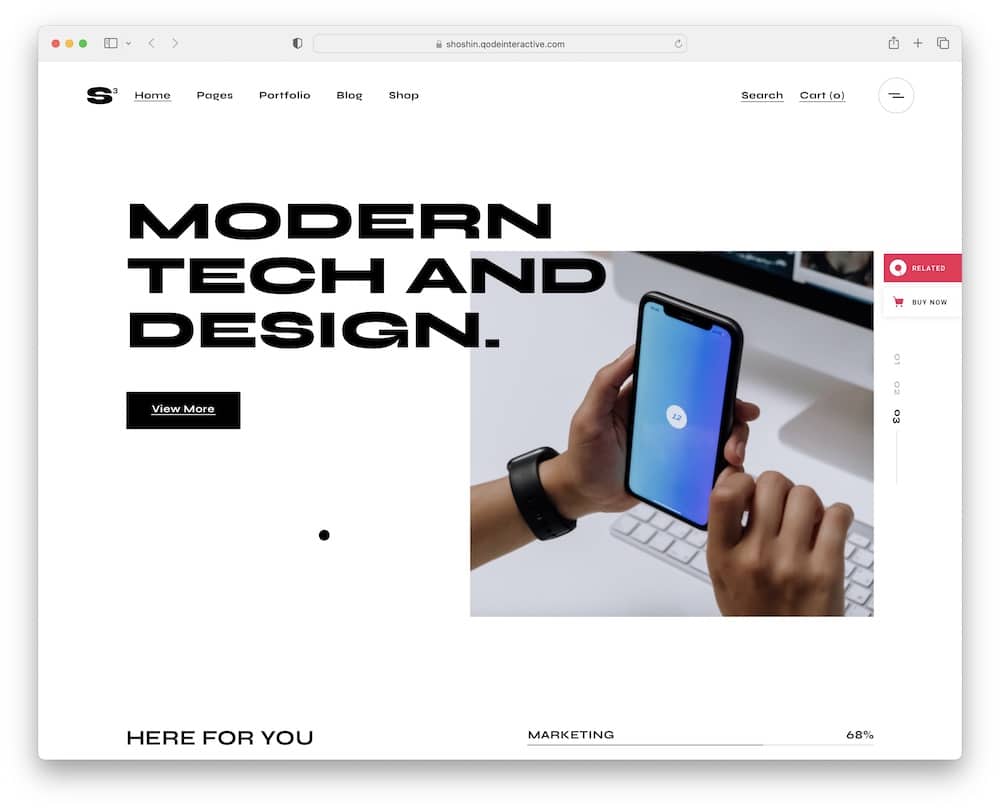 One of the best ways to stay relevant in the creative & advertising space is to have a professional website.
Check out Shoshin digital agency WordPress theme!
Since you probably don't have time to think about every little detail of your new site, Shoshin offers ready-to-use homepages. Yup, just one import click, and you are in the business!
Besides, you can easily create an online store, start a blog or show off a pretty portfolio.
Moreover, Shoshin includes the most popular plugins to expand its possibilities over and beyond. What's not to love?!
I also recommend setting up a Google Map for instant location and business information. HI5.
Shoshin features:
190+ sales
4.4+ star rating
WordPress slider plugin (Slider Revolution)
1-click demo data import
Price: $89 (may vary)
MORE INFO / DOWNLOAD
DEMO
7. Oule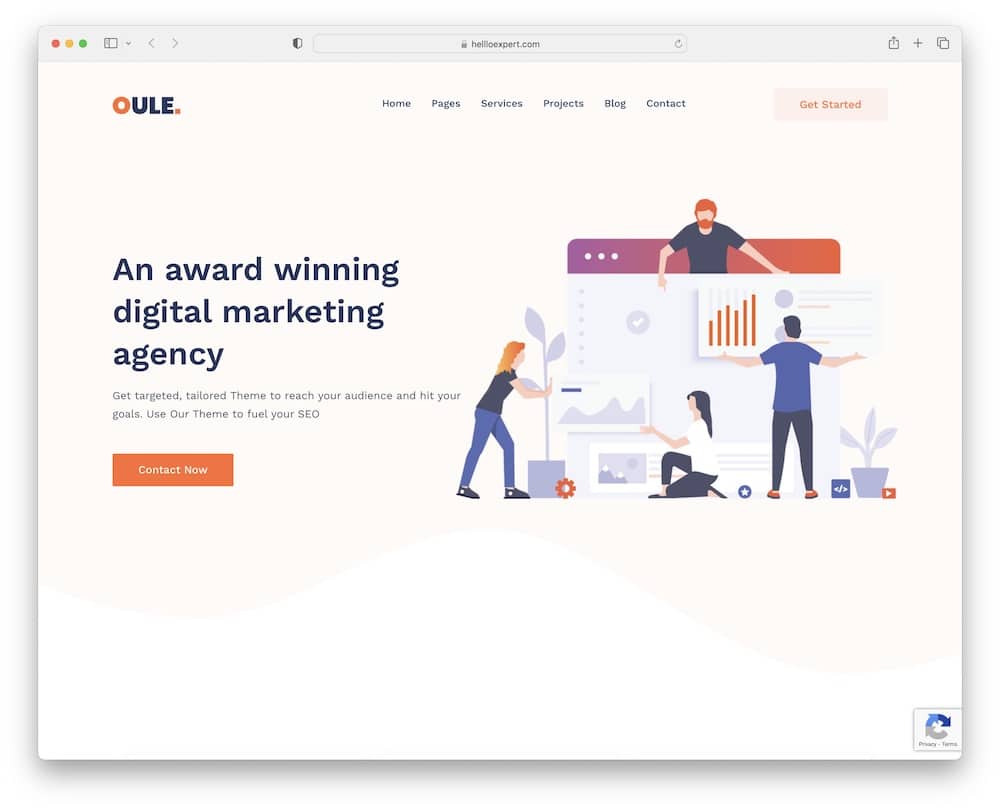 I rounded up the best characteristic of the Oule digital agency WordPress theme so you don't have to waste your precious time.
Let's call them out:
Pretty Oule is fully customizable, provides pre-made demos, and doesn't require coding or design knowledge.
YES!
Besides, it is created for a GREAT user experience by offering pixel-perfect design, smooth animations, a sticky menu, and beautiful typography.
You can also choose from unlimited color options.
BTW: Oule is SEO optimized to help you rank better in Google and other browsers. It's a fact that we all want to be more visible and generate more conversions on our websites.
Give your brand a fresh new look!
Oule features:
230+ sales
5-star rating
Optimized for great performance
Fantastic customer support
Price: $59 (may vary)
MORE INFO / DOWNLOAD
DEMO
8. Grupi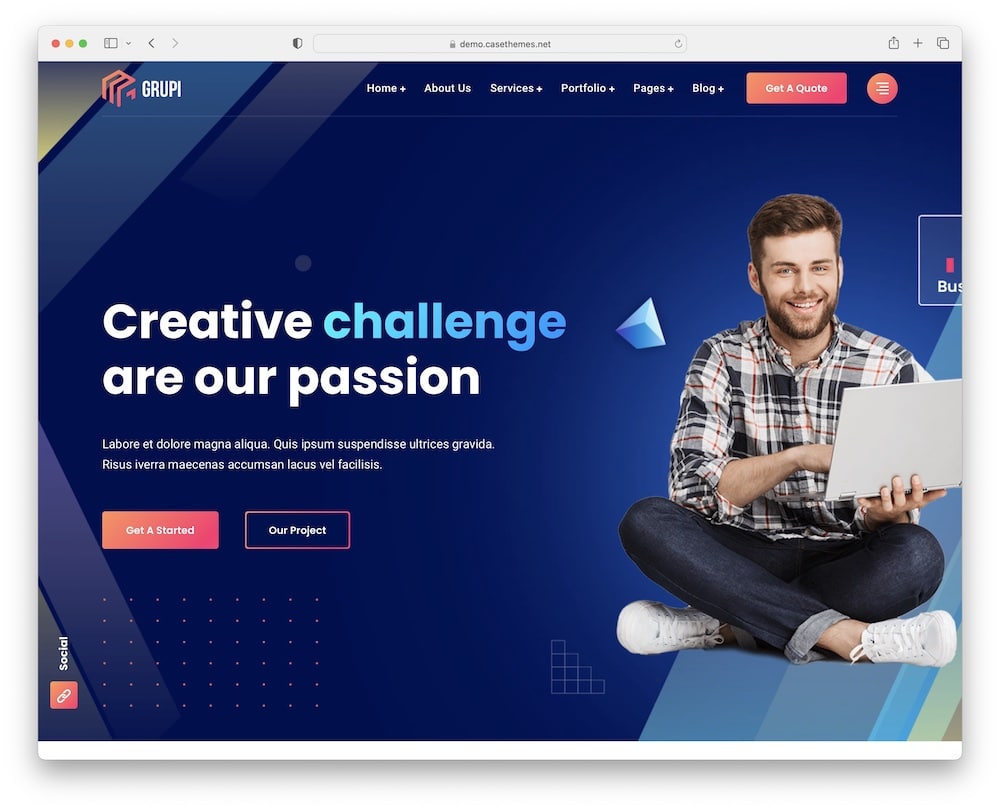 Become one of the key players in advertising with the refreshing Grupi digital agency WordPress theme.
Awesome demos, inner pages, smooth transition effects, video background sections, and much more are waiting for you at Grupi.
You're gonna love it in all its glory.
Oh, and you also get numerous custom WP widgets to add specific features on different site areas (like sidebars, footer, or blog layout). I really like (!) to use them when I customize websites.
It's worth mentioning that you should give some thought to the header and footer. They can BOOST your professional look and give quick contact information.
Be the best; choose Grupi.
Grupi features:
420+ sales
5-star rating
50+ custom widgets
Optional dark & light demos
Price: $59 (may vary)
MORE INFO / DOWNLOAD
DEMO
9. Victim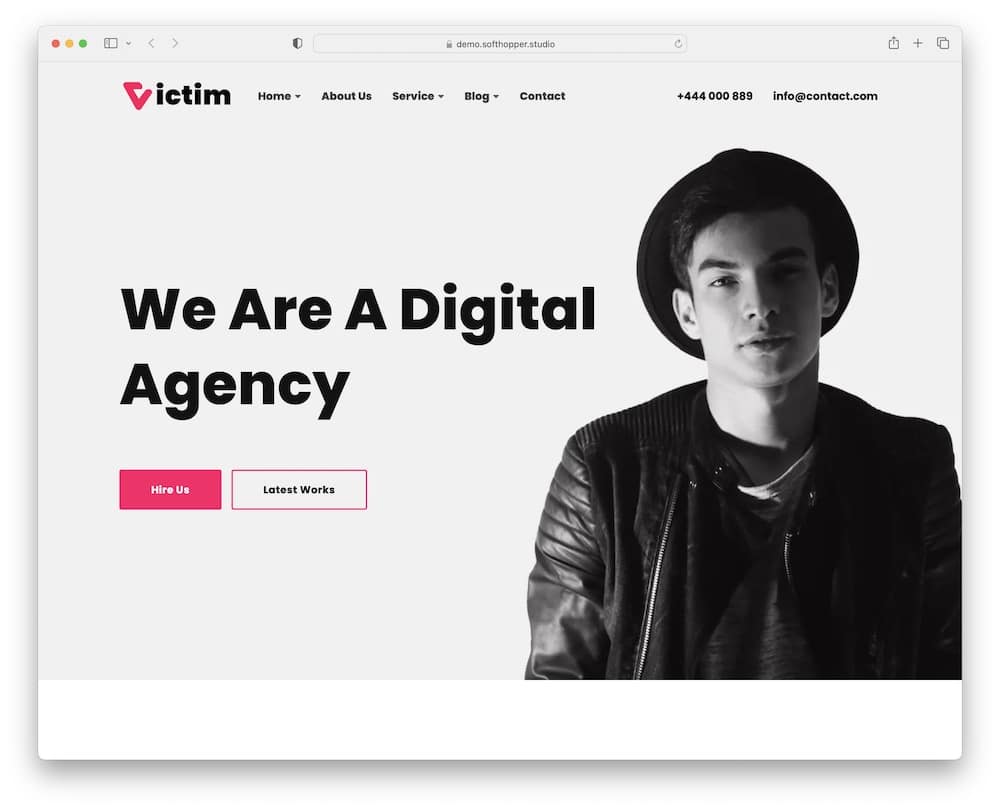 Elegant Victim digital agency theme feels like you are chatting with a fellow marketing/SEO professional over coffee. Yup, it will become your FAV buddy!
You can choose among uniquely designed homepages and build your dream site with AWSOME Elementor builder (drag-n-drop motion). Total freedom.
And hey, everyone reading this: Victim is compatible with Gutenberg!
Besides, it guarantees high performance with FAST page speed (tested with Pingdom Tools), mobile-friendly design, and regular updates. You even get a child theme!
Of course, amazing customer support is a BIG DEAL when you are creating and building. Take full advantage of Victim's top-notch team!
Victim features:
770+ sales
4.7+ star ratings
Supports GIFs
Schema markup ready
Price: $39 (may vary)
MORE INFO / DOWNLOAD
DEMO
10. DeepDigital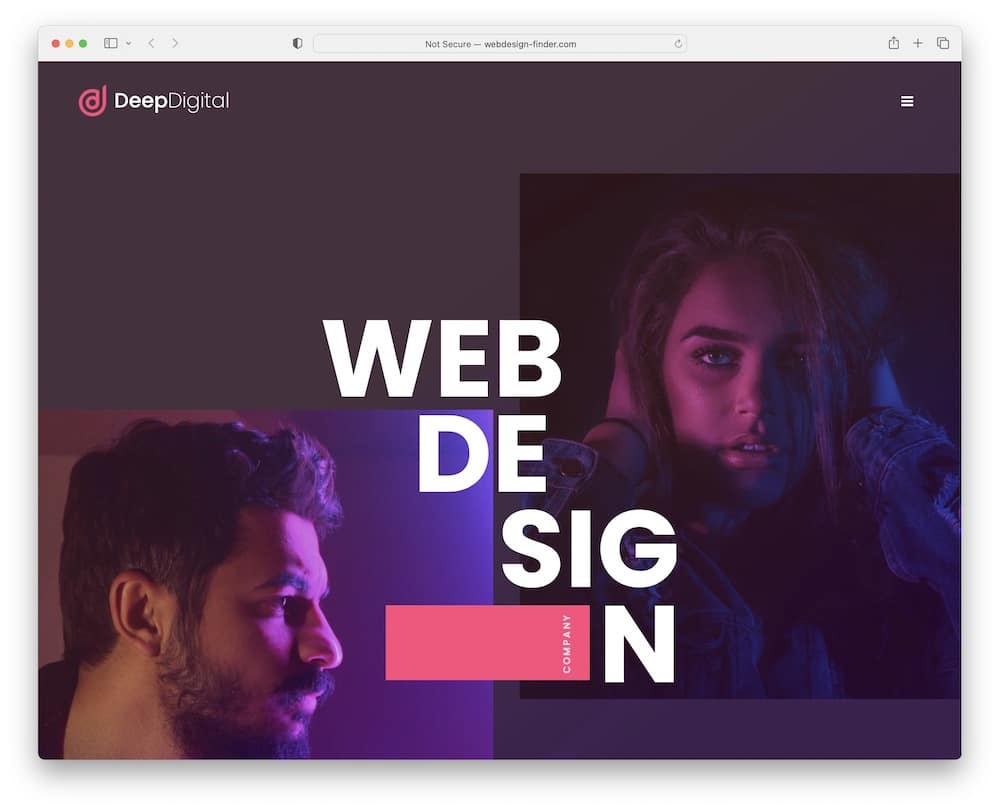 Looking for new inspiration? You came to the right place!
Check out the stylish DeepDigital web agency WordPress theme and celebrate all the amazing features bundled in its offer.
You can easily create an online store, showcase your work in a gorgeously designed portfolio, and display marketing events, seminars, or conferences with DeepDigital.
GREAT. VALUE.
In fact, you also get the versatile Slider Revolution plugin for an attractive slideshow section with many animation effects. You are in full visual control!
Also, MailChimp's all-in-one marketing platform (used by millions) is the coolest tool to help you grow your brand. Of course, don't forget to take advantage of social media platforms.
Okay. Your turn!
DeepDigital features:
MORE INFO / DOWNLOAD
DEMO
11. Digeco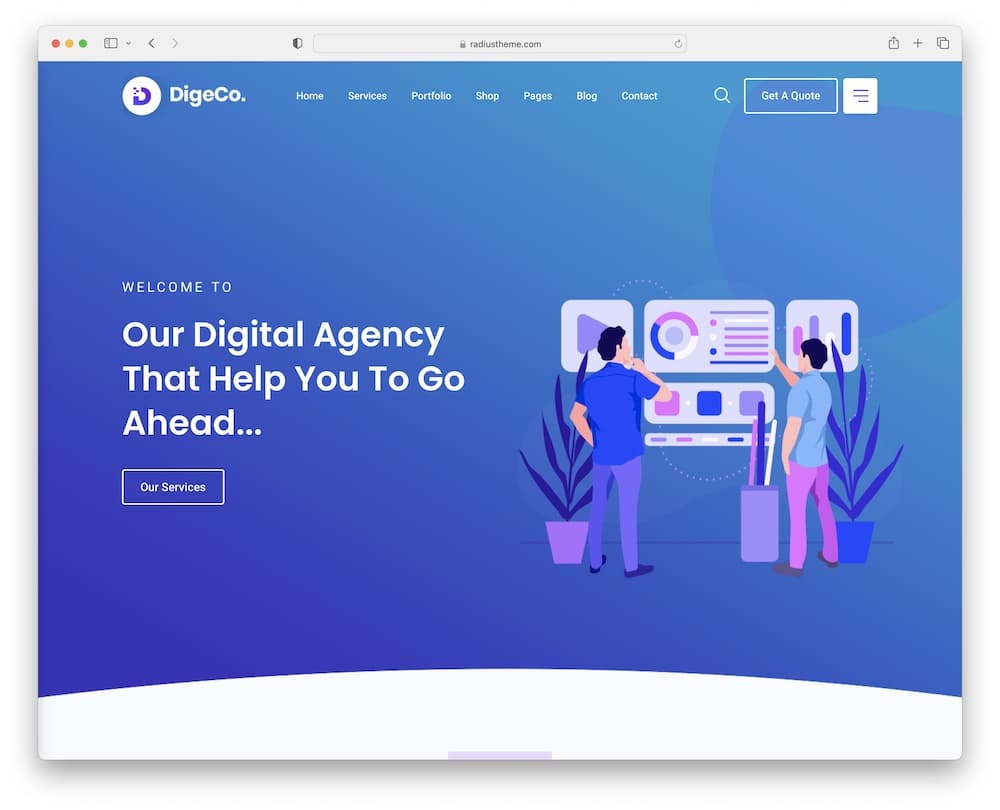 Keep up to date with fresh and elegant Digeco digital agency WordPress theme.
Even if this is your first experience with customizing a website, don't worry because Digeco includes the brilliant Elementor.
From unlimited color combinations, Google fonts, and layout varieties to numerous header & footer possibilities, you can make your site 100% your way.
You are the BOSS!
Moreover, engage with your visitors via valuable blog (pre-made layouts included). Write about digital marketing, project management, SEO, and helpful tips.
Plus, you can create a stylish portfolio or team presentation.
Of course, Digeco's detailed documentation, FREE lifetime updates, and reliable customer support are essential.
Worth the $!
Digeco features:
2,200+ sales
4.9+ star ratings
Enhanced live customizer
Awesome mobile performance
Price: $39 (may vary)
MORE INFO / DOWNLOAD
DEMO
12. Marketer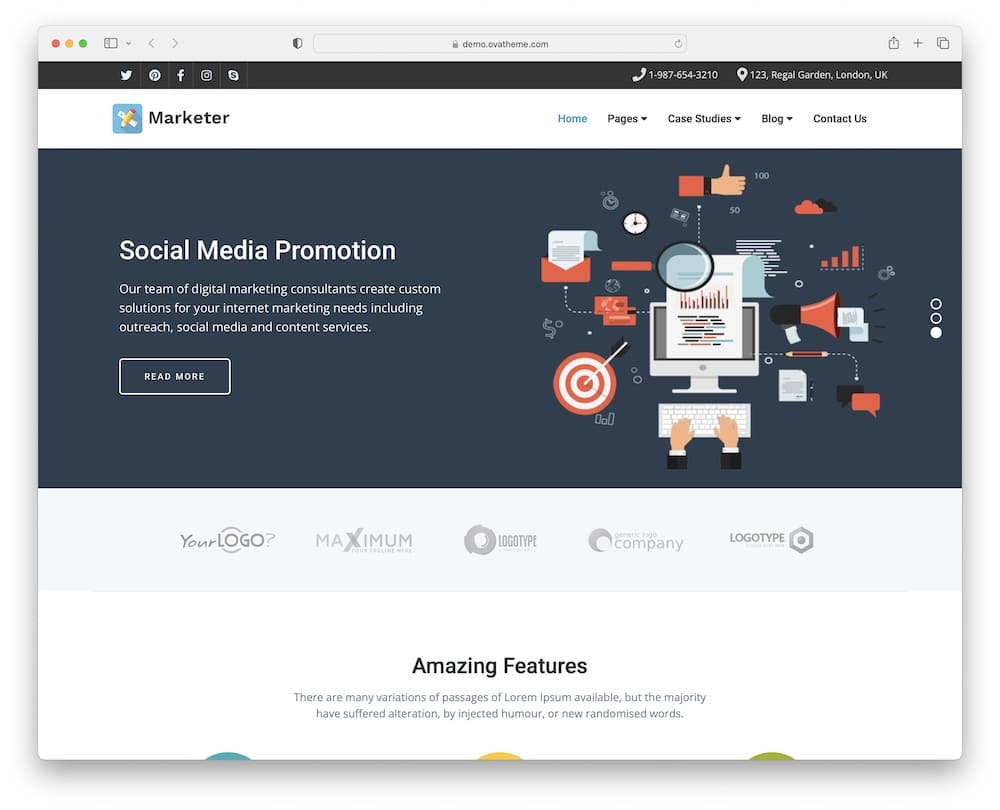 The vibrant Marketer digital agency WordPress theme comes with many helpful features and great web performance.
It's so easy to work with that you can totally build a new site yourself!
Marketer is bundled with the most popular plugins like WPBakery, Slider Revolution, mega menu, and supports Contact Form 7.
Pretty COOL!
I am a BIG fan of smart homepage presentations that include space for the latest projects, team members, testimonials, and step-by-step working processes (better understanding of cooperation for your clients).
Plus, social media icons are the key ingredient of your site. Be social, be the influence.
With Marketer, your job isn't work but passion!
Marketer features:
90+ sales
4.4+ star ratings
Wide & boxed layouts
Extensive documentation
Price: $59 (may vary)
MORE INFO / DOWNLOAD
DEMO
13. Betakit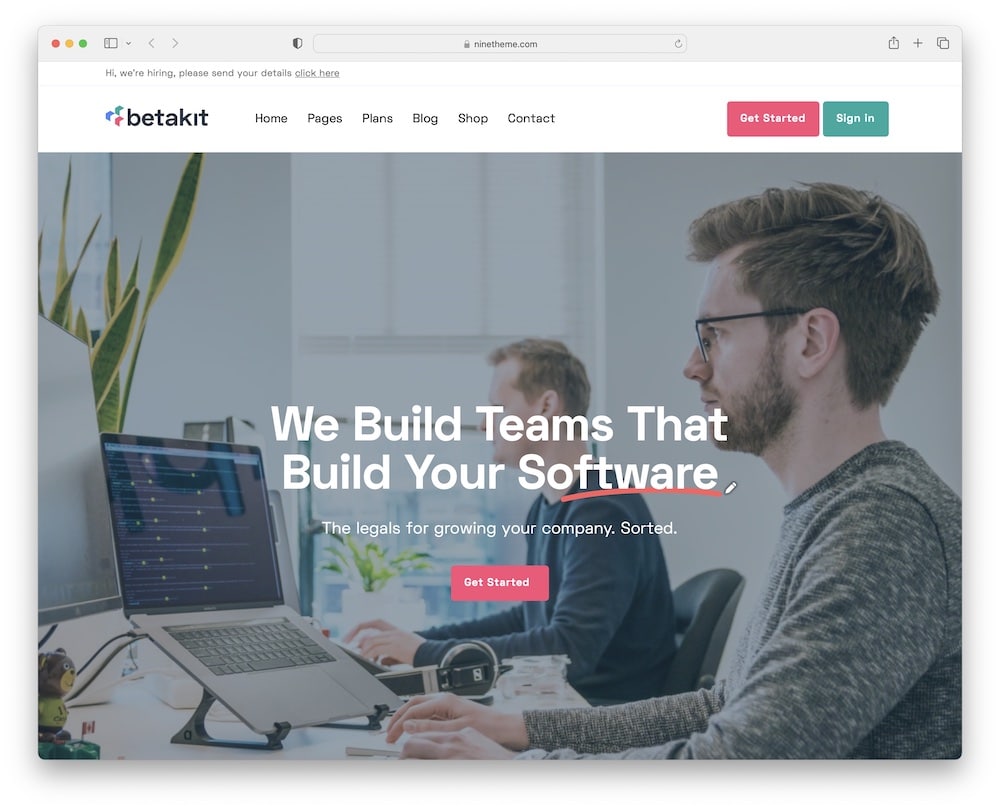 Looking to treat yourself?
Betakit digital agency WordPress theme gem that everyone needs!
You can fully customize Betakit, create unlimited pages, posts, and start a blog.
In fact, various design options are available due to flexible widgets, shortcodes, and pre-made blocks for quick work.
Plus, you can set up Google Maps and carousels, change WP fonts, or mix/match sidebars, backgrounds, and colors. You even get the special parallax effect (can you tell I LUV it?).
Moreover, with Betakit, you can translate your site into any language! Offer your services where needed.
Remember, you can always count on Betakit.
Betakit features:
470+ sales
4.9+ star ratings
Quality & lightweight code
Team members section
Price: $39 (may vary)
MORE INFO / DOWNLOAD
DEMO
8 Key Features Of A Great Digital Agency Website
Now that you have all the best themes at your disposal, I want to share eight must-haves to ensure your website succeeds.
These are my findings after months of research and working with 10+ clients.
How I Picked The Best Digital Agency WordPress themes:
I had these in the back of my mind while reviewing each theme. (But Ales also wrote a great guide on how to choose a WordPress theme, featuring nine handy tips.)
1. Responsive design
I just recently reviewed a website and couldn't believe it's not responsive.
Yes, PLEASE, ensure your page works on mobile, on tablet, on desktop – everywhere.
Luckily, that won't be a problem with a WordPress theme because it responsive by default. At least the ones above are!
2. Fast loading
Another thing that annoys me and 100s of our users is slow loading.
That. JUST. Sucks.
I thus triple-checked that every theme I add to this list is lightweight and loads fast.
I tested it with the Pingdom Tools – but the loading time will also depend on your web hosting, so choose wisely.
(You can also check our guide on how to pick a fast WordPress theme.)
3. Services
You definitely want to have a special section dedicated to your services.
This could be a brief mention on your home page and then create an in-depth presentation(s) on a separate page(s).
4. Pricing
Do you know what else annoys me?
A digital agency that doesn't display their pricing and you need to get in touch with them for a quote. That is another big no-no for me.
5. Testimonials
Do you want to build trust and credibility? That's pretty easy with client testimonials.
You can also choose a WordPress testimonial plugin if you want to add more functionality.
6. Success cases
Besides testimonials, showing real-life cases is another great way that potential clients will trust you more.
Show results, share your process, and whatever there is, you do unique that makes you so successful. But don't reveal all your secret sauce.
7. Blog
Show your professionalism and become an authority with a blog. As simple as that!
You can give so much back to the community with a frequently updated blog that's full of quality content. Plus, Google will love you more!
8. Contact
And then, don't forget about your contact details.
Put on display your email, a clickable phone number, a contact form. Heck, even Google Maps with your agency's location.
You can now be 100% confident that you can establish a top-notch page for your business – even if you have 0 experience.
My newbie friend built a website for her agency in an evening, so I know you can do it, too.
::
Note: This article was originally published on November 29, 2022. But our team regularly reviews it and updates it with necessary improvements for accuracy.