Are you searching for the best WordPress pizza themes?
I mean, who doesn't like pizza?
No need to answer that; I already know it.
I spent many months testing dozens of WordPress themes to create the ultimate collection – finally!
This post covers:
These themes equip you with everything: from gorgeous (and optimized) designs and great navigation to the food menu, online ordering, built-in eCommerce and blog, to name a few.
Quick-Pick: My Best WordPress Themes For Pizzerias
Best WordPress Pizzeria Themes
1. Pizzaro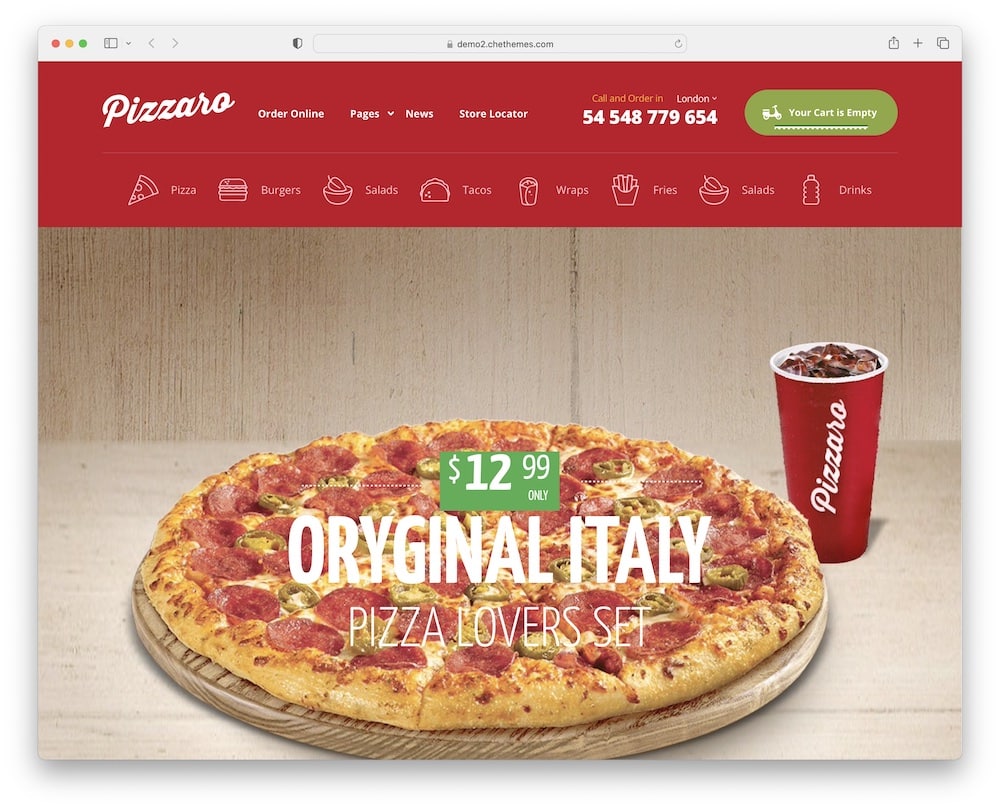 Viva la pizza (!) with modern & responsive Pizzaro.
This WordPress pizza theme has seven pre-made homepages, various header and footer styles, pre-built pages, and beautiful product layouts.
It sounds crazy simple, but it is all you need!
I really like products, testimonials, or image gallery carousels. Pick your best content and display it in a slideshow (multiple presentations instead of a single one).
Perfection.
BWT: You can create a pizza-inspired store with an online cart, checkout, customer account, and order tracking with brilliant WooCommerce (set up an online pizza delivery system or use a WooCommerce food ordering plugin). Yup, I'm semi-obsessed.
Moreover, Pizzaro can bring all your social media channels together on your new website (Hip hip hooray for social icons!), plus it allows your customers to share content they enjoy. They'll be the legends promoting your pizzeria.
GO!
Pizzaro features:
MORE INFO / DOWNLOAD
DEMO
2. Restaurant Vincent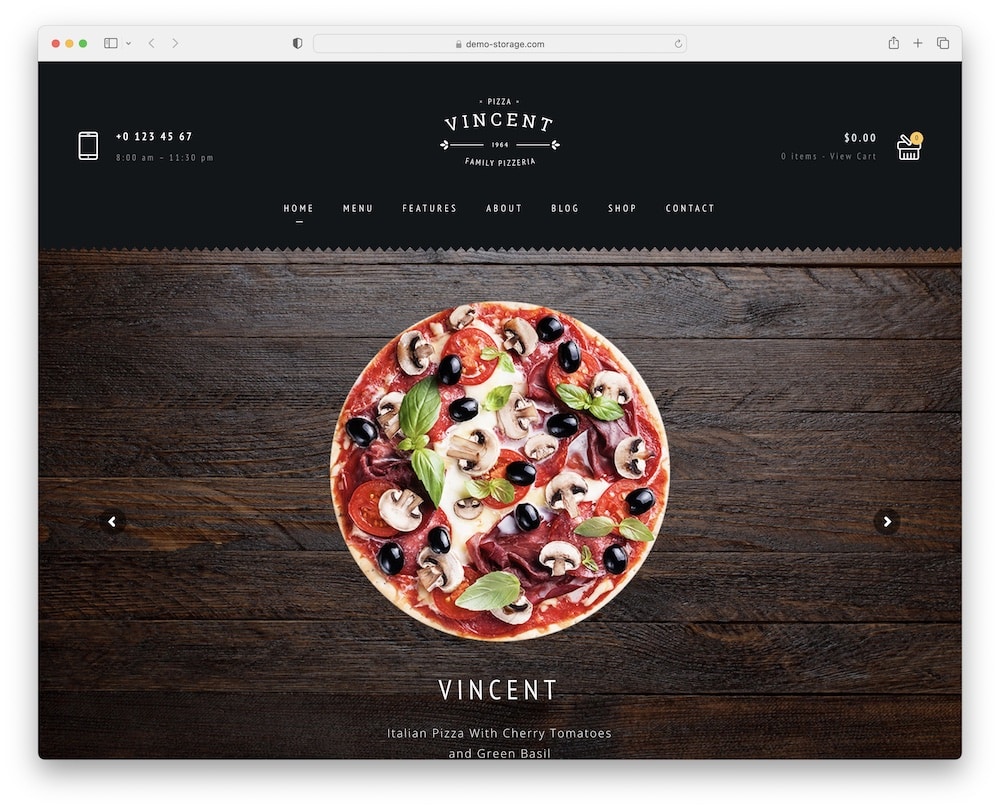 Say yes to PIZZA with Restaurant Vincent WordPress pizzeria theme!
Restaurant Vincent's design is created with an elegant dark style and includes the most popular plugins such as WPBakery page builder, WooCommerce, Slider Revolution, and Contact Form 7.
Now, who's with me? Nice, let's do this!
You can choose the pre-made layouts and customize their content, elements, typography, and colors. I think it is also important to start a blog (give people a reason to visit your site regularly).
Besides, Restaurant Vincent is smooth, cross-browser compatible, and SEO ready to get off to the best start.
All you need is MacBook, WiFi, and pizza!
Restaurant Vincent features:
1,100+ sales
4.9+ star ratings
Regular updates
1-click demo data import
Price: $59 (may vary)
MORE INFO / DOWNLOAD
DEMO
3. Pizza House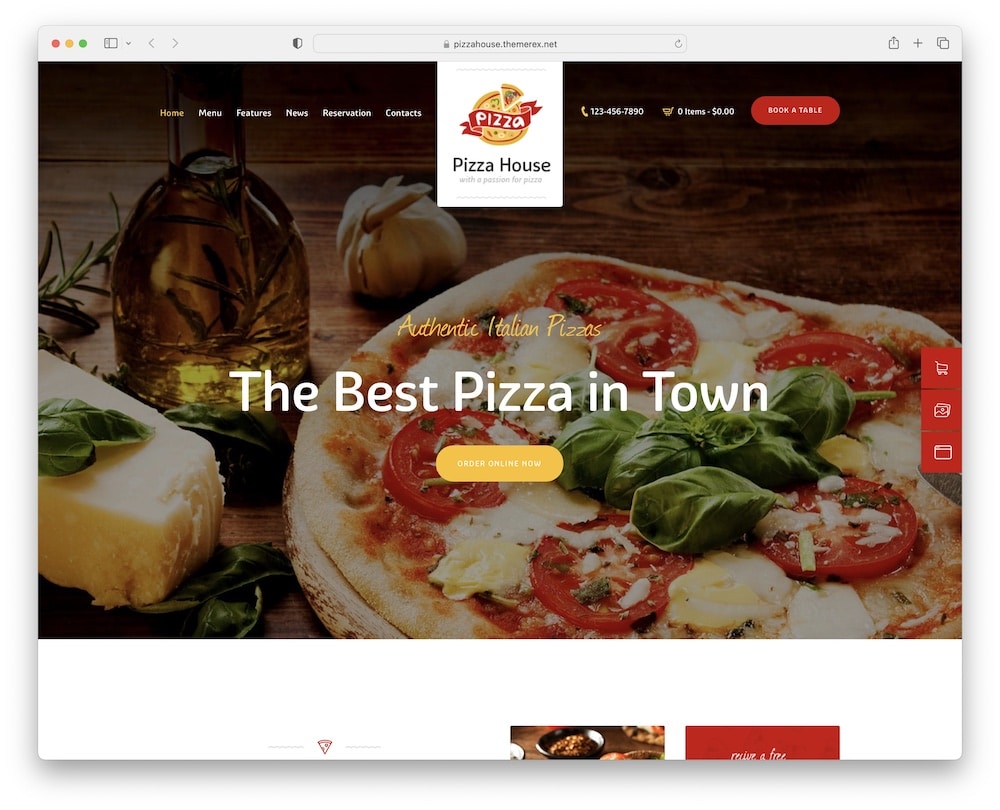 Save the planet with the colorful Pizza House WordPress theme!
Pizza House is modern and optimized for great performance. Besides, there's an option for everyone to modify it (Hello, WordPress page builder) to your business's look.
Keep calm; no coding is required!
Pizza House includes parallax effect backgrounds (my favorite!), customizable Google Maps, pretty icons, and a flexible mega menu.
Keep going…
You also get essential tools like an interactive booking system, online food ordering, event management, and a gorgeously designed menu for dishes. And you can even present gift cards.
Oh my gosh, Pizza House offers FREE lifetime updates. I am pumped!
Note: Feel free to check our best food delivery WordPress themes collection for more options.
Pizza House features:
MORE INFO / DOWNLOAD
DEMO
4. Ekko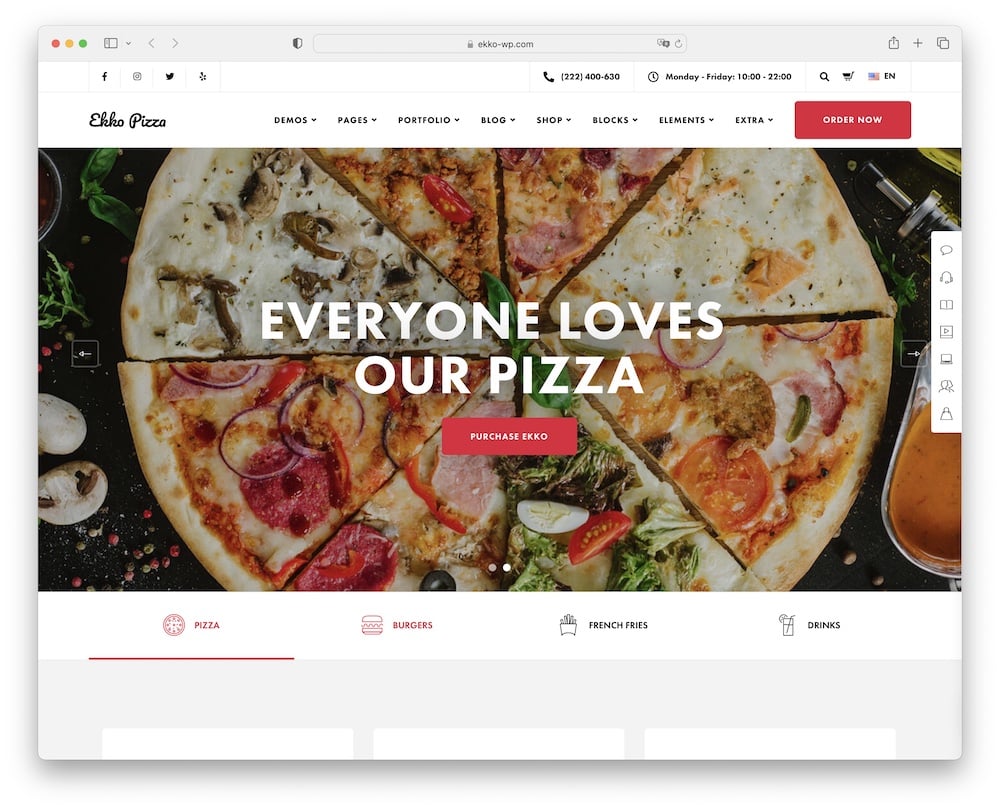 If you are a pizza lover, check out Ekko.
Ekko is a multi-purpose theme with a HUGE bundle of homepages, content elements, pre-made pages, and template blocks. BUT let's focus (this time) solely on the yummy Ekko Pizza demo.
You can gorgeously display your pizzas (it made me hungry!) and offer a quick and easy online order with its smart design. You can even promote your delivery app.
Pretty COOL!
Moreover, Ekko is also translation ready – no need to worry; it will be easy to translate the whole site due to its WPML compatibility and .po & .mo files. Give me five!
Take a bite of Ekko.
Ekko features:
6,200+ sales
4.7+ star ratings
Extensive theme options panel
Integrated WordPress slider plugin
Price: $59 (may vary)
MORE INFO / DOWNLOAD
DEMO
5. Lafka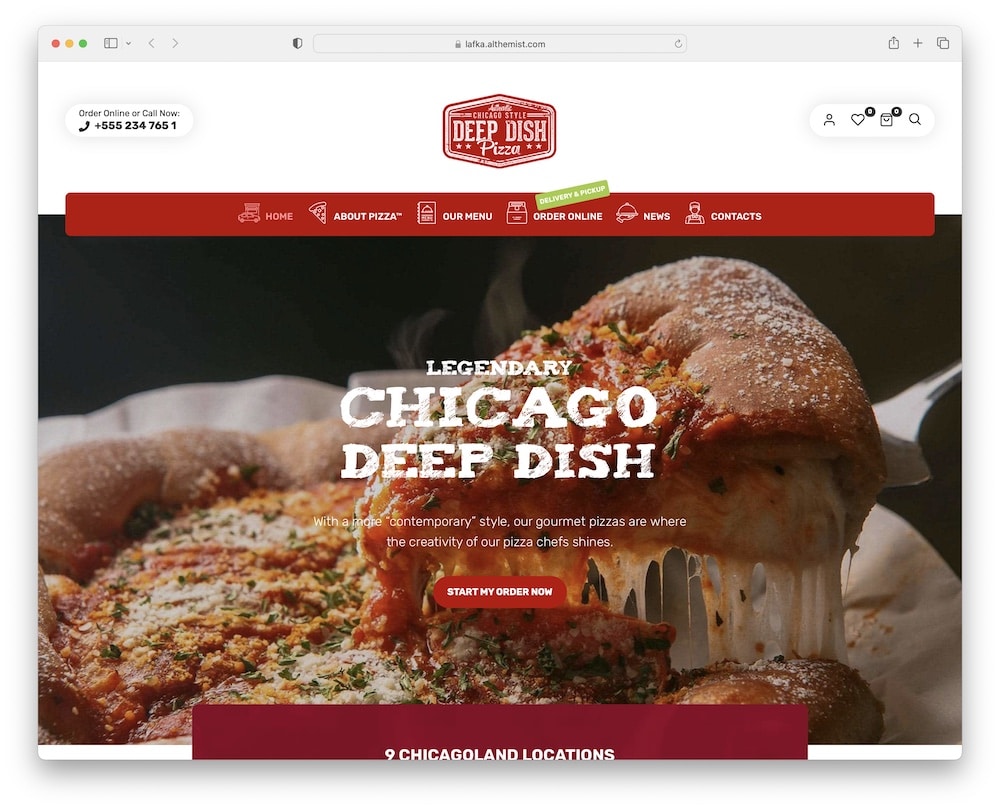 Love is in the air, and it smells like Lafka WordPress pizzeria theme.
Brilliant Lafka was built with online fast food businesses in mind to help you ensure the best user experience.
ALL DAY, NONSTOP.
My friends, with Lafka, your customers can even build their unique pizza! Super fun stuff, right? Yeah.
From custom delivery methods and zone maps to specific delivery time forms, nutrition guides, popup confirmations and many more useful features (and plugins) are included in Lafka.
Moreover, you get a smartly designed blog layout for sharing pizza ideas, recipes, and promotional news.
TIP: Don't hesitate to ask for help from Lafka's professional support if needed.
Remember, pizza fans surround you!
Lafka features:
MORE INFO / DOWNLOAD
DEMO
6. Marcello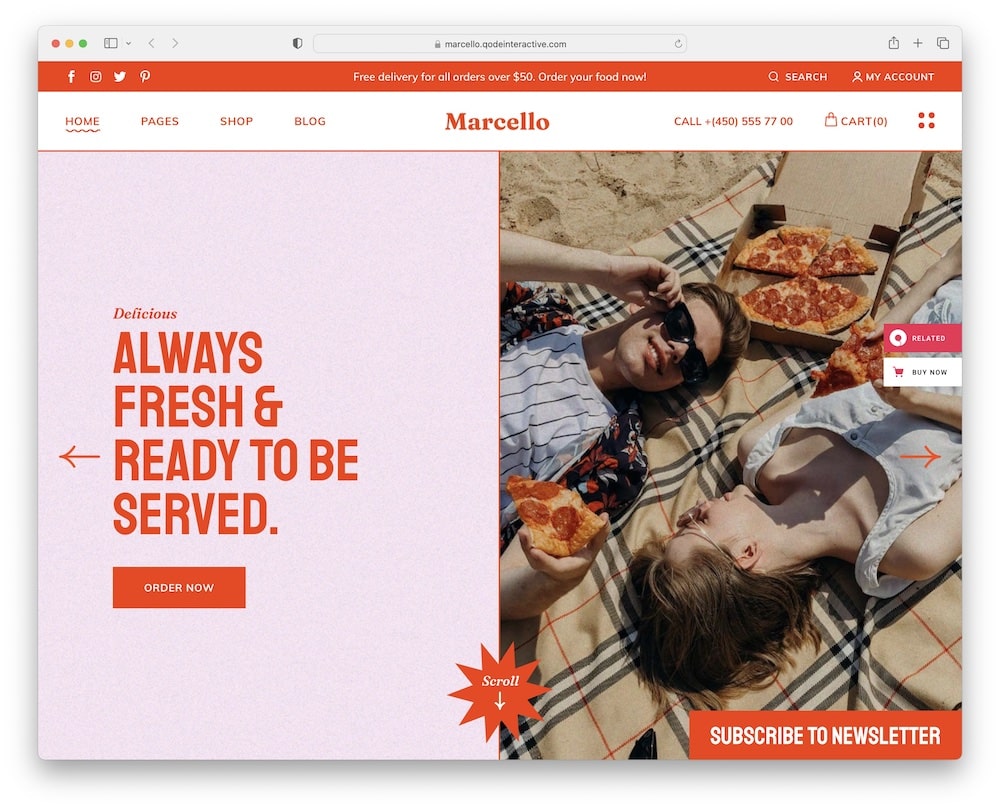 Keep it cheesy with the perfectly baked Marcello WordPress pizzeria theme.
You can import Marcello with one-click due to its ready-to-use homepages. And with a few twists made by AWSOME Elementor page builder, you can customize the look to your desires.
Also, trust me on Slider Revolution – this plugin makes content appear A LOT better! Just saying.
Furthermore, Marcello includes tons of WP widgets, icons, and shortcodes. Grab this amazing opportunity and introduce your pizzeria, menu, and team to the public.
But don't forget to share your customer's reviews to encourage others to "DIG IN," too!
Feel free to check out step-by-step guides, and not to worry: future Marcello updates are guaranteed.
Marcello features:
70+ sales
4.5+ star ratings
Very cool design
Price: $79 (may vary)
MORE INFO / DOWNLOAD
DEMO
7. Bridge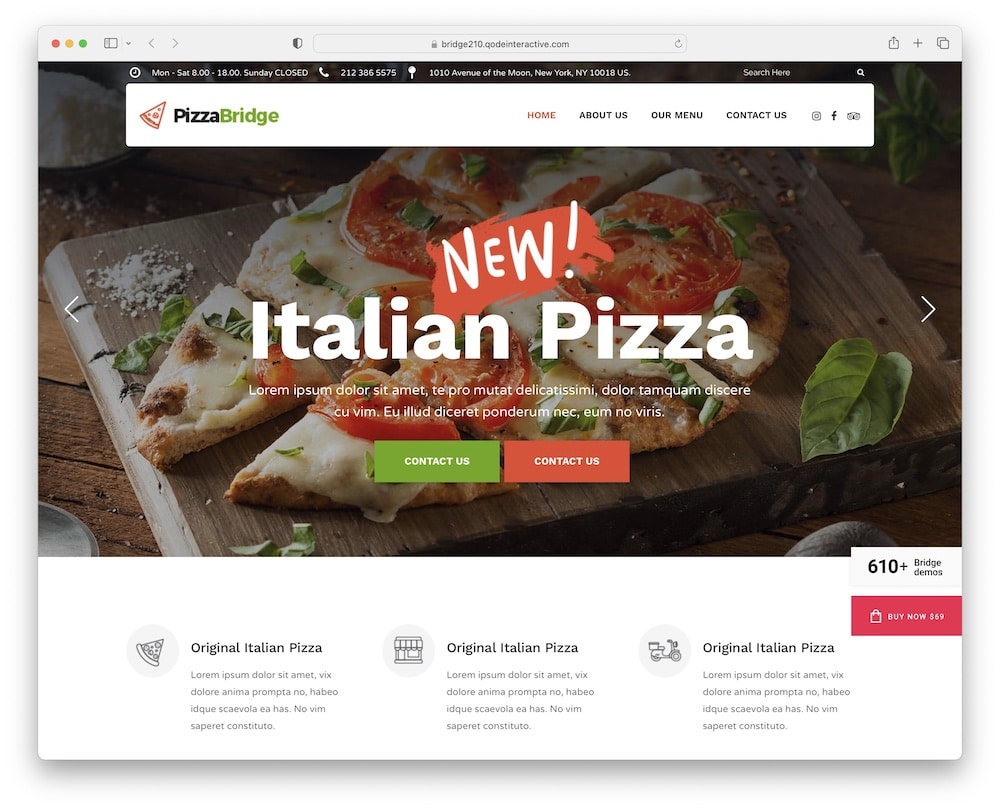 Hey, Bridge WordPress pizzeria theme, it's time to make pizza!
By default, Bridge allows you to create with WPBakery, Gutenberg, or Elementor page editors – it's your choice!
You can set the header & footer, and choose columns, animations, bars, icons, colors, and typography with just a few clicks.
Plus, it is retina ready, integrated with social media, and fully optimized for SEO = a dream come true.
Moreover, with Bridge you save $100+ with Bridge due to the included premium plugins – for FREE.
Hurray!
Good news: you also get parallax pages and layers for stunning sections that follow the movement of the mouse. I really like parallax scrolling and its illusion of depth!
Give Bridge a try!
Bridge features:
197,000+ sales
4.7+ star ratings
Endless customization options
Price: $69 (may vary)
MORE INFO / DOWNLOAD
DEMO
8. Pizza Restaurant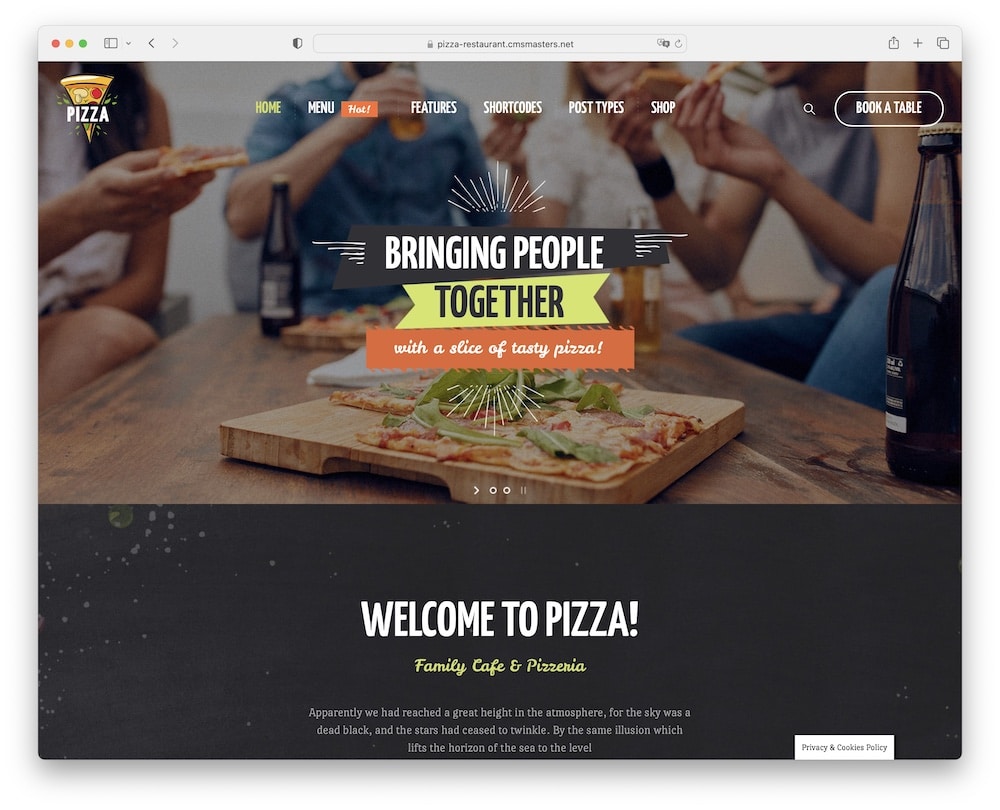 Everything you love about PIZZA gets even better when you use Pizza Restaurant.
So here's the deal.
This WordPress pizza restaurant theme is great for showcasing your delicious dishes. Besides, your customers can easily book a table or get your pizza delivered to their address!
With brilliant WooCommerce, you can turn your restaurant into an online store in just minutes. No more constant phone ringing; your customers can place & pay orders directly on your site!
WIN-WIN SITUATION.
And let's not forget about diverse and easy-to-use (big fan!) shortcodes, widgets, colors, and Google fonts.
These allow you to expand the possibilities of your site – for ultimate look and performance!
Pizza Restaurant features:
580+ sales
4.2+ star ratings
Integrated table reservation form
Ready-to-use blog & shop pages
Price: $59 (may vary)
MORE INFO / DOWNLOAD
DEMO
9. Domnoo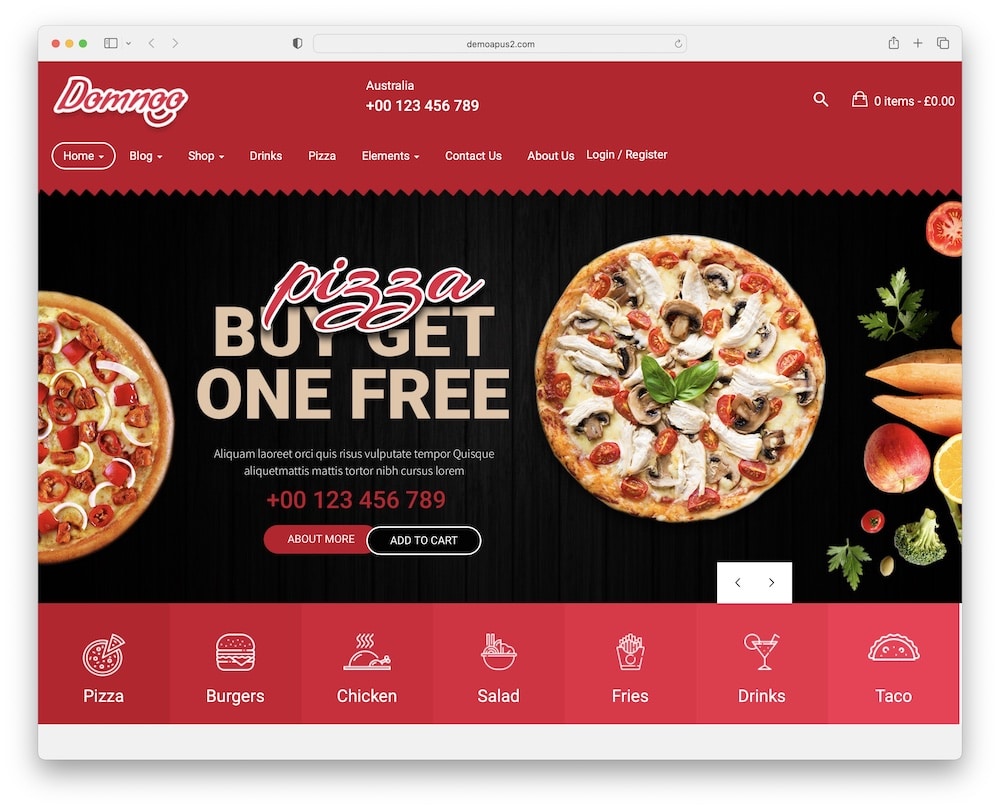 Pepperoni pizza & Domnoo WordPress pizza theme will never get out of style!
Choose between two pre-made demos, click install, and customize Domnoo's style as you like. Yup, you can mix, match and set it up (yourself!).
Note: You may also be interested in reading how to install a WordPress theme guide.
So handy, such incredible results!
Moreover, Domnoo is also cross-browser compatible to please all your visitors. It doesn't matter if they use Chrome, Safari, Firefox, Opera, etc. – they are all welcome! It works on all devices, too.
Oh, and included WordPress contact form plugin is a great tool for customized forms (effective and FREE).
I could go on and on about Domnoo. BUT.
The last reason why I recommend it: Pre-designed shop layouts and COOL option for promotion banners (with action buttons).
Spicy!
Domnoo features:
MORE INFO / DOWNLOAD
DEMO
10. Don Peppe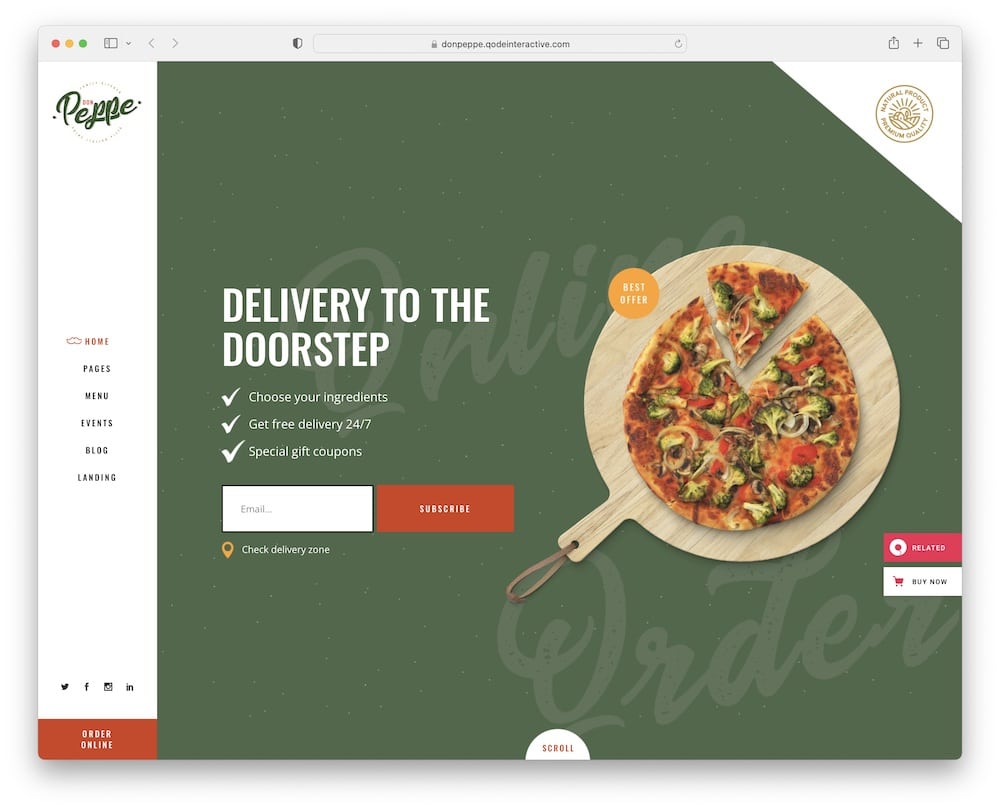 Worry less with the AWSOME Don Peppe WordPress pizza theme. Plus, eat more pizza and smile!
Modern Don Peppe comes in dark or light versions (your choice), offering a collection of pre-made layouts and pages. And, of course, the fantastic mega menu that'll boost your site's user experience.
Plus it includes an online shop and a handy booking system. Your customer can reserve a table via a practical online form. Pretty, COOL!
Don Peppe is also connected with social media & has a blog. BE. SMART.
And did I mention how video background can boost your sales?! Yup, instant attention grabber.
Who's ready for Don Peppe? I know you are!
Don Peppe features:
MORE INFO / DOWNLOAD
DEMO
11. Gloreya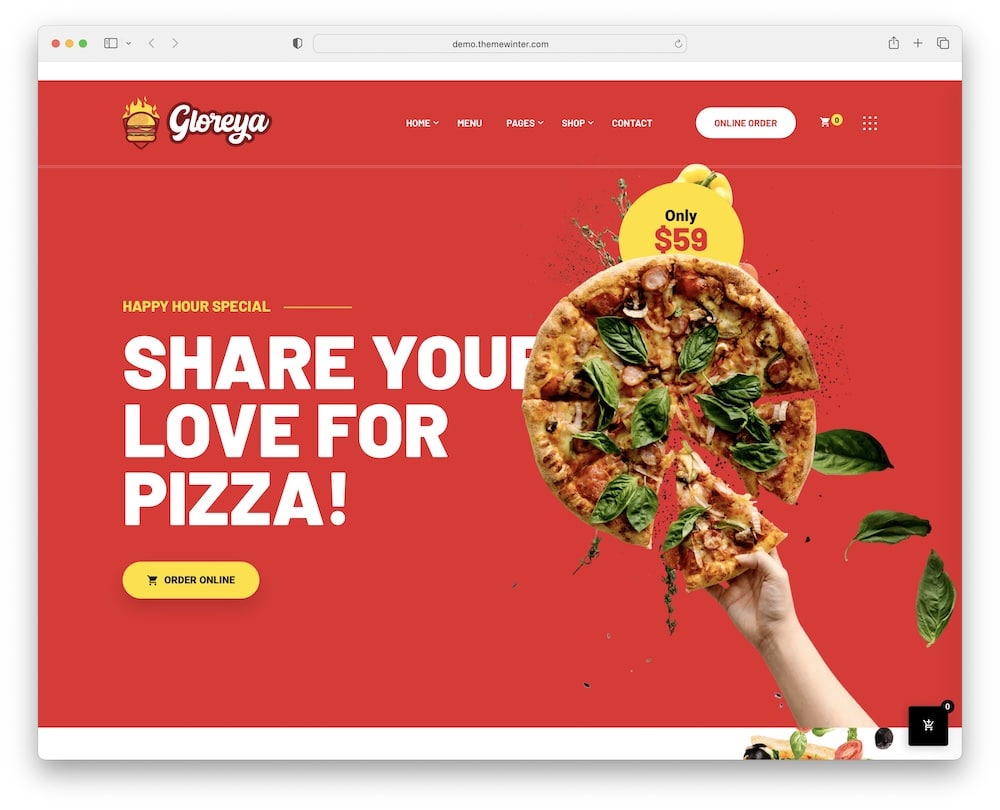 Gloreya WordPress pizzeria theme is for people who are really good at eating pizza! Like me.
Here's all the goodness that's ahead:
Three ready-to-use homepages, a drag&drop page builder, a reservation system, online food ordering, and WooCommerce plugin. LUCKY. DAY.
And, of course, there's nothing like a MailChimp integration. Its large selection of email templates, automation, and easy-to-create marketing campaigns are THE BEST.
Listen to me, it even comes with a perfect pixel design for smooth interaction – no matter the screen size.
Yup, hug me again!
Moreover, Gloreya offers well-prepared documentation and top-notch customer support.
Stop overthinking and just DO IT.
Gloreya features:
920+ sales
4.9+ star ratings
WPCafe plugin
Client reviews & testimonials
Price: $49 (may vary)
MORE INFO / DOWNLOAD
DEMO
7 Essential Features Of Every Epic Pizzeria Website
Even if your pizzeria is already doing really well and you're hyping up people on social media, consider building a website (if you don't have one yet) and take things to the next level.
Luckily, it's so easy to create a solid online presence after choosing a WordPress theme.
But it's important to remember these essential features when building your tasty pizzeria website.
How I Picked The Best WordPress Pizza Themes
The must-have features were also key testing factors when I was conducting this review.
Trust me, I found many poor-performing themes, but these eleven are JUST epic – like your pizza is.
Mobile optimized layout: Your pizza site needs to work on mobile devices smoothly. It also needs to load fast because you want to aim for the best user experience.
Pizza/food menu: I hate it when a pizzeria promotes only their location on their website, maybe some images and a contact form. Please include a menu! It's so easy to do with a theme that has an integrated food/drinks menu section. You can also use a WordPress food ordering plugin to automate delivery.
Minimal design: Even when it comes to pizza websites, keep it clean and simple. Instead of using fancy effects (except parallax – because it's COOL!) focus on storytelling, images, menu, videos and blog.
Beautiful images: You don't just want to stuff your website with some images – make them the best. However, keep them realistic because no one likes deceiving yet mouthwatering pizza images (unless the real-time situation looks EVEN better).
Promote special offers: If you have vegan, gluten-free, or any other special offerings, ensure they're clearly visible on your site.
Social media: Pizza is huge on social media, so you absolutely need to be present on at least two platforms. And you can integrate your feeds into your website, as well as offer your visitors to share your content. (Check our guide on how to add social share buttons in WordPress.)
Contact + location: Add a contact form, a clickable phone number and showcase your location on Google Maps. You can create a separate contact page but you can also add the info in the footer section.
Are you ready to grow your pizza business? GO!
::
Note: This article was originally published on October 13, 2022. But our team regularly reviews it and updates it with necessary improvements for accuracy.