Welcome to my review of the best free architecture WordPress themes that any architect can profit from.
I'm confidently saying that these are the most reliable ones after thoroughly investigating 40+ WP themes.
Even though you need to spend $0, you'll still create an EXCELLENT online portfolio for your architectural business.
You. Deserve. It!
No learning curve.
Just a fun process designing a website that makes an immediate difference.
This post covers:
GO!
Best Free Architecture WordPress Themes For Architects
You may also be interested in reading how to install a WordPress theme first.
1. Multifox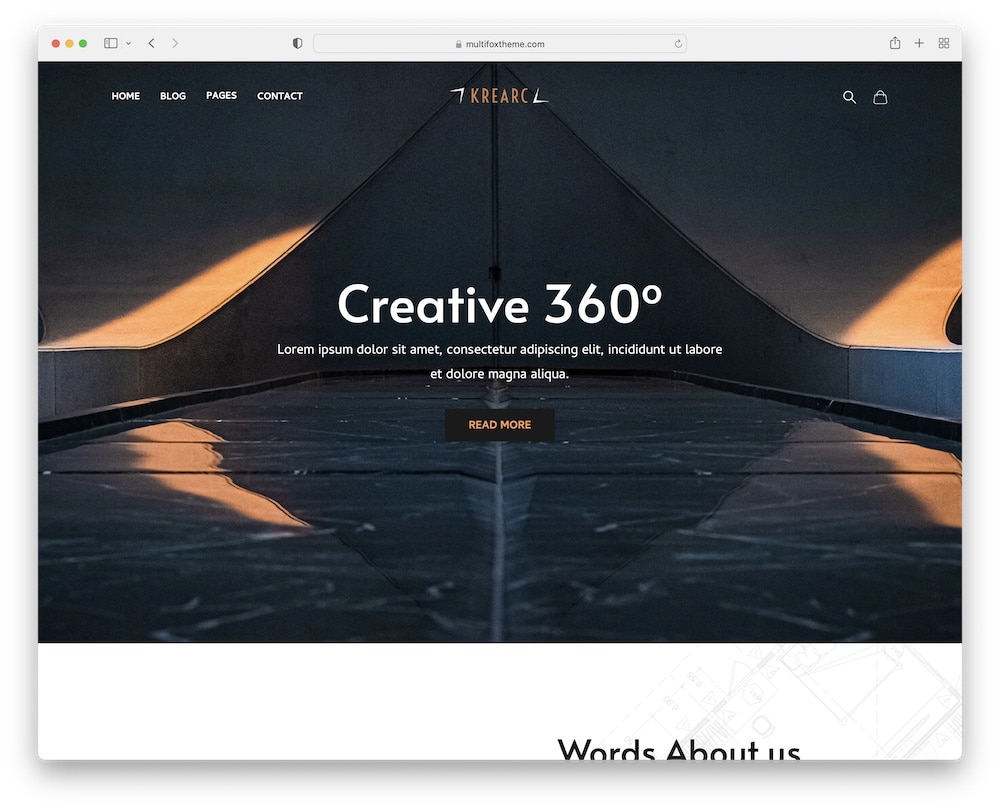 Sometimes it's just nice to look at different themes, especially if one has a gorgeous design and it makes you feel good.
Multifox free architecture WordPress theme – I appreciate you a lot!
This multipurpose theme comes with different ready-to-use demos BUT the Architect layout leaves an impression.
Honestly, I can't think about a better FREE theme than this one (spread the word!).
Maybe that's just me. However, Multifox is neatly coded, fully customizable, and highly optimized for SEO (Hi, Google). Plus, regular updates are guaranteed (sound of hands clapping).
Say goodbye to an invisible, ineffective website.
Plus, responsive Multifox works great with ALL popular WordPress page builders: Elementor, WPBakery, and Gutemberg. Lucky you!
Just take your idea and craft it into a high-quality website with stunning Multifox.
Multifox features:
90+ active installs
Overlay search
Brand slider
Testimonials
MORE INFO / DOWNLOAD
2. InteriorWP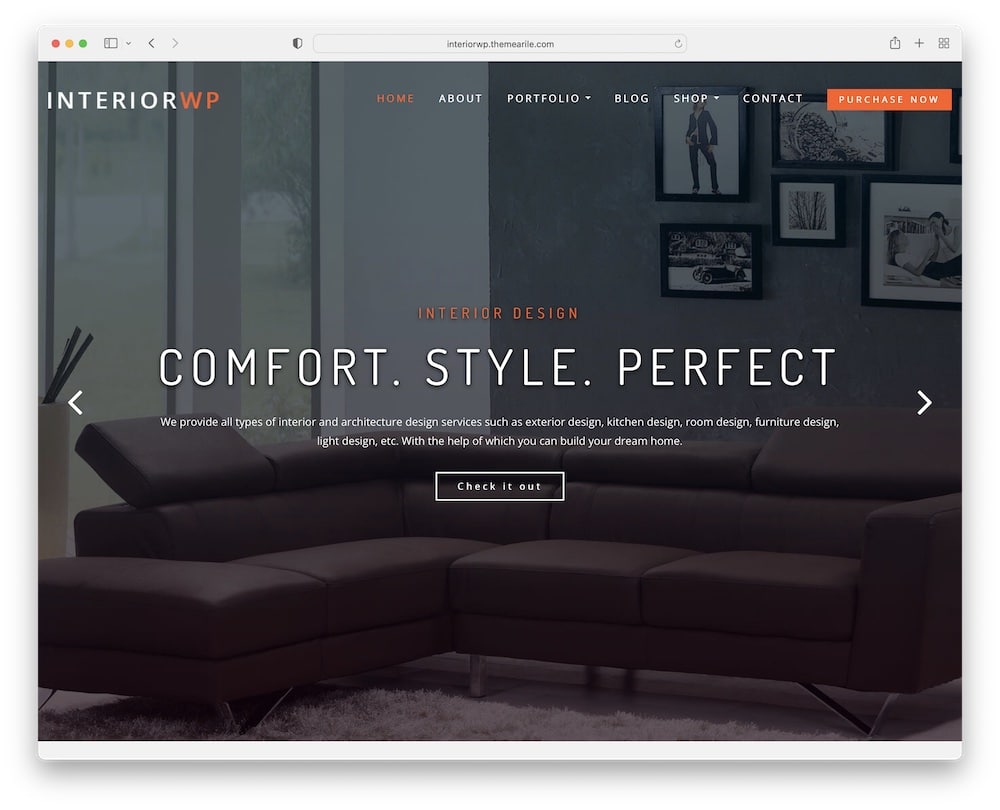 Let's admit it – telling someone you are an architect is pretty COOL. So be a lit architect with a stunning (!) InteriorWP site (showcase your projects with pride).
This modern and free architecture WordPress theme is responsive and mobile-ready for all kinds of screens.
Simply rearrange its sticky menu, change typography, add your logo, set attractive images, and edit your portfolio (Oh yeah!).
Plus, you can boost your engagement with your audience through an interesting blog (always a good choice).
Of course, InteriorWP comes with a great collection of popular plugins such as Elementor page builder, WooCommerce, and much more.
SPOT. ON.
Time for you to blow your own trumpet!
InteriorWP features:
MORE INFO / DOWNLOAD
3. Architect Designs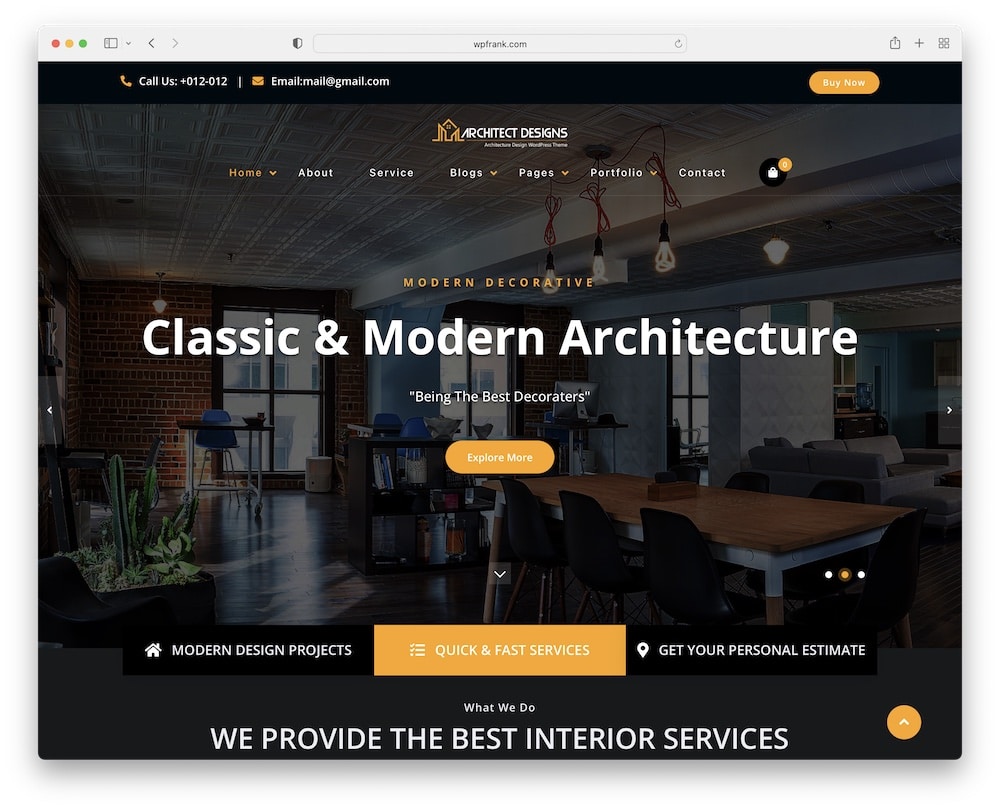 Architect Designs theme has many great features and is perfectly suited for bureaus, freelancers, decoration stores, agencies, or construction businesses.
Oh YES, Architect Designs is built with SEO in mind to help you rank higher in Google (more clicks & more traffic, baby!).
Plus, if you are thinking of translating your site to different languages, Architect Designs works like a charm (WPML, translation ready). YEY.
And newsflash: You don't need to have coding knowledge to partake! Multiple ready-to-use homepages are easy to use and customize (BOOM).
Let's get building with Architect Designs!
Architect Designs features:
MORE INFO / DOWNLOAD
4. Architectonic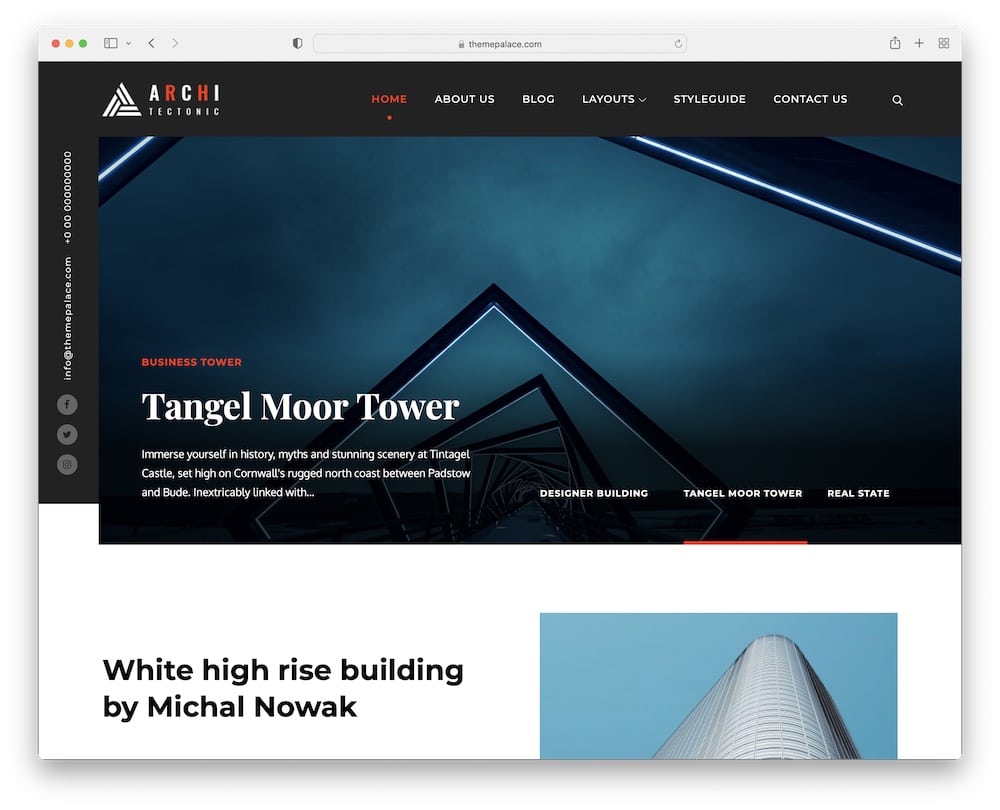 Let's take a look around brilliant Architectonic free architecture WordPress theme.
Architectonic is 100% customizable – mix, match, add, change and set it as you wish. Beautifully crafted layouts can't wait for your text and images.
Yup, you can look like an expert right from the start with flexible Architectonic. I like it!
Besides, Architectonic was designed for EVERYBODY, meaning it doesn't matter if you have any experience. (You will never have to write a single line of code.)
HURRAY!
Online store? YES, thanks to WooCommerce.
Keep in mind, Architectonic includes everything you need for a quick and simple start!
Architectonic features:
MORE INFO / DOWNLOAD
5. Architects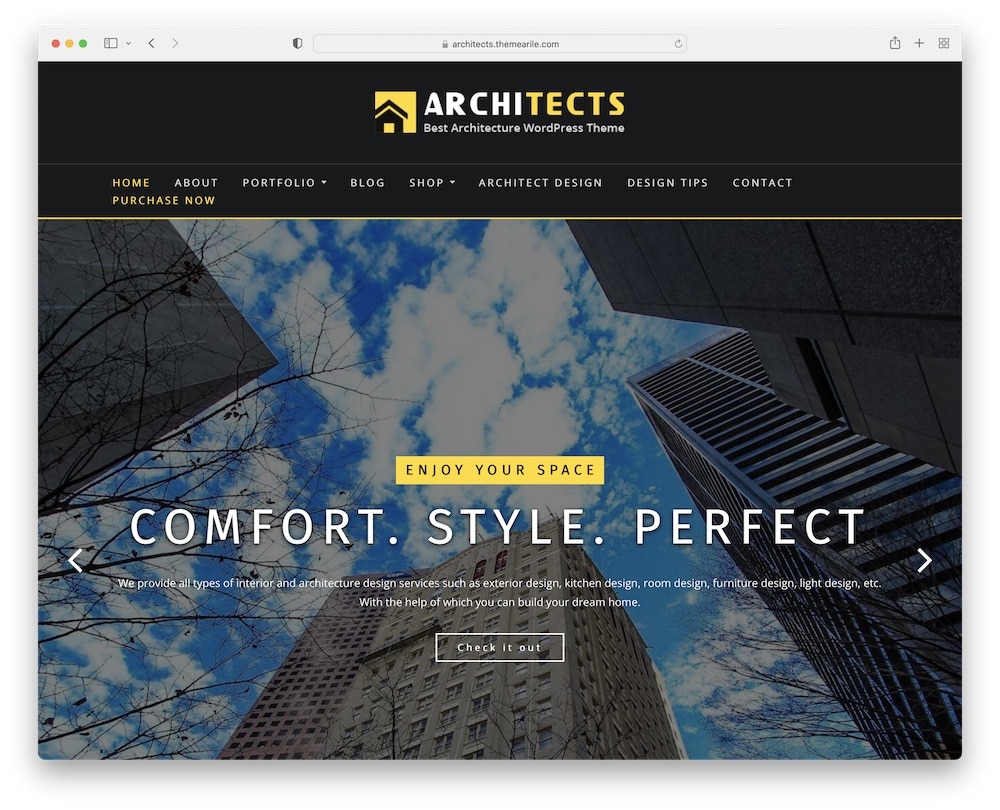 If you are interested in creating your own website then you are in the right place. Architects free architecture WordPress theme has a dark layout and stylish feel to its designs (immediately stand out!).
Repeat after me: I can fully transform it into my dream.
You can customize every part of Architects with the amazing Elementor page builder (meet drag&drop) – I know, total freedom!
To top it off, Architects is responsive and mobile-friendly – first-class view on all screen sizes. Get it?
It's a win-win for everyone.
And you can focus your time locally or globally – Architects is translation-ready.
Be public. Be easy to follow!
Architects features:
MORE INFO / DOWNLOAD
6. Modern Architecture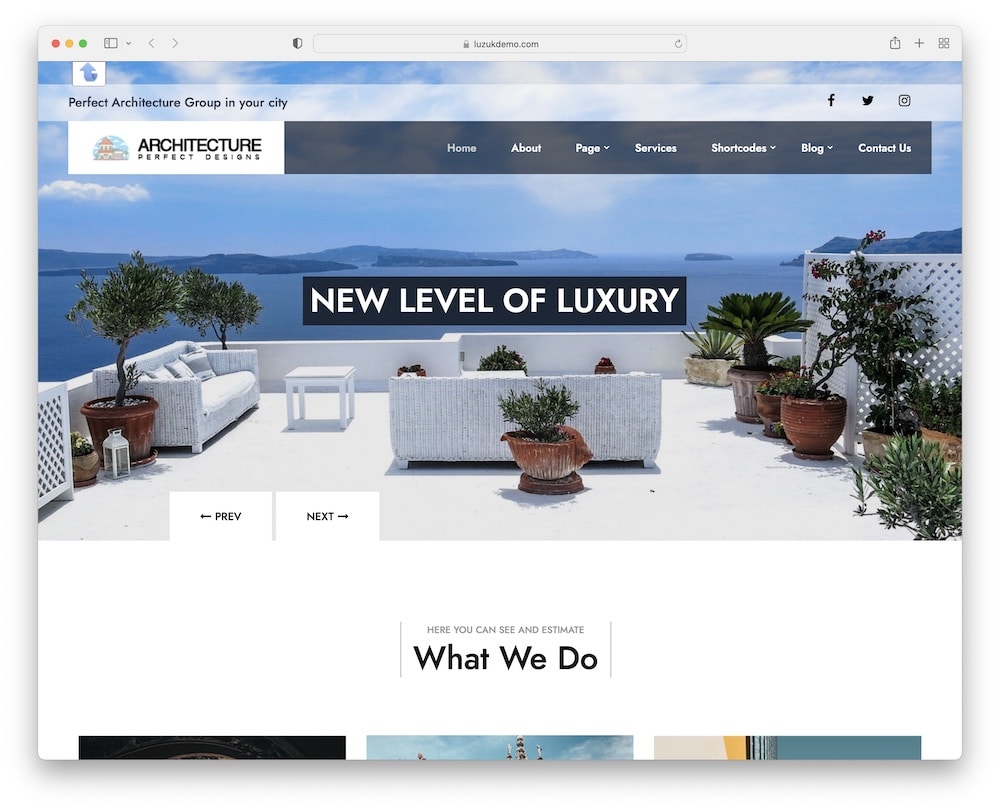 I am already starting to formulate ideas about all the ways you could use Modern Architecture free architecture WordPress theme.
Endless. Possibilities!
You can change colors, fonts, add layouts, elements, upload your logo instantly. How is that even possible!?
Modern Architecture is 100% user-friendly, includes pre-made designs, and is compatible with the most popular plugins.
Everything is made simple. This is key.
Important:  Modern Architecture is social media integrated. Since social platforms are THE THING, it is wise to grab that opportunity. You must be easy to follow today!
Just click the download button and treat yourself.
Modern Architecture features:
MORE INFO / DOWNLOAD
7. Architect Architecture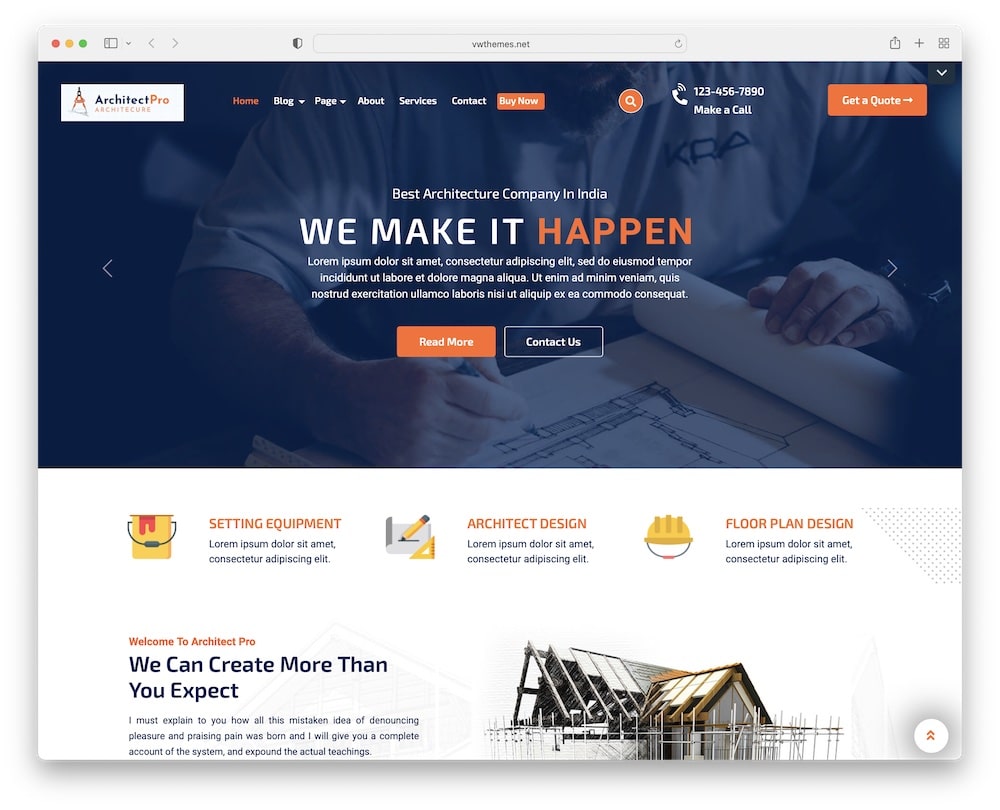 I don't know if I am surprised by Architect Architecture or not – but from my standpoint, I am always glad to see a fantastic design. Let's talk about it!
This free architecture WordPress theme is sophisticated and simply decked out. It showcases every detail of your business and the services you offer to potential customers by an efficient, ready-to-use portfolio (NO confusion).
Are you ready for bonus points? Start writing a blog!
Architect Architecture multiplies its magic with great performance (fast page load time, SEO optimized, retina ready) and even better CSS effects & animations. (Double finger pistols bang bang!)
Activate Architect Architecture and maximize your exposure.
Architect Architecture features:
100+ active installs
Call-to-action buttons
Great documentation
Scrolling animations
Accordions (FAQ)
MORE INFO / DOWNLOAD
8. Building Construction Architecture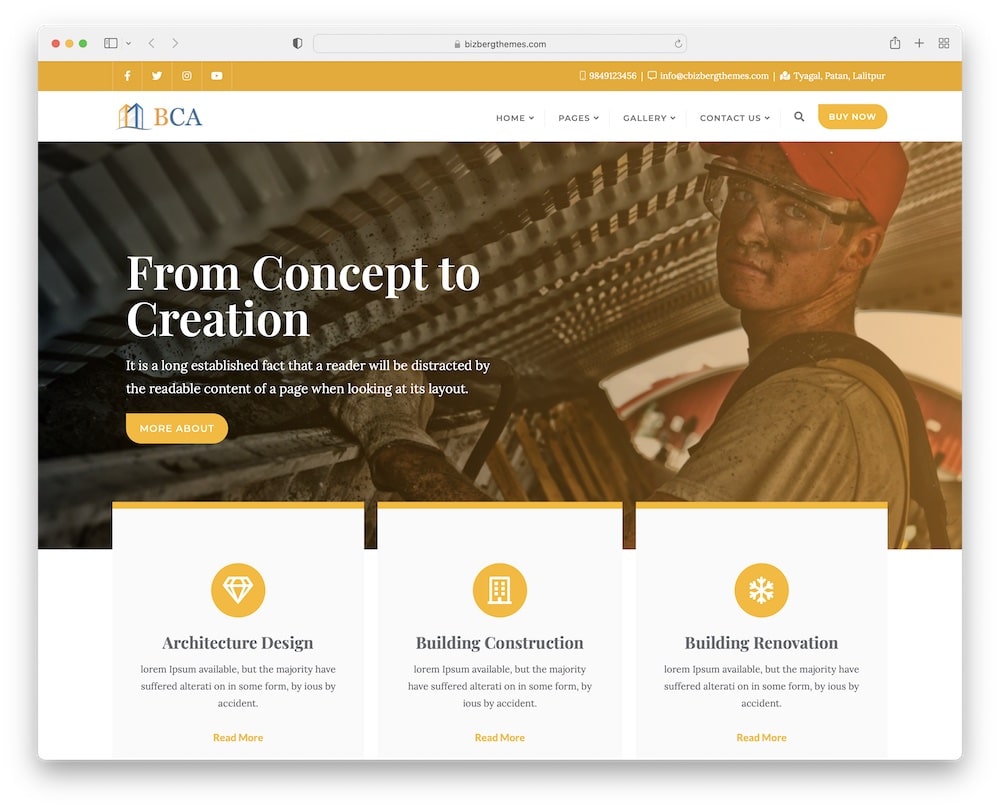 Building Construction Architecture theme is specially designed for bureaus, architecture agencies, and building companies.
The layout? GORGEOUS.
I am excited for you, about this free architecture WordPress theme and the feature-rich options that come with it. Besides, Building Construction Architecture is easy to follow and comfortable to use.
Also, the all-time-favorite Elementor builder is fully supported (honestly, you don't need any other plugin to create a flawless website).
Wait. Wassthat? You heard it!
What about sizeable documentation? LOVE IT. Building Construction Architecture customer support? LOVE IT. And no one suspects that actually, this is a child theme of Bizberg (secret is out). Whoops!
Building Construction Architecture is worth your time.
Building Construction Architecture features:
800+ active installs
Sticky menu
One-click import
Integrated gallery
MORE INFO / DOWNLOAD
9. Construction Kit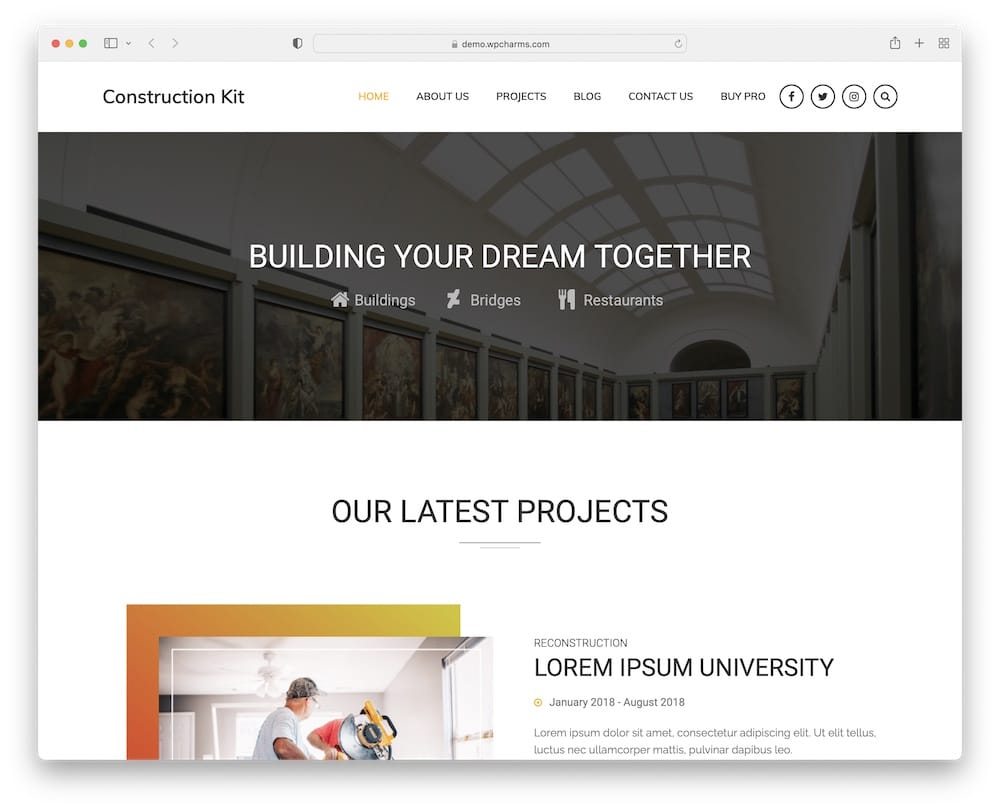 Explain your architecture graphics, introduce materials you use, communicate what you want to build, and share ideas to the people you want to serve with stylish Construction Kit free WordPress theme.
Construction Kit is compatible with Gutenberg (better & quicker content editor) – move your content around with freedom. Yes, YOU have complete control.
It also works great with Beaver Builder, Brizy, and KingComposer.
MORE. IS. MORE.
BUT that's not all. You can make a beautiful online store with amazing WooCommerce or start an exciting blog with different tips, news, and valuable statistics.
Bring all your inspiration into one place – check Construction Kit out!
Construction Kit features:
400+ active installs
3 demos (!)
Translatable (WPML)
Back to top button
MORE INFO / DOWNLOAD
10. Construction Hub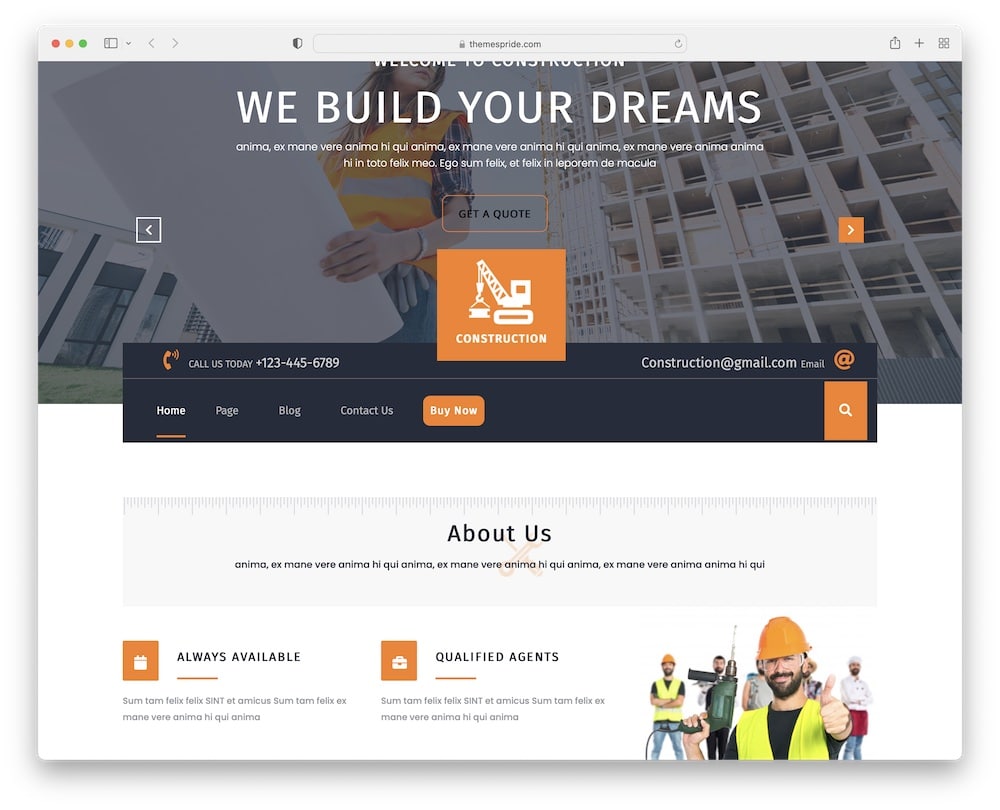 The point of a website is to leave a mark – a positive impression about who you are as a person, agency, or architecture bureau.
You can become a high-ticket player in this fantastic industry with Construction Hub free architecture WordPress theme.
Ready to jump in?
First of all, think about all the successful projects you have already completed and showcase them with interesting details and images. Next, present you experts, employees, and chief engineers.
Match made in heaven, I'd say.
In the same way, the pre-made homepage makes room for clients' testimonials.
BUILD. TRUST.
Plus, plenty more juicy benefits are in store for you with irresistible Construction Hub.
Construction Hub features:
400+ active installs
Social media integration
Editable colors & fonts
Multiple internal layouts
Blog & contact pages
MORE INFO / DOWNLOAD
11. Spangle Lite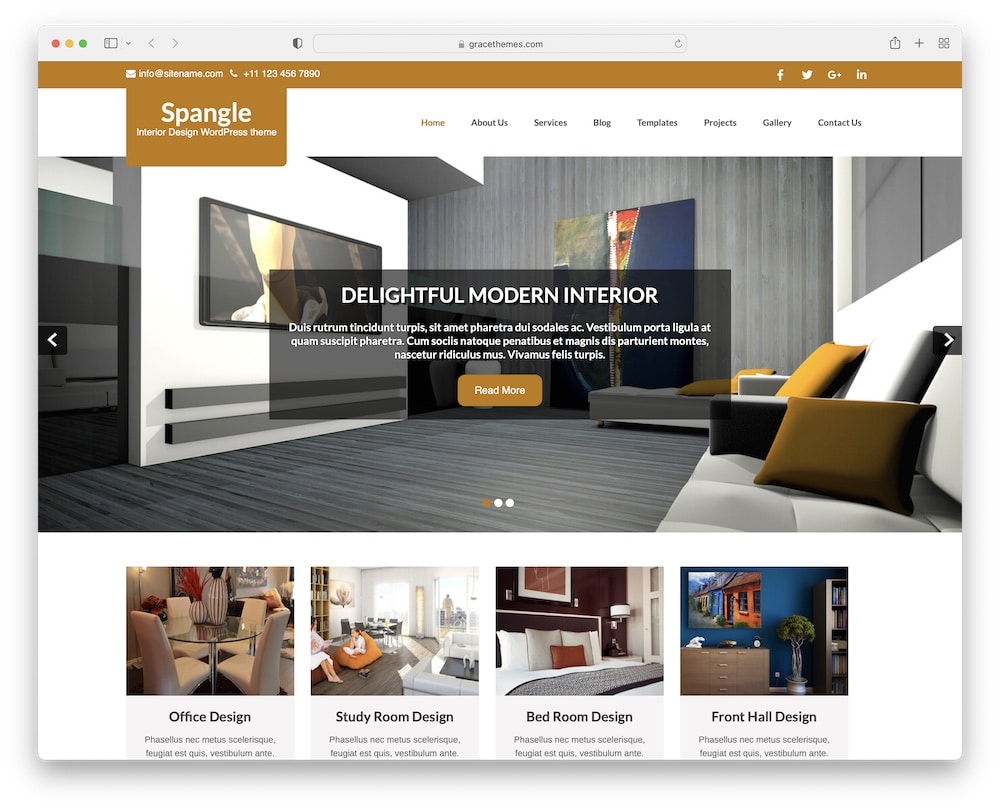 So here it is – Spangle Lite free architecture WordPress theme in all its glory. Its clean, minimalistic, and attractive design eliminates distraction (no faff), focusing on your content.
Spangle Lite is easier to use than you think.
Once you try it, a light bulb will go on in your head, and you will be ready to change, mix, add, and set your site's elements like a BOSS.
Upgrade and customize the look 100%! ACTION.
PRO TIP: Turn on integrated social media buttons and connect with your audience directly online. Use Spangle Lite to your advantage.
You are off with a great foundation driven by Spangle Lite.
Spangle Lite features:
200+ active installs
2 custom widgets
Google Fonts
Visual editor
Filterable gallery/portfolio
MORE INFO / DOWNLOAD
12. Nirman Construction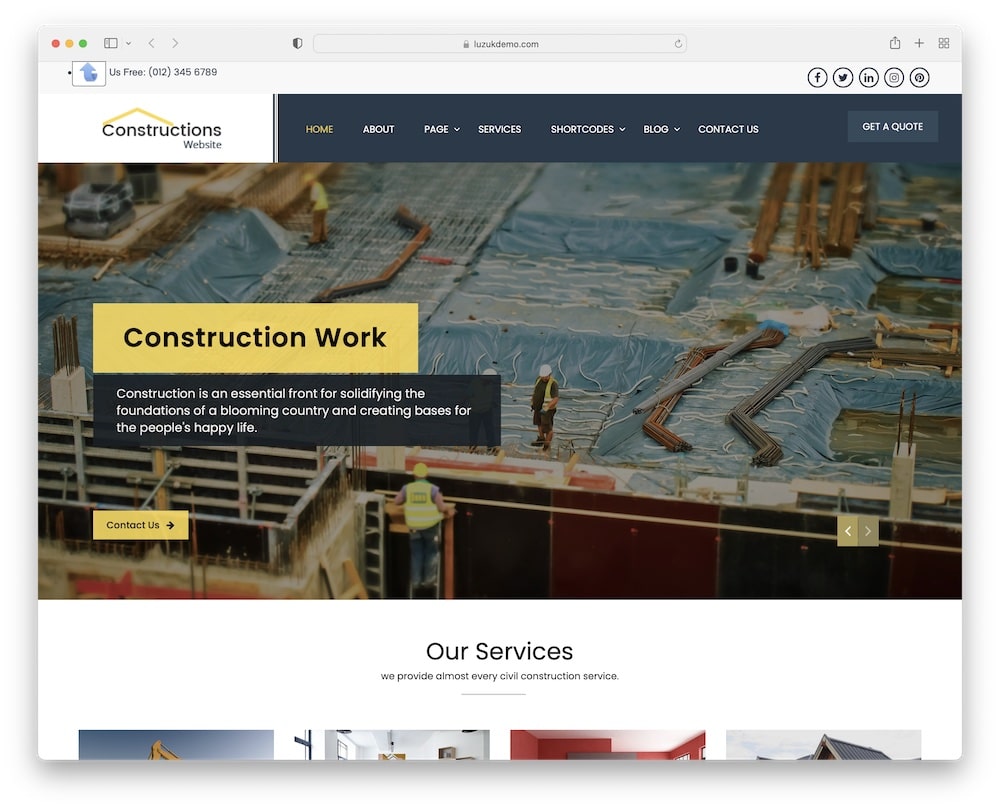 Nirman Construction gives you an eye-catching online space to display your projects, services, testimonials, and your professional team members.
Pretty COOL.
Nirman Construction is cross-browser compatible, SEO friendly, fully responsive & retina-ready. Great customer experience guaranteed (today is a good day!).
Free and quality design. Hard to beat.
Pre-built layouts are simple to customize (0 experiences required) and unique – at least in my world. Various creative options can dramatically impact your website (dare to make a noise).
On "my to-do list" or "must-have" is always a blog. There is no substitute for the value blog can provide to your website.
Nirman Construction is really worth your time!
Nirman Construction features:
300+ active installs
Newsletter subscription box
Client feedback slider
Custom banner
MORE INFO / DOWNLOAD
7 Essentials Of A Great Architecture Website
Do you want your business to appeal to more clients?
Then make sure you take your online presence seriously!
However, you can save yourself plenty of time by picking a (free) WordPress theme for architects and firms.
And here are the six essential features every architecture website needs.
We also had these in the back of our minds when studying each theme for this extensive review.
1. Mobile first design
You need to have a website that's 100% responsive. It absolutely must adapt to all screens effortlessly, which will immediately increase your site's user experience.
Also, you need to pay close attention to picking a fast WordPress theme.
It's important that you do whatever it takes to ensure your website has the ultimate performance.
Because this means your visitors will enjoy browsing it more, which, consequently, means more business deals.
2. Design
Along with mobile and speed optimized layout, it's also important to consider the overall website design.
However!
It's pretty easy when it comes to architecture websites. Why?
Because minimalist always wins!
Keep it clean, and don't be afraid to have lots of white space. This is a simple technique that will put your content first.
3. Portfolio & case studies
Create a beautiful portfolio that consists only of high-quality images.
But at the same time, you shouldn't forget about adding a case studies section to your website.
This is where you go more in-depth about presenting a particular project, sharing images, speaking about the process, and more.
4. Services
When people want to work with you, they'll want to know what you have to offer.
For this reason, a separate page explaining your services will be very handy.
But we also recommend explaining them briefly on your home page.
You can also add call-to-action buttons to your contact form, phone number, bookings, whatever! (You can check our best call to action WordPress plugins that offer many great options.)
Moreover, you can also use a WordPress pricing table plugin if you'd like to share how much your services cost. (Many clients prefer knowing the cost on the spot.)
5. Blog
We'll always say to every client that works with us, regardless of their industry, that they need to run an active blog on their website.
And the same goes for architecture businesses.
You can share a ton of educational content free of charge because the more you give, the more you get.
This type of content will also show how experienced you and your team are, adding another layer of trust.
6. Testimonials
Speaking of trust, incorporate testimonials across your website, which can be instant new-business-deal boosters.
You can add them to your home page but also your services page, just so your potential clients see them more (than once).
You can even use a WordPress testimonials plugin if you need more functionality than the default, built-in option that comes with the theme.
7. About us
Finally, don't miss introducing yourself and your firm. Add headshots to your About us page with short bios and even social links.
Show who's standing behind the epic architecture business that you're running.
Don't forget to also peek at how to choose a WordPress theme if you haven't yet worked with one – especially a free one.
::
Note: This article was originally published on February 14, 2022. But our team regularly reviews it and updates it with necessary improvements for accuracy.