Are you looking for the best Shopify restaurant themes to create a strong online presence?
Five of our clients exclusively requested to find the best themes for their food businesses.
We did, but we also want you to benefit from the 14 themes that performed best during our test.
Anyone can use any of the themes below (experience unnecessary!).
Making improvements with Shopify Sections is easy since there's no need to deal with code for customizations.
This post covers:
Present your food menu, offer food ordering, link your website with social media, start a blog, create an online food store – it's all possible.
Take your restaurant business to the next level with Shopify.
It takes minutes to build a great Shopify food website.
THE ULTIMATE 6:
Best Shopify Food & Restaurant Themes
1. Burgs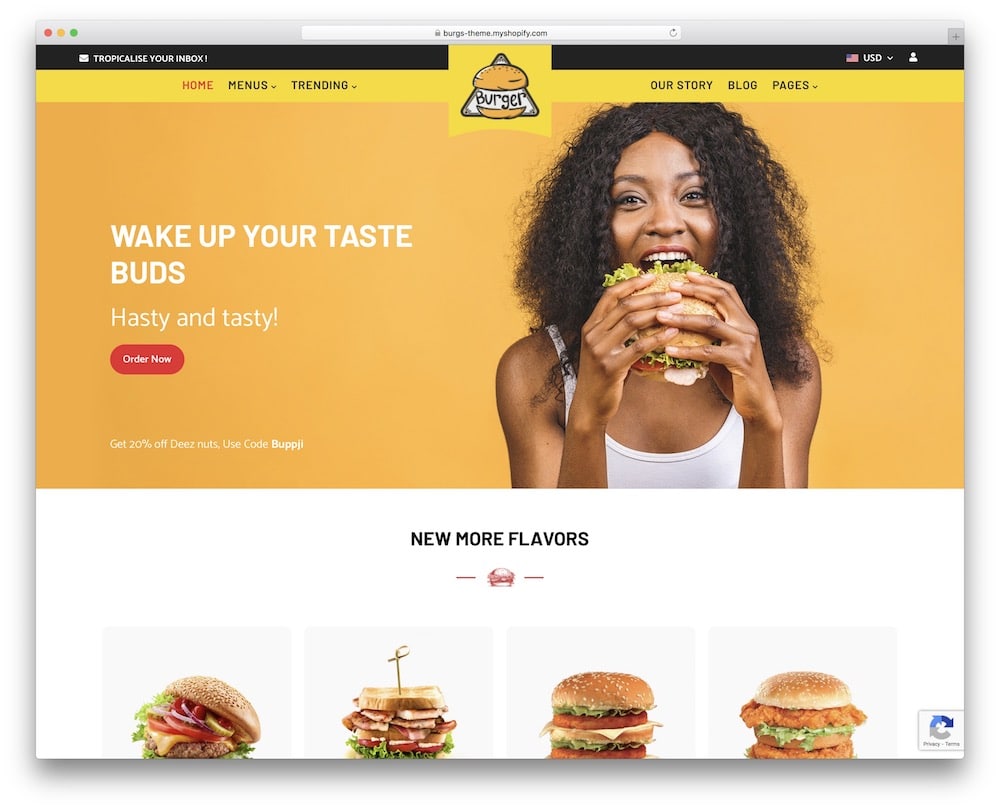 Burgs is a flexible Shopify food delivery and restaurant theme that will give you a stylish site.
It has beautiful, clean predefined templates, blog variants, great visual elements, pop-up notifications, and social sharing integration.
Moreover, Burgs also comes with first-class features such as Slider Revolution, Owl carousel, mega menu, and Ajax tools.
With Burgs, your performance will be at the top-level at all times. If you are looking for an optimized, easy-to-use, eCommerce site, you better not miss Burgs.
Food is Burgs's huge passion, so we are sure you will connect with this theme smoothly.
Burgs features:
20+ sales
4.5+ star rating
Order tracking
Wishlist
Price: $58 (may vary)
MORE INFO / DOWNLOAD
DEMO
2. Foodry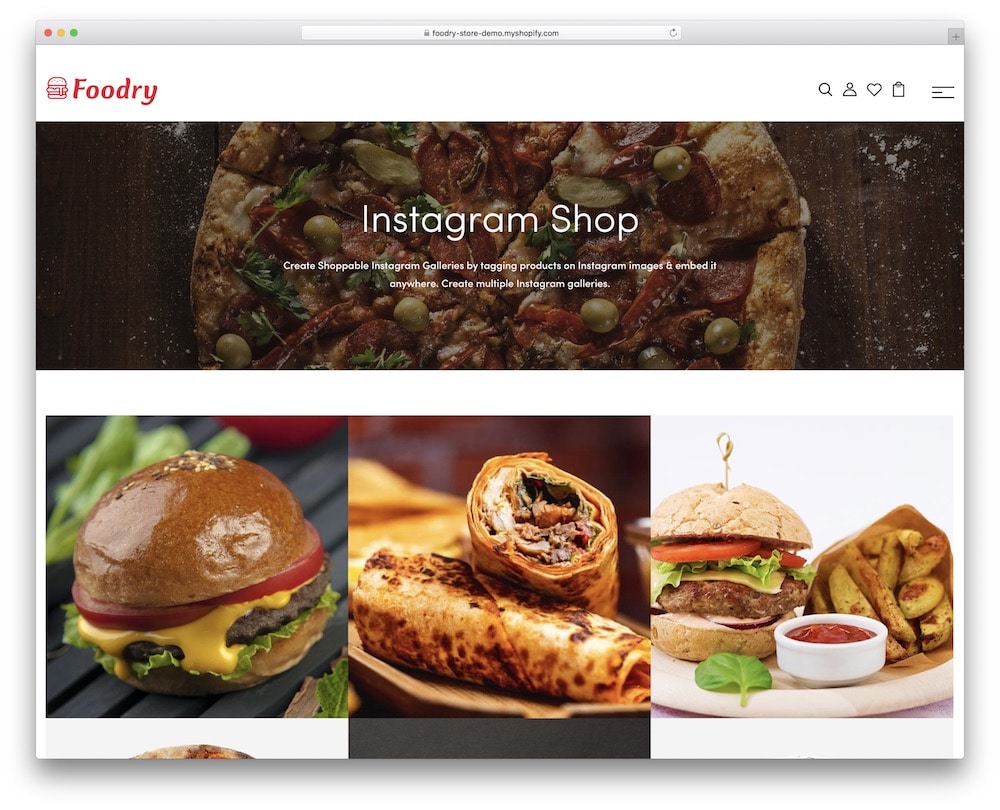 There are no limits when it comes to the Foodry Shopify restaurant theme. This theme is suitable for every food business and product store.
With five modern and versatile home pages, horizontal and vertical mega menu, and different product display options, you can build your unique site and online shop.
With Foodry, you don't need any previous experience and skills. Pre-designed themes are easily customized and you can adjust everything quickly and efficiently.
You can create your online food heaven with Foodry.
Foodry features:
90+ sales
4.6+ star rating
Different labels
Social integration
Price: $56 (may vary)
MORE INFO / DOWNLOAD
DEMO
3. Yummi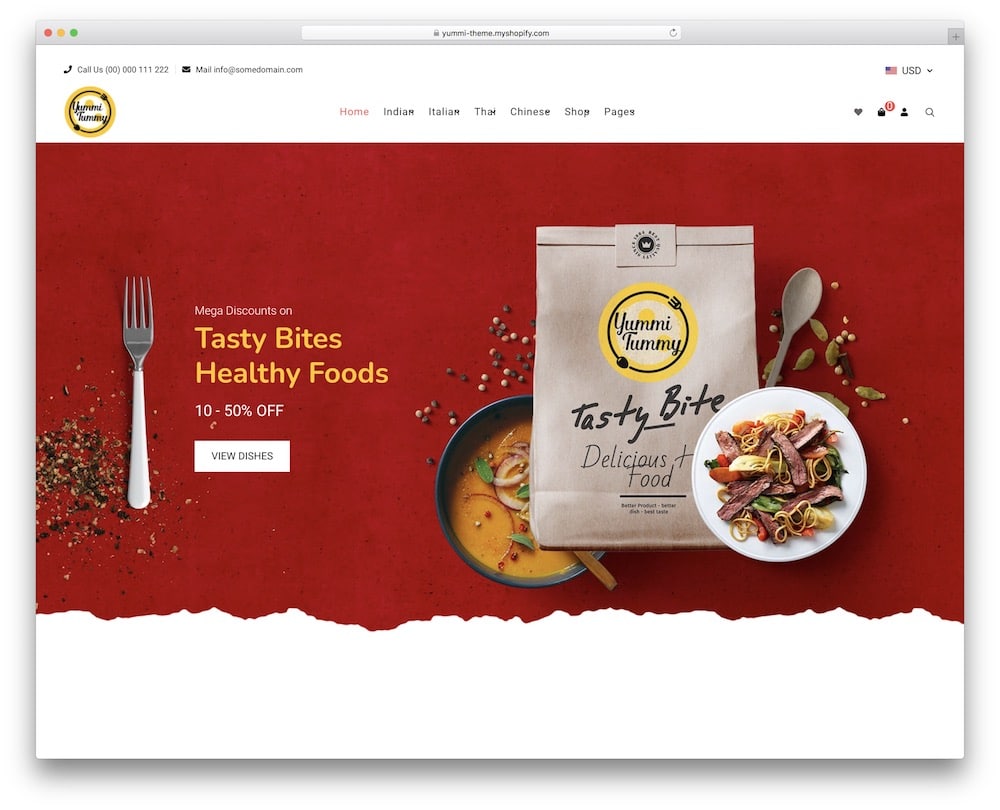 This Shopify restaurant theme will help you grow and open a new chapter in your business story. Yummi is a beautiful and stylish theme, that you can effortlessly customize.
It will save you money for professional designers and programmers since you can do it all by yourself.
With Yummi, you can collect new leads with the pop-up newsletter option, switch currencies, order tracking, and invite your customers to follow you on different social media.
Remember that friendly and professional support will have your back no matter where the problem appears. Give Yummi a chance.
Yummi features:
140+ sales
5-star rating
Product quick view
Practical filtering
Price: $69 (may vary)
MORE INFO / DOWNLOAD
DEMO
4. Cafi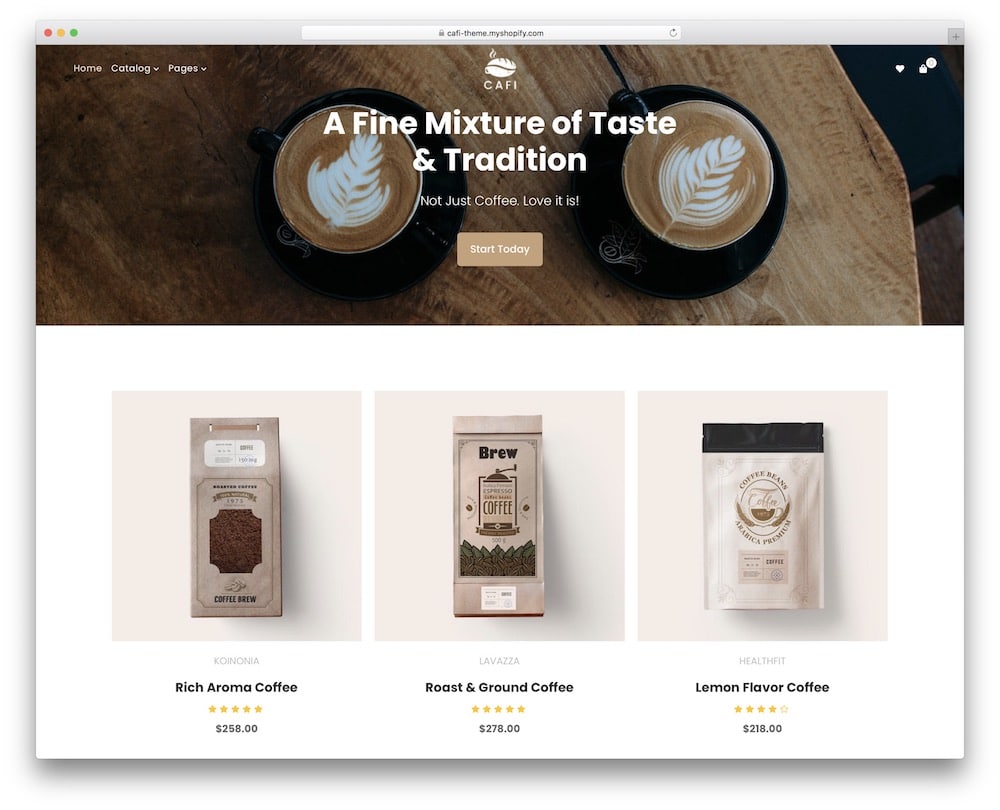 Cafi is a tool for building a website for a coffee shop, yet it can be totally transformed for other business and restaurant needs.
You don't have to limit yourself; if you like the design of Cafi, you can make it work in various demands.
This Shopify theme will showcase your products most attractively and make sure your visitors will have a great user experience due to fast page loading, responsiveness, and retina technology for more vivid and sharp images.
As for the features, you will get everything you need – Cafi overdelivers.
Cafi features:
40+ sales
4.5+ star rating
Quick customizations
Professional support team
Price: $59 (may vary)
MORE INFO / DOWNLOAD
DEMO
5. Holofood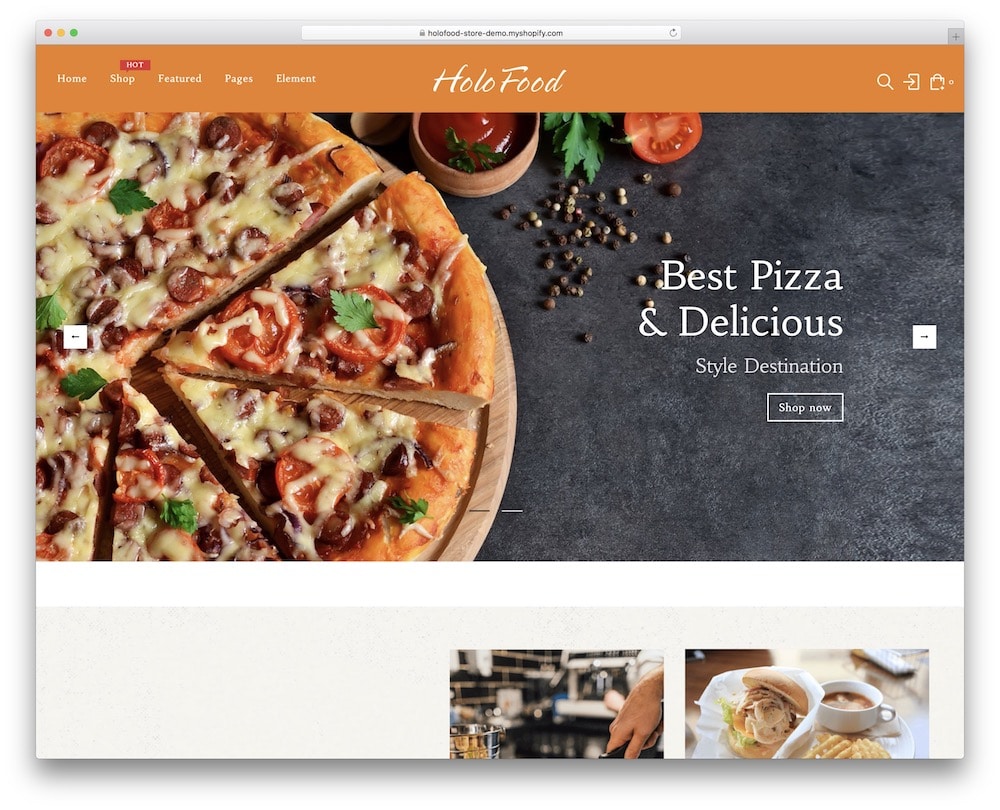 Holofood is a popular Shopify restaurant theme for restaurants, bakeries, pizza houses, and other food taverns.
With Holofood, you will get five pre-made homepages, different shop and product layouts, product tabs, and also beautiful blog design.
Remember that Holofood is fully customizable and ready to create anything you imagine and want. As you would expect, you will also get crucial features like a mega menu, Ajax technology, product carousel, and parallax theme effect.
All the combinations of cool trends will make your new site unique and noticeable.
Holofood features:
30+ sales
4.4+ star rating
Product carousel
Excellent navigability
Price: $56 (may vary)
MORE INFO / DOWNLOAD
DEMO
6. Apetine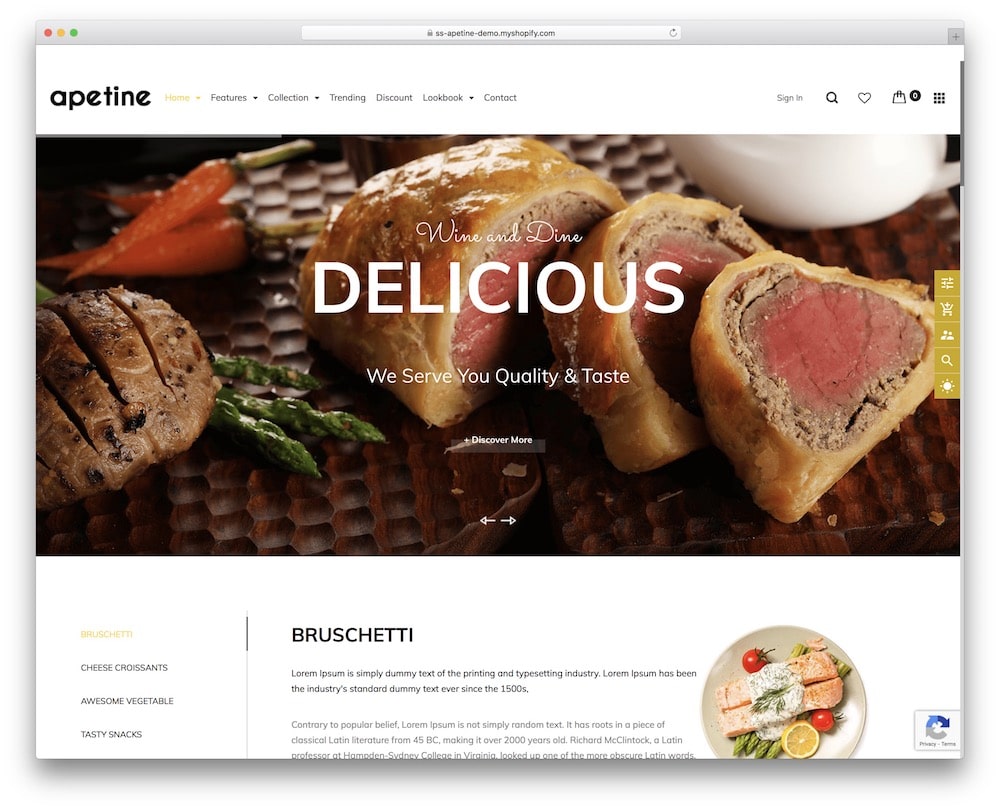 Promote your food products and business with Apetine Shopify restaurant theme.
This fully responsive and mobile-friendly theme offers multiple listing layouts, over fifty page styles, and unlimited color options.
In addition to that, you will have complete control over the theme's configuration with a powerful Apetine admin panel.
The performance of Apetine will be smooth and fast due to its speed optimization and mobile-friendliness.
Also, this eCommerce theme supports RTL languages so you can easily go global. Once you decide to work with Apetine, your business will catapult.
Apetine features:
30+ sales
4.6+ star rating
Mobile menu
RTL support
Price: $48 (may vary)
MORE INFO / DOWNLOAD
DEMO
7. Sushi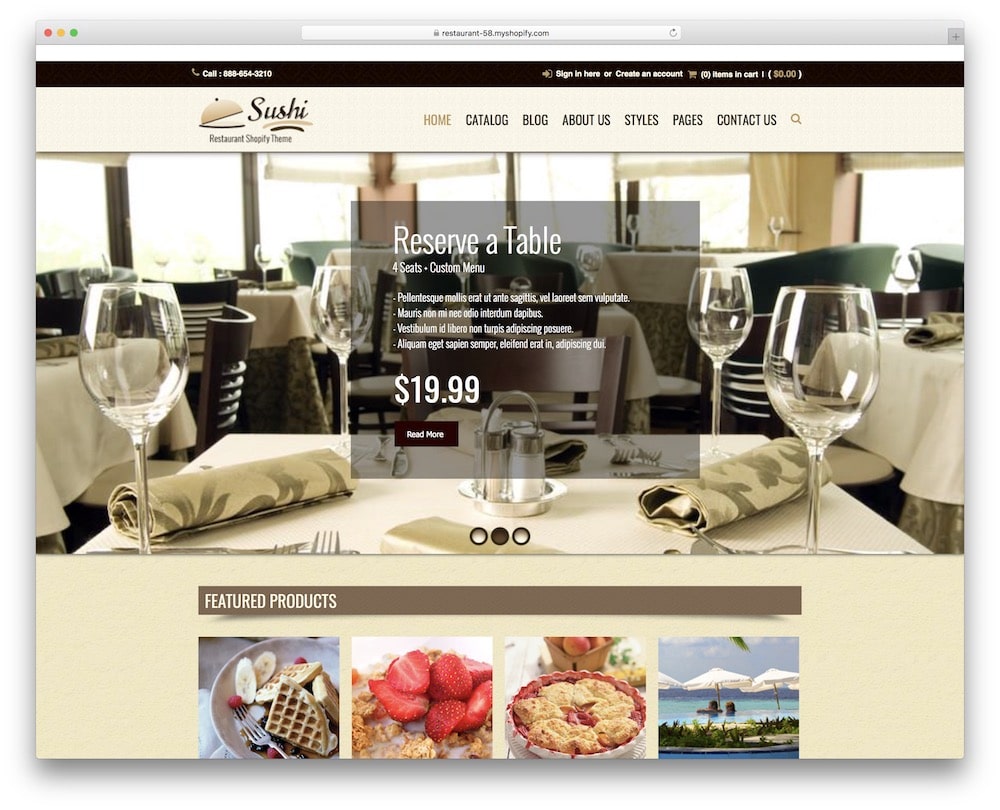 Sushi comes with a pretty and clean design that combines numerous great features and trendy elements.
This Shopify food theme is easily adjustable to all your needs and wishes, even if you have no building experiences.
Moreover, it offers various typography and color choices, different home page styles, customizable sidebars, and a unique blog.
Sushi's excellent features will help you work quickly and professionally with the outcome of a great new site.
You have everything you need with Sushi to build something outstanding and take off your meaningful business.
Sushi features:
45+ sales
4.4+ star rating
MailChimp integration
Currency switcher
Price: $45 (may vary)
MORE INFO / DOWNLOAD
DEMO
8. Yumme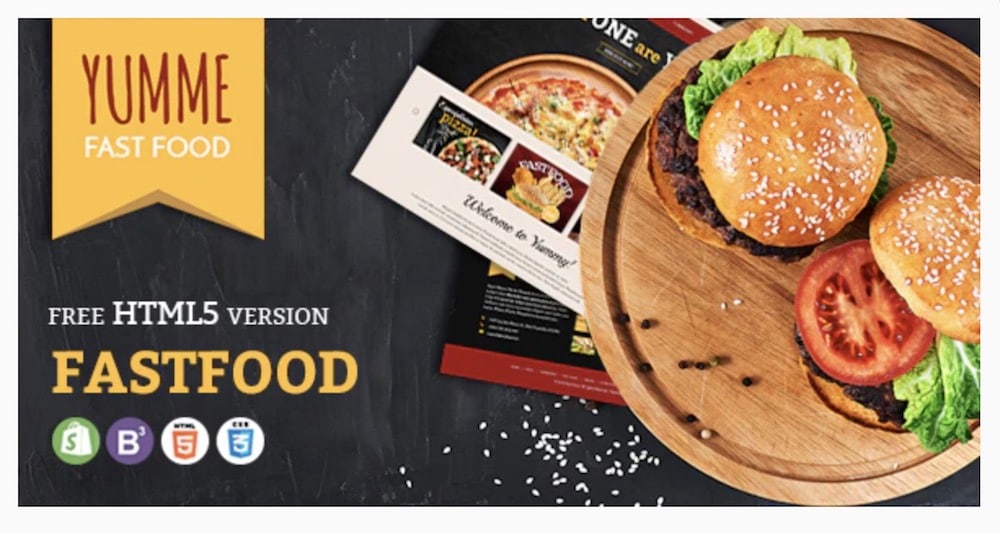 Yumme is one of the most popular Shopify restaurant themes due to its modern, and attractive design.
The theme is optimized for all screen resolutions and will work smoothly on all visitor's devices. You will get pre-made homepages that are fully customizable and ready to go.
You can also make your website stand out from others with unique typography and unlimited color changes for header and footer, content, and other modules.
Remember, you don't need to be a designer to make all this magic happen.
Furthermore, Yumme has an Ajax wishlist, drop-down menu, and advanced product filter. Shine online with Yumme.
Yumme features:
60+ sales
4.6+ star rating
Shopify Sections
Google rich snippets
Price: $56 (may vary)
MORE INFO / DOWNLOAD
DEMO
9. Chik

Chik is a trendy and modern Shopify theme that aims at restaurants, food deliveries, organic products, and burger shops. With Chik you get all sorts of stuff and awesome features.
This theme is optimized with SEO in mind and fully integrated social media, making it easy to share all your content with the world.
Chik comes with a mobile-optimized design to ensure your customers have a great user experience and a good time scrolling on your site.
Features like Ajax tool, newsletter pop-up, order tracking, and currency switcher will make your site even more professional.
A big business starts with an enjoyable website.
Chik features:
40+ sales
4.7+ star rating
Countdown timer
Brandable checkout
Price: $55 (may vary)
MORE INFO / DOWNLOAD
DEMO
10. Lezada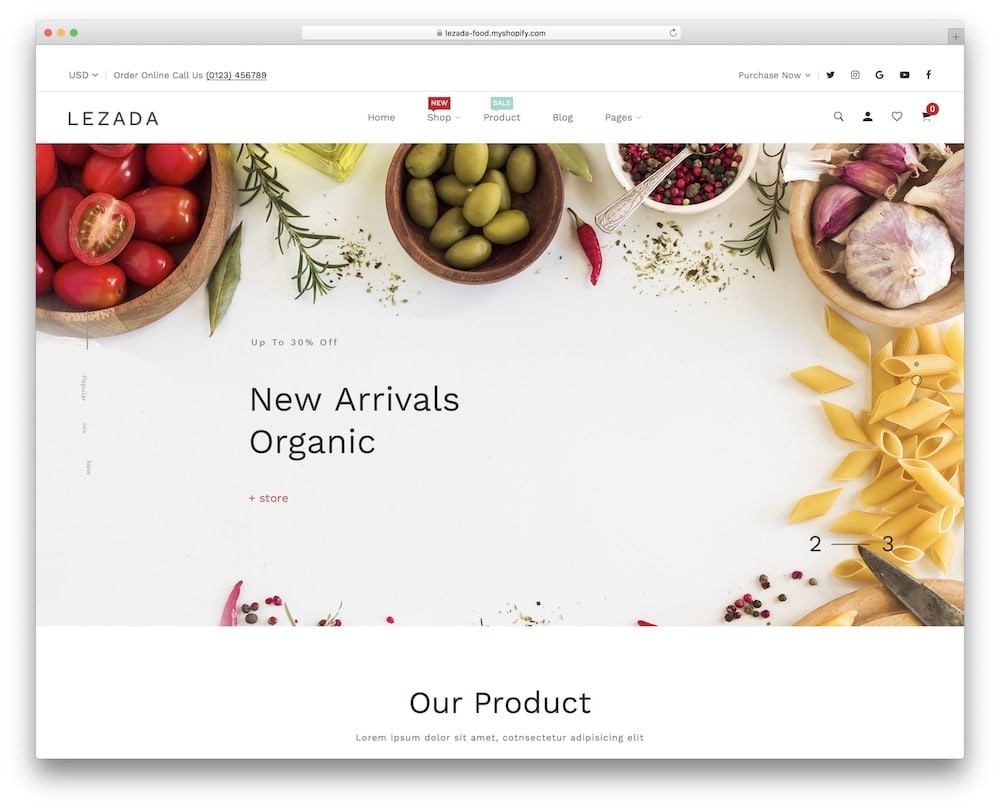 Lezada is an outstanding Shopify solution that works for nearly any website you can think of. With 100s of home demos, you can expect many to be for the food business.
Whatever Lezada does, it does it with fantastic style and outstanding performance.
All the sample material that you find in the package works very well out of the box.
Of course, if you would like to tweak Lezada, you can customize it to your liking (and even create a Shopify landing page).
Moreover, Lezada is also fully RTL compatible and offers you to start a blog.
Lezada features:
2,500+ sales
4.9+ star rating
Unlimited possibilities
Slider Revolution
Price: $79 (may vary)
MORE INFO / DOWNLOAD
DEMO
11. Makali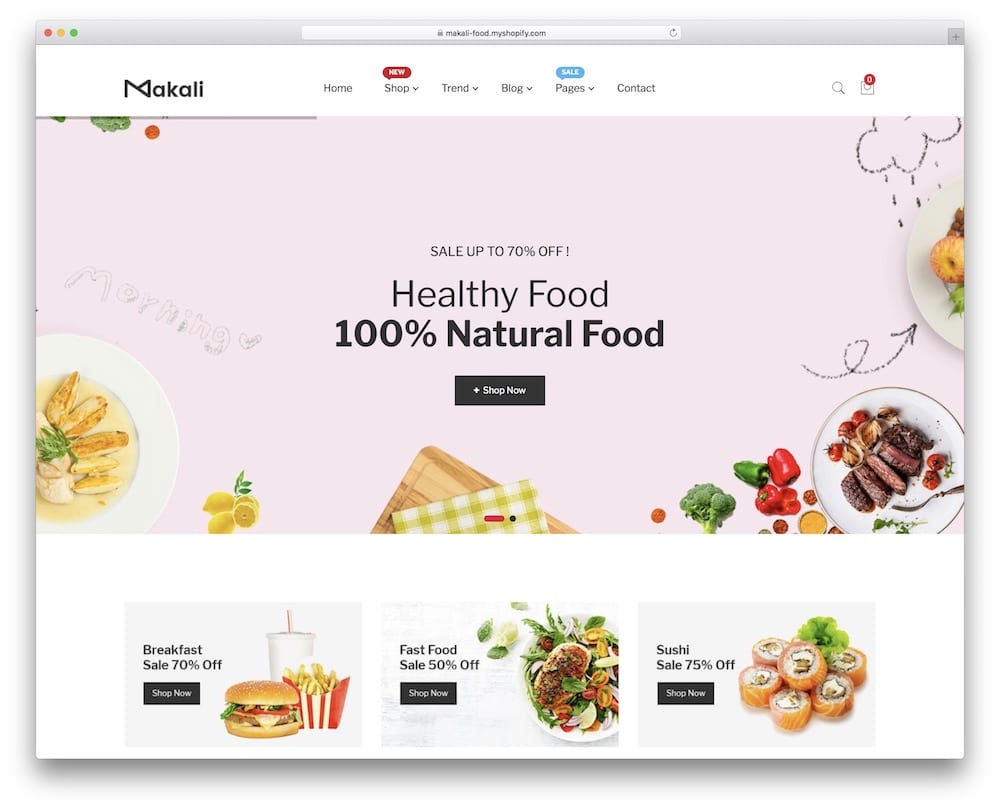 Makali is another multipurpose Shopify theme that you will find highly advantageous.
With many food and restaurant demos, you can execute your website creation with a single click.
Makali follows all the latest trends and regulations of the web, guaranteeing a great user experience on all devices and platforms.
Some more features of Makali are header styles, mega menu, drag and drop page builder, quick view and testimonials, to name a few.
Introduce your creative touch, stuff Makali with your delicious food photography and take your restaurant's online presence to the next level.
Makali features:
50+ sales
4.1+ star rating
Various multi-concept samples
Instagram integration
Price: $48 (may vary)
MORE INFO / DOWNLOAD
DEMO
12. Tartine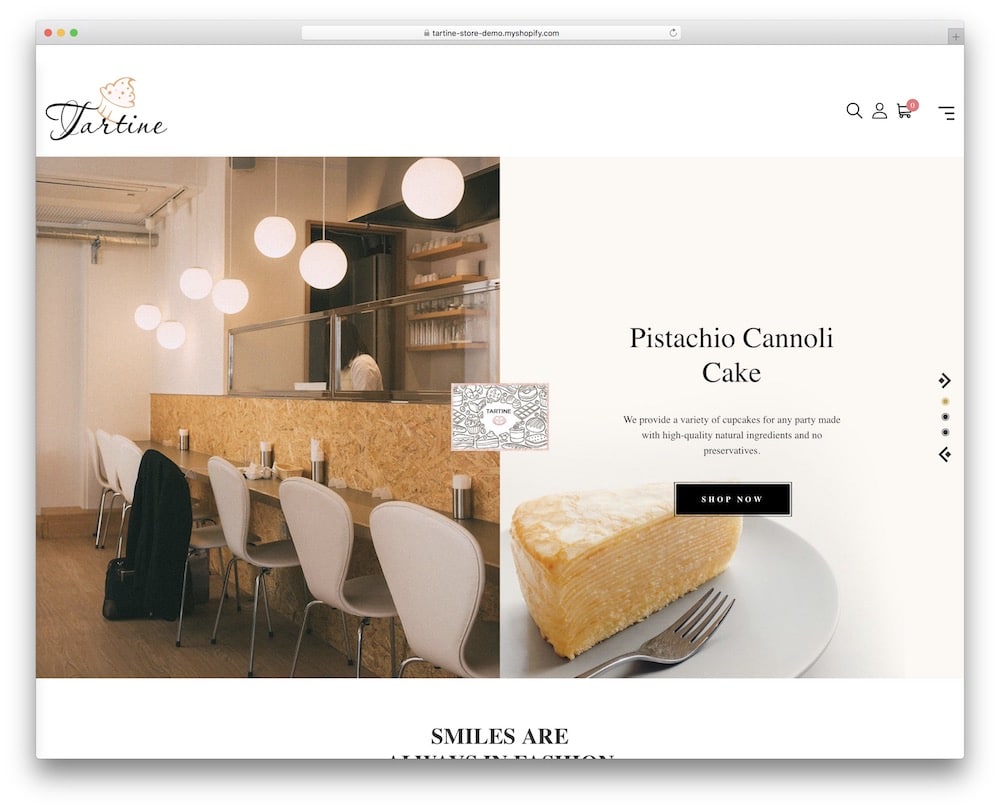 Tartine is an exclusive Shopify food theme for cake shops, bakery and even modern restaurants. No need to feel any limitations when working with this top-class tool.
Tartine is easy to modify and tailor to your branding regulations. However, out-of-the-box designs will do the trick if you need to fix a website as quickly as possible.
Other goodies of Tartine are one-click installation, search engine optimization, multi-currency and amazing cross-browser compatibility.
The layout is also retina- and mobile-friendly so that everyone can enjoy your restaurant website on the go or at home.
Tartine features:
50+ sales
4.6+ star rating
One-click demo import
Beginner-friendly documentation
Price: $56 (may vary)
MORE INFO / DOWNLOAD
DEMO
13. Emerge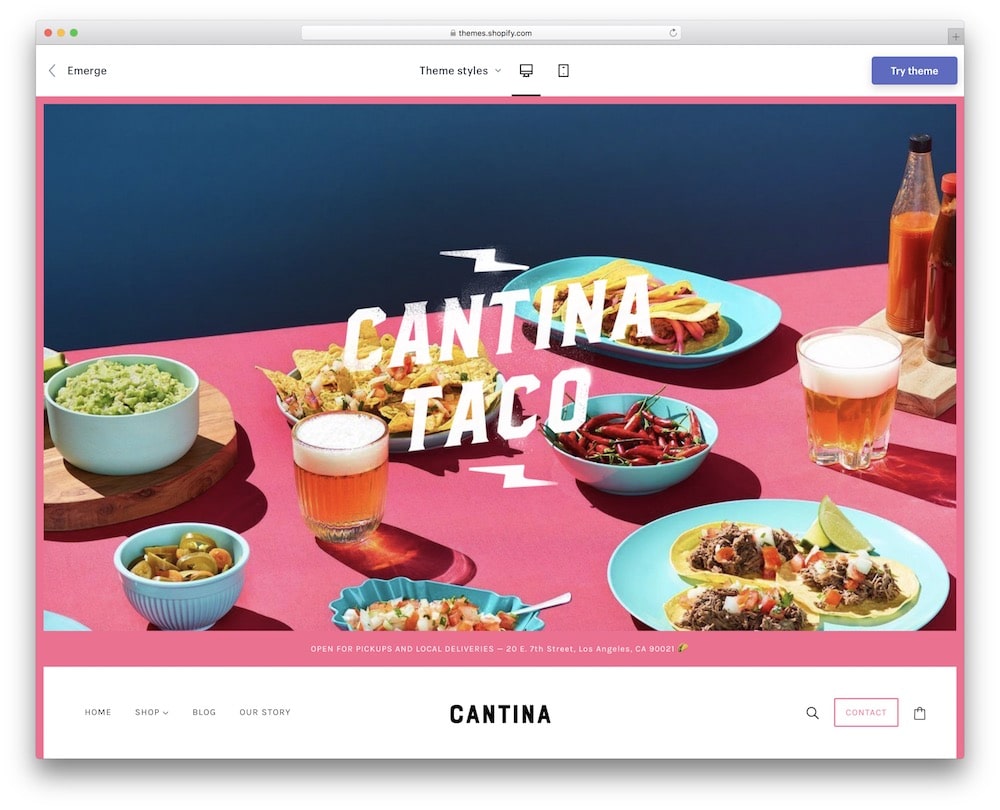 Emerge is a funky Shopify theme for the food industry that comes with a minimal and creative design.
If you want something different, you will have a lot of fun using Emerge.
With this tool, managing and maintaining your restaurant website will be a little breeze, even if you are a beginner.
Video support, pop-up, multi-level drop-down menu, animations, blog and currency switcher are just some of the treats Emerge offers you.
Instead of doing things from the ground up, save time and energy with Emerge and kick-start your project immediately.
Emerge features:
4.7+ star rating
Video support
Pickup availability
Live search results
Price: $320 (may vary)
MORE INFO / DOWNLOAD
DEMO
9 Key Features Of The Best Shopify Restaurant Website
Having the basic features to achieve the best result with your restaurant website is important.
According to a study, 90% of people research a restaurant first (website, social media, TripAdvisor, etc.) before dining.
And 57% of customers focus predominantly on the website part of the restaurant before visiting it.
But this is where this collection comes into play, where we approached testing each theme with all these nine key factors in mind.
This Is How We Tested Shopify Restaurant Themes
1. Responsive layout
A mobile-optimized layout is what we always check first. Why? Because mobile internet use is on constant growth, bigger than desktop use.
At the same time, we also test the theme's size using Pingdom Tools.
This allowed us to pick the best-performing themes for your restaurant and food businesses.
2. Contact
You can save yourself a lot of time with a built-in contact section.
It should include a form, a clickable phone number, and Google Maps to showcase your location.
3. Social Media
Social media will likely play a big part in your online presence as a restaurant owner. You can add social sharing buttons to your website or integrate social feeds for more content.
Social media integration was also one of the mandatory features we wanted to see in every theme.
4. Photos
Your site visitors will want to see food images, and that's a fact. So ensure you create high-quality content that will water every visitor's mouth.
But don't be deceiving!
It happened too many times that I saw great food images on the website, but it was a completely different story in real time (if at least it'd be for the better).
Create a filterable portfolio, so the user can easily check only the foods they like.
Our recommendation: Don't forget about adding some video material, too.
YUM!
5. Foods & Drinks Menu
While images and videos are great, you must also add your food and drinks menu. And don't forget to update it if your dishes change.
Even the simplest design works well in this case. But you can also use filters, add pricing, allergens and anything else that'll contribute to decision making.
And:
6. Online Ordering
You can also link your menu with online ordering if you offer this service.
Note: This isn't necessarily a feature that comes for free with your Shopify install, but it's so worth the purchase.
It saves you a lot of time, keeping your orders organized and your business thriving.
7. Table Reservation
On the other hand, table reservation is also a clever strategy to avoid getting calls and emails and doing it manually.
You can just check in the system how many reservations you have for the day and sort them accordingly.
Easy.
8. Reviews
Reviews and testimonials will boost the site's user experience and your overall business growth.
Most people do research first and dining second, so it's essential to add reviews because many of your site visitors WILL want to read them.
9. About Us/Tell Your Story
How did you start your restaurant? Why did you start it? What's the whole deal with your strong food passion? And so on, and so forth.
These are just some of the questions you can answer on your About Us page.
You should especially include your story if it's an interesting one. But here's the case, everyone has an exciting story to tell, ESPECIALLY when it comes to restaurant businesses.
And if you sprinkle it with some fun elements, I tell you one thing: People will feel even more comfortable trying your food.