We spent 7 months reviewing and testing meditation WordPress themes to bring you the ultimate collection for your (online) businesses.
(Extreme reliability.)
There's a lot of potential to grow your meditation classes and training with a website.
Which you can create EASILY and QUICKLY.
What You Can Do With Meditation WP Themes
We made sure that our selection of WP themes gives you a chance to:
Promote your workshops & events (even apps)
Offer online courses
Share your story
Start a blog (content marketing)
Sell products & courses
The only thing left to do is to pick a theme. You don't need the experience to make a professional meditation website.
Note: Every theme comes with great documentation (some with video tutorials) and excellent customer support.
Invest in your health, well-being and – WEBSITE.
Best Yoga, Temple, Meditation WordPress Themes
1. Kriya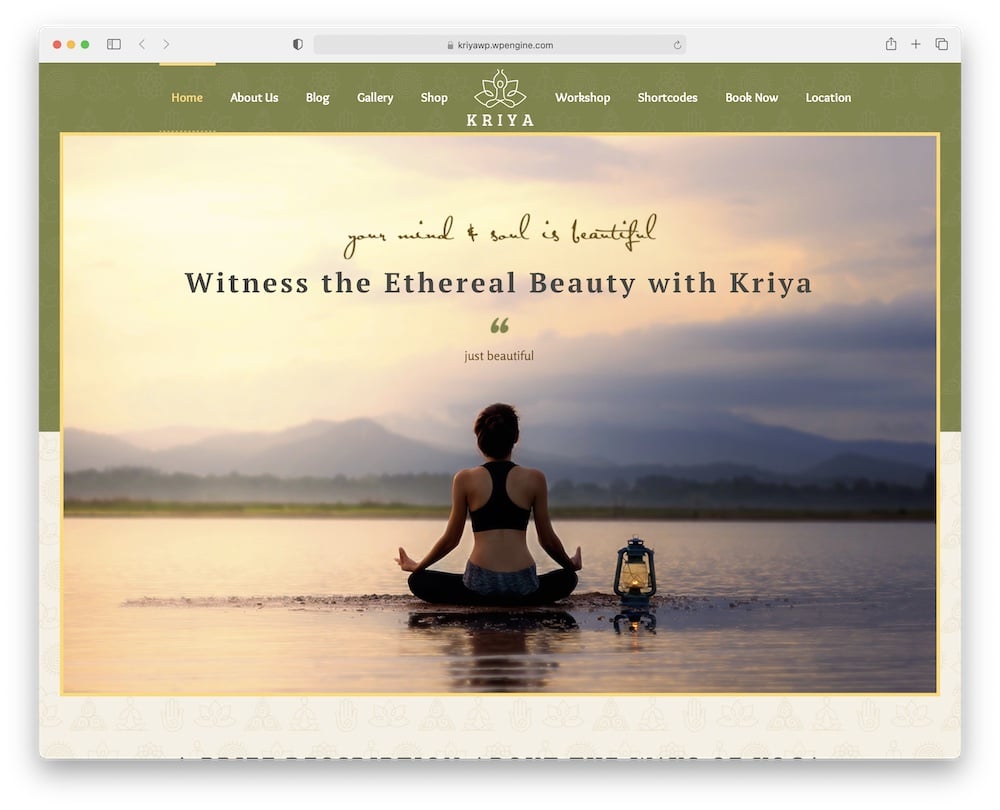 What is your purpose? What do you have to be doing to achieve it? Do that with the gorgeous and modern Kriya theme.
Because it'll give you more satisfaction than ANYTHING else ever will. 🙂
You can easily promote your yoga classes, healing meditation, or live events with Kriya.
It is easy to use and customize – exactly how you wish and imagine (keep your spirit up).
You can use the theme to display your portfolio or write a fantastic blog.
Remember, Kriya includes pre-designed layouts, numerous colors, contact form, various Google fonts, animated sliders, and different inner pages that are all available for you to use.
Suddenly, the world turns sunny!
Yup. From there, you're all set. I wish you the best of luck in your quest.
Kriya features:
1,700+ sales
4.8+ star ratings
Frequents updates & upgrades
Block builder compatible
Price: $69 (may vary)
MORE INFO / DOWNLOAD
DEMO
2. Wellspring (our fav!)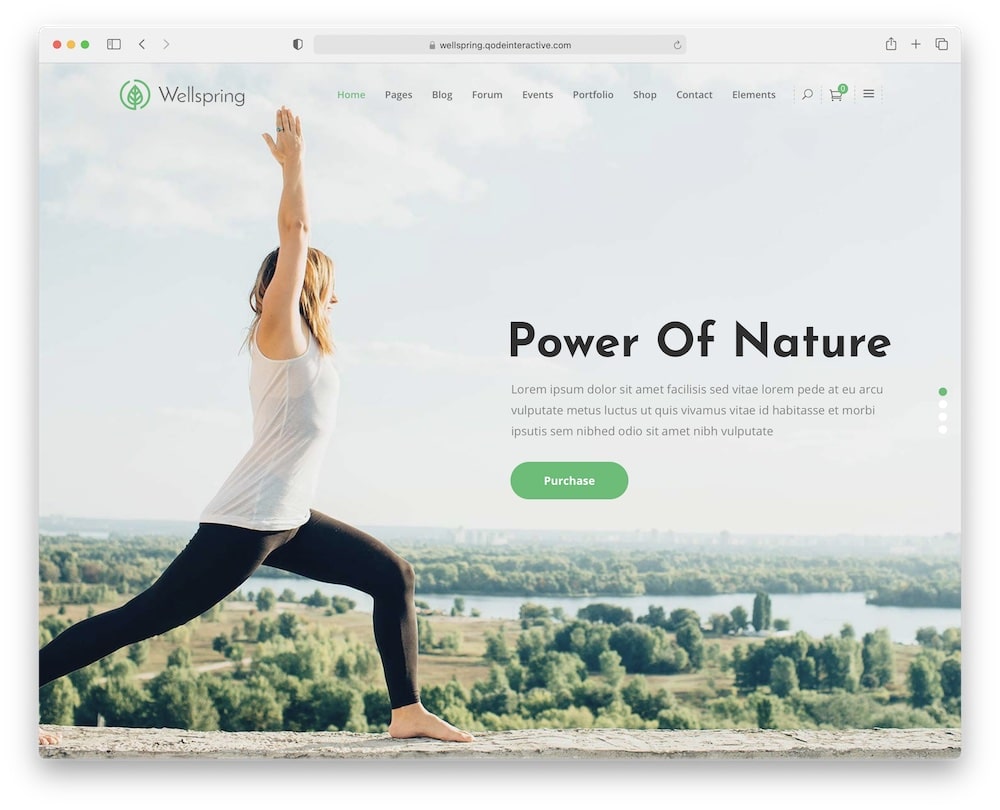 Wasted time is basically time spent lost to your opponents. Don't waste time and make a decision to build a fabulous and responsive meditation website with WellSpring.
This spiritual and mind-first WordPress theme is powered by everything you need for a fully-equipped site.
Wellspring also comes with many excellent tools such as WPBakery page builder, Slider Revolution, and WooCommerce.
LOOKING GOOD!
But first, let me start with ready-to-use templates. Wellspring includes twelve beautiful homepages, plus heaps more internal layouts.
From simple blog pages with custom sidebars to full business websites with forums, shops, calculators, timetables, it's all possible.
Now available to you with a one-click import function! CRAZY.
Are you ready for a quick start?
Wellspring features:
3,000+ sales
4.7+ star ratings
Monthly updates
Clean & impactul design
Price: $79 (may vary)
MORE INFO / DOWNLOAD
DEMO
3. Ativo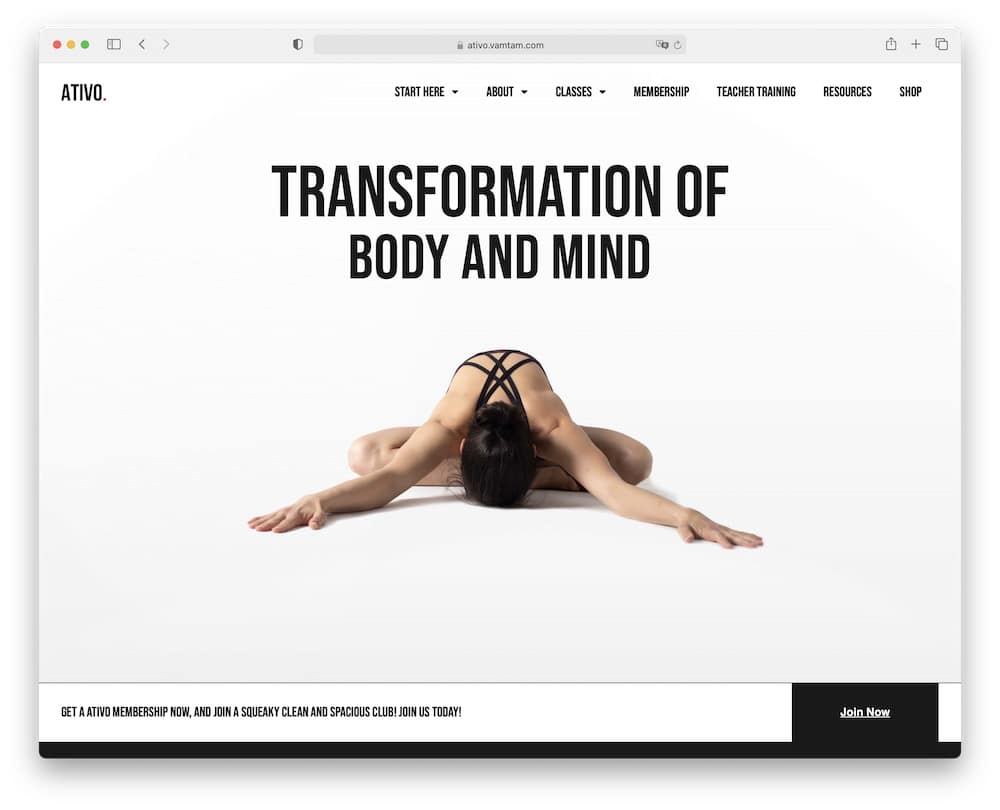 What if I told you Ativo meditation WordPress theme is KIND OF MAGIC? You probably wouldn't believe me, right? That's okay… because I'm right.
Let's find out why.
Ativo is a clean and powerful online weapon with all the necessary features for your meditation and yoga training.
It is stuffed with user-friendly plugins, pre-made pages, useful elements, free updates, and Cookie notice.
And…
I want you to realize how many changes you can do! Change colors. Mix fonts. Navigate the menu. Edit the header. Start the blog. Even translate the whole theme.
You can also activate the RTL theme functon.
WELL.
Everything is possible with Ativo.
Ativo features:
440+ sales
5-star ratings
100+ help articles
Friendly 24/7 support
Price: $89 (may vary)
MORE INFO / DOWNLOAD
DEMO
4. Yog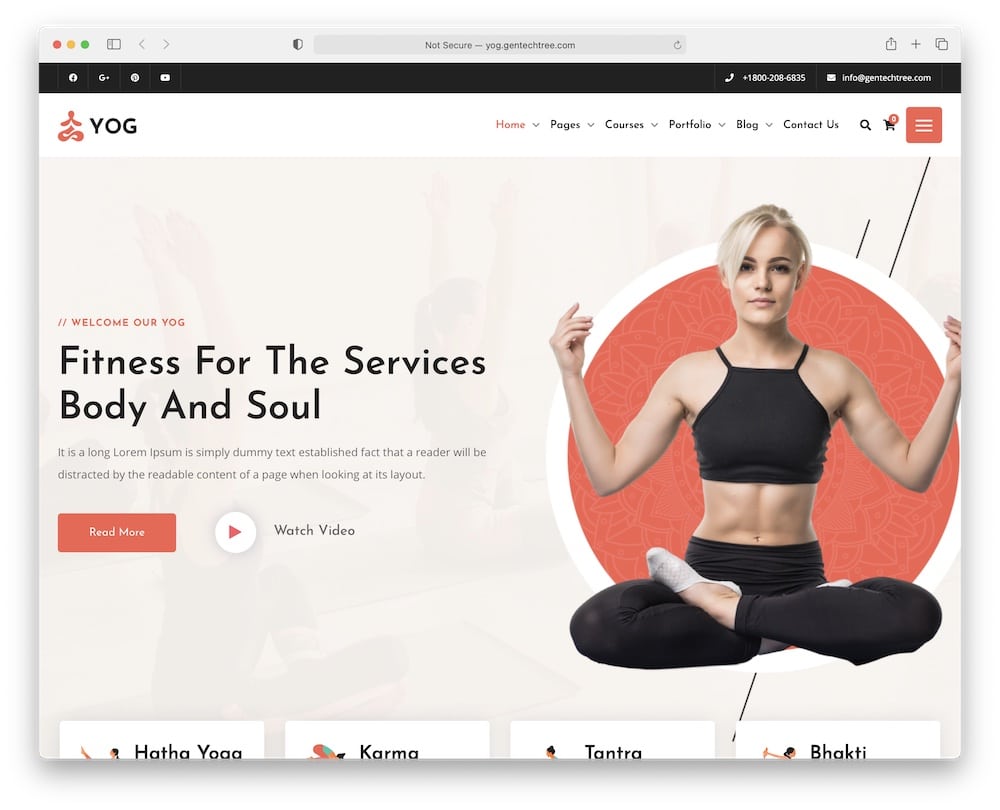 Imagine you were a computer engineer. Writing every line of code from scratch, editing code, and above all, determining the code's function.
That's pretty cool.
Now, imagine that you are just an average computer user. No coding knowledge. And yet, with Yog you can control and determine the look and function of your website (100%)!
I get it; this sounds crazy.
You can fully control and completely change your site as you wish and want to with Yog meditation WordPress theme.
BINGO!
Yog will provide you with an amazing collection of pre-design homepages, layouts, and the best features.
Just start meditating on your vision and forget about any design problems.
READY – SET – GO!
Yog features:
100+ sales
4.6+ star ratings
Yoga & meditation theme
Drag-n-drop technique
Price: $29 (may vary)
MORE INFO / DOWNLOAD
DEMO
5. Anahata (so beautiful)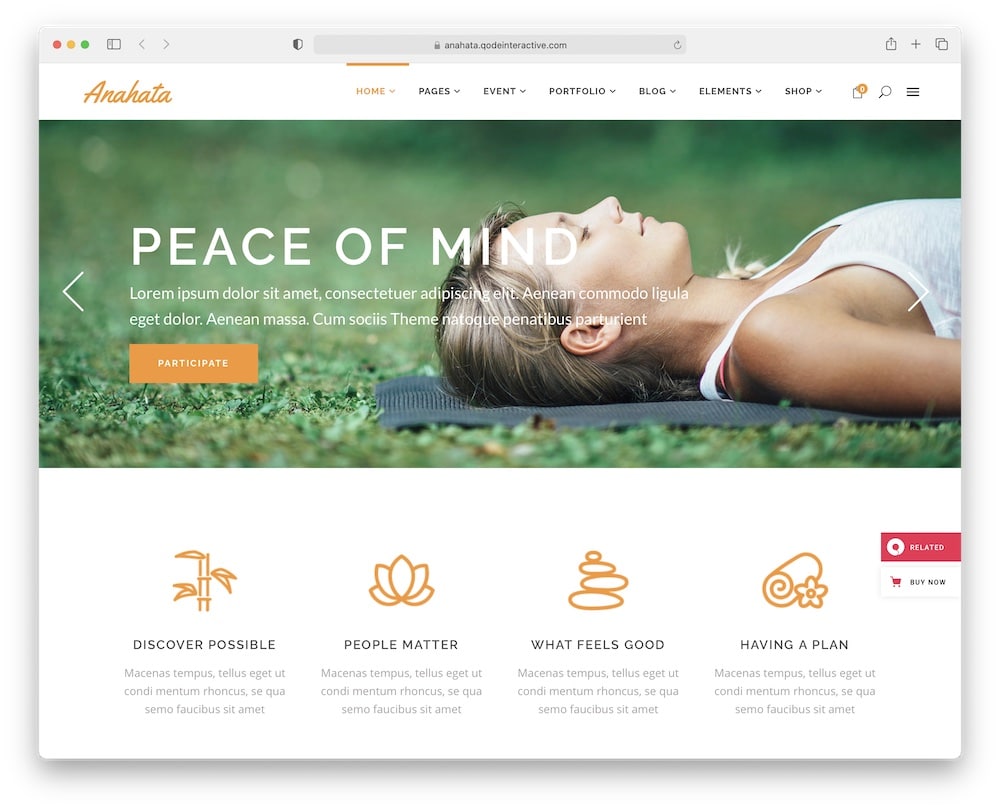 To have a chance to bring peace to your mind through meditation whenever you want is AMAZING.
And now you can introduce this wonderful world of meditation to the whole world with the beautiful Anahata theme.
It comes with a bundle of twelve easy-to-import homepages.
CLICK – IMPORT – SET – USE.
Think about it – so fast, attractive, and 0 worry of coding. GODSENT.
Of course, developers did not forget about powerful timetables, price lists, event calendars, portfolio layouts, and social media integration.
Everything you need for the best presentation and effortless invitation to the old-new customers.
Anahata is more than just a theme – it is a healing meditation lifestyle.
Anahata features:
1,700+ sales
4.2+ star ratings
Extremely creative
Powerful mega menu
Price: $79 (may vary)
MORE INFO / DOWNLOAD
DEMO
6. Samadhi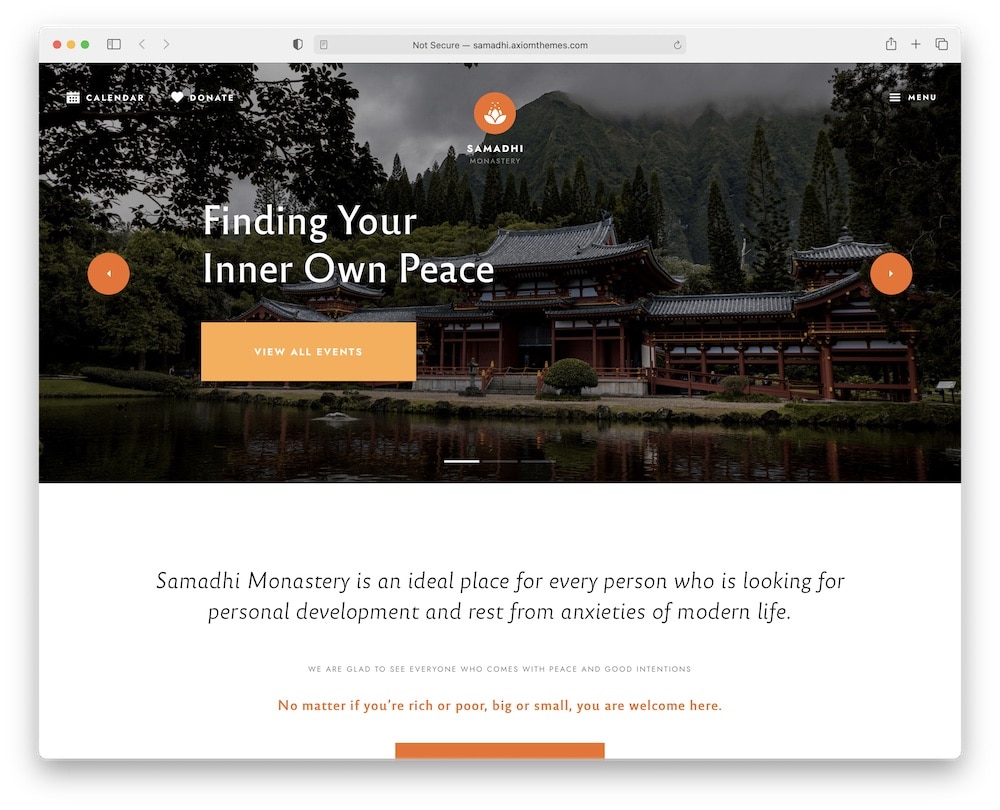 Take a deep breath in and out. Two more.
Now you are at peace and ready to check Samadhi oriental WordPress theme. Let the potential of Samadhi in!
Do you feel the need to tell your story? Promote meditation programs? Showcase your temple?
You have a chance to tell, share, contribute and inspire with Samadhi's customizable page layouts.
Tailor your site to all your needs and create valuable content for your audience.
THE TIME IS NOW.
Besides, Samadhi is social media integrated to connect with your followers hassle-free.
WOAH! Lots and lots of possibilities, grab Samadhi today!
Samadhi features:
MORE INFO / DOWNLOAD
DEMO
7. Yoku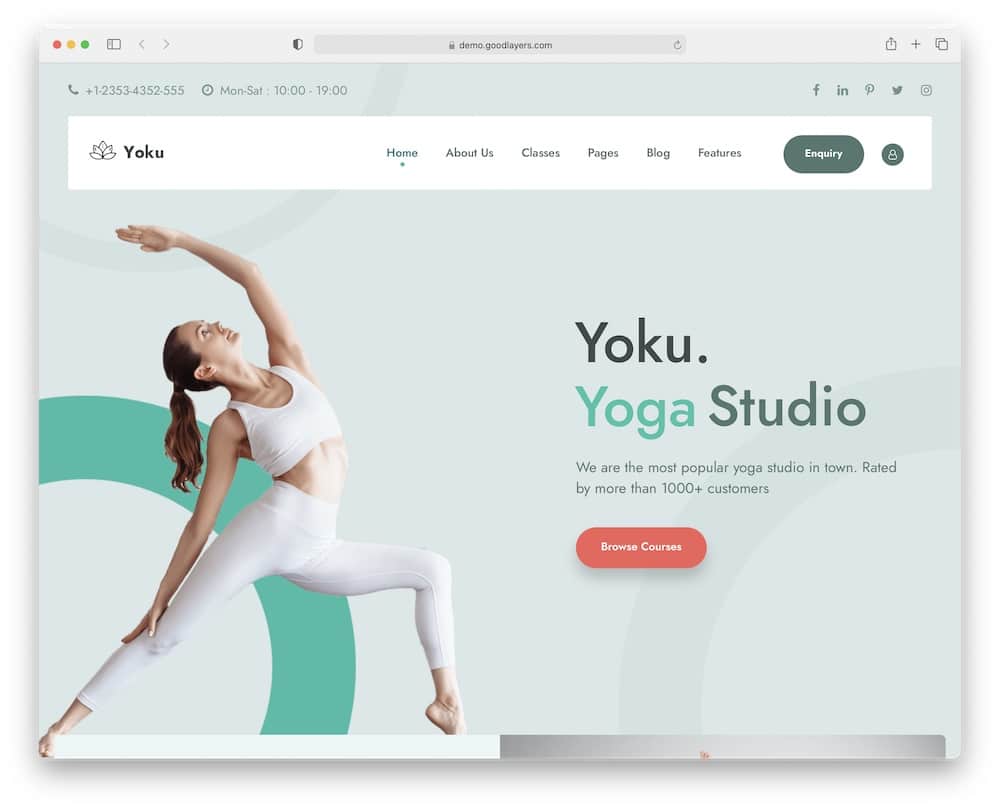 Yoku meditation WordPress theme was designed with elegance and gorgeous details in mind.
It offers amazing customization possibilities – you can edit and configure everything.
EASILY.
If you desire to create a responsive, fast, smooth, and reliable website, you are on the right spot. Yoku works like a charm.
Cool, so now you're caught up. Not as complex as you thought it'd be, right?
You can also create and sell online courses, stream classes, manage timetables, and publish your blog posts with Yoku. Badass!
On top of that, quick and professional customer support gives the best service ever.
Clapping hands!
Yoku features:
980+ sales
4.9+ star ratings
Quality check
Supports offline classes
Price: $64 (may vary)
MORE INFO / DOWNLOAD
DEMO
8. Vihara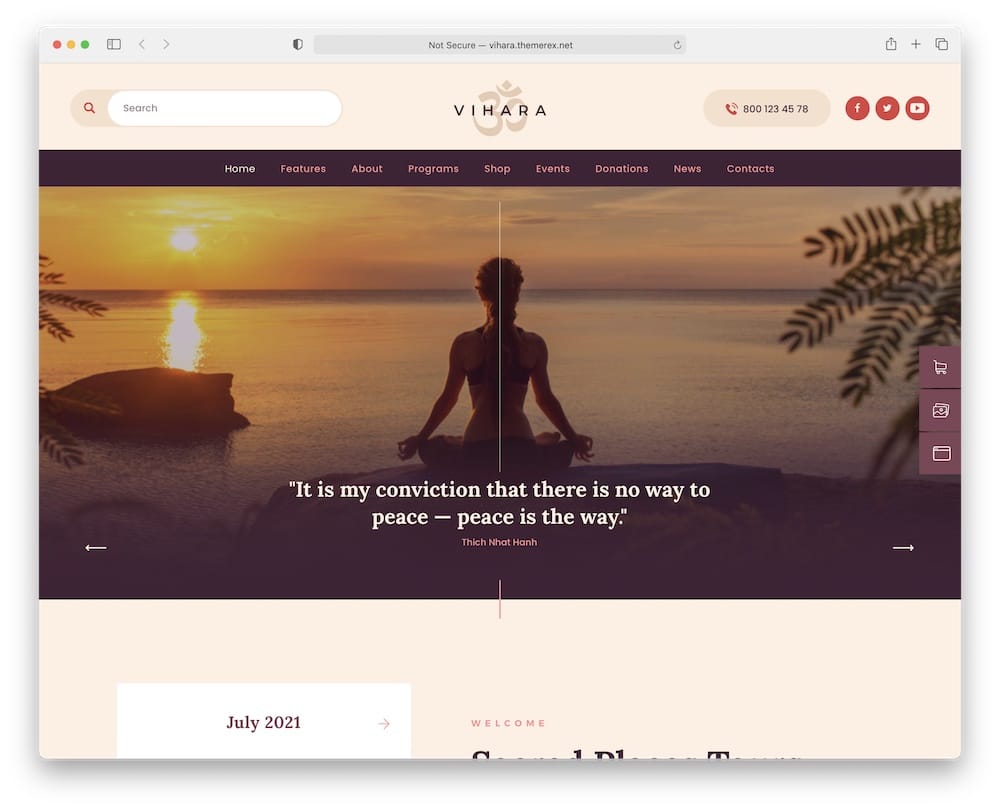 Vihara is not your traditional meditation WordPress themes. This is the tool that'll assist you in making things happen if you wanna STAND OUT.
Let's start with some basics!
Vihara comes with amazing one-click demos, pre-designed pages, blog layouts, different header styles, flexible color settings, and dozens of shortcodes.
Everything that you had in mind for a great and smooth start.
Yes?
It gets even better. Vihara is translation-ready, SEO-optimized, responsive, and cross-browser compatible.
What's not to love?
It's time for you to start building your own meditation and yoga world – online!
Remember, with Vihara, it's a breeze to make a stunning site. Click the MORE INFO button and create your feature.
Vihara features:
920+ sales
4.7+ star ratings
Impactful sliders
Custom-made shortcodes
Price: $69 (may vary)
MORE INFO / DOWNLOAD
DEMO
9. Mystik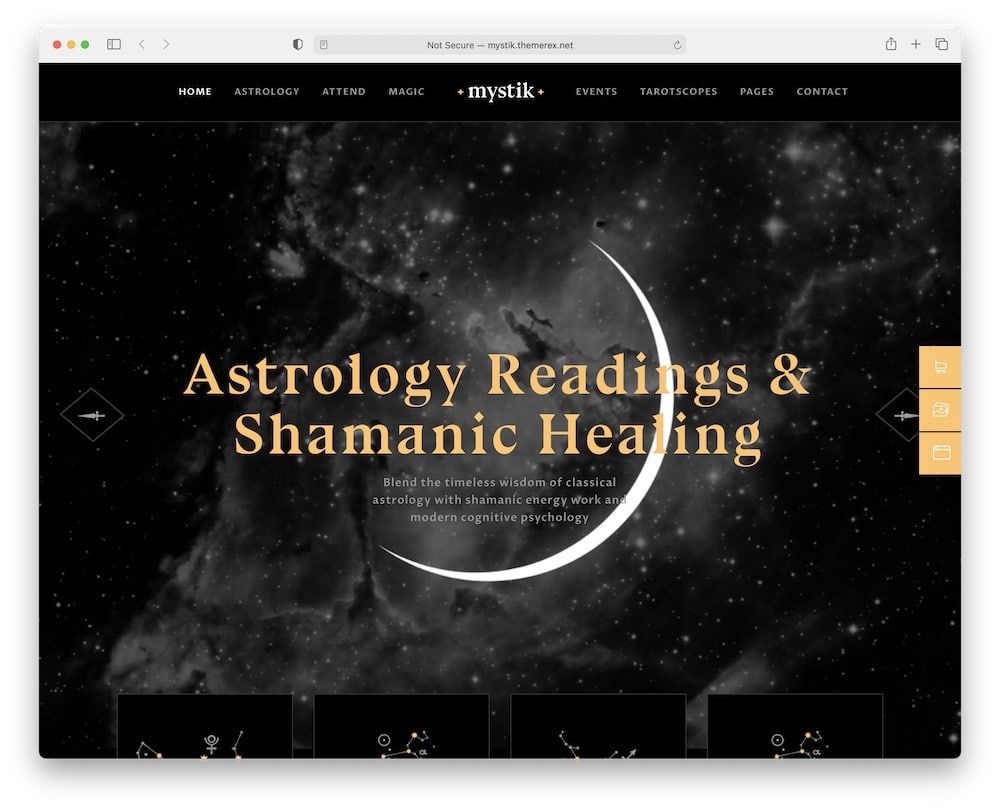 Are you into healing meditation? Into yoga? Healthy lifestyle?
If you answered yes/aha/yep/okay to any of the above questions, move on, Mystik might not be for you.
BUT.
If you're into astrology, horoscope and fortune-telling, that's when Mystik comes in handy. (Sure, you can use it for meditation, too!)
You can easily share and contribute your knowledge and meditation tips to the whole world over your online presence.
Create your site quickly and easily. No coding, just dragging and dropping.
FULL. CONTROL.
Mystik is optimized for top-notch performance. 100% responsive and mobile-friendly. Love for all devices ties it all together.
Reach the stars and beyond with Mystik.
Mystik features:
1,000+ sales
4.9+ star ratings
Esoteric design
Con: Puts a spell on you (joke)
Price: $69 (may vary)
MORE INFO / DOWNLOAD
DEMO
10. Nirvana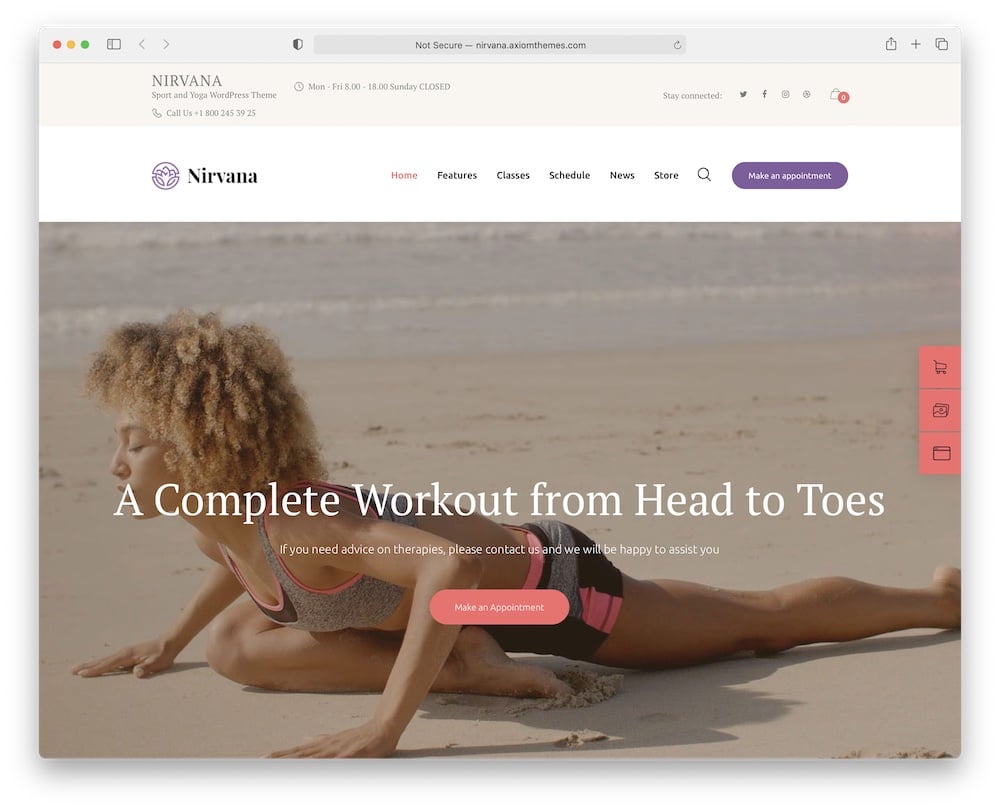 TIP: No matter, what you are searching for, you have to check the beautiful Nirvana meditation WordPress theme.
It is just all about meditation, yoga, balance, relaxation, and strength – YOU!
Say HELLO to three gorgeous homepage demos – modern and fully customizable. You can start to create instantly with one mouse click!
Coding and design knowledge or not – you're GOOD to go.
On top of that, Nirvana includes the Slider Revolution plugin (NO more boring and static designs) that offers special effects, great animations, and cool video layers.
Trust me: It's gonna be neat!
Nirvana features:
610+ sales
4.9+ star ratings
6-months free support
Online appointment & booking
Price: $69 (may vary)
MORE INFO / DOWNLOAD
DEMO
11. Hatha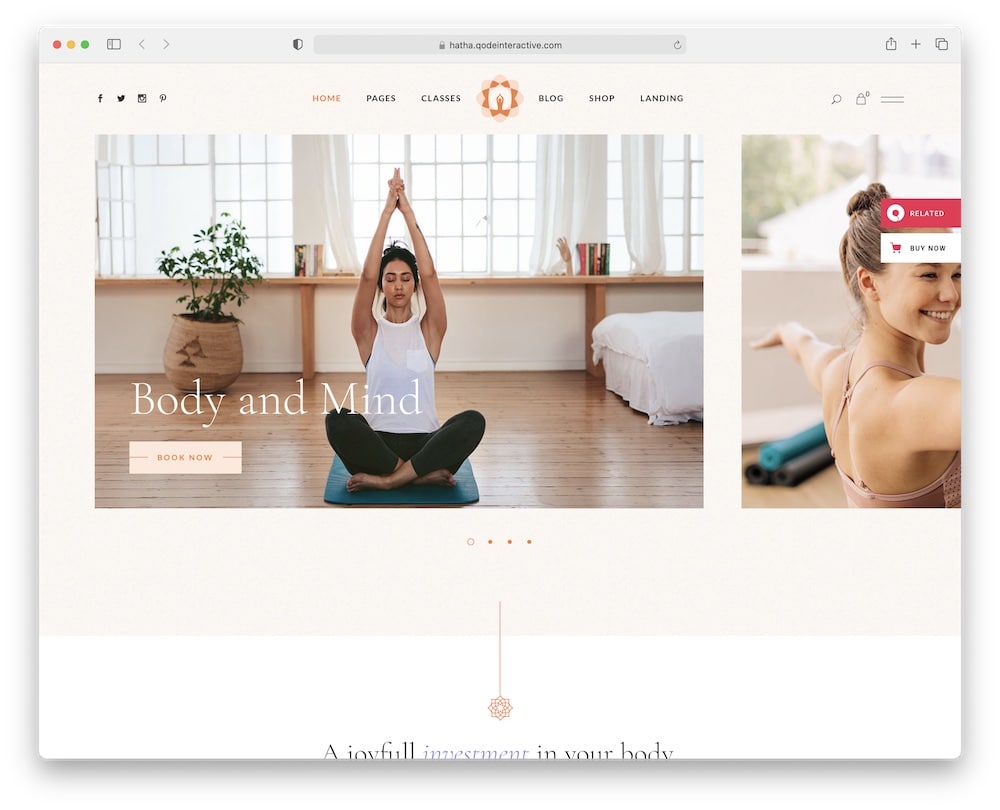 Select Hatha meditation WordPress theme and you will gain access to a mysterious and perfectly balanced design (a piece of art).
Hatha is ideal for elegant and modern meditation or yoga studios.
You can add full of practical tools such as timetables, WooCommerce store, working hours list, and even personal testimonials.
A bucket full of helpful features!
A SIMPLE set-up will impress you immediately. And Hatha is customizable, which means that you can change it exactly as you desire.
Super excited about it. (At least we were.)
Of course, friendly customer support is happy to guide and help you anytime!
YOGA-YAH!
Hatha features:
380+ sales
4.5+ star ratings
Perfect balance of practicality & creativity
Section for yoga & meditation teachers
Price: $79 (may vary)
MORE INFO / DOWNLOAD
DEMO
12. Yoga Fit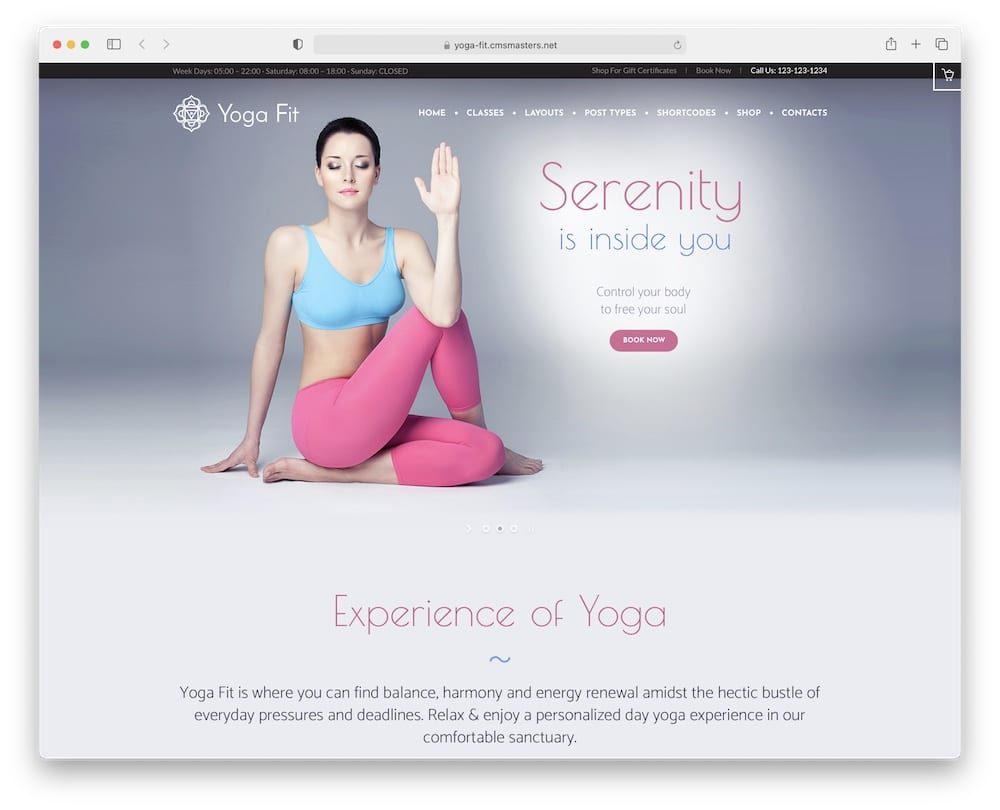 Create a pretty website that fits your healthy and healing style. Yoga Fit meditation WordPress theme comes with easy-to-use templates, a selection of shortcodes, and widgets.
Be a good company to your online audience. Share your expertise, tips, or whatever's on your mind on your personal blog.
So next time a little voice inside says, "Can we share this knowledge?" you can give him an excited SURE!
Also, with Yoga Fit you can design something totally new due to the insane customization possibilities.
DON'T. LIMIT. YOURSELF.
How can you start? Pay – Get – Click – Install – Benefit. (You may also want to read our tutorial on how to install a WP theme if it's your first time.)
SIMPLE.
Yoga Fit features:
2,600+ sales
4.3+ star ratings
Timetable for classes
Promote special events
Price: $49 (may vary)
MORE INFO / DOWNLOAD
DEMO
::
Note: This article was originally published on July 25, 2021. But our team regularly reviews it and updates it with necessary improvements for accuracy.